ViewSonic PX701-4K
Reviewed at $899.00
Ports & Connectivity
9.0/10
OS, Apps and Features
8.6/10
Pros
Very sharp 4K images with nice details
Portable
Very low input lag
Extremely low price
Cons
Mediocre contrast and shadow details
Average black levels
Not very accurate out-of-the-box settings
No 3D support
---
Cheapest Places to Buy :
---
A few years ago it was inconceivable that nowadays we would be able to get a 4K projector under a $1,000 and with very respectable performance. Even if this is not a true native 4K projector but a 4K pixel shifter as many low cost 4K projectors are. And while this may not be a market for the hardcore videophiles there are certainly a lot of consumers that are looking for budget solutions for their home entertainment. And so in our ViewSonic PX701-4K review we will be looking at this latest low budget model that is part of ViewSonic's latest projector lineup that came to the market in 2021.
There are not many 4K projectors in the market that come with a price under $1,000 and two of them are in fact from ViewSonic, the PX727-4K and the PX747-4K, that we had reviewed already. Now ViewSonic is expanding their low budget lineup with the PX701-4K that we have with us here today along with the slightly more expensive PX748-4K. As for the PX701-4K, it seems that this is mostly aimed for bright rooms as its high brightness output is meant for areas with a lot of windows and for use in broad daylight.
Going quickly over the specs we see that the PX701-4K is using a single 0.47" DMD chip from Texas Instruments which with the use of XPR technology is able to reach the required 4K resolution. It can display an image in either 4K@60Hz or even go as high as 1080p@240Hz if you more into gaming. ViewSonic claims an extremely low input lag when playing at 1080p@240Hz which will be greatly appreciated by gamers. It comes with the usual RGBWRGBW color wheel, features ViewSonic's proprietary SuperColor technology and even has a 10 watts built-in sound system for those that like to move it around.
At such a low price extra features are not in abundance but to be honest it is clear that ViewSonic wanted to offer a cheap projector with good image quality without adding any bells and whistles that would potentially up its price any further. So with all these in mind does the PX710-4K manage to be a worthy projector for consideration? Let's find out in our analysis…
Disclaimer : The video above is not our own and credit goes to its respective owners
Design
When you are aiming for such a cheap projector one thing you should not be looking at is at the design of the unit. And ViewSonic's low budget policy seems to perfectly reflect on the looks of their units. The PX701-4K does look a bit cheap to be honest but in the end does this really matter? We believe it doesn't, and while the first impression is not the best, it's when you actually turn the projector on that you will value its capabilities.
As far as its size the PX701-4K measures 12.3" x 4.3" x 8.7" (312 x 108.37 x 221.8 mm) and weights just 6.17 lbs (2.8 kg) making it one of the smaller 4K projectors we have tested recently. Its small size and low weight combined with its high brightness and on-board audio definitely makes it a very portable solution in the projectors market.
As with most of ViewSonic's offerings the unit comes in an all white plastic chassis with curvy corners while we once again find an asymmetrical design which is typical with all of these low budget models. The lens are placed on the right side, as we look the projector from the front, while ventilation is good enough with the whole right side being used to let cold air in and the left front corner where the hot air comes out. In general a pretty standard cooling solution that keeps the projector at normal temperatures.

What seems to be a first in ViewSonic's low budget 4K offerings is the use of a lens mask that sits almost in front of the lens. We have seen this trick being used in various projectors we have tested before like the BenQ HT3550 and it seems to be a very efficient way to block stray light from appearing on the floor or ceiling without blocking the image coming from the lens.
On the top side, exactly above the lens, we find the controls for the zoom which gives the projector a 1.1x optical zoom and also lens focus. One thing to keep in mind is that the projector is missing any lens shifting so initial placement is made harder by this fact especially if you don't have enough space to move the projector around.
At the top side we also get the built-in controls which feature a pretty standard layout. There are three LED indicators for power, temperature control and lamp condition while the power button is placed on the left side of the navigation controls. Next to that there are nine buttons for menu, color mode selection, source selection and blank functionality while you can also use the navigation buttons for the keystone correction feature if needed.
At the back we find all the connecting ports grouped together and we will talk about them in the appropriate section below. The projector comes with a single tilt adjusting leg at the front which means that this will also limit you in terms of placing the unit correctly.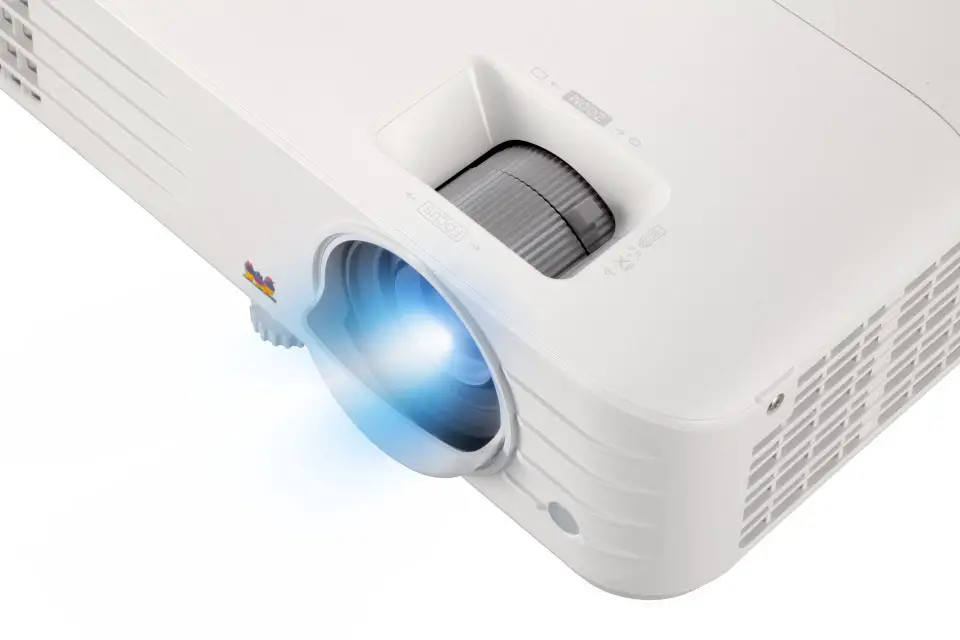 As for the lens that is being used, the PX701-4K has a throw ratio of 1.5-1.65. In terms of size the unit can project a 30″ ~ 300″ diagonal image but as we mentioned above the projector is missing any lens shifting and if you combine that with the relatively small 1.1x zoom you don't have many options when installing it.
ViewSonic has added a few features that can help with that and the most obvious is keystone correction. But we would advise against that unless absolutely necessary as keystone correction will surely downgrade the resulting image and also adds latency which any gamer would like to avoid.
What is particularly interesting is that ViewSonic has added the ability to project the image on a curvy surface with the help of their Projector Warping Tool. This way the distorted image can be perfectly shaped through multiple point adjustments, even when projected on a spherical shape, a cylinder or other non straight surfaces.
The projector is rated by ViewSonic at 31 dB in normal mode and 28 dB in Eco mode which are very typical figures for a 4K pixel shifter. Real numbers are always higher and in normal mode we measured 36.0 dB and in Eco mode 32 dB. Noise usually comes from two sources in these 4K pixel shifting projectors. The cooling solution and the 4K pixel shifting technology. That's why usually these projectors are slightly louder than native 4K ones.

In real conditions the unit was definitely audible from a distance of 5 feet especially during quiet moments. During busy moments the sound effects would mask the projector's noise completely but in general we can say that we were not bothered by it and in comparison with some other projectors that come with the same technology the ViewSonic felt slightly quieter.
In terms of lamp life the 203 watts lamp can last up to 6,000 hours in normal mode or 20,000 hours in Eco mode which are above what we see in average with similarly priced offerings. There is even a SuperEco+ mode that extends lamp life up to 20,000 hours.
The included remote is very similar in design with other projectors from ViewSonic and is definitely better than what you would expect from such a low cost unit. If there is one thing that is particularly strange in this one is the inclusion of separate power on and power off buttons which in all honesty is a weird design decision and a unique one. The buttons layout is simple with buttons separated into groups depending their functionality. With the PX701-4K's limited functionality means that this remote has less buttons but everything is nicely grouped and easy to find.
Overall the PX701-4K looks and feels very ViewSonic. It is not the most premium of quality but considering the price you shouldn't expect anything fancy.
Video Quality
Technology used
In terms of the technology that powers the PX701-4K, these low cost 4K projectors share the same kind of technology in order to present an image that can rival a real 4K resolution projector. Under the hood, once again, we find a single 0.47″ 4K UHD DMD DLP chip from Texas Instruments that is responsible for displacing a full HD 1080p image in four different positions at very high speeds in order to produce the full 4K image that is very close in clarity and quality to a native 4K image.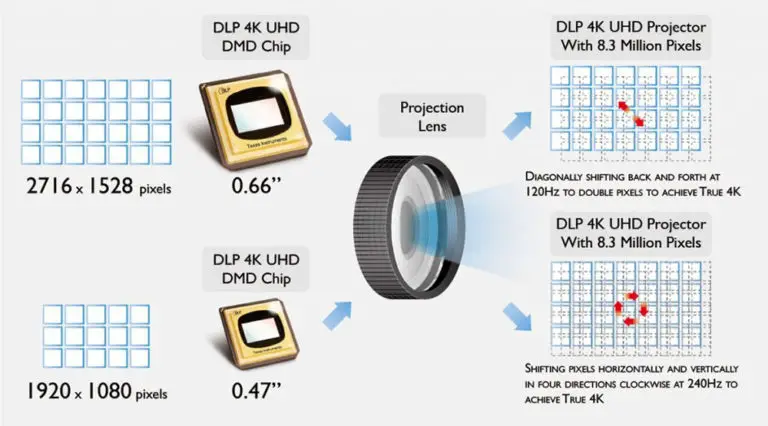 For those that don't know what pixel shifting is, it was created by manufacturers in order to bring down the cost of 4K projectors by offering similar quality at sub-$2,000 levels. Nowadays we have reached a point that these 4K pixel shifters are priced under the $1,000 threshold with the PX701-4K being a prime example.
These pixel shifting projectors are usually distinguished in two different categories depending the type of pixel shifting technology used. There are projectors that shift the image only in two positions and these use slightly larger chips and are a bit more expensive while those that use the 1920 x 1080 x 4 technology tend to be cheaper without any meaningful loss of quality.
In general if you are considering a 4K projector but you are unsure about going for a pixel shifting unit we would say that its main strength is offering very close image sharpness to a native 4K model but at a fraction of the cost. So if you are worried about your budget, a pixel shifter is ideal and you get a lot of value for money. And the PX701-4K is no different as its image quality in terms of details and clarity is up there with the rest of them.
What we don't like is that once again we see ViewSonic advertise this as a true 4K resolution projector which could not be more far from the truth. When you have such a proven technology that can produce so good results at a fraction of the cost of native 4K chips why to misinform the consumers in such a way? This gives both this technology and the manufacturers a bad name for no reason.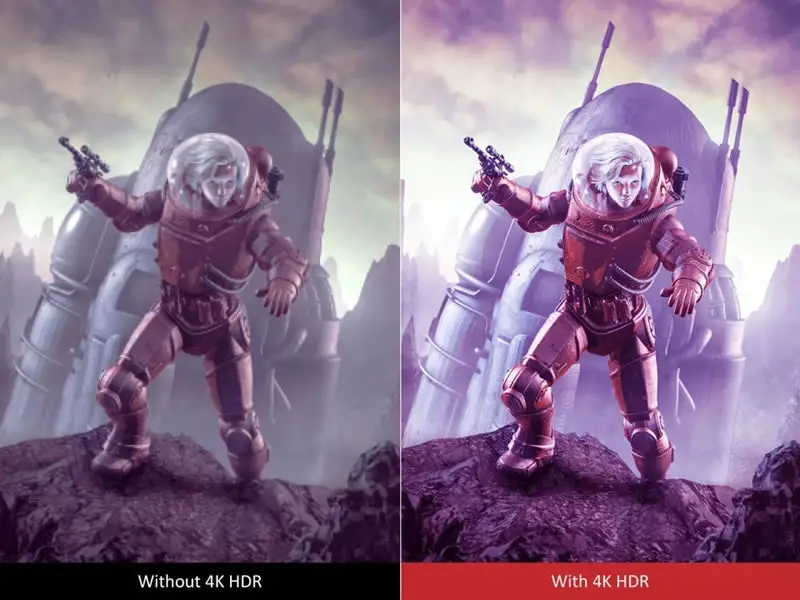 4K UHD / HDR Content
A film that we tend to try out a lot in our projector reviews is Aquaman in 4K UHD as it is a rather colorful and bright film and offer many opportunities for each projector to show its strengths and weaknesses. So how the projector fares with 4K material? First all all in terms of image sharpness and picture details the PX701-4K is up there with the rest of the group.
This means that we get an image that is hard to distinguish from a native 4K resolution one. Clarity and sharpness was through the roof and even the tinniest of details on surfaces, clothes, materials and surfaces composition were visible. In essence you will not understand that this is not a real 4K unit as is the case with most pixel shifters nowadays.
Now while image clarity and sharpness were great, one area where we were not so much thrilled with was color performance. We needed to go through a few changes in the settings in order to bring the colors to more accurate values but for a projector that is aimed mostly to casual users we are not sure many will be able to go through the same process.
Black levels and shadow details were also mediocre but how bad this will look also depends on the light conditions of your room. In a completely dark room blacks will look washed out and even if you are not bothered very much with black performance its inability to go darker will be more than obvious. The more light your room has the more it will mask this problem. It is not something that can be completely go away but things definitely look much better with some ambient light present in the room.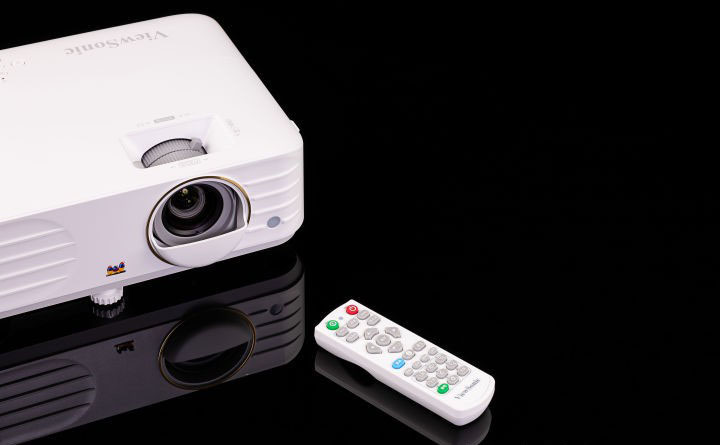 When you are watching HDR content the projector will switch to the appropriate HDR display mode if you set this option to Auto from the menu settings and switch back to SDR if such content is detected. As per usual the projector supports inputs with both HDR10 and HLG. No Dolby Vision or HDR10+ yet but in such a cheap projector these wouldn't make any sense anyway.
Full HD / SDR / 3D Content
Obviously it's not all about 4K content so we also tried some 1080p material and as we always do we used our Blu-ray copy of Oblivion for this test. As was expected the unit was able to render a very clear 1080p image which still retained a lot of details even though it surely could not match the 4K ones we saw before.
The Full HD images had all the same problems with color accuracy and the default settings will leave a lot to be desired. You will have to make certain changes in order to make them more accurate and lifelike although we would say that many casual users will even find the default ones within certain acceptable levels. Banding was not an issue here while once again the projector disappointed with its contrast and shadow detail performance especially if you plan to use it in a dark room where the problem becomes so much more obvious.
Although we were not expecting from the PX701-4K to reach uncanny levels of quality, we were hoping that such a unit that aims to more casual users that are not very much into calibrations, to offer better out of the box performance. This was not the case and the problems we saw, although can certainly improve, you needs to dig deep into the menu settings and know what to do to make things look better. Which we don't think many will be willing to do.
Lastly there seems to be some confusion regarding the 3D capabilities of the PX701-4K and not without reason. ViewSonic US is not advertising 3D at all in this projector and in our test unit this was indeed true. But various reports say that ViewSonic China says it does support 3D and that there is even a firmware update to enable it in the projector. Adding even more to the confusion is the fact that the manual mentions 3D support.
Now as far as we are concerned there is nothing in the hardware that would limit this projector to support 3D. There are other brands with similar hardware that do support 3D so we believe this can happen in the ViewSonic also. Now why this confusion happened between the different branches is not known as is also not known if the projector will really be able to support 3D in the future. But to be clear the unit we had at hand had no 3D support and there was nothing in the menu to make us believe it will.
Color Coverage
Let's see next how the PX701-4K performs with colors. The projector comes with a standard 8-segment RGBWRGBW color wheel which means it uses two sets of red, green, blue, and white segments. ViewSonic does not provide any color coverage ratings but it is a given that the projector, judging by the absence of any data on the manufacturer's part along with the kind of technology being used, does not support wide color gamut.
And this seems to be true by our measurements as the projector was capable of covering only 52% of the Rec.709 color space in HDR while things seemed better in SDR as here the unit could cover 81.2% of the Rec.709. As for the wider DCI-P3 these values as you can imagine are even lower.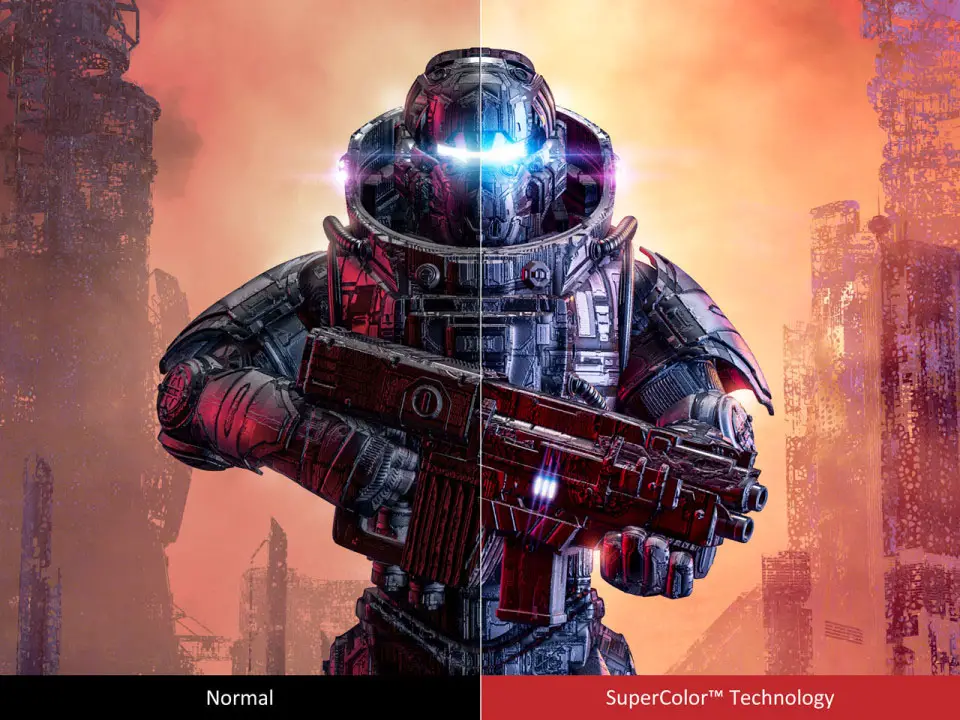 With default settings many primary and secondary colors displayed high Delta Es values, with many of them in double digit numbers, and although many may find the end result acceptable there is vast room for improvement if you are willing to spend the time with the calibration settings.
One last thing to mention here is that as with all projectors that use color wheels there is a chance that you will be prone to see a rainbow effect which can be bothering to some. Not all people can see it and in our case we didn't it but some small percentage do see it and can be really bothering so make sure you are not prone to this or at least make sure you make a test run before purchasing in order to determine if it is a problem in your case or not.
Brightness / Picture Settings
Next is our brightness test and according to ViewSonic the PX701-4K is rated at 3,200 ANSI lumens. Keep in mind that there are many factors that can affect brightness on a projector, with different lamp hours for example, so the numbers we provide are only for giving you a general idea of the projector's capabilities and yours may differ in the end.
When watching SDR content the available modes include Brightest, Sports, Standard, Gaming, Movie and two User defined modes. For HDR we get exactly the same ones but these can be adjusted separately from the ones available for SDR.
As always we use the widest angle along with Brightest mode in order to get the maximum brightness and in this case we got 2,545 lumens which is ok but far from the theoretical rating ViewSonic gives. Sports and Gaming modes came in second place with 2,187 lumens, Standard came next with 1,812 lumens and last came the Move mode with 1,649 lumens.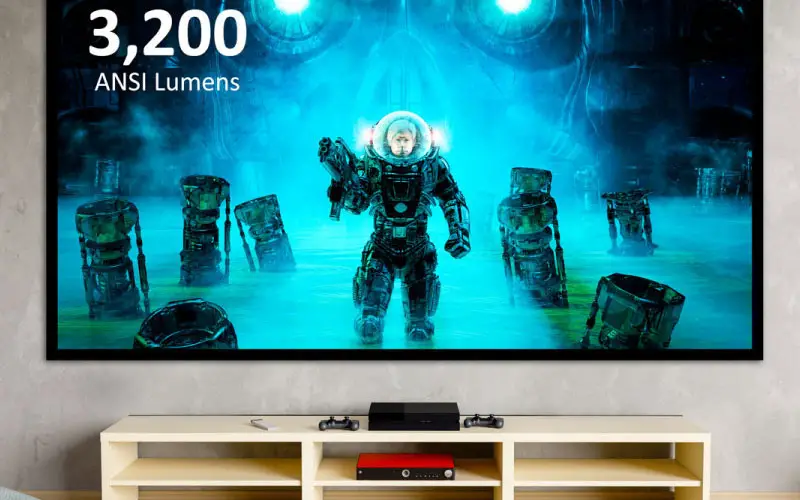 As for which settings to use it really depends on the content you will be watching. But in our opinion the Movie mode was the best with Brilliant Color set accordingly depending if you are watching SDR or HDR content. Also by using the Dynamic Eco power mode it felt like the projector was able to improve on those mediocre black levels while for the EOTF setting we would suggest the medium setting.
The Movie mode may be the least bright from the ones available but we are willing to sacrifice some brightness in order to get better color accuracy as this is an area where the projector suffers a lot.
Black Levels / Contrast
If there is one common characteristic among all these low cost 4K DLP projectors then this would definitely be their mediocre black levels. The PX701-4K does not break the mold here and surely with such a low price tag you shouldn't expect otherwise.
Blacks have a more greyish tone to them than real deep black and this problem can be more evident the less ambient light there is in the room. The projector is surely meant to be used in bright light conditions where this problem is not so obvious so we would suggest even if you plan on using this in a dark environment to have a bit of ambient light in the room in order to improve this problem slightly.
The projector is also missing a dynamic iris that could potentially help here so the problem becomes even more apparent. The Dynamic Eco mode does act in a similar fashion but it is not as efficient as a true dynamic iris so the problem cannot be fixed even with this option.
In terms of contrast ratio ViewSonic is rating the projector at 12,000:1 ratio which is more or less the theoretical number you would expect from a projector of this caliber but don't give too much attention to this number as we have seen manufacturers use a lot of different factors to give numbers that have no connection to reality.
No surprises to be honest here. These cheap 4K DLP pixel shifting projectors always had problems with deep black levels and the PX701-4K is no different. If you want deep blacks you will have to go to a much higher price category unfortunately and at least up to the $2,000 mark the kind of performance you will get is not much different. There are some brands that do fare better but not by much and it's a weakness you will have to live with if you plan on spending such a low amount of money on a 4K projector.
Input Lag
Into our input lag tests now and this obviously is one of the most interesting parts of our analysis as the PX701-4K is advertised as being able to have an input lag of 4.2ms at 240Hz refresh rate. From this number it seems to be obvious that the projector is using a new generation of Texas Instruments XPR chip that is capable of offering so low input lag times at such high refresh rates.
Now we were not able to confirm if this is true as we lacked the necessary source hardware that can output such high refresh rates so we were limited to two outputs and that was 1080p@60Hz and 4K@60Hz. Both resolutions gave as an input lag of 16.7ms which is exceptionally good and you will be able to play games on this projector with absolutely no lagging or slow response times.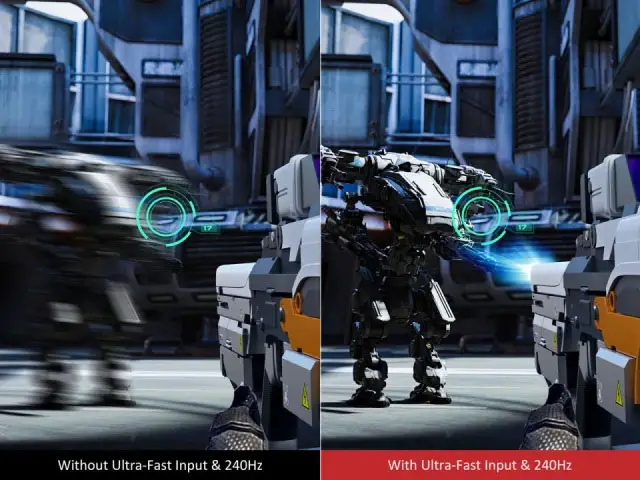 The projector is missing any kind of VRR technology but this was to be expected. There is also no 4K@120 output or anything above that. All these omissions have to do with the fact that the PX701-4K is missing HDMI 2.1 ports as the available HDMI 2.0b cannot support such high bandwidth signals.
For our real world testing we had connected our PS5 to the projector and used our copy of F1 2021 for a few laps. For the review we used the fidelity mode which outputs at 4K@60Hz. The gameplay was as smooth as butter and as for its responsiveness we could not be any happier from what we saw. Everything registered extremely fast and all our commands would render on screen immediately making this projector ideal for any kind of games you like to play.
Motion Performance
It seems that it is very much in fashion nowadays to promote high refresh rates and this is not the first projector that claims to support up to 240Hz for ultra responsive gaming. And although this number may be true it can be achieved only under specific conditions. And this is the same in all these low cost DLP projectors as it has to do with the technology used and not what each manufacturer can do to their own models.
First of all this high refresh rate can only be used with PCs as no gaming console can support such a high number. The PS4 and Xbox One X have certain limitations due to the HDMI 2.0 ports they use. As such the PS4 can do 1080p@60Hz while the Xbox One X can go as high as 1080p@120Hz. The new PS5 and Xbox Series X can go as high as 4K@120Hz which is cool but there is a problem. The PX701-4K cannot go higher than 4K@60Hz as it misses HDMI 2.1 that could potentially allow it for higher refresh rates in 4K resolution.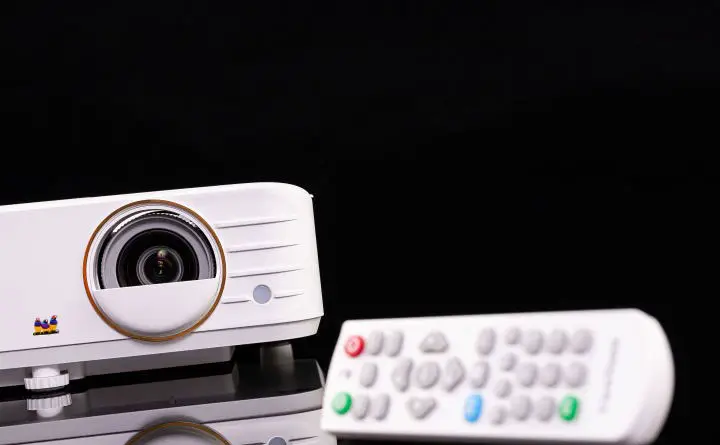 This means that in order to achieve its claimed 120Hz and 240Hz refresh rate it has to lower its image resolution to 1080p. So keep this in mind if you plan on using this one for your gaming sessions.
As for movies motion the projector did ok. It is missing any kind of motion interpolation or any kind of motion settings for that matter. What you see is what you get and there is nothing you can do to change or improve that. But for its cost we can say that the PX701-4K did really good in all kinds of content either it be movies, sports or gaming. During our movies testing we did notice some judder but all things considered we could overlook it.
The projector in a way reminded us the BenQ TK700STi. Good motion handling for the price asked with an image full of details and exceptionally sharp. Just don't expect to be wowed by it and you will enjoy it for sure.
Ports & Connectivity
The projector comes with some very basic connectivity options. In fact we were surprised to see that the ViewSonic PX701-4K comes with exactly the same layout we recently saw in our BenQ TK700STi review.

What we actually get is a couple of HDMI ports, an RS-232, an audio output mini-jack and a USB. It couldn't be more simple than that. Both HDMI ports are HDMI 2.0b/HDCP2.2 which means they can support up to 4K@60Hz signals or 1080p@240Hz. As for the USB port this is a USB 2.0 but is used only for power delivery and not for connecting external storage and thus can be used to connect some HDMI dongle since there is no online functionality built-in.
As was the case with the BenQ, the PX701-4K is missing some very obvious ports we usually find in projectors and these are the trigger ports. At least one should be available to cover all bases but unfortunately there is none.
Also there are no HDMI 2.1 ports which results in the projector not being capable or receiving anything above 4K@60Hz. With the latest consoles now supporting 4K@120Hz it is about time we see manufacturers release projectors which are HDMI 2.1 equipped. And it's a real shame as the unit is capable of very low input lag which could be excellent for gamers.
As mentioned above the projector has no online functionality, meaning no WiFi or Bluetooth to work with.
OS, Apps and Features
When it comes to extra features the PX701-4K has none. Since there is no built-in WiFi or Bluetooth it means that there can be no online or smart functionality. As we already mentioned you can add optional HDMI wireless dongles, like Chromecast and Amazon Fire TV stick that can be powered by the available USB port but these are not built in and will work separately from the projector.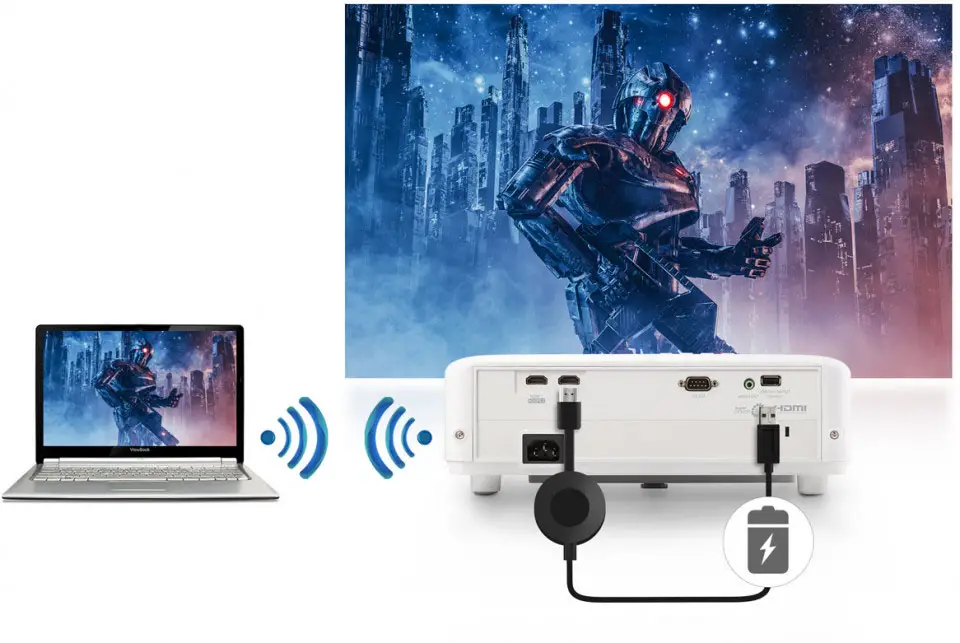 If you absolutely need some short of online or smart functionality built-in into the projector there are other options to consider as many low cost projectors come with Android nowadays that offer plenty of flexibility. One such projector is the BenQ TK700STi that we had reviewed recently and comes with Android TV. It's price is slightly higher than the ViewSonic but surely offer much more to justify the higher price.
The general On-Screen Display (OSD) menu of the PX701-4K is fairly simple and ViewSonic has divided the settings into groups depending their functionality. There are seven tabs available with Display, Image, Power Management, Basic, Advanced, System and Information. These tabs gives you access to all image and system settings you need and we had no problem finding the setting we were looking for.
The projector was designed with increased portability in mind. And as such it was a given that some short of built-in sound system would be available. The 10 watts speaker that is included may not be of home theater quality and surely will not going to blow your shocks off but for casual use either in movies or gaming it will suffice. There are no settings for the audio and the only thing you can really change is the volume so don't expect any fancy calibration or sound modes here.
The projector is really simple. It focuses entirely on its image performance and so there are no extras or other features available. The on-board sound is enough for casual use and given the low cost nature of the unit we would say that it's good enough for what you pay for.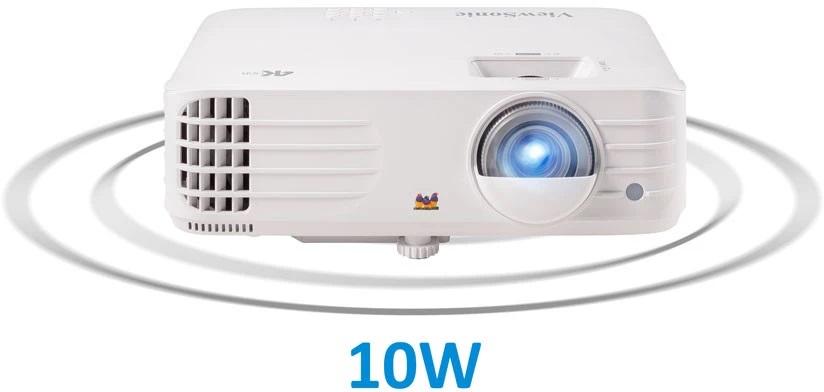 Final Thoughts
With the PX701-4K we are entering a new era of low cost 4K pixel shifting projectors as we have reached prices that right now sit comfortably at the $899 price point. For that money you get a projector that may be barebones in terms of extras but if you really don't care about all these bells and whistles then you will be pleasantly surprised by what this budget projector can do.
On the positives the PX701-4K is very compact and lightweight making it easy to carry around while its high brightness and on-board sound makes it ideal for outdoors use or in areas where there is a lot of ambient light. It's fairly easy to use and with some basic calibration you can get even better image quality although many will surely find the default settings acceptable enough. Its low input lag will surely be appreciated by gamers while its price tag of $899 for a 4K projector it's hard to pass if you are looking for a budget solution for your 4K entertainment.
On the downsides its low price surely has an impact in a lot of areas of this projector. In terms of picture quality we get all the same problems these low cost DLP projectors have meaning not very good contrast, average shadow details and not very deep blacks. Color accuracy also suffered and even with some corrections they were not very accurate. Out of the box performance was mediocre and you need to make certain corrections that many casual users may not be able to do without a professional calibrator. Also there is no extra functions or features and for these you will have to add an extra HDMI dongle if you absolutely need them. Lastly there is no 3D support which is a trend we see a lot lately in various projectors.
Closing what we can say about the ViewSonic PX701-4K is that we were satisfied with what a $899 4K projector can do these days. If you don't care about extra features and you are looking for a low cost solution for your bright living room or for outdoors use that can be used either for movies, sports or gaming then this projector will cover your needs and will surely not burn a hole in your pocket.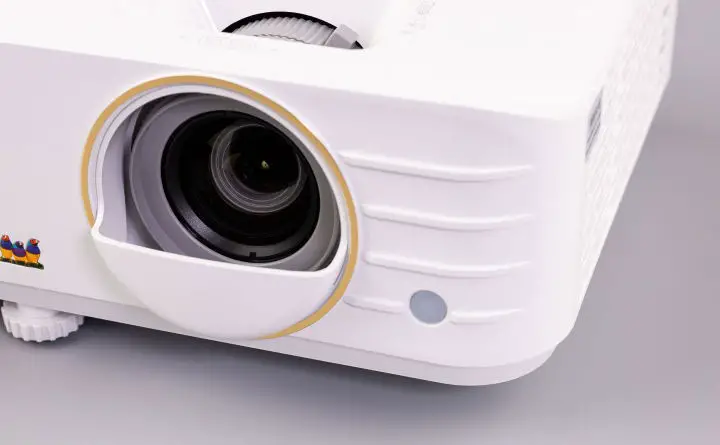 For more reviews you can check our dedicated 4K Projector reviews list or even look at our Product Reviews Table where you can find the brand and specific product you are looking for.
Also don't lose the chance to subscribe to our Newsletter and gain exclusive privileges.
---
Cheapest Places to Buy :
---
ViewSonic PX701-4K Specifications