Viewsonic PX727-4K
OS, Apps and Features
8.8/10
Pros
Good image quality with HDR
Nice motion performance
Low input lag
Excellent price for a 4K projector
Cons
No 3D support
Black levels are average
A bit noisy
Offers basic placement flexibility
---
Cheapest Places to Buy :
---
Although in 2018 4K UHD projectors are in abundance, those offering true 4K resolution are still very pricey and almost unreachable to the average consumer. This has led projector manufacturers to develop an alternative technology that may not offer the exact same quality as true 4K resolution but is close enough and at a far lower price in order to lure more consumers into buying them. Add a bit of marketing magic and the result is projectors that offer 4K resolution but with an additional term…pixel shifting.
The projector we will be reviewing today from Viewsonic is one of these pixel shifters, but what is worth mentioning is that this projector is probably the most affordable 4K projector in the market today. It is even cheaper than other pixel shifting 4K projectors that are supposed to be on the same category as this one immediately making it a worthy projector to consider. The first thing that comes to mind when looking at a so-called 4K projector having such a low price as this, is that it must have low quality also. Does this hold true? Or did Viewsonic managed to surprise us with their offering? Let's find out in our Viewsonic PX727-4K review.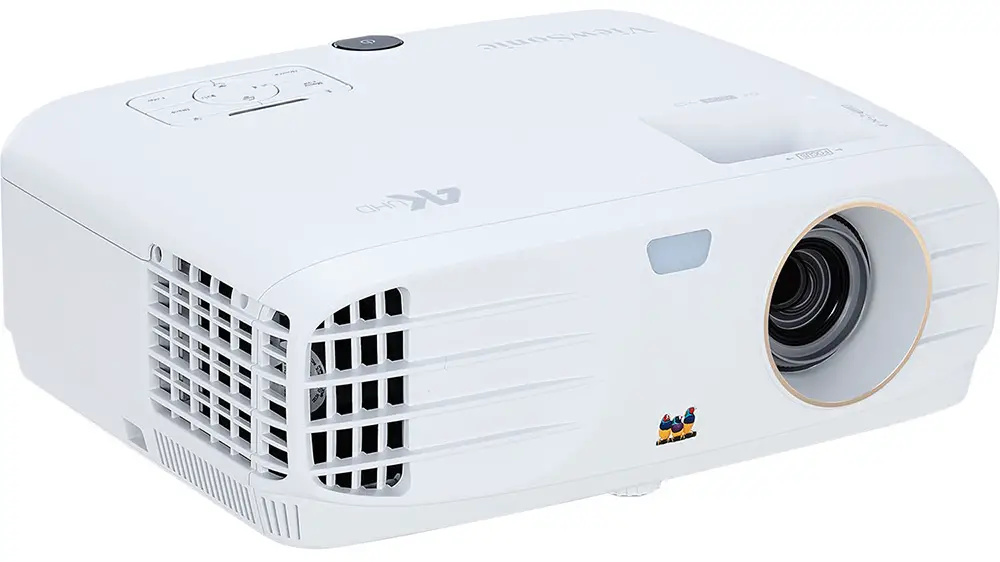 Design
What we get here is a lovely looking projector without offering anything spectacular. The PX727-4K is a white rectangle box with the lens being offset to one side while a big air vent balances the other front corner. Having such a big vent results in some light leakage but it was very little and certainly didn't bother us during testing. There seems to be enough ventilation all around the projector so this will definitely help keep temperature at normal levels. On the front there is a fairly large IR sensor positioned in the center and as a result remote reception is excellent.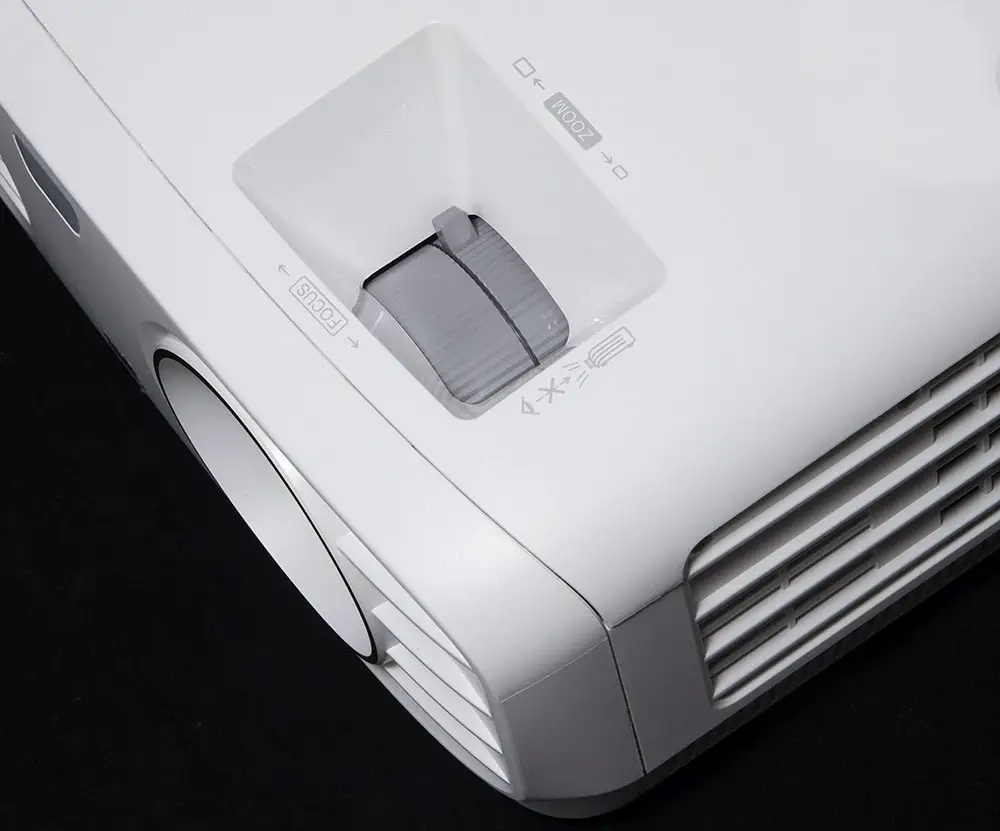 On the top of the projector we get two manual adjusting knobs, right above the lens, with one being for the focus and the other for the zoom control. Also on the top of the projector we find a few control buttons for setup and menu navigation as well as source selection. These buttons also serve for keystone correction and speaker volume. There are also a couple of lights here for lamp and temperature readings. Right next to them we find the power button along with a light next to it that changes colors depending on the status of the projector. All ports are placed on the back of the projector and we will analyze them in the corresponding section.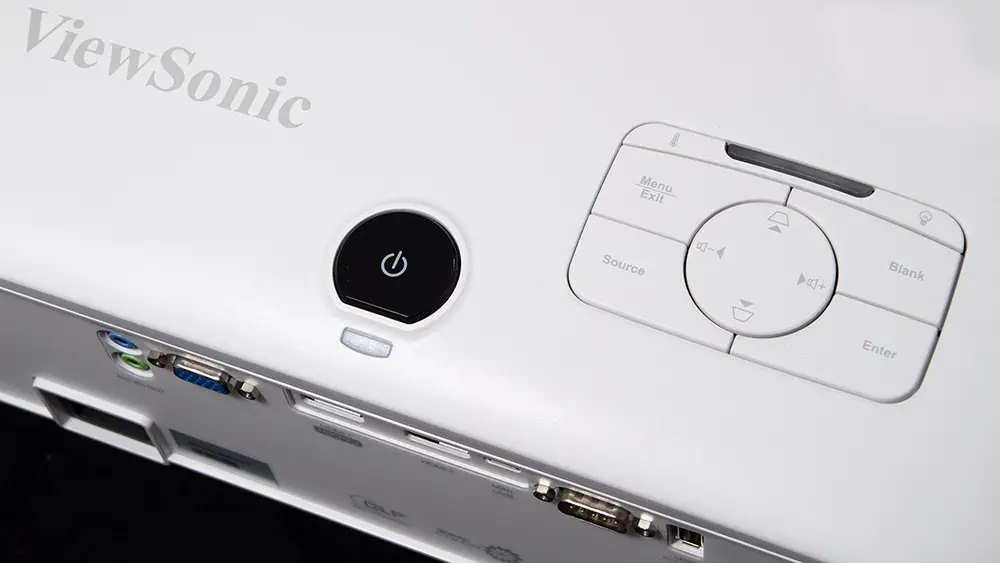 Under the hood of the Viewsonic PX727-4K we find the new .47" DLP chip from Texas Instruments that has a native resolution of 1920×1080 pixels. With the quad-shift always active it reaches the desired 3840×2160 resolution. This new generation of cheap 4K projectors may not have the high contrast and black levels of the more expensive projectors with their premium optics but as far as sharpness and image clarity is concerned they are very close making them ideal for all these people that cannot afford to spend crazy money for a true 4K projector but want some taste of a projector that can offer a very similar experience. And the Viewsonic PX727-4K succeeds in this.
Overall the projector feels a bit on the cheap side but at this price range you cannot really ask for much more and it makes us wonder how much cheaper will these projectors be able to go in the future. Exciting times are ahead.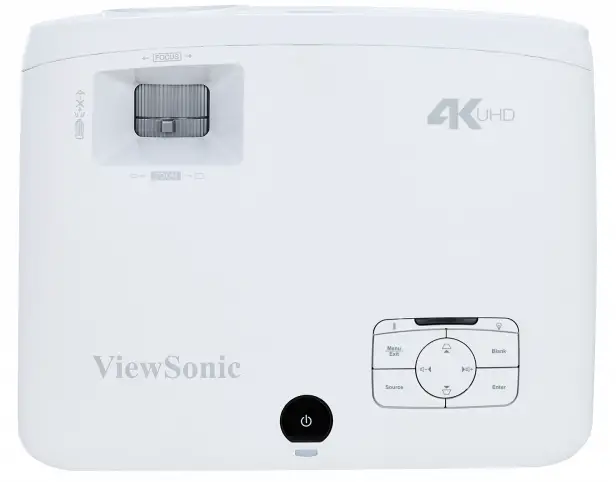 Video Quality
When reviewing such aggressively low priced projectors we tend to be a bit harsh on our judgement because we may like a product to offer everything at the lowest price but in the real world this is impossible so when a projector is marketed as a 4K UHD one, we expect it to have a certain degree of quality that will justify it's branding. So looking at the PX727-4K we were a bit skeptical if it can deliver what it was advertised for. So when we powered it on and went through our normal testing all our questions were answered.
Being a 4K projector it should be able to deliver the necessary clarity and sharpness that the new format is capable of. We may be talking about a 4K pixel shifting model but as far as image quality is concerned it delivers an image that is low on noise with great sharpness edge to edge and clarity that we could not believe that was coming from such a low priced model. There is also a Super Resolution option for those that seek extra sharpness and although it may help in a few instances by creating more details in the image it tends to add more noise also something that can be particularly bothering in some films that are image noise heavy.
Black levels are more or less good but cannot reach the deep blacks of some more expensive projectors. This may not be immediately apparent but in some very dark scenes the difference is visible. The performance we are seeing seems to be more or less the typical one you would see from a single DLP chip 4K projector so we cannot say we are surprised or that we would expect any major difference. If you want better performance with more deep blacks then you will definitely have to spend at least double the amount the PX727-4K costs so for the average Joe it is not worth it. But for the serious home theater enthusiasts they will definitely have to look for a more expensive model if they want deeper blacks.
The projector comes equipped with three pre-calibrated brightness settings and two more user defined ones. Bright mode offers the most brightness reaching almost 2000 lumens but unless you have a very bright room you should avoid it as colors are not very accurate displaying a subtle cyan bias. Then we have the Standard mode which is less bright peaking at almost 1500 lumens and offers a bit better color accuracy as it gives a more subtle cyan bias than Bright mode. And there is also the Movie mode that hovers at around 1250 lumens and seems to be offering the best picture and color accuracy possible and is the one you should be using if you want the best picture possible.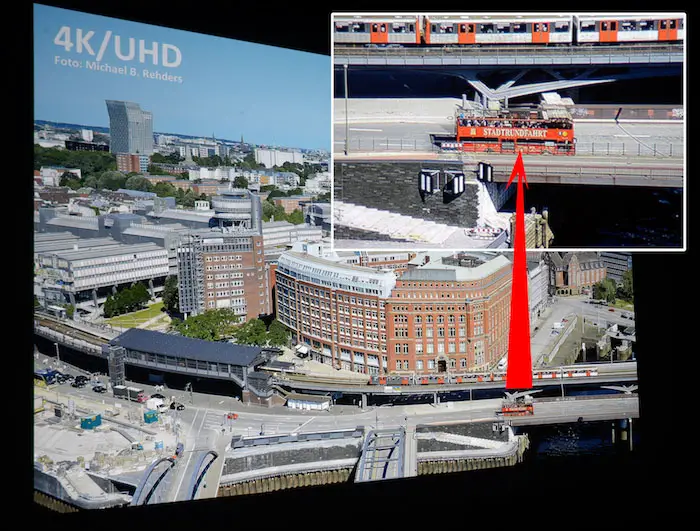 The PX727-4K also comes with an ECO mode which reduces brightness by around 35% for each mode and SuperEco which essentially is a dynamic black mode that doesn't affect the brightness of each mode but affects positively the lamp life by extending it to 15,000 hours.
HDR performance is also pretty good for this price range. When the PX727-4K is fed with an HDR signal the higher contrast image created gives to it more depth and a three dimensions feeling without making the picture look fake or over-processed. The effect may not be dramatic but it definitely is better than the standard 1080p content without HDR. Of course in this price you cannot expect to have the dynamic range that projectors with three or four rimes the price of the Viewsonic offer and definitely cannot even come close to the HDR that today's LCD TVs are capable of but it can hold on it's own and deliver a nice viewing experience.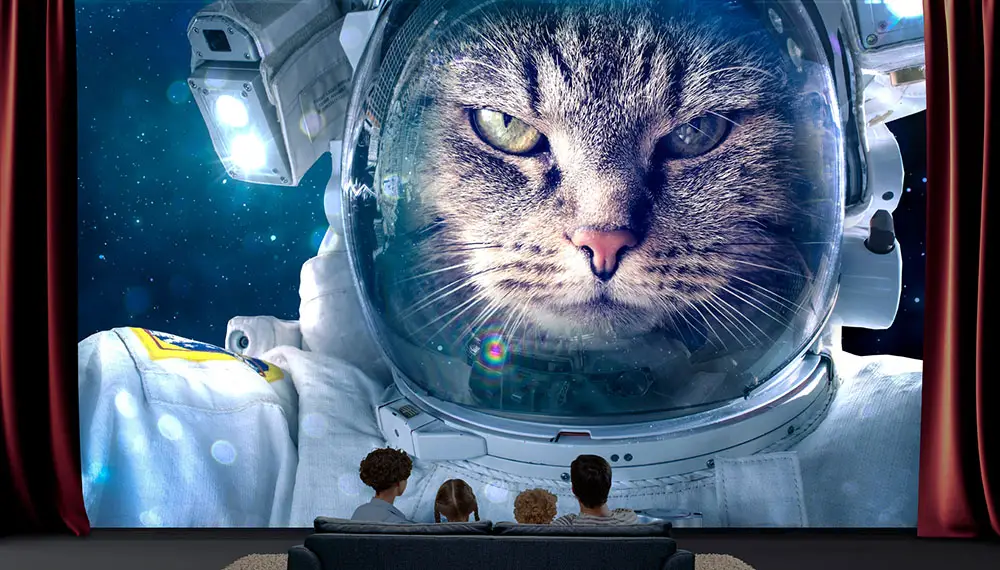 As for motion performance during testing we spotted only minimal judder in fast camera panning sequences creating a very smooth result that is comparable to some more expensive models.
Input lag was measured at around 50ms which is good for average gaming but for the serious gamers that want super fast response they will have to look for a different projector. If you don't care about 4K resolution then there is the option of the Optoma GT1080Darbee that is a native 1080p gaming projector that offers great input lag that goes as low as 16ms. Otherwise if you definitely want a 4K projector then you will have to go higher in price to find good input lag.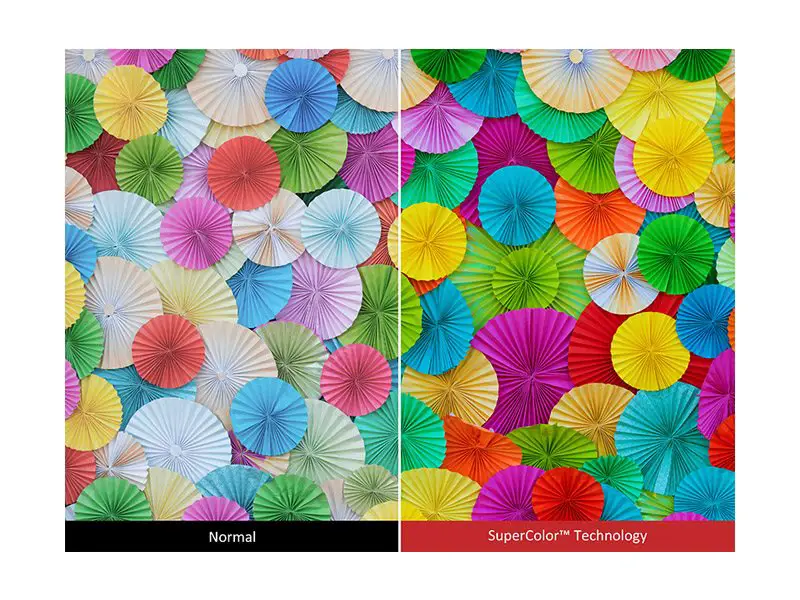 In total we would have to say we are very pleased with the overall image quality of the PX727-4K. Of course it cannot reach the quality of some 3LCD or LCoS projectors but keep in mind that the prices asked for these projectors are way above what is asked for the Viewsonic. Sharpness is excellent, black levels are good but not extraordinary and HDR is adequate. In this regard we can say that the PX727-4K can stand proud by offering quality that is not usual to find in this price. And we have to give kudos to Viewsonic for achieving this.
Inputs
For a low cost 4K projector the PX727-4K is rather good equipped with the most important connectors present. There are no legacy connectors on offer but this is the normal nowadays with only very few projectors still offering composite or S-Video connectors.
As for what we get in the back of the PX727-4K from left to right we have one 3.5mm audio in and one 3.5mm audio out jack, a computer VGA input and two HDMI inputs with HDMI 1 being version 2.0 with HDCP 2.2 support meaning it can receive signals up to 4K@60fps with HDR. HDMI 2 on the other hand is the older version 1.4 and it comes handy for those that have older equipment that don't support HDMI 2.0.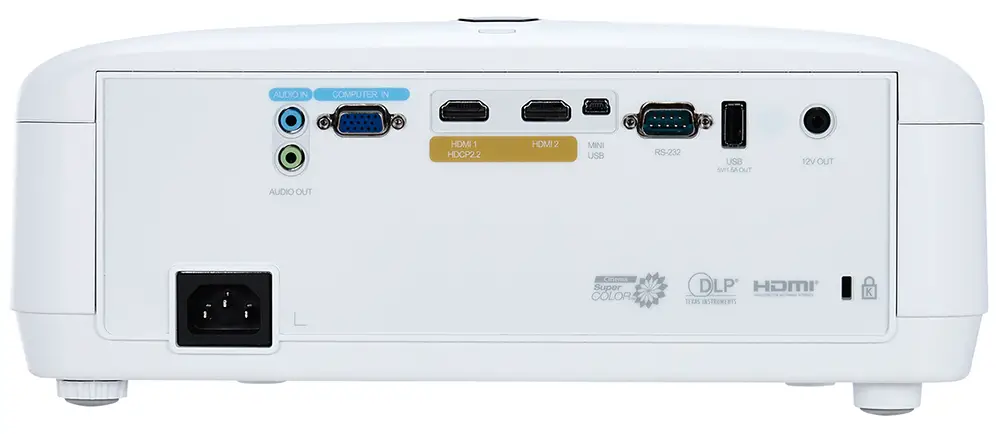 Next to them is a mini USB or Type B if you prefer, an RS-232 port, a USB type A port that you can use for charging and a 12V trigger that can be very handy if you have a motorized screen and want to raise or lower automatically.
As far as connections is concerned we cannot say we expected anything else other than what is being offered. The price really doesn't allow us to wish for anything else but to tell you the truth what we got is the most important and the most useful ones. More expensive projectors may offer more but in all honesty these are for the minority as most people will be able to make do with what the PX727-4K offers without any problem.
OS, Apps and Features
Setting up the projector was pretty straightforward but you have to keep in mind a few things. Zoom lens provided is at 1.2:1 so there is not much flexibility on where to place it so the best case scenario is to ceiling mount it for the best result. Also there is no lens shift meaning that with the projector having a lens offset at 120%, the image will be 10% above the projector axis. As a result you will need to use keystone correction which will dramatically lower the projector's image resolution. The best solution is to level the front and back feet of the projector to avoid such a solution that will greatly lower the resulting quality.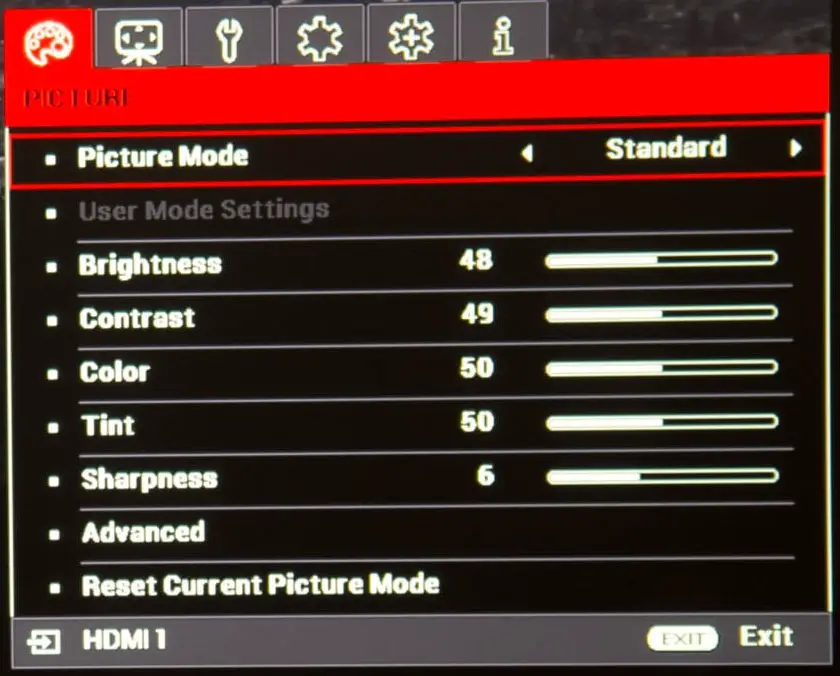 The menus on offer are simple and are split in six major tabs. The first tab is for picture settings where you can calibrate brightness, contrast, color, tint and sharpness as well as gamma and color temperature among others. The second tab is for display options featuring various screen adjustment settings as well as a Silence mode. What seems to be the normal is that all these 4K pixel shifting projectors are creating a small humming sound. This mode basically turns off the pixel shifting thus making the projector silent but on the other hand turns it into a pure 1080p projector. If you are watching mixed 1080p and 4K content then this may be a useful feature to have.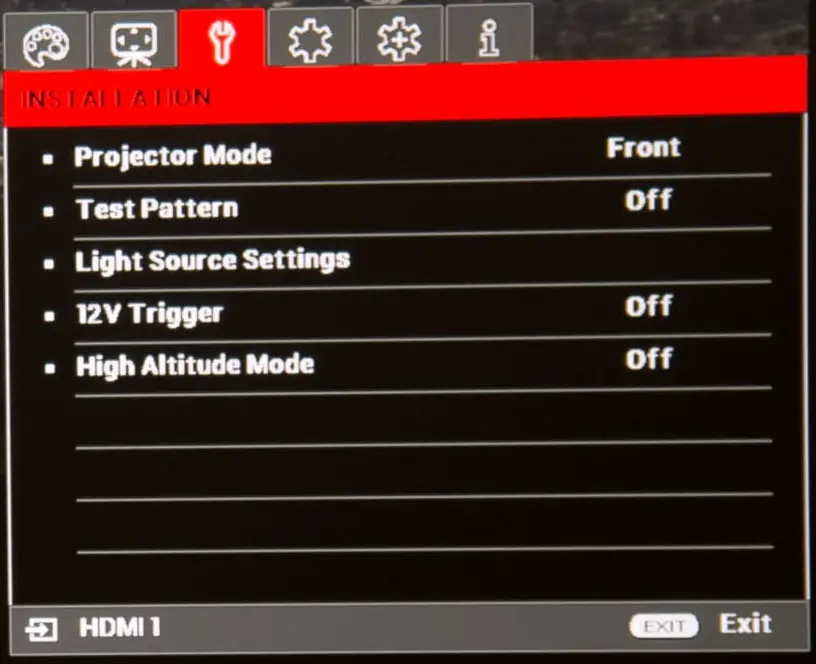 The third tab in line is called installation and has settings for projector placement, the 12V trigger, high altitude mode, a testing pattern and a light source settings option. The fourth tab is for system setup with various general options, the fifth tab is advanced system settings offering options like HDR, HDMI options and audio settings and the last is the information tab providing a few general information about the projector and the receiving signal.
The PX727-4K comes equipped with a 10W speaker but the performance of it definitely leaves a lot to be desired. For portable use it may be adequate but for use in a home theater or media room then you will definitely want to use a dedicated audio system. Noise level when in Normal lamp mode is a bit audible but not to the point of being unbearable. In Eco mode things become better making the projector almost completely silent and only a low hum can be heard that probably originates from the pixel shifting feature because when we engage Silence mode the hum goes away. Viewsonic says that lamp life in full lamp mode is around 4,000 hours while in SmartEco mode this is extended to 15,000 hours which is very good.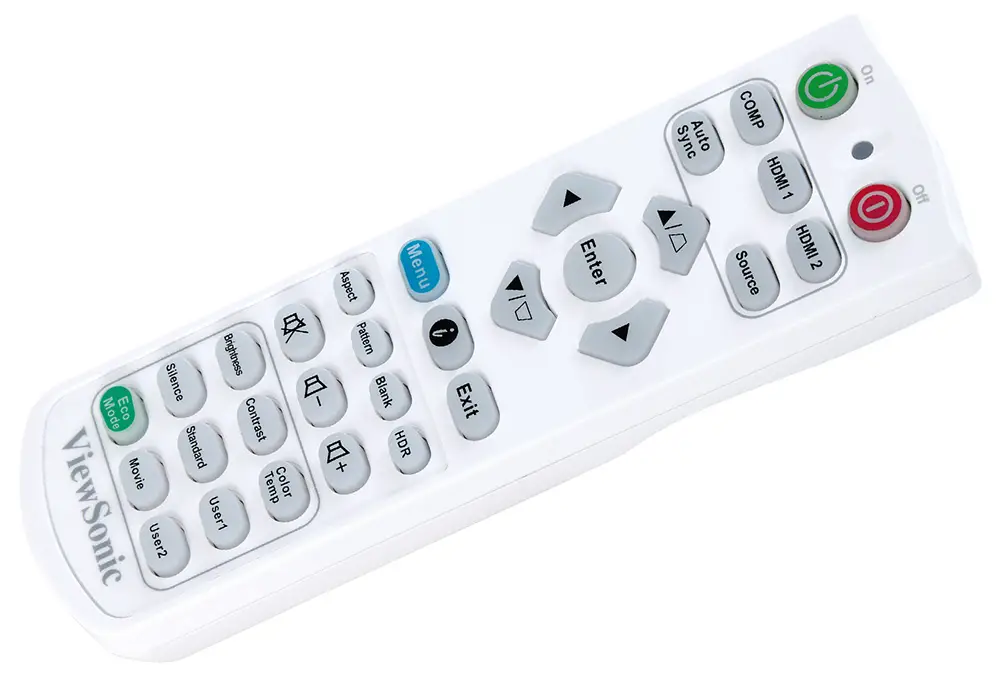 The remote on offer is small but very practical offering all the important functions in grouped buttons. What made us scratch our heads is that Viewsonic has included different buttons for powering on and off the projector something that you will not see very often. The rubber buttons have a good feeling to them and enough space between them and although it took us a bit to get used to the positioning of each button after a while it became like second nature. What we particularly liked was the backlight functionality that is very practical for low lit environments and has a blue color to it making it look very nice in the dark.
Final Thoughts
It seems that lately there is a huge amount of aggressively low priced 4K UHD pixel shifter projectors that try to offer at least some of the benefits of the 4K UHD format. And we see that many of them offer similar quality as there is so much you can do in this price range. The single DLP chip used in these projectors from Texas Instruments really managed to offer something that seemed impossible a few years back. So why someone should choose the Viewsonic one when so many others also exist for the same spot?
It really comes down to price. All these projectors may have small differences but are very close and each one of them has strengths and weaknesses. So for the Viewsonic PX727-4K to draw more attention it had to offer something that the rest don't. We don't know if the pricing policy of projector manufacturers will change in the future but at the time of writing the Viewsonic is the most affordable 4K projector in the market.
Keeping in mind that we are talking about a sub $1500 projector, offering great sharpness and 4K image clarity, good black levels and adequate HDR one could say is an achievement. In addition there are enough ports for all necessary connections and the menus and settings on offer are pretty straightforward and easy to navigate.
On the other hand there are a few major drawbacks. While we mentioned good black levels above, this was relative to it's price. So in this regard we would like to have better black levels that some more expensive projectors offer. Also although motion performance is good there is no CFI, or creative frame interpolation if you prefer, that would really benefit sports viewing and create a more smooth viewing. The Viewsonic also has no 3D support, the on-board audio is a bit on the weak side and in general the projector seems to be a little noisy and can be bothersome to some sensitive ears.
Closing we will just say this. If you are on the lookout for the most affordable 4K projector then look no further because not only this is the one but also has a few good points that are surprising for it's price. The Viewsonic PX727-4K will definitely introduce you to the world of 4K projectors in the best possible way, by spending the least amount of money. But if you are a serious home theater enthusiast then there are other more expensive options with better optics to look at. We think that Viewsonic was targeting a specific target group with this projector and they managed to create a very attractive product in this regard making us like it more just for this reason.
For more reviews you can check our dedicated 4K Projector reviews list or even look at our Product Reviews Table where you can find the brand and specific product you are looking for.
Also don't lose the chance to subscribe to our Newsletter and gain exclusive privileges.
---
Cheapest Places to Buy :
---
Specifications
Display Type : DLP
Resolution : 4K UHD (3840 x 2160)
Display Size : 30 – 300 in. / 0.76 – 7.62 m
Aspect Ratio: 16:9

Brightness :

2200 ANSI

Dynamic Contrast Ratio : 12,000:1
Throw Ratio : 1.5 – 1.8
Throw Distance : 3.2 – 38.4 ft / 1.0 – 11.7 m
Keystone : Vertical (± 40º)
Lens : 1.2x optical zoom
Light Source (Watt) : 240
Lamp Life, Normal (Hours) : 4,000
Lamp Life, Dynamic Eco Mode (Hours) : 15,000
Color Depth : 1.07B Color (R/G/B 10bit)
Frequency Horizontal : 15K~135KHz
Frequency Vertical : 23~120Hz
PC Resolution : Max 3840 x 2160, Min 640 x 480
Connectors : USB 2.0 Type A X 1, 3.5mm 12V Trigger X 1, 3.5mm Audio Out X 1, 3.5mm Audio In X 1, Control (RS232) X 1, HDMI 1.4 (with HDCP 1.4) X 1, HDMI 2.0 (with HDCP 2.2) X 1, VGA In X 1, VGA Out X 1, Mini USB X 1
Audio : 10W Internal speaker X 1
Power : 100-240V+/- 10%, 50/60Hz AC, 310W typical consumption
Physical Controls : Power, keystone/arrow keys, left/blank, menu/exit, right/panel key lock, mode/enter, auto, source
On screen display : Display, Image, Power Management, Basic, Advanced, System, Information (See user guide for full OSD functionality)
Operating Conditions : Temperature 32-104º F (0 – 40º C), Humidity 0-90%
Additional hardware : Kensington lock slot
Dimensions : 13.1 x 5.3 x 10.3 / 332.0mm x 135.0mm x 261.0mm
Weight : 11,0 lbs / 5,0 Kg