---
Cheapest Places to Buy :
---
We see a trend forming lately among projector manufacturers where they offer two variations of the same model with one favoring white brightness while the other favors better color brightness. The first we had seen doing this was ViewSonic with their PX747-4K and PX727-4K models. These two projectors are almost identical as they both come with the same 4K pixel shifting technology and the only thing that makes them different is their color wheel with the PX747-4K coming with a RGBW wheel while the PX727-4K one with a RGBRGB wheel.
Practically this means that in theory the PX747-4K can output more white brightness while the PX727-4K has better color brightness. Having already tested the PX727-4K last year, a review that you can find HERE, it managed to get very good scores which was a result of good image performance with an amazing price for it's category so more or less we knew what to expect from it's sibling.
But the ViewSonic PX747-4K has another characteristic. It's one of the cheapest, if not the cheapest, 4K capable projector on the market at the moment of writing making it the first sub-$1,000, 4K projector which is quite a feat. Being the cheapest projector of it's kind can it still provide a picture good enough to bear the 4K naming and is it good enough for those budget sensitive consumers that want a bit of 4K action? Read our ViewSonic PX747-4K review for our full analysis.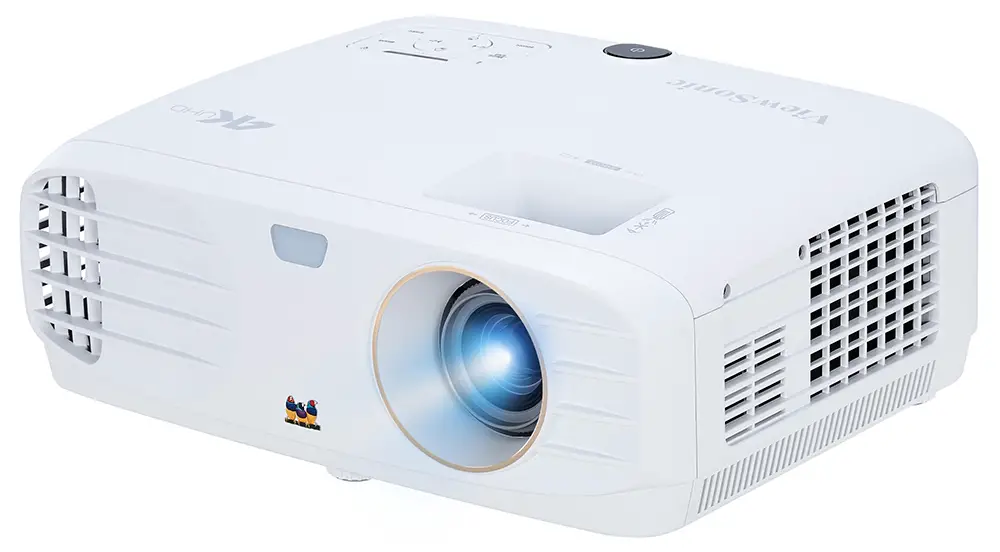 Design
Reviewing the PX747-4K felt like a bit of deja vu as the projector is very similar to the PX727-4K that we had tested last year. In fact when it comes to it's chassis they are completely like for like and it's impossible just from looking at them to spot any differences. The projector has a rather simple look without it being anything extraordinary. Don't forget that we are talking about an extremely budget friendly model here so there is nothing other than the absolute basics.
The PX747-4K sports a white plastic rectangle box design with the lens being offset to the right as we look the projector from the front while on the opposite corner we get a big air exhaust that hides a big fan inside. We did notice a bit of light leak from the vents as well as from around the lens but it was not so much to become distracting but with keeping the cost at so low levels things like this are to be expected. In general the chassis is pretty well engineered with plenty of air ventilation all around in order to keep the temperature low.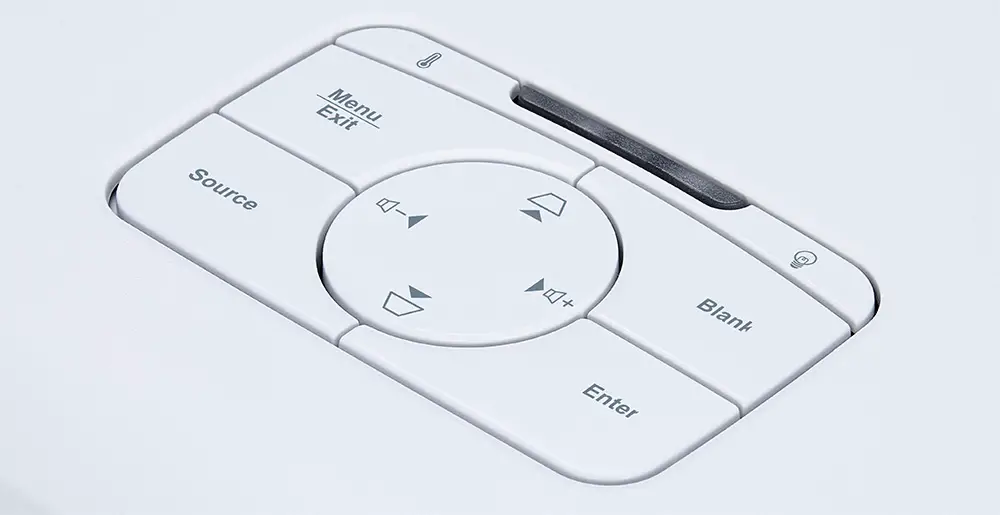 Between the lens and the air vent we get a big IR sensor dead center that makes sure the projector gets all our commands with little trouble. Exactly above the lens on the top side we get the usual knobs for adjusting focus and zoom. On the top we also find a control keypad with some basic buttons that include source selection, menu, navigation buttons, keystone correction, volume control as well as temperature and lamp indication lights. There is also a big black power button that sits separately from the rest while below it we get a second IR sensor for use in case you have the projector on the ceiling. All ports are positioned at the back and we will talk about them in our dedicated section.
The lens of the PX747-4K offer a 1.2x zoom with a 120%+/-6% projection offset, a 1.47-1.76 throw ratio and a ±40° vertical keystone. It has the ability to go from a 30″ – 300″ image size with a throw distance of 0.97m-11.69m. So for example you want a 100″ image size you will have to place the projector approximately 3.26m away. Unfortunately there is no lens shifting which makes placement of the projector a bit more difficult.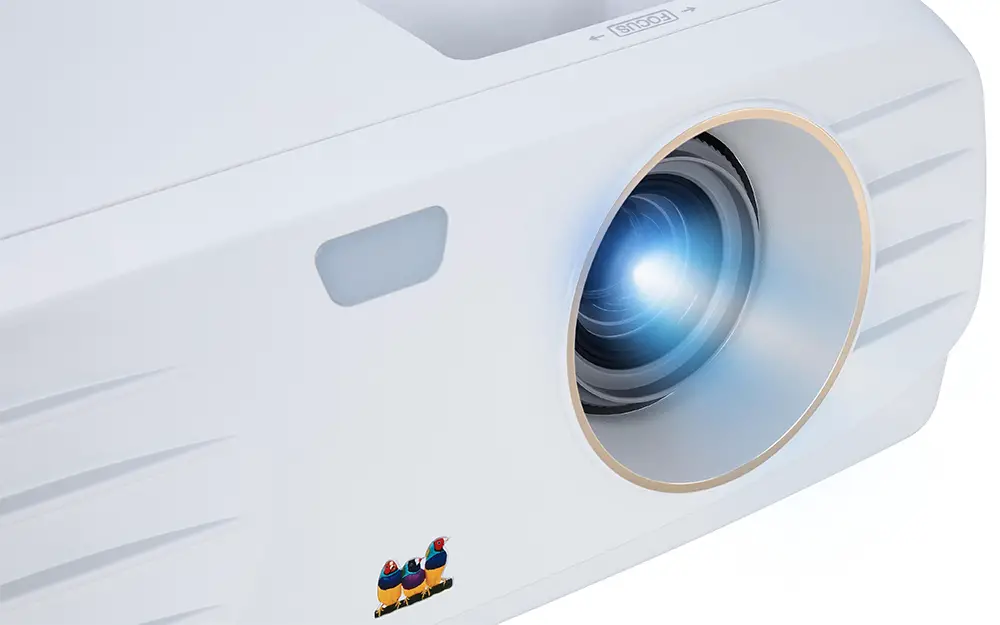 ViewSonic rates the PX747-4K at 26dB of noise in Silence mode which is very good but with a catch. When Silence mode is engaged it's pixel shifting technology turns off essentially making this a pure 1080p projector. With the pixel shifting tech at full work our lowest measurement was 29dB. In general we were expecting this as we have seen other projectors with similar pixel shifting tech to generate similar noise. It's not all out frustrating but this low buzz may be bothering to some.
The included lamp is rated at 240 watts and there is a claimed 4,000 hours lamp life in Normal mode with an extreme 15,000 hours in SuperEco mode. Even if we are talking about theoretical numbers here we consider them very good especially in this price.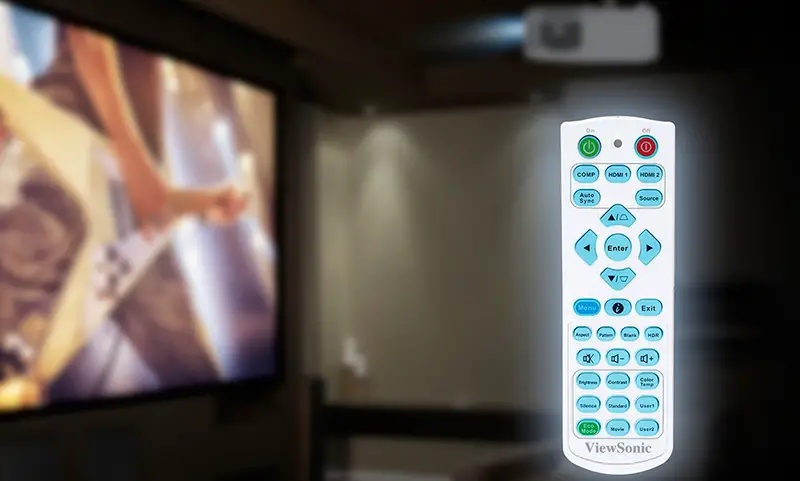 The included remote is exactly the same as we saw with the PX727-4K which is a nice white offering with big rubber buttons and backlit functionality. If there is one thing that is particularly strange in this one is the inclusion of separate power on and power off buttons which in all honesty is a weird design decision and a unique one. The buttons layout is simple with buttons separated into groups depending their functionality. In total this is a very nice offering and we can say for sure it's a click above average from what we usually see in this price.
The projector is definitely made with portability in mind. Measuring 13.1 x 5.3 x 10.3 inch. (332.0 x 135.0 x 261.0mm) and with a weight of 9.3 lbs. (4.2 Kg) the PX747-4K is small and light enough to be carried around to your friend's house for a sports night. The included 10 watts speaker also helps with that as you will not need an external speaker for audio. Of course don't expect any major sound quality coming from it but it will offer all the basics. Also there are three adjustable feet included, two at the back and one at the front, which help to place it on a furniture and make fast adjustments.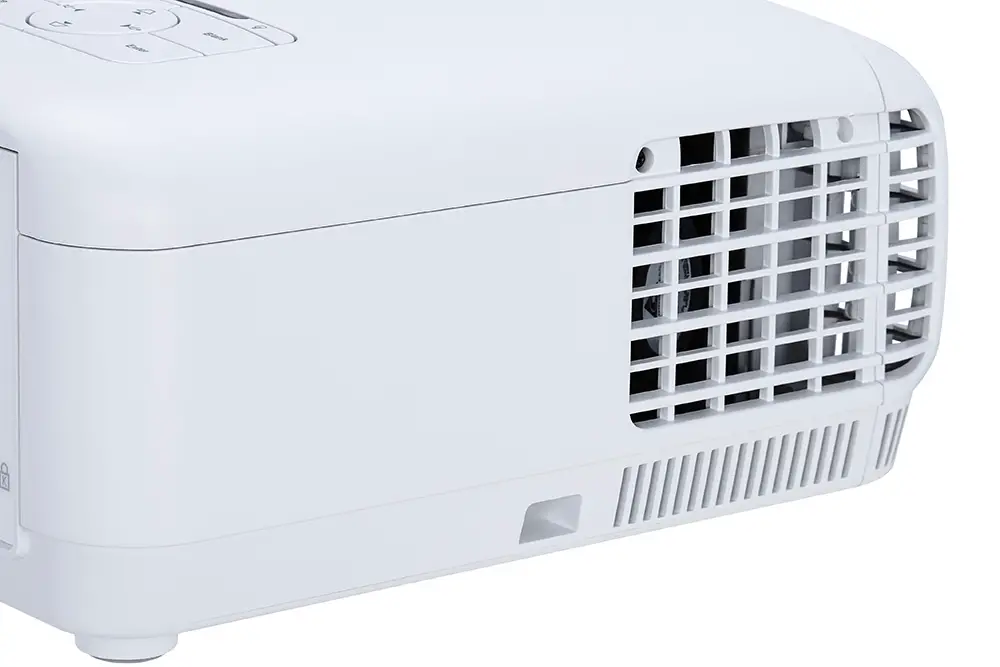 We don't have any major complaints here. Only a bit of light leakage and the higher than what we would like noise is just two things that are worth mentioning. ViewSonic may offer a cheap projector here but they made their best to give us a respectable 4K capable model.
Video Quality
Technology used
The PX747-4K comes with exactly the same tech we had seen in it's twin brother. As such we get the same 0.47″ DMD XPR (1920 x 1080) DLP chip courtesy of Texas Instruments. With a native resolution of 1920 x 1080 it uses quad-shift in order to flash each pixel four times in quick succession and reach the desired 3840×2160 resolution. Now there has been a lot of talk about this tech and there are many negative feelings for it among home theater fans but having tested it before we can assure about the quality results it can produce.
What we don't like is that we have seen many times manufacturers claiming this to be true 4K when in real it isn't. When you have such a proven technology that can produce so good results at a fraction of the cost of native 4K chips why to misinform the consumers in such a way? So in order to summarize for those new to all this what we have here is what we would call pseudo-4K resolution tech that is very cost effective but is capable of producing clarity and sharpness that are almost identical to native 4K images.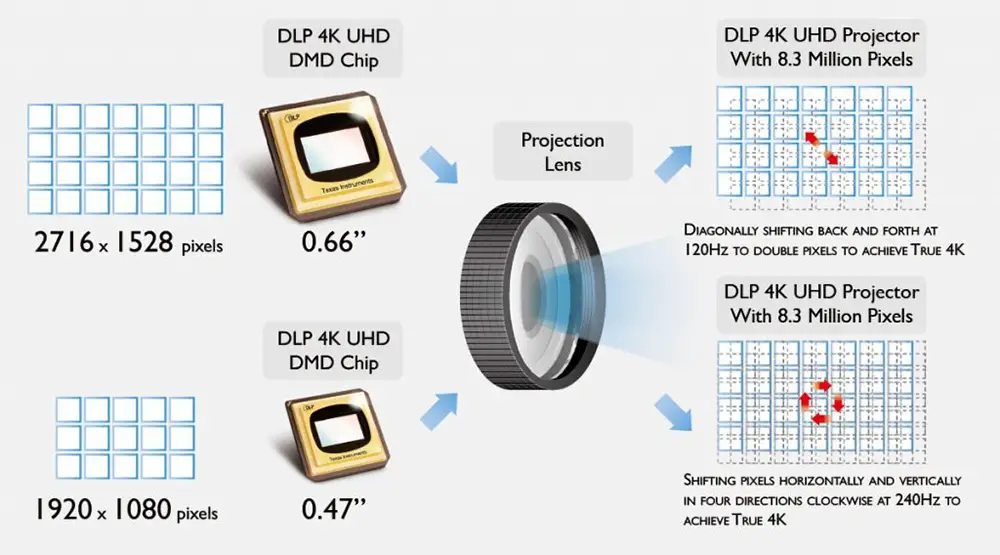 4K UHD / HDR Content
One of the films we tried with the PX747-4K is the 4K UHD version of Pacific Rim: Uprising. We did this because this film has a very clear image with a lot of colorful outdoors scenes and we wanted to see how it would fare in this regard.
First of all we need to mention that the projector amazed us with how sharp the 4K image displayed was. Having tested a few native 4K projectors we can say that the PX747-4K is not missing almost anything as far as sharpness and clarity of the 4K image which is amazing if you think the price difference between this model and even the cheapest native 4K projectors in the market today. Also even though this is a non wide color gamut projector it managed to display very vivid colors that really pop.
But where this projector looses hands down compared to more expensive models is in it's black levels performance and contrast as blacks appear to be dark greys. We have seen many of these cheap DLP projectors having the same problems with blacks and you will have to go considerably up in price to get one that can display deeper blacks. As you can understand with such a price you cannot have everything and even having such sharp image with nice colors, even if they don't appear as bright as with the PX727-4K, is a real feat.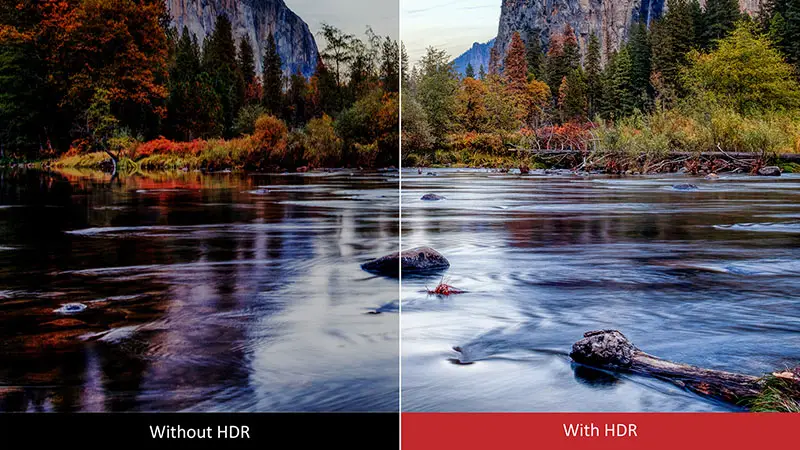 As for HDR support the projector can accept signals that have the basic HDR10 protocol but as we have said before these cheap models simply don't have the dynamic range of some more expensive projectors or of most medium to top tier LED LCD TVs and as such the HDR images they can display are simply a higher contrast image you would get from a non HDR image.
Full HD / SDR / 3D Content
The film we like to test in 1080p is the Blu-ray version of Oblivion due to it's very sharp and clean picture which makes it ideal for trying out the Full HD capabilities of any projector. The image we got was sharp and with very good clarity, little noise and nice, vivid colors. Black levels are average but they should be sufficient for the price asked while dark shadow details were more than fine.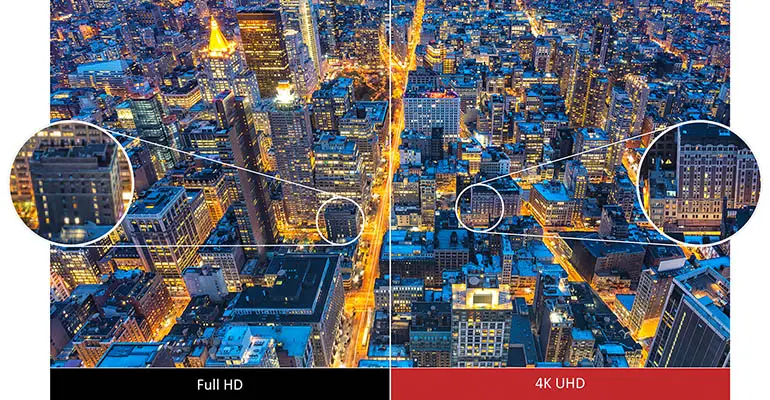 Watching Blu-ray films with the PX747-4K is a real pleasure and although we see some of the weaknesses this projector has like average black levels and mediocre contrast you will definitely enjoy what it offers if you are not on the hardcore side of home theater fans.
As for 3D support unfortunately there is none here. Even if it's almost a dead format we still see even cheap projectors offer support for it but you will have to do without it with the PX747-4K.
Color Coverage
While the projector is 4K and HDR capable there is no wide color gamut support. This means we get only REC.709 coverage which is what was used for HDTV viewing. It may comes as a bit of a surprise but was not completely unexpected as the price of the projector doesn't allow for such a feature and in reality it's not a feature you will be missing very much as with a bit of calibration you can achieve colors that are accurate enough.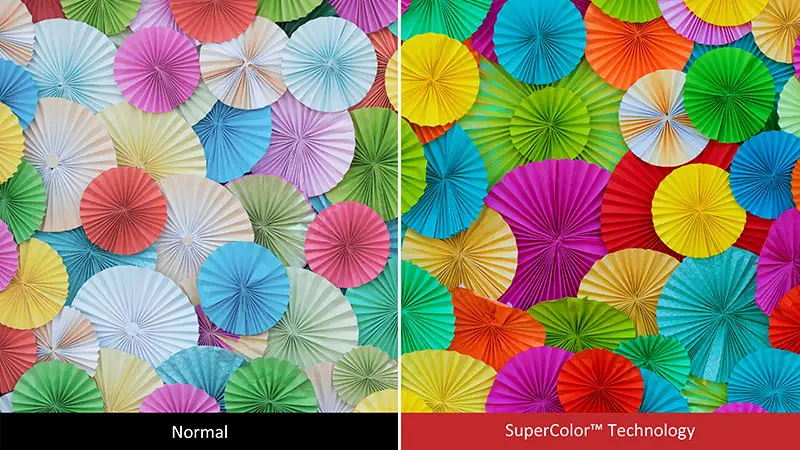 Brightness / Picture Settings
As we mentioned in the beginning of our article the main difference between the PX747-4K and PX727-4K is their color wheel and while the PX727-4K uses a RGBRGB color wheel here we get an RGBW one instead and this is the main reason these two projectors have so much difference in their light output.
But things are not as simple as this. ANSI lumen spec measures the white output of a projector and due to the white filter in the RGBW wheel of the PX747-4K the projector can produce more brightness while the PX727-4K it has to turn on all the green, red and blue channels at once in order to produce white and thus gives us much lower measurements. If we measure color brightness we get a different story altogether as the color channels add to 100% of white output in the PX727-4K while these add to a much lower percentage in the PX747-4K depending on the picture mode used.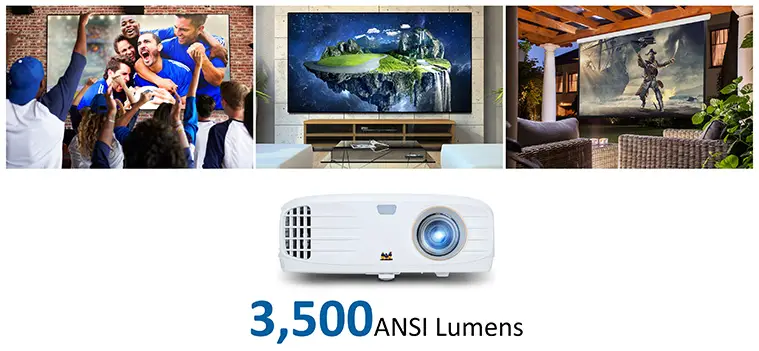 To explain this in simple words it means that while the PX747-4K can produce more white brightness and can show more bright whites and highlights the PX727-4K can produce more vibrant and vivid colors. Hopefully we were able to make the difference more clear for those wondering about it.
Continuing with our measurements on the PX747-4K's brightness using the Bright mode gave us 3,000 lumens of brightness and while it provides amazing amounts of white light it should be avoided as when color is mixed with such intense white it appears more dull than it should. Standard mode gave a measurement of 2,200 lumens while Movie mode gave a still great 1,800 lumens measurement.
As for our recommendation we would avoid the Bright setting for sure. Although it provides the best brightness, the sheer amount of white light makes more harm to the image than good. For us the Movie mode provide the beast overall result with good brightness and very accurate colors in both SDR and HDR content even out of the box while with a bit of calibration you can achieve even better results.

Black Levels / Contrast
These cheap DLP projectors may offer amazing sharpness but if there is one area where they fail compared to more expensive projectors is contrast. The PX747-4K comes with a theoretical 12000:1 ratio in SuperEco Mode but this is a far cry from what this projector's real contrast ratio is.
In it's brightest settings and with Dynamic Light mode on we were able to get a maximum of 900:1 contrast but this gives a very inaccurate picture. In some of the more accurate modes contrast was measured at 455:1. There is no dynamic iris here but the included Dynamic Light Mode acts like one and it can help boost contrast a little so we would suggest you to turn this on.
But no matter what you do black levels will always suffer which was something to be expected. A  completely black image will appear most like dark grey and while this can be combated a little if you are using the projector in a room with at least a dim light, in a completely dark area this weakness will show it's ugly face much more.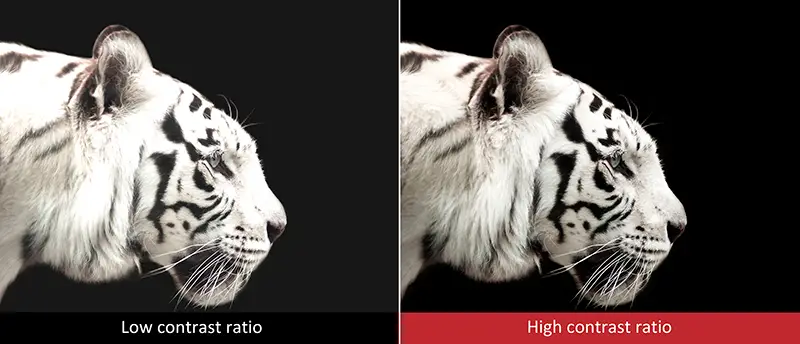 Input Lag
As for input lag we measured the PX747-4K at 46ms which is neither very good nor bad. It is definitely on the high side if you are a serious competitive gamer that asks for blazing fast responses but for the casual type that just want to play their favorite game is more than good. We tried a bit of Call of Duty WW2 on our PS4 and we found the responses to be adequate and didn't notice any delay in our commands.
Call of Duty is a game that asks for fast responses that's why we prefer to test this one so if it feels good enough by our casual standards we believe the same will apply to most other casual players also. If you are not obsessed with gaming and just want to enjoy your favorite video games then fear not as the PX747-4K offers a very pleasant experience in this regard.
Motion Performance
There is not much to mention here as there are no settings specifically for motion performance. Blu-ray and UHD content playing at 24fps was very smooth with only minimal judder while sports action was free of any visible artifacts creating a very good overall image for such a cheap model. There is no frame interpolation or anything similar here in order to improve motion blur or judder.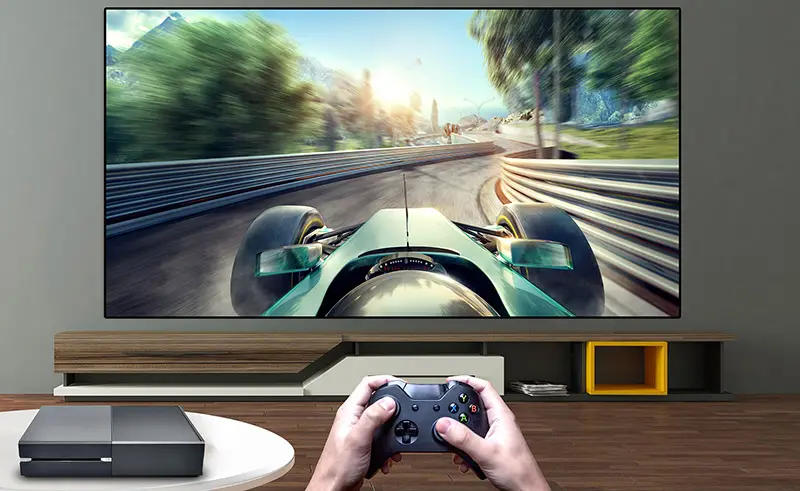 Inputs
Bearing so many similarities with it's twin brother means that we get exactly the same connections also. They are both like for like so we don't get any surprises here.
We will mention all connections we see from left to right with one 3.5mm audio input and one 3.5mm audio output, next to it there is a VGA computer input with two HDMI inputs next to it. HDMI 1 is a version 2.0 with HDCP 2.2 support which means it can handle 4K@60fps signals with HDR. HDMI 2 is an older 1.4 version and it is useful if you don't have equipment that support 2.0 or later.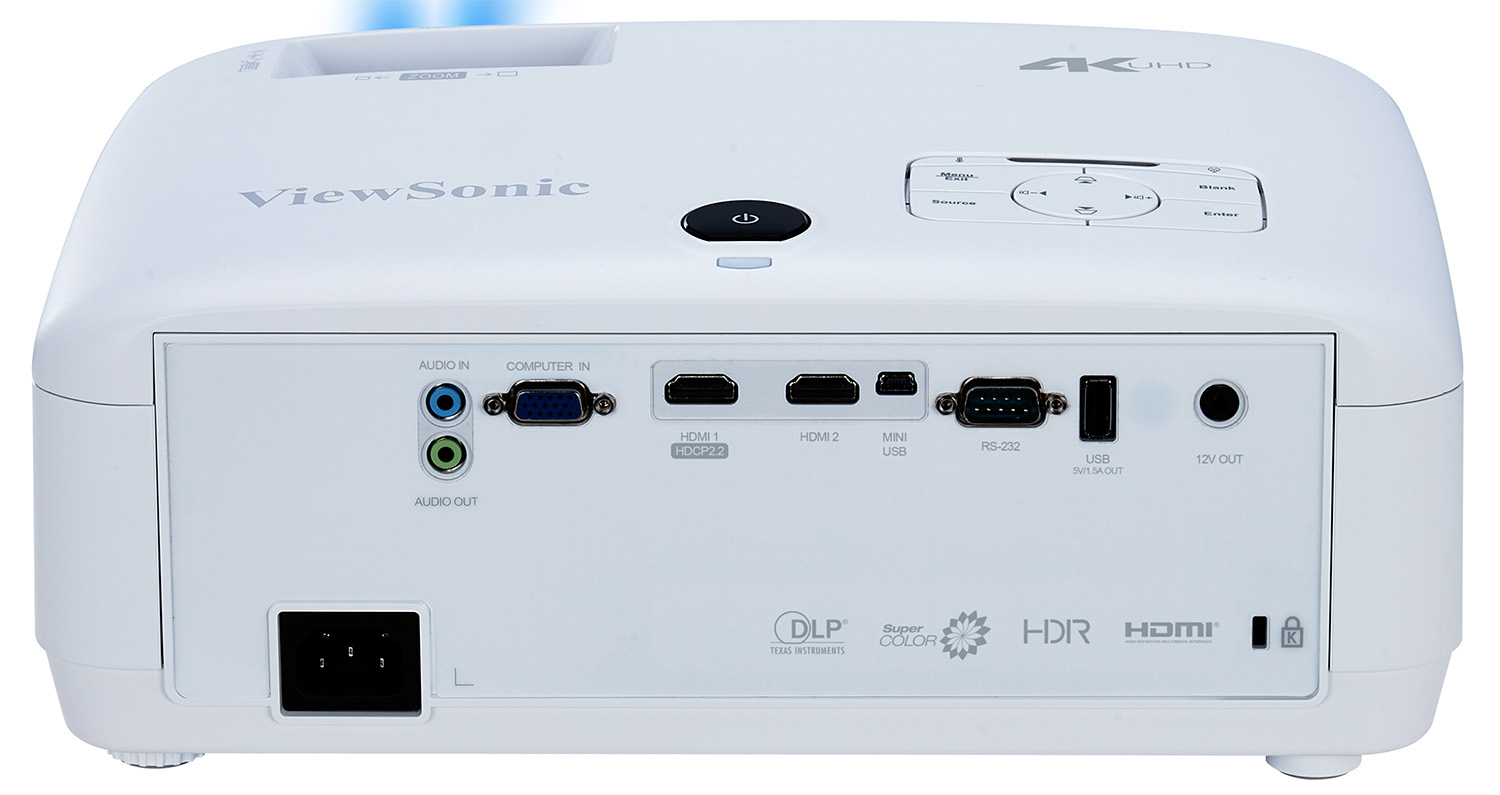 Next there is a mini USB port or Type B for service, an RS-232 port, another USB of type A this time (5V/1.5A) that can be used for charging and a 12V trigger that is very usual in projectors and can be used if you have a motorized screen that you want to open and close automatically.
Our opinion here is exactly the same as when we reviewed the PX727-4K. The price doesn't really allow for anything fancy or out of the ordinary. All the necessary and most usual ports are present and if you are paying such a low price then you most probably will not be looking for anything more than what there is here.
OS, Apps and Features
Portabilty is the key with this projector so ViewSonic made sure to make it relatively easy to setup but we need to point out a few things. With a 1.2:1 zoom provided there are not a lot of options regarding it's placement. Of course the best scenario would be to ceiling mount it but we get that this is not always possible.
With a lens offset at 120% this means that the image will be 10% above the projector's center axis and with no lens shift, flexibility is at a minimum. Keep in mind that we need to avoid using keystone correction at all costs as this will lower the image resolution which we don't want so your best option if you plan on placing it on a furniture is to level the front and back feet to avoid such an option.

The menus are provided through a very simple user interface that is split in six major tabs. The first one is for picture settings that include all the necessary picture calibration options like brightness, contrast, color, tint, sharpness, gamma and color temperature. Here we also find Advaned Image Processor settings under the MoviePro section that include Super Resolution that creates more detailed and sharper images, the Color Enhancement option that optimizes colors and color gradation performance and Skin Tone which improve skin tones and provides more natural looking colors.
In the second tab we find options for display calibration and adjustment as well as the featured Silence mode. As we mentioned above you should be very careful when turning this on as it essentially turns the projector into a pure 1080p one by turning the pixel shifting tech off and thus making it much more silent during operation.

In the third tab we find installation settings for placing the projector, the 12V, high altitude mode, a test pattern and light source setting options. The fourth tab is for system setup, the fifth advanced system settings with options like HDR, HDMI options and audio settings while the last tab gives you general information about the projector and the input signal.
There is also HDMI-CEC support in order to use one remote for multiple devices in your home theater. So if you happen to have other HDMI-CEC enabled devices you can control them all with a single remote.
Final Thoughts
Closing this review we must admit that the PX747-4K finds itself in a strange position and this mainly has to do with the existence of it's twin brother, the PX727-4K. With these two projectors being so close in specs and price it can be a bit difficult for the PX747-4K to distinguish from the rest. It's strong points are definitely the surprisingly sharp image, it's good motion performance, the ability to be portable and easy to setup while it's highlight is definitely it's price as it can claim to be a sub-$1,000, 4K capable projector something unimaginable just a few years back.
On the downsides we definitely have to mention it's poor contrast as black levels appear more grey than true blacks, it's lack for wide color gamut support, it's average noise levels when pixel shifting is enabled while the lack of 3D capabilities is definitely a minus. Also while motion performance was satisfactory we should mention the lack of any kind of motion interpolation.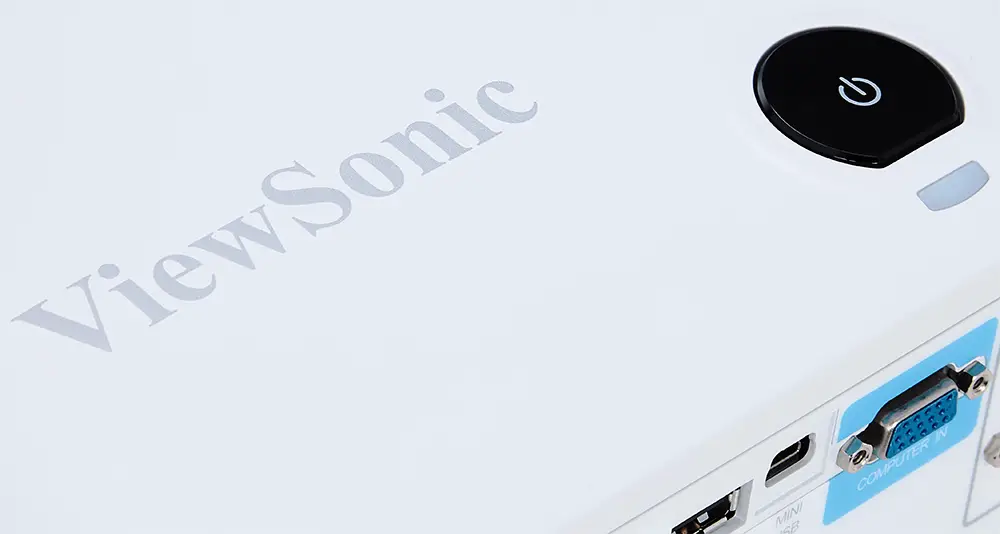 We are sure that more than a few people will ask the question of which projector to choose. This or the PX727-4K? It all comes down to what you prefer. With the only difference being their color wheels the PX727-4K is capable of having better color brightness which can result in more bright and vivid colors while the PX747-4K has better white brightness which means more vivid highlights and whites will appear more vibrant.
If you have a completely dark room then we would suggest you to go for the PX727-4K but if you want to place it in an area that is filled with at least some ambient light the ViewSonic PX747-4K is the better choice due to it's sheer brightness power. Unless you are just looking for the absolute cheapest 4K capable projector…then you have just found it.
For more reviews you can check our dedicated 4K Projector reviews list or even look at our Product Reviews Table where you can find the brand and specific product you are looking for.
Also don't lose the chance to subscribe to our Newsletter and gain exclusive privileges.
---
Cheapest Places to Buy :
---
ViewSonic PX747-4K Specifications