ViewSonic X100-4K
Reviewed at $1,699.00
Ports & Connectivity
9.3/10
OS, Apps and Features
9.2/10
Pros
Very clear and sharp 4K images
Excellent lens shifting
LED lasts 30,000 hours
Plenty of smart features
Cons
Average black levels
Not very accurate colors out-of-the-box
High input lag
Aptoide is missing some major names
---
Cheapest Places to Buy :
---
There was a time when talking about a sub-$2,000 projector that could do 4K and HDR, even if not true 4K, was in the realm of fantasy. And here we are now in 2021 with a vast selection of low cost pixel shifting projectors with a price that is definitely affordable making this market suitable to consumers that want to buy a projector but are definitely afraid of the high cost of a good quality 4K projector. One such manufacturer that has been offering some of the most low cost 4K projectors is no other than ViewSonic. And in our ViewSonic X100-4K review today we will be looking at one of their latest releases and if it can offer anything new to this low end market.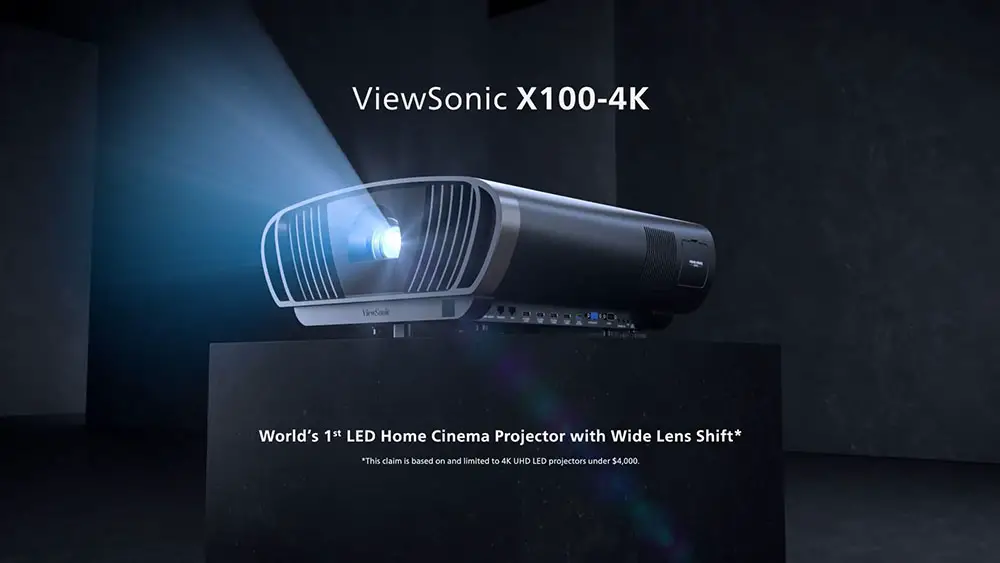 The X100-4K is a LED DLP projector and this is in reality one of the few projectors that can do both 4K with HDR and offer good enough brightness to make it a worthwhile product. But what we have seen time and time again is that in this sub-$2,000 category there are some major tradeoffs that need to be made and as usual the number one element that takes a hit is no other than black levels. This was very evident in the other two ViewSonic projectors we had tested before, the PX747-4K and the PX727-4K. It will be interesting to see of the X100-4K can do any better than most other releases in this price category and how much actually this affects the overall image of the unit.
But let's see very quickly what this unit is all about. The X100-4K is using a RGBB LED light source which will certainly be appreciated by those that don't like to change lamps frequently as there is a 30,000 hours life expectancy. The projector is a 4K pixel shifter which means it uses a 0.47-inch DLP chip from Texas Instruments to deliver the whole 4K image on screen. There is HDR10 and future HLG support while it's one of the few projectors that come with smart functionality as there is voice control support for both Amazon Alexa and Google Assistant along with a built-in app center that includes many of the most known streaming services.
As always it's nice to have a lot of extra features that elevate the practicality and functionality of a new release but its image performance is what makes or breaks a projector and we are here to determine if for a price of $1,699 the ViewSonic X100-4K has what it takes to compete in this already crowded category. So without further delay let's start our analysis…
Design
First of all before we start talking about its actual design we need to clear one thing about the naming. It seems that right now there are two models available across various markets. There is the X100-4K we have here and the X100-4K+ that has been released in certain Pacific Asian markets. The plus version seem to have an improved VESA 3D transmitter and better contrast but this is something that we could not confirm ourselves at the time of writing.
Now onto the actual design the X100-4K looks vastly different from all the rest of the 4K offerings from ViewSonic. Coming in a black plastic shell and featuring curvy sides the unit is certainly a long one so make sure you have the appropriate space to place it. It's dimensions measure 16.4 x 18.2 x 6.3 (416.0 x 463.0 x 161.0 mm) while it weights 16.9 lbs (7.7 kg) making it not the easiest 4K projector to move around even though the inclusion of an on-board audio systems indicates the projector's intended mobility.
As we mentioned most of its body comes in a black color but a single silver stripe towards the front break the otherwise monotonous color scheme. The plastic used has a brushed surface which in our opinion is far better than a glossy one that tends to be fingerprint magnets.
ViewSonic opted for a symmetrical design with the lens being placed dead center and protected by some short of motorized double doors cover system while on both sides of the front side there are huge air vents for cooling the unit. The cooling design of the system is certainly a cut above what we have seen in this category. Featuring two big fans at the rear, air enters the unit from the front and exits from the back keeping the unit at normal temperatures even during heavy use.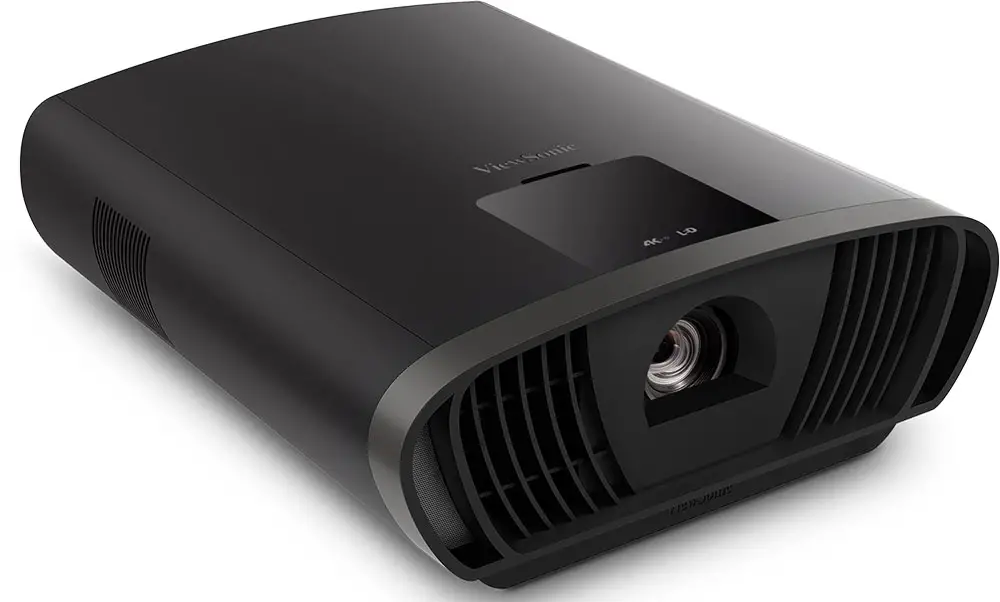 Since we talked about the fans we will talk about the projector's noise levels next. ViewSonic is rating this one at 23 dB in normal mode and 20 dB in Eco mode. Now these numbers sound too good to be true so we had to test them for ourselves and at least from our readings we got around 29dB in our viewing position which is slightly higher than what we would like but we have seen much worse.
During our testing the projector had a high pitched sound that some may not even notice while for others it will certainly be bothering. Now this could be either from the cooling solution or the pixel shifting technology used as we have seen many of these pixel shifting projectors having similar high pitched sounds which stops only when the unit stops using their pixel shifting tech.
In the case of the X100-4K it could be one or the other, or even both of them. So as we always say in our reviews if you are interested in a 4K pixel shifting projector the ideal solution would be to test hear it first to make sure that this high pitched sound is not bothering you.
On the top side, exactly above the lens there is a door hiding the control knobs for the horizontal and vertical shift along with the zoom ring which handles the 1.2x optical zoom of the projector. The unit offers very generous lens shifting with +60% vertical and +25%, -25% horizontal which is great if you consider that some projectors in this range don't even have any lens shifting and thus makes this unit much easier to position and calibrate.
On the left side, just behind the speaker there is a door that hides the on-board keypad which includes the usual circular directional keys along with three buttons for source selection, Home Screen and powering on/off. At the back we see the two very big fans for blowing air out of the back.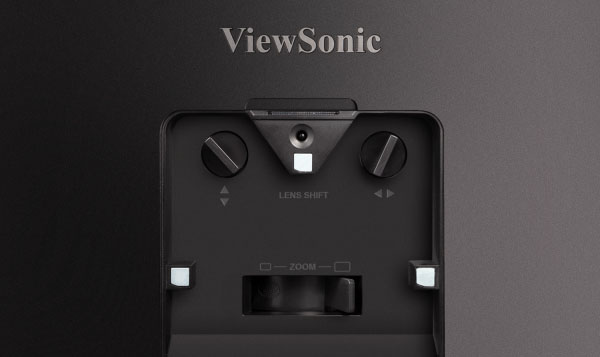 The projector comes with two adjustable screwing feet at the back and a fixed centered foot at the front. This way you can level the projector accordingly if you plan on placing it on a furniture.
As for the lens that is being used, the X100-4K has a throw ratio of 1.2-1.44 with a throw distance of 3.28-10.43 ft. for a 40 – 200 in. diagonal image size from a distance of 1.0 – 5.0 m. Also there is a +/- 40° keystone correction but this should be used as a last resort as this will lower the image quality considerably. From these numbers it shows that the X100-4K offers a lot of flexibility when it comes to placing it in a small room and certainly helps as the big size of the projector may cause more than a few problems.
One of the main advantages of being a LED DLP projector is the vastly superior life hours it has compared to traditional lamp based projectors that require a lamp replacement every few thousand hours. In contrast the X100-4K has a life expectancy of 30,000 hours in normal mode making it an excellent choice for all those that are afraid of buying a projector due to the high cost of replacing a lamp very frequently.
Before closing this part we need to mention the included remote which features a similar color scheme to the projector and comes in a plastic shell with round buttons. Its design is nothing special but it will get the job done. Unfortunately there is no backlight functionality which is a bummer. There are enough buttons for all the basic functions but for everything else you will need to access the more in depth menu settings.
In general the X100-4K is a nice looking projector. Its size could pose a problem to those with not enough space but as for everything else ViewSonic did a good job considering the price category we are at.

Video Quality
Technology used
Under the hood of the X100-4K we find a single 0.47″ 4K DLP chip from Texas Instruments that is responsible for displacing a full HD 1080p image in four different positions at very high speeds in order to produce the full 4K image that is very close in clarity and quality to a native 4K image.
For those that don't know what pixel shifting is, it was created by manufacturers in order to bring down the cost of 4K projectors by offering similar quality at sub-$2,000 levels. Nowadays we have 4K pixel shifters that are even close to the $1,000 limit so compared to a $5,000 native 4K projector the price difference is huge. These pixel shifting projectors are usually distinguished in two different categories depending the type of pixel shifting technology used. There are projectors that shift the image only in two positions and these use slightly larger chips and are a bit more expensive while those that use the 1920 x 1080 x 4 technology tend to be cheaper without any meaningful loss of quality.
Pixel shifting projectors have certainly gained a lot of popularity among price conscious consumers that cannot afford to spend the necessary minimum for a native 4K unit. Its main strength certainly is offering very close quality to a native 4K model but at a fraction of the cost. So if you are worried about the overall cost, a pixel shifter is ideal and you get a lot of value for money. If there is one weakness these type of projectors have is that due to the high speed of the shifting technology, noise is always higher than native 4K projectors so it's always advisable to make a test hearing by yourself to determine if it bothers you or not.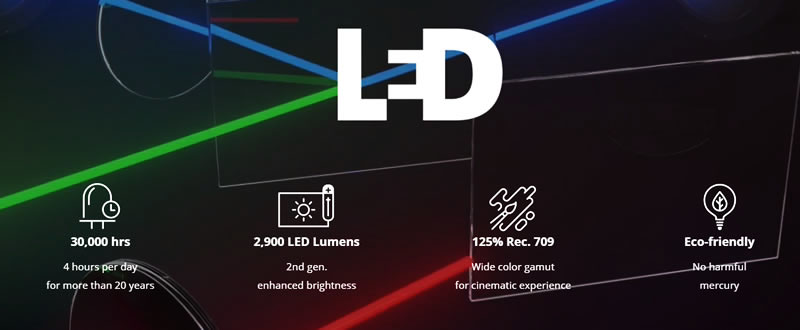 4K UHD / HDR Content
For our first test we popped our 4K UHD disc of Aquaman which is a particularly colorful film and certainly is an ideal test for any projector. Let's get the obvious out of the way first. One thing that is common among all these low cost pixel shifting projectors is that they all exhibit very sharp images even if they are not native 4K units. And this is the real strength of the latest pixel shifting technology.
In terms of colors the X100-4K had a few problems as it had slightly saturated out of the box gradients that were in certain need for calibration. Brightness was good enough but we have seen better, although not much better in this price. In general most projectors have trouble with HDR as they cannot output enough brightness to make HDR justice like a good HDR TV can.
Now if there was one area where we noticed that the X100-4K had some major issues that would definitely be its black levels and these appeared more greyish that true blacks. But we will talk about this in the appropriate section below.
The unit has the ability to detect when an HDR signal is being used and change to the appropriate settings for it. Keep in mind that there is no dedicated HDR picture mode so you will have to settle with one of those available.
Lastly we should mention about the projector's HDR protocols support which is pretty standard among most projectors nowadays either cheap or expensive. As such we get the HDR10 which is the basis for 4K UHD playback while a firmware update will also bring HLG support which is used for broadcasting. No Dolby Vision or HDR10+ here but with most projectors having limited brightness capabilities there is not much to be missed by these two.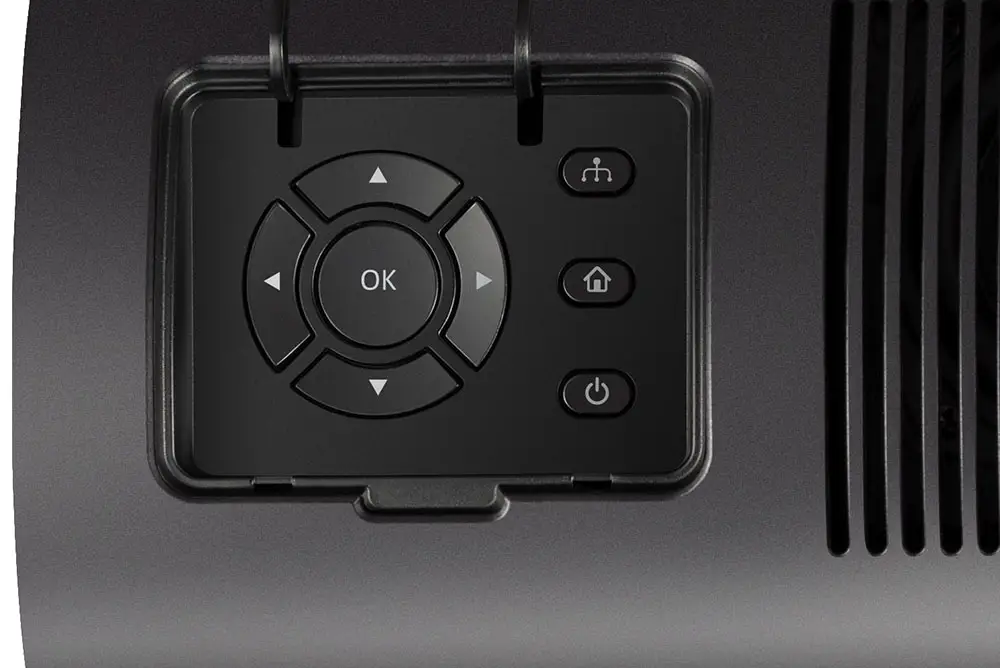 Full HD / SDR / 3D Content
When it comes to our Full HD projector testing we tend to use a single movie and this is no other than Oblivion in Blu-ray format.
The X100-4K is another projector that although not being a true native 4K one it still manages to render an amazingly sharp and full of clarity image and we are certain that it is increasingly hard to distinguish the differences between this one a true 4K image. A lot of details on the screen with skin imperfections, materials, surfaces composition and cloth fabrics displaying an enormous amount of information for your eyes to process. Colors once again were not so accurate if not calibrated correctly but there were no so off to be bothersome. On the contrary we believe that in many cases a lot of people will find them satisfactory as they are.
Unlike some other projectors in this category the X100-4K does not include a lot of image processing features even though it has an abundance of image calibration settings so take that as you want. Also the average black levels were pretty obvious once again in certain scenes and this is probably the most major weakness we have here. Colors may be off also but they are not as much distracting as these greyish blacks are. But if you plan on having some ambient light in the room then things will definitely look better.
In general the projector did fine for its price. Amazingly sharp images accompanied by ok colors but with some very average black levels which is a common combination among sub-$2,000 DLP projectors. If only it had better out-of-the-box colors this way it would appeal more to consumers that don't like to dive deep into image calibrations.
The projector is also 3D capable but during our testing it showed exactly the same problems as with most projectors in this category. Brightness obviously takes a hit and there were a few visible artifacts due to the 3D format. One problem that is frequently mentioned with this projector, loosing sync with the DLP-Link glasses, didn't show up during our review time so we could not say if we were just lucky with our unit. But it seems that the X100-4K+ variant we mentioned above has fixed this problem. But this is not something we can confirm either.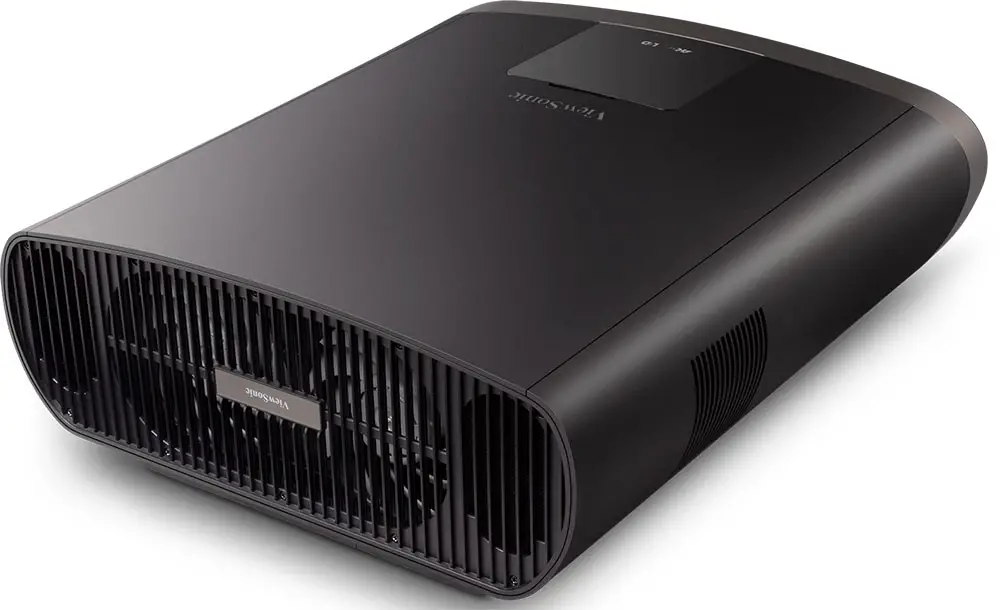 Other than the above the unit fared very good with 3D content. The effect was good enough and there was no visible crosstalk. If you are looking for a 3D capable projector this one will certainly satisfy with its performance.
Color Coverage
The unit is using ViewSonic's proprietary Cinema SuperColor+ Technology and along with the RGBB LED light source the manufacturer claims a 125% coverage of the Rec.709 color space. Although this doesn't mean a lot as Rec.709 is fairly restricted compared to the wider DCI-P3 and REC.2020 color spaces we were curious to see how close to this number its real performance was. Also keep in mind that 125% of the Rec.709 means about 85% of the wider DCI-P3 and 57,5% of the REC.2020 which is not enough considering this is a HDR projector.
From our measurements the projector could do 119.2% of the Rec.709 in SDR content while with HDR this number increased to 125% of the Rec.709 as ViewSonic really claimed. So in essence the projector does not support wide color gamut with these numbers.
As we usually do, we will talk in more detail about the available color modes in our next section of the review but in terms of color performance and accuracy we would suggest you to use the Cinema mode even though out of the box even this mode was not accurate enough and some calibration was certainly needed.
Unfortunately unlike some other low cost 4K projectors that offer extremely good out-of-the-box color accuracy this was not one of them something that will disappoint many that don't want to fiddle with complex calibrations or don't know how to do it. And this will certainly turn many casual consumers away. And although there may be a lot of people that will find even the default color settings enough it's a fact that what you get is far from optimal without any calibration.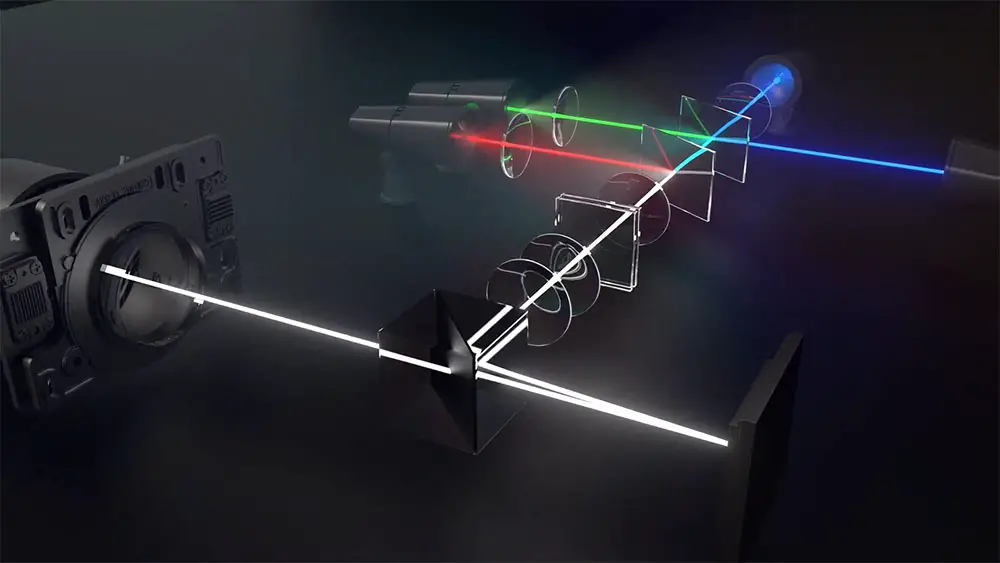 Lastly we should note that since this is a DLP projector you may see what is called a "rainbow effect". If you are prone to this then you better test it out first to see how bothering this may be to you. Otherwise it's better to buy from a retailer that accepts returns in case you can see it.
Brightness / Picture Settings
The X100-4K is rated as a 2,900 LED lumens projector. What you need to pay attention here is that this rating is not the same as most other lamp based projectors use that are measured in ANSI lumens and thus can create confusion over the projector's real brightness output. For comparison shake the X100-4K has about 1,200 ANSI lumens of brightness.
Keep in mind that there are many factors that can affect brightness on a projector so the numbers we give are only for giving you a general idea of the projector's capabilities and yours may differ in the end. There are four main picture modes with Brightest, TV, Movie and Gaming the ones available. There are also two user defined ones and also ISF Day and ISF Night in case you like professional calibration. These picture modes are available in SDR and HDR and these can keep different settings depending if you watch an SDR video or an HDR one.
As always we use the widest angle along with Brightest mode in order to get the maximum brightness and in this case we got 1,150 lumens. Take note that this is ANSI brightness and not LED brightness as ViewSonic rates this one. And while this may be the most bright mode available it's certainly not the most accurate with some colors visibly off. Gaming came in second with 1,127 lumens while Movie was pretty close at 1,080. TV came in last with 1,055 lumens of brightness.
Although all modes had problems and were in need of certain tweaking to make them more accurate we would recommend you to use the Movie mode as the one that overall offers the most accurate results in comparison.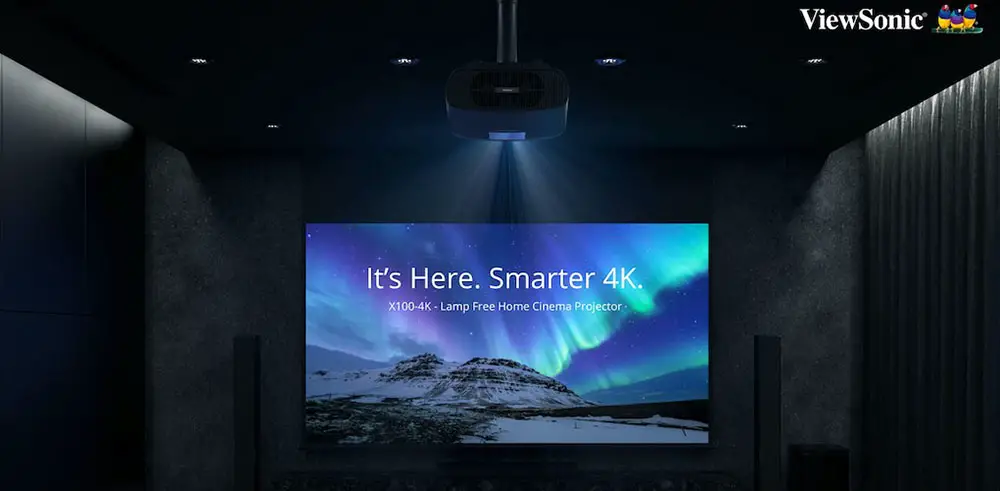 Black Levels / Contrast
In general most low cost DLP projectors suffer from mediocre black levels and the X100-4K seems to be no different. ViewSonic has rated the projector at 3,000,000:1 with Dynamic black enabled but this number doesn't mean much by itself.
Using Dynamic black can certainly improve the contrast of the unit but this is not as good as a dynamic iris which the projector does not have. As a result blacks look more greyish and while for many casual users this may be something they can live with we can definitely see many users being bothered by it. In a completely dark room this problem will show a lot. But add just a bit of light and things definitely improve a little. As such we would recommend this projector mostly if you are going to use it in a low to moderate lit environment in which the ambient light will somewhat hide the projector's major weakness.
Unfortunately you will have to go to a more expensive category in order to find a projector that can give you deeper blacks with the UB series from Epson being a very popular although more expensive choice.
Input Lag
If there is one area where projectors, even the more expensive ones, still struggle with this is definitely their input lag with most of them not being able to go low enough to be considered for serious gaming. There are a few dedicated gaming releases but even these units never manage to reach as low input lag as even some lower tier TVs can do nowadays. The ViewSonic X100-4K is one of the few cases where the manufacturer actually provide an input lag rating for this unit and this is 66.8ms although with no more information on what kind of resolution or framerate they achieved that.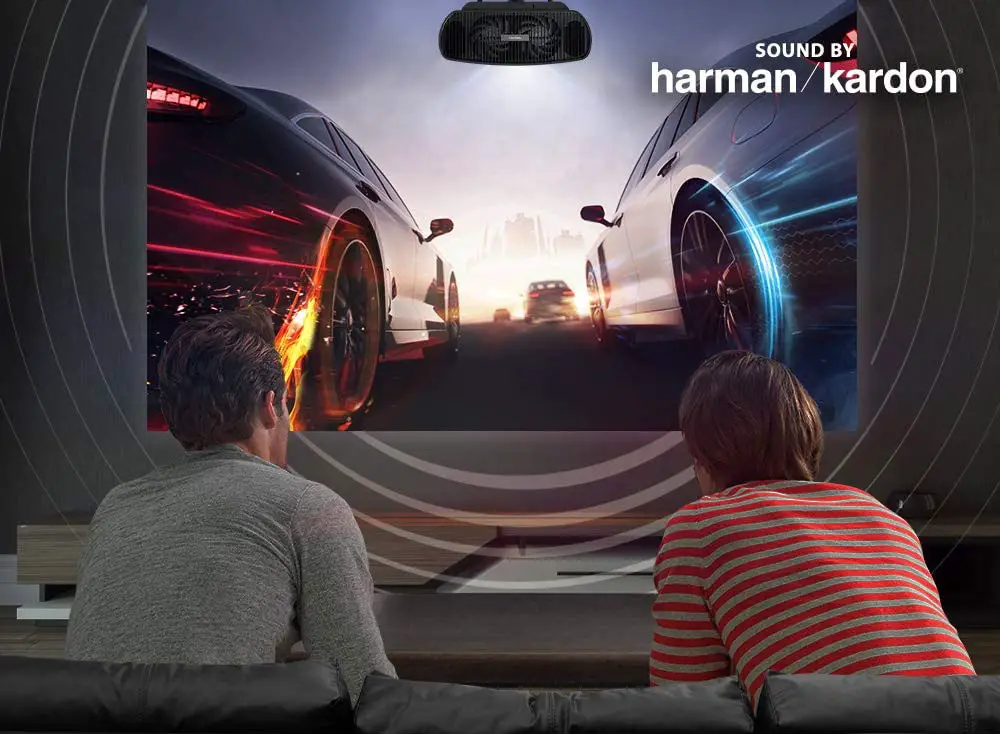 In our tests the input lag was measured at 66.7ms at 1080p@60Hz which is spot on to what ViewSonic claims. Then we switched to 4K resolution at 60Hz and to our surprise input lag remained the same at 66.7ms.
Another thing to mention here is that as the X100-4K is not meant to be a gaming unit and does not have any HDMI 2.1 ports it was natural to be missing any kind of Variable Refresh Rate (VRR) technology either it be AMDs FreeSync or NVIDIA's G-Sync which could greatly benefit the next generation of consoles to alleviate any possible screen tearing.
For our real world testing we connected our brand new PS5 to the projector for some F1 2019 action. To be honest although most of the time we didn't have any trouble with the high input lag there were a few moments were this was slightly obvious. It was not a big deal really and most of the time everything was good with very good response time. At no moment did we feel that there was so obvious lag between our commands and them registering on screen to make our session troublesome or completely unplayable.
So in total although the X100-4K didn't impress in this part it didn't disappoint either. If you are a casual gamer that like to play occasionally or if you play games that don't require extreme response times this unit will do the job just fine.
Motion Performance
In terms of motion performance the projector did very well with minimal blur or judder during fast camera moves in low frame rate content. Even better than some other units at the same price we could even say. But the X100-4K even offers a frame interpolation feature that can smooth out motion even further if the default result is not satisfying enough.

Frame interpolation can be used in both 2D and 3D content and there are three levels to choose from. The minimum setting can really improve overall quality but the higher settings will certainly reveal the soap opera effect with movies mostly. But for sports it can be a good way to improve on the blur on screen.
Overall we are pleased how the projector did in this one. It didn't wow us but didn't disappoint us either. And if you consider the price of this one then we cannot but feel satisfied by what we saw.
Ports & Connectivity
It is common to see nowadays even low cost projectors to offer a wide selection of connectivity ports and the X100-4K is no different. All of them are grouped together on the left side of the projector towards the lower part where a special inset was designed just for them.
Starting from the front what we get is a micro-USB used for service only, a 3.5mm IR input mini jack, a digital optical output, two RJ-45 ports with one used for control and the other for network connection, four HDMI inputs, one USB 3.0 type-A for connecting external storage and flash drives, a VGA port, an RS-232 port, dual 12 volt triggers for connecting motorized screens, an analog audio input mini jack and an analog audio output mini jack. Lastly underneath the unit there is another USB port that is used to connect the separate WiFi dongle.
From the included picture you can see that the X100-4K has plenty to go around and it even goes above and beyond what we usually see in this price.
Now let's talk a bit about a few of these ports and we will start with the included HDMI ports. These are HDMI 2.0 and support HDCP 2.2. This means that the projector can accept signals up to 4K resolution in 60Hz. Also we liked the fact that the USB provided to connect external storage is the newer USB 3.0 which means it can support higher bandwidth video files.

Lastly we shouldn't forget to mention that the unit has also wireless capabilities if you connect the WiFi dongle that comes separately. This way you can connect the projector to your local network and don't bother with cables.
Overall we are happy with what ViewSonic included here. Yes it may not have HDMI 2.1 but it doesn't really need this as this is not meant for gaming even if it can be used for that also. With so many choices and four HDMI inputs, which is not common to see in this price, the X100-4K can fit in any kind of home entertainment setup.
OS, Apps and Features
Next we will be looking at all the extras the projector comes with and first of all we need to make a special mention about the UI. In terms of visuals and UI design projectors are far behind what TV have been offering from the moment most of them turned into smart ones. You don't have to create anything spectacular but a visually pleasing interface is always good to have even if the projector is not offering much in terms of online or smart features.
It seems that ViewSonic took note as the X100-4K comes with a very nice UI without it being anything complex or very advanced like Tizen, webOS or Google TV that most TVs come with these days. The UI that ViewSonic is using is a tile based one with the main Home Screen using some nice graphics and pleasant colors. The default tiles you get in the Home Screen include a big one on the left for Aptoide from where you can download various apps and online services and four smaller tiles on the right for Apps center, File management, Setting and Screen Mirroring.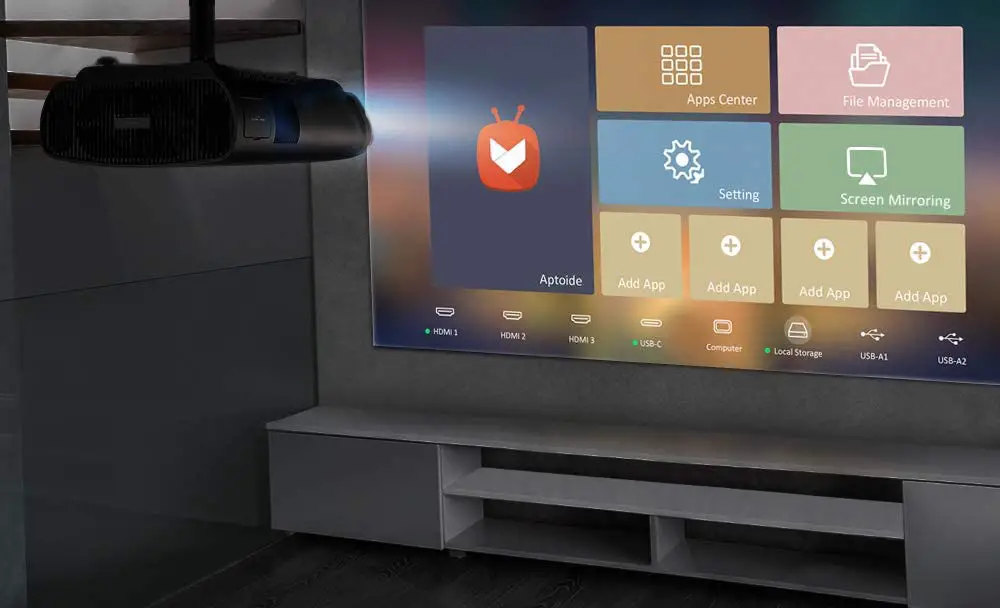 The Apps center allows you to view and choose from all the installed apps there are in the projector, in File management lets you view and handle all files and folders from any external device plugged into the USB port, Setting provides you with all the image settings for the unit and more while with Screen Mirroring you can cast your mobile device on the big screen.
In addition there are four smaller tiles on the bottom right where you can add any other app or service available you desire for faster access. In general the UI is one of the best we have seen in a projector yet. Although the X100-4K can be considered a smart projector we don't see the reason why a similar UI cannot be applied even to units that don't have all the online and streaming functionality. It is about time to go away from the basic UIs most projectors use that belong in some 80s computer screen and not in a 2021 4K projector.
As for the available apps you can get, the Aptoide store has plenty to go around but there are some big names missing and it is certainly not in the same league with Google Play for example. Also we did try a couple of the known ones like Youtube and Netflix and although they do work just fine for the time we did try them we would definitely recommend to use a dedicated streamer for that job in case you are using many of these streaming apps. For casual use the projector can do just fine. It's just not the streaming powerhouse you may think it is.
The unit also comes with a very capable built-in media player and file management system. The most usual video files like mkv, mp4, mov, avi, xvid and m2ts will play fine most of the time but there were a couple heavy ones that the projector did have trouble playback. It is the same case as with its online services. For most of the time the built-in media player will do just fine for casual usage but if you stream a lot of offline content with 4K files and surround sound then a dedicated media player is your best bet.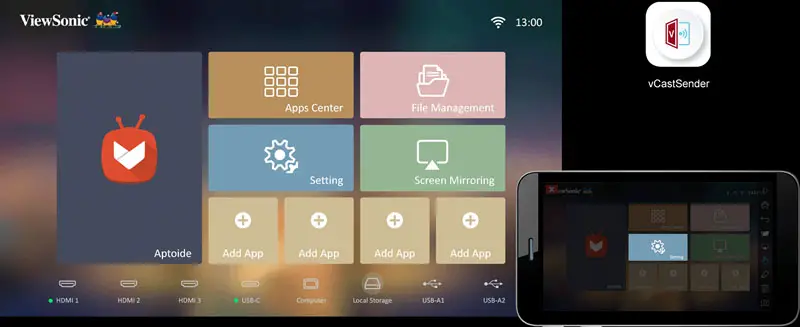 Being a smart projector it couldn't be missing some of the most usual features this brings and this is no other than voice control. The X100-4K comes with both Amazon Alexa and Google Assistant support. But this is not the only alternative for controlling this unit as ViewSonic has include support for a mobile app called vRemote and with it you can handle some basic functions like input source, mute/unmute or power on/off the projector. And since we talked about mobile devices there is even the ability to screen mirror your mobile device through the projector with its wireless screen mirroring functionality.
But control does not end there as there is also Crestron software support. With this it allows you to control the projector not only through a LAN environment with the available RJ-45 port but also through a web browser for a more remote type of control.
Another feature, and a bit of an odd one especially if you consider the size of the projector, is the inclusion of on-board sound. The unit comes with two 20W Harman Kardon speakers placed on the sides right next to the on-board controls behind a specially designed grille. The speakers provide the unit with clear enough sound for sports, TV shows and news broadcasting but really lack the dynamic range required for movies in order to provide a more realistic experience. We could say that the speakers fared slightly better than what we usually experience with on-board sound but just barely.
The projector even grands you the ability to export the sound through the included optical port or the analog stereo output to an external audio system if necessary.
Overall the X100-4K offers plenty of features to go around. Its online and offline capabilities may not be the best and for heavy usage dedicated players are certainly required but for casual usage what is offered will certainly suffice.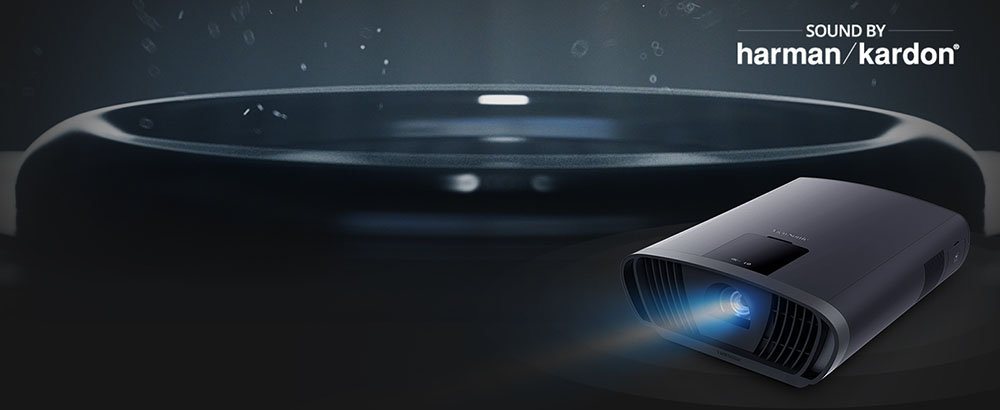 Final Thoughts
The X100-4K is another low cost 4K pixel shifting projector that promises to give you good enough picture quality at an extremely low price. But the unit doesn't manage to avoid certain pitfalls that would make it a great projector for its category.
The strength of this projector clearly lies in its ability to render very sharp images which is a very distinct characteristic of most 4K pixel shifting projector that bear the Texas Instruments chip but also in its extra prolonged life hours compared to typical lamp based DLP projectors. And this is one of its most unique powers as many are worried about the price of changing lamp every once in a while which can up the overall cost considerably. With its LED based light engine rated at 30,000 hours the X100-4K can go on and on without the need to worry about the lamp timer.
Also motion performance was good enough without any major visible issues. The projector also supports 3D which many will appreciate while its smart and online features are a welcome addition.
On the downsides the most obvious one is obviously its mediocre black levels. Unfortunately in this price range there is not a single 4K projector that can offer satisfying blacks and this is obviously something that you will have to pay a higher price to get. Also we didn't like very much that colors were not so accurate out of the box meaning that for users that just want to choose a picture mode and forget about it this is not so ideal as some other competing brands.
Also this is not a particularly bright projector and in combination with its average black levels it is mostly recommended for a low light room rather than a completely dark one. Lastly its input lag was average and while you can certainly use it for casual gaming you will have to look elsewhere if you are a serious gamer.
Reaching the end of our review what we can say is that the ViewSonic X100-4K can be a good choice for those that don't care much about its image accuracy or do know how to calibrate it  or bring someone professional to do it for you. If you want a good out-of-the-box performer without touching much of its image settings there are other options to consider. All these make this one a good projector for the price asked, it's just missing a few marks that would make it a great one.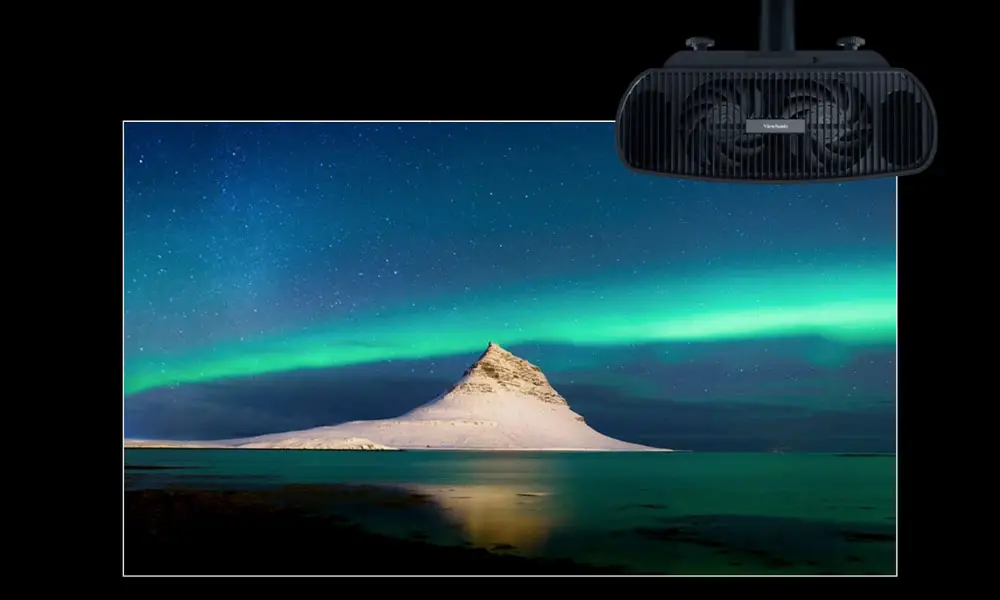 For more reviews you can check our dedicated 4K Projector reviews list or even look at our Product Reviews Table where you can find the brand and specific product you are looking for.
Also don't lose the chance to subscribe to our Newsletter and gain exclusive privileges.
---
Cheapest Places to Buy :
---
ViewSonic X100-4K Specifications