---
Cheapest Places to Buy :
---
In 2018 Yamaha released their latest AVENTAGE lineup of receivers which is supposed to be the premium series of all the AV receivers they have on offer and for another year we see that they offer what is some key characteristics that set these receivers apart from the rest of their models.
With the 2018 lineup consisting of 5 different models Yamaha has managed to scale them accordingly in order to offer a lot of options for different budgets. A few months ago we had the pleasure to test one of these models and more specifically the RX-A880 which got very good marks across the board and prooved us that the AVENTAGE series is going strong for another year.
Today we have the pleasure to test another model belonging in the 2018 lineup as we take a look on the next model up the ladder with the RX-A1080. Being a 7.2 channels receiver as is the smaller RX-A880 that we tested some time ago the real question that many of you will have is if Yamaha has added enough features that would make this model worthwhile compared to it's smaller brother and justify it's higher price. So without any delay let's start our Yamaha RX-A1080 review to find out.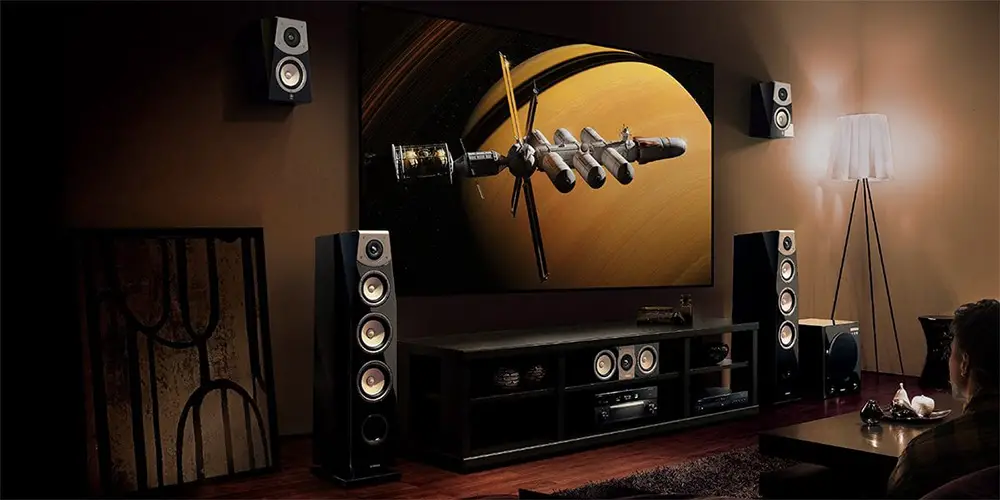 Design
With yearly releases we have seen that manufacturers of AV receivers tend to keep their designs year over year and Yamaha seems to be doing exactly the same with their AVENTAGE lineup for 2018. Design wise you will be hard to find any differences between this year's model and the previous RX-A1070 one with the outer shell being exactly the same and the only thing that reveals the difference is the model number.
Looking the front of the receiver we find the 2 usual turning knobs for the volume on the right and the input selection on the left . The front panel has a distinct 2 part design with the upper part having a black gloss finish that houses the LED display in the middle with all the necessary visual information like volume, audio playback and input selection while on the far right there is a small Pure Direct button and on the far left the main power button.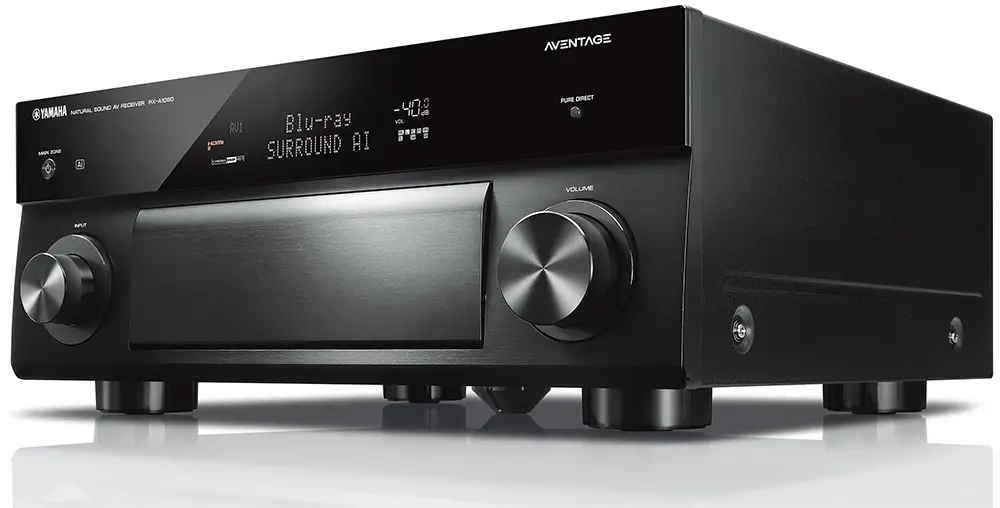 The lower half of the receiver has an aluminum finish and we only get a hatch that hides all additional control buttons from plain sight. We love this design as this manages to keep the receiver clutter free, more dust free and provides a minimalist design that in our opinion is preferable in such audio equipment. After all you are not going to be using all these buttons very much so hiding them is the best idea.
Opening the hatch we find a wealth of control buttons including menu and settings navigation buttons, scenes and multi-zone controls as well as various other functions like AI, tuner and memory presets. Here we also find a few ports with a USB port, the YPAO microphone port, a PHONES jack as well as analogue stereo input provided. What we don't like here is that there is no frontal HDMI port which is a huge convenience nowadays and with so many HDMI inputs provided at the back of the unit it's puzzling that Yamaha opted not to include one at the front.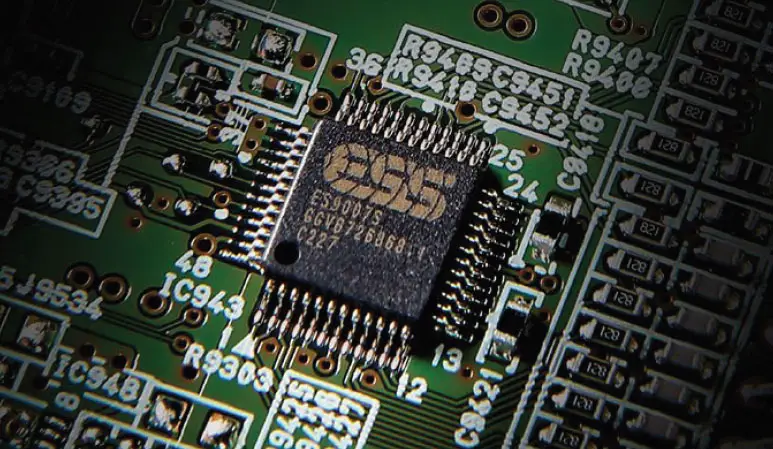 As we have seen in previous AVENTAGE models Yamaha has been putting extra attention to detail on how they construct these units in order to achieve the best quality possible. But here we also find the first main difference compared to it's smaller brothers. Instead of using the Burr-Brown DACs that all lower AVENTAGE receivers have the RX-A1080 is the first unit in the series to go for a professional grade ESS Technology SABRE ES9007S 384 kHz / 32-bit Premier Audio DAC that offers much better signal-to-noise ratio and up to 120 dB of dynamic range.
But Yamaha has not stopped there as they have added a fifth foot with what they call Anti-Resonance Technology (A.R.T. Wedge) in order to reduce vibration while the rest of the feet also use an advanced design to provide better vibration resistance and enhanced strength.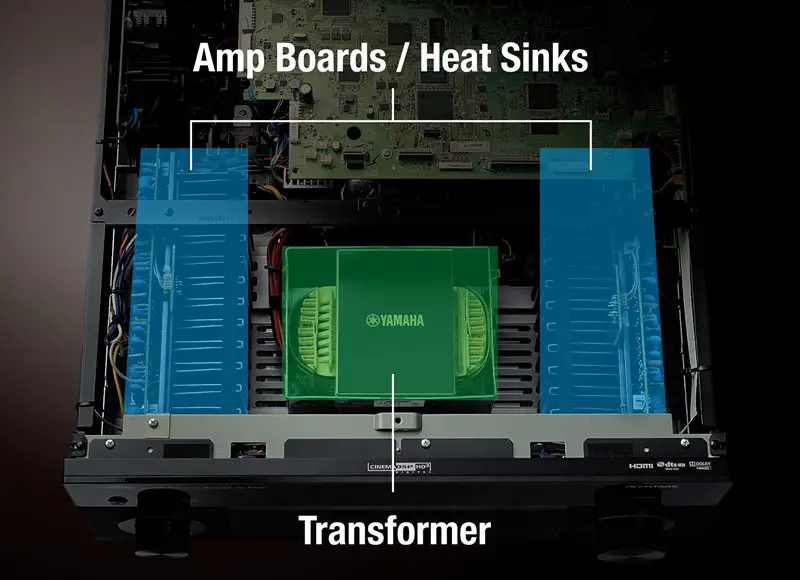 Also the use of high quality parts that are being used help achieve better audio performance while various technologies like high quality IC, independent pure power supply as well as low jitter PLL circuitry help optimize sound imaging. Yamaha makes sure to advertise all these every year as they are the foundation for the high quality that is characteristic of the AVENTAGE units.
The RX-A1080 is a little monster in size measuring 17-1/8" x 7-1/8" x 17-1/4" (435 x 182 x 439 mm) with the antennas down and weights 32.8 lbs (14.9 kg) and while we didn't face any heating problems we would definitely recommend that you take extra care for this thing to be adequately ventilated just to be on the safe side.
As for the remote that comes with the receiver it's very similar to the one we had seen in the RX-A880. Actually it is exactly the same with only one change, the inclusion of an AI button. Everything else is the same and so we would have to say that we feel the same way we did when we saw the RX-A880 one.

The remote is cluttered with buttons and while it definitely offers all functions needed when we live in an era where user interfaces with much better graphics is the common, to have so many buttons feels like a thing of the past. TV manufacturers are moving towards a more button-free environment with their smart remotes, why not the AV receiver manufacturers do the same?
Audio Quality
The Yamaha RX-A1080 is the last in the AVENTAGE series that supports 7.2 channels of built-in amplification as the next model, the RX-A2080, goes for a 9.2 channels setup. With the 7.2 channels we get here there are various different audio setups you can go for like 5.2 and 7.2 or if you want to take advantage of the Dolby Atmos and DTS:X immersion then you can try a 5.2.2 setup with 2 overhead speakers to cover the top acoustic layer. Unfortunately there is no support for expanding the channels to nine by adding an external amp so going for a 5.2.2 setup is the best this receiver can do.
The receiver offers 110 watts per channel (8 ohms, 20 Hz-20 kHz, 0.06% THD, 2-ch driven) making it perfectly fine for any kind of middle sized room. Our viewing area is not very big so we cannot test it's behavior in a large space but the receiver had the ability to go pretty loud so we feel comfortable that the RX-A1080 will be able to handle most middle-sized spaces. There is also support for front speakers bi-amp connectivity in order to boost the sound quality of the front channels, something that many consider very important.
Another update we get in this model is the use of Cinema DSP HD3 while on the lower RX-A880 we only got Cinema DSP 3D. Cinema DSP HD3 is Yamaha's revamped proprietary sound field creation technology that features new signal processing algorithms and three sets of high performance processors. What this basically does is to recreate certain spaces like concert halls or home theaters by utilizing specific algorithms and thus making you feel like you are in such an area.
It's an interesting feature indeed and a few times we used it, it felt like it could produce the appropriate stage with enough realism but it is another audio processing feature and it's up to the user if he likes the result or not. In our situation we preferred to keep this off and have the audio as pure as possible. In the RX-A1080 we get a total of 24 DSP programs to choose from.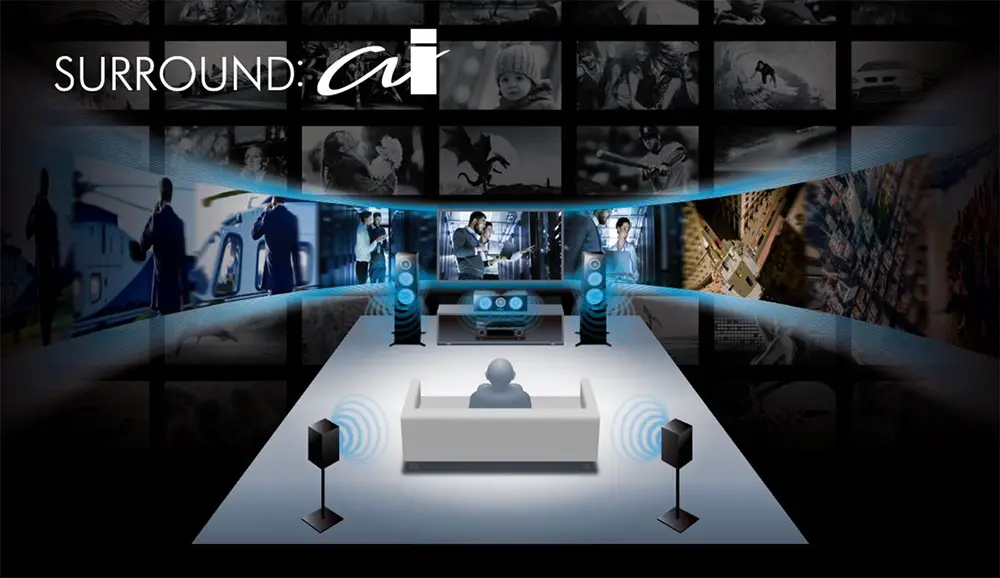 The RX-A1080 is the first model in this premium series that also offers Surround:AI which is a feature that is built-in the DSP and what it does is to optimize the surround effects in real time by analyzing each individual scene and focusing on distinct sound elements such as dialogue, background music, ambient sounds and sound effects. It's a nice feature that some times can give nice results but ultimately it's another digital processing feature that changes the original track. But we would recommend to give it a try as some people may like the results it gives and ultimately it's another feature in the long catalog of features this receiver has.
As with all receivers that offer 7 channels we opted to go for a 5.1.2 audio setup with 1 subwoofer and 2 overhead speakers that are placed in the middle of our testing area. Our first title that we decided to test was the 4K UHD disc of Saving Private Ryan and what better scene to choose than the landing on Omaha beach. The receiver really gave an excellent performance from the first moment where we see the Allied soldiers on the boats with various subtle effects making the scene so much more alive. The marine engines rattling as the waves are splashing on the metal boats all the while German artillery is heard on the background.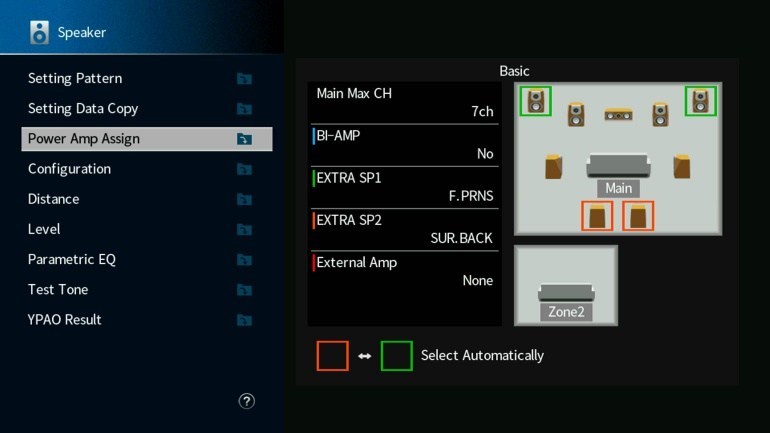 When the boats reach the beach and the doors open machine gun fire is ripping through the first rows of soldiers and you can feel the bullets passing right next to you with so much realism. When we are on the beach there is so much acoustic information to process that is breathtaking and the receiver manages to process everything with great accuracy and precision. The top layer add a bit more height to the soundstage as you can hear the artillery shells falling while the surround channels are busy with projectiles flying all over the place. An excellent Dolby Atmos track and the Yamaha RX-A1080 managed to reproduce it faithfully.
We also tried an all time favorite with the Blu-ray disc of Lord of the Rings: The Return of the King with it's amazing DTS-HD Master Audio track which in our opinion is one of the finest tracks we have ever experienced in the aging Bluray format. As usual we skip to the scene where the Rohirim charge towards Sauron's army and the combination of sound effects with Howard Shore's orchestrated music gave us an amazing result that the Yamaha receiver made sure to deliver exactly as it should.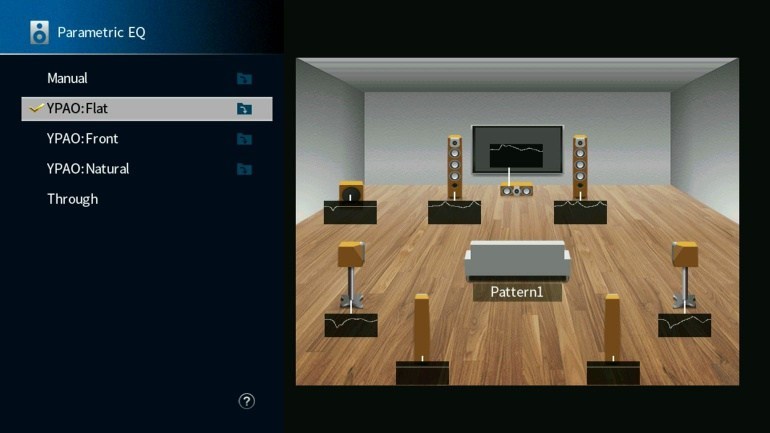 We could spend countless words describing this scene but we will just say that we may not have a Dolby Atmos or DTS:X track here but even like this the receiver managed to immerse us completely with it's performance. Musical instruments were clearly distinguishable while all frequencies being delivered with enough punch and accuracy across the whole dynamic range.
And while the RX-A1080 is an excellent movie performer we could say that it was equally good during our music testing also. With precise delivery of the high frequencies, a balanced mid-range and a roaring low range the RX-A1080 felt like a maestro that was directing his orchestra with confidence and exceptional control. Just make sure to accompany this receiver with good quality speakers and it will blow you away by it's capabilities.

The RX-A1080 can support music playback either online or through local network as well as from USB and supports the most usual of audio formats that include MP3, WMA, MPEG-4 AAC up to 48 kHz / 16-bit, ALAC up to 96 kHz / 24-bit, FLAC up to 192 kHz / 24-bit, WAV and AIFF up to 192 kHz / 32-bit and DSD up to 11.2 MHz.
Inputs / Ports
With the RX-A1080 sitting in the middle of the Aventage lineup we expected to find a good amount of ports included and in this regard the receiver does not disappoint. We already mentioned the 4 ports we get at the front with a USB (5V,1A), the YPAO microphone port, the PHONES jack and an analogue stereo input and with one big omission being in our opinion a frontal HDMI input.
At the back we find the 7 terminals for the main speaker channels plus two more terminals for zone 2/ bi-amp. The second most important connection of course are the HDMI ports and here we get a staggering 7 HDMI inputs with additional 3 HDMI outputs with one of them supporting ARC. All HDMI connections support HDCP 2.2 and 4K/60p (4:4:4), HDR Video including Dolby Vision and Hybrid Log-Gamma, and BT.2020 pass-through.

As for the rest we get 2 component inputs, 4 composite inputs, 7 analogue stereo inputs, 1 dedicated phono input, 3 coaxial and 3 optical audio inputs, zone 2 connections as well as 7.2 pre-out ports. There are also 2 12V trigger outputs, 1 remote in and 1 out, a RS-232C port, an Ethernet port for wired connection to the Internet as well as the usual FM and AM antennas connectors. At the top we find also 2 antenna connections for the WiFi and Bluetooth.
With such a high end model the most important ports are of course the HDMI ones and here the RX-A1080 does not disappoint. With 7 inputs and 3 outputs we cannot believe that someone would find them insufficient for any kind of home theater setup. There is also an abundance of legacy ports but we don't believe that many will be using these as using the HDMI ones should be the preferable way to go. If there is one thing that we feel disappointed is that Yamaha has not included a front HDMI port and although we have already mentioned this in our opinion one would offer so much more practicality to a receiver like this. We can only hope Yamaha to rethink this for their future releases.
OS, Apps and Features
Feature wise the RX-A1080 is very similar to the RX-A880 with a couple of additions that we will talk about. Once again we find Yamaha's proprietary calibration system called YPAO with R.S.C. (Reflected Sound Control) and Multi-Point Measurement that is able to correct audio reflections and also achieve the best sound possible at any of eight different listening positions. The difference in the 1080 model is that additionally we get Precision EQ that was not included in the 880 model and makes calibration even more advanced. After trying out the system we found it to offer very good results and for someone that don't want to bother with manual calibrations it offers a great alternative.

The receiver also comes with virtual speakers technology that includes the Rear Virtual Presence Speaker and Virtual Surround Back systems. Each of these systems what they do is that through various algorithms they create sound that originate from positions that there are no physical speakers. In simple words they create virtual speakers and in essence you can have a 7.1 audio system for example when you only have 5.1 speakers present. These virtual systems may provide some added depth but they are never as good and precise as having real speakers. This is also very dependent on the audio track and how good it is mixed so we would suggest you to try this feature first to decide if you like the outcome or not.
A few other features that are included in this unit is 4K video upscaling, but this time this is not only available from HDMI input as it was in the 880 but also from analogue inputs, support for wireless surround speakers (MusicCast 20 or MusicCast 50) or wireless subwoofer (MusicCast SUB 100), it has built-in Wi-Fi (802.11b/g/n) as well as Bluetooth for wireless music streaming (SBC/AAC) and Bluetooth output for music streaming to headphones and also comes with an Eco mode that can save you up to 20% less power when in use.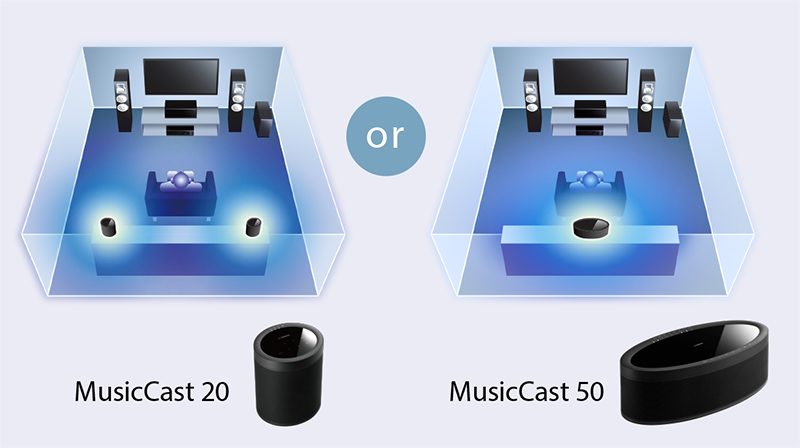 Voice control could not be missing from this unit as we find Amazon's Alexa support for those that like a remote-free environment. We would like to see Google Assistant support also as many people opted to go with Google's tech but unfortunately we don't get that. Another option for control is by downloading the AV Controller App in your smartphone or tablet that Yamaha offers for free.
Another feature that has become pretty much a standard nowadays is Multi-zone Function (Zone2) and the Yamaha RX-A1080 makes well to offer such capabilities. MusicCast couldn't also be missing and with it you can control any MusicCast enabled speakers you may have around your house. There is a separate MusicCast app you can download for Android or iOS in order to setup and control the various speakers in your home.

Apple's Aiplay is also present and it lets you stream music from various Apple devices like Mac, iPod, iPhone or an iPad. Streaming is a must these days and even the lowest of receiver models come with a wide support so it was a given to find here support for the most known online and streaming services like Spotify, Napster, Pandora, SiriusXM, SiriusXM Music for Business, Tidal and Deezer. You also have access to internet radio (airable radio).
The Yamaha RX-A1080 comes fully packed with features and while a few are missing that are naturally kept for the 2 top dogs, some others are completely absent from the AVENTAGE series in general. But offering so many features means that consumers have a lot of options in their hands making this receiver an excellent choice.

Final Thoughts
Closing we have to admit that we really fell in love with the RX-A1080. It's one fine piece of audio equipment and really offers the whole package for a 7.2 channels receiver. Build quality is excellent, audio performance is amazing while it comes fully packed with features and connections. So is there anything not to like?
Well there are a couple of minor disappointments like the omission of the front HDMI port and no Google Assistant support but these are not so big to lower it's value much. But one thing that may make a lot of people rethink it is it's price. The RX-A880 comes $300 cheaper and for this money the RX-A1080 offers a bit more power, a little more advanced YPAO system that includs Precision EQ, changes it's DAC to an ESS SABRE one, it adds Cinema DSP HD3 and Surround:AI technology and offers an additional HDMI output for a total of three.
If these extras are worth the extra $300 is up to the consumer and the actual needs every single one has as some of these may be important to some making this extra cost worth it while for others these are unimportant and thus the RX-A880 may be a better option. But leaving comparisons out of the picture the Yamaha RX-A1080 is one hell of a receiver that is almost as good as a 7.2 channels receiver can get. If this is the maximum speakers you need then this receiver should definitely be on your short list for consideration.
For more reviews you can check our dedicated 7 channels 4K AV Receiver reviews list or even look at our Product Reviews Table where you can find the brand and specific product you are looking for.
Also don't lose the chance to subscribe to our Newsletter and gain exclusive privileges.
---
Cheapest Places to Buy :
---
Specifications
7-channel powerful surround sound

110 W per channel (8 ohms, 20 Hz-20 kHz, 0.06% THD, 2-ch driven)

135 W per channel (8 ohms, 1 kHz, 0.9% THD, 2-ch driven)

170 W per channel (8 ohms, 1 kHz, 10% THD, 1-ch driven)

Dolby Atmos and DTS:X with CINEMA DSP HD3
Surround:AI automatically optimizes the surround effect in real time
Enhanced CINEMA DSP program (total 24 DSP programs)
Virtual Presence Speaker function for CINEMA DSP HD3 surround without front presence speakers
Virtual Surround Back Speaker for playing 7.1-channel content with a 5.1-channel system
YPAO – R.S.C. sound optimization with precision EQ calculation with multipoint measurement
Professional grade ESS 384 kHz / 32-bit SABRE DAC (ES9007S)
High-resolution Music Enhancer further heightens musicality from the original content
Compressed Music Enhancer for Bluetooth
Phono input for vinyl playback
Latest HDMI (7 in / 3 out) with 4K Ultra HD Full Support (4K / 60p [4:4:4]), HDR video, Hybrid Log-Gamma and Dolby Vision Compatibility and BT.2020 pass-through
4K video upscaling from analog and HDMI input
Yamaha original video processing that optimizes processing for each type of video content
— Motion-adaptive and edge-adaptive deinterlacing
— Multicadence (including 3-2 pull-down) detection
— Resolution enhancement (detail and edge enhancement)

MusicCast for audio enjoyment in every room with ability to add MusicCast Surround speaker(s) (MusicCast 20 or MusicCast 50) and wireless subwoofer (MusicCast SUB 100)

Amazon Alexa voice control compatibility

Wi-Fi Built-in (802.11b/g/n) and Bluetooth support
AirPlay allows music streaming from Mac, PC, iPod, iPhone, iPad

AV Controller app for operating various functions from iOS or Android smartphones and tablets

Access to: Internet Radio (airable radio): MP3, WMA Streaming Services (Spotify, Napster, Pandora, SiriusXM, SiriusXM Music for Business, Tidal, Deezer). Music files on PC / MP3 / WMA / MPEG-4 AAC: up to 48 kHz / 16-bit, ALAC: up to 96 kHz / 24-bit, FLAC: up to 192 kHz / 24 bit, WAV / AIFF: up to 192 kHz / 32-bit, DSD: up to 11.2 MHz

Pre out terminal for Zone 2 with volume control
Advanced GUI on-screen display with HD capability
ECO mode operation