Yamaha RX-A2080
OS, Apps and Features
8.8/10
Pros
Amazing performance
Excellent quality and audio components
Plenty of features and online services
Good value
Cons
No 11.2 channels support
No Auro-3D
Front HDMI input has been taken out
Huge size
---
Cheapest Places to Buy :
---
The last few weeks we had the pleasure to extensively review many of last year's Yamaha AV receivers for both commercialy available lineups including the RX-V as well as the Aventage series getting very good scores and showing how much attention Yamaha is putting in their releases. In our Yamaha RX-A2080 review today we will be looking at the second model in line they are offering in their Aventage premium series that can be somewhat be considered a very good alternative to the top of the line but more expensive at the same time RX-A3080.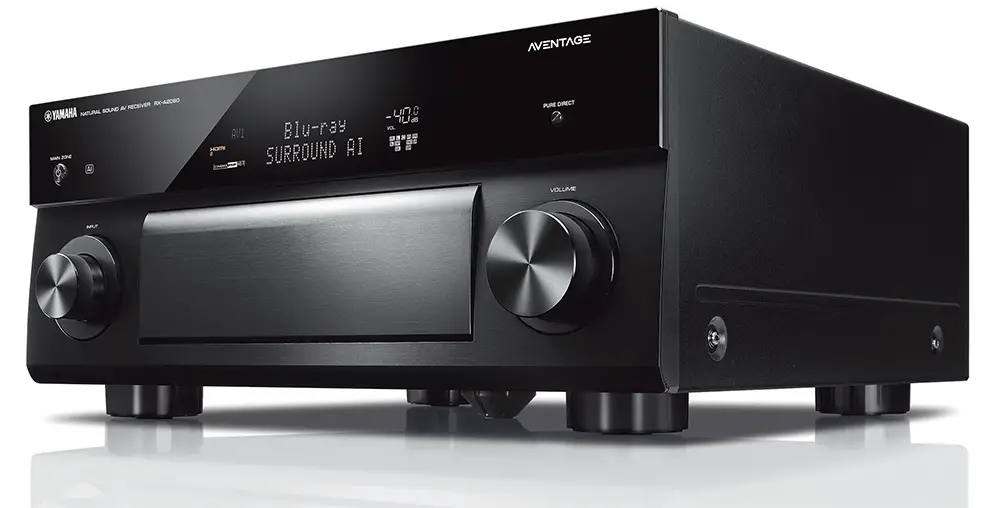 The RX-A2080 in many ways is similar to it's bigger brother but Yamaha made sure to lower certain specs in order to lower the cost but without deviating too much from their top offering. As such the RX-A2080 still comes with  9.2 channels of built-in amplification with 140 watts per channel, comes with the YPAO audio calibration system, supports Dolby Atmos, DTS:X as well as various virtual and up-mixing technologies, offers plenty of connectivity options and is equipped with a wealth of streaming and online services that such a high profile models dictates.
The RX-A2080 is a serious piece of tech packing some impressive hardware but it all comes down to it's quality of performance and if it's price can justify what it can give it's user. With manufacturers being pressed to offer more in their lower tier offerings these premium models find it hard to keep their appeal to the wider consumer audience. Can the RX-A2080 win the hearts and minds of home theater fans and audiophiles or competition is too fierce for Yamaha's second in line offering? Let's find out…
Design
The RX-A2080 has exactly the same design as the 3080 as the two units are like for like and only the naming indicates a different model. In general Yamaha has kept the same design for many of it's models which is not so much surprising.
As with all Yamaha AV receivers the RX-A2080 also keeps the very characteristic design they have been using in all their units. This means that the top half of the front face is using a glossy finish with the functions display sitting prominently at the center and shows all the usual functions of the receiver with a small Pure Direct button at the far right and a circular power button at the far left. Next to the power button we get the AI light indicator which shows if the Surround:AI is enabled.
The bottom half has a slight angled face and uses an aluminum finish which makes it look premium and good quality. There are two big turning knobs at each side with the right one for the volume and the left for input selection while at the center we get a flip-down door that hides more buttons and a few easy access ports.

What is hidden under this flip-down door is exactly the same as we saw in the 3080 and comes with exactly the same missing HDMI compared to last year's 2070 and 3070 models. As such we get the usual menu navigation buttons, scene and multi-zones controls as well as programs and tuner buttons.
Below them we get a USB port (5V/1A) for connecting external storage, the YPAO microphone port next to it, a headphones jack and a stereo audio input. The missing front HDMI input is a big omission in our opinion and one that should definitely be there as it can be such a convenience in so many cases. We would prefer to loose the stereo input which is not so much useful and get the HDMI back since this is the main port that is used nowadays anyway.
Now one aspect that the Aventage series are at their best is what Yamaha is putting inside these machines that allow them to perform so good. It is a fact that for their premium lineup Yamaha is using top quality audio components and as such the RX-A2080 could not be any different. Most of the internals are similar to the 3080 with one exeption that we will mention shortly. First of all, once again we get the H-shaped cross member frame that allows for lower vibrations even at high volumes while it comes with s symmetrical amplifier layout that maximizes channel separation and improves signal to noise ratio.

We also find heat sinks with anti-vibration and anti-thermal properties along with a high-speed thermal feedback power amplifier. A high-quality volume IC along with an independent pure power supply and ultra low-jitter PLL circuitry are used for optimized sound imaging and improved audio quality. Everything so far are the same and the only difference spotted here is the use of different DACs. The RX-A2080 is utilizing dual ESS 384 kHz/32-bit ES9007S SABRE Premier DACs that are responsible for all audio conversions and the 2080 is the only unit with this specific DAC configuration.
One last characteristic that defines the Aventage series is what Yamaha calls Anti-Resonance Technology (A.R.T. Wedge). In simple terms this is a fifth foot that has been placed at the middle of the receiver and is responsible for maximizing the stability while lowering even further the vibrations that are being created. As for the rest of the legs, these have been redesigned in order to include a high-density structure that is helping by providing enhanced strength to each foot and better damping performance.
With all this tech under the hood the unit is a small monster so you have to make sure to have plenty of breathing space around it or a good cooling solution. The receiver has exactly the same size as the 3080 even with the slight reduction in specs and as such it measures 17-1/8" x 7-1/2" x 18-5/8" (435 x 192 x 474 mm) with the antennas in a horizontal position but comes with a slightly less weight of 37.5 lbs (17.0 kg).

The remote that came with the receiver is exactly the same we saw in our 3080 test and this was to be expected. With both receivers having very similar characteristics and functions it would be natural to use the same remotes also. We definitely like the new remote much more than the old button cluttered version and this one here comes with a design that is more in line with other similar remotes we have seen from the competition.
Although still a bit cluttered, the button layout is more logical now as we get the navigation buttons in the middle with the rest being split above and below that. The size of the remote is a bit big but this was necessary in order to incorporate all these functions while on the plus side we liked that the remote is backlight enabled and turns on automatically when you pick it up which we like the most as you dont have to search for the light button in the dark.
The Aventage series reflect the quality of it's models and Yamaha had made sure to equip them with the best possible components and features in order to perform as good as they do. Design is good, quality is excellent and if there is one thing we didn't like is only the omission of the front HDMI port. Everything else was as they should from the second in line performance model they offer.

Audio Quality
The Yamaha RX-A2080 is a pure 9.2 channels AV receiver and by that we mean that on the contrary to it's bigger brother, the RX-A3080, this one doesn't have the ability to support 11.2 channels. So in case you are considering this then the 2080 will not cut it. And this is one area that Yamaha seems to have been lagging behind competition as many other manufacturers have many of their top offerings come with built-in 11.2 channels support without the need of any external amp. With this in mind this unit can support Dolby Atmos setups with either a 5.2.4 channels or a 7.2.2 channels configuration.
Another spec that has been lowered slightly is the power of the receiver. This unit can output 140 W per channel (8 ohm, 20 Hz – 20 kHz, 0.06% 2ch drive) which is only 10 watts lower than the 3080 and thus in terms of pure power the difference is in reality very small. The receiver is capable of delivering all the sound you will ever need even if you have a larger than usual audio room or home theater. And with such an advanced receiver Bi-amp capabilities couldn't be missing so in case you are fan of this rest assured that the RX-A2080 is capable of that also.
Once again we find Yamaha's most advanced DSP offering with the Cinema DSP HD3 which is included in all Aventage top tier models. If you don't know what Cinema DSP HD3 is, it's Yamaha's proprietary sound field creation technology that utilizes four Quad CINEMA DSP engines and permits lossless decoding of 192kHz signals, while providing 3D processing that gives the sound field an extra vertical dimension. With Cinema DSP the receiver is capable of recreating various audio spaces like concert halls or sport arenas which can bring a whole different level of immersion.

The unit comes with the maximum number of DSP programs that Yamaha has made available which is 24 which gives you plenty to try out. This stereoscopic sound field technology is a really interesting one and there are cases where it can boost the overall volume and immersion of sound but there are also a lot of cases where the end result can feel very artificial. Keep in mind that a lot of processing is at play here and we are not very fond of processed sound that alters the original mix very much. But it's nice to have this system as you may find it more to your liking than us.
With the use of Cinema DSP HD3 the RX-A2080 is also capable in offering various virtual features. First of all there is Virtual Cinema DSP which can reproduce up to 7 channels of surround sound without the need to have any surround speakers connected. Next we get Virtual Cinema Front which lets you position your surround speakers at the front and still get surround activity on the back of the listening position. This can be very handy in case you are limited by space and you cannot place your surround speakers where they should really be.
Another feature we get is Silent Cinema. With that you can enjoy surround and sound field effects by only using your headphones. There is also Virtual Presense Speaker support as these can be created without any actual presense speakers available. Lastly with the Virtual Surround Back Speaker feature you can get activity when there are no actual surround back speakers available. As you can see when it comes to virtual tech the 2080 comes fully equipped.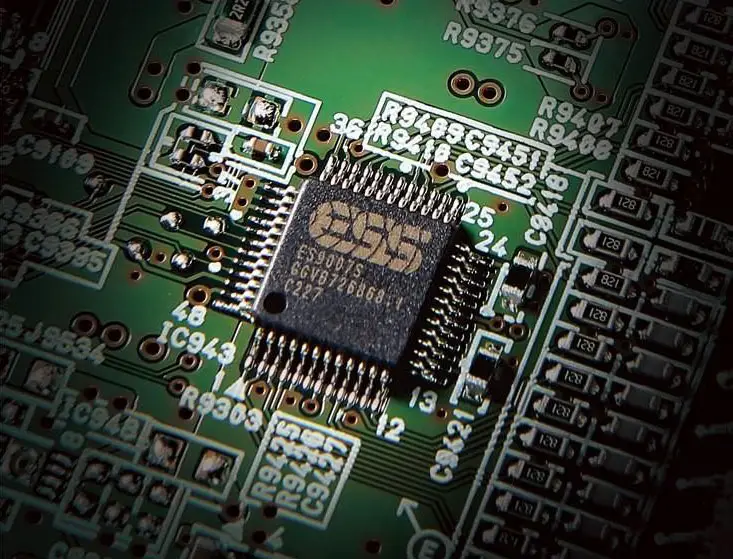 Before we move on to our movie testing there is a last feature that is worth mentioning and that is no other than Surround:AI. Now this technology, that is built-in the DSP, optimizes the surround effects in real time by analyzing each scene and focusing on specific sound elements like ambient effects, music, dialogue and special effects.
This can be a welcome addition for those that don't want to mess around with the individual DSP programs and prefer a more automated system to handle everything but as with all these technologies that are available the source content will very much determine the actual result. There have been moments where we liked what we heard, even with our more pure preferences, while other times the sound is changed far too much for our tastes. But the decision is yours if you like it or not.
For our movie testing we opted to try out a new release that we had reviewed recently and left us with the best of impressions. This was no other than the 4K UHD version of Midway, the new World War 2 film from Roland Emmerich that focuses on the attack of the Japanese fleet on Pearl Harbor and the subsequent war of the Pacific between America and Japan that culminated with the Battle of Midway.
One thing that impressed us in a major way was the Dolby Atmos mix that came with the film and it was the perfect one to try out with the RX-A2080. For our testing we opted for a 5.1.4 channels audio setup with a single subwoofer along with 4 ceiling speakers for the overhead layer. After making the necessary connections and finishing with calibrating our system we popped the 4K disc into our Panasonic player and we were ready to go.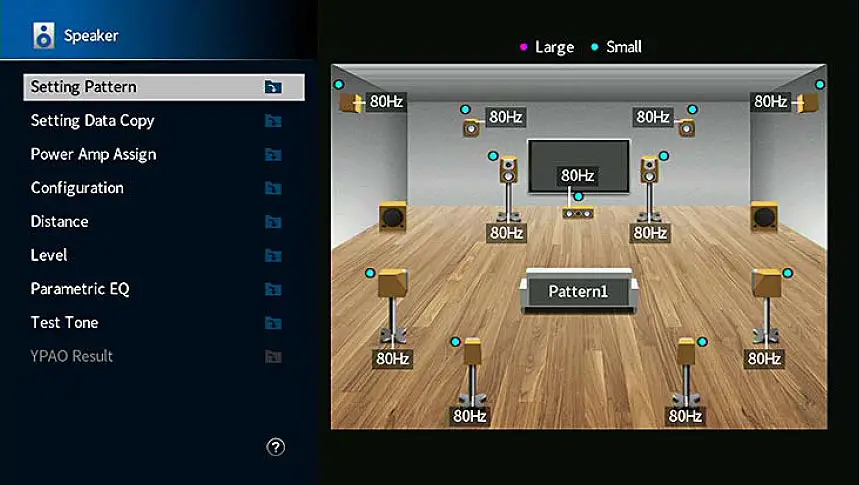 Midway is the kind of film that doesn't hold anything back. And when it comes to it's action scenes we got the kind of performance that you need to hear yourself to fully understand the kind of immersion it offers. From the get go the receiver made sure to feed all speakers with the necessary information and thus we were literally thrown into the middle of the action. As the camera closely follows the fighter planes through their dives, flank fire and anti-air bullets were wizzing past our ears. The amount of activity on the surrounds and overhead was trully unique.
Usually the overhead layer is used to complement the rest of the action. Here not only was used as an afterthought but took active part in each battle. Channel precision and shifting was spot on and with such fast moving action the receiver never felt like lagging behind. The film is a demanding one but it seemed that the unit was always prepared to deliver all frequencies with authority and resolution. Our subwoofer never felt neglected as explosions, machine gun fire and airplanes roaring through the air kept the Yamaha always busy and offered plenty of moments of shaking our test area to our pleasure.
With 140 watts of power the receiver never felt like bulking under the pressure of us pushing it's volume to bothering levels. Although our testing area is not extremely big we can assure you that the receiver not only had plenty of juice but also kept a straight face and smiled back on us every time we wanted to push it to the extremes.
A spectacular performance overall and one that the RX-A2080 is ideal in order to give you the full range of it's quality and cinematic immersion that it deserves.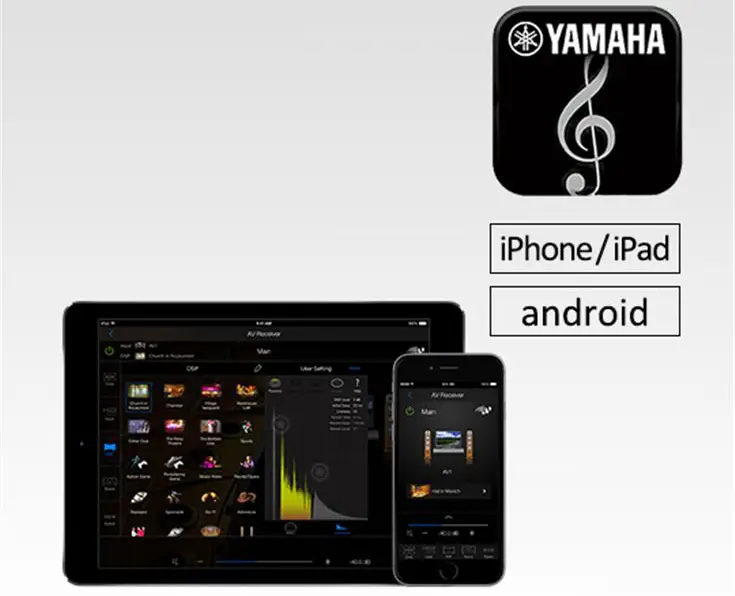 Obviously we are more film fanatics but as reviewers we couldn't do without checking how that Yamaha would deal with music. As such we selected a few favorite FLAC files that we decided to stream through the provided USB port. Performance was more or less what to expect from such a high profile unit. The Aventage receivers always left us with good impressions as far as their musical fidelity and the 2080 was no different.
With impressive resolution and finesse the Yamaha was able to provide each track with amazing imaging making us feel the origin of each sound and musical instrument. Bass had the necessary volume without feeling muddy, mid-range was very good controlled and the highs were crystal clear. Obviously the whole performance is very much dependent on the kind of speakers you will be using and such a receiver truly deserves some good quality ones to be used. But if you do then be prepared for an astonishing musical performance.
Streaming with the RX-A2080 can be done either from online or from a local network storage or NAS server except from the front USB port that we already mentioned above. The receiver supports the usual files like MP3 and WMA but also all the High Resolution Audio formats including ALAC up to 96 kHz / 24-bit, FLAC up to 192 kHz / 24-bit, WAV / AIFF up to 192 kHz / 24-bit and DSD up to 11.2 MHz. The unit also comes with Yamaha's Compressed Music Enhancer that enhances the quality of compressed music formats including MP3 and WMA into near High Resolution Audio quality levels.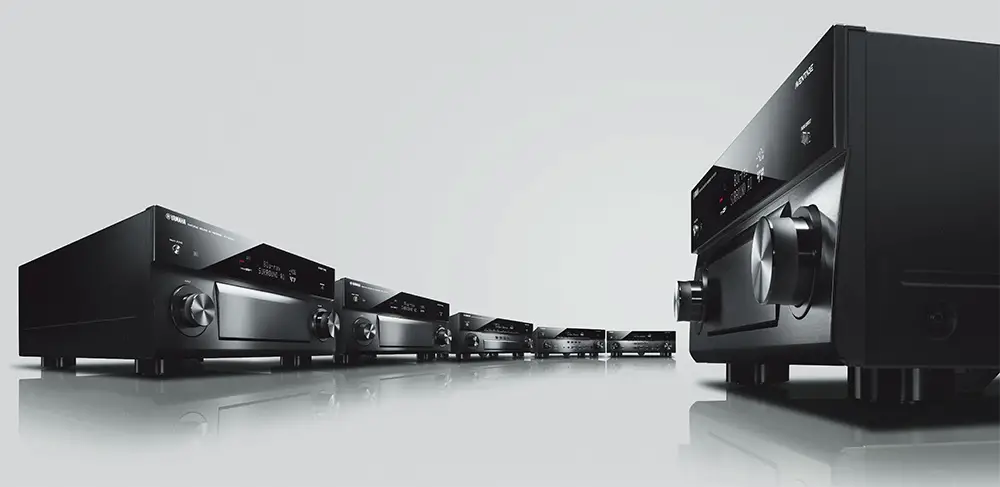 Ports and Connectivity
With the RX-A3080 offering a staggering amount of ports and connectivity options the RX-A2080 was natural to loose some of them due to the lower price tag it comes with. But to be completely honest the differences between the two are rather small and you don't loose much in the long run showing how much value we still get with this unit. Just for the shake of keeping everything together we will mention the ports we get at the front that include a headphones jack, the YPAO microphone port, a USB port for connecting external storage as well as an analogue stereo input.
Turning the receiver around the first thing worth mentioning is the 11 speaker terminals from which only the nine can be used at the same time for the main setup. The last two terminals can be used only in case you want to connect a pair of speakers in another zone and this is one of the differences with the RX-A3080 as in that model you could connect the last two terminal with an external amp for a 11.2 channels setup. On the HDMI front we get 7 HDMI inputs along with 3 HDMI outputs from which one has added ARC/eARC functionality which is exactly the same as the 3080.
All the HDMI ports support 4K Ultra HD / 60p [4:4:4], HDR video, come with Hybrid Log-Gamma and Dolby Vision compatibility, BT.2020 pass-through and dedicated zone output in HDMI 3.
As for the rest of the legacy ports there are small differences but not much. As such we get 2 component and 4 composite inputs, 7 analogue stereo inputs along with an extra one dedicated for phono, 3 optical and 3 coaxial digital audio inputs, 7.2 channels pre-outs down from the 11.2 channels pre-outs of the 3080, 2 12 volts triggers, a remote input and one output, an RS-232C port, an Ethernet port for wired connections and last but not least the common FM and AM antenna connectors. What we are missing are the stereo XLR and the pre-out XLR ports that were taken out.
In the wireless connectivity front things are pretty standard with built-in WiFi (802.11 a/b/g/n/ac, 2.4/5GHz) and also Bluetooth v4.2 (SBC/AAC) for streaming audio wirelessly.
Closing this section the differences between the two top Yamaha offerings are minor and does not affect the value the RX-A2080 has. The most obvious difference is the absence of the XLR ports while the second difference is the reduction of the pre-out connections. Considering that the single most important connection is the HDMI ports everything else has much less weight to be honest so we cannot complain about these changes for a $400 reduction.
OS, Apps and Features
Let's see now what kind of extra features the RX-A2080 comes with and what kind of reductions, if any, we get due to the lower price tag in comparison to Yamaha's flagship. The unit comes with Yamaha's YPAO audio calibration system. Depending on the model you have you get a different version of it that has different features and functions. In the RX-A2080 we find the YPAO – R.S.C. sound optimization with 3D, Precision EQ calculation and Angle Measurement which is a step down from the full package that comes with a couple of more functions.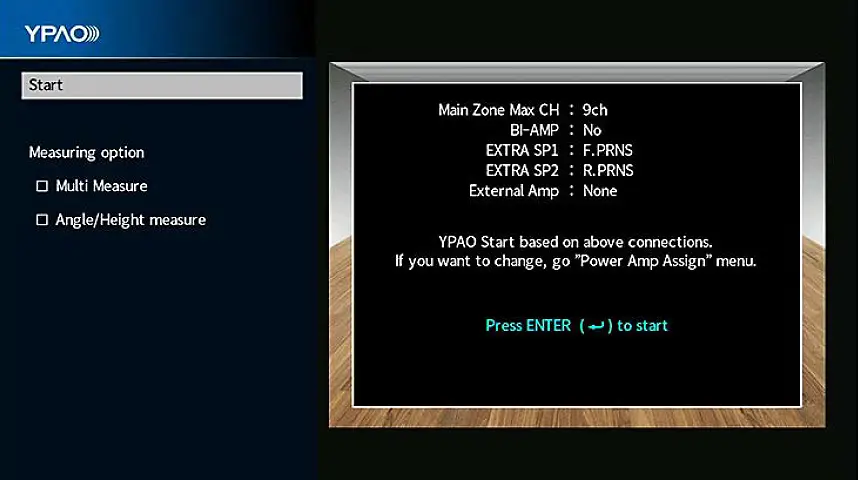 YPAO is responsible for tuning your system by analyzing your room's acoustics with the help of the included microphone while YPAO 3D is responsible for optimizing the sound parameters in order to improve the effectiveness of the 3D sound field of CINEMA DSP HD3, Dolby Atmos and DTS:X. Precision EQ calculation helps to achieve more natural room acoustics while with Angle Measurement you get more precise measurements by analyzing the audio with different microphone angles by using the included tripod.
There are step-by-step instructions on how to make this automated system take all measurements so you shouldn't worry if you are not very experienced with such calibrations. The on-screen user interface is very nice and easy to comprehend. In general YPAO is not bad and will surely help you if you are not very experienced with all this.
The built-in menu uses a rather simple but visually pleasing interface. We would like something more advanced but as always AV receivers are behind in this compared to other electronics like TVs. The menu appears on the left side and comprises of 8 different categories while on the right we get details for each selection. When you enter a specific category more sub-options appear on the left keeping a very well organized structure. Navigation through the various menus and setting were smooth and we didn't notice any problems or input delays.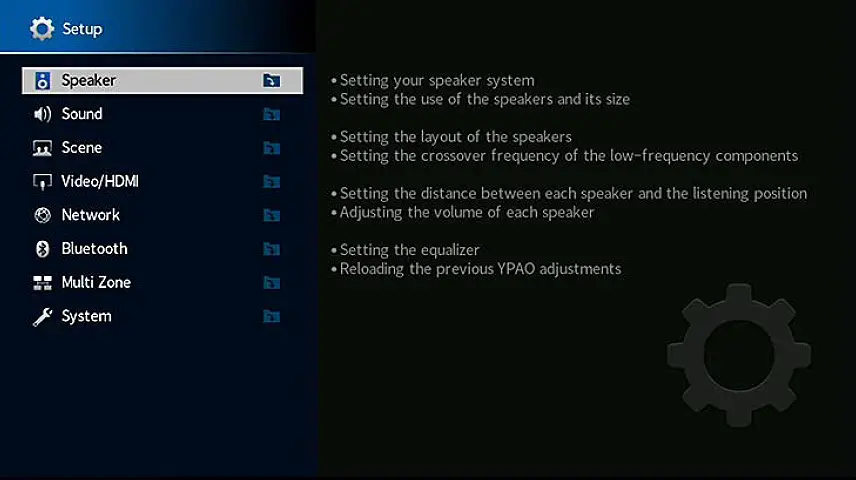 It seems that when it comes to the multi-room capabilities of the RX-A2080 we get the full package so let's analyze what is on offer. First of all we get MusicCast and with it you can connect to the receiver any MusicCast enabled wireless speakers creating your own multi-speaker environment in your house. In order to use MusicCast you have to download a specific app in your mobile phone or tablet which gives you the ability not only to use these specific features but also comes with much more functionality.
If you prefer to use Apple devices mostly then Yamaha has thought of you also by including Airplay 2. This is Apple's equivalent to MusicCast and you can use it to connect various Airplay speakers or devices. Lastly there is also wired multi-room capabilities with the RX-A2080 supporting 3 additional zones giving you plenty of options to choose from.
Obviously streaming is not only limited to local devices and speakers as there is a wide selection of online streaming services to choose from that include the most known names like Internet radio, Spotify, Napster, Pandora, SiriusXM, SiriusXM Music for Business, TIDAL and Deezer. If you are very much into online streaming then this receiver has you completely covered.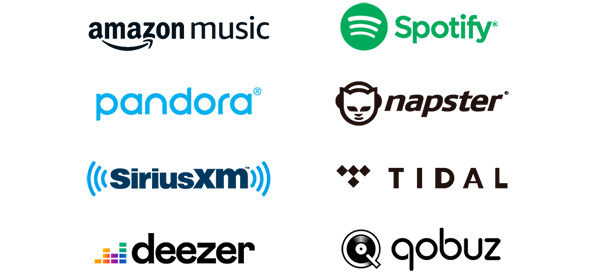 Another feature that couldn't be missing is the inclusion of voice controls. The receiver supports both Amazon Alexa and Google Assistant  and obviously both of them need an external speaker in order to function like an Echo Dot or a Google Home device so in case you don't have one and you are interested in this function you will have to pay extra. Lastly there is Apple Siri support and you can use that through the Airplay 2 app in you Apple device.
But extra features don't stop there as we also get wireless speakers support that include the MusicCast 20 and MusicCast 50 surround speakers as well as the MusicCast SUB 100 subwoofer. There is also video upscaling from both HDMI and analogue ports to the HDMI output, you can stream audio to Bluetooth enabled headphones and speakers while if you are environmental sensitive there is an ECO mode in order for the unit to use less power.
When it comes to features the RX-A2080 brings almost the full list to the table. Yes there is a slight reduction in the YPAO and High Resolution Audio capabilities but as for the rest of the features we don't miss a thing making this model an excellent choice if you like to use many of online and streaming services in general. Excellent work on this regard.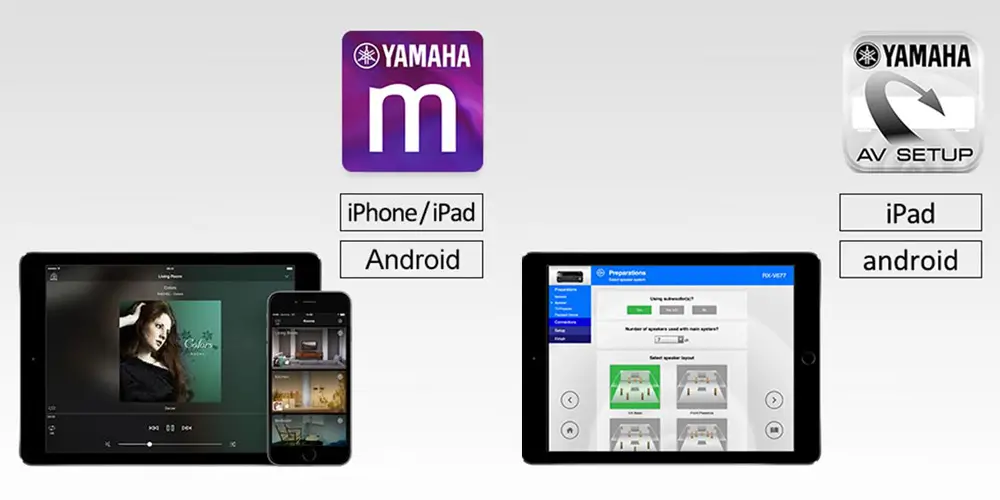 Final Thoughts
The RX-A2080 is the kind of AV receiver that can impress even the most skeptical of users. It offers remarkable performance and a wealth of services and features making it an excellent choice for any kind of home theater setup. With it's 9.2 channels of built-in amplification, 140 watts of power per channel, support for all known audio tracks as well as various up-mixing and virtual tech this model can certainly be at the center of your entertainment system. Add to the above all the extra features and you get the idea of the kind of value it has.
But considering that we get a AV receiver that costs around $400 less than Yamaha's top offering there must be certain features that needed to be cut or scaled down in order to meet the lower budget. Are these enough to make an impact? Well we will leave you to be the judge but what we get is slightly less power per channel, no ability for 11.2 channels, a less capable version of YPAO, lower quality DACs and as a result less options in it's High Resolution Audio support, no XLR ports, 1 less analogue input as well as only 7.2 channels pre-outs. All these reductions bring a slight reduction to the overall weight even with the dimensions remaining the same.
Does the above justify the $400 reduction in price? We believe it does as the kind of cuts in this models are not so drastic to hinder the receiver's overall performance. If the RX-A3080 felt a bit too much in some respects and you don't care about the 11.2 channels of processing it has then the Yamaha RX-A2080 can be an amazing option for anyone serious about their home cinema system. It has the power, performance and features that you will ever need making it a true powerhouse of an AV receiver. Excellent work from Yamaha for creating such a great piece of audio equipment. Highly reccomended.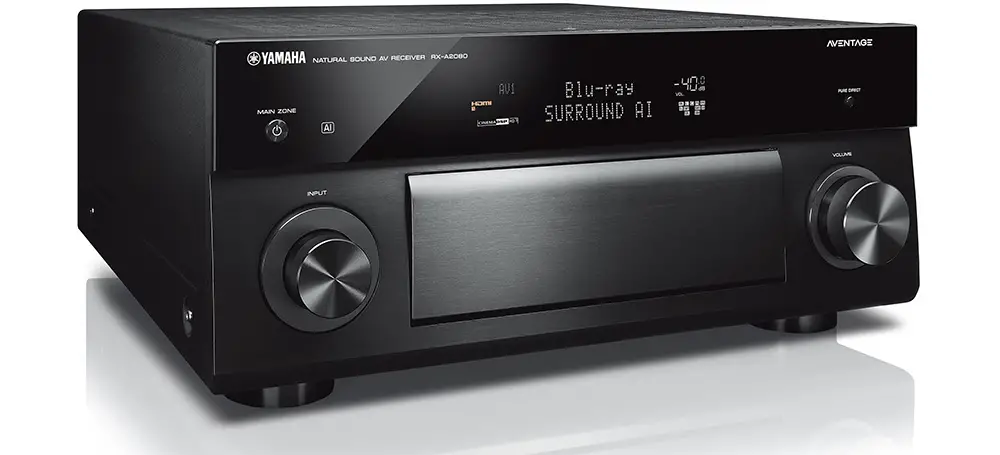 For more reviews you can check our dedicated 9 channels 4K AV Receiver reviews list or even look at our Product Reviews Table where you can find the brand and specific product you are looking for.
Also don't lose the chance to subscribe to our Newsletter and gain exclusive privileges.
---
Cheapest Places to Buy :
---
Yamaha RX-A2080 Specifications