---
Cheapest Places to Buy :

---
Yamaha was always known for their quality manufacturing and expertise in making some of the best AV receivers for home theaters, offering both budget friendly but also top of the line models. The AVENTAGE series was always considered the premium, top of the line series of Yamaha AV receivers being equipped with some of the best hardware that offer the best possible sound quality. A couple of months ago we tested the second in line AV receiver in their AVENTAGE series for the year 2017, the Yamaha RX-A2070 which review you can read HERE, so now it's time to check Yamaha's top offering for last year, in our Yamaha RX-A3070 review and see if it is worthy the title of being one of the best receivers of 2017.
Design
Yamaha has kept the design of it's flagship receiver the same for the last few years and this shows how confident is the company with this specific chassis. The design is almost the same with it's smaller brother, the RX-A2070, and it seems we will continue to see this in the immediate future.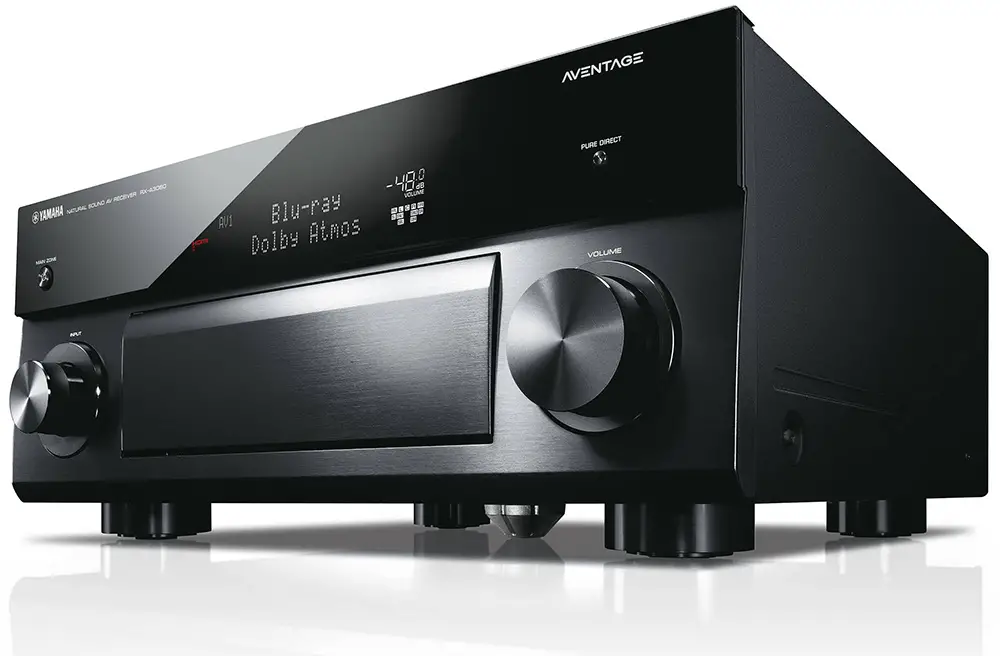 In the front we have two big turning knobs, one on the right for the volume and one on the left for the inputs, and the power button to the left. The top half of the front is being filled by a large LED screen that shows you all the necessary information for input source, volume, type of sound track among others. In the bottom half we find a drop down flap that hides all the front control buttons and inputs.
You can use the frontal buttons for a lot of the receiver's functions like menu navigation, presets, tuning, zone control, scenes and sound modes. Although it's good to have so many controls on the receiver in case you need them I think these will be used only in case of an emergency as most people will prefer to use the remote. Anyway under all the control buttons you will find the frontal connections and these we will analyze a little further down our review in the inputs / ports section.

As for the quality of the receiver Yamaha is always putting extra attention to their AVENTAGE series and the 3070 is no exception. In the front we get an aluminium panel, cross bracing as well as Yamaha's characteristic A.R.T. Wedge (Anti Resonance Technology) which is a fifth leg in the middle of the base of the receiver in order to minimize the vibrations. Under the hood Yamaha is using top quality electronics like the ESS Sabre ES9026PRO DAC which is an eight-channel, 32-bit unit with a noise+THD floor at -110dB as well as other high quality electronic parts.
The 3070 is a massive receiver measuring 17-1/8" x 7-1/2" x 18-5/8" (435 x 192 x 474 mm) and weighting 43.2 lbs (19.6 kg) so you better be sure to have enough space where you will place it and with enough breathing space around it because a unit like this can get a bit hot.
Audio Quality
The Yamaha RX-A3070 is a 9.2 channels AV receiver with the ability to process 11.2 channels if you connect a 2 channels external amp. This means that out of the box the receiver can be used to create either a 5.2.4 or a 7.2.2 setup in order to take advantage of the height speakers that can be used for Dolby Atmos and DTS:X audio tracks playback. Not being a true 11.2 channels receiver is in my personal opinion the only major drawback this receiver has because let's not forget we are talking about the top offering from Yamaha and if you want to be called the top model a manufacturer has to offer as far as AV receivers is concerned, 11.2 channels must be considered a must.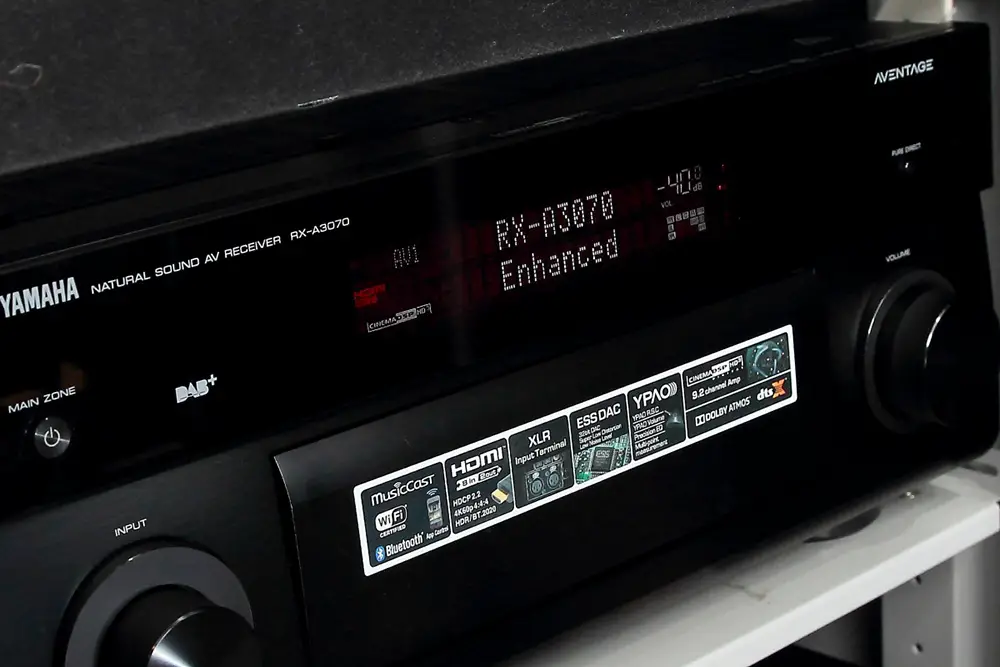 I wanted to test the receiver without an extra amplifier so I went for a 5.2.4 setup in order to take advantage of all the height speakers possible so after connecting it I popped my Pacific Rim: Uprising UHD disc in my Panasonic UB900 player for a testing session. As I expected the RX-A3070 delivered all the power needed and gave a highly dynamic performance at all times. The Dolby Atmos track of this specific movie is noisy, loud and with plenty of sounds hovering all around the sound field. Taking the volume to ear-shredding levels didn't make the 3070 loose any balance as it kept delivering crystal clear sound from all speakers making this receiver ideal even for large scale home theater rooms.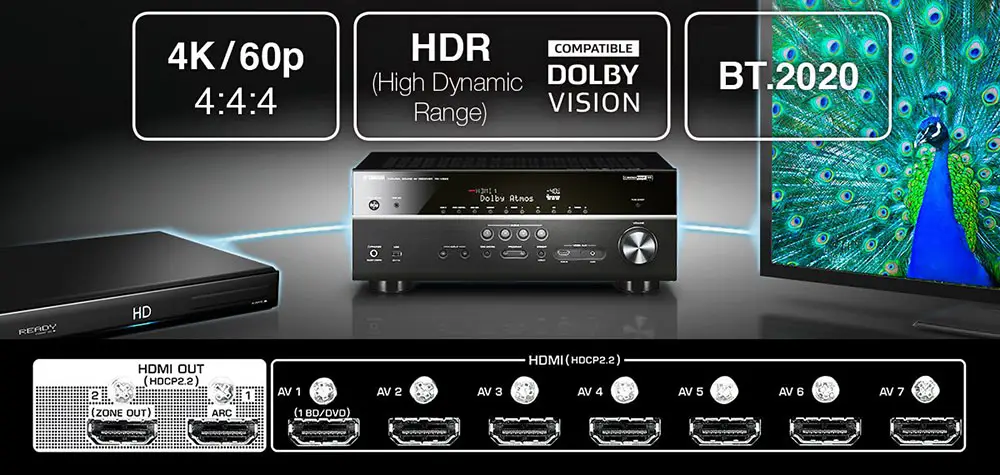 The receiver handles sound separation very good and with a film like this you can feel like you are truly there with projectiles flying all around you, explosions rumble your sofa and ambient sounds that will make you turn your head more than a few times in search of the source in your room. Height speakers were pretty busy during action scenes with sounds traveling overhead and with the surround speakers delivering the extra information needed from the back you felt like in a perfect dome of immersive sound. Bass was handled with great care going pretty low without loosing control while the center speaker delivered all the necessary dialogue with clarity. You could not get any better results from a combination of a reference Dolby Atmos track with the excellence of the RX-A3070 receiver.

The 3070 may excel in noisy, action filled tracks but is a great performer with music also. Vocals were crystal clear and were delivered with a phenomenal level of precision while bass was delivered with limitless depth creating an immersive music extravaganza. The 3070 as with all the Yamaha receivers is equipped with the Cinema DSP suite giving you the ability to choose different presents changing the nature of the original mix. The HD3 chip is doing great job in replicating different situations like a music hall or a concert but I was always a fan of hearing the mixes as they were created but nevertheless it's a nice feature to have for those that like it.
Inputs / Ports
Being the top model of their premium series the RX-A3070 has the biggest amount of ports you could wish for from all their AV receivers on offer for the year 2017. But let's see what we get here. In the front you will find exactly the same ports as in the 2070 with one USB port (5V, 1A) to connect external storage devices, an YPAO MIC input, a headphones jack, one analogue stereo input and one HDMI port.

At the back we get almost the same ports as in the 2070 with seven HDMI input ports and two HDMI output ports. All the HDMI ports offer full 4K UHD support with HDR. We also get 11 ports for the speakers but only 9 of them can be active at any time.
As for everything else we have two component video inputs, four composite video inputs, eight analogue stereo inputs, three optical audio and three coaxial audio inputs. A lot of legacy connections for those that are still using them. There are also Zone Out/Pre Out connections, two 12V trigger out ports, one remote in and one out port, one RS-232 port, an Ethernet port for wired connection to the internet and an Antenna port for radio.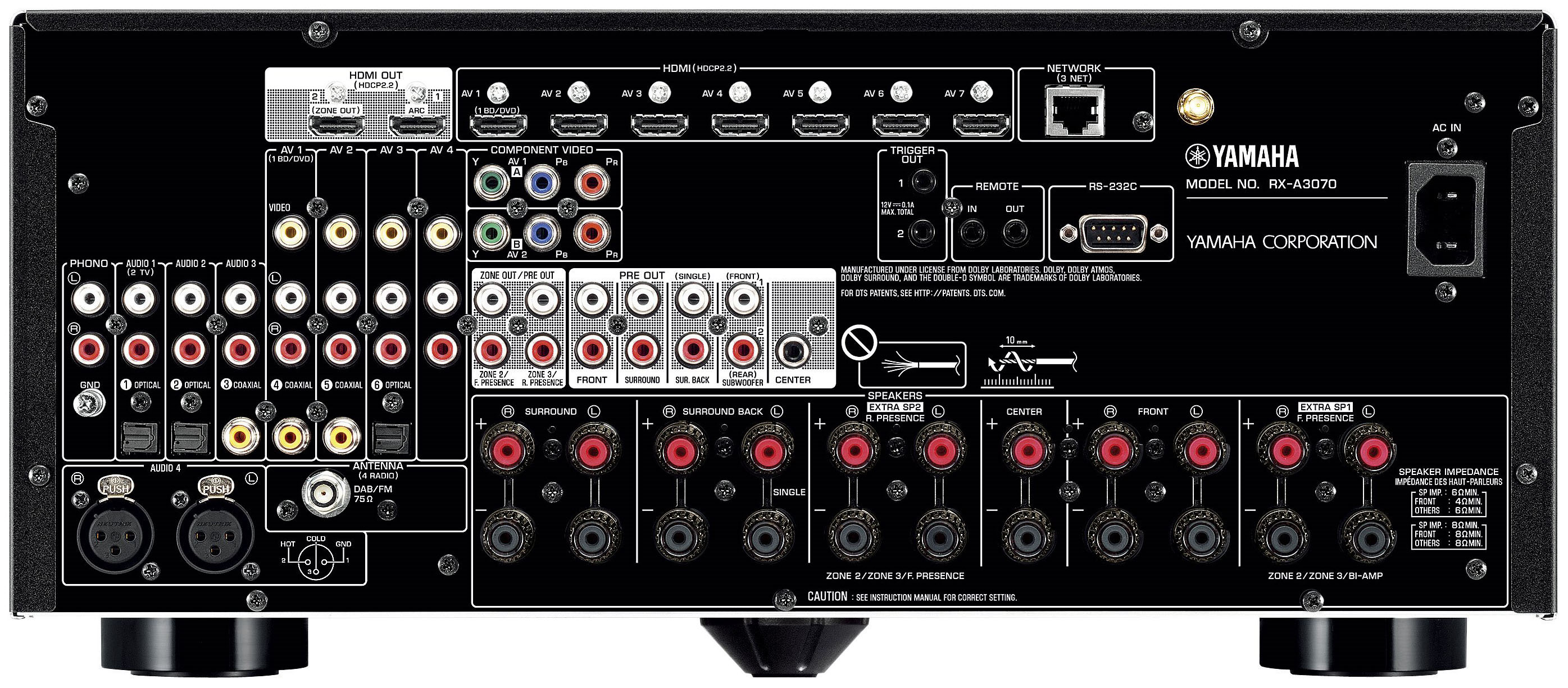 I cannot say that I feel something is missing especially when we are talking about the flagship of Yamaha's AV receivers. The most important aspect is the high number of HDMI ports giving you the ability to connect a high number of devices without the need for HDMI splitters or any other equipment. Offering so many legacy connections is also a plus but I have a feeling that every year less people are going to use them because let's be honest, when you buy such a high quality device you want the absolute best image and audio and only with the HDMI ports you can get that, but if you still have some old equipment that you still use then the RX-A3070 provides all the connectors and inputs to do so.
OS, Apps and Features
Yamaha's proprietary calibration system called YPAO is present once again and with it you can setup your system and speakers easy and fast even for the non professionals by using the included calibration microphone. Speakers positions, volume and speakers type is some of the options you can change among others. Menus are easy to navigate and never it felt hard to find a specific option I was looking for. In general the YPAO system is good for those inexperienced with such receivers calibration but for those with a bit more knowledge will still prefer to make calibrations manually.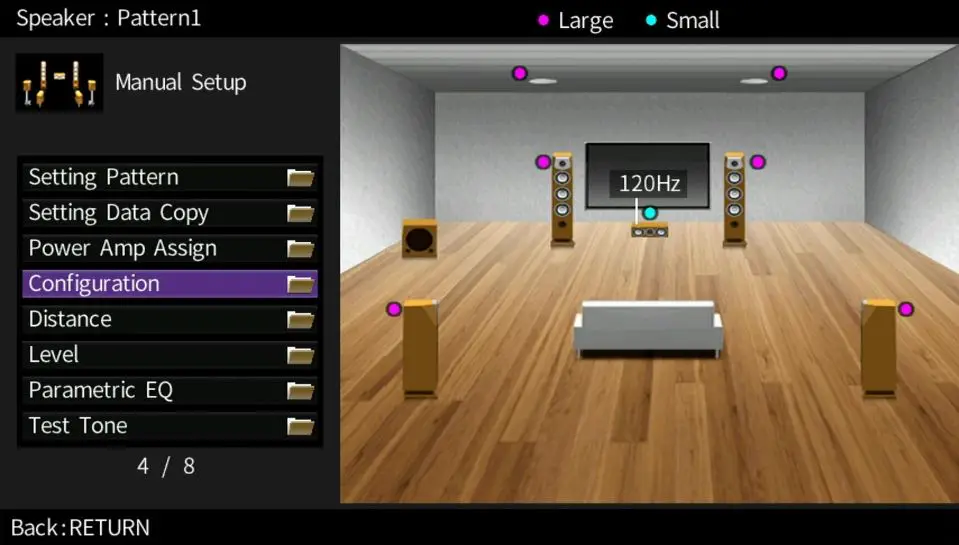 There is also a Virtual DSP feature which was developed by Yamaha and it creates a three dimensional sound field by only using the two main front speakers. The system is using a trick by bouncing the sound to the back walls creating the illusion of surround speakers. Of course the result is a mixed bag never being able to replicate a true surround system but offer a good alternative to just using stereo for those that cannot do any better.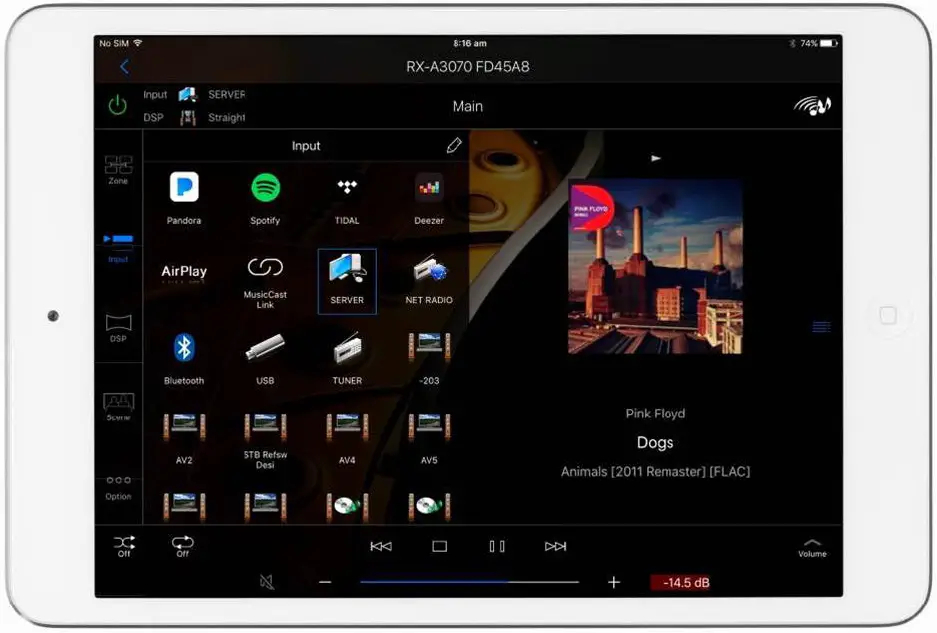 Video Handling is better than most entry level AVENTAGE receivers with the Yamaha RX-A3070 supporting HDCP 2.2 for all it's HDMI 2.0 ports meaning it supports 4K/60p video at 4:4:4, Wide Color Gamut (WCG), BT.2020 content as well as all types of HDR like HDR10, HLG and Dolby Vision. The 3070 offers a wide range of picture processing options like aspect ratio, resolution, edge enhancement, detail enhancement, brightness, contrast and saturation. It also has the ability to upscale content to 4K UHD resolution if you want with results being mostly good with a few moments where the receiver had problems with the video mode deinterlacing but this happened very rarely so I don't consider it a major problem.

For multi room playback we find Yamaha's MusicCast, a feature that has improved dramatically over the years and it offers great connectivity with MusicCast enabled speakers that you can place around your house. There is also support for a wide range of online services like Tidal, Pandora, Napster, Deezer, SiriusXM and Spotify as well as Airplay for those with Apple devices that want to stream music to the receiver. The receiver offers both wired as well as WiFi for wireless connectivity. In addition there is support for Bluetooth communication in order to connect Bluetooth enabled devices like headphones.

Yamaha continues to keep me unimpressed with their remote offering. I think they seriously need to improve upon this as it may looked good and practical a few years back but now it's only a button clutter fest and I always found remotes with a huge amount of buttons hard to work with. In this day and age where user interfaces in all devices offer pleasant graphics for settings and menu navigation I find it as a step back to still need all these buttons.
AV receivers manufacturers should take a note from TV manufacturers that offer smart remotes with just a few buttons and still do their job perfectly. Button cluttered remotes are and should be a thing of the past. Add to this that there is no kind of backlight and you have a good test in front of you trying to find a specific button in the dark.
Final Thoughts
The AVENTAGE series is a frequent recipient of rewards and high praise and with the RX-A3070 this trend seems to continue. The flagship of Yamaha's AV receivers has everything it needs to score high marks across the board. With enough power, spectacular audio quality, a huge array of ports both next gen and legacy ones, a lot of streaming features and very detailed settings it provides you with all the tools to create a dream home theater setup.
But no matter how good this receiver is it's not without some drawbacks. Not being a true 11.2 receiver you need an external amp to power the two additional channels in order to create a 7.2.4 setup something unacceptable in my opinion for a flagship device like this. Also the different specs from it's smaller brother, the RX-A2070, does not justify the higher price as the 2070 is also a 9.2 receiver with just a little bit of less power and a few different hardware components. Lastly as with the 2070 I don't like the remote Yamaha is offering and I hope they will improve it's design in the future.
But despite it's drawbacks the RX-A3070 remains a monster AV receiver that clicks all the right boxes. With the new line of AV receivers coming out shortly in 2018, there will definitely be price reductions in the 2017 line so if you are in the market for one of the best receivers of last year then now may be the perfect time to check the RX-A3070 as it is definitely worth it with all it's next generation specs and features that will keep you entertained for many years to come.
For more reviews you can check our dedicated 9 channels 4K AV Receiver reviews list or even look at our Product Reviews Table where you can find the brand and specific product you are looking for.
Also don't lose the chance to subscribe to our Newsletter and gain exclusive privileges.
---
Cheapest Places to Buy :

---
Specifications
9.2-channel with Dolby Atmos®, DTS:X™ and CINEMA DSP HD3 (7.1.2-ch or 5.1.4-ch)
11.2-channel processing (up to 7.2.4-ch expandability with external 2-ch amplifier)
XLR terminals for low signal transmission
Aluminum front panel with door, symmetrical amplifier layout, H-shaped cross frame, double-bottom chassis
High-performance digital-to-analog conversion (ESS SABRE32 Ultra DAC ES9016S and ESS Premier DAC ES9006A)
MusicCast for audio enjoyment in every room
9-channel powerful surround sound
— 150 W per channel (8 ohms, 20 Hz-20 kHz, 0.06% THD, 2-ch driven)
— 230 W per channel (8 ohms, 1 kHz, 10% THD, 1-ch driven)
— 165 W per channel (8 ohms, 1 kHz, 0.9% THD, 2-ch driven)
Fully loaded with Wi-Fi, Bluetooth, AirPlay, Spotify Connect, TIDAL, and Deezer music streaming services
Stream Pandora®, Spotify, Napster®, SiriusXM Internet Radio and thousands of free internet radio stations
Add audio in up to 9 additional rooms with MusicCast
DSD 2.8 MHz / 5.6 MHz, FLAC / WAV / AIFF 192 kHz / 24-bit, Apple® Lossless 96 kHz / 24-bit playback
8-in, 2-out HDMI
4K Ultra HD pass-through with HDCP 2.2 support, HDR Video including Dolby Vision and Hybrid Log-Gamma, and BT.2020
Room acoustics optimization using YPAO™- R.S.C. with 3D, 64-bit precision EQ calculation and angle measurement
Voice control using your Alexa device like Echo or Echo Dot
Phono input to connect to your favorite turntable
Advanced HDMI zone switching (Zone 2)
Zone 2 control options