Yamaha RX-A780
Design -

92%

Audio Quality -

92%

Inputs / Ports -

85%

OS, Apps and Features -

90%

Price / Quality -

90%
---
Cheapest Places to Buy :

---
Yamaha had a very solid lineup last year with their Aventage RX-A 80 series as they offered very good quality and performance and with the series consisting of six models Yamaha was able to scale them accordingly to fit all needs and budgets while keeping the quality at a level that the Japanese manufacturer is known for.
In the past few months we had the pleasure to test a couple of their 2018 models that left us with very good impressions. Today we will be checking the RX-A780 model which belongs almost to the bottom of the lineup, only one step above the last in the series RX-A680. With this model Yamaha tried to appeal to a group of consumers that are looking for a good quality, Dolby Atmos enabled AV receiver but at an affordable price that can help to keep the overall budget at relatively low levels.
But with so many low budget AV receivers in the market right now it seems that this specific model has an uphill battle to give in order to be able to distinguish itself from the competition. Does Yamaha manages to offer something special or it gets lost in a sea of low budgeted good quality AV receivers. Keep reading our Yamaha RX-A780 review to find out.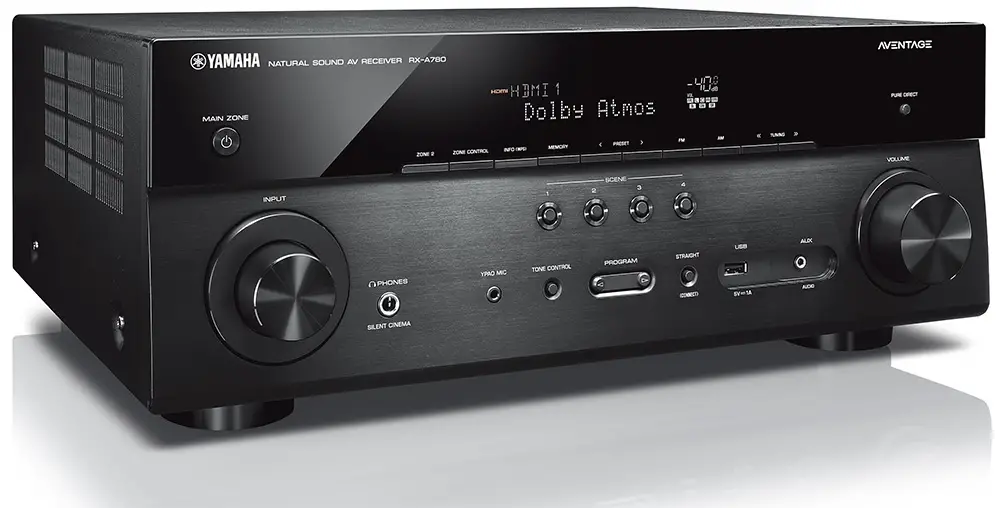 Design
For the RX-A780 we see Yamaha following the same trend we usually see with yearly releases and more or less all the AVENTAGE models keep their chassis designs similar to previous years. And although the general look is almost the same there are some very small differences that make last year's and this year's models a bit different.
The front has the usual design we see in many receivers nowadays with two big turning knobs at each side of the bottom half with the right one for the volume and the left for selecting input sources. The top half has a reflective gloss surface that is a bit of a fingerprint magnet with a functions display dead center and a thin line of buttons under it that includes some basic functions like zone 2 controls, tuner and memory buttons. On the far right there is a small pure direct button while on the left the main power button.
On the aluminum finished bottom half, between the two big knobs, we get 4 main scene buttons and a few more underneath them for tone control, programs selection and straight connect while here we also find a few front inputs for headphones, the YPAO microphone, a USB port and a stereo analogue input. What has changed this year compared to last year's RX-A770 is that the USB port has been moved to where the HDMI input was while the front HDMI port has been removed completely which made us scratch our heads as we consider this a vital feature that all receivers should have nowadays.

The AVENTAGE series was always being marketed for having top quality audio parts and construction designs and Yamaha continues this trend with even the lower models in the series. But we find a very distinct difference between the top models and the lower ones by the different DACs they are using. As such the RX-A780 comes equipped with four Burr-Brown 384 kHz/32-bit DACs that are responsible for all audio conversions.
A characteristic of all AVENTAGE models is also the use of a fifth foot in the center of the main body that Yamaha calls it Anti-Resonance Technology (A.R.T. Wedge) and is being used to reduce vibrations while all the other four feet also use special designs for enhanced strength and improved vibration resistance.

Another characteristic of the series is the use of high quality audio parts in order to achieve the best audio performance possible and as such the RX-A780 comes with high quality volume IC and independent pure power supply as well as low jitter PLL circuitry for better sound imaging optimization. It's nice to see that Yamaha looks after not only their top models but the more budget friendly ones also in their try to offer the best products possible in each category.
The RX-780 is a normal sized receiver for it's category as it measures 17-1/8″ x 9-3/4″ x 15″ (435 mm x 248 mm x 380 mm) with the antenna in horizontal position and weights 23.4 lbs (11.0 kg).  During our testing the unit run relatively cool but as always keeping some breathing space around it is advisable although there are enough ventilation holes all around it.

The remote we get with this model is a familiar one as it's exactly the same we used during our Yamaga RX-A880 testing. The two models are very similar so we guess that there was no need to change anything to it. And since the remote is the same so are our feelings towards it which we cannot say are the best. The remote is a black rectangle plastic box fully packed with buttons which we really dislike. They should start reducing the buttons and use more graphics on screen instead. Simplicity is the key here and we live in an age where visual user interfaces in electronic equipment is a must so having a small keyboard on your remote should be considered a thing of the past.
In total for a low budget AV receiver Yamaha has paid a lot of attention to it in order to offer the kind of quality that the AVENTAGE series is known for. And in this regard Yamaha has scored once again. We may have a couple of objections like the so and so remote and the omission of the front HDMI port but these are mostly design decisions and not quality ones.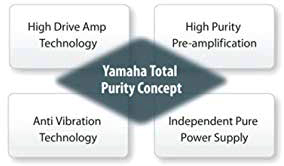 Audio Quality
With the Yamaha RX-A780 we get 7.2 channels of built-in amplification making it ideal for any kind of entry based Dolby Atmos setups like 5.2.2 with 2 overhead speakers that will cover the top audio layer and take advantage of the new Dolby Atmos or DTS:X audio tracks. Unfortunately there is no support for adding an external amp in order to increase the number of speakers to a 9.2 configuration so a 5.2.2 setup is the best you can do with this model. Of course if Dolby Atmos is not something you are interested in you can also go for either a 5.2 or 7.2 surround setups without any problems.
The unit is able to output 95 watts of power per channel (8 ohms, 20 Hz-20 kHz, 0.06% THD, 2-ch driven) which may not be anything extraordinary to talk about but it is more than enough for most small or middle sized rooms. Our testing area is relatively small so in our case we were able to push the volume high enough without the receiver breaking a sweat. One neat feature that we do get in this one is front speakers bi-amp connectivity in order to boost sound quality in the front channels which is a big plus for many people that have home theaters.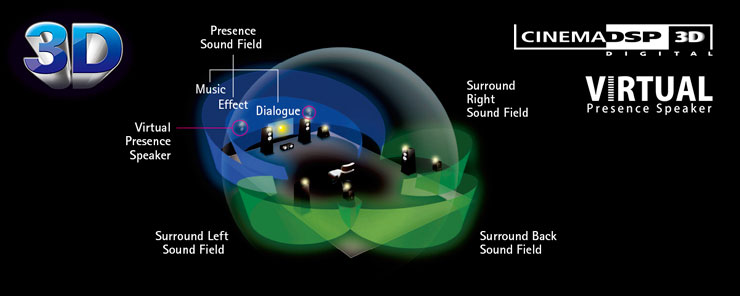 The receiver comes equipped with Yamaha's Cinema DSP 3D which is a more simple version of the HD3 version we had seen in some of the top tier AVENTAGE models. With Cinema DSP 3D the receiver can create natural stereoscopic sound fields like movie theaters or concert halls from a selection of 17 different DSP programs. Basically what this tech is doing is that it processes the original audio signal and creates additional effects depending on your selection.
It's a neat feature to have and we have seen similar technologies from all AV receiver manufacturers but the end result is heavily dependent on the original audio as well as if you like to get audio that is heavily processed. We tried it a bit with both music and movies and we can admit that some times we were impressed by the results while some times the audio felt like it was over-processed completely destroying immersion. But since this heavily depends on taste you should give it a go to see if you like it or not.
As usual with all of the 7.2 channels receivers we are testing we are going for a 5.1.2 setup that includes 2 overhead speakers that are placed in the middle of our viewing area for better top layer coverage. The first title we decided to check is the 4K UHD version of Bumblebee that has an amazing Dolby Atmos track and provides plenty of material in order to test not only the surround capabilities of the RX-A780 but also how well it can handle the Atmos effects.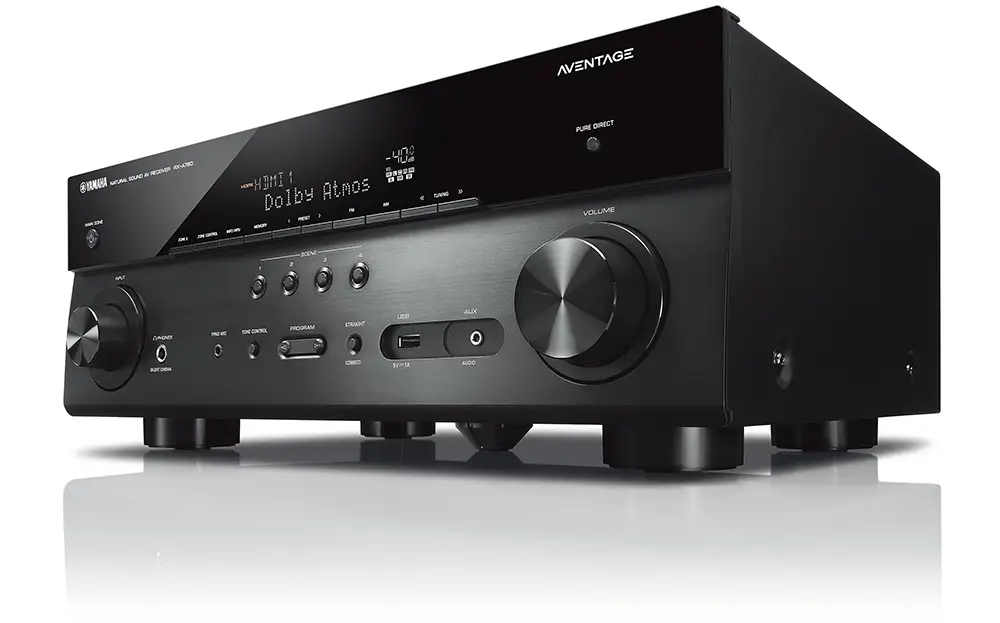 The opening scene with the battle of Cybertron is one of the highlights as it provides all the necessary elements you are looking for. There are plenty of surround activity and the receiver makes good use of all speakers available. Laser fire and projectiles travel with precision from the front to the back and vise versa while channel separation and shifting is very good. The center channel is very distinct and separates the dialogue well enough from the rest of the sound effects. Helicopters and fighter jets were flying over our heads with the overhead speakers being very busy during the action heavy scenes. Bass was top notch with the receiver feeding our subwoofer with all the info needed to make our room shake and make us smile from excitement! Great performance from an otherwise budget friendly receiver.
We tried also the 4K UHD version of the Incredible Hulk that comes with a DTS:X track and things here as just as good. The climatic battle is the scene we tried and the fight between Hulk and the Abomination can be described as sonic excellence. There is total carnage on this scene but the receiver kept a straight face and really sucked us in the action by creating an amazingly immersive soundstage all around us. We could not be more happy about how such a low cost receiver performed and it makes the money you will spend on it well worth.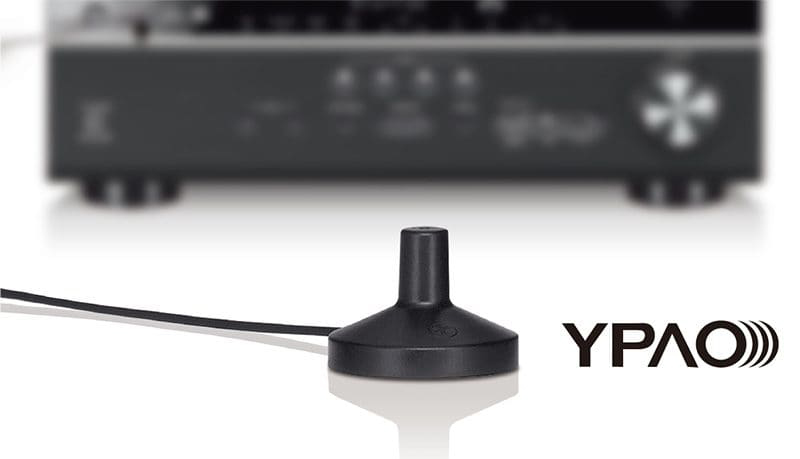 Naturally a receiver is not all about movies so we tried a few music tracks also by streaming a few FLAC files through the USB port. Very nice performance here as well as the RX-A780 was able to deliver a nice balance on most frequencies across the whole dynamic range. It felt like the sound was a bit neutral and we would like it have a bit more alive but we are nit picking here and we cannot say that we had any real problems with how we perceived it's sound. If you have a good quality set of speakers then the receiver will really show what it is capable of.
The RX-A780 also supports music playback that can be streamed either online from your local network or from the front USB and it supports a wide range of formats that include MP3, WMA, MPEG-4 AAC up to 48 kHz/16-bit, ALAC up to 96 kHz/24-bit, FLAC up to 192 kHz/24-bit, WAV / AIFF up to 192 kHz/32-bit and DSD up to 11.2 MHz.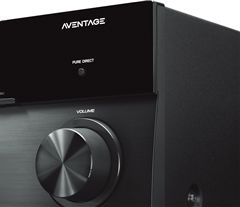 Inputs / Ports
The Yamaha RX-A780  sits at the bottom of the AVENTAGE series and as such you shouldn't have high expectations as far as the amount of connections this receiver carries. We have already briefly mentioned that at the front we find a USB port (5V,1A) for connecting external storage as well as an analogue input mini-jack. We also get the usual headphones jack and the YPAO input but unfortunately we are disappointed that there is no HDMI port at the front which we consider extremely practical and should be present even in the most low cost receivers.
Looking at the back now things are a bit on the light side compared to some other heavy hitters but this was to be expected as the price doesn't allow for a lot more. First of all there are nine speaker terminals with seven of them being able to be used for a 5.2.2 Dolby Atmos setup while the last two terminals can be used for Zone 2 connectivity. We also get five HDMI inputs and two HDMI outputs with all of them being HDCP 2.2 which means they support 4K/60p (4:4:4), HDR Video including Dolby Vision and Hybrid Log-Gamma, and BT.2020 pass-through. HDMI 1 also supports ARC and as such you can output video/audio to the TV or input TV audio to the unit.

As for everything else there is 1 component video input, 1 composite video input, 3 analogue stereo inputs, an additional dedicated stereo input for phono, 2 coaxial and 2 digital audio inputs, 1 zone-2 audio output, 2.2 channels pre-outs, 1 12V trigger, 1 remote control input and 1 output as well as the usual FM and AM antenna ports in addition to the dual WiFi/Bluetooth Antenna connectors.
Not much to say here as we are looking at a low cost receiver and connections are usually the first thing that manufacturers scale depending on the cost of the unit. If there is one thing we don't like is that we don't get a front HDMI port and this is a bit puzzling as last year's RX-A770 offered a front HDMI input so taking this out this year we consider more of a back step.
OS, Apps and Features
Let's now see what features the RX-A780 comes equipped with. First of all let's talk a bit about the calibration system that comes with this unit. Yamaha calls their proprietary system YPAO and as with all manufacturers they scale it across all their models by adding more advanced features in the top units. For the RX-A780 we get the basic YPAO system but with added R.S.C. (Reflected Sound Control). What this R.S.C. does is to suppress early audio reflections in order for the viewer to receive only the direct sounds and as such achieve better acoustic performance.

The receiver comes equipped with various virtual technologies that we had seen in some other Yamaha receivers also including Virtual Presence Speaker and Virtual Surround Back systems. What these systems do is that through complex algorithms they try to recreate sounds that originate from positions that there are no real speakers. Basically they create extra virtual speakers and for example you can have a 7.1 surround system when in real you only have 5.1 physical speakers. As for the result of these virtual technologies? It's no clear cut if they improve the end result but in some cases it can provide added depth while in some others they do more harm to the original mix than good. But we always suggest that you try them and decide for yourself.
Other features we find here include wireless surround speakers support for the MusicCast 20 or 50 as well as the wireless subwoofer MusicCast SUB 100. With it's built-in WiFi (802.11b/g/n) as well as Bluetooth capabilities it can stream music wirelessly (SBC/AAC) and can also output through Bluetooth if you happen to have some Bluetooth enabled headphones. Another standard feature we find in all receivers and as such it's present here is the Eco mode which let the receiver handle it's power output and thus consumes less energy. If you don't want that then it's preferable to keep it off.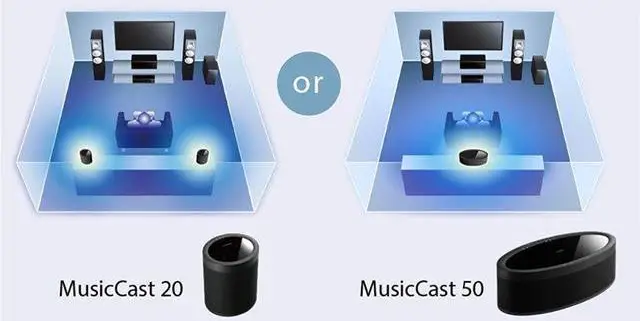 Voice control couldn't be missing here and there is added Amazon Alexa support. Of course in order to control the receiver through your voice you will need an Alexa enabled speaker like an Echo Dot otherwise you will have to buy that extra. Unfortunately there is no Google Assistant support and as we see more and more devices support both of them we should slowly start considering support for both a must. Until then Alexa will have to do with this one.
The RX-A780 comes also with good multi-room capabilities. There is the usual Zone 2 support or Intelligent Amp Assign if you prefer that lets you enjoy stereo sound in a second room. But if you prefer something a bit more advanced there is MusicCast support also. By using the MusicCast app that you can download to your smartphone or tablet and in combination with other MusicCast enabled speakers that you can place to your other rooms you can create your perfect multi-room environment. With MusicCast app you can do almost everything as you can use it to control the receiver and connect all your MusicCast devices together.
Yamaha has also not forgot the Apple fans so it's good to see Airplay being supported here. With it you can stream music from various Apple devices like Mac, iPod, iPad or iPhone. And while we already talked a lot about the receiver's streaming capabilities we haven't mentioned yet the streaming services it supports. Internet Radio, Spotify, Napster, Pandora, SiriusXM, Tidal and Deezer are all present and are enough to satisfy most needs.
If you look at the whole picture the RX-A780 is not missing much that we find in the top tier models. Obviously there are a couple of omissions while the YPAO calibration system comes with only one update from the basic package but what is missing is mostly for more advanced users that would most probably go for a more expensive unit than this. So for the price asked and for the it's target audience this unit we consider to offer everything that is needed.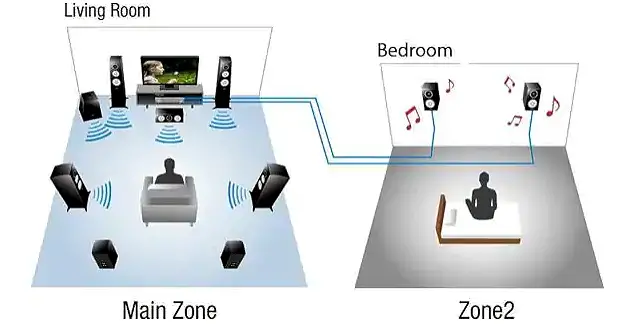 Final Thoughts
The RX-A780 is a nice receiver but unfortunately it didn't manage to offer anything special that would pleasantly surprise us. Is this a bad thing? Definitely no but here is the problem. There are so many good quality receivers in this price range that if you don't offer anything that will distinguish you from the competition you are bound to be lost.
The RX-A780 was able to score good points in our movie and music tests something that was more or less expected to tell you the truth. Build quality was also great as this is a trademark of the AVENTAGE series while there are plenty of features and streaming services that will cover almost all needs. And with a more than affordable price this receiver is really withing reach of anyone that want to built a respectable Dolby Atmos enabled audio system.

On the other hand the receiver is not suitable for large rooms as it doesn't have the necessary power for that. Also connections are a bit on the light side while the omission of the front HDMI input is hurting it's practicality. There is also no Google Assistant present when there are a few other manufacturers that are offering both Alexa and Google Assistant in their receivers.
In the end the Yamaha RX-A780 is a very respectable model that will definitely offer countless hours of cinematic and musical pleasure and all this without the need to break the bank. If you are not a fan that asks the very best or you are worried to spend a lot of money for such a device then this unit will make sure to cover you in full.
For more reviews you can check our dedicated 7 channels 4K AV Receiver reviews list or even look at our Product Reviews Table where you can find the brand and specific product you are looking for.
Also don't lose the chance to subscribe to our Newsletter and gain exclusive privileges.
---
Cheapest Places to Buy :

---
Yamaha RX-A780 Specifications