Yamaha RX-V585
OS, Apps and Features
9.0/10
Pros
Very good performance
Great build quality
Many features for such a low cost unit
Good for movies and music
Cons
4 HDMI inputs may not cut it
Same old clunky remote
Very small update over the previous year
Very small price difference compared to the RX-V685
---
Cheapest Places to Buy :
---
We have been on a roll lately when it comes to Yamaha AV receivers as we try to cover their entire 2019 lineup with reviews concerning both their more premium RX-A Aventage models as well as the more consumer friendly RX-V series. Recently we had the chance to review the top model in the RX-V series so today we are pleased to present you with our Yamaha RX-V585 review which will focus on the second in line model after the RX-V685.

In all honesty looking at the specs between the top RX-V685 and the RX-V585 that we will be testing here today, the differences these two have are very small and you will need to look very closely to find them. And this is the reason why in some cases we have seen the two units being sold very close in price. Basically you are getting the same unit with slightly less power, a simpler version of the YPAO auto calibration unit and a few less ports.
But before we begin our review let's take a quick look on what this offering for Yamaha has to give us. The RX-V585 is the second of the two 7.2 channels AV receiver in the RX-V family and packs 80 watts of power per channel, comes with support for both Dolby Atmos and DTS:X, uses the simplest version of Yamaha's YPAO calibration system and comes with a lot of extras that include High Resolution Audio, Virtual DSP, MusicCast and Airplay 2 for online streaming, ability to connect wireless speakers and support for voice control among many more that we will talk about shortly.
But are all these enough to make the RX-V585 an intriguing proposal among so many equally good competing AV receivers? Let's put it to the test to find out.
Design
The RX-V585 is the second AV receiver that Yamaha released in 2018 in order to refresh their mid-range category from the previous 2017 models. This is a direct replacement of the RX-V583 and the additions we find are really minor as looking both yearly releases you will be hard to find what has changed. The most obvious addition for 2018 is support for wireless speakers and eARC while Yamaha seems to have also changed some of the audio components like the DACs which we will talk about a little bit further down this review.
Let's see the design of the unit now in more detail. Once again we get a general look that is very Yamaha like among all their receivers. This means that the front face is split into two parts with the upper part featuring a glossy surface that is very fingerprint magnet and includes the functions display in a central position while a single row of small circular buttons is placed underneath it. These buttons allows you to control certain functions that include presets and radio controls among a few others. On the far right a single small button allow you to enable direct mode while on the far left we get the power button and YPAO microphone port.
A thin light grey line is what separates the top from the bottom part with the second featuring a brushed aluminum texture while the layout seems to be completely the same with the other Yamaha receivers of this category. This means that at the center we get the familiar four big scene buttons with various buttons under them for controlling inputs and programs. There are also a couple of inputs with an analogue stereo along with a USB being the ones available. As for the rest we get the usual big volume knob on the right and the headphones jack on the left.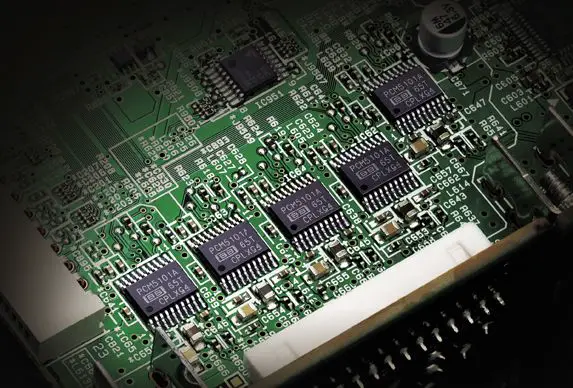 It seems that for the RX-V585 things stayed exactly the same from one year to the next. The only change in the design and layout is practically the different naming and if there is one thing we do miss that would be a frontal HDMI port that can be very useful for many situations.
Let's see now what is under the hood and makes this receiver tick. For the RX-V585 Yamaha seems to have used a similar mixture of audio components as we had seen in our RX-V685 review. Yamaha is always careful on what kind of hardware they are using even in their more budget friendly units and this shows here also.
Fully discrete power amplifiers are present in order to minimize distortion while independent pure power supplies are present for the analogue and digital circuitry.A new high sound quality IC is employed for volume control and large heat sinks suppress vibrations as much as possible. As for the DACs being used it seems that here Yamaha went on to make some changes. While previous releases were using 192kHz / 24-bit Burr-Brown DACs for all channels the 2018 RX-V585 is equipped with four 384 kHz / 32-bit Burr-Brown DACs to do all the heavy conversion lifting while all of them come with independent power supplies in order to produce the least noise possible.
It's interesting that Yamaha went ahead and made this change to the DACs of the unit. Now we don't know the reasoning behind this but it's an interesting fact nevertheless and needs to be noted.
We already said that the unit comes with a design that hasn't changed a bit from 2017 and the same can be said about the overall dimensions and weight. The unit measures 17-1/8" x 6-3/8" x 12-7/8" (435 x 161 x 327 mm) without the antennas and comes with a weight of 17.9 lbs (8.1 kg) which can be classified as average for it's class. Neither big nor the smallest unit we have seen in total.

And while the top RX-V685 featured a different remote this is not the case for the RX-V585 as the one we get is once again the same as the 2017 one. The remote we find with the unit is the usual uninspiring design using a full plastic body with rubber buttons. The buttons layout could be better but it's not one we hadn't seen before. In the middle there is the usual navigation controls with some smart selection and playback buttons below while the top houses the scenes, volume, inputs and various sound control functions. Obviously with such a cheap remote you shouldn't expect to get any kind of backlight so handling can prove a bit difficult in a dark environment.
With almost everything being kept the same as far as general looks, design and layout the RX-V585 keeps the same quality that Yamaha has been known for well into 2018 and beyond. There is a slight change on the DACs but we cannot be sure why Yamaha went ahead with this change. A front HDMI is still missing in action as it could prove a big help in many situations. Lastly the remote is the same as last year and unfortunately we don't get the new redesigned one we saw in the RX-V685 while we do miss a backlight function that have proved to be such a practical feature.
Audio Quality
The RX-V585 is the second and last AV receiver in the RX-V series that comes with 7.2 channels of built-in amplification so if you are planning for a setup with more channels then you will have to consider going for one of the Aventage receivers. The 585 is able to output 80 W per channel (6 ohm, 20 Hz – 20 kHz, 0.09% 2ch drive) which is adequate for any small or slightly above small area and media room. With the supported channels you can go for either a simple 5.1 channels setup or even for a Dolby Atmos configuration with two overhead speakers.
As usual this unit gets support for both Dolby Atmos and DTS:X formats but we also find up-mixing technologies available in the likes of Dolby Surround and DTS Neural:X. These two have the ability to create multi-channel surround audio from mixes that use less channels than what you have. For example if you have a 7.2 channels configuration but the source supports only 5.1 channels then these technologies, through complex algorithms, will create sounds for your additional two speakers in order to create even more immersive sound. Just keep in mind that DTS Neural:X doesn't work for Dolby Digital Plus or TrueHD mixes so your only option is to use Dolby Surround for these.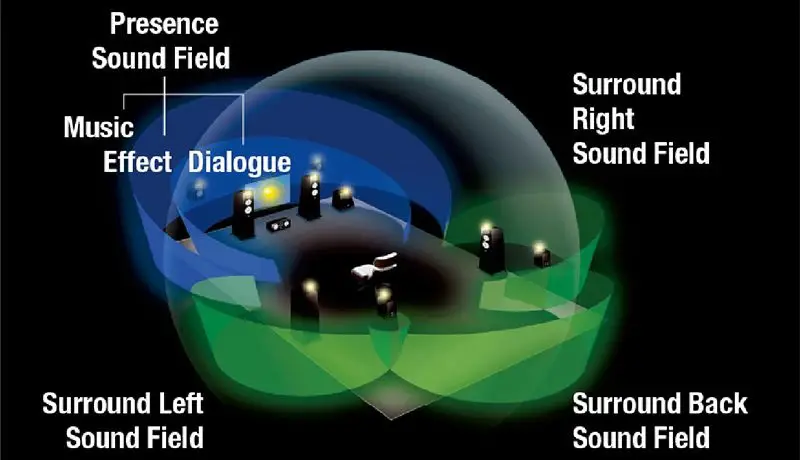 But up-mixing tech is not the only feature we do get with this unit as it also comes with a variety of virtual technologies. Yahama has developed their own virtual tech which they call Cinema DSP and depending the model they have scaled this technology accordingly. With the RX-V585 we get the Cinema DSP 3D and with it the receiver is capable of replicating various audio spaces like concert halls and sports arenas in order to make you feel like you are truly there.
As you can understand this feature will result in a over-processed output which you may or may not like it depending on many things like the source material and if you are an audio purist or not. But it's a feature that is definitely worth trying as there are situations where the end result can be really good. Cinema DSP 3D comes with 17 different programs to choose from.
But Cinema DSP is not only capable of simulating various spaces. It is also used to create a more fulfilling virtual environment around you by creating virtual audio sources that emit sound from positions that you have no real speakers.
The features we get with the cinema DSP 3D in the RX-V585 include Virtual Cinema FRONT which let you place your surround speakers at the front and still get surround effects action, Virtual Presence Speaker which creates Atmos heights effects without the need to have any real Atmos speakers, Virtual Surround Back which can create surround activity without having any surround speakers at all and lastly SILENT CINEMA which is for those that use headphones and want to enjoy surround and sound field effects activity.
For our testing we created a 5.1.2 channels setup with 2 overhead speakers for the Dolby Atmos effects that were positioned in the center of our testing area along with a single subwoofer that was positioned on the front left corner of our room. For our first movie we chose the 4K UHD version of Independence Day: Resurgence that features an explosive Dolby Atmos mix.
The film provides excellent material if you want to test a lot of panning effects as even from the beginning as the camera pans through the universe you can sense audio traveling across the channels. The receiver was able to faithfully follow the action on screen with good channels separation and precision. We didn't see any lagging during fast camera panning and everything felt smooth and to the point.

During the many battle sequences there were many elements that the receiver had to render but even so the Yamaha always kept a straight face keeping control in even stressful situations. The front soundstage was very balanced and there was good separation between the fronts and center channels that resulted in very clear and distinct dialogue even when all hell broke loose. The surrounds as well as the overhead channels were always there to complement the action and when the swarm of alien ships go past the camera you can feel like you are actually there as all channels go crazy.
On the low end a film like this couldn't be without providing the necessary shaking and oh boy did we shake. The unit fed our subwoofer all the bass to keep it happy and it did gave us this chest pumping experience that most home theater freaks are really looking for. Now when it comes to overall performance the receiver does deliver the goods but it may lack a bit in power. With 80 watts per channel the RX-V585 is amazing when listened in normal volumes but when we tried to push it to the extreme it felt like it lost some of it's stability. Was this a big problem? Probably not as you should not go overboard with such a receiver to begin with but it's something needs mentioning in case you feel the need to.
And while Independence Day is loud and powerful we always like to test also something more subtle in the likes of the Blu-ray version of the Lord of the Rings: The Fellowship of the Ring. The film comes with a jaw dropping DTS-HD Master Audio mix which is probably one of the best this aging medium has to offer and the Yamaha put it forth in all it's glory.
The film is is very dependent on it's atmospheric effects and uses audio to give it's locations a more grand size. A grand example is the Mines of Moria where the echo of every sound traveled all across the room giving an amazing expansion to the scenery in order to make you feel the size of the structure. When the Balrog appeared the Yamaha put the necessary weight to it's footsteps while it's growling felt menacing and scary.
The mix in the Lord of the Ring is the kind that doesn't rely too much on the surrounds but rather uses them in a masterful way in order to portray each scene as it wants and the RX-V585 made sure to give us an amazing performance for such a low cost unit. With a powerful front stage, enveloping surround activity and thunderous bass the receiver managed everything with great success.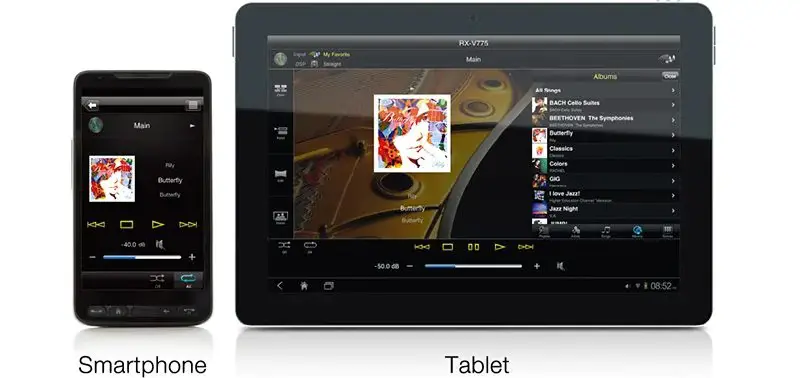 Moving on to our music tests we selected a few FLAC files as we do in such situations and streamed them through the front USB port. High Resolution audio is supported by this unit so there is no better way to test it than this.
Usually we don't have high standards when trying out such low budget units but we were were pleasantly surprised by this one. The unit proved to be a very good performer no matter the kind of music you want to listen and although you shouldn't expect top quality that we had experienced in some premium units this one provided a very satisfying experience.
Yamaha knows it's craft and this shows here to be honest. Good balance in the middle with the highs and lows complementing the whole performance in a very controlled way. It felt like the receiver will never try to go overboard with something it cannot handle and as such don't expect to be amazed but this was never meant to be so with this unit. But what it will certainly do is offer you an extremely smooth and relaxing output with good resolution and precision.
Being able to discern the various instruments through the sound stage showed how good imaging we could get while even during demanding rhythms everything was kept in control. We once again tried to push the receiver a bit too much and things went a little wonky in very high volumes but as we mentioned in our movies testing for normal use you shouldn't be worry about this. And with 80 theoretical watts this should be a normal in this category.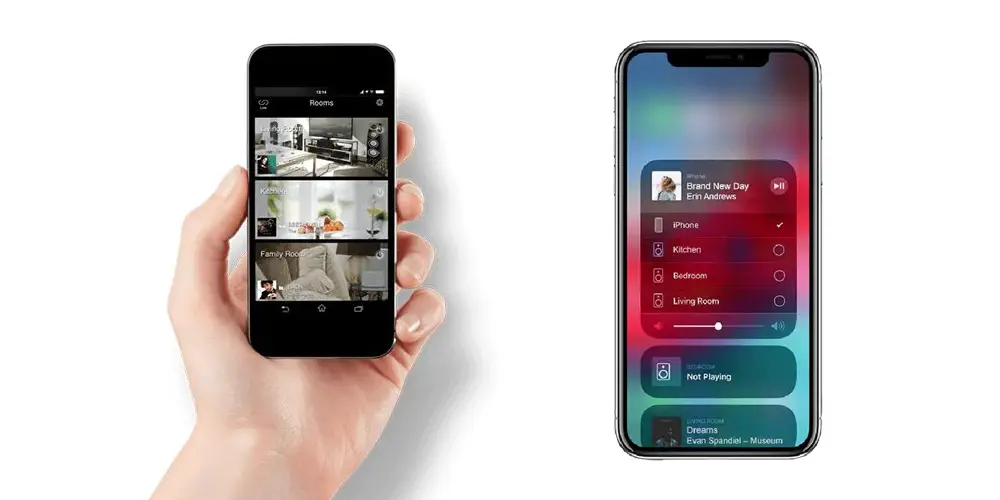 Keep in mind that this unit is not only capable at streaming music through a USB port as it can also read the music files you may have stored in your local network drive or a NAS server. As usual Yamaha has included support for the most usual audio formats from the most simple MP3 ,WMA and MPEG-4 AAC all the way up to High Resolution Audio files including ALAC (24 bit), FLAC (24 bit) and WAV/AIFF (32 bit) up to 192 kHz as well as DSD up to 11.2 MHz.
Ports and Connectivity
The RX-V585 is considered a lower tier AV receiver so in general the connectivity options are few and far between. But we have seen some competing brands offering more in their budget friendly units lately so it will be interesting to see what is on offer here. As we already mentioned above at the front of the unit we find a headphones jack, the YPAO microphone port, an analogue stereo port and a USB for connecting external storage.
Turning the unit around we find the seven speaker terminals and all of them can be used simultaneously as the receiver comes with built-in amplification for all of them. At the top we get 4 HDMI inputs and 1 output. All HDMI ports are HDCP 2.2 and support 4K UltraHD Video (include 4K/60, 50Hz 10/12bit), 3D Video, ARC (Audio Return Channel), eARC, HDMI Control (CEC), Auto Lip Sync, Deep Color, "x.v.Color", HD audio playback, Selectable HDMI input in HDMI standby mode, 21:9 Aspect Ratio, BT.2020 Colorimetry and are HDR compatible (HDR10, Dolby Vision, HLG).

With only 4 HDMI inputs at the back and none at the front this number may not cut it for many modern home theater systems. As many home theaters feature a streamer, a disc player, a media player and many times a video games console you will be out of HDMI inputs if you will need to add anything else. So in this regard make sure that the four ports included are enough for your needs.
The receiver also comes with 3 composite inputs and 1 output, 3 analogue stereo inputs, 2 coaxial digital audio inputs and one more optical, 2 subwoofer pre-outs, an Ethernet port for wired connection to the internet as well as the usual FM and AM antenna ports along with the WiFi/Bluetooth ones.
As far as it's wireless capabilities the unit comes with WiFi (2.4 / 5 GHz) and Bluetooth 4.2 (SBC / AAC) for streaming audio.
Wired connectivity is not the strong point of the RX-V585. And while for many of it's legacy ports we don't complain much we believe that only 4 HDMI inputs are far too little for today's needs even for such a low cost unit and especially when some competitors offer more in the same price category.
OS, Apps and Features
When it comes to the extra features this unit comes with we are pleased to see that Yamaha has kept almost everything that was included in the higher tier RX-V685. As such the only notable difference we do find is that this unit uses a simpler version of Yamaha's YPAO system.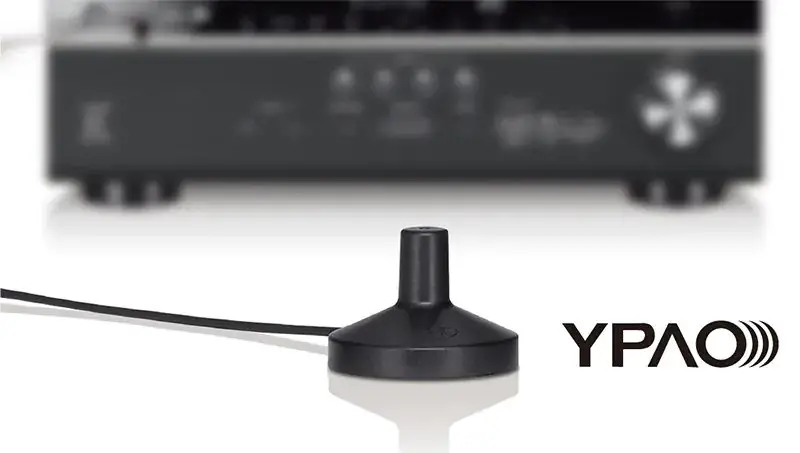 YPAO is Yamaha's proprietary auto calibration system and as with all these systems manufacturers scale them with more features as we move up the performance and price ladder. In the RX-V585 we get the most basic version of the system which is called just "YPAO". What this system does is to measure your room's acoustics and calibrate your system accordingly to achieve the best result possible. With the help of the YPAO microphone the receiver can measure distance and size of your speakers and make volume adjustments whenever necessary.
If you are an advanced user you may prefer to calibrate the system by yourself but for novice users and those that don't want to trouble themselves with complex measurements the YPAO system can be a very handy feature and can give you pretty good results even if they are not the best possible.
Another feature we find here is voice control. A while back this was only featured in the most advanced units but this is the good thing with yearly updates as many features find their way down the performance ladder and into more cost friendly units. Yamaha made sure to add support for both Amazon Alexa and Google Assistant but obviously if you want to use these you will need to have an external device like an Echo Dot or Google Home device. You also have the ability to use Apple's Siri voice control through the Airplay 2 app in your mobile device.
And since we mentioned Airplay 2 we should talk about the streaming and multi-room capabilities of this unit. MusicCast is supported and with it you can connect various MusicCast enabled devices to the receiver. This can be done through the MusicCast mobile app that is available for both Android and iOS devices. If on the other hand you are more of an Apple guy Yamaha also included Airplay 2 which is a similar app that works only with Apple devices and let you connect various devices to the unit. The Airplay 2 app is available in the Apple store for you to download.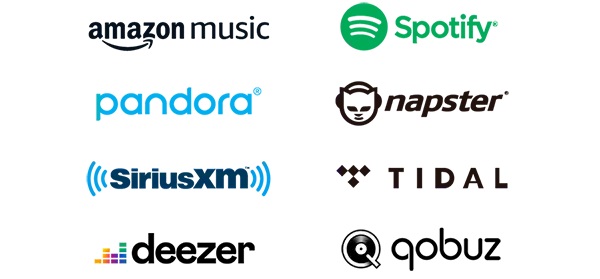 The receiver also comes with limited wired multi-room capabilities. The surround back terminals can be wired with speakers on another room in order to create a Zone B. Doing so obviously will limit the channels you can use in your main area to just 5.2 channels but at least the receiver grands you this option.
As for streaming music online the above mentioned apps give you the ability to stream music from many online streaming services that include Pandora, Spotify, SiriusXM Internet Radio, TIDAL, Deezer, Napster and more. Most big names are present here so you will probably have no trouble to find one to your liking.
We will mention briefly the user interface although there is not much to be said that we haven't mentioned in our other Yamaha reviews. The menu system is as simple as it gets and all settings and functions have been grouped in 8 different categories with Speaker, HDMI, Sound, ECO, Function, Network, Bluetooth and Language the ones available. The UI is very simple to use and navigate and we didn't have any problems finding the settings we needed even among so many options available.
We already mentioned above two apps you can use for your mobile device with MusicCast and Airplay 2. Well, there are a couple more that were designed to be used with this receiver also and the first one is called "Yamaha AV Controller" and can basically replace your remote as it has the ability to control many functions of the receiver through a nice visual interface. The second app available is called "Yamaha AV Setup Guide" and what this one does is to help you make all initial connections to your unit. This one can be very practical if you are a newbie and have never made something like this before but completely unnecessary for any experienced user.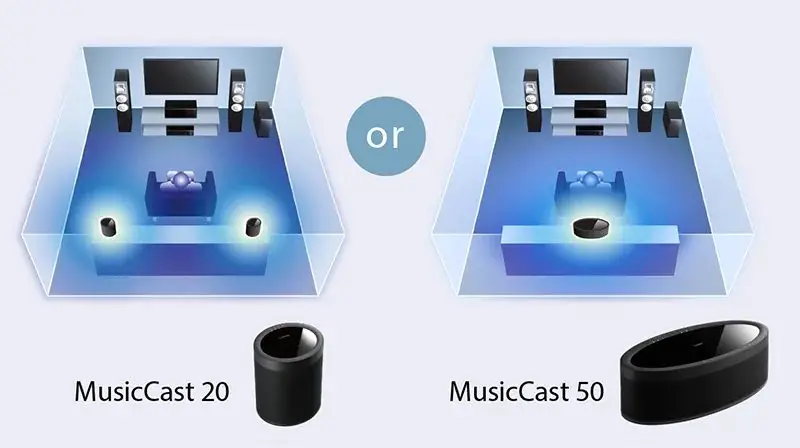 We have mentioned that the RX-V585 is a minor upgrade compared to the 2017 model but one completely new feature we do get is support for wireless speakers. These include the MusicCast 20 and MusicCast 50 speakers as well as the MusicCast SUB 100. We know that many people hate wires so in case you want to create a wireless speakers system the receiver does give you this option.
There are a few other extra features that we need to mention and these include Yamaha's Compressed Music Enhancer for Bluetooth that is responsible for improving the quality of streaming content due to wireless transmission loss of quality, HDMI to HDMI up-scaling to 4K resolution if your TV is not particularly capable at doing that, HDMI-CEC which lets you control both the receiver and your TV with only one remote, Bi-amp capability in order to connect an external amp to drive your front channels something that home theater fans really appreciate and lastly an ECO mode that according to Yamaha claims can save up to 20% power.
The Yamaha RX-V585 gets almost the complete set of features that we saw in the RX-V685. Other than the simpler YPAO version everything else have been included here also. The unit offers a nice package of online and streaming capabilities and if these are your thing then be sure that the RX-V585 has got you covered.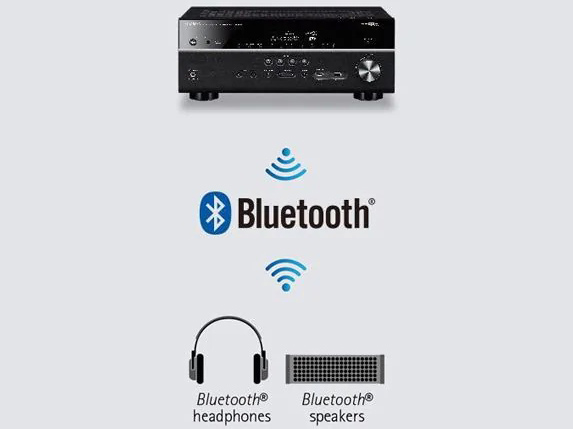 Final Thoughts
The RX-V585 is the most cost friendly Yamaha unit featuring 7 channels. There are many similarities between this one and the RX-V685 so whether you choose the one or the other will have very little impact on the experience you will get. If you need a bit more power then the RX-V685 may be the best option but if you want to save as much as possible and your room is relatively small then the RX-V585 is a great option that can save you some bucks in the process.
The RX-V585 may belong on the lower tiers but is a fully featured receiver as it supports both Dolby Atmos and DTS:X along with various up-mixing and virtual technologies. It features the YPAO auto calibration system, Yamaha's Cinema DSP 3D and comes with many extras to keep you happy like MusicCast, Airplay 2, voice control, High Resolution Audio, Bi-Amp and Zone B as well as wireless speakers support and HDMI eARC.
Now one thing that we didn't like was that with just 4 HDMI inputs you may find it hard to connect all your equipment. Also no front HDMI input is a bit disappointing. The remote is the same as we saw last year and unfortunately we didn't get the redesigned one we saw in the RX-V685. Lastly the price is far too close with the more capable RX-V685 and there have been a few instances where we had seen the two of them at the same price making the 685 obviously the better choice.
Closing our review we can say that Yamaha has designed a very solid offering with this one. The Yamaha RX-V585 may not be a receiver that will floor you with it's capabilities or acoustic quality but if you want to buy a basic 7 channels AV receiver for your small living room or media room and want your wallet thanking you for being conservative then this one is worthy of your consideration.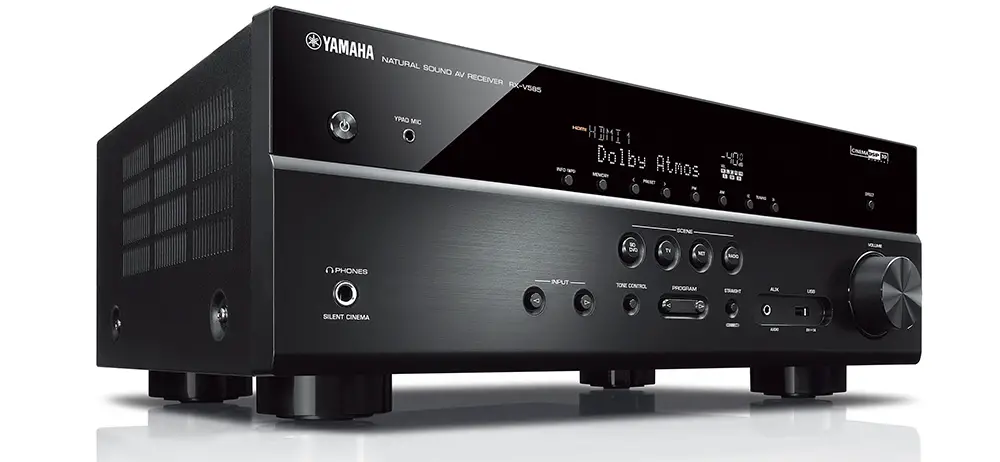 For more reviews you can check our dedicated 7 channels 4K AV Receiver reviews list or even look at our Product Reviews Table where you can find the brand and specific product you are looking for.
Also don't lose the chance to subscribe to our Newsletter and gain exclusive privileges.
---
Cheapest Places to Buy :
---
Yamaha RX-V585 Specifications