---
Cheapest Places to Buy :
---
If there is one company that is no stranger to home theater projectors that is BenQ. The Taiwanese manufacturer has been in this field for a few good years and is offering a vast range of projectors from the high end CinePro lineup all the way to the most budget friendly Home Entertainment lineup with CinePrime and Home Theater series sitting in between them. In our BenQ TK850 review today we will be looking at a projector that belongs in this Home Entertainment series and is mostly aimed at casual users and sport fans.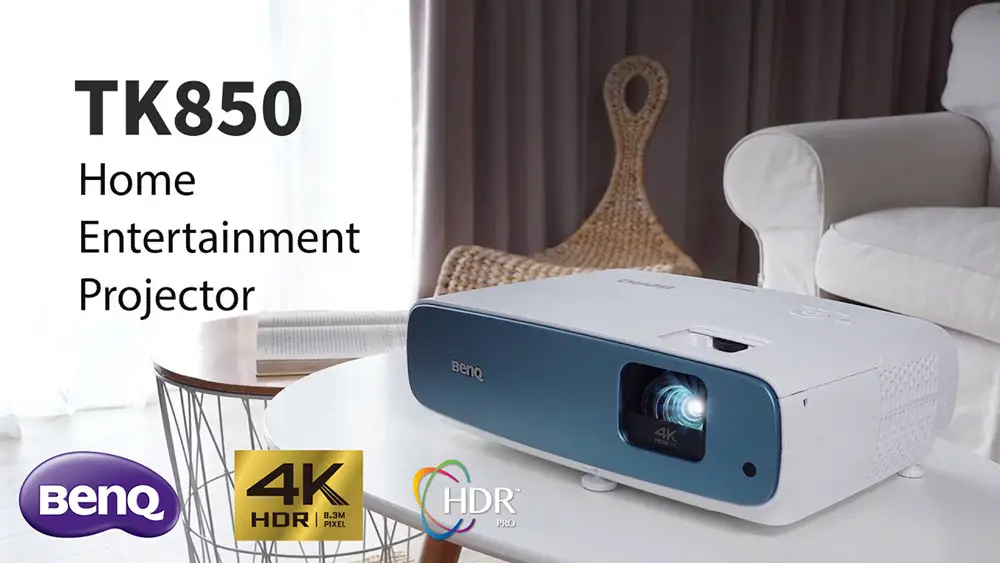 The TK850 is the newest member of the TK series which comes above the TK800M which also replaced the TK800. And here is where things gets interesting. We are in the 4K UHD pixel shifting territory here so if there is one characteristic we see all the time is manufacturers trying to push the prices down as much as possible with this having some obvious side effects. When you cut corners you have to make compromises, either it be in black levels performance, brightness or color accuracy you just can't everything with such a low budget. Usually manufacturers stick to one of these for their models but BenQ has taken a different route.
They make twin models, in that most of their specs are the same while their main difference is that one has better colors and is preferred for dark environments while the other has better brightness and is more suited for bright rooms or for use outdoors. We saw this with the cheaper duo of projectors, the HT2550 (W1700) and the TK800 (which later was updated to TK800M). Once again BenQ went the same way with the slightly more expensive HT3550 (W2700) and the one we will be looking here today, the TK850.
And while the HT3550 is mostly aimed for home theater fans the TK850, with it's higher brightness is mostly directed towards people that want to use a projector in a bright room and are willing to sacrifice a little of it's color accuracy to get that. So with that in mind let's put it to the test and see what is on offer and how much of a difference does it have to the HT3550 that we had reviewed recently.
Design
There has been a lot of confusion with the different model names manufacturers are using for different markets. Like TK850's twin brother, the HT3550 is being sold in the US while it has the W2700 naming in the UK and Europe. Thankfully for the TK850 it has kept it's model number across all markets. This was done with the TK800  and TK800M previously and is continued with the new model also.
Now as far as it's design, the TK850 comes with a very characteristic BenQ look with curvy lines and design that we have see many times before. The TK850 is 100% identical to it's brother, the HT3550, and the only thing that sets them apart is the color of the front face with the TK850 featuring a blue-ish one. It's size measures 14.96 x 5 x 10.35 in (380 x 127 x 263 mm) and with a weight of 9.3 lb (4.2 kg) this may not be the most lightweight projector on the market but for a 4K model that is designed to have high portability we could say that it's just about the right size.
The TK850 gets the usual asymmetrical design many of BenQ's low cost projectors come with with the lens sitting towards the right side and a single IR sensor being placed to the far right. On the left side we get only the BenQ logo and nothing else. The TK850 uses the same lens mask we saw in the HT3550 and this is BenQ's solution in order to block stray light that appears on the floor or ceiling, depending how you use it, and you shouldn't worry that it may block the lens image in any way. This was a smart solution that BenQ used in the newer generation of projectors and solved a problem that plagued many of their older units.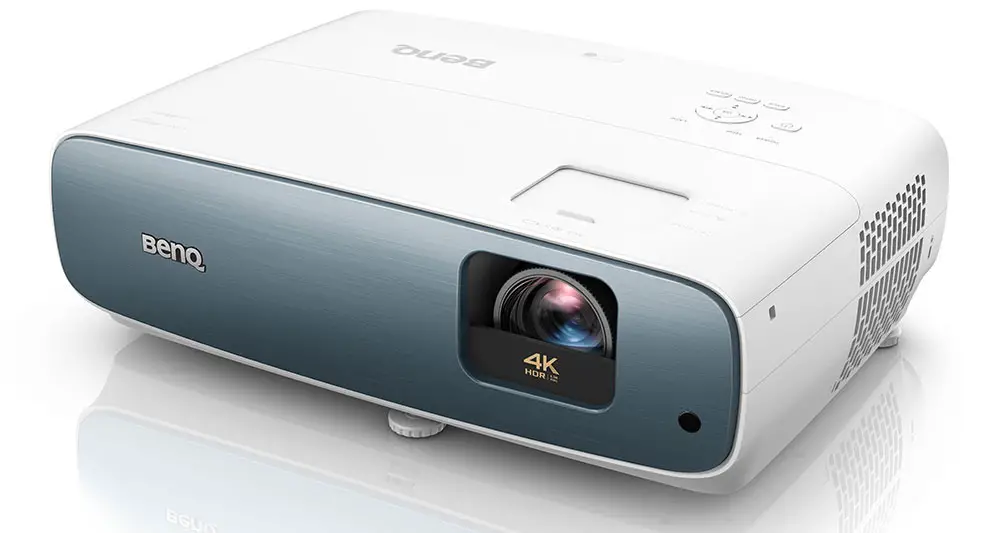 Exactly above the lens on the top side there is a sliding door that hides a few of the lens controls. In there we get two turning wheels for zoom and focus while a third dial is used for the vertical shift. The top face is also using a familiar layout as on the bottom half we get a few built-in buttons and function lights. A circular layout of buttons is used for navigation controls as well as for keystone correction and volume adjustment with a power button to the left and three buttons below for Back, Menu and Source selection. Above the navigation buttons there are LED lights for power, temperature checking and lamp condition. On the bottom of the top face there is also a second IR sensor that is used if the projector is placed on the ceiling.
As for the lens it uses, the TK850 comes with an optical system that uses the highest-grade glass for superior realistic image quality. The precision, 10-element, 8-group lens array allows greater light penetration for better 4K images while the proprietary low-dispersion lens coatings minimize chromatic aberration, so 4K UHD content will show in exceptional clarity.
The lens appear to have the same 1.3:1 zoom and 10% vertical lens shift that it's twin brother, the HT3550 has offering enough flexibility although we would like to have a little more than the modest 10% shift. But as we mentioned before in such a low price category anything we can get is a plus as other models don't have lens shift at all. But if that is not enough there is also Keystone correction that you can use but keep in mind that since this will lower the overall image quality you better use it only when you have no other choice. You don't want to pay for a 4K projector and have lower quality in the end, do you?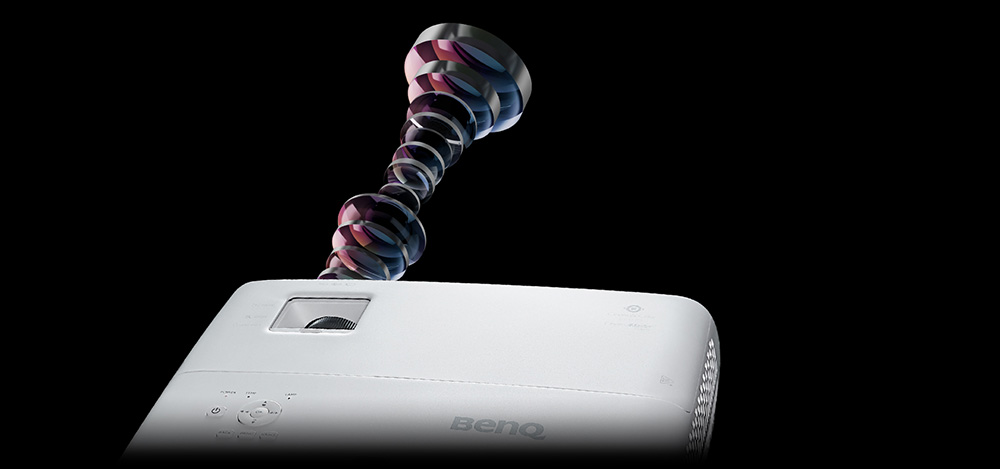 Another nice feature we find in the TK850 is the automatic focus when you change zoom. Usually when you adjust the zoom you also have to focus the image but this unit does it by itself which is very practical and time saving and one that we don't usually see in such a low cost category. Good for BenQ for including it.
It terms of noise the TK850 is rated at exactly the same levels as it's brother. This means we get a 30dBA rating in normal mode which goes slightly lower at 28 dBA in Silence mode. Usually these projectors have two sources of noise. The one is obviously the fan that blows hot air out of the unit while the second comes from the pixel shifting technology that is moving in high speed and creates a low buzzing that can be audible to the more sensitive ears. In our case we could slightly hear this noise during more silent moments but it wasn't so bothering as least for us.
Lamp life hours in normal mode can reach the 4,000 mark that can be extended to 10,000 hours in Economic mode. There is also the Smart Eco mode that further extends lamp life to an extreme 15,000 hours but this is not such a useful mode and not many will want to go with it.
If there is one area that we are particularly happy about is the included remote. Usually with such low cost projectors the first thing that manufacturers tend to cut is the remote's quality. Not so much here as BenQ has really outdone themselves. The one that comes with the TK850 is great with nice design and in white color while the included rubber buttons are both big enough and have enough distance between them.
At the top we find the light button, which turns on the backlight function which is another major plus the remote has, placed between a rather strange dual power button setup. Between them and the navigation buttons we get a trio of controls for keystone, Default and test pattern while below there are 18 buttons that include the most used functions and features of the projector. Great remote for such a low cost projector.
Video Quality
Technology used
If you look at all the marketing material for the TK850 you will notice that BenQ is advertising this as a 'True 4K projector' which could not be more far from the truth. The TK850 is using the familiar pixel shifting technology to display the full 4K resolution image on screen. This is done by showing a full HD 1080p image and by slightly changing positions 3 more times in very fast speed that is undetectable by the naked eye we get the full 4K image.
Real native 4K projectors are priced at almost 3 times the price of the TK850 and while pixel shifting technology has come a long way and can produce really stunning image quality advertising a projector as true 4K we would call this slightly deceiving .
The BenQ TK850 is using the same single 0.47″ DMD chip from Texas Instruments that we had seen in the HT3550 also. This is a new generation of chip that has a few small upgrades compared to previous versions we had seen before like a narrower frame which is a pleasant update and less distracting while using a single chip also have it's advantages compared to other multiple LCD chip technologies that are prone to misalignment and thus to blur, shadowing, and interference patterns.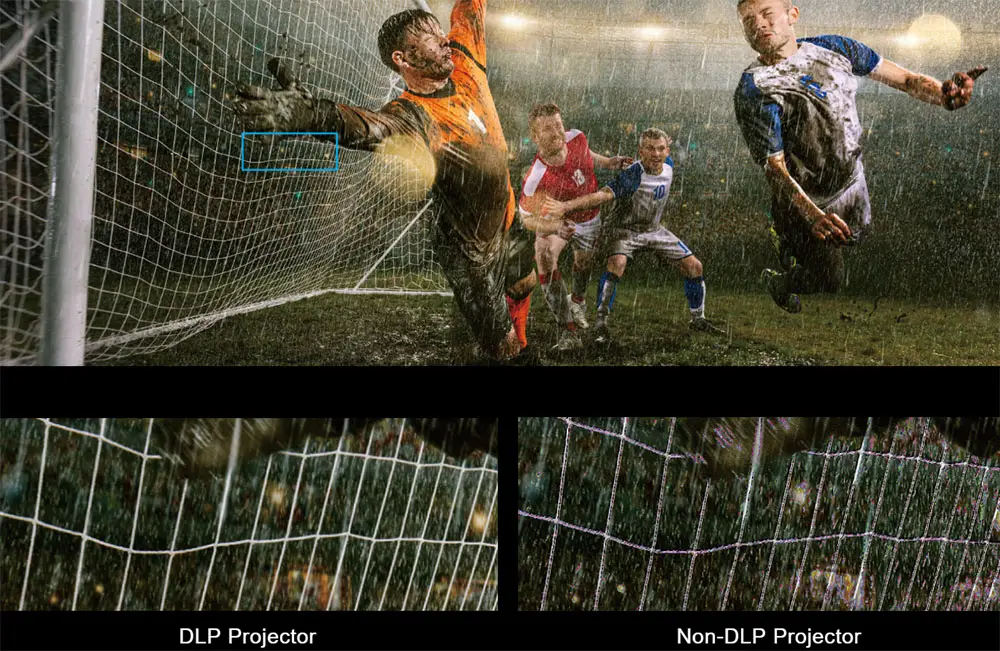 As we have mentioned before while pixel shifting offers so good image quality with low cost there is a catch. Because of the high speed movement pixel shifting projectors tend to create slight noise which although audible it never bothered us too much to be considered a problem. But the more sensitive you are the more noticeable this will be.
4K UHD / HDR Content
For our 4K/HDR movie testing we chose the Pacific Rim: Uprising as the 4K UHD disc features an amazingly sharp image with bright colors, perfect for the TK850 to show can it do with such demanding content. The first thing you immediately notice is the extremely sharp image the TK850 can produce. This kind of sharpness is very characteristic among projectors using the same 0.47″ DMD chip like the very similar HT3550. You could see every small detail on the Jaegers like scratches on their metal armor or mechanical parts moving which greatly enhances immersion.
Another thing that we noticed was that the inclusion of a Dynamic Iris greatly helps with black colors and shadow detail. Obviously it cannot reach the black levels of some other higher priced projectors like the UB Epson projectors but the difference between having a Dynamic Iris and not having one is very notable.
The film is very demanding on colors and brightness and the TK850 did it's best to display that on the screen. Brightness was notably better than the HT3550 but we did notice some clipping that can be somewhat fixed by adjusting the Brilliant Color setting.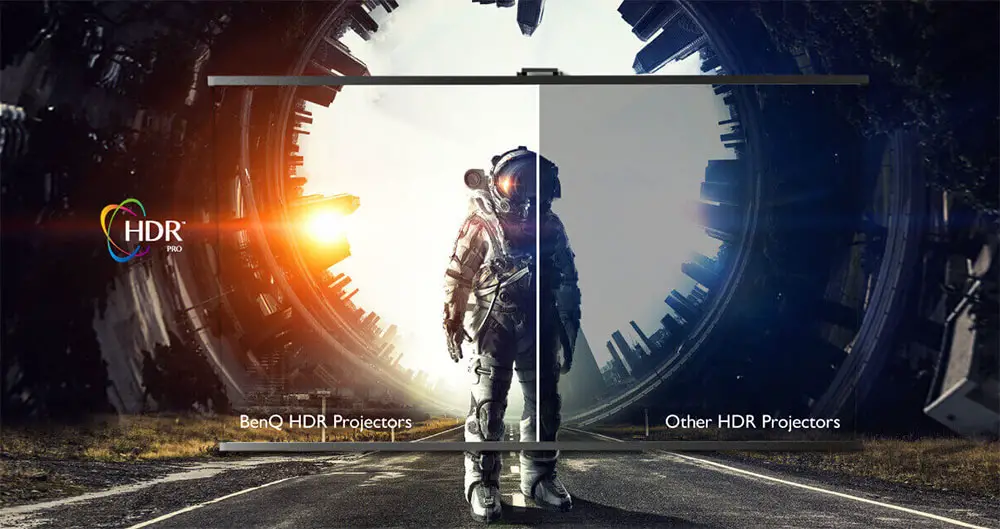 In general for a projector that is marketed more for casual viewing and sports we were very impressed with how it can perform with movies, even demanding ones. Sharp 4K resolution, with good brightness, satisfying blacks and nice colors is what you get. It is far from perfect but it does offer a very solid viewing experience if you ask us.
As for HDR support the TK850 can display both HDR10 which is required for UHD playback along with HLG that is used mostly for broadcasting. There is no HDR10+ or Dolby Vision but there are no projectors that support these two advanced HDR protocols yet.
Full HD / SDR / 3D Content
Moving on to our 1080p content testing there is a specific film we try out in almost all cases and this no other than the Blu-ray version of Oblivion. 4K is the bright new thing but with huge collections of Full HD content still around you will still want the projector to be able to perform accordingly in 1080p resolution also.
The TK850 didn't disappoint in this regard either. Oblivion is the kind of film that has a very sharp image even in this aging format and the projector did a fine job at bringing forth every small detail. Skin imperfections, clothes textures and surface compositions all were displayed with nice detail, solid brightness and good colors.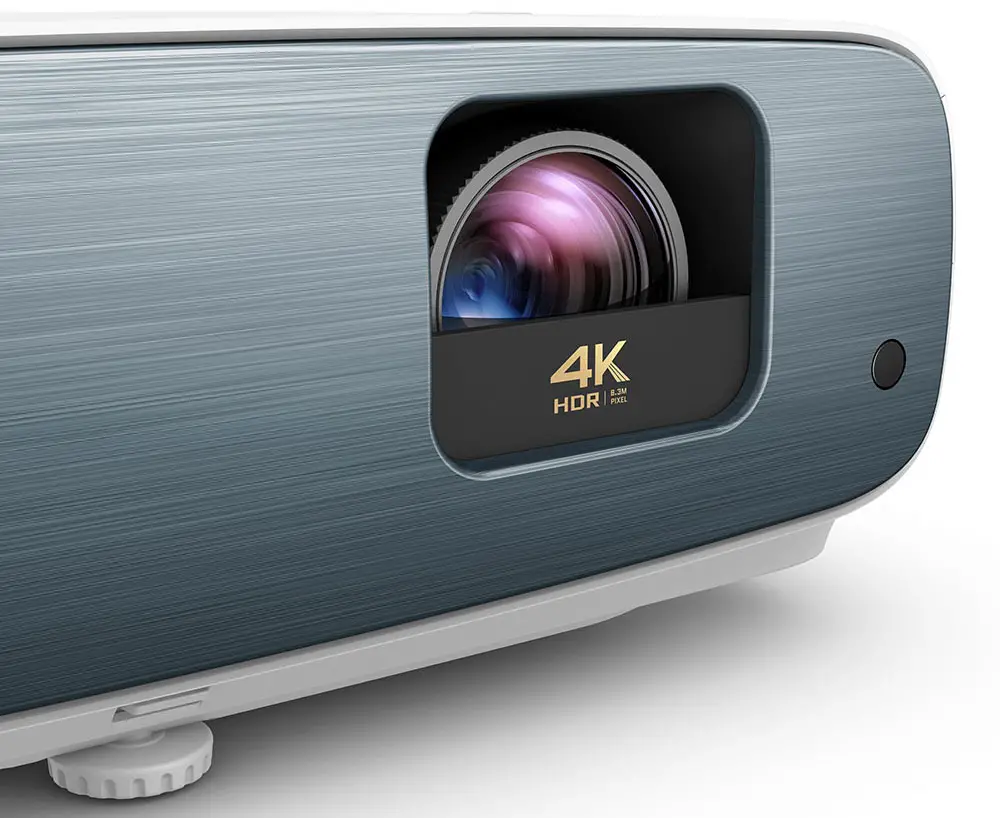 And while the projector did a fine job at displaying all the 1080p content we threw at it the TK850 has one advantage compared to it's twin brother, the HT3550 and this is no other than 3D. While both models support this dying format the extra brightness of the TK850 makes a big difference here. One thing that is common when viewing a 3D movie is the dimmer image compared to it's 2D counterpart. With the TK850 being able to pump more light things improve greatly. So if you still hold onto your 3D library and you are an avid fan of it this projector is an excellent low budget proposal.
The unit uses the usual DLP-Link 3D glasses but unfortunately you will have to buy them separately. The projector didn't show any visible crosstalk or other artifacts that are usual during 3D projection.
Color Coverage
The TK850 uses a 4 segment (RGBW) color wheel and this is basically it's main difference compared to the Ht3550. This means that it trades one RGB portion for a white portion and thus allow for more light to go through which is the reason why it can produce less accurate colors but more brightness. One thing to keep in mind is that projectors with color wheels are prone to what is known as a "rainbow effect". Not all people can see it but it is good to check it out first to be sure if you are affected or not.
The TK850 does not support Wide Color Gamut (WCG) while BenQ claims it covers 98% of the Rec.709 color space. Well, this seems to be actually true as according to our measurements the projector did manage a 100% Rec.709 color coverage in the default Sports picture mode. The wider DCI-P3 color coverage reached as high as 82% which is not bad at all. But in Sports mode the colors are not the most accurate so switching to Cinema mode that is supposed to have more accurate colors gave us a 98% Rec.709 coverage and 75% in the DCI-P3 one.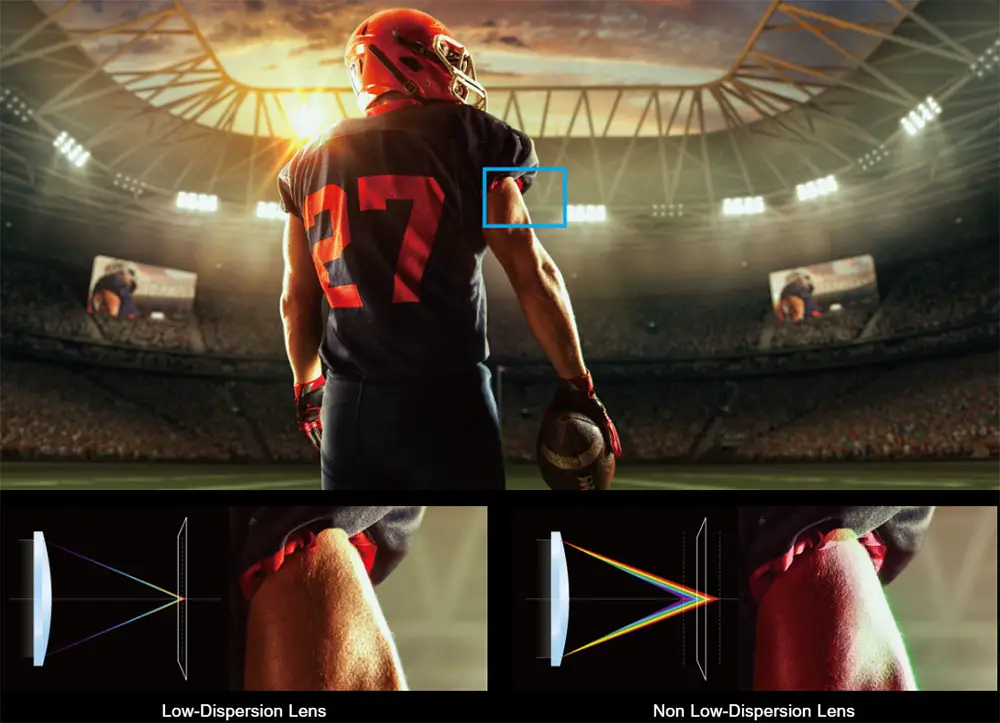 So while Cinema mode has less coverage it still managed to show more accurate colors on screen and is the preferable mode for movies viewing.
Brightness / Picture Settings
Brightness is supposed to be the major strength of the TK850 and this is a result of the different color wheel BenQ has used in this one. Being rated at 3,000 lumens with a 245 watts lamp we are curious to see how close to this number the projector can really get.
As with all projectors the TK850 comes with a few different modes available that is Bright, Living Room, Cinema, Sports and Silence. There are also a few more that are automatically used when the appropriate signal is detected and these are 3D, HDR and HLG. Lastly there is a User mode where you can insert your own configuration. As a note the Silence mode practically turns off the pixel shifting tech in order to lower noise and in turn becomes a true Full HD projector. So no much use for this if you mostly watch 4K content.
For all our measurements we go for the widest angle and with Normal Lamp mode. The projector's Bright mode obviously gives the more lumens that we measured at 2,625 but is not so accurate and with a green bias we see very few using it. The next more bright mode seems to be Sports with 1,667 lumens while Cinema mode comes a close third at 1,640 lumens but features much better and more accurate colors. Next is Living Room mode at 1,562 lumens that has very close characteristics to Sports mode while last is the Silence mode at 1,225 lumens.
In general we would say that if you are not so much into calibrations and you want the best out-of-the-box image we would suggest you to use the Cinema mode wherever you can. It has the most accurate colors and has much higher brightness output than the Cinema mode we measured of the HT3550 which had peaked at 1045 lumens.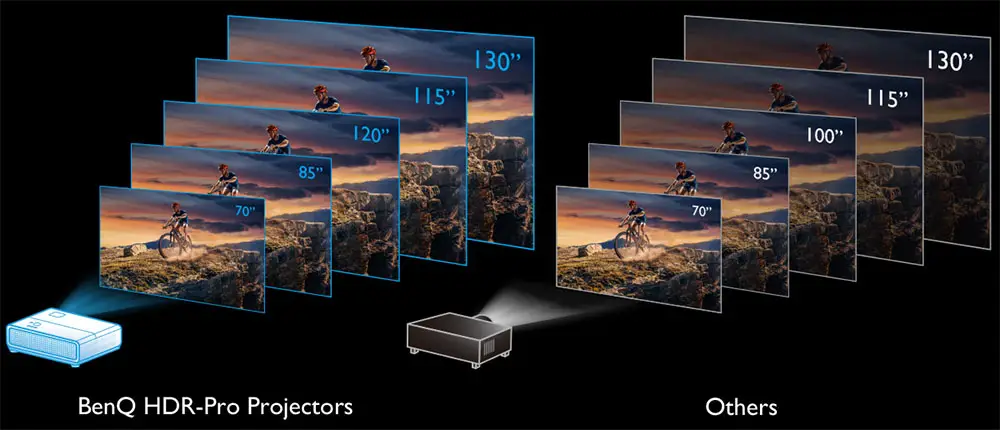 Black Levels / Contrast
Black levels seems to always be the Achilles' heel of all these low cost 4K DLP pixel shifting projectors. If you want deeper blacks you simply have to go to a higher category. BenQ seems to have slightly alleviated this problem by including a Dynamic Iris into their newer models. We saw this in the HT3550 which greatly helped with deep blacks and shadow details and it seems the same applies here also. Contrast ratio is set at 30,000:1 with the Dynamic Iris enabled and the unit did manage to produce relatively deep blacks for it's class.
Along with the HT3550, the TK850 is able to produce the best black levels for their given price. The Dynamic Iris makes a huge difference compared to competition and only going to a higher priced category you can get better than that.
Input Lag
If there is one area where the TK850 disappointed us was in the input lag test. In general we consider 50ms a good upper limit where input lag does not interfere at all when playing video games, even for those that are considered more hardcore. Unfortunately the TK850 couldn't come even close to this number. With 1080p content we got a 81ms measurement while in 4K resolution this climbed even further to 83ms.
Next we connected our PS4 and took our Call of Duty WW2 disc out for a spin. Now to be completely honest with you the high input lag didn't bother us at all. Being mostly casual players we found reaction times respectable even if not extremely instant. For games like Call of Duty that need fast reactions it may need some getting used to by for slower single player games most of the time we didn't even notice the delay.
So if you are mostly for casual or single player video games you probably won't be bothered by it. If you are a hardcore player then there are other projectors to consider.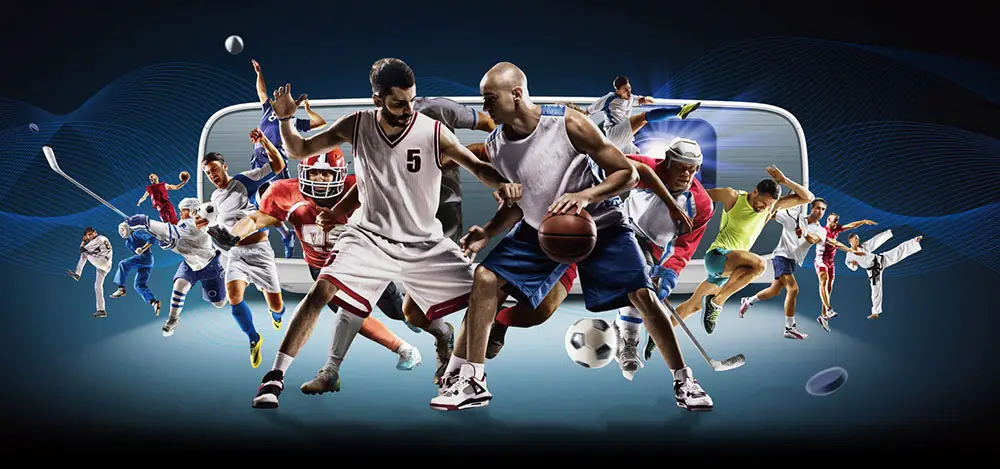 Motion Performance
The unit comes with the same CinemaMaster Video+ suite we saw in the HT3550. This suite includes the Motion Enhancer 4K which is basically the motion interpolation the TK850 uses for eliminating laggy images, jittery playback, and blurry shadows. By inserting 36 interpolated frames between two individual frames the projector can smooth out each sequence and create a blur-free image.
It's nice to see motion interpolation being included in this price category and since this unit is touted as a sports projector it can greatly benefit from it.
Inputs
The unit being so close in specs to the HT3550 features exactly the same connectivity ports so no real surprises here. All of them are placed at the back of the projector in a single line so starting from the left we get a 3.5mm 12V trigger that you can use for a motorized screen, an RS-232 port, a USB Type mini B for firmware updates and service only with a USB v3.0 next to it where you can connect external storage and stream content through that.
Next to them we get 2 HDMI inputs with both of them being able to carry both video and audio signals while also being HDCP 2.2. A third USB port next can be used for charging as it is rated at 5V/2.5A power and we finish with a digtial optical audio input along with an 3.5mm mini jack analogue stereo input.

The inclusion of dual HDMI ports is a nice one while the USB 3.0 is a major plus and one that we don't see very frequently even in more expensive models. The relatively low price of the projector doesn't allow for anything extraordinary but what is there will get the job just fine for the category that it belongs to.
OS, Apps and Features
Menus and settings are the basic deal we have seen in other BenQ models also. The main menu is divided into six different categories with Picture, Display, Installation, System Setup Basic, System Setup Advanced and Information tabs available. Each tab includes various sub-categories and settings according to their appropriate function. We cannot say we are excited but the included user interface is as simple as it gets but at least you can find everything easily and not spend your time looking around.
Another feature that needs mentioning is the Pixel Enhancer 4K that is included in the CinemaMaster Video+ suite that we mentioned earlier. Pixel Enhancer is a motion-adaptive edge enhancement feature that detects changes in color between an object and its background to produce sharp edges and precise surface textures. You can set this at different levels depending how much you like it but pushing high values can make the image look very distorted. Using a low value can really increase the image sharpness and overall image quality.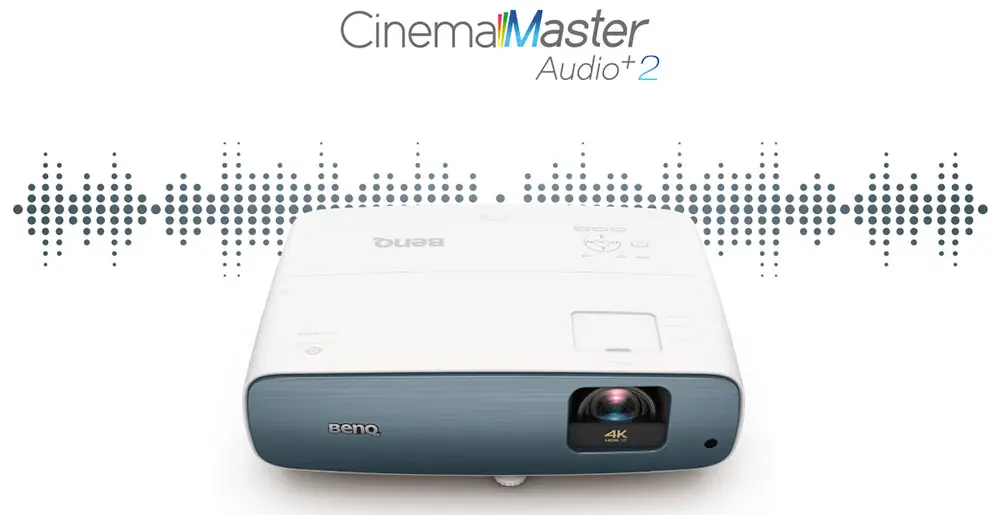 Touching on the projector's portability we shouldn't forget a few features that are ideal for it. First of all the TK850 comes with CinemaMaster Audio+2 and along with it's dual 5 watts chamber speakers there are so many different scenarios where you can use this either it be a late night party, sports event on your terrace or watching a film in your garden.
TK850's aluminum driver diaphragm can produce vocals and delicate details in mid and high frequencies while heat-resistant NdFeB (Neodymium) magnets ensure long lasting sound quality without distortion even in a high-temperatures. Obviously you shouldn't expect a home theater kind of performance from two small drivers but for their size they offer good sound for both indoors and outdoors events.
And the second feature we need to talk about is the built-in media player. Now even having a media player in such a low cost unit should be considered a plus although having relatively limited capabilities shouldn't be very surprising. First of all it cannot playback any content in the usual H.264 (AVC) or the newer H.265 (HVEC) coding standards so it's use is limited to the older MPEG-1, MPEG-2 and H.263 ones. The player can also display various image files and play a few limited audio formats.
Lastly there is a Smart Eco function that you can use to greatly extend the lamp's life. If you plan on using this projector in a home theater then there is small use of this but in certain situations it may be a handy one so it's always nice to have it.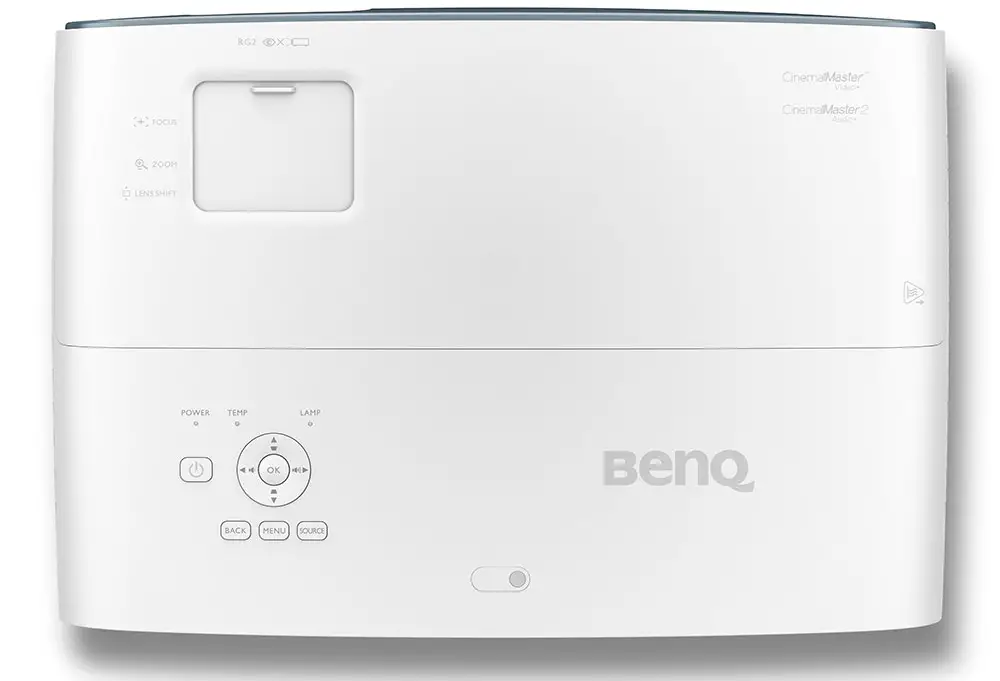 Final Thoughts
BenQ is probably the only manufacturer that we can think of that uses this dual projectors strategy. The HT3550 and the TK850 are like the two sides of the same coin. While the HT3550 was destined to be used more in a low lit home theater and provide better colors, the TK850 was designed to be more of a casual projector and with it's better brightness to be used in broad daylight for casual viewing and sport events. Also it's portability makes it ideal for taking it to a friend's house to have some fun.
But this doesn't mean that the TK850 is not good for movies. Being able to display very sharp 4K images with good colors, solid black levels and shadow details along with very good brightness and great motion performance the projector is a real treat. It's weaknesses, along with it's strengths, can only show if you could make a direct side by side comparison with the HT3550 otherwise most people will consider it's image quality very good. And if you take into account the very good out-of-the-box performance it has the projector is ideal for those that don't want or don't have the experience to bother with complex calibrations. Also the remote quality with it's backlight function is rather unique in this price.
On the other hand the weaknesses of the projector are pretty obvious. First of all the colors although still pretty solid are not as accurate. Also the inclusion of a Dynamic Iris may have helped a little with black levels but in general if you are absolutely crazy about deep blacks better go for a UB model from Epson. Lens shifting is rather limited for a projector that wants to have higher portability than other models while it's high input lag may not cut it for some hardcore videogame users.
Coming with a price tag around the $1,500 mark this one is an amazing projector for all kinds of situations. If you want slightly more accurate picture you better go for the HT3550. On the other hand if you want more brightness that is ideal for HDR content, 3D or for use in broad daylight, both indoors and outside, the BenQ TK850 will not disappoint you.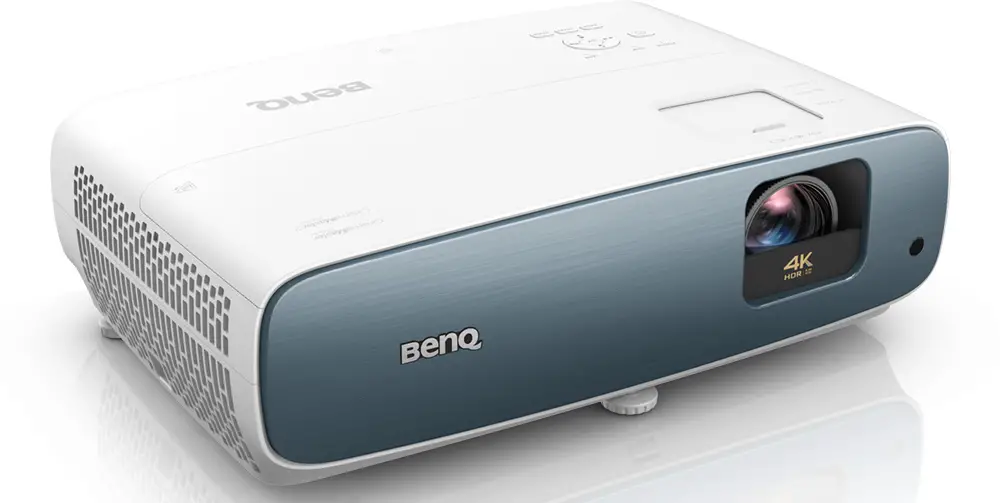 For more reviews you can check our dedicated 4K Projector reviews list or even look at our Product Reviews Table where you can find the brand and specific product you are looking for.
Also don't lose the chance to subscribe to our Newsletter and gain exclusive privileges.
---
Cheapest Places to Buy :
---
BenQ TK850 Specifications