Bose Smart Soundbar 300
Reviewed at $399.00
Design -

93%

Movies Performance -

84%

Music Performance -

86%

Inputs and Features -

88%

Price / Quality -

88%
---
Cheapest Places to Buy :
---
If there is one common situation we see often the last few years is that you have bought your new shiny and expensive TV that makes your jaw drop on the floor with its high brightness and extreme colors only to be disappointed but the mediocre and less than inspiring sound you get out of it. And this is where soundbars come in as the very small improvements on the sound department have created the need for these separate devices in order to give you the appropriate sound immersion that would elevate the whole experience. Bose has been offering soundbars for some time now and they have been updating their latest lineup as we will be seeing today in our Bose Smart Soundbar 300 review.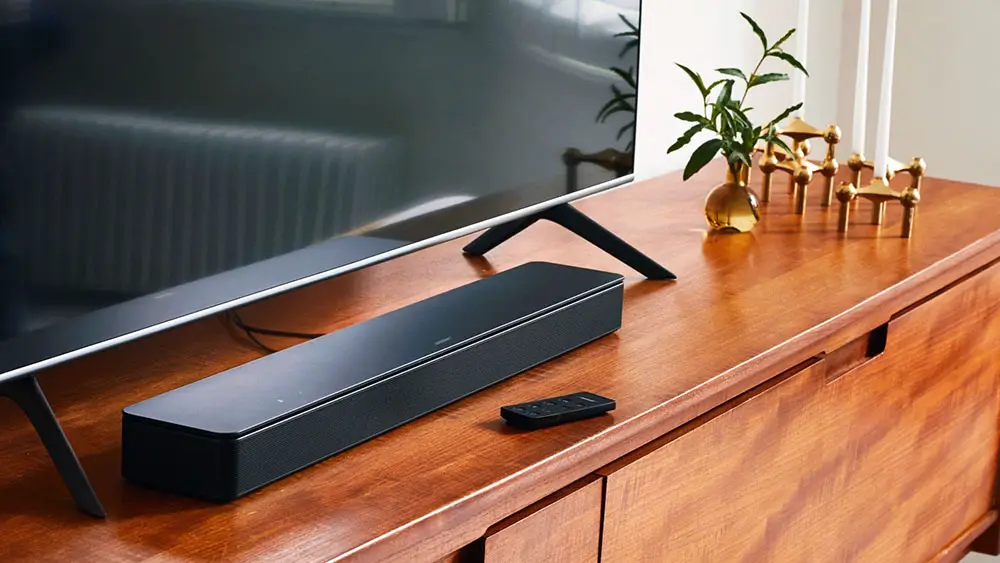 Bose is a known manufacturer in the audio industry and while they may have lost some of the spark they had in the old days they are still considered a very respectable company with some very nice releases lately. And with the soundbar market reaching new heights they obviously couldn't let the opportunity go by as they have a completely lineup of soundbars to fit almost all needs. Now Bose is not updating their models every year like LG or Samsung do but their offerings try to always be at the forefront of technology.
The Bose Smart Soundbar 300 is their latest entry in the compact, single unit segment trying to catch a piece of the consumer market where people are looking for a small unit with ease of use in mind that can get the job done and offer an audible upgrade over their TV's audio system. The Smart Soundbar 300 is such a unit which comes with a simple 3.0 channel setup, offers both WiFi and Bluetooth connectivity, built-in voice control and accepts add-ons in order to create a full surround system if you like.
But as with all soundbars there are actually three factors that determine its success. It's audio performance obviously, the amount of extras it comes with and the price that is being sold. Does the Bose Smart Soundbar 300 manages to succeed in all these factors or is the competition too stiff to make a real breakthrough on this market today? Let's find out…
Design, Inputs and Features
Exterior
Bose has been slowly updating their soundbars and one thing they tried to do is to create a design that could be used in all their models from the top tier Soundbar 700 all the way down to their most basic Bose TV Speaker. This way they would have a more unified lineup that would be easier for the consumers to distinguish and choose from.
As with all their releases Bose was always known for their high quality and the Smart Soundbar 300 is no different. It has the same lines, the same design pattern and the same materials used. One thing that is missing is the premium tempered glass but that is used only on their top Soundbar 700. Everything else is similar to the other three models they have and it still gives you a sense of quality that we don't usually see in such a small unit.
Bose never rates their soundbars but the Smart Soundbar 300 is basically a 3.0 channels, single unit soundbar with a tweeter placed dead center, two full range oval drivers complementing it in each side while there are two more full range oval drivers placed at each side of the unit. This way the two oval drivers on each side create in theory a more fulfilling and immersive soundstage.
The unit is not big at all and it is evident that this one is aimed for those that are looking for a relatively compact design. It is not as small as the Bose TV Speaker and sits comfortably between that one and the Soundbar 500. With a size of 27½" x 2¼" x 4″ (698.5 mm x 57.15 mm x 101.6 mm) and weighting just 7 lbs (3.2 kg) this soundbar is perfect for small rooms where you don't have much space for a full surround system but you seek something better than you TV audio.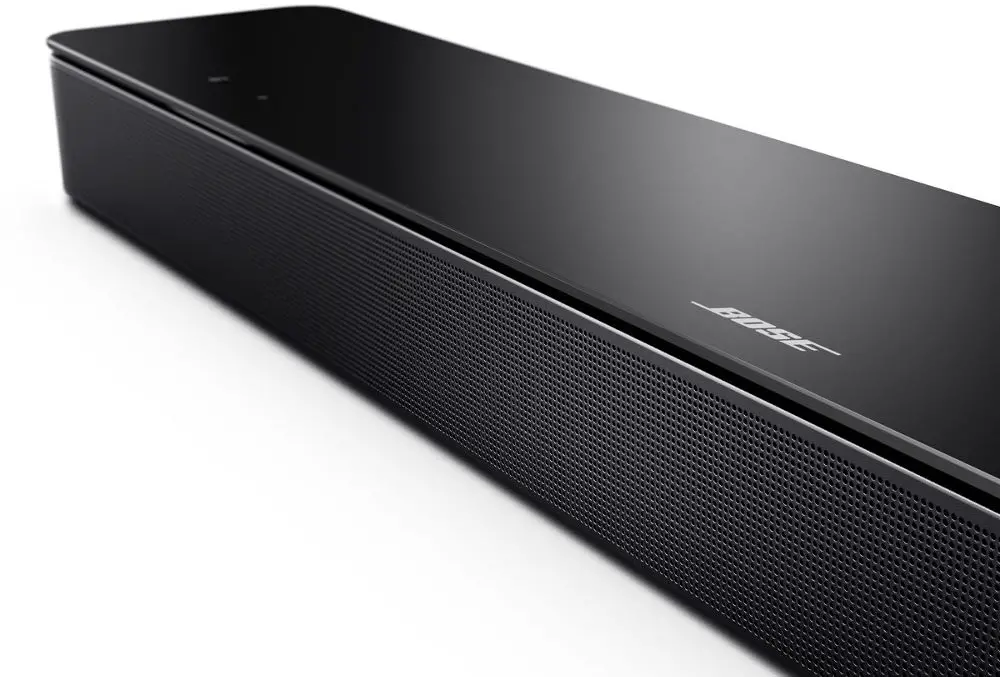 Looking at the Bose Smart Soundbar 300 is like looking on any of their other offerings, just in different size. The main material being used is plastic but whatever Bose has done they made it feel more premium and more sturdy than some other manufacturers have offered us. As for the actual design we like what Bose has decided to go for as its very rounded corners and straight lines really make it like a 2020 product. The front and sides are covered by a single perforated aluminum grill similar to their other releases while on the back we get all the connection ports grouped together at the center.
A matte finish texture is used for the whole top side that looks nice without being anything fancy. The Bose logo is sitting prominently at the center breaking the otherwise monotonous face. But unlike the Bose TV Speaker that had no built-in buttons whatsoever here we actually do get two with one being used to mute the microphone while the other is an action button that is used to activate voice control or stop timers or alarms. Not much functionality but at least it is something.
Let's talk now about the front display. We always say that a display is crucial for a soundbar as many, usually the more cheap models, fail to come with one. The Bose Smart Soundbar 300 comes with one but unfortunately it's the same frustrating design Bose has been using in their bigger 500 and 700 models. Instead of using a full display Bose has opted for a dual light display system.
This consists of a small LED light under the mute microphone button indicating weather the microphone and voice control is turned on or off and a thin LED light bar that changes colors and style in order to indicate the various functions of the soundbar. Now this kind of display may look cool and more futuristic but remembering all the light bar states is a pain and we certainly had to look on the manual again and again in order to understand what the soundbar was doing. Cool looking yes, practical not by a long shot.

The back of the unit is pretty straightforward with a big inset in the middle hiding all the connection ports while there seems to be two air ports in each side that help with moving air and enhance the low end as much as possible. Special mounting brackets can be purchased separately in case you want to place it on a wall and these hold the unit from underneath.
Lastly we should mention that while the unit is relatively low profile there is an option to connect a separate IR repeater which is the next best thing when there is not one built-in. Very few soundbars include this option and even some premium top tier units don't have either a built-in IR repeater or at least give you the option to connect an external one so kudos to Bose for giving us at least the option here.
If you have seen any of the other Bose soundbars lately then the Smart Soundbar 300 has no surprises for you, just a different size. Good quality plastics and a nice modern design that suits with Bose mantra is what you will get.
Internal Hardware
Bose has always impressed us with their unique way of placing the woofers inside their soundbars as they don't entirely follow the standard placement we often see in most released models. Recently we had seen this in our Bose TV Speaker review that used a 2.0 channels system but with both channels placed in the middle looking slightly on an angle. It seems that with the Smart Soundbar 300 they decided to follow a similar unconventional way.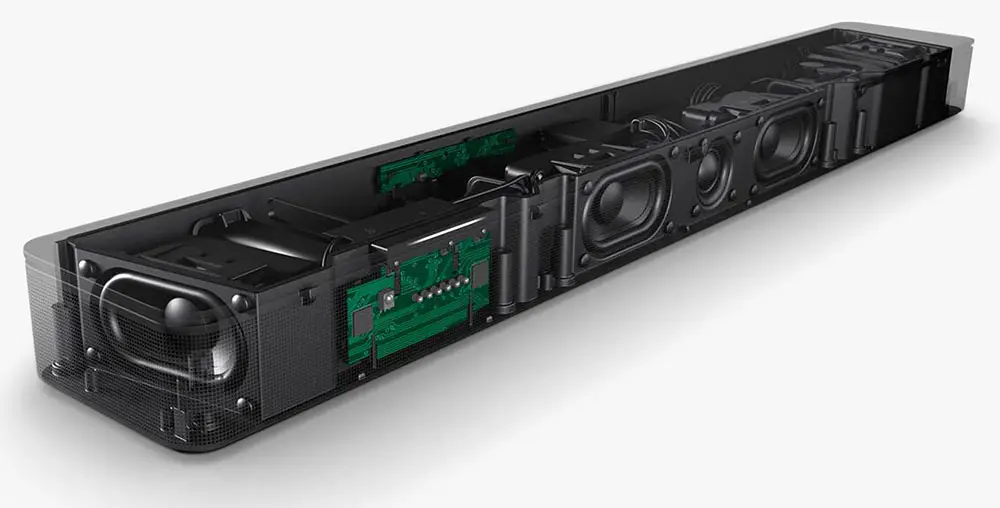 The 3.0 channels system utilized here consists of four full range oval drivers along with a single tweeter in the middle. Now how Bose went this time is that the tweeter in the middle is obviously used for the center, dialogue driven channel while the two oval drivers at each side are used for each main channel.
And here is the unique design Bose has used. Instead of placing all four oval drivers looking forward they decided to place two of them looking forward and placed right next to the tweeter while the other two are placed on each side of the soundbar with a slight angle towards the front. This way despite the short length of the Soundbar 300 the sound feels with more volume and sideways extension.
Bose has been very secretive in terms of actual drivers or amplifier specifications and they never mention either the type of drivers used, power output or frequency response so we have no idea how in theory the Smart Soundbar 300 fares compared to other units. We faced the same problem during all our other Bose reviews including the Soundbar 500 and Soundbar 700 models so it's not a big surprise to be honest.
We have mentioned above that you have the ability to connect the soundbar to either a subwoofer or optional surround speakers but we will talk in more detail about these in the appropriate section shortly.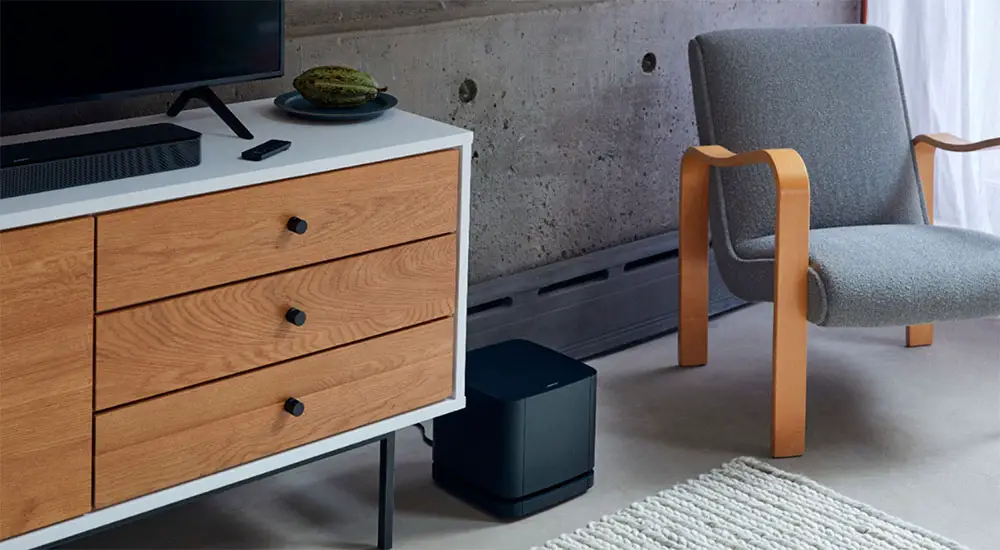 Connectivity
The Smart Soundbar 300 is one step above the basic Bose TV speaker soundbar so we were not expecting to find huge differences between these two. After all, all these low tier releases from Bose aim to offer just the basics in terms of connectivity and if you take into account the limited sound capabilities they have they don't need much.
On the specially designed inset that is placed exactly at the middle and looking from left to right we find the power connector, an IR port for connecting an external IR repeater, a bass port for connecting a subwoofer, a digital audio optical input, a micro-USB that is only used for service and a HDMI port with ARC functionality.
The soundbar may have released in 2020 but this is the older HDMI 2.0 and not HDMI 2.1 so don't get your hopes up. Also with the limited capabilities of this model the HDMI port has only ARC support as eARC would be meaningless. It's not very usual to see an IR port in order to add an external repeater but we like the idea in case it is needed while the extra bass port can be used only with Bose subwoofers so don't expect to use it with a third party model.
When it comes to the soundbar's wireless capabilities it features built-in WiFi that was missing from the smaller Bose TV Speaker along with Bluetooth v4.2 in order to use it for streaming music from Bluetooth enabled mobile devices.

Not much to say here really. The inclusion of an IR port is certainly one you don't see often but at least we get both optical and HDMI ports for you to choose from. A very basic setup but if you are looking for such a unit it means that you don't have high requirements anyway.
Control Options
Next we will be looking at the ways you can control the unit and we will start with the included remote which seems to be awfully similar as the one we saw with the Bose TV speaker remote with only some minor changes so our observations will be similar here.
The remote is a tiny one as the soundbar lacks a wide variety of features that would require a bigger remote with more buttons. It's made out of plastic and its design is the usual rectangle shaped with slightly rounded corners. The back has a slight curve for better handling but Bose has added on the top of it a straight stand so it will not wobble in a straight surface. What is unique is the kind of batteries this thing takes and it must be the first one we see that goes for a thin CR2032 battery type instead of the usual AA or AAA batteries most remotes use.
As for its buttons instead of using the usual rubber ones that protrude from the remote these actually are placed on insets that may not add anything when it comes to practicality but certainly looks different from most remotes we have used before. The available buttons include the power on the top left corner with TV and Bluetooth selection on the right while Volume controls are placed just under the power button and mute sound under the volume controls. The difference here is on the last two buttons as now we get a Bose Music App button with a play/pause control underneath that.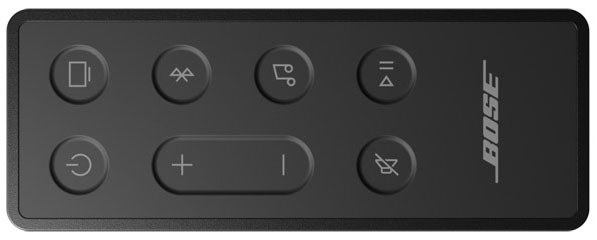 We already mentioned above about the two built-in buttons that are placed above the front LED lights but these offer very limited functionality and cannot be used for controlling the soundbar entirely.
There is also the option of third party remote programming with the included HDMI-CEC function but obviously in order to use that you will have to use the HDMI connection to your TV. If your TV also supports HDMI-CEC, which most probably it does, then you can use that remote to control both the TV and the soundbar and thus minimize the amount of remotes you will need to use.
And while the Bose TV speaker soundbar offered only the above for the Smart Soundbar 300 Bose has extended its control options by including built-in voice control support for both Amazon Alexa and Google Assistant without the need for an external device as the unit has a built-in microphone for this reason.
But Bose has not only included both voice control platforms but also used their Voice4Video technology in order to expand Amazon Alexa's voice capabilities so you can control your TV and cable or satellite box even if these don't support Alexa directly.
For those that like to use their mobile phone with everything there is also the Bose Music App which lets you control the unit through your mobile device along with enabling you with various other functions like making sound adjustments, setup the unit, connecting to the local network and stream music.

While the Bose TV Speaker was missing many control options it seem that for the Smart Soundbar 300 Bose included all possible ways which is always nice to have even for such a small and relatively simple unit.
Extra Features and Services
In this part of our review we will be looking at all the extra features and functions that have been included in this one. Obviously this soundbar is still aimed for those that look for a simple system but there are more features included compared to what we saw in the Bose TV Speaker so let's see everything in detail.
The unit seems to support only Dolby Digital but no DTS which is a big disappointment. Yes, most material nowadays support Dolby's solution but we are in 2021 now and even dirty cheap soundbars offer both Dolby Digital and DTS support and this should be a given for such a premium unit. Also keep in mind that the Smart Soundbar 300 has to downmix the Dolby Digital signal to stereo in order to playback it. There are no other audio types supported and there are no virtual tech included either that could help in certain situations.
Now when it comes to sound modes Bose is not including any in the same way we have seen other manufacturers do. Instead they use a real time audio tuning system which basically is a custom made software that is analyzing what is being played either it be movies, music, games or shows and fine-tunes the sound to optimize your listening experience.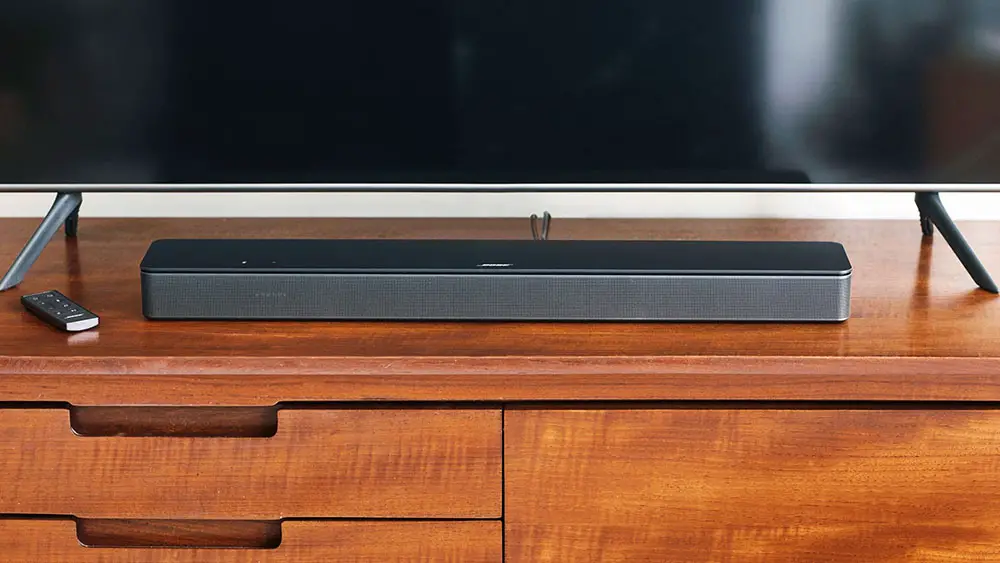 The only real sound modes that are included is a Dialogue mode that enhances the high frequencies and can be very handy for talk shows and news broadcasts as it tends to lower all other sounds instead. The second mode is called Wall EQ and this basically re-adjusts the sound depending on whether you have wall mounted the unit or not which is not a mode we see very often but one that some manufacturers do include in their offerings.
The unit lacks any kind of EQ settings for frequency balance adjustments and only has bass, treble and center channels level adjustments that can be set through the Bose Music App. There is also no auto sound calibration system like the ADAPTiQ system that is used in both the 500 and 700 models.
In terms of streaming audio you have the ability to listen to music either from WiFi or Bluetooth with the use of the Bose Music App. The App includes online streaming platforms like Spotify, Amazon Music, Pandora, Tune In, Deezer, iHeart Radio and SiriusXM and while it's not the most extensive of lists you will probably find one that suits your needs. The soundbar also supports Airplay 2 that lets you stream audio from Apple devices but unfortunately there is no Chromecast available. So if you are an Android user the Bose Music App is your best bet while Apple users can use Airplay 2 as an alternative.
The soundbar also comes with SimpleSync support. Bose SimpleSync technology allows you to pair your Bose Smart Soundbar 300 with compatible Bose products. Want to watch TV but not disturb anyone else? Pair your soundbar with select Bose headphones for a more personal TV listening experience. Want to listen to the same music in different rooms at the same time? You can pair your soundbar with a select Bose Bluetooth speaker to add more sound around the house.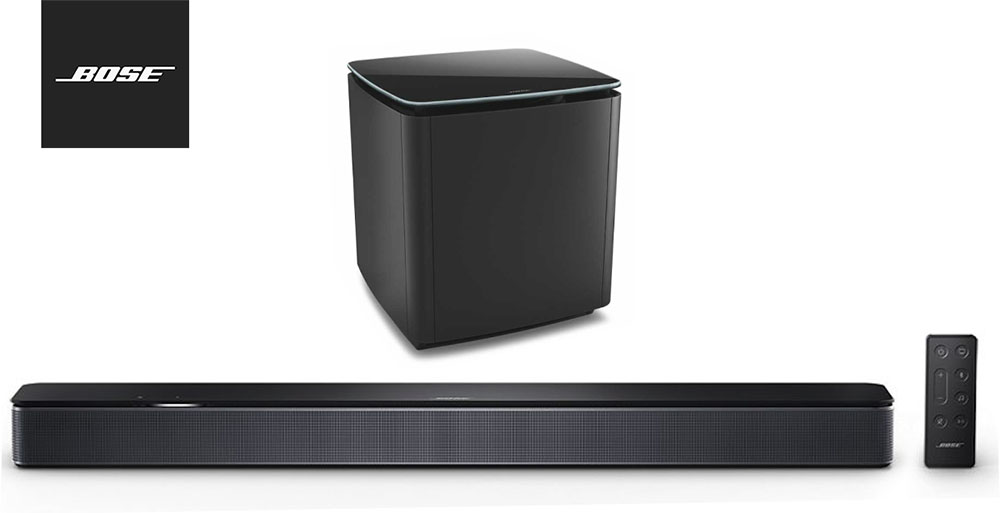 Lastly we should mention that you have the ability to expand the main unit's capabilities and create a fully fledged surround system. As such the Soundbar 300 can accept either a subwoofer or a set of surround speakers or both making this a nice add-on system that can be shaped in any way you feel it suits your needs best. Keep in mind that you can connect only one of the Bose Bass Module 500 or Bose Bass Module 700 subwoofers and only one of the Bose Surround Speakers 300 or 700 sets.
Closing this part of our review what we can say is that while the Smart Soundbar 300 does not include the most extensive of feature lists it covers most basics and it's exactly what is needed from such a simple and basic to use model.
Initial Setup
These types of soundbars aim for simplicity when it comes to initial setup and everyday use. The Bose Smart Soundbar 300 seems to try to follow the same principle but not entirely achieves it as it cannot be described as an entirely plug-and-play device.
After initial unpacking and placement of the unit in front of the TV we plugged it to a power outlet and downloaded the Bose Music App in order to connect the soundbar to the network. Keep in mind that you will have to create an account but it's free and shouldn't take you long to finish that step.
As for connecting the soundbar we opted to go with the HDMI port. This way we could connect our UHD player to the TV and from there go the HDMI port of the Soundbar 300 by using the ARC function.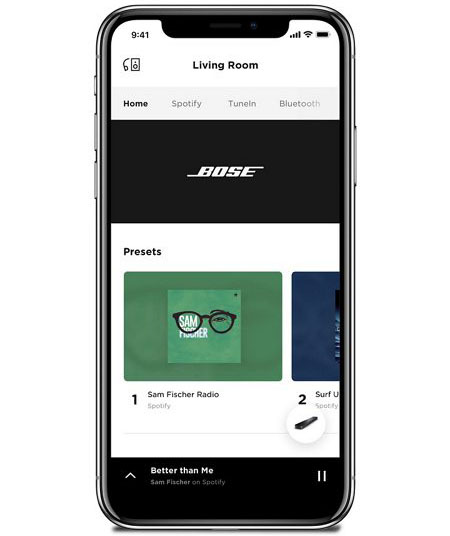 The soundbar does not have an auto sound calibration system so you are left with very few options in terms of audio adjustments. First you need to tell the soundbar if it is either on a furniture or on the wall by enabling the appropriate sound mode and then the only real adjustments you can make is for treble, bass and center channel.
There is nothing else you can fiddle with and while many would prefer to be able to select a specific sound mode this is just perfect for those that seek an experience that is as simple as it gets.
Movies
For this review we decided a try an older but equally impressive film and this is no other than the 4K UHD of The Matrix Revolutions. The 3rd film in the trilogy may not have reached the heights of excellence the first film had set some years ago but remains even to this day, a good 13 years later, a visual and audio spectacle in any way possible.
Obviously the soundbar doesn't give us the ability to enjoy the magnificent Dolby Atmos mix so the core Dolby Digital track is what we will be listening that is downmixed to the soundbars 3.0 channels. Yes, we may be missing a lot but we were curious to see how much information is preserved and how much is lost during the transition. There are two major scenes in the film and these are the ones we will be looking at today.
The first is obviously the Siege of Zion as the machines try to exterminate the human race. This scene has such a grand scope that you really need a very capable system in order to faithfully reproduce the size of the set pieces. The second scene we tried was the final duel between Neo and Mr Smith, an equally impressive set piece but with different dynamics than the Zion Siege.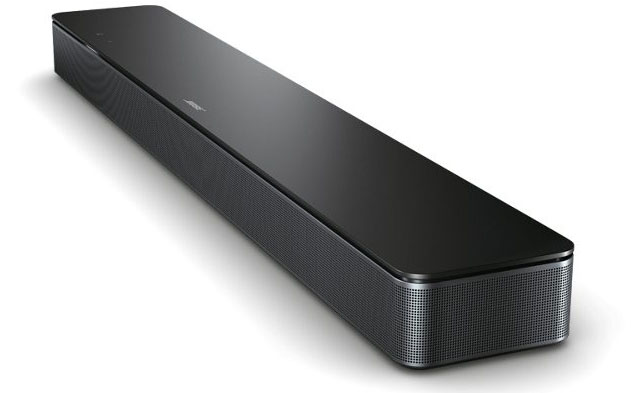 The first thing that we were impressed with the Smart Soundbar 300 was that for such a small size the soundbar could go loud and not only that. It could do it without too much distortion that would make the result inaudible and disturbing to the ears. There was a certain amount of clarity even with the volume at high levels that was really impressive.
And if the high volume was one of its characteristics the other was the added clarity we got from it. We tried switching back and forth between our TV audio and the soundbar and it felt like an extra layer of clarity was added when the Smart Soundbar 300 was used. It was as if we had thrown a curtain on top of our TV and we suddenly were taking it off. It was not a day and night difference but the improvement was more than obvious and this also resulted in more details being audible with better resolution and precision.
Now, usually when it comes to such small sized soundbars they lack the necessary size and hardware in order to offer any meaningful extension to the front soundstage. But the Smart Soundbar 300 surprisingly managed to make the sound feel slightly more enveloping and we have an idea that this has to do with the side-firing drivers that managed to push the sound to the sides of the unit more than they would if Bose had placed them all at the front side. There were moments we felt sound effects coming more at an angle rather than dead center.
Dialogue was very clear and distinct and with good separation from the rest of the sound effects and this had to do with the fact that Bose has added a center tweeter that greatly helps on this regard. Panning effects were audible but they didn't had the wow effect some other bigger soundbars could offer and certainly lowered the overall experience. Also we should note that there was no real surround activity and all action was firmly coming from the front. So in case you really want some over-the-shoulder activity getting the optional surround speakers is a must.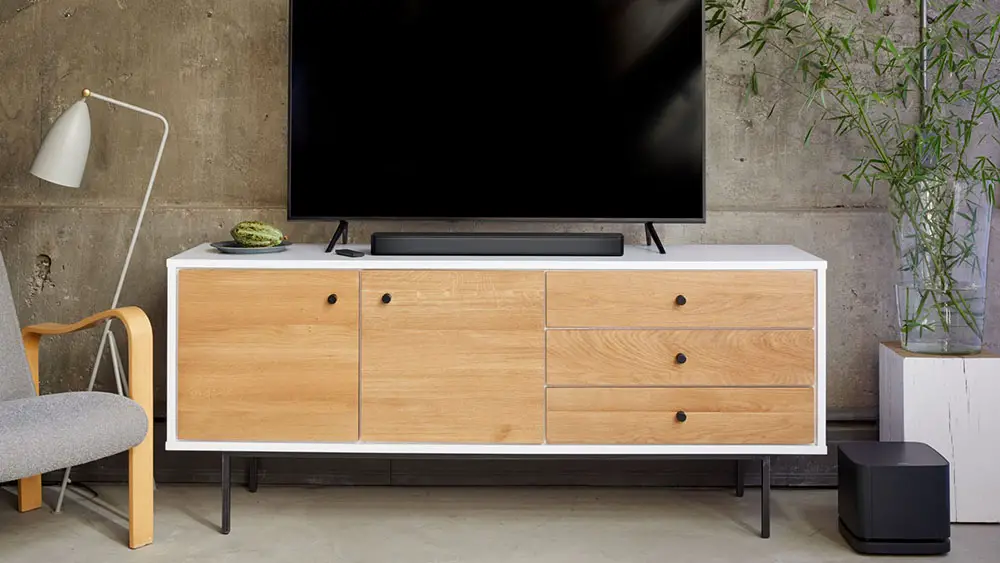 On the low end the soundbar did a valiant effort to give the necessary volume and weight to the mix and for its size we would say that the bass was ok. Nothing that will entirely wow you and certainly it will not shake your room and hit your chest with a sledgehammer but for casual viewing it is adequate. If you like to watch action films and you like to get a shake or two during viewing you should at least get the small Bose Bass Module 500 that will greatly push the bass to higher levels.
The Matric Revolutions has particularly demanding scenes. With so much destruction, explosions, panning effects, debris falling here and there, and heavy machines against giant mechs all being encompassed by Don Davis amazing orchestral soundtrack this is a film that will make any sound system run for its money.
The Bose Smart Soundbar 300 did try hard to render everything to the best of its abilities and we liked that it could get loud without loosing much of its balance. It was as if it knew its limits and never tried to overcome them. It was not like we were left in awe by its performance but what we got was certainly a step above what out TV could ever reproduce.
Music
Unfortunately the unit does not support High Resolution Audio and you cannot either use a USB port to stream audio. So our next best bet was to use the Bose Music App and stream music online which obviously doesn't offer the best quality possible but it's the best this soundbar can do.
Once again we were really impressed by the level of clarity that could be achieved in high volumes. Keep in mind that with its compact size this unit is mostly meant for small rooms, so the smaller your area the more pronounced this effect will be. And to do that with such pristine sound it was a real feat on its own.
The front soundstage felt energetic and alive with slight expansion on the sides but less depth in the middle than what we would like. Stereo panning effects were audible but not so impressive as we have heard in other bigger models. Stereo imaging was lacking a bit but attention to details was good and you could sense the difference in source positions during the performance.
Vocals were well defined and with good clarity and definition without messing with the rest of the audio. Keeping its center place and isolated from the other channels the vocals felt natural, alive and distinct. During bass intensive songs the soundbar had good weight but it failed to dig very deep in certain bass demanding moments. It was able to follow the hectic rhythms of certain songs but it just couldn't give the raw bass quality that its moment asked for.
In general the Bose Smart Soundbar 300 will suffice if you are looking for a compact unit to play some casual and everyday music. It's obviously no HiFi material and you shouldn't have huge expectations out of it. Obviously for anyone seeking the HiFi experience would never choose a compact soundbar like this but if you are extremely limited in space and you want a unit that can perform good not only in movies but in your everyday music enjoyment this one will cover you completely.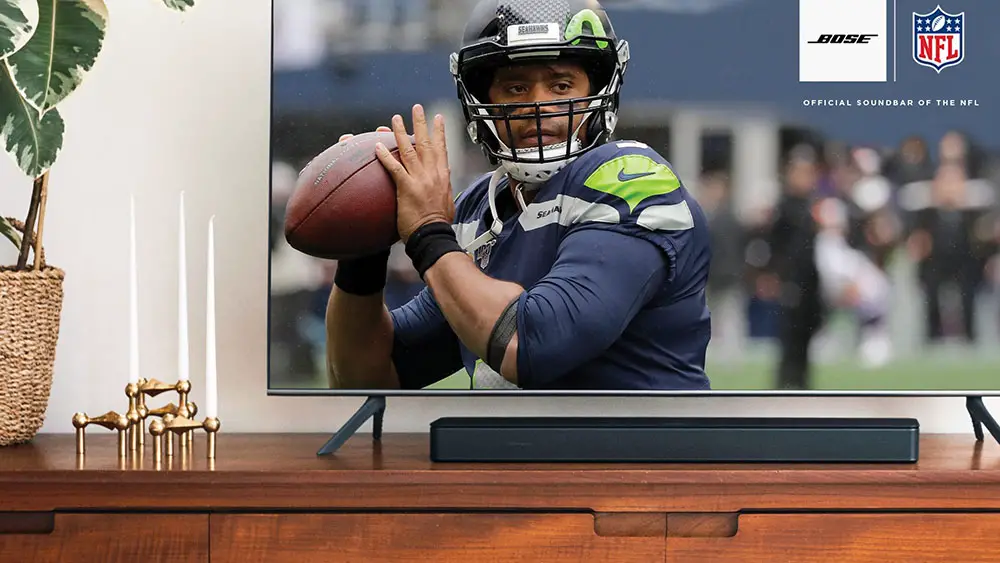 Final Thoughts
After the release of the Bose TV Speaker it seemed like there was a gap between that model and their bigger Soundbar 500. Bose saw that and this resulted in the Smart Soundbar 300 that we tested here today. Looking at its specs this unit sits comfortably between the two and it seems that Bose managed to find the perfect balance between size, performance and features.
Bose has got us used in offering high quality products and the Smart Soundbar 300 follows the rest of the lineup in terms of build quality and premium materials. Plastic is still the main material used but it feels so much better and more sturdy than other offerings. Looks are good as all other models while you will be surprised by how loud and expansive the front soundstage can become from such a small unit. Extra features may not be plenty but are enough to cover most basic needs while its expansion abilities gives you the freedom to shape your system anyway you want either with a subwoofer, surround speakers or both.
On the other side we are disappointed to see in 2021 soundbars that do not support DTS. Yes, it may not be the prevailing format but when you have so many low quality and dirty cheap soundbars support both Dolby Digital and DTS there is no excuse for a Bose produce to be missing this. Also if you seek surround activity you definitely need the extra surround speakers set that doesn't come cheap. Setup could be simpler and we have seen many people having trouble with it which is unacceptable for a supposedly easy to use device. And lastly at $400 it costs a lot for such a small, single unit soundbar as adding a subwoofer and surround speakers can bring the final price north of $1,000.
Closing our review what we can say is that the Bose Smart Soundbar 300 faces a lot of competition and with such a high price it will not be easy to find its place on the market. It's not a bad soundbar, on the contrary we were pleasantly surprised by how it performed both in terms of sound quality and how loud it could get. And with it managing to strike a nice balance between size and specs makes it a good option to consider for mixed use if you are looking for a single unit to fit your limited space.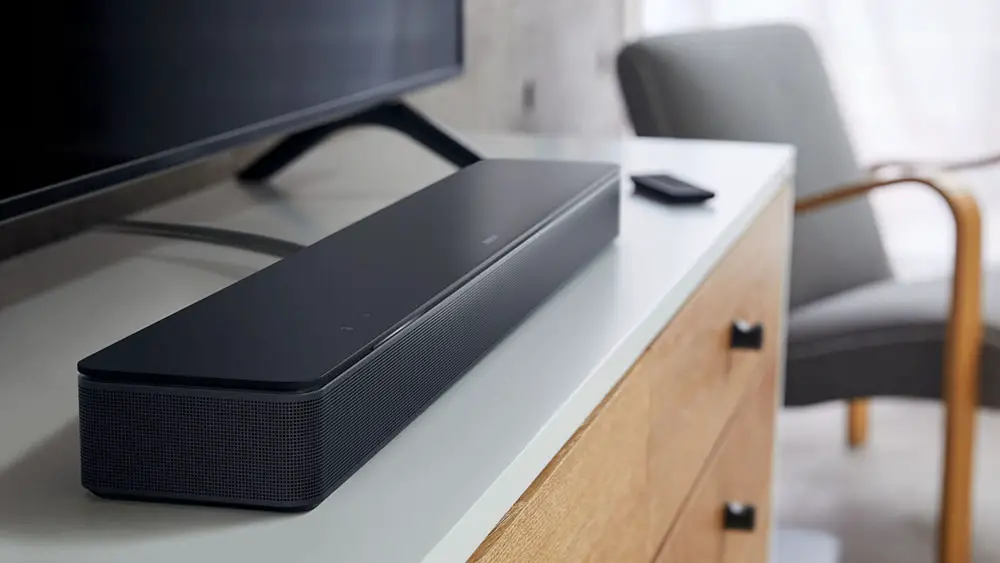 For more reviews you can check our dedicated Single Soundbar reviews list or even look at our Product Reviews Table where you can find the brand and specific product you are looking for.
Also don't lose the chance to subscribe to our Newsletter and gain exclusive privileges.
---
Cheapest Places to Buy :
---
Bose Smart Soundbar 300 Specifications