Dune HD Real Vision 4K
Reviewed at $224.00
Ports and Connectivity
9.2/10
Playback performance
9.3/10
UI, Content and Apps
9.2/10
Pros
Excellent playback capabilities
Nice build quality and capable hardware
Dolby Vision and HDR10+ support
Dune OS + Android
Cons
Not the best box for streaming services
Less ports than competition
The front display is small to be of much use
Price higher than average
---
Cheapest Places to Buy :
---
Media players is still a rather unique market in the home theater segment. With streaming taking a big chunk of the market and with most TVs offering all kinds of built-in streaming services along with dedicated media players these media player hubs are mostly for those that seek something more than just the basic functionality. Nvidia seems to have made some impact with their Shield machine but it's not the only manufacturer that has a strong foothold in this market. And in our Dune HD Real Vision 4K review today we will be looking at one of the newest entries in the field and how it stacks up against the rest.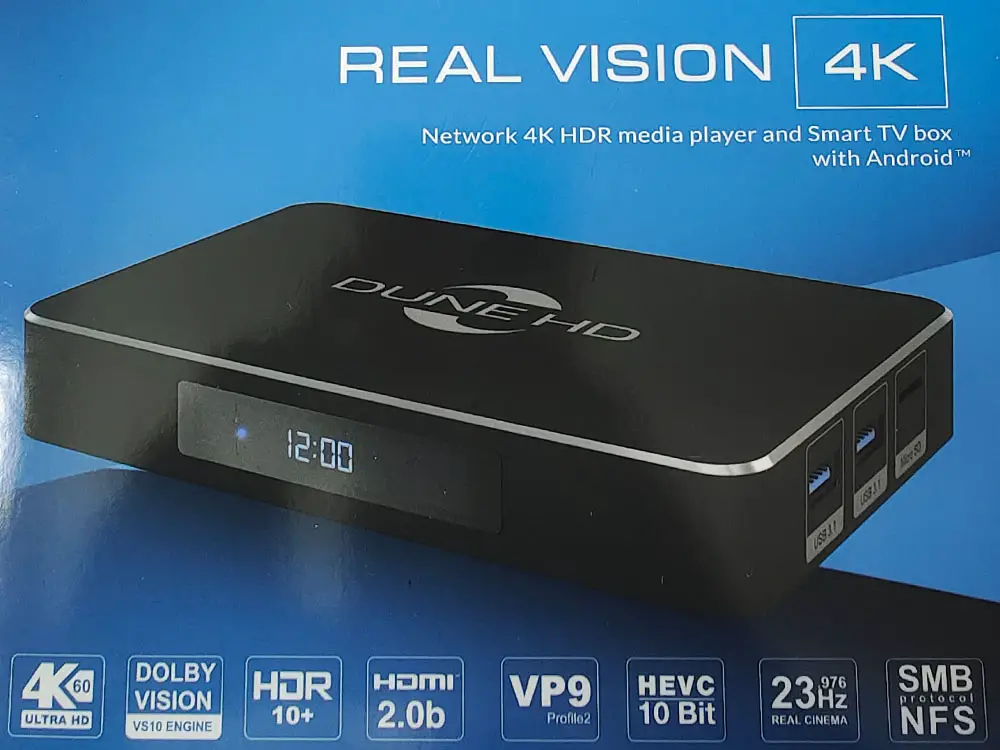 Last year we started to see the first Dolby Vision enabled machines but Dune HD was one of those that instead of using the latest Realtek SoC which would grand their Dune HD Pro 4K II the same support they went for the less capable RTD1619DD. This meant that Zidoo managed to beat them with the release of the Z9X which featured the latest SoC and Dolby Vision support along with it. And it seems that Dune decided to rectify this with the release of the Real Vision 4K as this finally uses the same, RTD1619DR chip and along brought for the first time Dolby Vision to Dune HD player hubs.
And by looking at the specs the Dune HD Real Vision 4K is not so much different from the Zidoo Z9X showing that they really had to up their game if they wanted to stay competitive. They may not have managed to be one of the first but as this is going to be for the long run at least their latest release seems to have all the necessary ingredients for success. As such the Dune HD Real Vision 4K uses Realtek's RTD1619DR SoC with 2GB of operating memory and 16GB of internal flash memory. The most interesting aspect of the new player is obviously support not only for 4K and HDR but also the more advanced HDR10+ and Dolby Vision.
On paper the Dune HD Real Vision 4K looks awfully similar to the Zidoo Z9X but with Zidoo's machine already in the market for some time they had the time to iron many of its initial bugs. The hardware is already proven so it will certainly be more of a software battle between these manufacturers. Does Dune HD managed to provide their new machine with a stable enough software to be competitive? Let's find out.
Design / Hardware
It seems that Dune HD hasn't change the overall look of the Real Vision 4K too much and it still is the same compact and simple design we got used from their previous releases. In fact the Real Vision 4K seems to be even smaller than its predecessor measuring just 160mm x 26mm x 115mm. We liked a lot that its case is made out of metal which makes it slightly more premium than many low cost Android boxes that are made out of plastic.
The metal case may be more of a looker but it will certainly help with temperature dissipation also. On the left side, looking at it from the front, there are some ventilation holes but in general it seems that the equipped SoC does not have high ventilation needs as there is no active fan and a passive solution is enough similarly to what we had seen in the Zidoo Z9X.
The front of the unit incorporates the functions display with a 4 position HH:MM digits configuration although its size doesn't make it much useful as the digits are relatively small to be of any practical use. The screen can display various information like the time, remaining time during playback and various other information depending on your preferences.
The other two sides is where we find all the connection ports and although there may not be as many as we did find in the Zidoo Z9X there are still plenty on offer. But we will talk about these in more detail on their appropriate section. Also worthy of mentioning is the extra long antennas which seems to be the norm in this type of media player hubs and are used for the WiFi and Bluetooth modules. These certainly add major height to the unit but thankfully you can position them at an angle and save some space.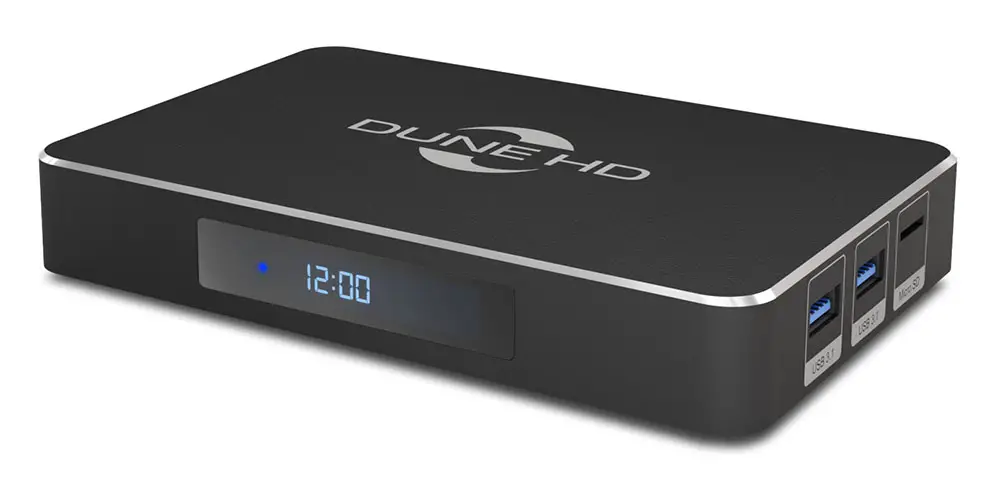 The internal hardware is the most major upgrade we fine in this new Dune HD unit. Dune HD was really late at the party as they decided to include a less capable SoC in their last year release but thankfully they learned their lesson even if a bit late to the competition. The Dune HD Real Vision 4K comes with the latest Realtek RTD1619DR SoC which is a six-Core ARM 55 CPU running at 1.55GHz along with the new Mali-G51 GPU with both of them promising a 70% and 50% increase respectively in performance compared to the previous generation of players.
In terms of memory the new Real Vision 4K is using 2GB of operating memory and 16GB of flash memory. If 2GB of memory seem little don't worry as our experience with the Zidoo Z9X showed that even with very demanding 4K files with HDR and high bitrates the Realtek SoC has no problems even with this limited memory.
Obviously the most juicy aspect of the new SoC is the Dolby Vision VS10 engine which enables the player to support Dolby Vision files that was impossible before. But more on this shortly.
Closing what we can say is that the Dune HD Real Vision 4K seems awfully similar to the competition. In terms of build quality, design and internal hardware there are not much differences, although the Zidoo does offer more ports that we will analyze in the appropriate section. It seems that Dune HD took a good look at what Zidoo made right and followed in the same footsteps. And judging by how good the Z9X turned out this may be a good thing for Dune HD.

Remote & Control Options
Dune HD has not only updated the unit itself but decided to change the included remote also. The one that was included in the previous Pro 4K II was a simple IR based one. How does the new one fares in comparison?
Well, it is better in some ways and this mostly has to do with its Bluetooth connectivity. But let's talk about its design first. The new remote has much less buttons in comparison making it feel less cluttered. The buttons are slightly bigger and better organized making the whole experience much better. Having both remotes at hand it shows how the new remote is easier to use. Dune HD did a good job at making the remote simpler in order to provide a better user experience.
As far as design and build quality there is not much to it. It is the usual remote made out of plastic with rubber buttons but we really like that some of them have different sizes making it easier to distinguish them as the remote lacks any backlight that would greatly help in the dark.
What is interesting is the inclusion of Bluetooth functionality which gives the remote additional functionality. With it grands you the ability to use the voice search in applications that support that and also use commands without the need for line of sight which can be very practical. The remote's IR capabilities also allows it to learn additional IR codes and use it to control other devices like your TV for example.
Overall we like what Dune HD did with the remote. If only it included a backlight function also then it would be a great one.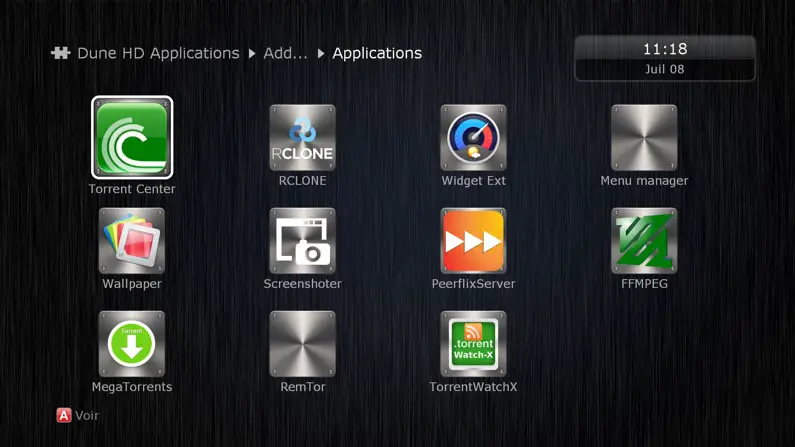 But the remote is not the only way to control the new Dune HD Real Vision 4K as it supports Dune's mobile app called Dune Control which is available both for Android and iOS devices. We really liked what Dune HD had done with their app and this is an area where we really feel Zidoo still has some work to do. The Dune Control app literally gives you complete control over your media player hub. Its main menu includes all the options and settings you will ever need either it is for movies, music or streaming.
In a way it fully replaces the standard IR remote control, allows browsing and choosing the media content directly on your mobile device (the menu shown on the mobile device mirrors the menu shown on the TV screen), and includes Now Playing section for convenient media playback control.
But a modern media player hub is not limited to only the above. Dune HD except from IR, Bluetooth and mobile app has included HTTP and IP control interface for those interesting in such types of control interface.
Ports and Connectivity
Next we will be looking at the connection ports available in this unit. Its predecessor, the Dune HD Pro 4K II came with a rather similar configuration to what the Zidoo Z9X had. Does the new Real Vision 4K follow the same route? Well from a first look it seems that it doesn't.

Looking at the unit from the front, on the right side we find two USB 3.1 ports and a single micro SD. At the back we get a single HDMI input, an SPDIF optical output, a Gigabit Ethernet port, an IR input port and lastly an audio/video output which includes composite video + analog stereo audio. There is also the usual 12 volts power connector and dual antennas for the WiFi and Bluetooth emitters.
The HDMI output is a 2.0b which means it can support up to 4K@60Hz which is just about what you need for any available video material. As you can imagine no HDMI 2.1 but to be honest as things are at the moment there is no need for 4K@120Hz here as the HDMI 2.0b is enough for all material with HDR, Dolby Vision, HDR10+ passthrough along with 12 bit, BT.2020 wide color range and YCbCr 4:4:4 color space.
As for its wireless capabilities the Real Vision 4K is using dual band 2.4+5 GHz 802.11b/g/n/ac 2T2R and along with its two big external Wi-Fi antennas promises stable connections across any situation.
It also features a Bluetooth 5.0 module, and with it the Real Vision 4K can support various connections like with a Bluetooth remote control or with other Bluetooth enabled devices.
Overall the Dune HD Real Vision 4K is lacking compared to the competition. First of all there is no HDMI input as with the Zidoo Z9X or the Dune HD Pro 4K II before it. Also it comes with less USB ports and no SATA connector that we are sure many would find handy. On the other hand it has added a micro SD but when you compare this to what it doesn't have we fail to see the logic behind Dune's decision to add this port. At least we do get Bluetooth 5.0 while the Zidoo Z9X uses the older 4.2.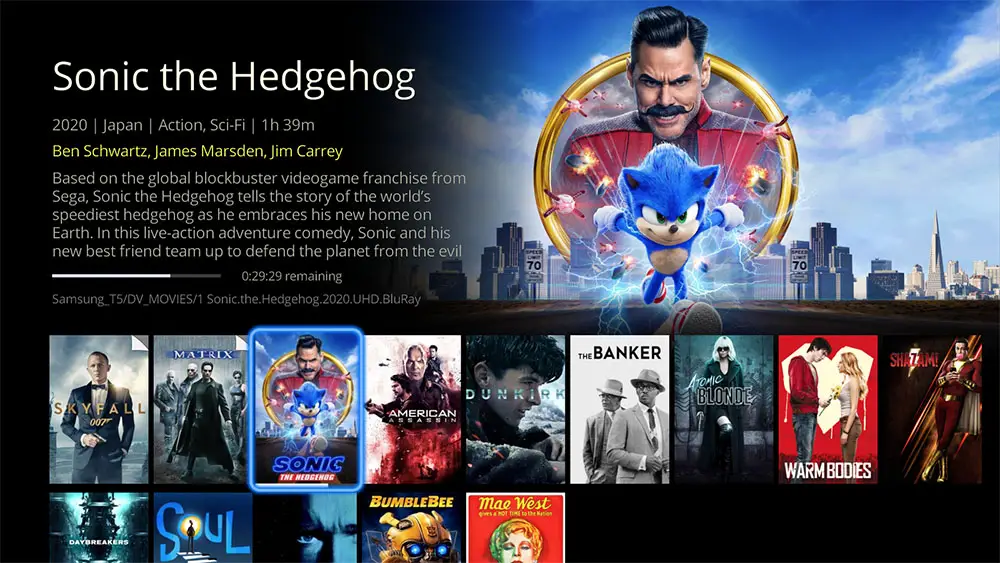 Playback performance
The success of any media player hub is dependent not only on how many features and functions are included but rather on how good file playback support it has and in how good quality it can playback them at. Because you can cram as much extra features as you want into the box, but if it cannot playback the files you want and in good quality there is no point.
Media player hubs, especially the latest releases were all very good at supporting the latest codecs and video files but there was one glaring omission. Dolby Vision support, something that the latest Realtek SoC was designed for. Unfortunately Dune HD made the mistake to use the less capable RTD1619DD SoC which had only HDR10+. With this year's Real Vision 4K it seems they have finally corrected that mistake and thus became equal to the competition.
In terms of actual playback quality we can say that the unit behaved very good considering its a new release. The player managed to play all files we threw at it either it was some low quality ones or high bitrate 4K MKVs with HDR and Dolby Vision. This is not the first time we see the VS10 engine in action and it has great potential the more mature its software will become.
Now before we go into a lot of details we need to mention that the Real Vision 4K supports automatic frame rate and resolution switching which includes not only solid frequencies such as 24/30/50/60 Hz but also 23.976 or 59.94 Hz. It should also be noted that when framerate switches we didn't notice any frame drops.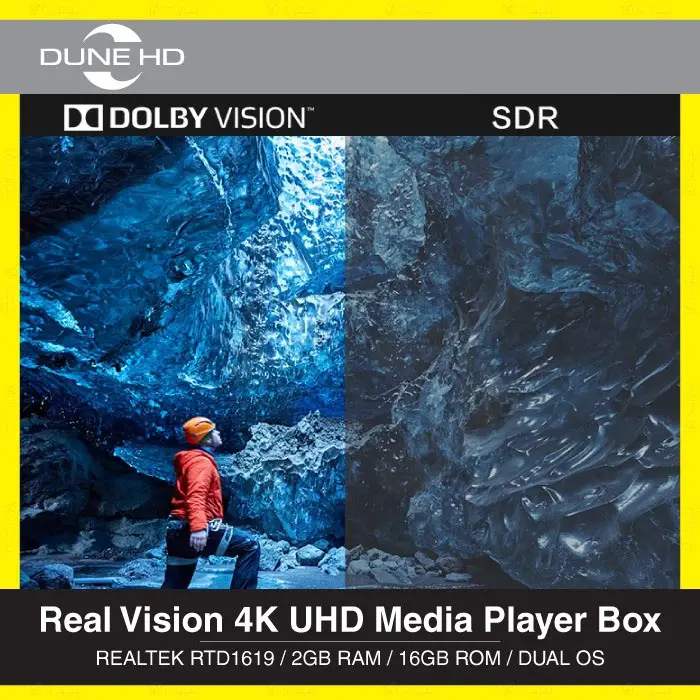 The major highlight of the Real Vision 4K is no other than Dolby Vision playback which is actually a first for Dune HD. Take note that the player can playback Dolby Vision enabled files not only in MP4 containers but also in the more widely used MKV ones. For those unaware there are different Dolby Vision profiles and the Real Vision 4K can support many of them with Dolby Vision profiles P4, P5, P7 MEL and FEL and P8 all supported.
For profile 7 there are actually two different types, the profile 7 MEL (minimal enhancement layer) and profile 7 FEL (full enhancement layer). The player seems to be able to playback both of them although there doesn't seem to be a lot of content with this specific profile available. Also impressive is that Dolby Vision is supported for all popular file formats like MKV, MP4, TS, M2TS, ISO and movie folder structure.
But other than Dolby Vision the Real Vision 4K is an extremely capable player as it supports most known formats and video files. In terms of video formats we get MKV, MPEG-TS, MPEG-PS, M2TS, VOB, AVI, MOV, MP4, QT, ASF, WMV and ISO support while the video codecs the unit can playback include MPEG2, MPEG4, XVID, WMV9, VC1, H.264, H.265, H.265 10-bit, VP9 and VP9 profile 2 with very high bitrate video up to 100 Mbit/s and higher. It can also play all popular 3D video formats, including MVC, Side-by-Side and Top-and-Bottom.
Also keep in mind that the unit supports direct playback of movie ISO/folder structures in Dolby Vision format (MEL and FEL). Other features include Apple's HLS adaptive bitrate streaming protocol and the MPEG-DASH adaptive bitrate streaming protocol.

The test files we had for this review included video samples in 1080p/H264, 1080p/H265, 4K@24p/H265, 4K@60p/H265, VP9, AV1 and with many of them in both 8-bit and 10-bit depth. We also had a few Dolby Vision samples at hand although not as many as we would like but we will make sure to expand our library for our future tests. The Real Vision 4K did play them all and at least for the files we tried we didn't experience any major playback issues.
The VS10 engine is the next best thing in the latest generation of media player hubs. And its power is evident across any type of TV you may have, either it be HDR or SDR, as it can translate any content to what your TV can handle with extreme efficiency. It is not perfect and there are still many bugs to iron out but judging where things are at the moment things look very optimistic for the future.
And since we mentioned SDR content we should not forget to talk about the Dolby Vision Low Latency (LLDV) that is included in the VS10 engine and is capable of converting SDR content to HDR, or Dolby Vision if you have such a capable display. Usually such conversion alters the colors and the end result is not as good as it should but the VS10 engine really impressed us with the results. Of course with SDR material you should better leave it the way it was meant to be seen but having more options is never bad.
In terms of subtitles support Dune HD made sure to include the most obvious ones like SRT (external), SUB (MicroDVD) (external), text (MKV), SSA/ASS (MKV, external), VobSub (MP4, MKV, external SUB/IDX), PGS (ISO, TS, MKV). There is also the ability to download subtitles from an online source if needed.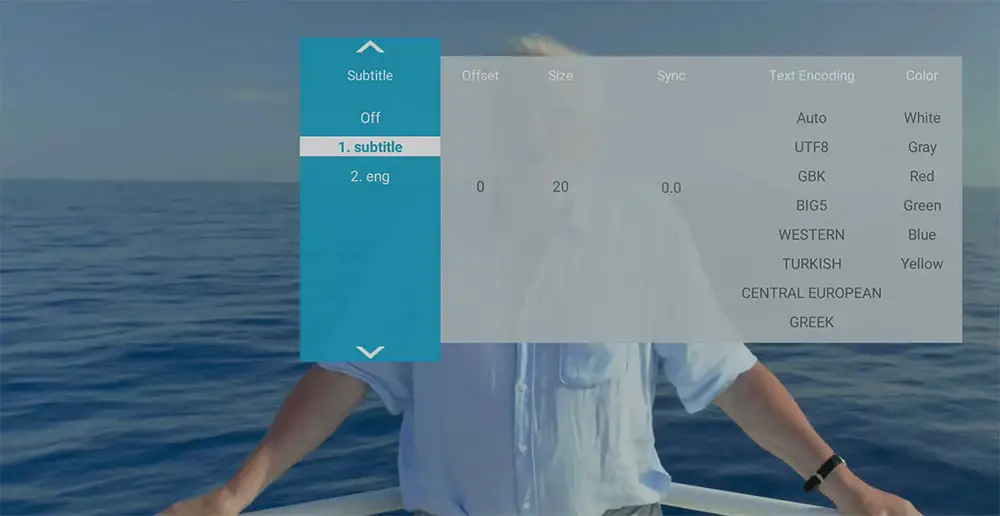 Dune HD has created a nice UI from where you have control over the subtitle's color, sync, offset, size and encoding. Changing everything is easy and you can see the changes in real time. We did like the Zidoo's subtitle engine just a bit better but no major differences and the one in Dune HD is sufficient enough.
It terms of online streaming the Dune HD is in a similar position to where Zidoo is really. There is support for most known online services but the experience you get out of most of them is not exactly the best. And this has to do mostly with the fact that most online services in a way boycott these media player companies. The kind of experience may vary over time as some apps may get better support while others can get worse and it's really an area where things are not crystal clear or will never be a sure thing. For example with the Netflix app we could only get HD video quality. The app in Real Vision 4K does not support either 4K resolution or HDR/Dolby Vision.
And we see a similar pattern with other streaming services also, with some getting better resolutions while other allow only SD content! Our recommendation is to either use your TV's streaming apps or some other dedicated streaming player as these will surely be able to do a far better job than any of these Android boxes will ever do. For the basics they are good but not for the best experience possible.
As far as audio output the unit supports all known formats and outputs them correctly from simple stereo and Dolby Digital and DTS surround formats all the way up to Dolby Atmos and DTS:X. Once again we had a few sample files at hand in various audio mixes and all of them played correctly. We did connect the Real Vision 4K to a Marantz AV receiver in order to determine if the output signal was indeed the correct one and in all our files information displayed correctly.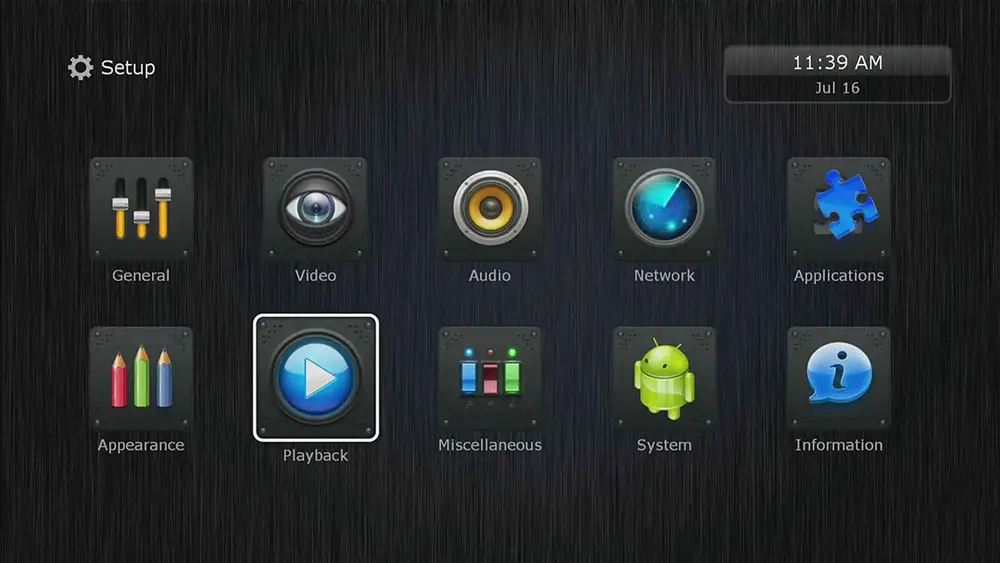 In terms of music files there is nothing the player cannot support. As such you can play files like MP3, MPA, M4A, AAC, WAV, FLAC, Ogg/Vorbis, WavPack, APE (Monkey's Audio), ALAC (Apple lossless), SACD ISO, SACD DSF, SACD DFF, AC3, DTS and DTS-WAV.
As for supported codecs we find MPEG-1/2 layer I/II/III, AAC, LPCM, FLAC, multichannel FLAC, Vorbis, WavPack, APE (Monkey's Audio), ALAC (Apple lossless), SACD DSD (stereo), AC3 and DTS.
You can also play Super Audio CD (DSD) music files in all popular formats  (ISO, DFF, DSF), including both stereo and multichannel files, along with files which use DST compression. Multichannel DSD files can be output to HDMI as high quality multichannel PCM (up to 176.4 KHz). Stereo DSD files can be output to HDMI and S/PDIF as high quality stereo PCM (up to 176.4 KHz)
As with the latest Zidoo the Dune HD's Real Vision 4K offering is the first that manages to offer Dolby Vision through its VS10 engine and this is the real breakthrough it has in comparison to previous units. The list of supporting files and codes is huge, as it always was, but the power of the Dolby Vision VS10 engine is unquestionable and as software matures more and more so will its capabilities.
Dune HD shot their own feet last year by choosing a SoC that was less capable than the competition. This will certainly leave a bad taste to all those that went for their player in 2020. At least the 2021 Dune HD Real Vision 4K is finally the machine we should have a year ago. It is now only a matter of getting the software better and iron out most bugs in order to create a really amazing player.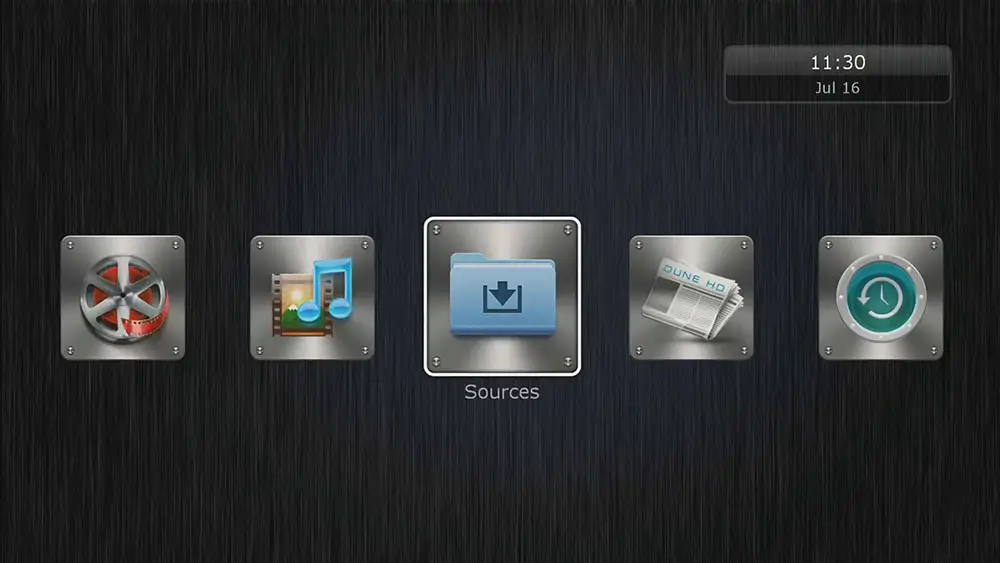 UI, Content and Apps
The Real Vision 4K is unique in a sense as there are practically two OS running in parallel. This hybrid OS consists of a Linux-based Dune HD OS that ensures stable operation and smooth media playback and the Android OS in order to support Android applications. After going through the initial setup you enter the main menu that consists of a single line of icons that is the main hub through which you can use all the player's functions.
We do prefer Zidoo's tile based UI as the one we get with Dune HD certainly needs a bit of time to get used to and find your bearings. Also with so many settings and options the way that Dune HD has structured everything can make things harder to find with many essential settings hidden under the Android OS rather than Dune HD's one. It certainly is more complex than it should be and we would suggest Dune HD to take the time and create a more universal structure that is easier to navigate and understand where everything should be.
Having two OS working in parallel meant that there are appa that you can download that are supported either by the Dune HD OS or the Android OS. As such Dune HD has created two different options from which you can find and download apps supporting either OS.
But except from a vast list of available apps there are also those that come built-in with the unit itself like the file manager system which in Real Vision 4K is called "Sources". With it you have the ability to browse through all your files, either these belong in a network drive, the internal memory or in a flash drive or hard drive you have connected to the available USB ports. Sources provide all the usual tools for copy/paste, delete and move files. There is also the ability to change the way you view the files. In general it's nothing fancy but will do the job just fine.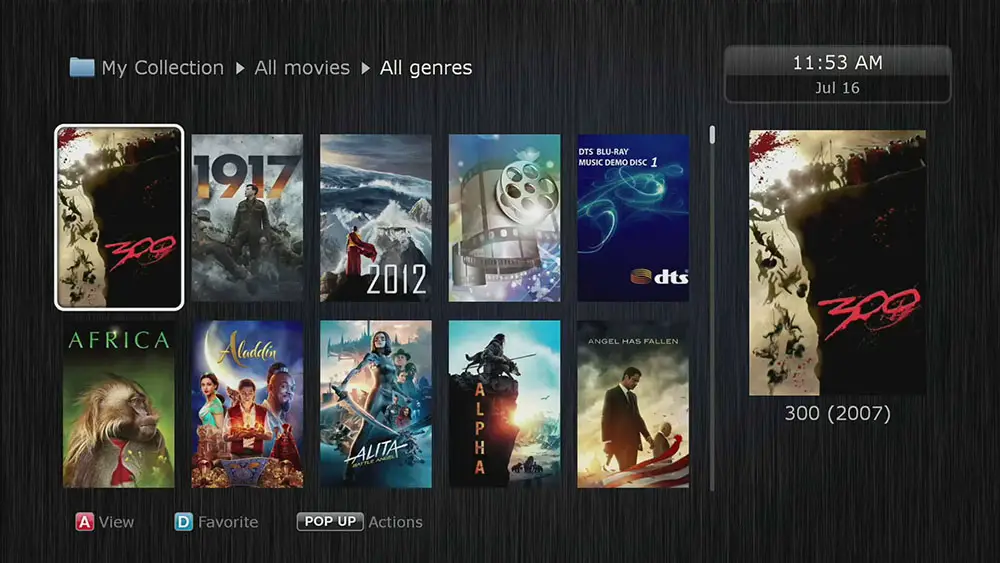 We also find the Poster Wall that Dune HD is calling "My Collection". Functionality may differ slightly from the other players but fundamentally it does exactly the same thing. In "My Collection" you can add any folders with video files you have and then scrape them to create a nice poster wall with all the movies you have. There are options to choose how to view the posters and there are more information to be found for each film separately along with details for the actors, crew etc etc.
Films can be filtered depending their genre along with many other options giving you a lot of freedom in order to present the wall the way you like it better and to help you find what you are looking for. Scraping was done relatively fast and it was pretty accurate although there were a few mistakes that needed manual handling. In general Dune HD's implementation of the Poster Wall was pretty good, stable enough, with good accuracy and good scraping speed. It can certainly improve in the future but what we saw we definitely liked.
In the Dune HD apps you will also find the built-in music player which to be honest is not as advanced as we would like it to be but is enough by including all the needed basic functionality. What we didn't like was that it was missing a progression bar which was an odd one considering that in the Dune Control app there is one available. In the music player you will have to press the info button for that to appear which can be a bit of an unnecessary action.
Although we are pretty sure that music is not the real strength of this player and most of its users will spend more time using it for films, during our time with it we didn't notice any strange behavior no matter what kind of audio files we tested. All the usual ones played just fine and even some High Resolution audio didn't seem to have any trouble either.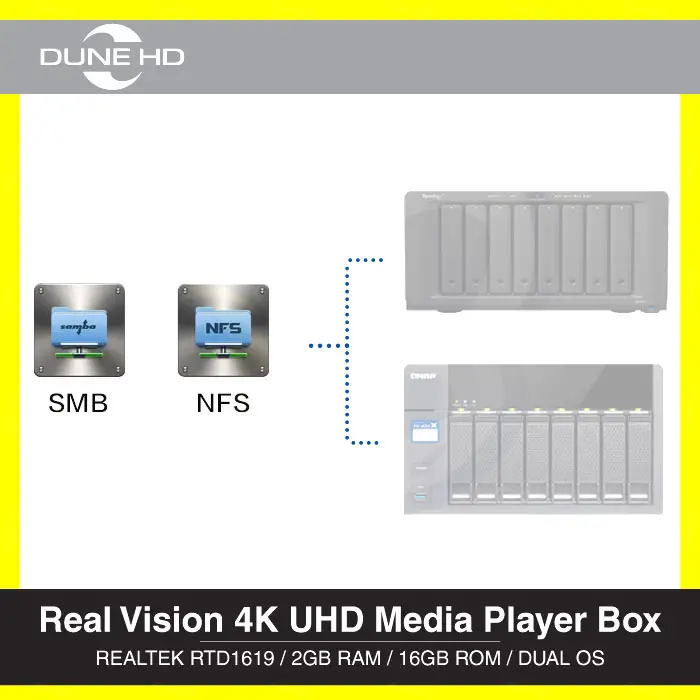 The music player has a nice screensaver which will reduce the screen into a small floating window. One feature that we couldn't find is gapless playback and if we didn't miss it somewhere in the settings then this surely is one feature that Dune HD will really need to add in a future firmware update.
The good thing with these Android boxes is that even if you don't like the intergraded apps you have the ability to install 3rd party ones. As such if you don't like the included music player there are other options to consider like the HiByMusic app.
Such media player hubs are usually meant to work with some kind of network hard drive and as such Dune HD made sure to include all the necessary support. As such we find NFS, SMB and UPnP/DLNA which is mostly what you will need to access some short of network drive or a NAS server. And with its gigabit network adapter streaming content through a wired network ensures uninterrupted  viewing. During our testing even high bitrate files were able to stream without any buffer problems through our local NAS. Yes, it may take a few seconds when you initially start the file but after that we didn't notice any major delays.
Lately media players have started incorporating more and more smart home integration systems and the Real Vision 4K is not staying outside the game. As such there is both Control4 and Creston integration if you use either of them but there is also IP control as an option for you to choose.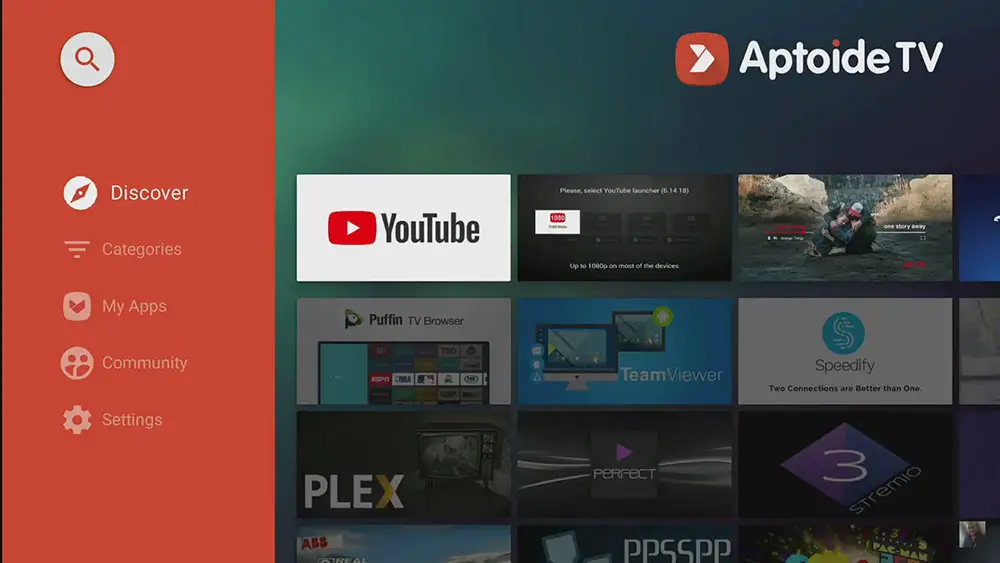 Final Thoughts
Dune HD really missed the mark last year but they came back with a vengeance in 2021. Zidoo already has a strong foothold here with almost a year of experience into the new VS10 engine but it seems that in this one year Dune HD did their homework. As a result the new Dune HD Real Vision 4K comes in a much more mature form than the Zidoo Z9X came during its initial release. But does it manages to surpass the competition? Not exactly as we still prefer the Zidoo Z9X over the Real Vision 4K but the gap between them is really small and both machines offer a very similar set of features.
On the one hand the Real Vision 4K is a remarkable player. It can play almost anything you throw at it and can do it with noteworthy stability. Yes, you need some time to learn the machine and its multiple menus and more than necessary complex settings will not make things easy for the casual user but if you spend just a bit of time to learn it, it will surely worth your time. Its solid playback capabilities and Dolby Vision VS10 engine is complemented by a very good duo of OS systems with Dune HD's OS and Android OS going hand to hand while the hardware and build quality in general is as high as the competition.
As for its downsides most of them are the obvious ones. This unit, along with many other similar Android based players should not be considered streaming machines. They have the hardware needed but streaming services refuse to give them full licenses making these manufacturers offer half baked solutions that ultimately leave a lot to be desired. As such if streaming online is of huge importance to you then better turn your look into a dedicated streamer. Also compared to a myriad of cheap media player boxes the price of the Real Vision 4K may be to some a bit high. And lastly the unit lacks a bit in connectivity ports compared to the competition.
Closing we have mostly positive thoughts towards the new Dune HD Real Vision 4K. Dune HD made the right decisions this year in order to bring a player to the market that is almost on par with the competition and offers plenty of value and flexibility. Surely software will mature even more as time goes by and this new generation of players are surely the cream of the crop as far as dedicated media player hubs is concerned and the Real Vision 4K can be considered an excellent choice if you are serious about your home entertainment needs.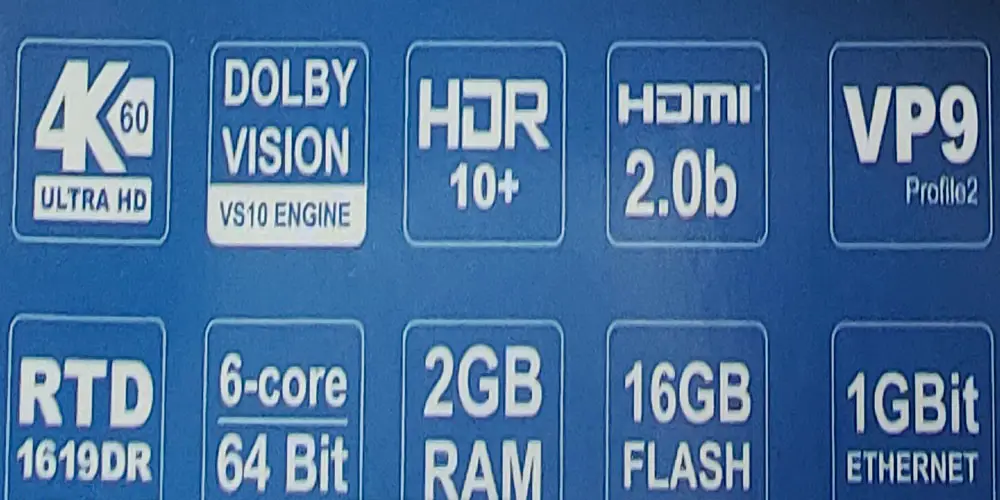 For more reviews you can check our dedicated Media Player reviews list or even look at our Product Reviews Table where you can find the brand and specific product you are looking for.
Also don't lose the chance to subscribe to our Newsletter and gain exclusive privileges.
---
Cheapest Places to Buy :
---
Dune HD Real Vision 4K Specifications