Zidoo Z9X
Reviewed at $229.00
Design / Hardware -

96%

Ports and Connectivity -

95%

Playback performance -

95%

UI, Content and Apps -

93%

Price / Quality -

92%
---
Cheapest Places to Buy :

---
Media player hubs have come a long way the last few years and today we have reached a point where the market is flooded with so many cheap models that can make the more casual consumers more confused on what they should choose. Obviously as with every market there are a few big names like Dune, Mede8er, Zappiti and Nvidia but today we will be talking about another lesser known brand that has managed to make big waves in this market the last few years and continue to do so with their latest release. The company we are talking about is Zidoo and in today's Zidoo Z9X review we will be looking at their latest release that promises to bring some major advancements in the media player hubs field.
For those not familiar with Zidoo they are a relatively new company, only founded in 2014, but they really made a name for themselves in 2016 with the release of the amazing X9S which brought 4K HDR playback to the table along with a whole lot other functions and capabilities. Now there seems to be some confusion between the Zidoo media players and some other models in the market and what we can tell you is that Zidoo, while providing online streaming capabilities their products were more focused in offering a better offline experience.
But this seems to have slightly changed with their latest Z9X as this time they tried to not only offer the natural progression in image quality for offline and local streaming but they also tried to improve the one area where it seemed they had slightly neglected. As such the new Zidoo Z9X is a model that has a lot going for it. Armed with the latest Realtek RTD1619DR SoC along with the new Mali-G51 GPU, 2GB of DDR4 RAM and 16GB of eMMC flash memory this media player is certainly on the cutting edge of technology.
And if you consider that one of the major additions is the inclusion of the Dolby Vision VS10 engine that gives the ability of playback both HDR10+ and Dolby Vision enabled files then this unit is more capable than you may think. But this is early days for VS10 enabled media players and all comes down to how refined this is in these new releases, so without further delay let's dive into our analysis.
Design / Hardware
Zidoo has kept their releases relatively similar as the new Z9X seems to borrow elements from both their original X9S but also from their next release that was the Z9S. What we like a lot is that unlike many of these media players that use the usual plastic shells Zidoo aims for something that feels slightly better quality and more premium. As such the unit gets the familiar Aluminum Alloy case with a matte grey finish that is similar to the X9S but it seems they have used the small design upgrades they had made in the Z9S like in the front display for example.
The metallic case certainly gives a more premium look to the Z9X's shell and we like the fact that it's not a fingerprint magnet like some other media players we had seen that like to use more gloss black plastics. And also keep in mind that using a metallic case slightly helps with heat dissipation and although this was never a problem with these Zidoo units the cooler they can stay the better.
And since we mentioned temperature management the unit along with its metallic case has plenty of ventilation holes both on the left side, as we look it from the front, and also at the bottom of the unit. The box uses four rubber feet and gives certain breathing distance under it to cool it sufficiently.
At the front side we find the functions display which is the same that had been used in the Z9S and is an upgraded version to the one we had seen in the X9S. The screen can display various information like the time, remaining time during playback and various other information like WiFi and resolution but these are fairly small to see them if you sit at a distance and they are there just in case you need to see what is going on.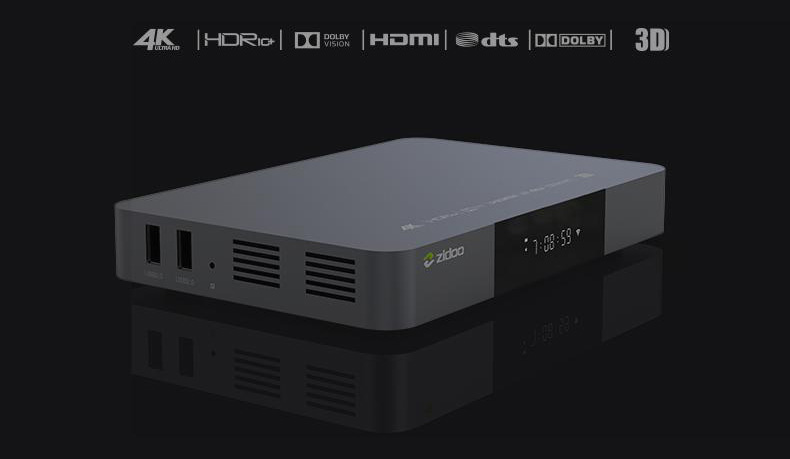 The other three sides is where we find all the connection ports and as with all previous releases the Z9X comes fully packed. But we will talk about these in more detail on their appropriate section. One thing that is worth noting is the huge dual antennas that the unit comes with which is very characteristic of all three Zidoo releases of the same class. These certainly add some noteworthy height to the relatively small case but at least you can turn them sideways to save some space. Unfortunately the antennas are fixed and cannot be taken out without surgically removing them.
And while the case may not be anything overall new, Zidoo made sure to up their game by including all new hardware in order to give the Z9X the necessary power in order to support some very interesting new features. As such we find the next generation Realtek RTD1619DR SoC which is a six-Core ARM 55 CPU running at 1.55GHz along with the new Mali-G51 GPU with both of them promising a 50% increase in performance compared to the Realtek 1295DD chipset found in the Z9S. In terms of memory things haven't changed much as Zidoo still uses 2 GB of DDR4 ram and 16GB of eMMC flash memory.
All this processing power is necessary because as you will read below the new Z9X supports some exciting new features and these are very demanding in terms of resources, something that the older chipsets did not support and could not handle. We were hoping to get some slight boost in ram but it seems that Zidoo deemed that 2GB was enough so we will see how this will affect the overall outcome in our tests below.
Overall Zidoo offers a very nice package in terms of both design and quality. The Z9X certainly doesn't reinvent the wheel but Zidoo had already a great design on their hands that didn't need much change. This and with the necessary upgrades on the hardware guaranteed that the Z9X remains on the cutting edge of technology that Zidoo got us used the last few years.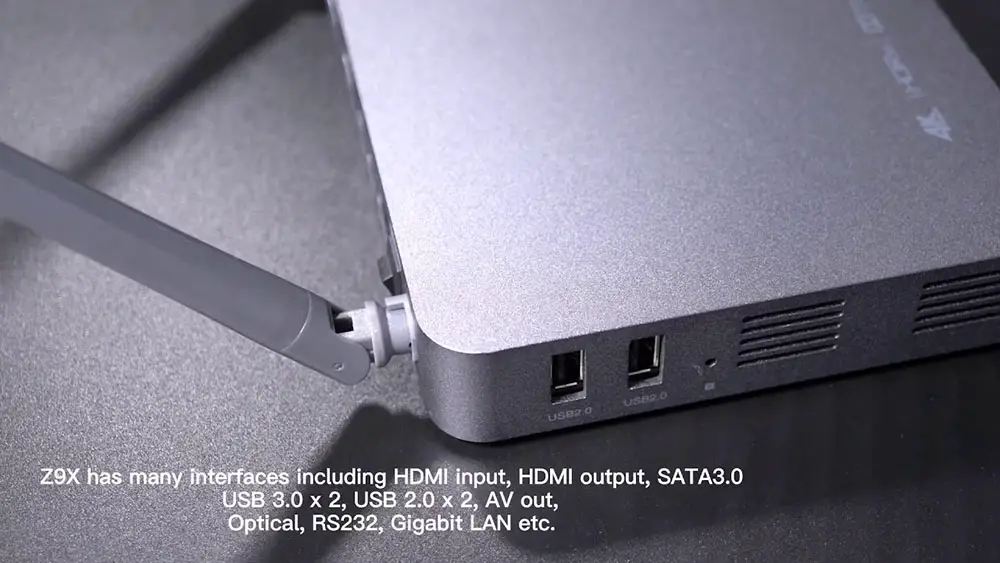 Remote & Control Options
One complaint that many users had when the X9S came out was the subpar remote that Zidoo had included with it. But the manufacturer did listen and with the Z9S they had updated it with a much improved version which seems to be the same one we find here also.
The remote is using a plastic gloss shell which looks good enough but is bound to be a fingerprint magnet and certainly scratches will start to show after heavy use. Size is slightly bigger than what we would like but is good enough to incorporate all the necessary buttons while their layout has been thoughtful in order to reach the most usable buttons without much hassle.
The buttons have been grouped in 5 different sections with the top being the learning area where we find some buttons that can be used to control your TV which can be a huge practical feature in order to minimize the amount of remotes you have to use each time. Next we get the usual numeric pad with the navigation controls sitting exactly at the middle. Below that a set of 9 buttons include the playback functions along with a few other interesting features like the mouse mode which turns the remote into a mouse for some more specific functionality and lastly we find two sets of shortcuts for easier access to specific functions that you can set yourself.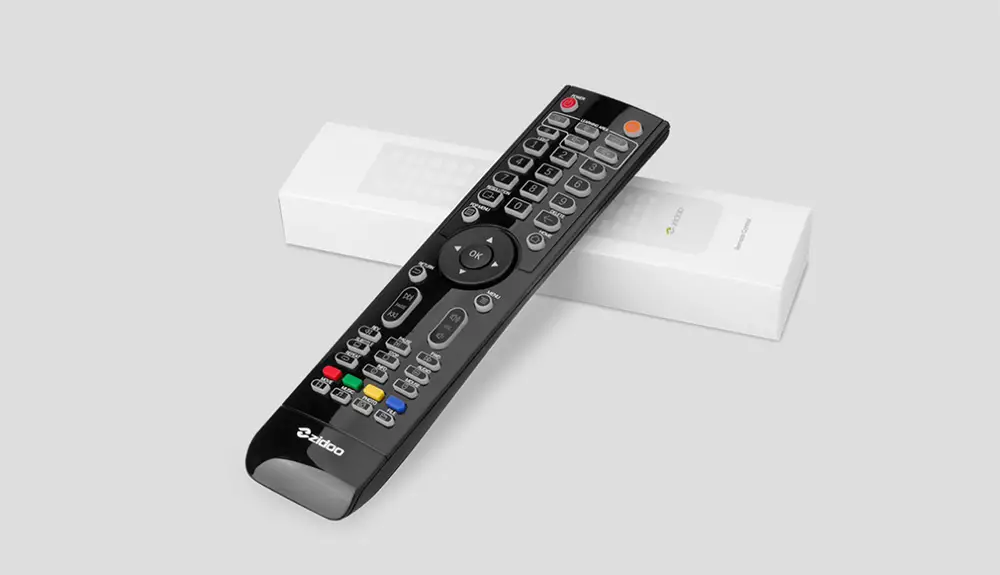 All buttons are made out of rubber but the most important improvement is the inclusion of a backlight which makes such a huge difference when using it in the dark. One last thing we should note is that this is IR based which means you need line of sight to issue your commands as Bluetooth functionality is reserved only for the top tier models Zidoo has released. Overall a very nice and practical design and provides everything needed for easy and trouble free controls.
But as with most home cinema equipment these days mobile app control couldn't be missing and as such the Z9X supports Zidoo's Controller App which is available for both Android and Apple devices. Controlling the media player through your mobile device can have certain advantages as this is not only meant to be used for movies. As such you can listen to music without having to turn on your TV or projector and you can also set Home Theater and Music Player without having to suspend their playback. It's a nice app overall offering a lot of functionality and it is worth a try.
But control functionality doesn't end here. Zidoo made sure to include HTTP (standard WOL are supported), RS232,HDMI-CEC functionality, Bluetooth and IR control methods for smart control systems so the Z9X can be ideal for any kind of custom made systems and surely gives plenty of flexibility and options to its owner.
Ports and Connectivity
Let's take a look at the available ports we get in the unit. The Z9X continues the trend that Zidoo started by offering a lot of options for such a small box. This is evident as there are ports available not only on the back but also in both sides leaving no space unused.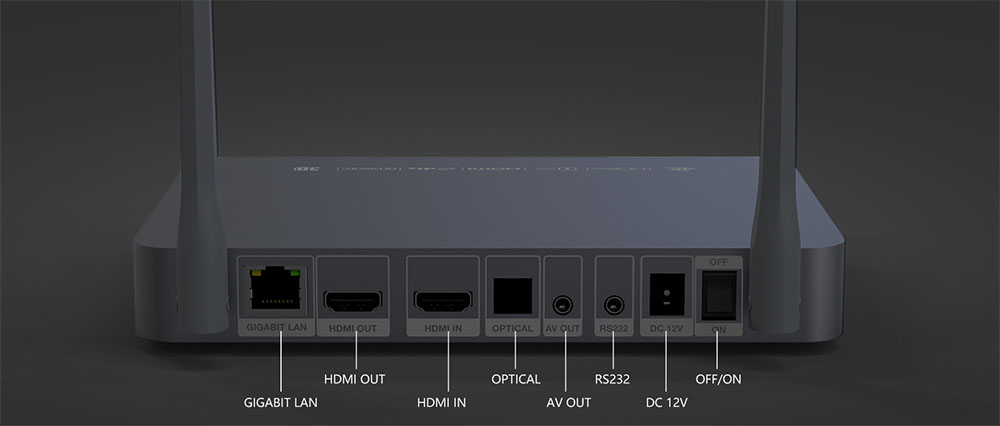 Looking at the unit from the front, on the left side we find two USB 2.0 ports while on the right side another two USB 3.0 this time. There is also an external SATA 3.0 connector for those that prefer this type to connect an external hard drive. At the back now and from left to right there is a Gigabit Ethernet port for wired connection to your local network, one HDMI output, one HDMI input, an SPDIF optical output (5.1CH only), a 3.5mm AV output, a 3.5mm RS232 port for control along with the power connector and the power switch next to it.
The HDMI output is a 2.0a which means it can support up to 4K@60Hz which is just about what you need for any available material. As you can imagine no HDMI 2.1 but to be honest as things are there is no need for 4K@120Hz here as the HDMI 2.0a is enough for all material with HDR, Dolby Vision, HDR10+ passthrough along with 12 bit, BT.2020 wide color range and YCbCr 4:4:4 color space.
As for its wireless capabilities the Z9X has a built-in 2.4G+5G dual-band 2R2T MIMO WIFI module with a theoretical wireless transmission rate of up to 867Mbps. And with its high-gain antennas it can avoid interference and maintain a stable and high-speed connection even in more difficult network environments.
It also features a Bluetooth 4.2 module, and with it the Z9X can support various connections like with a Bluetooth remote control, Bluetooth mouse, Bluetooth speakers and Bluetooth headphones. We would like to have Bluetooth 5.0 at least but no luck here.

Overall you cannot ask for more from such a small box. It has literally everything and much more that what you would find in similar boxes showing that Zidoo is doing everything to provide their users with the most options possible.
Playback performance
The success of any media player hub is dependent not on how many features and functions are included but rather on how good file playback support it has and in how good quality it can playback them at. Because you can cram as much extra features as you want into the box, but if it cannot playback the files you want and in good quality there is no point. And here Zidoo was always at the top of their game. The previous Z9S had after many firmware updates reached a very stable level with very minimal problems in terms of overall playback performance so with the new Z9X there was bound to be more work to be done.
Even in these early days we can say that the Z9X is very stable most of the times and was able to playback many of the files we threw at it without any major problems. Obviously with the new VS10 engine there are many bugs to be ironed out and many obstacles to overcome but judging Zidoo's history on firmware updates we are optimistic that things will get even better as we go.
Now before we go into a lot of details we need to mention that the Z9X supports automatic frame rate and resolution switching which includes not only solid frequencies such as 24/30/50/60 Hz but also 23.976 or 59.94 Hz. It should also be noted that when framerate switches there are no frame drops. Also some previous Realtek SoCs had problems with stutter during VC-1 codec playback something that seems to have been fixed with the new one.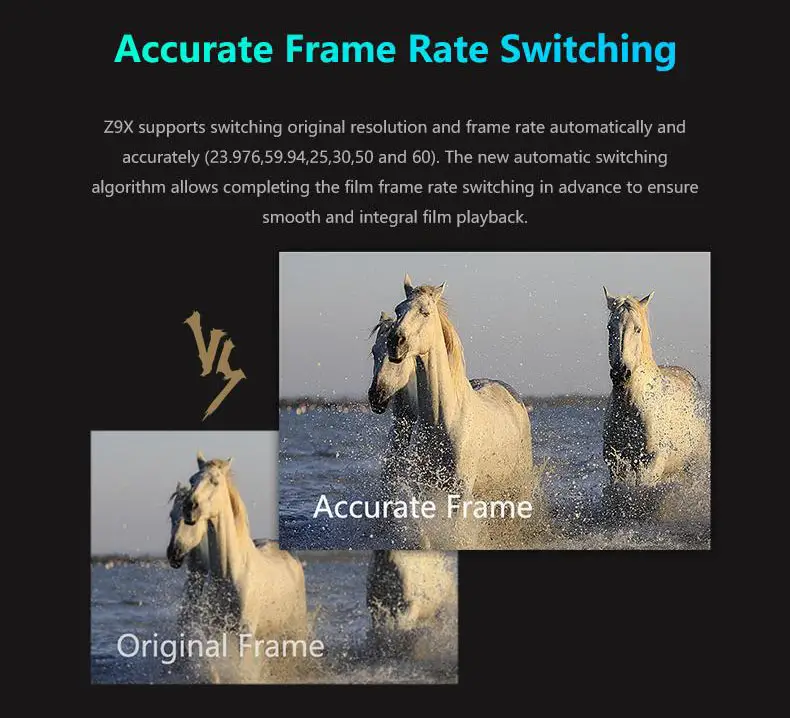 The Z9X has also more accurate HDR10 static metadata (MaxFall,MaxCll) processing so in case you have a HDR10 capable TV the player sends the correct tone mapping information.
The major highlight of the Z9X is no other than Dolby Vision playback but while this is certainly a huge advancement, it's not without a few special conditions. Firstly we should note that the player can playback Dolby Vision enabled files not only in MP4 containers but also in the more widely used MKV ones.
For those unaware there are different Dolby Vision profiles and the Z9X can support many of them with profiles 4, 5, 8 and 9 which are the most important ones but with one exception, profile 7 which is used for UHD Blu rays. For profile 7 there are actually two different types, the profile 7 MEL (minimal enhancement layer) and profile 7 FEL (full enhancement layer). The player officially does not support profile 7 but we can confirm that for profile 7 FEL the Z9X will use only the HDR10 layer and thus only display HDR10 on screen while for profile 7 MEL it will display Dolby Vision but it's unknown if the data translate on screen correctly.
Z9X is using a powerful player that supports a staggering amount of video files and codecs including BD/UHD Blu-ray (BDMV/ISO), 3DMVC (Blu-ray, MKV), MKV, M2TS, MTS, TS, MP4, MOV, AVI, WMV, MPG, MPEG, VOB, FLV, 3GP and TP among others. As for its BD/BD3D/UHD full Blu-ray capabilities the Z9X supports navigation and complex MPLS structure Blu-ray seamless branching playback. It also can playback almost all 3D video formats including MVC 3D (Blu-ray\MKV).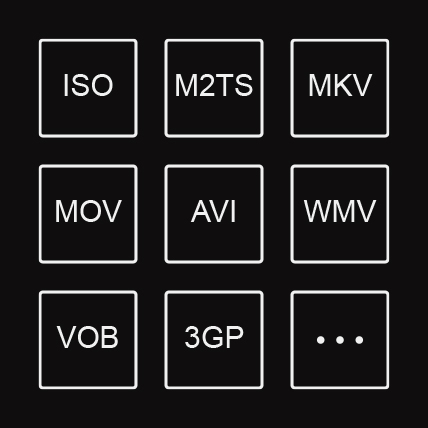 One thing to keep in mind is that while the player supports full UHD Blu rays, it cannot display Dolby Vision as there is no support for it as we mentioned above. On the contrary if the UHD Blu ray comes with HDR10+ this will correctly be triggered even during full menu playback as HDR10+ is open sourced and available to be used.
We tried a vast amount of video files in order to determine what kind of quality we could get and most files played normally without any problems at all. From 1080p/H264, 1080p/H265, 4K@24p/H265, 4K@60p/H265, VP9, AV1 and with many of them in both 8-bit and 10-bit depth the Z9X didn't indicate any notable glitches.
One thing that should be noted is that in both Realtek and VS10 engine modes there seems to be a problem with raised black levels. Many casual users may not notice this but this has been a known problem and hopefully it will be improved with some update.
As for the Dolby Vision VS10 engine we really liked what we saw and in all honesty there is so much room for improvement. The fundamentals are there and with its support for all kinds of material either it is Dolby Vision, HDR10, HDR10+, HLG or simple SDR content the sky is the limit.
And since we mentioned SDR content we should not forget to talk about the Dolby Vision Low Latency (LLDV) that is included in the VS10 engine and is capable of converting SDR content to HDR, or Dolby Vision if you have such a capable display. Usually such conversion alters the colors and the end result is not as good as it should but the VS10 engine really impressed us with the results. Of course with SDR material you should better leave it the way it was meant to be seen but having more options is never bad.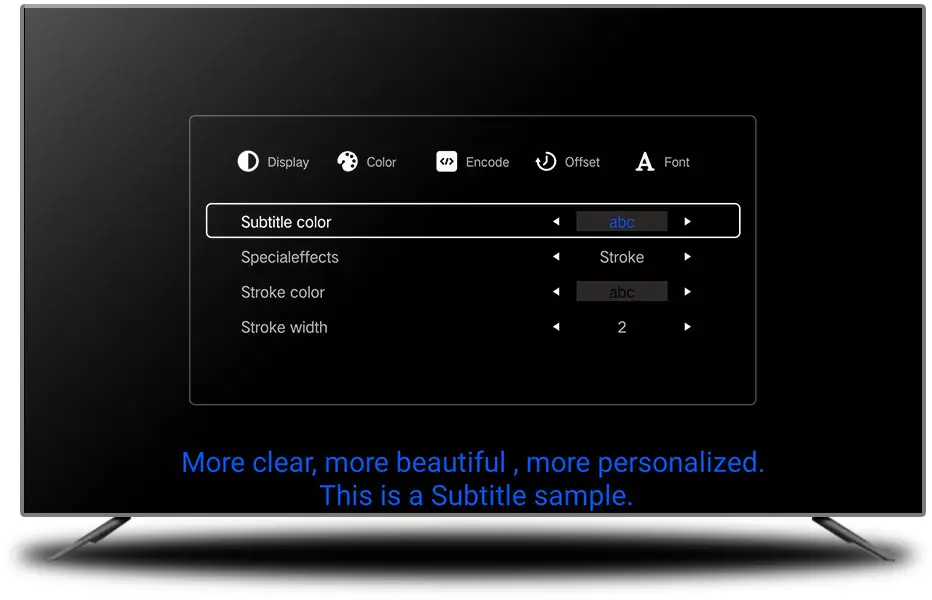 From the early days of the X9S Zidoo went ahead and created a very powerful subtitles engine which cannot only automatically search and match subtitles for movies on the Internet but gives you extreme customization options in order to make them the way you want. Everything for the subtitle fonts, colors, special effects and location on screen can be customized. There is also a huge list of supported formats including PGS,ASS, SSA, SUP, SUB and SRT subtitles. MKV and Blu-ray forced subtitles are also supported.
In total we really like the subtitle engine that Zidoo created. It's easy to use, simple to understand and indeed very powerful with its customization options giving you complete control over the subtitles rendering on screen.
We mentioned before that while the Zidoo products try to offer a complete package in terms of what they offer they were always focused more in creating a player that would be better at supporting offline or locally stored media. As such the support from online streaming services were always suffering. With the Z9X it seems that Zidoo tried to improve on that front but it still remains an afterthought compared to unit's other playback capabilities.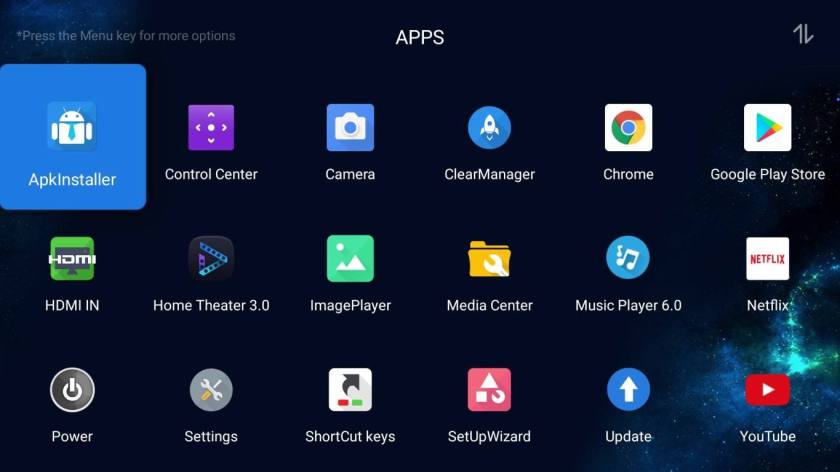 Although you will most certainly find most of the online streaming services available the apps you can use do not provide the best quality possible and this most certainly has to do with the licenses Zidoo decided to pay to these companies to get the necessary support. Now this may change with future firmware updates but at least for the unit we tested you can see in the table below the kind of playback quality you get from the available apps.
As you can see from this list there is a lot to be desired in terms of the quality you can get from these services right now. Most of them do not support 4K resolution, with Amazon Prime even rendering at only SD resolution, and most of them can output only in stereo so if you are using a lot of these services the Zidoo Z9X is not the best option to consider. We would recommend you to buy a streamer box that can do a far better job supporting the best quality these services have to offer. For occasional use the Z9X may be ok but just barely.
As far as audio output the unit supports all known formats and outputs them correctly from simple stereo and Dolby Digital and DTS surround formats all the way to Dolby Atmos and DTS:X. We tried various files in most known formats and all of them did output in their correct format according to our AV receiver.
The Zidoo Z9X is an amazing piece of equipment and the addition of the Dolby Vision VS10 engine extends its capabilities tenfold by adding the much desired Dolby Vision and HDR10+ support that was missing from all media player hubs till recently. There is huge future potential in the VS10 engine and there are many things that needs to be corrected still but the Z9X is a big step forward and it can get only better from now on.
The Z9X takes everything its predecessors had in terms of file support and playback capabilities and makes a leap forward by adding much desired features that fans were asking for. It remains to be seen how much an improvement can Zidoo make through the software in order to reach a state where the VS10 engine can perform according to its true potential.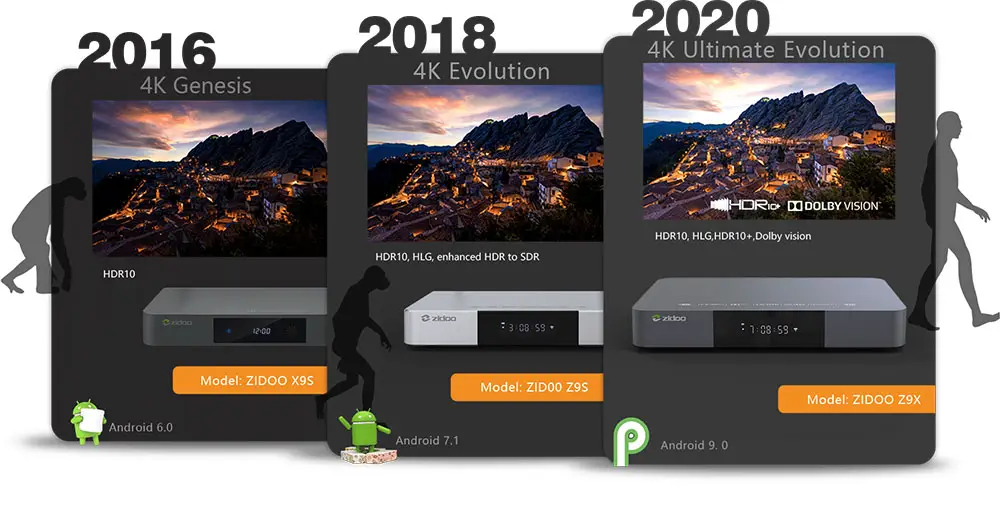 UI, Content and Apps
The Zidoo Z9X is using Android 9.0 and if you have seen any of the previous Zidoo releases then you will not find any surprises here in terms of the main UI being utilized. The OS has been adapted for TVs and is using a tile based design that is very easy to use and navigate with the included remote. The main tiles include the time and weather, the apps menu, the media center, Home Theater 3.0, a browser, a quick settings menu and three smaller buttons for cleanup, app lock and the information tab.
From the apps menu you can find all the available pre-installed ones and add them as single buttons that are placed in a single, straight line at the bottom of the screen. But even if there is an app you are looking for that is missing, afraid not as this is Android we are talking about so a simple visit to the Google Play store will enable you to download a huge selection of apps and services available. Now keep in mind that all of the tiles and buttons in the custom Zidoo main screen are customizable and you can re-arrange everything to your own free will.
In the settings everything has been nicely organized and separated into five different tabs which are Playback, Display, Audio, Network and Others and each tab has its own sub-menus and settings that you can fiddle with. There has been no major changes here and Zidoo has just rearranged things a little bit in order to accommodate a few new features but other than that we get the familiar layout we have been offered in all their releases.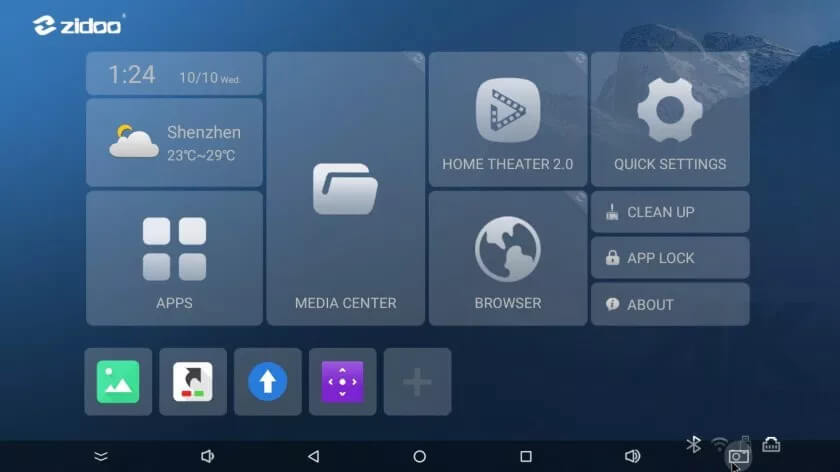 We need to mention that many of the settings found here can also be changed on the fly during playback. With a press of a button a column on the left appears with all the function categories you can change that include subtitles, audio tracks and many other image centric features. Zidoo has made this as easy to navigate as possible in order to make all changes fast without the need to go to the main settings menu again and again.
Along with the customized Android OS in all their units Zidoo has been adding a few of their own apps which are the Media Center, Home Theater and Music Player.
Media center is basically Zidoo's file manager program and with it you can access all your files either you have them in a connected external USB storage like a flash drive or hard drive but also if you have them stored in a NAS drive in your network. The layout of the Media center is amazingly simple and give you plenty of options to connect either locally or through SMB and NFS. Also there are options to copy, paste, cut or rename files so all basic features are accounted for.
Next we get Zidoo's Home Theater or Poster Wall as both naming have been used lately and with the Z9X we have reached Home Theater 3.0 which offers some notable updates compared to the previous versions. Now there are more customization and grouping options than before and you can also add a trailer to each movie tab that was not available before. Scanning of all your media is done quickly but if this is the first time you go through your library there are bound to be some wrong identifications so you will certainly have to go through them to see if there are all correctly labeled.
We have seen many poster wall implementations over the years from various manufacturers and to be honest we like what Zidoo has done here. It's easy to use, fast enough to identify all posters and although it may not be the most accurate one we have seen it's good enough for us.
We also get the newly upgraded Music Player 6.0 which supports lossless playback and decoding, personalized settings and associated songs data matching. With it you can playback audio files like master-level DSD (SACD ISO,DFF,DSF,DSD etc.), regular lossless formats (FLAC, WAV, APE, DTS etc.), CUE track and CD-ROM playback (SACD).
A rather unique feature that Zidoo likes to add in their units is the ability to record content through its HDMI input. Not many media player hubs can do that and while this has certain limitations it can be a rather handy feature to have. Recording is bound to certain restriction like the incoming signal has to be free of any DRM system. The app gives you the ability to do streaming through the Broadcast option or start PiP which will show a smaller window with the incoming signal that you can resize and reposition at will.
The app gives you a few options regarding the resulting file but these are rather limited to only choosing the file type between TS or MP4, choose the bitrate from a scale of 1 to 10 and adjust the audio quality.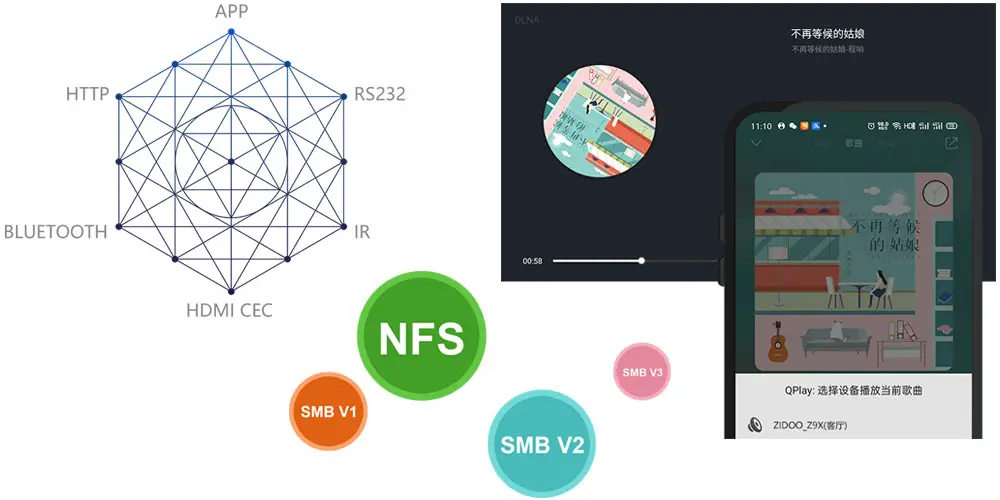 With local networks being a standard nowadays a capable media player hub should be able to support all kinds of protocols in order to cover all situation and home configurations. As such the Z9X not only supports Gigabit network transmission but can work with all known network protocols like NFS, SMB v1/v2/v3, UPnP and FTP. It will automatically scan all available network drives in the LAN and read data quickly and reliably. NAS, PC and other servers are naturally supported.
Z9X also supports DLNA network protocol and with it videos can be cast from cell phones or tablets to a large screen, while audio can be played synchronously on display devices from cell phone music apps. There is also Roon Ready support, Spotify music streaming and DRM Widevine L1 to enjoy high-quality online video playback.
Lastly we should mention custom integration as the Z9X has got pass through Control 4 smart control certification which enables it to connect easily to certain smart home configurations.

Final Thoughts
Last generation's Z9S may have been a small upgrade over the previously highly respected X9S but with the Zidoo Z9X we are entering the next step in the evolution of the media player hubs as the number of improvements especially in the playback capabilities of these units are undeniable. The Dolby Vision VS10 technology is certainly the highlight and the one that promises to bring Dolby Vision image quality that was missing till now and can benefit not only Dolby Vision enabled content but all shorts of SDR and HDR material.
The Z9X has so many things going for it that it's hard to mention everything in a single paragraph. Build quality and internal hardware is impressive as always and the new Realtek RTD1619DR SoC is a real powerhouse giving the Z9X the necessary processing to make the VS10 engine work its magic across all kinds of video content including Dolby Vision and HDR10+ files. Zidoo has made great work on image quality and things will certainly improve with future firmware updates. And if you add to these the plethora of features and functionality the Z9X packs in its small box it's undeniably one of the better media player hubs this moment on the market.
On the downsides obviously these are still early days for Dolby Vision enabled media players and there is a lot of bugs that still need to be ironed out. The future potential of the VS10 is undeniable but as everything new it needs its time to mature. Also (UHD) BD menu implementation is wonky and some menus don't work as they should. Hopefully Zidoo will improve this as we get new updates also.
Another thing is that while the Z9X has been improved as far as its streaming capabilities is concerned the unit still remains a better local network media hub rather than an online streamer. So if you want the best streaming services experience you better look elsewhere. And lastly there is a huge amount of dirty cheap players on the market so the price of the Z9X is certainly higher than average which will make many think twice if they need such an expensive player.
Closing what we can say for certain is that the Zidoo Z9X is one of the best Dolby Vision enabled media player hubs available right now. It's hardware is top notch and if Zidoo can keep a steady stream of updates to iron out the bugs and improve even further the VS10 engine quality then there is hardly anything out there that can come even close to what we get here. Highly recommended.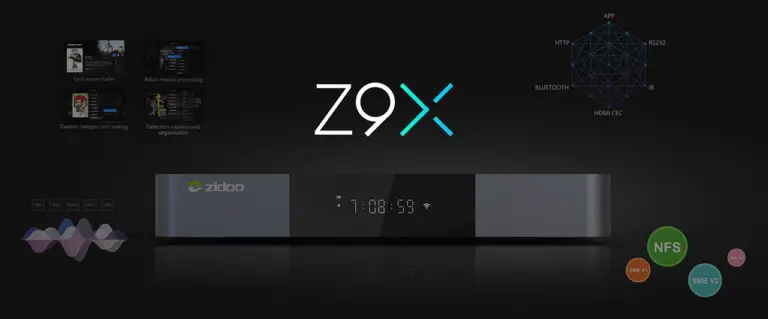 For more reviews you can check our dedicated Media Player reviews list or even look at our Product Reviews Table where you can find the brand and specific product you are looking for.
Also don't lose the chance to subscribe to our Newsletter and gain exclusive privileges.
---
Cheapest Places to Buy :

---