Hisense A65K
Reviewed at $349.00 (55")
Product Name: Hisense A65K
Product Description: 2023 4K UHD TV
Build Quality -

8.6/10

Image & Audio -

8.6/10

Connectivity -

8.8/10

OS & Smart Features -

9.2/10

Price / Quality -

9.2/10
Summary
Reviewed at $349.00 (55″)
Pros
Great native contrast
Very good color coverage
Low input lag
Extremely affordable price
Cons
Very low HDR brightness
Bad viewing angles
Average audio
Missing a lot of advanced features
---
Cheapest Places to Buy :
*We are a reader-supported website. When you buy through links on our site, we may earn a small affiliate commission at no extra cost to you. Home Media Entertainment does not accept money for reviews.*
---
Today we will continue our journey with Hisense TVs. But instead of staying at the top leagues we decided to test something a bit more consumer affordable. As such in our Hisense A65K review we will be looking at this extremely budget friendly TV and determine if it is worth your consideration for the price asked.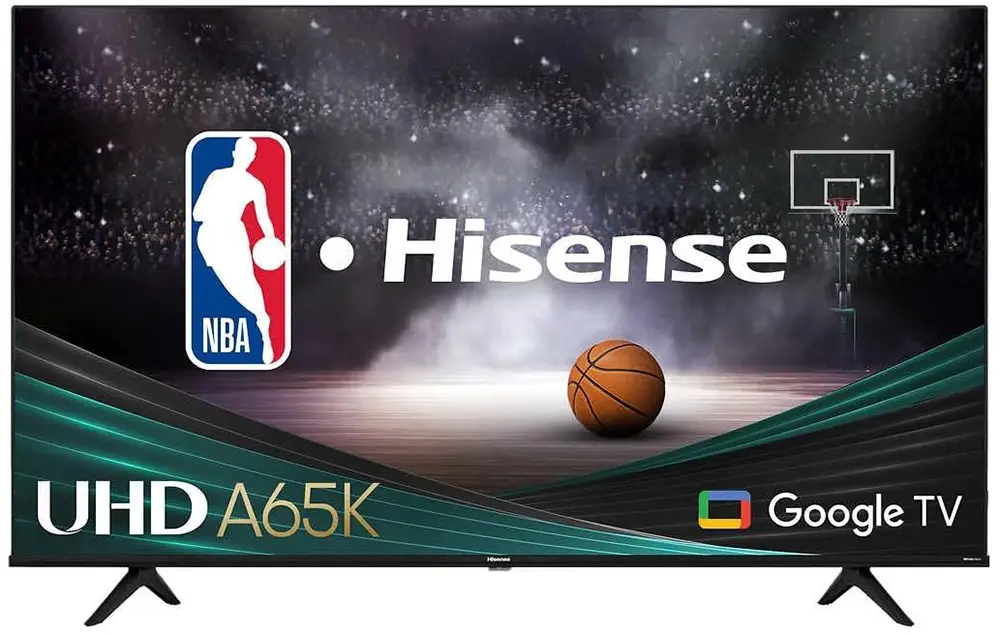 The Hisense A65K we have for testing is basically the new A6K, as it is known in many universal markets. It replaces the 2022 Hisense A6H and is part of Hisense's low cost A-series. Keep in mind that we cannot be certain if the A65K we have here for testing is exactly the same as the A6 in various markets. Hisense is notorious of offering similar models with different specs so always check to be sure.
As for the A65K specifically it uses a 4K quad core processor, comes with a VA panel with a Direct LED backlight and a 60Hz refresh rate. Surprisingly it supports both HDR10 and Dolby Vision while other features include VRR and DTS Virtual:X. For smart functionality we get Google TV 11.0 which includes many features like Chromecast, voice control, Bluetooth streaming and WiFi functionality.
The new Hisense A65K has many similarities to the A6H but also some very distinct differences. It will be interesting to see if these changes are for the better or for worse. So without further delay let's start our review.
Design
The 2023 A65K's design seems to be a direct copy of the 2022 A6H. Which in turn was a direct copy of the 2021 Hisense A6G. So it seems that at least in terms of design Hisense decided to keep everything the same.
Overall you cannot expect much in this price. The TV looks and feels like a low budget offering but at least its build quality is modest. Plastic is the main material used but even that is not as sturdy as we would like.
Measurements
Thickness of the TV is about 2.9″ (7.3 cm) which is normal for a Direct LED TV. It may not have the sexy look of some slimline Samsung models. But we have definitely seen worse here.
Surprisingly its borders are very thin for its category as we measured them just 0.35″ (0.9 cm). This definitely helps to make the image a bit more immersive.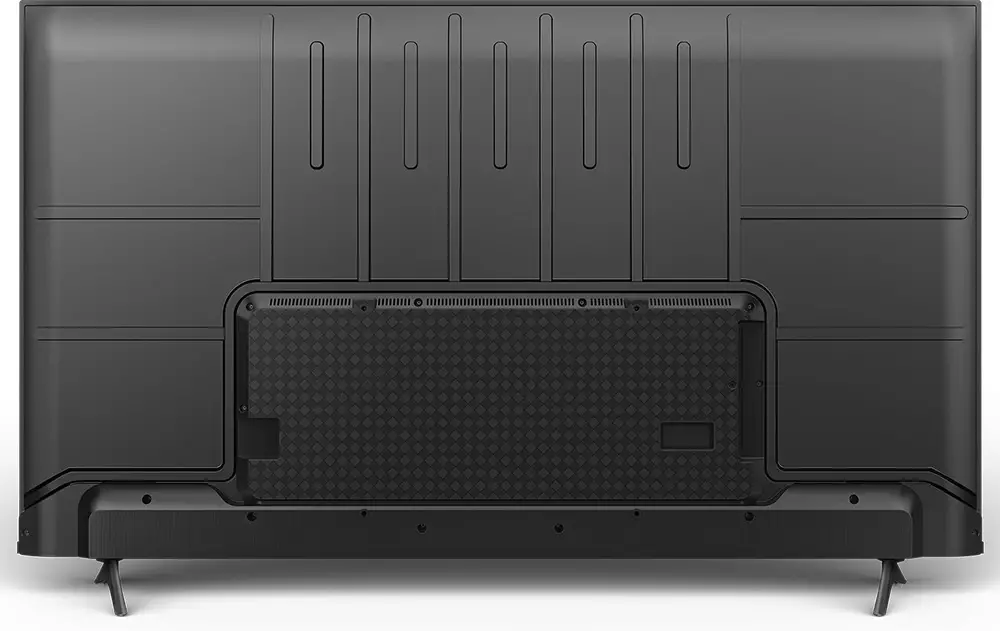 Back Side
At the back we find all ports on the right side divided into two groups with one looking sideways and the other backwards. The power connector is kept separately, as usual, on the left side.
The TV doesn't seem to have any special grooves for cable management. The electronics box is located in the middle of the back side and this is where the holes for the VESA wall mount are also found.
Stand
The design of the stand follows the fairly standard bench type that offers the TV more stability. But on the other hand you need a bigger furniture if you plan on placing it on one instead of the wall. The legs are made out of plastic but despite its design the TV was not as stable as we would like. There was some wobble and we cannot imagine how it would do with bigger sizes (we tested the 55″ size).
Keep in mind that for the 65″ and above a second stand position is offered. In that one you can place the legs closer to each other if you have a small furniture. The 55″ we have for testing does not have this unfortunately.
Another thing that was missing was any cable clips that attach to the back of the legs and keep all cables together. So practically the A65K offers no cable management at all.

Remote
As for the remote the one Hisense included in the A65K is the same we recently used with the Hisense U8K.
All buttons are made of rubber while their layout is the same. So are the six dedicated buttons at the bottom with only a single change here. These buttons are for Netflix, Amazon Prime, Youtube, Disney+and tubi. The last one instead of Apps we get peacock.
The remote is made out of plastic, its feel is in general good and while it is IR based, which means it needs line of sight to work, it can also be connected through Bluetooth in order to use its microphone and voice commands feature.
Honestly the remote Hisense uses is a bit cheap. But while this was a valid complaint in our U8K review we cannot say the same here. The A65K is a budget offering and this remote is more than enough for what the TV can do.
Video Quality
Processor technology used
Hisense, unlike some other brands, offers little to no details regarding the processors they use in their TVs. Especially in the lower tier categories they do not provide any information at all.
As was the case with the A6H, we do know that the A65K is using a 4K quad core processor. And it is capable of some basic processing tasks like 4K upscaling and Digital Noise Reduction but nothing more than that.
Resolution and Up-scaling
As always first comes our upscaling testing. We run a few videos in different resolutions ranging from ultra low quality ones, some 480p DVDs, some in 720p and obviously 1080p resolutions. We tried broadcasting signals, streaming content and discs to have a better, all around idea of the TV's capabilities.
Low resolution content was upscaled to 4K without much loss of quality. We did see slight over-sharpening but it was too subtle and definitely not so obvious. Text was clear enough and in general the A65K did a very good job in this area.
On the other hand the TV was not capable enough with low quality streaming content. The TV didn't do much to remove or smooth out macro-blocking but at least we didn't lose much of the details that were there.
Audio Processing
Such a low end TV can do very basic things with audio. The A65K comes with DTS Virtual: X which is surprising to see in this price. But more on that in our dedicated audio section.
Lighting technology used
As with many low cost TVs the A65K uses a Direct LED backlight without local dimming functionality.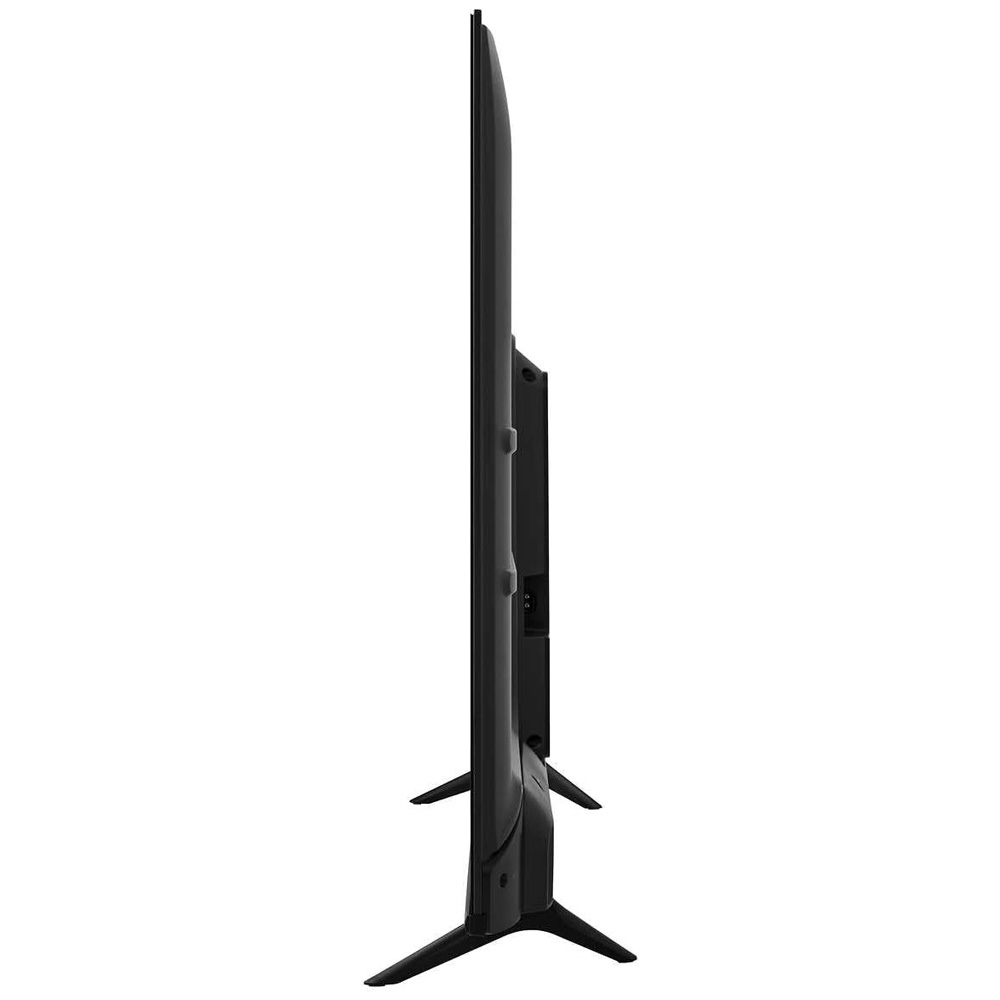 Direct LED Explained
The Direct LED backlight is using LED lights behind the panel but is much less capable than a FALD or a mini LED system. This means far less brightness output, less light accuracy and lower contrast. As a result blacks will appear more greyish than true blacks when some bright object appears.
This happens due to the omission of a local dimming feature. When a bright highlight is on screen the TV cannot increase the brightness of that specific area. It has to up the brightness of the entire screen. The result of this is that the whole image will look washed out and overbrighten.
Having a Direct LED system is pretty common the last few years in the lower end, budget friendly categories. And is in line with what we have seen in many other TVs with low capabilities.
Number of Dimming Zones
With no local dimming available the A65K does not use individual dimming zones.
Blooming & Zones Transitioning
The Direct LED backlight may be the weakest one available but for a low performing system it does have its own merits.
First of all the TV does not suffer from blooming. Since there are no dimming zones the A65K cannot light specific parts of the screen. But the lack of blooming is replaced by an overall washed out picture instead.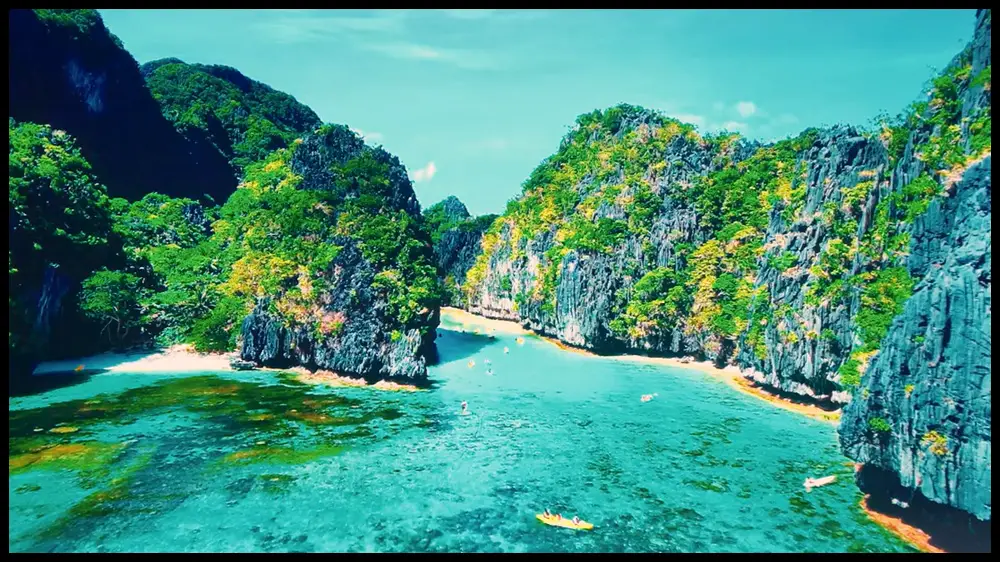 When local dimming is available, the quality of a fast moving bright object on a dark background is bound by the algorithms performance. Certain test patterns, check the speed the individual zones will light up or turn off. If these changes happen late then various undesired effects like flickering or ghosting will appear.
This TV is not affected by these at all. And from our tests all objects would appear moving smoothly across the screen no matter their speed or size.
Brightness / Contrast
Next we have our brightness tests. For SDR we used the Theater Night mode because it was the most accurate one from those available. For HDR Filmmaker mode was selected.
SDR and HDR Measurements
First test is the SDR brightness over a 10% window and the number we got was 322 nits which is ok. It is good enough for most rooms conditions but it may have trouble combating glare in a very bright area.
We then switched to HDR content and in our HDR brightness over a 10% window test we measured 305 nits. This is very low by any HDR standards. Highlights do not have the necessary intensity and everything looks dull and uninspiring.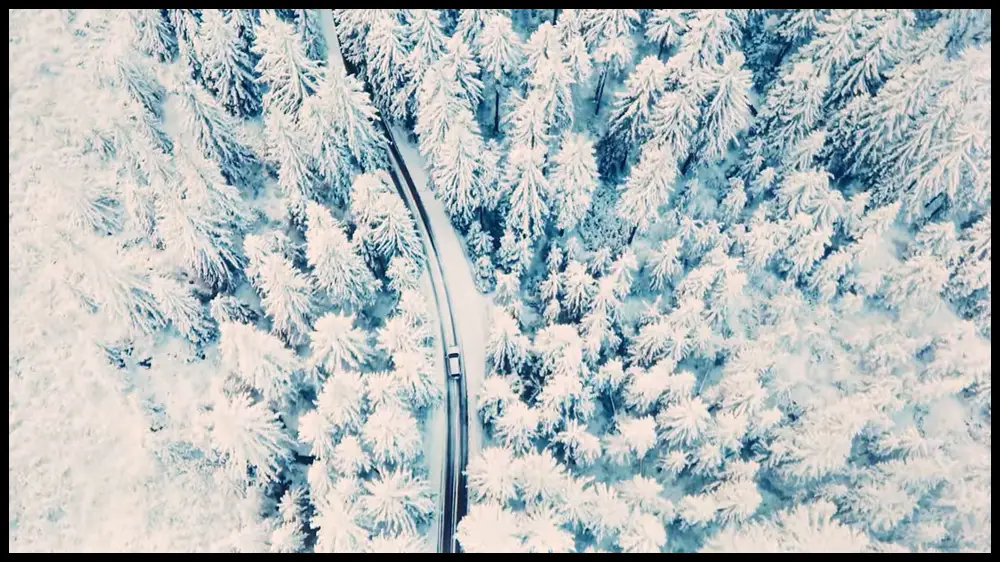 Automatic Brightness Limiter (ABL)
As with most TVs nowadays the A65K comes with an Automatic Brightness Limiter (ABL). This system lowers the overall brightness of the screen when large parts of it become very bright for a long period of time.
The TV managed to maintain its brightness no matter how long a bright image displayed on screen. We didn't notice any major changes in the brightness either it was SDR or HDR content. Keep in mind that this kind of ABL behavior is very common with low tier TVs.
In these cases the ABL is not so much necessary as the brightness output is far too low for the ABL to kick in. And this is the reason why we did not notice changes at all compared to TVs with very high brightness limits.
Last Year Comparison
The A65K seems to be a bit brighter than the 2022 A6H. Obviously the difference is not huge. But with so low output even a small improvement is very welcome.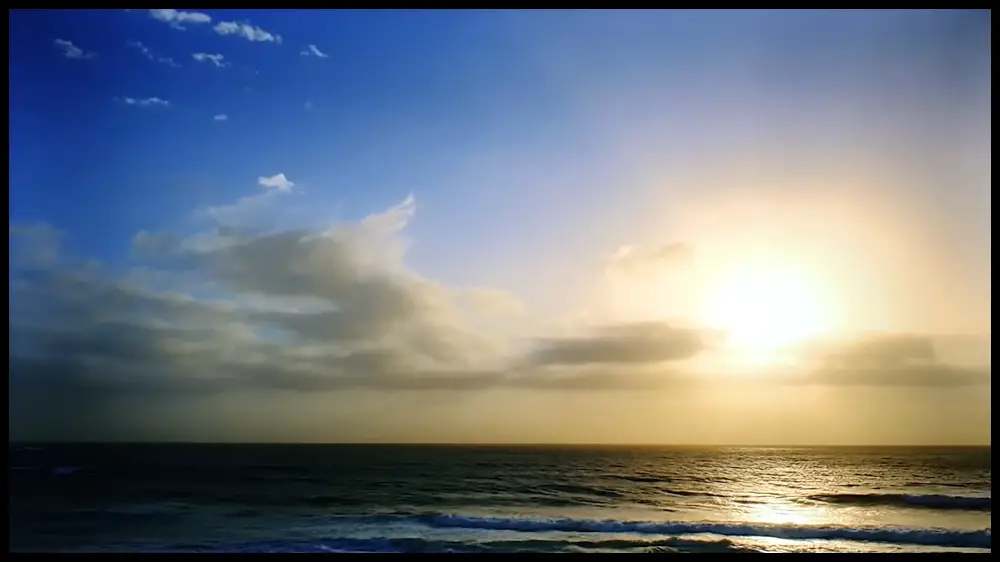 EOTF Tracking
The TV showed difficulty following the EOTF reference values very close. In the entire tracking chart the TV was dimmer even with very dim scenes. Near black levels on the other hand were more bright than they should. This is a typical behavior in all TVs that lack a local dimming feature. The TV has a smooth roll off at the top but its limits are extremely low anyway.
Contrast Performance
Last year's A6H used an IPS and as a result had extremely bad contrast. Hisense decided to change the panel to a VA one this year and this proved a good decision as the A65K's native contrast improved exponentially.
Unfortunately missing a local dimming feature means that contrast cannot further improve and it has problems when a bright object appears on a dark background as the whole screen will look washed out.
Viewing angles
Using a VA panel may have improved the TV's native contrast but this has a nasty downside. Its viewing angles became worse. VA panels in general have trouble with this so it's not a problem of the A65K in particular. Some manufacturers tend to use extra layers in order to improve this problem but this TV is not using any such technology.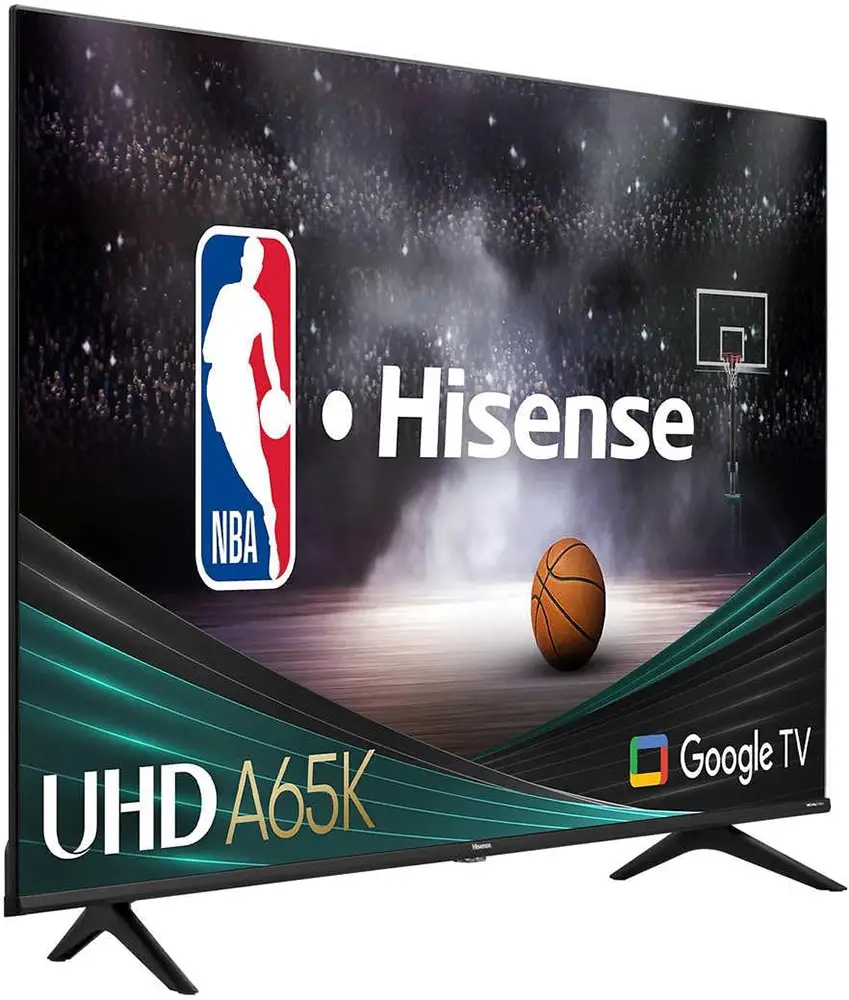 As such the best angle we could measure on the A65K was around 30 degrees at maximum. This is a clear downgrade over the 40 degrees we measured in the A6H. Anything more and the image quality degrades a lot. Therefore the A65K is not as family friendly as we would like it to be.
The TV uses a semi-gloss coating in order to combat light reflections. This coating seems to be slightly different from the one in the A6H as it dispersed light a bit more than last year's model.
Since what is acceptable image quality is very much a personal matter, and considering all the above, we would suggest you to try it out in a local store in order to be sure if it is acceptable by your standards or not.
HDR support
Here things are pretty much the same. With the big three (Samsung , LG, Sony) taking specific sides, options are more limited. Fortunately there are other brands like Hisense and TCL that still support all HDR formats, as it should be with all of them.
As such the A65K supports not only the basic HDR10. But also Dolby Vision which uses dynamic metadata for a much better image quality. Obviously the TV has very limited capabilities but seeing Dolby Vision in such a low priced TV is definitely an eye catcher.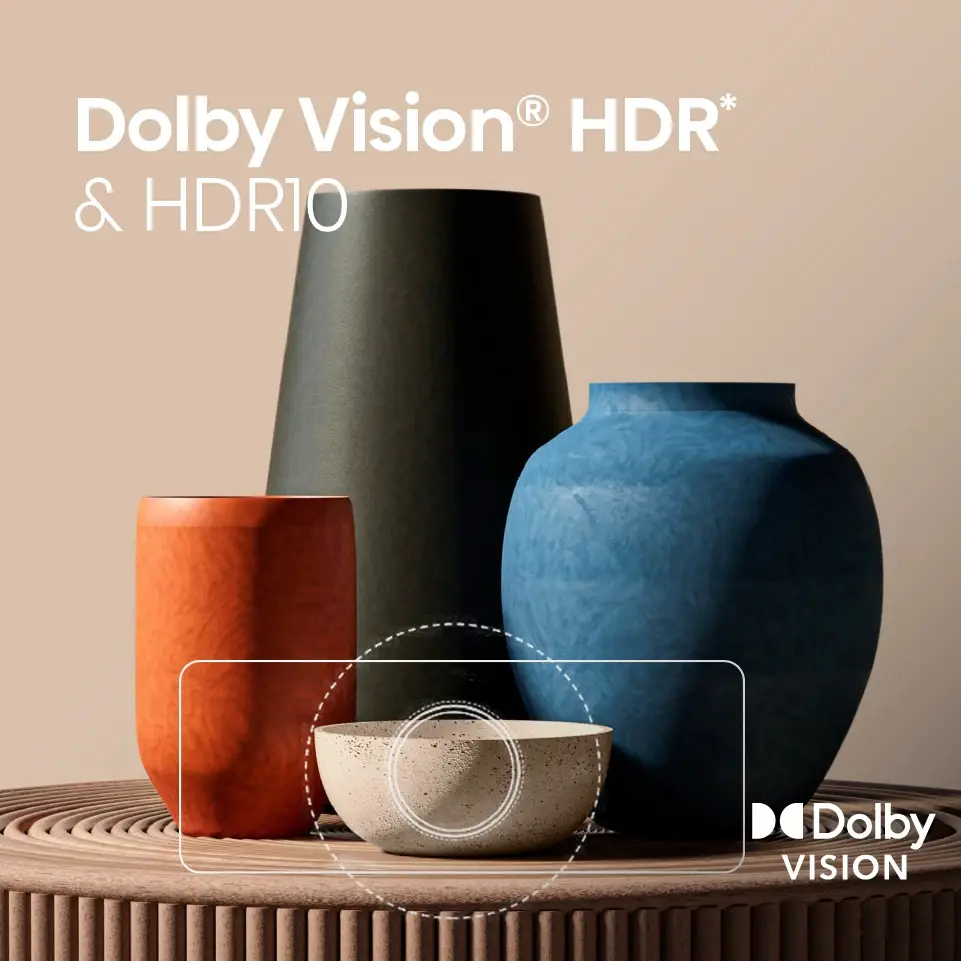 Color coverage
It seems that in the color department we do get some upgrades from Hisense. The A65K is using Wide Color Gamut technology with an advanced phosphors coating that was missing from the A6H.
The first indication of this technology we saw in our brightness tests as the A65K was slightly brighter. Another effect this phosphor coating has is with the improved color coverage the TV gets.
In our measurement tests the TV reached about 93% coverage of the DCI-P3 color space. On the wider REC.2020 color space we got a coverage of 71%.
These numbers are vastly better than what the A6H could do. It seems that this phosphor coating indeed allowed the TV to improve in both brightness and color. Two areas that last year's model did disappoint us.
DeltaE Errors
For a TV with so limited capabilities its out of the box performance was really good. White balance needed some adjustment and some colors, especially blue shades were above the DeltaE level of three. But color temperature and gamma were really close to their target values. And most other colors had very few errors.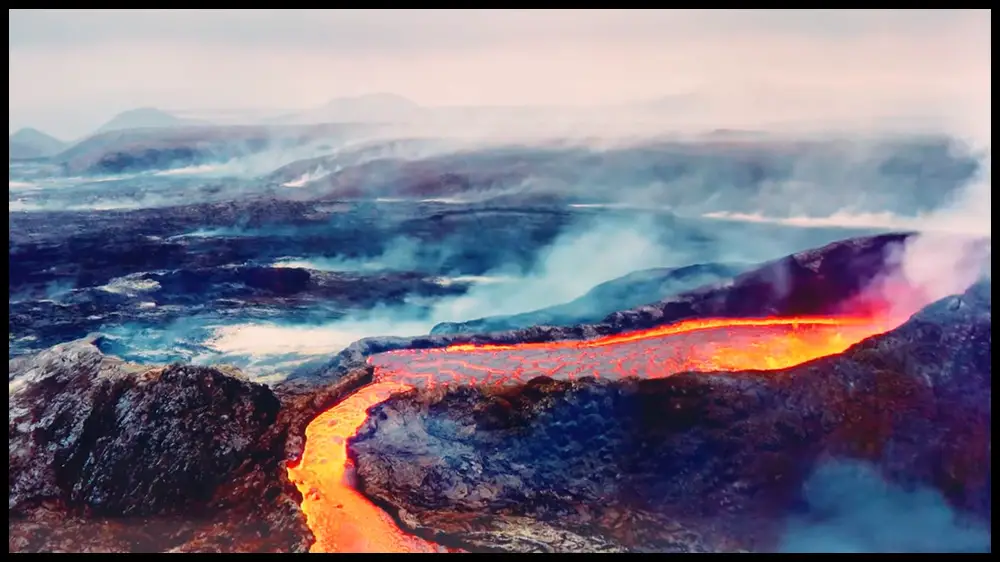 Unfortunately even after further calibrating it we still got a few inconsistences. Although gamma and color temperature were slightly improved white balance was still pretty off. Blue shades also remained above the desired limits no matter what we tried.
From all the above we can say that if you are not very much into calibrations it is not worth it to go through all the trouble. Yes, calibration can further improve what the A65K can display. But the gains are very small and out of the box performance do suffice in most cases.
Color Gradients
Color gradients in the A65K were acceptable. We noticed banding in almost all darker shades with the most obvious being dark gray colors. With real world content this was still very much visible but not as severe as with our test content.
There is also a Digital Noise Reduction function in case this bothers you too much. But if you enable it some detail is lost and in general we didn't like this feature much.
Panel Uniformity
Next is our panel uniformity tests.
Gray panel uniformity was not very good. We did notice vignetting, which is an effect that shows darker corners than the center of the screen.
Fortunately, near black and black uniformity were better. Unfortunately the whole screen looks washed out if a bright object is on screen. The lack of a local dimming feature is very much responsible for this. But even without a bright highlight the entire screen was slightly brighten.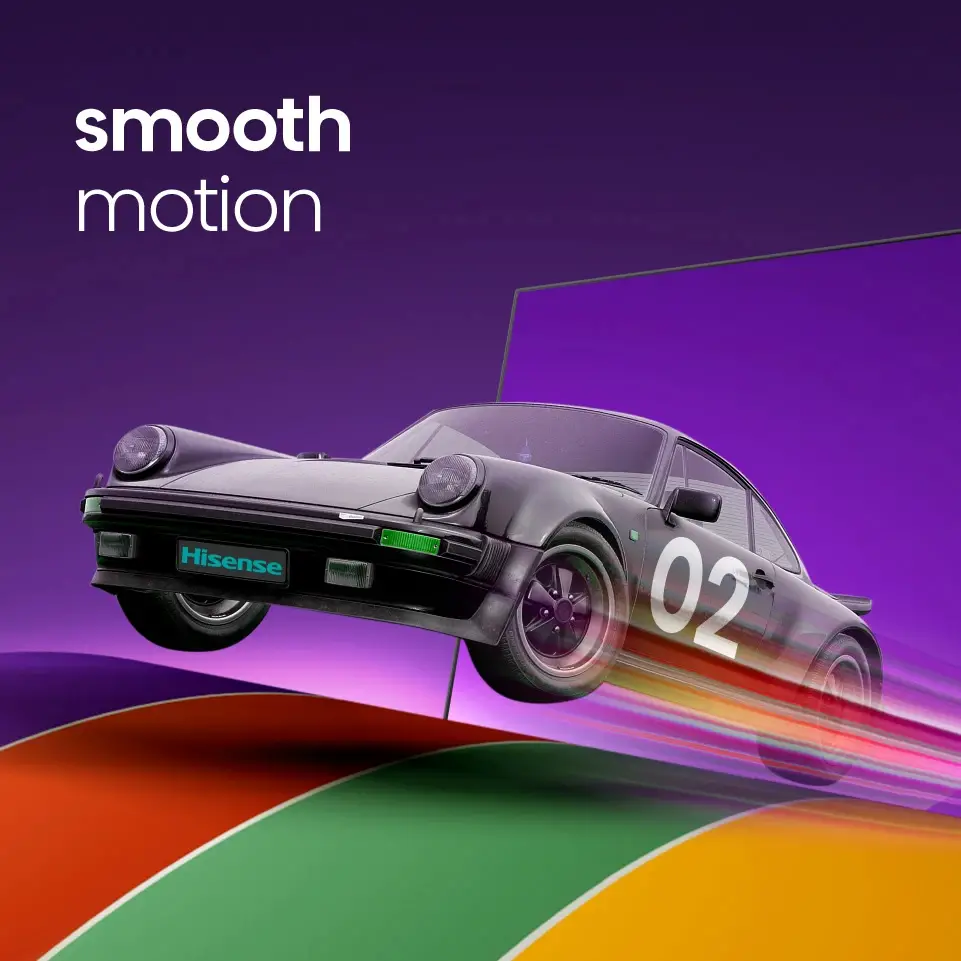 Motion performance
We move on to our motion performance tests. The A65K comes with a 60Hz panel and a backlight frequency of 180Hz. The TV had very obvious flicker which can be tiring for the eyes. What we noticed was that with the brightness in maximum this flickering stops. So if you find it extremely bothering max out the brightness setting.
In terms of motion the TV performed really well with minor blur visible with fast moving objects. This is the result of the A65K's response times. Stuttering performance was also good. It was obvious during certain camera movements but not so much to be frustrating.
Additionally the TV can remove judder from both 24p and 60p content.
Motion Interpolation
The TV comes with a standard motion interpolation feature. This is a feature that smooths motion and removes blur and judder from fast camera movements. Unfortunately motion interpolation in the A65K was not good at all.
Major artifacts would appear no matter the scene. It was surprising that even with relatively slow scenes the TV could not keep up. Things would become worse when we tried scenes with fast moving objects and quick camera pans.
Also be careful because very aggressive settings will make the "Soap Opera Effect" to appear. Motion Interpolation can be enabled from the Motion Enhancement menu. From there you can adjust the Judder and Blur Reduction sliders.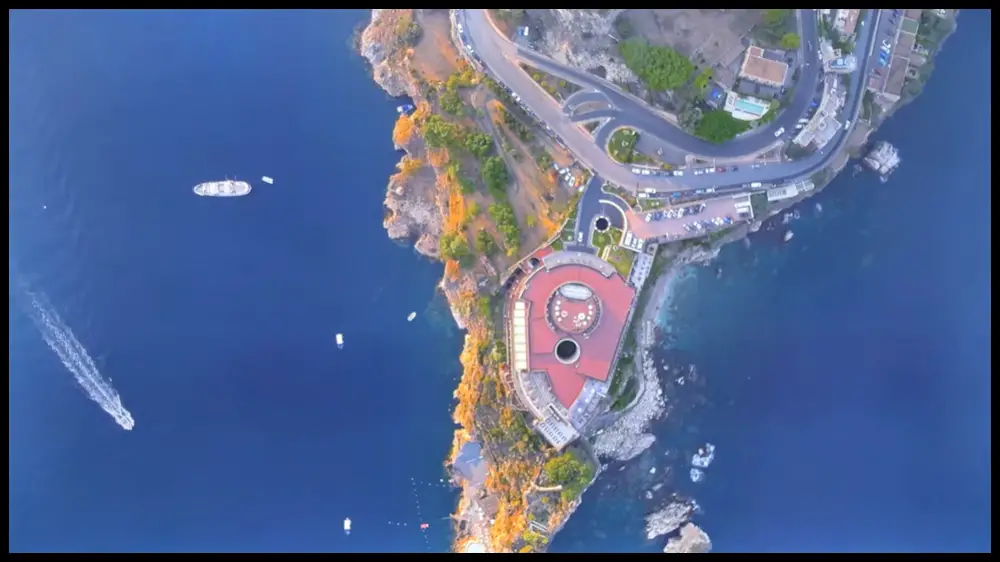 Black Frame Insertion (BFI)
The TV is missing a Black Frame Insertion feature. So the standard motion interpolation is your only option if you really want to have smooth motion.
Overall Motion Impressions
The A65K behaved very similar to its predecessor here. Obviously you cannot expect much in this price but the A65K did disappoint us in a few areas. Without motion interpolation the TV was decent. But with motion interpolation we did see many artifacts making it almost unusable. The TV did good enough with blur and judder and kept stutter to a minimum.
Input lag Measurements
The TV's input lag is next in the list.
According to our measurements the A65K measured an average of 11.5ms input lag in both 1080p and 4K resolutions at 60Hz. Very good numbers, even if slightly raised compared to the A6H. There is no 120Hz support so we could not measure that.
Obviously you are going to get such low numbers only if you use the available Game mode. As outside that the input lag will increase to around 110.5ms. This is a bit too high to be used even in slow paced offline games.
We also need to mention that the A65K may not support anything more than 60Hz but it does support 1440p resolution. So if you are a gamer, you may appreciate this.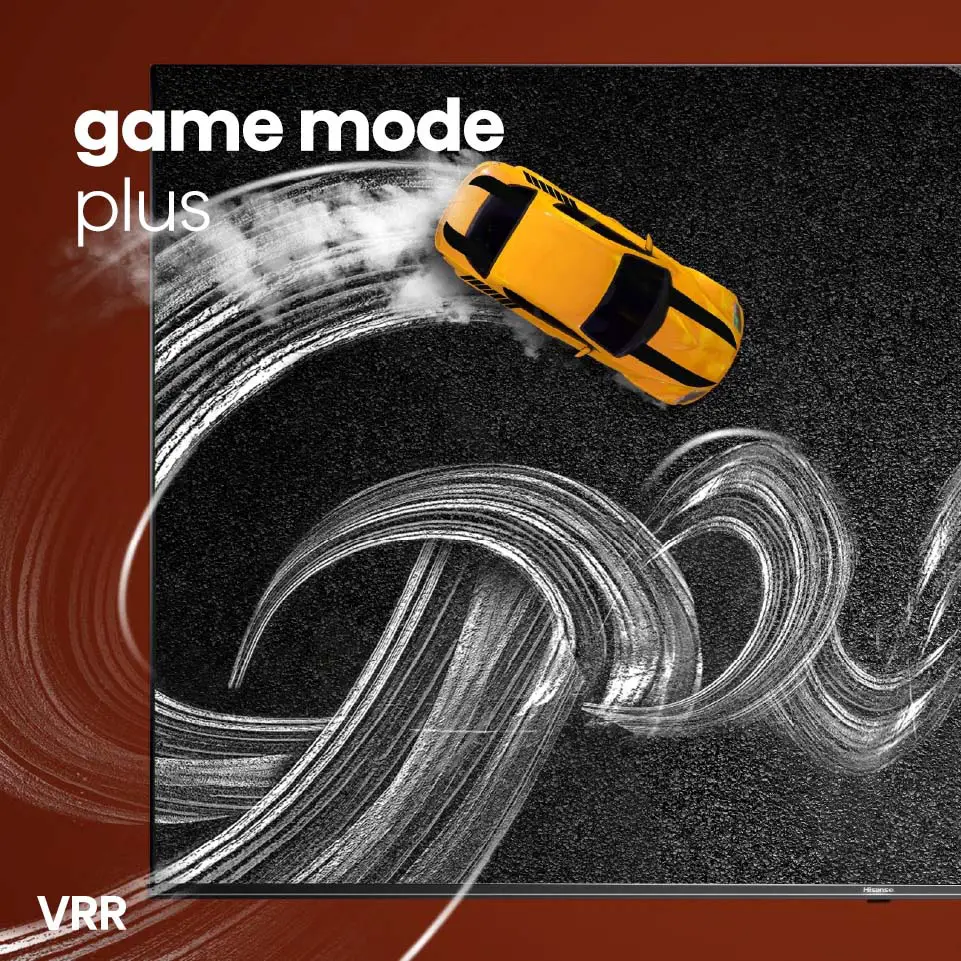 Other Gaming Features
The TV also comes with Auto Low Latency Mode (ALLM). This can be used with any devices that support that like the PS5 and Xbox consoles and can greatly benefit users.
Unfortunately, as with all Hisense TVs there is no HGiG mode.
VRR Support
Surprisingly the TV comes with VRR support even if it rather limited. HDMI Forum VRR and G-Sync are supported but FreeSync is not. Furthermore it seems that the TV cannot use VRR when the framerate falls below the 48Hz threshold.
But even with all these limitations seeing such a low priced TV even feature VRR is definitely good.
Trying Out a Few Games
For our real world testing we connected both our PS5 and Xbox series X to one of the HDMI ports of the A65K. The games we try out lately are F1 2022 and Dead Space, both in 60Hz mode as the TV cannot do anything more than that.
Our experience with both games was excellent, considering the limitations of the A65K. With fast response times and low input lag both games were very quick at rendering all our commands on screen. Especially with F1 22, which is a very demanding game when it comes to response times, we didn't have a problem adjust to it rather quickly.
If you are a gamer and seek a low cost gaming TV without having a lot of requirements then the A65K is definitely one for your consideration.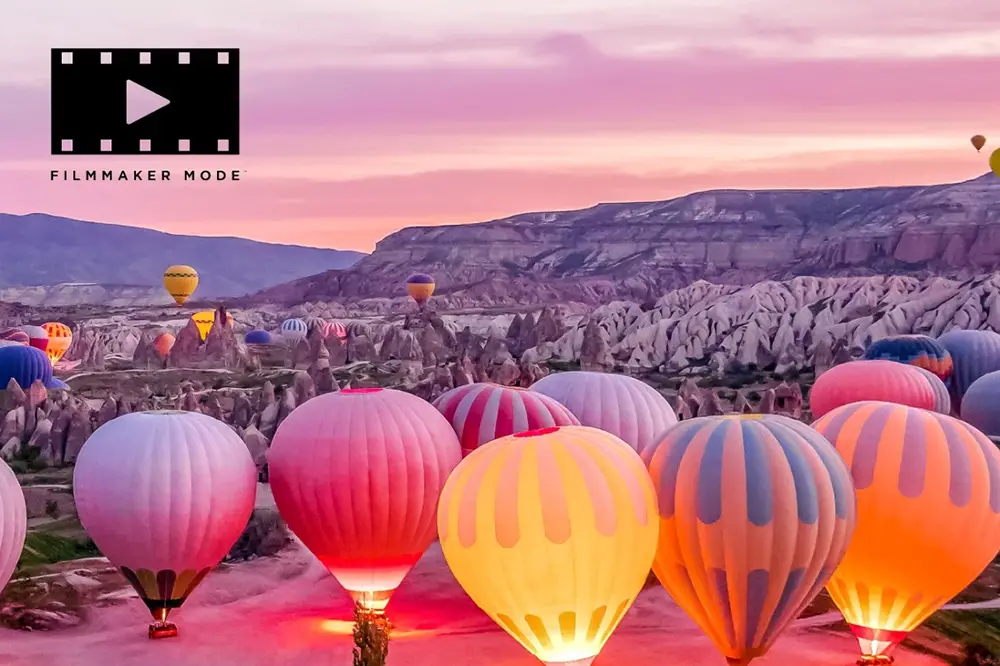 Overall Image Quality Impressions
As we say a lot of times in our reviews when it comes to low cost TVs you cannot harshly judge them for their image quality. For a TV that costs $350 you cannot expect to get flagship performance. And our scores are always take this into consideration. So our opinion on this matter is not going to change.
The Hisense A65K is similar in many areas with the 2022 A6H. But Hisense did a few changes this year for the better mostly. In comparison to the A6H the new model has slightly better brightness and vastly better color coverage. The use of a VA panel this year resulted in much better contrast but on the other hand viewing angles became worse.
In most other areas both TV were really close. From all the above we can definitely say that the new 2023 release is a clear improvement over last year.
Audio Quality
All these low cost TVs use very basic audio systems and the A65K is no different. So don't expect anything extraordinary out of this one.
Audio System – Channels & Power Rating
The TV uses a 2.0 channels configuration with 16 watts of power output in a 2 x 8 watts configuration.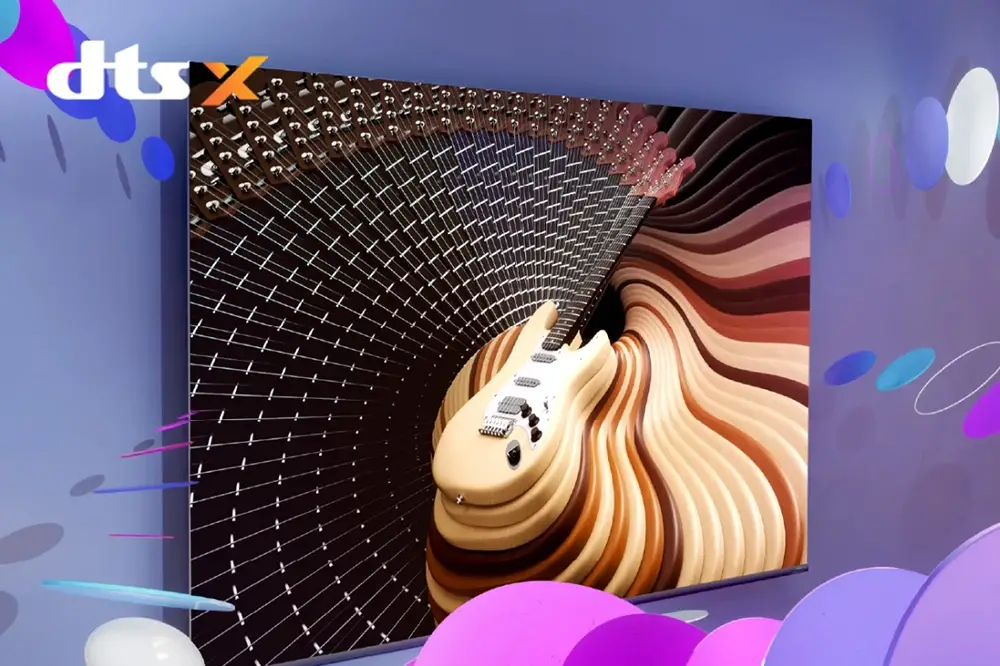 Audio Formats Support
The TV supports Dolby Audio but there is no native Dolby Atmos. At least you can pass-through Dolby Atmos through the included eARC to some Dolby Atmos soundbar or dedicated sound system.
The TV also comes with DTS Virtual:X which is a virtual technology in order to create more immersive audio output. Unfortunately while there is DTS pass-through either from eARC or the optical port, DTS:X is not supported.
Audio Features
In terms of audio features the A65K comes with mostly the basic ones. You have the ability to stream audio to a Bluetooth enabled speaker if you like. And it seems that the A65K is WiSA Ready. This means it can connect with WiSA enabled speakers.
Overall Audio Performance Impressions
The TV certainly cannot impress. With such a limited system you get only the basic, casual experience. DTS Virtual: X may help some times but with most content it cannot do much to improve the outcome.
All audio is firmly fixed at the front. There is no surround activity and no overhead action. The TV lacks any kind of expansion and depth and everything sounds flat and uninspiring. Bass is also on the weak side which makes movies less immersive.
Obviously not everything is a disaster. Dialog is distinct and clear enough and the TV can get pretty loud for the speakers it uses. There is obvious compression at high levels but you don't expect to get HiFi quality in such a unit.
Overall we would call this the definite casual experience. If you do not care about sound very much then this will not bother you at all. But if you really want good sound a good quality soundbar or full surround system is a necessity here.
Ports and Connectivity
Next we will be looking at all the connection ports available.
Going from top to bottom we find a USB port, a headphones jack, an AV input connector, three HDMI ports, the antenna/cable connector and another USB port at the bottom.
We also have a few ports looking backwards with another HDMI port, an RJ-45 Ethernet port and a digital optical audio output.
HDMI Specifications
The A65K comes only with HDMI 2.0 ports. This means that the TV is stripped of some gaming centric features.
But nevertheless we do get ARC, eARC and some limited VRR capabilities.
Connectivity Observations
Again, the Ethernet port is still the usual 100Mbps one. But this does not surprise us, as even flagship TVs in 2023 have not upgraded to Gbit speeds yet.
Streaming requirements and internet connections have greatly advanced the last few years. This made the 100Mbps limit obsolete a while back. And while most TVs update their WiFi capabilities (some models even support WiFi6 this year) the Ethernet adapters are still the same.
Lastly, both USB ports are v2.0.
Wireless Capabilities
When it comes to its wireless capabilities the Samsung A65K supports WiFi5 (802.11ac) along with Bluetooth.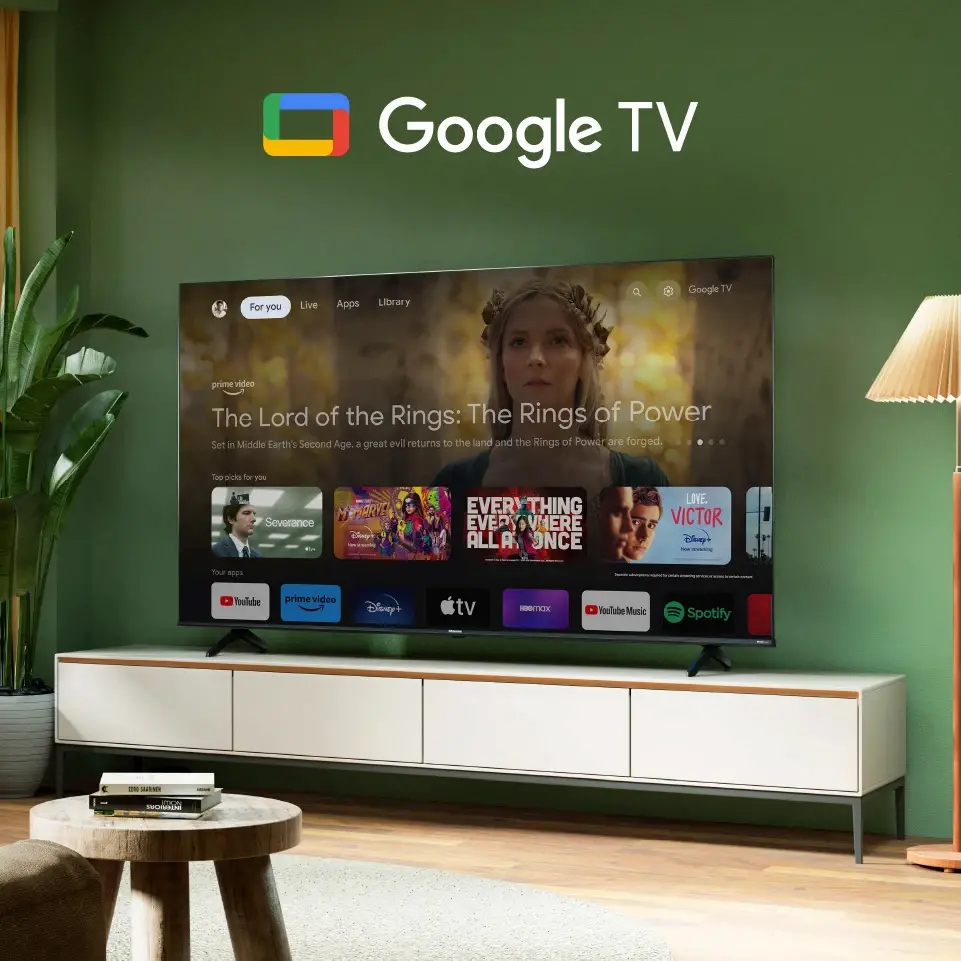 OS, Apps and Features
Strangely the A65K comes with Google TV version 11.0 and not the latest 12.0 that we recently saw in the U8K. But to be honest the last few versions are very similar to each other and they keep their overall layout unchanged.
Now, we need to do special mention on the OS because Hisense is one of the few companies that uses different OS for the same model in different regions. As a result the US version of the A65K comes with Google TV while some other markets, like Europe, uses the VIDAA OS. We cannot be sure about all markets so please check yours to be sure what you are getting.
Google TV 11.0
For those that still cannot distinguish the difference between Google TV and Android TV, things are pretty simple.
Google TV is still Android TV but with an extra layer on top of it. Think of it like how it works with Android smartphones. Most manufacturers that sell Android phones, use on top of the default UI their own UI layer that gives this extra something to their phones to make them unique both in appearance and functionality.
The same is with Google TV. You still basically use Android TV at its core. But there is this extra Google TV layer on top in order to make the UI feel different both in looks and functionality.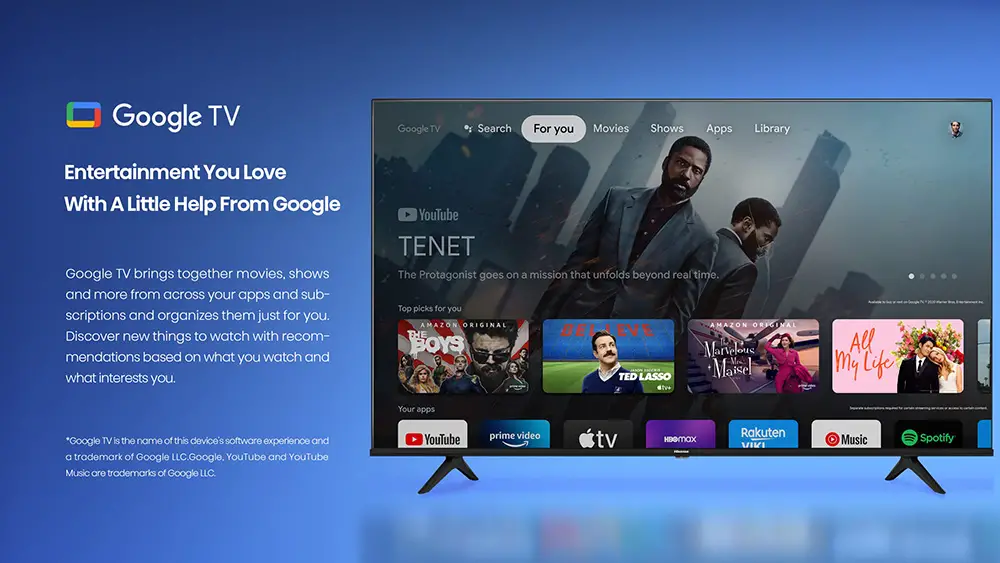 Google TV seems to have been designed around recommendations, either it be movies, TV shows or applications and this seems to be the main focus of all the latest OS in general. During setup the wizard asks you of what specific streaming services you use in order to customize the Home screen recommendations.
Google TV certainly feels more fluent, more direct and more easy to navigate around.
As for the A65K specifically, our experience was very smooth. We didn't notice any major slowdowns when navigating through all the menus and most apps would open and close relatively fast. For this price we can say that the smart TV experience was more than satisfying.
Streaming Capabilities
If there is one thing that Google TV has in abundance that is huge app support. Through the included Google Play Store you can find literally thousands of apps that you can download and use. Except from the pre-installed ones of course. There is so much content available that you will hardly miss anything.
All the big names are obviously present like Google TV, Disney+, Netflix, Amazon Video, Hulu, HBO Max, Apple TV and Youtube. There is also Pandora, Tidal, Google Play Music, Spotify and iHeartRadio to name a few.
As always some of them are region dependent so make sure the ones you are interested in are working in your area. Lastly many apps like Netflix and Youtube support playback for both 4K and HDR content for those interested in it.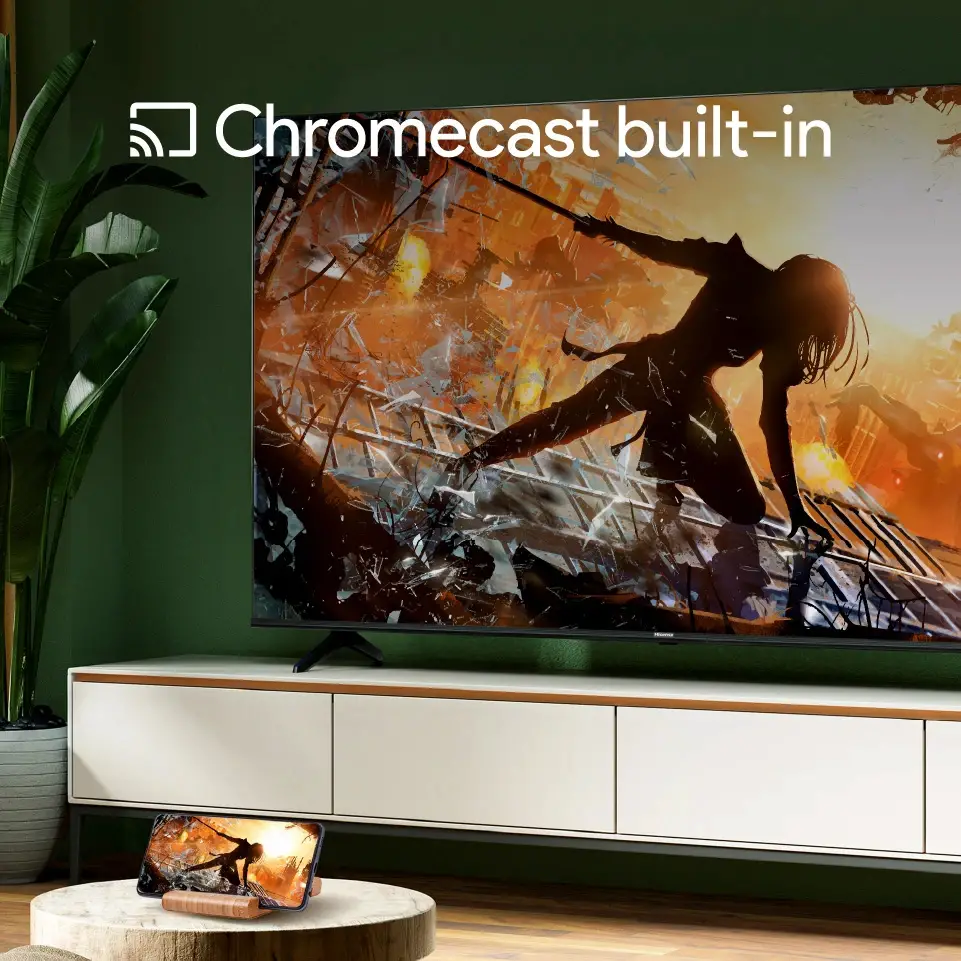 Various Connectivity Features
Chromecast is also available here and it gives you the ability to stream content from other Chromecast enabled devices like mobile phones and tablets directly to the TV.
We also get support for both Apple Airplay 2 and HomeKit, which is now named Apple Home. With Airplay 2 you can stream content from other Apple devices on your TV while Apple Home lets you control certain aspects of the TV through your mobile device.
Voice Control
Voice control is also present as per normal. The TV can work with both Google Assistant and Amazon Alexa. You also have the ability to use Apple's Siri through Apple Home in case you prefer Apple's solution.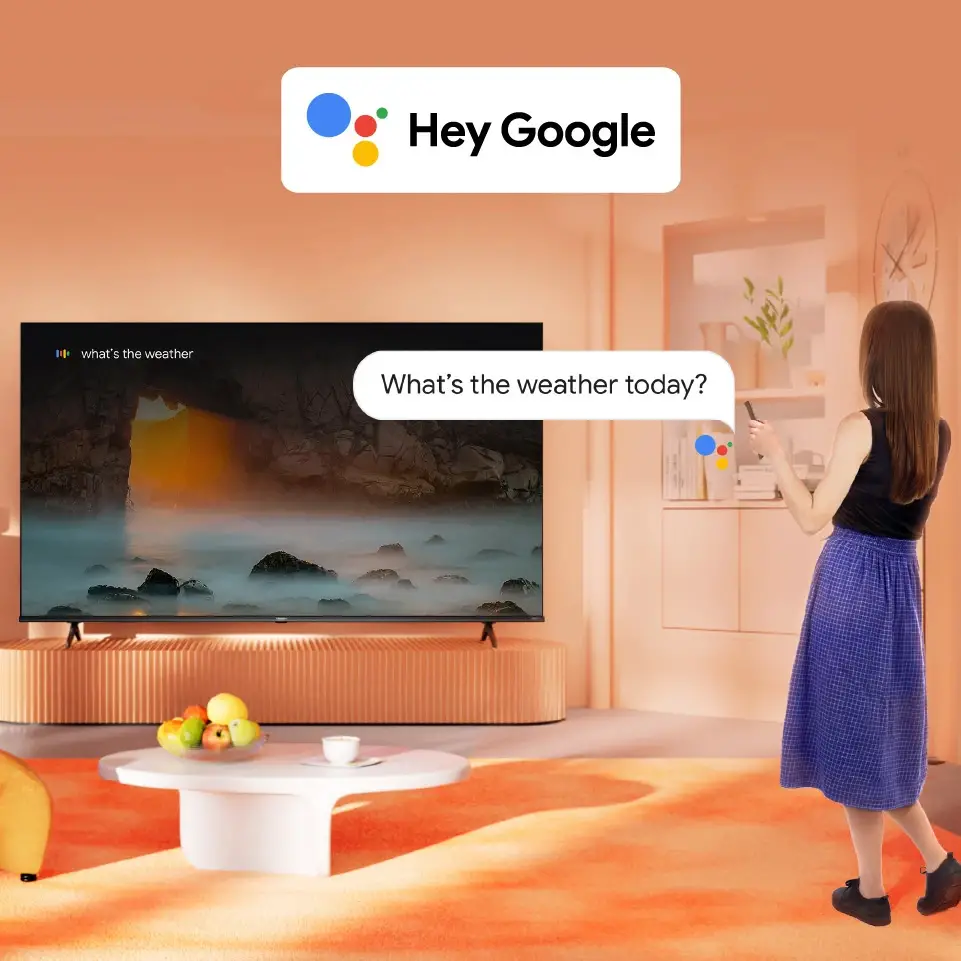 Compared to other TVs
First on the list is obviously last year's Hisense A6H. The new A65K is definitely better. It is brighter, has better color coverage and much better contrast. The only area where the A6H is better is with viewing angles. So this is a win for the A65K.
In the same price range we also find the 2023 LG UR8000. The Hisense A65K is again better as it is slightly more bright, it has better color coverage and supports VRR. Its audio is also slightly better.
Next in line is the 2023 Samsung CU7000. The A65K wins this round also as it has better brightness, better contrast and wider color gamut. It also has more gaming features as it supports VRR while the CU7000 does not.
Last in our list is the 2023 Sony X77L. Here the competition is more stiff as the Sony puts up a considerable fight. But keep in mind that this comparison is not the most fair as the Sony is more expensive than the Hisense. The A65K has better color coverage, better contrast and supports VRR while the Sony has better processing and improved viewing angles. So with the price difference in mind, while both TVs feel equals with different strengths each, we will give this round to Hisense also.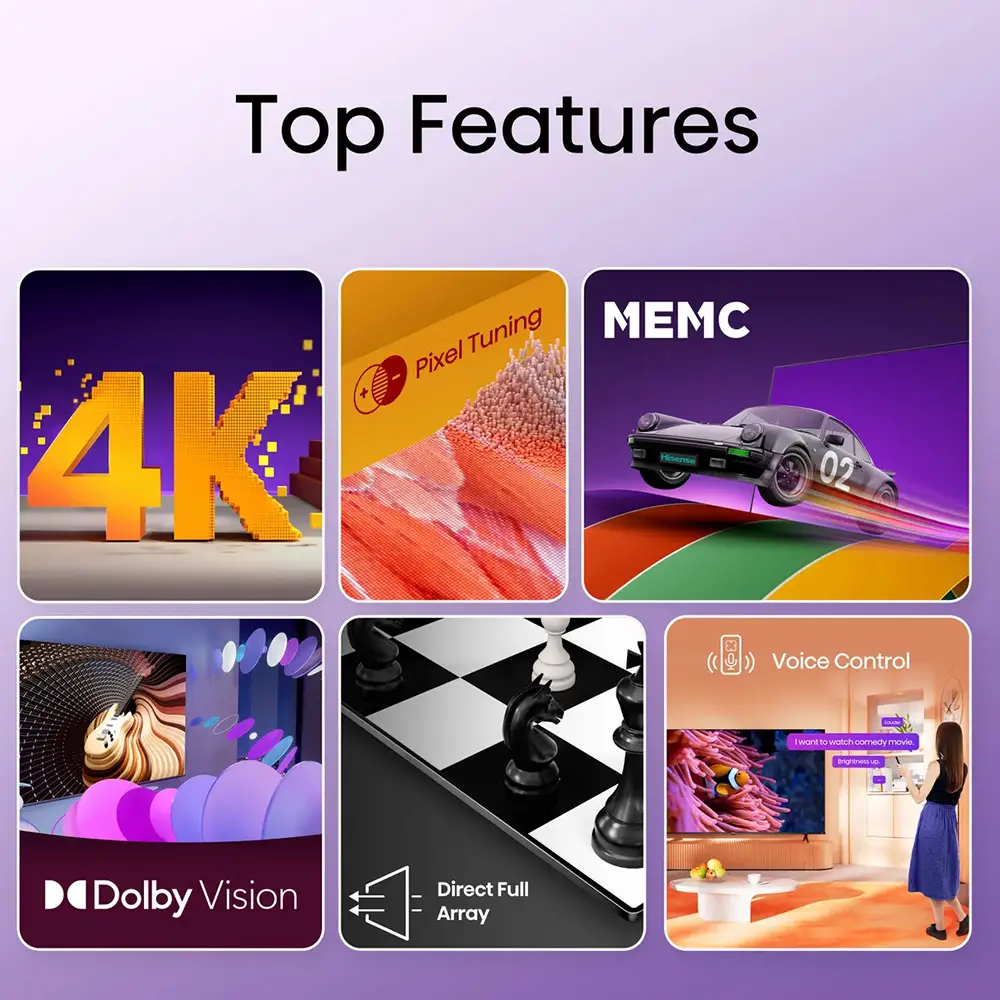 Final Thoughts
Even though there is a plethora of TVs in this low tier category Hisense proved to us for one more time why they are so competitive. Because they offer performance that is hard for the other brands to meet in this price. And the A65K is the price example of this.
The A65K proved to be a rather capable TV that works great within its extreme limitations that its price dictates. It has great contrast, very low input lag and good color coverage. Add Google TV and a low price in the mix and you have an excellent low budget offering.
As for its downsides, the TV is not bright enough to make HDR justice and its viewing angles are bad making the A65K not an ideal one for family use. Its audio is good only for casual viewing while it is missing a lot of advanced gaming and smart features.
At this price there is hardly anything better than the Hisense A65K, period. This statement alone is enough to make this TV your best bet if your pocket cannot afford anything more. The A65K can reach a huge market pool in this price and if Hisense promotes it accordingly it will surely be a hit this year in its category.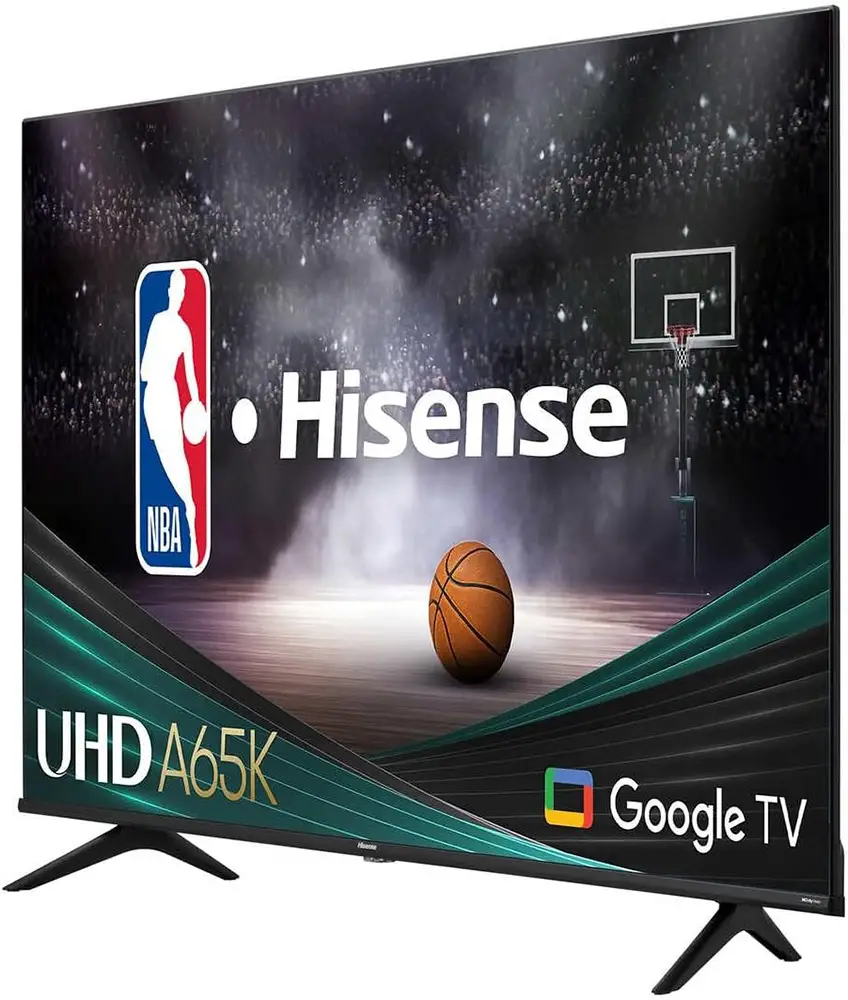 For more reviews you can check our dedicated 4K LED LCD TV reviews list or even look at our Product Reviews Table where you can find the brand and specific product you are looking for.
---
---
Cheapest Places to Buy :
*We are a reader-supported website. When you buy through links on our site, we may earn a small affiliate commission at no extra cost to you. Home Media Entertainment does not accept money for reviews.*
---
Hisense A65K Specifications