JBL Bar 2.1 Deep Bass
Reviewed at $249.00
Design -

90%

Movies Performance -

88%

Music Performance -

88%

Inputs and Features -

88%

Price / Quality -

88%
---
Cheapest Places to Buy :
---
The soundbar market is huge and has expanded greatly the last few years. From simple 2.0 channels soundbars all the way up to 7.1.4 channels Dolby Atmos enabled behemoths there is a model for all tastes and budgets. But today in our JBL Bar 2.1 Deep Bass review we will be looking at an offering belonging at the lower levels of the price ladder. JBL is a well established company and in terms of soundbars they have created a few very notable ones. But if there is one thing that is characteristic about this brand is no other than their bass performance so let's see if this one here has what its name dictates.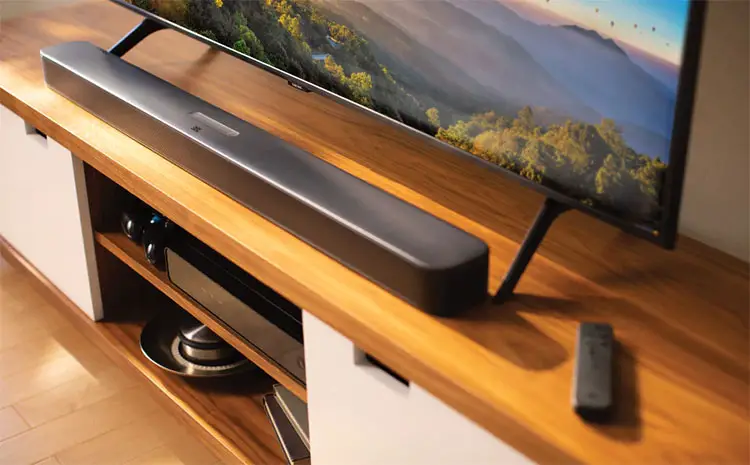 Now keep in mind that there is some confusion at play as JBL had already a soundbar named JBL Bar 2.1 and we have made a review about it in the name link. The one we will be reviewing here today is a new release and thus JBL had to add the "Deep Bass" in the end to differentiate it from their other product. Although both soundbars come with pretty similar characteristics the JBL Bar 2.1 Deep Bass uses a completely different design and a few different features.
The Bar 2.1 Deep Bass is the kind of soundbar that aims for simplicity. It is not the kind that will come fully packed with features and is aimed for those that mostly want an easy to setup and handle unit. As such it comes with the main unit along with a wireless subwoofer, it offers Bluetooth and USB playback and supports Dolby Digital content. In terms of sound calibration and settings the unit is pretty light and features only some basic ones like Bass control along with a couple of sound modes.
Looking at the JBL Bar 2.1 Deep Bass it's obvious what the manufacturer wanted to do with this one. A crazy simple setup, easy to use without much fuss and good audio performance along with its signature bass prowess that we have been used from anything with the JBL logo on it. Does the Bar 2.1 Deep Bass manages to tick all the right boxes? Let's find out…
Design, Inputs and Features
Exterior
JBL never offered any fancy designs for their soundbars and the Bar 2.1 Deep Bass is no exception. It looks simple with straight lines and very subtle curves and will certainly go unnoticed in most situations.
For a simple 2.1 channels system the unit comes with a pretty big length measuring 38″ x 2.28″ x 3.35″ (965 x 58 x 85 mm) and weighting just 4.76 lb (2.16 kg). We wouldn't call the unit extremely big as it is being kept under 40″ and will fit nicely under TVs that are even smaller than 55″. And with the soundbar missing any side or up-firing drivers it makes it easier when placed in confined spaces and furniture.
JBL has been using similar materials in many of their offerings and this ones is no different as it uses a dark gray plastic that covers most of the top, bottom and back sides. The perforated grille that covers the entire front side hiding the drivers and front display extend to the sides even though there are no side-firing drivers available. The entire design was made in such a way in order to go as much unnoticed as possible and for sure many will appreciate that. And in this price range you shouldn't expect anything more anyway.
The top side is very minimal as the only thing you will find is the built-in controls that have been positioned dead center in a specially designed groove which is a nice practical addition in case you will be looking for them in a low lit room. In front of the control buttons there is the JBL logo sitting prominently  breaking the otherwise monotonous top face.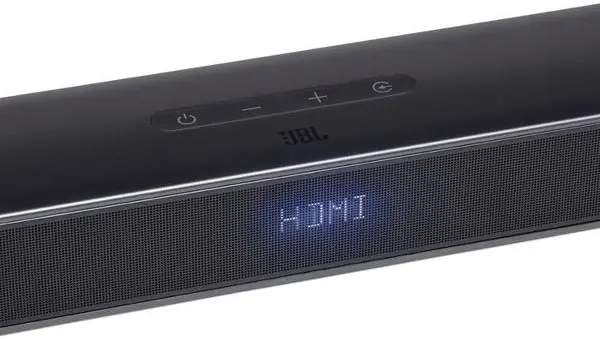 A very critical element to any soundbar design is the inclusion of a fully functional display and here JBL does not disappoint. The display has been placed dead center under the perforated grille as per normal in similar designs. It can show you various functions like volume control, input selection and sound adjustments among others.
The back of the unit is where all the connection ports are located in a centered inset specially designed to help with the cable connectors. There is nothing else to be found as the unit lacks any IR repeaters and we get only two small holes that are used for wall mounting with special wall mounting brackets.
Keeping with the main unit's relatively normal size, JBL has equipped a relatively small factor subwoofer that keeps this model's compact footprint but at the same time provide the necessary power to drive those low frequencies that will give you some shaking pleasure. The subwoofer is very similar, if not the same, as the subwoofer we had seen with the JBL Bar 2.1 and comes at a size of 8.9" x 8.9" x 14.6" (225 x 225 x 370mm) and weights around 12.5 lbs (5.67 Kg). It's design certainly helps to be positioned even at more confined spaces and will certainly be appreciated by many.
The JBL Bar 2.1 Deep Bass offers the standard quality you should expect from JBL in this price. Good, without being anything fancy or premium. It gets the job done without looking ugly which is exactly what matters the most.
Internal Hardware
The unit is the typical 2.1 channels soundbar that includes the two main channels in the main bar along with a single subwoofer for the low end extension. JBL has rated the soundbar at 300 watts of power (Max. @THD 1%) with 2 x 50 watts for the main unit and 200 watts for the subwoofer.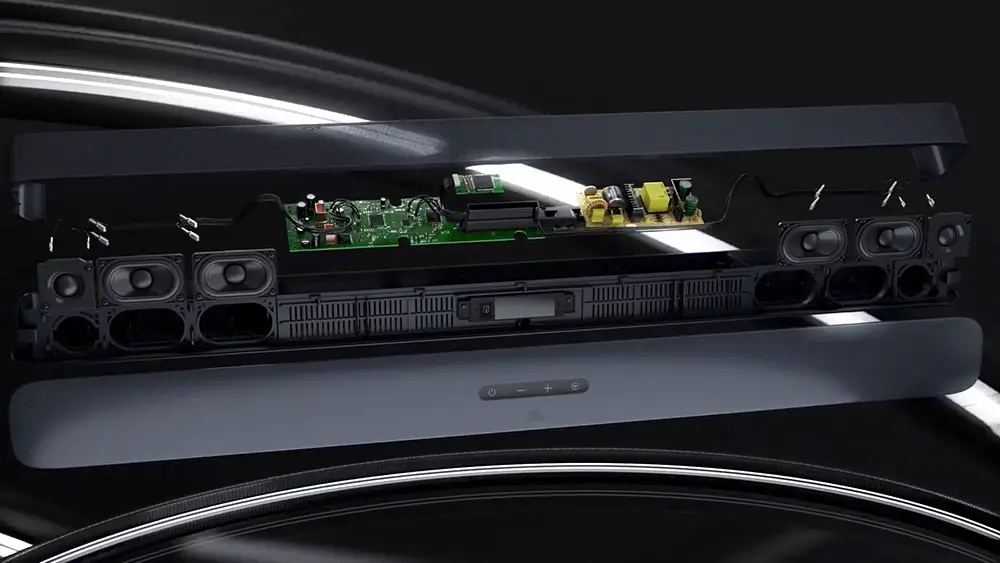 Now let's see what is under the hood, or better under the grilles. Each main channel consists of two 2.25″ race-track drivers along with a single 1″ tweeter which is a configuration above the average of what most low cost 2.1 channels soundbars are using. This gives a slight edge on this unit as it is able to reproduce a wider frequency spectrum.
Also the included subwoofer is utilizing a single down-firing 6.5″ driver which is also slightly bigger than what many soundbars of this size go for which is mostly 5.25″ sized ones. This gives the edge on the Bar 2.1 Deep Bass as it has more low end extension and power.
The soundbar-subwoofer combination of drivers give the Bar 2.1 Deep Bass a frequency response of 40Hz ~ 20kHz which, in theory, is extremely good for this price category.
Connectivity
Let's see now what kind of connectivity options JBL has included in this one. As we already mentioned all ports are located in a special inset at the center of the back side. What we like a lot is that unlike other manufacturers JBL is placing their power connector close to the other ports and thus makes grouping of all cables much easier.
Now from left to right what the Bar 2.1 Deep Bass comes with are the power connector, a digital optical input, a USB port and two HDMI ports, one input and one output.
Overall this could be described as the most basic of layouts. Both HDMI ports are v1.4 while the output has added ARC functionality but no eARC which is not necessary anyway as the soundbar lacks the ability to process the appropriate audio signals that would take advantage of eARC. For those that have older equipment there is an optical port while we should note that the USB port has added MP3 playback functionality only for the US models. All other regions can use this only for service which is a rather odd distinction to be honest.

We have said it many times before that a single HDMI input is far too little for today's applications and manufacturers should reconsider the connectivity options they offer in their soundbars either we talk about the top tier section or the most cost friendly units. As it is the Bar 2.1 Deep Bass comes with the absolute minimum so if you have multiple devices to connect you will either have to use the HDMI ports of the TV or consider yourself a HDMI switch.
In terms of wireless capabilities the soundbar comes only with Bluetooth v4.2. No WiFi is available here.
Control Options
Let's see next the means of controlling this soundbar. As always first comes the included remote and what we can say here is that in general we are not very enthusiastic of the new remote design that JBL is making. The one we find included here is the same design to the one we saw in the JBL Bar 5.1 Surround.
To be honest this must be one of the most simple remotes we have seen in any soundbar and will certainly not wow anyone with its design and looks. Its plastic quality is good but nothing out of the ordinary and it is slightly longer than what you would expect from a remote that has a total of eight buttons to handle.
At the top center we find the power button while below there are four buttons for TV selection, Bluetooth functionality, Bass level adjustment and HDMI selection. Below these we get a larger volume control button while at the middle of the remote below everything else we get the mute function. And that's all!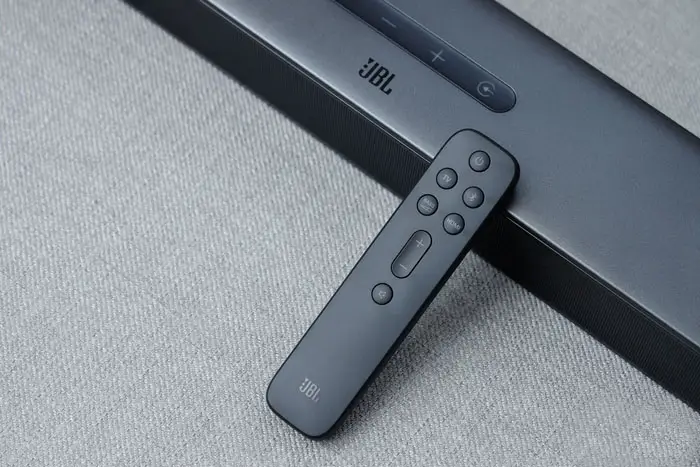 To be honest the soundbar's list of features is very limited so what the remote has is pretty much enough for everything you need. The remote lacks any kind of backlight functionality but at least the circular buttons have enough distance between them to avoid accidental commands. And while for the $500 Bar 5.1 Surround we would like to see something better, for the $250 Bar 2.1 Deep Bass we think it's more than adequate.
The built-in buttons layout is once again as simple as it gets. The first button from the left is for power followed but two buttons for volume control. If pressed together they act as mute control also while on the far right we get the source selection button.
The soundbar also supports HDMI-CEC so in case you have a TV for example that also supports this feature you can use that remote and control both devices. This way you can use less remotes in your viewing area. But the soundbar also has the ability to be controlled by another remote even if HDMI-CEC is not supported. This is done by the TV remote control learning functionality and with it you can use any remote from any device and make the soundbar learn what specific signals should correspond to specific actions. The manual has very easy to follow steps in doing that.
The unit lacks any kind of mobile app or voice control support that some of the higher tier JBL soundbars offer so the remote is your main and only means of controlling the unit. So don't loose it!
Extra Features and Services
The unit focuses on being as simple as possible and in order to keep its low cost and usage simplicity extra features are not exactly in abundance here.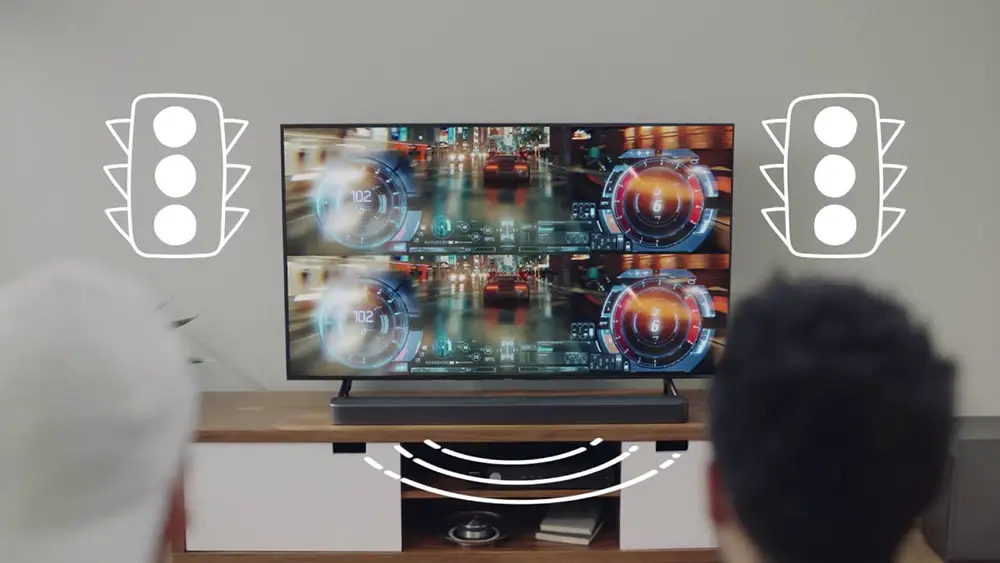 First of all lets talk about the audio support. JBL has always been very secretive of what kind of audio formats their soundbars support. For example in their official website you need to read careful between the lines to find that it can playback Dolby Digital content. And in the manual there is no mention of it at all! Obviously Dolby Digital is enough in most cases but we are disappointed not to see DTS also. This should be a standard nowadays. Also keep in mind that all Dolby Digital content has to be downmixed in 2.1 channels for the unit to play.
In terms of audio settings things couldn't be more simple. There are only two settings available that you can fiddle with really. The one is the bass level which offers 3 different settings and the other is Audio Sync. There is nothing else, it's that simple. For the bass levels we would like to have a few more steps as three seem very little. Some times the medium setting felt inadequate but when we chose the High setting the low end became too much which would distort the overall audio output.
As far as actual sound modes there is the Smart Audio mode which is enabled by default, and with it you can enjoy TV programs with rich sound effects. For TV programs such as news and weather forecasts, you can reduce sound effects by disabling the Smart Audio mode and switch to the standard mode. With the Smart mode the EQ settings and JBL Surround Sound are applied for rich sound effects while with Standard mode the preset EQ settings are applied for standard sound effects.
The soundbar doesn't feature any kind of auto sound calibration system but this shouldn't be a problem as the amount of sound settings available are very little to create any problems even to those not familiar with such setups. So there was no need really to include one.
The soundbar also offers some basic streaming capabilities as with the included Bluetooth function you can stream audio from any mobile device. Now there is also USB streaming capabilities but for some reason this has been included only in the US models. Keep in mind that this function is extremely limited as only MP3 and WAV files are being supported this way. Many of their latest models feature USB playback only in the US market but not anywhere else so we cannot be sure why this design decision was made but seems to be universal across their entire lineup.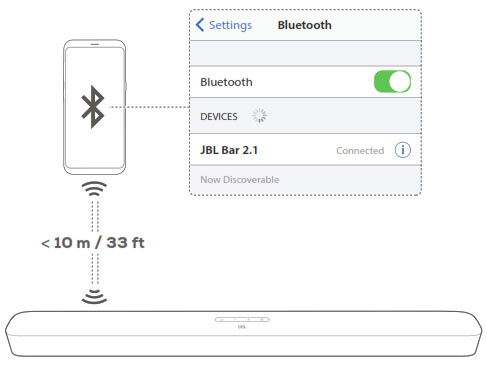 As the unit lacks WiFi functionality this means that there are no features related to online streaming. So if you are interested in Chromecast or Airplay you will be disappointed as this unit only supports local streaming through its Bluetooth. For online streaming you will have to look at the more expensive JBL Bar 5.1 Surround.
The unit will certainly not wow anyone with its feature list. It does try to offer some basic functions but it seems JBL wanted to keep the soundbar as simple as possible which meant that extra features would also be down to a minimum.
Initial Setup
If simplicity is your number one decision factor then the Deep Bass will surprise you in a good way. First we connected our 4K UHD player to the soundbar using the HDMI connection and from the HDMI output we connected our test TV. Once you power on both the soundbar and the subwoofer they both connect to each other almost immediately and everything is set.
Now as the default mode every time you power it up is the Smart Audio mode with JBL Surround sound you practically don't have to do anything as everything is set for you. Only the bass you need to handle and this can be done on a material basis depending the action on screen. It's that simple. No auto calibration systems, no complex settings and audio features, no EQ management that could take you more than a few minutes to be ready.
Obviously being so simple to setup and use is not for everyone. If you want to have some management over your audio there are other options to consider but if you just want the perfect plug-and-play soundbar we don't know if it can get any better than the JBL Bar 2.1 Deep Bass.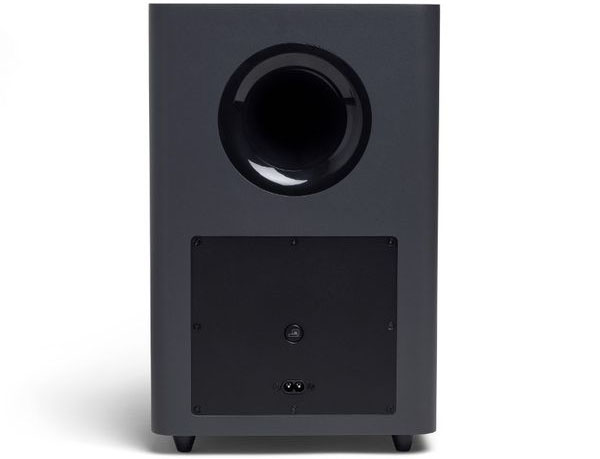 Movies
For the first film of the day we opted for the newly released Godzilla in 4K UHD that features a highly satisfying Dolby Atmos track. Unfortunately in our test we will not be able to enjoy the full benefits of this track and we will have to settle for the core Dolby Digital one which in turn is being downmixed to just 2.1 channels that the Bar 2.1 Deep Bass can output.
The first thing that immediately becomes evident is that the unit can go pretty loud and how punchy the low end is. With a movie of such grand scale the bigger than average subwoofer definitely helps in giving the necessary weight to explosions while Godzilla himself is realistically rendered as every footstep he made would give his size.
The front soundstagewas surprisingly satisfying. Good depth but with average extension all effects were rendered with good resolution while panning effects were rather distinguishable even though not with extreme detail. Dialogue was very clear and we never felt like it was drowning under all the action and if you consider that there is no dedicated center channel made this even more impressive. Dialogue lacked some depth but we cannot complain in general about that.
In terms of surround performance there was none unfortunately. All action was focused at the front which made some effects that were supposed to originate from the back being missed lowering the overall immersion. Cannon fire, fighter jets and the likes were all firmly originated from the front. Even sideways extension was rather average and the soundbar really failed to bring the action closer or even to the sides of our sitting positions.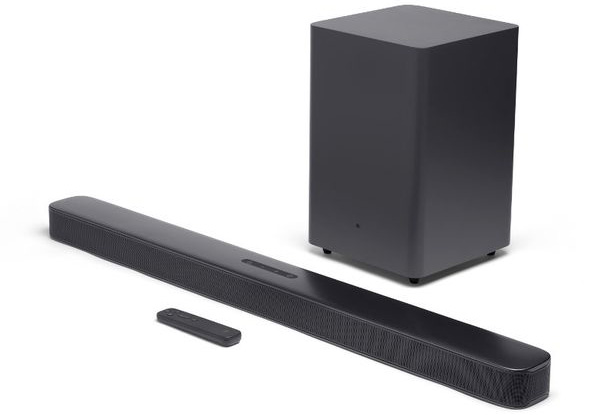 And while the unit may failed to offer any king of over-the-shoulder action on the low end things were much better. The sub will shake you enough and the bass had good volume and punch although sometimes it was not as clear as we would like it to be. There were moments that it sounded a bit muffled when extreme low end effects were at play and we had to take the bass level down a notch to bring some balance once again. But even with some shortcomings the bass performance of the soundbar was extremely pleasing for its price.
We also tried out the 4K UHD of Saving Private Ryan with its excellent Dolby Atmos track. Once again we had to settle for the core Dolby Digital audio which was downmixed to 2.1 channels.
The kind of behavior we saw here was very much consistent with what we heard in our Godzilla testing. The front was very satisfactory with good volume as the soundbar can go pretty loud without a problem and sound effects had good clarity and good precision. Panning effects like when the German machine guns were ripping through the first lines of the Allied soldiers had a nice wow effect as the bullets were flying from one side to the other.
Dialogue was good enough although some times we would like to be able to have an adjustment for it as the low end action would slightly overshadow everything else. Surround activity was obviously missing in action and while the movie is mainly front heavy certain effects were missing behind us that would make the scene even more realistic. Sideways extension was also average as most effects failed to reach close to our position or to our sides.
The bass on the other hand was really impressive. As the German artillery shells were falling on the beach each explosion came in with great punch and nice raw texture. It's certainly the highlight of this unit but it sometimes can miss its mark as it may feel bold and punchy but it slightly looses on balance depending on the scene.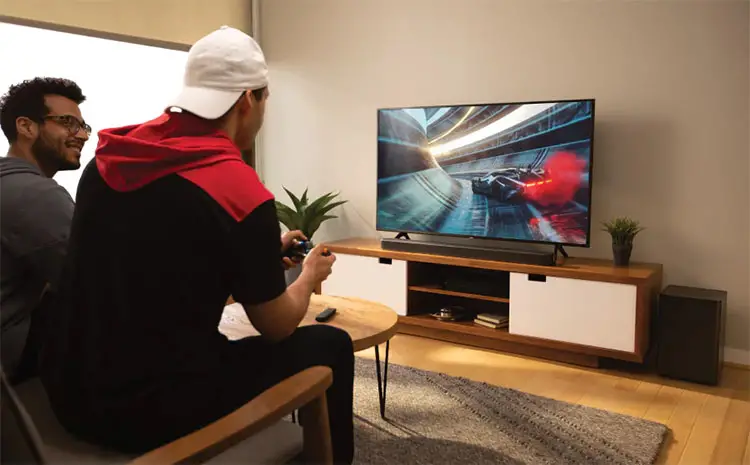 Overall the Deep Bass is the kind of soundbar that will certainly give you much more than your TV would. The front soundstage was great and the bass was punchy. It may loose some points on the surround activity and overall sound definition but for this price category we wouldn't complain much about these.
Music
Next we have our music tests and for this one we streamed some WAV files through the USB port as the unit we were testing was meant for the US market. Keep in mind for other markets there is no USB playback and you have to settle only with Bluetooth streaming which has obviously less quality.
The Bar 2.1 Deep Bass behaved exactly as you should expect from a low priced 2.1 channels system. There was nothing in particular out of place here as the soundbar was able to reproduce most of the sounds with good clarity and precision. Don't expect HiFi type of quality for sure but for those that seek a casual kind of audio experience this will be just perfect.
The mid-range had good volume and satisfactory balance while the high frequencies we alive and full of emotion. There were certain moments that the high end felt a bit too harsh for our tastes but this was not a constant thing and seems that it was really a matter of what kind of music was at play.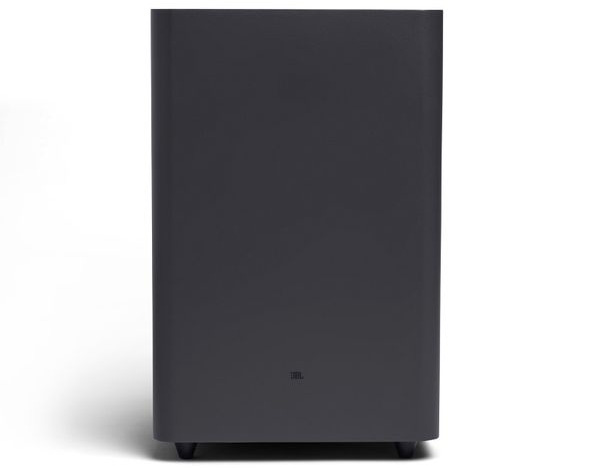 The subwoofer is once again was the highlight of the system as it could dig pretty deep and with good authority while it was able to keep the rhythm even with more demanding sessions. Medium setting was more than enough in our situation and while you could try to push it to the high setting we did notice that sometimes the bass would sound slightly distorted and out of place.
Sound imaging was ok and while we had heard a few other soundbars with better precision and clarity the Deep Bass was able to create a nicely detailed environment as you could still feel the different locations from where each music instrument originated even if it was not as clear or precise as we would like.
Lastly we did try various types of music like rock, pop, soul, heavy metal, country and classical and what we can say is that in some cases the soundbar fared better than others. It didn't have to do so much with the type of music but rather it was very dependent on each song and the qualities each one of them had.
In general the JBL Bar 2.1 Deep Bass is excellent if you want to satisfy your casual music needs. With its ease of use and satisfactory performance for its price you cannot ask for much more. It's not HiFi material in any way and for $250 you would make a mistake to think otherwise but if you just want to press the button and just listen to music without care very much about details or being extremely picky with quality this unit will certainly offer you countless hours of music enjoyment.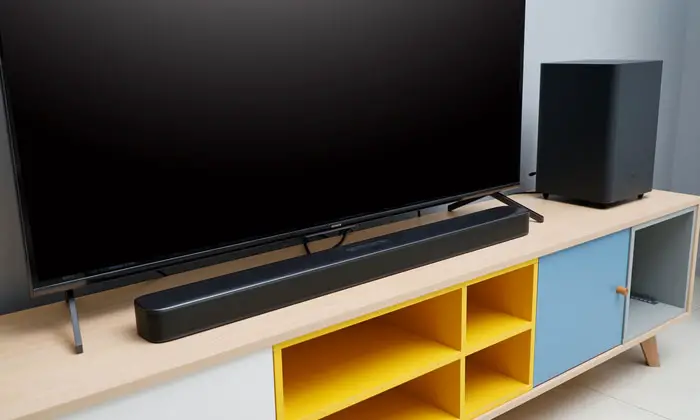 Final Thoughts
JBL may not offer as wide a soundbar collection as some other manufacturers but they really know how to target specific consumer groups and the JBL Bar 2.1 Deep Bass is destined for those that seek a soundbar that is really as simple as it gets to setup and use.
The Deep Bass offers a simple and functional design without being excessive or too much and initial setup and connections can be made even by a 10 year old child within minutes without any problems. Sound performance was good enough for this price category with good volume at the front soundstage giving a very much three dimensional feel to it. Bass was also punchy with enough power which will give you a pleasant shake or two if the action asks for it.
On the downsides we are disappointed that there is no DTS support while there was no surround action heard. The soundbar misses any kind of virtual technology that many other low end soundbars are using to simulate surround sounds and even if this is not very accurate at least it gives the end user some sense of immersion that was missing here. Also many will find the complete lack of EQ settings unwelcome which is a doubled edged sword really as it may offer simplicity but in terms of calibrating the sound to fit the best for you there is not much choice.
Closing we can describe the JBL Bar 2.1 Deep Bass as the perfect casual, plug-and-play soundbar that you can set in literally minutes and start enjoying when others will keep fiddling with settings and features. Yes, it may not be the best audio wise but if you just want to upgrade your TV audio performance and don't want to get into much trouble for it then this one here is one of the best units to go for.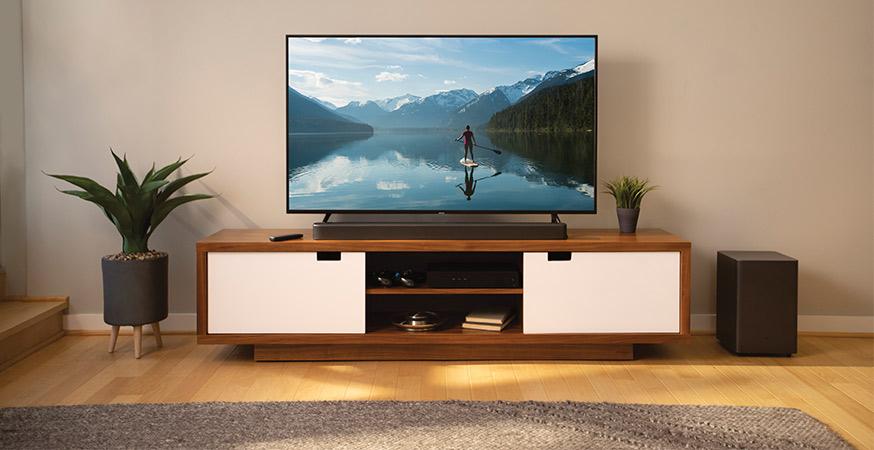 For more reviews you can check our dedicated Soundbar-subwoofer combo reviews list or even look at our Product Reviews Table where you can find the brand and specific product you are looking for.
Also don't lose the chance to subscribe to our Newsletter and gain exclusive privileges.
---
Cheapest Places to Buy :
---
JBL Bar 2.1 Deep Bass Specifications