JBL Bar 2.1
Design -

80%

Movies Performance -

85%

Music Performance -

85%

Inputs and Features -

88%

Price / Quality -

92%
---
Cheapest Places to Buy :
---
As time goes by more and more people are looking for cheap solutions to improve their audio performance of their brand new TV and as things are right now the simplest and easiest way to do so is to get yourself a soundbar. And while this category of audio devices is still relatively new compared to other home theater equipment we have seen a lot of progress the last few years with performance improving and prices dragged down by the fierce competition. Today in our JBL Bar 2.1 review we will be checking one of JBLs lower cost soundbars to determine if it is a worthy purchase.
The Bar 2.1 is what it's name says, a 2.1 channels soundbar that belongs to JBL soundbar series and is currently the most affordable and low cost model they have. One small observation here, JBL is also offering a Bar 2.1 Deep Bass model which is a different model than the one we have here so keep this in mind when you see both naming. Sitting, at the time of writing, around the $200 spot the Bar 2.1 is certainly not a unit that will blow your mind by the specs and features that come with it but this was never it's intention.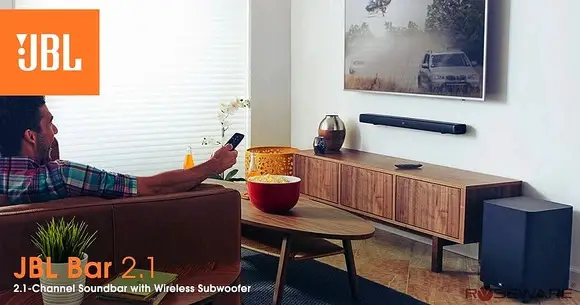 JBLs aim with this one is to create a unit that is affordable, easy to use and light on specs while offering respectable performance at a price that is almost as low as it can get in order to offer a better acoustic experience than any flat TV audio system can ever achieve. With this in mind did JBL managed to achieve that while still managing to offer an attractive overall package? Competition in the lower end segment is becoming more and more fierce but if we judge from the other JBL soundbars we had tested before, the JBL Bar 3.1 and JBL Bar 5.1, that managed to get very good scores we were optimistic that JBL has once again created a great product. So let's see if this holds true.
Design, Inputs and Features
Exterior
The first thing that we did notice when looking at the Bar 2.1 is how similar in design it looks with the JBL Bar 3.1 system. Obviously JBLs higher models comes in a bigger size but the looks and design lines are extremely similar. Only by looking them side by side you can understand the difference with the Bar 3.1 being obviously longer.
On the other hand the JBL Bar 2.1 feels like just a shorter version that can fit better under smaller sized TVs. Now with the Bar 2.1 having only 2 channels in the main unit it means that performance is bound to suffer a bit compared to Bar 3.1 3 channels but by how much we will find out shortly. But as for the general design it is not missing anything at all.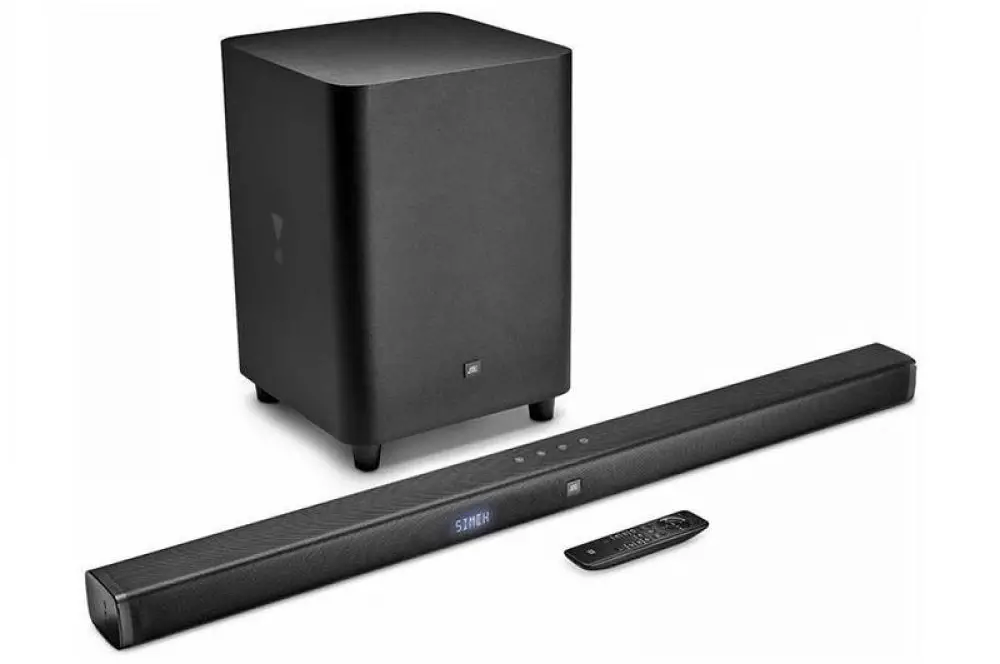 The soundbar measures 38" x 2.3" x 2.7" (965 x 58 x 68mm) and comes with a weight of just 4.2 lbs (1.9 Kg) making it a relatively small and lightweight soundbar that can perfectly sit under a 43″ TV. Obviously you can use it in bigger sizes like 49″ or above but anything more than 55″ and the soundbar's small length will start to show. But this is entirely an aesthetics thing and it doesn't mean you cannot use such a unit on even larger TVs like 65″ and above. But 43″ to 49″ we believe is the perfect fit.
Keeping with the main unit's compact factor JBL has equipped a relatively small factor subwoofer that keeps this model's compact footprint but at the same time provide the necessary power to drive those low frequencies that will give you some shaking pleasure. The subwoofer comes at a size of 8.9" x 8.9" x 14.6" (225 x 225 x 370mm) and weights only 11.4 lbs (5.2 Kg) and we are sure you will be able to find some corner to fit it in.
As we mentioned above design wise the unit is extremely similar to it's bigger brother. This means that the soundbar uses curvy lines with a very streamlined look and doesn't have anything fancy which is to be expected in this low price. Main material used is plastic while most of the front and top face are covered by a metal perforated grill. The JBL logo sits dead center on the front face breaking a little the otherwise monotonous look.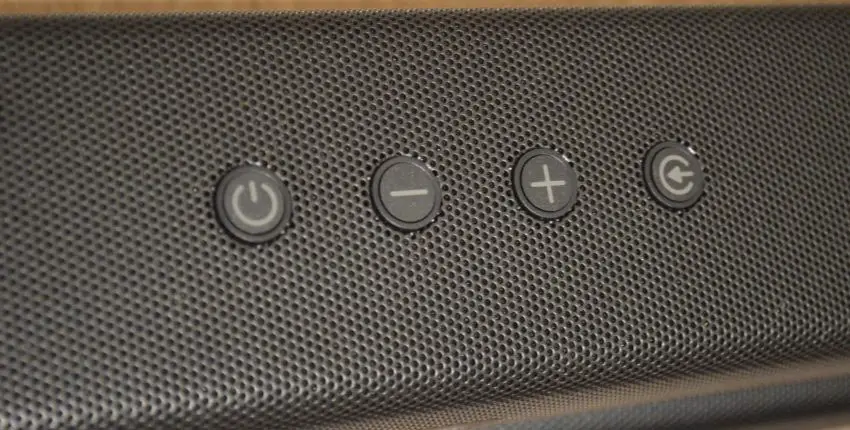 Similarly at the center of the top face we get a few built-in control buttons. Four circular buttons that you can use to power on/off, two buttons for volume control and the last button for input source selection is all that is provided. Obviously for better control of the soundbar you will need to use the remote as these provide only extremely basic functions.
If there is one thing that we are very critical about is the inclusion of a frontal display. And while more premium model usually have one we have seen a few low cost soundbars that don't which can be very frustrating. Thankfully the Bar 2.1 does come with one and this is a definite plus for such a low price.
The front display is located behind the front grill so it is not visible when not lit. It sits to the right of the JBL logo and can give you various information regarding the function of the soundbar like volume, input selection, bluetooth pairing, remote control learning or error messages. You can also dim the display from the remote if you find its brightness too distracting.

Let's take a look at the back of the unit now. Nothing special to mention here as all connections are grouped together inside the center inset and we will talk about them a bit further down our review. One thing we would like to mention is that with many soundbars we see manufacturers place the power connector away from the rest  probably to avoid interference. But this makes things harder when it comes to cable management. Fear not as the Bar 2.1 has everything together so keeping all your cables together and hidden should be relatively easy.
Also we should mention that the soundbar has a low profile which means that most probably it will not obstruct your TV's IR sensor making the need for an IR repeater on the back of the unit not necessary and thus help with keeping the cost of the unit as low as possible.
Lastly at the back we find the necessary holes in order to use the appropriate wall mounts if you want to place it on a wall. The mounts are very small and it shouldn't be very difficult to screw them if you have any basic knowledge of what you are doing. The unit is very light so there is no need for big mounts which is definitely a plus. The soundbar can only be placed in one position, looking forward either it is placed on the wall or on a furniture.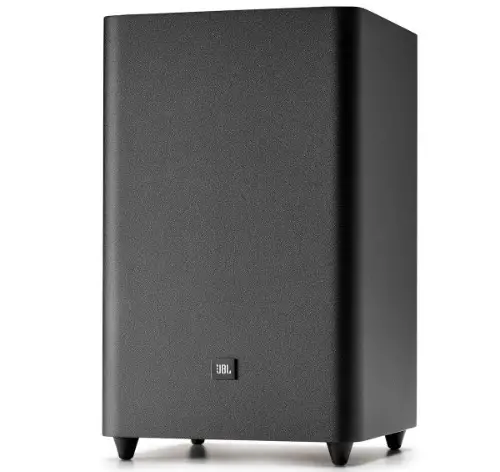 In general we are pleased with the quality of this one. It is not meant to awe you with its looks or design but it certainly tries to keep a certain level of quality that JBL is known for and for the price asked we cannot really complain.
Internal Hardware
Moving on let's talk about the kind of hardware we get in this low cost unit. Details on these soundbars are usually scarce but JBL does provide a few details about what makes the Bar 2.1 tick. As such the main unit houses four 2.25″ racetrack drivers that are accompanied by a couple of 1.25″ tweeters in order to power the two channels used. This means that each channel uses 2 racetrack drivers with a single tweeter.
These woofers are exactly the same as the one we saw in our JBL Bar 3.1 review. The only difference was that in Bar 3.1 we get an additional channel which means more drivers in total and obviously more power in total. The subwoofer on the other hand uses a single down-firing 6.5″ (165mm) driver in a bass reflext enclosure box in order to further boost the low frequency performance.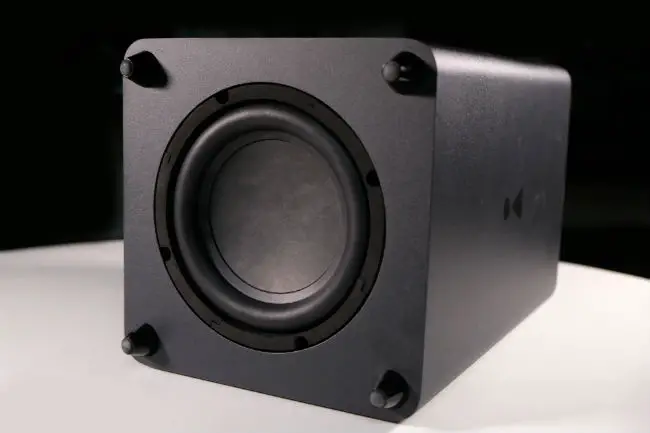 In total the soundbar provides 100 watts of power while the subwoofer has 200 watts maximum. The combination of the soundbar and the subwoofer brings its total power to 300 watts with 99dB max SPL and a frequency response of 40Hz to 20kHz. These obviously are theoretical numbers and we will see in real how all these translate momentarily.
Connectivity
Usually connectivity options are not the strong point of low cost soundbars and usually offer a fairly basic set of options for you to use. Obviously the Bar 2.1 could not be any different but even as such JBL did provide us with more than enough for any kind of basic audio setup.
So looking to the unit from the back at the far left side of the center inset we get the power connector, in the middle we find a coaxial input, a USB port for connecting external storage and a digital optical input. At the far right side we get two HDMI ports, one input and one output with both of them supporting HDCP 1.4 while the output has added ARC functionality.

To be honest we are pleasantly surprised by what we got. For a unit that costs $200 we get more than some other far more expensive models. Obviously the HDMI ports will be your main means of connection but having optical and coaxial ports also as an alternative is a huge plus. Finally the ARC functionality is something that many people are using nowadays so it's a welcome addition also.
Closing we should mention that there is no WiFi available in this one and you have to settle with the included Bluetooth for streaming which comes in version 4.2.
Control Options
So let's see now what means of control you have with this one. As we said above the unit itself has a few built-in buttons that provide some limited and basic functionality. But for full control you will need the included remote.
The remote we get with the Bar 2.1 is, in all honesty, a dirty cheap one. OK we cannot expect a fancy one for just $200 but at least JBL could make a bit better design on this one as the one we get looks damn ugly and like it was created in a hurry. The remote comes with all the function buttons you will need and since there are not many features on this soundbar the number of buttons is also limited.

Design wise the remote features curvy lines and is made entirely out of plastic. On the top we get two buttons for power and source selection with the playback buttons under them in a circular design. Below this we get controls for audio sync and bass as well as a mute button while the last group comprises of buttons than manage the various features of the unit including sound modes, Bluetooth streaming, Night and surround modes, display dimming and the SoundShift function. Naturally there is no backlight here and we were not expecting to get this anyways.
Lastly the Bar 2.1 has the ability to be controlled by various Samsung, LG, Sony and Vizio TV remotes without the need for you to do anything. But even if your remote is not supported, JBL has provided the Bar 2.1 with remote learning so you can teach it to respond to all kinds of remotes for some basic functions.
Closing we should mention that this model does not support any kind of voice control nor it uses any kind of mobile app as we have seen in some other relatively cheap soundbars.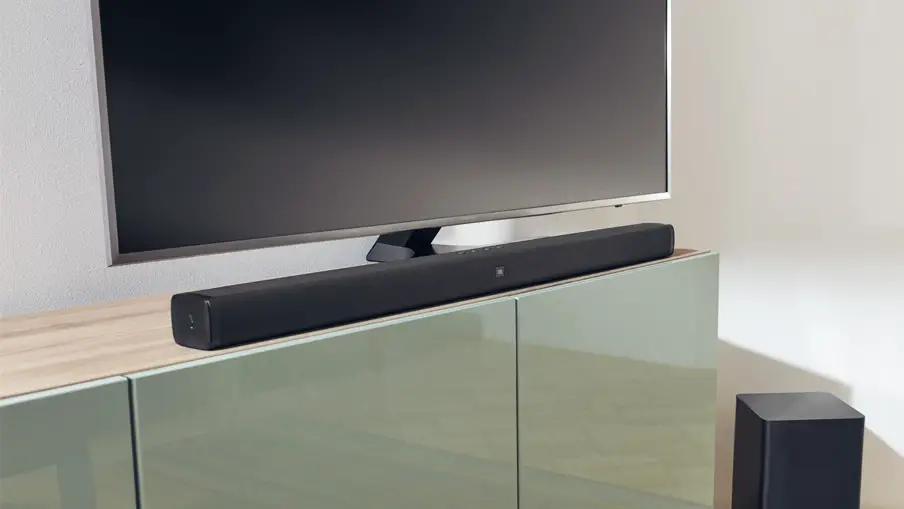 Extra Features and Services
Usually low cost soundbars come with very few extra features and this is something that holds true with the Bar 2.1 also. But let's see what this one has to offer. First of all as far as its streaming capabilities is concerned we already mentioned that the Bar 2.1 has built-in Bluetooth which means you can stream music from any Bluetooth capable mobile device directly to the soundbar. Pairing is fast and easy and is the same as with any Bluetooth pairing you have done so far.
But except from wireless streaming you can also stream audio from the USB port by connecting an external storage. The built-in media player is a bit limited to the kind of files it can play as only mp3 and certain wav files are supported so you better check the manual to be sure if your files can be played. Playback controls include play/pause, skip next/previous track, shuffle, repeat once and repeat all. Obviously there is no High Resolution Audio support and this is no surprise for such a low budget model.
The soundbar comes with 5 sound modes including Standard, Music, Movie, Voice and Sports that you can choose from depending the kind of content you are watching. We will talk in more detail about these in the following section and we will give you our suggestions as to which ones we believe are the best for each type of content you watch.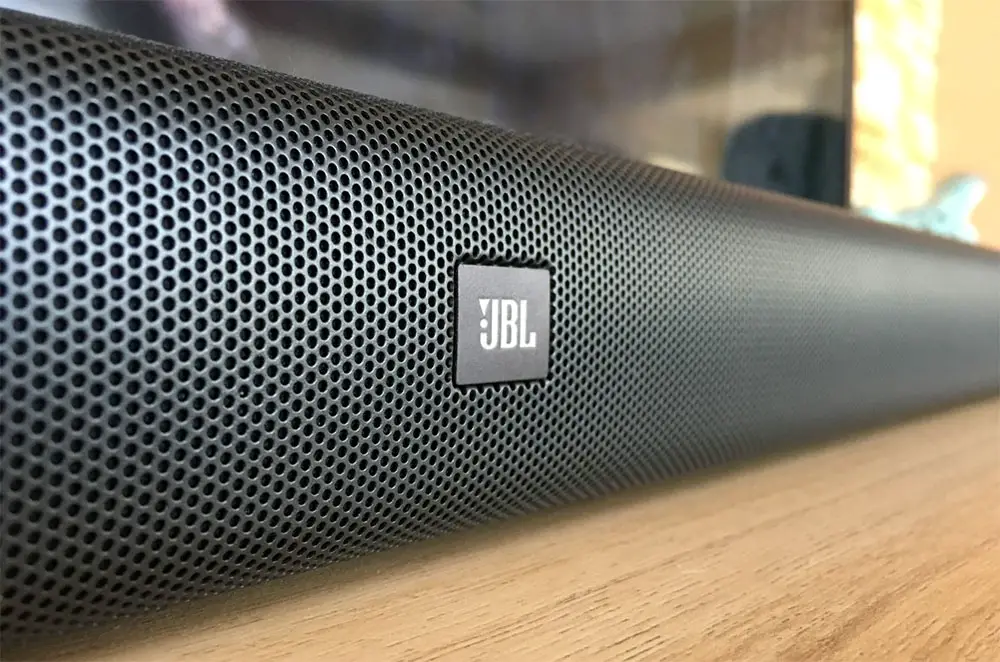 But expect from these 5 there are a couple of more modes that are worth mentioning. The first one is Night mode which is ideal for late night watching as this one decreases loud sounds volume so you wont have to change the master volume all the time. Unfortunately this seems to be available only for Dolby Digital tracks.
The second mode that is worth mentioning is the JBL Surround Sound which is supposed to create a more immersive acoustic performance ideal for action movies. Again we will talk about this a bit later but think of it as an alternative to virtual technologies some other more expensive soundbars offer.
The last of the features that is included in the Bar 2.1 is called SoundShift. With this feature enabled when you play an audio file from a mobile device that is paired through Bluetooth the soundbar will cut the sound that is coming from the connected TV and switch to the Bluetooth stream. When you stop the audio file playing in your mobile audio will again switch back to the previous connected deviced (being the TV). A very handy feature indeed as you don't have to switch devices all the time.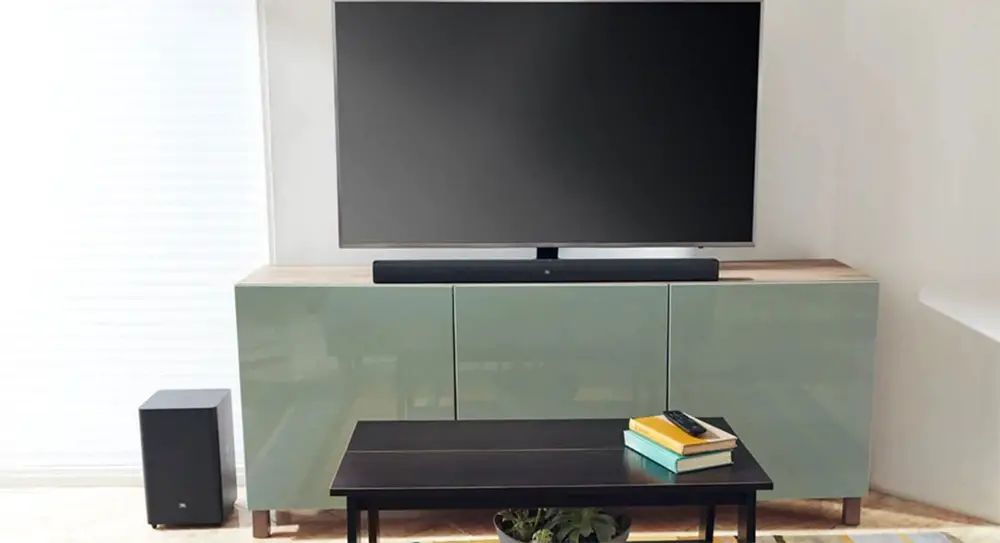 And that's all as far as extra features. The low cost of this unit obviously don't allow for anything more so what we do get seems to be more or less in line to what should be expected.
Initial Setup
If there is one thing we definitely love with these low cost soundbars is their easy to use nature. Plug-and-play is a given as their low cost means that their users seek an easy to handle device without much calibration and setup procedures. The Bar 2.1 follows the same principle as setting this up could not be any easier.
The first thing after you place both the soundbar and subwoofer is to decide the means of connection. There are a few different options to go with but in our situation we decided to connect our UHD player to the soundbar's HDMI input and use the HDMI output to connect the Bar 2.1 to our test TV. There are various other ways to connect them and the manual give you all the options to choose from so this part is very straightforward.
After powering up both the soundbar and the subwoofer the two should be already paired but in case they are not in the manual there is the button sequence you have to follow to pair them again. Once again the procedure is very clear and easy to follow and you shouldn't have any trouble at all.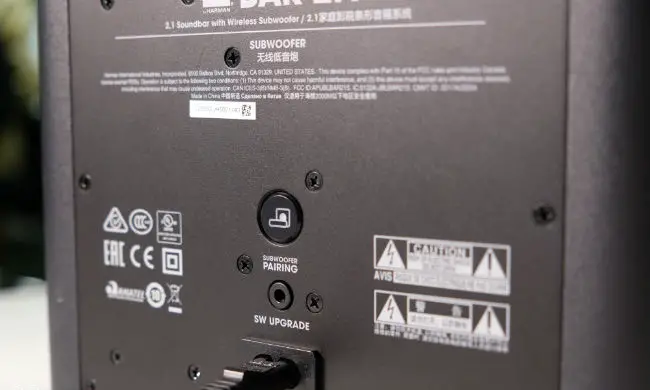 Basically when the pairing is done you don't have anything else to do as there is no special calibration to be done. The only options you need to decide before watching are basically three. The first is if you want to use JBL Surround Sound for a more immersive experience, to adjust the bass level and choose the sound mode depending the content you will watch. And that's all.
If you have even a little experience with audio equipment it shouldn't take you more than a few minutes from unboxing to listening to your first content. It's that easy and in this price it really should be like that.
Movies
The JBL Bar 2.1, being a low budget 2.1 channels system, doesn't have either the hardware or the software to render any of the newer object-oriented tracks like Dolby Atmos and DTS:X so we will have to settle with the good old Dolby Digital and DTS core variants. Having tried all the various listening modes we decided to mostly focus our attention to a few specific ones. For movies we decided to compare the Standard and Movie modes as these are the most likely ones that you will be using. Also we will test how much of a difference the JBL Surround Sound mode does to a film.
For our movie testing we decided to go for a film that has some serious action to it so the 4K UHD version of Battleship seemed like a good choice. We know that the film didn't get the best of reviews but as far as the action and special effects is concerned you have to agree that it's one hell of an action flick.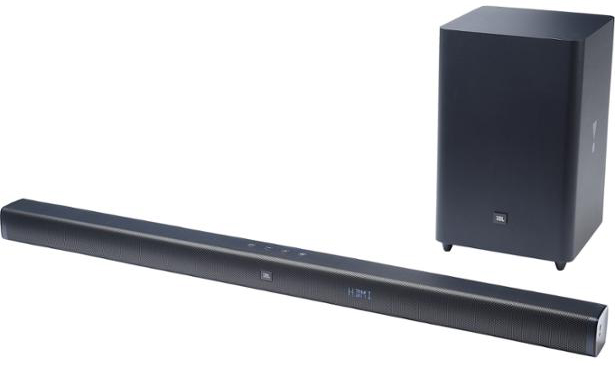 Obviously the soundbar doesn't support the UHD's DTS:X track so we fall back to the core DTS in our case. For such a low cost soundbar the Bar 2.1 did manage to offer a performance that is way above and beyond whatever sound any TV audio system can offer. Firstly the soundstage at the front feels more alive and expanded and while don't expect to get any action behind you as surround activity is non excistent things at the front of us felt quite good.
Even for such a small size the Bar 2.1 had good separation between the left and right channels while the dialogue was clear enough and distinct from the rest of the sound effects even during heavy action. Bass felt also satisfying when listening to normal volume but it seems that it started to distort when we pushed it to very high levels.
As for the modes available the Standard mode felt like the most balanced one between the lows, mid-range and high frequencies while the Movie mode felt like it was favoring the lows more which was to be expected. Of course you can calibrate the bass manually if you like the shaking but the Movie mode seemed to give a little more priority to the lows compared to the rest of the sounds.
Now as for the Surround mode, this tries in a sense to create a more immersive soundstage but the end result we cannot say was very different or that it offered anything that can be described as surround. Yes, it felt like a bit more enveloping and wider than without using it but don't expect to get any kind of surround immersion out of it. Some people may like it so we will not entirely disapprove it but for us the best mode to use was Standard with Surround mode off and just calibrate the bass according to your liking.
By doing so watching some scenes from the Battleship movie the Bar 2.1 was able to offer a very respectable performance with a very alive front soundstage, good distinct effects between the channels, clear dialogue and solid bass. We could even say that we got more than what we expected from such a lightweight and low cost soundbar.
Music
Let's now proceed with our music testing. The bar 2.1 unfortunately doesn't have many capabilities when it comes to the kind of files it can support through the USB port as only MP3 and WAV files can be recognized. Now you may think that having WAV support means that High Resolution Audio is also supported but unfortunately the unit can playback WAV files only up to 48kHz sampling rate with 300 kbps bitrate which is similar to what is supported for the MP3 files. Not so high resolution if you think about it so it's mostly support for the file format than for what the WAV files can really offer in terms of quality.
Since we didn't have any WAV files at hand we had to settle with a selection of MP3 files with 320 kbps of bitrate for our testing. Mid-level presence was full while the bass proved to be very satisfying in songs that didn't have an excessive need for deep low power. Highs felt to accompany the rest of the frequencies with a certain degree of control and never felt very bright. Vocals had clarity and felt like they never overlapped with the rest of the sounds. For a soundbar that is missing a center channel the vocals performance was surprisingly good.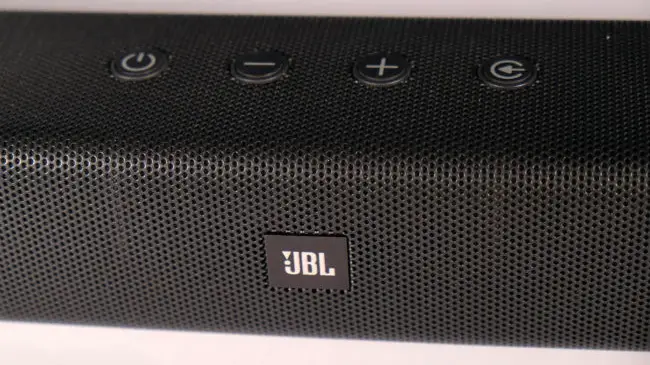 Now comparing the Standard and Music modes the differences between them are minor and it's really up to you to decide what sounds better to your ears. Differences between the two modes are not so obvious as it was between the Standard and Movie modes we described above so it needs a bit of back and forth in order to determine the best for you. For our tastes we prefered to stay with the Standard mode and dial up the bass a few notches for best results.
Final Thoughts
Closing our review our experience with the Bar 2.1 was, in all honesty, better that what we initially expected. Obviously with such a low budget unit there are certain limitations both in regard to extra features and capabilities as well as in its overall performance.
The JBL Bar 2.1 is not very much different from it's bigger brother, the Bar 3.1. Obviously missing the extra center channel and having less power limits it's overall performance while its size makes it perfect for any TV that sized between 43″ and 49″. You can obviously use this with bigger sized TVs but for anything above 49″ the Bar 3.1 may be a better fit especially if the extra space allows for it.
The Bar 2.1 may be a 2.1 channels unit with just 300 watts of power but for a small living room or media area is ideal as it can offer a far better performance than what a TV would ever be able to. The extra USB and Bluetooth streaming capabilities are a welcome extra while it offers plenty of connection and sound modes to choose from. Lastly we shouldn't forget to mention how easy it is to setup everything as we are talking about a true plug-and-play device that can be ready for use in just a few minutes.
On the downsides now. Well obviously its performance is rather limited by both it's hardware and software. It doesn't support any of the latest Dolby Atmos or DTS:X tracks while it also misses High Resolution Audio support. Bass although solid at normal listening levels it will start to distort if you push it to the extremes while surround activity is non existent even with the included JBL Surround Sound mode. Lastly the remote is a dirty cheap looking one and although we are talking about a low cost unit at least JBL could provide it with a better design. Cheap doesn't have necessarily to mean ugly.
The JBL Bar 2.1 soundbar is the kind of device that is destined for a specific group of people. If you want a small looking soundbar that doesn't need a lot of space, is extremely easy to setup and you don't need the extra bells and whistles that the higher models offer then this one is definitely a very good candidate. The price is right and the performance is good. And usually these two are always a good combination.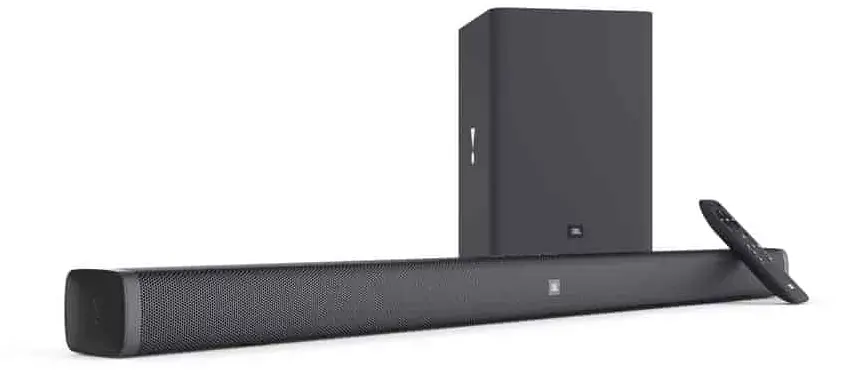 For more reviews you can check our dedicated Soundbar-subwoofer combo reviews list or even look at our Product Reviews Table where you can find the brand and specific product you are looking for.
Also don't lose the chance to subscribe to our Newsletter and gain exclusive privileges.
---
Cheapest Places to Buy :
---
JBL Bar 2.1 Specifications