JBL Bar 5.1 Surround
Movies Performance
9.0/10
Inputs and Features
8.5/10
Pros
Wide front soundstage
Punchy bass
Extremely simple to setup and operate
Pleasant design
Cons
Not many EQ settings
Surround activity is missing
Slightly off balance in high volume
Not very cheap
---
Cheapest Places to Buy :
---
With soundbars becoming more and more popular every year had led manufacturers put a lot of effort and resources into creating models that are simple to use while offering a far better acoustic experience than any TV can. One such manufacturer is no other than JBL that has created some pretty amazing soundbars lately and they seem to aim mostly for sound performance rather than fancy looks or crazy extra features. Having released a few new models lately it's time to look upon them so in our JBL Bar 5.1 Surround review today we will be looking at this soundbar-subwoofer combo and what it has to offer.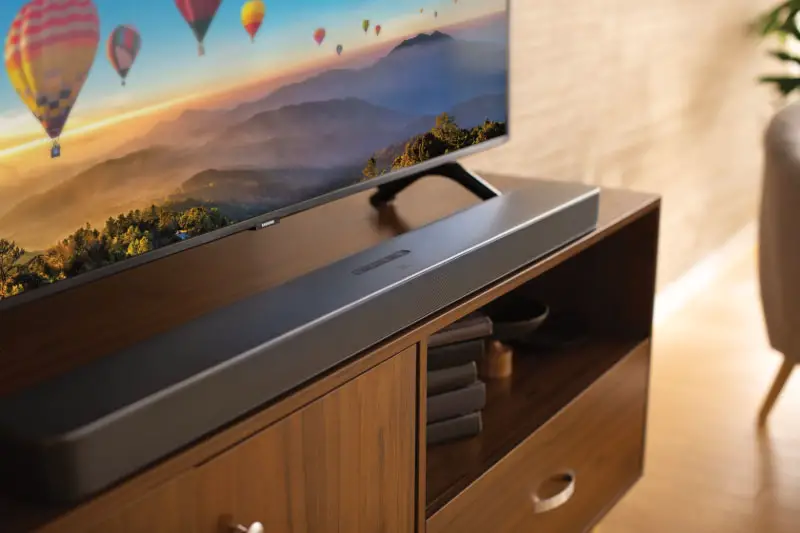 Now some of you may think that the JBL Bar 5.1 Surround is the successor of the JBL Bar 5.1 but this is not true. We don't know why JBL decided on this confusing branding but this model is actually the successor of JBL Bar 3.1 as the Bar 5.1 Surround may have the "Surround" in its name but it actually doesn't have any rear speakers and instead relies on MultiBeam technology and side-firing tweeters in order to give you more expansion and depth of sound.
The JBL Bar 5.1 Surround cannot be characterized as a low tier soundbar as with a price of $500 at the time of writing this review this is certainly a step up from the low end and JBL has made sure to include a lot of hardware in order to justify this. With 550 watts of power this 5.1 channels unit certainly has a lot of punch and if you include also the MultiBeam technology, the automatic calibration system (AMC), Chromecast and Airplay 2 support along with Bluetooth and USB streaming then the new JBL Bar 5.1 Surround has a lot going for it. How all these translate to the real world? Let's find out…
Design, Inputs and Features
Exterior
This is a JBL soundbar and as with most of their offerings you shouldn't expect to find any fancy design here as JBL is known to put most of their attention to the actual performance of the unit rather than its looks. Not that the Bar 5.1 Surround has a bad design, it's just that it is not the kind of unit that will draw the attention in any room.
The soundbar may be in theory a 5.1 channels unit but keeps a relatively compact design even though it reaches 40″ (1 meter) in length. To be more specific the Bar 5.1 Surround measures 40.1"x 2.3" x 3.9" (1018 x 58 x 100 mm) and weights 6.28 lb (2.85 kg) which is pretty lightweight for this size. With this length the unit can fit nicely under any TV of 49″ and above. One thing to note is that if you plan on placing the unit in some cabinet you need to keep both sides free in order for the side-firing tweeters and the MultiBeam technology to work properly and this definitely makes placement a bit more complicated.
The unit is entirely covered in matte dark gray plastic while JBL opted for a more smooth design with rounded sides and corners. The perforated grille that covers the entire front side hiding the drivers and front display extend to the sides in order to provide protection on the tweeters also. The entire design was made in such a way in order to go as much unnoticed as possible and for sure many will appreciate that.
The top side is very minimal as the only thing you will find is the built-in controls that have been positioned dead center in a specially designed groove which is a nice practical addition in case you will be looking for them in a low lit room. You see, the buttons are touch sensitive so they are a pain to press them in the dark so this small groove can help guide your fingers.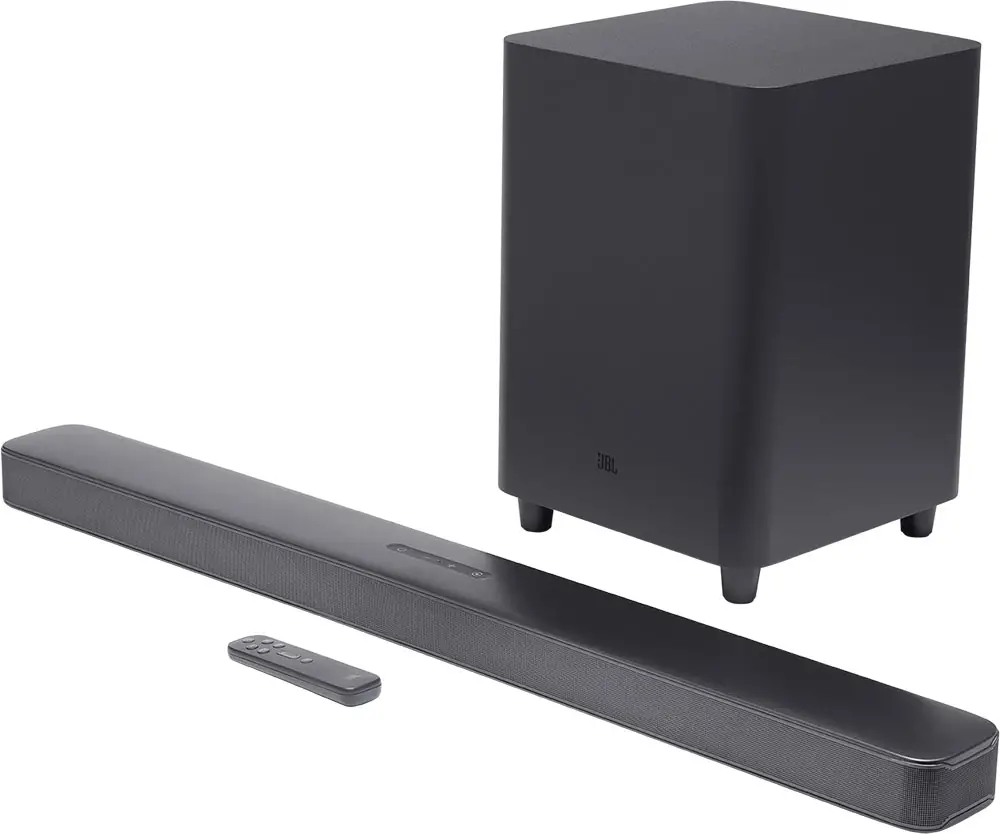 A very critical element to any soundbar design is the inclusion of a fully functional display and here JBL does not disappoint. But since they have decided to place the five drivers next to each other at the center, the display had to move to the far right side and under the perforated grille as per normal in similar designs. The display can show you various functions like volume control, input selection and sound adjustments among others.
The back of the unit is where all the connection ports are located in a centered inset specially designed to help with the cable connectors. There is nothing else to be found as the unit lacks any IR repeaters while the wall mounting brackets are holding the soundbar from the bottom. With only 2.3″ (58mm) height you shouldn't have a problem obstructing your TVs IR sensor but just in case you should measure it to be on the safe side. As the unit features a sealed design there are no air ports of any kind to be found either.
Onto the subwoofer now and the one we get here is the same JBL have been using in many of their offerings. Measuring 12.0"x 17.3"x 12.0" (305 x 440 x 305 mm) and with a weight of 23.41 lb (10.62 kg) this one is slightly bigger than what you would expect from this category and it seems that it's the same design as the one we saw in the JBL Bar 9.1. It comes with a very cubic design that looks like a small table and comes with rounded corners that fit the looks of the main unit. The subwoofer comes with a down-firing driver along with a big air port at the back and big rubber feet in order to leave enough breathing space at the bottom.
The looks and design of the Bar 5.1 Surround will not win any awards but it's sufficient enough and very characteristic of JBL. We would like to see a better remote especially considering the price but other than that we have no real complaints here.
Internal Hardware
JBL claims this to be a 5.1 channels soundbar which is a rather bold claim for a soundbar that supposedly has 5 channels and the word "Surround" in its naming but completely lacks any real surround speakers. But let's see in a bit more detail what this one hides under the hood.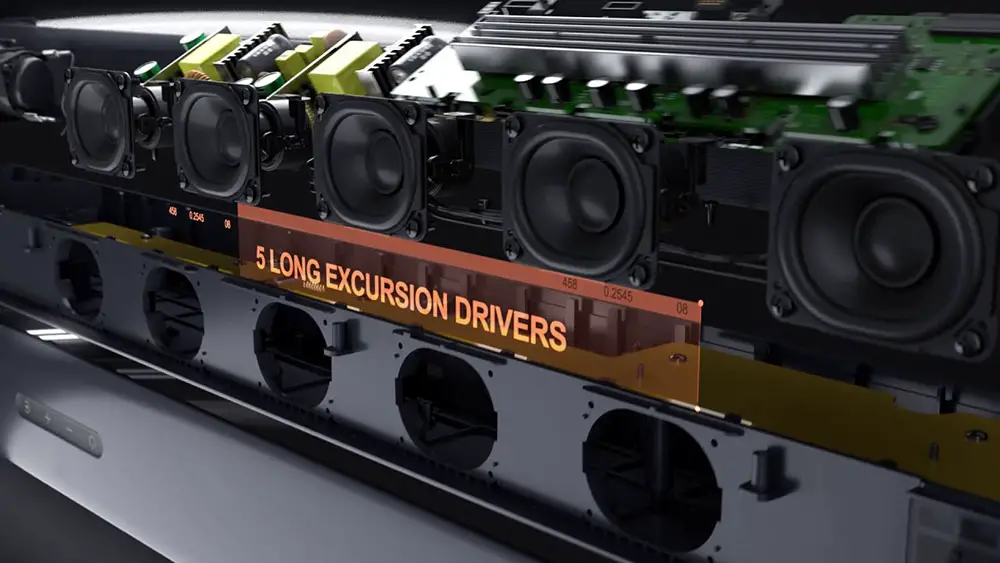 First of all the Bar 5.1 Surround is rated at 550 watts of power which is not bad at all. The main unit comes at 250 watts (Max. @THD 1%) with 5 x 50 watts while the subwoofer is a 300 watts little monster.
Now while most soundbars are pretty clear of the driver configuration the Bar 5.1 Surround mixes things slightly. And we say this because  for the three front channels JBL is using 5 long excursion racetrack drivers. It's not clear which ones are being used for the front right and left and which for the center channel but the 5 drivers array is responsible for all front activity.
But this is not all. JBL has also included two 1.25″ side-firing tweeters and with the addition of MultiBeam technology they are responsible at providing more width at the front and surround effects that feel closer to the viewer. We have seen this technology being utilized in other soundbars also so we will talk about how good it is being implemented here shortly.
Lastly we shouldn't forget to mention the included subwoofer which features a 10″ (254 mm) down-firing driver and is responsible for providing the necessary low end extension. Getting a 10″ driver is just about the normal we see in such soundbar sizes and can be adequate enough for this category.
The soundbar-subwoofer combination of drivers give the Bar 5.1 Surround a frequency response of 34Hz ~ 20kHz which in theory sounds very impressive considering the higher tier JBL Bar 9.1 had also the same.
Connectivity
Let's see now what kind of connectivity options JBL has included in this one. As we already mentioned all ports are located in a special inset at the center of the back side. What we like a lot is that unlike other manufacturers JBL is placing their power connector close to the other ports and thus makes grouping of all cables much easier.

Now from left to right what the Bar 5.1 Surround comes with are the power connector, a USB port, a digital optical input, an Ethernet port for wired connection to the network and two HDMI ports, one input and one output.
Overall this could be described as the most basic of layouts. Both HDMI ports support HDCP 2.3 and have the ability to pass-through 4K and Dolby Vision signals while the output has added ARC functionality but no eARC unfortunately. For those that have older equipment there is an optical port while we should note that the USB port has added MP3 playback functionality only for the US models. All other regions can use this only for service which is a rather odd distinction to have.
We have said it many times before that a single HDMI input is far too little for today's applications and manufacturers should reconsider the connectivity options they offer in their soundbars either we talk about the top tier section or the most cost friendly units. As it is the Bar 5.1 Surround comes with the absolute minimum so if you have multiple devices to connect you will either have to use the HDMI ports of the TV or consider yourself a HDMI switch.
The soundbar comes also with the standard wireless capabilities as it supports WiFi 802.11 a/b/g/n/ac (2.4GHz/5GHz) as well as Bluetooth v4.2. We would like to see the newer 5.0 like some other models do but no luck in this one.
Control Options
Let's see next the means of controlling this soundbar. As always first comes the included remote and what we can say here is that in general we are not very enthusiastic of the remote designs that JBL is making. The one we find included here is very similar in design to the one we saw in the JBL Bar 9.1 although this one has slightly different buttons configuration.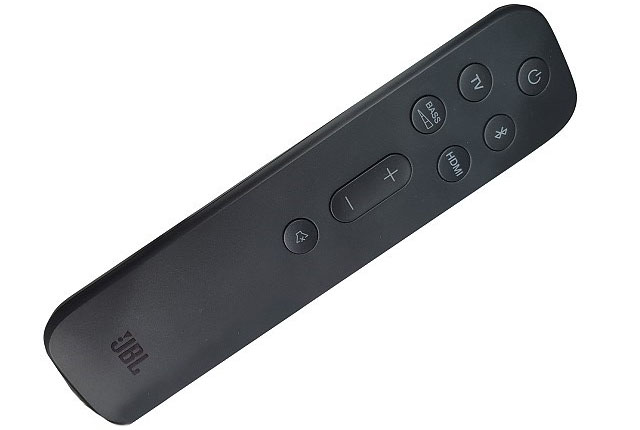 To be honest this must be one of the most simple remotes we have seen in any soundbar and will certainly not wow anyone with its design and looks. Its plastic quality is good but nothing out of the ordinary and it is slightly longer than what you would expect from a remote that has a total of eight buttons to handle.
At the top center we find the power button while below there are four buttons for source selection, Bluetooth functionality, Bass level adjustment and HDMI selection. Below these we get a larger volume control button while at the middle of the remote below everything else we get the mute function. And that's all!
To be honest the soundbar's list of features is very limited so what the remote has is pretty much enough for everything. The remote lacks any kind of backlight functionality but at least the circular buttons have enough distance between them to avoid accidental commands. In total for a $500 soundbar we would like to see something better but knowing JBL they put their money on other things like sound performance and that is totally fine by us.
The built-in buttons layout is once again as simple as it gets. The first button from the left is for power followed but two buttons for volume control. If pressed together they act as mute control also while on the far right we get the source selection button. Between the two volume control buttons we find a small hole that hides the built-in microphone that is used for the audio calibration system but we will talk more about this in the following section.
The soundbar also supports HDMI-CEC so in case you have a TV for example that also supports this feature you can use that remote and control both devices. This way you can use less remotes in your viewing area. But the soundbar also has the ability to be controlled by another remote even if HDMI-CEC is not supported. This is done by the TV remote control learning functionality and with it you can use any remote from any device and make the soundbar learn that specific signals should correspond to specific actions. The manual has very easy to follow steps in doing that.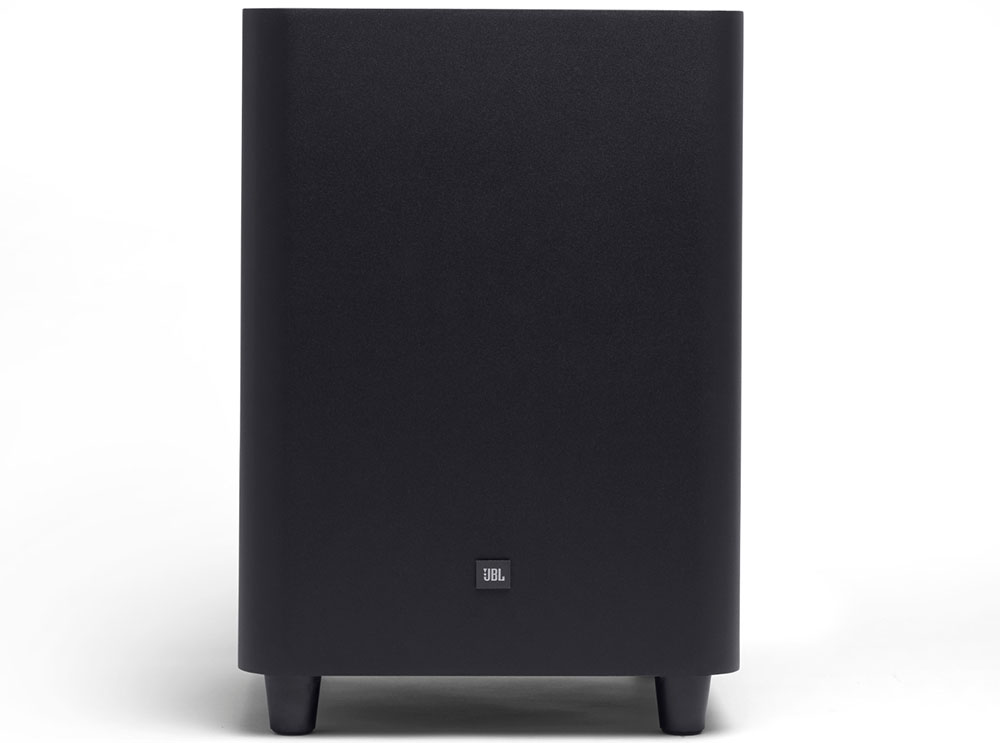 Having a dedicated mobile app is very usual nowadays but JBL must be one of the few companies that doesn't provide a JBL made app for their soundbars. Instead you can use third party apps that can do the same job and these include Chromecast and Airplay along with Google Home that is anyway required in order to connect the soundbar to the network. We fail to see the reason why JBL has not yet created a dedicated app for their products and seems like they have been slightly left behind the competition in this regard.
You may think that having a built-in microphone would also bring voice control to the Bar 5.1 Surround. Unfortunately this is not the case and there is no built-in voice control functionality here. And since there are far lower priced soundbars nowadays that come with all the voice control platforms you will ever need we would also call this a disadvantage the Bar 5.1 Surround has.
Extra Features and Services
As we already mentioned the Bar 5.1 Surround is not exactly the extra features powerhouse compared to other models in the same price. But it still comes with a few worthy of note.
First of all we need to mention the kind of audio formats supported. Here JBL has slightly failed to offer a very clear image as they don't mention anywhere what audio formats are really supported by the Bar 5.1 Surround. Neither on their official website nor on the manual is anything mentioned. Only in a promotional specs sheet they do say that Dolby Digital 5.1 is being supported and to be honest JBL should be more clear about this as it's very important to many users to know what can this soundbar play and what not. Obviously there is neither Dolby TrueHD nor Dolby Atmos support so don't expect anything more than the core Dolby Digital experience.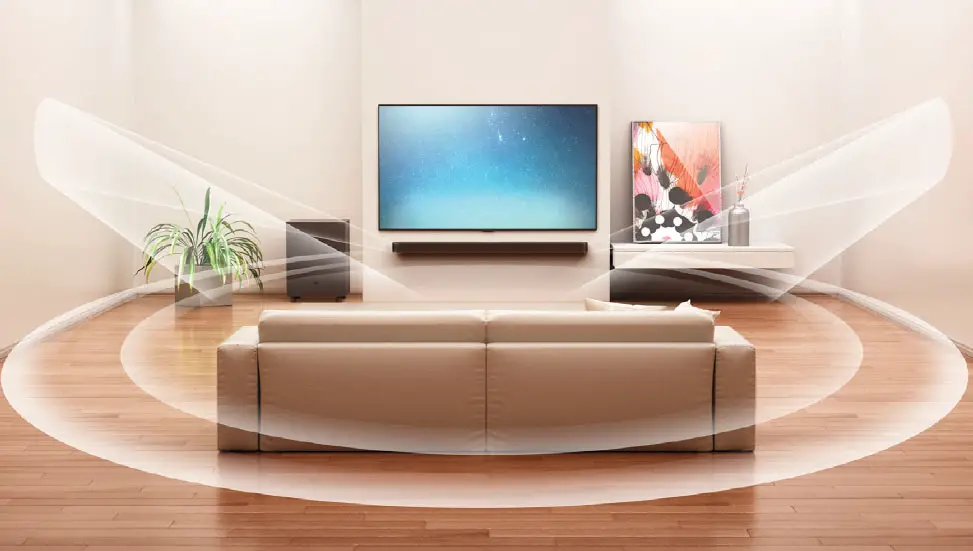 The single most difficult problem to overcome with soundbars that don't have any dedicated rear speakers is to offer a convincing surround experience. We have seen manufacturers trying different techniques and technologies and JBL seems to be using their own MultiBeam feature. This technology with the help of side-firing tweeters is promising to offer a more extensive and enveloping soundstage without the need of extra features. Bold claims by JBL so we will see in out movie testing section below how much these claims hold truth.
The JBL Bar 5.1 Surround is an extremely simple soundbar and this can be seen by the number of audio settings available which are very few to be honest. We do understand that the more you add the more complex the experience becomes but for a soundbar costing close to the $500 mark we find it slightly disappointing to see so little in terms of audio adjustments when far cheaper soundbars come with much more. It's all about options given to the user and the Bar 5.1 Surround honestly doesn't offer much in this regard.
Firstly there is a bass control with five different levels to choose from depending on how punchy the low end you want it to be. If the audio is not exactly in sync with the video there is an audio sync function offered while the only real sound mode adjustment you can make is by choosing if you want to enable the smart mode or not.
With the smart mode enabled by default, you can enjoy TV programs with rich sound effects. For TV programs such as news and weather forecasts, you can reduce sound effects by disabling the smart mode and switch to the standard mode. With the Smart mode the EQ settings and JBL Surround Sound are applied for rich sound effects while with Standard mode the preset EQ settings are applied for standard sound effects.
And that's all when it comes to audio settings. The Bar 5.1 Surround lacks any kind of sound modes that even dirty cheap soundbars offer and we would like to have slightly more flexibility in this regard.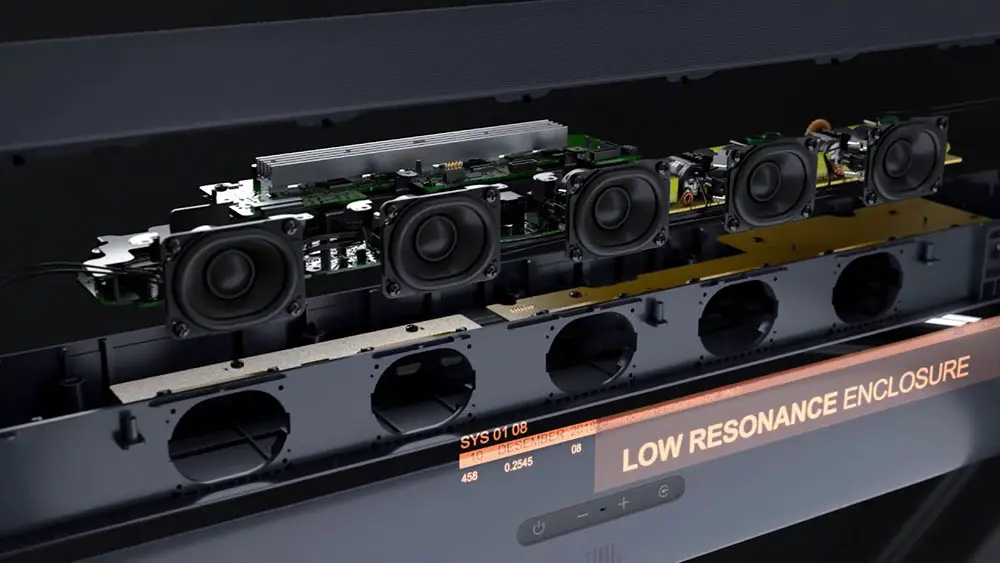 The unit comes with an audio calibration system called Automatic Multibeam Calibration (AMC) and JBL has implemented it in such a way that could not be more simple than it is. Basically after the initial connections all you have to do is press the HDMI button for a few seconds until the calibration signal appears on the display. The unit will play a few loud sounds and will give you a DONE signal when it finishes. That's it and you don't have to do any further adjustments or worry about it ever again.
The soundbar also offers some basic streaming capabilities as with the included Bluetooth function you can stream audio from any mobile device. Now there is also USB streaming capabilities but for some reason this has been included only in the US models. Keep in mind that this function is extremely limited as only MP3 files are being supported this way. We saw JBL doing the same thing with the USB port on the Bar 9.1 so this has certainly something to do with the overall design decisions they made and is not a problem of a specific model.
But streaming is not limited only to Bluetooth as JBL has included support for both Chromecast and Airplay 2. With these two you can stream music from an online service from those available either you are an Android or iOS fan. These two apps can do more than just stream online music as you can also connect various speakers and create your own multi-room environment.
And that's all as far as extra features. Keep in mind that there is no High Resolution Audio support in this one and it's a shame as we have seen similar or cheaper offerings include this as a standard nowadays. With this in mind we can say that JBL has included the most basic feature list in the Bar 5.1 Surround and while enough for the basic experience it will not wow anyone with what extras are offered here.
Initial Setup
Most soundbar manufacturers seem to create a standard procedure for initial installation that applies to all their models and JBL have done the same as the Bar 5.1 Surround follows the same steps we had to do in our Bar 9.1 setup.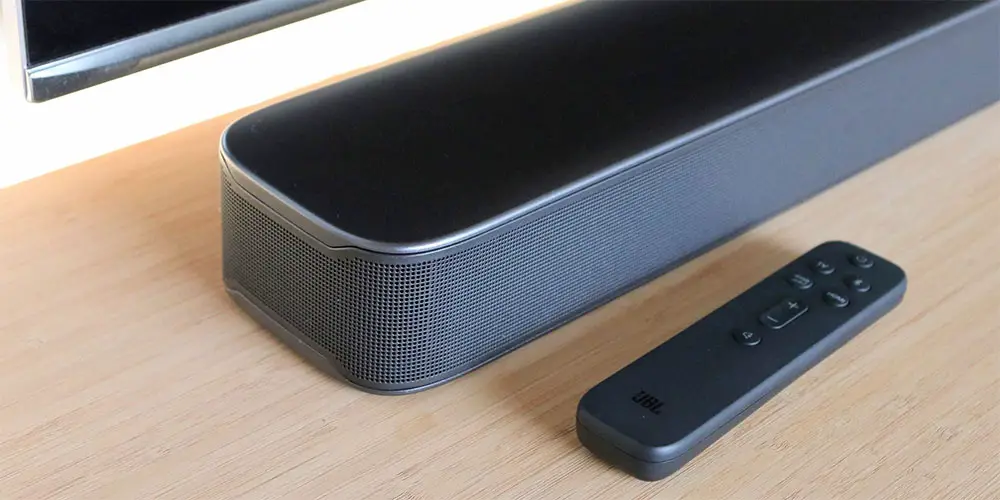 After we unpacked everything and placed both the soundbar and subwoofer in their final positions we connected our 4K UHD player to the soundbar through the HDMI port and from the HDMI output to our test TV. After we connected both the subwoofer and soundbar to a power outlet the two of them paired automatically although you can do this also manually if there is a problem.
Next you have to use the Google Home app in your mobile device in order for the unit to connect to the local network. After finishing with that we run the audio calibration system (AMC) once and we were basically ready to go. We opted to go for the Smart mode that lets the soundbar determine the EQ setting being applied for each content while we left the bass level to its default middle setting. There is not much else you can adjust in terms of sound settings and this shows how much simplicity JBL added to this model.
Movies
Onto our movie testing now and for this review we chose the 4K UHD version of Alien: Covenant which comes with a very immersive Dolby Atmos trach. Obviously in our case we will only experience the core Dolby Digital 5.1 as the soundbar lacks support for anything else. Now the sequel to Prometheus may have not been the film we were expecting but no one can argue the excellent work that has been done in the sound department.
At the front the Bar 5.1 Surround did a pretty good job at filling the soundstage as the sound extended far beyond the physical limits of the units. We could clearly hear effects originating from the far right and left sides and this is definitely the work of the side-firing tweeters in combination with the MultiBeam technology that comes with this model.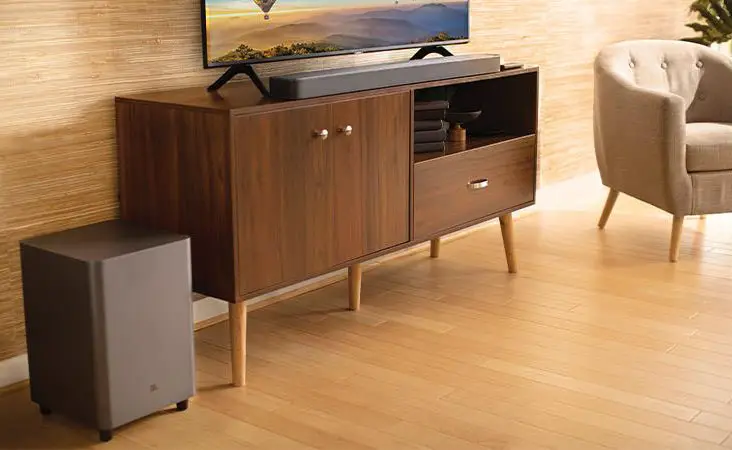 Panning effects were very distinct and you could hear sounds travelling from left to right and opposite while dialogue was kept dead center and never overlapped with the rest of the sound effects even when things became more hectic. The soundbar lacks any kind of Atmos capabilities so don't expect to get any elevated action, everything we heard was firmly at our ear level.
Now while the Multibeam technology seems to work very good at providing extension at the front it failed to give us any kind of surround activity. All action was distinctively at the front of us although in certain moments we felt the sound closer to our viewing position. This may had to do with the acoustics of our testing area as all these virtual surround technologies are very much dependent on this and different users will experience different results. But nevertheless for a unit that has the "Surround" word in its naming we were expecting something more than this.
Lastly on the low end we found the Bar 5.1 Surround to perform admirably. The included subwoofer is capable at offering all the shaking you might expect from such a unit and explosions like the lander destruction will make you feel the blast wave passing through you in a very satisfying manner.
The soundbar can do very good when there are a lot of ambient effects at play which can result in a more immersive atmosphere. When the landing group enter the Necropolis the unit gave us a very good sense of size of these grand structures. Echoes would travel across the vast rooms and tiny noises like fabrics and materials would produce their own distinct sounds.
For our second test we chose something with a bit more bang so Pacific Rim in 4K UHD was an obvious choice. The film once again comes with an explosive Dolby Atmos track but again we have to fall back to the core Dolby Digital track.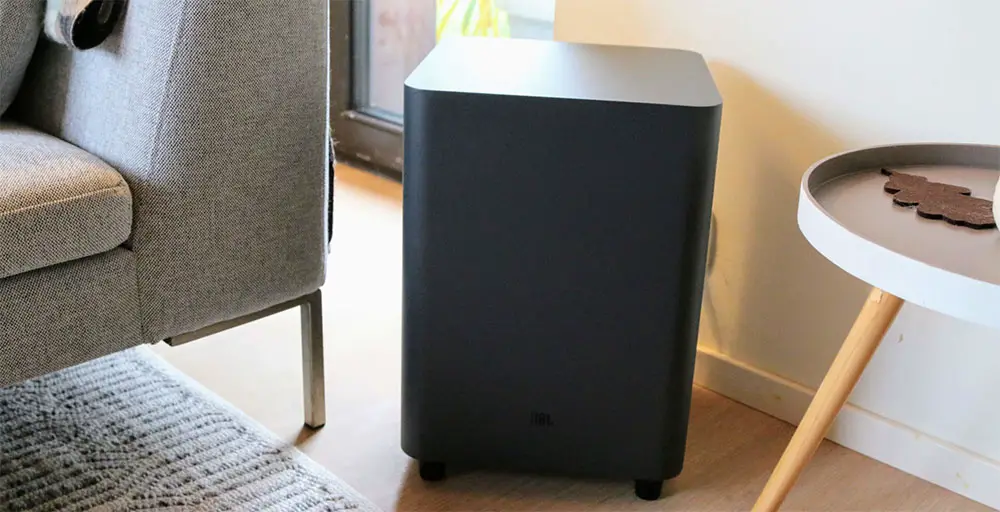 Now Pacific Rim has a lot of low end activity and its the perfect opportunity for the subwoofer to flex its muscles. But what we also wanted to see was if the soundbar was capable at realistically rendering these huge machines and give you a real sense of their size and weight.
Once again we found the front soundstage pretty satisfying, no question there. The unit is very capable at filling the space in front of us with sound effects that extend left and right while the side tweeters do a very good job at providing the necessary extension and depth to both sides without making the result feel fake or artificial.
Surround activity was once again missing but we did notice the same behavior we did in our Alien: Covenant test. Certain sounds would feel like much closer to our position or even to our sides. It seemed that the surround technology implemented here did a better job and certainly felt more convincing than simply having a standard 3 channels layout at the front. But real surround sound you will not get, or at least not the way you may imagine it so keep your expectations at check here.
At the low end we are happy to tell you that the subwoofer is every bit as satisfying as we were hoping it to be. And if you turn the bass level to maximum and the volume level at high then you can get a very impressive home theater experience even if it is a bit bass heavy. Obviously the subwoofer cannot go as deep or have the same punch like some dedicated subwoofers but keep in mind that this is a soundbar subwoofer we are talking about and for this it fits the bill perfectly.
If you like watching movies with a lot of special effects, explosions and environmental ambient sounds the soundbar is really a very good performer. Don't expect to find the resolution or frequency extension of a dedicated audio system but for its category it will offer you a very satisfying experience even if it is lacking on the surround front.

Music
Next in line is our music testing but as the USB streaming is only available to the US models we opted to go with online streaming as it's the next best thing. There is also Bluetooth streaming but this tends to lower the quality even further.
We did try various songs and different rhythms and what we can say about the Bar 5.1 Surround is that it can offer you a great casual experience. There was not something particular out of place that would throw everything out of balance, the mid-range was nice, the highs were playful and the low end would go down and deep while keeping the tempo at all times. But while everything felt satisfactory, there was nothing that would make us overall impressed. If you are particularly demanding of your music quality then you should look elsewhere as this is not the HiFi material you may be seeking. But for those that just want to hear some music without nit-picking too much it can be an excellent choice.
Sound imaging was nice even though there was not extremely high resolution or focus on the musical instruments while panning sounds were pretty satisfactory as the side firing tweeters did a great job at rendering the sounds far beyond the actual soundbar.
What we did pay attention was that depending on the volume and bass levels the sound signature changed a lot. At medium levels the mid-range felt good enough, highs we pretty balanced and the low end had good weight that bound well with the rest of the frequencies. But once we push the volume and bass levels to high levels everything felt to go slightly off balance with the lower end taking over and the bass covering pretty much everything else. So in case you like to push the volume to high levels you will need to adjust the bass accordingly in order to achieve as better balance as possible. Unless you are a bass freak so in that case you can take it to the max and enjoy the show!
The JBL Bar 5.1 Surround is the perfect example of a casual music soundbar. If you like to listen to music without judging its quality too much or focus on the details then the unit has plenty to give. But certainly it cannot offer anything more if you are demanding of your music and you want more out of it.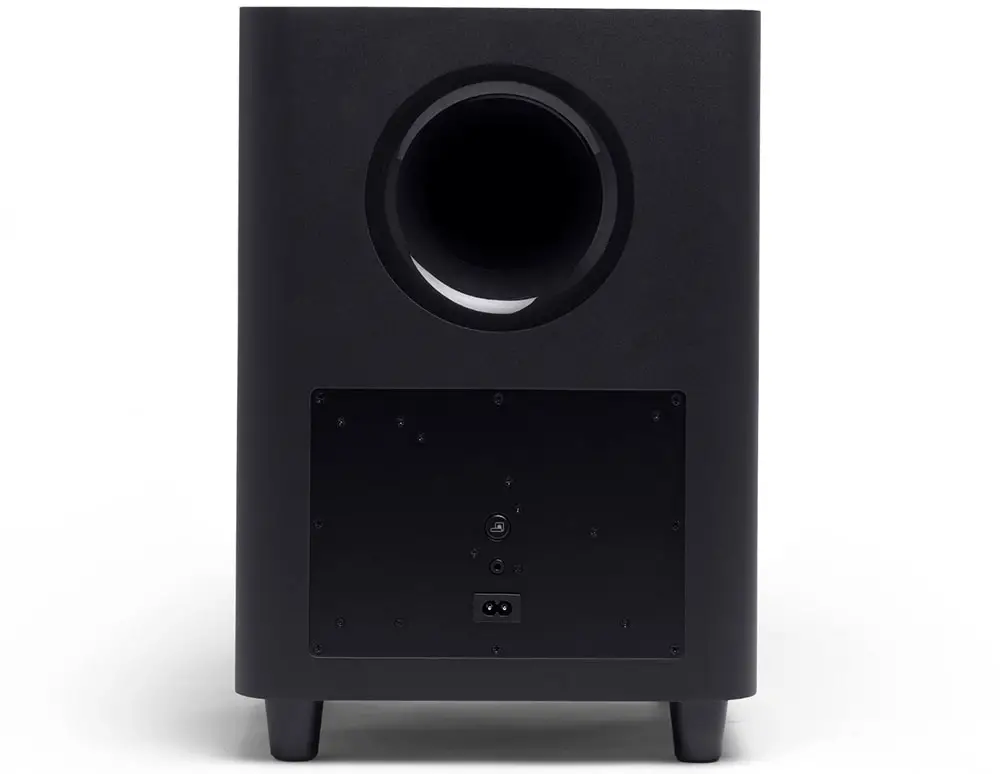 Final Thoughts
We are reaching the end of our review so what we can say here today is that JBL has tried to create a soundbar that is destined for casual users that are mostly interested in watching movies and want their occasional music fix. The unit is simple to use as this has become a must in soundbars today and in general it's a unit that will neither wow you nor disappoint.
On the plus side we can definitely say that we liked how the unit performed in our movies testing and we believe that it can do great in this with very satisfying front stage, good extension, energetic highs and pleasing low end. It has a very easy setup and learning curve as it has only the absolute basics making it ideal for those that don't watch to spend their time learning all the functions and settings available. Design and build quality, although nothing extraordinary, were pretty good and typical of JBL.
As for its weaknesses we would say that in music it fared slightly worse than in movies and pushing the sound to the max did throw the whole performance off balance. Surround activity was missing in action and this is a big one especially with a soundbar that bares the "Surround" word in its naming. While some may find the few sound settings a blessing the lack of EQ settings was limiting us more than what we would like. Lastly the naming that JBL chose can be highly confusing as this is a different model than the JBL Bar 5.1 and they should definitely reconsider their whole soundbar lineup model naming to make them more clear to the casual consumer.
If we had to describe the unit in a few words we would say that the JBL Bar 5.1 Surround is an excellent, easy to use movie soundbar with music playback capabilities. If you feel like you are looking for such a model then this one will certainly satisfy you. It's simple, easy to use and has more or less the minimum sound quality standards that JBL got us used lately.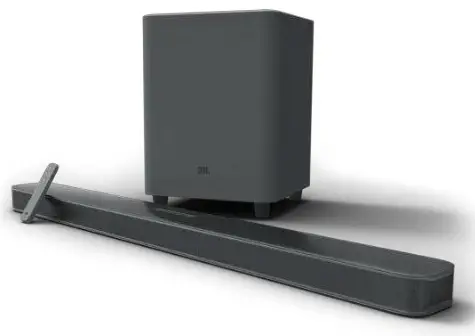 For more reviews you can check our dedicated Soundbar-subwoofer combo reviews list or even look at our Product Reviews Table where you can find the brand and specific product you are looking for.
Also don't lose the chance to subscribe to our Newsletter and gain exclusive privileges.
---
Cheapest Places to Buy :
---
JBL Bar 5.1 Surround Specifications