JVC DLA-NZ7
Reviewed at $9,899.00
Ports & Connectivity
9.4/10
OS, Apps and Features
9.5/10
Pros
Amazing image quality
Great black levels and contrast
New laser light source
Very efficient dynamic tone mapping
Cons
Needs calibration for best results
No motorized lens cover
3D emitter sold separately
Huge size
---
Cheapest Places to Buy :
---
If you are a projector enthusiast then two brands that surely you will keep following is Sony and JVC. Although JVC was a bit late to enter the 4K madness they took their time and now they are considered one of the best brands to consider when it comes to premium native 4K projectors. Their previous NX series was surely a big hit and garnered a lot of attention from fans with their exceptional performance. So now that the new NZ series is out we were anxious to try out all the upgrades JVC did and if they are worthy successors to the previous models. Today in our JVC DLA-NZ7 review we will be looking at the lowest performing offering from the three new releases.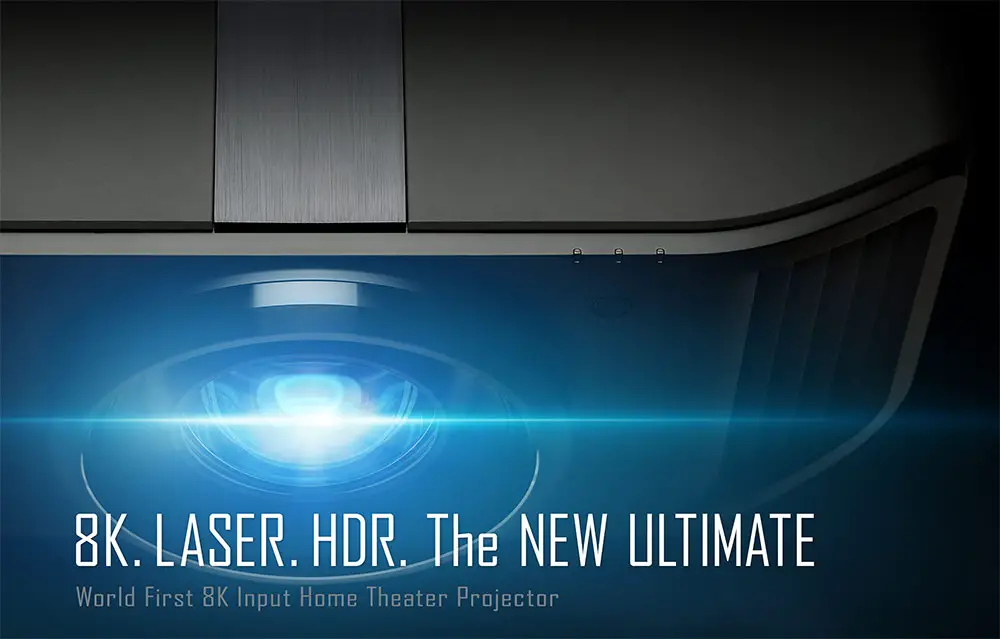 Keep in mind that for 2022 the new lineup consists of the DLA-NZ7, the DLA-NZ8 and the top of the line DLA-NZ9. Along with these three the previous DLA-NX5 will still remain part of the new lineup as a more low budget solution. The biggest difference this year is centered around two things. First of all the new lineup can support up to 8K and that the new projectors have changed from lamp based to laser based. So while in many aspects the new models may look similar to their predecessors there are some fundamental differences between them.
But before we start our analysis let's see real quick what the DLA-NZ7 has to offer us. The projector is one of the first that can accept up to 8K@60Hz signals and output 8K with e-shift technology. It uses a laser light source capable of 2,200 lumens of brightness along with a 3-chip, native 4K LCoS design. It is rated at 40.000:1 native contrast, supports HDR and HDR10+ and it can display 3D with the use of an optional dongle.
When it comes to projectors costing around the $10,000 mark then expectations are high. Not many can afford such an expensive unit and those who do want to get the best for their buck. But even at such a high price JVC seems to be more aggressive than Sony with their offerings costing even more for similar specs. How does the DLA-NZ7 performs and is it a worthy successor to the amazing NX series? Let's start our analysis to find out…
Design
Before we start, as we did with the NX series, we need to clear up some confusion regarding the naming of these projectors. JVC has two separate divisions with one being the JVC consumer division and the other being the JVC Pro division. Both these divisions release the same projector models but with different naming. So the Consumer versions are the DLA-NZ7, DLA-NZ8 and DLA-NZ9 while their Pro variants are the DLA-RS2100, DLA-RS3100 and RS-4100.
There is no difference whatsoever between these models in their hardware and the only way you can tell them apart is what seems to be a gold trim ring around the lens as the consumer version comes with a silver one instead. Having the same hardware means that pricing shouldn't differ at all so if you find both of them at different prices we recommend you to go for the lower one. Why JVC adds such kind of confusion between their products is beyond our comprehension.
In terms of actual design not much have changed. Actually almost nothing has changed as the DLA-NZ7 practically uses the same shell of the previous NX5 and NX7 projectors. The only thing that gives it away is the different logos being used in the new NZ7 as we find an 8K e-shift D-ILA on this one instead. As for the size the NZ7 is not a small projector as is the case with most premium offerings. Measuring 9-11/16 x 9-7/32 x 19-29/32 (500 x 234 x 505 mm) including the feet and with a weight of 49.5 (22.5 kg) the NZ7 is similar in size to its predecessors but seems to be heavier most probably due to differences in its hardware.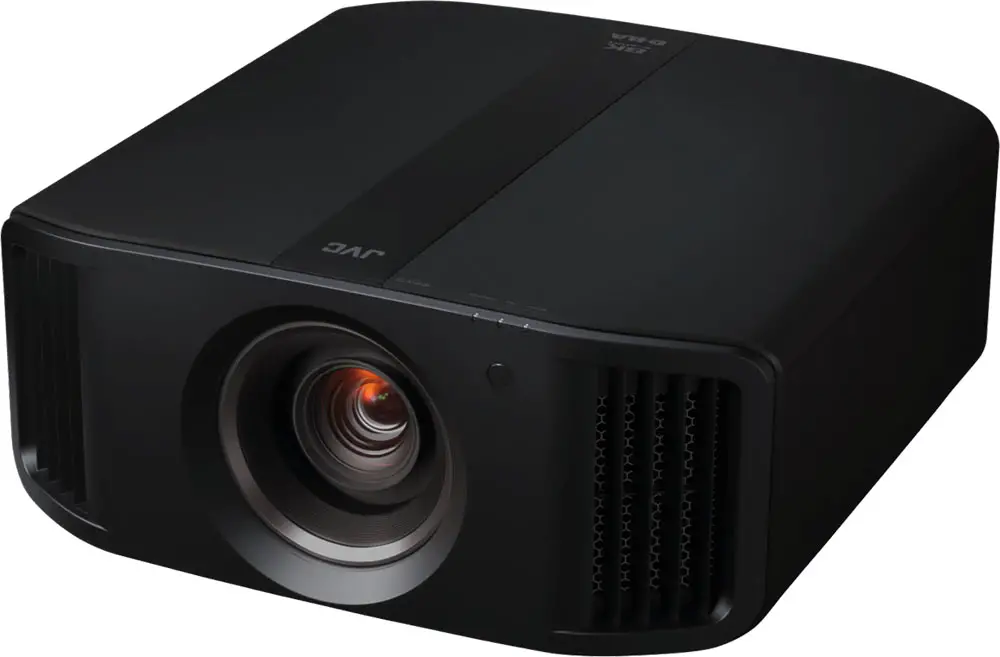 The unit features a rather simple look with a black boxy design with curvy corners and a matte black finish and our impression of it remains the same as was for the NX lineup. It looks good without going overboard. Everything is positioned exactly the same with the front face keeping the lens dead center with an IR sensor right in the upper right corner of it. In both front corners we get two huge air vents but as with the NX lineup we didn't notice any excessive light leakage out of them. Exactly at the corner above the IR sensor we find three indicator lights while the top face features a simple black strip in the middle with some logos on it and nothing else.
The back of the unit is also exactly the same and here we get two big air inlets with filter covers. Above the right air inlet we get a second IR sensor that is handy for when placing the projector on a furniture in front of you as well as the built-in controls that include a power button, menu, navigation buttons and a back function. On the left side of the control buttons we get all the connections of the unit which we will analyze in the appropriate section while all four legs feature adjustable screws in order to level the projector accordingly.
The lens was one of the highlights of the NX lineup and continues to be with the NZ7 also. The unit features a 17-element, 15-group all-glass 65mm diameter high-quality motorized lens that JVC designed to deliver exceptionally clear images. The lens is the same one used in the NZ8 but is slightly different from the 100mm lens used in the flagship NZ9. The lens comes with a 2x zoom and a great ±80% vertical and ±34% horizontal lens shift which can be very handy when placing the projector and calibrating it.
Having such a big size lens shift can really make a difference and with such a huge projector that is not easily handled this will surely be appreciated. As was the case with the previous lineup, one minus is that while there is motorized lens there is no motorized lens cover which means that you will have to use a plastic cover which can be very frustrating if you want to do that every single time.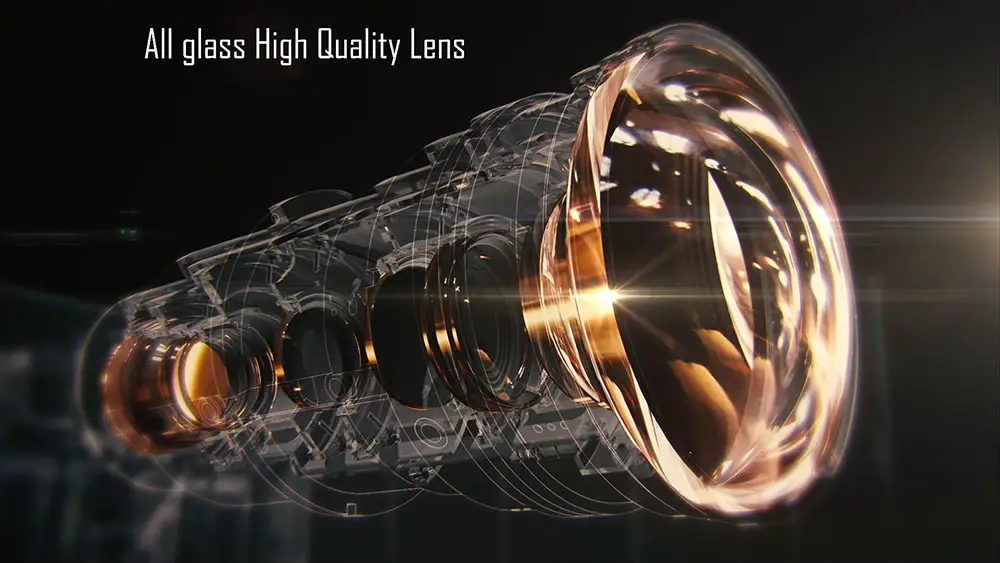 When it comes to noise the DLA-NZ7 is rated by JVC at 24dB in Low mode which of course is a theoretical number and is based on specific lab conditions. We had the projector at a distance of around 6 feet (2 meters) and the NZ7 was producing around 36db in Low mode. This figure would go up to around 37db in High mode and although it was slightly audible it was in no way bothering. Since noise seems to be very important for many users the NZ7 is a relatively quiet projector even in its higher settings. We never felt uncomfortable with it and shows the great work JVC has done in this part.
Instead of a lamp that the previous NX lineup was using the NZ7 uses JVC's third-generation BLU-Escent module with a blue laser diode array and yellow phosphor wheel to generate the red, green, and blue signals. This gives the projector a life of about 20,000 hours which averages to about 4 hours of daily use for 14 years which is not bad at all.
The remote that is included with this unit is the same one JVC used in the NX lineup and is code named RM-MH27. It has a nice premium look and is very easy to handle as the size is just about right. Buttons size is good although there is no space between them which can result in accidentally pushing the wrong one instead.
But the major plus is the included backlight function that illuminates the button's writing instead of the whole buttons and this can majorly help when using the remote in the dark. Hopefully at some point JVC will incorporate motion sensitive backlight which is an amazing feature as we had seen in the Sony A90J TV remote. For such a premium projector there is no excuse not to have such.

There are no built-in speakers here but this should not be considered a minus as the projector is not meant to be mobile friendly like some others we had tested recently. It's huge size and weight makes it a one time handling unit and should be treated as such. As was with the NX lineup, the new NZ series is meant to be placed in a home theater room and stay there. Overall quality of the NZ7 was top notch as JVC has got us used with their latest premium releases and this one surely deserves the money it costs.
Video Quality
Technology used
Let's see now what is under the hood of the new DLA-NZ7. Keep in mind that JVC advertises the NZ7 as an 8K projector and this because of the fact that the unit can accept up to 8K@60Hz signals. What is really interesting is its output as JVC's previous two-phase/120 Hz e-shift technology that was exclusive to the DLA-NX9 now has found its way down to the NZ7. This means that the projector can push its output resolution beyond the native 4K resolution limits.
Just for your information in the new NZ8 and NZ9 JVC introduced the new 8K e-shiftX technology which operates at 240Hz instead of the 120Hz of the standard 8K e-shift and can push resolution even higher. But more on this when we will review these two models in the near future.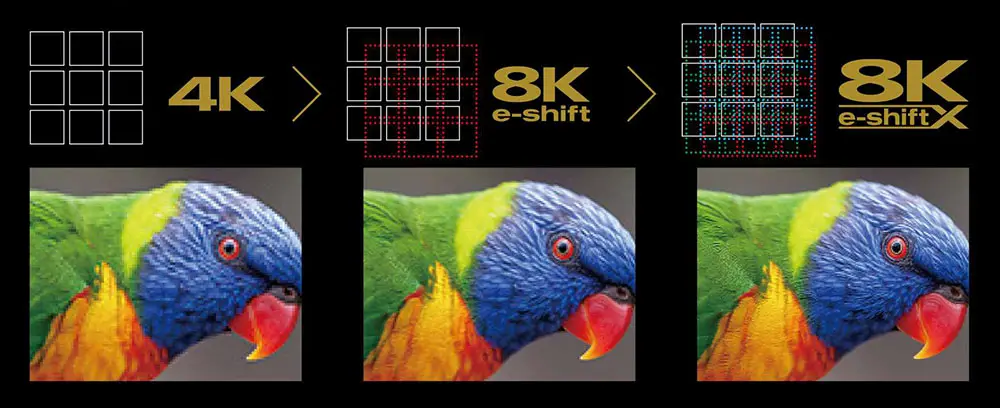 Once again we find three of JVC's latest generation 0.69 inch D-ILA chips that are responsible for displaying a full 4K resolution image. What is worth noting, that was also noticeable in the NX lineup, is that as most 4K UHD content is rendered at 3840 x 2160 resolution the NZ7 will display black bars on the right and left sides of the screen which can be a bit distracting. So if you want to take these out of the screen you will need to calibrate the image accordingly.
The NZ7 comes with many of the same features that we saw in the NX5 and NX7 which means that we once again get great overall lens controls. Also its Frame Adapt auto tone mapping and Theater Optimizer, that were introduced in the previous series after an update, automatically adjust settings based on the mastering information included in HDR content and thus offers better overall brightness and image quality even for individual users customizations.
4K UHD / HDR Content
For this projector review we decided to go with Godzilla vs Kong in 4K UHD with the film having many colorful and bright scenes that were ideal for showcasing what the unit could do. We cannot still say what the top NZ8 and NZ9 models can do but the DLA-NZ7 really amazed us with its breathtaking image quality and attention to details. Resolution was extremely high with everything looking clear and sharp. Every shot had so much information to showcase from materials composition, surfaces imperfections and color gradients that was a real feast for our eyes.

Having tested a lot of low budget DLP projectors lately, seeing the amazing black colors of the NZ7 was like a whole new experience. Highlights were nicely rendered without any information loss while black colors and shadow details were extremely pleasing and of high quality. Colors were great and really do pop with many scenes giving a very three dimensional feeling.
When it comes to the NZ7's HDR capabilities there are a few differences, or rather say improvements, compared to the previous generation. We find support for HDR10 which is the basic protocol for UHD playback as well as HLG that is used mostly for broadcasting but this time JVC has added HDR10+ making the DLA-NZ7 one of the first projectors to support it.
One major feature that makes a return is the inclusion of Auto Tone Mapping. We had previously seen this one in the NX lineup so we knew more or less what to expect from it. But in the new NZ projectors JVC went a step further and added a second mode called Frame Adapt.
What Auto Tone Mapping basically does is to read the static HDR metadata of a UHD disc and adjust the image settings of the projector according to the max and average light settings of the content being displayed. This way the end image that we see is better as it is tailored to the projector's capabilities.
The Auto Tone Mapping is an amazing feature and it can really produce very good results if you take into account the limited brightness capabilities of the projector in general. But what the Auto Tone Mapping feature doesn't do is any kind of dynamic tone mapping but instead gives you some short of manual control with the inclusion of a 11-step mapping level slider.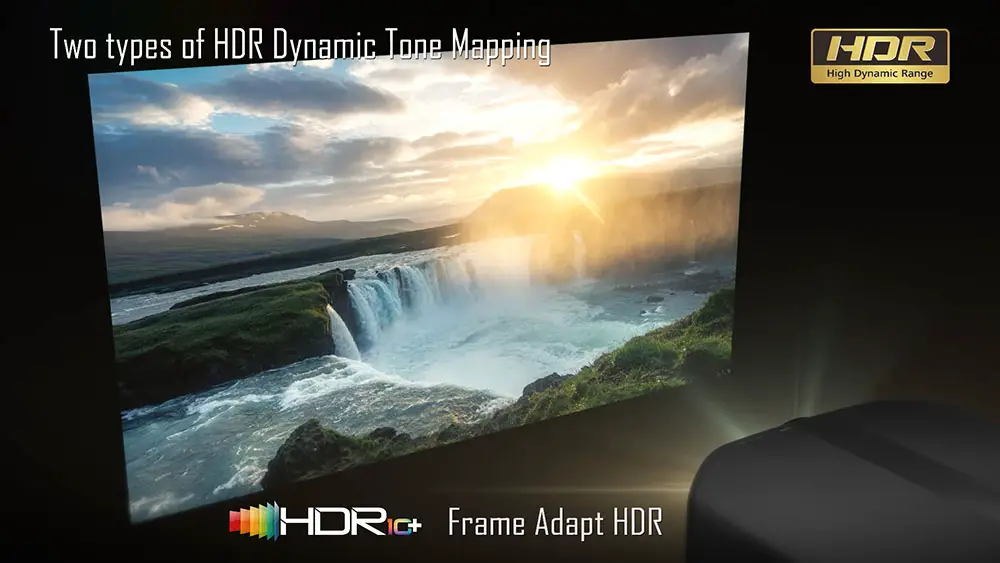 On the other hand the new Frame Adapt HDR option allows the projector to dynamically tone map any HDR10 content scene-by-scene or even frame-by-frame. This way you don't have the problem of setting specific values as you would do with the Auto Tone Mapping feature depending the content you are watching. Everything is handled by the projector which can be a huge convenience.
Full HD / SDR / 3D Content
Obviously a projector must not only be capable of rendering excellent 4K content but also provide nice output for the vast number of 1080p films still out there. And the DLA-NZ7 really had no problems whatsoever here. Using our disc of Oblivion the projector showed us how nicely 1080p can be upscaled. The increased resolution didn't show any major impact on the final image, the difference was at best negligible and everything looked perfect and as it should for such a crisp and high quality presentation as this film was.
Excellent rendering with amazing black levels, shadow details and colors that were vibrant and deep. Skin tones looked very natural, white levels were neutral and didn't have any undesirable tint toward blue or pink. We could talk for hours how good it looks but due to limitation of our review we think you got the point. The DLA-NZ7 will make all your 1080p collection real justice.
When it comes to 3D there are no changes compared to its predecessors, which may be a good or a bad thing. The projector does offer support for 3D content for those who refuse to let this dying format go away. So if you have a 3D collection and still want to put it to good use the NZ7 can do remarkably good. But not without some issues.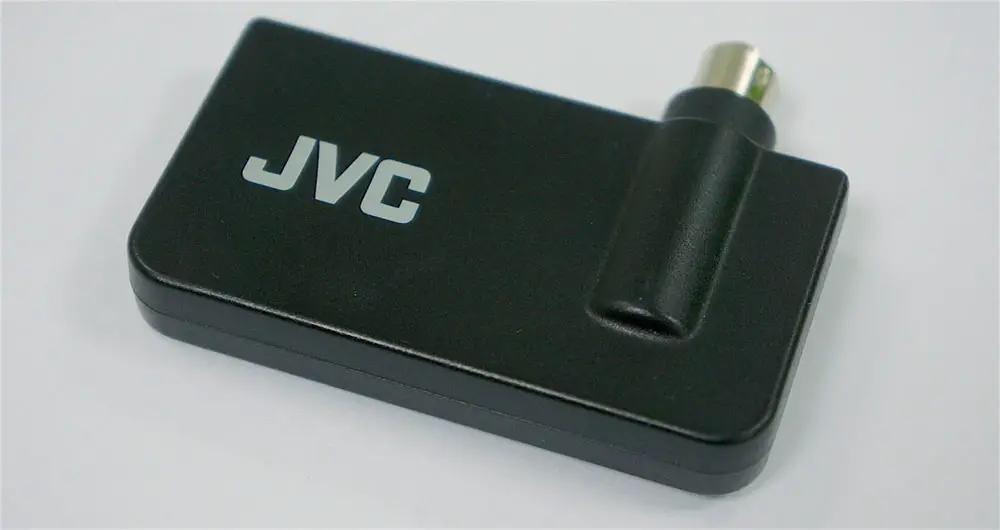 And this happens because you will need to buy an extra 3D Synch Emitter in order to connect with the wireless 3D glasses that you also need to buy separately. With a projector costing around the $10,000 mark we find it strange that you have to pay extra for this feature. Also while the projector can auto detect the 3D signal having no dedicated 3D mode can be a chore as you will need to use a custom made which can be a time consuming procedure.
But we do liked the 3D functionality even with these shortcomings. The image does loose some of its brightness and tends to be a bit on the green side due to the glasses but overall the experience was very solid. Minimal artifacts and crosstalk with solid motion and nice depth makes the NZ7 an excellent choice for 3D viewing.
Color Coverage
The DLA-NZ7, being the most affordable of the three new models, lacks the cinema filter that is included in the more expensive offerings. As a result the projector's performance with colors take a hit even though the end result after calibration could still be considered exceptional.
According to our measurements the projector could cover 81% of the DCI-P3 color space or 54% of the wider REC.2020 color space. According to these numbers the NZ7 performed worse here than last year's NX7 and more on par to that year's NX5.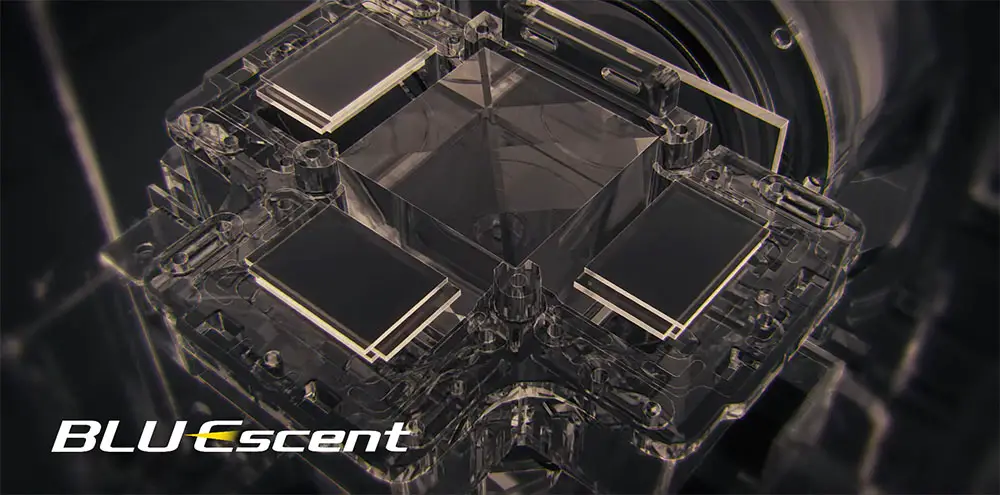 But even if this projector cannot be exactly considered a wide color gamut capable projector it doesn't mean that colors were bad. On the contrary we were impressed by what it was capable of displaying even with its limited capabilities compared to the higher-tier models.
Brightness / Picture Settings
The NZ7 is rated by JVC as a 2,200 lumens projector which is a notable improvement over both the NX5 and NX7 which were rated at 1,800 and 1,900 lumens respectively. So we were really curious to see how close the NZ7 could get to this new theoretical number.
Before we proceed with our measurements we should point out that there are 2 different picture modes to choose from that include Natural and Cinema along with some dedicated ones including HDR10/HLG, HDR10+, Frame Adapt HDR and Pana_PQ. There are also 6 user defined ones.
Two things we need to mention here. First being that once again the Film mode seems to be only available in the NZ8 and NZ9 while we should also note that, as we mentioned above, the NZ7 is one of the few projectors that doesn't have a dedicated 3D mode and you will have a user defined for that purpose.
The HDR modes like HDR10 and HLG will auto switch when the projector detects the appropriate content being displayed.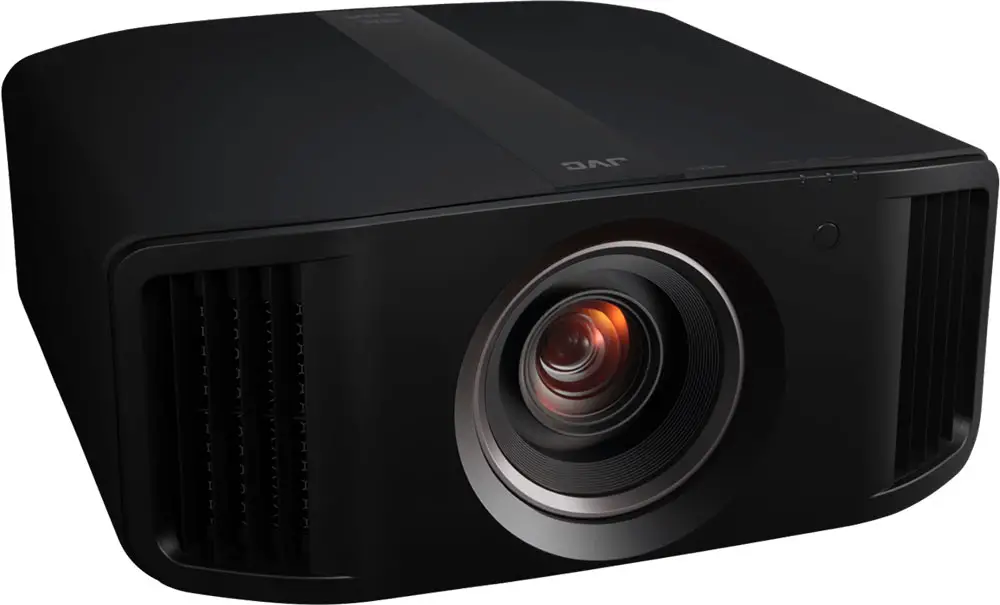 One thing we mention all the time is that brightness measurements can vary greatly and they should not be taken as a given number. There are so many variables that can give you different brightness than what we get here in our testing, like different settings, light source hours and modes so our numbers should only be used as a reference and nothing more.
One thing to keep in mind is that from what we saw the DLA-NZ7 was not so great with its out-of-the-box settings. You will need to spend some time with it to calibrate correctly in order to reach its full potential and if you are ready to spend so much money on it then a professional calibration should be considered a must for the NZ7, especially if you don't know how to properly calibrate it yourself.
With the laser setting set to High in SDR mode we got 1,598 lumens in Cinema mode and 1,430 lumens in Natural mode. With SDR you can get even higher than these values by using a user defined mode but color accuracy takes a major hit and we wouldn't recommend it for most cases unless you mostly aim for better color accuracy and not so much for brightness output.
In HDR the highest brightness we got in Pana_PQ and Frame Adapt HDR when set in Frame by Frame analysis. In these two modes we got 1,715 lumens. Frame Adapt HDR in Scene by Scene analysis came next with 1,398 lumens while HDR10 came last with 1,360 lumens.
These numbers surely are a far cry from the theoretical 2,200 lumens as this number can be reached only in user mode that results in less than stellar image quality and color accuracy. Now as for what settings we would choose both Natural and Cinema modes can turn out to be very good. The Cinema mode is better out of the box but with Natural mode you can achieve better quality if properly calibrated.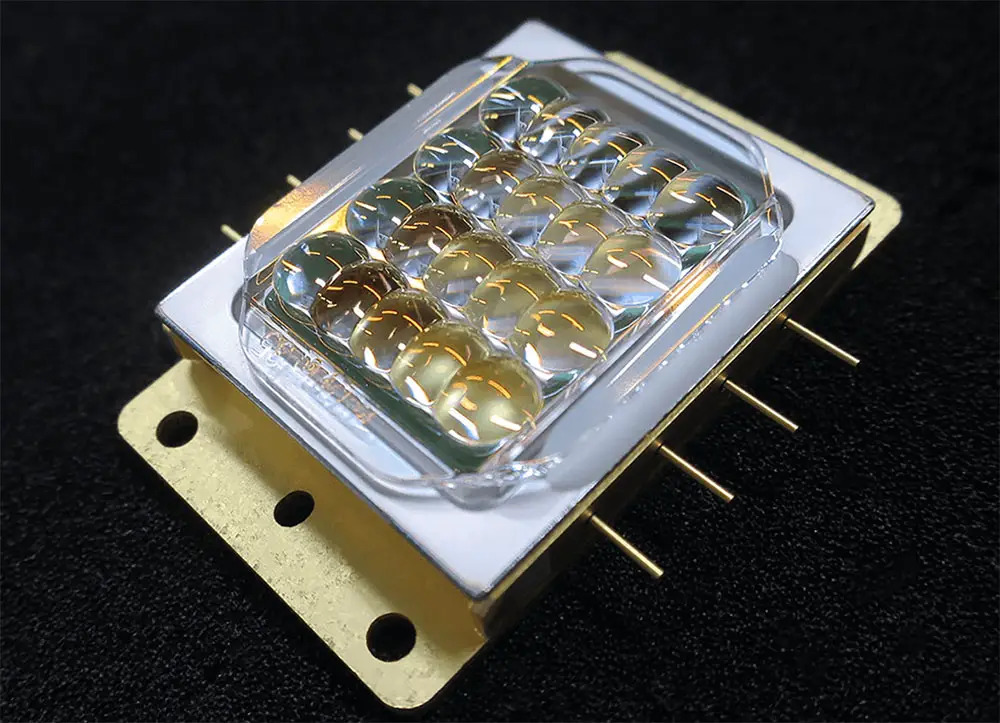 In terms of HDR we liked to use the Frame Adapt HDR in Frame by Frame analysis which resulted in great light management with accurate whites and nice deep blacks.
Black Levels / Contrast
The NZ7 comes with a 40,000:1 native and a theoretical infinity:1 dynamic contrast ratio. As always never pay too much attention to these numbers as we have seen figures all over the place and in reality they don't mean much since each brand uses different standards and conditions for their measurements.
The projector does come with a feature called Dynamic Control which modulates the laser as needed in much the same way the company's lamp projectors relied on a dynamic aperture to assist with black levels on dark scenes. You have the option to either turn it off or use it in Mode 1 or Mode 2 with the later being more aggressive while Mode 1 was the one we liked the most and the one we would suggest you choose.
Overall black levels and shadow details were excellent with the DLA-NZ7. This is one area where you definitely see the rewards of paying for such an expensive and premium projector. No more you will look at washed out, grey-ish looking blacks and dark scenes like space shots would show as they should while still retaining highlights intensity.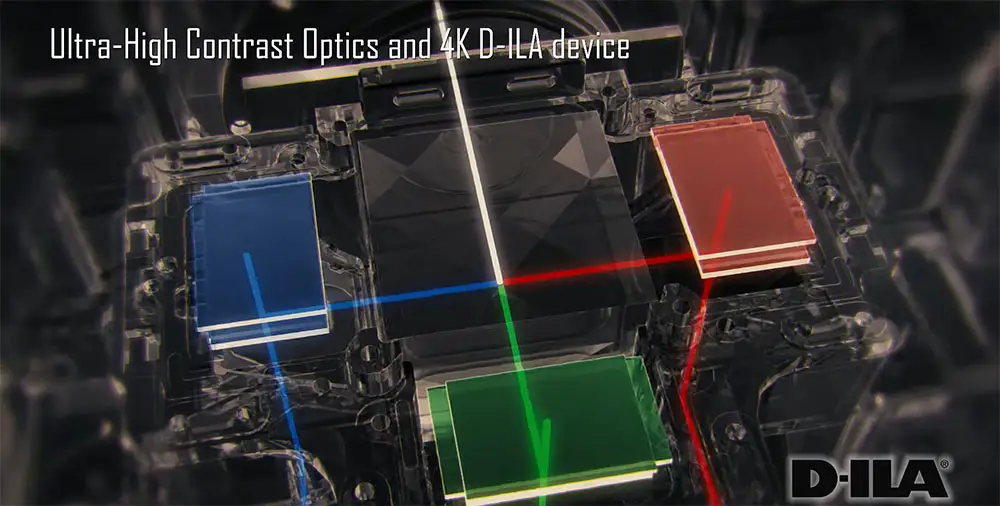 Input Lag
Let's see now how the NZ7 performs in the input lag test as this is very crucial for hardcore gamers that seek as low values as possible. Keep in mind that the NZ7 is not a gaming projector and shouldn't be treated as such even though it comes with HDMI 2.1 ports giving it some gaming centric characteristics.
For this test we turned off the e-shift and used the available Low Latency mode for the best results possible. With these we measured two signals, one at 1080p@120Hz and one at 4K@60Hz. For the first we measured an input lag of 36.1ms while for the 4K signal we got 44.9ms.
Now just by looking at these numbers it shows that the projector was not made with gaming in mind. Even with the low latency mode engaged the NZ7 was far behind what gaming projectors can achieve these days. For casual or slow paced games rest assured that you will have no problems whatsoever. We even tried our F1 2021 in our PS5 and the results were more than pleasing, at least for our casual standards. But if you are a hardcore game who counts even the last millisecond then there are other options to consider and you may find the NZ7 lacking in this area.
One thing to keep in mind when gaming is that you cannot have both C.M.D. (Clear Motion Drive) and Low Latency Mode on so you have to choose between the two.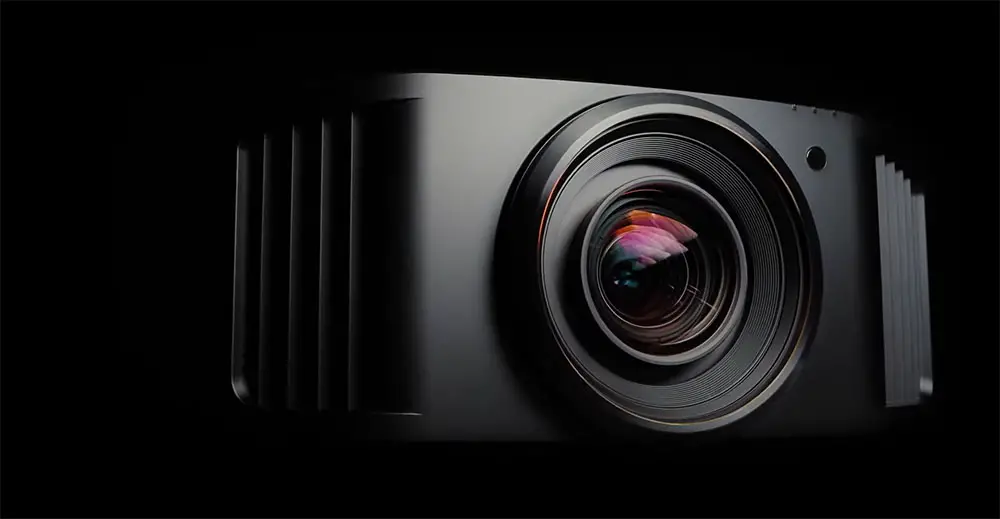 Motion Performance
When it comes to it's motion performance the NZ7 is not all that different from the previous generation. This happens because both of them use the same motion interpolation software that JVC calls C.M.D. (Clear Motion Drive) in order to improve the image during fast camera panning. Another included feature is called Motion Enhance that works in parallel to the C.M.D. and is responsible at driving the D-ILA panels depending on the movement of the image and as a result we get less motion blur.
As before we tried Godzilla vs Kong with both Clear Motion Drive and Motion Enhance features enabled in the low setting and as a result we got very clear images with very few motion artifacts. Keep in mind that the higher the values the more unnatural the motion will look so this is something you will have to try out for yourself and find the most pleasing and comfortable setting.
Ports and Connectivity
When it comes to ports and connections the layout that is used in the DLA-NZ7 is exactly the same as the one used in the NX lineup. But although everything may look the same there are some fundamental differences.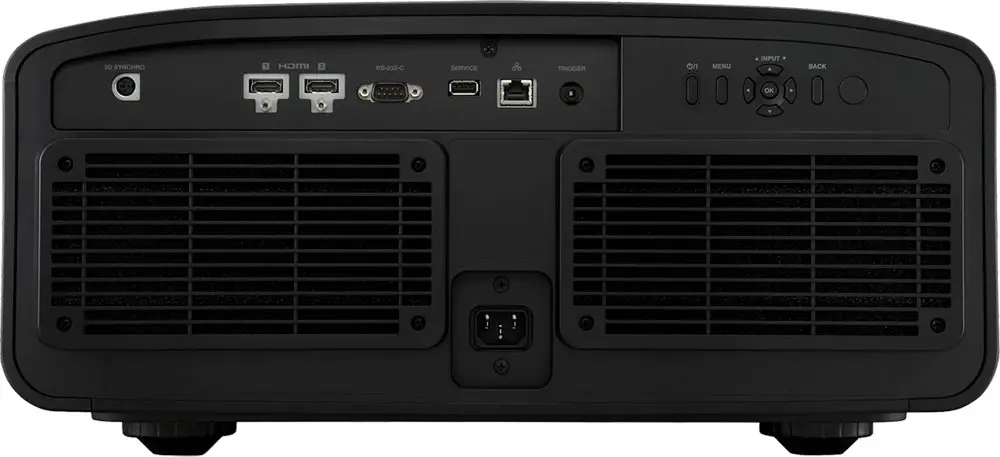 As such all the ports are placed at the top left corner of the back side and what we get is a 3D sync port that can be connected with JVC's separate PK-EM2 3D Synchro Emitter in order to communicate through a wireless connection with the PK-AG3 3D glasses. Next there are a couple of HDMI ports, an RS-232C port for command and control, a USB port that can be used only for firmware upgrades, an Ethernet port for wired internet connection and lastly a 12V trigger that can be connected to a motorized screen.
The major difference in the new projector is the updated HDMI ports it comes with. While the previous NX lineup was only using ports that were capable of only 18Gbps of bandwidth the new NZ7 comes with HDMI 2.1/HDCP 2.3 ports capable of full 48Gbps bandwidth in order to support signals up to 8K@60Hz or 4K@120Hz. And this makes the new DLA-NZ7 not only an amazing premium home theater projector but also one that will satisfy even those looking for one that has certain gaming merits to it.
OS, Apps and Features
When it comes to the extra functions and features the DLA-NZ7 is not so much different from the previous NX lineup. Most of the menus and a major part of its settings selection remain the same.
Setup is straightforward as the manual provide very details instructions on how to connect and calibrate everything so even if you have little idea what to do you shouldn't have any major problems. The four adjustable feet will help you balance the projector straight while there is keystone correction and very generous lens shift in order to bring the image to it's correct position. As always use keystone only in case of extreme need as using it always lowers image quality.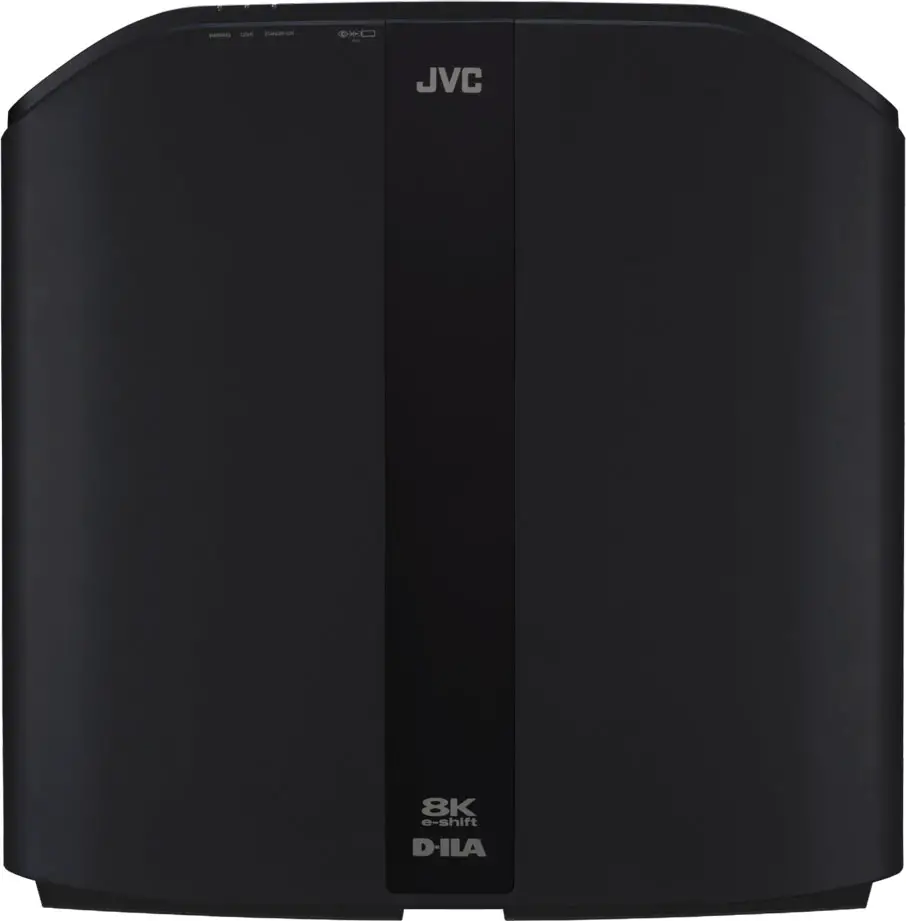 After powering up the projector we entered the familiar main menu which is divided in 6 different categories that include settings depending their function. The ones we get are Picture Adjust, Input Signal, Installation, Display Setup, Function and Information. The NZ7 is obviously missing a few features and settings that are found on the more expensive NZ8 and NZ9 but the majority of them along with the overall structure of the settings remain the same.
The premium JVC projectors were known for offering extensive image settings control and the NZ7 is no different as it comes with most features that were available in its predecessors. One of them is Multiple Pixel Control (MPC) image processor while there is also a six-axis color management system. Another nice feature is Installation Mode that allow you to group save settings that include Lens Control, Pixel Adjustments, Screen Adjustments, Mask, Anamorphic Stretch Modes and Aspect Ratios. This is different from Lens Memories that allow you to save specifically image settings.
Also worth mentioning is the Auto Calibration Function that makes the NZ7 capable of optimizing various aspects of the image like gamma, color space, greyscale or color tracking by using an optical sensor and JVC's exclusive software that are provided separately. Also included is ISF C3 (Certified Calibration Controls) mode while a fan favorite is it's ability to display the MaxCLL and MaxFALL mastering data available for HDR content on some UHD Blu-ray discs.

Final Thoughts
When the previous NX lineup was released it was hard to image how such wonderful projectors could improve even further. Their performance rightfully placed them in the premium projector category and not without reason. It seems that JVC kept many of the elements that made them so good performers and improved them on certain areas to make them even better, as hard as this may seem. This is evident from the fact that while the DLA-NZ7 is supposed to replace the lower cost NX5, this remains in the new lineup as a lower cost solution right under the NZ7 and the rest of the new models.
There are so many good things about the NZ7 that is really hard to summarize everything in a few words. Its picture quality was top notch, color reproduction was great, the new laser light source certainly has its own merits compared to the previous lamp based models and black levels were far beyond what any low cost projector can offer. This may not be the most bright of projectors but HDR content displayed on it looked amazing, it supports 3D with an external device plugged in while the dynamic tone mapping is surely an amazing feature to have. Lastly the new HDMI 2.1 ports with full 48Gbps bandwidth surely extends the projector's abilities well into gaming space.
Now we really don't have any major complaints for such a wonderful projector but if we really had to find something bad to say about it we could say that its out of the box performance is not the best it could be and surely you will need to spend the time on it or call a professional calibrator in order to get the best it can offer. Also such an expensive projector could use a motorized lens cover since we have seen far cheaper units utilizing one. We hated the fact that for 3D you have to add an optional 3D emitter, this should be built-in while the projector in general is meant only for big theater rooms and not so much for confined spaces.
Closing our review we can definitely say we are amazed by how good the new JVC DLA-NZ7 did. What is important to consider is that at a price of around $9,899 there is no other direct competition with similar characteristics to this one and for what is available in the market right now you will need to climb in price considerably. JVC really nailed it with this price and thus the new DLA-NZ7 gains our highest recommendation.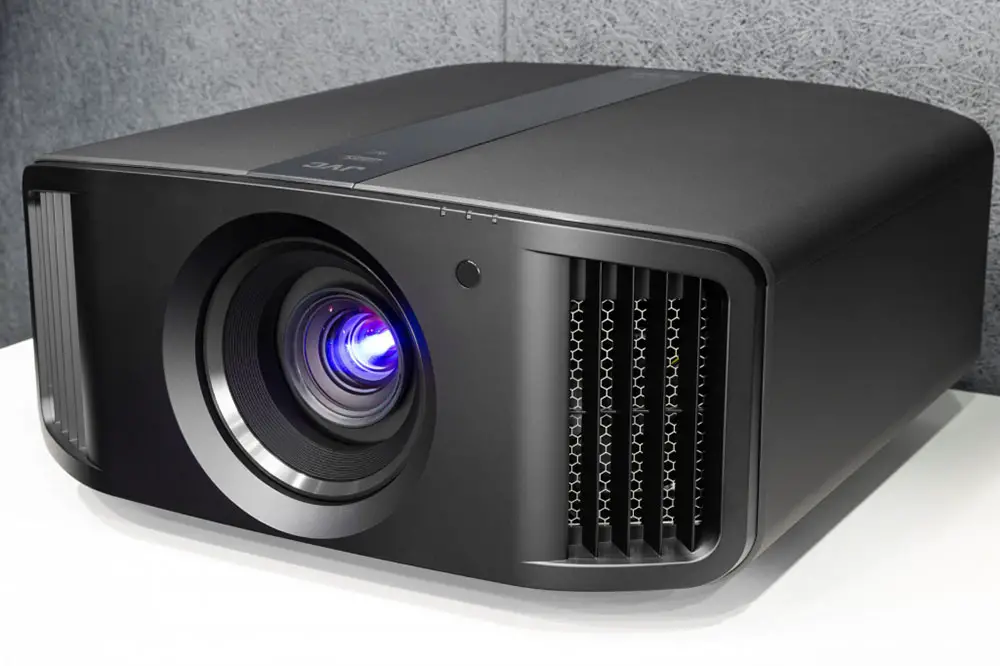 You can find more 4K projector reviews in our dedicated section HERE. Also don't lose the chance to subscribe to our Newsletter and gain exclusive privileges.
---
Cheapest Places to Buy :
---
JVC DLA-NZ7 Specifications