LG SM9500 (US) / SM9800 (UK-Europe)
OS, Apps and Features
9.8/10
Pros
Full Array with Local Dimming
Very low input lag
Huge list of services, features and smart functions
HDMI 2.1
Cons
Average contrast
Visible light blooming
Plastic stand
Sound performance is mediocre
---
Cheapest Places to Buy :
---
LG had a very good year in 2019 as both their TV lineups got great scores and managed once again to top the charts with their amazing performance and quality. On the one hand their premium OLED lineup which remains the king of TV image quality with the C9 OLED becoming one of the most favorite models among home theater fans and their 4K NanoCell series that was a good alternative to those that could not afford an OLED model. Today in our LG SM9500 review we will be checking LG's flagship in the NanoCell series and determine if it is up to the task of being the best non OLED model in LG's arsenal for 2019.
Recently we had the chance to review the LG SM9000 which is the next in line after the SM9500 and with both models having more things in common than you think means that in many parts of this review you will see that our views and observations are close to each other. The SM9500 features an IPS panel and comes with a Full Array with Local Dimming (FALD) lighting system that allows for better light control, uses the α7 Gen 2 Intelligent Processor that we will analyze momentarily, supports both Dolby Vision and Dolby Atmos and features LG's webOS 4.6 which is the latest version of LG's smart TV platform.
One of the most important factors in a LED LCD TV is the light system it uses and with the SM9500 coming with LG's FALD Pro variant it ensures the best possible light and control possible. And here is the biggest difference with the lower SM9000 but we will talk more about their differences soon. Along with all the other specs the SM9500 sounds like a promising TV that can catch the attention of all those people that are looking for a quality TV model but cannot exactly cut it to go over the OLED camp. So let's see what is on offer in this one.
Design
Before we start with our review we need to mention that this model comes under a different naming in various markets. And while in the US market we find it as the LG SM9500 in the UK and other European countries it comes by the model name of SM9800. Keep this in mind if you are located in Europe and you are looking for this specific one.
A lot of the NanoCell models we have reviewed, including the SM900 and the SM8600, feature similar designs but they all have a few key differences that makes it easier to distinguish them. The most common in all of them and something that the SM9500 seems to follow is the central Y-shaped stand that is similar to the other mentioned models while the back face seems to be a mixture in design between the SM9000 and the SM8600 but is definitely different from both of them.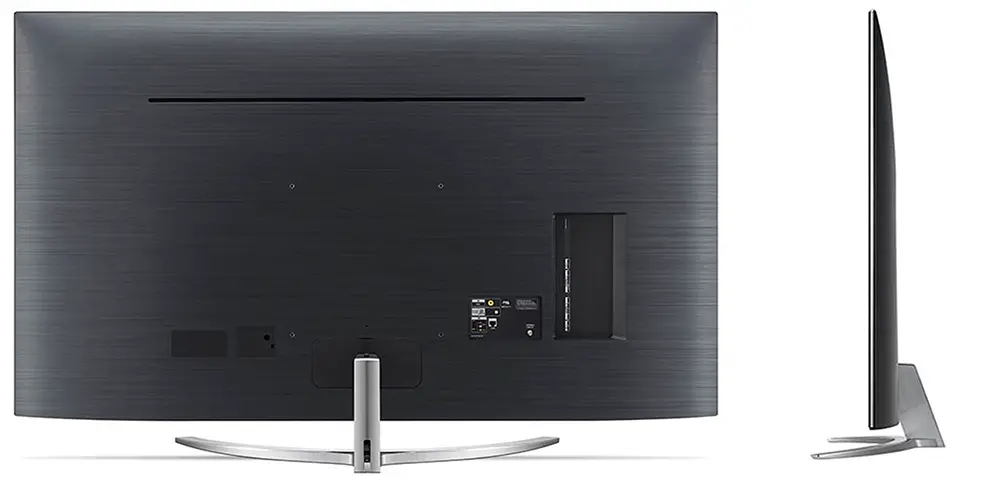 The TV is a relatively thin one and actually we measured it's thickness to about 6.4cm which is very similar to the SM9000 and this was something to be expected as both models feature a FALD system which tends to make these units just a little bit thicker than some Egde LED or OLED TVs. Keeping a relatively thin design means that wall mounting this model will not make it stick out of the wall too much so you don't have to worry about that.
Looking the SM9500 at the front we see it having very nice thin borders while a thin metal finish on the edges give it a more premium look. Overall a very nice looking TV as it should be for a flagship LCD TV. Turning the TV around we find a high quality plastic panel covering almost the entire back face with most connections located in the right side into two different groups that we will analyze a bit further below in our review while the power connector sits on the left of the central stand. In general a very plain looking backside that seems most of NanoCell TVs are using for their 2019.
For the stand the SM9500 is using a central Y-shaped, crescent looking design and very similar to the other top NanoCells. The stand may seem like it's made of metal but in reality is made out of plastic and has a metal finish so it can really fool you. Being a plastic one means that the TV is not as stable as we would like and it seems that LG tried to cut a few corners in this aspect. There may be more wobble than what we would like but at least there is no high risk of it falling down as we did try to shake it a lot only to remain pretty safe.
The back of the stand is hollow and helps to guide all the cables through there so they can stay hidden as much as possible offering a very basic cable management solution for such designs. Lastly having such a design means that the TV can be placed on smaller furniture and this way you have more placement options and freedom.
As for the included remote once again we get the same 2019 version of LG Magic Remote (MR19). If you know anything about LG's Magic Remote then there is not much difference in this one compared to the previous years. It's highlight once again remains the unique mouse pointer function that can make texting on the TV so much simpler while it's Bluetooth connection means that no direct line of sight is needed. Everything else is similar as the remote has a built-in microphone so you can issue your voice commands as well as a couple of dedicated buttons for Netflix and Amazon Prime.

One new feature that LG seems to have added to their 2019 version is that it can work as a universal remote also with it's IR capabilities. If your other equipment don't support HDMI-CEC this can be very handy and it seems like a feature most manufacturers start to support. As a universal remote it means that you don't have to use a small flock of remotes for all your home cinema equipment.
Overall we are very satisfied with the SM9500. Build quality is very good, design is nice and the remote is at the top of it's game. If there is one thing we didn't like was the plastic central stand that is a bit disappointing for such a high end model.
Video Quality
Processor technology used
Most of 2019 4K NanoCells come equipped with LG's a7 Gen 2 intelligent processor except from a couple entry level models that feature a simpler quad core variant. The a7 processor is a step down from the a9 chip that is used in almost all the OLED models but even as such it still comes with a few upgrades compared to the 2018 a7 first generation of silicon.
One crucial component that LG has added to the Gen 2 variant of the a7 is AI processing in order to improve on the image quality. What does this AI do? It analyzes the content being displayed and makes automatic optimizations for noise, sharpness and clarity in order to improve the final image as much as possible. Also the SM9500 has a built-in light sensor and the TV has the ability to analyze it's environment and make adjustments to the image brightness in order to show the best possible outcome under any viewing and light condition.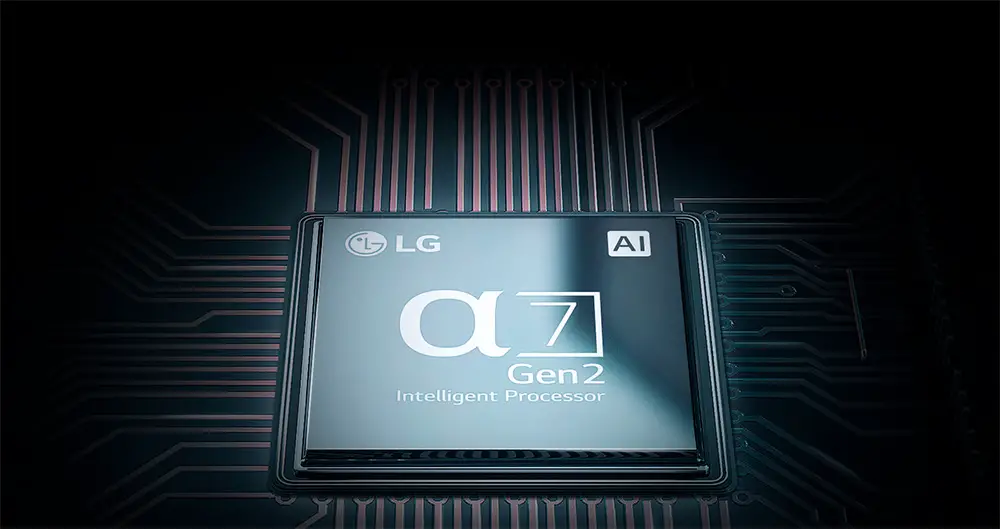 Obviously the improvements in the image quality with the help of the AI is the most advertised feature but the a7 Gen 2 processor also offers improvements in the audio department. As with the image the processor analyzes the content and optimizes the audio automatically depending on the type of audio being played. Also the TV can recognize your viewing position and make the necessary calibrations in order to offer the best acoustic result from where you sit. Last but not least the TV due to the processor's capabilities can up-mix any stereo audio to virtual 5.1 surround audio.
The a7 Gen 2 processor kept everything that made the first generation good and improved even more with the addition of AI processing. We had previously seen this chip in action and we have only good things to say about it. It would be nice to have the a9 variant here but it seems that LG wanted to reserve that only for the premium OLED lineup.
Lighting technology used
One of the most crucial factors of how good a LED LCD TV is stems from the kind of light system it uses. And while it is widely accepted that having a Full Array with Local Dimming (FALD) system is the best way to go even this doesn't guarantee a good quality result as it highly depends on the number of dimming zones the system uses. The more zones the more accurate the system but also the more expensive it becomes. That's why we have seen in the last few years manufacturers in their try to lower the prices are lowering the number of dimming zones in their models and use complex algorithms to improve the performance of their FALD systems.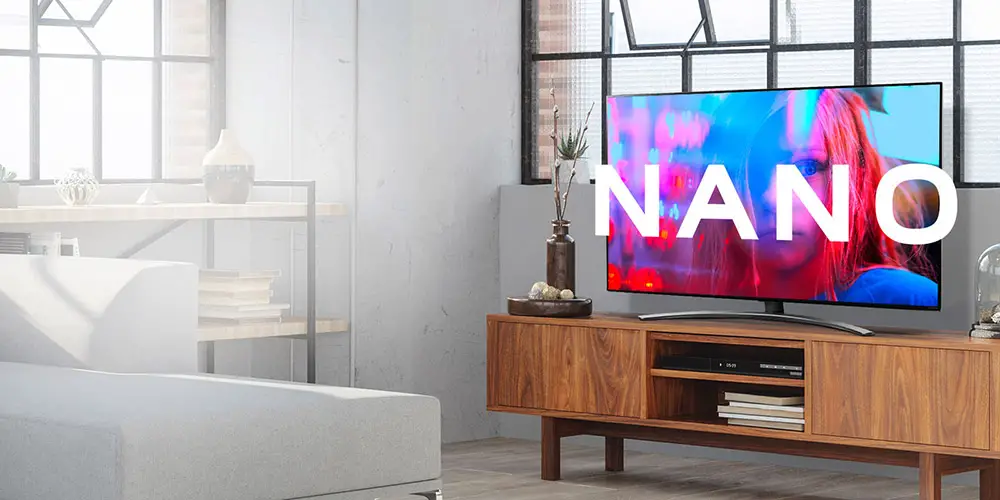 This was very evident when we reviewed the LG SM9000 as this was the most basic model, along with the SM8500 in Europe, featuring a FALD system and while the end result was obviously much better than any kind of Edge LED system can offer accuracy was not the best possible. And here lies one of the bigger and most obvious differences we get as the SM9500 features what LG calls a FALD Pro system. The Pro variant obviously means more dimming zones and thus better light control and accuracy.
Although there is no official number from LG that mentions how many zones this FALD Pro system comes with it seems that this is in the ballpark of around 100 zones. This means that blooming is less obvious with halos around bright objects that are projected in a dark background being less visible and thus offering a more pleasing overall image. The SM9500 is the only 4K NanoCell TV that uses the FALD Pro system so if you are dead serious about getting a 4K LCD with the best light system possible then this is your only option.
Brightness / Contrast
As we just mentioned one of the advantages of using the FALD Pro system is the better light control and accuracy that the SM9500 has compared to the other lower tier NanoCell models. But this is not the only advantage it has as the SM9500 is capable at producing more brightness than any of the other LCD TVs in LG's lineup. For our testing measurements we used the ISF Expert (Dark Room) picture mode with medium Local Dimming and Warm 2 color temperature.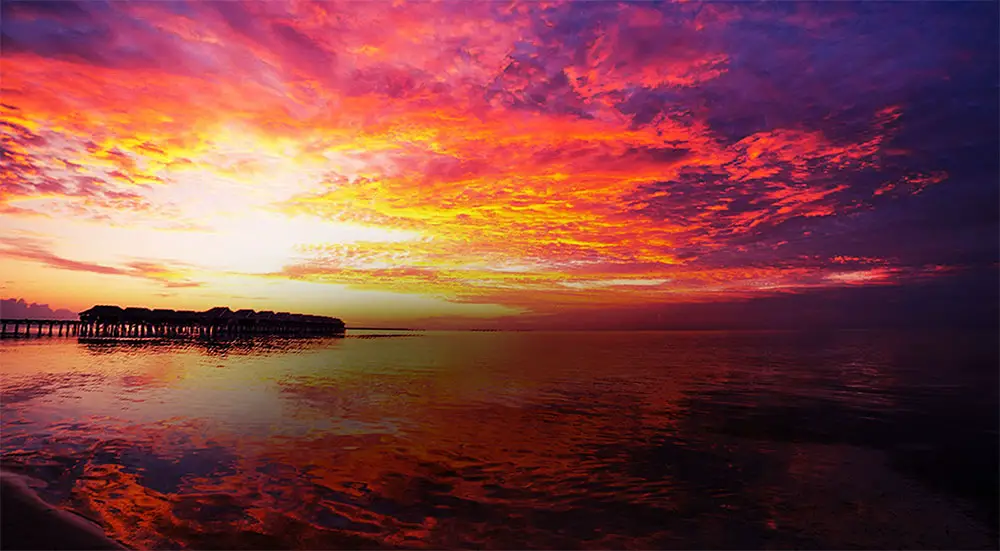 With these settings in the SDR brightness test over a 10% window we got 670 nits of brightness which in all honesty is more than you will ever need for SDR content. When it comes to HDR content brightness over a 10% window gave us a reading of 1615 nits which is amazing and the TV can display very bright highlights and show the true capabilities of HDR.
One thing that the SM9000 disappointed us with was in it's contrast capabilities as even with the Local Dimming turned on it had little effect on improving the otherwise bad contrast ratio. Thankfully things are a bit better here without again being able to display completely black levels. In contrast to what we had seen with the SM9000, the SM9500 with the Local Dimming enabled was able to improve it's contrast even further, enough for us to describe it as average and this was to be expected from an IPS panel.
Viewing angles
If there is one area that the IPS panels win compared to the VA panels Samsung is using is in their viewing angles. With LG using IPS panels in all their NanoCell and 4K TVs means that viewing angles are generally very good for LCD technology. Obviously don't expect the viewing angles we see in OLED but in general they are good. And as with the other NanoCells we had reviewed before the SM9500 seems to have the best from all of them as it can display an image up to around 35-40 degrees with little loss in quality. Anything more than 40 degrees and the image quality degraded very much.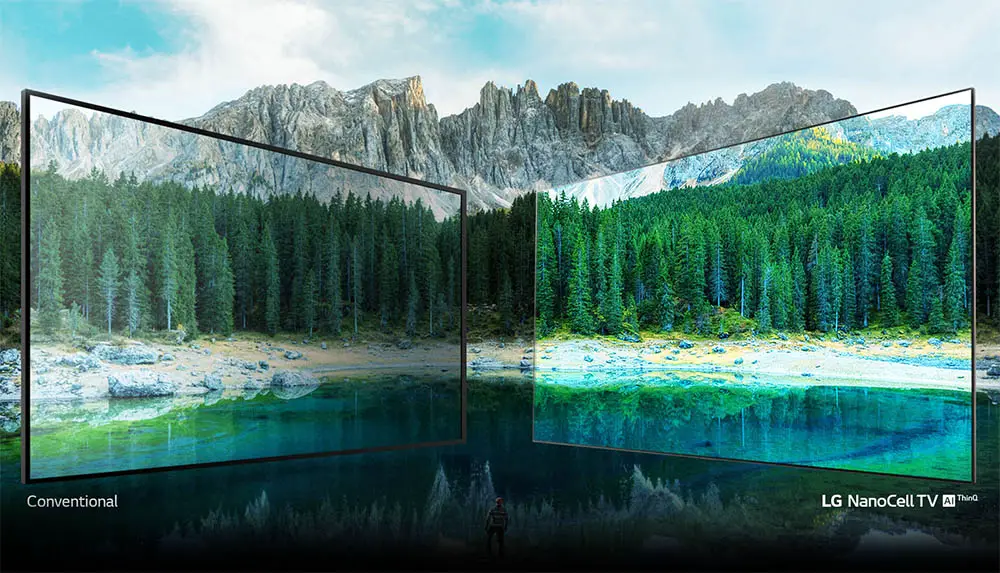 HDR support
The SM9500 follows the same path as the rest of the LG models by supporting all three major HDR protocols with the HDR10 being the basic one for UHD playback, HLG being used mostly for broadcasting and Dolby Vision which is the most advanced one that uses dynamic metadata.
If you are hoping to find HDR10+ here think again as LG seems to strongly back up Dolby's offering at least for the time being as Samsung seems to have taken the opposite route with their firm support in the HDR10+. And although there is no light in the tunnel as far as LG support in this open sourced protocol since their is no need for special hardware as Dolby Vision we can only hope that at some point in the future this pointless rivalry will end and we will be able to enjoy HDR10+ in LG models also. But we are not there yet.
Color coverage
The SM9500 supports wide color gamut and is capable of displaying a wider range of colors than most normal 4K UHD TVs. This is achieved with the use of a special layer called NanoCell and that's where the naming came from. This layer boosts the colors being displayed by absorbing unwanted light and this way the red and green colors are being boosted on screen. In a way it is similar to Samsung's Quantum Dot Technology that is being used in the QLED series but each company uses different names for obvious reasons.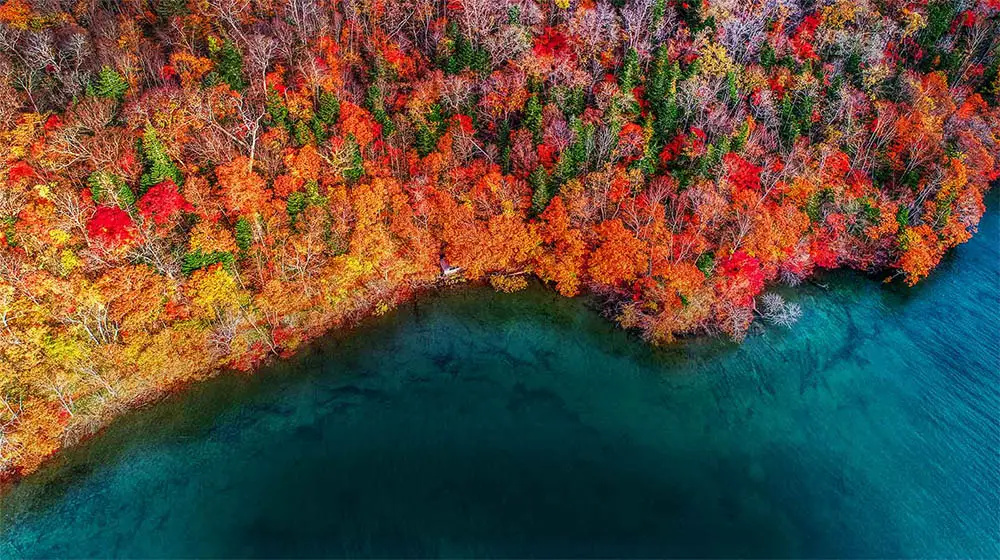 As for the actual SM9500 performance wise the number that we did get were very close to what we had measured in the SM9000 with very slight improvements. As such in the more limited DCI-P3 color space we got a 93% coverage while in the wider REC.2020 color space this number reached 72%. The numbers for the SM9000 were already very good and the SM9500 even managed to improve a little upon them making this model able to display truly amazing and lifelike colors.
Motion performance
When it comes to it's motion performance the SM9500 did pretty good and actually fared similarly to the lower SM9000. The SM9500 features a 120Hz panel (TruMotion 240) and comes with the standard features of Motion Interpolation as well as Black Frame Insertion (BFI). Motion Interpolation can be a very useful feature in order to reduce blur and judder from fast camera movements but make sure to keep the settings as low as possible to avoid the familiar "Soap Opera Effect".
There is also the Black Frame Insertion feature that has become a standard in the last few years and what this does is to insert a black frame between two individual images. This way motion appears smoother but this can have some undesired effects as with BFI brightness takes a hit due to the black frames and it can also make some people notice a bit of flickering. In any way you should try it for yourself and see if you like the outcome or not as it's really a give or take situation.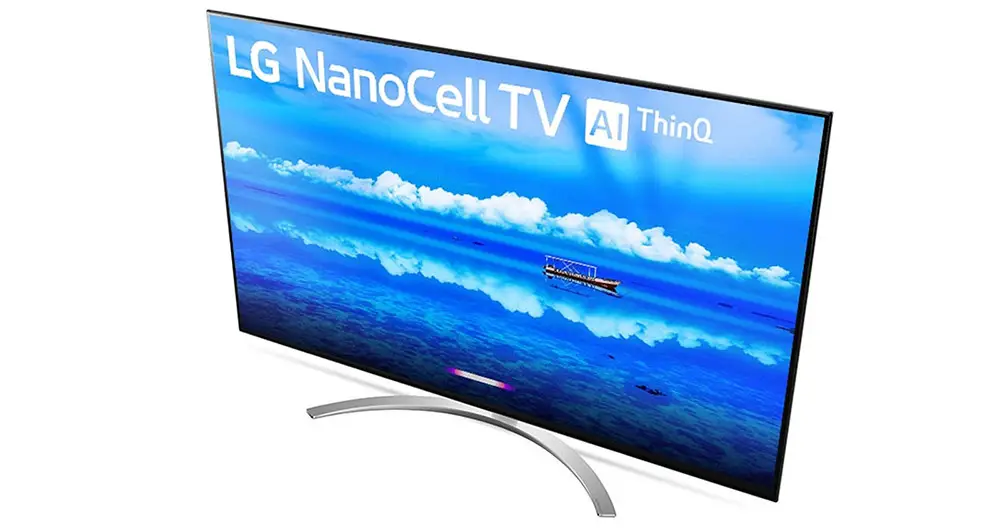 The SM9500 comes with HDMI 2.1 ports and this means we get some nice goodies that come with this new version. As such the SM9500 supports Variable Refresh Rate (VRR) and NVIDIA's G-Sync but not FreeSync.
Input lag
Let's now see how the TV fares with it's input lag. Having measured very low numbers in all other 2019 LG TVs we had reviewed so far we were certain that the SM9500 would feature a similarly low input lag and this was indeed true. According to our numbers the SM9500 gave us a reading in the 14.1ms mark which is an amazing number and show how much LG has improved this on all their 2019 lineup. With even middle tier models giving us so low numbers this LCD flagship couldn't be left outside.
We usually take each model for a quick gaming session with our trusty old PS4 (calling the PS4 old already is something, isn't it?) in order to determine ourselves how this number translates to a real world situation and what better game to test this other than Call of Duty WW2 which is a game that asks for fast and precise controls and reaction.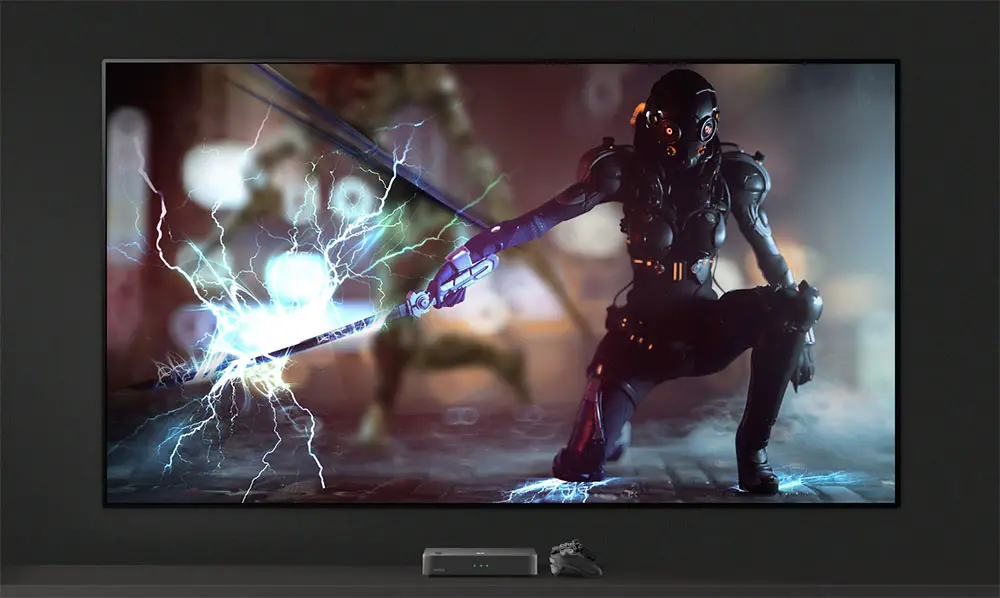 Although we cannot stress enough that we don't consider ourselves as gaming gurus, with our casual standards we found the SM9500 to be blazing fast to our commands and this is for sure a great TV for gaming either you like casual gaming or you are dead serious about it. Anything less than the 15ms mark we consider as instant response so at 14.1ms input lag the SM9500 passes with flying colors.
The TV has a feature called "Instant Game Response" which basically is a fancy name for calling the supported Auto Low Latency mode (ALLM). But for this to work the connected device must also support it and so far only the Xbox One comes equipped with it.
Image quality impressions
The SM9500 was able to deliver a very good overall image performance and took everything good that the SM9000 had while also improving some of it's weaknesses. As such the one we have here was able to deliver amazingly sharp 4K images and the use of the FALD Pro light system gave the SM9500 the ability for tighter and more accurate control over it's light elements. Brightness was amazing both in SDR and HDR, color coverage was great, viewing angles were as good as they can get in a LCD while motion was more than solid. Lastly the extremely low input lag makes this a perfect gaming TV.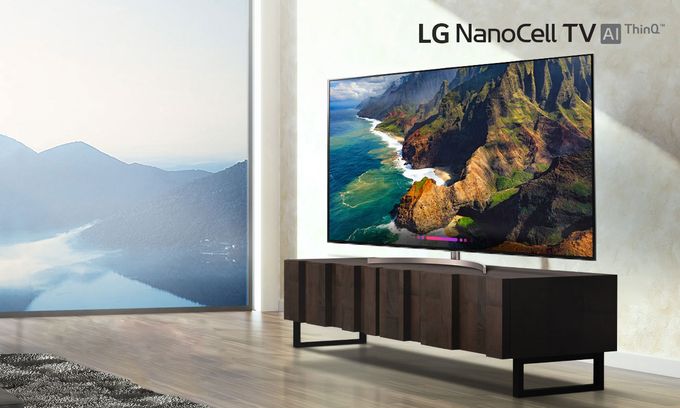 If there is a weakness this TV has it's definitely it's contrast. Although the SM9500 vastly improves this compared to what we saw in the lower tier SM9000 it still is very average at best especially when you compare it with some of Samsung's QLED models. Even the lower tier QLED models were able to have higher contrast than the SM9500 and this is a bit disappointing since we are talking about the flagship 4K LCD model of LG's lineup. Also blooming is slightly visible but due to the FALD Pro system it's vastly reduced compared to the SM9000.
But even with these shortcomings the LG SM9500 is an amazing TV that can really wow you with its quality. If you are looking specifically for a LCD model this one here has the performance to pick your interest.
Audio Quality
When it comes to it's audio capabilities the SM9500 offers a pretty similar setup to the previously reviewed SM9000. As such we find a 2.2 channels audio system with a total of 40 watts of power. The down-firing speakers have a bit more breathing space due to the inclusion of the FALD system but this does little to vastly improve the situation. As such the included system is good enough for sports, news broadcasting and casual viewing but in no way it can create an immersive soundstage with the hardware at hand.
We had talked previously about how LG tried to improve things in the sound department with the inclusion of some extra features in the a7 Gen 2 processor and the SM9500 gets all the same as the SM9000. This means that we also find the unique One Touch Sound Tuning feature that is a system capable of analyzing the audio from your sitting position with the help of the Magic Remote's microphone and make the necessary calibrations in order to offer the best acoustic result possible. If you are familiar with AV receivers calibration systems like Audyssey or AccuEQ then this one here is similar but obviously a more simple and straightforward version.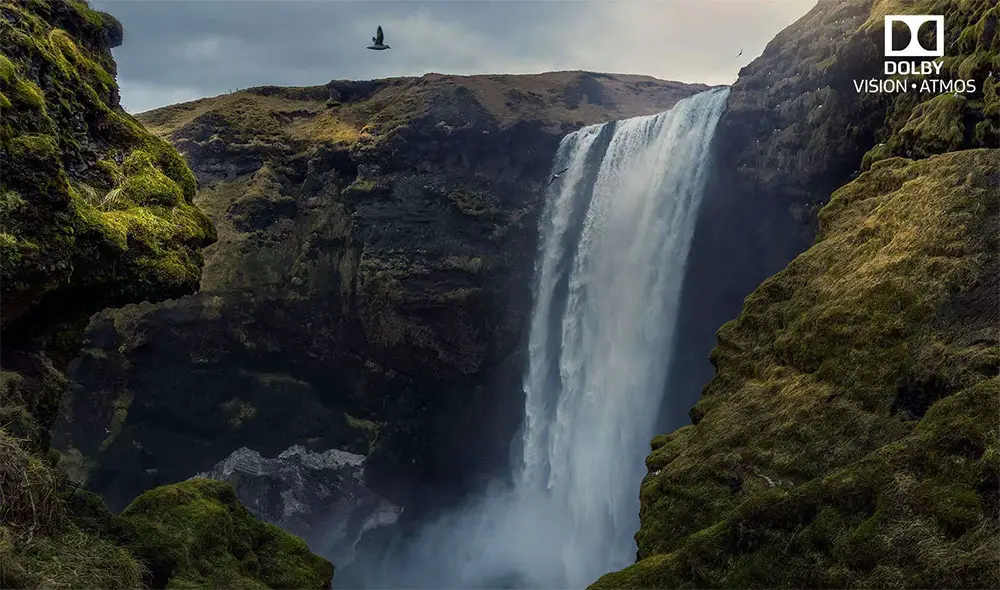 The new processor also has the ability to up-mix legacy stereo mixes into a full 5.1 virtual surround audio for a more immersive experience. In theory this sounds very impressive but the execution is a bit less than exciting. Yes, the sound may feel like it has more volume and expand a little further across the room but in no way it can convey a full 5.1 surround experience like a dedicated surround system can. This is also obvious when you hear Dolby Atmos mixes that the SM9500 supports. The TV is simply missing the necessary hardware to create the kind of immersion this object-oriented mix can project.
One last feature we need to mention is that the SM9500 has the ability to analyze the content being played and make AI enhanced optimizations. In general we could say that the SM9500 offers as good an audio as a normal built-in audio system like this can. Enough for casual viewing but doesn't cut it for any kind of immersive viewing. If you want to watch movies then make yourself a favor and buy at least a soundbar if not a full surround system.
Ports – Connectivity
When it comes to it's ports and connections the SM9500 features a pretty familiar configuration. The SM9000 comes with exactly the same setup and this means that we have two groups of connections with one of them looking sideways while the other looking backwards. In general we don't like the backwards looking setup as it makes it difficult to use these if you want to wall mount the thing and we would prefer to have downwards looking ports like Sony uses.
The ports that are looking sideways include 4 HDMI inputs as well as a couple of USB ports for connecting external storage. In the other group, looking backwards, we get a composite input that needs a special adapter, an RS-232C port, an Optical Digital Audio output, an Ethernet port for wired connection to the internet as well as a third USB port and the usual antenna/cable connector.
The SM9500 comes with built-in WiFi (802.11ac) as well as the latest Bluetooth 5.0. Obviously the highlight here is the HDMI 2.1 support with LG being the first manufacturer to fully support the new protocol in their 2019 lineup. This means we also get new features that we mentioned above like the Variable Frame Rate (VRR) as well as eARC support in HDMI 2 in order to be able to pass Dolby Atmos to an external device like a soundbar. What we disliked is the use of USB 2.0 which should have been replaced a long time ago by USB 3.0 but for some reason manufacturers insist in using.
OS, Apps and Features
When it comes to smart TV functionality it was until recently a common thing for manufacturers to use their platforms in their top tier and middle tier offerings while the most cheap and low budget models were stripped of these capabilities. Things are changing and for 2019 LG decided to use their excellent webOS platform for all their models, even in the most low priced ones. So LG's 4K LCD flagship couldn't be missing from the party as the model we are reviewing comes with webOS 4.6 which is one of the latest versions for 2019 and features a few new functions that we will analyze shortly.
The overall look and layout hasn't seen much change as it was already very easy to navigate and the changes we see were mostly made to boost practicality even further. Obviously one of the highlights of webOS is the enormous support it has from developers and there is a huge selection of apps and streaming services to choose from. Some of them come pre-installed, depending obviously the area you live in, but there is an abundance of apps that you can download from LG's store if it happens the service you are looking for not to be there.

Writing all the supported apps is impossible but some of the biggest names are all here like Netflix, Amazon Prime Video, Youtube, Now TV, Rakuten, Demand 5, Hulu, Sling TV, Vudu, iTV, BBC iPlayer and Google Play Movies but keep in mind that some of these may not be available to your area so you have to make sure it is supported where you live. What is new is the Disney+ service that is certainly going to make a few waves and LG made sure to support it in almost all their TVs from 2016 and afterwards. The only requirement seems to be that your TV runs webOS 3.0 and above in order to use it.
With such a huge volume of apps it was necessary to have some kind of system that can arrange everything in a way that can be practical for the user. If you are not using much of these services then you shouldn't have much trouble but there are many people that use multiple services at the same time so being able to easily access them is crucial. And for this reason Intelligent Edit was created.
This nice little feature can rearrange and prioritize the applications you are using depending on their use. So if you have a specific streaming service that you use often Intelligent Edit will make sure to put it in front so you can easily find it. Obviously manual customization is also possible in order for you to rearrange everything to your liking.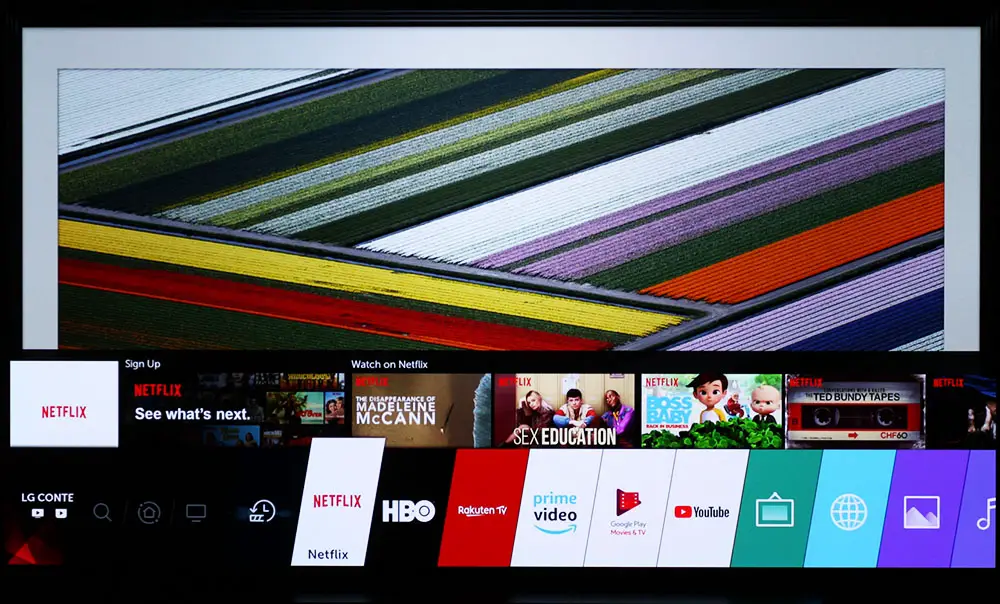 Another new feature is the Home Dash Board which is the equivalent of Samsung's Smart Things and what this does is that it gives you a summarized view of all your smart home devices grouped together in order for you to easily be able to access and control them. We really liked this one as it makes things so much clearer on what you have in your house and how to control them all from a single central hub that your TV can be.
Another feature that we get in 2019 is Wisa support. Although this technology is not very widespread yet Wisa is a wireless technology that lets you connect wireless speakers that have built-in amplifiers to them directly the the SM9500. Unfortunately for this to work you will need to buy a separate dongle which adds a bit to the cost. It's a nice feature to have although we haven't been able to test this yet and hopefully we will be able to see how it works when it becomes more widespread.
When it comes to controlling the TV we get the full package here. If you are old fashioned then obviously the included Magic Remote will be your best friend but if you like something more high tech then you can download one of the two apps that are available to your mobile device. The one is the LG TV Plus and gives you access to basic TV functions while the other is the LG SmartThinQ and with it not only you can control your TV but it's a means of controlling all your LG smart devices in your house similar to how Samsung's SmartThings works.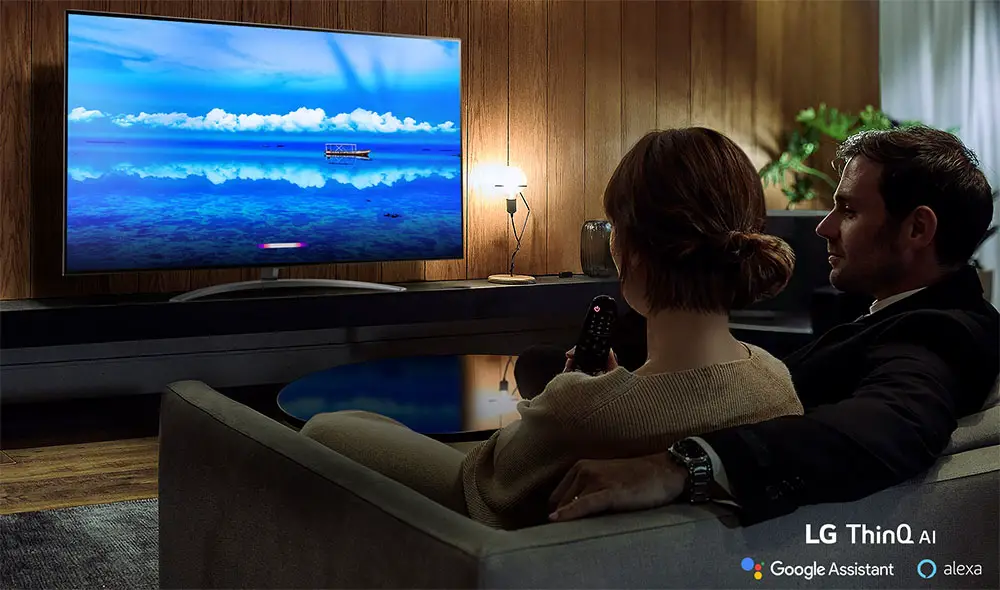 Additionally if you are more into voice control Amazon Alexa and Google Assistant are both being supported which has become a standard lately. The good thing is that you can issue your voice commands by using the Magic Remote's built-in microphone which is very easy and practical. Obviously voice control is not limited to the TV functions as you can turn your TV the center for all your smart home appliances.
The SM9500 that we tested also came with Airplay 2 and HomeKit support which means that you can stream content from any Airplay 2 enabled mobile device directly to the TV or even play music from your LG TV to other AirPlay 2-compatible speakers at the same time, all in sync. The Airplay 2 app can be controlled also by voice with Apple's Siri.
As you can understand from all the above the webOS has become more than just a control platform for the TV. It's a complete ecosystem from which you can gain access to all your smart home devices, control them, find the content you are looking, search for information and a lot more with just a click of a button or a simple voice command. LG continues to improve the platform with small refinements and with webOS 4.6 we have reached a point where the platform offers the user almost everything one would need in a nice looking and easy to access and navigate environment.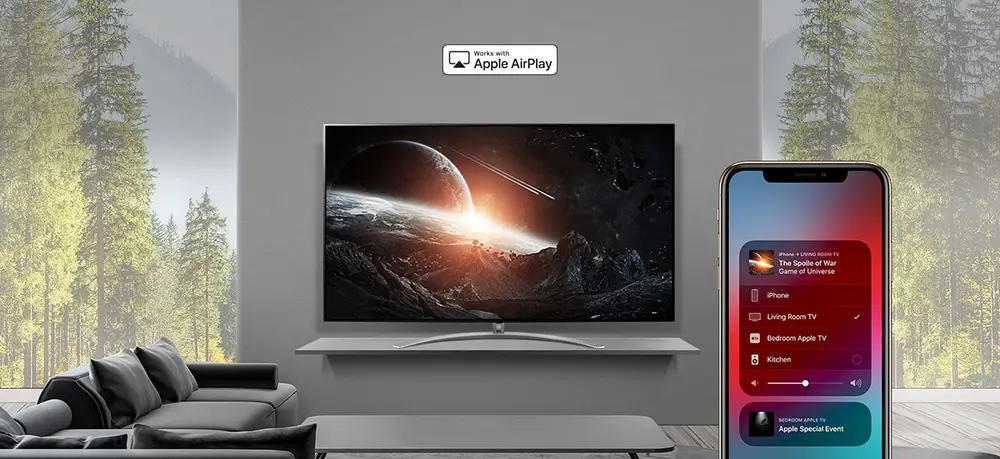 Final Thoughts
Wrapping up with our review what can be said about the SM9500 is that not much have changed since last year's SK9500. Any improvements are mostly subtle with slightly better brightness, a little lower input lag and support for VRR. Any other changes are rather insignificant and not visible to the naked eye to be worthy of mentioning. The design is very similar although we didn't like that LG went for a plastic stand this year when the SK9500 has a metallic one.
Overall performance of the LG SM9500 was very good with very crisp and sharp 4K images, very good brightness, solid motion performance, satisfactory viewing angles for a LCD TV and extremely low input lag. If you add the amazing webOS 4.6 with all it's features and smart functions the SM9500 really has the whole package. On the other hand if there is one area that the SM9500 really falls behind is in it's contrast performance which is not very good. And this is really hurting this model as other LCD models can display much better contrast instead. Local Dimming improves things a bit but still for a LCD flagship we were expecting more. Sound is also average and only suitable for casual viewing while the plastic stand is definitely a back step compared to last year.
Overall we would say that if you are looking for a good quality LCD TV then the LG SM9500 has the quality, performance and features to be a strong contender. Excellent brightness and colors makes this TV ideal for any bright environment while it's low input lag makes it an excellent choice if you are serious about your gaming sessions. It may have a few shortcomings here and there but it can definitely hold it's own as the leading 4K LED LCD in LG's arsenal for 2019.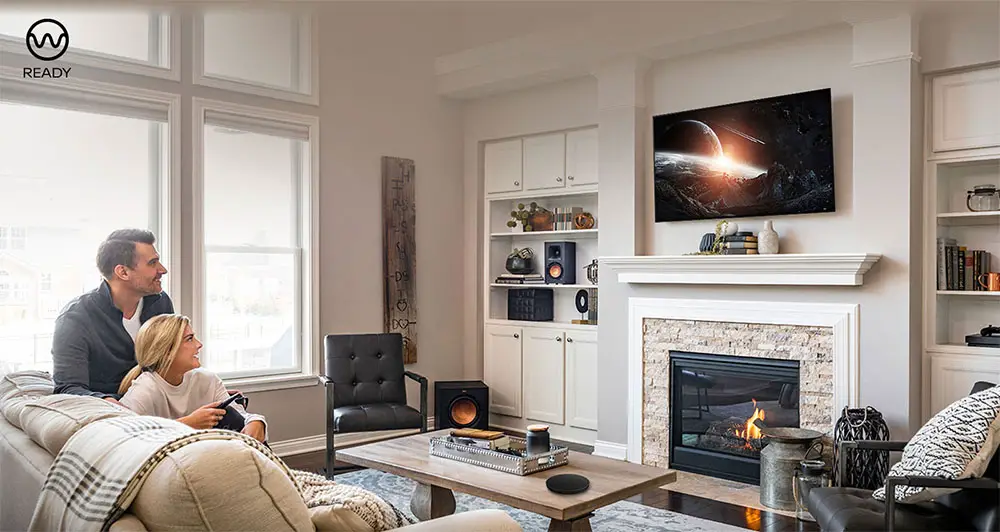 For more reviews you can check our dedicated 4K LED LCD TV reviews list or even look at our Product Reviews Table where you can find the brand and specific product you are looking for.
Also don't lose the chance to subscribe to our Newsletter and gain exclusive privileges.
---
---
Cheapest Places to Buy :
---