Logitech Harmony 665
Design -

86%

Setup -

88%

Interface -

90%

Everyday use -

92%

Price / Quality -

94%
---
Cheapest Places to Buy :
---
The single most frustrating thing about having a home cinema system is definitely the huge number of remotes you have around to control all your devices. This can start from 2-3 remotes for the most simple setups and can go pretty high for more advanced ones that include streaming devices, projectors and dedicated players. And having all these remotes around is definitely not fun. And this is where Logitech has come to the rescue as their Harmony universal remotes has offered us a way to address this problem for many years now. Today in our Logitech Harmony 665 review we will be looking at their most budget-friendly remote and what it has to offer.
The Logitech Harmony 665 is not a new remote. Basically it's an updated version of their previous Harmony 650 universal remote. The 650 has been discontinued, although you can still find it in circulation, but the 665 we will be looking today is very similar with only some minor improvements and changes. The Harmony 665 offers all the basic functions that are the backbone of the Harmony functionality and supports a vast range of devices and brands making it an ideal low cost solution for everyone that seeks a solution to their remotes problem.
But in a market that is over-saturated with universal remotes of all kinds does the Logitech Harmony 665 manages to distinguish itself from the rest? Let's find out.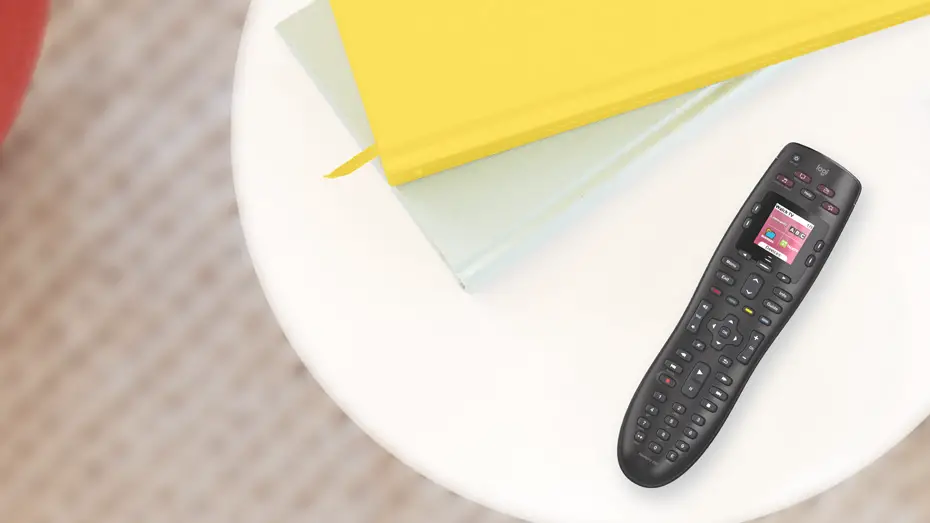 Design
If you have previously seen the Harmony 650 then you know what you will get here. Now you may ask how do you know which remote is which? This is an easy one as Logitech made sure to use a different color for the 665. So while the Harmony 650 came in grey color the Harmony 665 comes in matte black. Which one is better is a personal one but we like the black just a little bit more.
Once again we find a small full color LCD screen which cannot be used with touch as the four buttons around it are the only way to control what you see on it which should be expected to be honest. The LCD screen is able to display various information like channels and commands and it's really a very handy feature to have instead of a completely bare, full of buttons, remote.
Also one thing that we liked very much is the backlight function the remote has as it can be a huge help in the dark.
The remote, being a universal one, naturally comes fully packed with buttons. This is not a small remote we have here and using it with one hand can be difficult in some situations. There will be more times that you will be using this with both hands especially for some of the far reaching buttons. As for their layout Logitech made sure to group them in a very logical way. Above the screen we find the Activity keys for watching movies or listening to music as well as power and help controls while at the very bottom there is a numerical pad.

Above that we find the usual playback buttons while below the screen we get all the navigation controls as well as various other functions and smart selection buttons. The rubber buttons felt exactly the same as in the Harmony 650. They are easy to the touch altough there can be a slight delay if you press them in quick succession but nothing major that can make the whole experience troublesome.
With such a big size the remote may feel a bit cumbersome and hard to handle but even with it's size it never felt uncomfortable using it. The plastic feels of good quality while it's overall construction feels sturdy which doesn't reflect it's low cost price. This is a remote that will definitely survive a sofa fall although we suggest against testing it out.
With such a low cost there are major corners that had to be cut and as such there are no rechargeable batteries or docking station like we had seen in some other more expensive Harmony remotes. Instead good old AA batteries need to be used here so you will need to keep some of them in stock since, depending on use, the remote can drain them pretty fast. Also the lower back of the remote is far more thick than the top in order to house the batteries compartment but it has been designed in such a way that fits very nicely to the hand.

Setup and Interface
When you buy a universal remote the number one reason is to make your life easier by not only being able to have all remotes gathered in one device but also to be able to handle all your devices fast and easy. And while this remote's intention is exactly that when you first use it you will have to spend some time in order to go through the initial setup and calibrate all buttons depending your needs and the kind of devices you use. When you first install the batteries on the remote you choose a language from the screen but for the next step you will need a computer.
And here is one of the downsides of the Harmony 665. Although having a computer in this day and age is not anything shocking in some ways this lowers the ease of use. With the top tier Harmony models that come with a Hub this can be done through your smartphone but here there is no Hub here so connecting the 665 to a computer through the USB is your only option.
First you have to download the Harmony Software from the Logitech website and after installation create a new account which is totally free and ensures that all your settings are saved for future use. Then you connect the remote through the USB in order for the program to connect with it and choose the devices you want to use it with.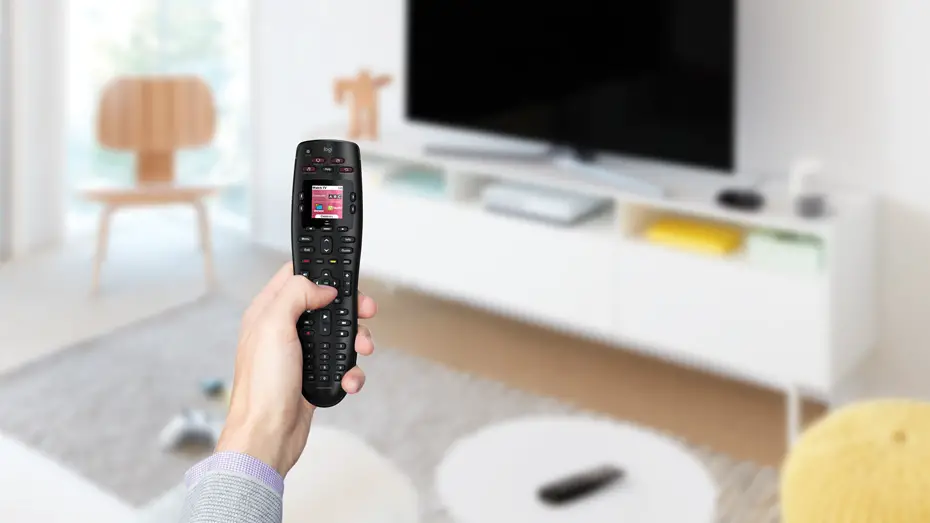 Keep in mind that the Harmony 665 can support up to 10 devices and here is the biggest difference compared to it's predecessor, the Harmony 650 which could support only 8 and gives you a little bit more flexibility. If you want more devices you will have to go for a more expensive Harmony model but with 10 available we believe these are enough for most setups. Finding all your devices is done easily through a pull down menu. First you select the manufacturer and after the model of your device. With more than 270,000 devices supported it's almost certain you will find yours unless you use some very rare or very old device that may not be on the list.
But even if you are not sure about your devices you can head to Logitech website where you can input them and see if the Harmony 665 supports them. This way you will know for sure before you go on and buy it. In order to test it we chose our Samsung 4K UHD TV, Panasonic UHD player, our Onkyo AV receiver and our Zidoo media player. All our devices were correctly found and supported. But the list goes on and on and this is one of the major strengths of the Harmony family of remotes.
If there is one minus that can be found is that as the remote doesn't support either WiFi or Bluetooth it cannot support any devices that base their communication on these two. With the remote supporting only IR signals only devices that can accept these can work with it.
One thing that we should not forget to mention is Activities. There are a total of three dedicated buttons for Activities in the Harmony remote that you can program to your liking. Activities is basically a chain of commands that you can add in a single queue and with the press of a button all of them can execute in sequence. If for example you want to watch a UHD disc you can make an activity where the TV will open, choose the appropriate input, power up your AV receiver and lastly your UHD player. This way you save the time of managing all your devices individually.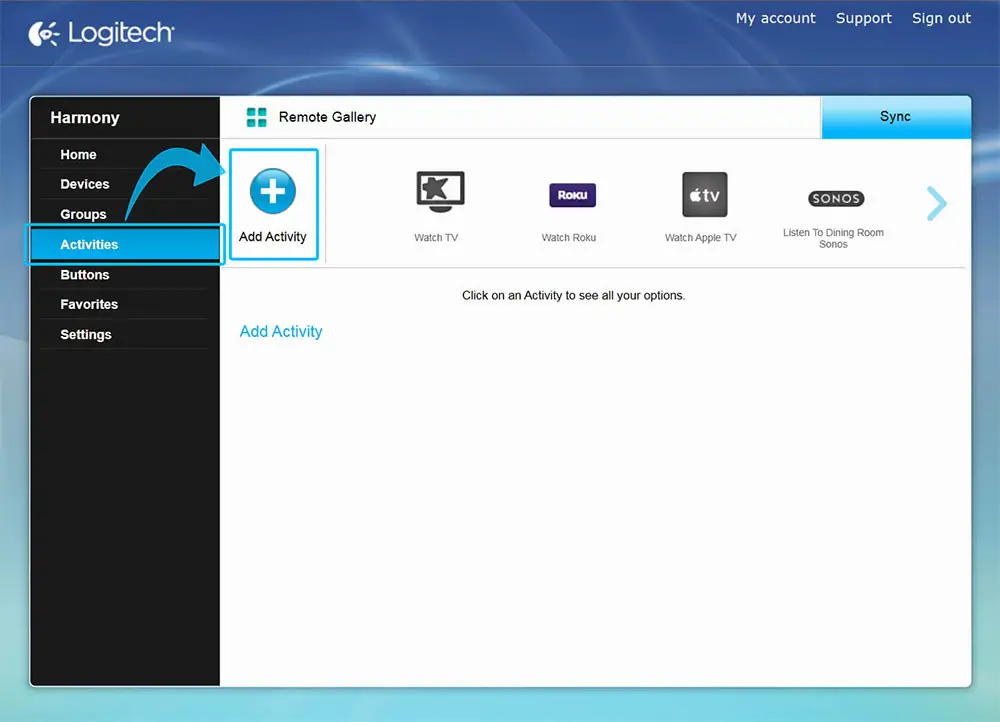 This takes a bit of time until you program them into the remote but once you do it's an enormous time saving feature. The only negative is that if you add or change one of your devices you will have to reprogram the remote by once again connecting it to a computer and adding the appropriate device.
In general the initial programming and setup, although not hard to do, it will definitely need some time to complete especially if you have multiple devices that need to input. But this is good in the end because after you finish everything becomes so much easier and you will understand that the initial time needed was worth it. So if you are worried about the long procedure, don't. It's rather easy to do while the time you will spend now you will save later during use making the Harmony 665 an awesome addition to your home theater system.
Everyday use
Having tested almost all of the Harmony remotes what we can say is that Logitech has really created an amazing family of universal remotes. The Harmony 665 may not be as advanced as the other more expensive ones but for a cheap solution it has the ingredients it needs to be a solid offering in this segment. Using it almost everyday is as easy as it gets. Obviously the first few days you need to get a bit acquainted with it and understand how everything works but once you do you will not be able to do without it.
It's size also will need a little getting used to as this is not your usual remote. It's above average size will make many people use both hands to operate but we didn't find this overall bothering even if it's not the ideal. But the kind of practicality it will bring to your everyday life far outweights the bad ones. And the more you plan on using it the more value you will find on it. Activities is an awesome feature and we are sure that you will love it also as the ability to chain many commands together will save you a lot of time from having to operate each of your devices individually.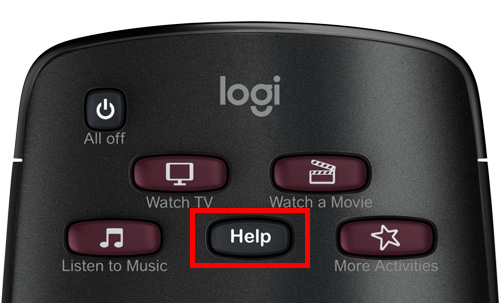 Oh and we shouldn't forget to mention the Help button. If for some reason some device will not work in one of your activities the Help button can do…just as it says really. It will try to fix the problem by itself which is a nice feature. We didn't have any problems during our testing so we didn't use it but we can imagine how helpful this can be in the long term.
Logitech has really thought of the practicality of the Harmony 665. And while in the beginning setting it up and initially using it may seem hard to you once you get used to it you will not want to use another remote ever again.
Good and bad points
Overall the Harmony 665 is a very low cost proposal from Logitech. It's design is exactly the same as the Harmony 650 which means it has a sturdy design, good buttons layout and the LCD screen that can help so much and is a nice addition to such a low cost remote. Also having a backlight can help so much if you like to use it in the dark and with it's support for up to 10 remote we cannot believe that this will not be enough for you.
Usually most people have 2 or 3 remotes that can go up to 6 or 7 if you have many devices in a complete home theater setup so the supported 10 are more than enough. Also the single most useful function has to be in it's activities and the more devices you have the more valuable this is as with the press of a single button you can handle multiple devices at once.
The setup although takes some time we found it relatively easy to finish as the Logitech app was nicely designed and provides you all the necessary information. And lastly the price. You can find the Harmony 665 dirty cheap and for what it offers it is an amazing deal.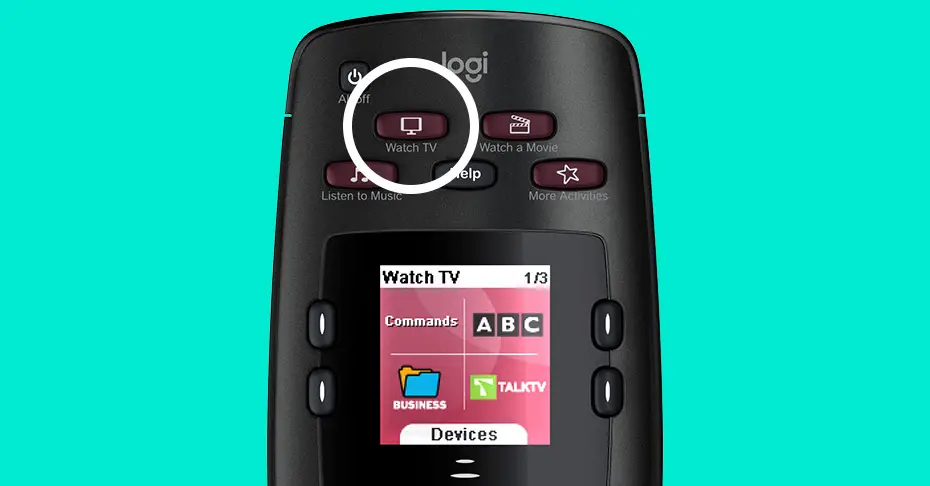 On the downsides the remote cannot control any smart devices that base their control on WiFi or Bluetooth as the remote lack both of them. Setup, although easy to complete as we mentioned above, can take you some time to finish especially if you have many devices to add and activities that you want to create so you need to have some patience while if you change any of your devices you will need to reconnect it to a computer and make the appropriate changes.
Also using normal AA batteries means you need to have a few of them in stock  for when it's needed. Lastly it's size is a bit huge and although this may be natural for a universal remote handling it with one hand can be difficult for some buttons so it takes a bit to get used to it.
Final Thoughts
If you have found both the Harmony 650 and Harmony 665 on the market and wondering which to buy things are pretty clear. Basically in the 665 there is support for an additional 2 devices which brings the total to 10 and changed the color to black, probably to distinguish the two…and that's it. But even so the 665 is an amazing low cost remote that is worth every penny.
It has a sturdy construction, an LCD screen for easier usage, backlight which is a major plus in our books, can support up to 10 remotes which is more than you will ever need and has Logitech's most genius function which is Activities. If you are in trouble managing your multiple remotes but you don't want to spend major bucks to get a more expensive universal remote like the Harmonu Elite for example then the Logitech Harmony 665 is an amazing budget-friendly purchase that once you get used to it you will not want to use another remote again…unless it's another Harmony remote!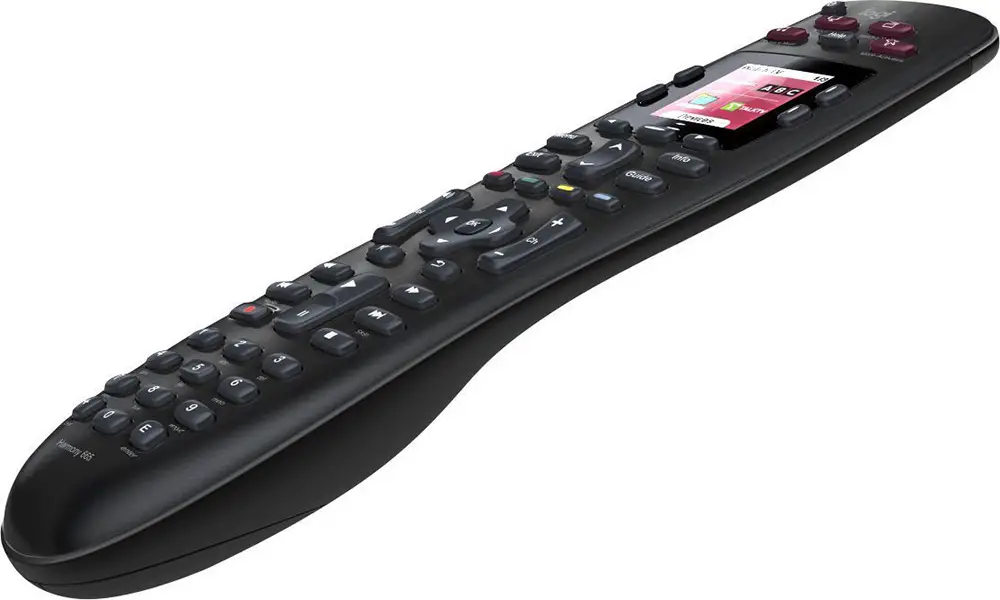 For more reviews you can check our dedicated Universal/ Smart Remote reviews list or even look at our Product Reviews Table where you can find the brand and specific product you are looking for.
Also don't lose the chance to subscribe to our Newsletter and gain exclusive privileges.
---
Cheapest Places to Buy :
---
Logitech Harmony 665 Specifications