Marantz Cinema 60
Reviewed at $1,699.00
Product Name: Marantz Cinema 60
Product Description: 7.2 CH 8K AV Receiver
Design -

9.4/10

Audio Quality -

9.2/10

Inputs / Ports -

9.2/10

OS, Apps and Features -

9.5/10

Price / Quality -

8.5/10
Summary
Reviewed at $1,699.00
Pros
Amazing surround and Atmos performance
3 full 40Gbps HDMI 2.1 ports
Fresh looks and internal hardware
High resolution user interface
Cons
No front HDMI input for one more year
Audyssey MultEQ Editor app is not free
No component or composite ports
More expensive than previous releases
---
Cheapest Places to Buy :
*We are a reader-supported website. When you buy through links on our site, we may earn a small affiliate commission at no extra cost to you. Home Media Entertainment does not accept money for reviews.*
---
Recently we had the chance to go over the new 2022 Denon AV receivers so now it was about time to check their sister company, Marantz, of what new they have for this year. In our Marantz Cinema 60 review today we will be looking at the smallest of the full-sized units they have on offer and what new tasty new features it brings with it.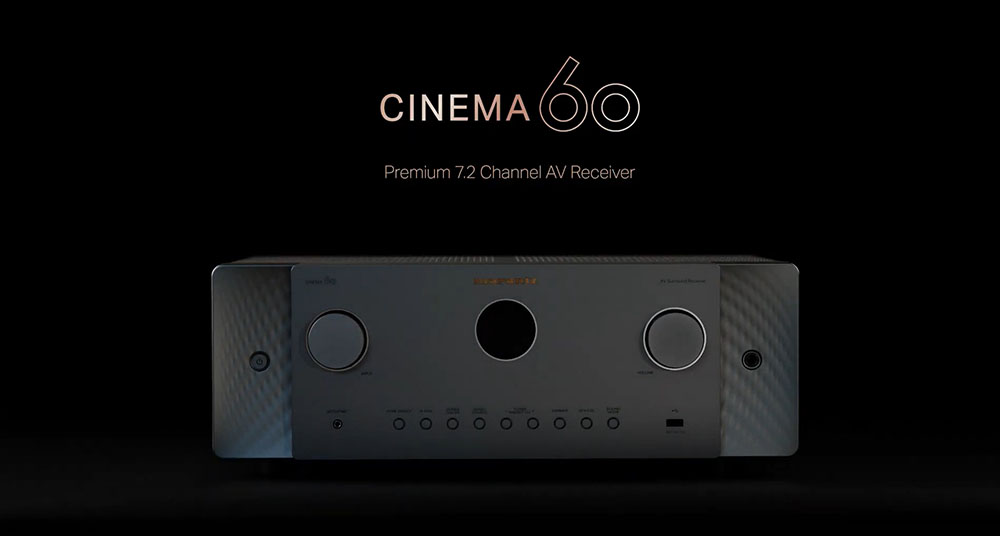 Marantz changed a lot of things in their new AV receivers. First of all their naming is different as they decided to throw away the old SR series and instead rebrand them as the Cinema series. The four new models consist of the Cinema 60, Cinema 50, Cinema 40 and the slim-line Cinema70s. The Marantz Cinema 60 is supposed to replace the previous SR5015 while the Cinema 50 replaces the SR6015 and the Cinema 40 the SR7015. The 50, 60 and 70s models will be available until the end of 2022 while the Cinema 40 will arrive at some point next year.
So what does the new Cinema 60 has to offer? First of all a brand new design for both the main unit and the remote along with certain redesigned internal components. The unit is still a 7.2 channels AV receiver with 100 watts per channel, supports all the latest audio formats, uses the Audyssey MultEQ XT audio calibration system, comes with three fully working HDMI 2.1 ports capable of 40Gbps of bandwidth and a new high resolution user interface. All other features are the same from previous releases including high resolution audio, HEOS, Airplay 2 and much more.
On paper the Marantz Cinema 60 seems to be a similar upgrade to the Denon AVR-X2800H but in reality Marantz changed much more to their smaller unit in comparison to what Denon did. But with the price reaching $1,699 this year is this still a worthy purchase? Let's find out.
Design
Both Denon and Marantz have been using the same design for their new lineups for some time now and we were really disappointed to see that Denon didn't change their new 2022 units at all.
But surprisingly, unlike Denon, it seems that Marantz decided to go the extra mile and redesign the whole thing along with their remote. The new release retains some of the luxurious vintage look that is so characteristic of all Marantz units all these years but surely it feels more modern and finally it is a much desired change to the look that has become tiring after so many years.
In terms of dimensions the new unit is very similar to the SR5015 with only minor changes that obviously come with the entirely new design. As such the Cinema 60 now measures 17.4″ x 13.9″ x 9.3″ (442 x 354 x 235 mm) but as always you can lower its profile to just 6.5″ (165mm) if you turn the antennas horizontally without this affecting the quality of connection in any meaningful way. The unit weights slightly more at 24.0 lbs (10.9 kg) but the Cinema 60 remains in line with all the other AV receivers of the same category.
When it comes to its layout and looks, Marantz didn't try to reinvent the wheel but rather keep certain characteristics that we are so accustomed with when it comes to their products. This includes the two big circular knobs for input selection and volume that sit on each side of the front circular porthole that also got an update as it is now an OLED one.

Below the central porthole and the two circular knobs there is a group of nine circular buttons sitting in a straight line which include controls for M-DAX, Pure Direct, Zone 2, Tuner, Dimmer, Status and Sound mode selection. On the left of these there is the microphone jack while on the right the USB port for connecting external storage. Marantz may have redesigned the thing but we still have no front HDMI port. Let's hope this will find its way back at some point in the future.
On the right and left side of the front face Marantz used a lightly curved and textured design which gives a bit more style to the whole presentation. On the right one we get a headphones jack while on the left there is a small circular power button.
When it comes to its internal hardware it seems that the Marantz Cinema 60 also went through a number of changes. We again find Marantz's proprietary HDAM circuitry but in the new release there has been an update as it now uses the updated HDAM-SA2 board.
We should also note that while the Cinema 50 seems to be getting the same updated DSP that we saw in the Denon AVR-X3800H, which was the SHARC Griffin Lite XP, the Cinema 60 gets the same treatment as the Denon AVR-X2800H. Marantz, just as was the case with the X2800H, does not mention what kind of DSP the Cinema 60 comes with but we guess they have used an alternative to the AKM ones that they had been using up until the fire in the AKM factory. Lastly one thing that seems to be missing from the Cinema 60, that was present in the SR5015, is the Hybrid PLL Clock Jitter Reducer which is only used in the Cinema 50 and above.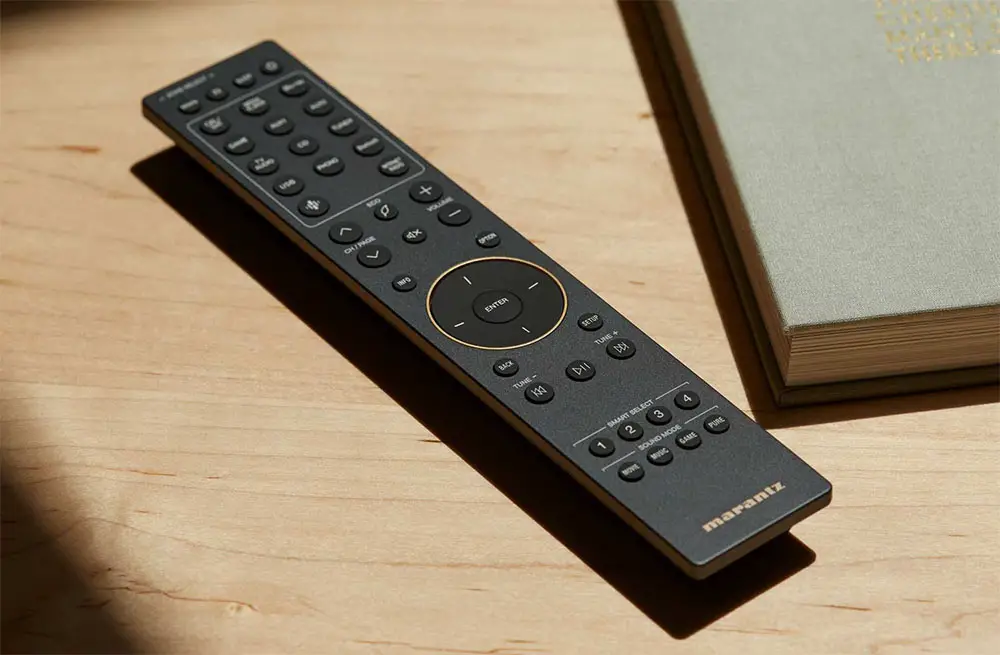 Since Marantz decided to update the looks of their units the remote had to follow too. As such the one we have now is not fundamentally different from the usual Denon/Marantz remotes but at least its looks feel more fresh and in line with the new units.
The top of the remote is where all of the inputs are located while volume, channels and navigation controls are placed in the middle, as we usually see, followed by three playback buttons with four selection buttons underneath them. At the bottom we get the four sound modes to choose from.
But the remote remote is not only just refreshed looks as it actually got a backlight function also. While this is not motion sensing, the button that activates it is located at the side instead of the top among the other buttons. This is the next big thing as it is far easier to press a single button at the side of the remote instead of trying to find it among the others. We never understood the usefulness of a backlight button mixed with all the other controls.
Marantz finally decided to refresh the looks of their AV receivers. It may take a while to replace their entire lineup but it's a start. Although this does not mean much in terms of actual performance the old design, while still good looking, actually started to show its age. Kudos to Marantz for creating an amazing new look.

Audio Quality
When it comes to what kind of audio formats are supported things are pretty much the same compared to its predecessor so no real surprises here. As such the Cinema 60 supports all the latest audio formats like Dolby Atmos and DTS:X. There is also Dolby Surround and DTS Neural:X up-mixing technologies that can up-mix simple stereo audio tracks into full immersive surround sound.
As for virtual tech the Dolby Atmos Height Virtualization and DTS Virtual:X virtualizers are capable of creating sounds that originate from virtual created speakers around your room where there are no physical speakers present.
These virtual technologies obviously are not as good or accurate as having real physical speakers and are very much room dependent. Also the sound many times can be heard very over-processed, something we were never very fond of. The Cinema 60 is missing a few more advanced audio formats like Auro-3D and IMAX Enhanced as these are used only on the Cinema 50 and above.
One thing that is worth noting is that Dolby Atmos Height Virtualization can be used for both Dolby Digital as well as DTS audio tracks. On the other hand DTS Virtual:X can be used only with DTS tracks and as a result Dolby's offering seems to be getting the upper hand here. Also if you want to enable the Dolby Atmos Height Virtualization it can be a bit tricky to find out how to do it as there is no direct button that can enable this.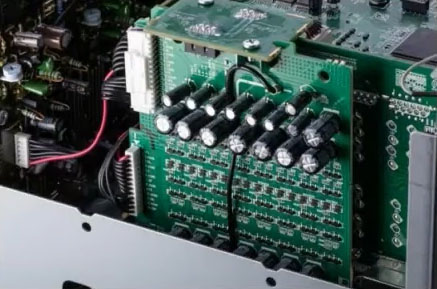 In order to enable it you will have to first go into the main menu, in the Audio section and find the surround parameter. In there you will find the Speaker Virtualizer that you have to enable first and after use one of the sound modes that use Dolby Surround. This way Dolby's virtualizer will be enabled. Not easy or straightforward at all and even the manual is not very clear with this. We were hoping Marantz to make this a bit simpler from its first implementation but it still is the same from the previous years.
The Cinema 60 retains exactly the same 7 channels of built-in amplification with a theoretical 100 watts of power (8 ohm, 20 Hz – 20 kHz, 0.08% 2ch drive) which is plenty in order to fill a medium sized room without any problem. Obviously the more channels being used the less output you get, something that is not clearly mentioned in any marketing material you see.
The receiver is capable of powering dual subwoofer setups but if you want four subwoofer outputs then your only option is to go for the Cinema 50. With the supported channels you can either create a 5.2.2 Dolby Atmos audio setup or if you don't care about the overhead layer then you can go for a 7.2 channels or even a more basic 5.2 setup.
As always with such type of AV receivers we created a 5.1.2 channels setup with a single subwoofer placed at the front left corner of our testing room and 2 ceiling speakers for the Atmos overhead layer that we positioned in the middle of our listening area. As for the movie this time we decide to try out Saving Private Ryan in 4K UHD with its reference Dolby Atmos mix.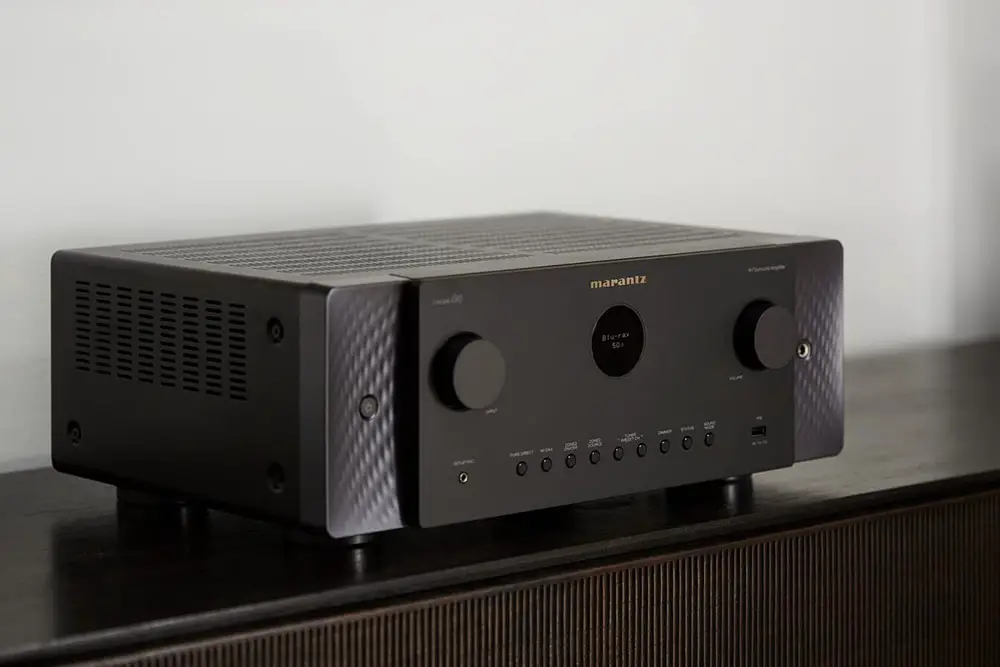 The scenes we chose were the obvious ones. The landing on Omaha beach and the final battle in Ramelle. It didn't took long for the Cinema 60 to show its potential and true qualities. From the initial moments when the water is splashing on the allied watercrafts you could sense that the unit meant business.
The Omaha beach sequence is full of discreet and directional effects and the Marantz went all in and rendered everything to the best of its abilities. The most prominent of all, as usual, was the front sound wall and the Cinema 60 was able to create very realistic depth and satisfactory extension in all axis. We could hear every sound emitting from where it should without without compromise from the speaker's physical limits. The whole area at the front was filled with machine gun fire, cannon shells exploding and artillery falling all over the place.
Dialogue was distinct and clear even during such busy scenes. There was no obvious overlapping between the main fronts and the center and neither we felt the need to boost the center channel at any time. Everything was just perfect to our ears.
But no AV receiver is good enough if it cannot create a realistic surround experience and here the Cinema 60 really excelled. We only had 2 surround speakers but to be honest we didn't feel like we needed more. The Marantz once again made good use of its abilities and filled the entire section behind our viewing position. Panning effects like bullets were flying just behind our heads and with the camera in the middle of the action you could really sense what was going on behind our backs.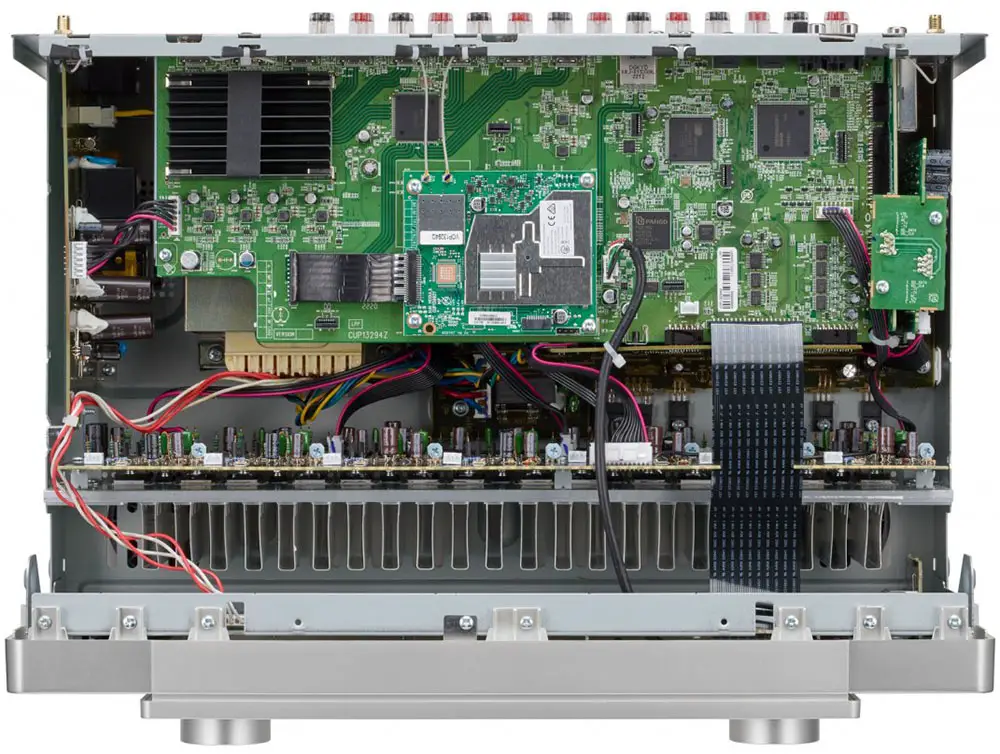 Dolby Atmos is another area where the Marantz did great, although this was not so much to our face as the rest of the effects that were rendered on ear level. With only two Atmos channels you will loose a bit of accuracy and pinpoint effects placement on space but even this didn't stop us from enjoying what was there. Especially when the German artillery was pounding Omaha beach you could really feel the ordnance coming from above.
Obviously when it comes to its low end performance, this very much depends on the subwoofer you will be using also but the SVS SB-1000 Pro that we have been using in our tests could not be happier as the Cinema 60 fed it with all the low end information necessary and as a result we got a very powerful and articulate presentation with wall shaking moments at every passing second.
The Cinema 60 is not only a very capable and delicate handler of cinematic audio but proved to be exceptionally stable even when it is pushed to its limits. With 100 watts there is plenty of juice for either small or medium sized rooms, although as we mentioned above power rating when using all channels falls dramatically. Even so we were not able to push the receiver to its max as it was too much for our ears to handle or accept. So we can say that you are safe in this regard.
Closing this section of our review we could not be happier with the cinematic prowess of the Cinema 60. Marantz are masters of their art and this unit proves once again that their products can really bring a cinema theater to your room.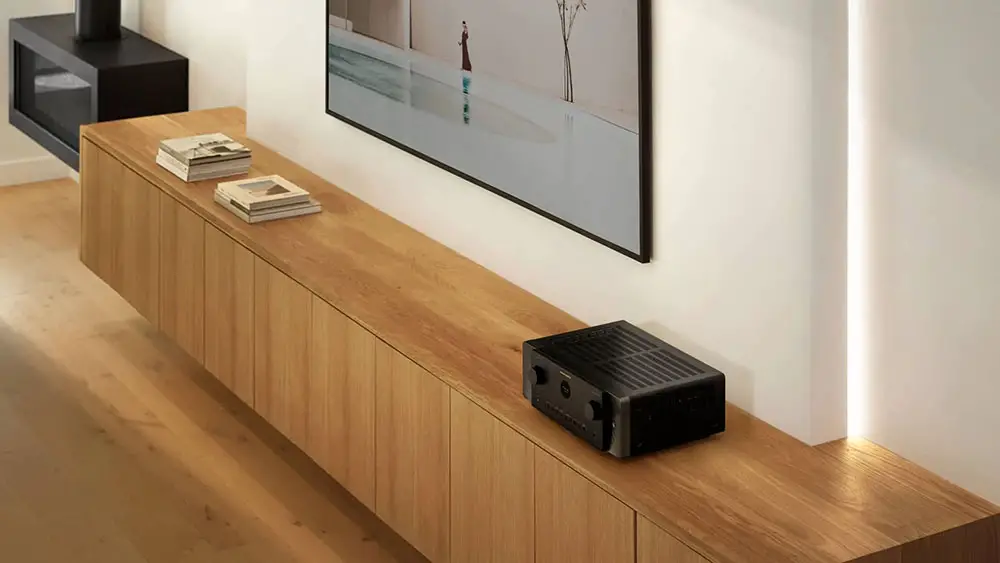 Marantz AV receivers were always famous for their musicality and the new lineup makes sure to carry on that fame. As such this receiver supports not only the usual lower quality audio formats like MP3, WMA (up to 192 kbps) and AAC but can also playback High Resolution Audio in the likes of FLAC, ALAC and WAV files up to 192 kHz / 24-bit quality. DSD streaming is also available for both 2.8 and 5.6MHz.
For this testing, as we usually do, we selected a few favorite tracks in FLAC format that we streamed through the front USB port for the best quality possible. Usually most people that go for the Marantz brand, do so due to their distinct tonality and certain traits in their audio output that really favors music. And all these traits can surely be heard in the Cinema 60 once again.
Obviously when we talk about an AV receiver it cannot really compared with some dedicated separates, especially the most premium ones. But AV receivers are not meant for that. What they offer is practicality in having everything in one box and perform as close as possible to audio equipment designed specifically for that job.
And to be honest even if measuring the Cinema 60 against separates do show a difference in quality we cannot say the same using our ears when Direct mode is being used and we are sure that most people wouldn't also be able to tell them apart. It is that good.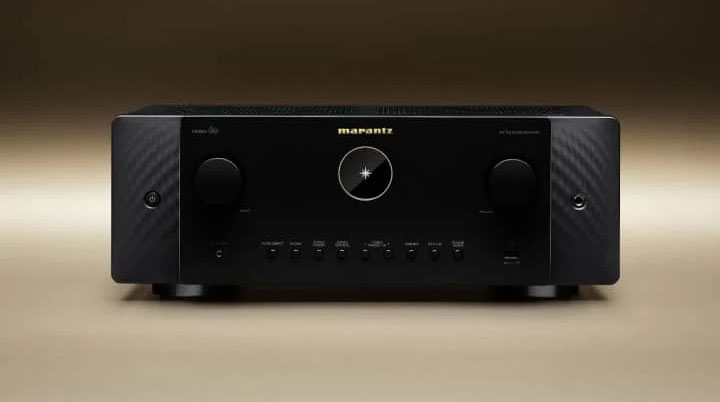 The Cinema 60 proved equally capable at handling music with care and delicacy no matter the genre we threw at it. From the more subtle classical strings to the more raw heavy metal bits the Marantz knew how to present each performance with meticulous detail and resolution. Dimensionality and spatial separation was equally impressive as the sound stage felt alive and kicking from the first seconds we pushed the play button.
If you know what Marantz has to offer when it comes to music then you should not be wondering how the Cinema 60 does as you will find all the same qualities you have come to expect from this brand. The new unit does not sound much different, at least to our ears, from the previous lineup but it really doesn't have to. It was already very good and the new Cinema 60 continues this trend, making it an excellent choice for those that seek both to combine cinematic immersion and music excellence.
Ports and Connectivity
Let's see what kind of connectivity options we get in the Cinema 60. Looking the rear side of the AV receiver we see a lot of similarities to the SR5015 but also a couple of fundamental differences.
For the sake of keeping everything together we will mention once more the front ports that we analyzed above with the Cinema 60 having a USB port for connecting external storage along with the Audyssey microphone port and a headphones jack. So from the get go we are missing the front composite video input and the analog stereo audio input. Also there is no front HDMI which we will not stop crying about until Sound United decides to bring it back hopefully in some future release.
At the back we find the same 7 speaker terminals with all of them being active with the built-in amplifiers while at the top we get the same number of HDMI inputs and outputs. Six inputs and two outputs to be precise.
And here is one of the major changes in the Cinema 60 compared to the SR5015. Three of the six HDMI ports are HDMI 2.1 with full 40Gbps of bandwidth.
All the 2020 AV receivers that featured HDMI 2.1 ports came with a bugged Panasonic chip that wouldn't allow it to pass certain signals, like 4K/120Hz RGB signals from the Xbox series X for example, as it would result in a black screen.
The Cinema 60 on the other hand seems to be using an updated version of this HDMI 2.1 chip which allows up to 40Gbps of bandwidth in three of its HDMI ports and this includes all the signals with a 4K@120Hz configuration including Xbox Series X.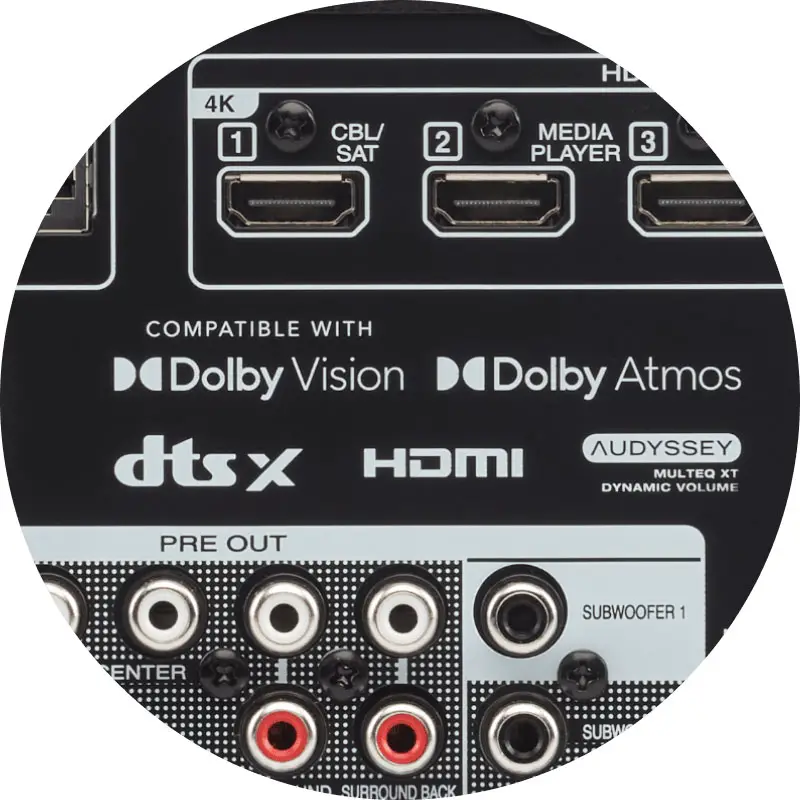 The three HDMI 2.0 ports of the Cinema 60 are capable of 18Gbps of bandwidth while the other three HDMI 2.1 ports support all the old and new exciting technologies including 8K/60Hz and 4K/120Hz video passthrough, 40Gbps bandwidth, 4:4:4 Pure Color sub sampling, HDR10, HDR10+, Dolby Vision, Hybrid Log-Gamma (HLG), Dynamic HDR, 3D, BT.2020 pass-through, Quick Media Switching (QMS), Variable Refresh Rate (VRR), Auto Low Latency Mode (ALLM) and Quick Frame Transport (QFT).
Thankfully the HDMI 2.1 bug we had back in 2020 is a thing of the past and it won't be long before most, if not all, AV receivers will come with full HDMI 2.1 connectivity in all their ports.
Just of the sake of review parity we tried out our Xbox Series X on the Cinema 60 and we could indeed get a 4K@120Hz signal with VRR. No black screens, no signal loss or HDMI handshaking problems. If you were afraid of the HDMI 2.1 bug back in 2020 you shouldn't be any more.
As for everything else we get 4 analogue stereo inputs and one more that is dedicated to phono, 2 coaxial and 2 optical digital audio inputs, 7.2 channels multichannel pre-outs and 1 Zone-2 analogue multi-room output. There is also an Ethernet port, an IR flasher input, a remote control input and one output, an RS-232C port, a 12 volt trigger and the usual FM, AM and WiFi/Bluetooth antenna ports.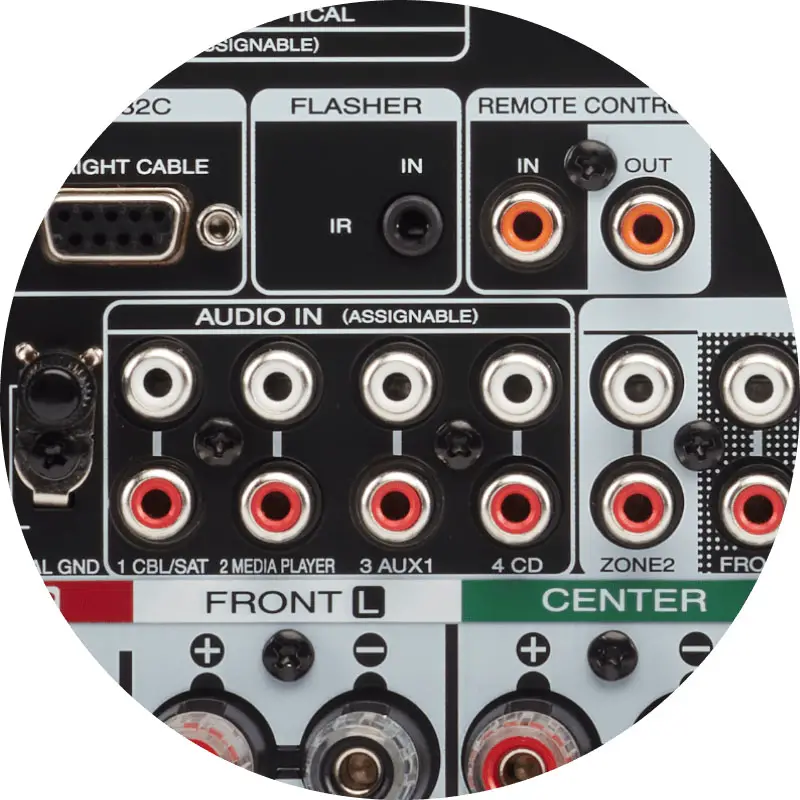 Here we see the complete absence of composite or component ports and this is something that Sound United had noted as most of their units will not have these connections any more. We saw the same thing happening in the new Denon AV receivers so it is not all that surprising to see the same here.
As for the unit's wireless capabilities we get built-in WiFi which can connect both in 2.4GHz and 5 GHz networks while it seems we get a minor upgrade here as its WiFi is now able to support up to IEEE 802.11a/b/g/n/ac.
The Cinema 60 supports Bluetooth 4.2 and Bluetooth streaming, as most Marantz receivers, which may not be as efficient as the newer v5 but at least during our testing we didn't notice any lagging or connection problems. Hopefully Sound United will upgrade the Bluetooth module as they are stuck in the v4.2 for far too long.
Obviously the major upgrade here is the inclusion of the three full bandwidth HDMI 2.1 ports. The omission of all composite and component ports may not look good to some consumers but this is a design decision for all Sound United AV receivers, both Denon and Marantz, and something that we see many consumer electronics brands tend to follow. It surely shows where things are going as we move to a completely digital era.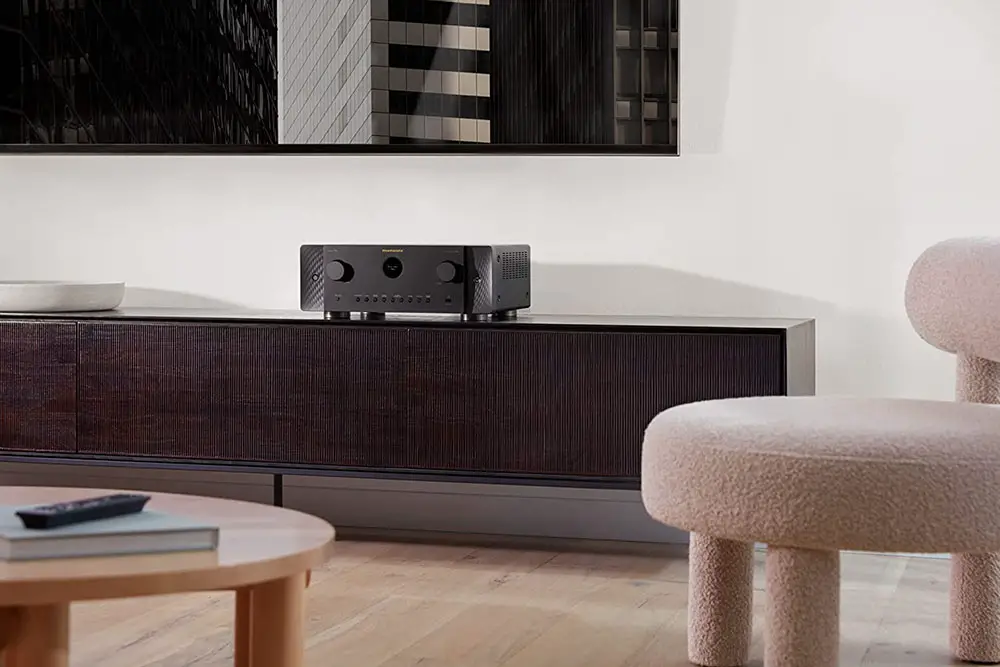 OS, Apps and Features
Moving on we will be looking at all the extra features we get in the Cinema 60 and here there are almost no changes compared to the SR5015. Everything seems to have been carried over from previous years so no real surprises.
Calibrating the Cinema 60 can become very easy for those that have no previous experience as the receiver comes equipped with the Audyssey MultEQ XT calibration system. The XT naming means that this is a more advanced version of the MultEQ edition and features more measurement positions along with higher filters resolution but is a step down from their top offering, the XT32, which is used in the Cinema 50 and above.
The AV receiver comes with a calibration microphone and by using the built-in wizard that guides you step by step you can achieve very good results without the need to manually do any changes which can be very handy for casual users. As always for the best results a manual calibration is the best but from what we have seen the Audyssey system is an excellent assistant for novice and inexperienced users and the XT edition featured in this unit is a significant upgrade over the more basic MultEQ system.
Along with the Audyssey system there are a couple more features that are included in the suite with the Dynamic EQ being one of them that keeps the dynamic levels as well as clarity even at low volume. The second feature that is included is the Dynamic Volume that balances sudden volume spikes when there are shifts between TV programs and commercials.

A new feature that was used for the first time in the SR5015 and carries over to the Cinema 60 is the sound presets. The Cinema 60 has the ability to store two Audyssey settings and switch between the two settings on the fly, giving you the freedom to tweak your listening experience based on content or listening environment. This can be especially handy if you like to watch different types of films and want to have a setup created specifically for each type.
And while the built-in system includes all the basic settings if you would like to dig deeper into calibrating your system you can get the Audyssey MultEQ Editor App that can be downloaded for iOS and Android devices and make the necessary calibrations from there. The app has more settings and features and you can do a more advanced calibration of your system that would be otherwise impossible. The only minus of this is the price as the app has a one time fee that you need to pay in order to download.
But Marantz has another app available and this one is free of charge called Marantz AVR Remote app and with this you can have total control of the Cinema 60 from your mobile device. It's a really nice app and easy to control with a very pleasing user interface so in case you like to use your smartphone we would suggest you give it a try.
And since we talked about the user interface this is where we find another notable change compared to the SR5015. For some years now we were complaining about how old style and outdated the UI of all Marantz AV receivers looked. It was as though it belonged in the early 2000s with its simple menus and 480p resolution.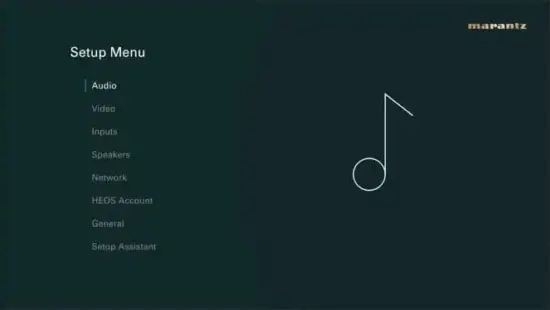 It seems that Marantz, or should we say Sound United, finally listened to our cries and decided to update the looks of it. The menus are not all that different in terms of structure and layout. You still get the same list of features in a similar way to the old UI but they bumped the resolution up to 1080p and made it look graphically more pleasing to the eye. Now it feels like it is something newer and although it may not be as fancy as what smart TVs have it is far better that what we were getting till now.
This is exactly the same updated user interface we saw in the new 2022 Denon AV receivers. So we were pretty much familiar to its structure and what we expected to see.
As for the rest, the receiver comes with the usual streaming as well as multi-zone capabilities that Marantz includes in almost all their units. As it supports both HEOS and Airplay 2 you can either stream music online from one of the available online streaming services that include Spotify Connect, Pandora, SiriusXM, Amazon Music HD, Amazon Music, TIDAL, Deezer, iHeart Radio, Napster, SoundCloud and Mood Mix or create your own multi-room environment with the use of appropriate wireless speakers.
Both the HEOS and Airplay 2 apps are available for downloading from their appropriate stores for use with your mobile device. But if you prefer a wired connection the Cinema 60 also supports Zone 2 through its analog pre-outs available at the back of the unit.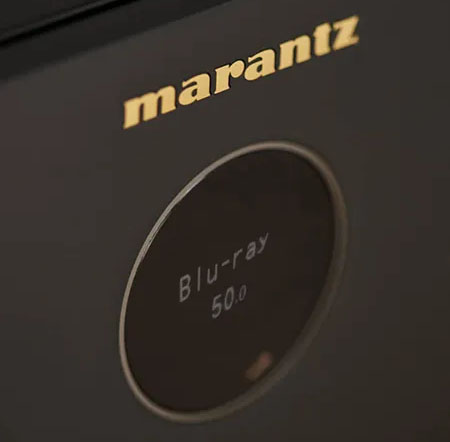 Now as far as streaming, online is not the only option you have as you can stream audio from a network drive or NAS server if it happens you to have one connected to your local network. Also with the included USB port you can stream music through some connected external storage or flash drive. Lastly if you prefer a more wireless way of streaming your music there is Bluetooth available for connecting with your mobile device. If you use Apple devices then Airplay 2 can also be used to stream music wireless through it.
And since we mentioned Bluetooth another function that is included in the Cinema 60 and seems to become a standard in most new AV receivers is that the unit can output audio in two different ways using its Bluetooth transmitter. It is capable of streaming audio to Bluetooth enabled headphones for a completely silent house experience or it can also output sound from both its speaker terminals and to a Bluetooth headset. This can be particularly practical in case there is a member in the family that is hearing impaired.
But keep in mind that this can be used only for music and not for movies. And this happens because the Bluetooth transmitter of the AV receiver is using only the SBC codec and not some more advanced variant meant for such use, like aptX Low Latency. As a result there is noticeable audio delay due to the Bluetooth transmission speed, making this feature ideal only for music use.
We already mentioned above that the receiver supports USB streaming but we should also note that the unit comes with M-DAX2 support. Compressed music enhancement in the Cinema 60 is done by Marantz MDAX2 technology. The use of compressed audio files like MP3, Windows Media Audio or AAC is more popular than ever.

The audio quality of these compressed files however is less than what is found in the original lossless files that are on a CD, especially lacking in the higher frequencies and affecting the lower frequencies which make the audio image less wide and deep. The Marantz Digital Audio Expander 2, also called M-DAX2, recalculates the outputted frequency range. This enables you to get a more detailed and clearer sound.
Voice control is another standard feature so it couldn't be missing from the Cinema 60 either. As such the unit supports all the major ones including Amazon Alexa, Google Voice Assistant and Apple HomePod. Obviously for all of them you will need the appropriate external device to issue your commands.
Marantz was always offering strong custom installation capabilities to their AV receivers and the Cinema 60 is no different. The unit features external RS232 and IP control capabilities for easy customization and compatibility with third-party integration solutions.
IR (infrared) remote control input and output are included on the rear panel for remote control compatibility with other components in your home theatre system. As a result the Cinema 60 is really a technology heaven for custom installers as there are so many options and flexibility when it comes to choosing what suits you the best.
Another handy feature that we do find is HDMI-CEC and this one lets you use the TV remote to control the AV receiver if the TV also supports this. You can understand the practicality of this as this way you can reduce the amount of remotes you will need to have in your home theater. Obviously this feature lets you use only the most basic functions of the receiver but for everyday use it can be a very time saving one.
There are more extras to be found including video upscaling to 8K resolution, but as you can imagine the Cinema 60 can do that only through its HDMI ports as all analog ports are taken out. We also get an ECO mode that can regulate the receiver's power usage for a more environmental friendly power consumption as well as being "Roon Tested" certified.
For this last one there seems to be a bit of confusion as there are two types of certifications. Roon Ready and Roon Tested. The Cinema 60, as with all Marantz AV receivers, is Roon Tested which means while Roon will work on this unit you will not get the highest quality possible. So for example if you use Airplay, audio quality is limited to 16 Bit/44.1kHz. Keep that in mind in case Roon is specifically important to you but also want your files to be streamed in their original quality.
The only meaningful change here is the new user interface. Everything else carried over from the SR5015.

Final Thoughts
At first glance you may think that the Cinema 60 is a similar upgrade over the SR5015 in the same way the Denon X2800H was for the X2700H. But in reality Marantz went a step further with this release.
Yes we do get all the same updates with a new high resolution user interface, a minor upgrade on its WiFi and three HDMI 2.1 40Gbps ports but Marantz went the extra mile and updated both the outside and some of its internals including an updated HDAM-SA2 circuit board. Everything else is the same and you get the usual Marantz quality overall with pristine sound, a lot of flexibility and plenty of features to play with.
On the downsides, well, these are mostly the same ones we saw in the AVR-X2800H. All composite and components ports are completely missing, there is no front HDMI port which can be a very practical one, the Audyssey MultEQ Editor app is not free while its price is certainly higher than what the SR5015 costed when released.
The new unit is every bit as good as all its predecessors were. It combines its fresh new looks and updated HDMI 2.1 ports with the characteristic sound quality that we are used to get from Marantz all these years. This makes the Cinema 60 another successful release that will surely be appreciated by a lot of consumers in the AV receivers market.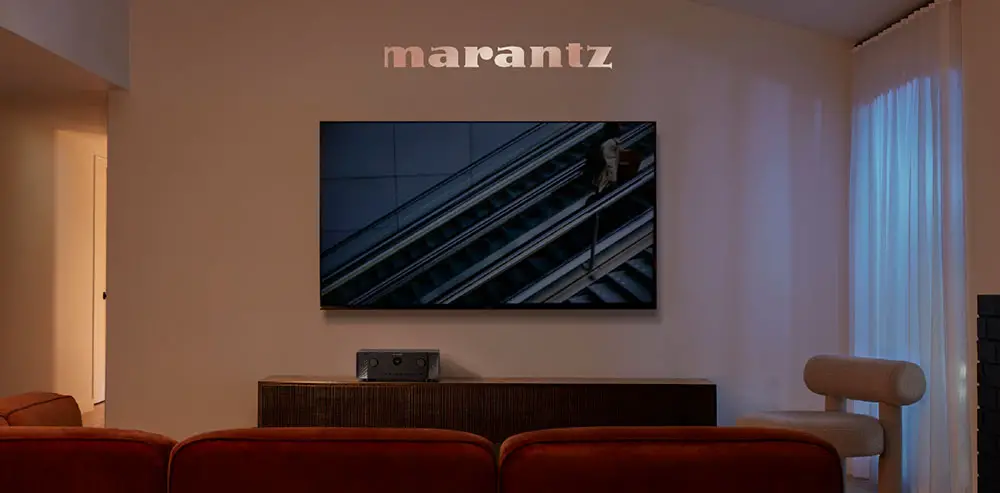 For more reviews you can check our dedicated 7 channels 8K AV Receiver reviews list or even look at our Product Reviews Table where you can find the brand and specific product you are looking for.
---
Cheapest Places to Buy :
*We are a reader-supported website. When you buy through links on our site, we may earn a small affiliate commission at no extra cost to you. Home Media Entertainment does not accept money for reviews.*
---
Marantz Cinema 60 Specifications