Marantz Cinema 70s
Reviewed at $1,200.00
OS, Apps and Features
9.6/10
Pros
Great new design and backlit remote
Three 40Gbps HDMI 2.1 ports
7.2 channels pre-outs
Huge list of features and connectivity options
Cons
No composite or component ports
Ideal only for small rooms
Still no front HDMI port
Higher price than previous slimline units
---
Cheapest Places to Buy :
---
We always had a soft spot for Marantz's slimline series as it always managed to amaze us with how much they could fit into such a small factor design. Marantz was not able only to sustain a high level of audio quality output but also produce an AV receiver that was fully packed with connectivity options and features. And so in our Marantz Cinema 70s review we will be looking at their latest offering in this very special category.
The Cinema 70s is the last of the new Cinema series that comes out in the market after both the Cinema 60 and Cinema 50 were released back in November 2022. And the new Cinema 70s keeps all the elements that make the new Cinema series such a special release. As such we get a similar elegant design, but in a smaller size and capabilities that even some fully sized AV receiver would be jealous of.
But we will go through everything in more detail so let's first go over the specs real quick. The new Cinema 70s is a a 7.2 channels receiver with 50 watts per channel, supports both Dolby Atmos and DTS:X formats, along with up-mixing and virtual audio technologies. It comes with Audyssey MultEQ audio calibration system and packs a huge list of extra features like HEOS, Airplay 2 and High Resolution Audio while the most obvious update is the three bug free, 40Gbps capable HDMI 2.1 ports.
On paper the Cinema 70s feels like a rather small update that is aimed mostly towards those that are interested in gaming. Is the new design and the three new HDMI 2.1 ports the only real differences or there is more to this rather expensive unit than meets the eye? Let's start our analysis to find out.
Design
Surprisingly, unlike Denon, it seems that Marantz decided to go the extra mile in 2022 and redesign the whole thing along with their remote. The new release retains some of the luxurious and elegant look that is so characteristic of all Marantz units all these years but surely it feels more modern and finally it is a much desired change to the look that has become tiring after so many years.
In terms of dimensions the new unit is not all that different from the NR1711 with only minor changes that obviously come with the entirely new design. As such the Cinema 70s now measures 17.4″ x 15.1″ x 7.0″ (442 x 384 x 178 mm) but as always you can lower its profile to just 4.3″ (109mm) if you turn the antennas horizontally without this affecting the quality of connection in any meaningful way. The unit weights slightly more at 19.2 lbs (8.7 kg) but overall retains the same compact footprint that all Marantz slimline AV receivers had before this.
When it comes to its layout and looks, the Cinema 70s looks like they took the Cinema 60 and compressed it from the top. Because other that its height there are not many other changes to be found.
Marantz may have refreshed the design but they didn't steer away from certain characteristics that make the Marantz units unique. This includes the two big circular knobs, for input selection and volume, that sit on each side of the front circular porthole that also got an update as it is now an OLED one.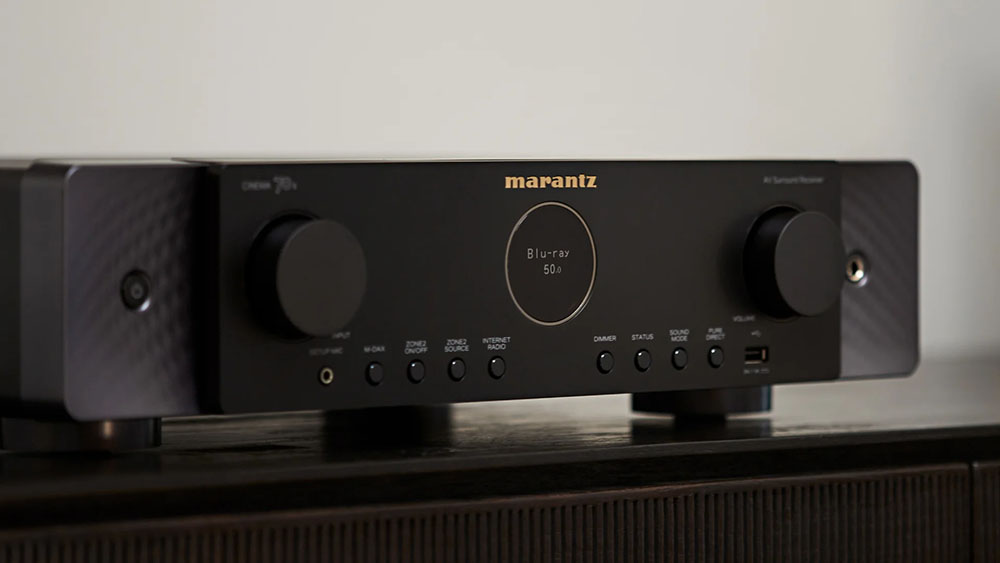 Below the central porthole and the two circular knobs there is a group of eight circular buttons sitting in a straight line which include controls for M-DAX, Pure Direct, Zone 2, Internet radio, Dimmer, Status and Sound mode selection. On the left of these there is the microphone jack while on the right we find a USB port for connecting external storage. Marantz may have redesigned the thing but we still have no front HDMI port. Let's hope this will find its way back at some point in the future.
On the right and left sides of the front face Marantz used a lightly curved and textured design which gives a bit more style to the whole presentation. On the right one we get a headphones jack while on the left there is a small circular power button.
As far as its internals, we get the usual treatment with high-current discrete power amplifiers having low-impedance drive capability. What is not known and Marantz does not mention anywhere is the kind of DACs the Cinema 70s comes with. They only advertise the new DACs of the Cinema 50, but never said what the Cinema 60 and 70s come with this time. Obviously these are not AKM but what alternative they decided to go with is nowhere to be found.
Since Marantz decided to update the looks of their units the remote had to follow too. As such the one we have now is not fundamentally different from the usual Denon/Marantz remotes but at least its looks feel more fresh and in line with the new units.

The top of the remote is where all of the inputs are located while volume, channels and navigation controls are placed in the middle, as we usually see, followed by three playback buttons with four selection buttons underneath them. At the bottom we get the four sound modes to choose from.
But the remote is not only just refreshed looks as this time it actually got a backlight function also. While this is not motion sensing, the button that activates it is located at the side instead of the top among the other buttons. This is the next best thing as it is far easier to press a single button at the side of the remote instead of trying to find it among the others. We never understood the usefulness of a backlight button mixed with all the other controls.
The Cinema 70s takes the refreshed design that they went for in all the new units and combined it with the smaller form factor of their slimline series. The end result is an AV receiver that looks great, keeps parity with the rest of the lineup and can fit almost anywhere with its small size.
Audio Quality
When it comes to what kind of audio formats are supported things are pretty much the same compared to its predecessor so no real surprises here. As such the Cinema 70s supports all the latest audio formats like Dolby Atmos and DTS:X. There is also Dolby Surround and DTS Neural:X up-mixing technologies that can up-mix simple stereo audio tracks into full immersive surround sound.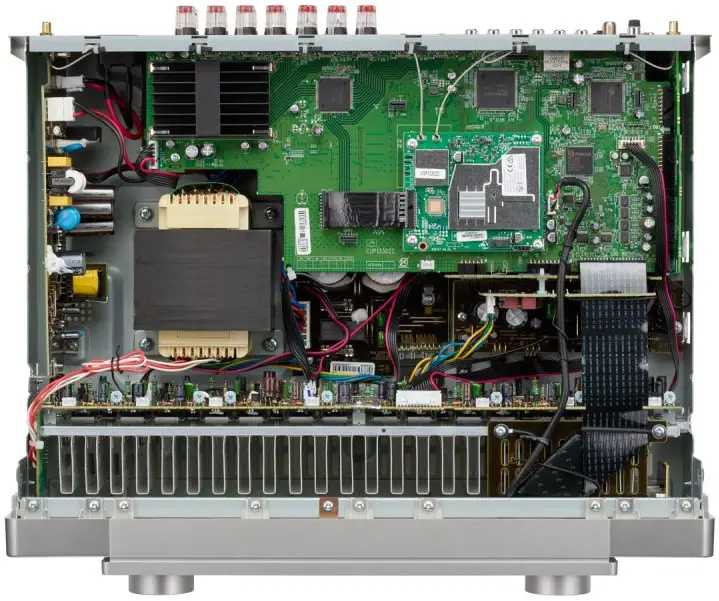 As for virtual tech the Dolby Atmos Height Virtualization and DTS Virtual:X virtualizers are capable of creating sounds that originate from virtual created speakers around your room where there are no physical speakers present.
These virtual technologies obviously are not as good or accurate as having real physical speakers and are very much room dependent. Also the sound many times can be heard very over-processed, something we were never very fond of. The Cinema 70s is missing a few more advanced audio formats like Auro-3D and IMAX Enhanced as these are used only on the Cinema 50 and above.
One thing that is worth noting is that Dolby Atmos Height Virtualization can be used for both Dolby Digital as well as DTS audio tracks. On the other hand DTS Virtual:X can be used only with DTS tracks and as a result Dolby's offering seems to be getting the upper hand here. Also if you want to enable the Dolby Atmos Height Virtualization it can be a bit tricky to find out how to do it as there is no direct button that can enable this.
In order to enable it you will have to first go into the main menu, in the Audio section and find the surround parameter. In there you will find the Speaker Virtualizer that you have to enable first and after use one of the sound modes that use Dolby Surround. This way Dolby's virtualizer will be enabled. Not easy or straightforward at all and even the manual is not very clear with this. We were hoping Marantz to make this a bit simpler from its first implementation but it is still the same from the previous years.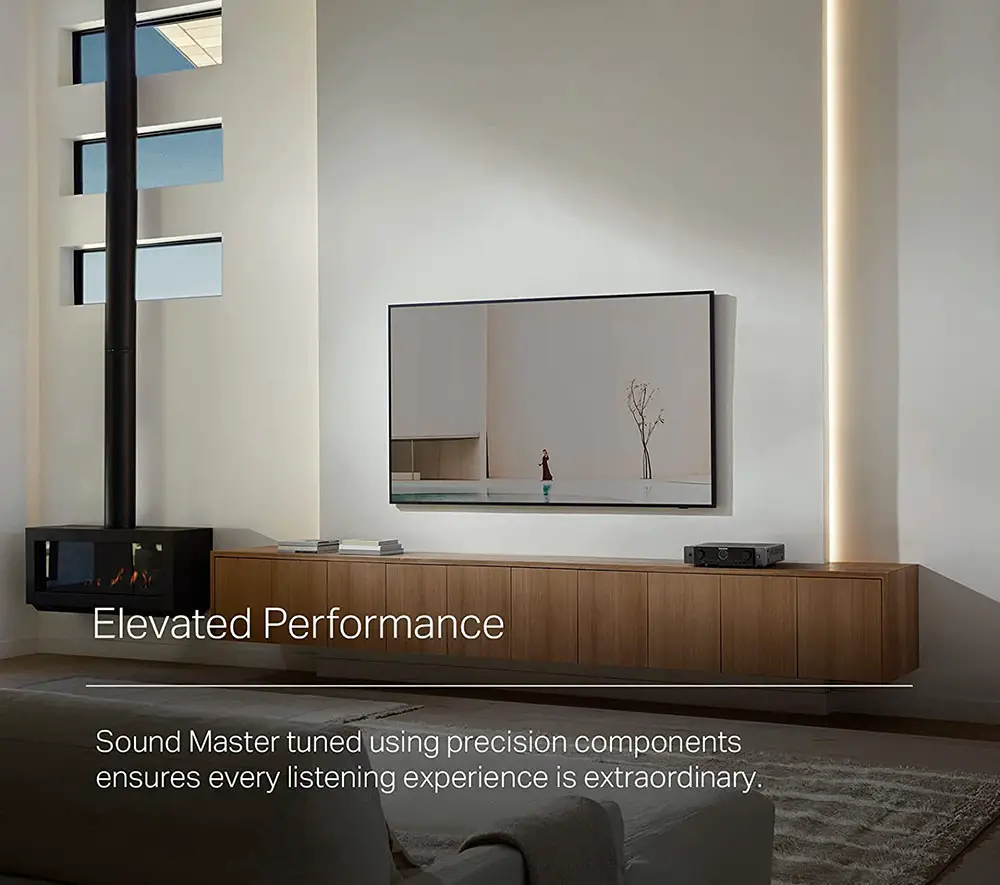 From the looks of it the Cinema 70s comes with essentially the same support as the NR1711 before as well as the new Cinema 60 which is impressive considering we are talking about an AV receiver almost half the size of its bigger brother.
The Cinema 70s comes with the same 7 channels of built-in amplification with a theoretical 50 watts of power (8 ohm, 20 Hz – 20 kHz, 0.08% 2ch drive) which is good for almost all small sized rooms and entertainment areas, in case you are going to use the built-in amplifiers. Obviously the more channels being used the less output you get, something that is not clearly mentioned in any marketing material you see.
The receiver is capable of powering dual subwoofer setups, no four subs support here unfortunately, which is just about what you should expect from a unit of this category. With the supported channels you can either create a 5.2.2 Dolby Atmos audio setup or if you don't care about the overhead layer then you can go for a 7.2 channels or even a more basic 5.2 setup.
With the above in mind we opted to go for a 5.1.2 channels, Dolby Atmos capable, system with 2 ceiling speakers for the Atmos overhead layer that we positioned in the middle of our listening area and a single SVS SB-1000 Pro subwoofer that was placed at the front left side of our listening position. As for the film of choice this was the extended version of Lord of the Rings : The Return of the King with its blasting Dolby Atmos mix.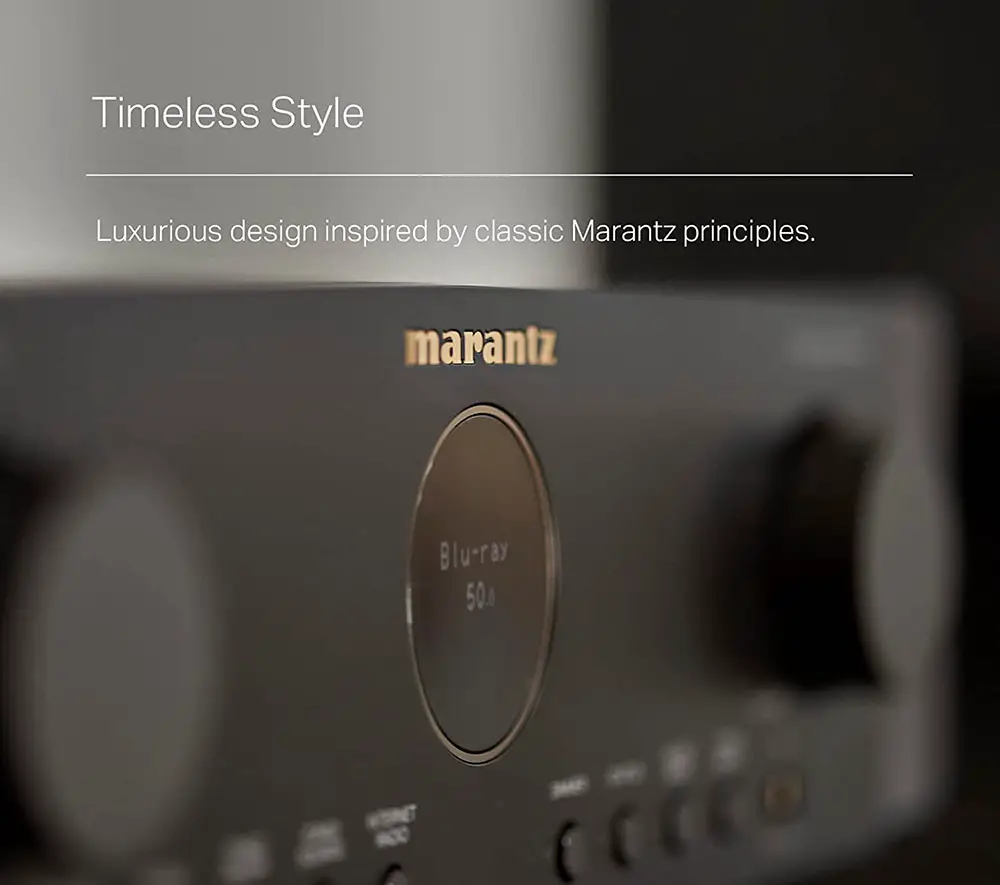 Now, if you are expecting to get something different than what Marantz is used to give us then the Cinema 70s will surely surprise you. Because its audio signature and overall output is not all that different from the bigger boys. Yes, obviously the 70s does not have the power of the full sized units and as such when you push it to higher volume levels the AV receiver does show its limitations. But more on this in a minute, let's start with what you are going to get with a unit like this.
The front soundstage was bold and extensive with all three front channels giving us a real spectacle. The two main front channels had good balance, great tonality and noteworthy separation from the center one. All dialog was nicely isolated at the center and we didn't notice any overlapping with the other channels. Even during the more busy scenes all character voices were nicely rendered and articulated.
The front was really satisfying and you could sense the kind of extension in all axis that bigger units are more capable of delivering. Depth was convincing and sideways action was accurate and believable.
The surround channels did an equally great job at bringing the stage behind us into life. with various panning effects like arrows flying or when Minas Tirith's catapults were at work. The Marantz did a really good job at keep everything under control with precise channel shifting and no audible delays, at least from what we heard.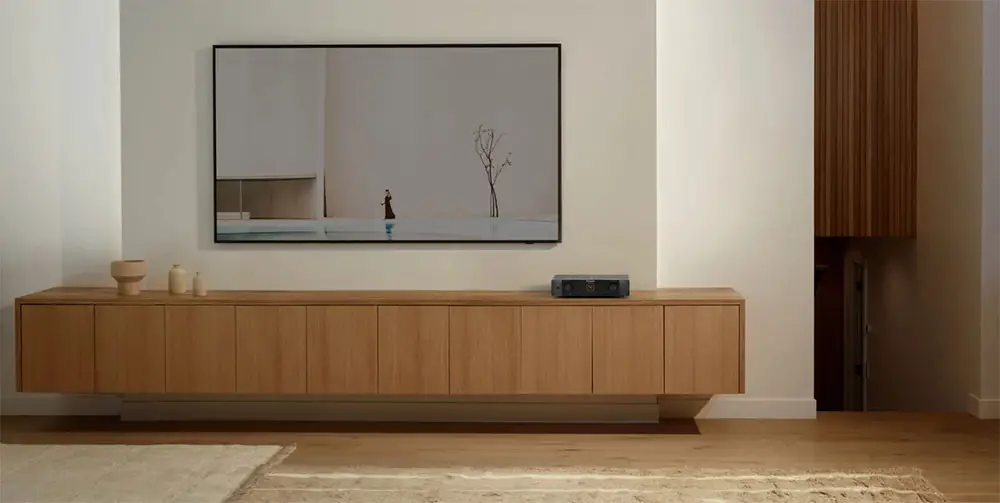 Lastly there is the Atmos effects, and although we had only two of them to work with the Cinema 70s put them to great use. Yes, with only two channels you are always going to lose a bit in accuracy but even two are better than none. The overhead layer was full of activity and during the Battle of Pelennor Fields there are plenty of elevated effects that really up the immersion of the scene to new heights. Just hearing the Nazguls scream above your head is a moment to remember.
The Cinema 70s may lack in power prowess but this doesn't mean that it cannot get you some rumbling action. And the Return of the King offers plenty of destruction to make your subwoofer happy, especially if you have a good one. The explosions of Mount Doom felt menacing and raw while the blast of Sauron's tower will hit you in the chest grasping for breath.
But with the size of the Cinema 70s there were bound to be some limitations. And the obvious one is that when you push the AV receiver to the max then some compression starts to appear. The Marantz makes a really valiant effort to keep everything under control and to a certain extent it manages to do so, but with some very demanding scenes pushing the volume to the max will surely show where that this receiver is reaching its limits.
This may not be a huge deal, because this receiver is not meant to be used in a big home theater. For small media rooms or entertainment areas it has plenty of juice to go around. So this is probably a problem that only if you like to turn the volume to higher than usual levels will show itself. After all there is so much you can do with 50 watts of power across only two channels. Imagine how much lower this goes when all channels are active at once.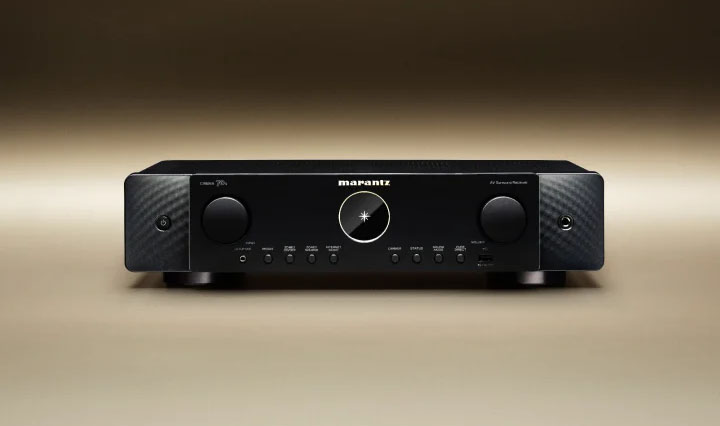 Closing we can say that in terms of pure audio output, the Cinema 70s is not far behind its bigger brothers. In a multi-channel setup and with a lot of channels active then the difference will show bigger and this is where the Cinema 70s is different from the rest. If you are not so much demanding with the power output you seek, then this one certainly fits the bill.
Marantz AV receivers are synonymous to music fidelity and the new lineup makes sure to carry on that fame. As such this receiver supports not only the usual lower quality audio formats like MP3, WMA (up to 192 kbps) and AAC but can also playback High Resolution Audio in the likes of FLAC, ALAC and WAV files up to 192 kHz / 24-bit quality. DSD streaming is also available for both 2.8 and 5.6MHz.
For this testing, as we usually do, we selected a few favorite tracks in FLAC format that we streamed through the front USB port for the best quality possible. Usually most people that go for the Marantz brand, do so due to their distinct tonality and certain traits in their audio output that really favors music. The Cinema 70s does not stray far from this as its output quality is really close to all other slimline AV receivers and in general with many Marantz units we tested before.
When you chose an AV receiver you do so because you prefer to have everything in one box and while this has certain advantages it cannot really compare to a good setup with dedicated separate amplifiers. So when we judge the quality of sound of such units you always have to keep in mind what they are made for and what they can truly be compared with.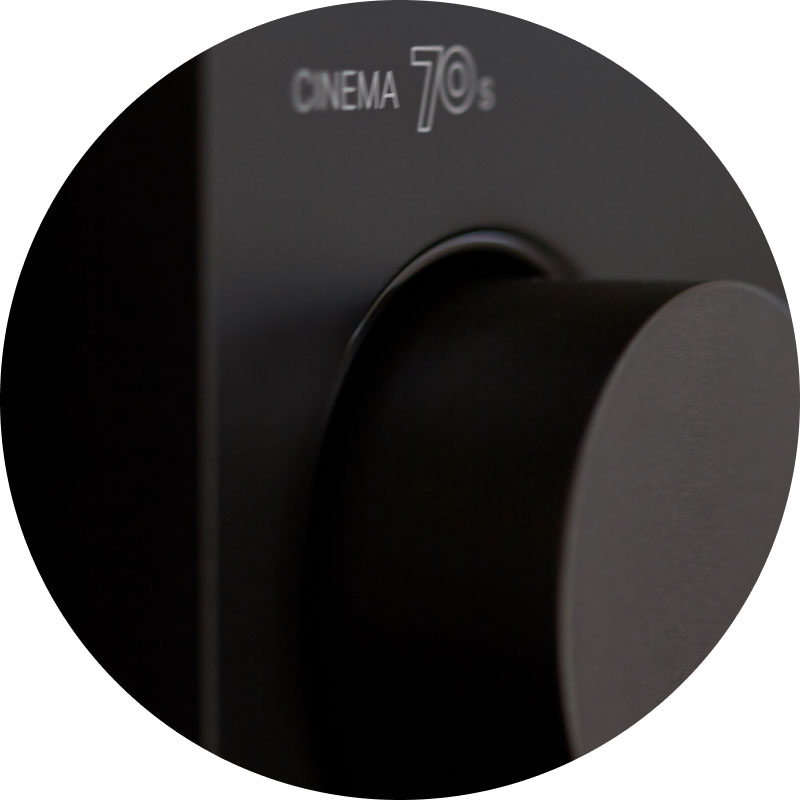 With this in mind when it comes to music the Cinema 70s surely brings out certain traits that we are accustomed from Marantz AV receivers but in a smaller scale. The unit will handle with care the more delicate performances but will never shy away from a low end bashing when the moment asks for it.
The sound stage had good vibrance and really came alive all around us during our time with it. No detail was lost and the receiver was like an experienced maestro directing his orchestra. We tried several types of music and we couldn't discern any difference on how the Cinema 70s handled them.
Once again everything sounded great, as long as you keep the volume knob at normal levels. If you push it to the max then surely some of this noteworthy stability is lost and the receiver is struggling to keep everything on the same level.
The Cinema 70s is a remarkable piece of audio equipment. It has almost everything a fully sized AV receiver comes with but in a smaller scale. Surely its power output leaves a lot to be desired but if you are planning to get such an AV receiver this means that you power requirements are not all that high to begin with. In that case this Marantz will satisfy with its quality either you want it for music, movies or both.
Ports and Connectivity
Let's see what kind of connectivity options we get in the Cinema 70s. The slimline series always offered an astonishing number of connectivity options, especially if you consider the limited space you have there. But looking at the Cinema 70s back side we see there are some notable changes we will analyze shortly.
For the sake of keeping everything together we will mention once more the front ports with a USB port for connecting external storage along with the Audyssey microphone port and a headphones jack the ones available. No changes here.
At the back we find the same 7 speaker terminals with all of them being active with the built-in amplifiers while at the top we get the same number of HDMI inputs and outputs. Six inputs and one output to be precise.
And here is the first major change in the Cinema 70s compared to the NR1711. Three of the six HDMI ports are HDMI 2.1 with full 40Gbps of bandwidth.
All the 2020 AV receivers that featured HDMI 2.1 ports came with a bugged Panasonic chip that wouldn't allow it to pass certain signals, like 4K/120Hz RGB signals from the Xbox series X for example, as it would result in a black screen.
The Cinema 70s on the other hand seems to be using an updated version of this HDMI 2.1 chip which allows up to 40Gbps of bandwidth in three of its HDMI ports and this includes all the signals with a 4K@120Hz configuration including Xbox Series X.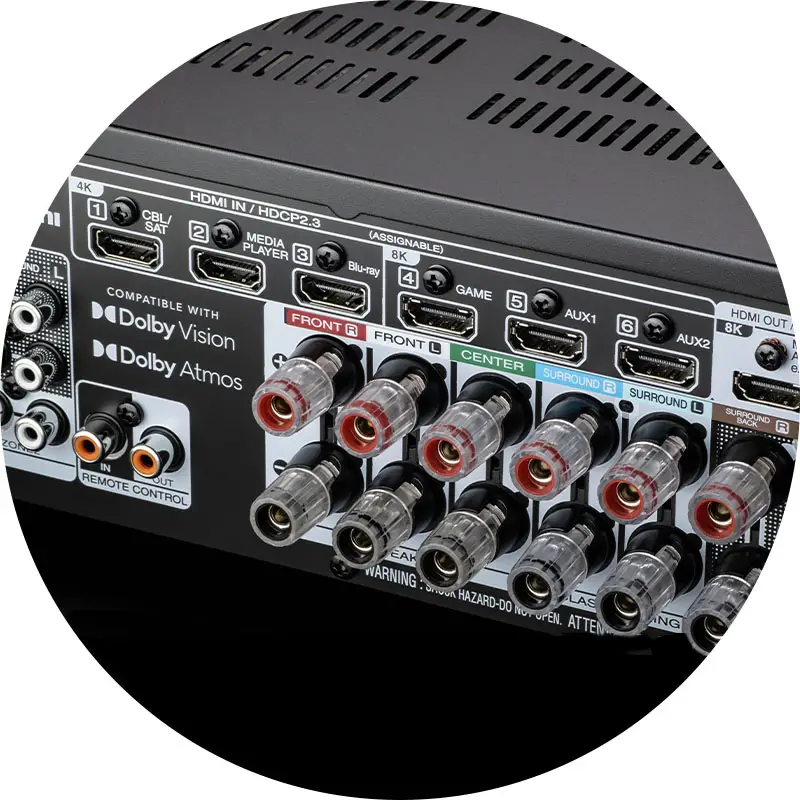 The three HDMI 2.0 ports of the Cinema 70s are capable of 18Gbps of bandwidth while the other three HDMI 2.1 ports support all the old and new exciting technologies including 8K/60Hz and 4K/120Hz video passthrough, 40Gbps bandwidth, 4:4:4 Pure Color sub sampling, HDR10, HDR10+, Dolby Vision, Hybrid Log-Gamma (HLG), Dynamic HDR, 3D, BT.2020 pass-through, Quick Media Switching (QMS), Variable Refresh Rate (VRR), Auto Low Latency Mode (ALLM) and Quick Frame Transport (QFT).
Being part of the new Cinema series meant that the Cinema 70s left the dreaded HDMI 2.1 bug in the past. And with three ports you have the ability to connect multiple gaming sources on this unit itself.
Just for confirmation shake we connected both our PS5 and Xbox series X on the Cinema 70s and everything worked without a single problem. No black screens, no HDMI handshake problems and no signal loses. In both gaming consoles we were able to get a clear 4K@120Hz signal while VRR worked in both cases.
As for everything else we get 3 analogue stereo inputs and one more that is dedicated to phono, 1 coaxial and 1 optical digital audio inputs, 7.2 channels multichannel pre-outs and 1 Zone-2 analogue multi-room output. There is also an Ethernet port, an IR flasher input, a remote control input and one output, an RS-232C port, a 12 volt trigger and the usual FM, AM and WiFi/Bluetooth antenna ports.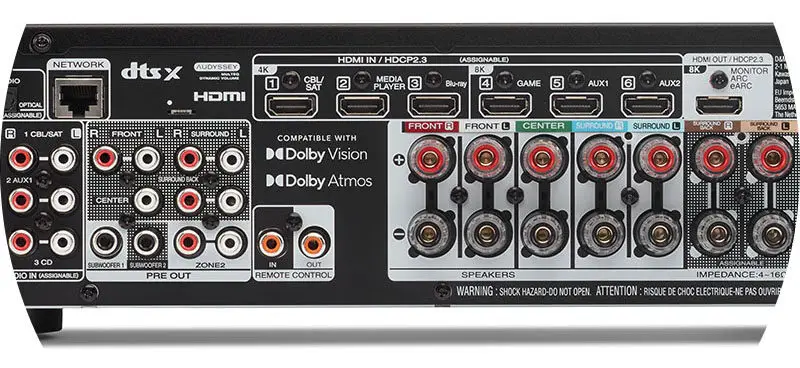 Here once again we see the complete absence of composite or component ports and this is something that is common in all the new Cinema series. Sound United is phasing out their analog ports and this means no composite or component ports any more. We saw the same thing happening in the new Denon AV receivers so it is not all that surprising to see the same here.
As for the unit's wireless capabilities we get built-in WiFi which can connect both in 2.4GHz and 5 GHz networks while it seems we get a minor upgrade here as its WiFi is now able to support up to IEEE 802.11a/b/g/n/ac.
The Cinema 70s supports Bluetooth 4.2 and Bluetooth streaming, as most Marantz receivers do. We fail to see why Sound United is still stuck with v4.2 when various versions of Bluetooth 5 are being used for a long time now. For such a premium unit this is unacceptable.
The changes we find in the Cinema 70s can be summed up to three. First the absence of component and composite ports which surely will disappoint some users. But on the other hand you get three 40Gbps capable HDMI 2.1 ports which will surely thrill hardcore gamers.
The other major change is that you also get 7.2 channel pre-outs which is an upgrade compared to the 2.2 channels of the NR1711. This one can be particularly practical as you can use the Cinema 70s, in combination with the unit's pre-amplifier mode, as a pure pre-amplifier and save space while at the same time upping its power output with the use of external, higher efficiency amplifiers.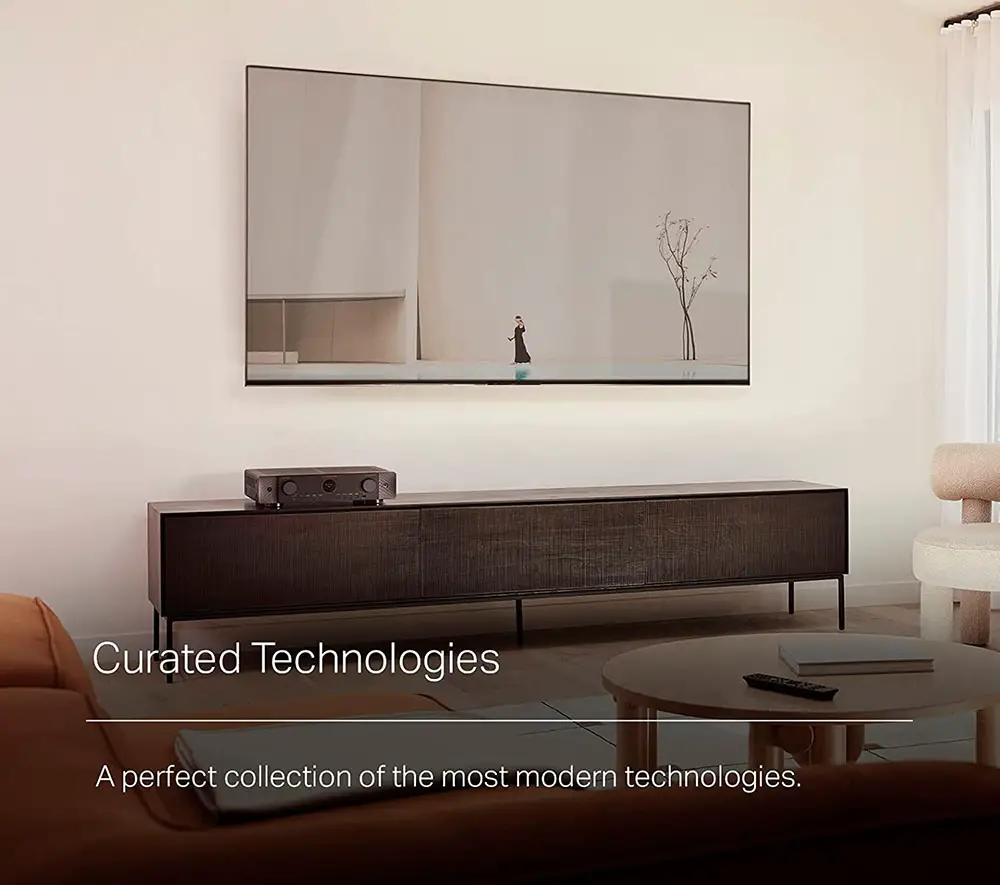 OS, Apps and Features
Moving on we will be looking at all the extra features we get in the Cinema 70s and honestly looking at everything the AV receiver offers is not so much different from what the Cinema 60 comes with. Or the NR1711 for that matter. But let's see everything in more detail.
Calibrating the Cinema 70s can become very easy for those that have no previous experience as the receiver comes equipped with the Audyssey MultEQ calibration system which is the most basic version available among all Marantz units.
The AV receiver comes with a calibration microphone and by using the built-in wizard that guides you step by step you can achieve very good results without the need to manually do any changes which can be very handy for casual users. As always for the best results a manual calibration is the best but from what we have seen the Audyssey system is an excellent assistant for novice and inexperienced users.
Along with the Audyssey system there are a couple more features that are included in the suite with the Dynamic EQ being one of them that keeps the dynamic levels as well as clarity even at low volume. The second feature that is included is the Dynamic Volume that balances sudden volume spikes when there are shifts between TV programs and commercials.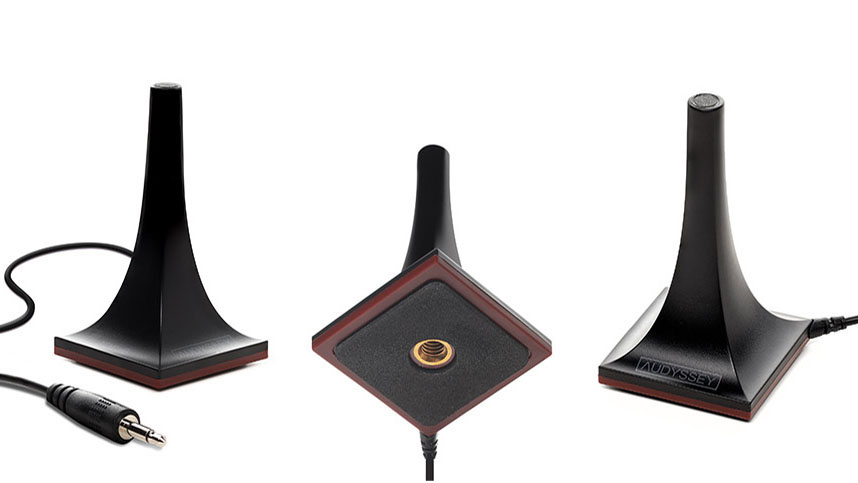 A new feature that was used for the first time in the previous lineup and carries over to the Cinema 70s is the sound presets. The Cinema 70s has the ability to store two Audyssey settings and switch between the two settings on the fly, giving you the freedom to tweak your listening experience based on content or listening environment. This can be especially handy if you like to watch different types of films and want to have a setup created specifically for each type.
And while the built-in system includes all the basic settings if you would like to dig deeper into calibrating your system you can get the Audyssey MultEQ Editor App that can be downloaded for iOS and Android devices and make the necessary calibrations from there. The app has more settings and features and you can do a more advanced calibration of your system that would be otherwise impossible. The only minus of this is the price as the app has a one time fee that you need to pay in order to download.
But Marantz has another app available and this one is free of charge called Marantz AVR Remote app and with this you can have total control of the Cinema 70s from your mobile device. It's a really nice app and easy to control with a very pleasing user interface so in case you like to use your smartphone we would suggest you give it a try.
And since we talked about the user interface this is where we find another notable change compared to the NR1711. For some years now we were complaining about how old style and outdated the UI of all Marantz AV receivers looked. It was as though it belonged in the early 2000s with its simple menus and 480p resolution.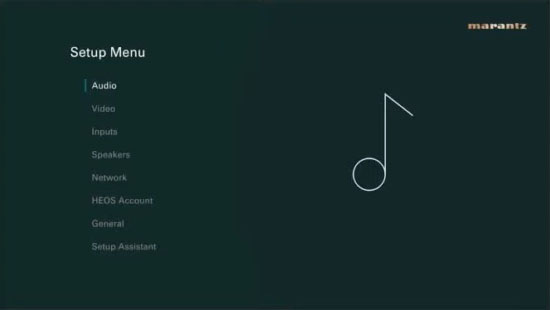 It seems that Marantz, or should we say Sound United, finally listened to our cries and decided to update the looks of it. The menus are not all that different in terms of structure and layout. You still get the same list of features in a similar way to the old UI but they bumped the resolution up to 1080p and made it look graphically more pleasing to the eye. Now it feels like it is something newer and although it may not be as fancy as what smart TVs have, it is far better that what we were getting till now.
This is exactly the same updated user interface we saw in the new 2022 Denon AV receivers as well as in the Cinema 60 and Cinema 50. So we were pretty much familiar to its structure and what we expected to see.
As for the rest, the receiver comes with the usual streaming as well as multi-zone capabilities that Marantz includes in almost all their units. As it supports both HEOS and Airplay 2 you can either stream music online from one of the available online streaming services that include Spotify Connect, Pandora, SiriusXM, Amazon Music HD, Amazon Music, TIDAL, Deezer, iHeart Radio, Napster, SoundCloud and Mood Mix or create your own multi-room environment with the use of appropriate wireless speakers.
Both the HEOS and Airplay 2 apps are available for downloading from their appropriate stores for use with your mobile device. But if you prefer a wired connection the Cinema 70s also supports Zone 2 through its analog pre-outs available at the back of the unit.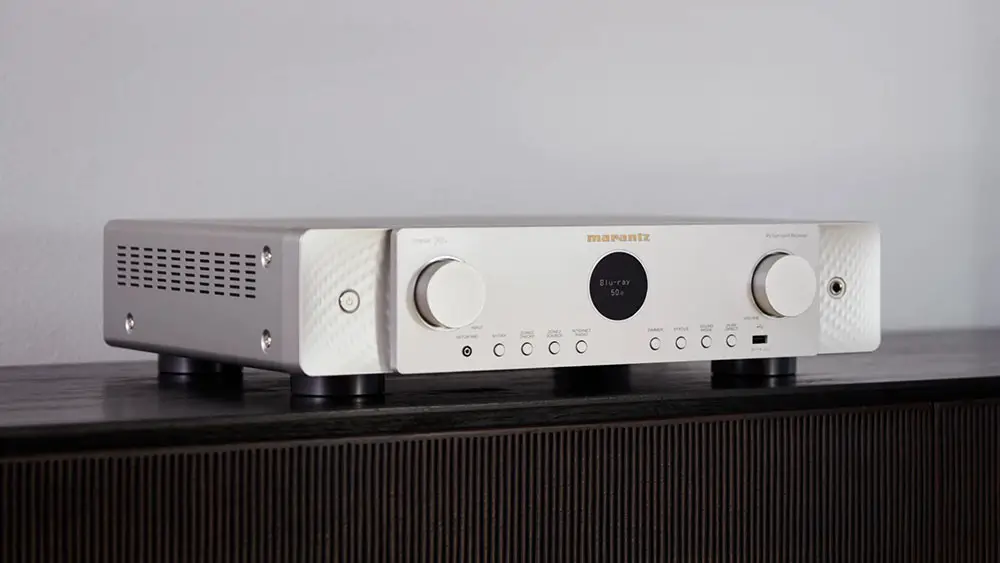 Now as far as streaming, online is not the only option you have as you can stream audio from a network drive or NAS server if it happens you to have one connected to your local network. Also with the included USB port you can stream music through some connected external storage or flash drive. Lastly if you prefer a more wireless way of streaming your music there is Bluetooth available for connecting with your mobile device. If you use Apple devices then Airplay 2 can also be used to stream music wireless through it.
And since we mentioned Bluetooth, another function that is included in the Cinema 70s and seems to become a standard in most new AV receivers is that the unit can output audio in two different ways using its Bluetooth transmitter. It is capable of streaming audio to Bluetooth enabled headphones for a completely silent house experience or it can also output sound from both its speaker terminals and to a Bluetooth headset. This can be particularly practical in case there is a member in the family that is hearing impaired.
But keep in mind that this can be used only for music and not for movies. And this happens because the Bluetooth transmitter of the Cinema 70s is using only the SBC codec and not some more advanced variant meant for such use, like aptX Low Latency. As a result there is noticeable audio delay due to the Bluetooth transmission speed, making this feature ideal only for music use.
We already mentioned above that the receiver supports USB streaming but we should also note that the unit comes with Marantz's M-DAX2 support. Compressed music enhancement in the Cinema 70s is done by Marantz MDAX2 technology. The use of compressed audio files like MP3, Windows Media Audio or AAC is more popular than ever.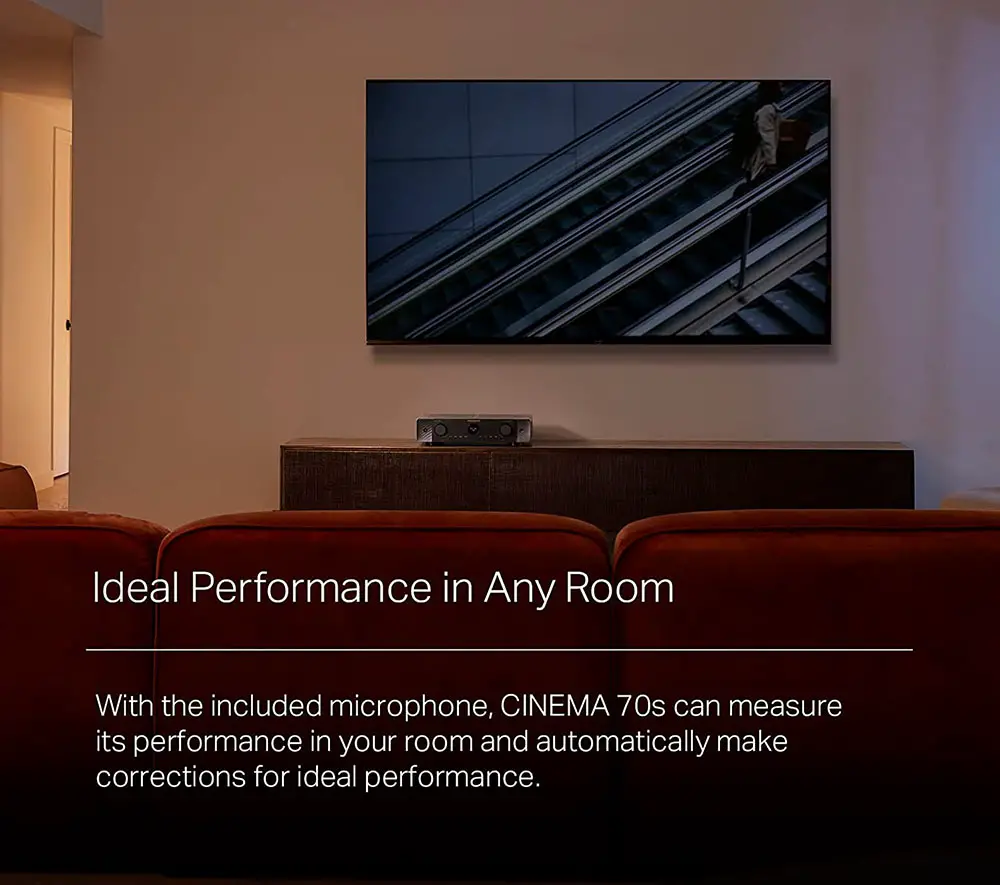 The audio quality of these compressed files however is less than what is found in the original lossless files that are on a CD, especially lacking in the higher frequencies and affecting the lower frequencies which make the audio image less wide and deep. The Marantz Digital Audio Expander 2, also called M-DAX2, recalculates the outputted frequency range. This enables you to get a more detailed and clearer sound.
Voice control is another standard feature so it couldn't be missing from the Cinema 70s either. As such the unit supports all the major ones including Amazon Alexa, Google Voice Assistant and Apple HomePod. Obviously for all of them you will need the appropriate external device to issue your commands.
Marantz was always offering strong custom installation capabilities to their AV receivers and the Cinema 70s is no different although here they are more limited than what the bigger units offer. As such the AV receiver features IP and web control capabilities for easy customization and compatibility with third-party integration solutions.
IR (infrared) remote control input and output are included on the rear panel for remote control compatibility with other components in your home theatre system. As a result the Cinema 70s is really a technology heaven for custom installers as there are so many options and flexibility when it comes to choosing what suits you the best.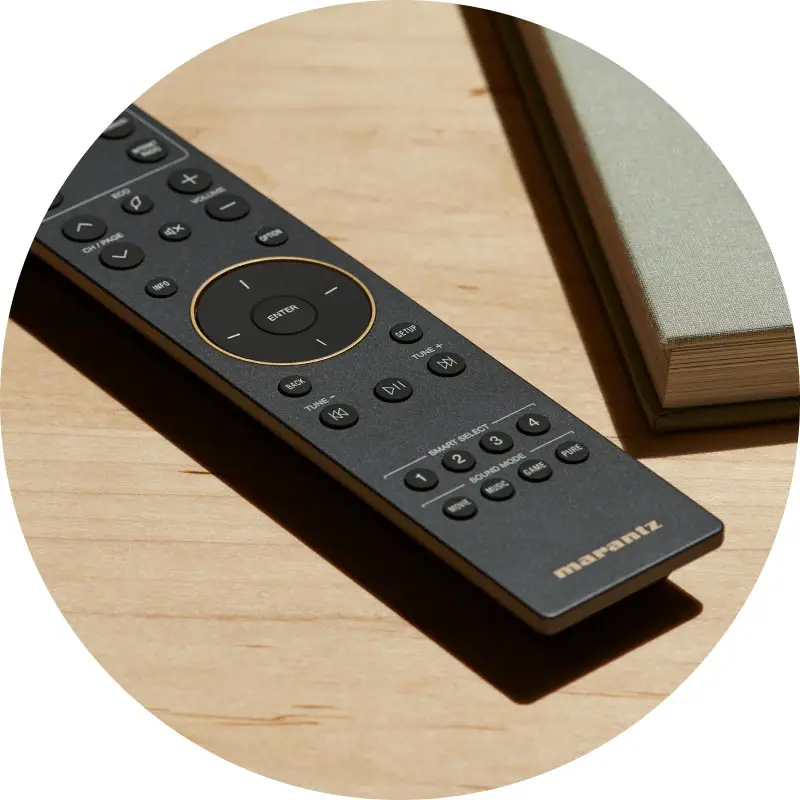 Another handy feature that we do find is HDMI-CEC and this one lets you use the TV remote to control the AV receiver if the TV also supports this. You can understand the practicality of this as this way you can reduce the amount of remotes you will need to have in your home theater. Obviously this feature lets you use only the most basic functions of the receiver but for everyday use it can be a very time saving one.
There are more extras to be found including video upscaling to 8K resolution, but as you can imagine the Cinema 70s can do that only through its HDMI ports as all analog ports are taken out. We also get an ECO mode that can regulate the receiver's power usage for a more environmental friendly power consumption as well as being "Roon Tested" certified.
For this last one there seems to be a bit of confusion as there are two types of certifications. Roon Ready and Roon Tested. The Cinema 70s, as with all Marantz AV receivers, is Roon Tested which means while Roon will work on this unit you will not get the highest quality possible. So for example if you use Airplay, audio quality is limited to 16 Bit/44.1kHz. Keep that in mind in case Roon is specifically important to you but also want your files to be streamed in their original quality.
The Cinema 70s essentially brings the entire Cinema 60 feature set crammed into a smaller package. Impressive to say the least and shows how much value you can get out of this little box.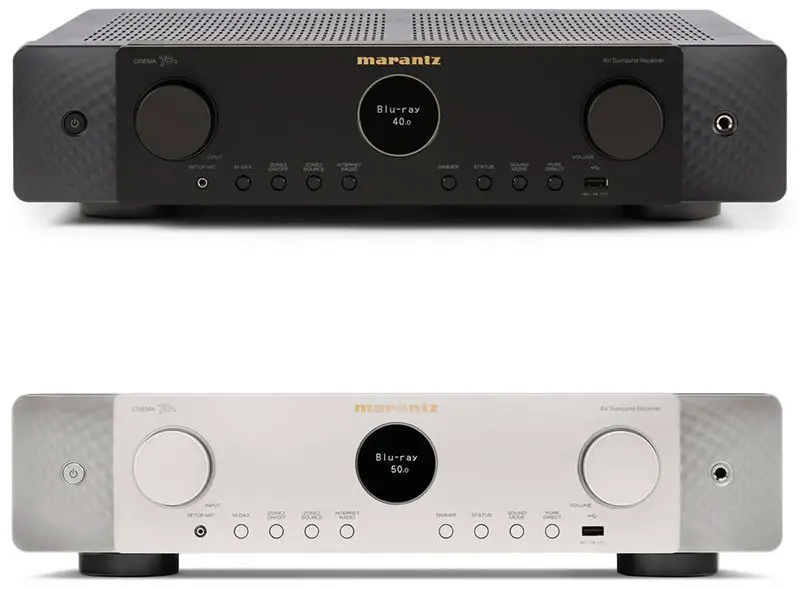 Final Thoughts
The new Cinema 70s is a very interesting release as Marantz tried to include all functionality of the bigger Cinema 60 in a smaller design. And while, if you look at the main specs you probably will fail to notice many major differences compared to the NR1711, after going through everything we can say with certainty that Marantz made some big changes that really made sense.
So compared to the NR1711, the Cinema 70s comes with a new design and backlit remote, has three fully working, 40Gbps capable HDMI 2.1 ports, includes 7.2 channels pre-outs which can be combined with the new pre-amplifier mode in order to add any amplifiers you want in the unit, we get a minor WiFi upgrade and the new updated 1080p user interface. And all these along with the rest of the bells and whistles that the NR1711 had already.
The Cinema 70s certainly looks too good to be true. So are there any downsides to talk about? Well, the most obvious is the missing component and composite ports that are MIA from all Marantz AV receivers and seems to be a general design decision from the company's engineers. Also the price is higher that what the NR1711 was previously sold for. To be honest not much else can be said here showing how much value and functionality you can get out of this.
Closing our review we can tell you that we had a great time with the Marantz Cinema 70s. It has all the values Marantz is known for packed inside a small box and can be an equally great performer either for movies or music. Obviously this is meant only for smaller spaces as it doesn't have the power for greater things but with everything you get you will not have any problems setting this up no matter how complex your small setup may be. Highly recommended.

For more reviews you can check our dedicated Slim Line 8K AV Receiver reviews list or even look at our Product Reviews Table where you can find the brand and specific product you are looking for.
Also don't lose the chance to subscribe to our Newsletter and gain exclusive privileges.
---
Cheapest Places to Buy :
---
Marantz Cinema 70s Specifications