Marantz Cinema 50
Reviewed at $2,499.00
OS, Apps and Features
9.4/10
Pros
Amazing cinematic and music performance
Dolby Atmos, DTS:X, IMAX Enhanced and Auro-3D
Six 40Gbps HDMI 2.1 inputs
Future Dirac Live support
Cons
No composite or component ports
No front HDMI input for one more year
Questionable porthole design
Very expensive
---
Cheapest Places to Buy :
---
After having checked almost all of the new Denon AV receivers it was about time we go through Sound United's owned and sister company of Denon, Marantz. The Marantz Cinema 60 we tested recently may not have been such a drastic upgrade over its predecessor, minor the design and HDMI 2.1 ports, so what about the next in line model? And that is what we are going to be looking at in our Marantz Cinema 50 review today.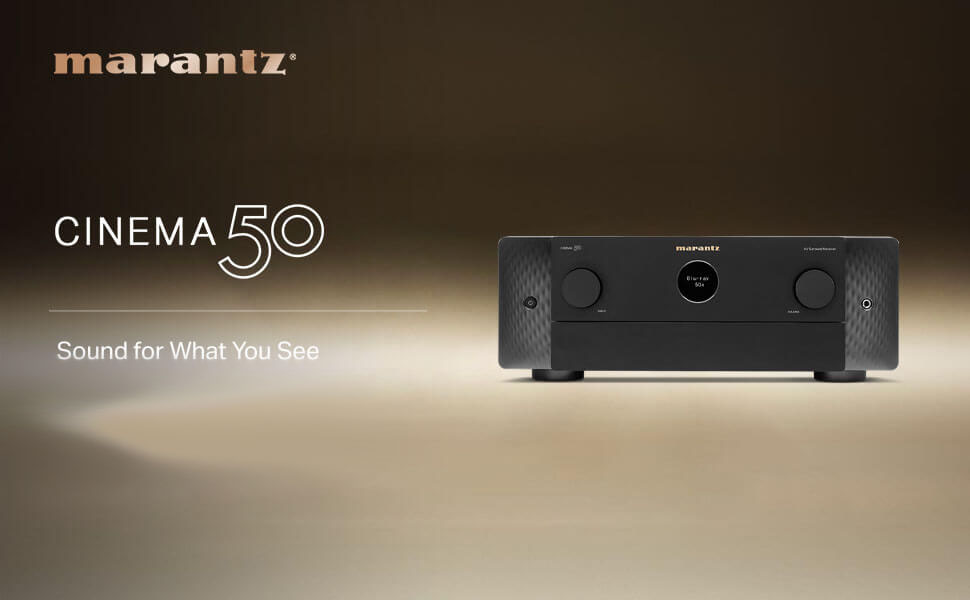 In a way the Cinema 50 looks awfully similar to Denon's AVR-X3800H and not without reason. Both Marantz and Denon share a lot of components and technologies even if these two are manufactured at different factories. If you look at the specs and what upgrades the Cinema 50 has, these will surely remind you of the ones we mentioned in the X3800H with very minor differences. Are there more differences to be found or the two units are ultimately the same in a different package?
Before we answer that let's go over the specs real quick, as we always do. This unit comes with 9.4 channels of built-in amplification and 11.4 channels of processing capable of 110 watts per channel. It supports a huge list of audio formats and technologies including Dolby Atmos, DTS:X, IMAX Enhanced, Auro-3D, 360 Reality Audio and MPEG-H Audio along with the usual virtual and up-mixing tech like Dolby Surround, DTS Neural:X, Dolby Atmos Height Virtualization and DTS Virtual:X.
We also get Audyssey MultEQ XT32 along with a future upgrade for Dirac Live support, 4 independent subwoofers outputs, High Resolution Audio, HEOS technology, AirPlay 2, voice control, custom integration, bi-amp capabilities, multi-room zones, Bluetooth Audio Transmission, an Advanced Pre-Amplifier Mode, six full 40Gbps HDMI 2.1 ports and HDMI upscaling.
As you can see the Cinema 50 is exactly the same as the X3800H, except from the 5 watts increase in power output and obviously the refreshed design. But the socking difference is the $800 more you have to pay for the Marantz. It is well known that both Denon and Marantz are very similar but also have their own distinct audio signatures. Is this, along with the slight increase in power output and new design, enough to justify such a higher price tag? Let's put it to the test to find out.
Design
Both Denon and Marantz have been using the same design for their new lineups for some time now and we were really disappointed to see that Denon didn't change their new 2022 units at all.
Surprisingly, unlike Denon, it seems that Marantz decided to go the extra mile and redesign the whole thing along with their remote. The new release retains some of the luxurious vintage look that is so characteristic of all Marantz units all these years but surely it feels more modern and finally it is a much desired change to the look that has become tiring after so many years.
In terms of dimensions the new unit is very similar to the Cinema 60 rather than its predecessor, the SR6015. There are certain changes that we will talk about but overall the two units are very close to each other. As such the Cinema 50 now measures 17.4″ x 14.0″ x 9.3″ (442 x 355 x 235 mm) but as always you can lower its profile to just 6.5″ (165mm) if you turn the antennas horizontally without this affecting the quality of connection in any meaningful way. The difference is on the weight as the Cinema 50 weights 29.8 lbs (13.5 kg) which clearly shows it has more beefy hardware than its smaller brother.
When it comes to its layout and looks, Marantz didn't try to reinvent the wheel but rather keep certain characteristics that we are so accustomed with when it comes to their products. The Cinema 50 borrows elements from both the SR6015 and the new Cinema 60. This includes the two big circular knobs for input selection and volume that sit on each side of the front circular porthole that also got an update as it is now an OLED one.

Everything else is hidden behind the front hatch that is placed just below the porthole which is the same design as the SR6015 had. Upon opening it we find nine small circular buttons for Pure Direct, M-DAX, Zone 2 controls, tuner preset channels, Dimmer, Status and Sound mode selection. Below these two there is the microphone port along with a USB Type-A for connecting external storage.
The Cinema 50 is missing the front analog ports as Marantz has completely taken these out from all their new releases and also there is no front HDMI port which we consider a huge practical feature to have. Hopefully they will bring this back at some point.
On the right and left side of the front face Marantz used a lightly curved and textured design which gives a bit more style to the whole presentation. On the right one we get a headphones jack while on the left there is a small circular power button.
When it comes to its internal hardware it seems that the Marantz Cinema 50 also went through a number of changes. We again find Marantz's proprietary HDAM circuitry but in the new release there has been an update as it now uses the new HDAM-SA2 board which is different, by the way, from the HDAM board that is used in the Cinema 60.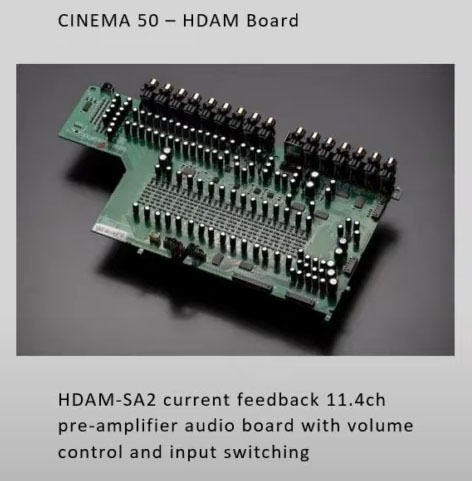 Another area where it is evident how close the Cinema 50 is to the Denon AVR-X3800H is in its DSPs as the Marantz unit also utilizes a single 2-core SHARC Griffin Lite XP DSP in combination with TI (Texas Instruments) 32-bit/192kHz digital-to-analog converters. If Sound United will ever go back to AKM is not known and this has been a subject of hot debate lately but the truth is that most, if not all, will never notice the difference with real world content.
Lastly one thing that was missing from the Cinema 60, and was present in both the SR5015 and SR6015, is the Hybrid PLL Clock Jitter Reducer which fortunately is present in the Cinema 50.
Since Marantz decided to update the looks of their units the remote had to follow too. As such the one we have now is not fundamentally different from the usual Denon/Marantz remotes but at least its looks feel more fresh and in line with the new units.
The top of the remote is where all of the inputs are located while volume, channels and navigation controls are placed in the middle, as we usually see, followed by three playback buttons with four selection buttons underneath them. At the bottom we get the four sound modes to choose from.

But the remote is not only just refreshed looks as it actually got a backlight function also. While this is not motion sensing, the button that activates it is located at the side instead of the top among the other buttons. This is the next big thing as it is far easier to press a single button at the side of the remote instead of trying to find it among all others. We never understood the usefulness of a backlight button mixed with all the other controls.
The Cinema 50 is every bit as good looking as the Cinema 60 was. The refreshed design is a very welcome change and although we do get that many people hate Marantz's porthole it is a signature design that Marantz is not ready to let go. To be honest we never had problem with that as we always were looking at it only for the volume and nothing else. But this is a personal thing than anything else.
Audio Quality
Another area where the Cinema 50 gets the same kind of update treatment as the Denon X3800H is in the audio formats support. The receiver can playback the usual Dolby Atmos and DTS:X object oriented audio tracks but along with these we get support for up-mixing and virtual technology features in order to cover all needs and specific room configurations.
When it comes to up-mixing tech we find the usual Dolby Surround and DTS Neural:X. What these up-mixing tech are doing is to up-convert stereo and legacy mixes in order to make use of all the speakers you have in your setup. As for virtual tech the Dolby Atmos Height Virtualization and DTS Virtual:X are capable of creating sounds that originate from virtual created speakers around your room where there are no physical speakers present.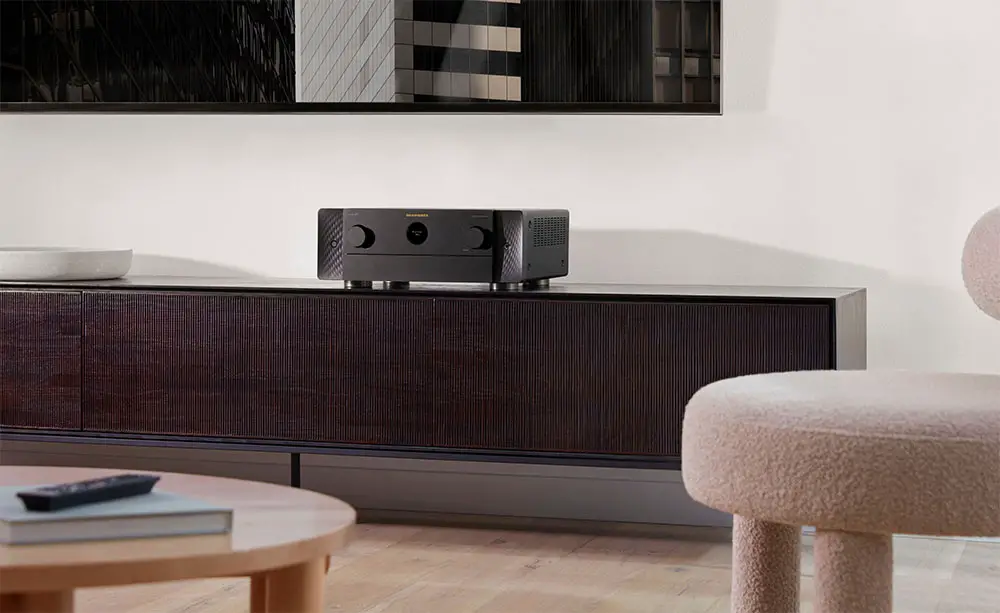 This virtual tech obviously is not as good and accurate as having real physical speakers and are very much room dependent. Also the sound many times can be heard very over-processed something we were never very fond of.
We also get IMAX Enhanced support, which we saw in the SR6015 for the first time, but these are not all as the Cinema 50 gets some new entries also. Marantz decided to include Auro-3D which up until last year was kept only for the higher tier receivers. Then we also get Sony's 360 Reality Audio which the receiver can support by connecting a 360RA streaming device via HDMI.
And lastly there is support for MPEG-H codec which has started to be used extensively for broadcasting. It is already being used with ATSC 3.0 in South Korea and over DVB in certain European countries while it is being used in several streaming services like Amazon Music and Tidal for powering their 360 Reality Audio music. So from the looks of it the MPEG-H format will become more and more popular over the coming years making the Cinema 50 future proof in this regard.
The Cinema 50 comes with 9 channels of built-in amplification and each channel can pump 110 watts of power (8 ohm, 20 Hz – 20 kHz, 0.08% 2ch drive) which is a small difference compared to the X3800H but exactly the same as the SR6015 was. Keep in mind that this is only for 2 channels driven meaning that when all 9 channels are active this number goes down considerably. You also have the ability to go all the way to 11 channels but for that you will need an external amp to drive the last two channels.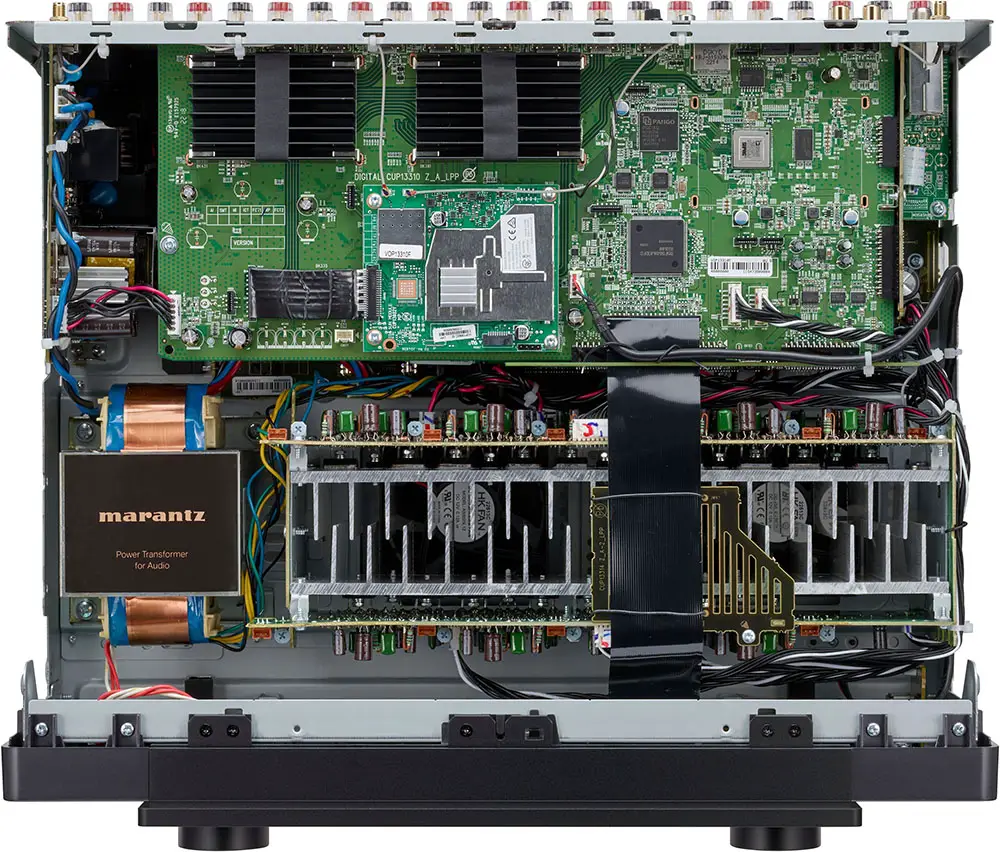 But what has really changed this year for Marantz, as was with Denon, is that the Cinema 50 has the ability to drive four subwoofers independently instead of two that was previously possible. Multi-subwoofer setups are very common among home theater fans and it seems that Sound United took notice of this. As such the inclusion of four outputs allows for immense control over the kind of setup you want to create.
With the built-in amplifiers you can go all the way for a 5.4.4 channels audio setup with four dedicated overhead speakers for maximum immersion. But for our test we went for a much more modest 5.1.4 setup using a single subwoofer and 4 height speakers placed at the front and back of our viewing area.
As for the movie this time we decided to test Man of Steel in 4K UHD with its totally flooring Dolby Atmos mix. The film has it all. Calm, dialog driven moments, intense action sequences and all out mayhem giving an overall very balanced and remarkably mastered performance.
The Marantz felt right at home from the very beginning and it was amazing how good this AV receiver can render even the most minor of details in the included audio track. The front soundstage had incredible expansion on all sides with convincing depth and sideways extension without loosing any of its cohesion even during the most demanding of scenes.

The dialog was always kept isolated at the center without any mixing or overlapping with the rest of the front channels. When Clark is talking to his mother after he returns home, it is a very characteristic scene where it shows how good this mix is. This is a relatively calm scene but you really feel enveloped by the environment as you can hear the crops moving to the wind and all animal life making their presence evident.
Obviously when action kicks in the Marantz shows its teeth as it fires in all cylinders and all channels to give you a really unforgettable experience. During the fight of Superman with General Zod surround action went through the roof. The sound effects had pinpoint precision and would transit across the speakers from the back to the front without any delay or loss of accuracy.
Equally impressive, even if not so much to the face, was its Atmos performance. Such a film not only needs good extension on ear level but also on the overhead layer and the Cinema 50 had no trouble providing just that. The channel localization was excellent and with four height speakers we had great precision on the Atmos effects above us.
Lastly we could not talk about such a film without mentioning its low end prowess. Obviously the subwoofer you have will have a lot to do with how the film performs but the Marantz made sure to provide our SVS SB-1000 Pro with all the low end information needed in order to really shake our small testing room. Powerful explosions would shake our walls but thankfully no wall was destroyed during the test, on the contrary to the Superman/General Zod duel.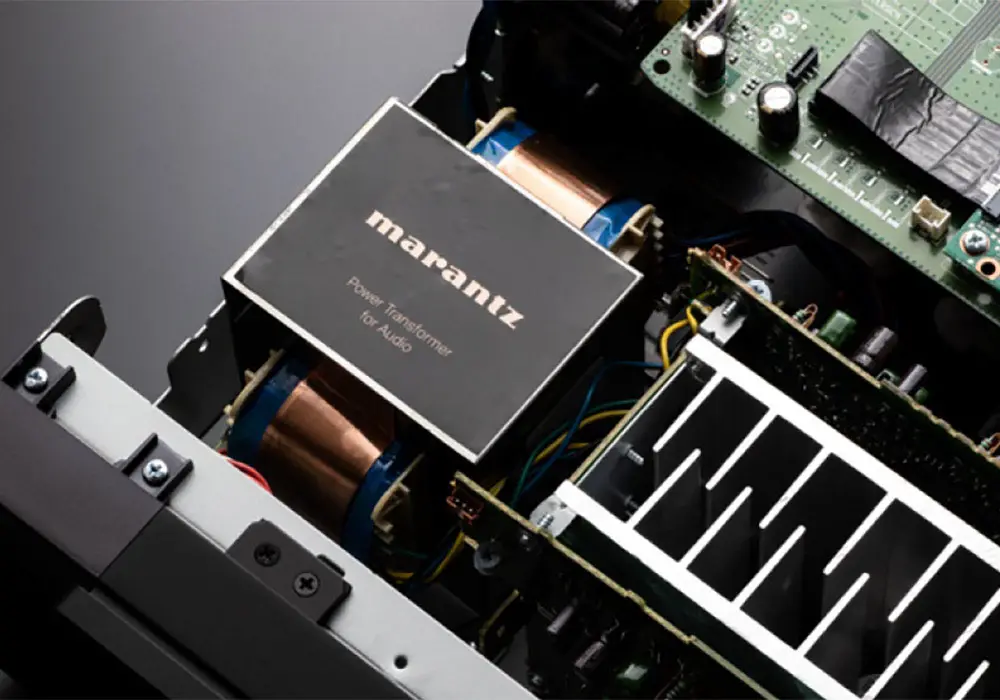 The Cinema 50 is not an AV receiver of the extremes. It prefers to give you a more smooth output across the entire frequency range and we do love this. We do get that some may prefer the more "edgy" output of the Denon units but for us the Cinema 50 strikes an excellent balance that our ears found sweet, evoking and thrilling. If you want an AV receiver that is at the top of its game, quality wise, then there is not much more you can look for other than what the Cinema 50 has to offer.
Marantz AV receivers were always famous for their musicality and the new lineup makes sure to carry on that fame. As such this receiver supports not only the usual lower quality audio formats like MP3, WMA (up to 192 kbps) and AAC but can also playback High Resolution Audio in the likes of FLAC, ALAC and WAV files up to 192 kHz / 24-bit quality. DSD streaming is also available for both 2.8 and 5.6MHz.
For this testing, as we usually do, we selected a few favorite tracks in FLAC format that we streamed through the front USB port for the best quality possible. Usually most people that go for the Marantz brand, do so due to their distinct tonality and certain traits in their audio output that really favors music. And the Marantz Cinema 50 retains everything that has made the Marantz brand such a fan favorite all these years.
As we always tend to repeat when we review AV receivers, these cannot really compete with some top quality separate amplifiers. But AV receivers are not meant to go head to head in such a comparison. Their goal is to offer comparable performance all in a single box as practicality takes first place over having the utmost best performance.

And with this in mind the Cinema 50 did amazing with music especially if you use it in Direct mode which obviously is your best bet when it comes to music reproduction. It will surely be hard for your ears to tell a big difference between this one and some good quality separates. Marantz know their art and this shows in spades with the Cinema 50.
The unit offered this smooth and delicate output that most Marantz AV receivers do. Either you go for something more delicate like classical or orchestrated music or try something more with a bang like heavy metal the receiver handled everything with breathtaking accuracy. Its output sounded just right. We were hard to find anything wrong with it and although the speakers we had for testing were not the most premium ones out there they worked in great harmony with the unit.
If you are considering the Cinema 50 it means that you know what the Marantz brand stands for and what it will give you compared to the likes of Denon, Onkyo or even Yamaha. And the Cinema 50 has all the Marantz DNA infused into it and it will prove to you why it is worth it to pay the premium price to get it compared to the competition, either it is for movies, music or even better for both.
Ports and Connectivity
Next we will be looking at what ports and connections are available to the unit and here is another area where the Cinema 50 looks extremely similar to the Denon X3800H while compared to the SR6015 there are some fundamental differences we will talk about.
First of all we already mentioned above about the frontal ports that include the Headphones jack, the setup microphone port and the USB port. The front HDMI input is missing from this one too and we will continue to hope that at some point Sound United will decide to bring it back.
At the lower back we get the usual 11 speaker terminals that are placed in a straight line which helps a lot with cable management. The terminals are the usual quality we have seen from Marantz while they differentiate themselves with the use of transparent caps instead of Denon's black and red ones. But, as usual, if you want to use the full 11 channels you will need an external amplifier for the last two channels.
At the top we find all the HDMI ports and it seems that we actually have a reduction in their numbers as this year there are only six instead of seven HDMI ports that were available in the SR6015. It's exactly the same deal we saw on the X3800H versus the X3700H but to be honest six are still plenty so the small reduction will surely not have such a great impact on the unit overall.
As for everything else we get 1 Ethernet port, 2 coaxial and 2 optical digital audio inputs, 11.4 channels pre-outs, 5 analogue audio inputs and one more dedicated for phono, a remote control input and one more output, an IR flasher input, an RS-232C port for control, a single 12 volts trigger output and the usual FM/AM antenna inputs along with the WiFi/Bluetooth connectors.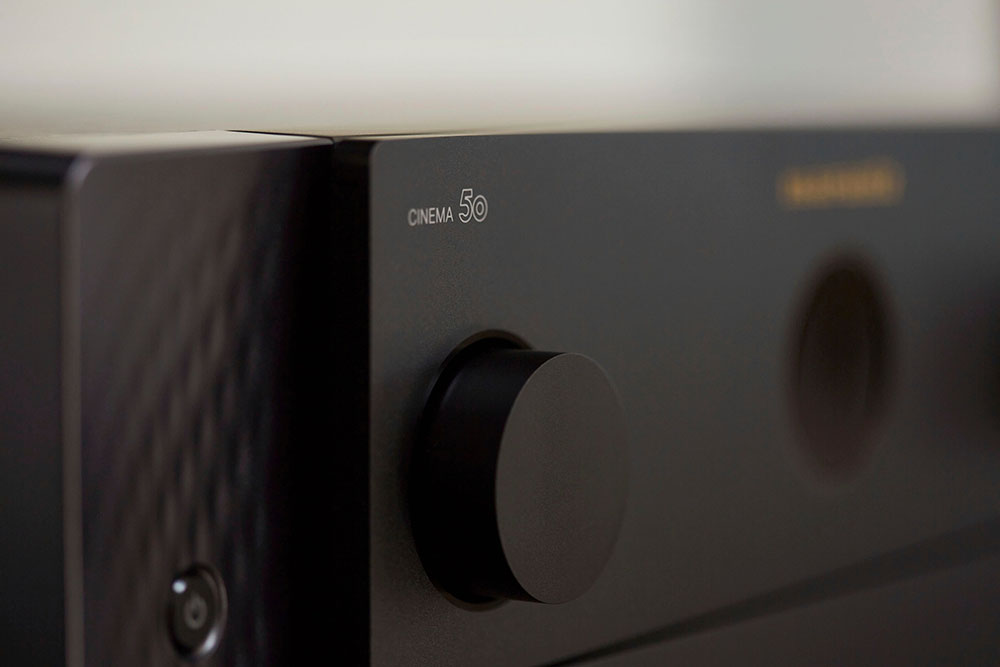 The changes we get in the Cinema 50 compared to the SR6015 are basically four. The six HDMI ports are all full 40Gbps HDMI 2.1 ones, there are four independent subwoofer ports this time while all component, composite and the 7.1 multi-channel analog inputs ports have been taken out completely. As with most Sound United AV receivers it is evident that most analog ports are slowly been phased out which may be good as we move forward but on the other hand some users with older equipment are left to find other solutions to connect them.
Here we need to mention that the 4th subwoofer output can also be used to connect a tactile transducer or "butt shaker" that is very common among dedicated home theater fans. Now you don't need to rely on 3rd party solutions as the Marantz has support for this built-in.
As for its HDMI ports the Cinema 50 comes with six updated HDMI 2.1 ports that support all the old and new exciting technologies including 8K/60Hz and 4K/120Hz video passthrough with 40Gbps bandwidth, Deep Color, x.v. Color, HDR10, HDR10+, Dolby Vision, Hybrid Log-Gamma (HLG), Dynamic HDR, 3D, Quick Media Switching (QMS), Variable Refresh Rate (VRR), Auto Low Latency Mode (ALLM), Quick Frame Transport (QFT), Fixed Rate Link (FRL), ARC, eARC, Auto Lip Sync and HDMI-CEC.
All the 2020 AV receivers that featured HDMI 2.1 ports came with a bugged Panasonic chip that wouldn't allow it to pass certain signals, like 4K/120Hz RGB signals from the Xbox series X for example, as it would result in a black screen.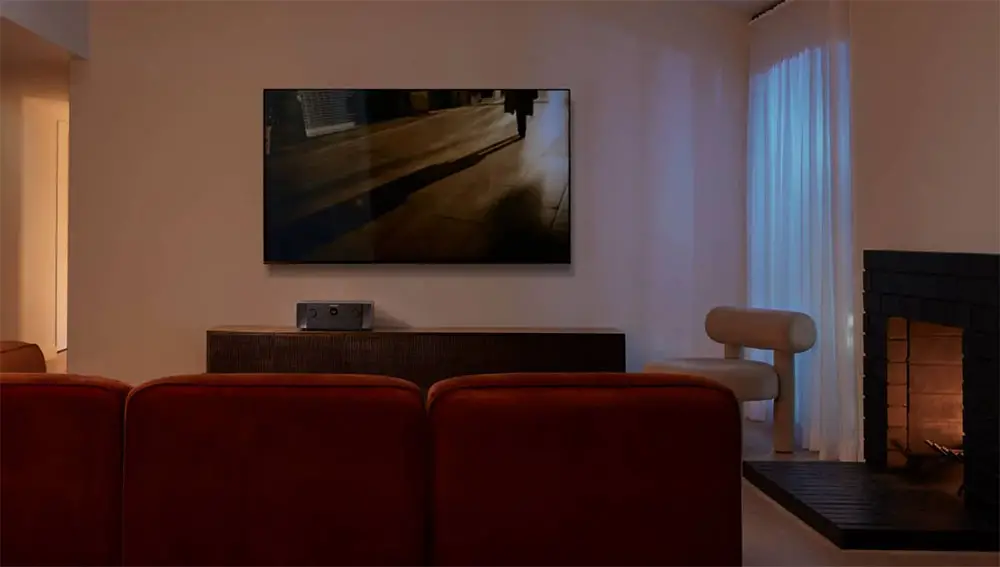 The Cinema 50 on the other hand seems to be using updated HDMI 2.1 hardware which allows up to 40Gbps of bandwidth on all of its HDMI ports and this includes all the signals with a 4K@120Hz configuration including Xbox Series X.
For the purpose of this review we tested both a PS5 and our Xbox Series X and in both cases we got trouble free 4K@120Hz signals with VRR engaged. We didn't notice any problems during testing to report as both the signals and the HDMI handshaking with the TV were stable during our testing time.
As for the unit's wireless capabilities we get built-in WiFi which can connect both in 2.4GHz and 5 GHz networks. It seems we got a minor upgrade here, the same case was with the Cinema 60, as its Wi-Fi is now able to support up to IEEE 802.11a/b/g/n/ac.
The Cinema 50 gets the same treatment as the Denon X3800H. The six updated HDMI 2.1 ports are all the rage but we do get that some people will get disappointed with the missing analog ports. To be honest we would trade all the analog ports for an extra HDMI front port because we believe that digital is the future and the front HDMI would vastly help in many situations. But other than that, the Cinema 50 is a premium unit and it comes with everything you will need, even for the most demanding setups.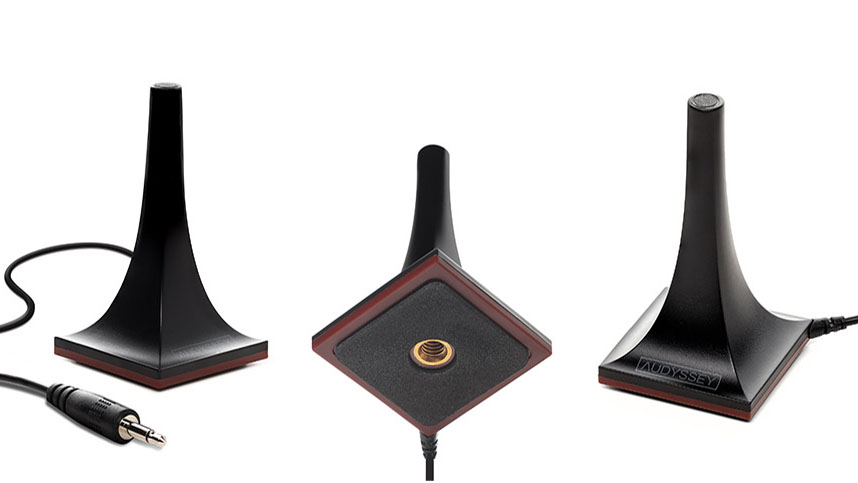 OS, Apps and Features
Moving on to the extra features the Cinema 50 has exactly the same feature list and upgrades we saw in the Denon AVR-X3800H which is not all that surprising really. So this part of our review will be similar to our observations of the Denon one while we will make any changes or additions where we deem necessary.
But first of all we will talk about the audio calibration system. Marantz is once again using the Audyssey system, as usual, and as with all manufacturers they scale it accordingly to meet the price and performance standards of each of their models. For the Cinema 50 we get the Audyssey MultEQ XT32 version which is their best and most feature complete suite. In comparison this one features the highest resolution filters which can result in higher accuracy during calibration.
The Audyssey MultEQ XT32 also comes with Dynamic Volume, Dynamic EQ, Audyssey LFC and Audyssey sub EQ HT. This version of Audyssey has the ability to analyze up to 8 different listening positions with the help of the included microphone and creates precise digital filters in order to offer the best audio result for your particular space.
But except from the core system we also get Dynamic EQ which is a feature that is responsible for keeping the clarity and dynamic levels of audio even when you like to watch at low volume, like for night viewings for example. Dynamic Volume on the other hand is capable of balancing sudden changes and spikes in volume that could appear when there are sudden changes from TV broadcasting to commercials.
There is also Audyssey LFC that uses advanced psychoacoustic algorithms to deliver more full-range balance, including deep bass, without disturbing neighbors or people in other rooms of your home and lastly Audyssey Sub EQ HT that provides individual DSP tailoring of each subwoofer in a multi subwoofer setup for deeper bass with improved definition.
A new feature that was used for the first time in the previous series of receivers and carries over to the Cinema 50 is the sound presets. The Cinema 50 has the ability to store two Audyssey settings and switch between the two settings on the fly, giving you the freedom to tweak your listening experience based on content or listening environment. This can be especially handy if you like to watch different types of films and want to have a setup created specifically for each type.
Going through the Audyssey calibration can be done either through the built-in wizard or if you want to dive deeper into calibrating your system then you can download the Audyssey MultEQ Editor app that is available for Android or iOS and do a more thorough setup with the help of your mobile device.
Only keep in mind that this app has a one time fee which is a shame to be honest when you already pay such a high price for this unit. As for the built-in system, this is more than enough for most casual users as it offers almost everything you need to make very good and precise adjustments to your system.

Now here we need to mention a new addition, and a rather major one we might say, to the Cinema 50 and this is the inclusion of Dirac Live. Dirac Live is an audio calibration system that is included in the new unit and will become available in spring of 2023. From that moment you will be able to choose either the free Audyssey system that will work out of the box for every unit or buy a Dirac Live license for more advanced tuning.
The Dirac Live availability will be completed in two steps. The first one, as we mentioned, will roll in spring 2023 with the availability of the room correction feature in two packages, the limited or full bandwidth, while the second phase will come sometime in 2024 with additional bass control management for a single subwoofer or multiple ones. Sound United has announced the prices for all packages and according to them these are dictated by Dirac themselves.
With Dirac Live being such a fan favorite we see why such a move from Sound United is a big deal for both Marantz and Denon brands. We will make sure to try it out when it becomes available.
Now, Marantz provides another app for this AV receiver and this one comes completely free. The Marantz AVR Remote app, as it is called, lets you control the unit with your mobile device through a nice visual interface. If you are tired of the included remote this is a nice and most important free alternative. The app is available for both Android and iOS devices so we suggest you give it a try to see if you like it.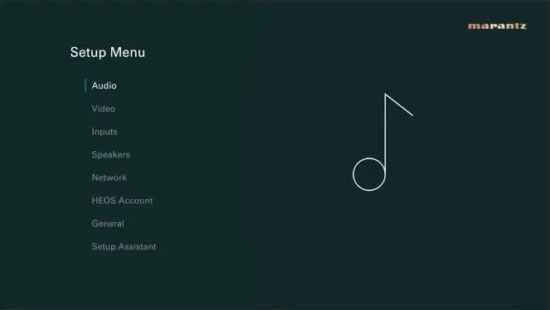 Another change we find this year is the new refreshed UI. For some years now we were complaining about how old style and outdated the UI of the Marantz AV receivers looked. It was as though it belonged in the early 2000s with its simple menus and 480p resolution.
It seems that Marantz, or rather Sound United, finally listened to our cries and decided to update the looks of it. The menus are not all that different in terms of structure and layout. You still get the same list of features in a similar way to the old UI but they bumped the resolution up to 1080p and made it look graphically more pleasing to the eye. Now it feels like it is something newer and although it may not be as fancy as what smart TVs have, it is far better that what we were getting till now.
As for the rest, the receiver comes with the usual streaming as well as multi-zone capabilities that Marantz includes in almost all their units. As it supports both HEOS and Airplay 2 you can either stream music online from one of the available online streaming services that include Spotify Connect, Pandora, Amazon Music HD, TuneIn, Deezer, SiriusXM and TIDAL among others or create your own multi-room environment with the use of appropriate wireless speakers.
Both the HEOS and Airplay 2 apps are available for downloading from their appropriate stores for use with your mobile device. But if you prefer a wired connection the Cinema 50 also supports Zone 2 through its dedicated pre-outs or one of the HDMI outputs available at the back of the unit.
Now as far as streaming, online is not the only option you have as you can stream audio from a network drive or NAS server if it happens you to have one connected to your local network. Also with the included USB port you can stream music through some connected external storage or flash drive.
Lastly if you prefer a more wireless way of streaming your music there is Bluetooth available for connecting with your mobile device. If you use Apple devices then Airplay 2 can also be used to stream music wireless through it.
And since we mentioned Bluetooth another function that is included in the Cinema 50 and seems to become a standard is that the receiver can output audio in two different ways using its Bluetooth transmitter. The AV receiver is capable of streaming audio to Bluetooth enabled headphones for a completely silent house experience or it can also output sound from both its speaker terminals and to a Bluetooth headset. This can be particularly practical in case there is a member in the family that is hearing impaired.
But keep in mind that this can be used only for music and not for movies. And this happens because the Bluetooth transmitter of the AV receiver is using only the SBC codec and not some more advanced variant meant for such use, like aptX Low Latency. As a result there is bound to be an audio delay due to the Bluetooth transmission speed making this feature ideal only for music use.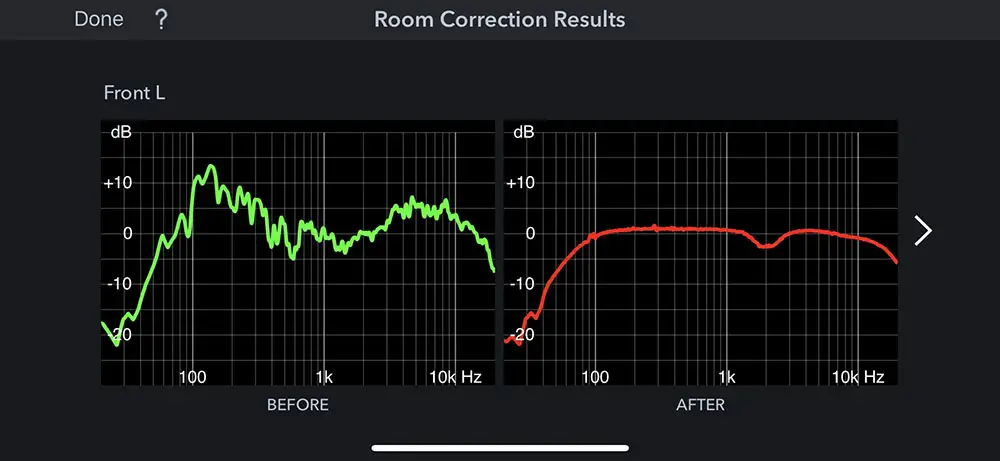 We already mentioned above that the receiver supports USB streaming but we should also note that the unit comes with M-DAX2 support. Compressed music enhancement in the Cinema 50 is done by Marantz MDAX2 technology. The use of compressed audio files like MP3, Windows Media Audio or AAC is more popular than ever.
The audio quality of these compressed files however is less than what is found in the original lossless files that are on a CD, especially lacking in the higher frequencies and affecting the lower frequencies which make the audio image less wide and deep. The Marantz Digital Audio Expander 2, also called M-DAX2, recalculates the outputted frequency range. This enables you to get a more detailed and clearer sound.
Having tried this feature before we can say that it may not be the magical feature that will turn low quality MP3 files into high resolution audio but surely in certain cases the difference can be notable. So we do advise you to try it out as it can be handy depending the source material.
Voice control is another standard feature so it couldn't be missing from the Cinema 50 either. As such the unit supports all the major ones including Amazon Alexa, Google Voice Assistant and Apple HomePod. Obviously for all of them you will need the appropriate external device to issue your commands.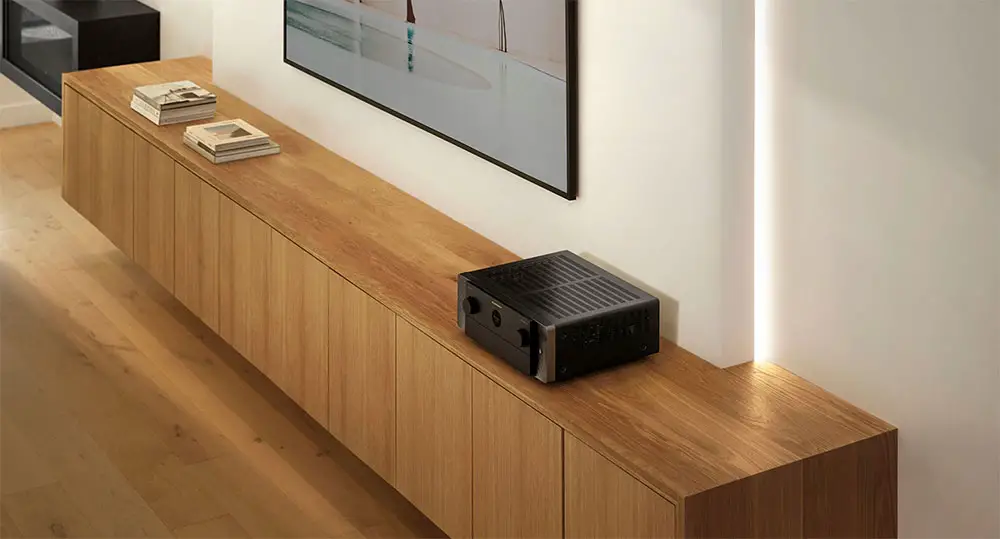 Marantz was always offering strong custom installation capabilities to their AV receivers and the Cinema 50 is no different. The unit features external RS232 and IP control capabilities for easy customization and compatibility with third-party integration solutions.
IR (infrared) remote control input and output are included on the rear panel for remote control compatibility with other components in your home theatre system. As a result the Cinema 50 is really a technology heaven for custom installers as there are so many options and flexibility when it comes to choosing what suits you the best.
Another handy feature that we do find is HDMI-CEC and this one lets you use the TV remote to control the AV receiver if the TV also supports this. You can understand the practicality of this as this way you can reduce the amount of remotes you will need to have in your home theater. Obviously this feature lets you use only the most basic functions of the receiver but for everyday use it can be a very time saving one.
There are even more extras and features available so we will try to name as many of them as we can. The receiver supports video upscaling to 8K resolution but the obvious limitation here is that the Cinema 50, unlike its predecessors, can do that only through its HDMI ports as all analog ports are taken out. We also get an ECO mode that can regulate the receiver's power usage for a more environmental friendly power consumption as well as being "Roon Tested" certified.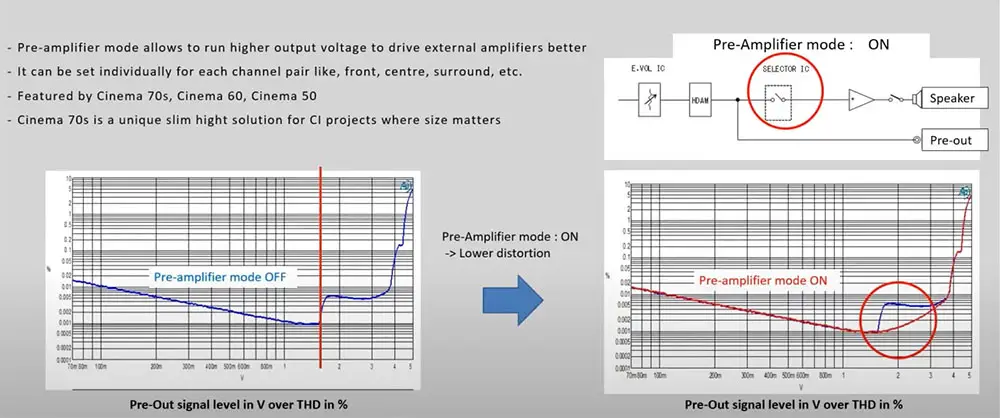 For this last one there seems to be a bit of confusion as there are two types of certifications. Roon Ready and Roon Tested. The Cinema 50, as with all Marantz AV receivers, is Roon Tested which means that while Roon will work on this unit you will not get the highest quality possible. So for example if you use Airplay, audio quality is limited to 16 Bit/44.1kHz. Keep that in mind in case Roon is specifically important to you but you also want your files to be streamed in their original, highest quality possible.
Lastly we get an upgrade to a previous included feature and this is the Pre-Amplifier mode which is now called Advanced Pre-Amplifier mode. With it your Marantz AV receiver works as a perfect AV pre-processor with the latest HDMI connectivity.
Pre-Amplifier Mode provides a cleaner signal path and more tolerance in clipping level by disconnecting internal amplifiers. The difference this year with the Advanced version is that you can choose how many channels you want to disconnect from the main unit and as a result you can add various external amplifiers in the future according to your needs.
And that's all for the extra features. As you can see from the above the Cinema 50 includes an enormous list of features that will surely satisfy even the most demanding users and the most complex setups.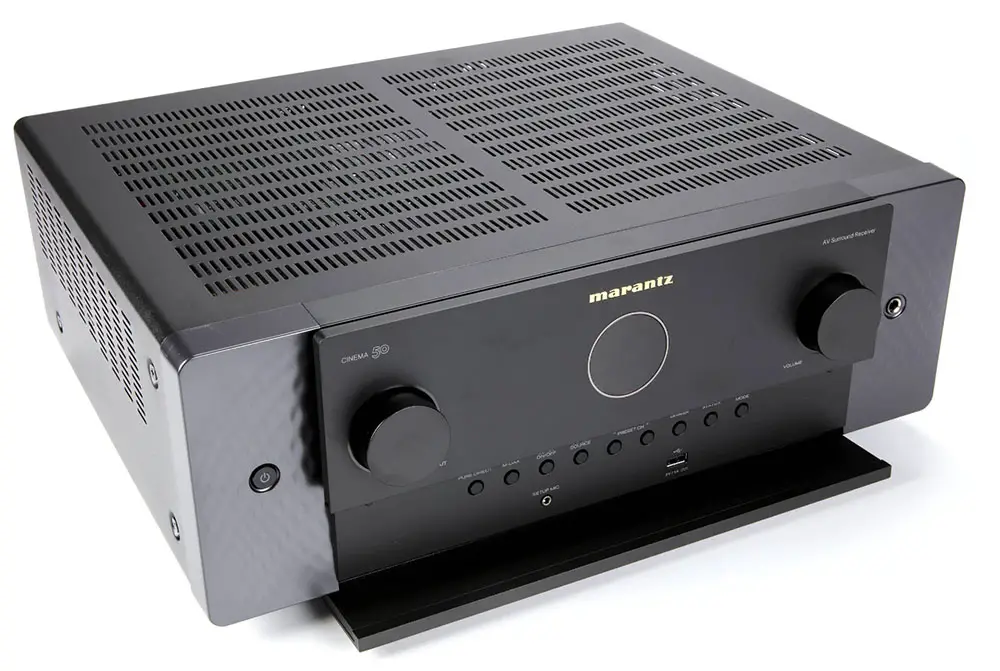 Final Thoughts
Now, we are sure you are wondering that if the Marantz Cinema 50 is so much alike to the Denon AVR-X3800H why to pay the extra $800 when you can get the Denon and have essentially a very similar unit? To be completely honest with you if your budget allows for it, then go for the Marantz. Yes, you pay a premium price, much higher than the Denon but Marantz is what it is for a reason and you get the absolute best in its category. At least this is what we would choose.
Unlike the Cinema 60, the Cinema 50 brings a lot of upgrades compared to the unit it is meant to replace. A completely new design with redesigned internals, Auro-3D, 360 Reality Audio and MPEG-H Audio support, future Dirac Live support, six full 40Gbps bandwidth HDMI 2.1 ports, support for four independent subwoofers, a new updated 1080p resolution user interface, an updated Pre-Amplifier mode to support specific usage of channels and a minor update to its WiFi module is the most notable ones.
And we haven't even mentioned the excellent performance and specific audio signature that all Marantz AV receivers are very famous of.
As for the downsides these are more or less the same ones we mentioned in our Denon review. All composite and component ports are taken out, the front HDMI and analog ports are also missing, the Audyssey MultEQ Editor app is not free which is unacceptable with such a high price and the porthole design continues to create debate over its use compared to a full display like Denon still uses. And obviously the higher than usual price the new units sells for which surely brings it to a category that many will think twice if it is really worth it.
In the end, the Marantz Cinema 50 is an amazing AV receiver no matter how you see it. We had such a blast with it during testing that we didn't really want to end it. It has everything you will ever need and then some and you get the quality that Marantz is famous for, for many years now. Our highest recommendation.

For more reviews you can check our dedicated 9 channels 8K AV Receiver reviews list or even look at our Product Reviews Table where you can find the brand and specific product you are looking for.
Also don't lose the chance to subscribe to our Newsletter and gain exclusive privileges.
---
Cheapest Places to Buy :
---
Marantz Cinema 50 Specifications