Paradigm Prestige 95F
Reviewed at $4,999.00 (pair)
Design -

95%

Movies Performance -

92%

Music Performance -

90%

Inputs and Features -

92%

Price / Quality -

86%
---
Cheapest Places to Buy :
---
There are a few Canadian speaker companies out there but if there is one that managed to make a name of itself internationally then this would have to be Paradigm. The brand has definitely grown over the years and have now a full range of speakers they offer in different price ranges from the top of the line Persona lineup all the way down to the budget friendly Monitor SE. But today in our Paradigm Prestige 95F review we will look at the flagship floorstander of this mid-high tier series and what it brings to the table.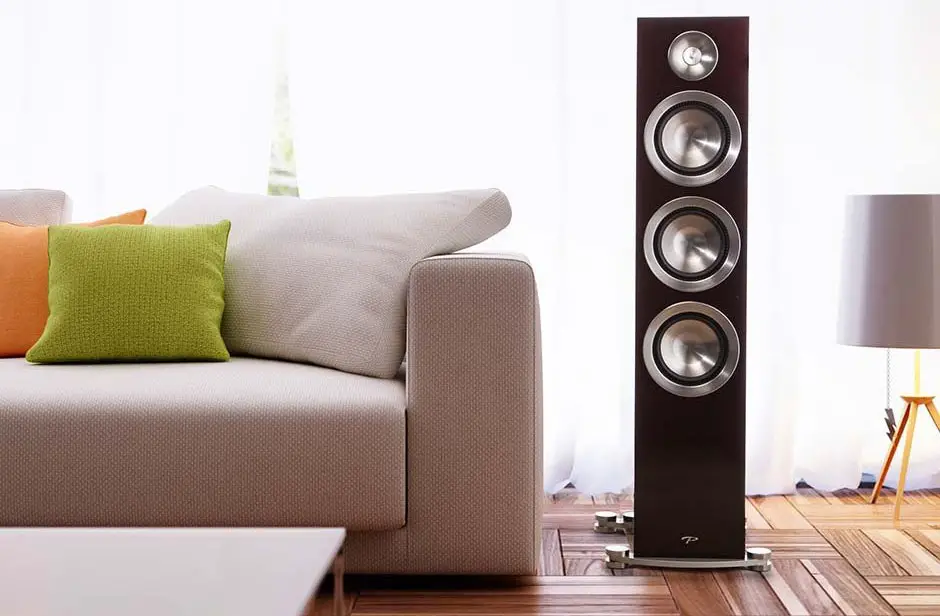 The Prestige series sits comfortably between their top class Persona speakers and the more down to Earth Premier lineup and tries to combine the virtues of both and create a speaker that radiates luxury and technological advancements but without going crazy with exotic materials and overall budget. And it seems that Paradigm is expecting a lot as this extensive lineup consists of three floorstanders, two center speakers, one surround, one bookshelf and two subwoofers making it easy to go for the complete set in case you are interested for a home theater setup.
Paradigm has put a lot of research into them as we find technologies like Perforated Phase-Aligning (PPA) lens, X-PAL tweeters, Active Ridge Technology (ART) and the Shock-Mount Isolation mounting system all wrapped around a beautifully crafted, heavy braced cabinet that features premium-grade finishes.
Upon first look the Prestige seems to offer the perfect amalgamation of luxury and technological advancements in order to create a speaker that not only looks exceptionally premium but performs accordingly. Our recent experience reviewing their Premier speakers showed us that Paradigm knows what it takes to make a speaker sound good. Does the Prestige manages to fall in the same category? Lets find out.
Design, Inputs and Features
Exterior
The Paradigm Prestige 95F is completely different in looks from all the other speakers Paradigm have made. It obviously borrows similar elements that we will talk about but the general design of the cabinet has its own unique characteristics and design. The 95F is a pretty big floorstander measuring 44.75″ × 13.25″ × 17.125″ (113.7cm × 33.7cm × 43.5cm) if you include the plinth, feet and grille and with a weight of 68 lbs. (31 kg) each of these speakers mean serious business. With their size we would definitely recommend them only for medium to large rooms in order to have certain breathing space to perform accordingly.
When you first look upon the 95F the first feeling you get is how premium and luxurious they are. Not all finishes are the same but the Midnight Cherry we reviewed had a high-gloss finish that made the cabinet out of this world. Simply beautiful and well made. We have seen a few other premium speakers the last few years but the Prestige manages to climb at the top spots of our list. The cabinet design may not be anything special as it follows the simple cubic design most speakers do but it's the attention to details that will wow you the most. And the Prestige 95F has plenty of them.
But looks alone does not make a speaker good enough as it needs to be paired with an equally good cabinet. The Prestige cabinets are all designed, engineered, and crafted in Canada inhouse. Constructed of heavy duty, non-resonant 3/4-inch MDF with optimally placed interior bracing and an enhanced 1-inch MDF baffle design, each Prestige cabinet not only have the looks but also a very carefully designed construction.
The innovative rear-mounted tweeter and driver housing completely hides front baffle hardware. Drivers are shock mounted to a reinforced 1-inch MDF baffle, which reinforces rigidity and cabinet strength while eliminating unwanted cabinet resonances that interfere with the sound.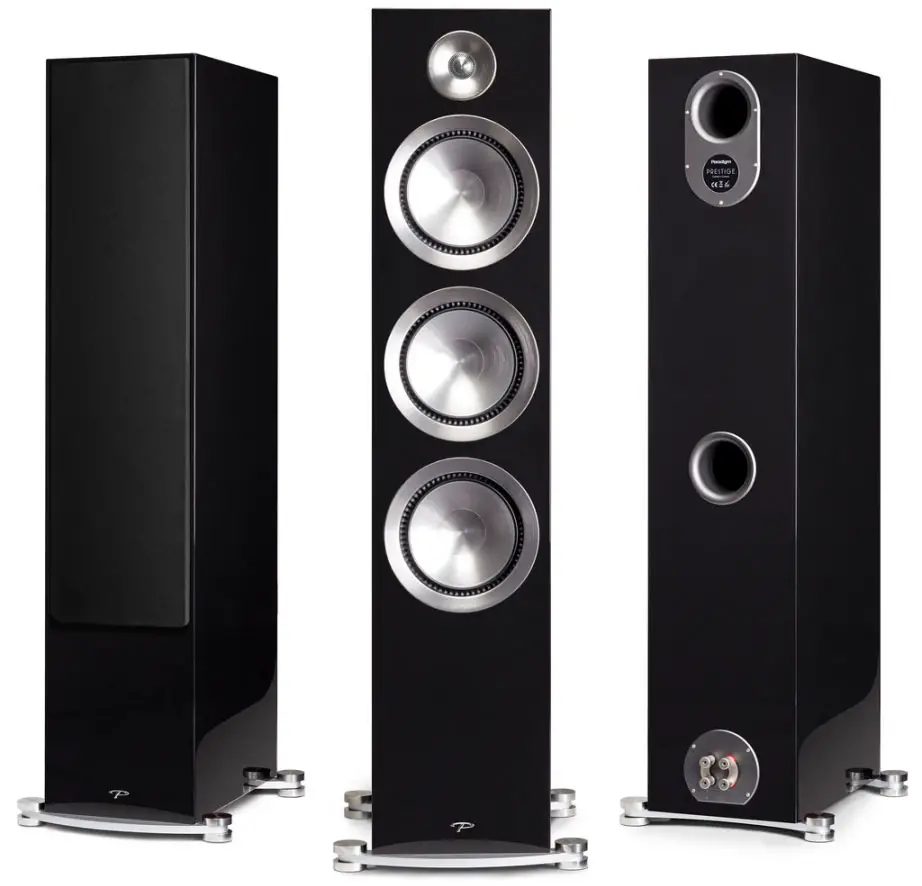 The Shock-Mount Isolation mounting system is a butyl-rubber driver fastening system that Paradigm uses in which critically placed isolation inserts and gaskets decouple the drivers from the speaker's enclosure, resulting in unparalleled reduction of driver/enclosure interactions and their associated performance robbing resonances and vibrations.
Prestige cabinets are offered in a variety of beautiful premium-grade finishes, five in total to be exact. Walnut and Black Walnut have a smooth satin finish with distinctive wood figuring while Midnight Cherry, Piano Black and Gloss White feature a luxurious hand-rubbed, high-gloss finish. To be honest the gloss finishes look amazing and to our eyes make the Prestige cabinet even more premium than the rest. But obviously this is a matter of taste.
The low profile, acoustically transparent grilles cover almost the entire front baffle and they are magnetically attached which is good as this means no plug holes on the front baffle that would certainly destroy such a beautiful design.
At the front we find the same Perforated Phase-Aligning (PPA) Lens technology covering the tweeter which is a technology we also saw in the Premier series. Below, three 8" (203mm) woofers, one for bass/mid-range and the other two for bass, use special Active Ridge Technology (ART) surrounds giving the Prestige 95F a certainly unique look that many Paradigm speakers have.
Turning the speakers around we find two large flared ports placed one exactly at middle height and the other at the top while at the bottom a small cap is housing the dual binding posts.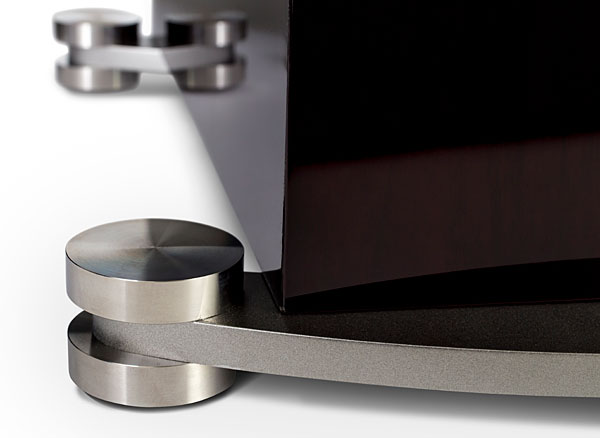 All floorstanding models, including the 95F we have here, benefit from a rigid polished stainless steel and aluminum base that isolates and defeats performance-altering vibrations. The bases feature reversible foot options for hard and soft flooring. Design of the base is very nice but certainly extends the footprint of the speaker a little. But since these are not meant for very small spaces this shouldn't be a big problem.
There is not much to say about the Prestige 95F. The speakers are beautiful, carefully crafted with nice design and extraordinary finishes. It seems that Paradigm made the same effort in order to not only create a great performing cabinet but also look the part also.
Internal Hardware
Paradigm equipped the 95F with a 4-driver, 2.5-way bass reflex design with the high frequency tweeter sitting at the top, the bass/mid-range driver at the middle and the dual bass drivers at the bottom.
Lets talk about the tweeter first. Paradigm is using the same design we previously saw in their Premier series which is a 1" (25mm) X-PAL tweeter with a pure aluminum dome and a neodymium magnet, while it is damped and cooled with ferrofluid. Ferrofluid is a colloidal suspension of magnetic nano particles in a liquid carrier with low volatility and high thermal stability.
Finite Element Analysis (FEA) optimized pole piece concentrates the magnet's power for maximum efficiency and lightning fast response while lowering the tweeter's resonance frequency for clean, accurate sound. The tweeter is also using Paradigm's Perforated Phase-Aligning (PPA) Lens, that protects the delicate pure-aluminum tweeter dome and acts as the Phase Plug, blocking out-of phase frequencies for smoother, extended high frequencies with incredible detail and higher output.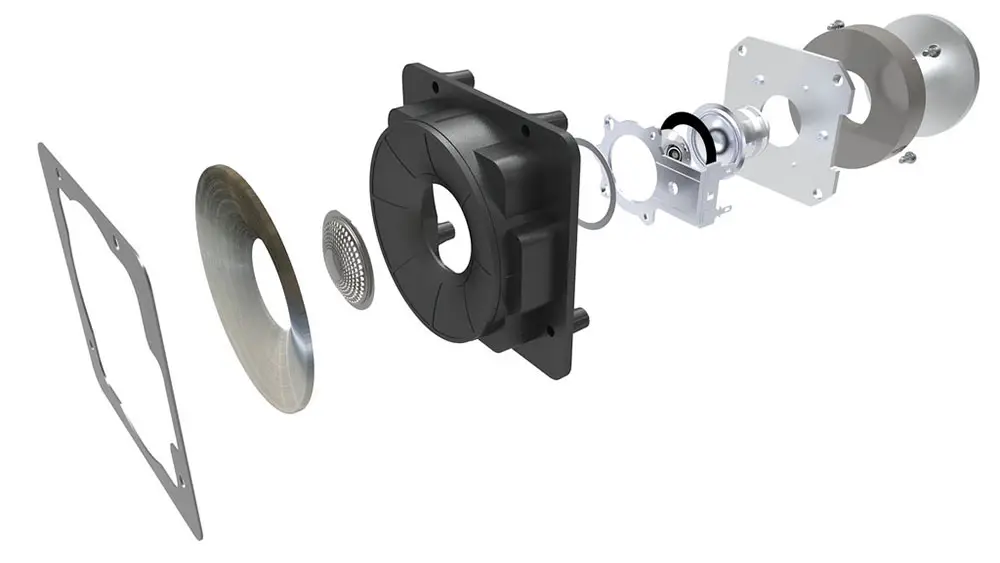 Below the tweeter there is a single 8" (203 mm) X-PAL bass/mid-range driver along with dual 8" (203 mm) X-PAL bass drivers handling all the low end. All these three drivers share the same technologies so there is no need to repeat them twice.
All three of them use Paradigm's patented Active Ridge Technology (ART) surrounds which are made in-house and overmolded directly onto each woofer cone. This design achieves greater excursion, for a 3dB gain in output and 50% reduction in distortion. Crafted from injection-molded thermoplastic elastomer, ART surrounds are more durable and more reliable than conventional surrounds, ensuring a lifetime of superior sound.
The X-PAL woofers and midrange brushed pure-aluminum cones combine lightweight stiffness with high consistency for a greater degree of accuracy and smooth, uncolored frequency response. Matching concave dust caps ensuring more uniform dynamic response and a cleaner, modern aesthetic.
Their super-strong die-cast baskets feature integrated heat sinks for higher power handling, better bass and dynamics with less power compression. They also use long-excursion, high-power 1.5-inch voice coil motors with Kapton formers, high-temp wire and more durable Nomex collars. They all use lightweight, extremely durable high-excursion Nomex spider designs delivering a longer life of flexibility and performance. According to Paradigm Nomex is 10-times stronger than industry-standard cotton-based spider material.
Lastly the Prestige crossover design includes high voltage film and bi-polar capacitors, heavy gauge inductors and superior ceramic stand-off resistors for better consistency and seamless blending.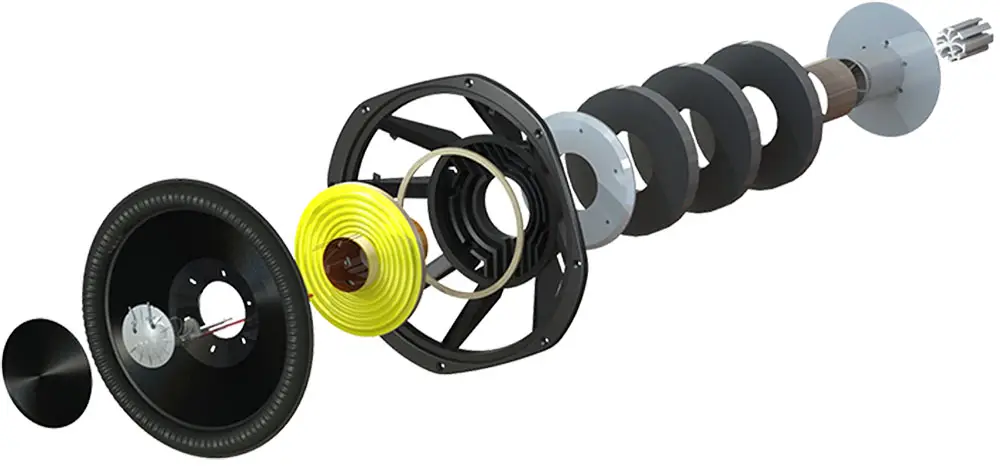 The combination of the X-PAL tweeter along with the single 8″ mid-range driver and the dual 8″ bass drivers give the 95F a frequency response of 37 Hz–20 kHz (+/-2dB) on axis with 8 ohms of nominal impedance, a very good 94 dB of sensitivity while its second-order, electro-acoustic crossover frequencies are set at 400Hz and 2.0kHz.
Connectivity
The Prestige 95F come with dual 5-way binding posts so you can bi-wire or bi-amp them for a custom, high-performance experience. The terminals connect externally with the use of high quality bridges that you can either attach or take out depending on how you plan to connect them. With the available terminals you can either use bare wires or various plugs including spades or banana plugs if that is your preference.
Performance
Unpacking was very easy and the 95F are very nicely wrapped and protected. With them weighting 68 lbs these speakers certainly need careful handling so you have to be careful when you are taking them out of their boxes. We would suggest to call a friend to help with unpacking to avoid an unpleasant surprises. There is no assembly needed as the stand comes attached to the cabinet and you only need to decide between spikes or rubber feet depending on the floor you have.
Now as far as positioning is concerned, the manual that is in the box has very detailed information from Paradigm for those not knowing how to place their speakers properly but as always these are general guidelines and each room has its own acoustics so it really depends heavily on you to try out different positions and see what you like the most. There are also diagrams on how to bi-amp or bi-wire the speakers with very easy to understand descriptions.
Due to the nature of our testing, as we always do we left about 2 feet from the back wall in order to give them slightly more breathing space. Distance between the two speakers was around 9 feet while we like to toe-in them to our viewing position for better sound imaging. Keep in mind that placing the speakers near a wall will increase its bass output while lowering its overall definition so finding the best balance is always crucial.
The Prestige 95F were relatively new with very few hours of play so we are sure that they could do even better given some necessary time. Most manufacturers do suggest between 50-70 hours of break-in time before speakers can reach their peak performance but we always suggest to wait until around 100 hours to be completely sure that what you hear is what the speakers can ultimately give you.
Now as far as our testing is concerned, for our movies we like to use a simple 4.0 channels surround system with only two front channels and a couple of surrounds and the reason for this is because we can easier determine how the front speakers can cover the omissions of a center speaker and a subwoofer. Weaknesses become more pronounced and although this would not apply to any real home theater system as almost all of them would have both a center speaker and a subwoofer we are here to determine specifically the characteristics of the two front channels and at least for us this is the best way to do so.
On the other hand when it comes to our music testing we like to go for a pure 2.0 channels system with only the two front channels as this is the way that most music purists tend to go with. Now after all necessary connections and calibrations with our Marantz AV receiver we were ready to begin.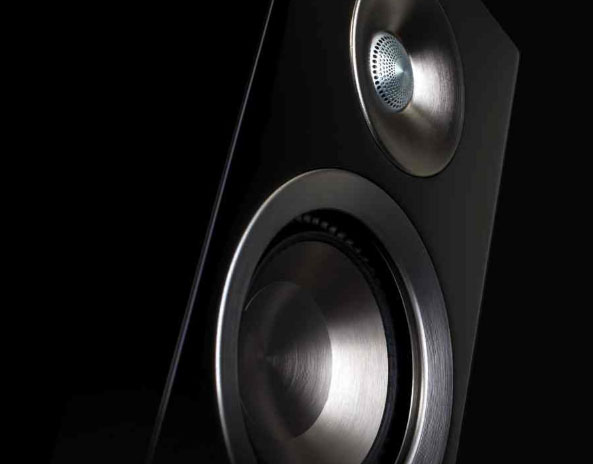 Movies
For this test we decided to try out the 4K UHD version of Independence Day: Resurgence which brings a totally flooring Dolby Atmos mix. The film may not be up to par with the first film but when it comes to its technical merits there is no denying that this is an impressive experience overall.
The film is characterized by the floor shaking low end and its breath taking panning effects so there is plenty of action to go around and test what our speakers can do. We skipped to various parts of the film as there are so many scenes that deserve mentioning so we will keep a record of our observations overall.
The 95Fs from the first action scene immediately woke up and filled the front with sound effects travelling all across our room. Depth was nice as was extension to the sides without going overboard. What was striking was the amount of details you could hear even during very action heavy scenes. The speakers have crazy clarity and top notch resolution making the soundtrack going under your skin.
The dialogue was nicely kept front and center with nice volume, good depth and enough clarity and we never had a problem hearing the actors talk even during the last part of the film that was obviously the grand set piece of the whole film and the most busy with sound effects. You really could close your eyes and never understand that the center speaker was missing. That's how good the Prestige behaved on this regard.
In terms of panning effects there were excellent transitions both to the front and from the back as the 95Fs cooperated nicely with our surround speakers. Either it was from the sides or from the back or front all sides, transitioning was to the point, with no obvious delays and no overlapping.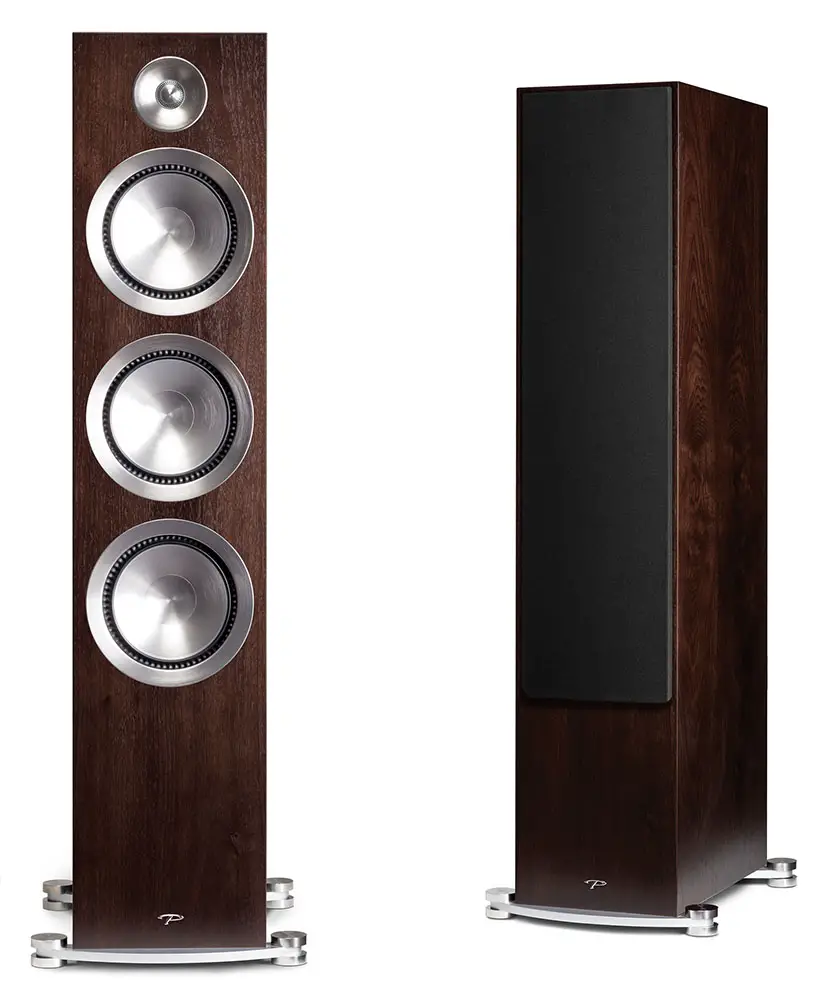 The speakers were really aggressive on the low end especially in specific scenes like when the Harvester Queen was on the move. The bass was punchy, had good authority and vigor and it never felt flat or uninspiring. You can always do great with a dedicated subwoofer and it can certainly hit deeper and with more power but the Prestige 95Fs did show us that they are very capable low end handlers also.
Now one last thing we always do before proceeding is to try out how much we can push them and oh boy did they like to go loud. No matter how much we turned the volume knob they didn't seem to be bothered by it. In fact we reached our limits far before they did and what was amazing was that there was no audible distortion coming either from the cabinet or the rear ports. Everything sounded smooth and neutral.
For our second film test we opted for an equally impressive film and that is the Matrix Revolutions in 4K UHD which also features a very capable Dolby Atmos mix.
The film has a more raw texture to it compared to the previous film we tested and the Prestige speakers were masters at keeping its tonality and unique sound signature intact. There are two grand set pieces here with the siege of Zion and obviously the showdown between Smith and Neo. Both of them grand in realization and epic in tone but with different settings and overall dynamics.
The siege of Zion revealed great panning activity and good extension as the setting allowed for the speakers to project the entire size of the city in front of our eyes. The eerie sound of the sentinels was meticulously recreated while the heavy human controlled APUs had nice weight and you could really feel their true size and bulkiness.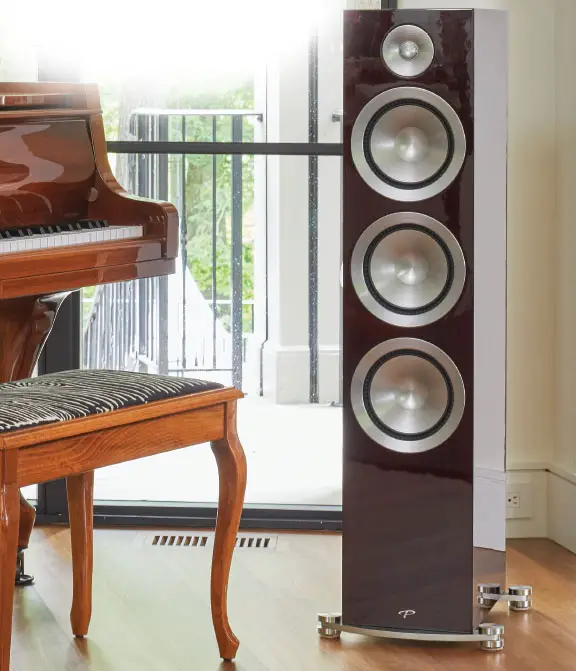 When the sentinels break through Zion's defenses and the drilling machines fall onto the city the speakers managed to provided good and punchy bass as huge explosions were erupting and debris were falling in all directions. The low end doesn't have to be all out loud to be good. It just needs to be clear with good energy and hit the lows without stumbling and the 95Fs did pretty good job in this regard. Sure a dedicated sub can do better but we are not comparing here and the Prestige are the kind of speakers that can do miracles with bass.
The last battle between Neo and Mr Smith had some nice atmospherics and ambient sounds and in combination with Don Davis spectacular music the Prestige turned an awesome result as they combined all elements with such mastery in order to portray the grandness of the moment. The speakers had no problem to follow the style of audio on screen either it was all out mayhem or needed more delicate handling. And the Prestige speakers had all that was needed to accomplice this. Very good mid-range with exciting highs and good punchy bass.
If anything the Prestige 95F is ideal for movies that have larger than life moments. They are not afraid to get ugly if the action asks for it but they also have the finesse if the moment needs it. They are excellent all-around speakers and can be a great addition to any home theater system.
Music
Last test for the day is all about music so we switched to a pure 2.0 channels audio setup with only the two front 95Fs connected and we streamed a selection of FLAC music tracks through the front USB port of our Marantz receiver.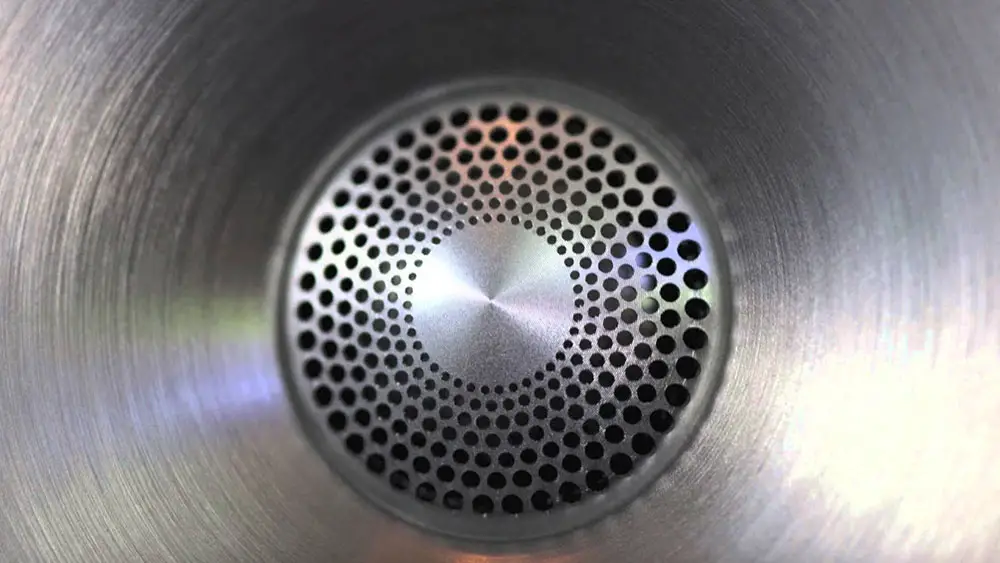 The front soundstage suddenly became alive. The speakers immediately showed what they can do with their intense accuracy and overpowering musicality. There was good extension, although not the best we have heard, but they were very transparent giving a different dimension to the whole performance. Vocals  were rendered with very high resolution transferring their ethereal energy all across our test room. The mid-range had a very pleasing neutrality to it and revealed no consistency problems.
The low end registered just as good as the rest of the frequency spectrum with the bass hitting with vigor and authority when the song asked for it. Paradigm is famous for delivering good bass in their speakers and it seems that the Prestige continue this trend. Even with more bass intensive songs the Prestige 95F never chocked or left for breath. The bass never muffled and the amount of information delivered was a feast for the ears.
As we always do, we try out various types of music including jazz, classical music, rock, heavy metal and pop just to get an idea how the speakers can do with different types of material given and to be honest we didn't find anything overall bad to talk about. Certain types were portrayed better than others and the extra clarity of the 95Fs can reveal the ugly side of some performances. The high end feels like a bit intrusive and there will be many that will dislike that but it never became overall bothering. It balanced on a fine line but it never crossed to one or the other side.
The speakers can go really loud and they can do so without loosing any clarity or intensity. They remain focused no matter how much you like to turn the volume knob and the more you push them the more they will ask.
Closing our music test what we can say is that the Prestige 95F have all the resolution, power handling and tonality any audiophile will ask for and they certainly can deliver an amazing HiFi experience to anyone serious about their music pleasure. If you pair them with some good quality amplifier these will certainly become a joy for your ears.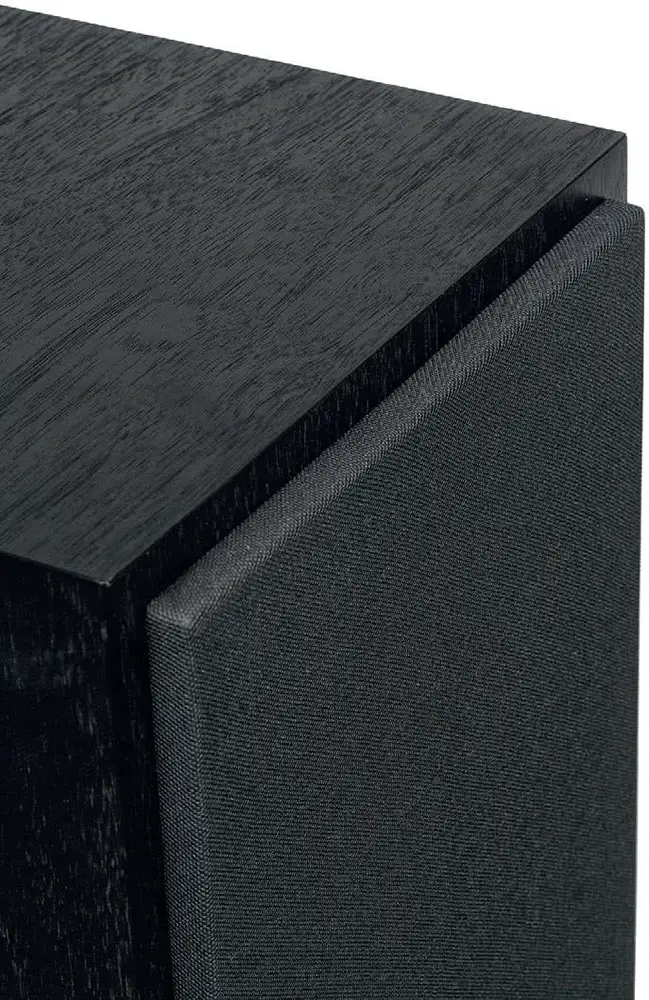 Final Thoughts
Paradigm continues to impress us with their amazing offerings and the Prestige lineup is one for the books. These may not be the kind of speakers that are destined for the wider low end market but they will have a special place in the hearts of those that seek a combination of luxury and unmatched performance combined into a hard to resist package.
The Prestige 95F are really excellent speakers. They say that first impressions is what matters the most and these speakers will certainly impress both upon first look and first audition. The cabinet design may be simple but quality is extremely high with some amazing finishes. If you include all the tech that Paradigm have stuffed in these like the Active Ridge Technology (ART), the X-PAL tweeter, the Perforated Phase-Aligning (PPA) technology and the Shock-Mount Isolation Mounting System along with all the other innovations in the cabinet and woofers the end result is nothing less than explosive.
Is there anything bad to say about such fine speakers? The high end may be slightly intrusive but we wouldn't call it to be all out bothering. It certainly bounces on the edge and many will definitely not like them for that although we never felt any real fatigue from it. Also the speakers can output so much resolution and clarity that certain types of music may not be their cup of tea. And lastly with a price close to the $5,000 mark these go slightly above what we would call a mainstream affordable speaker. But to be honest the Prestige 95F never really were meant to be that.
In the end if you are serious about you HiFi enjoyment and look for a good performing speaker set the Paradigm Prestige 95F are the perfect candidate for you. They combine beauty, top quality and unmatched engineering to offer the type of sound that will bring joy to your heart and tears to your eyes. And for that it definitely deserves an audition.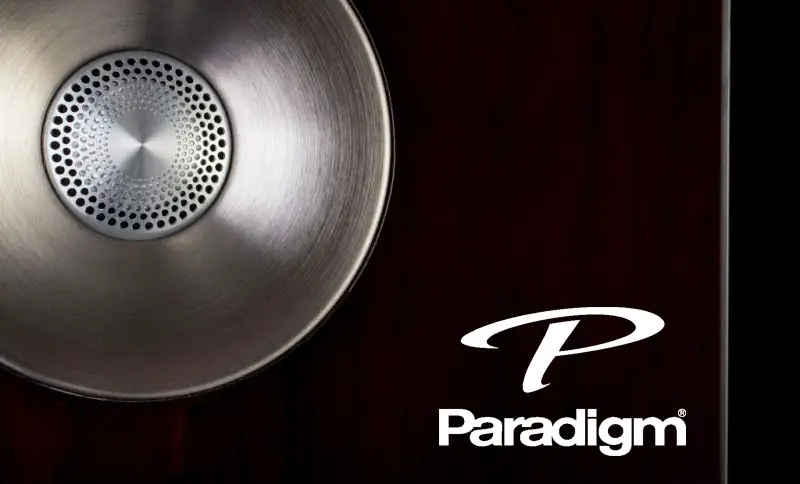 For more reviews you can check our dedicated Floorstanding Speaker reviews list or even look at our Product Reviews Table where you can find the brand and specific product you are looking for.
Also don't lose the chance to subscribe to our Newsletter and gain exclusive privileges.
---
Cheapest Places to Buy :
---
Paradigm Prestige 95F Specifications