Signature Elite ES50
Reviewed at $498.00 (pair)
Product Name: Signature Elite ES50
Product Description: Floor speaker
Design -

8.7/10

Movies Performance -

9/10

Music Performance -

9/10

Inputs and Features -

9.2/10

Price / Quality -

9.5/10
Summary
Reviewed at $498.00 (pair)
Pros
Good build quality
Solid output
Small footprint
Amazing price
Cons
Not the most expansive sound stage
Bass was lacking in certain content
Not ideal for big rooms
Only two color variations
---
Cheapest Places to Buy :
*We are a reader-supported website. When you buy through links on our site, we may earn a small affiliate commission at no extra cost to you. Home Media Entertainment does not accept money for reviews.*
---
Polk Audio may be a brand associated more with budget friendly speakers but make no mistake. Their low price does not mean bad performance and they have proved this countless times with many of the successful series they had over the years, making them a fan favorite among fans who seek good performance without breaking the bank. And so in our Polk Audio Signature Elite ES50 review today, we will be testing one of their latest floorstanding speakers and determine if it brings the same qualities we are used from the American manufacturer.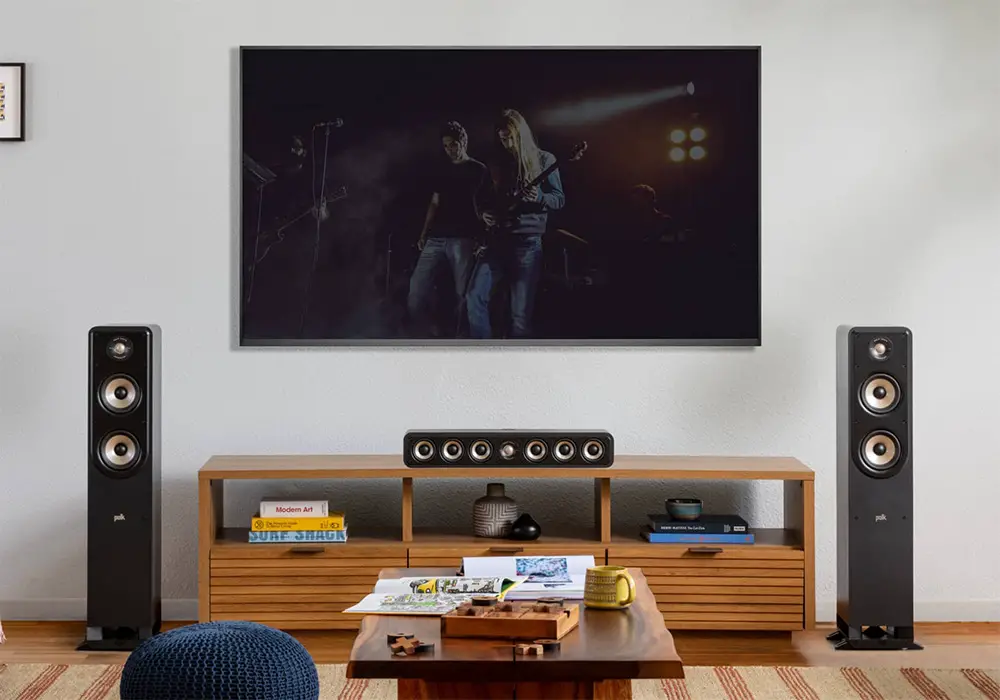 The Signature Elite series is the continuation of the highly regarded and extremely successful Signature series, from which we had tested the Polk Audio S60 some time ago, with Polk Audio offering a complete range of speakers including three floorstanders, the ES50 we have here for testing, the ES55 and the ES60, two bookshelf speakers, the ES15 and ES20, two center speakers, the ES30 and ES35 and the ES10 satellite/surround speaker. A complete series in order to shape your system the way you want exactly.
So what is the Signature Elite ES50 all about? It is a 2.5-way floorstanding speaker with a single 1″ tweeter and dual 5.25″ drivers for the mid-range and low-end frequencies. These are placed in a specially designed cabinet which uses Polk's patented Power port technology. The speakers are being sold in two colors and they are High-Res audio certified.
If the Signature Elite series can continue from where the Signature series left off then surely it is going to be an extremely popular speaker series for Polk Audio. Their price is more than affordable and if their performance can reach the usual Polk standards then this can be the perfect low cost speaker for you. So, let's start our analysis and testing to find out how good they really are.
Design, Inputs and Features
Exterior
The ES50 may not be as big of a floorstander like some other Polk Audio speakers we tested recently, talking about the R700 in particular, but they are more or less the size you should expect for their category. We measured the ES50 at 7.5″ x 37.4″ x 10.9″ (191 x 950 x 277 mm) and with a weight of just 32 lbs (14.5 kg) these are surely easy to handle speakers that can fit nicely even in small rooms and tight spaces.
The cabinet comes pre-assembled, as usual, with the feet and this is because the stand it comes on utilizes Polk's Power Port. The speakers look very much like the previous Signature series so we wouldn't blame you for mixing them up as their differences are minor and certainly do not show without a more careful inspection.
They may not look much upon first glance and especially with the grilles attached. It's the usual boxy column with rounded corners and a flat top while the grille is covering the entire front baffle. It's when we get the grille off that the speakers look far better and more pleasing to the eye.
As for the cabinet itself, Polk Audio may be a brand that is associated more with budget friendly speakers and soundbars but this doesn't mean that their build quality is low. If anything, their Reserve and Legend series has shown us that they can make some really impressive speakers and surely their more low cost lineups do benefit from this to a certain degree.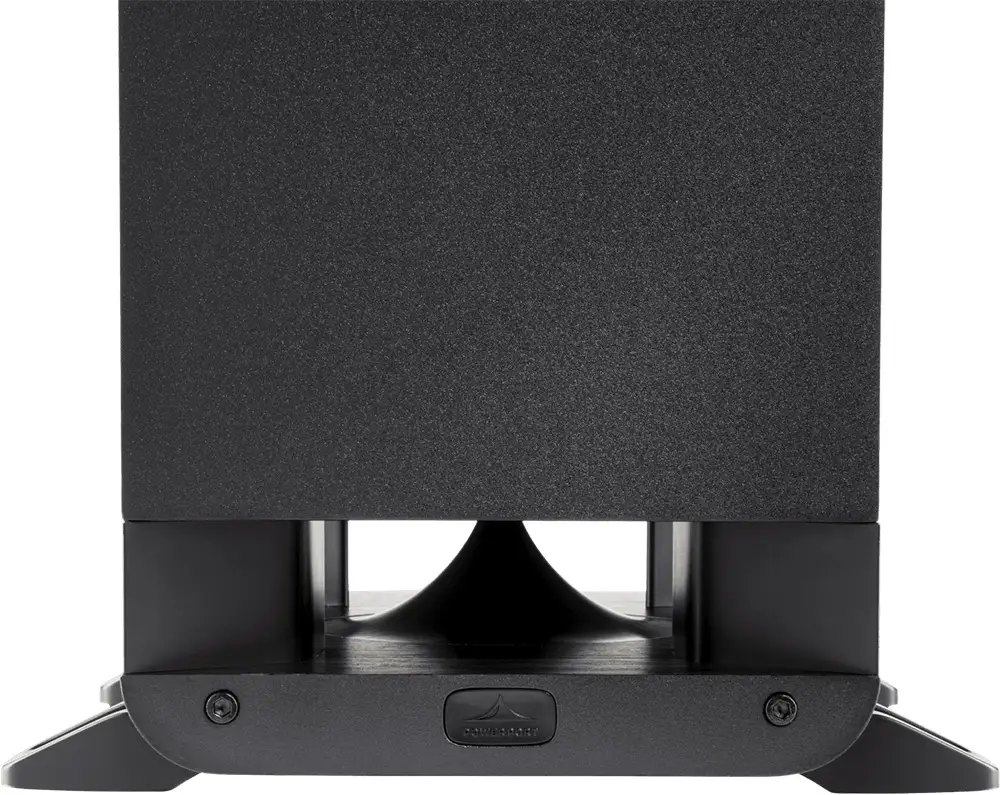 The Signature Elite ES50 features a strong, rigid and acoustically inert enclosure built with critically damped Medite MDF and laser optimized bracing that reduces internal standing waves and resonances for less coloration and distortion of the sound.
Another characteristic that we find in many Polk Audio speakers including the ES50 is the Power port. This is a Polk-patented design that smoothly transitions the airflow from the speaker's port into the listening area to eliminate turbulence and distortion for louder, deeper, more musical bass and a more open and transparent midrange. This works in parallel with the ES50's dual 5.25" woofers in order to deliver punchier and more clear bass than your usual speaker.
The speakers feature magnetic grilles, so no ugly holes on the front baffle, offering a clean overall aesthetic. In terms of colors there are two options, black and white, although strangely enough in their official website they offer only the black one. We have seen the speakers in white and they look incredibly nice so both colors fit the design of the speakers. There seems to be a third color with walnut finish but strangely enough we couldn't find this anywhere so we don't know if Polk doesn't sell this anymore or we were just unlucky.
As for the stand, this is exactly the same design we saw in the Signature series as Polk has combined the Power port and the stand into a single element. The stand is very simple which is good as it makes it less intrusive and doesn't distract from the rest of the design. The four feet extend to the sides and add slightly to the overall footprint but the ES50 are relatively small so this shouldn't pose a huge problem.

The new Signature Elite series kept the same design principles of the previous Signature speakers. This is not an entirely new speaker but to be honest it didn't have to be. Polk Audio made sure to upgrade them where it was needed and managed to make a good speaker even better.
Internal Hardware
It doesn't matter if you have a carefully crafted cabinet with an incredible design if what is used to render the sound is not capable enough. And here the ES50 does not disappoint.
The ES50 is using a 2.5-way design with a single high frequency tweeter being placed at the top of the array and two 5.25″ drivers below for the mid-range and lower end extension. Being a 2.5-way design means that, while in theory both of the 5.25″ drivers run on the same frequencies, the bottom one rolls off slightly sooner and thus manage more of the low end instead of the mid-range.
For the high end Polk again used a 1″ (2.54 cm) Terylene High-Res dome tweeter which, as the name implies, is High-Res certified, although to be honest Polk's claims of 40KHz is more of a promotional thing than anything else since the human ear cannot detect anything above the 20KHz range at best.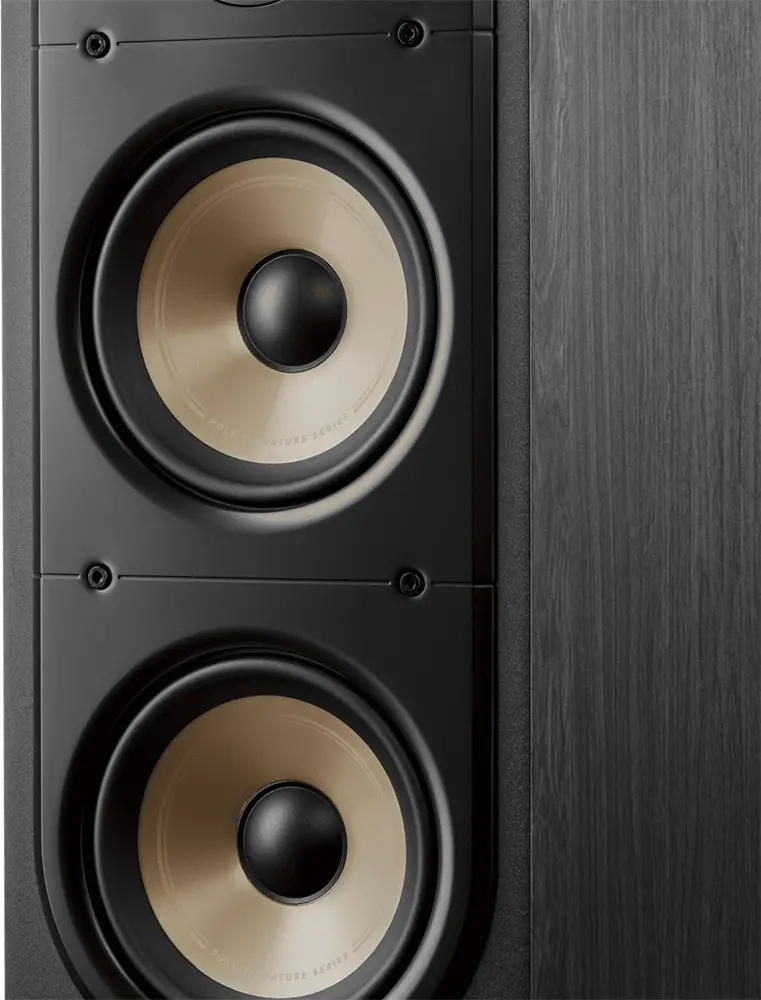 The ES50 also utilize a couple of 5.25″ (13.34 cm) Mica reinforced Polypropylene drivers. These are accompanied by butyl rubber surrounds, four-layer voice coils, massive ceramic motor structures and high-temperature Conex fiber spiders in order to provide exceptionally high efficiency, for clean, clear bass, better linearity, lower distortion and greater durability.
The combination of the Terylene dome tweeter with the two mid-range/low end drivers give the Polk Audio ES50 a frequency range of 42Hz–40 kHz with 8 ohms of nominal impedance, 89 dB of sensitivity while the crossover frequency is set at 2.5 kHz. For the ES50, Polk Audio recommends a power amplifier in the 20 – 150W range.
Connectivity
Looking at the back panel of the ES50 we find dual gold-plated 5-way binding posts. Having gold plated connectors means they can resist corrosion and oxidation better than most other simple types of connectors.
These are excellent if you want to bi-amp or bi-wire them and their quality is very good considering how low they are priced. Various types of plugs can be used like spades, banana plugs or bare wires if that is your preference so you have plenty of options to go for.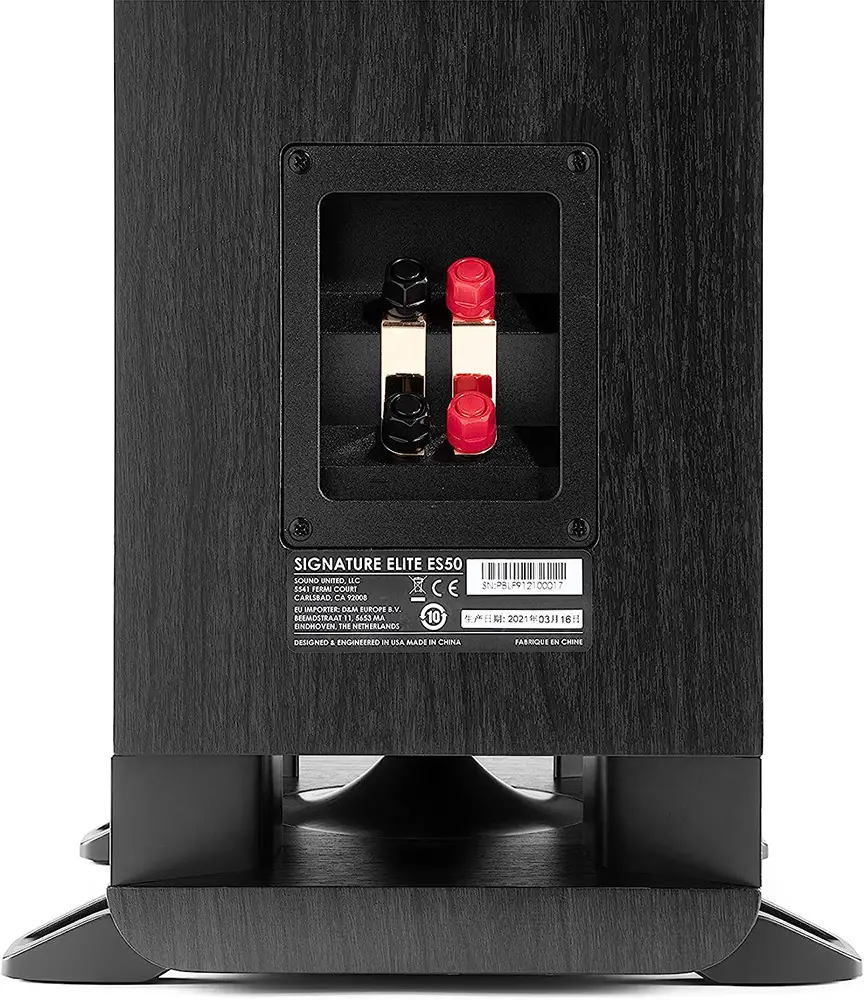 Performance
Packing had the usual Polk quality and everything was nicely wrapped to keep both the cabinet and the grille safe. The speakers don't need any assembly as the feet are already pre-installed so they are ready for use.
Positioning of the speakers is the standard affair as with all our speaker testing and as such we left around 2 feet from the back wall in order to give them slightly more breathing space. The good thing about the Signature Elite floorstanders is that the Power Port is placed at the bottom with openings in all four sides and thus makes placement not such a difficult procedure.
But even as such placing the speakers near a wall will increase its bass output while lowering its overall definition so finding the best balance is always crucial. Distance between the two speakers was around 9 feet while we like to toe-in them to our viewing position for better sound imaging.
The ES50 we had for testing were relatively new so they hadn't passed their break-in period yet. Surely after a few good hours they would behave even better but we didn't have the time for that. Most manufacturers do suggest to give them certain time, which is about 100 hours on average for most brands, so always keep this in mind when you hear a completely new set of speakers that don't sound as good as you would expect.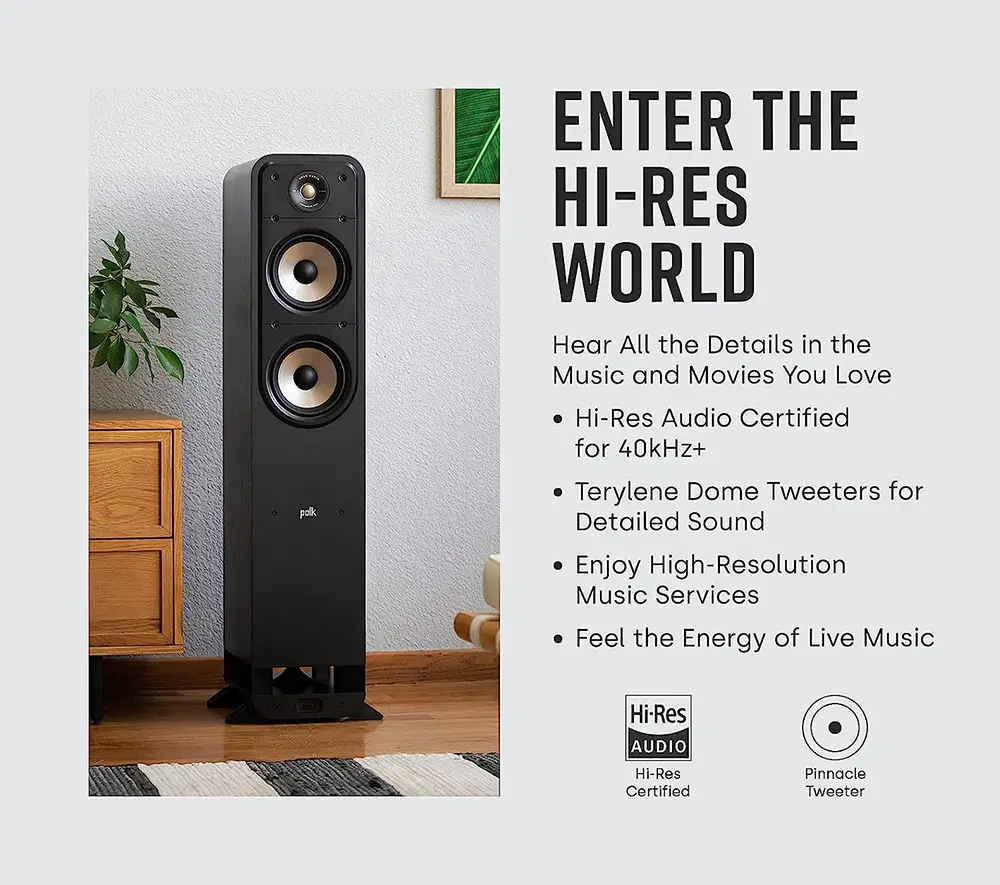 One last thing to mention here is that for our movies testing, unlike others, we tend to simply use the two front channels along with a simple pair of surround speakers for a 4.0 channels surround system. Missing a center speaker along with a subwoofer allows us to determine how much the two front channels can cover these omissions and make weaknesses more distinct. Obviously if you add a subwoofer along with a center speaker the overall immersion will increase a lot compared to what we will experience here. So keep this in mind when you read our reviews.
As for our music testing we always opt to go for a standard 2.0 channels audio setup that most music purists tend to go with. So without further delay, and after finishing the necessary audio calibrations with our Marantz AV receiver, we moved on with our tests.
Movies
For this review we opted to try Guardians of the Galaxy Vol.2 in 4K UHD which features an excellent Dolby Atmos mix.
Guardians of the Galaxy need no introduction and the sequel's audio mix features all the same traits of what made the original such a recognizable performance. The Dolby Atmos mix makes sure to keep these traits intact but at the same time expand on the film's grand scenery and over the top action.

Overall the ES50s handled the material extremely well, all things considered. The speakers knew how to render the audio in high resolution and with nice attention to details. The sound wall in front of us had good expansion, even if it lacked a bit compared to some bigger floorstanders we had tested before.
Transitions between the highs and the lows were done very smoothly, there were no audible gaps at least to our ears and they had very well balanced mids that kept the whole performance together without any excessive behavior.
Although we were missing a center channel the speakers did a really good job at filling that particular space, even though the dialog was missing slightly in clarity and definition. Surely a center speaker can do much better but even without one we cannot say we were disappointed. All voices were kept front and center with good focus that was marginally lost but never bothered us to the point of actively seeking to add another speaker there.
As for the bass, obviously when it comes to heavy action filled sequencies the ES50s do a valiant job to dig deep on the lower registers and some times they did succeed while there were moments they slightly failed, making the overall output feel a bit uninspiring.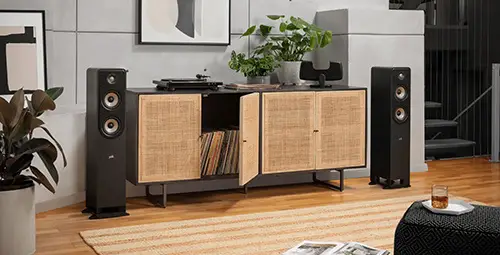 This comes as a no surprise really, if you really want the best cinematic immersion a dedicated subwoofer is a must even if you would choose bigger speakers than these, so what the ES50 can do can be considered the standard you should expect from a speaker of this size. But for casual viewing or if you are not particularly bass hungry we believe that their performance may even surprise you in the end.
Finally, we could not finish this review without trying a bit of Lord of the Rings and what better scene to go for than the Siege of Helm's Deep in Two Towers which again comes with a reference level Dolby Atmos mix.
Again the speakers showed all the same traits we heard during our previous test. Although the Lord of the Rings mix is a bit more dialog driven, and its orchestrated music was a little more heavy on the ear compared to the playful track that the Guardians had, it managed to nicely envelope the rest of the audio output and the ES50s did a really impressive job at keeping all the little details of the track intact.
The sense of directionality was good, considering the half-baked system we were using, and this showed us how capable the front speakers were at covering the missing center channel which again its absence was not so obvious. Dialog did better here but some panning effects would lose some of their definition in the middle space, but again this was very subtle and in no way did this make the whole performance less exciting.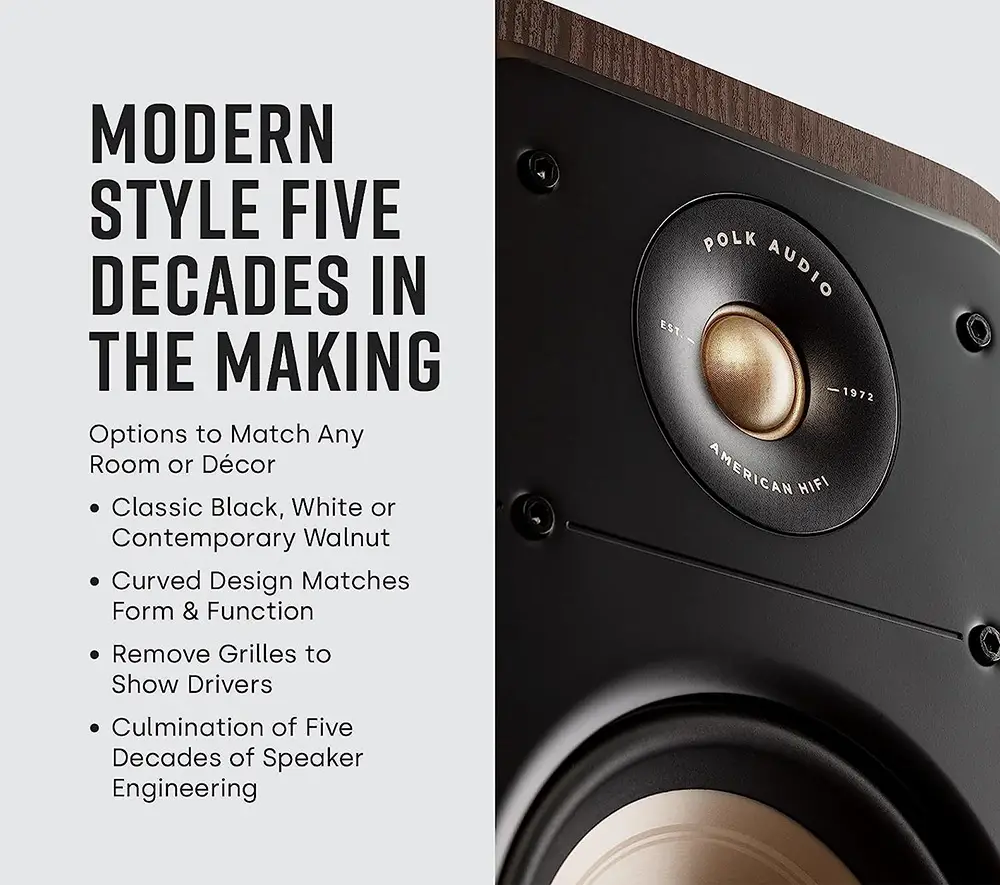 The ES50 are great speakers for their size and do play by their strengths. Yes, their low end output may not be heart pounding and their sound stage may lack a bit compared to bigger floorstanders but considering their size and price, if you are looking for a speaker of this caliber for your cinematic pleasure then we can definitely suggest these to you. Polk has created a lovely small floorstander in the ES50 and will surely offer you more than what its price might suggest.
Music
Last test of the day is all about music so we switched to a pure 2.0 channels audio setup with only the two front speakers connected and we streamed a selection of FLAC music tracks through the front USB port of our Marantz receiver.
The Signature Elite series are High-Res certified speakers but as we said above this doesn't mean a lot as the 40KHz claim from Polk mean almost nothing in real world content since the human ear cannot reach that high anyway. But nevertheless the Signature series was also a particularly good performer with music and the Signature Elite seems to continue for where its predecessor stopped.
The front sound stage was bold and with enough energy flowing for such a small speaker while the ES50 knew how to keep the rhythm going without missing a single bit. Sound imaging was good but they lacked a bit in definition, again nothing serious or to the point of ruining the final outcome but surely it was a step lower than some more expensive offerings.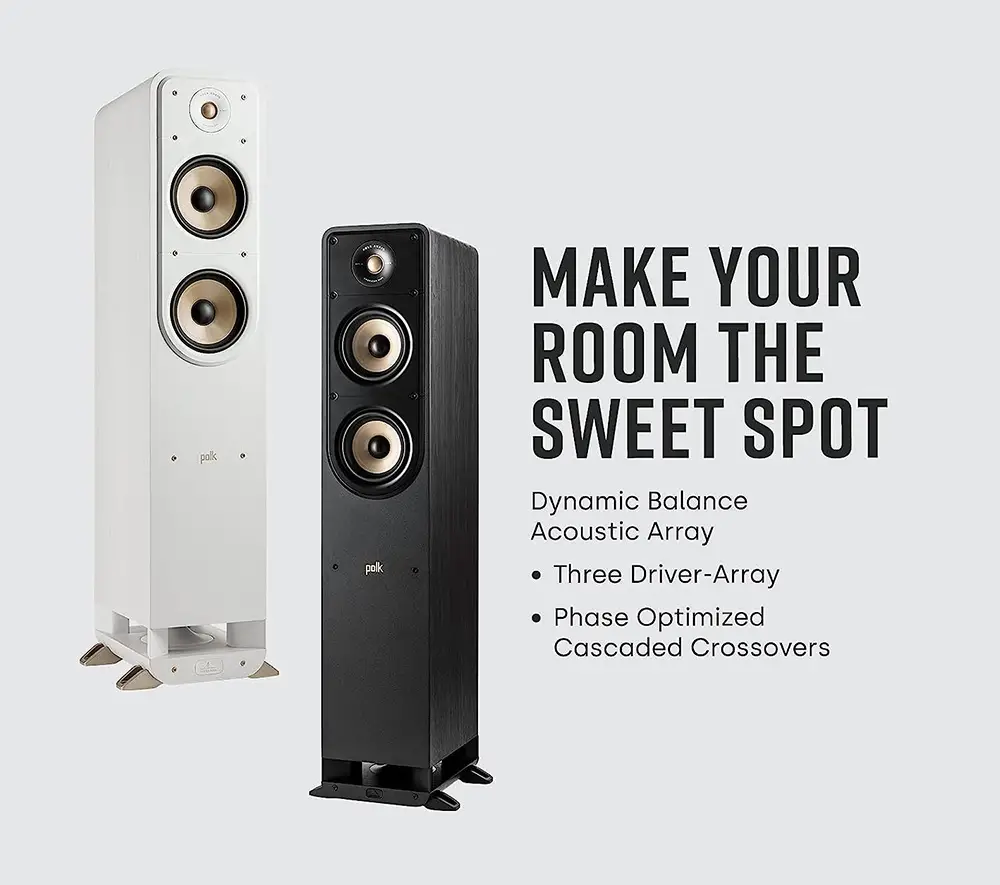 We felt that the ES50 are very well balanced and they didn't show any instability or lost their cohesion even with more delicate bits. Obviously they have certain limits and with some extremely demanding performances they would stumble slightly but we believe they did remarkably well for their category.
The bass was once again a two sided coin. There were moments where we liked its output, it was bold, nicely articulated, with enough power and good vibrancy while some other times it lacked slightly in definition and power which resulted in a what we would describe as a flat output. Was this a big problem? Of course not, and only if you are extremely picky it is going to bother you but then, if you are so much into the details you shouldn't go for such a cheap speaker to begin with.
As always we tried a few different genres to get a feeling of how the speakers do in different situations and what we heard was a really stable performance across the board when used in normal to high volume and with most material we tried. These are very well all-around speakers and will serve you nicely no matter what.
Closing we can assure you that the ES50 are the kind of speakers that will surely offer you a very pleasant musical experience. They may not be the kind of speakers that will drop your jaw on the floor but they were not designed for this. They did equally good with music as they did with movies and this showed us that Polk designed a speaker that may have specific weaknesses but when looking at the whole picture they offer much more than what you may initially believe. And music is no different here.

Final Thoughts
Although we have heard many opinions on their previous Signature lineup, both good and bad, the general consensus was that these were very easy going and good performing speakers for their price. And it seems that Polk Audio was determined to continue this with their updated series. The Signature Elite ES50 may not have broken any new records but Polk seems to have kept all the core elements its predecessor had and made some focused changes for the better.
The ES50 keeps almost the same design of the previous series which is lovely and with nice round lines makes them slightly better than many boxy speakers we have seen these past years. Quality wise we certainly liked what we heard from such a compact floorstander and while it surely had its fare share of limitations it managed to entertain us to the point that we almost never thought of its weaknesses.
On the other side, if you crave for bass then probably a dedicated subwoofer should definitely be on your list as the ES50 can do so much with the hardware it has. When we tested music we felt that the speakers could not handle properly some more demanding performances while obviously these are not meant for very large spaces. Lastly with only two colors available you may find it hard to choose which one fits your area perfectly.
If you were previously thinking of getting Polk's Signature series but you were undecided then surely the new Signature Elite will make you think again. The new ES50 may not be a completely new speaker but has certain upgrades that are on the right direction. And if you consider that Polk is aggressively discounting these to just $498 for a pair then there is nothing that should hold you from purchasing them for your media system, as in this price you can hardly find anything closely to the same performance as these. Highly recommended.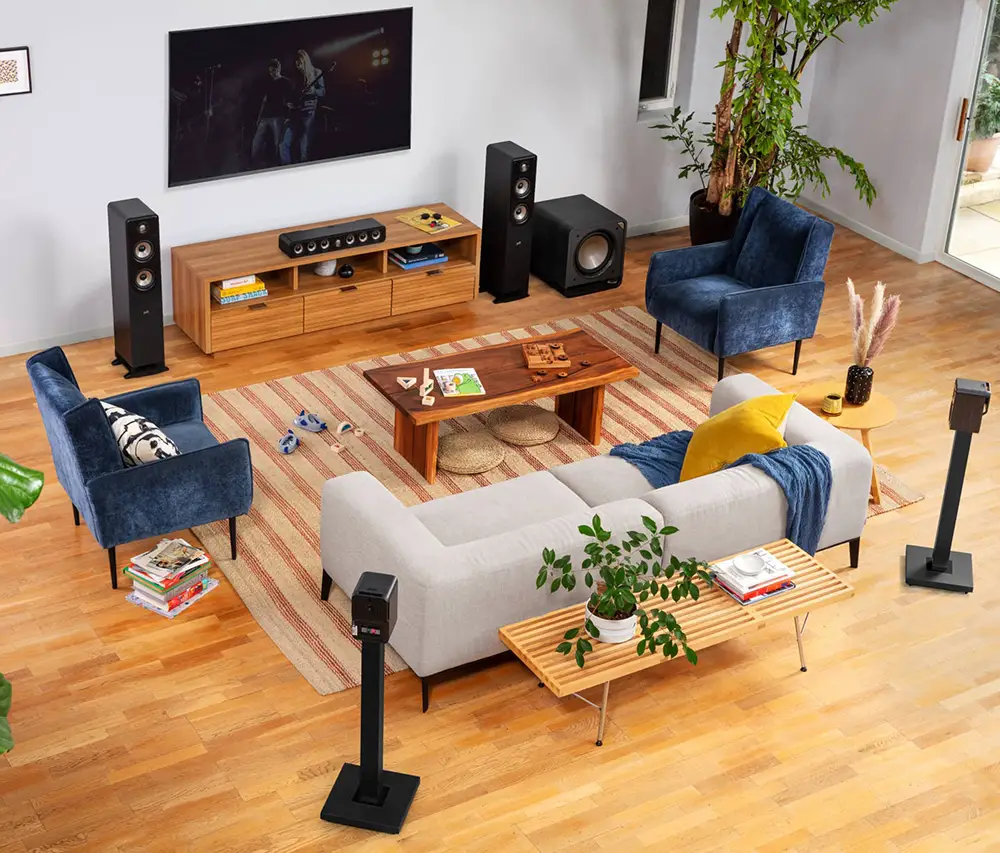 For more reviews you can check our dedicated Floorstanding Speaker reviews list or even look at our Product Reviews Table where you can find the brand and specific product you are looking for.
---
Cheapest Places to Buy :
*We are a reader-supported website. When you buy through links on our site, we may earn a small affiliate commission at no extra cost to you. Home Media Entertainment does not accept money for reviews.*
---
Polk Audio Signature Elite ES50 Specifications