Sony A9F (US) - AF9 (Europe)
Design -

92%

Video Quality -

94%

Inputs and Ports -

94%

OS, Apps and Features -

88%

Price / Quality -

90%
---
Cheapest Places to Buy :
---
The Master Series in the new top of the line TV models Sony created for the second half of 2018 with two models being introduced at first. The Z9F LCD TV which was the successor of the highly successful Z9D TV as well as the AF9 OLED which is supposed to replace the previous year's A8F OLED. Both models feature new tech at least as far as silicon is concerned with them being equipped with the new X1 Ultimate processor compared to last year's X1 Extreme variant. Sony heavily marketed these models as being as close as possible to their Studio OLED monitors in terms of picture quality and colors accuracy and being true to the "creator's intent". But all these claims come also with a hefty price so they must offer something great if they want consumers to fall for them.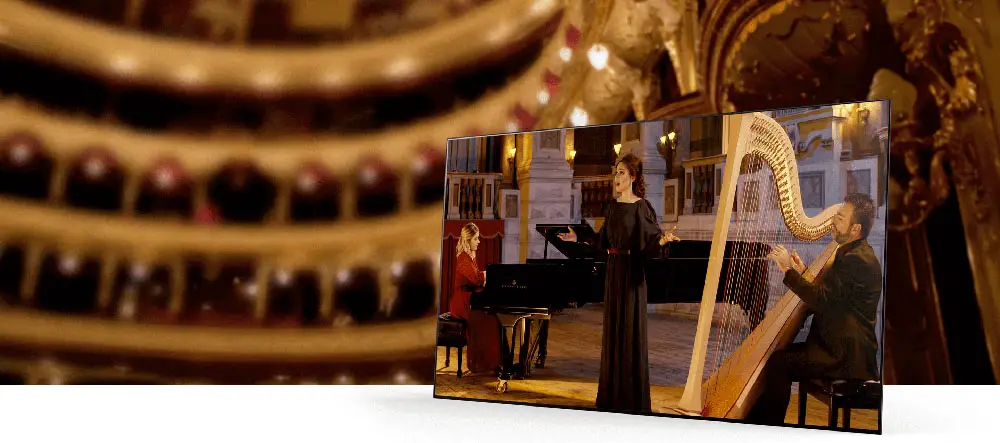 As for the Z9F we published our review a month before and you can find it HERE featuring some amazing specs but ultimately failing to impress us as much as the previous Z9D model did especially considering the price it was offered at the time of writing our review. So now it was the time for the OLED variant of the Master Series to put to the test and see what it has to offer compared to the already great A8F. Is it a worthy upgrade and does the price difference of the two models, almost $1K at the time of the review, justify the purchase of the new model? Continue reading our Sony A9F review to find out.
Design
When you first see the A9F the first reaction is how similar it looks compared to the no discontinued A1 OLED model that uses a similar stand. Having a foldable pedestal stand to keep the TV vertical as well as housing all the electronics and connections is definitely a unique design and one that you may like it or you may not. Having such a unique stand means that the panel leans back slightly in order to keep it in balance and this may be a bit distracting for some but in general we didn't find it bothersome and after a few minutes you will not even pay attention to it.
The front of the A9F comes with a bezel-free panel that has a very thin gunmetal brushed frame around the three sides while on the bottom there is a dark brushed metal strip, approximately 10mm thick, with the Sony logo on the left and the power led dead center.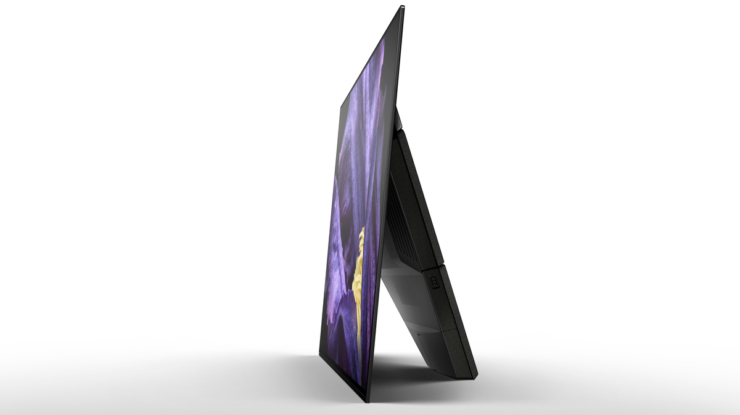 At the back the foldable pedestal adds a bit more thickness to the TV compared to other OLED models but the difference is not so big to make it such a big deal. Wall mounting is one option you have while if you want to place it on a furniture there is an additional metal segment that you add in the pedestal in order to make the TV more stable. The back of the pedestal, which has a somewhat triangular shape, hides most of the connectors with all of them looking downwards while there are a few in both sides also. All connectors can be hidden with panels in order to create a more clean and streamlined design.
One unique feature of the A9F is in it's audio system called Acoustic Surface Audio+ which is an upgraded version of the audio system included in the A8F model. We will analyze this in more detail in our audio section but in a few words what this does is that uses the whole panel's vibrations to create sound and thus feels like sound comes from the panel itself. A very intriguing and interesting design to be honest.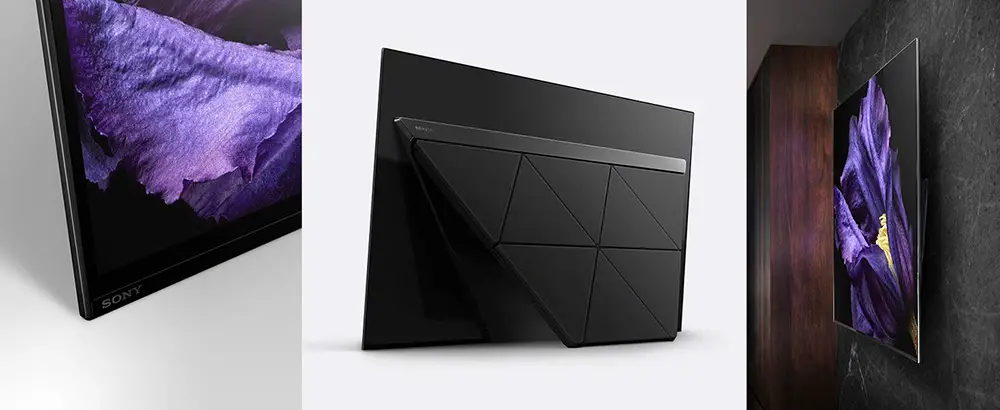 Build quality in general is great and we are pleased to see Sony use premium materials for it's flagship model. The panel although very thin is very well constructed while the foldable pedestal has been very well designed to accommodate everything from electronics, connections and audio system. Quality here is high and as it should be for such a top tier TV model.
And even though so good words can be said about the main body of the TV we cannot say we feel the same about the remote which is exactly the same being offered as in the A8F model. In our A8F review we wrote how bad we thought it's design was in this day and age and this was for last year's model. Imagine our disappointment when we realized that we get exactly the same for this year also! Spending so much money for such a top quality TV only to have such a bad remote is a travesty in itself and it seems that Sony doesn't care at all in offering not only the best quality possible but an easy means for the user to use all this tech.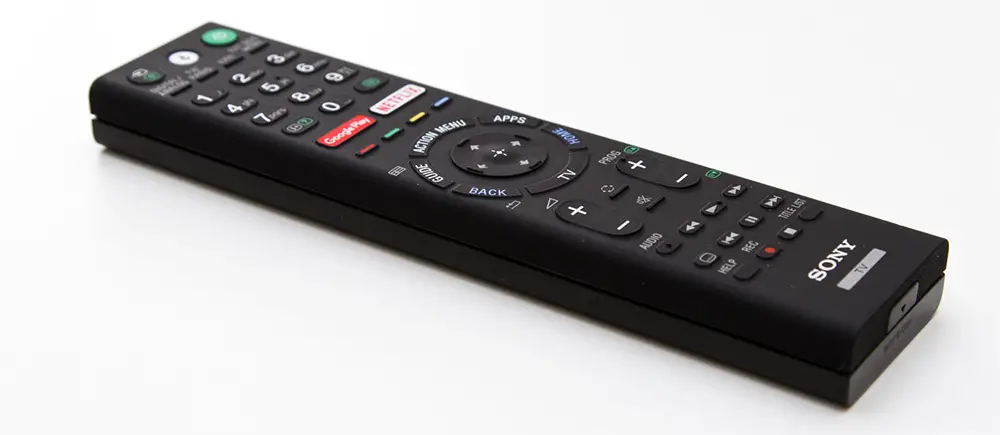 The remote is a simple black brick of plastic cluttered with rubber buttons and it feels like it belongs in a 10 years old TV model. Samsung and LG are years ahead with their smart remotes and when we see Sony's offering we can only think of cost cutting otherwise there would be no reason to have such a marvelous TV with such a low quality remote. Sony disappointed us last year with this remote and they continue to do so once again.
In general the design and build quality are amazing and as it should be with such a model and in this price range. The A9F is an amazingly looking TV and even though the design is not for everyone it is definitely unique. The audio system also is a level above any traditional TV audio system and you feel like the sound comes from the screen itself. The only part that doesn't belong to the whole picture is the bad remote which looks old and hard to use in this day and age where remotes reduce their buttons and make everything simpler for the user.
Video Quality
The TV comes with 5 picture modes with them being Vivid, Standard, Game, Cinema and a Custom mode. From all these modes we would only suggest using two of them with Game mode for the obvious reasons as it switches off most processing in order to achieve low input lag and Custom mode which was made to bring the image as close as possible to what Sony claims this Master Series was created for. To reproduce the image quality that the creators intended and that being as close as possible to the X300 OLED mastering monitors used in studios.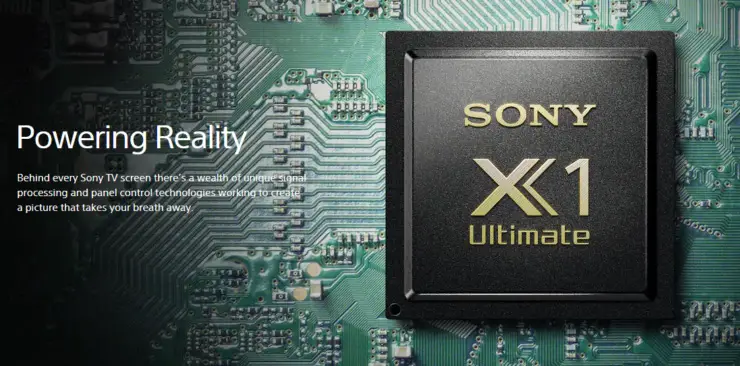 The A9F comes equipped with new Silicone from Sony called the X1 Ultimate Processor and claims to be even more efficient than the previous incarnation called the X1 Extreme. Converting SD and HD content to 4K resolution is done amazingly and the processor is good enough at removing noise giving a very sharp picture that depends of course very much on the original content. We tried some Blu-ray discs with 1080p resolution and the image was crystal clear with almost no visible noise or artifacts from the upscaling.
The X1 Ultimate chip also brings a couple of intelligent processing modes called Object-based HDR remaster and Object-based Super Resolution. The first one instead of only adjusting contrast along one black-to-white contrast curve, it analyzes the color in individual objects on screen and adjusts the contrast individually. The second feature auto-detects objects on screen and individually enhances their resolution. Both these features work together in order to bring amazing results with lifelike colors and breathtaking detail. These features wouldn't be possible without the power of the new processor and show that Sony went on great lengths to create silicone that would be capable to handle these.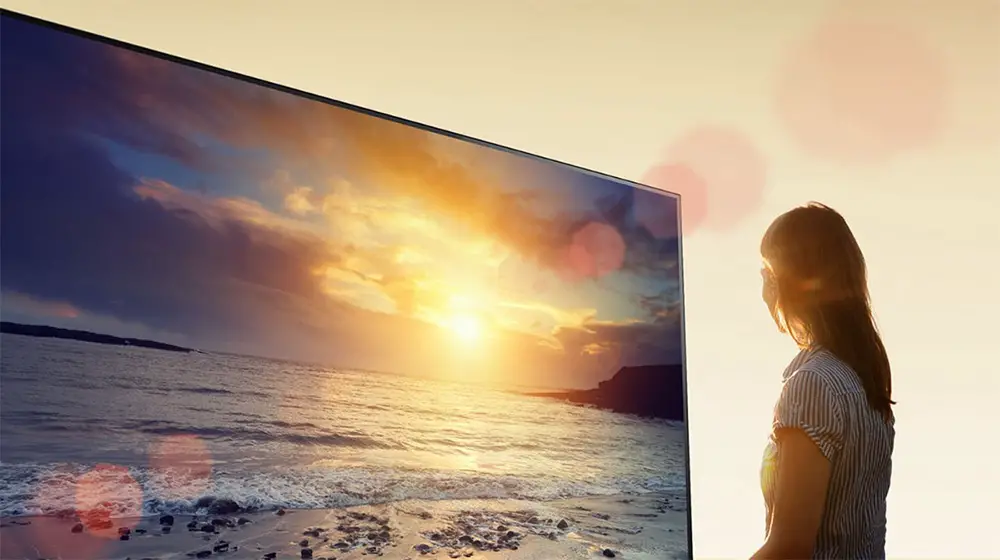 Testing peak brightness is where the A9F left us a bit disappointed. In HDR with a 10% white window we measured 700 nits which is a bit lower than the 750 nits of the A8F thus making the A9F fall a bit behind the competition and in comparison it feels a little more dim compared to some other models. Brightness is not bad but we were expecting at least some improvement here but unfortunately there is none.
Panel uniformity is very good as the A9F is using a 2018 OLED panel from LG and issues like DSE are practically non existent. Viewing angles are amazing as this is a characteristic of OLED technology and you will have no problem watching the TV from extreme angles. As for Image Retention there are a few features that the A9F has to help minimize the risk. One of them is moving the image around by a pixel to keep them updated or performing a clean up process during stand-by. Lastly there is an automatic dimming function during static images that reduces brightness around 30% during a time period that lasts around 1 to 2 minutes. When the image refreshes brightness peaks again before the algorithm kicks in once more when another static element is detected.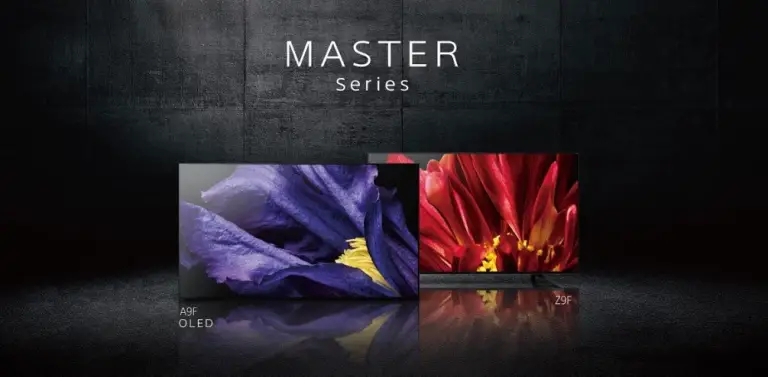 Having an OLED panel only means we get stunning black levels and contrast performance with pure whites and perfect blacks being side by side without the dreaded halo effect we get in most FALD LCD panels. We have been looking into OLED for some time now but this clarity between the two opposite colors still manages to amaze us.
The Sony A9F supports the same HDR protocols as the other model in the Master series which are HDR10 that is required for UHD playback, HLG which is for streaming content and the more advanced Dolby Vision that supports dynamic metadata. Unfortunately there is no HDR10+ and we are not sure if there will be any in the future as this is a Samsung protocol aimed to rival Dolby Vision.
Here we would like to mention two things that we observed during testing and has to do specifically with Dolby Vision. First of all using an LG UHD player failed to trigger Dolby Vision on the A9F so there seems to be some incompatibility between the two. Using any other UHD player DV triggered normally as it should. The other has to do with Dolby Vision in the internal Netflix app which appears darker with crushing blacks compared to using an external Netflix app. These are two problems that Sony should look into fixing as they essentially affect image performance something unacceptable for such a high quality device.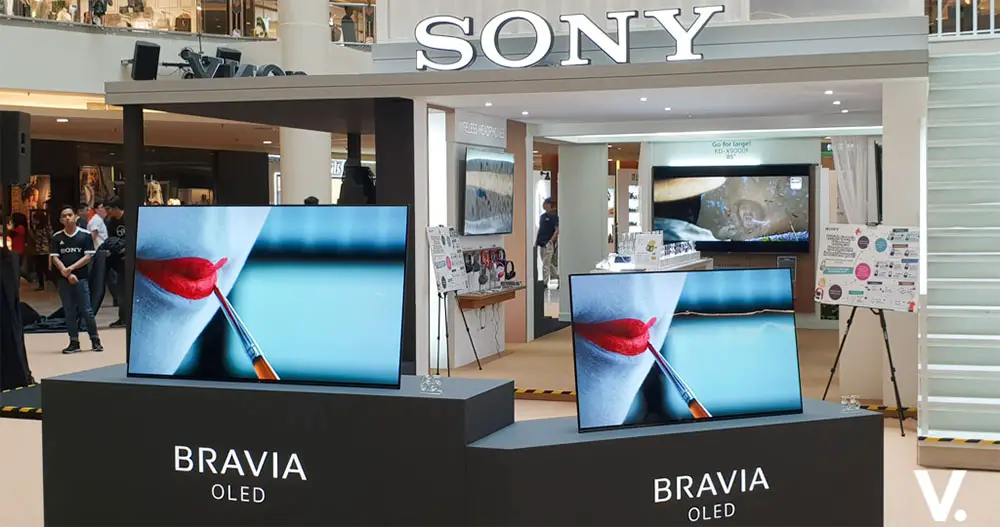 This TV also has exceptional color reproduction with the A9F supporting Wide Color Gamut. Our measurements showed that it covers around 98% of the DCI-P3 color space and 74% of the REC.2020 color space. According to these numbers we would say that the A9F is just slightly better than the A8F by improving a little bit the color coverage of the DCI-P3 range. Very good overall even if improvements are marginal.
Sony always had a reputation when it comes to motion performance on their TVs and this trend continues here. Employing what they call Motionflow XR, it basically inserts a frame in between two frames in order to create a more smooth result. As we have pointed out before these systems are good but mostly when used in low settings as upping to higher levels can create the famous Soap Opera Effect (SOE). Another feature is Black Frame Insertion (BFI) which inserts a black frame between two image frames in order to smooth motion. This is a good feature but has 2 side effects. It lowers brightness and some people may notice some flickering. In the end it's good to try all these features for yourself and determine if you like them or not.
For your gaming sessions the A9F proved to be a very good option as with the Game mode on we measured the Input Lag going as low as 28ms which is very good even if not the best we have seen. A few other TVs have managed even lower lag than this but in general we would say that an Input Lag as low as this will be mostly undetectable and responses are instant without any visible delay.
Before closing there are a couple of more features we would like to mention that Sony included to the A9F. One of them is the "Netflix Calibrated" option and what this basically does is that when you are watching Netflix content the TV enters into a special mode with video settings supposedly calibrated for it. This setting can only be turned on from inside the app or keep it off if you don't like it. The second feature that Sony added is support for auto-calibration via the CalMAN software which is an advanced feature for professional calibrators and not to be used by casual users.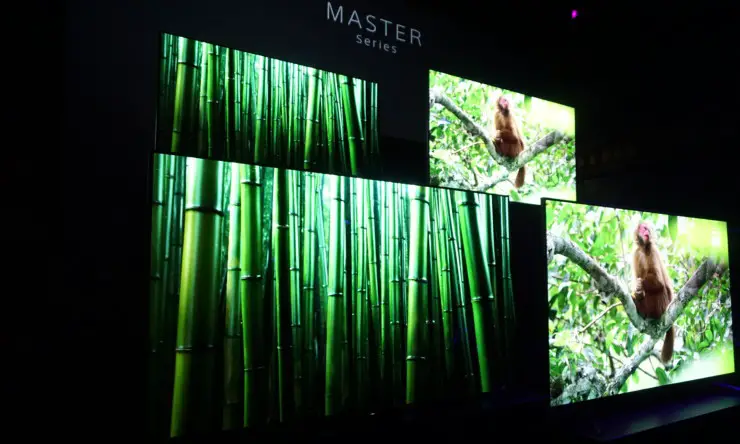 In total although image performance was great we were expecting a bit more from this "Master Series".  There are improvements across the board with the only exception being the peak brightness. The new X1 Ultimate processor is an amazing piece of silicone producing amazing results while OLED technology never stops to amaze us. Very sharp image, good HDR, very accurate color reproduction, great motion performance and upscaling that is as good as it can get are the main points of these TV. It's just that improvements feel very small compared to the already very good A8F and in this price the A9F feels like it will have a hard time to convince consumers when there are less expensive alternatives.
Audio Quality
As we mentioned above the A9F comes with the improved audio system called Acoustic Surface Audio+. What this system does is that it uses 3 actuators on the back of the screen which vibrate thus creating sound. What is better in this upgraded system is that Sony added a third actuator in the middle compared to the A8F having only 2 while the two subwoofers are firing sideways with Sony claiming that this helps with sound reproduction especially if you wall mount the TV.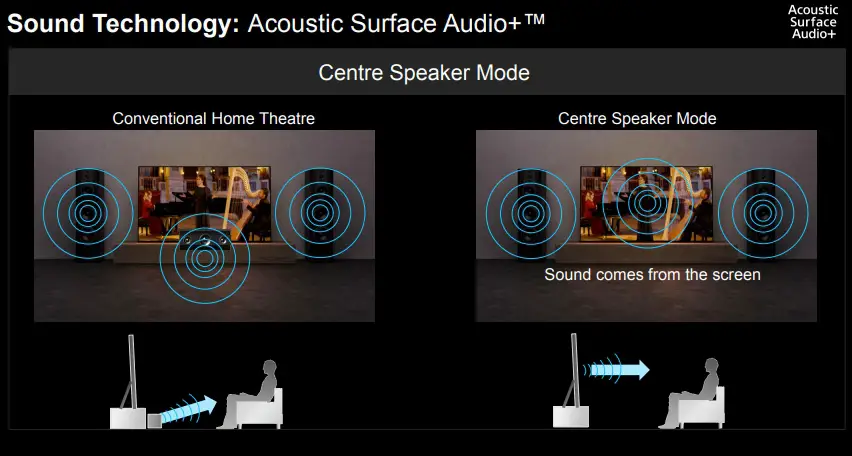 It's a unique system that must be heard in order to understand the difference between it and a standard TV audio design. The result is way better and we could admit that it can be as good as any dedicated soundbar but it can never compete with a true dedicated surround system. If you are serious about it and you have the budget for such a TV then our definite recommendation will be to buy a separate surround system to do this TV real justice.
Inputs
Let's talk about the connections on offer now. As we said earlier all connection ports are placed on the foldable pedestal on the back of the TV. Most of them look downwards while there are a few on the sides of it also. Having no connections looking outwards is a great improvement in Sony models as this helps a lot if you are planning to wall mount the TV. It may not be as good as Samsung's One Connect Box but it is the next best thing as having the ports on the TV body doesn't leave a lot of options in the first place.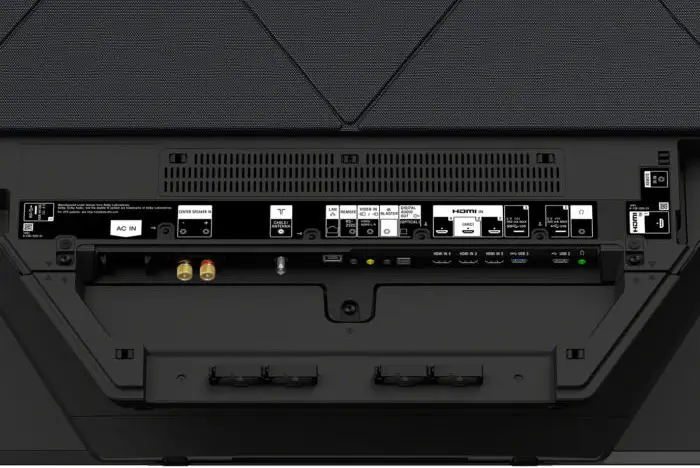 First of all let's see what ports we have in the group that looks downwards. Here we have 3 HDMI inputs with all of them being v2.0b/HDCP 2.3 compatible while HDMI 3 also supports eARC/ARC. There is also one USB 2.0 and one USB 3.0 port for connecting external storage devices and flash drives. We also get a headphones jack, an Ethernet port for wired connection to the internet, an RS-232C port, one composite AV slot, one IR blaster port, one digital audio out port (optical) as well as the antenna/cable port. Unique to this model is the center speaker input that you can use to connect the center channel of an AV receiver in order to use the TV panel as the dialogue center channel.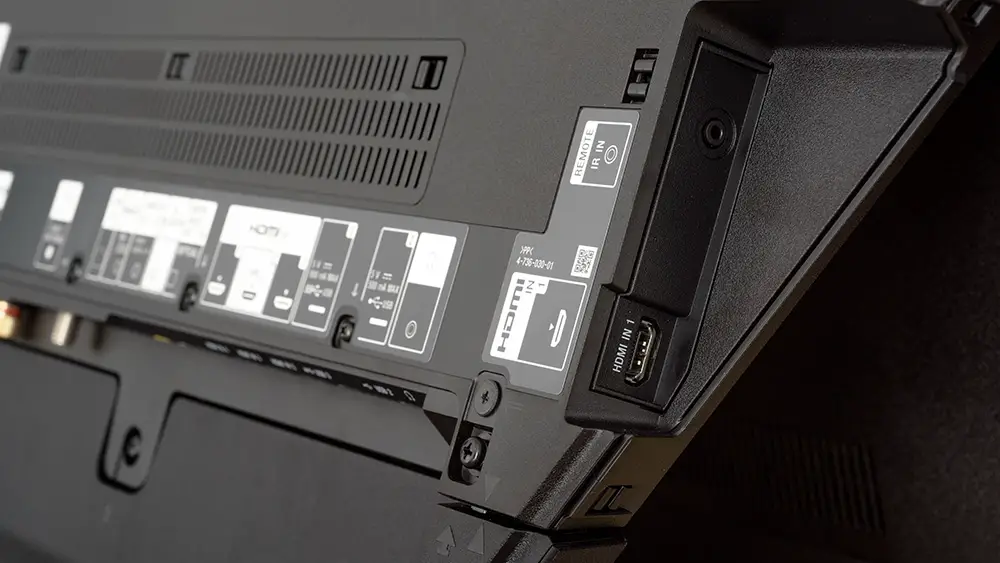 In the right side we get another HDMI input as well as a remote IR input while on the left side we get another USB 2.0 port and these conclude out list of ports on offer. In total we are very pleased with what we found here. The amount of ports are enough for any kind of setup, it includes USB 3.0 which should be a given nowadays, all ports look either to the sides or downwards which help in case of wall mounting while there is added support for eARC which is a HDMI 2.1 feature and grands the A9F the ability to pass lossless Dolby Atmos and DTS:X audio tracks via its eARC HDMI to external sound systems which may come in handy with cable connections.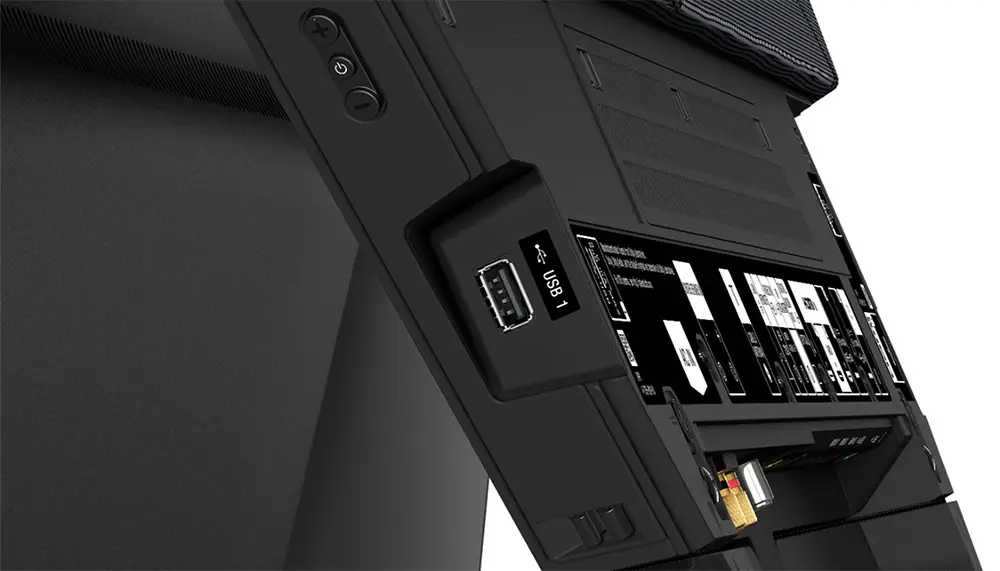 OS, Apps and Features
The Sony A9F is using the new Android Oreo smart TV platform that is a generally good update over the previous Android 7.0 platform. Our first experience with this new platform was during our review of the other Master Series model, the Sony Z9F, and although we were a bit cautious at first of how much better our experience would be compared to previous incarnations of the Android system we were pleasantly surprised by the improvements Android 8.0 had and how much an easier experience it has become.
It still is not as good as Tizen or WebOS but with every year we see significant improvements so if Google continues like this it won't be long before they reach the same quality. But for the time being they continue doing catch up. The layout has clearly been improved being more easy to navigate and feeling much more refined than before. Handling of core TV functions like features and various settings is better and although in previous versions options were on the bottom here they are moved on top. Oreo allows to customize the apps you want to use the most in a row and there is a dedicated one for that purpose. These rows are called channels and although many apps support this integration we found out that some don't, like Amazon Prime.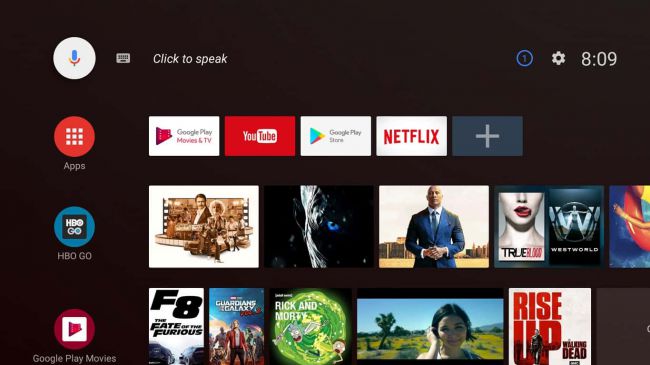 A big problem of the Android platform was that it had a hard time suggesting relevant content to what the users wanted to see. Video content priority has improved a lot compared to useless app suggestions while performance is also improved with sluggishness having reduced to a minimum. It seems that the new MediaTek Soc being used has a lot to do with these improvements and in addition to the Android OS updates have resulted in a more smooth and refined navigation experience.
Naturally with Android we get a huge list of supported apps and features and many more that you can download from the Google Play store. Some of the video streaming apps included are Amazon Video, Netflix, Google Play TV & Movies, Hulu, YouTube and Sling TV while there is a plethora of music streaming services also like Pandora, Spotify, Google Play Music, Tidal, iHeartRadio among others. With Amazon Video and Netflix there is support for 4K resolution streaming along with HDR and Dolby Vision while the Youtube app supports 4K resolution but not HDR unfortunately. The apps we mentioned is only a fraction of what you can use in the Android system and it shows the huge support it has from the developers.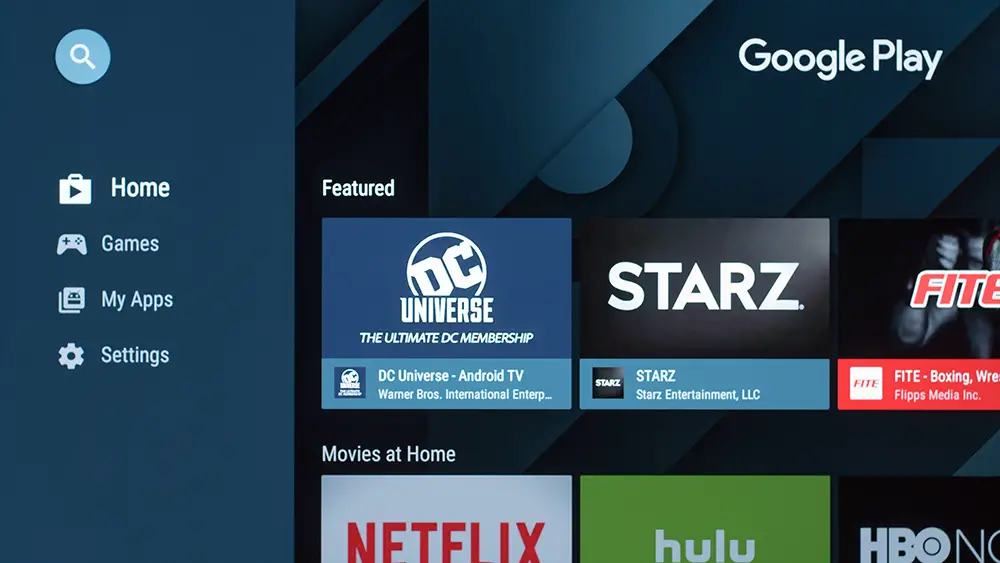 The TV also has built-in Chromecast functionality with which you can stream all your favorite content from your laptop, smartphone or tablet as well as run Chromecast-enabled apps on the TV. Another feature is voice command and control and the A9F is equipped with Google Assistant as well as Alexa support if you have an Alexa enabled device. This way you can issue commands to the TV as well as search for apps and video or music content to your liking. We may not be very fond of a complete hands-free control system but during our testing we found it very good and the system was responsive in gaving us very relative results during searching.
The Sony A9F also has a very capable media player and you can stream video and music files through the USB ports. We tried a selection of different video, audio files and containers and it seems the TV is capable of playback the most known formats. Of course it is not as good as a dedicated media player box but for casual viewing and if your files are not some weird format then the A9F will play them without much effort. Also having a USB 3.0 means that files with very high transfer rates can be played without any brake ups.

The A9F is one of the first TV models we review that is IMAX Enhanced ready and although there is still no specific content it's good to know that when this will become available the A9F will be ready to support it. And in all honesty we are very anxious and curious to see what this content will be when available.
Android may still be behind the other two smart TV platforms from Samsung and LG but one thing we like is that the OS may receive updates from time to time to improve the operating system. On the contrary LG and Samsung still refuse to offer any software update to their own TV models and what you see is what you get which we find a bit disappointing when you have to spend so much money in such premium devices.
Our second experience with the Android 8.0 platform ended the same way as the first time around. We feel that Android is slowly becoming a platform that will be able to directly compete with the big boys, namely Tizen and WebOS. It's not there yet but seeing the improvements it got the last 2-3 years, if it continues with the same pace, it wont be long before we talk about 3 equally impressive smart TV platforms.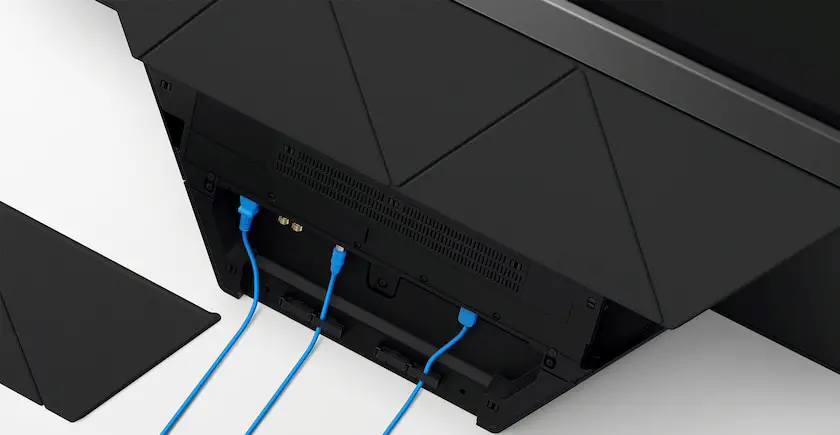 Final Thoughts
What Sony tried to do when designing this Master series is to create TVs that would have the quality and accuracy of their X300 OLED professional monitors in a more affordable, commercial price. In a way they have succeeded as the A9F offers great image quality and color accuracy out of the box which is great especially for those that don't want to bother to calibrate the panel very much. But bringing the cost down naturally means that there are corners to be cut and thus the end result although good is not amazingly great.
The A9F offers amazing image quality with outstanding sharpness and image detail, exceptional color accuracy out of the box that becomes even better if calibrated correctly, good HDR, very good motion performance that is characteristic of all top Sony TVs, unbeatable upscaling capabilities courtesy of the new X1 Ultimate Processor, very good input lag, an improved Android platform and great viewing angles as well as deep blacks that are characteristic of the OLED technology.
On the downside peak brightness is not better than the A8F and it falls behind a little compared to the competition. Also Dolby Vision seems to be a bit problematic in Netflix with crushing black levels while some external devices that support Dolby Vision fails to show it on the A9F. The remote would need a complete redesign if Sony wants to stay relevant although after having the same one for two years made us loose any hope that Sony cares about this.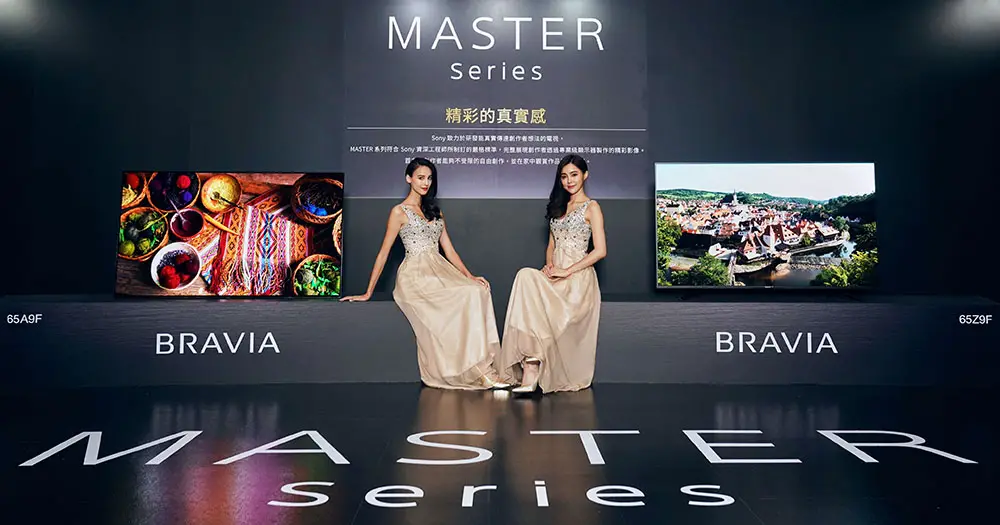 Design wise some may like it while others will hate it and although we did find it unique we would prefer a more traditional approach. Android is clearly improved here and our experience was much better than any of the previous versions but it still lags behind the amazing Tizen and WebOS platforms. Lastly the A9F costs $1K more than the previous A8F model and in general the cost is a bit higher than we would like.
The Sony A9F is an amazing TV no matter how you see it. Offering some of the best image quality this year and with enough features that is characteristic of any top tier model. But are all the improvements enough to warrant a purchase? Well it depends. If you are looking for one of the best TVs without considering the cost then yes, the A9F is one of them and a worthy purchase. If you have the Sony A8F, upgrading is not worth it as the difference between the two models is not so big to justify the cost. Now if you want to buy an OLED panel but cost is concerning you then you may have to consider a different model.
The A9F is good but price reaches very high levels and is not for everyone. In this case our recommendation would be the LG C8 OLED which offers amazing OLED quality at a much lower price. Otherwise if you definitely want the A9F it's a TV that has all characteristics of a true top of the line model. Amazing specs and performance but at a price that could be a bit better even for a new model.
For more reviews you can check our dedicated 4K OLED TV reviews list or even look at our Product Reviews Table where you can find the brand and specific product you are looking for.
Also don't lose the chance to subscribe to our Newsletter and gain exclusive privileges.
---
Cheapest Places to Buy :
---
Specifications
Panel : OLED
Resolution : 3840 x 2160
HDR supported : HDR10, HLG, Dolby Vision
Video : Picture Processor X1 Ultimate, 4K X-Reality PRO, Dual database processing, Object-based Super Resolution, Live Color Technology, Precision Color Mapping, Super bit mapping 4K HDR, TRILUMINOS Display, Dynamic Contrast Enhancer, Object-based HDR remaster, Pixel Contrast Booster, Motionflow XR

Audio : 13 W + 13 W + 13 W + 13 W + 13 W + 13 W + 10 W + 10 W, Acoustic Surface Audio+ (Actuator+Subwoofer), S-Force Front Surround

Video Codecs support : MPEG1: MPEG1/MPEG2PS: MPEG2/MPEG2TS (HDV, AVCHD): MPEG2, AVC/MP4 (XAVC S): AVC, MPEG4, HEVC/AVI: Xvid, MotionJpeg/ASF (WMV): VC1/MOV: AVC, MPEG4, MotionJpeg/MKV: Xvid, AVC, MPEG4, VP8. HEVC/WEBM: VP8/3GPP: MPEG4, AVC/MP3/ASF (WMA)/WAV/MP4AAC/FLAC/JPEG; WEBM: VP9/AC4/ogg/AAC/ARW (Screen nail only)
USB drive format support : FAT16/FAT32/exFAT/NTFS
Audio Codecs support : Dolby Digital, Dolby Digital Plus, Dolby Pulse, Dolby AC-4, DTS Digital Surround

Ports : HDMI (HDCP 2.3) X 4, USB X 3, Ethernet X 1, Composite Video In X 1, RS-232C X 1, Digital Audio output X 1, Headphone X 1, RF In
Network : Wi-Fi Certified 802.11a/b/g/n/ac, Bluetooth version 4.2; HID (mouse/keyboard connectivity)/HOGP (Low Energy device connectivity)/SPP (Serial Port Profile)/A2DP (stereo audio)/AVRCP (AV remote control)

Smartphone connectivity : Chromecast built-in, Video & TV SideView (iOS/Android)
Operating system : Android
On-board storage : 16GB
Tuner : Digital TV Reception (Terrestrial,Cable)
Dimensions of TV (W x H x D) :

55″ : 48 3/8″ x 28″ x 3 1/2″ / 1,228 x 711 x 86 mm without stand –  48.35″ x 27.91″ x 12.60″/ 1,228 x 709 x 320 mm with stand
65″ : 57.05″ x 32.87″ x 3.39″ / 1,449 x 835 x 86 mm without stand –  57.05″ x 32.76″ x 12.60″ / 1,449 x 832 x 320 mm with stand

Weight of TV : 

55″ : 52.5 lb/23.8 kg without stand –  66.1 lb/30.0 kg with stand
65″ : 60.0 lb/27.2 kg without stand –  78.5 lb/35.6 kg with stand