Sony STR-DH790
Reviewed at $399.00
OS, Apps and Features
8.2/10
Pros
Dolby Atmos and DTS:X support
Great surround performance
Good build quality
Amazing price
Cons
Missing a lot of standard features
No HDMI 2.1 ports
No WiFi
Online functionality completely absent
---
Cheapest Places to Buy :
---
Sony may have recently announced their latest AV receivers that belong in the more premium ES series but these are not the only AV receivers they have in their portfolio as they also have three more units that belong in their more budget friendly series and will remain a low cost alternative to the new models that will be available soon. As such, in our Sony STR-DH790 review we will be looking at this 7.2 channels AV receiver and determine if it is worthy of your consideration.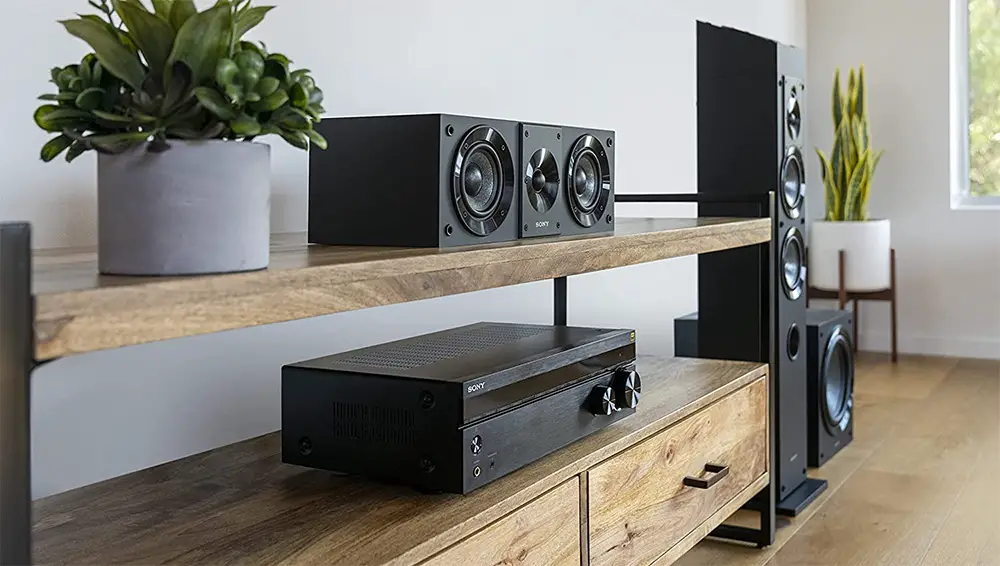 The DH790 is the only 7 channels AV receiver Sony has in this series and is being accompanied by the 5 channels STR-DH590 and the stereo STR-DH190. Sony may not be the first brand that comes to mind when it comes to AV receivers but even so they managed to have some pretty solid releases the last few years with the most notable one being the fan favorite STR-DN1080.
So before we begin our thorough analysis let's go real quick over the specs. The Sony STR-DH790 comes with 7 channels of built-in amplification with 90 watts per channel. It supports Dolby Atmos and DTS:X and comes equipped with various up-mixing and virtual modes to choose from. As for extra features we find Sony's Advanced D.C.A.C. auto calibration system, there is Bluetooth functionality, bi-amp capabilities, Front B multi-zone and support for DSD high resolution audio.
Even by looking at the above specs it is obvious that the Sony STR-DH790 is rather light on extra features, something that we usually don't see in more mainstream AV receiver brands. As this model is meant for a more offline experience and with its low price this unit's performance will determine its real worth. So without further delay let's start our review.
Design
Most AV receiver brands tend to use the same design over several years and Sony is no different with their releases as the DH790 keeps almost the same look from the previous STR-DN1080 that we reviewed over 5 years ago.
In terms of dimensions the STR-DH790 measures 17 in × 5 1/4 in × 11 3/4 in (430 mm × 133 mm × 297 mm) and weights about 116 lb 6 oz (7.4 kg) which is the normal for an AV receiver of this category.
Its design is very Sony like and if you have seen any of their previous models then you can immediately see the resemblance. Sony likes to place both round knobs on the right side with the volume one being slightly bigger than the input selector. On the left side a round power button is accompanied by the headphones jack and the setup microphone port.
Right in the middle we get the usual functions display with a thin line under it including some built-in controls. These are for tuner control, speakers, sound modes and Bluetooth functionality among others.
Overall the design of the Sony AV receiver will not win any awards but the same can be said about many other AV receiver brands we have reviewed lately. What is more important is the hardware utilized underneath and is what we will talk about next.
Sony has used a reinforced frame and beam chassis design for the DH790 in order to reduce external speaker sound pressure for more focused, powerful sound. The metal framework and heat sink bracket shield the circuits from sound pressure and radiation, for high-rigidity and clearer sound quality while the heat sink's specially designed fins maximize air intake, keeping the amplifier circuit cool and protecting it against unwanted sound pressure.
It also comes with a specially designed large capacity power transformer while the power amplifier uses a glass-epoxy circuit board for reduced vibration and distortion, giving clear, high power from each of the discrete amplifiers. Lastly in terms of processing, 3 powerful digital signal processors support the latest sound formats like Dolby Atmos and DTS:X, ensuring the highest accuracy in signal decoding.
As for the remote being supplied with the DH790 this is a bit different from the previous Sony remotes we had seen being used. Code-named RMT-AA401U, this is a rather simple remote with a plastic body and enough rubber buttons for all of the receiver's functions.

As per usual all inputs are placed at the top, with the navigation controls sitting in the middle and some playback controls being at the lower bottom. Nothing really out of the ordinary for such a low cost unit but its usability is really limited in a dark environment as there is no backlight and probably this is the only frustration we had with this one.
Overall the Sony STR-DH790 has very solid built quality and you can see that it follows the usual Sony standards. For such a low price you shouldn't expect anything premium but on the other hand it doesn't feel cheap either, except from the remote of course. Good work from Sony here.
Audio Quality
In terms of audio formats the STR-DH790 comes with all the standard ones you would expect to find in such a low cost release which is not actually bad but you shouldn't expect to get any of the more advanced ones we see in much expensive units.
The receiver can playback the usual Dolby Atmos and DTS:X object oriented audio tracks but along with these we get support for up-mixing and virtual technology features in order to cover all needs and specific room configurations.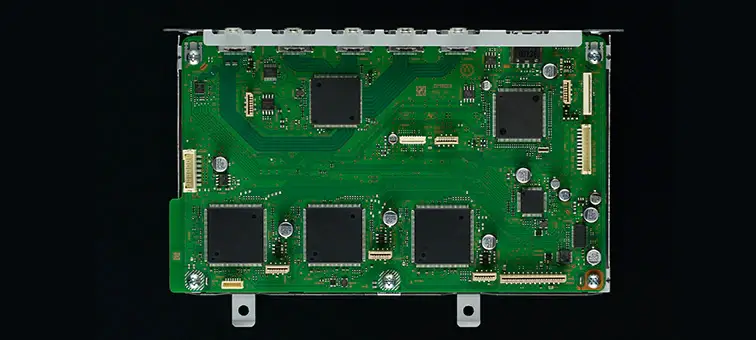 When it comes to up-mixing tech we find the usual Dolby Surround and DTS Neural:X. What these up-mixing tech are doing is to up-convert stereo and legacy mixes in order to make use of all the speakers you have in your setup. As for virtual tech the AV receiver is missing the usual Dolby Atmos Height Virtualizer and DTS: Virtual X and instead we find Sony's S-Force PRO front surround technology.
What this tech can do is to create virtual surround sound by using only the front speakers, which can be ideal in case you cannot place any dedicated rear speakers in your room. Obviously the end result is not the same but this is the next best thing if you want some short of immersion and having only front output does not cut it for you.
This virtual tech obviously is not as good and accurate as having real physical speakers and is very much room dependent. Also the sound many times can be heard very over-processed something we were never very fond of.
The STR-DH790 comes with 7 channels of built-in amplification and each channel is capable of outputting 90 watts of power (6 ohms, 20 Hz – 20 kHz, THD 0.09%, 2ch drive) which can suffice for small or medium sized rooms. Keep in mind that this is only for 2 channels driven meaning that when all 7 channels are active this number goes down considerably. The receiver does not have the ability to process more channels so seven is the maximum it can do.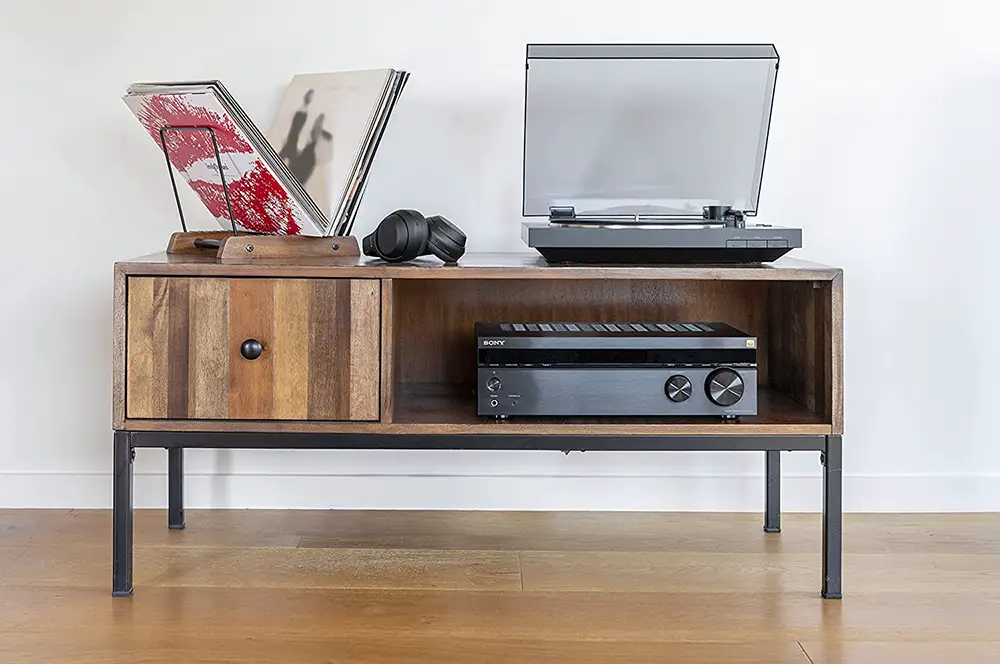 It can also support up to two subwoofers which is the standard nowadays but surely not the best as we have seen many new releases going for 4 subwoofers support. But two is more than enough for most casual users so you should be fine in that respect.
With the built-in amplifiers you can go all the way for a 5.1.2 channels audio setup with two dedicated overhead speakers. And this is exactly what we went with, with two front height speakers for Atmos and a single subwoofer placed at the front left corner of our room.
As for the movie of choice this time, it was Jurassic World in 4K UHD which uses a lovely and fully immersive DTS:X mix.
The STR-DH790 may not be a premium AV receiver but this doesn't mean that its sound output cannot satisfy those that seek a cheap solution for their entertainment. Really, there was nothing that could make us say that we didn't like what we heard and shows that Sony may not be the first name to choose in this field but this doesn't mean they do not know their art.
The front sound wall obviously was the main attraction and the two front channels kept all the action focused and precise. There was nice dispersion but without pushing into the center part where the center speaker kept all the dialog nicely isolated from the rest of the action.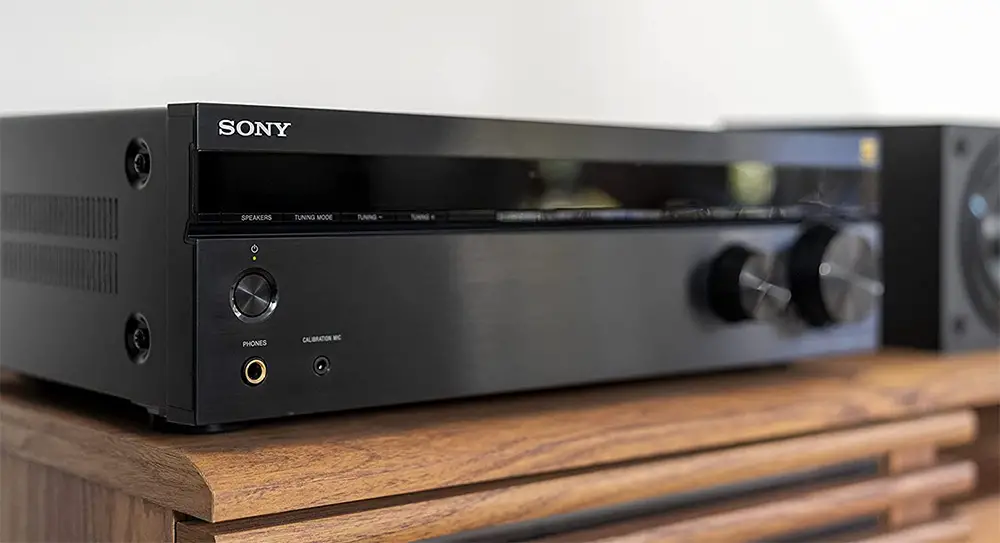 Ambient and environmental effects had good enough directionality with enough precision and clarity and without feeling over-processed or artificial. Panning sounds like echoes had good traveling speed and satisfying channel shifting without any audible delay or loss of focus.
And one thing that really helped to elevate all this immersion was its surround performance which to be honest had nothing to be jealous of compared to other much more expensive units we had tried before. Behind the camera action was clearly audible and you could sense the direction from where these effects where coming. Either going from one surround to the other or travelling from behind to the front, all sounds felt natural and precise.
Jurassic World may not be the kind of movie that is filled with overhead activity but it surely has its fair share of moments that certainly help to immerse you more in this world. The Sony definitely tries its best here but having heard this track over and over with four height speakers we wished we could have the same here. The two front height channels did fill the space at the front but the area exactly above our heads felt slightly empty. This was not the fault of the receiver itself as any 5.1.2 channels system unfortunately will give similar results.
As far as bass is concerned the SVS SB-1000 Pro subwoofer that we used had no problem whatsoever delivering all the low end action that the receiver fed it with. Obviously the sub you have is the most important one here but we didn't see any difference in the behavior of the same sub when we used any of the other more expensive units we had for testing. Dinosaurs roaring felt raw and powerful, the steps of the T-Rex gave us the chills while seeing the Indominus Rex for the first time will certainly keep you at the edge of your seat.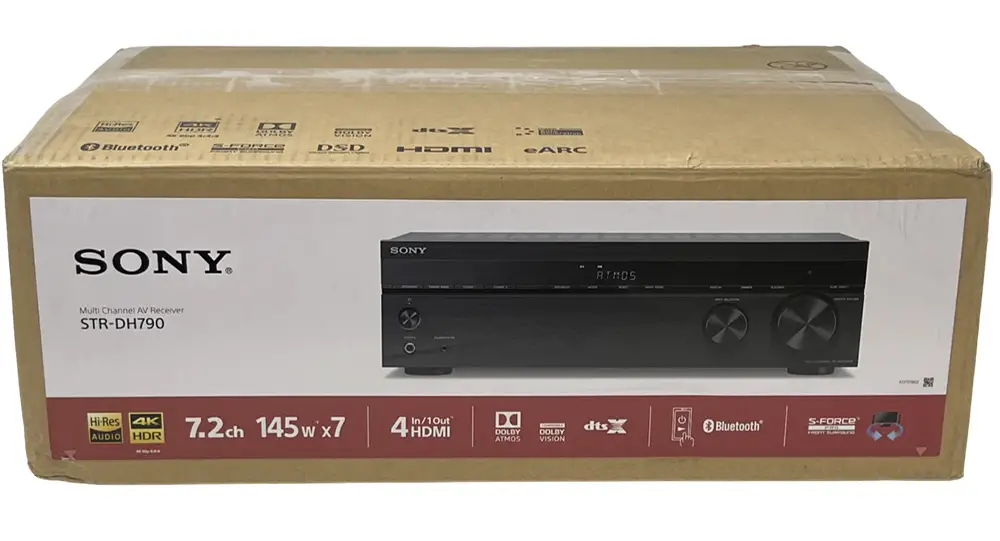 The Sony STR-DH790 is not the kind of AV receiver that was made to win any performance awards but it was created for those budget conscious consumers that want a cheap but certainly good performing system that will give them this certain cinematic feel without the need to look very much into the details. And we think that Sony has really nailed it with this one.
When it comes to music the AV receiver may not offer the same kind of support we usually find in other models but it can playback any audio from any source that can output in Linear PCM. There is also High Resolution Audio support in the likes of DSD 2.8 MHz (up to 5.1ch).
For this test we used our Zidoo Z9X media player in order to stream some music files to the receiver.
So how did it fare here? We cannot say that we were astonished by its performance but we cannot say we were disappointed either. Obviously this receiver is mainly created to be used for its cinematic immersion and surround performance and not so much for its music qualities but this doesn't mean that you cannot enjoy the music rendered by it either.
But nevertheless what we experienced can be described as above average and surely will satisfy any kind of casual user, no matter how you see it. During our testing the front stage had good extension while sound imaging and transparency were satisfactory, even if not the best we have heard.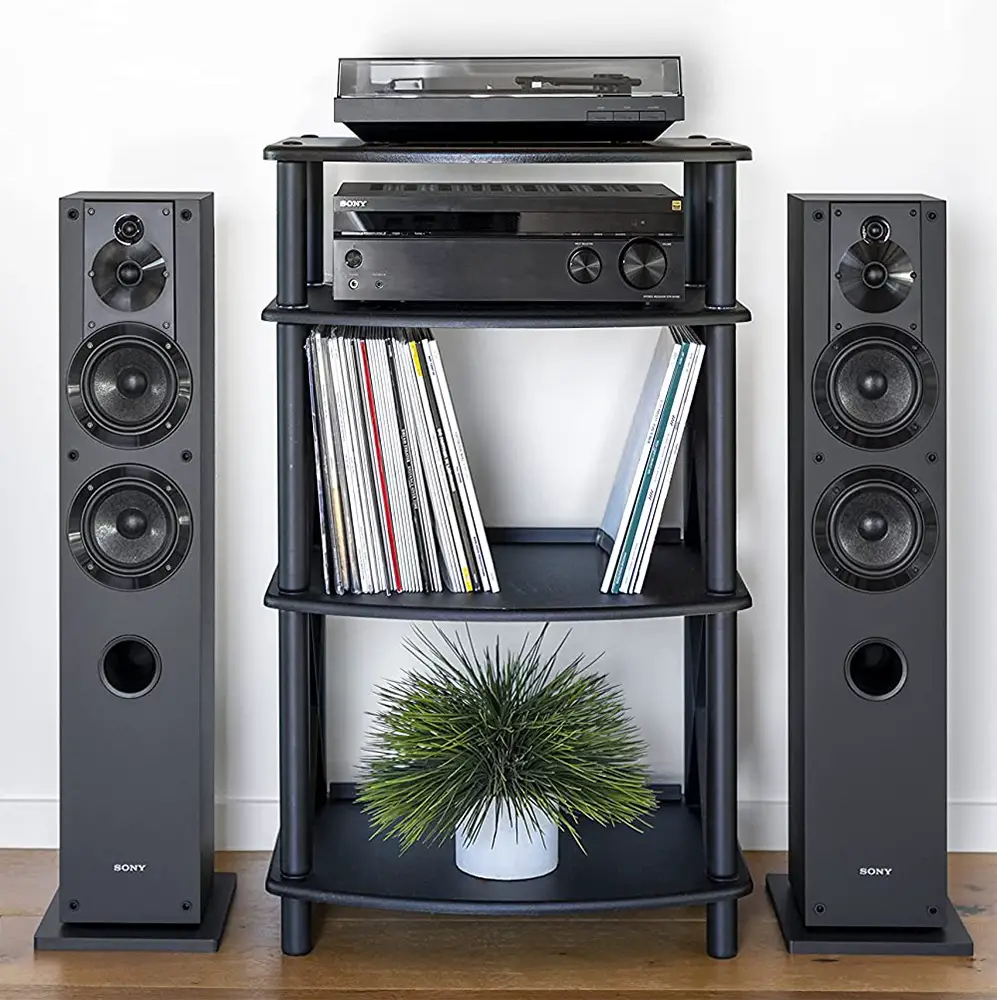 Sound tonality was pretty accurate with the mid-range feeling stable enough, the vocals were vibrant and with enough energy while the bass would rock and bit to the rhythm without any delay. The low end was particularly good with good resolution and no boominess that can throw the whole performance of balance.
We went through some different genres and to be honest there was nothing that would make the STR-DH790 stray away from its core qualities. You could really feel where its limits were but to be honest this never held us back from enjoying what it had to offer.
Closing this part of our review we can definitely say that if you are building your first home media system or if you are extremely limited by your budget, then the Sony STR-DH790 has all the qualities to offer you a great first experience and for a fraction of the cost that many other AV receivers cost nowadays. And just for that it deserves your attention.
Ports and Connectivity
Next we will talk about the connectivity options the DH790 comes with.
At the front, we already mentioned that the receiver only comes with a headphones port and the calibration microphone jack. Nothing else is available as everything else is placed at the back.
On the right side we find the 7 speakers terminals which by the way are not all of the same kind. Only the front channels utilize the standard binding posts while the rest come with the simpler push-type connectors. It's been a long time since we saw these kind of terminals being used as most brands use binding posts for all the available channels nowadays.
At the top we find the HDMI ports and this AV receiver comes with four inputs and a single output which should be enough for various types of home media systems.
As for all the rest we get a single USB Type-A which is only used for power supply purposes, one coaxial and one optical audio digital input, four analog stereo inputs, dual subwoofer outputs and the usual FM antenna port. Not a lot to be honest and this shows the simple design this AV receivers comes with.
As for the four HDMI ports available these are all HDMI 2.0 and support up to 18Gbps of bandwidth along with various features like HDMI pass-through, 4K 60p 4:4:4 support, 3D over HDMI, A/V SYNC, eARC / ARC, CEC Control, HDR10, HLG and Dolby Vision. Here we need to make clear that the DH790 can support signals up to 4K@60Hz with 8-bit color depth and 4:4:4 or 4:2:2 chroma sub-sample while it can also support 4K@60Hz with 10-bit color but the chroma sub-sample has to be reduced to the 4:2:0 setting.
From the above it is clear that this AV receiver is not meant for high frame rate gaming. If this is your aim then there are other options to consider. If on the other hand you don't care about gaming and watching movies in 4K resolution is your only requirement then this model will have no problems whatsoever.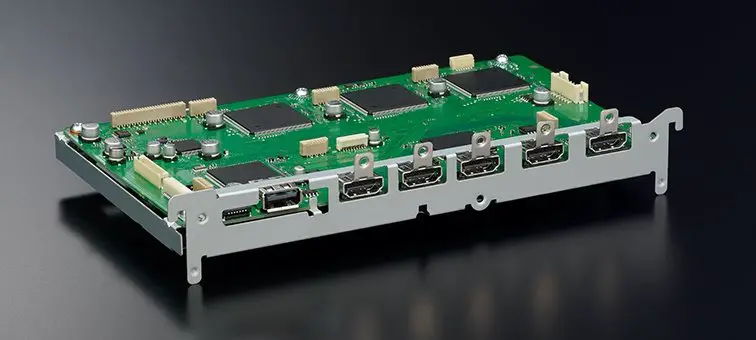 As we always do in our AV receivers tests we connected both our PS5 and Xbox series X and got to play some Call of Duty: Modern Warfare. In both cases we got very stable 4K@60Hz signals and we didn't notice any black screens or HDMI handshaking problems.
As for the wireless capabilities of the unit, there is Bluetooth v4.2 but no WiFi. The Bluetooth supports the usual SBC and AAC codecs so nothing out of the ordinary here.
Overall a very basic configuration. If you don't care for high frame rate gaming or for gaming in general then the DH790 has most of the basic ports needed. But if you are a more advanced user or the latest gaming features is a must then you will have to look at other options.
OS, Apps and Features
Let's take a look at all the extras the STR-DH790 comes with and the first thing that is very obvious is that this AV receiver comes with extremely limited capabilities. And this stems from the fact that this unit is stripped from any kind of online streaming functionality and in essence can be used mostly as an offline system.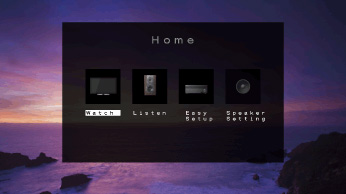 If you are very much into all these online features like Chromecast, Airplay, HEOS, DTS Play-Fi and multi-zones capabilities then this one is not for you. If on the other hand you are looking for a strictly offline experience then there is nothing you will be missing with this receiver.
So with this out of the way let's begin with the auto calibration system being used.
As with every other brand Sony is using their own audio calibration system which they call D.C.A.C. which stands for Digital Cinema Auto Calibration and fundamentally works similarly to all the other calibration systems from competing brands. This means that a microphone that comes with the AV receiver takes certain measurements from all the connected speakers in order for the unit to make the necessary calibrations to each channel for the best possible result.
If you have tried the D.C.A.C. or any other similar calibration system then you more or less know what to expect. The on-screen wizard gives you step by step instructions and you can then make any manual adjustments to the final settings, if you find the ones chosen by the system are not entirely accurate.
As for its user interface, this is nothing to brag about although we must admit that the one Sony used in their AV receivers felt much better than what Sound United have been using up until recently, before they decided to update theirs. Now, we haven't seen the new ES series from Sony yet and if they have updated the UI but the STR-DH790 uses very simple graphics in its UI. They are easy to comprehend and to find what you are looking for but they definitely need a new coat of paint to bring it more in line with other 2023 user interfaces.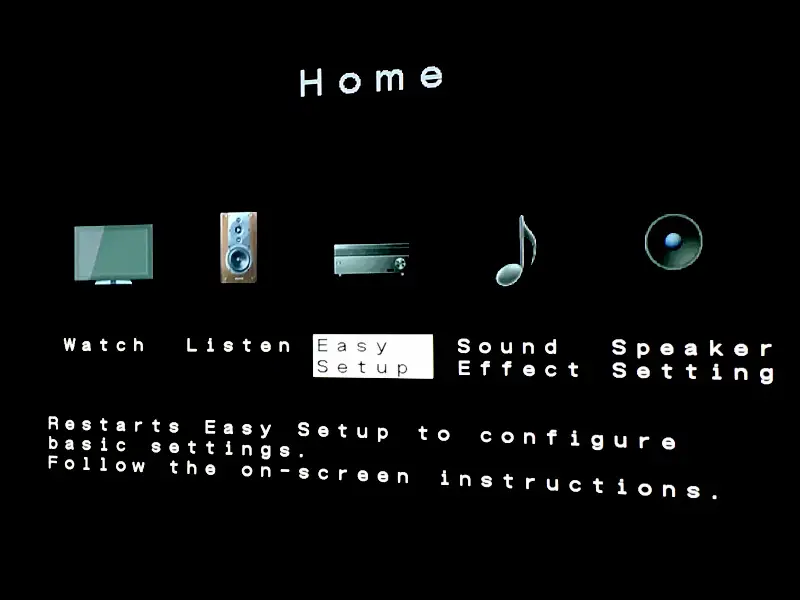 As we mentioned above this model is extremely light on features and when it comes to streaming the AV receiver only supports Bluetooth streaming from other Bluetooth capable devices. We did a few tests and the streaming quality and connection was pretty good but don't expect anything more than this. This is just barebones Bluetooth streaming and nothing more.
For low quality, compressed sound sources the unit comes with an Audio Enhancer function in order to restore audio to its original quality. Keep in mind that this is not the familiar Sony DSEE technology but most probably a more simple implementation of that.
Lastly we shouldn't forget to mention that the STR-DH790 support bi-amping of its two front main channels if you are the kind of guy that likes to connect your speakers this way. Some seem to prefer this while others don't, but it's always good to have the choice. Just keep in mind that if you want to bi-amp your front speakers then you will be able to connect only up to 5.1 channels.
And that's all. Obviously when you compare the list of features in this one with some of the most recent releases from Marantz, Denon or even Yamaha the Sony pales in comparison. But to be honest here, a lot of consumers do not use even a fraction of these features included and while it is good to have them if you don't really need them why not to save some money?
And this is where the STR-DH790 really excels at. If you know that all you need is a completely offline experience then the Sony is perfect and you are not going to be missing much. An excellent choice for those that want to keep things as simple as possible.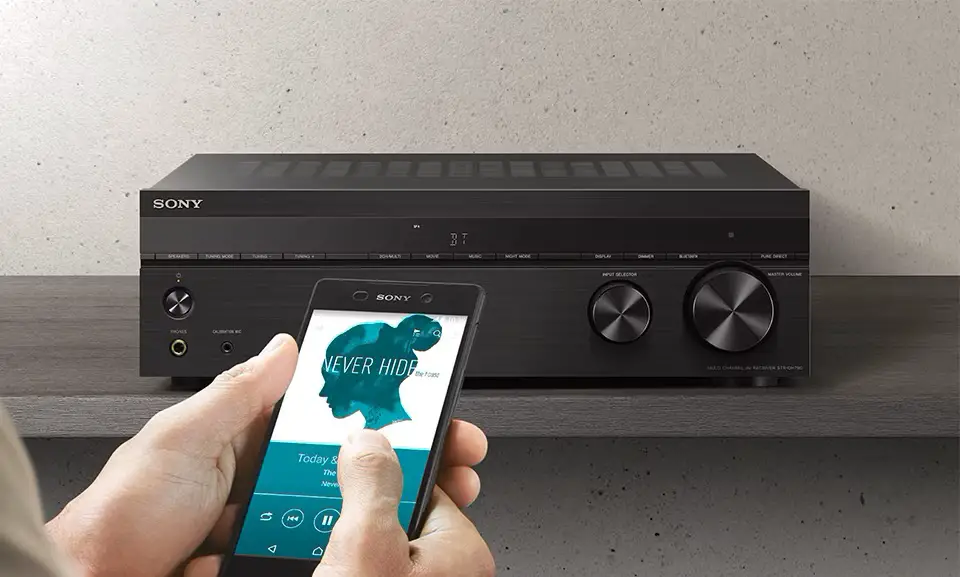 Final Thoughts
The Sony STR-DH790 may be a system that has certain limitations but in reality it is a very good proposition if you take into account what it offers and at what price. This AV receiver was meant for an entirely offline experience and in this regard it did brilliantly. It may not be a unit that screams premium but it doesn't have to in order for you to enjoy its cinematic qualities. And this is what matters the most.
Its strong points were its satisfying surround performance with good output across all its available channels while its Atmos output was just as good as any AV receiver with two overhead speakers. It's a rather simple unit to calibrate, its user interface was easy going and its quality was up to Sony standards. If you add the exceptionally low price for an Atmos AV receiver then surely this is an excellent entry level unit that covers all basics.
On the other hand the unit is missing a lot of features that we consider standard nowadays. There are no HDMI 2.1 ports which means that high frame rate gaming and all new gaming features are completely absent. There are only 2 Atmos channels available which surely limits its overhead presence, there is no WiFi which means no online streaming and wireless functionality while we do miss a front HDMI port for easy connectivity.
Closing our review we cannot but feel satisfied with what we experienced. For a price of just $399 you cannot go wrong with this one, especially nowadays that AV receivers prices have completely skyrocketed making them less affordable than ever. If this is your first foray into the home theater world of you need a dirty cheap Atmos capable AV receiver for your basic media system the Sony STR-DH790 is up for the job. And thus we highly recommend it.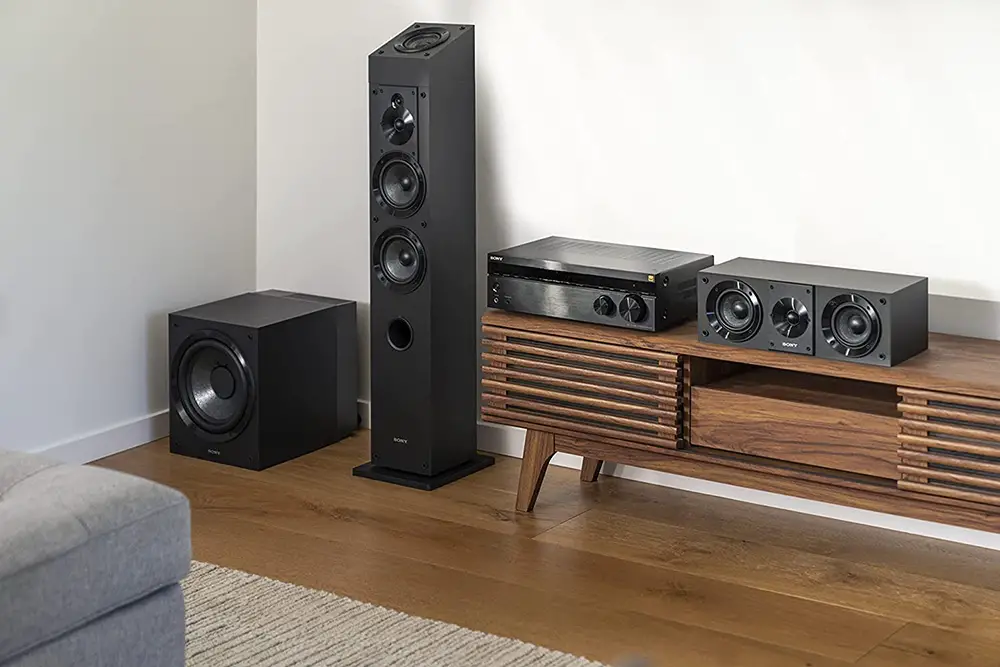 For more reviews you can check our dedicated 7 channels 4K AV Receiver reviews list or even look at our Product Reviews Table where you can find the brand and specific product you are looking for.
Also don't lose the chance to subscribe to our Newsletter and gain exclusive privileges.
---
Cheapest Places to Buy :
---
Sony STR-DH790 Specifications