Sony UBP-X800M2
Video / Audio Quality
9.3/10
OS, Apps and Features
9.2/10
Pros
Dolby Vision support
HDR to SDR conversion
Supports Bluetooth streaming
Great price
Cons
There is no Dolby Vision auto switch
No HDR10+ support
Remote is average
Extremely limited connections
---
Cheapest Places to Buy :
---
Sony is one of the companies that strongly support the dedicated UHD players market and have created some very stellar models the last few years in this regard. As such in the middle of their lineup was sitting the X800, a player that managed to get very favorable comments from users but also had some very glaring problems. It seems Sony took notice, to a certain extend, and released a new model that fixes some of it's predecessor's weaknesses. In our Sony UBP-X800M2 review we will look into this updated UHD player and if Sony managed to fix everything wrong with their previous release.
Obviously the most notable addition to the X800M2 is Dolby Vision that the X800 was lacking which was a major bummer when you consider that Dolby's advanced HDR protocol is getting major support lately and even more when you see that even the lower priced X700 had support for it making it somewhat of a necessity for Sony to update the rest of their lineup. There are a few other, less obvious improvements that has to do mostly with the playback abilities of the X800M2 and we will analyze them a bit further down our review.
Does the Sony UBP-X800M2 offer a worthy upgrade over it's predecessor or the new player comes a bit too late to an already full market of Dolby Vision enabled players? Read on to find out.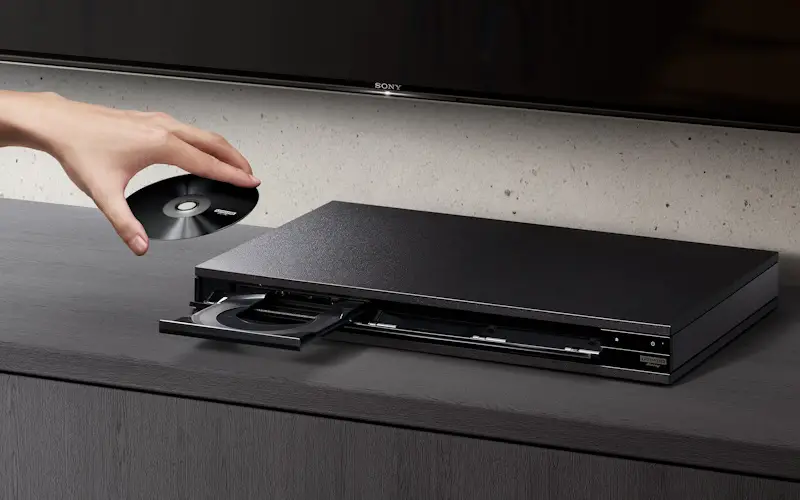 Design
When you look at the X800M2 for the first time you will not understand that this is supposed to be an upgrade over the previous X800 as design wise the two player are like for like. This means that for the X800M2 Sony used the same frame-and-beam chassis construction in order to minimize the vibrations from the disc drive as well as provide additional electrical shielding. Using the same chassis means that there couldn't be any changes on the outside also as the X800M2 has a very simple and minimalistic boxy design that combines a rough matte black top and bottom with a smooth glossy finish in the middle.
The player is full on plastic material but this was expected in this price range. But what we definitely like is the rough surface it has as gloss plastic that is used very often in such equipment tends to be very fingerprint magnet that needs cleaning all the time. Sony had made a clever decision in this regard. The player measures 17" x 2" x 10 1/2"  (430 x 50 x 265 mm) and comes with a weight of 8 lb 2/5 oz (3.8 kg) which doesn't make it exactly lightweight but we have seen more bulky players also showing how rigid a construction Sony is using in this one.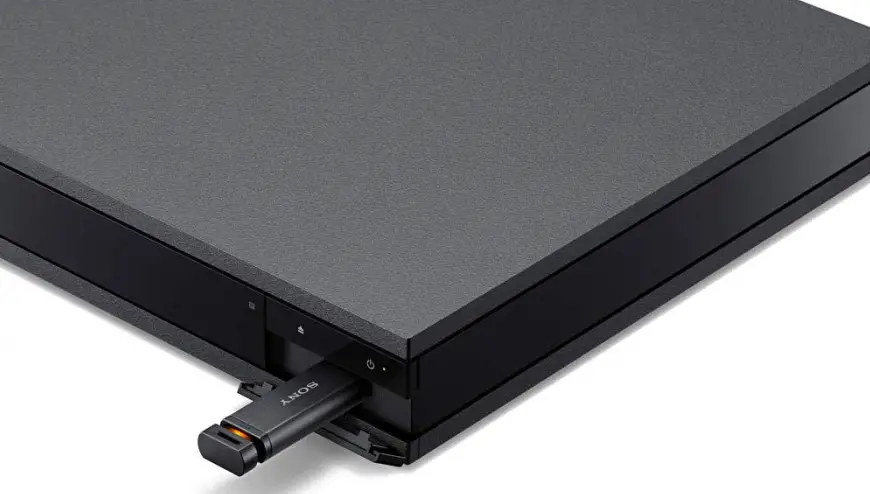 Almost the entire middle front that is made from glossy material is a kind of flip door that opens when the disc tray comes out. When it is closed you only see a nice clean surface with the Sony logo on the left while at the far right we get a couple of physical buttons for opening the tray and power on/off with a USB under them being hidden by a pull away panel that can be used to stream content from an external storage device.
We should note that disc loading is very fast and is one of the faster ones we have reviewed so far while when the disc spins, noise is kept at a minimum. It's not entirely quiet but it never reached frustrating levels during our testing and we felt that the construction also plays part on this.
Keeping the same design meant that the remote would also follow the same route and as such we get the same uninspiring and low cost remote we had seen in the X800 so our feelings towards it remain pretty much unchanged. Buttons are a bit smaller than what we would like but at least they have nice distance between them to avoid wrong inputs. It's a small remote this one but still manages to include all the necessary buttons for controlling the player even if it has a very cheap and plastic look to it. Obviously any kind of backlight function is out of the question with this one.
In all the X800M2 continues in the same vein of it's predecessor by offering a very nice design and solid build quality but without anything fancy that would make the price sky rocket to premium levels. The remote feels a bit on the cheap side but we prefer to have a better constructed player than a fancier remote. In this price it's a give and take situation and you have to set where to give priority to your budget and Sony obviously put that on the player itself.
Video / Audio Quality
The player supports the trio of most popular HDR protocols which is the single most important update Sony made to this upgraded model compared to the previous X800. As such we get the basic HDR10 that is necessary for UHD playback, HLG that is used for broadcasting and also Dolby Vision which uses dynamic metadata in order to provide an even better picture quality than HDR10. Missing is HDR10+ but this has yet to gain any significant traction so we will see what will happen in the future and if it gets support from already released devices.
And while Dolby Vision is the single most important upgrade of the X800M2 therein lies it's biggest problem. You see, other players have the ability to enable Dolby Vision automatically when they detect content being played that includes it. The Sony UBP-X800M2 does not as to activate it you will have to enable the corresponding setting from the menu. Why Sony opted for manual switch instead is anyone's guess but this is the reason for complaint by many fans and consumers alike. Enabling this setting for Dolby Vision content and disabling it for non Dolby Vision content can be a chore and not something we like to do all the time.

Supported audio formats include the complete set which means the X800M2 can play anything from the old Dolby Digital and DTS tracks, to Dolby Digital Plus, Dolby TrueHD and DTS-HD Master Audio. Naturally it can also play the latest object-oriented audio tracks like Dolby Atmos and DTS:X.
The film we like to try out lately when it comes to UHD players is the 4K UHD version of Fantastic Beasts: The Crimes of Grindelwald as it has become our favorite with it's amazing picture quality and excellent Dolby Atmos track. The film also comes with Dolby Vision so it was an excellent opportunity to check out how Sony's player would display that also.
After manually enabling the Dolby Vision setting we started the film and what we got was pure excellence. The amount of clarity and sharpness was through the roof with surfaces having enhanced texture definition and complexity. Actors faces would show every single bit of imperfection while color reproduction was very solid and spot on. Such a film benefits greatly from HDR as the various spells and visual effects show so much more pronounced almost feeling three dimensional. Similarly the Dolby Atmos track that comes with the film was amazing with the X800M2 passing all the information to our receiver without a single problem.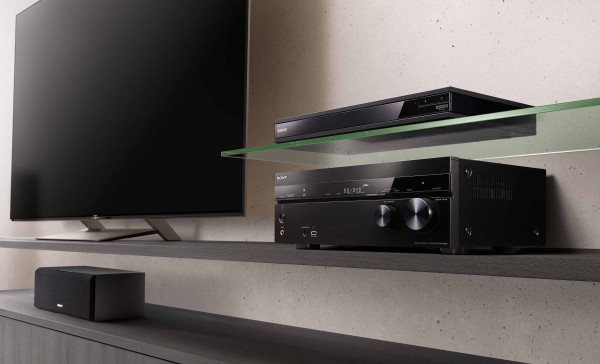 The Sony UBP-X800M2 may be an excellent 4K UHD player but with the 4K content still being relatively limited compared to Full HD content it means that you probably still have a lot of 1080p Blu-ray discs in your collection. Fear not as the player is very good at upscaling all kinds of content up to 4K resolution. We tested both DVDs and Blu-ray discs and everything seemed to upscale very nicely with little artifacts visible. Obviously 1080p content fared better but even if you still have some dusty DVDs around your house they will be displayed as good as possible.
One interesting feature that we get with the X800M2 is the ability to convert content from HDR to SDR if it happens to have a non HDR capable display. When conversion is enabled you get a tone mapping slider. Lowering this slider will make the image brighter while a higher value will make the image darker. The end result is good enough even though not perfect. We tried the same film in both 4K and in 1080p resolution on a Full HD TV and the colors of the 4K version with HDR to SDR conversion enabled was a bit off. This feature is a nice addition to have but we suggest to use it only if extremely necessary as the color rendering will in most cases never be as good as the original SDR content.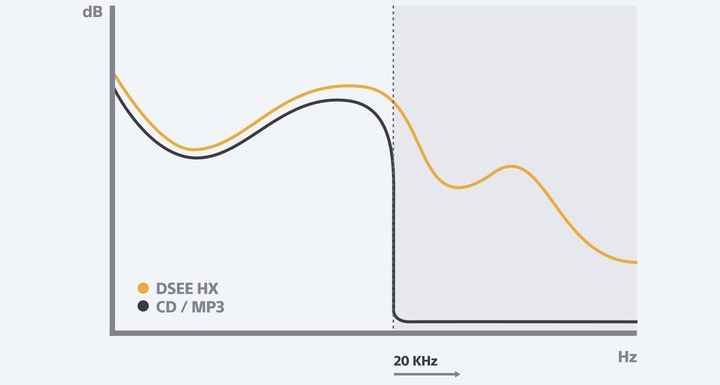 We also get High Resolution Audio support in addition to the other known audio formats that can be streamed either through the USB port or from your local network. FLAC, ALAC, AIFF, DSD, AAC, WMA, HEAAC, LPCM, Vorbis as well as MP3 are all supported. But even if your library doesn't include high resolution audio files Sony got you covered there also. With the player's DSEE HX upscaling technology all your low resolution and compressed audio files are upscaled to near high-resolution quality. The result may not be as good as true High Resolution Audio but frequency and dynamic range get a nice boost that are definitely appreciated.
Also if you still have a few SACD or DVD-Audio discs then you will be happy to know that the X800M2 can playback them just fine. These two are a bit of niche formats but we see that there are still many people seeking them out so being able to play them is great especially if you consider that we are talking about a relatively low priced player. Also 3D Blu-rays play just fine so if you are fan of this dying format and you don't want your 3D collection to be obsolete then this unit will do the job just fine.
We will close this part of the review by saying this. The X800M2 may not be the huge upgrade over it's predecessor when it comes to pure playback quality but this is not a bad thing as the X800 was already doing just great in this regard. But the added Dolby Vision support along with all the other included features like HDR to SDR conversion, High Resolution Audio, SACD and DVD-Audio support, DSEE HX upscaling technology and the huge list of audio and video files support that the X800M2 gets gives this player tremendous value. If only there was Dolby Vision auto switching also…
Inputs / Ports
When it comes to connections the X800M2 seems to have exactly the same features as the previous model so don't expect to get anything more than the bare basics that the X800 had. As we mentioned above at the front we get a single USB port that you can use to stream video or audio through a USB stick or external storage.
On the back things are very basic are we find a dual HDMI setup with a single 18Gbps HDMI 2.0 port with HDCP 2.2 support and a HDMI 1.4 port that is used only for audio. Next to them we get a coaxial digital output with a 10/100 Ethernet port being the only other connector available.

With so little changes hardware wise we were not expecting to get anything different in this regard. Things are on the slim side here but adequate we could describe them. There is no optical digital output or any kind of analogue stereo ports but frankly who would use them with an UHD player?
As far as other connectivity options the X800M2 has built-in WiFi (802.11a/b/g/n) as well as Bluetooth 4.1 support with Sony's LDAC headroom extension that allows for three times faster data transmissions in order to be able to stream higher quality audio through Bluetooth.
OS, Apps and Features
Initial setup of the X800M2 couldn't be more easy and straightforward. When you first power up the device you select language, connect to your WiFi network and that's it. You are greeted by the home menu that includes 4 main options for disc playback, USB streaming, Media Server and Settings. Below them we get three tiles for the most popular streaming services that include Netflix, Amazon Prime and Youtube. The good news are that Dolby Vision is supported for both Netflix and Amazon Prime but you will need to have their prime subscriptions that will enable you to get that. Also Dolby Vision should be enabled in the settings in order to display in these services.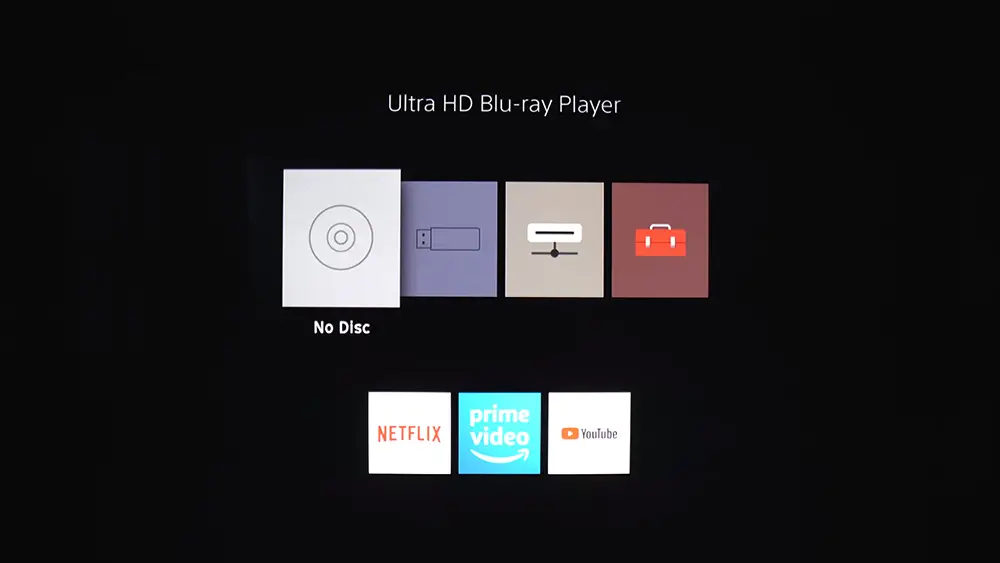 One interesting feature that we find in the X800M2 is Bluetooth streaming which means that you can stream audio to any Bluetooth device you may have either it be a soundbar, speaker or some headphones. And the process is as easy as going to the settings and connecting to the Bluetooth device you want. There is also the ability to stream through Bluetooth and HDMI simultaneously by selecting the dual output option. But Sony takes it a bit further by including their proprietary LDAC technology that is capable for transmitting up to three times the data of normal Bluetooth connections meaning you can stream much higher quality audio this way without any loss.
The X800M2 may not offer an abundance of extra features but it definitely comes with some nice ones. Bluetooth streaming with LDAC is not a bad one while the included streaming services may just be the most basic ones but if you are looking for more there are other options for that. The user interface is very simple and easy to navigate even if you are relatively newbie to such setups.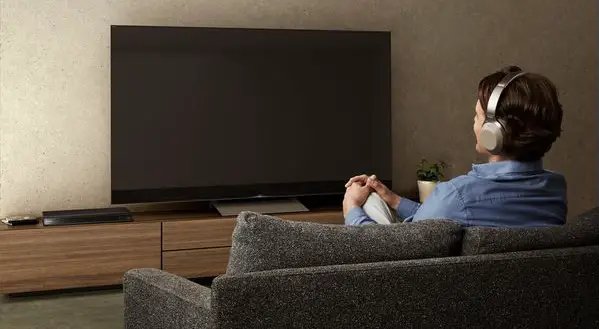 Final Thoughts
There is so much to like in this player. Even with such a low price Sony made sure to create a quality design that would bring it a notch above the rest. Playback performance was excellent as the inclusion of Dolby Vision brings it in line with other similarly priced players in the market. The X800M2 even manages to have a few features that we usually find in more expensive models like HDR to SDR tone mapping, SACD and DVD-Audio support, Bluetooth streaming with LDAC, DSEE HX upscaling as well as HEVC video decoding through USB and local network. If you add to all this an extremely easy to navigate user interface as well as the additional online streaming services included then it's easy to see why this is an excellent all around player.
And while Sony seems to have rectified a few of the problems that plagued the X800 a major one remains and that is Dolby Vision auto switching. While every other player we know that supports Dolby Vision handles the switch between HDR10 and Dolby Vision by itself with the Sony one you have to do it manually which is a major let down and a reason why many consumers avoid getting it even if it is good in every other respect. The reason why Sony stuck to that manual switching is unknown but it definitely hurts their otherwise excellent product. We couldn't find anything else bad in this price even if we would like a better looking remote.
Closing we admit that the Sony UBP-X800M2 is a player that packs amazing value. It has all the ingredients to make it a top player in it's price and the only thing holding it back is the Dolby Vision manual switch. But except from this problem we felt that Sony created a player that although is not an extreme update over the previous X800 is still manages to offer more value making an excellent choice for anyone looking for a new UHD deck.

For more reviews you can check our dedicated 4K UHD Blu ray Player reviews list or even look at our Product Reviews Table where you can find the brand and specific product you are looking for.
Also don't lose the chance to subscribe to our Newsletter and gain exclusive privileges.
---
Cheapest Places to Buy :
---
Sony UBP-X800M2 Specifications