Sony X850G (US) – XG85 (Europe)
---
Cheapest Places to Buy :
---
In 2019 Sony has released three 4K LED LCD models in the US with a few more in the UK and European markets that are small variants of these three main ones. These include the top of the line X950G, the middle X850G and the entry level X800G. Today our Sony X850G review will be focusing on the middle tier model and we will determine if it manages to find a fine balance between performance and cost.
The Sony X850G, or XG85 for UK and Europe, comes in four different sizes with 55″, 65″, 75″ and 85″ available. What you should keep in mind is that the three first sizes come with IPS panels and use Edge-lit systems while the 85″ variant comes with a VA panel and a Direct-lit system instead. This means that the 85″ model most probably has a bit different image quality and performance than the other three so take this into consideration if you have set your eyes for that one while non of them support local dimming. As for all the other features we get the basic X1 processor, Dolby Vision and Dolby Atmos support, Sony's Acoustic Multi-Audio system and use the latest Android TV 8.
We had previously reviewed both the X950G and recently the X800G and both left us with very good impressions so it was now time to check the last of the trio to see if Sony had managed to create another solid entry in their 4K LED LCD lineup. You can check the reviews of the two mentioned models by clicking on their name links above. So without further delay let's start our analysis.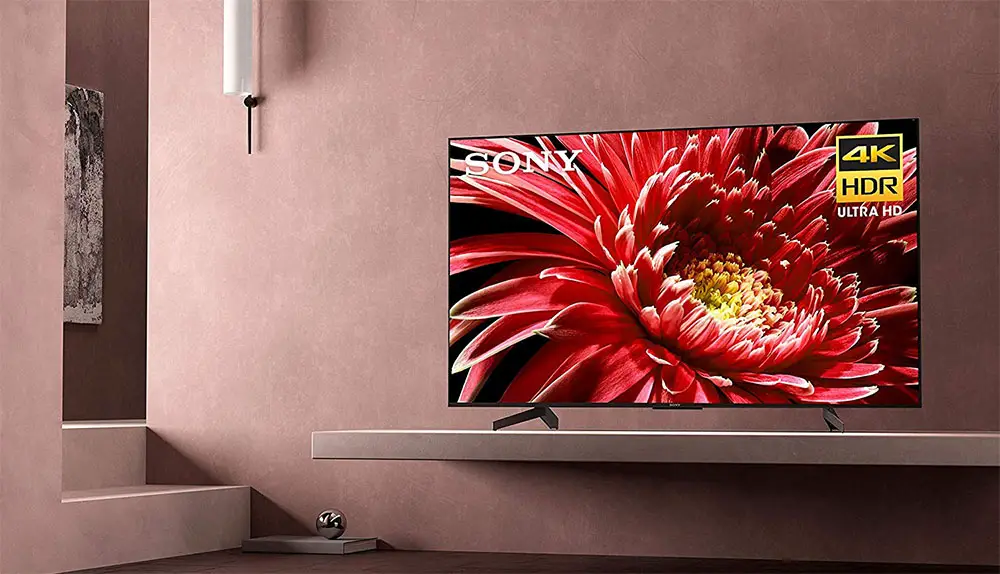 Design
Design wise the X850G bears some similarities with last year's X850F but they don't share exactly the same looks as there are a few key differences between the two models. First of all thickness was one element that pleasantly surprised us as the TV measures almost 5 cm thick which is a major improvement compared to the 8 cm thickness that we had measured the X800G. This means that the X850G will look very good if you want to wall mount it as it will not extrude very much from the wall. Borders on the other hand are just slightly thinner than the X800G and made out of plastic making them neither good or bad. Just uninspiring we would call them.
On the back now the X850G features an entire plastic back panel with all connectors being placed on the right side separated into two groups with one of them looking sideways while the second looks backwards. The power connector is placed on the left side while a single gloss black strip towards the top breaks a bit an otherwise monotonous look. What we should mention is that on both the right and left edges of this gloss line there are two side looking tweeters that are part of this model's Acoustic Multi-Audio system.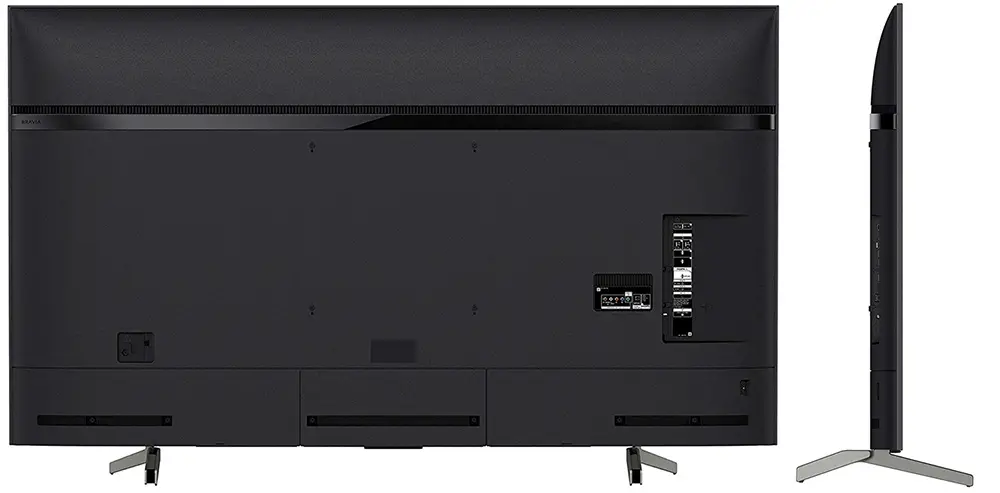 The stand being used with the X850G is the usual bench type and is very similar to the one we saw in the X800G with only the color changing. This means that while this type offers better stability especially for the larger sizes it also requires bigger furniture compared to Y-shaped stands. The TV did wobble a little bit but nothing major to be considered risky while the back of the stands are hollow in order to help with cable management as you can channel them through the legs in order to hide them as much as possible.
Let's talk about the included remote now. After years of complaints it seems that Sony finally heard us and created a somewhat better remote for their top X950G model. Unfortunately the entry level X800G didn't get it but we are happy to see that it is included in the X850G although it is slightly different with differences being mostly cosmetic. While the X950G's remote had a silver color the one with the X850G is black while the four color buttons are slightly bigger. Everything else seems to be the same.

At the top we get the usual numerical pad with two dedicated buttons under it for Netflix and Google Play, four color buttons below them, the navigation controls in the middle with volume, channels and playback controls being placed at the bottom. While it would be far fetched to describe it as an amazing remote it's a huge improvement over what we were getting until last year. The remote in general feels more sturdy and premium even if it is not in the same league as the smart remotes of Samsung and LG. The remote also includes a built-in microphone that you can use for voice control while it uses both IR signals and Bluetooth for communicating with the TV.
Closing this part we feel that the X850G has exactly what it needs to feel like a middle tier model. Thickness is very good, build quality is high and the new remote included gives this unit good points in this regard.
Video Quality
Processor technology used
The X850G comes equipped with the X1 4K HDR processor and along with it come a few interesting technologies that offer improved image quality compared to the X800G that uses a less capable quad core processor. These include the Object-based HDR remaster which analyzes the color of each object on-screen individually and adjusts the contrast accordingly unlike conventional TVs that make adjustments along one black-to-white contrast curve.
We also get Super Bit Mapping 4K HDR which means that we get a 14-bit color gradation and as a result far less color banding due to the increased color shades on-screen. Lastly we find Dynamic Contrast Enhancer which enhanced the bright parts of the image while dark parts show a truer, deeper black.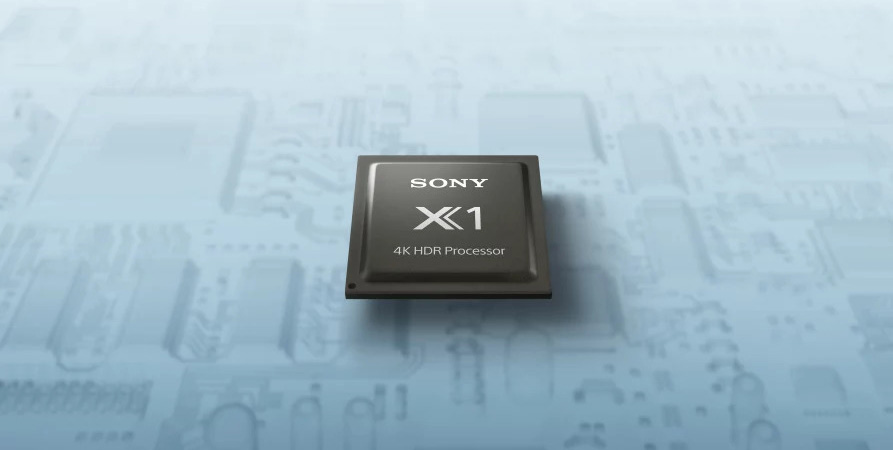 But the good news don't stop here as also included is the 4K X-Reality Pro technology that is responsible for upscaling SD as well as HD content into 4K resolution while going through the necessary processing ensures that quality wise the end result will appear as much improved as possible. Obviously when it comes to upscaling the quality of the original content plays very important role as no upscaling technology, no matter how good it is, can do miracles in this regard.
Lighting technology used
In true Sony fashion all their entry and middle tier models this year either use Edge-lit or Direct-lit panels and we see the same thing happening with the X850G also. The three smaller sizes, that is the 55″, 65″ and 75″, use Edge-lit lighting while the bigger 85″ uses a Direct-lit system. Neither of the two have local dimming which could improve contrast and instead we see in all of them what Sony calls "Frame Dimming". The X850G is the last in the series to use an inferior lighting system as the top of the line X950G goes for a full array with local dimming system (FALD).
Obviously the Edge-lit system we get in the testing unit is less than capable when it comes to light control and precision compared to a FALD system and as a result has a negative overall effect on image performance.

Brightness / Contrast
With the X800G leaving us with a bitter taste in our recent testing we were hoping that we would see some improvement with the X850G. HDR has high requirements in brightness and we have seen a lot of TVs lately failing to reach a satisfactory level that would make HDR content really stand out.
Settings that we chose prior to our testing were Cinema picture mode along with Expert 2 color temperature which we found to give us satisfactory image results, ideal for our measurements. In the HDR brightness test over a 10% window the X850G gave us 575 nits of brightness which was good but not great. On the other hand the SDR brightness test over a 10% windows gave us a 452 nits measurement which we consider very good for this type of content. We would say that the X850G offers a nice boost in brightness over the X800G and while we cannot say we were thrilled by it's HDR performance things fared much better in comparison.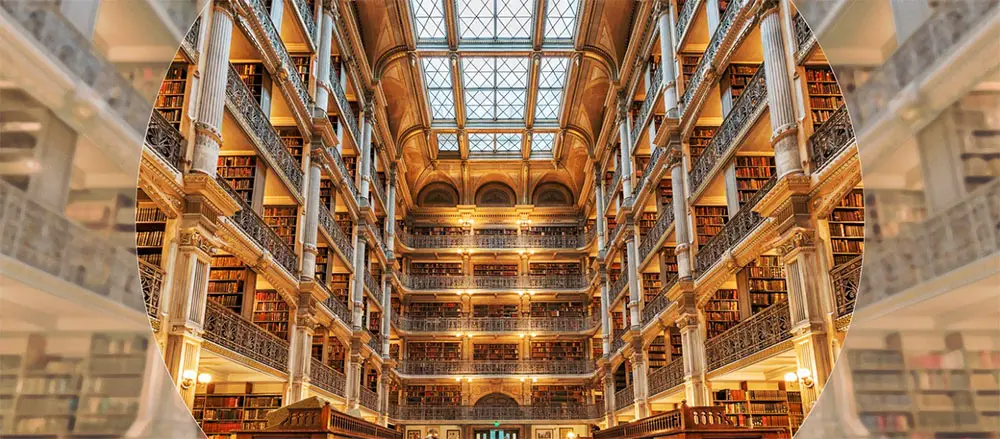 If there is one area that the X850G left us disappointed was contrast. Shockingly this unit even managed to perform slightly worse than the entry level X800G with black levels appearing more grey than black. The omission of local dimming only made things worse and we cannot say that there was any setting that could improve this. If you consider contrast very important then we would suggest you to look for a different model otherwise with the help of a little ambient light you can somewhat improve this.
Viewing angles
With three of the four sizes coming with an IPS panel means that viewing angles are in generally good. Obviously it's not OLED good but they fare much better than what we usually see with VA panels. With only the 85″ model there should be a difference as it uses a VA panel instead and this doesn't mean good things when it comes to this.
As for the model we are testing today it showed the kind of behavior we were expecting to get. This means that image quality was more or less stable up to about 40 degrees. Anything more and there is an obvious downgrade in quality with black levels, colors and brightness deviating far too much from their optimal values. Very good for a LCD TV and more or less what we were expecting to find here.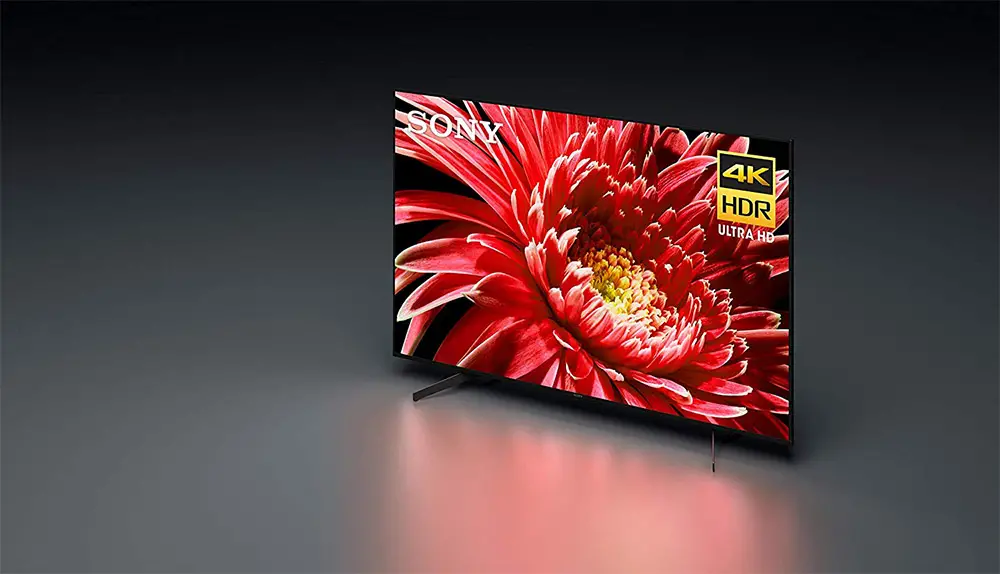 HDR support
When it comes to HDR the X850G supports the three most usual HDR protocols that we find in many medium and top tier models and these are the basic HDR10 that is necessary for UHD playback, HLG that is used mostly for broadcast and Dolby Vision which is the most advanced of them by using dynamic metadata.
Unfortunately there is no HDR10+ support and Sony hasn't mentioned if there will be in the future with some kind of update. Another thing to keep in mind is that the X850G is the last model in the 2019 series that supports Dolby Vision as anything else below this one doesn't. So if you absolutely want Dolby's advanced HDR then this is as low as you can go in order to have it.
Color coverage
The X850G is capable of displaying wider color gamut and this is one of the main factors when it come to HDR image performance as colors have a more vivid and lifelike look. With the unit we test today we got 87% color coverage of the DCI-P3 color space and 65% coverage of the wider REC.2020 space. These results although very good are a bit surprising as we got almost exactly the same numbers during our X800G testing.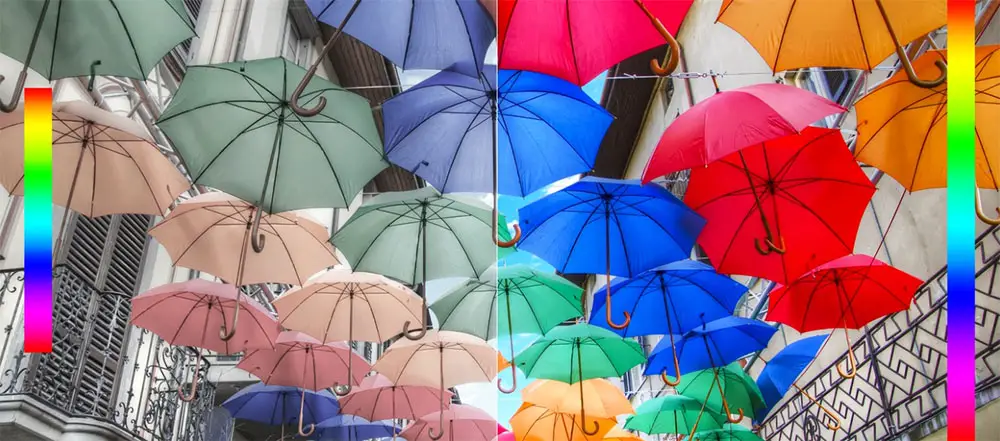 We were expecting at least to see a slight improvement since we are talking about a more expensive model but unfortunately the X850G failed to meet our expectations. Just to make things clear the results we got were very good for this price range, it's just that we were hoping to get something better than what we got.
Motion performance
If the previous Sony models we had tested are any indication we were expecting good things from the X850G also when it comes to it's motion performance. This TV combines a 120Hz panel along with Sony's MotionFlow XR 960 technology offering a nice improvement over the previously tested X800G which has a 60Hz panel. This unit supports both Motion Interpolation as well as Black Frame Insertion (BFI) in order to create more smooth images.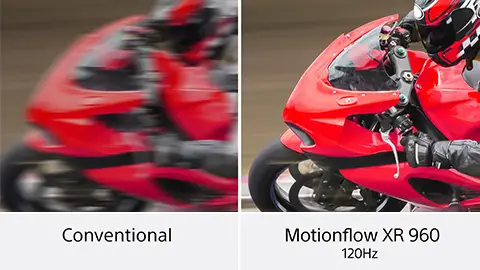 With BFI the TV inserts black frames between two individual images which gives the illusion of smooth motion at the expense of some brightness and some slight flickering. Unfortunately like the X800G, the X850G doesn't support any kind of Variable Refresh Rate (VRR) tech like Freesync.
Input lag
Let's move on our input lag testing. When we tested the X800G we were very disappointed with the measurements that we got something that seems to have been rectified here. Both in our 1080p and 4K resolution testings we measured input lag with an average time of 15.2ms which is amazing and very close to some of the best input lag we have seen to this day. The best TVs right now are measured in the 10-15ms area so in this regard the X850G really shined.
To test this in a real world situation we did play a bit of Call of Duty WW2 with our PS4 as we do almost every time in order to get a real sense of responsiveness and according to our casual standards we could not be more happy with the kind of experience we had. Our commands were immediately shown on screen and during our playtime we never experienced any kind of slow response or delay. If you are a hardcore or casual gamer then the X850G is an ideal TV for your gaming needs.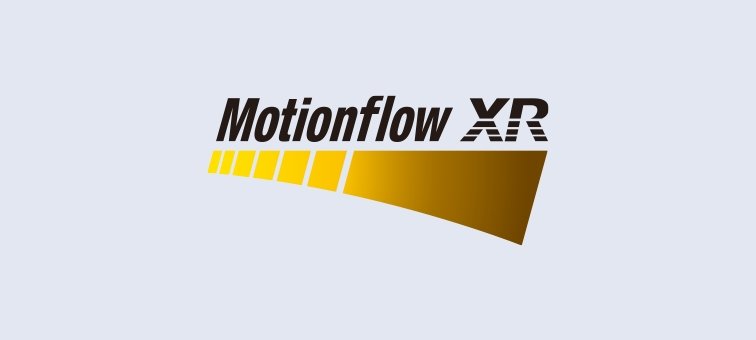 Unfortunately one thing that we do not get is the Auto Low Latency Mode (ALLM) that is supported by the Xbox One S / One X but this is something common in all Sony TVs in 2019. Hopefully we will get this in future model releases.
Image quality impressions
Finishing with the image performance part what we can say is that the X850G offers nice improvements in almost all aspects compared to the X800G. Brightness is better in both SDR and HDR, we get a 120Hz panel with better overall motion performance, input lag is vastly improved, Dolby Vision is supported here while we get the X1 4K HDR processor that offers improved image processing and upscaling technologies.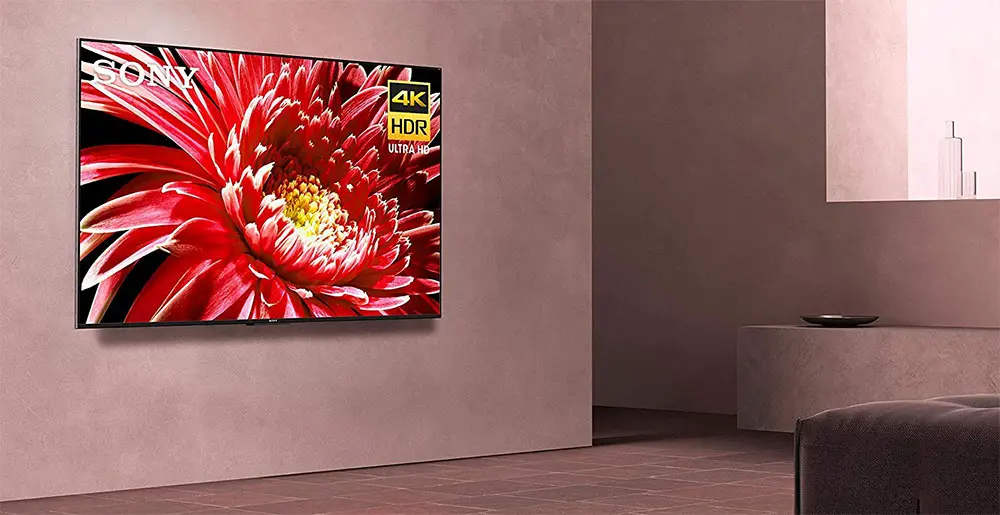 Color coverage was the same which was a bit disappointing as we were expecting some, even slight, improvement but in general the numbers we got were very good while viewing angles, due to the use of an IPS panel, we consider great for a LED TV. If there is one thing we didn't like was the very bad contrast that surprisingly was worse than even the entry level X800G and honestly we couldn't figure out the reason for this.
As you can understand the good points far outweigh the bad making the X850G score very good in general.
Audio Quality
Let's take a look how the TV does in the sound department. Usually most flat TVs either entry level or top tier use simple down-firing drivers that offer little, if any, sound immersion as space limitations in the panels leave little freedom for manufacturers to do anything better. We have seen recently engineers focusing more on improving the software by offering AI processing and virtual technologies but in the end these do little to improve the overall situation.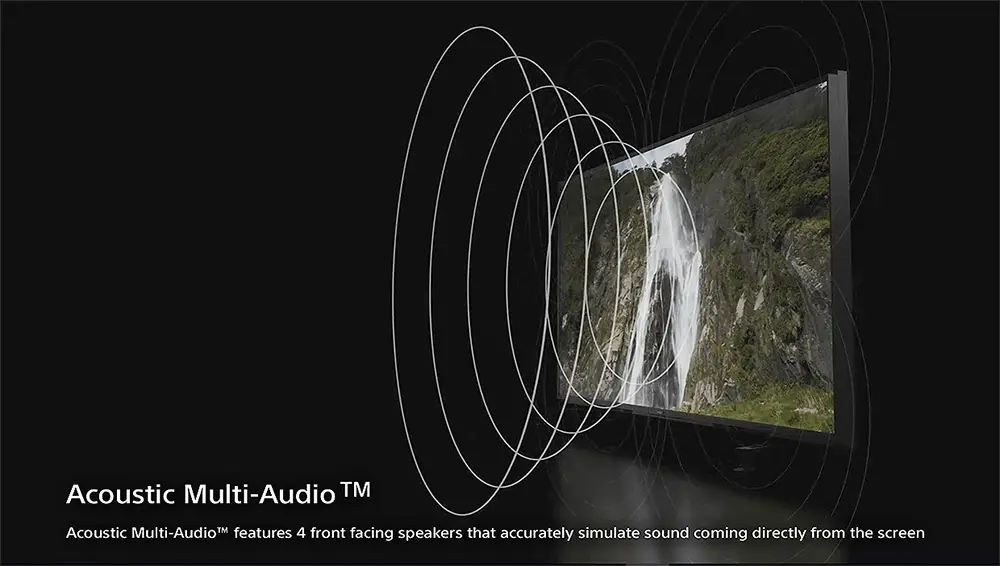 Sony seems to go a different route as the X850G comes with a technology called Acoustic Multi-Audio. This features two full range, bass reflex drivers with 10 watts of power each that are placed behind the screen and give the illusion of sound coming from the center of the image. The two drivers are accompanied by two sound-positioning tweeters that are placed at the back of the TV in the edges of this black gloss stripe. In total this is a rather unique system that tried to give the impression of sound coming from the center of the screen and while we cannot say that in general offered anything more to improve total immersion it did provide a very clear and sharp acoustic result ideal for sports or casual viewing.
The TV supports Dolby Digital and DTS along with Dolby Atmos and while what we heard was good for a built-in TV audio system we would strongly recommend you to buy a dedicated audio system or at least a cheap soundbar that can offer much greater immersion and surround activity than what you get here.
Inputs
Moving on we will now take a look at what this unit has to offer in terms of connectivity. As we mentioned above all ports are located on the back right side, except for the power connector that is placed on the left, and have been separated into two groups with the most important ports looking sideways while there are also a few that look backwards. We cannot get why we still see backward looking ports since wall mounting the TV will make it so much harder to use these ones.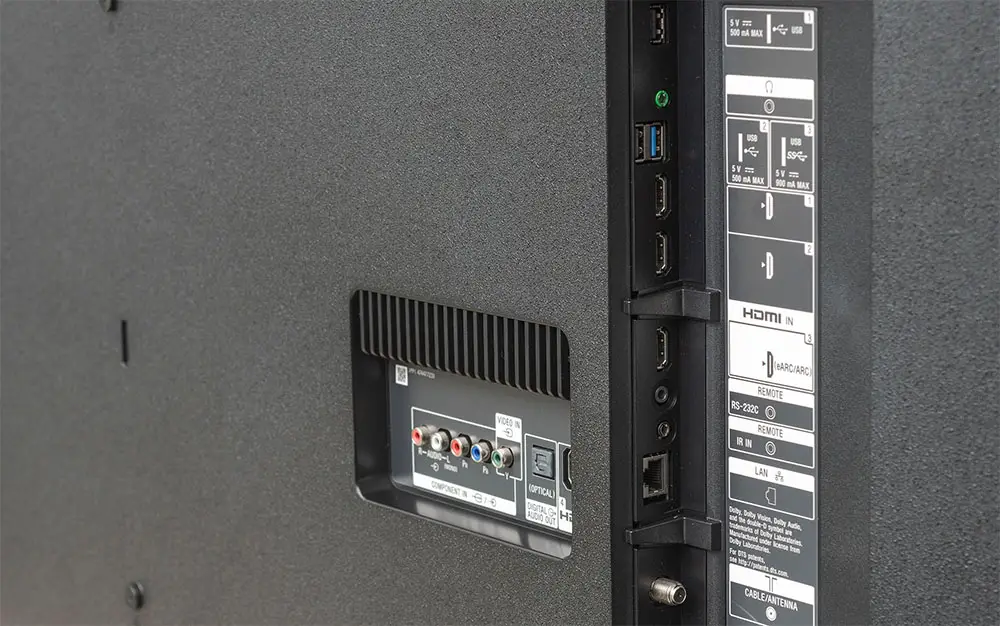 Looking sideways there are three USB ports for connecting external storage with one of the being version 3.0 while the other two being the older 2.0. We also get a 3.5mm headphones mini jack, three HDMI ports with the third one supporting ARC and eARC functions, an RS-232C, a remote IR input, an Ethernet port for wired connection to the internet as well as the usual cable/antenna connector for broadcasting channels.
In the second, backwards looking group that is situated right next to the other ports we get a fourth HDMI port, an optical digital audio output, a composite video input as well as a component video input.
What we should note is that although we do get the new eARC functionality the HDMI ports are not 2.1 but rather the older 2.0b. It seems that only LG has fully embraced HDMI 2.1 for 2019 and we will have to wait until the next yearly releases to see if the other manufacturers will follow. We also like the fact that we get a USB 3.0 as it can make a big difference when streaming high bandwidth files.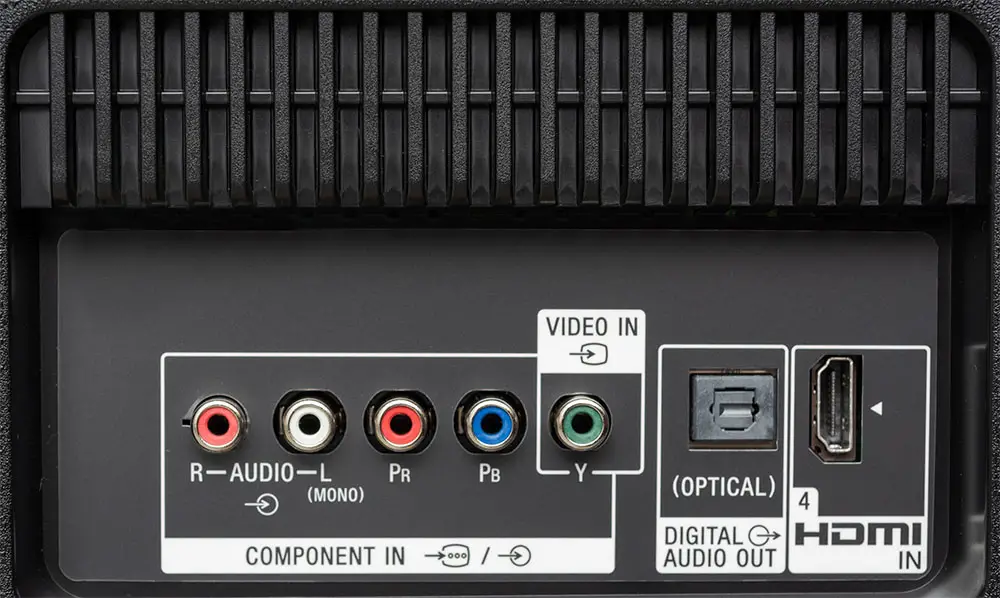 OS, Apps and Features
While we were a bit puzzled during our Sony X800G  review to find that it came with Android 7 instead of the better Android 8 things were back to normal with our X850G testing as the TV came with Android 8 Oreo from the start. Almost the entire 2019 Sony lineup comes with Android TV which is great as it elevates the value and functionality of even the low entry TVs so much more.
With Android TV 8.0 Oreo Google has made a huge jump in both quality and functionality of their smart TV platform. Before we could talk about specific strengths Android had with some major weaknesses keeping the platform from offering a truly great experience. Number 8 seems to be the lucky number as Oreo has improved in almost all aspects making it now a worthy competitor to the likes of Tizen and webOS. Honestly we still prefer Tizen slightly more but we can now admit that they are very close indeed.
What seemed to be a sluggish experience with previous versions has turned out to be such a pleasant one with this one. Android TV as it is in the X850G feels smooth, easier to handle and better in almost every way. The new user interface has a brand new layout, options has been re-positioned at the top and almost all Android and non Android parts had a major overhaul in order for the operating system to interact seamlessly with the Android platform.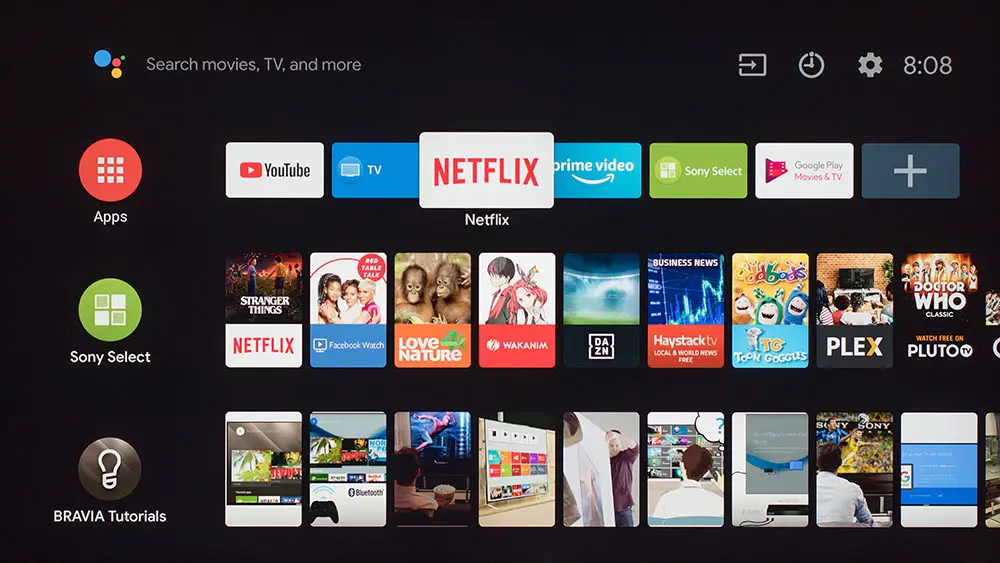 A major problem that plagued previous versions of the platform was Android's inability to offer any meaningful suggestions depending on your viewing habits and the content you mostly prefer to watch. This seems to have greatly improved also as now Android gives you suggestions that do make sense instead of showing you rubbish content. Improvements we have also seen in the navigation as we didn't notice any visible delays or lag when opening various apps in fast succession. Everything seemed butter smooth in handling.
One last thing that we need to mention is that you cannot talk about the Android platform without mentioning to huge list of apps and streaming services that the platform supports. With Google Play store you can find literally all know services available. There are so many here that it's impossible to write them all but all the major names are available with Google Play TV & Movies, Netflix, Amazon Video, Sling TV, Hulu and Youtube as well as Pandora, Tidal, Google Play Music, Spotify or iHeartRadio apps to name a few. Just keep in mind that many of them are location based so you need to make sure if the one that interests you is available in your region.
Something that was expected but we did test in order to ensure that it works is HDR playback with Netflix as well as Youtube something that seems to be the normal from now on.
The X850G also comes with built-in Chromecast support which means that you can stream content from various other Chromecast enabled devices like tablets and smartphones to your TV. We are in 2019 and voice control seems to be yesterday's news as we get both Amazon Alexa and Google Assistant support. But what we should mention is that while for Google Assistant you can use the remote's microphone to give commands, for Amazon Alexa you will need an external device like Echo Dot for it to work.
This distinction seems to happen due to the use of Android TV although we cannot be entirely sure of that as integrating Amazon Alexa into the Android system shouldn't be a problem as the hardware is there and is very capable. Voice control is not limited in the TV controls as you can use the TV as a central hub for all your smart devices in your house.
But if voice control is not your thing you also have the option of using Sony's remote app that can substitute the remote's basic functions but unfortunately cannot be used for everything as you cannot change the TV settings or input text in certain streaming services. At least it supports voice control as well as content streaming to the TV.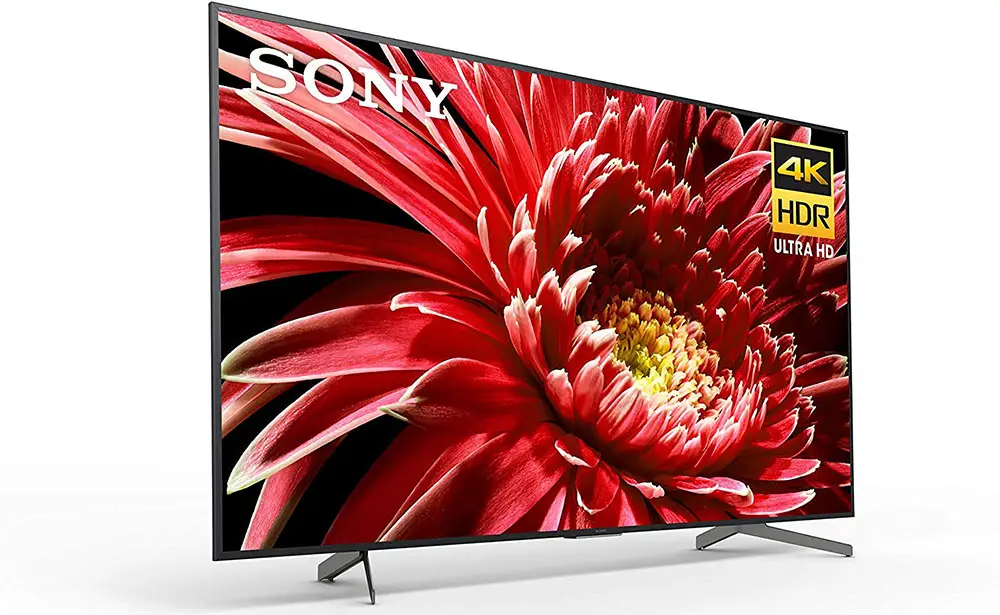 Also we do like that there a built-in media player available that can stream content from any kind of external storage connected either through the USB ports or local network. Having a USB 3.0 greatly helps as the player can play not only Full HD 1080p video but also 4K ones and the extra bandwidth that the 3.0 version has will be greatly appreciated in this regard. We did test a few different files and all of them played without any problem and external subtitles seemed to work trouble free but keep in mind that this player will play the most usual formats and containers and in no way it can substitute a dedicated media player that can play a wide variety of files and formats.
What is worthy of noting is that with a firmware update now available the X850G can have access to Apple's Airplay 2 and Homekit features. With Airplay 2 you can stream content from any Apple device to your TV. Both the X950G and X850G seems to have gotten this update and only the entry level X800G was left out. But updates don't stop there as it is assumed that the X850G will also get the Apple TV app at some point in the near future so you can watch movies and shows purchased through the iTunes store and also stream films from the Apple TV+ service.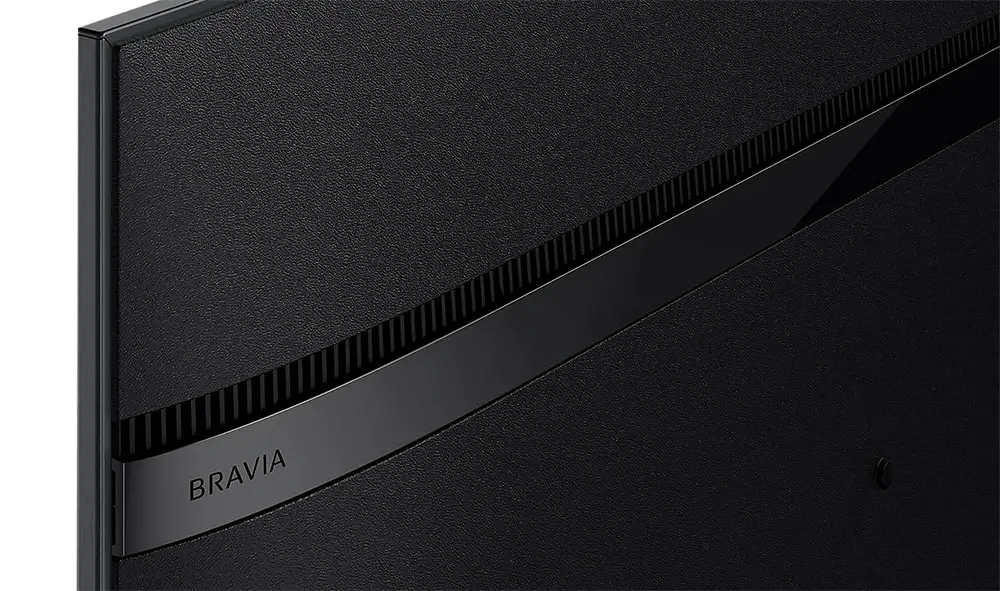 We have said it many times before that Android 8 is a huge update over previous bug infested and laggish versions of Android. While before Android TV was a distant third with Android TV 8.0 the distance between the other two main competitors, Tizen and webOS that is, has been dramatically shorten making things more interesting in the smart TV segment and shows how serious Google is in offering an experience that has nothing to miss from the other main players.
Final Thoughts
Reaching the end of this review we will say that the X850G behaved exactly like a middle tier TV would with all it's strengths and weaknesses such a TV has. On the positives this means that the image quality in all resolutions was as good as it can get, it comes with the X1 4K HDR processor that comes with special processing and upscaling technologies, features an IPS panel that offers good viewing angles, color reproduction was great, motion performance was as per Sony's high standards, SDR brightness was very good while input lag was extremely low making this model an ideal gaming TV.
Build quality in general was good while getting the new 2019 remote is a major improvement over the previous ones. We also get Android TV 8.0 with all it's major upgrades giving the X850G so much more value. Lastly we shouldn't forget to mention that the X850G is the cheapest you can go in order to get Dolby Vision.
On the negatives HDR brightness is average and could be a bit better while contrast was very bad for a middle tier TV which was a bit of a shock and not expected. Also while local dimming could help improve things a little there is none here. HDR10+ is nowhere to be found and Sony hasn't announced if the X850G will get it at all while sound was only good for casual viewing even though Dolby Atmos is supported. Also we were hoping to get HDMI 2.1 but it seems that this is a LG thing for 2019 and we will have to wait for another year before we see Sony fully embracing it.
The X850G stands in a fine line between performance and features offered and an affordable price. And while the X800G comes cheaper if you want to have a meaningful 4K with HDR experience the X850G should be the absolute minimum you should aim for. With the X950G being on the high price for many and the X800G falling short in some key areas the Sony X850G is the TV that offers a little bit of everything and certainly will be a model that will gain much attention from consumers.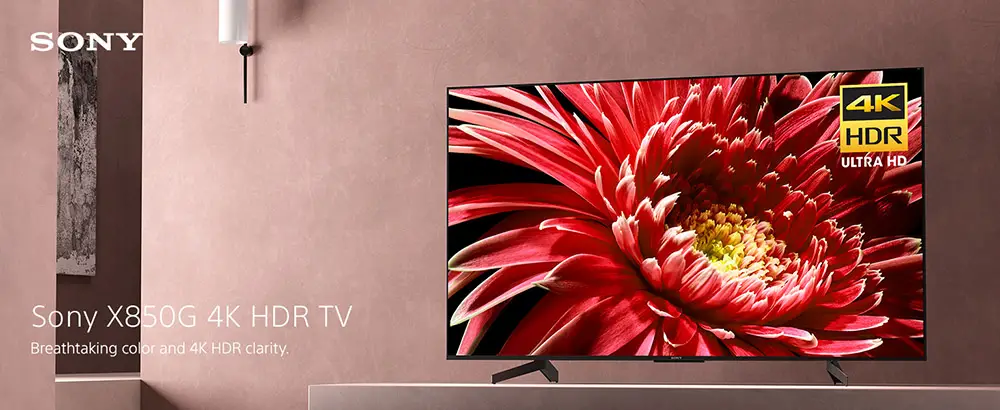 For more reviews you can check our dedicated 4K LED LCD TV reviews list or even look at our Product Reviews Table where you can find the brand and specific product you are looking for.
Also don't lose the chance to subscribe to our Newsletter and gain exclusive privileges.
---
---
Cheapest Places to Buy :
---
Sony X850G Specifications