SVS SB-2000 Pro
Reviewed at $899.00
Movies Performance
9.2/10
Inputs and Features
9.3/10
Pros
Punchy bass
Nice low end extension
ICI with mobile app support
Piano Gloss Black finish looks amazing
Cons
Cloth grille can be damaged
The Piano Gloss Black finish costs $100 more
Only suitable for small to medium sized rooms
A bit pricey
---
Cheapest Places to Buy :
---
If there is one name that immediately comes to mind when you think about home theater subwoofers this certainly is SVS. Although SVS is making more than just subwoofers this is surely the spearhead of their product lineup and have managed to become a fan favorite over the years. So today in our SVS SB-2000 Pro review we decided to test a sub that belongs in the second from the bottom category they have.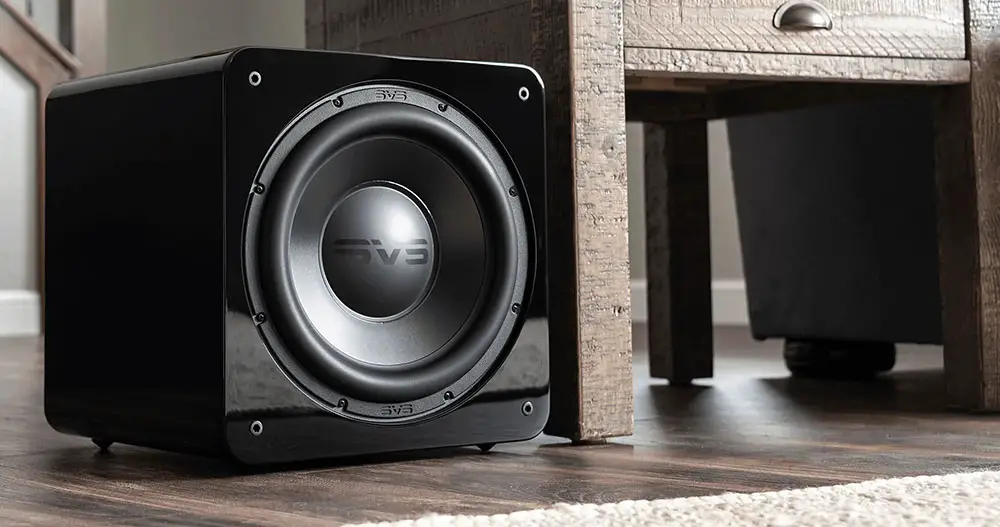 SVS lineup consists of 5 different series with the 1000 Pro series aimed for smaller rooms and systems while the 2000 Pro, where the SB-2000 Pro belongs to, is for those with slightly larger areas and dedicated media areas. We had previously tested the SB-2000 which is replaced by this one and it proved to be an excellent subwoofer. And since we have already tested the SB-1000 Pro we are curious to see how its bigger brother would perform in comparison.
As always, before we start we will go through its specs real quick to see what we should expect from this little monster. The SVS SB-2000 Pro comes with a 12-inch high-excursion driver placed in a 15″ cabinet and featuring a 550 watts RMS, 1500+ watts peak power with a Sledge STA-550D amplifier. This gives the SB-2000 Pro the ability to push hard and dive deep on the low end, much lower than cheaper subwoofers of the same category. And with the addition of the Intelligent Control Interface (ICI) you gain unparallel control over the sub with the use of your smartphone device.
In essence you could say that the SB-2000 Pro is an amalgamation of its predecessor, the SB-2000 and the new SB-1000 Pro. The end result is a subwoofer that comes with all the latest technologies and has enough punch for its size which certainly makes it a first rate contender for its respective category.
Design, Inputs and Features
Exterior
The SB-2000 Pro looks exactly the same as the previously reviewed SB-1000 Pro, only on a bigger scale. And this shows how much the newer SB-1000 Pro borrowed from its bigger brother in terms of looks and overall design.
The sub measures 14.6" x 14.2" x 15.6" (372 x 360 x 395 mm) with the grille attached and weights 38.6 lbs. (17.5 kg) which surely makes it a sub that needs some ample space to perform accordingly.
Its design is rather simple with its cubic look with rounded corners while the front side is completely covered by its 12″ driver. The cabinet features an extra-thick MDF front baffle and extensive internal bracing to create a resonance-free environment.
The cabinet is very sturdy and stable with the help of four screw-in rubber feet but if you need some higher sound isolation the subwoofer is compatible with SVS's SoundPath Isolation system which will result in a better decoupling of the sub from your floor.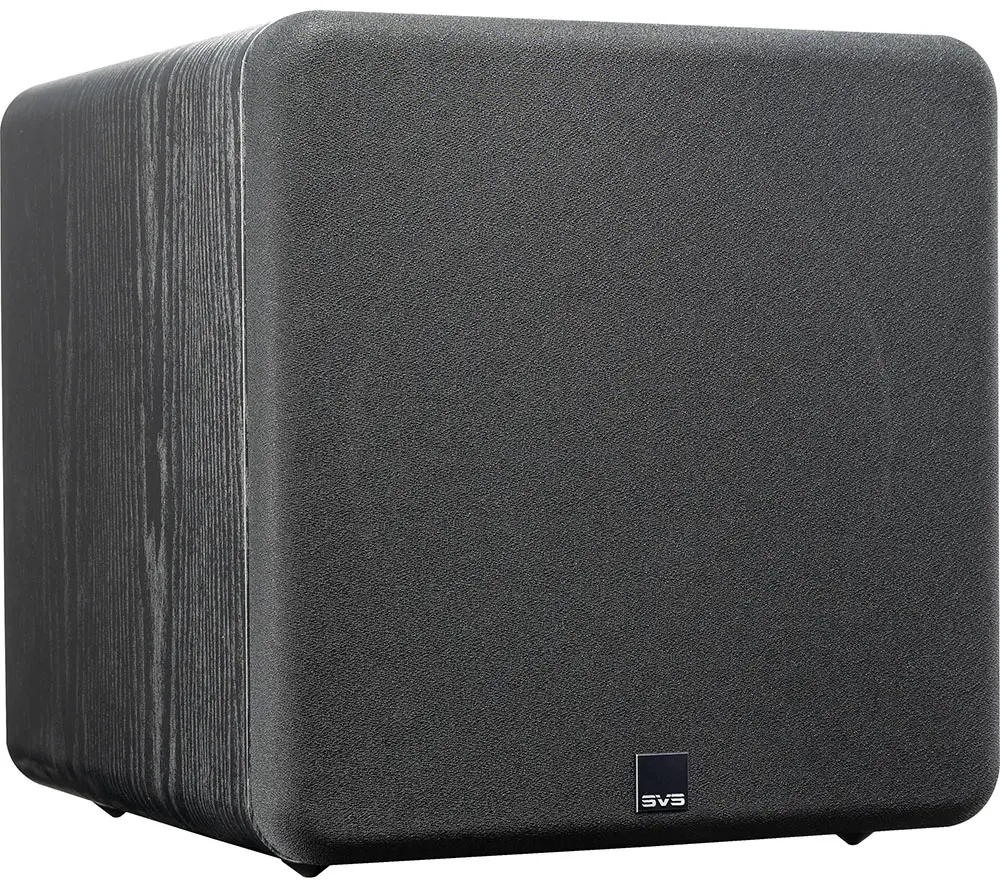 The grille covers the entire front face and it has a centered SVS logo on the bottom center while it's corners follow the same curvy design of the main body. The cloth grille may look better than the steel mesh grille of the SB-2000 but to be honest you cannot have such a little monster and not admire its driver when in use.
At the back we find the familiar Intelligent Control Interface (ICI) that we will talk about in the appropriate section below along with all the available connections.
As for the available colors SVS was always very shy of offering many variations for its speakers and the SB-2000 Pro is no different. Coming in Premium Black Ash or the slightly more expensive Piano Gloss Black finish are the choices you have.
The gloss finish have a higher price but in our opinion it looks so much better but keep in mind that it's also a fingerprint magnet. Unfortunately there is no Piano Gloss White finish in the SB-2000 Pro as was the case with the SB-1000 Pro which is disappointing as that color looked exceptionally good and premium.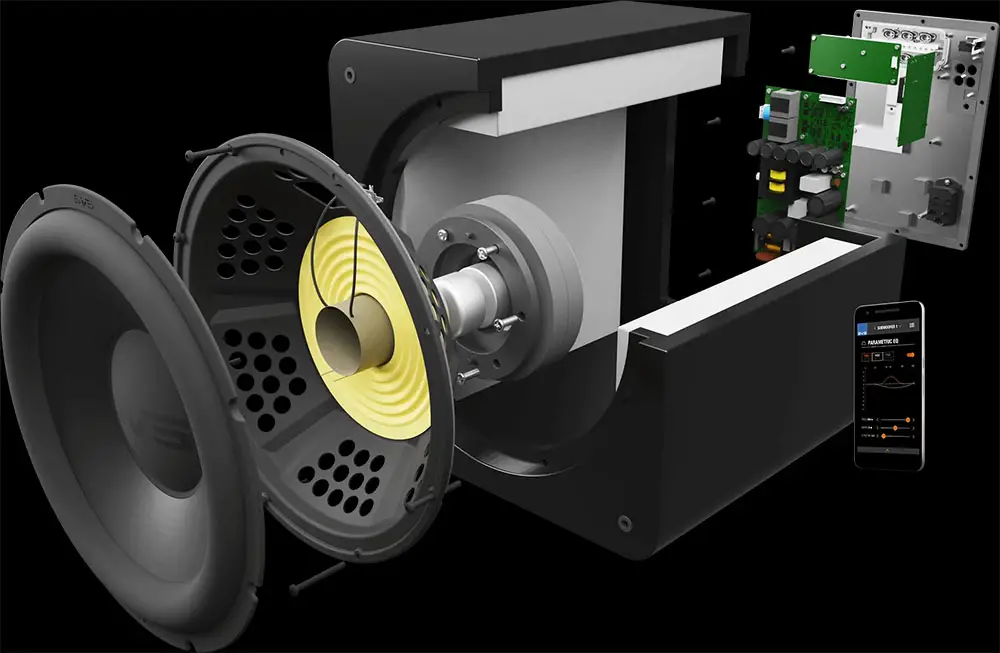 In terms of construction and cabinet quality the SB-2000 pro is up there with the rest of the SVS subwoofers we had seen before. They may not be the most premium of subwoofers you will find in the market but they surely are a cut above a lot of mainstream brands and this is the reason why a lot of consumers go for them.
Internal Hardware
Let's take a peak on the insides of the SB-2000 Pro now.
The subwoofer is using a specially designed 12-inch long-throw driver with a high-precision tuned overhung motor configuration. The proprietary SVS design features a dual ferrite magnet motor assembly with long-throw parabolic surround for extreme excursion with room-pressurizing SPLs. A lightweight and rigid aluminum vented cone with composite fiber dustcap moves immense amounts of air to create tactile sonic energy without losing control. The result is precise and accurate response not usually seen in this size.
But except from the new driver SVS has also upped the amplifier specs as the one featured in the Pro series is rated at 550 watts RMS with 1500+ watts of peak power which is a respectable upgrade over the 500 watts / 1100 peak power of the SB-2000.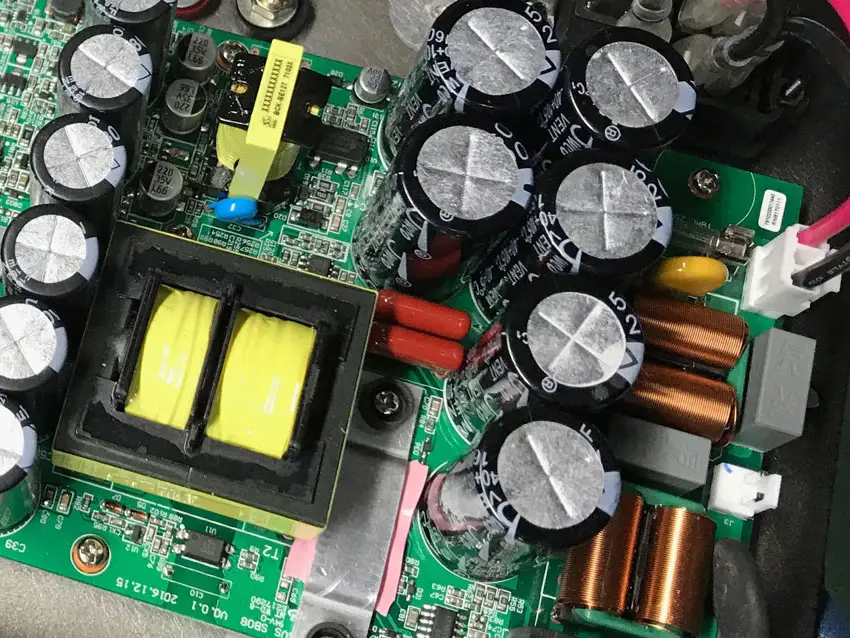 The upgraded SB-2000 Pro Sledge STA-550D Amplifier with fully discrete MOSFET output was necessary to provide the necessary current and tap on the potential of the high-excursion 12-inch driver. The high efficiency Class-D topology with massive 25 Amp 600 Volt MOSFET's delivers massive amounts of current that is required for its immense output.
In addition SVS has added what they claim to be the most advanced processor ever used in a consumer subwoofer, a 50 MHz High Resolution Analog Devices Audio DSP with precision 56-bit filtering, in order to allow the 2000 Pro Series to blend with any speakers and maintain pristine sound quality through advanced in-room tuning, optimized frequency response curves, powerful DSP controls and more. This is the same DSP that is used in the SB-1000 Pro by the way.
All the above give the SB-2000 Pro a frequency response of 19 – 240 Hz (± 3 dB) which is amazing for this size and price and is one of the main reasons why many consumers go for these subs.
Connectivity
As we said before, the smaller SB-1000 Pro has borrowed many design elements from the SB-2000 Pro so what we find here is an extremely similar layout which is surely a vast upgrade over what was used in its predecessor, the SB-2000.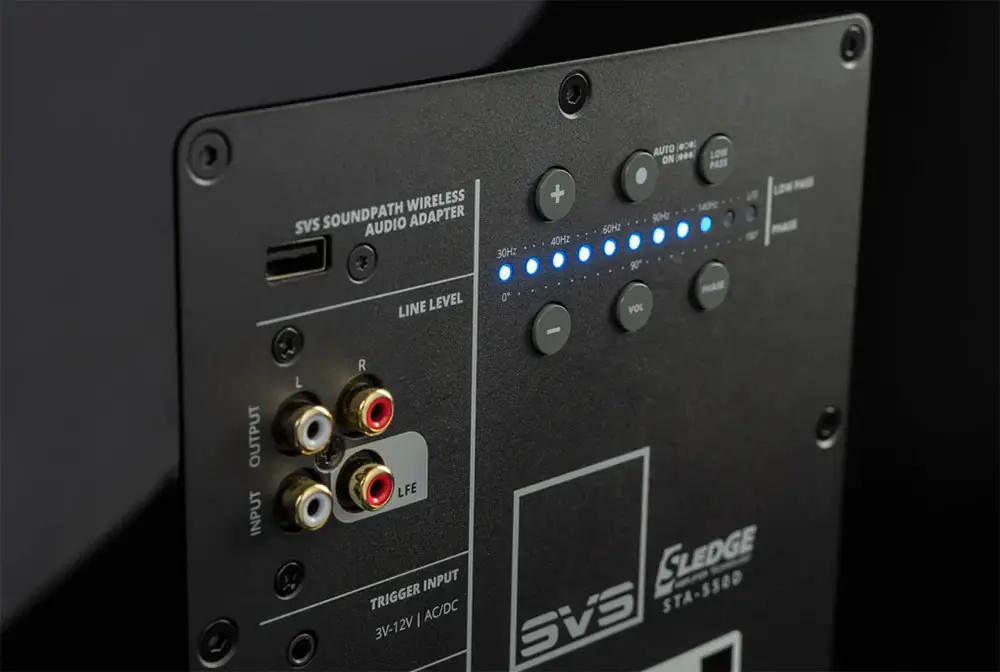 All connections are placed on the left side of the Intelligent Control Interface (ICI) and what we get is the standard LFE coaxial port as well as a pair of line level input and a pair of outputs exactly above. Below these there is a 3V-12V AC/DC trigger input which is not usual to get in a subwoofer but we see that SVS is using one in almost all their releases.
The only thing that is missing from the SB-2000 Pro, that we saw in the SB-1000 Pro, is the 2 pairs of 5 way high level speaker wire inputs. As the SB-1000 Pro is a newer release, this is the reason why these are missing here.
One thing that was missing in the SB-2000 is the addition of a USB port at the top that is used to power the SVS Soundpath Wireless Audio Adapter that we will talk about shortly.
Other than the new USB port there is no change in the number or type of connections here and to be honest what we get is more than enough for most kinds of setups.
Controls
Exactly to the right side of the connections we find what SVS calls the Intelligent Control Interface (ICI) which is the new control system for all functions of the subwoofer while also provides connection for the SVS Subwoofer Smartphone App.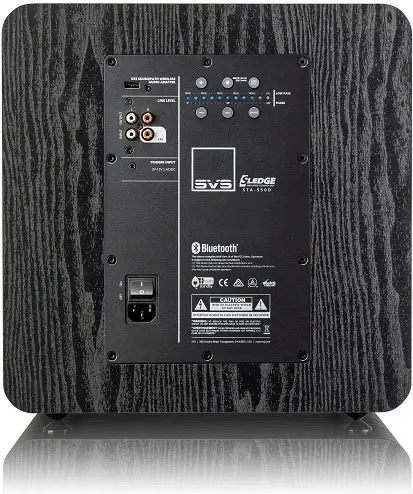 SVS have upgraded the entire subwoofer product lineup to support this feature and in our opinion is an amazing practical feature as no more you will have to reach out for the knobs at the back of the unit to calibrate the sub. Everything can be adjusted from the comfort of your sofa fast and without much effort.
The system is like for like to the one used in the SB-1000 Pro and PB-1000 Pro so we knew what to expect from it. Basically we get four buttons that control the power on/auto on mode, the phase, the volume and the low pass filter along with a duo of buttons for increasing or decreasing the mentioned values. The LED bar lights between these buttons act as a visual indicator for the value you set for each function.
And while the overall design of the ICI looks nice and more modern than what we usually see in subwoofers it basically has the same functionality as the knobs of the SB-2000. But as we said everything gets easier with this system.
Now, one characteristic that sets the SB-2000 Pro, and all new SVS subs for that matter, apart from the competition is the inclusion of a mobile app that you can use to set various parameters instead of having to use the rear panel ICI all the time. This can be very handy in case you want to place the subwoofer in a specific position where the rear panel is hard to reach. It's like having the rear panel at the palm of your hand and more.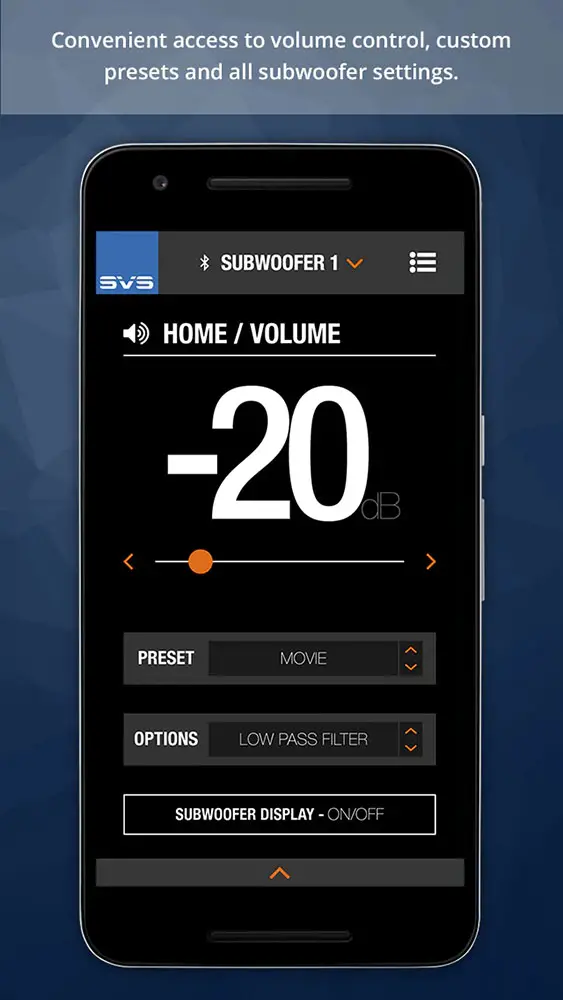 The app connects to the subwoofer through Bluetooth and when you access its main page you get a plethora of functions that you can play with including the volume, Parametric EQ, Presets, Low Pass Filter, Phase, Polarity and System Settings. For each of these settings there is a help page that analyzes how each one affects the performance of the sub so you get some clues of what you should be doing. There is even the ability to rename your subs in case you are using a dual sub setup in order to be able to distinguish them easier.
With the app you can save custom presets for one-touch tuning with optimized settings based on listening preferences for movies, music, and more. A 3-band parametric EQ controller allows adjustments for frequency slope and Q factor down to the single Hz level with four different slopes, so you can improve the performance of your sub by eliminating peaks, nulls and other room issues.
The combination of the ICI control interface with the addition of the smartphone app gives you amazing control and flexibility over the SB-2000 Pro.
Extra Features
The subwoofer has an auto function mode which can be activated by pressing the Auto/On button. The first time this button is pressed puts the subwoofer in continuous mode and the button will turn blue while a second push will activate the Auto function while the button will turn to Amber.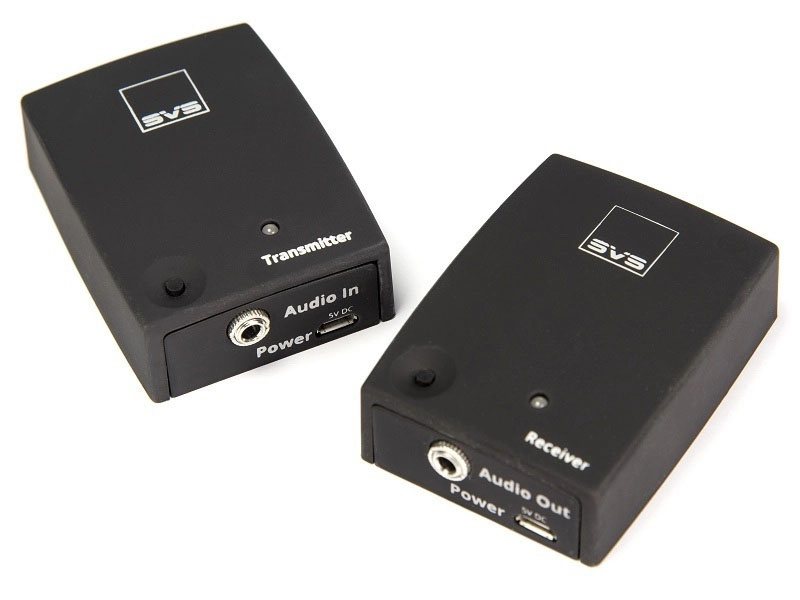 In case you are troubled by the wires you have to run through your house and you prefer a more wireless environment SVS has introduced the SoundPath Wireless Audio Adapter which can be connected to the SB-2000 Pro and powered by the included USB port. This is a new feature that SVS introduced in all their new releases and to be honest it's an ingenious design as we have seen wireless speakers becoming a trend lately and it seems that SVS took notice and introduced this small adapter that can really do miracles without the need of wires.
And if you are worried about possible delay due to the wireless connection then don't. We had tested this device some time ago and we didn't experience any problems or delays. SVS did a magnificent job with it.
Lastly if you have grumpy neighbors SVS has introduced the SVS SoundPath Subwoofer Isolation System which are basically high grade rubber feet especially designed to decouple the subwoofer from the floor and make the energy transfer as weak as possible. These work very nicely so if you have noise problems or wooden floors we would strongly recommend to use them. They are a bit expensive but they are worth it and your subwoofer will sound far better with them.
Performance
As a general rule of thumb sealed subwoofers do tend to fare better with music than with movies as their sealed design is capable of more accurate and tight control of bass which can be detrimental with bass intensive songs. On the other hand a ported sub offers more deep and punchy bass which usually have an advantage in movies.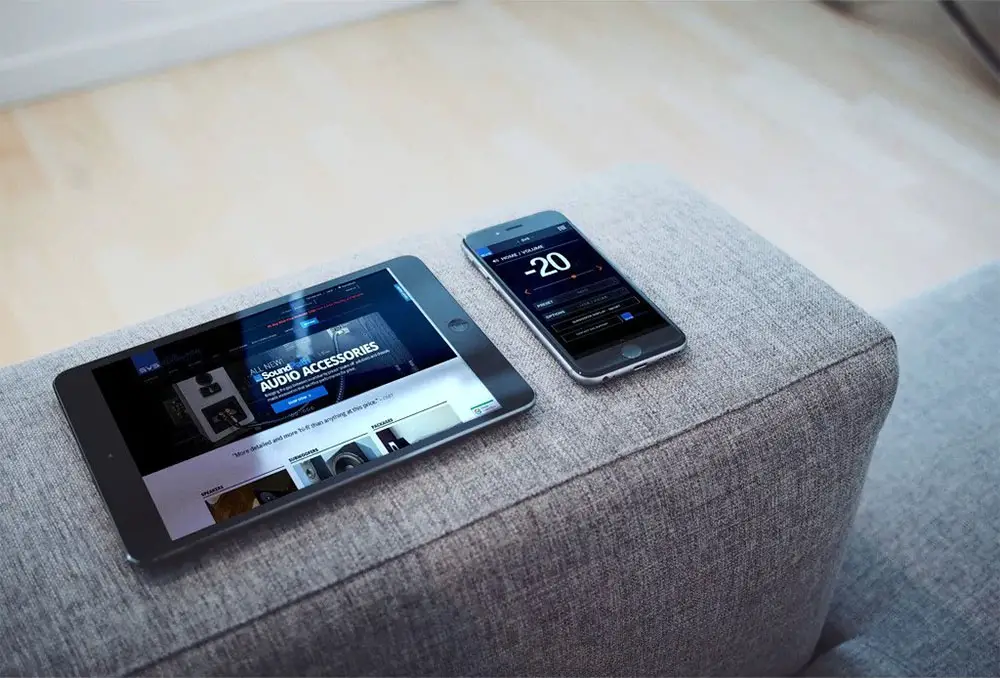 But this doesn't mean that a sealed design cannot do great in movies, on the contrary they can sound magnificent as our past experience has shown. There are very small differences between the two and only those that look for very specific things in the performance will be able to take advantage of such a design.
As with all our subwoofer tests we placed the SB-2000 Pro in the front left corner and kept around two feet (60cm) around it in order to provide it with some breathing space although the front-firing design of the SB-2000 Pro would not be affected as much as some other subs that include rear air ports. Keep in mind that the closer you place it to a wall the more impactful bass you will get but on the other hand it can sound a bit too boomy so it's a trial an error situation really.
Always remember that there is no right or wrong subwoofer placement and each position has it's advantages and disadvantages and all that matters is what sounds best to you. Now for our movie testing we used a standard 5.1.4 channels, Dolby Atmos setup with 4 height speakers and a single subwoofer that was the SB-2000 Pro. After calibrating the sub to match the rest of our system we went ahead with our movies testing.
Movies
Let's start with a bang so what better option to start the day with some Transformers mayhem and destruction. The one we chose was Transformers: Dark of the Moon in 4K UHD with its explosive Dolby Atmos mix. Exactly what we need to put the SB-2000 Pro through its paces.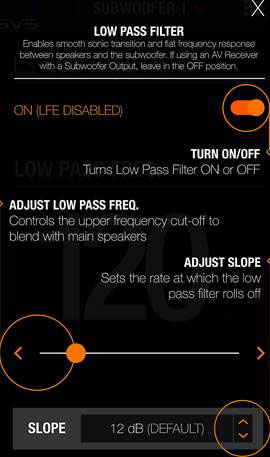 The sub was really nothing short of amazing. It's been a while since we had tested an SVS subwoofer so it's a bit hard to really compare how the SB-2000 Pro fares to either the SB-2000 or the newer SB-1000 Pro but it is not hard to make some assumptions of the improvements you get here.
Basically we could distinguish two characteristics that really sum up what you should expect from this sub. The first is powerful bass and we mean Earth-shaking one. Depending on how bass happy you are, when pushing the bass to higher levels will shake your walls and angry your neighbors. The SB-2000 Pro takes no prisoners here and for its relatively compact size it delivers a lot more than what you would expect.
But a good subwoofer is not only about power. After all if it cannot deliver high quality bass then you just get a cacophony of a sound that bothers the ears and offers nothing in return. The bass from the SB-2000 Pro on the other hand was masterfully articulate and of high resolution.
Every explosion, every cannon or laser fire, all low end electronic sound effects and in general anything that was passed to the sub was treated with care in order to sound pure, raw and without any distortions. The sub can go really low and stay there remarkably well. We didn't feel the sub to buckle under the weight of any scene we tested and the bass was never boomy or muffled.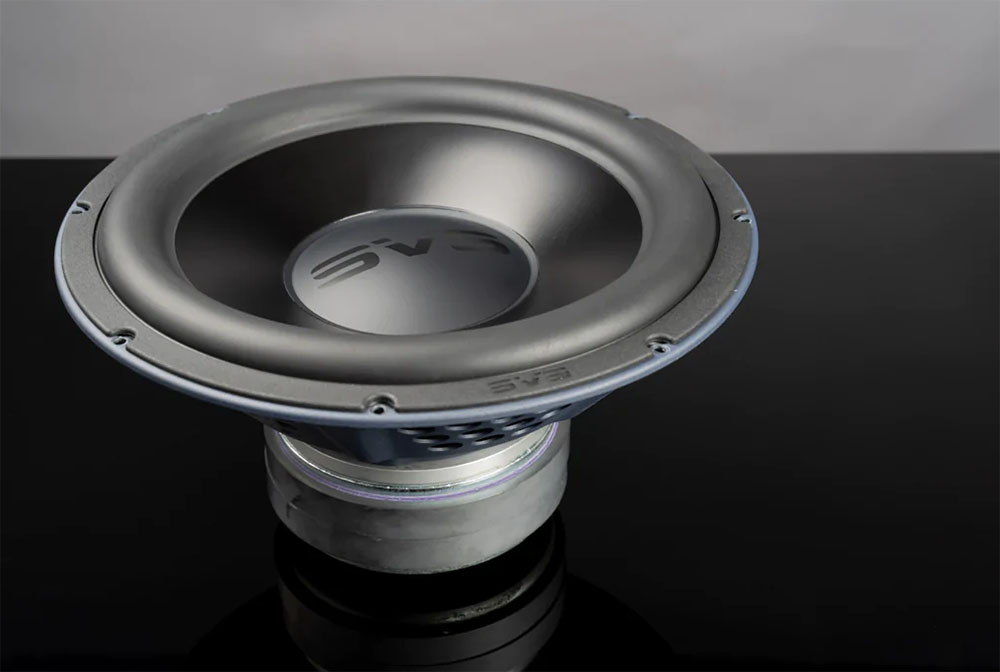 The Transformers test really proved to us what a capable bass handler the SB-2000 Pro is and to be honest we were not expecting anything less. But just to confirm what we heard we also tried a DTS:X mix with Jurassic World being our movie of choice. The 4K UHD version provides the best audio mix possible and this is the one we tried out.
Jurassic World is a bit more pleasing to the ears as it goes for a more balanced output throughout its running time instead of the constant mayhem of Transformers that can create some fatigue after a while. The film surely has its fare share of action and there are plenty of opportunities for the sub to show its qualities.
Obviously the most impressive moments were when the dinosaurs were involved and especially the big ones. The sub did an excellent job at portraying their size and weight as with each step of the Indominus Rex our walls would shake as if he was waiting us outside the room. The roars of all animals had a nice and natural tone to them and the SB-2000 Pro made sure to keep the low end clean and very tight.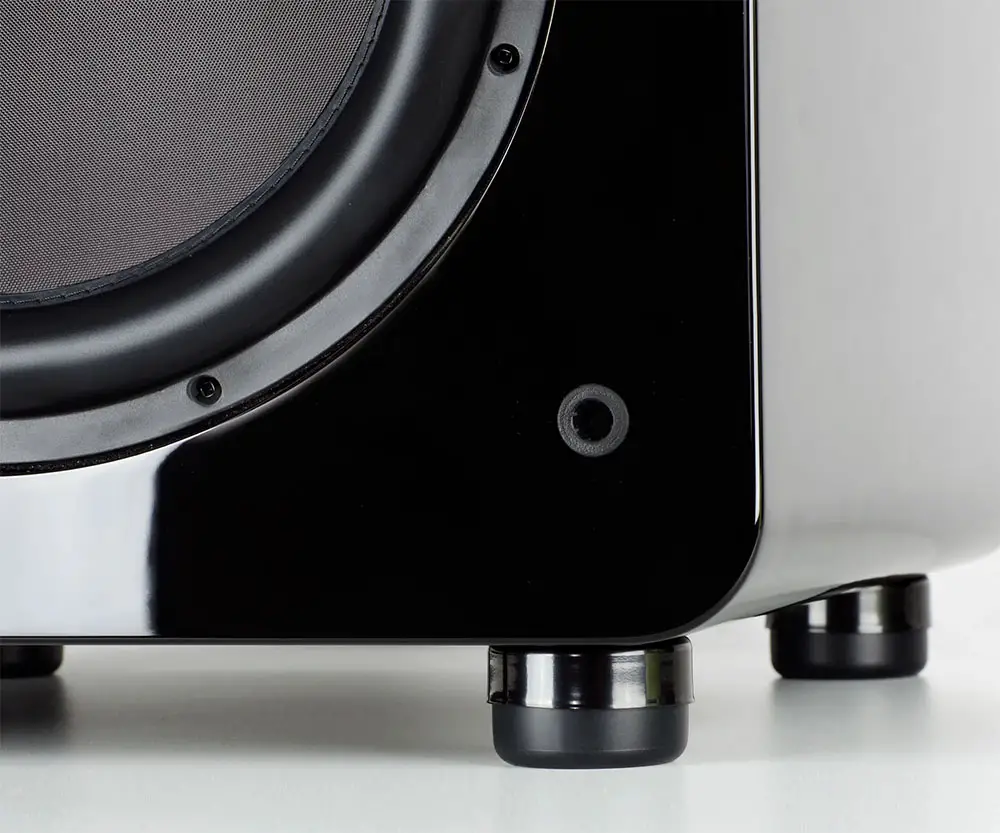 The sub knows when to push the bass to its limits and when to provide more subtle low end waves. The work and research SVS did when designing these things really shows and it's easy to discern the differences from other, lesser subs. Jurassic World is a film that really benefits from a good subwoofer and the SB-2000 Pro proved what of excellent quality it is.
Now, as we have mentioned a lot of times in the past sealed subs may do slightly better with music but if there is one thing that the SB-2000 Pro proved us is that a good sealed design will do exceptionally well no matter the source material. And from what we heard here today this could not be more close to the truth, making this one an excellent performer that will do great to a small to medium sized home theater system.
Music
Next comes our music testing and for this we switched to a 2.1 channels system with only the front channels and the SB-2000 Pro connected in our Marantz AV receiver. As we always do in our music tests we selected a few FLAC music files that we streamed through the USB port of the Marantz receiver for the best audio quality possible.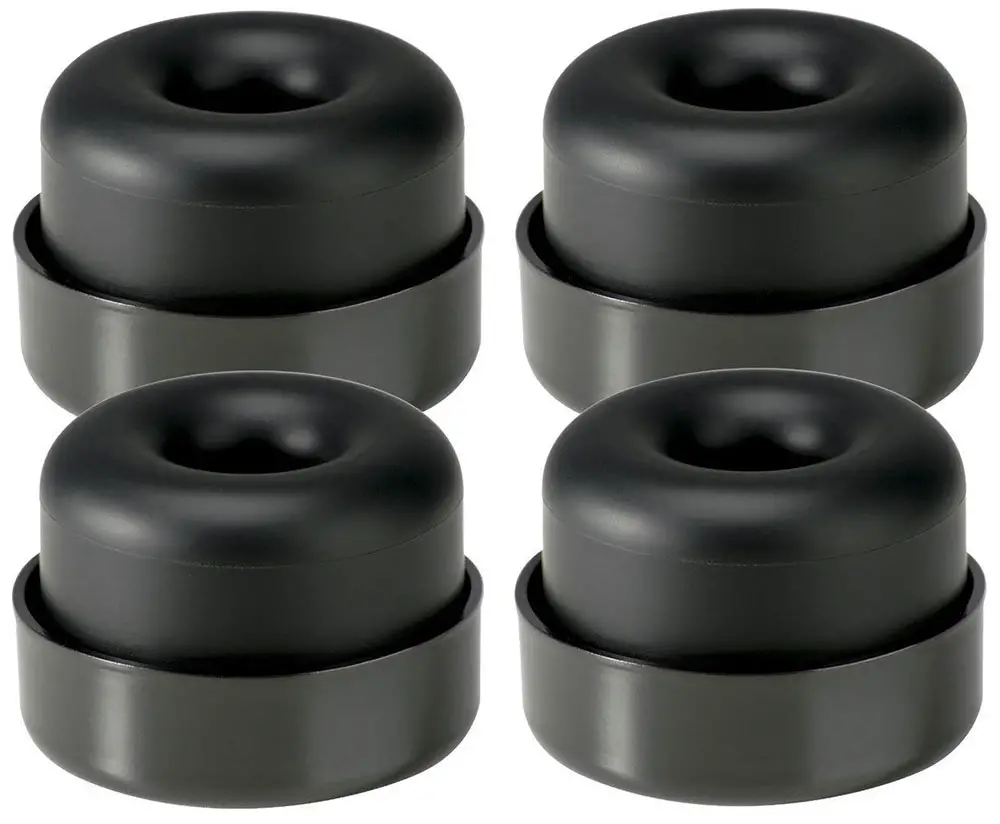 There is really not much more you can say about it that what we have already mentioned in our movies section. This is a sub that will equally impress you with music as it sealed design greatly favors this content. As we said with subwoofers it's not only about maximum power output but also how you handle this power and the SB-2000 Pro does this in the most efficient way.
The level of detail on the low end was mesmerizing and its sealed design enabled it to follow the tempo with pinpoint precision without skipping a single bit. A ported sub would struggle slightly here but this one, even with the most intensive bass performance kept rocking without breaking a sweat.
As usual we try different genres with music just to see how the subwoofer would react with different content but the results were all the same. Excellent control over the entire low end, deep extension and remarkable power output was what we got no matter the song we tried.
The strength of the SB-2000 Pro is that it can perform equally good in movies and music. Yes, the PB-2000 Pro may be able to push a bit more punchy bass but in the end we would go for the SB-2000 Pro just for its more tight control over its output and its better flexibility over the content it can go with. And with music it proved to us why it is such a fan favorite over the last few years.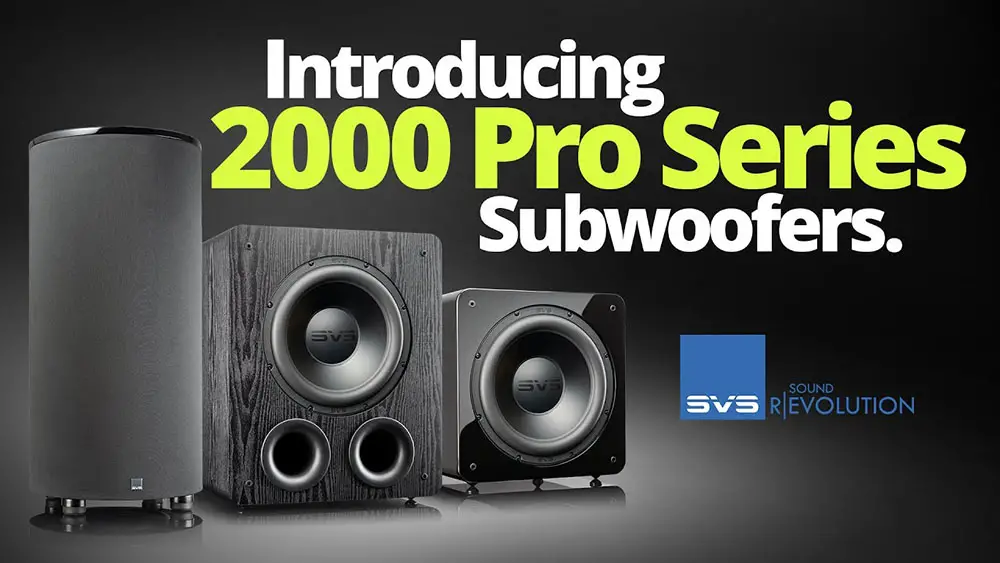 Final Thoughts
We have reached the end of our review and tests and closing we can say that we will never stop to be amazed by the quality SVS's subs have. No matter how many of them we try we still find the whole experience an exceptionally pleasant one. The SB-2000 Pro is a subwoofer that really deserves your attention and money.
Its build quality is high and the whole construction carefully designed. The ICI interface in combination with the smartphone app gives it amazing practicality and flexibility while the optional SoundPath Isolation system and SoundPath Wireless Audio Adapter are nice optional accessories to consider. And last but not least its quality and powerful output which is one of a kind.
To be honest we are struggling to find anything bad about these units and the SB-2000 Pro is all the same. If we had to nitpick we could say that the cloth grille is a bit uninspiring, the black gloss finish is the better looker but also $100 more expensive and in general it is not the cheapest of subwoofers out in the market. Lasty this is meant mainly for small to medium sized room as with large areas it may lack the punch needed.
If you are really serious about your home theater performance getting an SVS subwoofer should be among your top priorities. Having tested some lesser brands and the SVS ones in the last few years we can assure you that you cannot go wrong with this one. The SVS SB-2000 Pro is a showcase of a subwoofer and SVS should be proud of their product lineup and for what they have achieved with it. For this it gets our highest recommendation.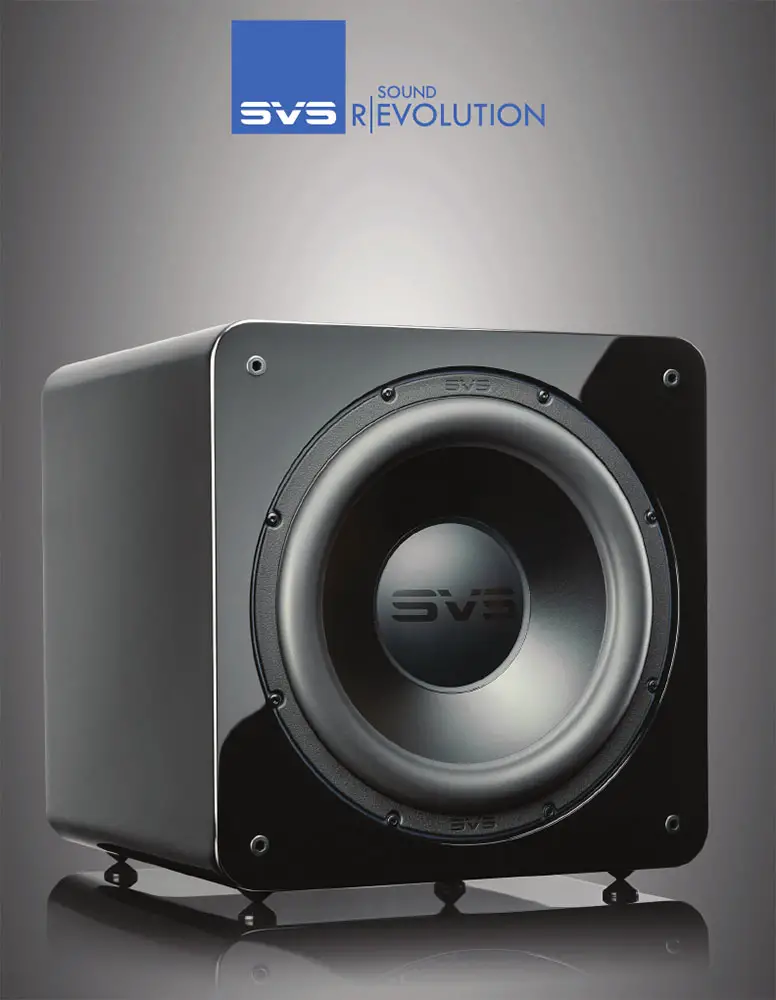 For more reviews you can check our dedicated Subwoofer reviews list or even look at our Product Reviews Table where you can find the brand and specific product you are looking for.
Also don't lose the chance to subscribe to our Newsletter and gain exclusive privileges.
---
Cheapest Places to Buy :
---
SVS SB-2000 Pro Specifications