TCL Q7/Q750G
Reviewed at $599.00 (55")
Ports & Connectivity
9.0/10
OS, Apps and Features
9.1/10
Pros
Good SDR & HDR brightness
Excellent contrast
Supports both 1440p and 144Hz
eARC does not occupy one of the HDMI 2.1 ports
Cons
Obvious blooming
Bad out of the box accuracy
Disappointing viewing angles
Average upscaling
---
Cheapest Places to Buy :
---
Recently we had the opportunity to test TCL's flagship TV for 2023, the TCL QM8. So now in our TCL Q7/Q750G review we will be looking at the next in their lineup that comes with a few major changes compared to its bigger brother.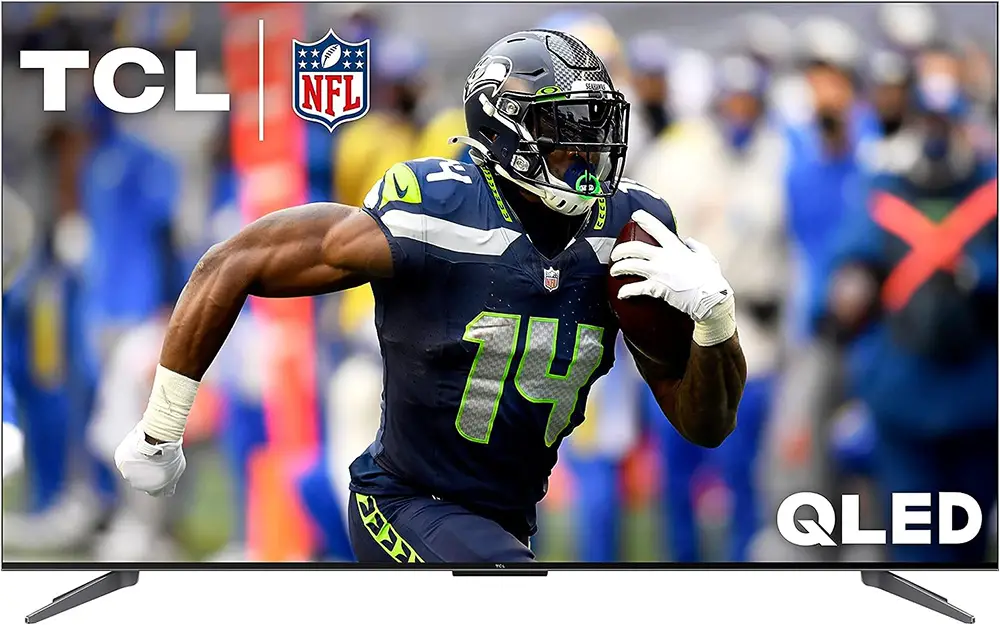 Now, something we need to point out, as we did in our TCL QM8 review, is that TCL is releasing different TV models in the US and EU markets. As was the case with the QM8, the Q7 is only US bound. The equivalent model for Europe is the TCL C745 but we cannot say with certainty if these two perform exactly the same. Specs may be similar but if you follow our reviews then you know that these spec sheets tell only half the truth.
But let's go over the specs of the TCL Q7 real quick. This TV is using a full array with local dimming backlight system along with TCL's AIPQ Engine with Deep Learning AI and a 120Hz VA panel. Some of its features include Dolby Vision IQ, HDR10+, HDMI 2.1, FreeSync Premium Pro, Dolby Atmos, DTS:X pass-through, IMAX Enhanced and the latest Google TV.
The TCL Q7/Q750G looks to be a very interesting release. It comes with basically the same features as the QM8 and the only major difference is the less capable backlight being used. With a price that is almost half of what the QM8 sells for, is the Q7 capable of dominating the low budget enthusiast market? This is what we are about to find out.
Design
We really cannot compare the Q7 with its predecessor since this is the first time we managed to get some of the US based TCL models on our hands. Overall the Q7 is a nice looking TV without having this ultra premium design we see in top tier models. It does feature a metal frame that gives a slightly premium look, which is a nice little touch, but that is all you get.
It seems that in general TCL is not the brand that will try to impress you. We saw this with the QM8, and the Q7 seems to follow the same design principles.
Measurements
We measured the thickness of the main body at around 2.7″ (6.9 cm). This is just about what you should expect from a FALD TV, although we have seen some FALD models which are thinner this year, namely the Sony X90L.
Its black borders were also very thin and close to 0.3″ (0.8 cm).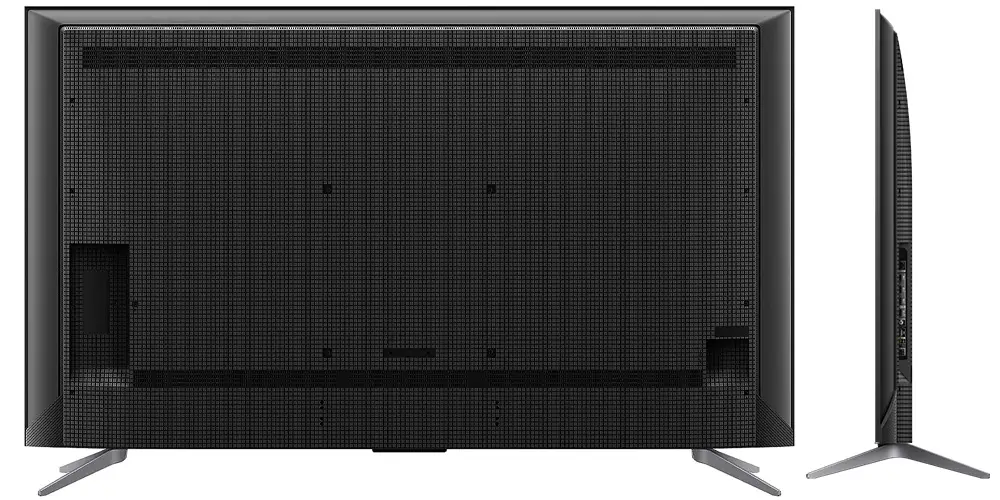 Back Side
The back side is obviously plastic and comes with a checkerboard design, very similar to the one Sony uses, but not so pronounced.
All connectors are on the left side, looking sideways, with only the power connector being on the right. The insets housing the ports do not have any special plastic covers in order to cover the cables so they are always exposed.
Lastly, the entire back side seems to have a slightly curvy design which really makes it look different from all other TVs we have seen.
Stand
The design of the stand follows the fairly standard bench type that offers the TV more stability. But the one TCL designed is a bit different than most other stands of the same type.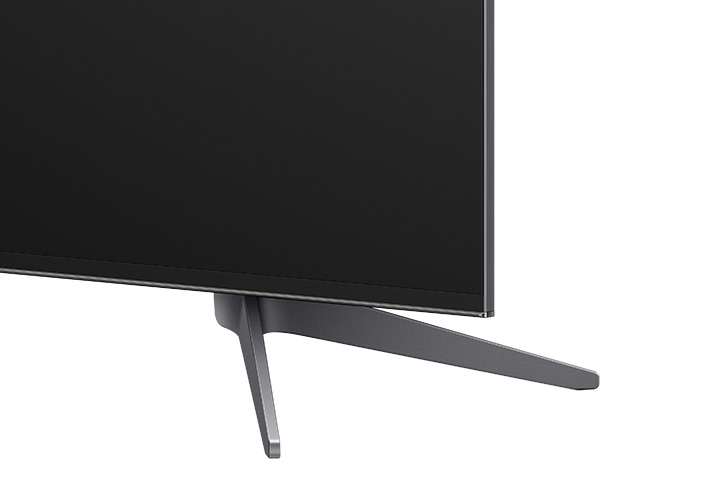 The one that comes with Q7 uses a kind of deli fork design and essentially can be inserted into the TV in two ways. With the edges looking outwards or inwards. When placed outwards you have enough space to place a soundbar in between the legs. On the other position you lose this ability since there is not much space left. But this allows you to place the TV on smaller furniture.
As for the gap between the furniture and the panel, this we measured at 2.2″ which may not suffice for some soundbars. Some smaller ones may fit, but definitely not all of them. So better to take correct measurements just to be sure.
Remote
As for the remote, this is the same one we used in our TCL QM8, no differences whatsoever. Its button layout reminds us more of Sony's rather than Samsung's simpler approach.
As usual it comes with a built-in microphone to use with voice control functionality. And there are also six dedicated buttons for Netflix, Amazon Prime, Youtube, Apple TV, TCL Home and TCL channels.

One thing we definitely love in TCL's remote is its motion sensing backlight. Sony is using the same feature in some of their remotes and we love to see TCL also implementing it in theirs.
Video Quality
Processor technology used
As with all brands TCL has its own proprietary processor that they use in their own TVs. Called TCL AiPQ Engine with Deep Learning AI, this chip is a bit of a mystery as with all processors in the TV market. Brands are very secretive of their true nature and capabilities and we are only left with what marketing material they give us.
In 2023 TCL is using their new AiPQ processor 3.0 which works with 5 breakthrough  Ai-Picture-Quality optimizing algorithms. Ai-Contrast, Ai-Color, Ai-Motion, Ai-Clarity and Ai-HDR.
With these five the TV is capable of not only processing colors and motion but also be equally capable at upscaling lower resolution content to 4K. At least according to marketing material…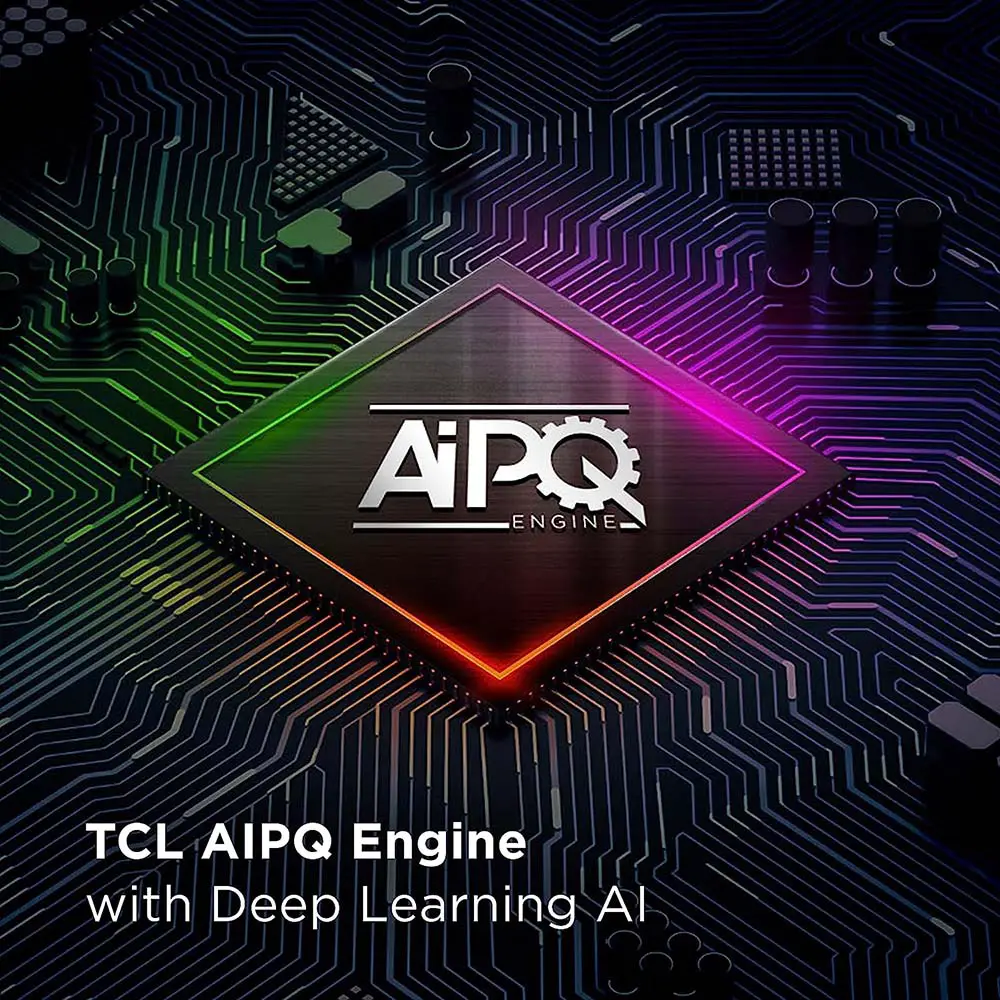 Resolution and Up-scaling
Our analysis begins with our upscaling tests, in order to determine how capable is the TV with lower quality content.
We run a few videos in different resolutions ranging from ultra low quality ones, some 480p DVDs, some in 720p and obviously 1080p resolutions. We tried broadcasting signals, streaming content and discs to have a better, all around idea of the TV's capabilities.
Unfortunately the Q7 was not very good at upscaling low resolution content. It specifically had major trouble with 480p images as they would appear blurry and a lot of details were lost. Obviously 480p with a 4K TV is not a usual combination but compared to other 4K TVs, TCL is surely behind the competition.
With 720p content upscaling was far better. But we expected as such as the higher the resolution the easier for the TV to present a good looking 4K upscaled image.
With streaming content things were also better. We did notice some macro blocking but this was kept to a minimum. But again the TV struggled to show a lot of details. The end result was not bad, but surely we have seen better.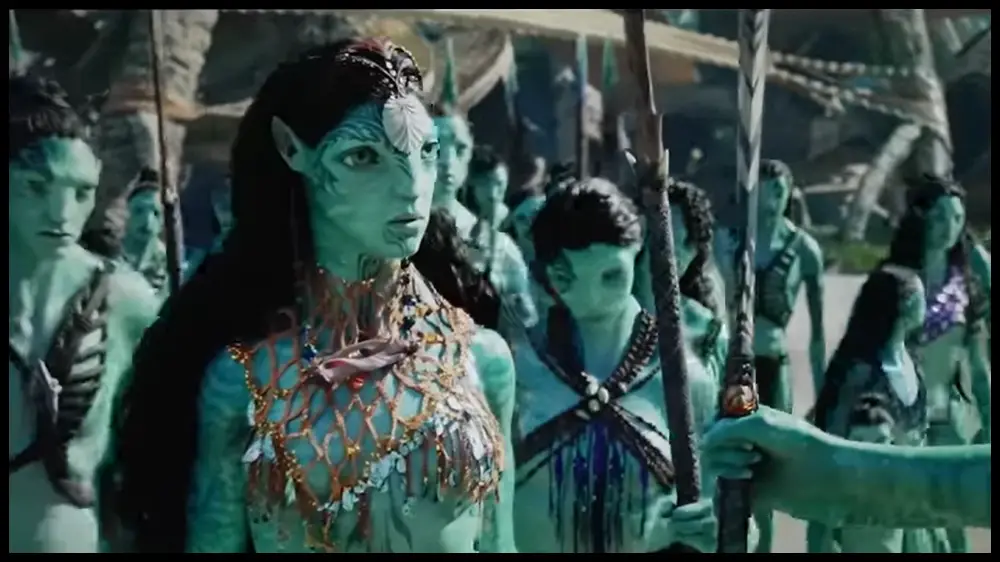 Audio Processing
Although we will talk more about audio in its dedicated section we should note that the Q7 is capable of DTS Virtual:X processing. This is a virtual audio technology used to create more immersive sound.
Lighting technology used
The TCL Q7 is switching from a mini LED backlight we saw in the QM8 to a FALD one. TCL calls it a "High Brightness PRO Direct LED Backlight" with a "Full Array PRO Local Dimming". Fancy words for describing what essentially is a standard Full array backlight with a local dimming feature.
FALD Explained
A FALD system in order to perform good depends on two factors. The number of dimming zones available and how fast each zone can change it's light output. The more dimming zones used the better and more accurate light control the TV has but also the higher the price goes.
That's why they usually scale the dimming zones number depending on the model. The effect on having low number of dimming zones can be seen when you see a very bright object on a completely dark background. If the TV has very few zones, light will escape to the nearby pixels and create a visible halo around the object.
Also the light algorithms play a huge role as they control the response time of the various dimming zones. If the change is slower than it should be you will see what is called ghosting when a bright object moves very fast against a dark background.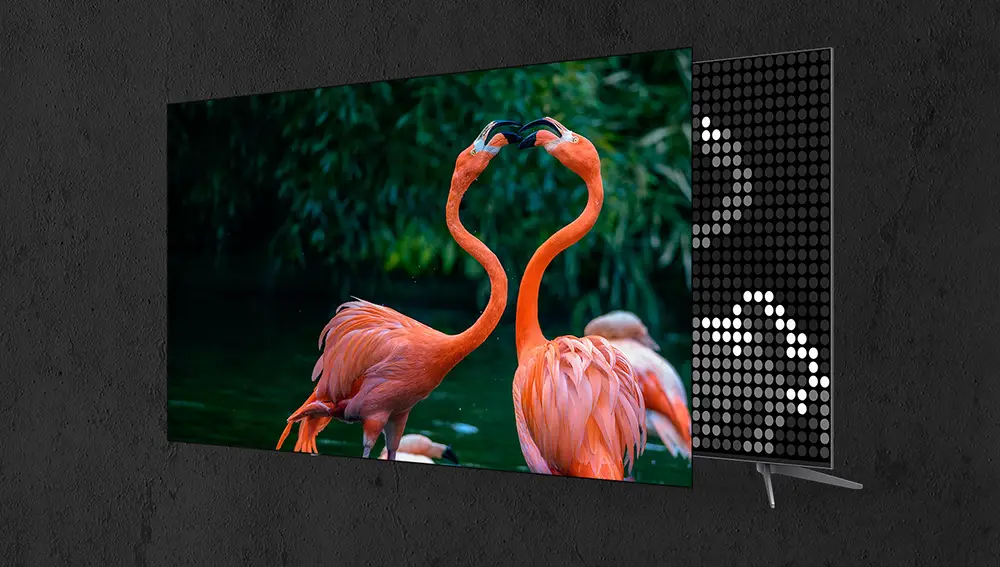 Number of Dimming Zones
As per usual different sizes utilize different number of dimming zones. The 55″ we have for testing seems to have 120 zones. Bigger sizes naturally utilize more zones, but TCL does not provide official data for that.
Blooming & Zones Transitioning
From the content we tried we can say we are impressed with the Q7's blooming performance. The number of zones may not be very high but the TV did its best to keep the effect at a minimum. Obviously you will still see a bright halo around highlights in a completely black background. But it is not so bothering as in some other FALD TVs we tested before.
As for its local dimming system, this was again very good but ultimately not the best we have seen. The zone transitioning was relatively fast. But with very fast moving objects you can see the leading edge being slightly darker.
This means that it takes some time of the leading zone to light up. On the other hand ghosting was kept to a minimum. The zones turned off very fast meaning you will not see a very visible light trail behind the moving object.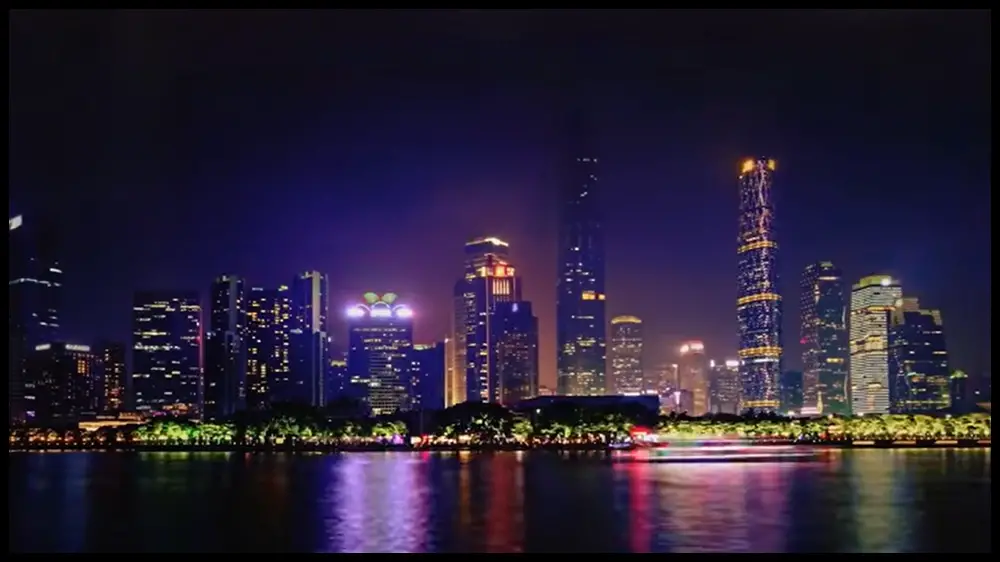 Brightness / Contrast
Next we will measure the brightness of the TV. TCL claims up to 1,000 nits for the Q7 so let's see how close to this can we really get.
SDR and HDR Measurements
First test is the SDR brightness over a 10% window and the number we got was 740 nits which is good enough. This number may be a bit far from the 1,000 nits claim but it is still enough to handle glare in a bright room.
We then switched to HDR content and in our HDR brightness over a 10% window test we measured 677 nits. Although this may not seem very high it is still enough to handle most room conditions.
We cannot speak about the bigger sizes but the 55″ one seems to miss 1,000 nits by a wide margin. It is still good enough for most situations but not close to the 1,000 nits claim.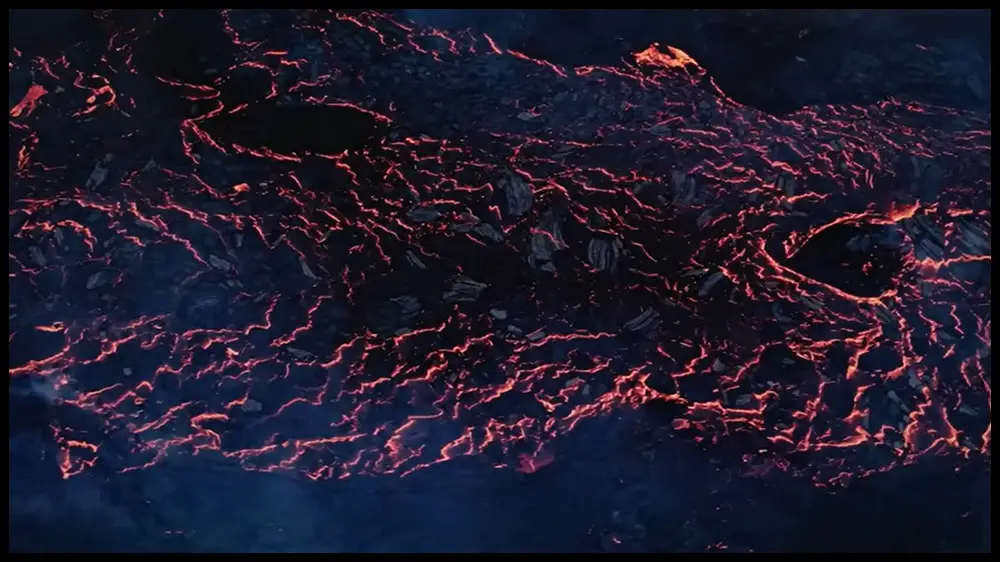 Automatic Brightness Limiter (ABL)
As with most TVs nowadays the Q7 comes with an Automatic Brightness Limiter (ABL). This system lowers the overall brightness of the screen when large parts of it become very bright for a long period of time.
The ABL on the Q7 was not aggressive at all. You are still going to notice it if you pause a bright image for a long time. Or if you use the TV as a PC monitor. But with most other content it's completely untraceable.
Last Year Comparison
Unfortunately we didn't test any of the previous TCL releases so we cannot really make a comparison here.
EOTF Tracking
Brightness levels followed the EOTF reference values close enough, but they were not perfect. And this was something we noticed no matter the picture mode we used.
The Q7 displayed much lower black levels. This results in dimmer images in low lit scenes. After a certain point it kept slightly above the reference values up to its sharp roll-of.
We did see a similar behavior in this curve with the QM8 so it seems that it was not a single instance. TCL has to work on this as their TVs are not very accurate like this.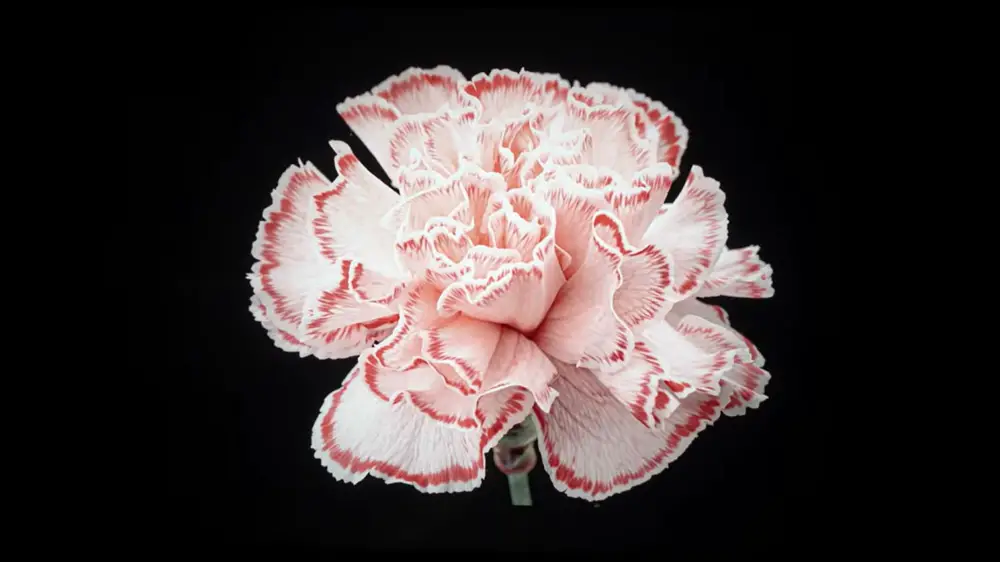 Contrast Performance
The Q7 has amazing contrast. And its local dimming helps a lot in making blacks looks like real deep blacks even in a completely dark room.
The TV actually managed to measure one of the highest contrast values we have seen in a FALD TV this year. And this surely helps a lot to create an overall better image.
Viewing angles
The TV comes with a VA panel and these in general don't have very good viewing angles. In essence the TV performs similar to all other TVs that come with VA panels.
And it seems that TCL haven't used any kind of special layer that could enhance its viewing angles as we have seen in some other top tier VA panel equipped TVs.
As a result we would say that about 20-25 degrees is the most this TV can do. Anything more and image colors, black levels and brightness will start to deteriorate a lot.
If you have a sweet spot from where you will be watching then this is not a big deal but if you plan to use this one in a family room then we would strongly suggest you try it out first before purchase.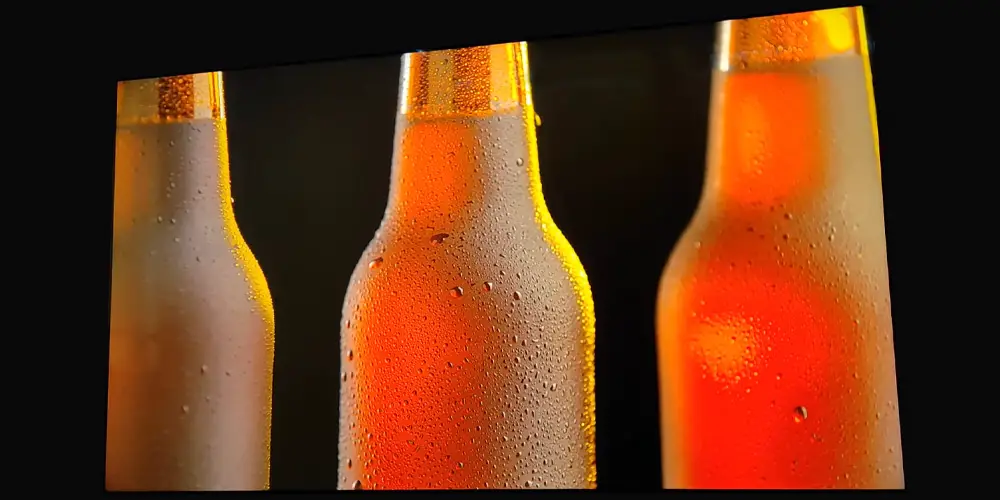 HDR support
With the current HDR situation you really have to choose which camp you want to follow as not many brands support all available ones. It's either Samsung's HDR10+ or Dolby Vision that Sony and LG support.
And this is really a shame as we don't get the chance to choose all of them at any time. Thankfully some brands, including TCL and Hisense, are not bound to any specific camp and instead went ahead and added everything in their TVs.
As such the Q7 supports not only the basic HDR10 but also HLG which is used for streaming content. And we also get HDR10+ and Dolby Vision which use dynamic metadata for much better and accurate images.
The Q7 also supports Dolby Vision IQ. This technology considers environment lighting by making HDR more accurate at depicting how dark or bright the lighting is within your specific room light conditions.
This is done with the use of the TV's built-in light sensor. And thankfully this is a feature that you can turn off if you really want to appreciate the brightness capabilities of this unit. As enabling it most of the time will dim the picture far more than what we would like.
If there is one thing missing that would be HDR10+ Adaptive that is available in the Hisense U8H along with some Samsung TVs. Everything else is supported.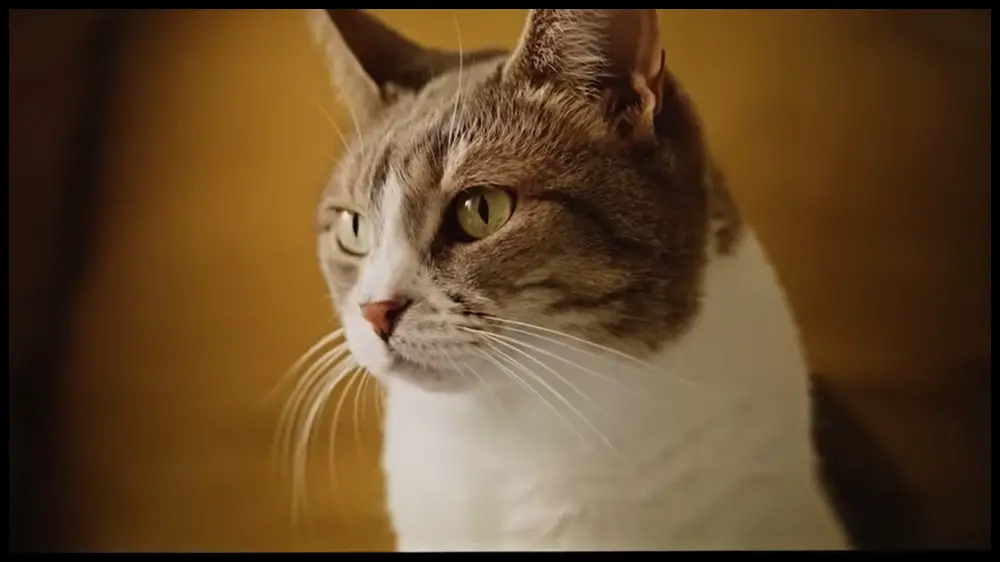 Color coverage
The Q7, being in essence a QLED, uses a special Quantum Dot layer. With this the TV is able to display more vivid and lifelike colors. We have seen promotional material claiming 100% coverage of the DCI-P3 color space when this layer is used but reality could not be more far from the truth.
And you should never take these numbers literally as they are mostly used for marketing purposes. Real numbers usually deviate a lot from these claims.
In our case we measured the TV to have about 94% coverage of the DCI-P3 color space which is really really good. On the wider REC.2020 color space we got a coverage of 70% which is respectable but we have seen better here.
DeltaE Errors
Before calibration the TV had very poor color accuracy. In fact we were a bit surprised to see the Q7 being so inaccurate.
Many colors were above the DeltaE limit of three. White balance was way off, especially towards its brighter shades while gamma was below the 2.2 target. Only color temperature managed to be spot on and accurate.
Thankfully, after calibration we managed to fix most of the above irregularities. Colors were all accurate and below the DeltaE limit of three. Gamma and white balance were vastly improved and now close to their target values.
Unfortunately the Q7 is not very good without calibration. There are simply too many inconsistencies to turn a blind eye to them. If you are a casual user that avoids calibration then you will definitely be missing a lot with the Q7. But if you decide to dedicate the time and effort for a correct calibration the TV will reward you with its amazing accuracy.
Color Gradients
Color gradients were good but we noticed some banding, mostly with grey and green shades. With real content this was not so much noticeable or bothering.
There is also a Noise Reduction function in case you want to eradicate banding completely. But if you enable it some detail is lost and in general we don't like using this feature much.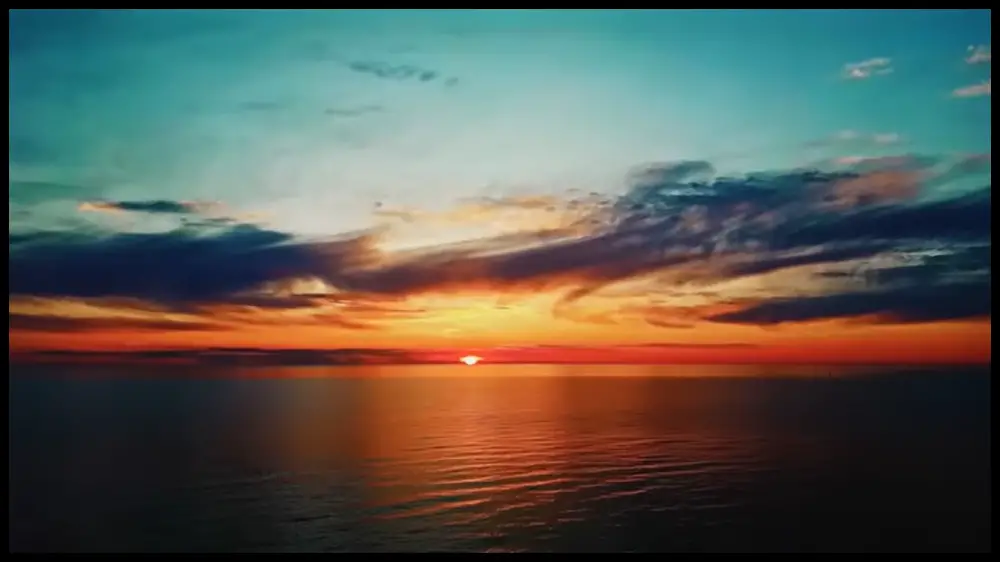 Panel Uniformity
Panel uniformity was good but not great. Gray uniformity tests revealed some vignetting, which is slightly darker corners than the middle of the screen. On the other hand, we didn't see any dirty screen effect or clouding. The black uniformity test was almost perfect.
The TV behaved incredibly good either we had the local dimming feature on or off. With it turned on the Q7 did even better but even without it the panel had very small inconsistencies.
Motion performance
Next test was for the TV's motion performance. The Q7 comes with a 120Hz panel which is pretty standard for such a TV. What is interesting is that the Q7, just like the QM8, not only supports 120Hz but also 240Hz.
But there is a catch to this. In order for the Q7 to achieve such a high refresh rate it has to lower the image resolution to 1080p. But even with this minor nuisance it is impressive to see a TV doing 240Hz. Actually this is impressive considering some TVs cannot do anything mor than 120Hz yet.
Without the use of any motion interpolation the Q7 has some very visible stutter when it comes to low framerate content. And this was to be expected as this is a characteristic of all TVs with low response times. On the other hand with 60 fps content the TV did very good.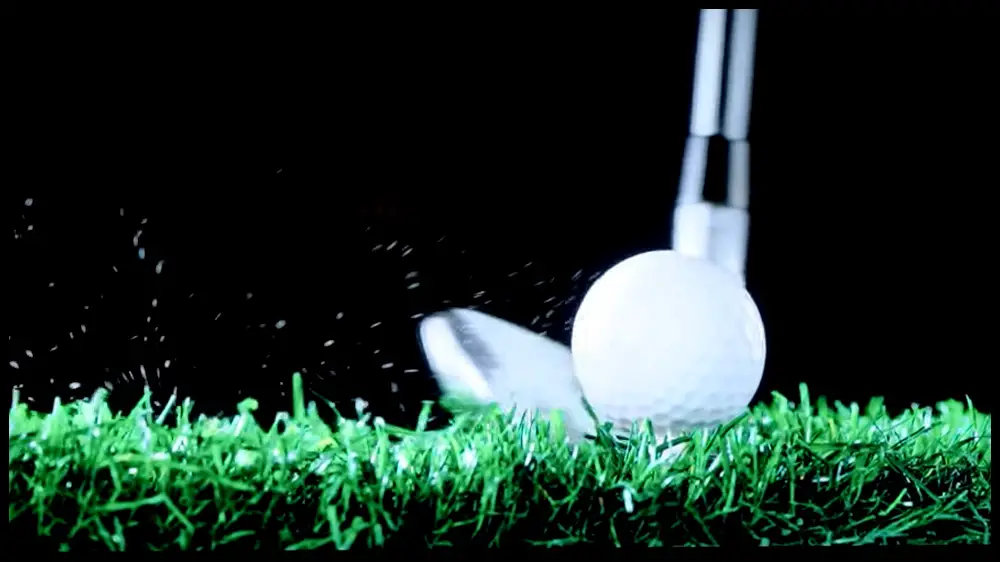 Motion Interpolation
The TV comes with the standard Motion Interpolation in order to smooth out motion. This feature works up to 120Hz and the results you will see depend heavily on the content.
With slow paced scenes and camera movements the TV could process images much better. But with fast camera pans and objects moving at high speed, motion interpolation could not keep up. As a result we did see a lot of artifacts appearing on screen.
Black Frame Insertion (BFI)
Black Frame Insertion (BFI) is also available as usual. BFI is an alternative motion interpolation technique that inserts a black frame in between two individual frames in order to smooth out motion.
Although the end result is very good, it has a couple of side effects. First due to the black frames, brightness takes a visible hit. Also, due to the lower frequency used, which can be either 120Hz or even 60Hz, some flickering may become noticeable.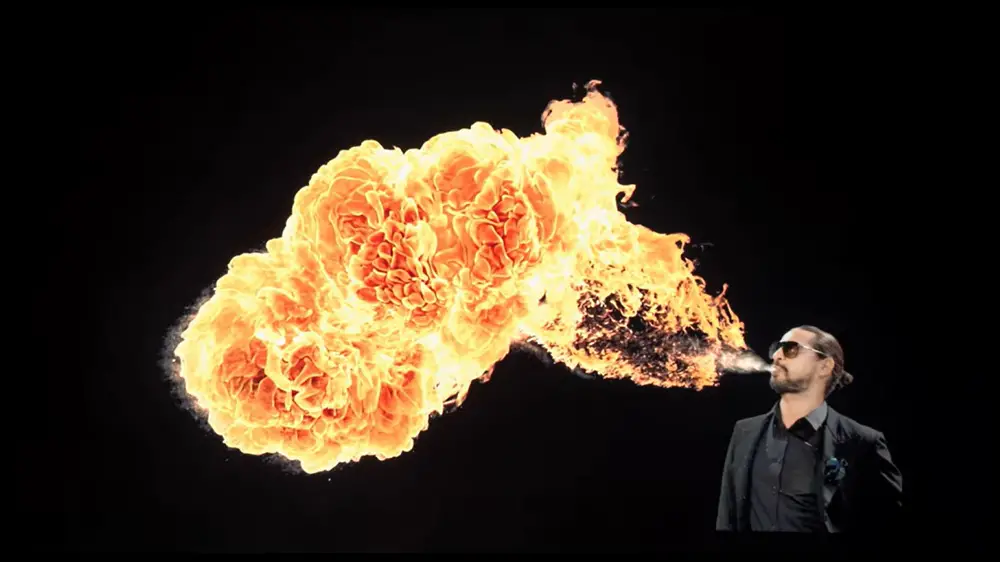 Overall Motion Impressions
As our review of the QM8 was done fairly recently we can say that the TCL Q7 behaved in a very similar manner. The TV has its strengths and weaknesses here and Q7's motion characteristics were solid but with some well documented problems, as mentioned above.
Input lag Measurements
Let's take a look at the TV's input lag performance next.
According to our measurements the TV displayed an average of 16.8ms input lag in both 1080p and 4K resolutions at 60Hz. For 120Hz we got an average of 6.8ms. Surprisingly for 144Hz and 240Hz we got slightly higher values at 16.4ms and 12.2ms respectively. This is still very good but was surely a bit strange to have higher input lag than in 120Hz. We did see a similar behavior in the QM8 so it seems it has to do with TCL's processing.
Outside of Game mode we got an average of 126.5ms which is obviously high but can still be ok for casual and offline gaming where response times are not so crucial.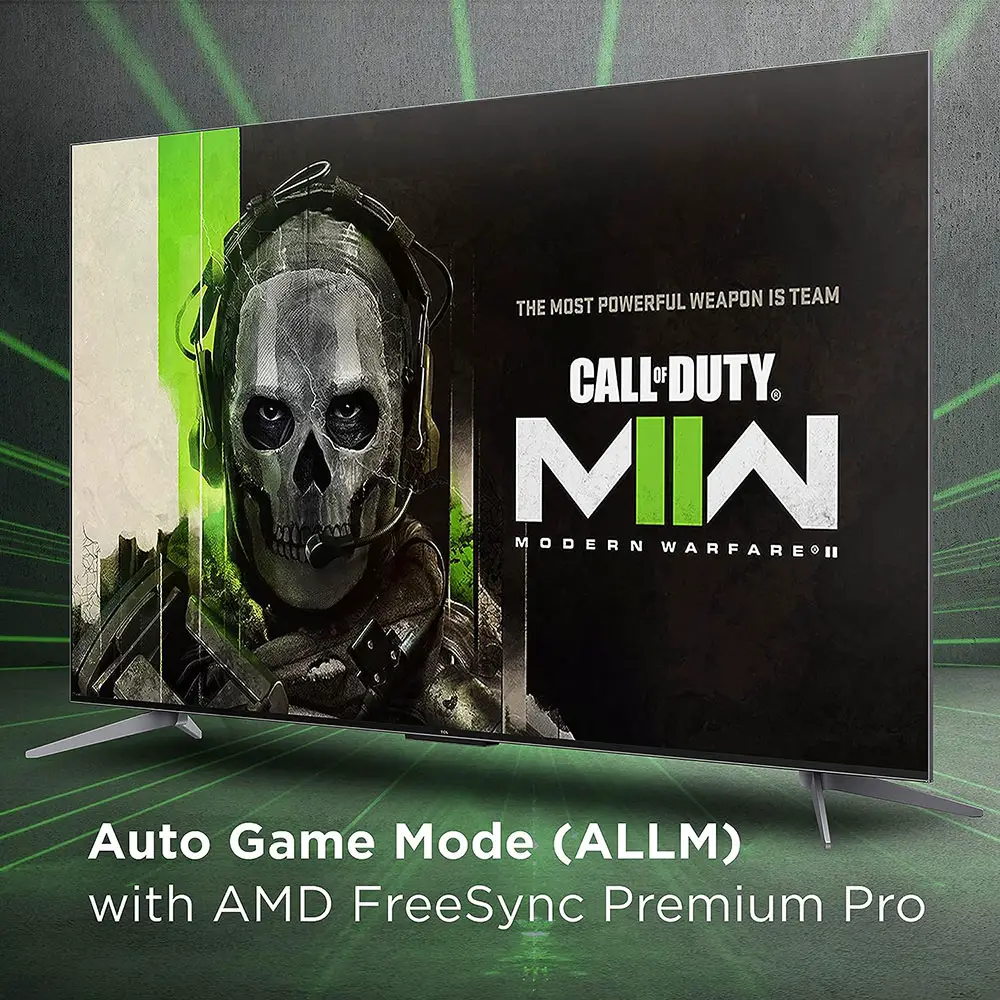 Other Gaming Features
We should also not forget to mention that the TV supports Auto Low Latency Mode (ALLM). And both the PS5 and Xbox consoles support this feature, so the TV will switch to Game mode automatically.
HGiG Mode is not missing either. This is HDR Gaming Interest Group's technology that ensures you enjoy HDR games the way that their creators and developers intended.
VRR Support
The Q7 supports all VRR options. As such we find HDMI Forum VRR, AMD FreeSync and NVIDIA G-Sync.
Keep in mind that for 1440p and 4K resolutions VRR is enabled up to 144Hz. For 1080p resolution, on the other hand, it can go up to 240Hz.
One problem we found out during our QM8 testing, and seems to be the same with the Q7, is with NVIDIA graphics cards. The Q7 has trouble when you try refresh rates above 120Hz with a NVIDIA graphics card.
So this seems to be a general problem with TCL TVs. Let's hope that they will be able to fix this with a firmware update in the future.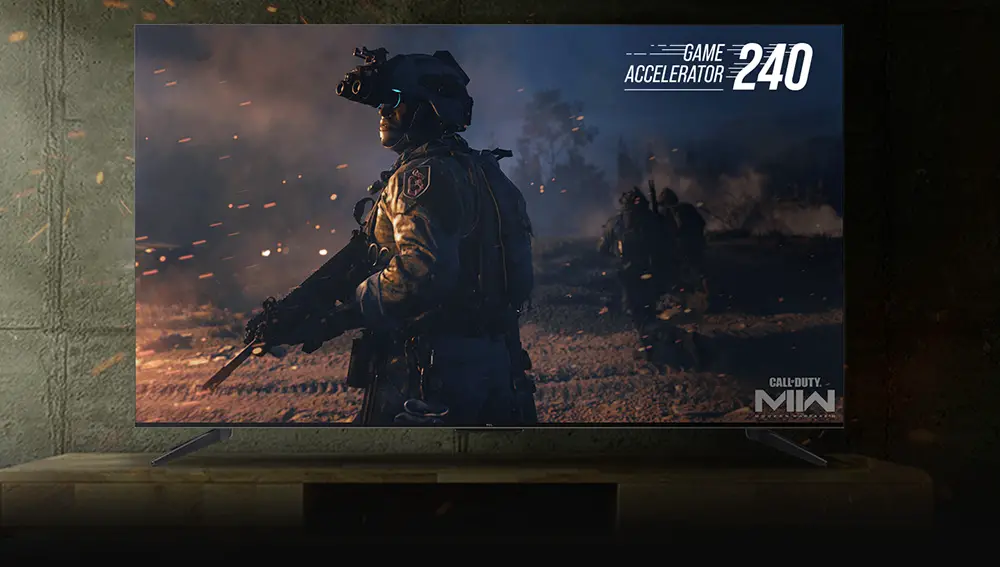 Trying Out a Few Games
As we do lately, we tried a couple of games with PS5 and Xbox series X for getting a sense of how the TV can do with gaming. The first one was F1 2022 while the second was Dead Space. Dead Space is a 60Hz game on consoles while F1 22 can do both 60Hz and 120Hz.
Obviously we tested both games with Game mode enabled. The Q7 did really good here. All commands would register on screen immediately. There were no delays and no slow response times to observe. Especially with F1 22 which needs blazingly fast reactions the Q7 proved to be a fine gaming TV.
If TCL can fix some of the problems we observed here then the Q7 can be the definite budget gaming TV.
Overall Image Quality Impressions
When commenting on a TV's overall image performance you always need to take into account its price. And for $600 the Q7 really is one of the best in its category.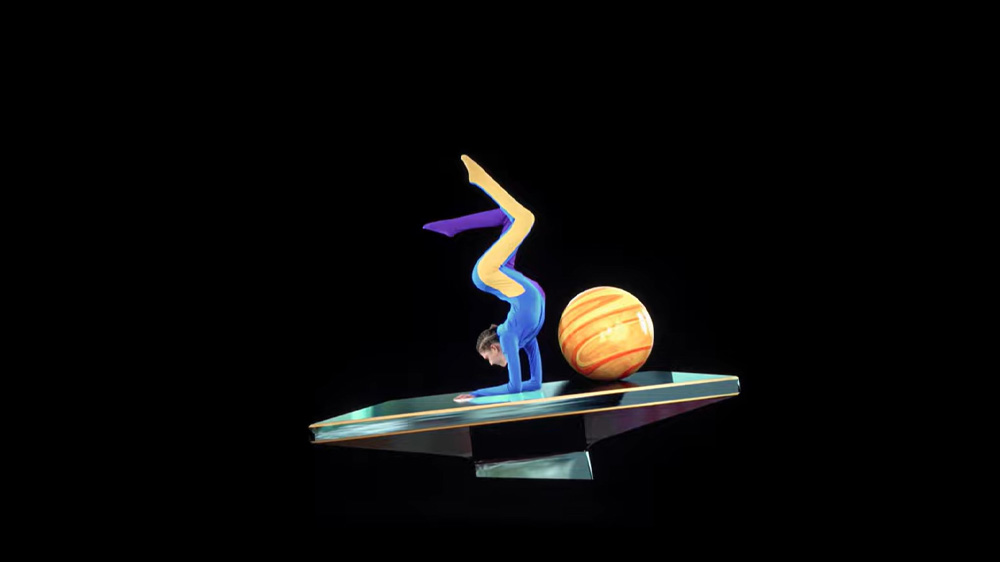 Its SDR and HDR brightness were really good, color reproduction was nice and its motion performance was solid. The TV has amazing contrast while blooming, although it was still very much visible, it was more subtle than most FALD TVs we checked this year.
On the other hand the TV's out of the box performance was disappointing and you need to calibrate it to make its money worth. The TV is not very accurate and casual users will slightly be disappointed with the extra effort needed. Its viewing angles were bad while some other minor nuisances do not let this TV really shine.
Audio Quality
TCL is not advertising the Q7's audio system as much as other brands do with their TV releases. And this is for the better. As no matter what brands will do sound will always feel like an afterthought.
Audio System – Channels & Power Rating
TCL is using a 2.0 channels audio system in the Q7 with a 15W + 15W configuration for the two main channels. This brings the total power output at 30 watts.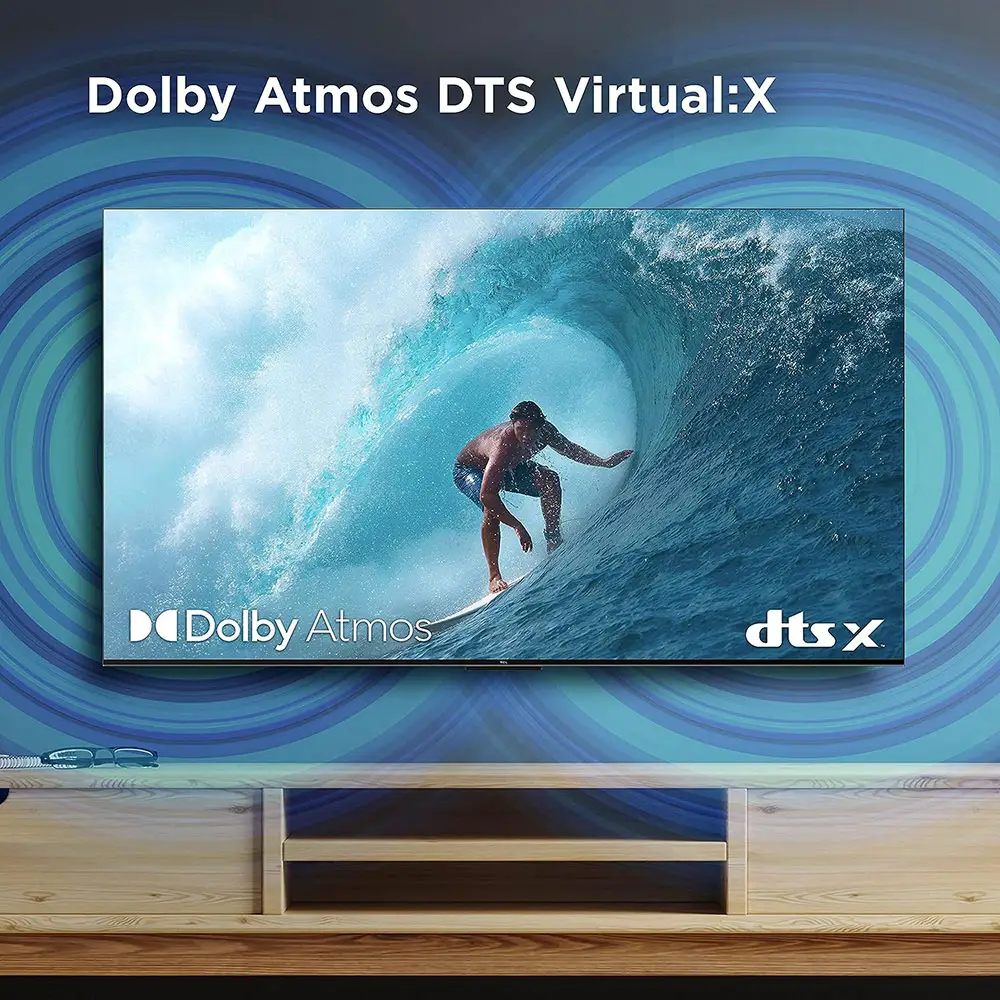 Audio Formats Support
The TV can decode Dolby Atmos and Dolby Digital+ but this is mostly for promotional purposes as the TV cannot create a real surround experience with such a basic audio system. If you want to get the most out of it then you will certainly need a dedicated surround system or at least a good performing Dolby Atmos soundbar.
Unfortunately there is no native DTS decoding. At least Dolby Atmos and DTS:X can pass-through from eARC to some Dolby Atmos/DTS:X capable soundbar or dedicated sound system in this case.
Keep in mind that through ARC and optical the TV can pass-through only Dolby Digital 5.1 , Dolby Digital Plus and DTS.
Audio Features
The Q7 does comes with virtual tech for the sound in the form of DTS Virtual: X. This aims at giving sound a more three dimensional feel for higher immersion. The result is what we more or less expected.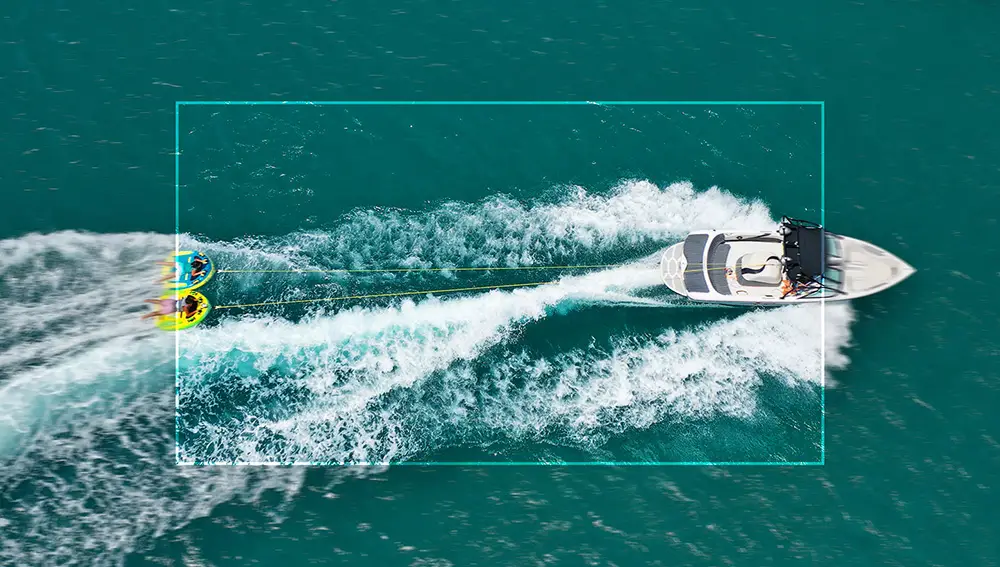 There are moments that sound feels slightly different, with slightly more depth and extension. But other times it fails completely and in many instances the audio feels very overprocessed and fake.
In general it cannot really emulate a full surround system and it depends a lot on the content. In some cases DTS Virtual: X was nice but with a lot of content we tried the sound was far from ideal.
Overall Audio Performance Impressions
If you really want sound that can match the Q7's image quality then make yourself a favor and buy a full surround system. Or at least a good Dolby Atmos soundbar.
Yes, the TV can get loud and its dialog it pretty clear and distinct. For casual use it is just fine. But you cannot really expect a TV with a 2.0 channels system to create sound that can match its picture quality. Period.
Ports and Connectivity
All ports of the Q7 are located on the left side looking sideways. As always the power connector is the only port that we find on the right side.
Looking at all the ports from top to bottom we get the following. An Ethernet port for wired connection to your local network, four HDMI ports, the cable/antenna port, a single USB, a special jack for composite video with stereo audio input, a headphones input and a digital optical audio output.
HDMI Specifications
The TV comes with two HDMI 2.1 ports and two more HDMI 2.0 ones. It is interesting to see that from the two HDMI 2.1 ports one supports up to 1440p@144Hz or 1080p@240Hz while the other goes up to 120Hz only.
The good thing with the Q7 is that unlike most other TVs that comes with only two HDMI 2.1 ports, the eARC on the Q7 is actually on one of the HDMI 2.0 ones. This way you won't have to sacrifice one of the HDMI 2.1 ports from passing the audio to an external audio system.
Obviously the HDMI 2.1 ports support all the latest features. These include ALLM, VRR, G-Sync, FreeSync, eARC and HFR.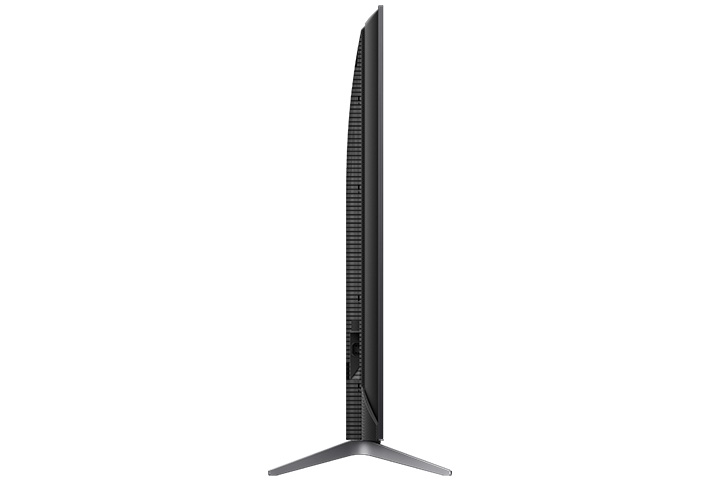 Connectivity Observations
Again, the Ethernet port is still the usual 100Mbps one. But this does not surprise us, as we have yet to see a TV making the transition to Gbit adapters.
Streaming requirements and internet connections have greatly advanced the last few years. This made the 100Mbps limit obsolete a while back. And while most TVs update their WiFi capabilities (some models even support WiFi6 this year, like the QM8) the Ethernet adapters are still the same.
Another disappointing fact is that the antenna/cable connector is only ATSC 1.0 which means that the TV cannot display broadcasting channels that go beyond 1080p resolution. TVs with ATSC 3.0 only can display 4K resolution broadcasting channels.
And lastly the USB port is the older 2.0. Many flagships still come with this archaic version so it is no surprise to us.
Wireless Capabilities
When it comes to its wireless capabilities the Q7 supports WiFi5 (802.11ac) along with Bluetooth.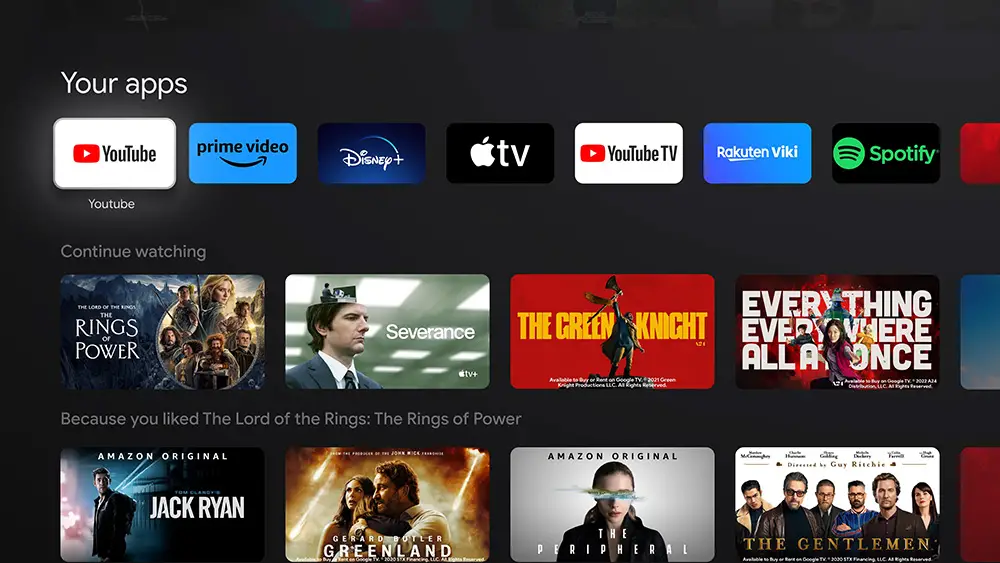 OS, Apps and Features
The Q7 comes with the latest version of Google TV which has reached version 11.0 this year. The last versions of Google TV do not have major differences between them and they keep their overall layout unchanged.
Google TV 11.0
Google has done a poor job at making clear of the differences between Google TV and Android TV that is still being used from some TV brands.
To make things real simple Google TV is still Android TV but with an extra layer on top of it. Think of it like how it works with Android smartphones. Most manufacturers that use Android in their releases they use on top of that their own layer that gives this extra something to their UI that make them unique both in appearance and functionality.
The same is with Google TV. You still basically use Android TV but there is the extra Google TV layer on top in order to make the UI feel different both in looks and functionality.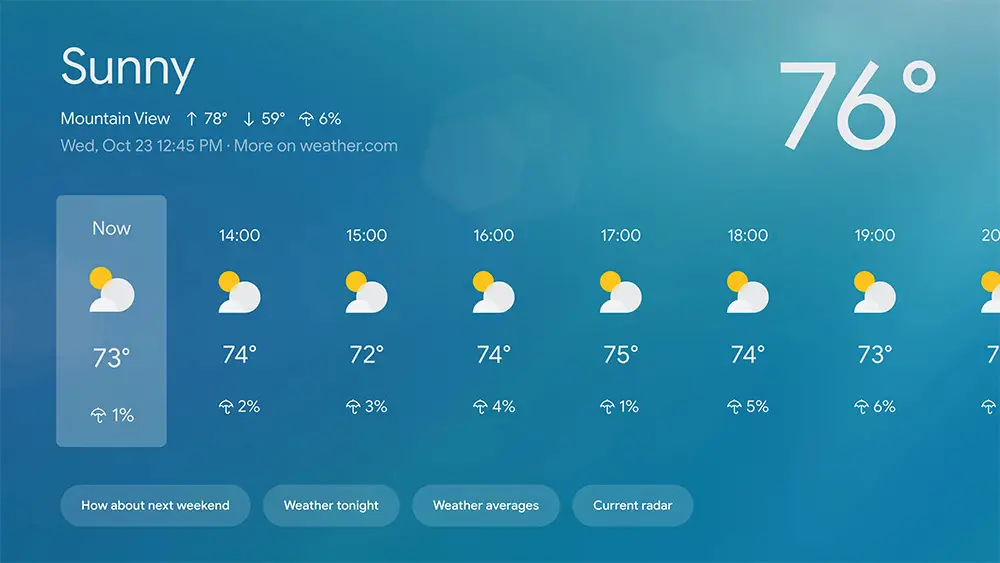 Google TV seems to have been designed around recommendations, either it be movies, TV shows or applications and this seems to be the main focus of all the latest OS in general. During setup the wizard asks you of what specific streaming services you use in order to customize the Home screen recommendations.
Keep in mind that Google TV is still Android at its core even though it looks different from Android TV. But with Google TV things seem more fluent, more direct and more easy to navigate around.
Google TV 11.0 offered us the exact same experience as in TCL's flagship. Navigation was perfectly smooth and all apps would open and close without much delay. We didn't sense any stuttering or slow framerate in the Google TV UI.
Streaming Capabilities
If there is one thing that Android has in abundance that is huge app support. Through the included Google Play Store you can find literally thousands of apps that you can download and use except from the pre-installed ones. There is so much content available that you will hardly miss anything.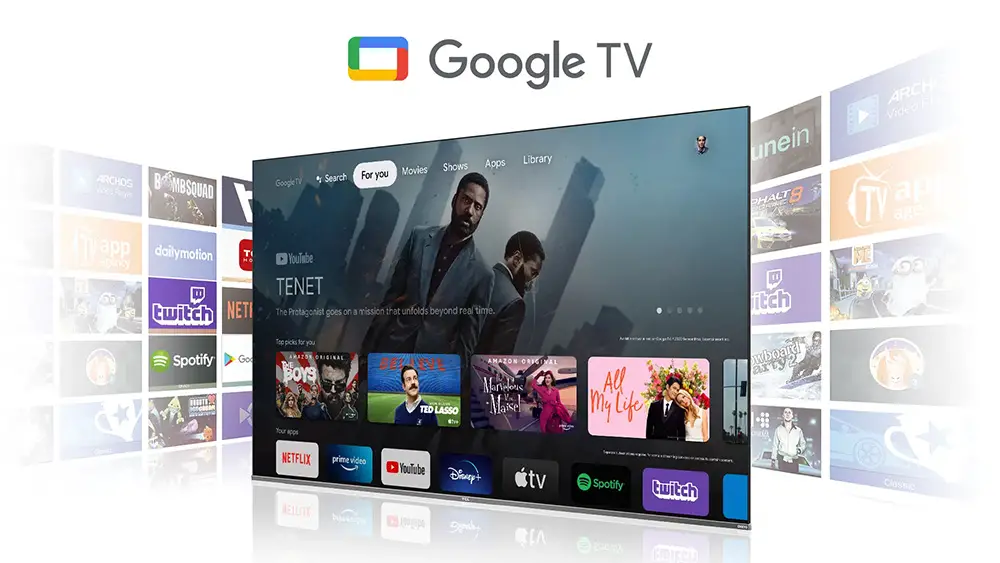 All the big names are obviously present like Google TV, Disney+, Netflix, Amazon Video, Apple TV, HBO Max, Hulu and Youtube as well as Pandora, Tidal, Google Play Music, Spotify or iHeartRadio. As always some of them are region dependent so make sure the ones you are interested in are working in your area. Lastly many apps like Netflix and Youtube support playback for both 4K and HDR content for those interested in it.
Various Connectivity Features
The TV comes with support for both Chromecast and Airplay 2. This means that no matter what mobile device you have you can stream content from it to the TV itself. This works for either Android or Apple devices.
Voice Control
And since we are talking about a smart TV platform we cannot do without voice control functionality. The Q7 works not only with Amazon Alexa and Google Assistant but also supports Apple Homekit.
Unfortunately for all of them you will need an external device as none is built-in the unit itself.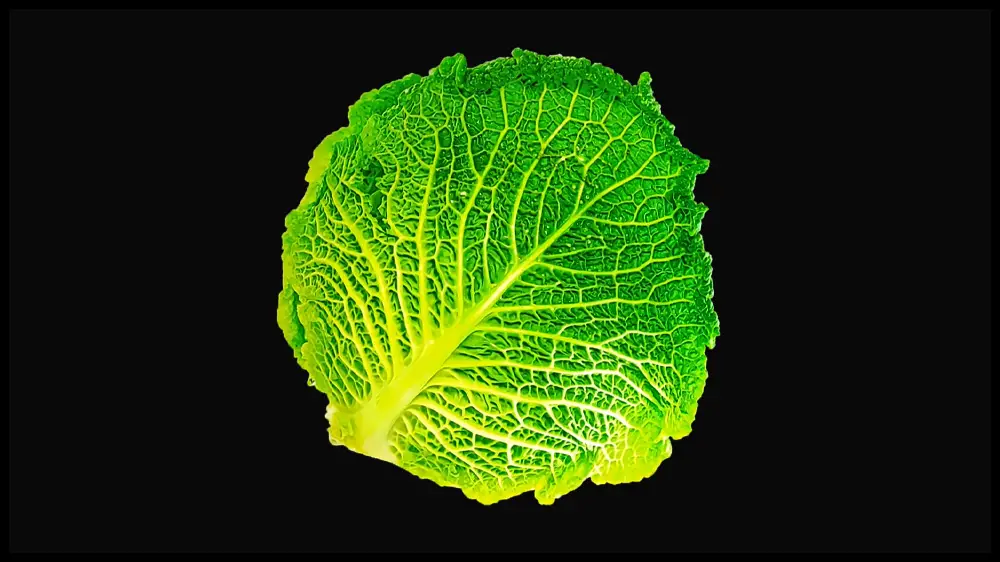 Built-in Media Player
As with most TVs nowadays the Q7 can playback a wide range of files and codecs through its USB port. These built-in media players have come a long way since their early days and now can playback almost all the common codecs available.
We tested the TV by trying a selection of files we keep for this reason. The files we tried were various combinations of video and audio codecs and from what we saw the Q7 was capable of playing most of them.
We do use some files that come with unrealistically high bitrates or strange codec combinations but we use these mostly as an experiment. These failed to playback normally as some would heavily stutter while others would not playback at all. Most videos that use normal codec combinations played smoothly and without any problems at all.
IMAX Enahnced
Lastly we should not forget to mention that the TCL Q7 is IMAX Enhanced. This is a certification that we don't see often in a TV. Until now mostly Sony top offerings were coming with IMAX Enhanced certification. And while this may not be a huge feature it is good to have it for added value.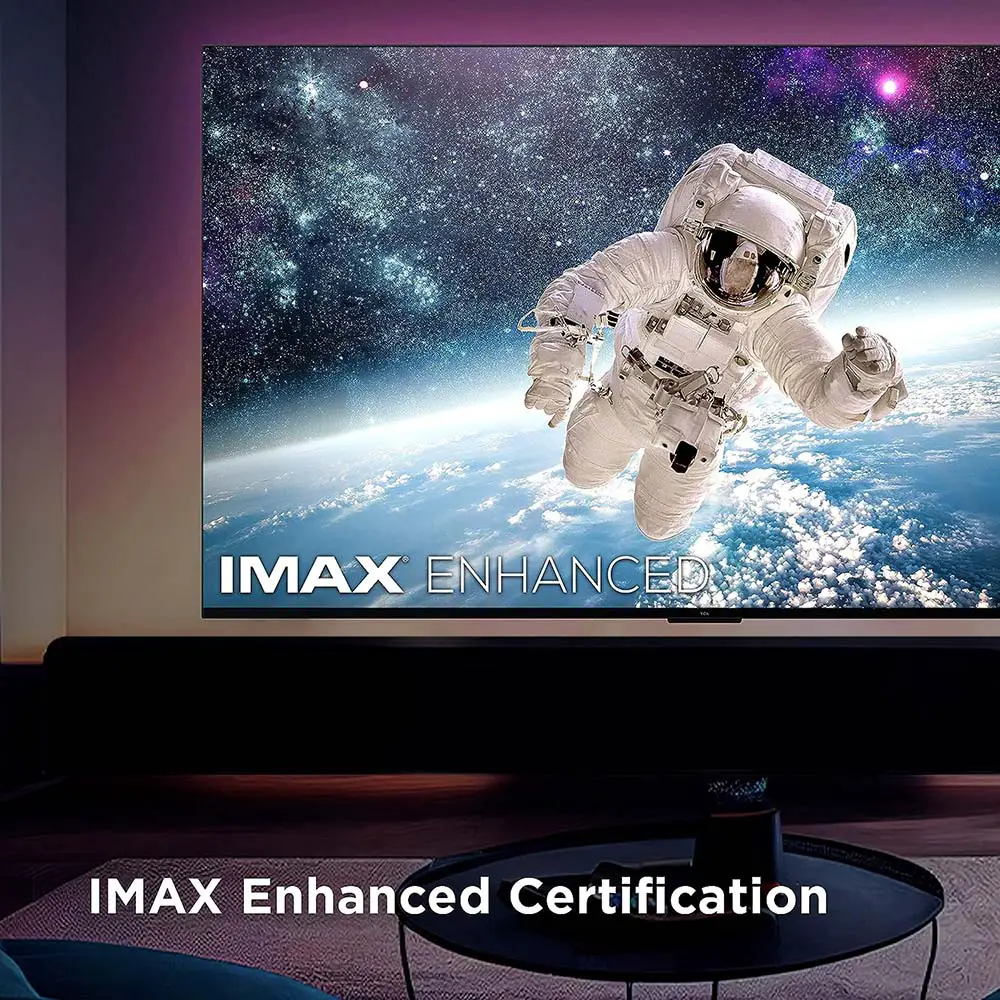 Compared to other TVs
Unfortunately we cannot compare the Q7 with TCL's 2022 offerings. From the other brands close to the Q7's price tag we have the 2022 Hisense U8H, the LG UR9000 and the Samsung CU8000. Unfortunately Sony doesn't have a TV with such a low price tag and even the 2022 X80K is priced higher.
Compared to the UR9000 and the CU8000 the TCL Q7 is definitely the better TV. Yes, the LG may have better out of the box accuracy but if you look at all three TVs as a whole the Q7 is by far the best deal.
Now, compared to Hisense's 2022 flagship the U8H is definitely better but also slightly more expensive. The U8H is brighter, has a better backlight and local dimming feature and better colors. Also its out of the box performance if far better than the Q7's. So if you can invest a slightly higher budget the U8H is the one to go for.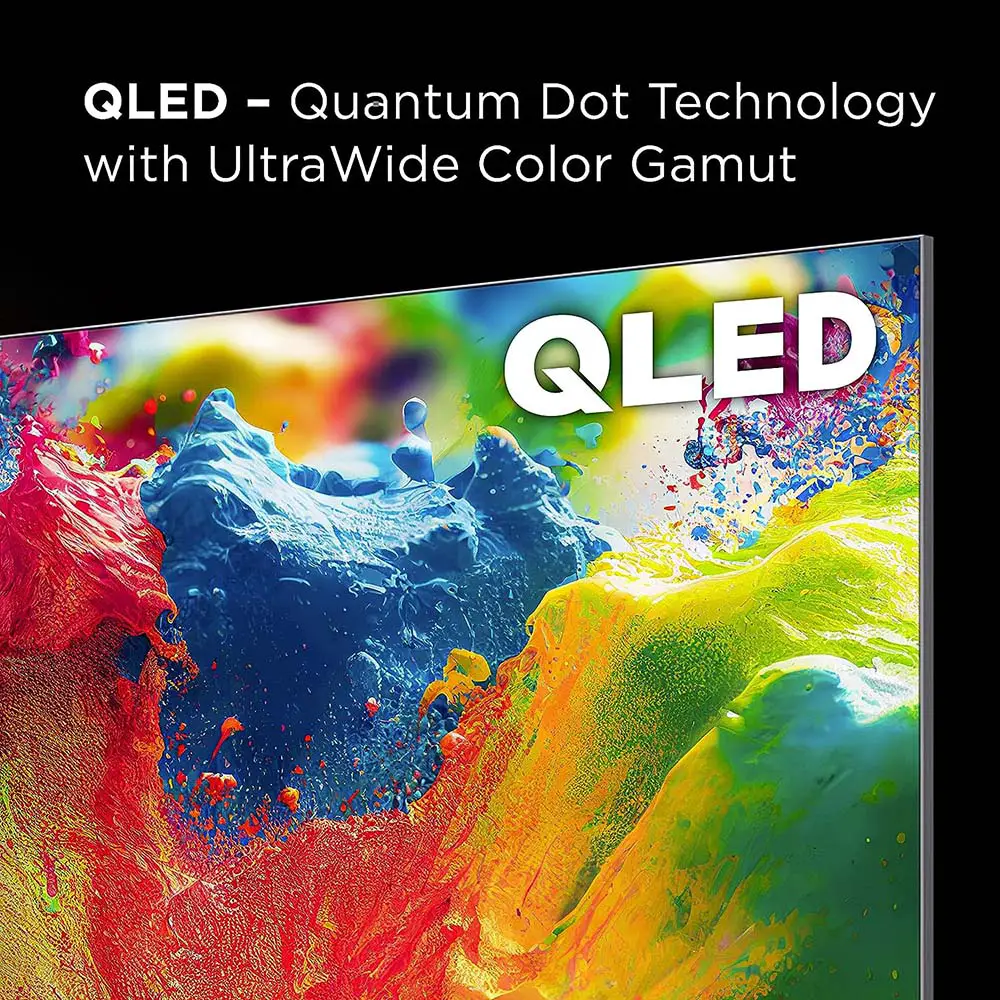 Final Thoughts
TCL has a huge advantage compared to the bigger brands. Its pricing policy is unbeatable. As things are at the moment it seems that only Hisense can really compete on equal terms. Their price to performance ratio on the Q7 makes it one of the best FALD TVs for 2023 at the moment.
For this low price tag you get very good brightness, amazing contrast and a very capable FALD backlight. Color reproduction was good enough, motion was solid, input lag was perfect while the TV comes with plenty of gaming and smart features to satisfy all needs.
On the other hand blooming was still very much visible, viewing angles were bad and out of the box performance was disappointing. Its upscaling capabilities were below average, especially with low quality content. Audio was adequate only for casual use while TCL needs to fix some inconsistencies we saw in some aspects of the TV.
Overall the TCL Q7/Q750G is a great budget TV. It is far from perfect obviously, but at this price range it is hard to find anything better. TCL knows how to price their new releases and the Q7 is the most grand example of that. If you are on an extremely tight budget this one will definitely satisfy you.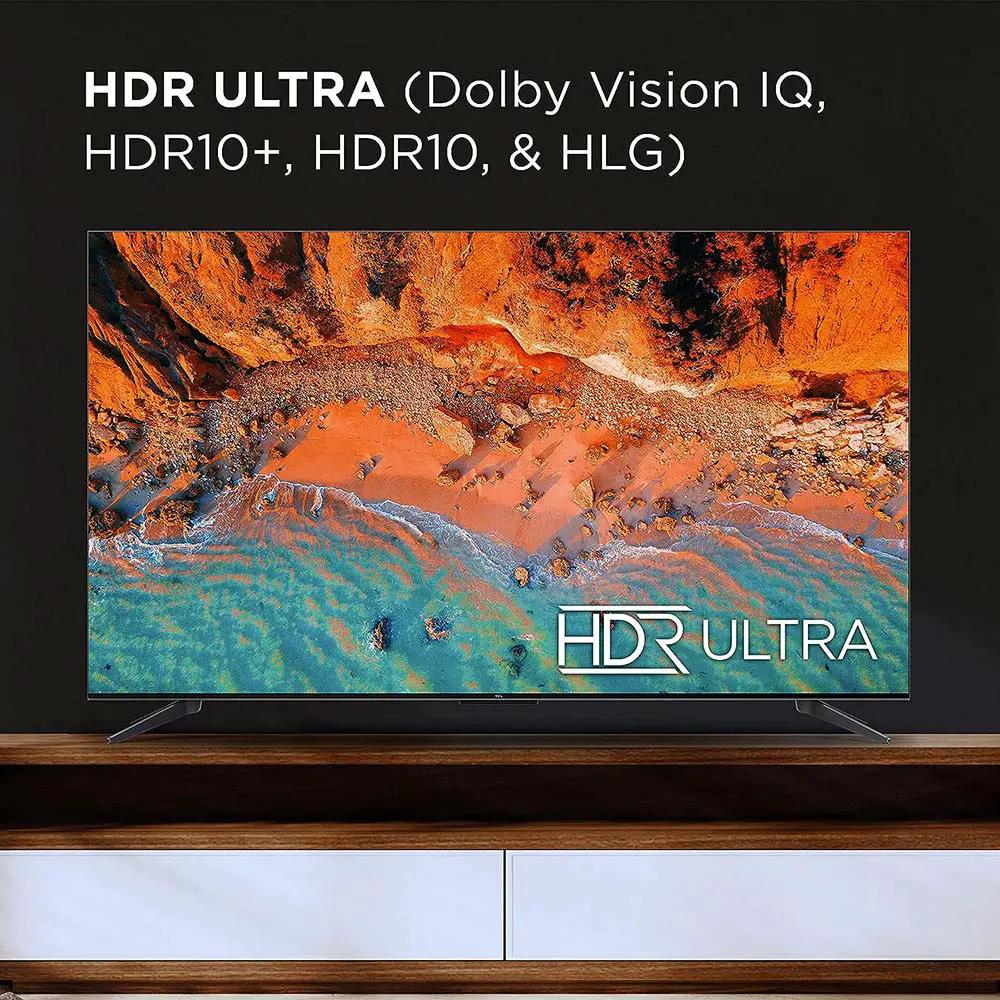 For more reviews you can check our dedicated 4K LED LCD TV reviews section or even look at our Product Reviews Table where you can find the brand and specific product you are looking for.
Also don't lose the chance to subscribe to our Newsletter and gain exclusive privileges.
---
---
Cheapest Places to Buy :
---
TCL Q7/Q750G Specifications