Vizio V-Series V21-H8R
Reviewed at $160.00
Movies Performance
8.5/10
Inputs and Features
8.6/10
Pros
Nice design
Good front soundstage
Dolby Digital and DTS support
Extremely low price
Cons
No surround activity
Some distortion on high volume
No HDMI input
LED indicators can be frustrating
---
Cheapest Places to Buy :
---
Many people seek the excitement of a home theater system in their living room but many don't have the luxury of space or budget to create a full surround system with dedicated speakers. So many have to rely on soundbars that offer a good upgrade over what a TV can do and be simple and compact enough which is what many casual users want. As such we have see an abundance of low cost soundbar-subwoofer combos that promise to give you this extra immersion asked. And today in our Vizio V-Series V21-H8R review we will be testing another such soundbar and what it has to offer.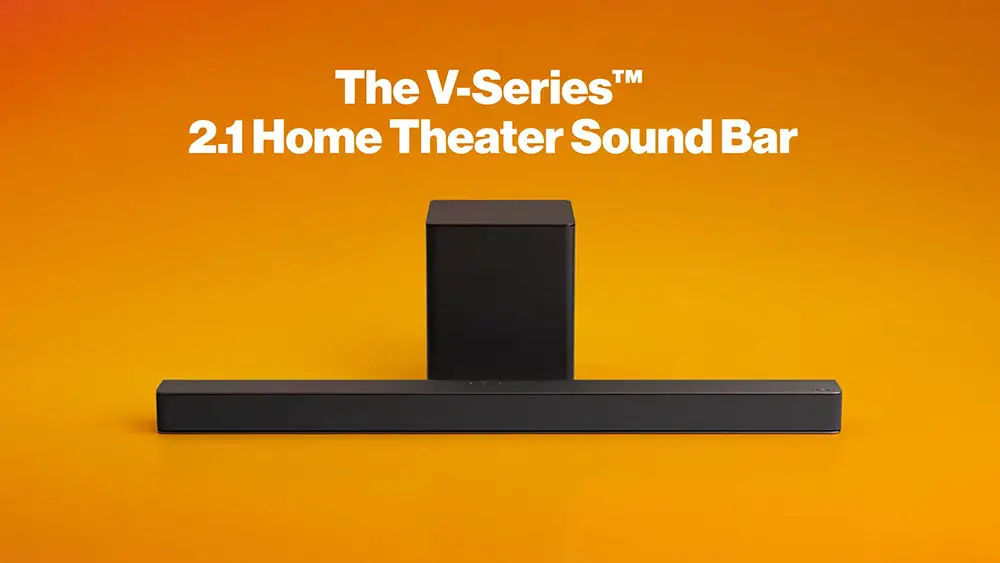 Vizio is no stranger in the soundbar market. The last few years they have created some very capable units, especially some of their top of the line Dolby Atmos ones and just recently we reviewed one of their latest releases, the Vizio Elevate, which was a rather impressive model and for more than one reasons. But when it comes to entry level 2.1 channels models competition is fierce and Vizio knows that, making them follow a rather aggressive pricing for what they offer in their units.
The Vizio V-Series V21-H8R is a very simple unit that comes with Dolby Digital and DTS support and is packed with the most basic of features which are USB playback and Bluetooth streaming while it is also voice assistant ready and can be connected to an external assistant device. Not much else is available but we will talking more detail on what is included in the appropriate section.
What is important in these low end soundbars is a combination of three factors. Simplicity and ease of use, good performance and low price. And we have seen many manufacturers push very hard into this market as it is a rather growing one and there is certainly no lack of new entries. Does Vizio's offering managed to make a difference? Let's find out…
Design, Inputs and Features
Exterior
Vizio must have been one of the worst companies when it comes to products naming as all their previous soundbars had very complex name codes and it was not easy to tell them apart based on that. It seems that slowly this starts to change as they decided to go with a more easy to understand naming this time. The soundbar still keeps a rather obscure coding as it is called V21-H8R but at least now Vizio has separated its offerings in three distinct categories.
The V-Series which the V21 belongs is the most low end, budget friendly lineup, the M-Series which is the middle-tier one and Vizio Elevate which is their top of the line flagship. Each series still includes a few models but at least now just by looking at the V21 coding you have an idea of what this soundbar is all about.
What we have here is the typical 2.1 channels soundbar that we have seen countless times before. The two main channels at on the main unit while the subwoofer is helping with the low end action. No up-firing or surround channels here so if you are expecting a totally immersive experience then you will probably be disappointed.
Size is more or less the standard for this category measuring 36.0″ x 2.3″ x 3.2″ (915 x 58 x 82 mm) making it fit nicely under any TV of 43″ and above. With no Atmos or side-firing drivers the V21 can be placed even in very tight spaces or small furniture without much trouble and without lowering its effectiveness making it ideal either you have open space or a small room.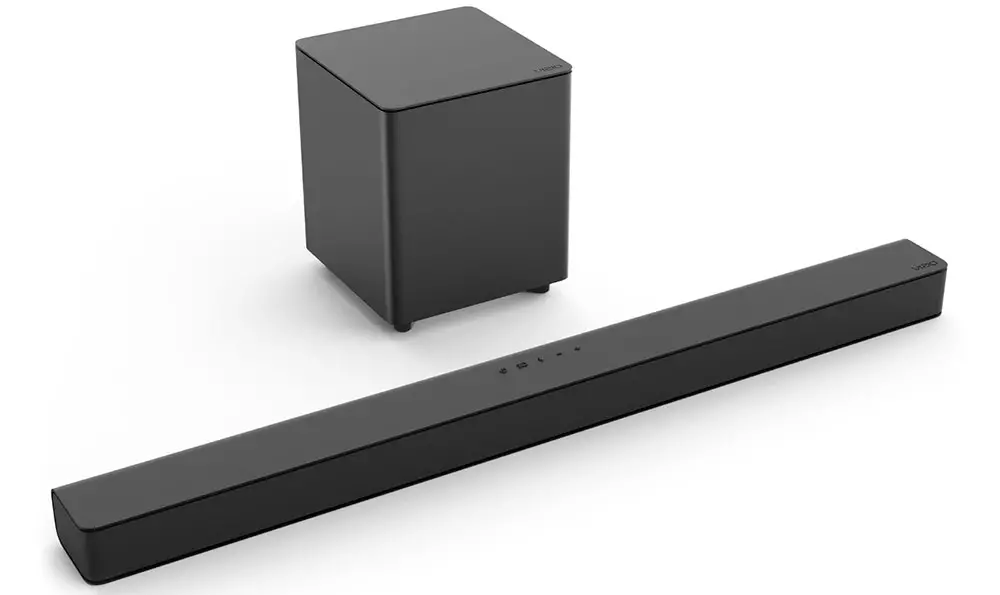 Overall design is rather simple but at the same time Vizio managed to make it look nice and a bit different from the usual. Obviously we are at the low end of the performance and price ladder so you shouldn't expect to get anything like the Vizio Elevate design. The top, back and underside are all made out of dark plastic with a nice curvy design that feels like it embraces the front fabric grille that covers the entire front side along with both sides. The plastic has a nice triangle etched design on it that looks much better than the typical matte or gloss surfaces that we usually see in most units.
At the top side we get a few basic buttons, as per usual, that have special function designs and are physical making them easier to find in the dark. The buttons we get are for power, input selection, volume control and Bluetooth. Nothing out of the ordinary here.
Everything, as far as the design goes, looks very good if you consider the price but if there is one thing that Vizio dropped the ball that would definitely be the functions display as what we get here is an array of ten LED indicators that show various functions of the unit. We never liked this type of display as it is very hard to remember all the light combinations so in this we will always insist on having a full functions display as we have seen in many other low cost units.
At the back there is also nothing out of the ordinary with only the two big insets covering all connection ports visible. There is no IR repeater available, although the low profile of the unit shouldn't pose a problem in most situations while the specially designed L-shaped wall mounting brackets are holding the unit from underneath.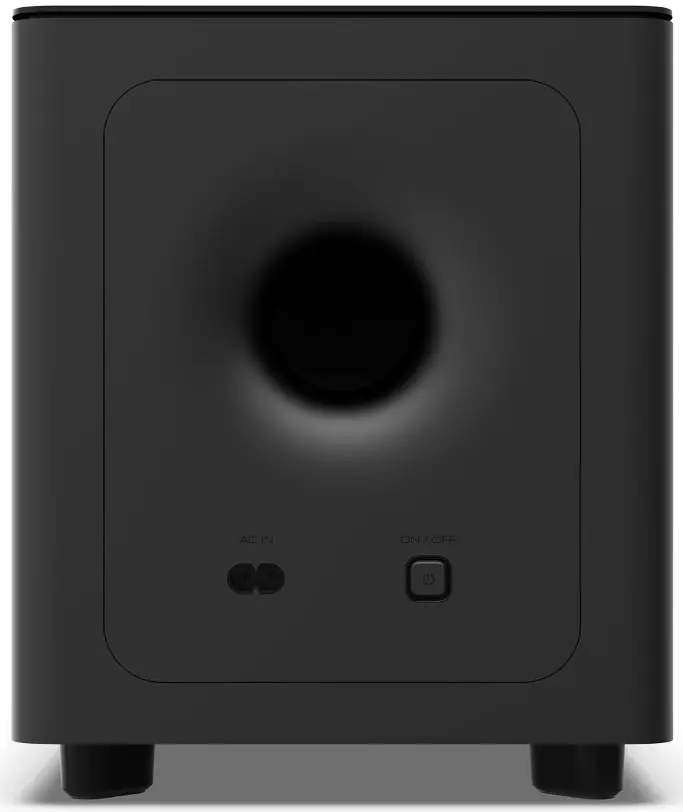 The subwoofer is featuring a very cubic design but borrows elements from the main unit as it has rounded corners in all sides of its melamine body while the top plastic cover uses the same etched triangle design. At the back we find an air port dead center while below there are only the power connector and a single button for pairing it to the main soundbar in case it is needed. Size is certainly on the low side coming just at 8.3″ x 9.8″ x 8.3″ (212 x 250 x 212 mm) making it fairly compact and easy to fit in most places.
In terms of design and quality the V21 manages to go above the average and if there is one objection we have that would be the LED indicators which we totally hate. And while Vizio do provide a solution with the included remote, which we will talk shortly, we would like to see a full functions display in the main unit in the future.
Internal Hardware
Next we will be looking at the hardware that is utilized under the grille. Usually all these low end soundbars feature very simple layouts in terms of driver numbers and combinations. Only a few releases break this mold and go for more sophisticated setups so let's see where the V-Series fits in all this.
Under the grille we get a single 1.77″ x 3.70″ (45 x 94 mm) full range driver for each of the two main channels and that's all. Vizio went as simple as possible here.
The subwoofer on the other hand is using a single 5.25″ (133.35mm) down-firing driver which is just about the size you should expect from a soundbar of this size.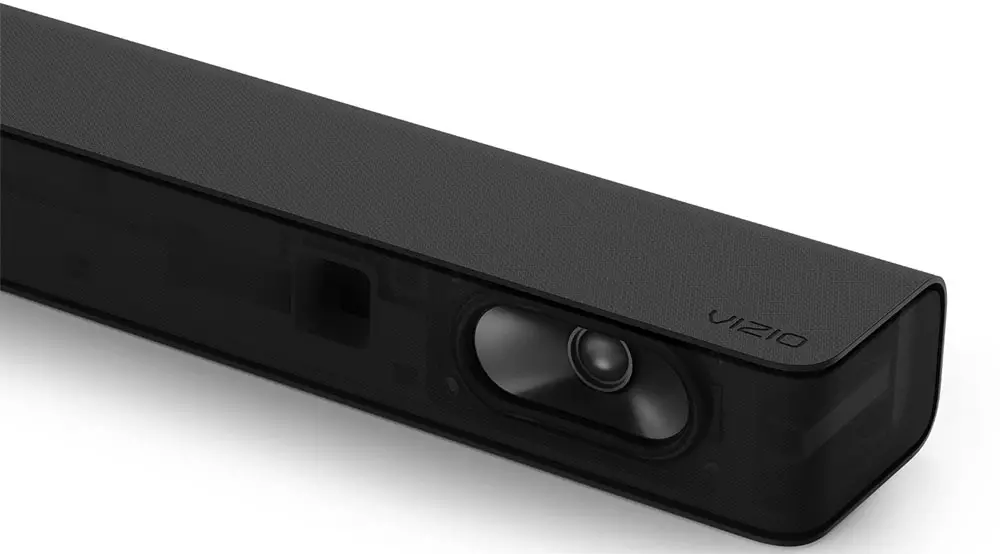 Now, as we recently reviewed the JBL Bar 2.1 Deep Bass which was also a 2.1 channels soundbar we see a striking difference not only in the number of drivers used but also in their size and we wonder how much of a difference this different approach would make. Vizio unfortunately does not provide any power rating for the V-Series so we cannot say in theory how it compares to the competition. The only specs that are provided is that the soundbar has a frequency response of 50 Hz – 20 kHz.
Connectivity
Usually all these low to middle tier soundbars feature a very standard ports layout so we don't expect any surprises here. The most common thing is the lack of enough HDMI inputs that are so necessary in today's home theater systems, even the most simple ones. So let's see where the Vizio V-Series stands in all of this.
At the back of the unit we find two deep and wide insets specially designed to fit even the biggest of wire plugs. As we look the unit from the back the left inset houses the power connector along with one USB port for connecting external storage. On the right one we get an HDMI output with added ARC functionality, a digital optical audio input, a 3.5mm analogue stereo input and a 3.5mm AUX VA which is used to connect to a voice control assistant device.
As for its wireless capabilities the unit comes only with Bluetooth built-in although Vizio does not provide any information of its version in the specs.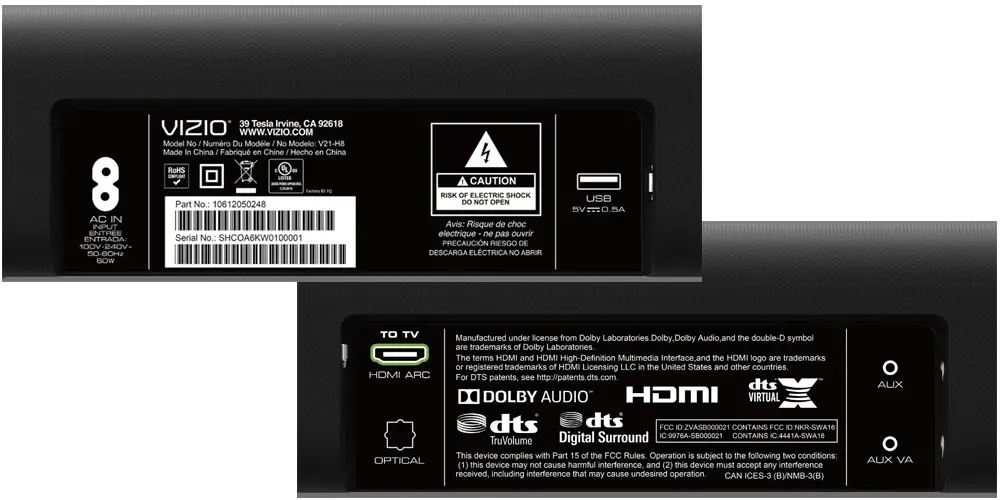 The inclusion of the AUX VA port is an unusual one as the soundbar can connect to a voice assistant device through Bluetooth also but the more options available the better. This one we had also seen in our recently review of Vizio Elevate so it seems that Vizio makes this a standard in all their new releases.
In general Vizio offers a different layout than we are used to see. First of all there is no HDMI input which is a huge minus and we cannot understand why Vizio took this decision. HDMI is the single most used connection port at the moment and the V-Series is one of the few soundbars nowadays that don't have an input of that kind. So you have to rely on the digital or analogue port and also you cannot use the soundbar to pass-through the signal to a TV. As such if you want to use HDMI the soundbar has to be the end-point of your audio chain.
Control Options
Next we will be looking the ways you can control the unit and we will start with the most obvious way which is the included remote.
The V21-H8R comes with a rather simple remote but here we need to clarify something. It seems there are two variants of this soundbar. The one we have here is the V21-H8R which features a remote with a built-in display and then there is the V21-H8 which features exactly the same remote but is missing the top display. Our recommendation, if possible, would be to go for the V21-H8R as the built-in display will greatly help the omission of one on the main unit.
Now as for the remote itself it uses a rather simple design with good quality plastic while its buttons have nice spacing between them making it easy to press the correct one in a low lit environment. As we already mentioned at the top we find a full functions display with three circular buttons underneath for input selection, Bluetooth and power. The usual navigation controls are in the middle while six buttons below for EQ and level settings, volume management, setup, effect and mute are all the available ones.

We already mentioned above about the built-in buttons you will find on the top side of the main unit so these provide another means of some basic control. But for the rest of the functions you will still need the included remote.
But if you like to control the unit without the remote you will be pleased to know that it's voice assistant ready which means that while the soundbar itself does not include voice control functionality it supports external voice control devices. These can connect either through the Bluetooth connection or alternatively through the included AUX VA port.
Unfortunately the V21 does not support any kind of mobile app and this was to be expected as it is missing any kind of online functionality. This means that the remote is you only means of control here.
The V21-H8R is a very basic soundbar so you shouldn't expect to find many options here. It's nice to see that voice assistant can be used which is usually not included in soundbars without online functionality.
Extra Features and Services
Next we will be looking at all the supported features and extra functionality that has been included and we will start by the supported audio formats.
The V21 supports both Dolby Digital and DTS which is the best we could hope for since the soundbar is pretty much limited by its hardware. But we liked that Vizio included both formats as we have seen a few other releases in this price category support only Dolby Digital and although this pretty much covers the majority of releases having also DTS is a plus.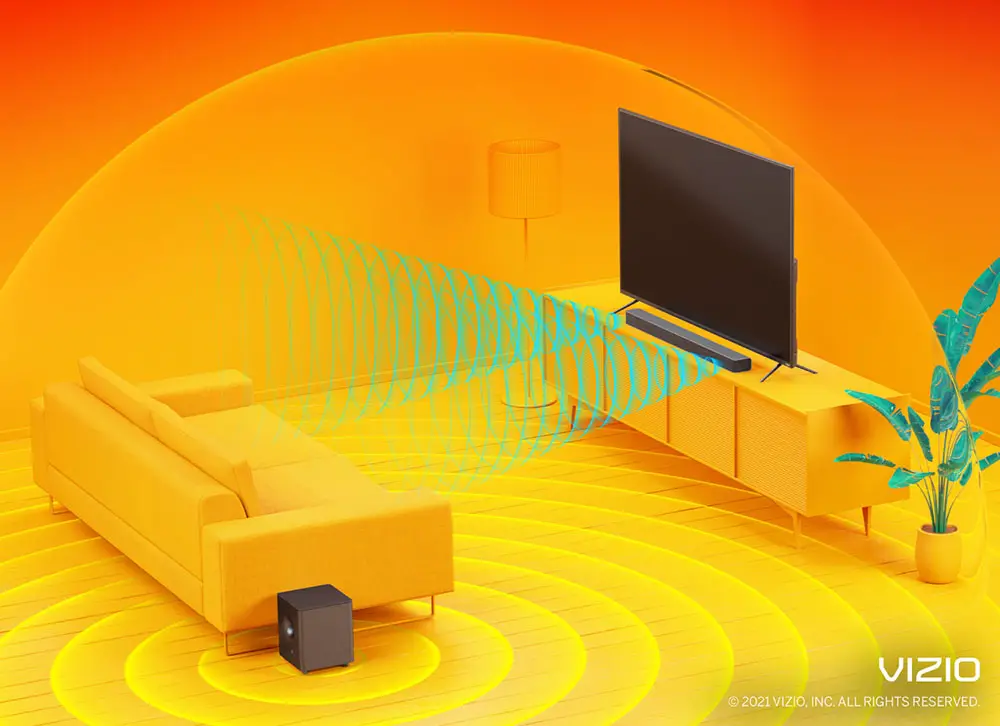 But Vizio didn't stay only with these two as they have also included DTS Virtual:X support which can slightly enhance the surround immersion of the unit since there are no rear speakers that could help with over-the-shoulder action. Now, it's not uncommon to find this virtual tech in this price range and although we may not be very fond of it as in the end the sound feels over-processed and altered we are at least glad that Vizio gives us the choice of having it because there are people that do seem to like how this tech works.
In terms of audio settings Vizio made sure to add enough content in order to provide their release some kind of diversity. First of all there are four different sound modes with Movie, Music, Dialogue, and Game the ones available. The Movie mode is the default one while each one is self explanatory of what they are meant for.
We also get a couple of special modes with one being the Night mode which will lower bass frequency levels to provide a more quiet environment, ideal for apartment living and homes with sleeping children. The other is TruVolume mode which provides a consistent and comfortable volume level for a more enjoyable listening experience.
Except from these sound modes the V21 also comes with some basic audio settings that include bass, treble and subwoofer level calibration along with an AV delay option in case the video is out of sync and needs some fixing. Not the most extensive of settings but for what this unit is what we get is more than enough. Keep in mind that there is no auto calibration system available so having at least the option to manage these settings manually can greatly help in vastly different environments.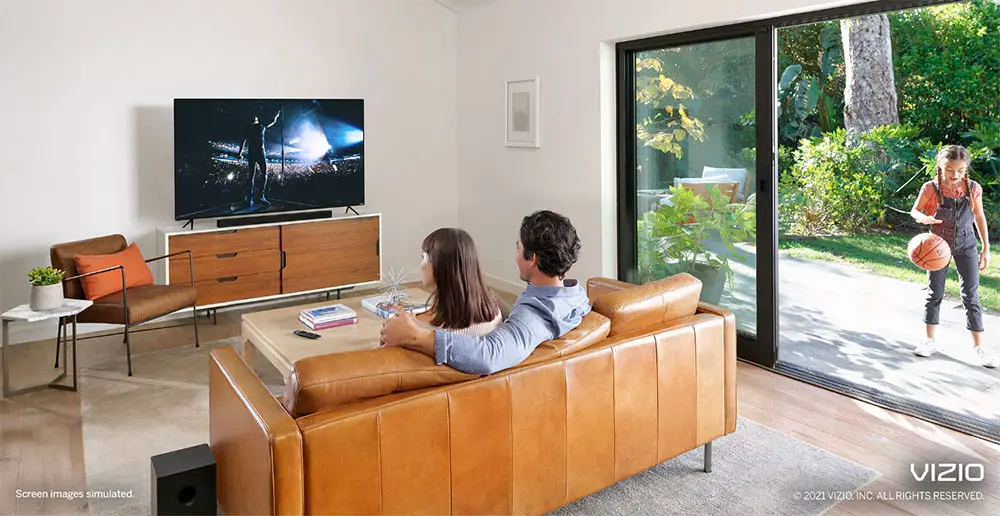 The V21 comes with the usual streaming capabilities meaning there is Bluetooth support with which you can connect any mobile device to the soundbar and playback audio this way or you can use the built-in USB and connect some external storage or flash drive. Just keep in mind that with USB, playback capabilities are rather limited as it seems that only two types of audio files are supported. These are low quality MP3 and high resolution WAV. We don't know if there are certain limitations on these two formats but we did try a few different bitrates and sampling and they seem to playback normally.
The soundbar cannot be exactly described as fully packed with features but you shouldn't forget what you pay for. Since the unit lacks any kind of online features there is no online streaming available and you will have to settle with local streaming instead. Everything else is pretty much what you should expect from this category.
Initial Setup
Initial setup is not hard at all although we have seen a few soundbars offering even more simple procedures. First of all there is no HDMI input so you have two options. You can either connect your source to the TV and from there route it to the soundbar through ARC or use the optical or analogue ports and then connect the V21 to the TV through the HDMI output. We opted for the second option by using optical and after all connections were made we powered up both the main unit and the soundbar.
And with that said and done you basically don't have much else to do in terms of initial setup. All other audio settings like bass, treble and subwoofer levels along with the sound mode of choice have to be calibrated during use in order to determine the levels you are comfortable with. Also DTS Virtual:X can be used depending on the material but we opted to keep it off in our initial testing and then turn it on to see how much of a difference it makes.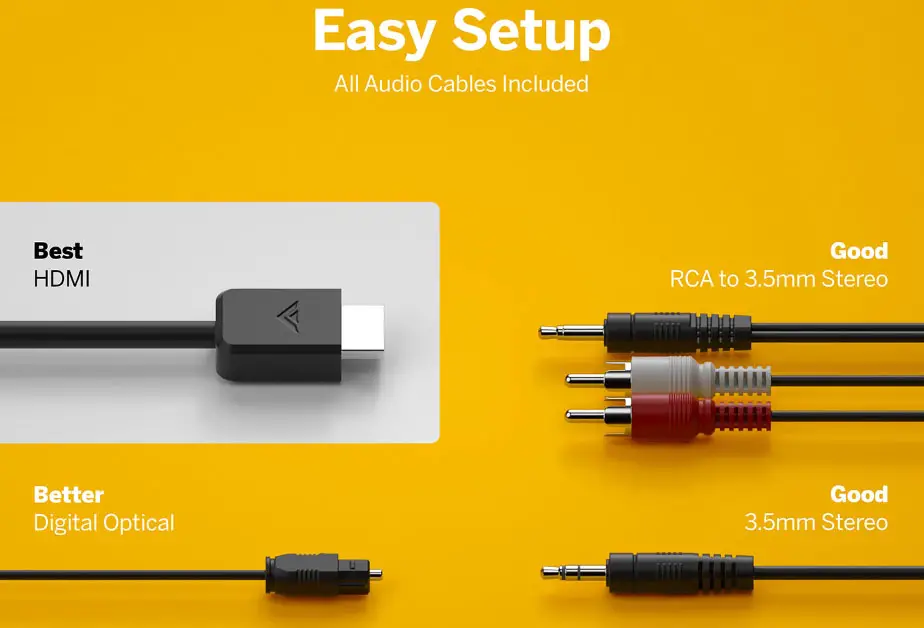 There is not much else you need to fiddle with. Yes, we have seen some soundbars that offer much less in terms of sound options making them look easier to setup and calibrate but to be honest these are mostly for those that don't care much at getting the best audio output possible and just want something that sounds good enough when you plug it in a power source. With the options that Vizio gives we certainly get more freedom to calibrate the sound to our liking without going overboard with settings and modes that could create more trouble than good to casual users.
Movies
For this test we went with the 4K UHD of Independence Day which feature a massive DTS:X mix. Unfortunately we only get the core DTS format which in turn has to be downmixed to just 2.1 channels so the end result is obviously not the best we can have but this is what the soundbar can give.
The front soundstage is where all the action takes place. Compared to what your TV can do you will certainly feel the difference immediately as the sound feels more detailed and with much more volume and depth. The difference is not huge but it is there and you will certainly sense it.
Definition was good enough for such a price while the channels separation was distinct although not as clear as we were hoping for. Stereo panning effects had this wow effect and this was very apparent in the aerial battle between the fighter jets and the alien ships. Dialogue was nicely rendered even without a dedicated center channel and we never felt like it was overlapping with the rest of the effects even with hectic scenes.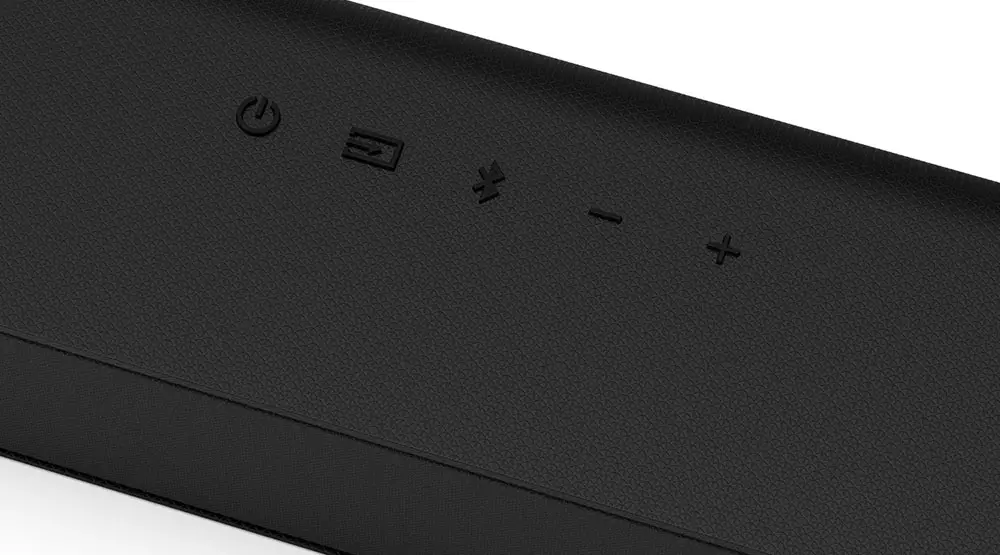 On the low end the Vizio did a good job at providing the necessary bass but without having the authority or punch we had seen in some other similar soundbars like the JBL Bar 2.1 Deep Bass for example. And while the Vizio cannot reach the bass greatness of JBL it excelled in pretty much all other categories and the overall output felt more immersive and fulfilling.
And while things looked very good at the front and on the low frequencies, one thing that was missing completely was surround action. We didn't feel any kind of over-the-shoulder activity or any action on the overhead layer. The soundbar is obviously missing the necessary hardware to create any of that but it should be mentioned that if you want this kind of extra immersion then you have to look elsewhere.
But since the soundbar offers DTS Virtual:X we tried that also to see if things would improve at all and indeed they did…in a way. With DTS Virtual:X the sound felt closer to our viewing position which made the experience better overall. It was not the kind of encompassing experience you get in a real surround system but the overall result was slightly better. We would also get an occasional side-way sound source but this was few and far between while there was still no action behind us.
DTS Virtual:X is not the clear solution for these low capable soundbars. In certain situations this can really help but there are many factors that can determine this like your room configuration and the material at play. Also the sound many times feels unnatural and over-processed which alters the original track for better or worse. It's good to have it as an option but it's not a permanent solution or one that should be used extensively.
Finally we should mention about the ability of the soundbar to push higher volume levels. The unit can indeed go loud but at the expense of overall balance and audio stability. When pushed too much you could sense some distortion which was rather bothering but if you are going to use it for normal viewing then you shouldn't notice it at all.

Overall we cannot say that the Vizio V21-H8R disappointed us. It performed very closely to what we were expecting for such a configuration which means that we got a very good front soundstage with satisfactory extension and nice bass without going overboard with it. Surround action was missing completely but the supported DTS Virtual:X can help a little without being an overall solution to the problem.
Music
Next in line is our music testing and while the soundbar is not officially supporting High Resolution Audio playback we used the USB port to playback some WAV files for the best quality possible.
As we usually do in our music tests if the soundbar provides us with the ability we use the appropriate mode and since the V21 had a music mode we opted to use that here.
Overall listening to music with the V21 is a very pleasant experience even if it cannot reach the standards of more expensive offerings. The front became alive with good channels separation while stereo imaging was good enough even if not the best. Vocals were nicely rendered and had enough energy to them without becoming bright or too much intrusive.
The subwoofer did a good job at providing the necessary bass and we liked that it was more subtle adding just enough oomph in the whole performance rather than taking front stage. For songs that are more low end oriented the V21 will sound much better as the subwoofer not only was able to push the lows in a satisfactory manner but also managed to keep the pace even with more hectic rhythms.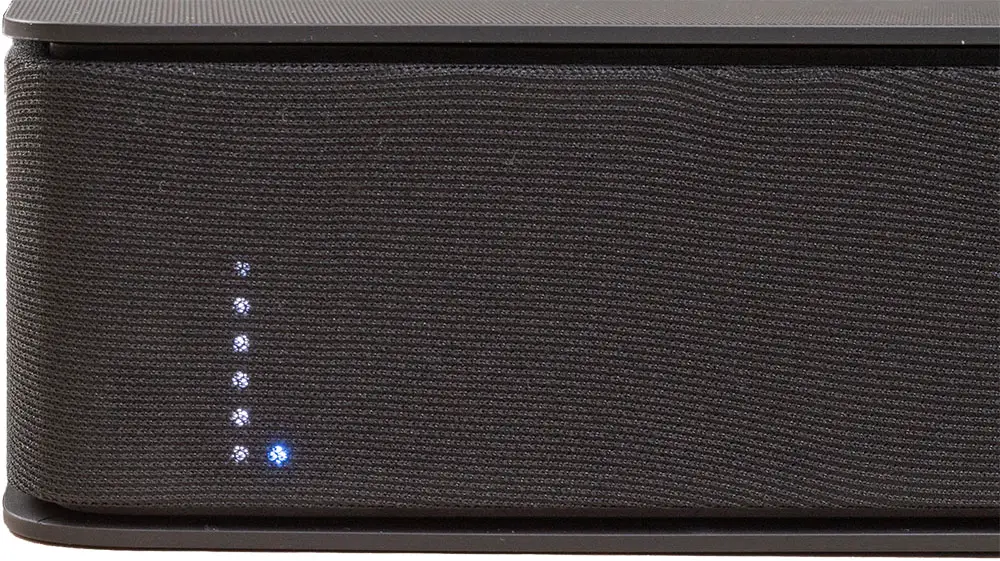 We went through a few different genres in order to get an overall feeling of the soundbar's capabilities and what we can say is that while the V21 never failed at playing the song with good dynamics and precision it never managed to excite us either. At this price point obviously it's not easy to offer anything that will instantly rise above competition and if you are looking at your casual musical fix then the V21-H8R will certainly not disappoint you at all.
Final Thoughts
Vizio continues to offer what they know best. Great value for money products. And the V21 is a prime example of this as there are not many soundbars with such a low price that manage to offer satisfactory results and at the same time offer a good range of extra features and audio settings.
The V21-H8R sports a nice design with good quality materials although don't expect anything premium here. Sound performance was above average for the price asked as the front soundstage really came to life with good dynamics and enough punch while the included subwoofer will provide a nice shake or two. In terms of extras you get the standard while overall the unit is rather easy to setup and simple to use.
On the downsides the most obvious would be that there is no surround activity so if that is what you seek you are not going to find it here. Also while the soundbar can get pretty loud, when pushed too much some audible distortion will show its ugly face. We also didn't like the fact that there is no HDMI input and lastly if you get the V21-H8 means you have to settle with only the LED indicators as the remote doesn't have a full display on it.
Closing our review what we can say is that for such a low price you shouldn't have any high expectations. The Vizio V21-H8R is the kind of soundbar that surely will improve what your TV can do but don't expect any miracles. It will improve the front and give a much desired boost on the low end but not much more. But if you keep your expectations at check then you will certainly enjoy your investment.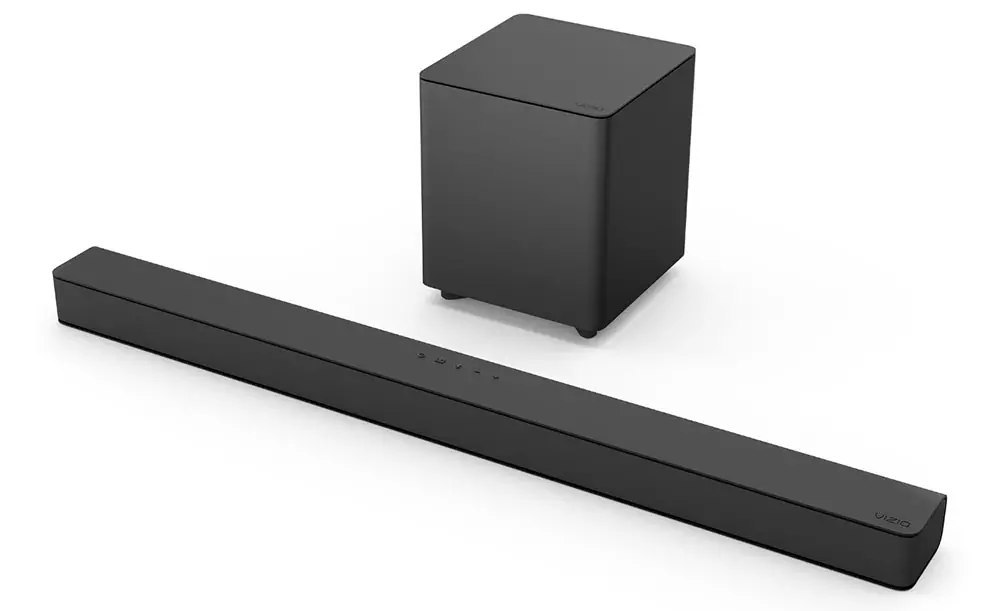 For more reviews you can check our dedicated Soundbar-subwoofer combo reviews list or even look at our Product Reviews Table where you can find the brand and specific product you are looking for.
Also don't lose the chance to subscribe to our Newsletter and gain exclusive privileges.
---
Cheapest Places to Buy :
---
Vizio V-Series V21-H8R Specifications