Wemax Nova
Reviewed at $1,899.00
Product Name: Wemax Nova
Product Description: 4K UST Laser Projector
Design -

9/10

Video Quality -

7.8/10

Ports & Connectivity -

8.8/10

OS, Apps and Features -

8.6/10

Price / Quality -

8.5/10
Summary
Reviewed at $1,899.00
Pros
Good SDR performance
Satisfying black levels
Lovely, compact design
Android TV
Cons
Disappointing HDR performance
No 3D support
Average input lag
Less than stellar built-in apps
---
Cheapest Places to Buy :
*We are a reader-supported website. When you buy through links on our site, we may earn a small affiliate commission at no extra cost to you. Home Media Entertainment does not accept money for reviews.*
---
Although Ultra Short Throw (UST) projectors have been with us a few years now it seems that lately they have picked up steam as more and more brands bring out new models every single year. And while the big names, like Hisense and Optoma, continue to dominate this market there are a few other less known brands that have some similar projectors on offer too. And today we will test one such projector in our Wemax Nova review and determine if it worthy of your consideration.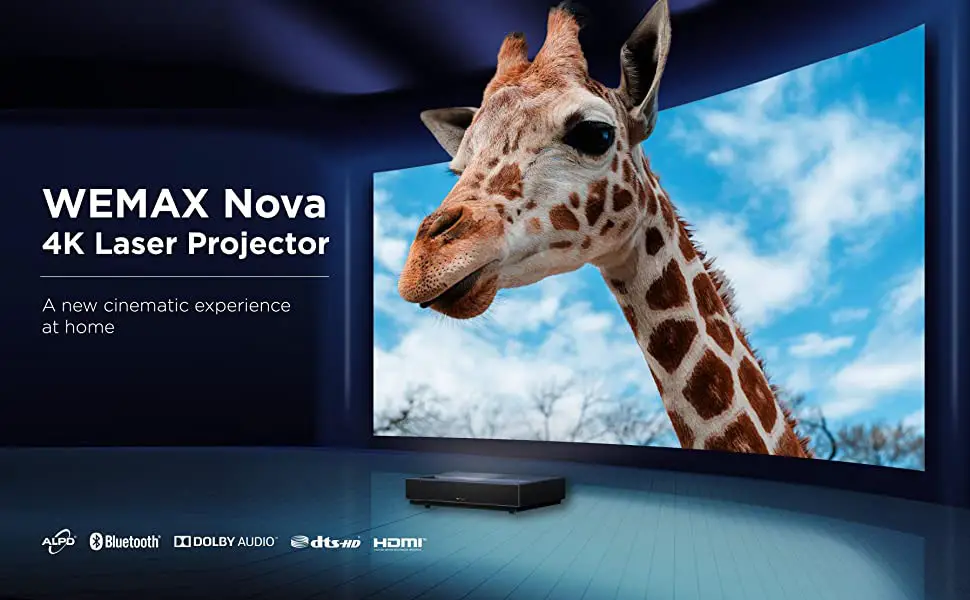 Now there is some confusion concerning this projector as you may have seen it go by the name of Formovie so let's try to clear things up. Wemax is the sub-company of Appotronics, who are famous for their ALPD laser technology in the Nova and some other projector brands. Formovie is the brand that belongs to Fengmi, who is also a sub-company of Apptronics and Xiaomi as well. But while Formovie is focusing on the Chinese market Wemax is focusing on international markets. So its basically the same projector, just different name.
So what does the Nova has to offer. This is a 4K Ultra Short Throw (UST) projector that uses a single 0.47" 4K UHD DLP chip by Texas Instruments and pixel shifting technology to deliver the full 4K resolution on screen. It uses a laser based light engine and is rated at 2,100 lumens brightness and 3,000:1 of contrast. It supports HDR10, comes with Android TV 9.0 along with all the apps and features this has, and features a 30 watts, built-in audio system that supports both Dolby Audio and DTS HD.
Competition in the affordable UST projector segment starts to become more and more fierce as the market is populated by more and more new models. Does the Wemax Nova manages to distinguish itself from the competition or it fails to reach the standards that most seek in the UST projector market? Let's start our analysis to find out.
Design
The Nova comes in different bundles, with or without a screen, so there is a lot of flexibility when choosing your setup. You can either get the projector itself and buy a screen of your liking or go for one of the two choices that Wemax offers, a 100″ or a 120″ UST CLR/ALR fixed frame screen.
Looks and Ventilation
The projector itself measures 456 x 308 x 91mm (18 x 12 x 3.6 inch) and weights just 7.0kg (15.4lbs) making the Nova the most compact and light UST projector we have tested so far. This can be particularly important if the furniture where you want to place it is rather small.
Ventilation seems to be adequate as there are air vents in both sides keeping the temperature at nominal levels. This means that the sides, where you plan on placing it, should be open in order to leave air circulate freely.
Now, in terms of looks the Nova goes for a simple rectangular design with straight lines and sharp corners unlike the some Hisense designs, like the L9G that we had tested recently. It only comes in a single color, with dark grey being the one available.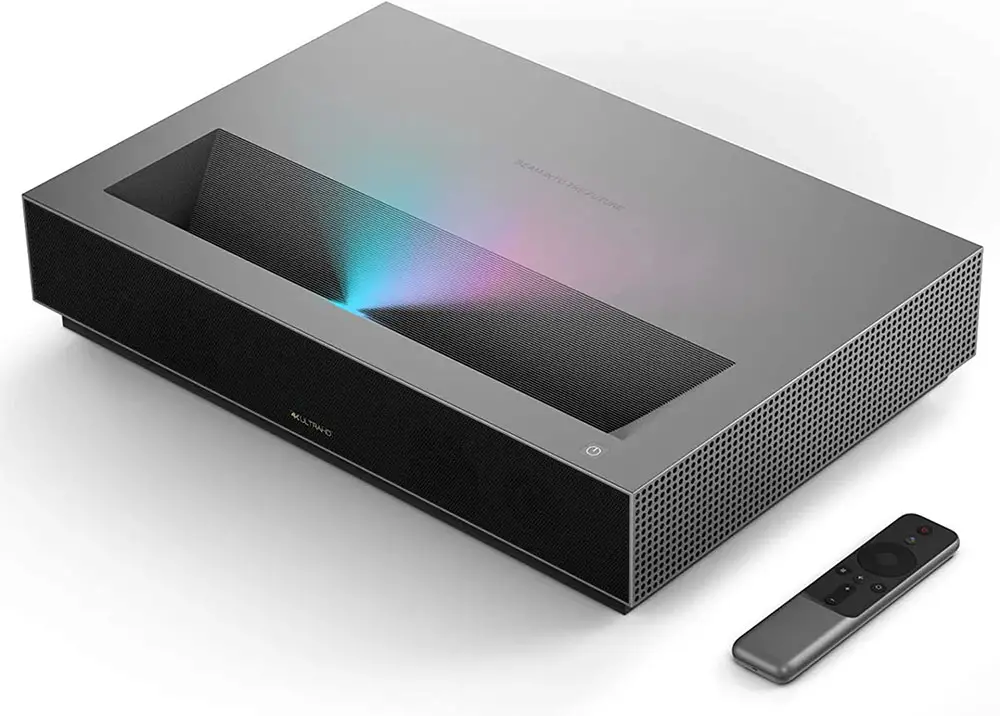 The front is covered by a grille to protect the front firing speakers with only a 4K UHD logo placed exactly in the middle. On the right side there is a USB port making it easier to connect some external storage if necessary while on both sides there are front wheel based legs in case you need to tilt the projector in case your wall is not straight.
As an UST projector the lens is naturally placed at the top. Wemax has included an safety-protection function that turns off the laser when something gets a little too close. This is also a great way to keep little kids from touching the projector. Of course, you can always turn the infrared body sensor off. The power button has also been placed at the top located at the front right corner for easier access.
At the back, as always, we find all the connection ports grouped together on the left side and we will talk more about them in the appropriate section later on.
Lens Specs
The lens has a 0.233:1 fixed throw ratio with no zoom or lens shift available, which seems typical for this category of UST projectors. For focus there is only a manual one but thankfully it uses the motorized lens instead of a less accurate wheel to do it.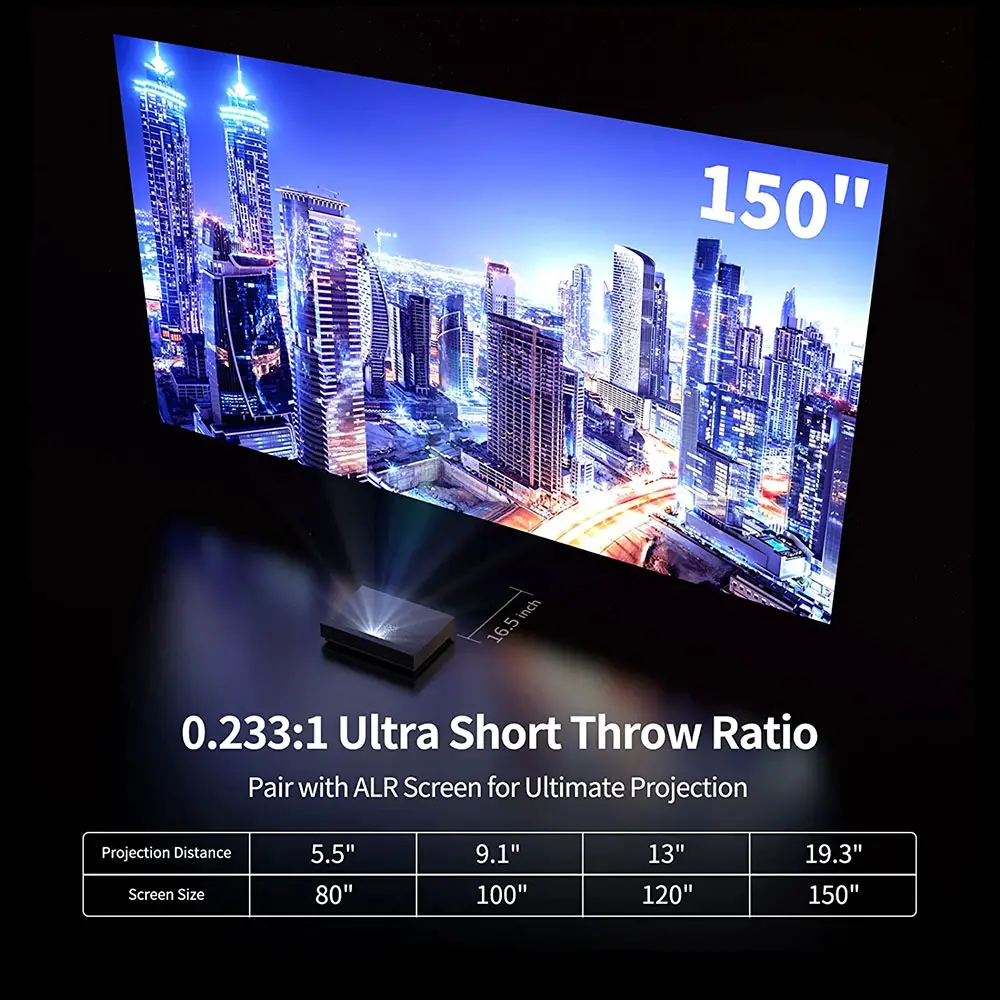 There is also 4-point and 8-point Keystone correction but as always this should be used only if you plan to move around the projector a lot. For a permanent placement we suggest you try to avoid this as much as possible.
As is the case with most UST units, one thing you should make sure is that wherever you place it, you have enough placement room as the projector sits about 9 inches from the screen, if you are going to use a 100″ screen, and if you take into account the size of the unit itself it means that you need more or less about 21 inches from the front of the projector to the back of the screen. For the 120″ size you need 13″ of back space for a total of 25″. Something very crucial and one thing that many do not thing about when going for a UST projector.
Noise Levels
When it comes to noise the Nova behaved worse compared to some other UST units. There is some noise coming from its cooling solution along with a slightly audible high pitched sound but due to its UST nature you most probably will have some distance from it, and if you add the sound of whatever you will be watching it shouldn't really be a problem in most cases. From a distance of about 3 feet, that we measured it, we got a 35dB reading.
This high pitched sound may be or may not be bothering depending how sensitive you are to such sounds. But just to be on the safe side we suggest you try it out first or at least buy from a retailer that accepts returns in case it is too much for your ears.
Light Source Hours
Its light source is rated at 25,000 hours which is great and this is one of the advantages of a laser projector. It seems that most new UST laser based projectors offer the same 25,000 hours rating so the Nova scores exactly as most of the competition here.

Remote
As for the remote Wemax went for a very simple design that reminded us very much of Samsung's One Remote. Very few buttons are available making the on screen display and UI your main way of knowing what you do with the projector itself.
The remote has a very small footprint and comes in a dark grey color while featuring nice curvy corners. For buttons we get the absolute basics. The navigation buttons sit at the middle with the power and Google Assistant buttons above them and four buttons, for volume control, menu, settings and back, below them. No dedicated buttons here so all apps have to be accessed from the Android TV screen itself.
Its overall quality is nothing to brag about as it is the usual black design remote that just does what it was meant to. No premium design here or anything and no backlight unfortunately.
The remote uses Bluetooth as it has a built-in microphone that you can use to issue your commands to Google Assistant and also makes sure that your button commands will register even if the projector is not in the line of sight of the remote.
Overall the Wemax Nova is a lovely projector. For a brand that is not as known as the other more prominent players, Wemax managed to create a very good unit both in terms of quality and design. Its compact size will surely please many that seek a big screen on a smaller room.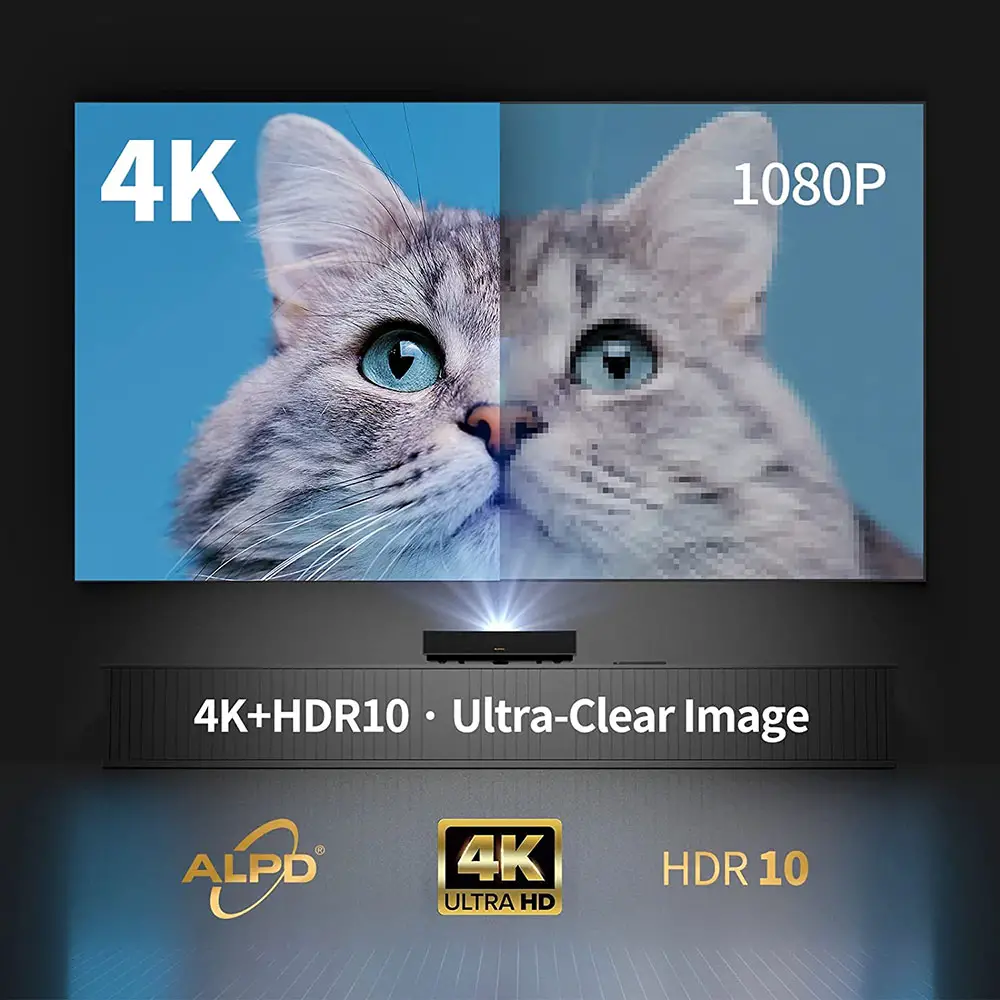 Video Quality
Technology used
Here things seem to be a bit standard. The projector is using a single 0.47″ 4K UHD DMD DLP chip from Texas Instruments that is responsible for displacing a full HD 1080p image in four different positions at very high speeds in order to produce the full 4K image that is very close in clarity and quality to a native 4K image. This makes the Nova a 4K pixel shifting projector and not a native 4K one.
For those that don't know what pixel shifting is, it was created by manufacturers in order to bring down the cost of 4K projectors by offering similar quality at much lower price levels. 
These pixel shifting projectors are usually distinguished in two different categories depending the type of pixel shifting technology used. There are projectors that shift the image only in two positions and these use slightly larger chips and are a bit more expensive while those that use the 1920 x 1080 x 4 technology tend to be cheaper without any meaningful loss of quality.
In general if you are considering a 4K projector, either a UST or a long throw one, but you are unsure about going for a pixel shifting unit we would say that its main strength is offering very close quality to a native 4K model but at a much lower cost.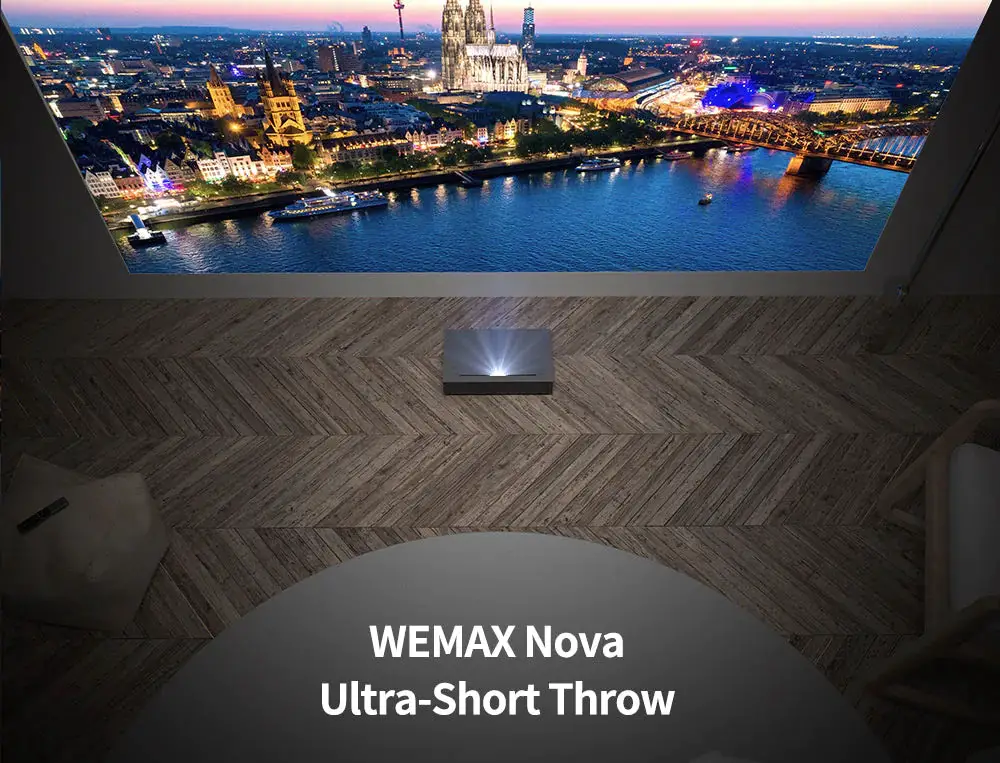 And this was pretty obvious by testing various scenes which showcased amazing levels of clarity and sharpness making the distinction between this and a native 4K projector harder than ever.
4K UHD / HDR Content
For this review we tried out the movies 2012 and Spider-Man: Homecoming, both in their 4K UHD format.
Our first impressions of the Nova with 4K/HDR content were both good and bad. In terms of image sharpness and overall clarity the Nova is as capable as any other 4K pixel-shifting projector we have seen so far. You will be hard to find any differences between this one and a native 4K projector. It is that good.
Especially with Spider-Man, which has a more crisp presentation than 2012, you could see even the most minor of details on Spider-Man's suit, skin composition and imperfections were more than distinguishable and every surface was crystal clear and full of details.
But while sharpness and clarity were great we were disappointed by how the projector handled HDR. The biggest problems we saw was some very bothering color banding while it seemed that the projector had problems with proper tone mapping the HDR signal as there was some very obvious highlights clipping. And this was happening no matter which picture mode we tried so this is not confined to a specific setting.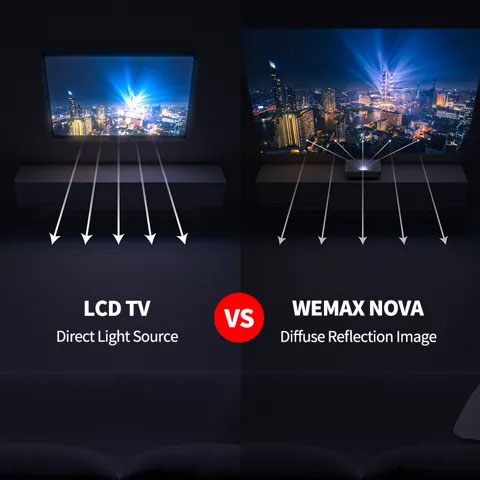 Color accuracy was relatively good if you consider that the projector does not support wide color gamut, especially if you use one of the more accurate picture modes which in this case was the Movie mode. You can go for the User mode and achieve a more calibrated presentation but even so the limited options you have there do not allow you to get the image quality to perfection, making the Movie mode the best choice you have.
Because of the above limitations the Nova's HDR color performance is ultimately not that much better than what you get with SDR which is very disappointing considering the Nova is being marketed primarily as an HDR projector.
The most usual problem most DLP projectors have is the mediocre black levels you get and surprisingly here the Nova is better than many other DLP projectors we had seen. We cannot say that there is a huge difference, as you will have to go to a completely different price range to get really deep blacks but the Nova managed to show blacks deeper that the usual grey-ish blacks we tend to see.
And if you are going to use the Nova in a relatively dark room you will really appreciate what this projector has to offer in this regard.
In terms of HDR support the Nova gets only the basic HDR10, no HLG here, but this shouldn't be a big problem as most HDR content is authored in HDR10 anyway so that is all you need.
Full HD / SDR / 3D Content
When it comes to Full HD/SDR material we usually try out the Blu-ray version of Oblivion. But with the problems we noticed on the projector with the 4K UHD discs we decided to try out the same films in their Blu-ray versions to see if we would encounter similar problems as we saw with their HDR versions.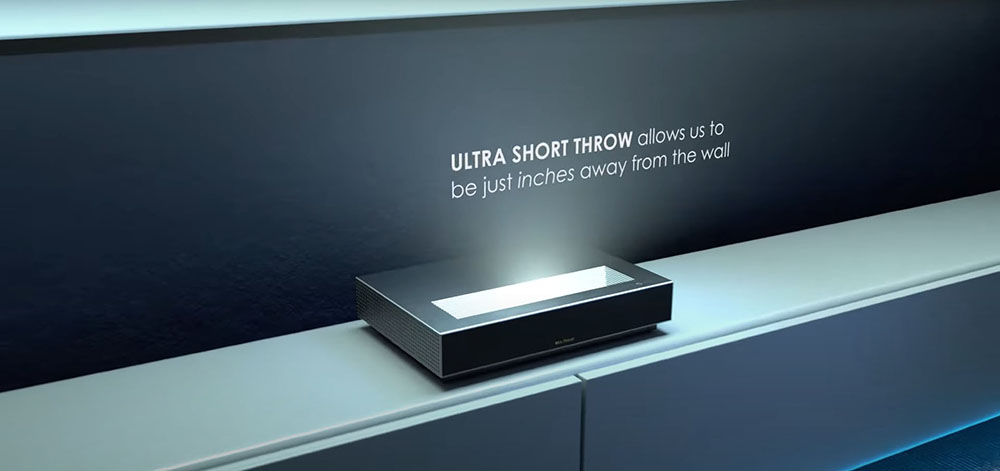 To our surprise the Blu-ray versions of both films had no problems whatsoever. The image resolution was still good enough, although you could notice the reduction in resolution, and colors with the Movie mode were pretty accurate and vibrant.
Brightness was great, for an SDR presentation, while contrast was once again an area where the Nova really excelled with good blacks that felt deep enough not to be bothering.
Overall we can say that it seemed the Nova to be able to handle SDR content much better than HDR. This can be a bit strange considering that this is supposed to be a projector mainly used for 4K/HDR material but this is what we saw from testing the exact same movies in both 1080p/SDR and 4K/HDR discs.
The SDR versions looked great, considering the limitations of the Blu-ray format, and while the HDR versions had more resolution and sharpness they fell short in other areas, that we mentioned above, that in the end would break down the whole presentation.
One thing that we keep seeing in many UST projectors is that these, in contrast to their long throw brothers, do not support 3D content. And the Wemax Nova seems to follow the same trend. So in case you are looking for a projector that do support 3D you will have to look elsewhere unfortunately.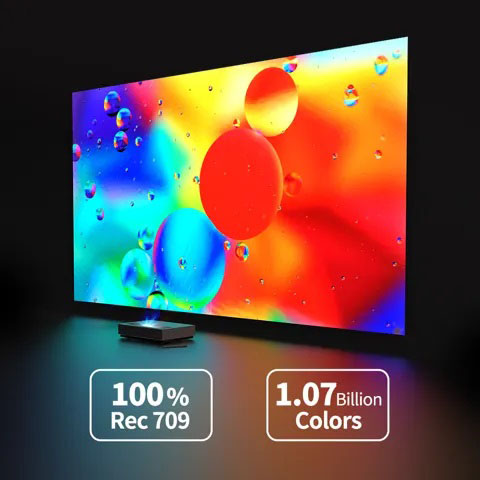 Color Coverage
Unlike Hisense that uses a tri-color laser light source in their UST projectors the Wemax Nova uses a blue laser/phosphor wheel design which has certain advantages but also some noteworthy weaknesses.
On the one hand this type of design saves the projector from any laser speckle that some tri-laser based projectors may suffer from. On the other hand this gives the Nova a more limited color gamut and this happens because while the blue laser offers a wide gamut blue primary, its phosphor wheel-derived red and green is limiting the projector's color gamut from reaching higher levels.
And this is why Wemax only mentions that the Nova can reach up to 100% of the REC.709 color space. And this is one of the reasons why colors do not show much better in 4K than in 1080p. The difference is so small it is not even worth talking about it.
As far as color accuracy the best mode for both SDR and HDR seemed to be the Movie mode and this is the one you should select when watching a movie in a relatively dark room. On the other hand the Game mode is good enough to be used while gaming due to its lower input lag while Vivid can still be acceptable in a more bright room where you will not notice the downgrade in color accuracy that much.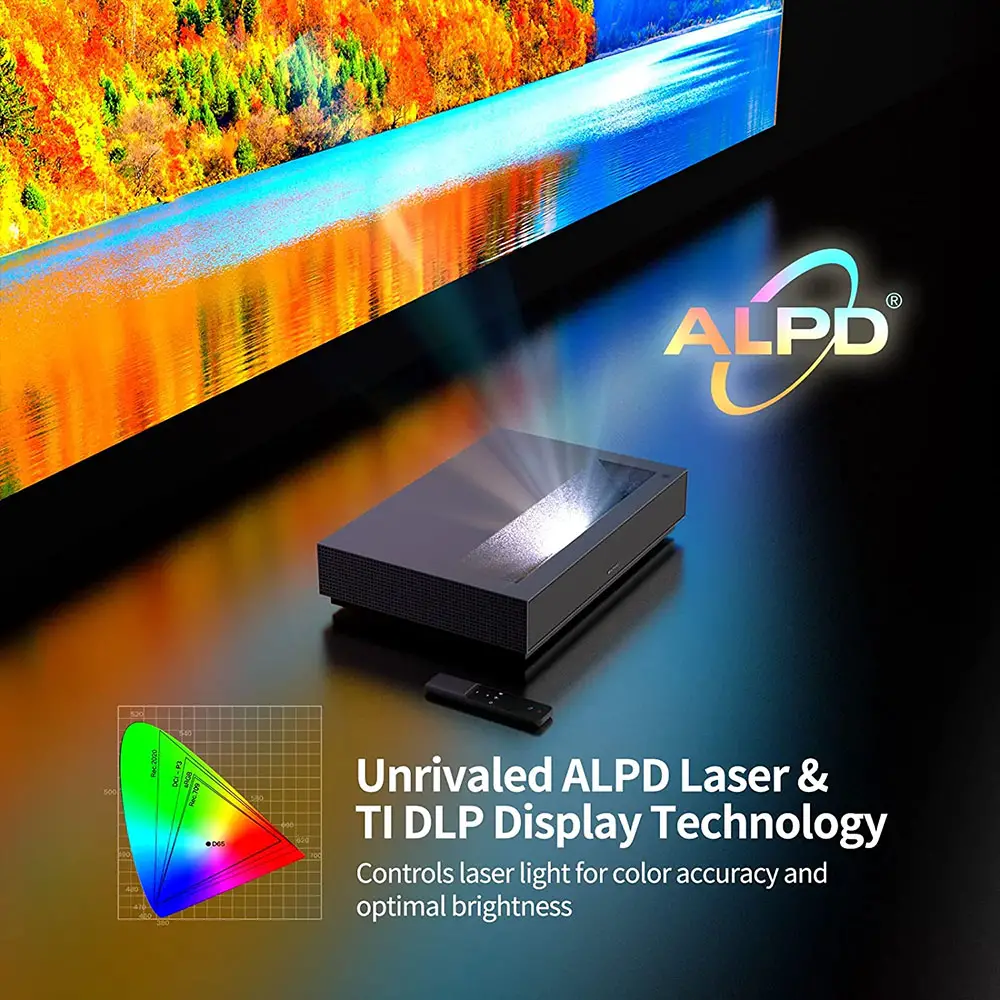 One thing that some of you may be wondering is if the projector suffers from the Rainbow effect. During our time with it we couldn't spot it anywhere so we can say that this unit is fairly resistant to it. But since different people have different levels of sensitivity with this matter you should always test it for yourself before buying just to be on the safe side. Or, as we mentioned above, at least buy from a retailer that accepts returns.
Brightness / Picture Settings
Wemax is rating the unit at 2,100 lumens which to be honest seems relatively low but as always we will see how close to this number the Nova can do. The projector offers two brightness modes which are separate from the available picture modes with View Mode and Highlight Mode the ones you can choose from.
The View mode offers a bit more accuracy as it goes for specific color temperatures for each picture mode you choose while the Highlight mode goes for the projector's highest brightness setting.
When watching SDR content the available modes include Standard, Movie, Vivid, Sports, Monitor, Game and a User defined one. When the projector detects an HDR signal you again get the same set of modes available. There is an additional Child mode and this one seems to be used when any of the built-in apps are detected by the projector as the source.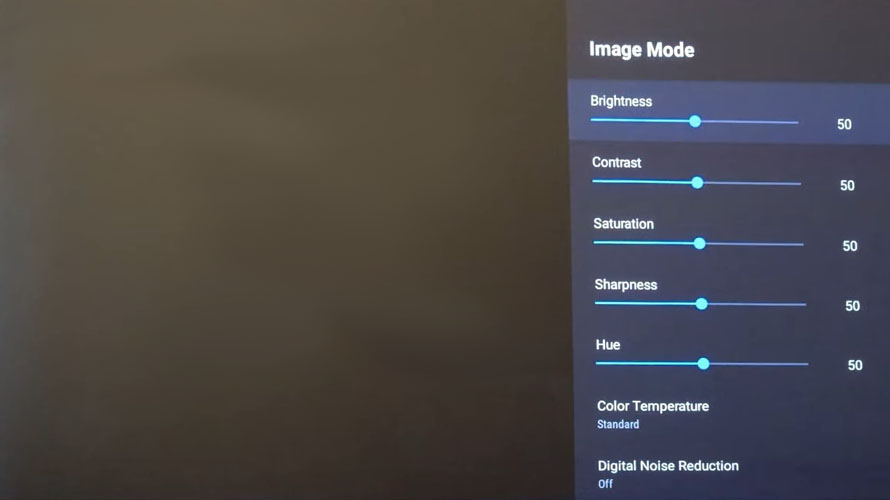 As for our measurements it seems that the highest brightness we could get out of the unit with SDR content was with the Standard mode with 1,712 lumens which is a bit of a far cry compared to the theoretical 2,100 lumens that Wemax gives. Close in second and third places was the Monitor mode with 1,688 lumens and Vivid with 1,665 lumens. Then came the Game mode with 1,397 lumens and the more accurate Movie mode with 1,374 lumens while last was the Sports mode with 1,289 lumens.
With HDR we got a bit different results as most modes were measured between 1,650 and 1,750 lumens with only the Movie mode falling below that range with 1,513 lumens.
One thing we should mention here is that in contrast with other projectors the Nova offers very limited image settings in its User mode making accurate calibration harder as you need to go by what the projector offers instead of micro-managing every detail of the image to your complete satisfaction.
When you choose the User mode you will see sliders for Brightness, Contrast, Saturation, Sharpness, and Hue. There are also a couple of more options for Color Temperature as well as a Digital Noise Reduction feature. Settings like gamma correction, greyscale or a full fledged CMS are completely missing which is a bit baffling to be honest when most other brands offer them.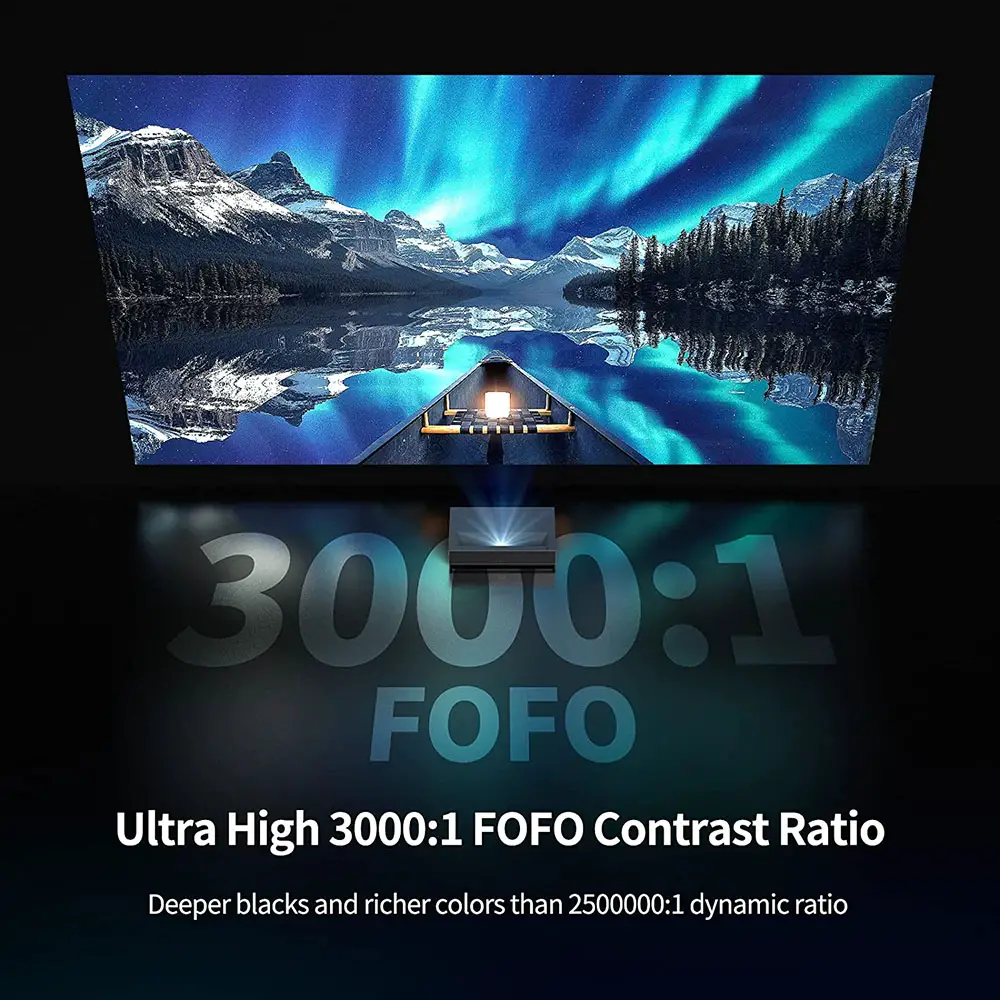 Overall the Nova falls short of Wemax's claims in terms of brightness output while the projector is also missing some much desired image settings in order to be able to calibrate it more accurately. The options available are certainly ok for those that are not very advanced users but for anyone looking to adjust the projector to perfection will surely be disappointed.
Black Levels / Contrast
Black levels performance, as we mentioned above was really good considering the price the Nova is at the moment.
In terms of contrast ratio Wemax is rating the Nova at 3,000:1 but we would suggest you not to look at this number too much as usually these numbers don't translate good in real world situations as we have seen countless times in our tests.
Overall the behavior of the Nova here was very satisfactory. Don't expect to see blacks like OLED TVs can do, but no projector up to the $3,000 price mark can do really deep blacks and DLP projectors have certain limitations here so this was to be expected.
The most important thing is that the Nova can achieve good black levels with the Movie mode, so you don't have to go for the User mode and make calibrations yourself, making it an excellent choice for more casual users.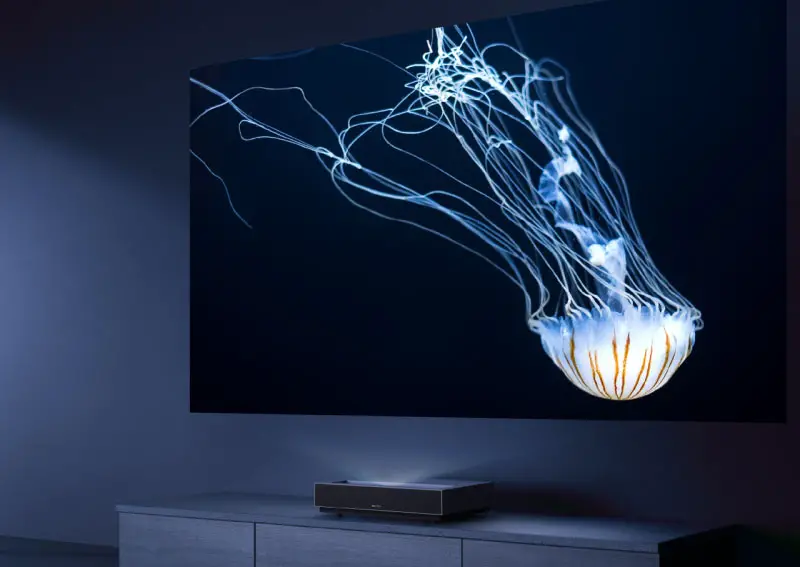 Input Lag
The Wemax Nova is not meant to be a gaming projector as it is missing both HDMI 2.1 ports and also most of their gaming centric features.
This means that all we can get out of it is 4K@60Hz while there is no VRR support either. At least we do get a Game mode which lowers the input lag in order to make gaming acceptable on this projector.
As for our measurements we did try out both 1080p@60Hz and 4K@60Hz with the Game mode and we got a pretty consistent 60.5ms average in both. Not the lowest input lag we have seen and for online gaming it may not suffice but for casual offline games that do not require blazing fast responses it is ok.
And to be sure of how this translates to a real world situation we connected our PS5 and tried a couple of games with F1 2021 and Horizon: Forbidden West. With F1 2021 we can say that we could sense the slightly high input lag as it is a game that requires blazing fast reflexes and some minor delay was noticeable, although still very playable. On the other hand with Horizon: Forbidden West we had an excellent time as the game is far more slow paced and the higher input lag was not bothering here at all.
Overall the Nova shows that gaming is not its main purpose. Its Game mode can improve things if mixed use is what you want it for, just don't expect to get all the gaming goodies some gaming centric projectors offer. If you are a hardcore gamer then you should probably look elsewhere.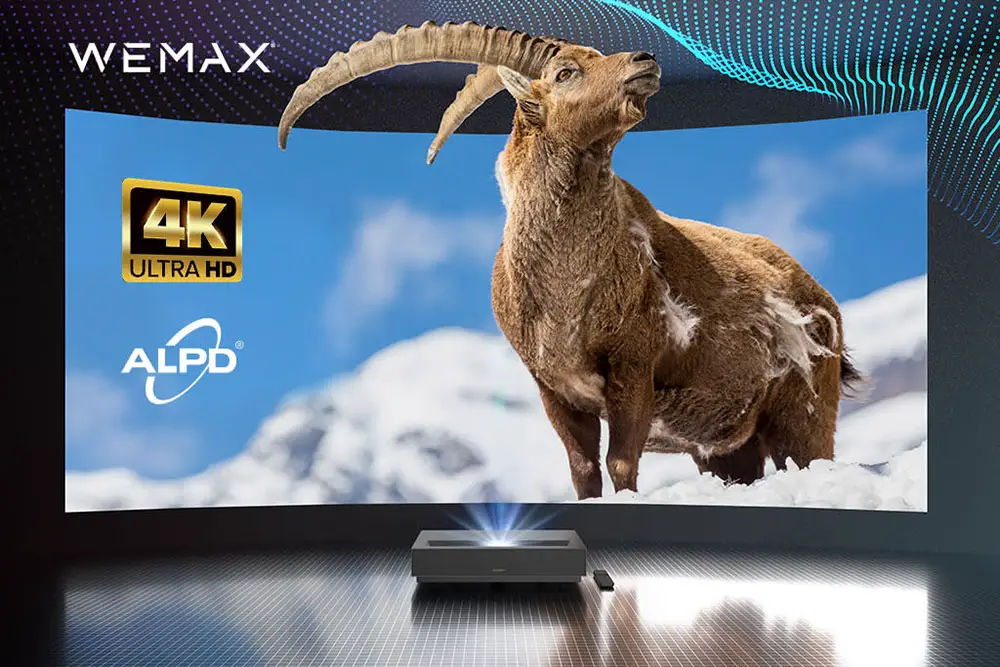 Motion Performance
When it comes to its motion performance the projector did really good for what you pay for. Motion with low frame rate content was solid and we didn't notice any major blurring or stuttering. During gaming with either 30fps or 60fps content, motion was really good and we didn't have any concerning inconsistences to report.
The Wemax Nova is missing any kind of motion interpolation so what you see is what you get. There are no settings that you can fiddle with when it comes to its motion performance but from what we saw during testing you are not going to be missing such a feature as the projector was really good both with movies and gaming.
Overall a very solid presentation here. Obviously the projector is missing a lot of settings when it comes to its image properties and motion is one of them. Whether motion interpolation was needed or not is another subject for discussion but a lot of projectors offer some short of motion interpolation in their settings so in this regard the Nova feels behind the competition. It's all about the choice you give to the consumer and unfortunately the Nova does not have this.
Ports & Connectivity
Next we will be looking at all the available ports. As usual most of ports are grouped together at the left side of the back face of the unit with the exception of a single USB port that is located on the right side as you look the Nova from the front and is used to playback files from a flash drive or other types of external storage and is placed there for easier access.
Now at the back we find 3 HDMI inputs, another USB port, an analog audio output, a digital optical audio output, a 3.5mm composite video input and an Ethernet port for wired connection to your local network.
All HDMI ports on the Nova are HDMI 2.0 and all of them lack any of the game centric features that HDMI 2.1 has like VRR. Also there is only ARC support meaning that you can pass Dolby Digital or DTS at the most to an external audio device like a soundbar. One thing to keep in mind is that if you want the projector to accept 4K signals you have to turn on the HDMI 2.0 setting otherwise the HDMI ports will accept only 1080p signals. A rather strange setting to have and surely one that is more confusing than necessary. Lastly both the USB ports are the older USB 2.0.
The projector needs online functionality for its smart features to work. As such you get WiFi support that can connect to both 2.4 and 5Ghz networks along with Bluetooth 4.1/BLE for connecting the remote and also for streaming audio to the projector from a mobile device or computer.
OS, Apps and Features
The projector comes with Android TV 9.0, essentially making it a smart projector with many functions we find in today's smart TVs. If you have used the Android TV user interface in the past then you will feel right at home as there is no difference here. Essentially this is the same OS we had seen in many other Android TV equipped projectors lately like the XGIMI Halo.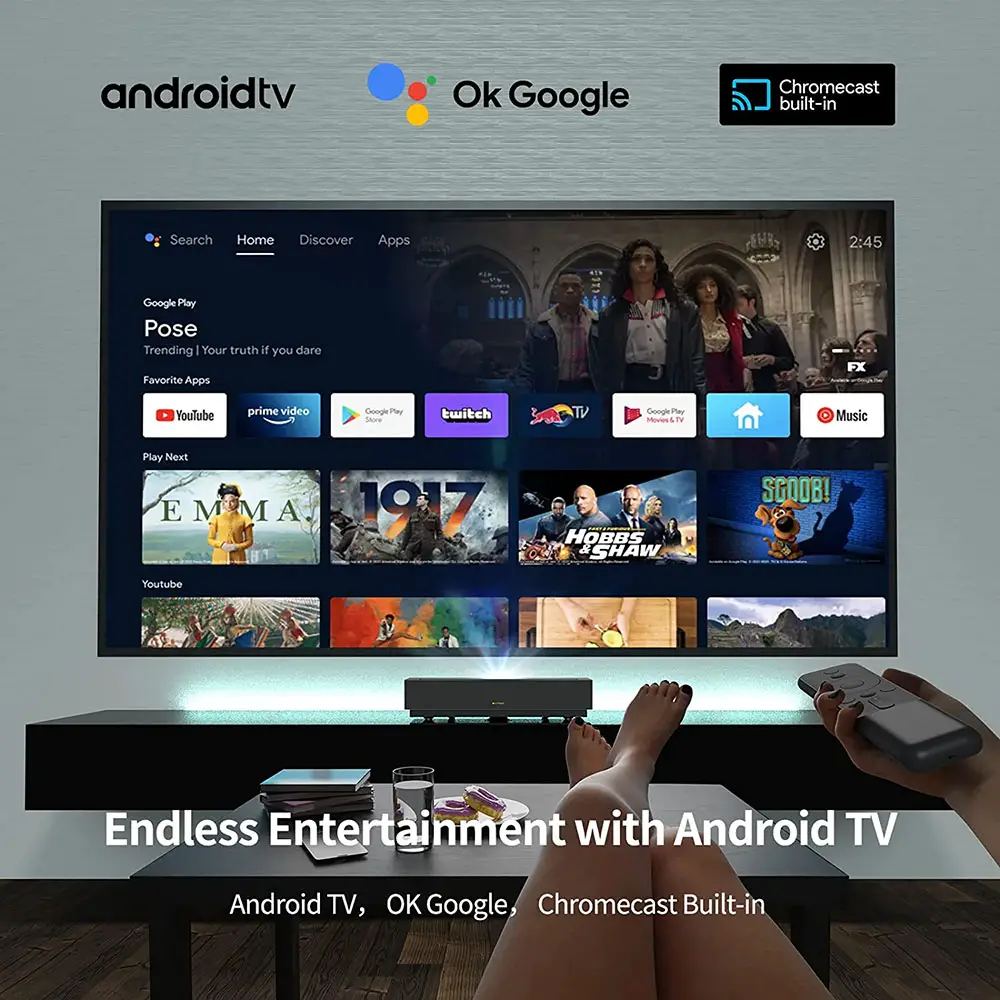 Now as is the case with these Android TV projectors you actually have two menus. The one can be accessed by pressing the projector menu on the remote and the appearing menu is the usual you see in any projector and allows you to change all settings like colors, image adjustments and picture modes among others.
The second UI is actually the Android TV UI and this can be accessed by pressing the home button on the remote. This will bring the Android TV interface which allows you to use all the available smart features and streaming services available.
Navigation through the various Android TV menus was smooth enough without any major lag. We have experienced more smooth scrolling in some TVs but in general we had no problems accessing the various apps available here. As for streaming apps availability you get everything you would expect from a projector that comes with the Android TV OS.
Big names like YouTube, YouTubeTV, Disney+, Hulu, Vudu, HBOMax, Peacock, Showtime, ESPN, Crunchyroll, Nick, Cartoon Network, YouTube Kids, PBS Kids and many more are all present along with many music apps that you may use. But there are some things that need to be mentioned. First, as the remote does not feature any dedicated buttons all apps have to be selected directly from the Android TV menu.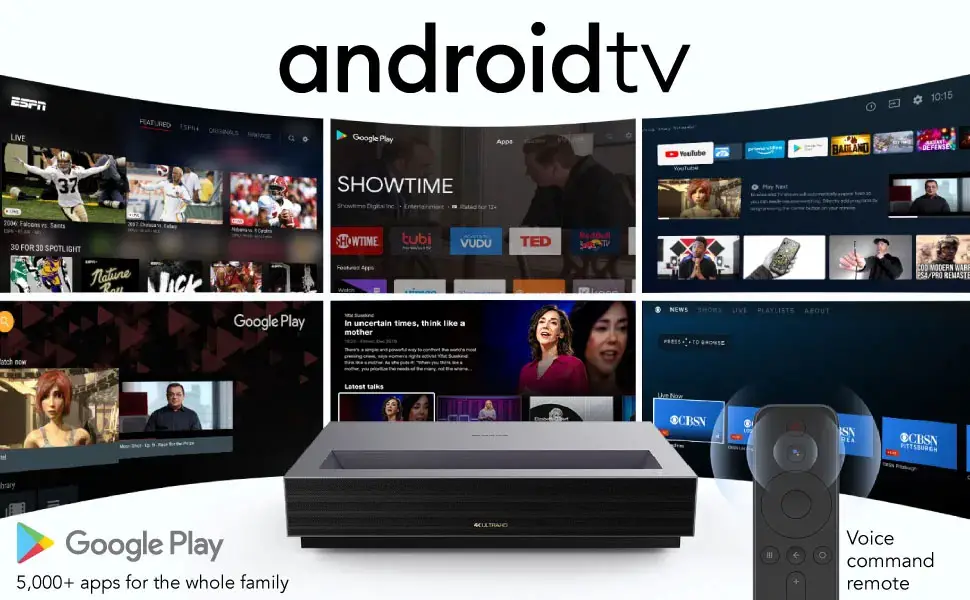 But this is not such a big deal. What is, is the missing Netflix app which seems to be very common among many projectors that come with Android TV. You can still bypass this problem by connecting an HDMI dongle at the back of the Halo that supports Netflix but this is hardly a solid fix.
Another problem that we noticed was that not all apps can playback content in 4K. We cannot be certain for all of them as some seem to support 4K like Amazon Prime while others, like Vudu, we could only select to see an SD version. So it is a really hit or miss situation and while the built-in apps can be an easy way to access your streaming library, for the best experience here you should still use a dedicated streamer.
The Nova also comes with Chromecast support which means you can stream content from any Chromecast enabled device to the projector. This could be a potential solution to the missing Netflix app but from what we had seen before it cannot be considered a definite one as we had trouble with this solution before. An HDMI dongle like a Fire TV stick should be considered the best solution to this up to now.
Voice control is also available as Google Assistant can be activated from the dedicated button in the remote. Unfortunately there is no Amazon Alexa available.
The Nova, as most UST projectors do, comes with a built-in audio system and this one includes four speakers overall, with two 10 watts full range drivers and two 5 watts tweeters for each channel for a 30 watts total power output which is just about the standard we see in many UST units.
As for what audio formats it supports we get Dolby Audio and DTS-HD decoding. Overall the sound output was satisfactory but as always these kind of built-in audio systems cannot create an immersive atmosphere. Dialog was clear, stereo effects were distinct enough but the overall presentation lacked weight, depth and resolution.
The sound system of the Nova can also be used as a Bluetooth speaker so you can connect your phone to it to playback some music. This can easily be done from the Remotes & Accessories menu and by clicking on the Bluetooth speaker mode.
In our honest opinion, if you plan to place this projector in a dedicated home theater room then at least a soundbar should be considered, if not a full surround system.
The Nova also includes a built-in media player that you can use to playback files from the USB. The media player supports various files both for video and audio and in general we can say that it supports plenty of codecs, enough for what most people will use it for. It will obviously not replace your dedicated media player but it supports many known codecs so it will most probably do just fine.
Overall the Android TV experience on the Nova felt very similar to other Android based projectors. We did find the built-in apps experience less than stellar as there is no clear indication which apps support 4K and which do not while the missing Netflix app problem will be a pain to solve by other means and half baked solutions.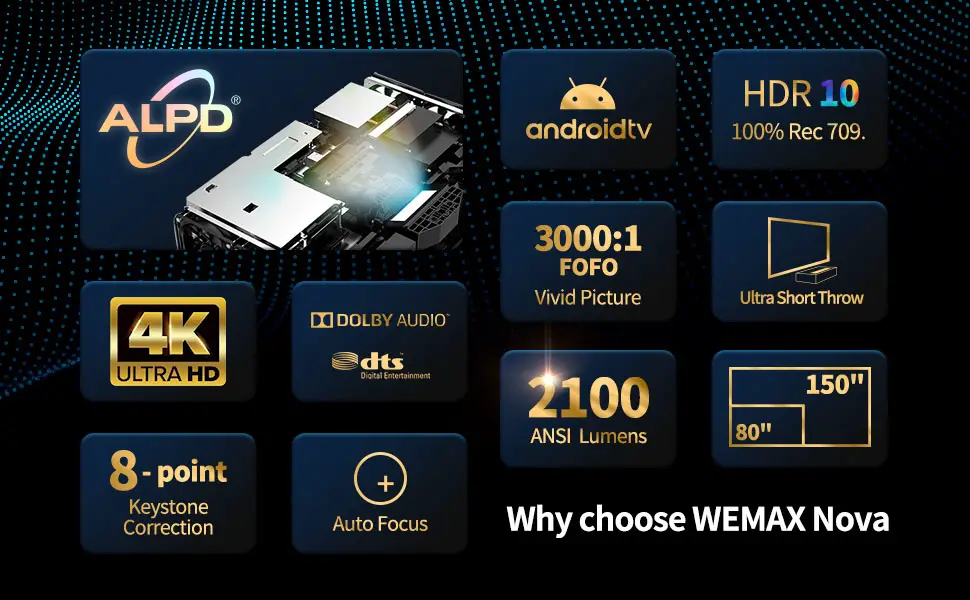 Final Thoughts
As we are reaching the end of our review, the Nova is a projector that feels very hard to judge objectively. Wemax initially priced the Nova at $2,699 which in our opinion, and considering some major problems that we noticed during our testing, is far too high as in that price there are some far better options to consider in the UST market.
But it seems that Wemax is doing a lot of heavy discounts on it lately and can now be found at a price of $1,899 or even lower than that. With this new sub-$2,000 price we can say that the Nova is a far more interesting option and will certainly make the above mentioned problems easier to accept. Certainly with such a low price the Nova can be considered the lowest priced UST projector we have seen so far making it a great choice if you really want an UST projector but budget is your number one concern.
Keep in mind that the Nova has a lot of good things going for it but also a few major drawbacks. On the one hand image resolution and clarity was great, colors were satisfactory, SDR performance was great and the Android TV experience was the usual you get from such an OS. On the other hand the projector had some major problems with HDR content, it is missing 3D support, input lag and missing gaming features will disappoint gamers while in terms of picture settings you get far less than most other projectors we have seen in the UST market.
Would we suggest this projector? Well, with a price that goes for $1,899 or even much lower than that, there is no other UST projector that can do what the Nova does. It may not be for hardcore home theater fans that seek great 4K/HDR image quality or gamers that require the absolute best in gaming performance, its problems are simply too great to be accepted as it is, but if you absolutely want a UST projector and you are on a very tight budget the Wemax Nova seems to be one of the very few, if not your only, option. If you keep your expectations at check you will really enjoy what it has to offer.

For more reviews you can check our dedicated Ultra Short Throw (UST) Projector reviews list or even look at our Product Reviews Table where you can find the brand and specific product you are looking for.
---
Cheapest Places to Buy :
*We are a reader-supported website. When you buy through links on our site, we may earn a small affiliate commission at no extra cost to you. Home Media Entertainment does not accept money for reviews.*
---
Wemax Nova Specifications