XGIMI Halo
Reviewed at $749.00
Product Name: XGIMI Halo
Product Description: 1080p LED DLP Projector
Design -

9.5/10

Video Quality -

8.5/10

Ports & Connectivity -

8.5/10

OS, Apps and Features -

9/10

Price / Quality -

9/10
Summary
Reviewed at $749.00
Pros
Solid LED light engine
Full HD 1080p resolution
Android TV OS
Built-in battery and audio system
Cons
Mediocre black levels
Missing Netflix app
Battery may not last long
Not many image calibration settings
---
Cheapest Places to Buy :
*We are a reader-supported website. When you buy through links on our site, we may earn a small affiliate commission at no extra cost to you. Home Media Entertainment does not accept money for reviews.*
---
When you hear the word projector the first thing that comes into mind is dedicated home theater rooms, big screens, controlled lighting and lots of speakers all around. But there is another category of projectors that skips all the above and instead focuses on portability. And in our XGIMI Halo review today we will be looking at one of XGIMI's best selling portable projector and how good it can perform overall.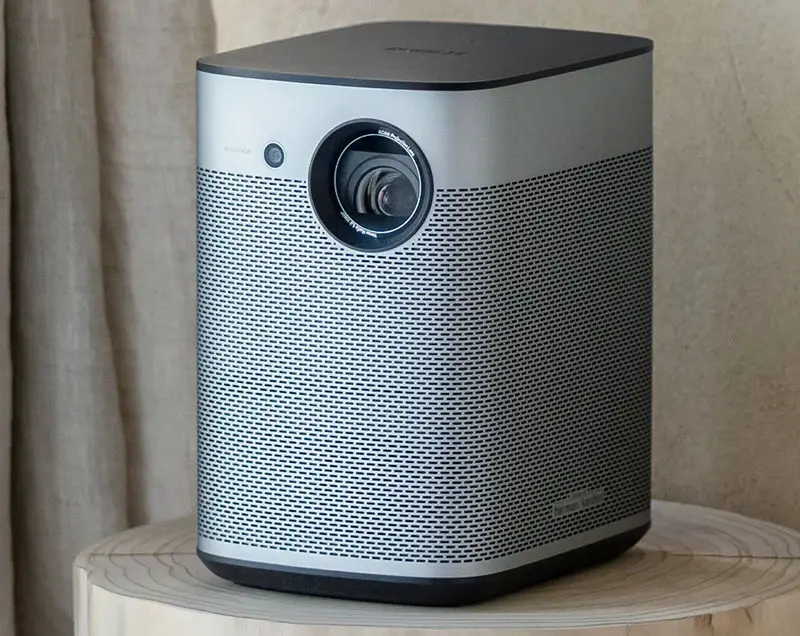 Now, we know we are a bit late to the party as this year XGIMI released an updated version, the Halo+ which we will hopefully be able to review soon, but it seems that XGIMI decided to keep the original Halo in the market at a lower price, showing how much they still believe in this model and its capabilities. But as always let's take a quick look upon its specs and what such a small projector comes with.
The XGIMI Halo is a small, portable projector with a 1080p resolution output and a 800 lumens brightness rating. It uses DLP technology and a LED light source meaning no need for lamp changes. It may only be a 1080p projector but it can accept signals up to 4K with HDR, it comes with built-in audio speakers tuned by Harman Kardon, it uses the Android TV OS and is equipped with both WiFi and Bluetooth for online connectivity.
There are a lot of interesting things we see in the Halo and it seems that everything in it has been designed with portability and ease of use in mind. The projector has a price tag of $749 and although it cannot be considered cheap its main strength is what gives this one most of its value. Is the Halo the ultimate portable projector or is it too good to be true considering what competing brands have on offer? Let's start our analysis to find out.
Design
The size and design of a projector is dictated by its use. Usually most home theater models, and especially those native 4K ones, are oversized boxes as they are not meant to be moved around all the time. You place and forget them.
On the other hand portable projectors go a different route. Their portability dictates that they are light, small in size and easy to handle…otherwise they wouldn't be considered portable. And it seems that the XGIMI Halo falls exactly into this category.
What was impressive upon first look was the quality. This may be a small projector but XGIMI cut no corners here as the materials used and design of the whole package felt really premium for a sub-$1,000 unit.
Looks and Ventilation
The design of the Halo is a bit different from what most projectors go for. Instead of a low profile box the Halo goes for a long tube style design which is very common among portable projectors. It is the same in principle to the other portable projector we had reviewed some time ago, the LG HU80KA, but a lot shorter.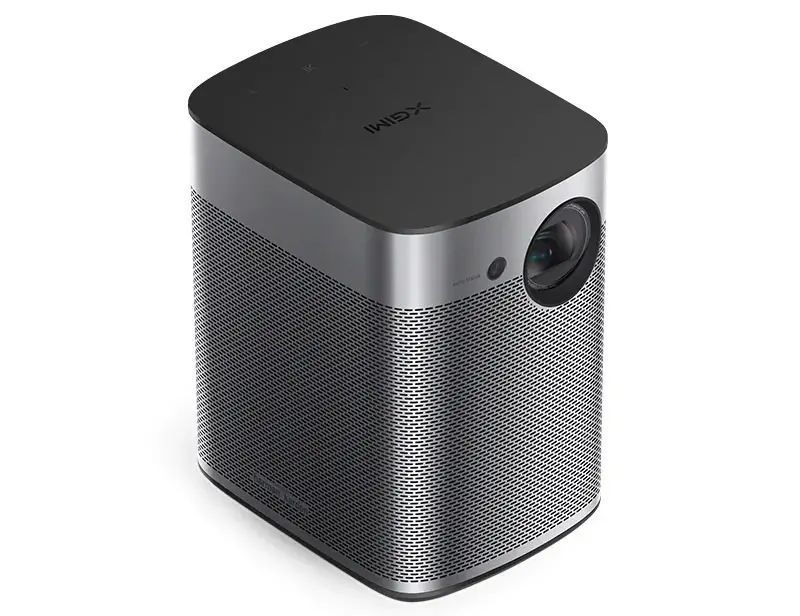 In terms of size the Halo is really small and in fact it is one of the most compact projectors we have tested so far. Measuring 113.5 x 145 x 171.5mm and with a weight of 3.52 lbs (1.6 kg) the XGIMI Halo is just what you should expect from a small portable projector that its main purpose is to be moved around all the time. And if you think that the Halo also includes a battery in it, makes the above numbers all the more impressive.
On the other hand in order to keep the Halo's size and weight to an absolute minimum meant that the AC adapter had to be attached to the power cable instead, so this adds a bit of weight if you have all of them in a bag.
As we said above the unit looks phenomenal. It has lovely curvy corners and is wrapped around a silver perforated metal grille that gives the Halo great style. The lens are placed at the top right corner of the front face while at the left of it we find the auto-focus sensor that we will talk about a bit later.
The perforated grille may have the looks but it was not made only for design purposes. The projector features a built-in audio system with dual speakers, again we will talk about this a bit later, and there is also the matter of heat dissipation with the grille ensuring the necessary air flow with air entering from the side of the projector and exiting from the back of it.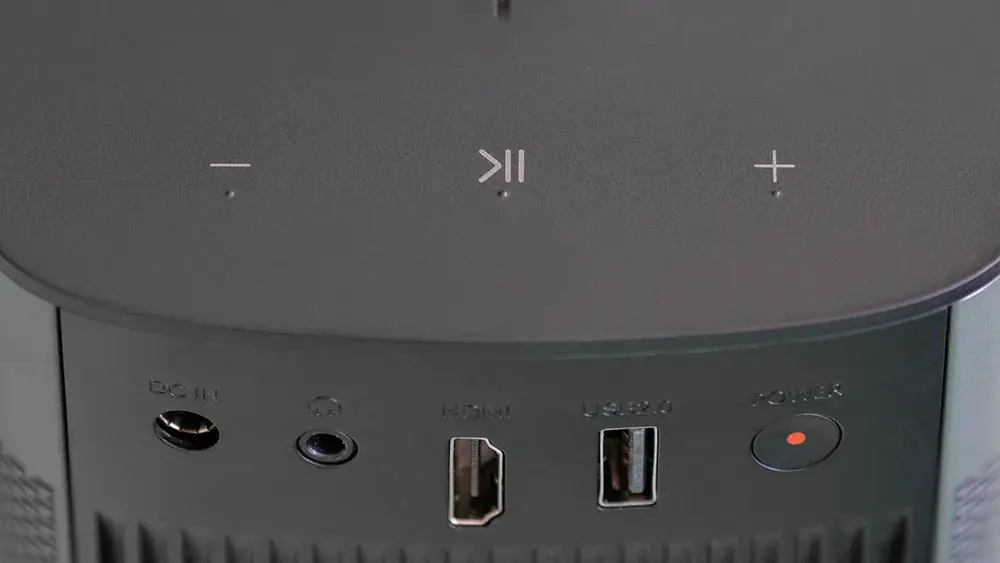 At the top we find the XGIMI logo at the center with three touch sensitive buttons for some basic control, sitting at the back of it. The buttons included are for volume control and a play/pause one. The limited built-in control means that the remote remains your only way of handling this unit.
The back of the projector is made of plastic and is the only side that is not covered by this nice looking perforated grille. The air exhaust is located in the middle with all the connectivity ports above it.
For placement XGIMI has included a single threaded hole in order to place the projector on a tripod, as its size and weight allows for such a placement, but you can also use a flat surface for the same purpose. There is a nice rounded rubber foot for stability but we also get a very practical kick stand that can be adjusted which helps a lot in certain situations.
Lens Specs
As for the lens that is being used, the Halo has a throw ratio of 1.2:1 which means that you can get a 103″ image size from 9 feet distance. In terms of size the unit can project a min/max 40″ ~ 200″ diagonal image but keep in mind that there are certain limitations. The projector is missing any lens shifting along with any zoom functionality. At least its small size somewhat compensates for that as it is easy to move it around in order to find the perfect placement.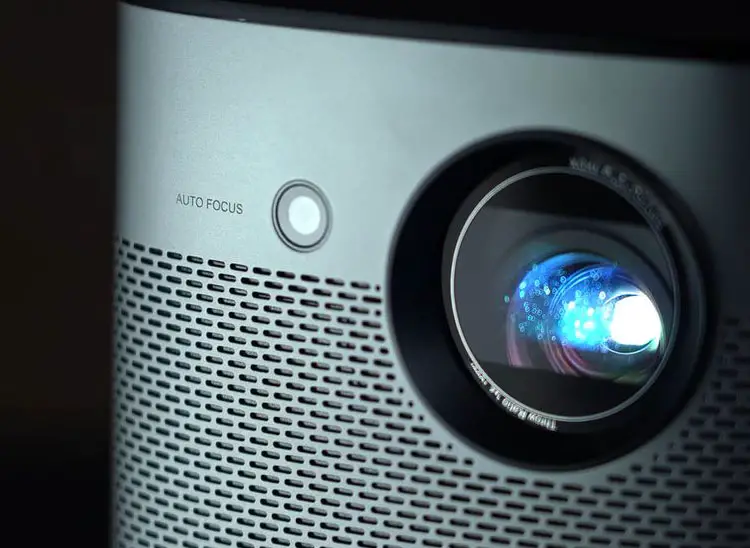 One very important feature that we need to mention here is the Halo's auto focus function. The projector comes with a built-in rapid 10,000+ point auto-focus function and a professional high-definition camera which results in the image becoming automatically focused upon turning on the projector instead of via manual operation. You can still do this manually but we found the auto focus function to be very accurate so we never actually had to use the remote to do it by ourselves.
Having a motorized lens with the auto-focus feature is very important as it adds a lot of value to the portability of the projector. When you move around the last thing you want to do is spend time fixing the image every single time. And the Halo has you covered here.
Lastly there is auto vertical keystone correction if the situation asks for it but as always keystone correction should be avoided when possible as it has a negative impact on the image quality. But since this is a portable projector and image quality is not the main reason you will buy this then you shouldn't worry so much about it.
Noise Levels
When it comes to noise XGIMI has given the Halo a rating of 30dB or lower. Obviously this is a theoretical number and from our observations we can say that the Halo is a bit louder than that.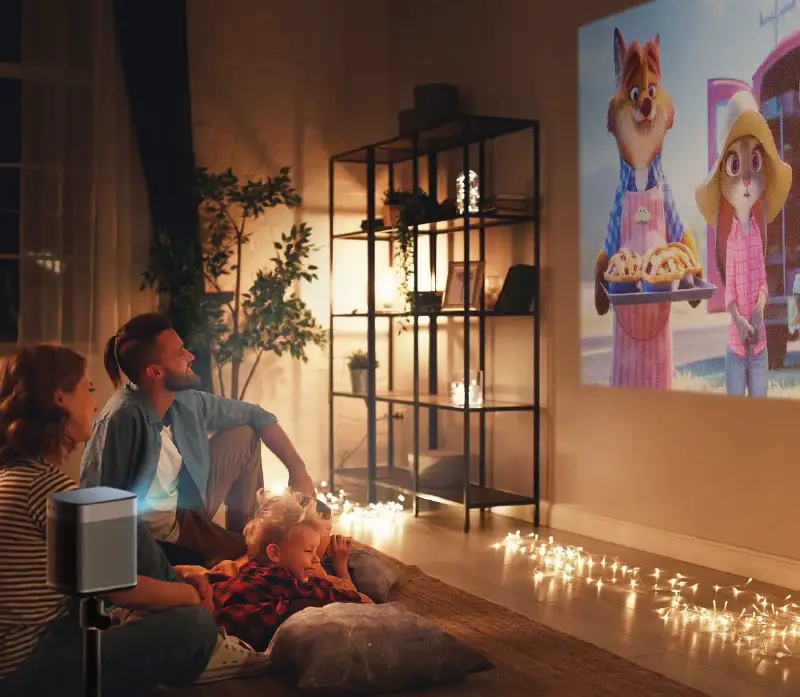 As this is a portable projector, you will most probably going to be standing closer to it. As such we measured its noise from a 3 feet distance and the number we got was 37dB which was still good enough but not entirely quiet.
Overall we didn't have any major complaints from its noise levels. Obviously this is a personal thing as everyone has different levels of noise acceptance but for us it was just fine from what we heard.
Light Source Hours
In terms of lamp life the projector uses a LED light source instead of a traditional lamp and this means that its lamp hours differs from typical lamp based DLP models. As a result in normal operation you can get as many as 25,000 hours of usage which means that you will never need to do any maintenance on it, another big positive of its LED based nature.
The above is enough for 4 hours use every day for the next 17 years without needing to change the lamp. Even with double the hours you will get more than 8 years of use which is more than enough for a projector of this kind.

Remote
As for the remote that is included with the projector it really looks extremely close in design and looks to the BenQ X1300i and not without reason. Both projectors are Android based so in essence their remotes have a very similar set of functions. The XGIMI remote seems to go for a more slick design as there are less buttons available making it easier to use, but functionality is pretty much the same.
Its white color along with its rounded sides does make it feel more futuristic while XGIMI has limited the number of buttons included making it feel less cluttered than other projector remotes.
The most prominent is the navigation controls in the center with certain functions buttons above and below that. There is also a Google Assistant button in order to use the projector's voice control functionality. Keep in mind that while the remote is IR based for its commands, in order to use the voice control functionality you have to pair it to the projector through Bluetooth.
Overall we could not be more happy with the design and quality of the Halo. It looks great, it is compact and light enough, as any portable projector should be, and the quality of materials used is very high, something that you normally don't expect from a brand that doesn't have the marketing prowess of some of the other more known ones in the projectors market.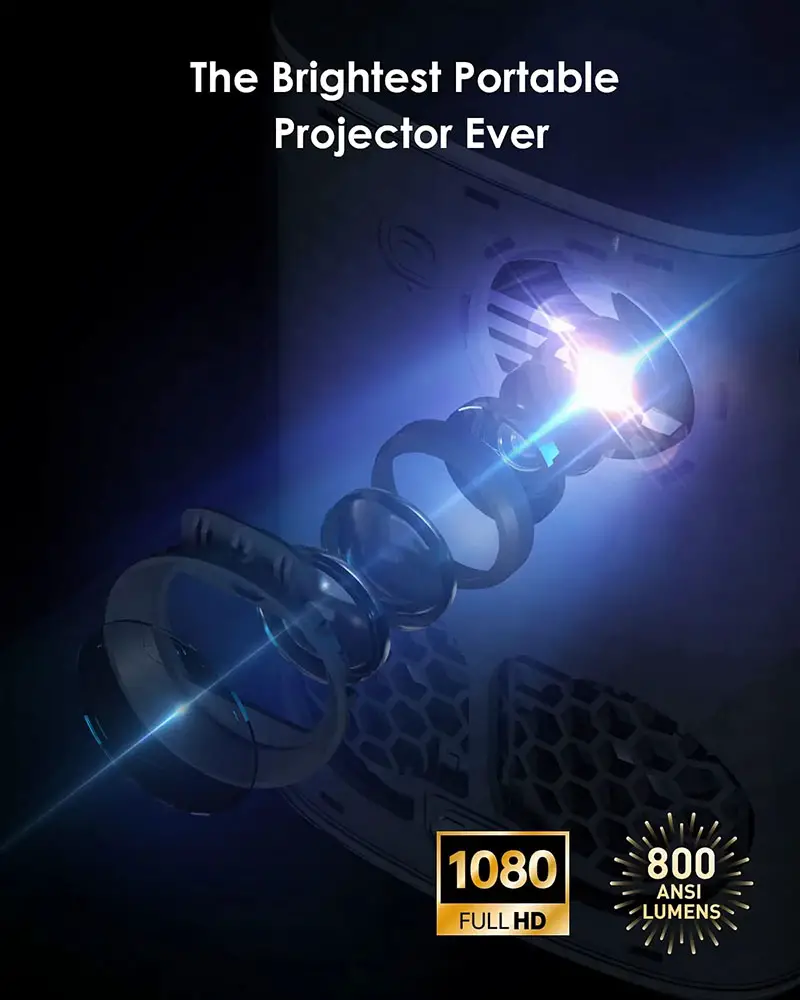 Video Quality
Technology used
The XGIMI Halo is a LED based DLP projector which means that it is using red, blue and green LEDs that hit a 0.33-inch Digital Light Processing (DLP) imaging chip, it then passes it through its lens and onto the screen.
Its output resolution is 1920 x 1080 which surely is a cut above other portable or miniature sized projectors that can output lower resolution than the Halo. As a result Halo's image looks more sharp and with much more details in comparison.
Also having a single chip setup has certain advantages over three-chip designs as these some times are prone to misalignment which can affect sharpness and color quality. Having a single chip eliminates this problem altogether.
Another thing to keep in mind is that while you may see that this projector supports 4K UHD with HDR this is meant only for the input source as the 4K image will be decoded, downscaled and output in 1080p resolution.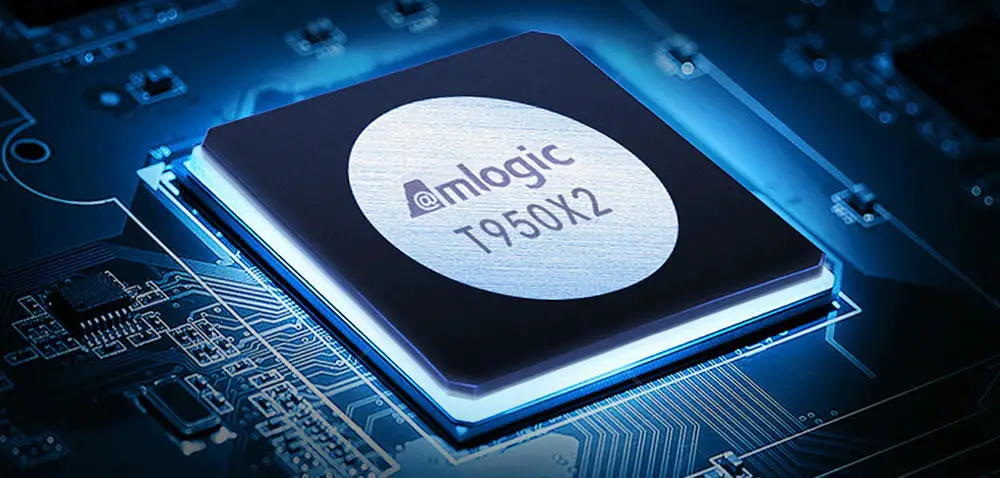 All processing duties, both for the image but also for all Android TV functions, are handled by the Amlogic T950X2 TV chip which is a quad-core 1.9 GHz (ARM Cortex-A55) CPU. Along with it we find the MaliG31 GPU, 2GB of RAM, which may seem low but for the applications needed is enough, and 16GB ROM.
4K UHD / HDR Content
As we just mentioned, while the projector does support HDR content anything that is in 4K resolution will be down-scaled and decoded to 1080p resolution output. This means that some of its original sharpness and high detailed output is surely lost but surprisingly the Halo did manage to retain much of the original elements intact.
As we always do in our projector reviews we used our copy of Aquaman in 4K UHD for our testing and the image rendered by the projector had good clarity even if it was a small step lower than what a real 4K image would be.
Out of the box color performance was again good enough but obviously it could not much some bigger desktop projectors. On the other hand motion was solid and we didn't notice any bothering blur or stutter.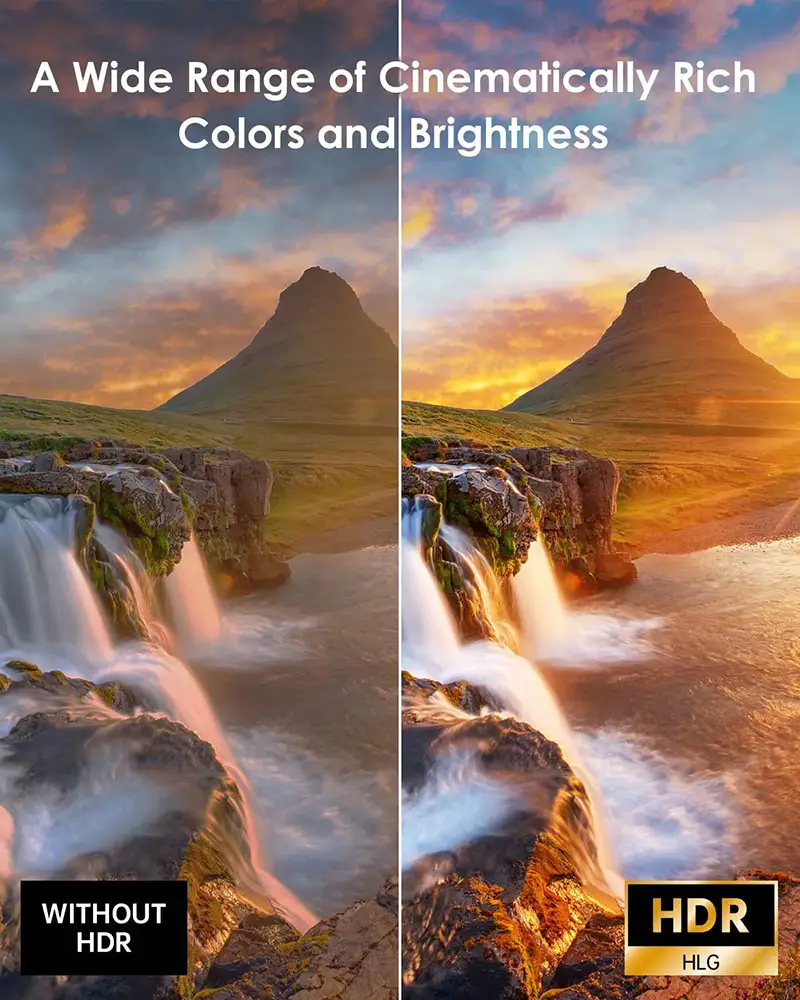 If there is one bad thing to talk about that is surely the higher than average black levels which surely is not all that surprising. Some other DLP projectors we have seen fared better here but in general many of these cheap projectors have trouble displaying blacks as they should.
Obviously the brighter the room the less this weakness will show and this actually works on Halo's advantage as its portable nature means that it will be used in an area with ample light rather than a low lit or completely dark room.
In terms of contrast ratio XGIMI is rating the Halo at 1,000:1 but don't look too much at these numbers as each manufacturer used different ways of measuring their models and it doesn't mean a lot in a real world situation.
When you are looking for a portable projector there are other factors you have to consider and not how accurate its image will be.
Full HD / SDR / 3D Content
Feeding the projector with its native resolution we get the kind of quality you would expect from any 1080p material. For the review we used our Blu-ray disc of Oblivion and the Halo did an excellent job at providing a very clean image with a lot of details and no visible artifacts.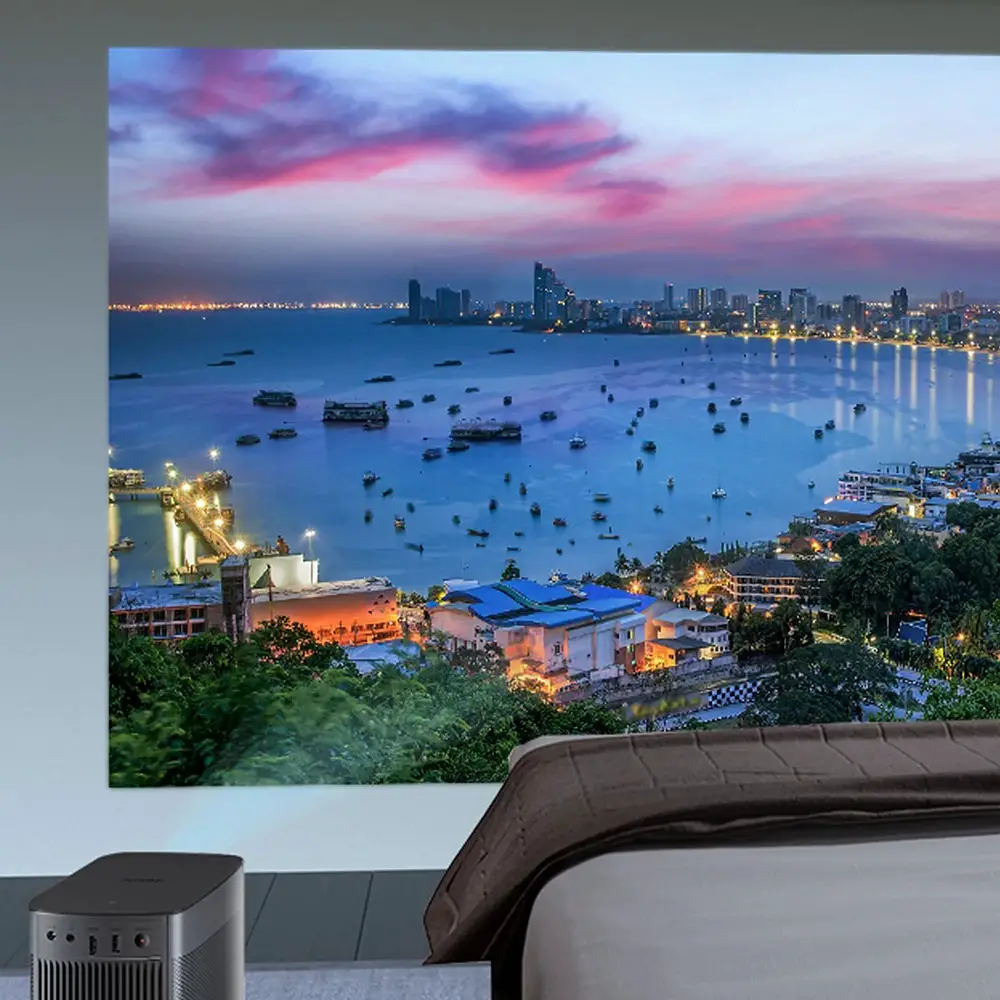 Once again color reproduction was satisfactory, even if not the most accurate one. The default settings worked good enough by using the Standard color mode with the Video power setting which gave us good details, vibrant colors and enough resolution overall.
Again, if there was one thing that becomes immediately noticeable is the higher black levels the projector outputs but this is something you will have to live with unfortunately.
Overall not the most breathtaking presentation but the Halo was never meant to do that. Have your expectations at check and you will find its image output more than satisfactory.
Portable projectors usually tend to offer a very basic set of features but we were surprised to find that the XGIMI Halo supports 3D content. The unit supports 1080p 3D for Frame Packing & Side by Side.
Unfortunately there are no glasses supplied with it which means if you don't have any it will add a bit to the overall cost. For this projector you will need 3D DLP-Link type of glasses which you can find relatively cheap with a little search. 3D may slowly become an extinct format but thankfully projector manufacturers still support it as watching 3D content in a huge screen makes much more sense than a small TV screen.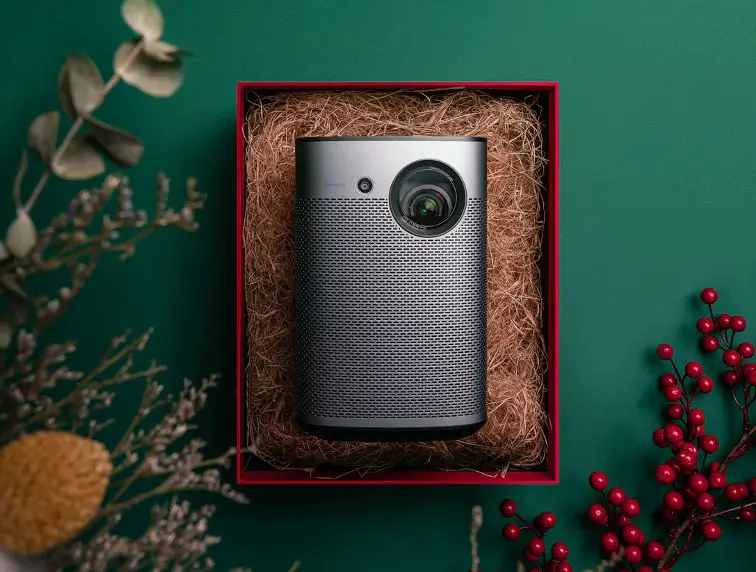 XGIMI was smart enough to include 3D support in the Halo as this can be an amazing feature for some friends gathering or a party. Obviously with 3D content, quality of the image will suffer due to the lower brightness but overall this is the last thing you will pay attention to when you are with friends and want to spend some quality time all together.
Color Reproduction
When it comes to colors the projector comes with a few color modes that drastically change the corresponding output. There are five predefined ones along with a sixth one for customizing the settings yourself.
The ones available are Bright, Standard, Soft, Office and Gaming. The Bright is supposed to be the brightest one but from what we saw it was not only the least accurate but it was neither the most bright of them all. On the other hand the Standard mode seemed to be the most accurate one as it tried to balance between color accuracy and brightness output.
Keep in mind that when it comes to color reproduction the final image you get is a combination of the color mode along with the power setting. There are three power settings to choose from with Office, Video and Energy Saving the three available along with three more that you can customize yourself.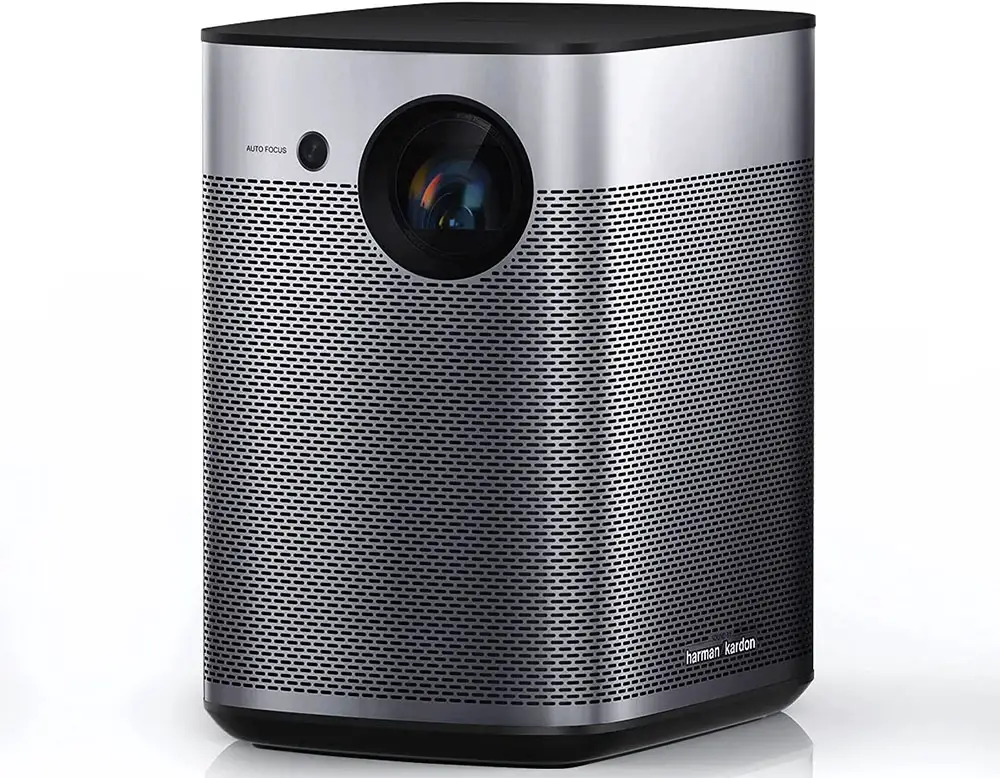 As such the most accurate combination we could find seemed to be the Standard color mode and the Video power setting. This surely dropped the brightness to lower levels, compared to using the Office power setting, but overall was the best one from all the available ones.
As we mentioned you can do a complete manual calibration as the customize color mode will allow you to adjust various image settings like color saturation, color temperature, contrast, brightness, sharpness and noise reduction. The customize power setting on the other hand allows you to customize the brightness along with the red, green and blue colors.
Brightness / Picture Settings
Onto our brightness tests now. The Halo is rated by XGIMI as a 800 lumens projector which may not seem much compared to dedicated home theater projectors but for a portable one is more than enough and in fact it's more than many other competing brand in the same category.
We mentioned above all the available color modes and power settings and we decided to take all our measurements with the Video power mode which was the most accurate of the three.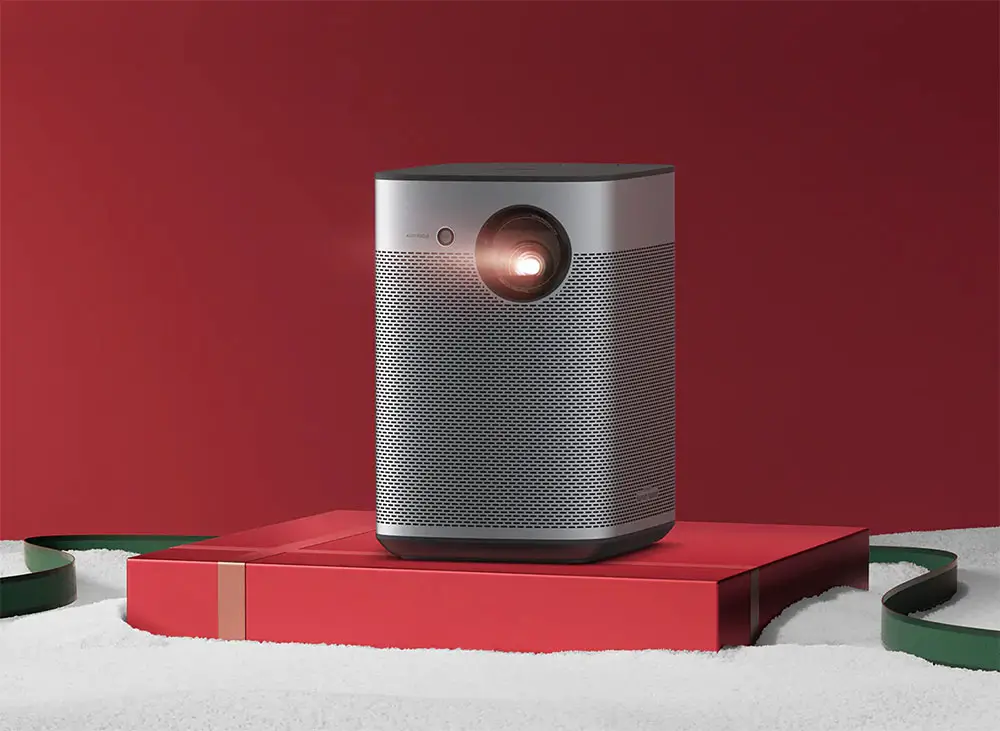 One thing we mention all the time is that brightness measurements can vary greatly and they should not be taken as a given number. There are so many variables that can give you different brightness than what we get here in our testing, like different settings, light source hours and modes so our numbers should only be used as a reference and nothing more.
The Halo's out of the box performance was respectable and this is how it should be for a portable projector that should be plug and play. Obviously you can still do some calibration to get better results but the default settings are good enough for what the projector was made for.
So by using the Video power setting the brightest setting was strangely the Standard color mode which gave us 512 lumens of brightness. Second came the Gaming mode with 491 lumens, then came Office with 480 lumens, fourth in line was Bright with 455 lumens and last was Soft with 396 lumens.
From the above it shows that the Halo's real brightness output is much lower from the acclaimed 800 lumens that XGIMI rated this projector at. You can get a bit higher brightness if circumstances ask for it by using the Office Energy setting but keep in mind that image accuracy will take a dive. But there can be situations, like for presentations, where accuracy is not so much needed and you will appreciate the extra boost in brightness output.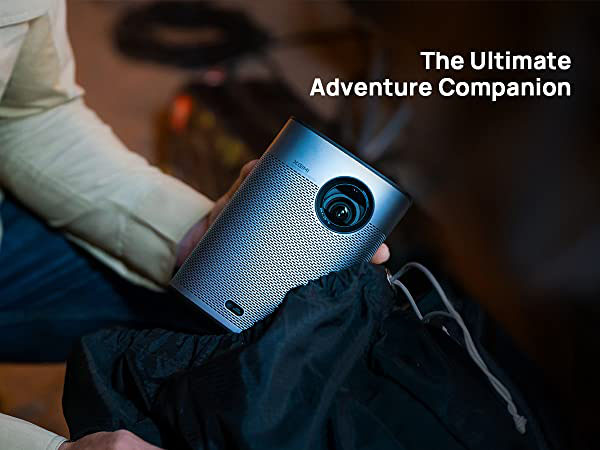 Overall the XGIMI Halo is not the brightest projector you will find but considering its category you really shouldn't be asking for more. In fact the Halo manages to outclass many other similar portable projectors so you can consider it to be one of the best in this size.
Black Levels / Contrast
The XGIMI Halo comes with a 1,000:1 native contrast ratio which in theory is not much. Obviously one area where all these low cost projectors fall short, either portable or not, is their black levels performance. We didn't have any reason to believe the Halo would behave differently and from what we saw this is indeed an area where you shouldn't really expect any miracles.
The projector certainly has elevated black levels that become more apparent if you are using it in a low lit or completely dark environment. Its saving grace is that since this is a portable projector, most probably you are going to be using it in a well lit environment which means that the black levels problem will not be so apparent.
The problem is more evident in certain scenes like when displaying space scenes where the grey-ish blacks are very noticeable and can be very distracting. On the other hand with colorful and bright lit scenes you are not going to pay so much attention to this.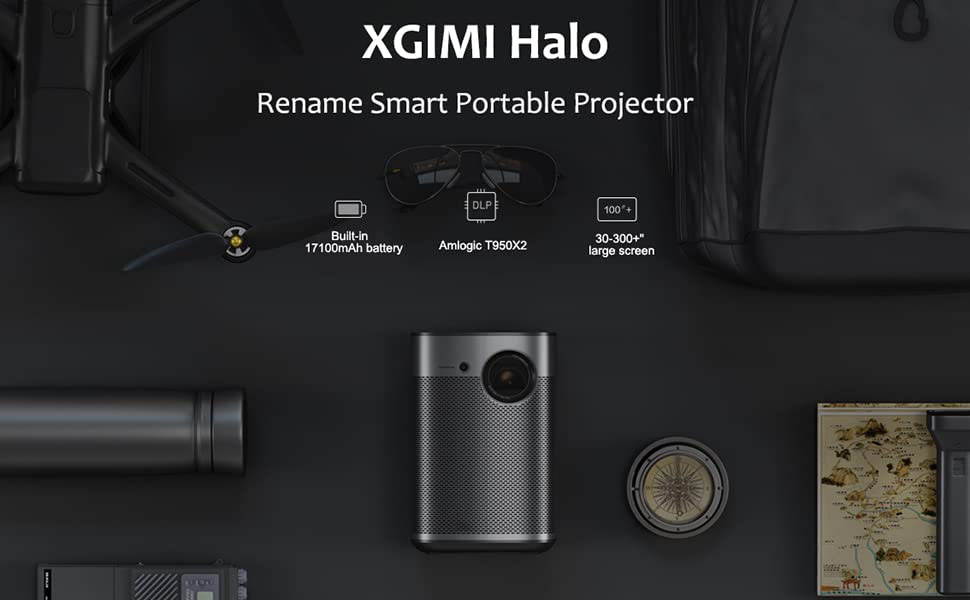 Black levels is a problem that most sub-$2,000 projectors have and there is nothing you can do about it. And the small Halo certainly would not be able to avoid this pitfall especially if you consider its sub-$1,000 price tag. But going for the Halo most probably means that image quality is the least of your concerns so this shouldn't be, in theory, a major problem.
Input Lag
The projector is not meant to be used mainly for gaming but that doesn't mean that it shouldn't offer a good experience in this area. After all, its portability makes it a good one for taking it to a friend's house for some virtual entertainment.
The projector can only do 1080p resolution so this is what we tried on it. With a 1080p@60Hz output we measured a 42.1ms input lag by using the available Gaming mode which is respectable but not the best we have seen as many gaming projectors can do far better than this.
By using any other mode the input lag rises to 98ms which can still be good enough for slow paced offline games but in no way it can suffice for hardcore online sessions.
We did try our PS5 with the Halo in order to get a feel of how gaming is on this projector and to be honest it was not bad. All our commands registered relatively fast and response times were kept at low levels most of the time.
Yes, obviously you shouldn't expect much out of it as it cannot do anything more than 1080p@60Hz but if gaming is not your main focus then the XGIMI Halo can do good enough in this department if the circumstances ask for it. The projector obviously does not support any gaming specific features like VRR or ALLM but these are missing even from some gaming specific projectors we had tested lately also.
Motion Performance
When it comes to its motion performance the projector did really good for what you pay for. Motion with low frame rate content was solid and we didn't notice any major blurring or stuttering. During gaming with 60fps content, motion was really good and again you have to consider the small factor of this unit when judging its performance.
The XGIMI Halo is missing any kind of motion interpolation so what you see is what you get. There are no settings that you can fiddle with when it comes to its motion performance but from what we saw during testing you are not going to be missing such a feature as the projector was really good both with movies and gaming.
Overall a very solid presentation here. Yes, the Halo may be missing some advanced features we see in more expensive projectors but you get this one for different reasons and in all honesty you are not going to be needing much more than that.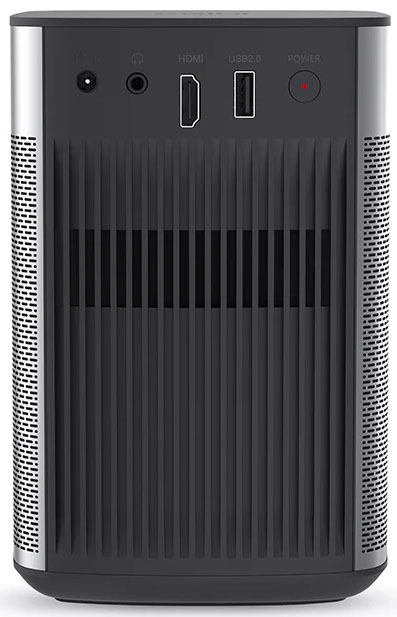 Ports and Connectivity
Since this is a small, compact unit when it comes to connectivity options you shouldn't expect to find a plethora of ports like many full sized units do. But the XGIMI Halo manages to include all the basic ones.
On the top of the back side, from left to right, we find a 3.5mm stereo audio output jack, one HDMI port and a USB port. That's all.
A few notes here. The Halo does have built-in speakers but in case you want some extra punch you can connect some bigger ones to the stereo output. The USB is a USB 2.0 Type-A and you can connect external storage to it in order to play content with the use of the built-in media player (more on that on the extras section).
Lastly the HDMI port is a HDMI 1.4/2.0 variant (you can select between 1.4 and 2.0 from the projector settings) that can support up to 4K@60Hz signals. Again, the projector can accept 4K signals but everything is downscaled and decoded into a 1080p resolution output.
The HDMI port also supports ARC. This means that if you will be using some of its internal apps to watch content you can connect the Halo to an external audio device through ARC and get better sound this way. There is no eARC here so the best you can get is Dolby Digital and Dolby Digital Plus through the ARC connection.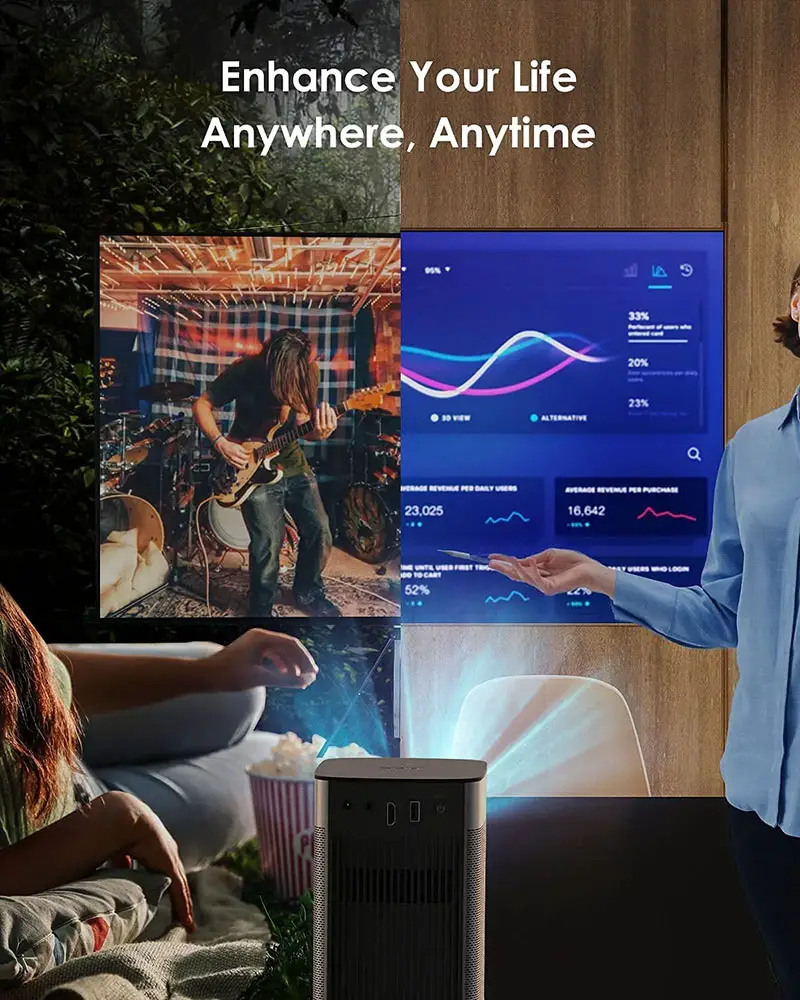 We should also not forget its wireless connectivity as the projector comes with built-in WiFi that supports 802.11 a/b/g/n/ac (2.4G/5G) and Bluetooth 4.2/5.0.
For a portable unit you get all that you can ask for. If there is something missing that would be an optical port but other than that we cannot complain. XGIMI included everything someone would need in such a projector.
OS, Apps and Features
The projector comes with Android TV 9.0, essentially making it a smart projector with many functions we find in today's smart TVs. If you have used the Android TV user interface in the past then you will feel right at home as there is no difference here. Essentially this is the same OS we had seen recently in our BenQ X1300i review.
Now as is the case with these Android TV projectors you actually have two menus. The one can be accessed by pressing the projector menu on the remote and the appearing menu is the usual you see in any projector and allows you to change all settings like colors, image adjustments and picture modes among others.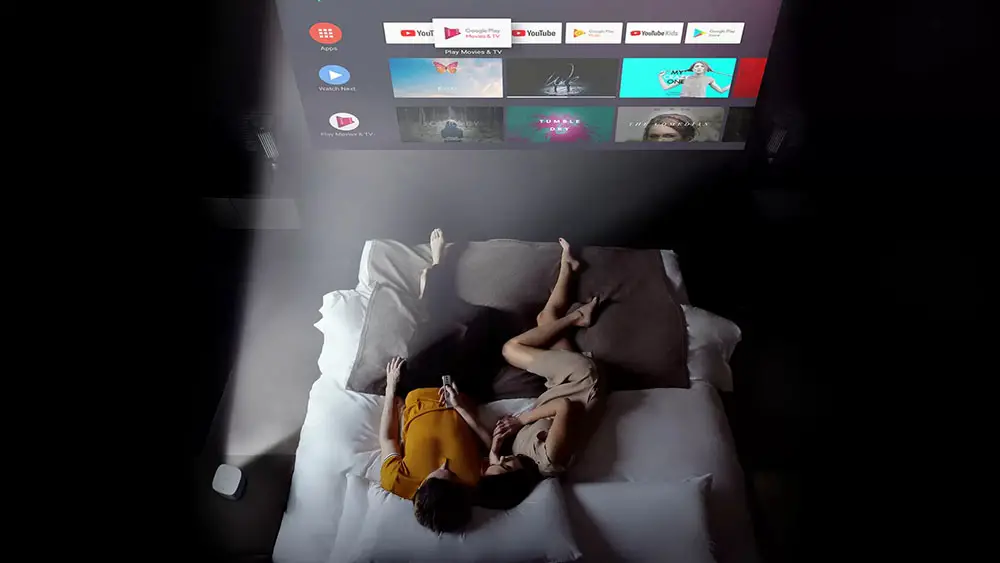 The second UI is actually the Android TV UI and this can be accessed by pressing the home button on the remote. This will bring the Android TV interface which allows you to use all the available smart features and streaming services available.
Again navigation through the various Android TV menus felt smooth enough without any major lag. We have experienced more smooth scrolling in some TVs but in general we had no problems accessing the various apps available. As for streaming apps availability you get everything you would expect from a projector that comes with the Android TV OS.
Big names like Youtube, Google Play Movies, Amazon Prime Video, Hulu and many more are all present along with many music apps like Spotify and Tidal. But there are some things that need to be mentioned. First, as the remote does not feature any dedicated buttons all apps have to be selected directly from the Android TV menu.
But this is not such a big deal. What is, is the missing Netflix app which seems to be very common among many projectors that come with Android TV. It was the exact same case as with some BenQ projectors we tested recently and it seems the Halo does not avoid this also. You can still bypass this problem by connecting an HDMI dongle at the back of the Halo that supports Netflix but this is hardly a solid fix.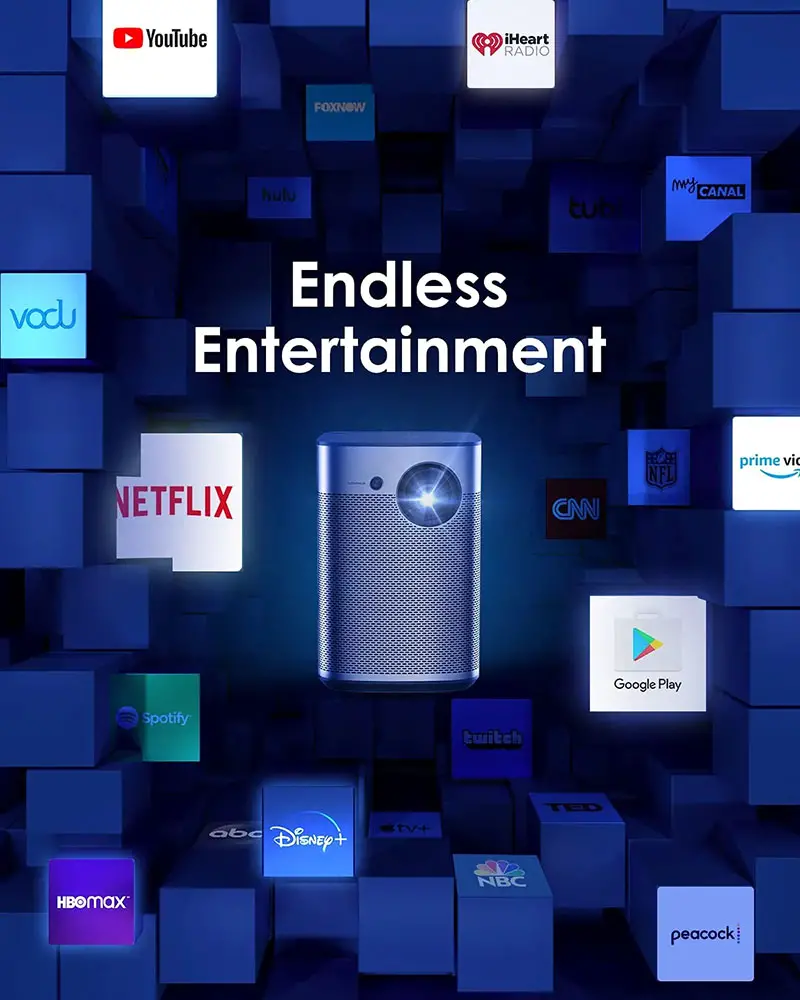 The XGIMI Halo comes with Chromecast support which means you can stream content from any Chromecast enabled device to the projector. This could be a potential solution to the missing Netflix app but from what we had seen before it cannot be considered a definite one as we had trouble with this solution before. An HDMI dongle like a Fire TV stick should be considered the best solution to this up to now.
Voice control is also available as Google Assistant can be activated from the dedicated button in the remote. Unfortunately there is no Amazon Alexa available.
The Halo, being a portable projector, wouldn't be able to do without a built-in audio system and the one we find includes two 5 watts speakers which can be considered adequate for such a small form factor unit. The audio system had been tuned by the famous Harman Kardon and can provide a basic, but satisfying experience.
Thankfully, if the built-in speakers are not enough for your party gathering the stereo audio output can be used to connect bigger speakers you may have. More flexibility means more value and the Halo has lots of this.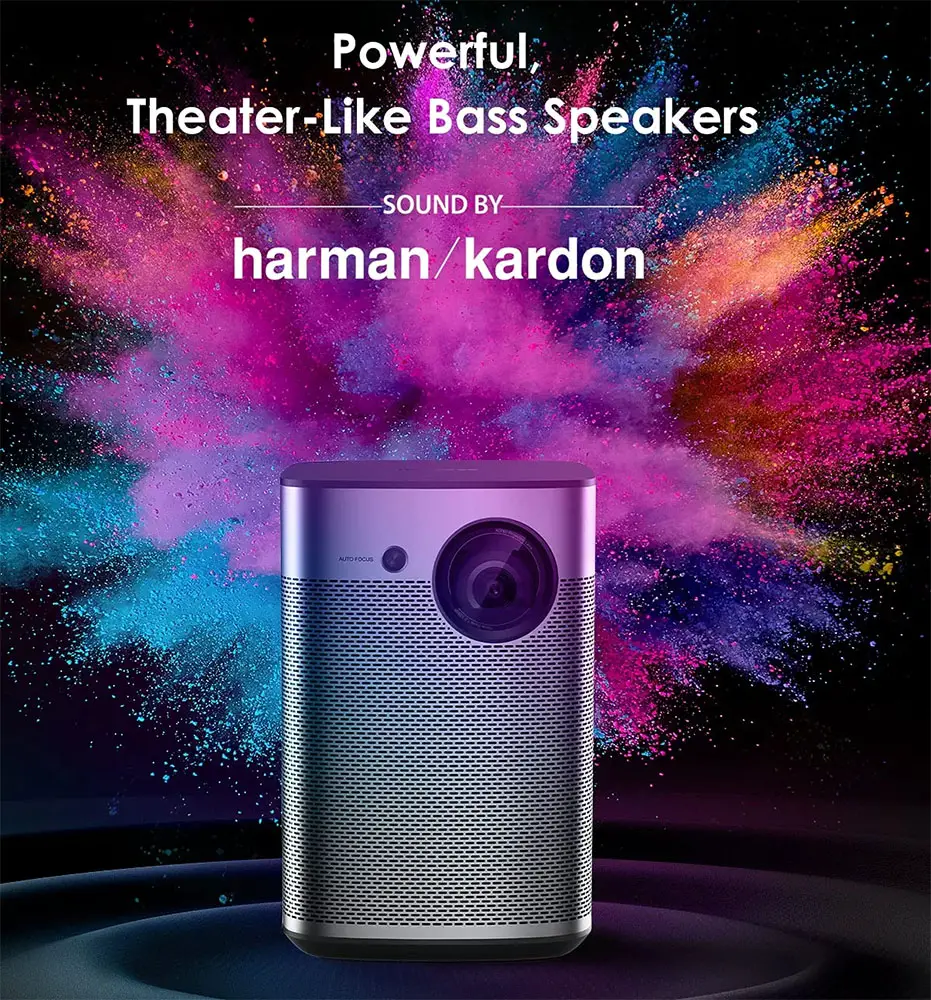 The Halo also includes a built-in media player that you can use to playback files from the USB. The media player supports various files both for video and audio and in general we can say that it supports plenty of codecs, enough for what most people will use it for. It will obviously not replace your dedicated media player but it supports many known codecs so it will most probably do just fine.
One last thing we need to mention is the included battery that is built-in the Halo itself. The projector has a 59Wh battery which can be enough for both music and movies. Its lasting time varies a lot depending on the brightness output, which by the way is lowered by default when in battery mode, and other factors like audio volume level. On average we found the battery to last about 3 hours which is adequate enough for most movies.
Overall the XGIMI Halo has everything you should expect from an Android TV projector. The missing Netflix app is a bummer but other than that you get the full smart projector experience.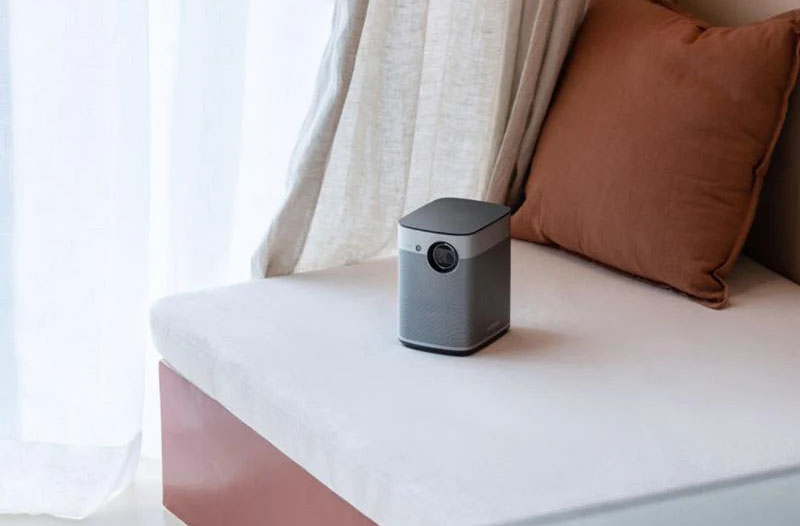 Final Thoughts
The Halo is a really unique projector and from what we saw XGIMI has really put a lot of thought into it. It may not be a projector that will impress with its image quality but to be honest you wouldn't buy such a projector for this reason. Halo's true value is in its portability and all features that complements this. And this is where the Halo really excels at.
For such a small factor projector you get crisp 1080p images, a solid LED light source that needs no service, satisfactory brightness, easy setup and handling, low input lag, solid motion performance, 3D support and the full suite of Android TV. Add to these the built-in battery and audio system and you get a real portable projector that has nothing to envy in functionality from a desktop one.
On the other hand such a small design dictates that certain corners had to be cut. Its black levels are mediocre, brightness is not up to XGIMI's claims, there are not a lot of settings concerning its image calibration, its battery may not last for many long hours films, audio is adequate just for the basic experience and the missing Netflix app will surely disappoint many.
Closing we can say that the XGIMI Halo left us with very positive impressions. If you need a true portable projector then there is hardly a better choice than the Halo. The newer Halo+ may be that projector but it also has a bit higher price. And for $749 the Halo is an excellent projector for parties, camping trips, entertainment gatherings or various office work where you want a plug and play projector that will work without much fuss. Highly recommended.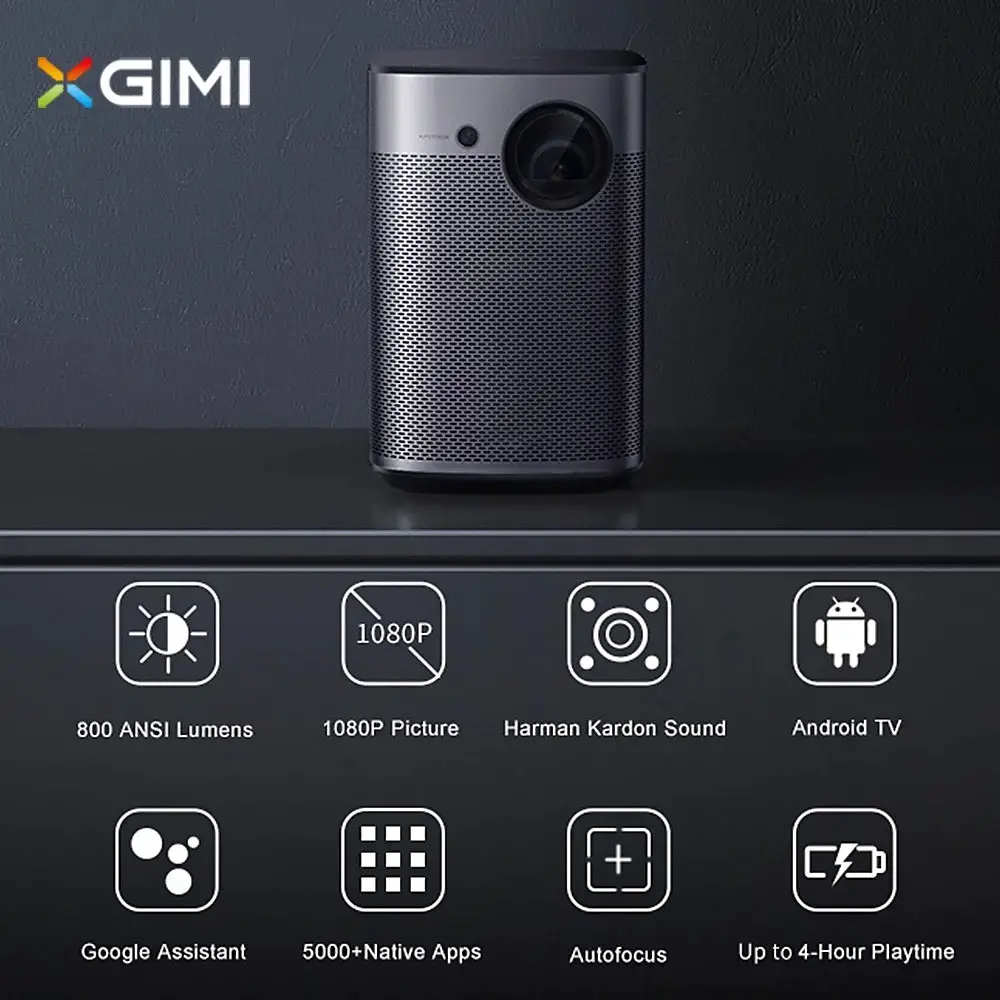 For more reviews you can check our dedicated Full HD Projector reviews list or even look at our Product Reviews Table where you can find the brand and specific product you are looking for.
---
Cheapest Places to Buy :
*We are a reader-supported website. When you buy through links on our site, we may earn a small affiliate commission at no extra cost to you. Home Media Entertainment does not accept money for reviews.*
---
XGIMI Halo Specifications