Yamaha RX-V485
Ports and Connectivity
8.8/10
OS, Apps and Features
9.4/10
Pros
Good sound quality
Many audio features
Extensive online support
Easy to use
Cons
No Dolby Atmos or DTS:X
Limited connections
4 HDMI ports may not be enough
Not the most cheap 5.1 channels unit
---
Cheapest Places to Buy :
---
When it comes to mainstream AV receivers Yamaha is a company that definitely knows how to make quality products and remains for many years a favorite among many home theater and music lovers around the world. Today in our Yamaha RX-V485 review we will be looking at one of their budget models that belong in the RX-V series. This lineup consists of 4 models and having already tested the RX-V385 and RX-V685 we have only good things to say about their performance.
And while the RX-V385 was the absolute lower unit in Yamaha's arsenal the one we are looking here today is one step above offering more both in power and features trying to create a more feature complete unit. The RX-V485 is the second and last unit that only supports the older Dolby TrueHD and DTS-HD Master Audio formats as the next in line RX-V585 supports both new object oriented audio tracks. With 80 watts of power per channel, YPAO audio calibration system, High Resolution Audio, MusicCast and Airplay 2 support along with voice control, Bluetooth streaming and a few other extra features this receiver can be a perfect fit for anyone that doesn't care about Dolby Atmos or DTS:X.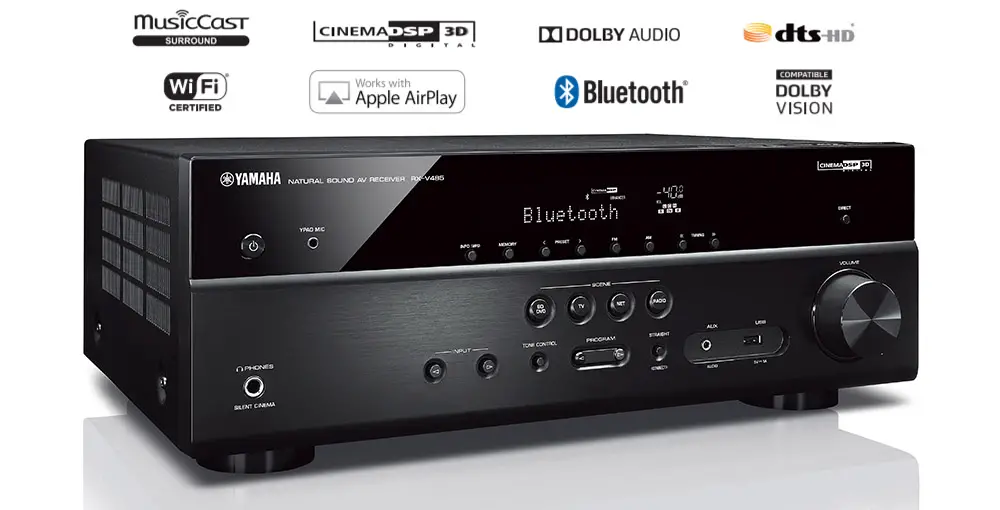 But all these features mean nothing if performance is not up to par and price is not following the competition accordingly. So does the RX-V485 manage to offer quality and performance, that Yamaha is so famous about, for those seeking a budget friendly AV receiver but at the same time are looking for a unit that also adds a bit of extra sauce other than the bare bones RX-V385 that sits at the bottom of their lineup? Keep reading to find out…
Design
When it comes to the general design of the unit there is not much change compared to the other models in the RX-V family. In fact the differences are so small that you may fail to distinguish them. Other than the slightly larger shell the RX-V485 is identical to it's smaller brother, the RX-V385, that we had tested recently.
Following the same trend as the rest of the lineup the RX-V485 features a glossy finish in the upper front face that incorporates the display dead center that is responsible of showing various functions of the receiver like input sources, volume and audio format being played. To the far right there is a small circular button for Direct and on the far left the port for connecting the YPAO microphone and the usual power button. Exactly below the central screen there is an array of 8 small circular buttons for tuner control, memories and various info.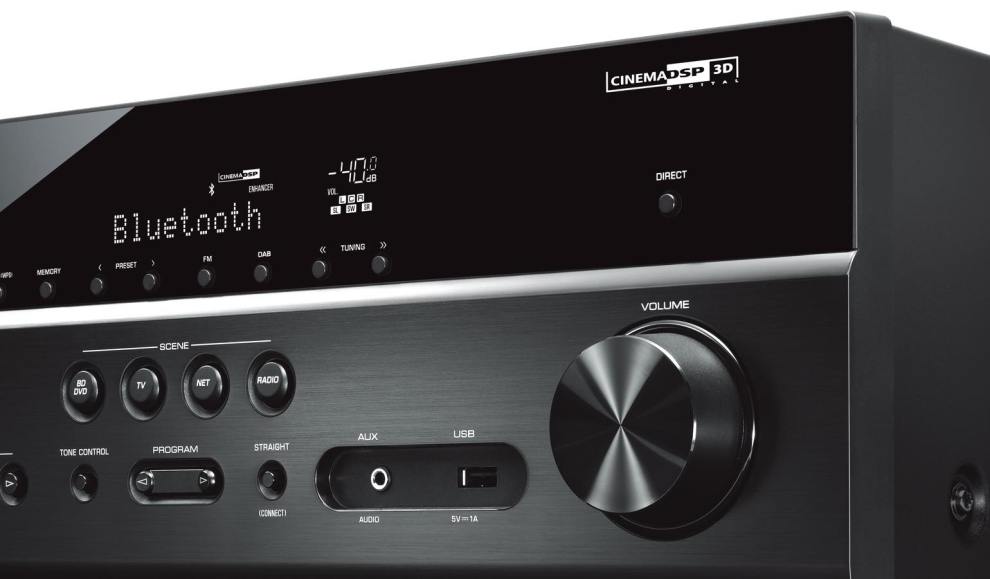 The bottom half of the front face features a brushed metal aluminum finish that in combination with the glossy upper half give the unit a very distinct Yamaha look that many of their models use. At the center we get four big scene buttons while below there are more control buttons included that can be used for input and program selection, tone control and a single Straight button. On the right side we get a big knob for volume and on the far left a headphones jack.
Between the straight and volume controls we find a single USB (5V/1A) port along with an analogue 3.5mm stereo input. A pretty usual setup and one that is almost identical to the whole series. Although we live in an era that on-screen user interfaces become more visual and user friendly manufacturers still insist on using many built-in buttons that we are sure will go mostly unused. Also if there is one thing we really miss is a frontal HDMI input as it can be extremely useful for easy and fast connection of an input source like a laptop.
When it comes to build quality Yamaha never disappoints as they put the same kind of attention to their low budget units as they do in the most premium Aventage lineup. And while the RX-V485 may be the second most cheap model they offer it still manages to come with a very sturdy and robust design while there is also careful design of it's innards in order to perform as good as possible in this given price range.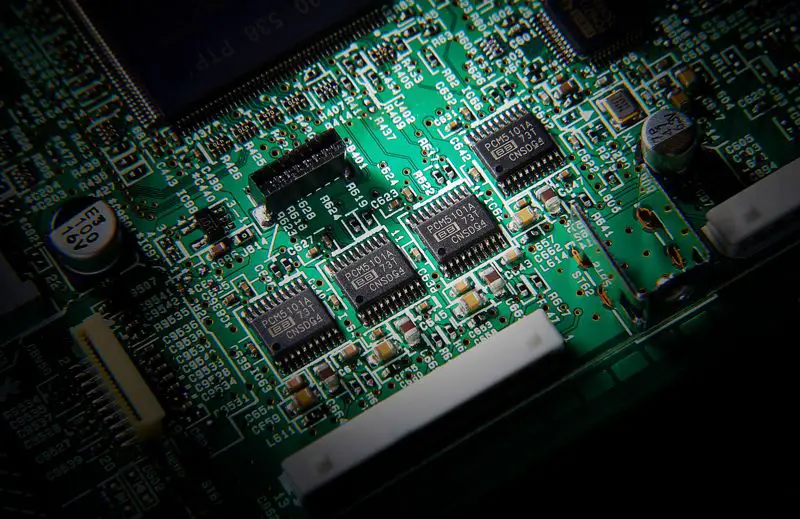 As such we find a discrete amp configuration in order to minimize distortion while it get independent power supplies for the each of the analog and digital circuitry. Yamaha has used three Burr-Brown 384 kHz / 32-bit DACs that are responsible for all audio conversions and also use independent power supplies. A new high sound quality IC is used for volume control while large heat sinks ensure less vibrations.
It's very characteristic that with the RX-V485 being a step up in the performance ladder we also get a slight increase in the size of the unit compared to the RX-V385. But even so the receiver remains relatively small so in theory you shouldn't have a problem finding some space to fit it in. With a size of 17-1/8" x 8-7/8" x 12-7/8" (435 x 225.5 x 327 mm) and weighting 17.2 lbs (7.8 kg) the size is just about right for it's class. Not the smaller we have seen but it cannot compare to the bigger units in Yamaha's lineup.
Let's take a look at the supplied remote now. At first glance the remote seems identical to the one we had used during our RX-V385 testing but upon further examination we notice some slight changes that were needed to incorporate some of the RX-V485 extra functions. The remote is the usual plastic with rubber buttons remote which is by large uninspiring but obviously we shouldn't complain for this in this price range.

The button placement is exactly the same but what changes is the additional Zone A/Zone B switch at the top while there is also a single button instead of two for the FM and AM bands. This way an extra button is freed to be used for NET functionality that is present in the RX-V485. Everything else is exactly the same which also means no backlight function which is not so surprising.
This receiver is an obvious step up from the lower RX-V385. With more features and more power it uses a slightly larger chassis while design is exactly the same which we don't have any complaints about. Internal components are carefully selected and shows that Yamaha pay attention to even their cheaper products.
Audio Quality
The receiver is the second and last unit in Yamaha's lineup that only supports 5.1 channels so obviously the kind of setups you can go for are rather limited. Buying such a receiver means that you also going to use it's surround capabilities so while you can create a 2.0, 2.1 or even a 3.1 channels audio setup you are most probably aiming for a surround system with 2 surround speakers which is the best you can go for. With just 5.1 channels it's natural not to get any kind of Dolby Atmos or DTS:X support, although we have seen a couple of receivers that do get support for these, and instead you have to settle for Dolby TrueHD and DTS-HD Master Audio which in all honesty are just fine for those that seek some surround immersion without the need to go overboard with ceiling speakers and the likes.

Being a step up from the bottom end the receiver gets a slight boost in power with 80 watts per channel (8 ohm, 20 Hz – 20 kHz, 0.09% 2ch drive) which can be enough for any kind of small to middle sized room or media area. If you can also bi-amp the front channels then expect to get enough power and quality from this otherwise low end unit.
Once again we find Yamaha's proprietary sound field technology that simulate various spaces and areas through the use of complex algorithms and processing. There is a vast selection of such environments that include music halls and sports arenas among many more creating a whole new level of immersion.
Only this time we get a slightly updated version of this technology that goes by the name of Cinema DSP 3D. We have talked numerous times before about Yamaha's DSP technology and how it tries to simulate each different DSP program. The end result can vastly vary from very good to very bad and in our opinion it depends very much on the source content. Many times the sound feels very over-processed and unnatural but there can be instances where the sound feels better and more immersive. The RX-V485 includes 17 different DSP programs that you can choose from giving you plenty of options.
Up-mixing technologies couldn't be missing from this one so we do get the usual Dolby Pro Logic II along with DTS Neo:6 that are the standards for those receivers that support the older formats and can up-convert legacy tracks like stereo mixes into full surround audio.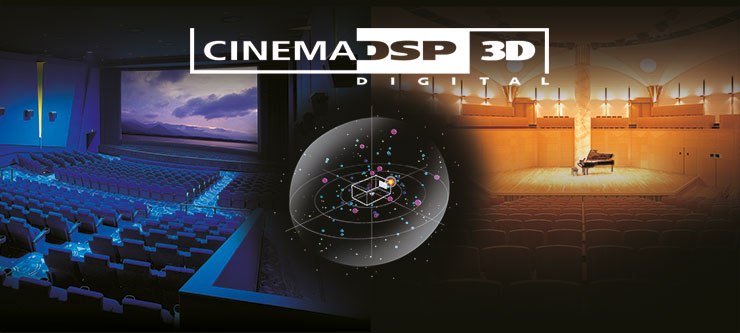 Lastly the Cinema DSP 3D brings certain virtual technologies into play that the receiver can use depending the situation. As such we get Virtual Cinema DSP which lets you enjoy surround audio without the use of dedicated surround speakers. This can be very practical if you are unable to use surround speakers for whatever reason. There is also Virtual Cinema FRONT which creates surround effects by placing the surround speakers at the front of the listening position. Next is Virtual Presence Speaker that can create the height of the 3D sound field without the use of any presence speakers. And last is SILENT CINEMA which you can use to enjoy immersive surround audio with the use of headphones. Plenty of technologies for you to play with.
The movie we tested with this unit was the Blu-ray version of Gravity which has an amazing DTS-HD Master Audio track. This film has a very characteristic mix as there are long sequences of silence that are suddenly disrupted by explosions while in many scenes small environmental sound effects like breathing, small vibrations, the flexing of their space suits and radio static create a very powerful and eerie atmosphere. There are plenty of camera panning especially during certain action scenes and the surround speakers follow the on-screen action accordingly by shifting the effects around the channels in a very precise and convincing way.
There are many of dialogue driven moments and the receiver feeds the center channels with clear and distinct audio. Bass and low frequencies felt solid and the subwoofer was fed all the information needed to shake our room when all hell broke loose. But if there is a specific moment we liked was when explosions were throwing debris all around and the camera started spinning we could hear so many sounds across all channels giving you the feeling you are actually there.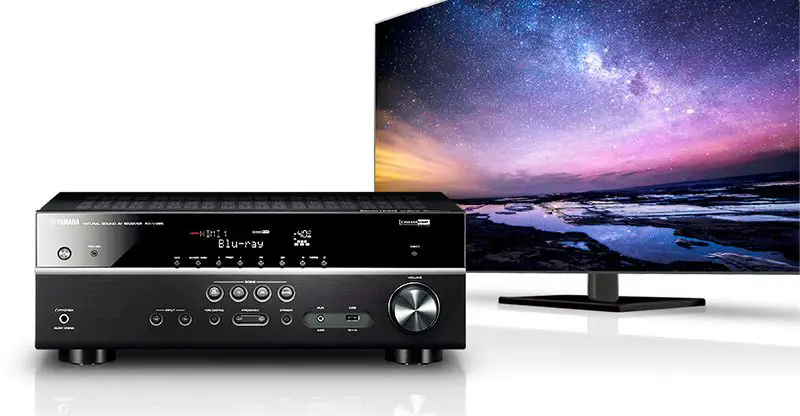 An excellent film with an amazing audio track as the RX-V485 made sure to reproduce it faithfully. Strong performance with very good accuracy and resolution across all channels.Very nice for such a cheap receiver showing that Yamaha made a really good job with this one.
When it comes to music the RX-V485 is a big step up from it's lower brother as this is the first receiver in the lineup that gets High Resolution Audio support. As such except from the lower quality MP3, WMA and AAC format we also get support for WAV / AIFF up to 192 kHz / 32-bit, ALAC up to 96 kHz / 24-bit, FLAC up to 192 kHz / 24-bit and DSD up to 11.2 MHz.
In our case and for our testing we decided, as we usually do with all receivers that support this, to choose a selection of FLAC files that we streamed over the included USB port. So how such a low end unit fairs with music? Fairly good for it's category, obviously it cannot reach the sound quality of the higher end units that use more advanced DACs and audio components but such a unit that is mostly intended for the casual user the end result can be more than satisfying.
Accuracy in space was great as we could pinpoint exactly the position of each musical instrument while channels shifting was very accurate and precise without any audible delays or sync issues. Mid-range felt very stable and solid  while highs felt relaxed and easy to the ear. The bass and low end kept pushing our subwoofer and added volume and the necessary boost to each track creating an overall very pleasant listening session.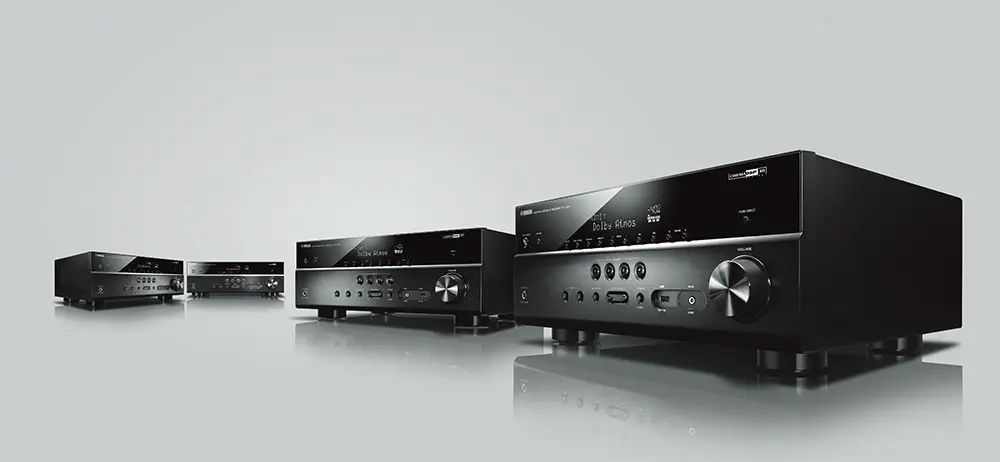 The receiver can handle a lot of punishing and pushing even to high levels of volume but obviously when pushed a little too much it started to loose some focus and stability which is very normal for it's class. For normal volume we cannot say there was anything in particular that we didn't like but as we mentioned the sound you get is nothing to get excited about either, it's just more than enough to satisfy the casual ear.
Ports and Connectivity
We are one step up from the low end here so naturally we should get a pretty similar setup to the RX-V385 with a few minor additions here. AV receiver manufacturers tend to scale not only the included features but also the kind of connections and ports we get as we go higher in the performance ladder. But the RX-V485 is still pretty much a basic unit so you shouldn't set your expectations very high.
With this in mind we need to remind you of the frontal ports we mentioned a bit earlier that included a headphones jack, the YPAO microphone port, a USB port for streaming content from an external storage device along with an analogue stereo input. Now the most prominent ports at the back are the 5 speaker terminals and the 4 HDMI inputs along with a single HDMI output.
The rest of the connections include 3 composite inputs and 1 output, 3 analogue stereo inputs that are one more than what we saw in the RX-V385 unit, 2 digital coaxial inputs and 1 more optical, a single subwoofer port, an Ethernet port for wired connections to the internet that was also missing from the smaller unit and lastly the usual FM and AM antenna ports.
A couple of things that needs to be mentioned is that all HDMI ports are HDCP 2.3 enabled and feature 4K UHD Video (including 4K/60, 50Hz 10/12bit), 3D Video, eARC (Audio Return Channel), HDMI Control (CEC), Auto Lip Sync, Deep Color, "x.v.Color", HD audio playback, Selectable HDMI input in HDMI standby mode, 21:9 Aspect Ratio, BT.2020 Colorimetry, and are HDR Compatible (HDR10, Dolby Vision, HLG). Also all speaker terminals use binding posts instead of the cheaper spring clips which is definitely a plus.
The receiver comes with built-in WiFi that supports both 2.4 and 5 GHz networks while it also comes with Bluetooth v4.2.
There is an obvious upgrade in the connecting capabilities of the RX-V485 not so much on the physical connectors as there is only a single analogue stereo input addition but the included WiFi along with the newer Bluetooth ensures this receiver is capable of supporting all the online functions that we are used to find in this day and age.
OS, Apps and Features
With the RX-V385 being a bit light on features the RX-V485 we have here with us today seems to be the first one that comes with an extensive set of supported services that is mostly due to the ability of the receiver to connect to the internet as most of these functions like streaming and voice control need a wired/wireless connection in order to work.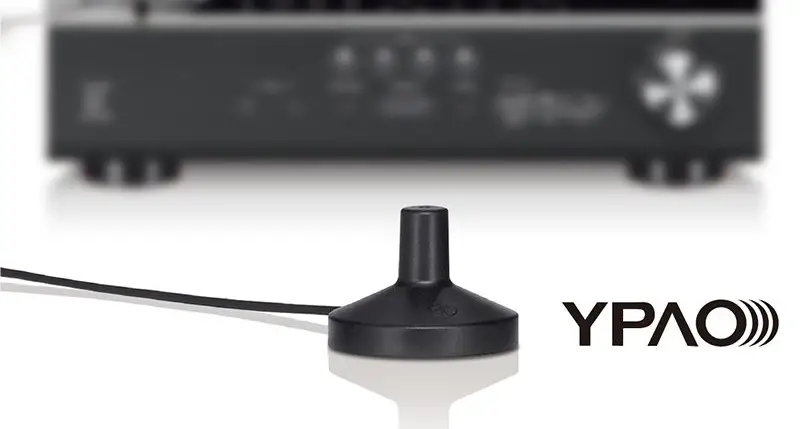 But before we go in depth about all these we will talk about the included audio calibration system that is Yamaha's YPAO system, that stands for Yamaha Parametric Room Acoustic Optimizer, in it's most basic form. It's exactly the same version we saw in the basic RX-V385 and this system can basically detect the speakers you have connected on the receiver, measure the distance they have from your listening position and make the necessary adjustments in the volume balance and acoustic parameters in order to give you the best possible result for your given setup and listening area.
YPAO features a built-in wizard and by following the on-screen instructions you can finish this automated setup with ease even if you are not very much tech savvy.
But before you even make this sound calibration you need to follow the initial setup in order to connect everything to the receiver. Things are pretty simple here if you have done some basic connections before and you shouldn't have any trouble finishing this part very fast. But even if you have any troubles Yamaha has created the Yamaha AV Receiver Setup Guide App which is a dedicated setup app that you can install to your mobile device, choose the appropriate AV receiver and follow the instructions to make the necessary wire connections.
This app if free to download and is available for both iOS and Android devices and provide you with very simple visual information on how to connect everything for your specific system. A nice small app and although not many are going to use it, if you are are totally new to all this then you will certainly find this one very handy.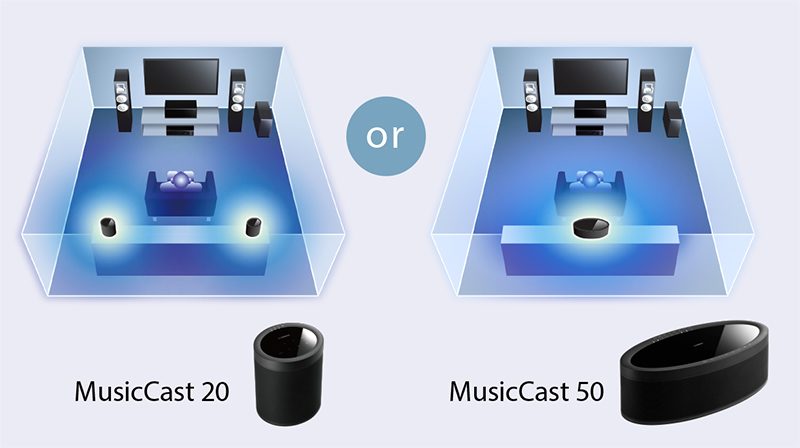 Let's take a look at the unit's multi-room and streaming capabilities now. First of all there is support for both MusicCast which is a multi-room service that let you connect various MusicCast enabled speakers around your house to the receiver. But if you are more of an Apple guy then there is also Airplay 2 support which is a similar service but for Apple devices. Lastly the unit also supports Zone B through a wired connection. With the MusicCast app you can also connect the receiver with wireless surround speakers like the MusicCast 50 or MusicCast 20 if you like a wire free environment.
But the MusicCast app is not restricted in connecting with other devices. You can also use it to control the receiver through your mobile device if the included remote is not to your liking. Lastly you can also use it to stream audio through the various online services available that include Pandora, Spotify, SiriusXM Internet Radio, TIDAL, Deezer, Napster and more giving you plenty of flexibility and options in this regard.
But streaming is not restricted to it's online services as you can also use the receiver to stream audio from a NAS server or network drive you have connected to your local network. We already mentioned above about it's USB streaming capabilities so the last thing we need to mention is it's Bluetooth support. The unit comes with Bluetooth v4.2 and it can be used to stream music to a Bluetooth enabled speaker or headphones. Additionally with Yamaha's Compressed Music Enhancer you can enjoy heavily compressed audio like MP3 and WMA into higher than usually quality as this technology uses special algorithms and processing in order to improve the audio close to it's original pristine form.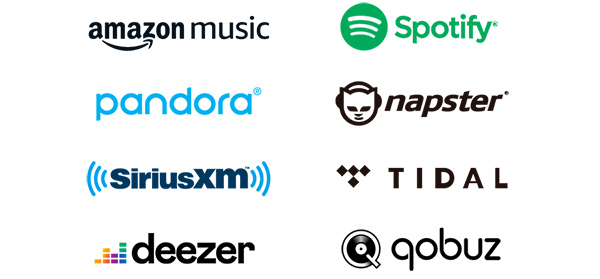 Voice control is also included with Amazon Alexa, Google Assistant and Apple Siri all being supported. So in case you find using a remote or a mobile device for control boring and want something more high tech the RX-V485 has got you covered. Amazon Alexa and Google Assistant obviously need an appropriate speaker device to function while for Apple's Siri you can use the Airplay 2 app.
But the included features don't end here. There is also HDMI to HDMI up-scaling to 4K resolution if you prefer this to be done by the receiver instead of your TV. Now if you should use this or not depends on how capable your TV is so it is our suggestion you try both ways in order to determine which one is better. There is also HDMI-CEC with which you can use the TV's remote to control the receiver and thus lower the number of remotes you have to use in your home theater.
Bi-amp capability is also supported if you want to drive the high and low ranges of the front channels by using independent amplifiers which can improve the acoustic result and performance of the front soundstage. And while this is a more advanced feature that we fail to see someone using it when buying such a low end AV receiver it's always good to have it as an extra feature and one that many home cinema fans do appreciate.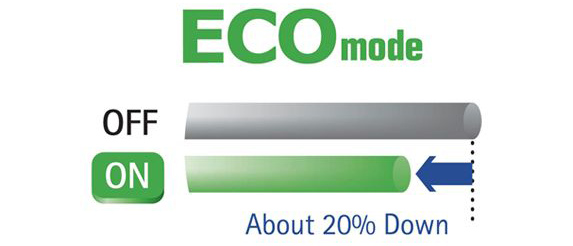 Lastly there is an ECO mode that you can use to lower the power consumption of the unit up to 20% of normal use according to Yamaha. With the ECO mode enabled you let the receiver to regulate it's power output so if you like it always to perform at it's peak it's better to let this turned off.
The RX-V485 is a major step up in features from the absolutely basic RX-V385. It's ability to connect online has certainly allowed the designers to include a lot of features and services that we usually find in all online ready receivers bringing this one closer to the rest of the pack in this regard.
Final Thoughts
Looking the RX-V485 as a whole we liked very much how balanced the receiver feels. And by this we mean that if you look the other models above and below it, the RX-V385 being the absolute minimum and the RX-V585 being the first Dolby Atmos enabled receiver, a unit like the one we tested today was the perfect fit to bridge the gap between them.
The RX-V485 takes everything that the RX-V385 offered and added more and while in terms of performance the changes we find are very little this unit manages to take a big step forward regarding it's online functionality. As such this unit comes with 80 watts per channel with support for Dolby TrueHD and DTS-HD Master Audio, features Cinema DSP 3D along with various up-mixing and virtual technologies, High Resolution Audio, comes with the YPAO audio calibration system and has an extensive list of online and streaming features and services including MusicCast, Airplay 2, Bluetooth and USB streaming, Voice control and online services support.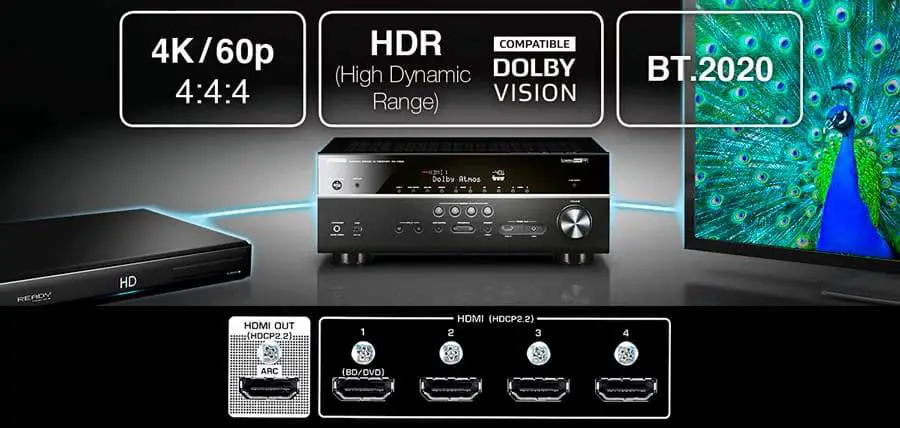 Along with many other extras that include HDMI upscaling, eARC and HDMI-CEC, Bi-Amp and ECO mode this model manages to offer an almost complete online feature set.
The downsides? If you are looking for a Dolby Atmos receiver this is not for you but for a basic 5.1 channels receiver this shouldn't be a bid deal. We would also like to see a front HDMI port as it can be such a convenience having one and also the remote feels a little cheap although we cannot complain much in this price range. And lastly regarding the price, as the receiver belongs to the lower end of the price spectrum competition is fierce and there are a few cheaper non Dolby Atmos receivers out there.
And since you may be wondering, if you are looking for a non Dolby Atmos receiver and you don't care about online functionality the RX-V385 may be a better choice as it offers similar performance but without all the extra online features. If on the other hand you want some online functionality then the Yamaha RX-V485 can be an excellent choice as it combines good enough performance for a simple 5.1 channels setup and enough online functions to keep your streaming needs at check.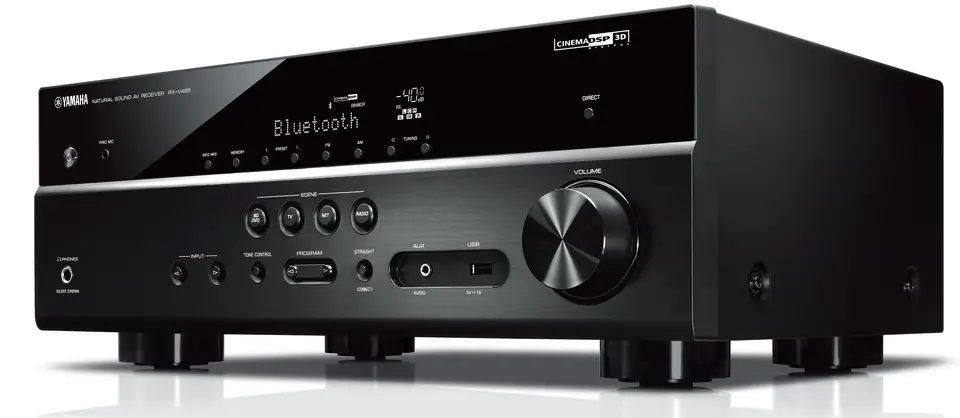 For more reviews you can check our dedicated 5 channels 4K AV Receiver reviews list or even look at our Product Reviews Table where you can find the brand and specific product you are looking for.
Also don't lose the chance to subscribe to our Newsletter and gain exclusive privileges.
---
Cheapest Places to Buy :
---
Yamaha RX-V485 Specifications