Denon AVR-S570BT
Reviewed at $399.00
OS, Apps and Features
8.6/10
Pros
Solid surround output
Dolby TrueHD and DTS-HD Master Audio support
Four 40Gbps HDMI 2.1 ports
Affordable price
Cons
No Dolby Atmos or DTS:X
Limited connectivity options
Limited online and streaming features
No video analog ports
---
Cheapest Places to Buy :
---
Obviously with most of the attention on the latest X-Series of AV receivers from Denon, released towards the end of 2022 and beginning of 2023, there are some units, mostly belonging in the more affordable S-Series that don't get the same kind of love from the media. And for this exact reason today in our Denon AVR-S570BT review we will be looking at this 5 channels offering which is ideal if you are looking to make a basic surround setup.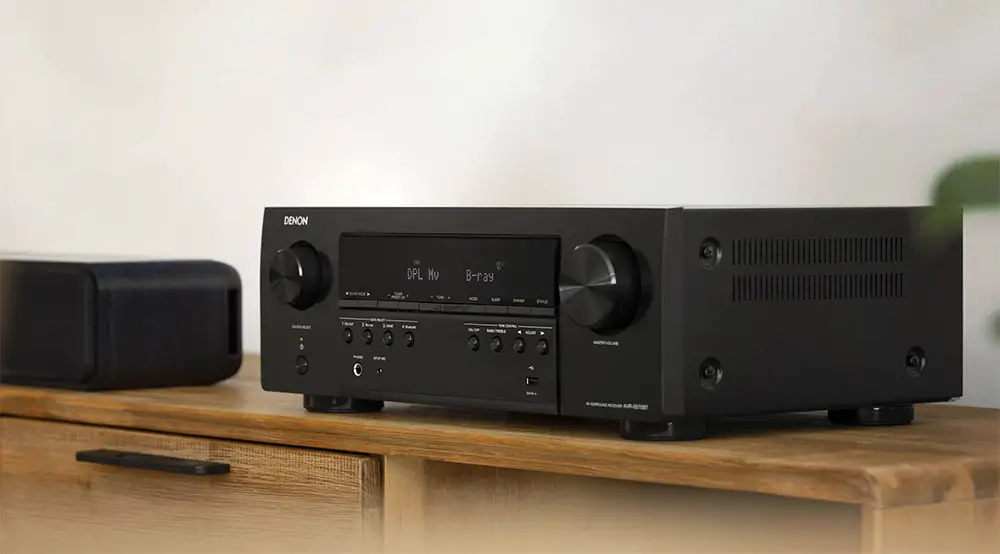 The AVR-S570BT is the second unit that was released in 2022 that belongs in the S-Series, with the other being the AVR-S970H which we reviewed recently, and basically this is an entry-level option with many of the features we find in most other Denon units missing or toned down. This obviously has an effect on its price which is incredibly low and surely Denon had in mind all those users that want to create a small surround system without all the bells and whistles of Atmos sound or online streaming.
So let's go over the specs real quick to see what this thing will offer you. The AVR-S570BT is a 5.2 channels AV receiver with 70 watts of power per channel and supports the Dolby TrueHD and DTS-HD Master Audio formats along with virtual and up-mixing tech in the likes of Dolby Pro Logic ll, DTS Neo:6 and Virtual Sound mode. In terms of extras we get a basic audio setup system, Bluetooth functionality while its biggest highlight is obviously its four, fully working HDMI 2.1 ports capable of 40Gbps of bandwidth.
We get that not everyone is interested in all these online features most AV receivers come with these days and for many consumers Dolby Atmos is out of the question due to various limitations. And this is where the Denon AVR-S570BT will find its biggest audience. The price is right, if it can perform as good also then surely this one can be a real winner.
Design
All these AV receivers belonging in the S-Series do not differ much and in fact many of them are like for like with only the size of the chassis changing in order to fit the required hardware and amplifiers. And with Denon keeping the same old design for one more cycle don't expect to find any surprises here. The AVR-S570BT looks extremely similar to the AVR-S970H and the older AVR-S660H.
The unit measures 17.1″ x 13.0″ x 6.0″ (434 x 330 x 151 mm) and weights 16.12 lbs (7.6 kg). Its height requirements are smaller in this one due to the absence of any antennas at the back of the unit and this is because there is no WiFi functionality.
As for its looks the outer shell features the same straight lines and sharp corners as many Denon releases. The front features a brushed metal texture with an exact shame layout as the rest of their releases from 2019 and onwards.
This means a big central display, a 1-line FLD in this unit, showing all functions with two big circular knobs at each side for volume on the right and source selection on the left. Under the source selection knob we find the power button while a thin line under the central display houses 10 function buttons that include sound modes and tuner controls, Sleep function, Dimmer and Status while two groups of four circular buttons are underneath with one group being the quick selection buttons and the other the tone controls.

Under these buttons, as usual, we get the front ports with the headphones jack and setup microphone port on the left and a single USB port on the right that can be used to stream audio from a USB based external storage like a flash drive.
No front HDMI port but given that far more expensive units are missing this, it's no surprise we don't get one here either.
When it comes to its internal hardware things are again pretty standard for Denon. The receiver features discrete high-current amplifiers on all channels with low-impedance drive capability while its 32-bit D/A converters allow for high resolution audio decoding while providing low distortion and the widest possible dynamic range.
Not much else is known in terms of actual audio components being used in the S570BT and we have no idea what DACs and DSP chips this one comes equipped with. Denon provides this information only for the higher tier units and to a certain extent this is understandable.
The AVR-S570BT's remote is very similar to all other Denon remotes we have seen before. Code named RC-1254 the remote has far less buttons than all the other ones and this comes as no surprise as this unit has far less features to work with.

The remote comes with all the input buttons at the top, along with Bluetooth (no HEOS here), navigation buttons are positioned in the middle grouped with channel and volume controls while playback, quick selection and sound mode buttons are being placed at the bottom.
Obviously for such a low cost unit we couldn't expect anything more than this. The one provided certainly serves its purpose so there are no major complaints here.
Overall the AVR-S570BT has many of the usual Denon characteristics. Its design is very familiar while its construction and internal components are well designed and put together considering the price tag this one has.
Audio Quality
Let's now see what kind of audio formats are supported in this receiver. Since this is only a 5 channels unit the S570BT does not support the latest Dolby Atmos or DTS:X mixes. Instead we get the older Dolby TrueHD and DTS-HD Master Audio formats. This also affects the kind of up-mixing and virtual technology features included.
When it comes to up-mixing tech the receiver uses Dolby Pro Logic ll and DTS Neo:6. What these up-mixing tech are doing is to up-convert stereo and legacy mixes in order to make use of all the speakers you have in your setup. As for virtual tech the Virtual Sound mode is capable of creating sounds that originate from virtual created speakers around your room where there are no physical speakers present.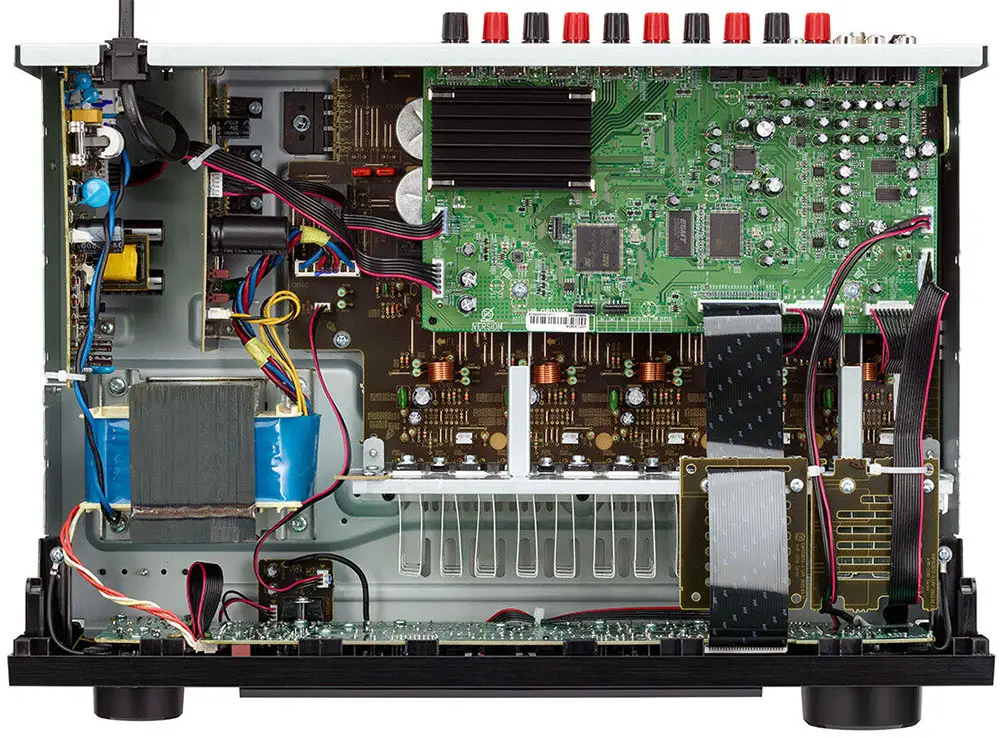 This virtual tech obviously is not as good or accurate as having real physical speakers and are very much room dependent. Also the sound many times can be heard very over-processed something we were never very fond of. But obviously some people may like it so it is never bad to include these.
Being an entry level, S-series, unit, the AVR-S570BT comes with 5 channels of built-in amplification with each channel capable of 70 watts of power (8 ohm, 20 Hz – 20 kHz, 0.08% 2ch drive). As always you should not be fooled by this number as manufacturers always give ratings with only 2 channels driven meaning that when all 5 channels are active this number goes down considerably.
With the supported channels you cannot do anything more than a basic 5.2 channels surround system but this surely doesn't make the experience any less exciting. For this review we used a single SVS SB-1000 Pro subwoofer that was placed in the front left corner of our testing area.
The movie of choice was the 4K UHD version of Prometheus that uses an exotic DTS-HD Master Audio mix.
We may not be getting the usual Dolby Atmos treatment here but nevertheless the Denon managed to create a really eerie atmosphere with good use of its surround capabilities placing you right inside this alien world.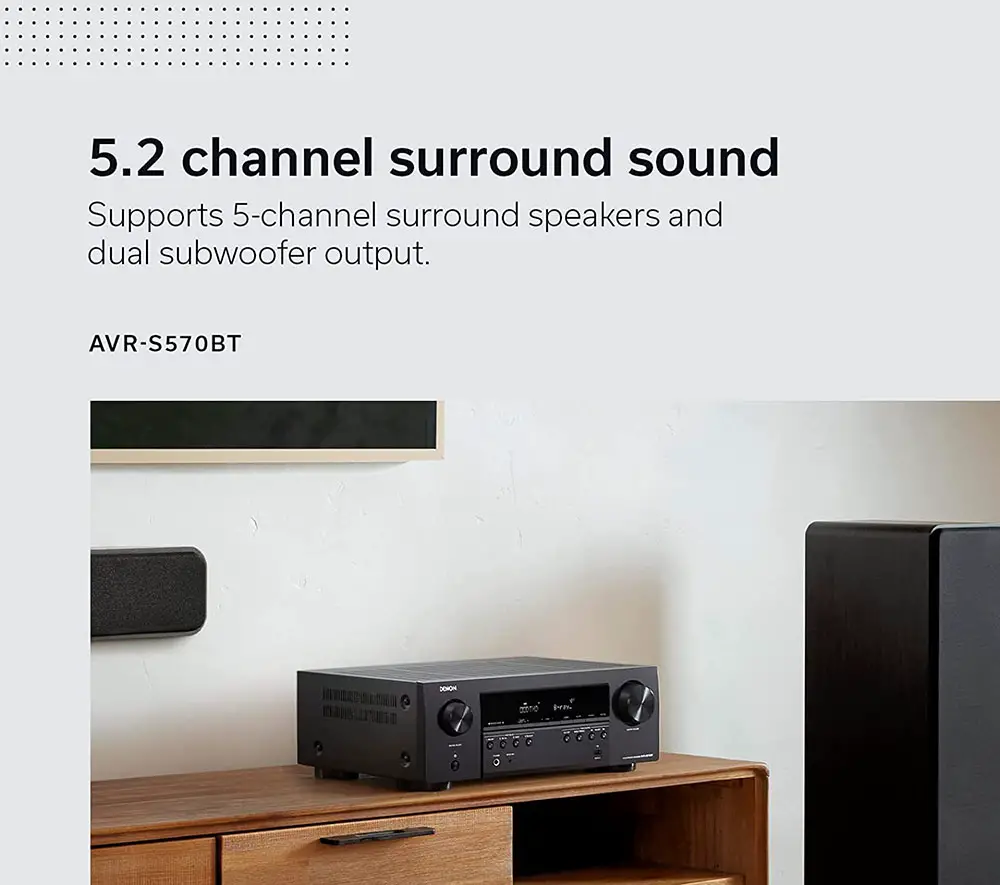 The unit knew how to handle each of its 5 channels with lovely panning effects that had excellent precision and directionality. The film obviously is very dialog driven and our center channel provided crystal clear sound with the receiver keeping everything isolated front and center, completely isolated from the two main channels that did all the heavy lifting.
Prometheus relies a lot on atmosphere and less on all out mayhem and this was evident by the level of surround activity we were getting. Echoes would travel in the dark corridors of the alien spaceships, during the surface storm you could feel all the dust and sand hitting you from all directions.
In terms of quality we didn't notice anything outside the standards. The Denon was really capable at rendering all sounds with very good resolution while everything had just the right tonality and energy.
The film may not go heavy on the bass but again it has its fare share of low end action and once again the S570BT did not disappoint. The receiver fed our SVS subwoofer with all the low end information needed to make it happy during this session.
Next test was with Jurassic World, again in 4K UHD that comes with a satisfying DTS:X mix. Obviously we could only enjoy the DTS-HD Master Audio track here but even this proved to be a totally amazing performance.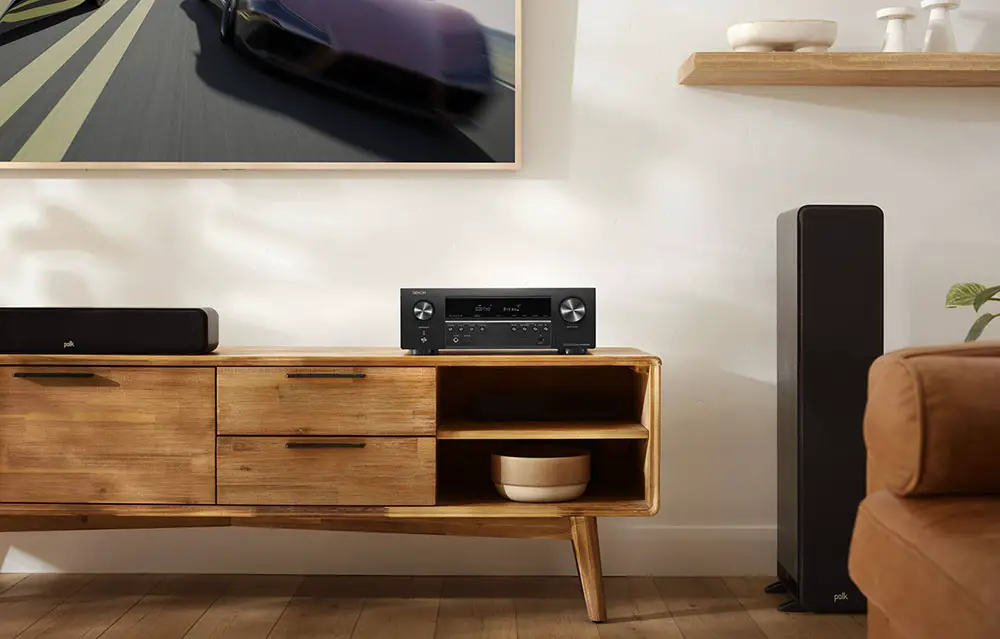 The receiver may belong at the bottom end of Denon's product lineup but it showed once again that even with such a unit you can get a really satisfying and well worth cinematic experience.
From the refined and raw growls of the dinosaurs to the atmospheric and ambient sounds of the Nublar island jungles there was not a single moment that we didn't feel like actually being there.
The front sound wall felt really engaging with nice depth and good extension, its two main channels were nicely separated from the center and directionality was phenomenal. Everything at the front bound nicely with our surrounds while sound traveling across the channels had pinpoint accuracy and no obvious delays.
Lastly we need to mention about the receiver's power output. Its 70 watts rating is only for 2 channels driven so as you can imagine this number is much lower in a full 5.1 surround system. But how this translates into real world?
To be honest, the receiver is not meant for big setups. It will be used mostly for gaming setups and relatively small to normal sized living rooms, so with this in mind its power output was satisfactory. You could push it close to its limits and when doing so we did notice some compression artifacts but for most that will hover on more casual volume levels it was very satisfying with no obvious loss of balance or frustrating instability.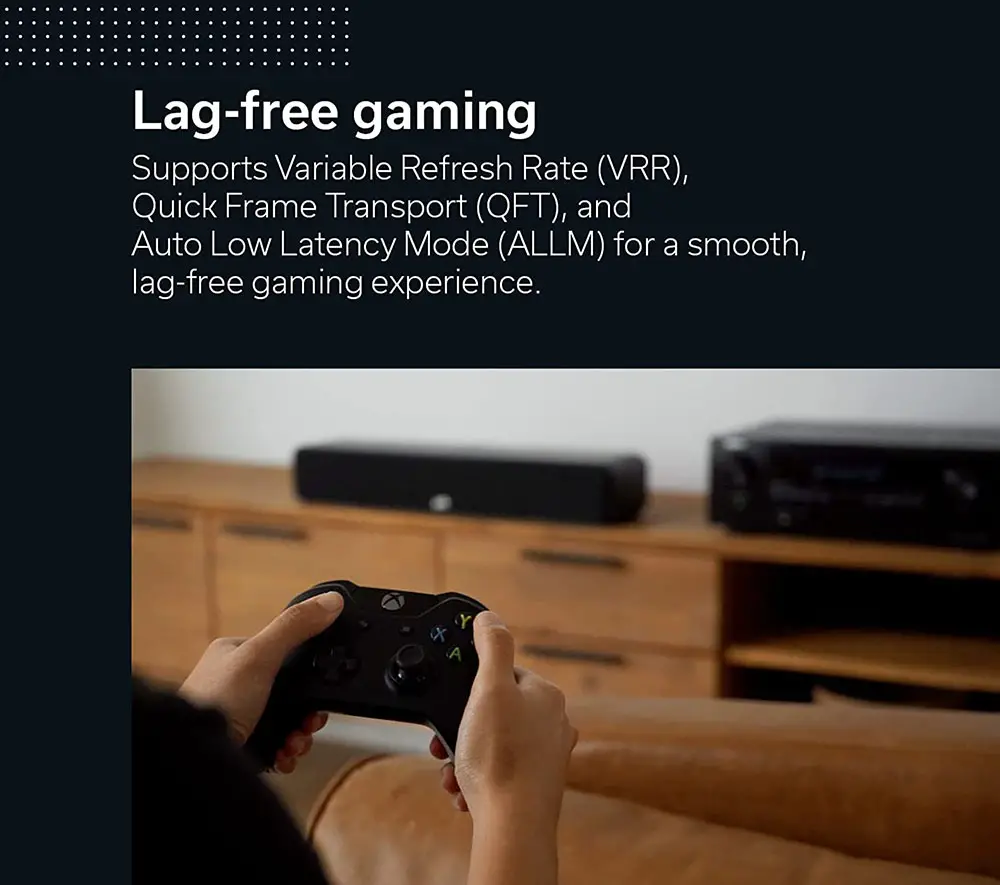 High Resolution Audio is also supported, as previously, so except from the usual low quality MP3, WMA and AAC the receiver can also playback FLAC, ALAC and WAV files up to 192 kHz / 24-bit. In our case, as we always do in our reviews, we selected a few music tracks in FLAC format that we streamed through the USB port of the receiver for the best possible quality.
And for that we switched to a 2 channels setup which is mostly preferred when listening to music. Keep in mind that the type and quality of the speakers is very important and the AV receiver by itself cannot do miracles without them to work its magic.
Just as was the case with all other Denon units we saw before, the S570BT includes the familiar Restorer function that is specially made for low quality music files like MP3 in order to bring them up to their original state.
Compressed audio formats such as MP3 and WMA (Windows Media Audio) reduce the amount of data by eliminating signal components that are hard for the human ear to hear. The "Restorer" function generates the signals eliminated upon compression, restoring the sound to conditions near those of the original sound before compression. It also restores the original bass characteristics for a rich and expanded tonal range.
Just for your information, this can be used only with low quality content so we didn't need to use it with our FLAC testing content.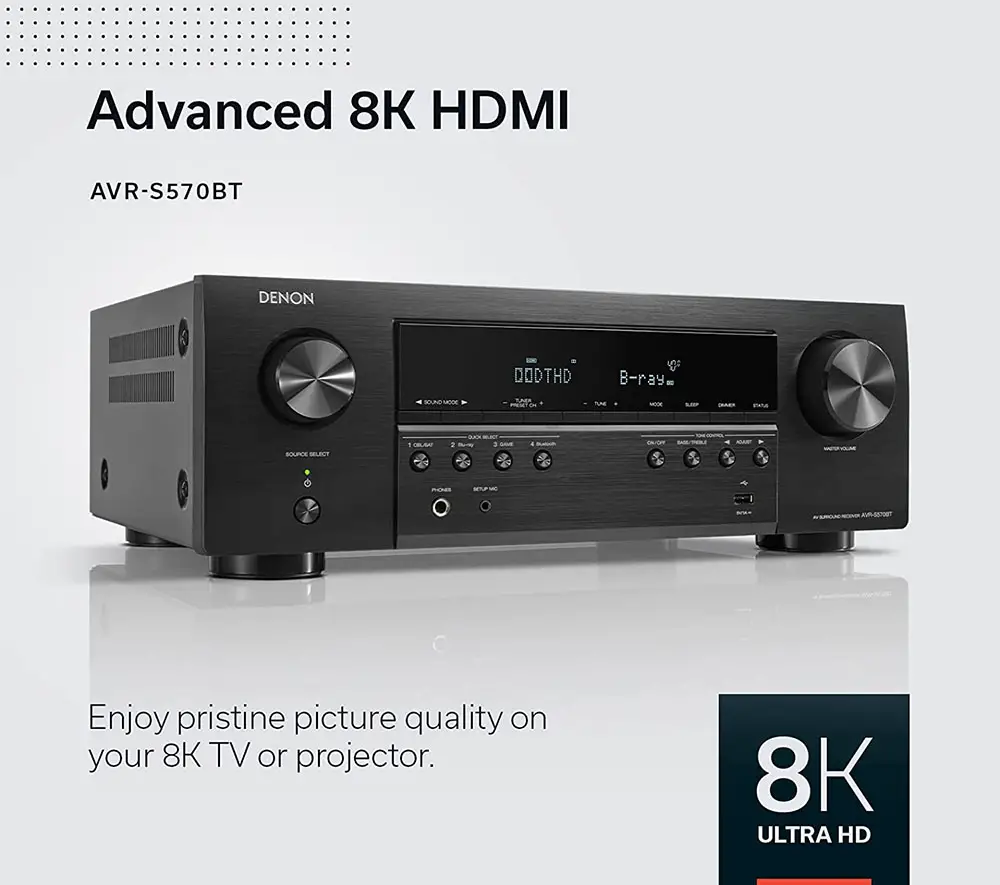 The receiver was an equally good performer here also. Obviously the S570BT is not meant to be HiFi material but for the reason it was designed, it will do really good and offer you a very melodic acoustic signature. The Denon may be missing some of the finer nuances of some more delicate performances but for most casual users this will go by unnoticed and in the end this is what matters.
We couldn't hear any real problems during our tests as the unit managed to keep the mids under tight control while the upper frequencies had lovely energy without becoming bothering. On the other side of the spectrum we got very solid bass even during more demanding bass sessions indicating the harmonious cooperation between the AV receiver and our subwoofer.
Testing the S570BT under various genres didn't reveal any differences on how the unit can handle different rhythms and kept its output characteristics the same at all times.
We reached the end of this part of our review and from what we saw and heard we can say with certainty that the AVR-S570BT is a great low cost AV receiver that has nothing to be jealous of compared to some more expensive units. It can be an ideal choice either you want to use it for movies, music, gaming or any combination of these. There is a lot of performance value here at a really affordable price.
Ports and Connectivity
Next we will analyze all the connectivity options available.
As we mentioned above the S570BT is an absolute basic AV receiver and this is reflected on the number and kind of ports it has which is the minimum you will find in most AV receivers.
We already mentioned above about the frontal ports that include the headphones jack, the setup microphone port and the USB port. There is no front HDMI input in this one so in case you need one you have to find another solution like using an HDMI extender and connecting it to one of the rear HDMI ports.
At the back of the unit you will find the 5 speaker terminals placed in a straight line at the bottom which helps a lot with cable management. The terminals are of decent quality as with most Denon units we have seen the last few years while each terminal has its own amplification.
At the top we find the HDMI inputs and the AVR-S570BT has four of them along with a single HDMI output which are enough for most basic, and some no so basic, setups.
As for the rest of the connections we get 2 optical and 1 coaxial digital inputs, 0.2 channels pre-outs for dual subwoofers, 2 analogue audio inputs and the usual FM/AM antenna inputs. Again, as we mentioned above there are no WiFi antennas here as the S570BT lacks any online functionality.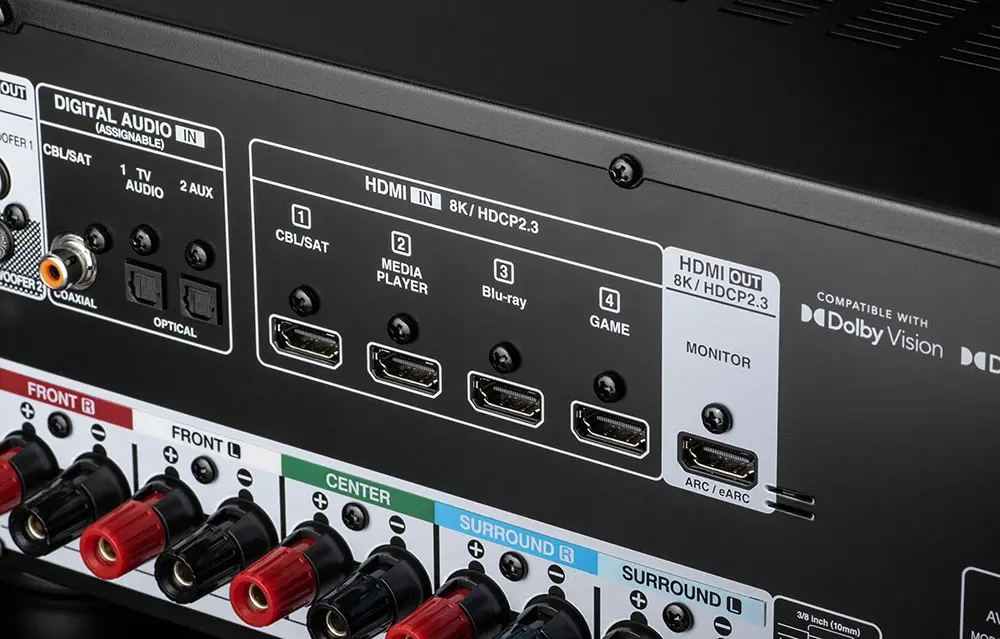 As for its HDMI ports, all four of them are fully working, bug-free HDMI 2.1 ones. This means that they support all the old and new exciting technologies including 8K/60Hz and 4K/120Hz video passthrough up to 40Gbps of bandwidth, Deep Color, HDR10, HDR10+, Dolby Vision, Hybrid Log-Gamma (HLG), Dynamic HDR, 3D, Variable Refresh Rate (VRR), Auto Low Latency Mode (ALLM), Quick Frame Transport (QFT), ARC, eARC and HDMI-CEC.
As you probably guessed from the above, the AVR-S570BT comes with the new unaffected HDMI 2.1 ports. All the 2020 AV receivers that featured HDMI 2.1 ports came with a bugged Panasonic chip that wouldn't allow it to pass certain signals, like 4K/120Hz RGB signals from the Xbox series X for example, as it would result in a black screen.
The AVR-S570BT on the other hand seems to be using an updated version of this HDMI 2.1 chip which allows up to 40Gbps of bandwidth in all four of its HDMI ports and this includes all the signals with a 4K@120Hz configuration, including Xbox Series X.
For this part of our review we connected both our PS5 and Xbox series X in order to determine the unit's HDMI capabilities and from what we experienced the S570BT can do 4K@120Hz as well as VRR if the game supports that. During these tests we didn't experience any HDMI handshaking problems, black screens or signal loss.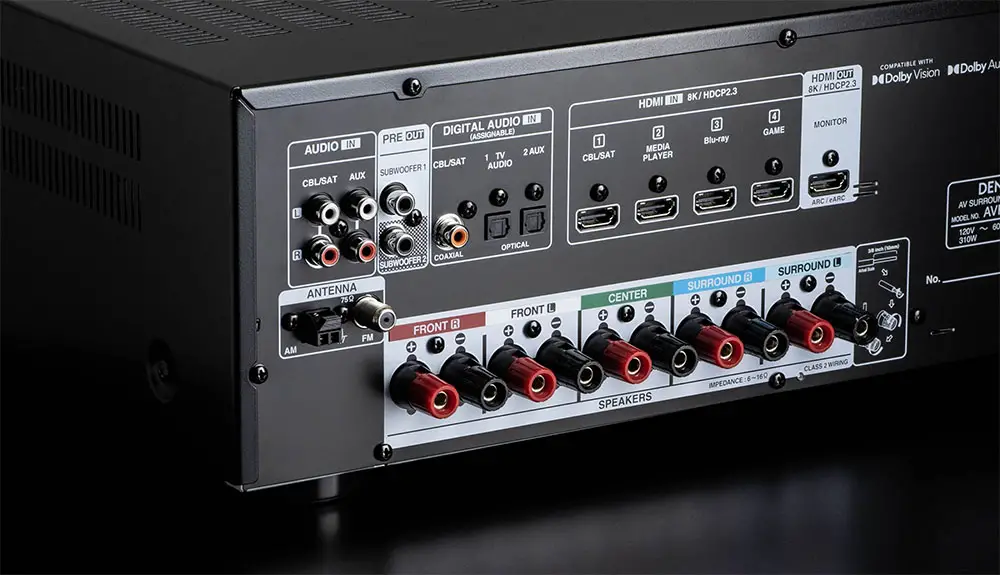 As for the unit's wireless capabilities the S570BT comes with Bluetooth v4.2 but no WiFi and this is the reason why it misses all of the online features we find in the more expensive models.
The unit comes with the absolute minimum you would expect from an AV receiver. Its highlight is obviously its four, 40Gbps capable, HDMI 2.1 ports along with all the new features these bring making it an excellent low cost gaming solution. If you are not looking for a very complex setup then this one should cover your needs just fine, even with its limited connectivity options.
OS, Apps and Features
A lot of the extra features are common between the different Denon units but as always some of them are used in specific units depending their category and their price. And one such feature is the audio calibration system.
The S570BT seems to be one of the very few Denon units that is not including the brand's Audyssey auto calibration system. Instead it uses a more simplified version called Auto setup and room EQ. Practically there are not many differences as once again you use the provided microphone that the AV receiver comes with to make the necessary calibrations to your system. But in essence this is a far less capable system with much lower quality measurements than what Audyssey can provide.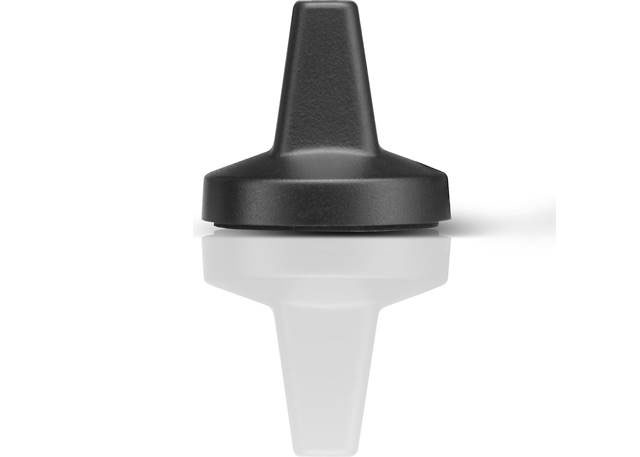 In reality, since this unit is not meant for very advanced or demanding users the available Auto setup should be enough to create a balanced and well calibrated system. The on-screen wizard provides clear enough information on how to go through each step so it shouldn't take you long to finish this part.
The receiver may be missing WiFi capabilities but Denon provides a mobile app in order to control the unit through your mobile device. But since this has to connect to the unit through its Bluetooth connection they had to use a different app than the usual Denon AVR remote app. The one that works here is called Denon 500 Series Remote app and again, with simple steps you can connect it to your AV receiver and be able to have plenty of control options through your smartphone or tablet.
As for its built-in UI, the one that comes with the S570BT is not anything extraordinary but gets the job done. All settings are divided in six categories and to be honest you can find everything you need relatively easy.
When it comes to streaming the receiver is vastly pared down compared to other Denon offerings. It does support HEOS and you can still stream your music from a mobile device but this can be done only through its Bluetooth function as WiFi is completely stripped. But at least streaming services like Spotify, TuneIn Internet Radio, Amazon Music HD, Napster, TIDAL, iHeartRADIO, Deezer are still available to you.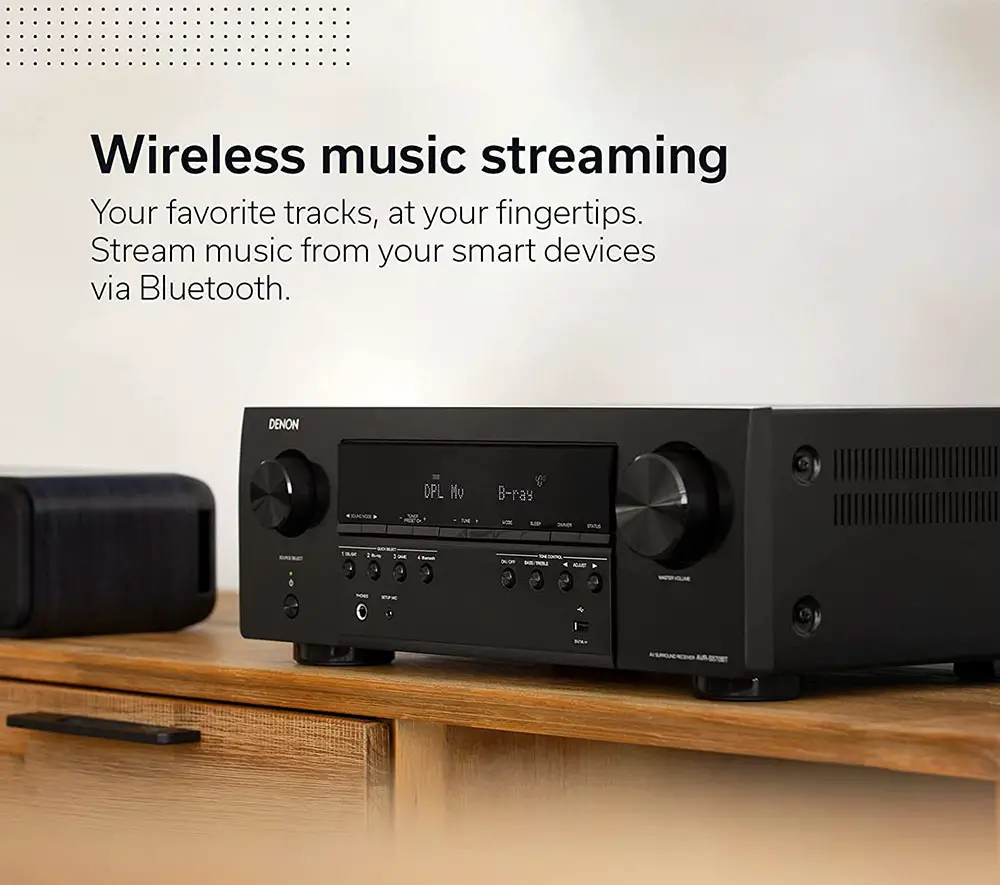 Multi-zone capabilities are completely missing in action as the receiver lacks any Zone-2 outputs that it could use. If you do not plan on connecting speakers to another room then this shouldn't be a major omission for your situation.
Also its Bluetooth capabilities are rather limited as this unit does not allow you to use both the external speakers and some Bluetooth headphones in parallel as we have seen in many other Denon AV receivers. The Bluetooth available can only be used to stream music from a device to the AV receiver itself.
A very handy feature that we do find is HDMI-CEC and this one lets you use the TV remote to control the AV receiver if the TV also supports this. You can understand the practicality of this as this way you can reduce the amount of remotes you will need to have in your home theater. Obviously this feature lets you use only the most basic functions of the receiver but for everyday use it can be a very time saving one.
Other extras found in this one include video upscaling to 8K resolution but the obvious limitation here is that since the S570BT does not have any analog ports this applies only for its HDMI ports. Lastly we also get an ECO mode that can regulate the receiver's power usage for a more environmental friendly power consumption.
Overall as you can see the AVR-S570BT is rather light on extras. It still has plenty to go around, especially if you are not all that interested in all these online features and you seek a strictly offline experience.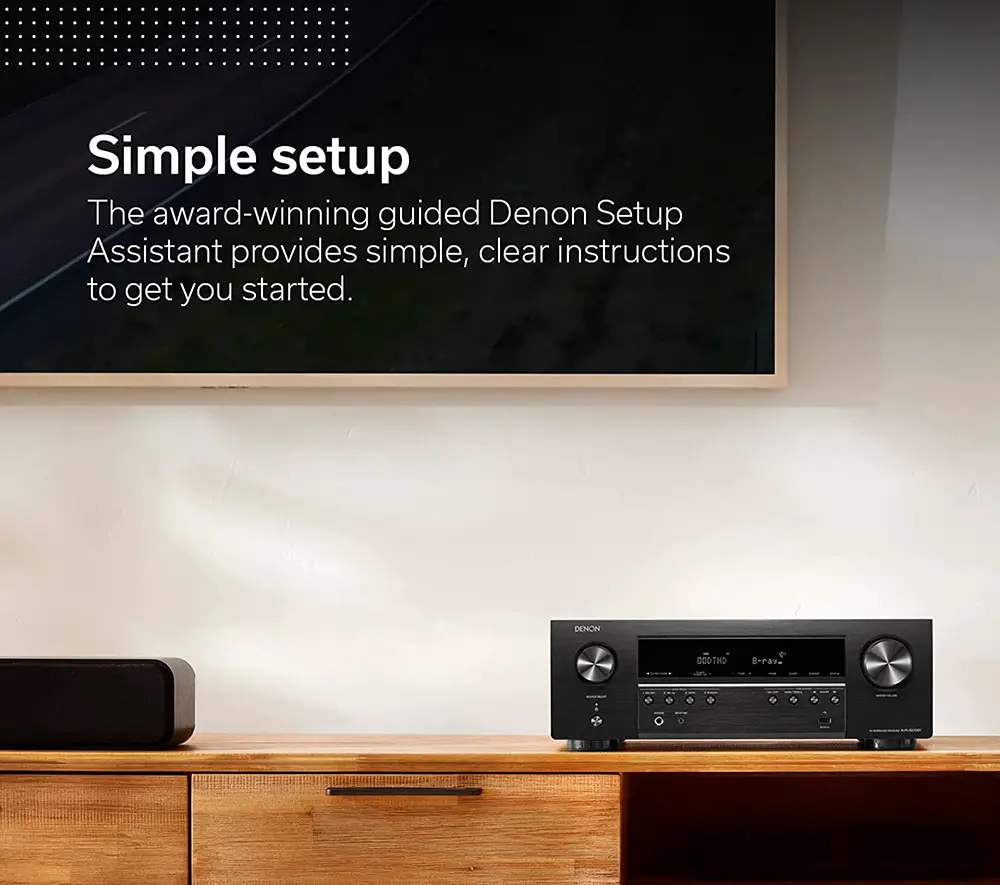 Final Thoughts
The Denon AVR-S570BT was created for a very specific market. If you are the kind of person that wants to create a simple home theater system but you don't want to go the soundbar route, you don't care about Dolby Atmos or don't need anything major when it comes to online functionality then this unit surely ticks all the right boxes.
For a price of $399 you get an AV receiver that has this certain Denon quality that we got used to over the last few years, its surround performance is undeniable and the extras it provides are in line for a release in this price. A big highlight is obviously its four HDMI 2.1 ports making this an excellent AV receiver not only for just movies or music but for gaming centric users also.
Are there any downsides to be found? Well the unit surely is missing a lot of features but this obviously goes hand in hand with its price and we cannot really categorize all these omissions as weaknesses. If you need any analog ports (component or composite) you are completely out of lack, its power output may not be the best, while its looks may feel a bit boring and uninspiring after being used for so many years.
Closing our review we cannot but feel really satisfied by what we saw in the Denon AVR-S570BT. It is surely a unit of limited expectations but its two most important aspects, its surround capabilities and gaming centric features, make this AV receiver a very appealing proposition. If you are a casual user that seek to create a simple, yet effective surround system then you will surely find a lot to like in this one. Highly recommended.

For more reviews you can check our dedicated 5 channels 8K AV Receiver reviews list or even look at our Product Reviews Table where you can find the brand and specific product you are looking for.
Also don't lose the chance to subscribe to our Newsletter and gain exclusive privileges.
---
Cheapest Places to Buy :
---
Denon AVR-S570BT Specifications