LG UN8500
Ports & Connectivity
9.2/10
OS, Apps and Features
9.2/10
Pros
Nice viewing angles
Extremely low input lag
Dolby Atmos and Dolby Vision
HDMI 2.1 support
Cons
Mediocre brightness and contrast
HDR is underwhelming
Average color coverage
Audio immersion lacks a lot
---
Cheapest Places to Buy :
---
LG has made a pretty good job at offering a wide range of models in 2020 in order to cover all needs and all budgets. As such they have separated their releases into three categories with the OLED being obviously the most premium one, the NanoCell being the one that combines good performance with more affordable prices and the low tier 4K UHD LCD TVs that are designed for those that look for a low cost solution. In our LG UN8500 review today we will be looking at the top model in this low tier category which comes with a few differences from the rest of the category.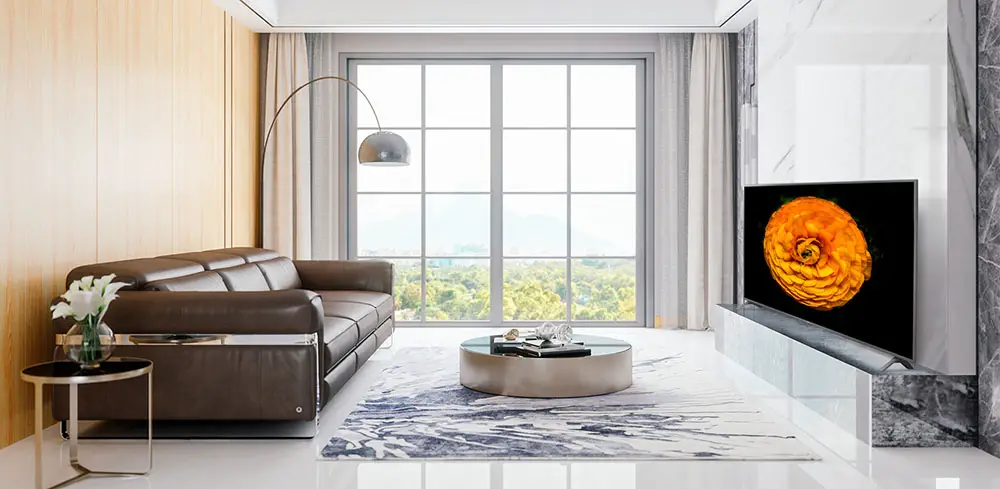 The UN8500 differentiates itself from the rest of the lineup as it's the only one that keeps the α7 Gen 3 Processor 4K along with Dolby Atmos and Dolby Vision support. This means that if you want a TV that has either of Dolby's technologies this is as low as you can go to have them. It's also the only model in the 4K UHD LCD lineup that retains its HDMI 2.1 ports so keep this in mind as it can be of huge importance down the road. The TV is being released in four different sizes across all markets and it seems to combine some of the more advanced features but on a more economical package.
The TV is using an IPS panel which means better viewing angles but worse contrast ratio, except from the 82″ that switches to a VA one, comes with a Direct LED lighting system with no local dimming, is the only model that retains the α7 Gen 3 Processor 4K from the NanoCell series, uses a 120 Hz panel, supports Dolby Atmos and Dolby Vision, has a simple 2.0 channels audio system, comes with two HDMI 2.1 ports and has the full webOS smart TV platform along with LGs ThinQ, voice control and the magic remote.
In theory it sounds like the UN8500 strikes a very good balance between specs and cost. So let's see how it actually fares.
Design
When it comes to its design and overall look the UN8500 seems very similar to the UN7300 although there are some small and subtle differences between them. But in general the UN8500 does not stray far from what a relatively low cost TV would look like. Overall thickness is about 3.5″ (9cm) which is average and this is probably due to the included Direct LED system but in general it shouldn't look bad if wall mounted.
The UN8500 is not very subtle with its borders and they slightly protrude from the screen exactly the same way we had seen in the UN7300. Turning the TV around we find a fairly plain design with all the connectors being separated into two groups and positioned on the right side with the power connector being the only one kept separately on the left. The layout is pretty similar to the UN7300 but they don't use the same plastic shell as there are minor position differences here and there.
One thing we noticed is that the UN8500 lacks any cable grooves on the back that can help with cable management so this is a small minus and certainly makes things harder if you want to hide all those cables sticking out of the back. The only other thing we find on the back is the special holes for the VESA mount.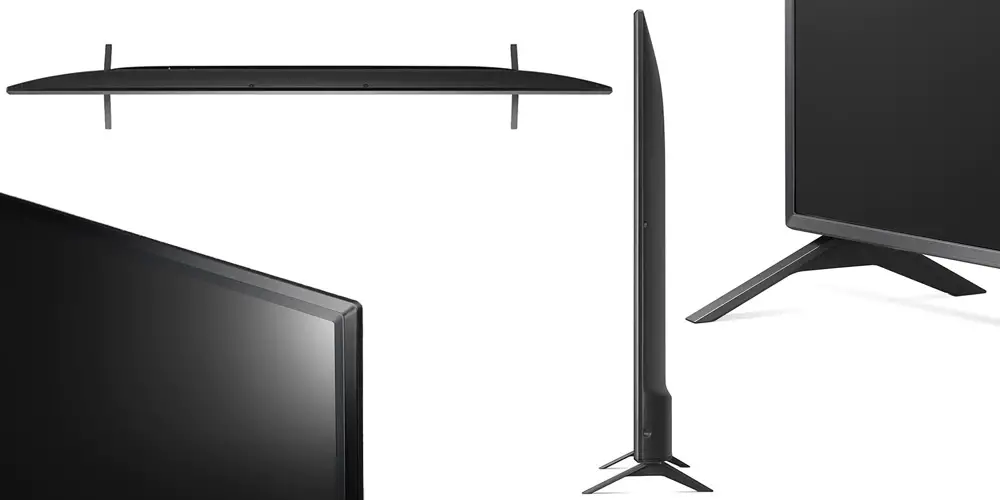 As for the stand once again the UN8500 follows a very similar but not entirely the same design as the UN7300. The TV is using a usual bench type stand with the two legs lock in place at the very edges of the TV which may be good for stability but certainly will require a bigger furniture for you to place it on. The legs are made out of plastic so there is some wobble but it's not so much to have the risk of falling over. The legs also lack any kind of cable management to help drive the cables through the back and if you add to what we said previously that there are no grooves at the back of the TV in general cable management is non existent here.
And while the design of the TV is simple and uninspiring overall the remote that comes with it is a different story as it's the same Magic Remote that LG uses for all their TVs in 2020 and is code-named MR20. The remote hasn't changed much the last few years and LG makes only slight improvements and additions to an otherwise excellent design. This is the same one we saw in the UN7300 so no changes here at all.
The most unique feature of the Magic Remote is obviously its pointer functionality which is unique and makes handling of all the menus and navigation so much easier. But except from that it can also be used as a universal remote even if your other equipment don't support the needed HDMI-CEC feature and is a function that LG included from last year. With the included microphone you can issue your commands to one of the built-in voice assistants but as always their functionality is limited and not all functions or settings can be changed this way.
When it comes to its design there is nothing that could make the TV stand out. It is simple and similar to the UN7300 we had seen before something perfectly normal for its category. The Magic Remote is obviously the highlight and its functionality as well as quality is above average for its class. For this price the UN8500 keeps a certain quality standard which is exactly what you should expect from LG.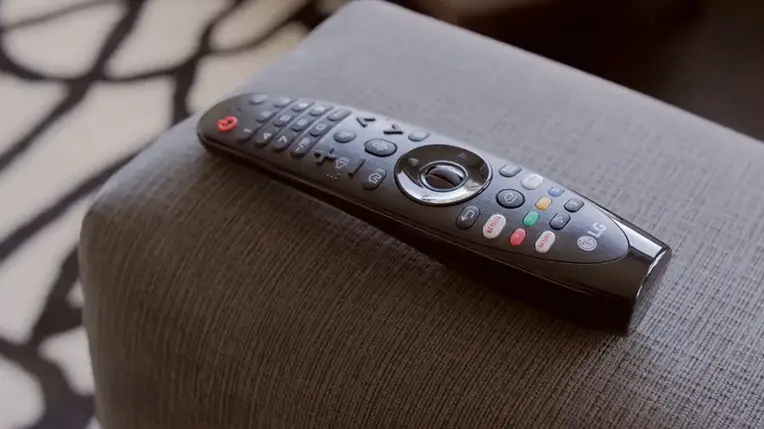 Video Quality
Processor technology used
The UN8500 is the only TV in the lower tier 4K UHD LCD series that is using the 3rd generation of the a7 processor officially called "α7 Gen3 Processor 4K". This processor is also used in the LG BX OLED and also in many of the NanoCell TVs and has left us with very good impressions so far.
The a7 processor rely heavily on AI for its various functions and the 3rd generation of the a7 couldn't be any different. There are three functions that we should mention here. The α7 Intelligent Processor recognizes the quality of the original content and optimizes the clarity and sharpness by removing noise. The processor can also analyze the type of content—movies, sports, animation, or standard—and automatically adjust the picture and sound to best suit the genre.
Lastly a light sensor measures the surrounding ambient light, then the processor finely adjusts tone mapping for optimal screen brightness. HDR content is refined with brightness adjustments that transform darker scenes into ones with better contrast, detail, and color depth.

As always for this part of our review we did test various video files with different qualities from low SD content, 720p, 1080p all the way up to 4K resolutions. The UN8500 did show very good up-scaling capabilities and everything was rendered in 4K with amazing clarity and detail. We didn't notice any major artifacts from the up-scaling process and everything looked fine in our tests.
But the α7 Gen3 Processor 4K capabilities don't stop there as it comes with various audio refinements also including AI Sound through Adaptive Sound Control, Ultra surround and AI Acoustic Tuning. More on these in the audio section of our review below.
Lighting technology used
The UN8500 may have the edge by using a more advanced processor than the rest of the series but when it comes to the lighting system used all TVs in this series use a Direct LED system with no Local Dimming. And this is a common characteristic we see in low cost TVs as LG has reserved their FALD and Edge LED light systems only for the NanoCell series.
The Direct LED system is using light behind the included IPS panel but is much less capable than a FALD system which means far less brightness output, less light accuracy and lower contrast which means that blacks will appear more greyish than true blacks. And with the UN8500s IPS panel low contrast capabilities the omission of Local Dimming makes things even worse.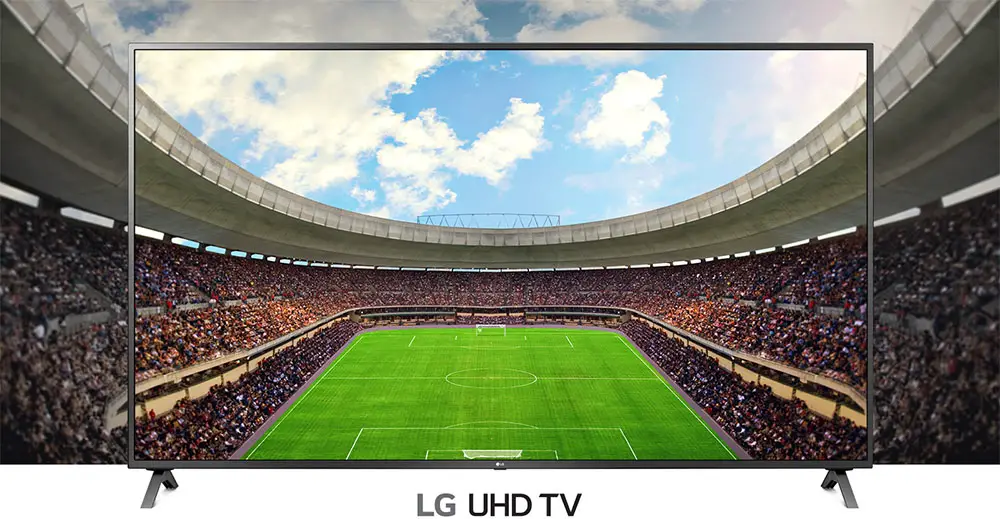 We were not expecting much here as having a Direct LED system is pretty common the last few years in the lower end category and in line with what we have seen in many other TVs with a similar price. At least having an IPS panel in combination with the Direct LED light system makes the UN8500 less prone to any major burn-in problems.
Brightness / Contrast
One of the most important aspects of a HDR TV, but not the only one, is brightness output. Usually in these low budget categories the kind of performance we see is less than stellar and most of the times the brightness capabilities of these units are not enough to make HDR justice.
As for the UN8500 it seems that without any calibration the Expert (Dark Room) mode is the most accurate one and this is what we used to test the SDR brightness over a 10% window which gave us a measurement of 270 nits. As for the HDR brightness test over a 10% window gave us 330 nits of brightness.
What is worth of noting here is that from looking at these numbers the UN8500 managed to perform worse than the UN7300 we had tested before. It seems strange that a theoretically less capable model performs better but these numbers seemed consistent no matter how many times we checked them.
The brightness on the UN7300 was already mediocre and the UN8500 managed to do even worse. And if for SDR content we could say that the TV can do average as there is no need for excessive brightness in HDR things are just disappointing and it cannot depict HDR the way it was meant to. And this is what we meant when we said that there is a grey area with all these low cost so called HDR TVs. The UN8500 is advertised as one but it performs far worse than how such a TV should.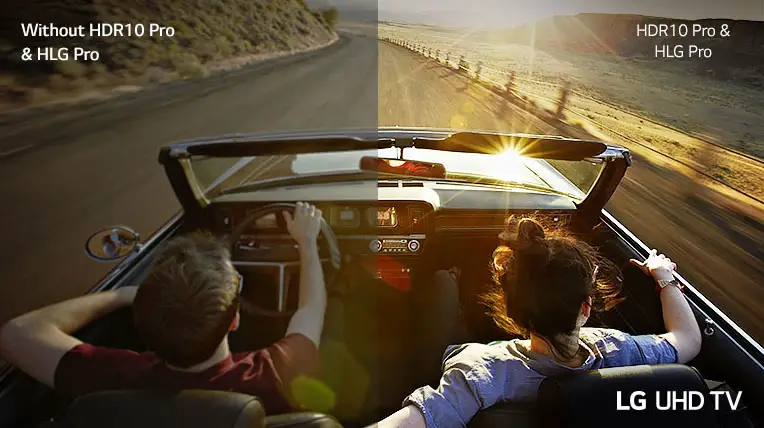 Lastly when it comes to its contrast performance the TV doesn't fare too well. And this stems from the fact that it's using an IPS panel and all TVs that use such technology suffer from mediocre contrast performance. This means that blacks are not very deep and look more greyish especially if you watch in low lit or completely dark environments. We should note that if the 82″ size does indeed use a VA panel then this one will certainly fare better as all VA panels have very good contrast ratio with deeper blacks than an IPS panel can do.
Viewing angles
The UN8500 is using an IPS panel and this usually means good thing in terms of viewing angles. It cannot reach the extreme angles of OLED technology but IPS panels fare far better than any VA will ever be capable of.
For the unit we tested specifically we would say that a maximum of 30-35 degrees is the best you can get as anything more and the color accuracy, brightness and black levels take a major hit to remain watchable.
The TV is lacking any kind of wide viewing angle technology that we see in some of the top tier models but for its class it fares pretty good to be used as a family TV. Keep in mind that the 82″ is, for reasons unknown, using a VA panel and this means that viewing angles in that size will be much worse than what we have seen here. We cannot say if the 86″ size is also using a VA panel as we couldn't get any confirmation on that one.
Overall if you plan to use the UN8500 as a family TV it will serve you well as it can be used in various angles with very good results.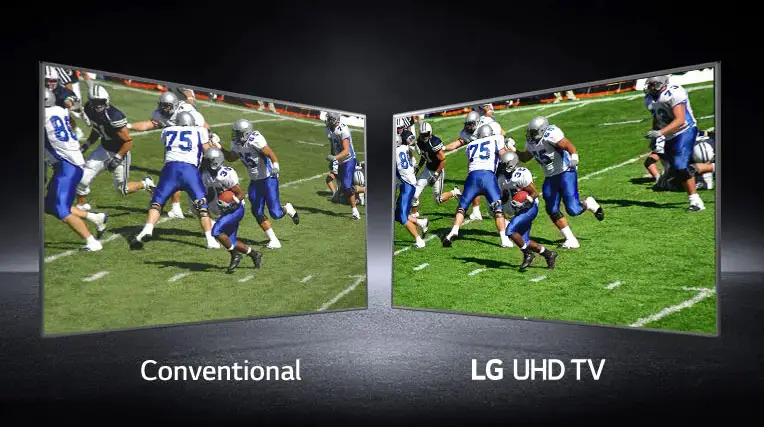 HDR support
In terms of HDR support the UN8500 is the only model in the series that gets the full Cinema HDR suite from LG which means not only the basic HDR10 that is primarily used for 4K UHD playback and HLG that is mostly used in broadcasting but also Dolby Vision which uses dynamic metadata.
Another feature we find here is the Dolby Vision IQ which we also saw in the LG BX and LG CX TVs. What Dolby Vision IQ does is that by using an external light sensor it can detect the light conditions in your room and automatically adjust the Dolby Vision dynamic tone mapping in the content you are watching. This may seem like a neat feature to have but to be honest it just adds more processing to the image and we are sure that most image purists will keep this turned off. But it's an interesting feature to have and experiment with nevertheless.
What is missing here, and in fact is missing from all LG TVs, is HDR10+ and we don't expect to see it coming in any of their future releases at least for the time being. LG is firmly supporting Dolby Vision and plans to stay that way for now.
Color coverage
Another characteristic we see in these budget TVs is the lower  color coverage they can achieve. And while manufacturers don't directly mention it usually these TVs cannot display wide color gamut that is essential for 4K HDR viewing. And this is another grey area on these so called HDR TV sets as they may be able to display HDR but without wide color gamut they shouldn't be considered true HDR TVs.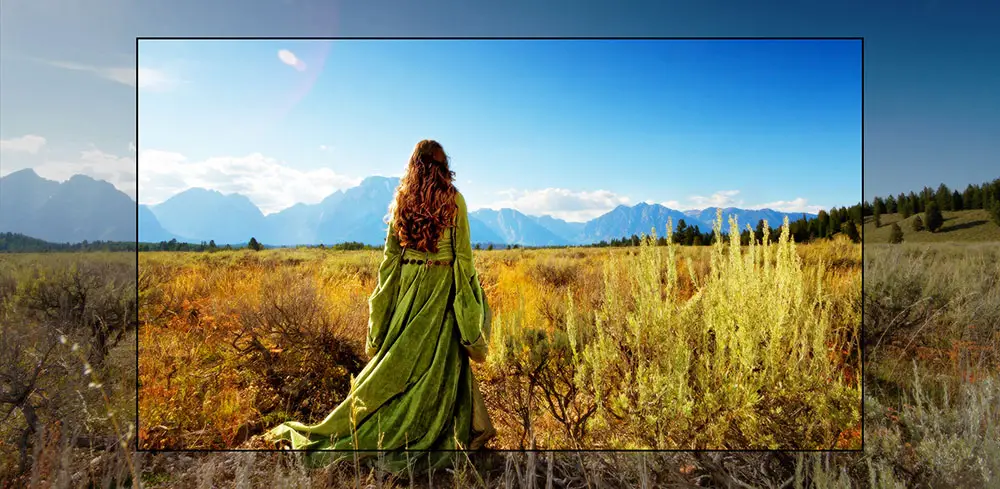 The UN8500 gave us a color coverage of 82% of the DCI-P3 color space which is ok but to be honest we were not expecting to find it lower than what the UN7300 was capable of. And this seemed to be consistent on the wider REC.2020 color space as we got a 60% coverage there, again lower than what the UN7300 gave us.
To be honest we were a bit surprised to see these numbers as this is the second key area after brightness output where the UN8500 performed worse than the supposedly lower capable UN7300 model. We don't know the reason behind this but as things are right now the UN8500 did disappoint us a bit. Performance should improve as we go up the performance ladder, not down.
Motion performance
Next is our motion performance tests and from what we saw the UN8500 is using a 120 Hz (or 100 Hz depending on your region) panel along with a 120 Hz backlight dimming frequency which in theory is a step up from the 60 Hz panel we saw in the UN7300.
The TV comes with the standard Motion Interpolation in order to smooth out motion and can be enabled from the TruMotion setting and by adjusting the De-judder and De-blur sliders. Here we find another difference with the UN7300 as that one was missing the De-blur slider and this is something we have seen before in the most low tier TVs. The UN8500 on the other hand has both sliders to adjust but keep in mind to keep settings in low levels otherwise the Soap Opera Effect will appear.
When the Motion Interpolation was enabled the TV did an ok job to smooth out motion but during action scenes we did notice a few artifacts here and there while there was also some visible image duplication is certain scenes. Overall there was some improvement in comparison to the UN7300 but we did notice the same problems here even if they were at a lesser degree.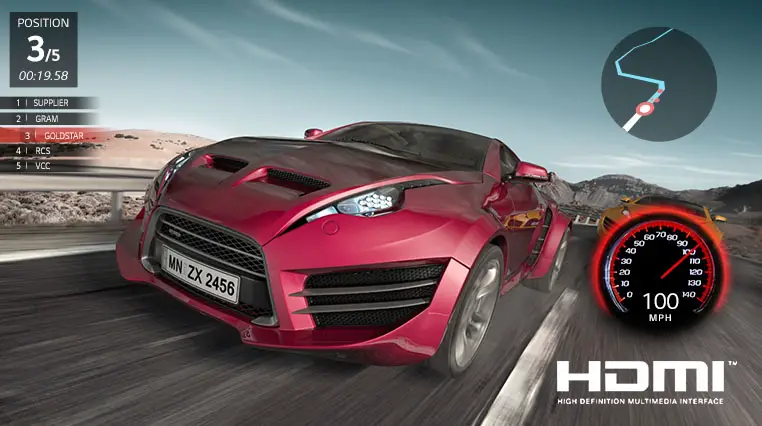 Once again there is no Black Frame Insertion (BFI) available here so the standard Motion Interpolation through the TruMotion setting is your only bet for improving somewhat the motion in case you find its performance very distracting. Additionally the UN8500 doesn't have any kind of VRR support either it be HDMI Forum VRR, FreeSync or G-Sync so if you were looking for any of these you will have to go for one of the higher NanoCell models.
Input lag
If there is one area where it seems that all manufacturers have managed to excel the last few years is in bringing the input lag of their models to such low levels that it cannot be considered a problem with TVs anymore. Some TVs have even reached single digits here and while they may still not be as low as gaming monitors the numbers we see can be considered satisfactory even by hardcore gamers standards.
By enabling the Game mode on the UN8500 we were able to get an average of 14.9 ms of input lag which was consistent in both 1080p and 4K resolutions and we consider it extremely good no matter your gaming needs. If you turn Game mode off the input lag spikes to 83.2 ms which may seem high but still remains highly playable for casual use.
The TV also comes with Auto Low Latency Mode (ALLM) which is a feature that can be used with devices that also support that like gaming consoles as both the PS4 and Xbox and can really benefit their users. But for this year LG has also included the new HGiG mode which is HDR Gaming Interest Group's technology that ensures you enjoy HDR games the way that their creators and developers intended. HGiG recognizes TV performance and picture quality then tunes HDR graphics to provide the best HDR experience possible.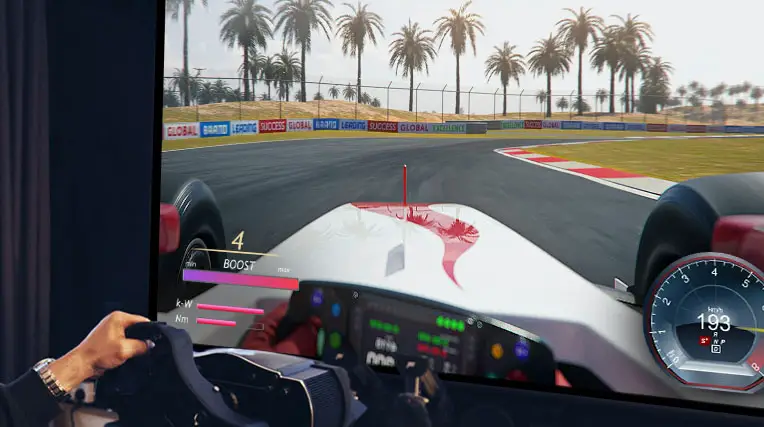 As always we connected our PS4 (no PS5 just yet!) to the UN8500 and went for a few laps in order to get a real feel of the TVs response. Everything felt totally fine with all our commands registering immediately on screen. We didn't notice any lag or noticeable delay and everything was instant and accurate. Very good work on this part by LG.
Image quality impressions
The UN8500 is a bit of a mixed bag to be honest. Usually going up the ranks means that we get small improvements across the board between the different models each manufacturer offers. And having tested the UN7300 previously we were expecting to see some improvements in key areas but the UN8500 disappointed us on this.
We did like the up-scaling capabilities of the TV and the included α7 Gen3 Processor 4K has a lot of processing power to offer. Also due to its IPS panel viewing angles were very good for the TV to be used in a family room while its extremely low input lag makes it perfect for all kinds of gamers. Also motion performance, although nothing extraordinary, can be considered good enough for its class. Lastly the inclusion of Dolby Vision and ALLM is a plus while the addition of Filmmaker mode that is supposed to show content the way is meant to be shown is welcome but with the TVs limited capabilities you shouldn't expect much from it.
On the other hand we were disappointed to see the TV fare worse in the brightness and color coverage tests compared to the supposedly lower tier UN7300. As such the TV cannot do real justice to HDR content and the results are really mediocre. Contrast ratio was not very good as is always the case with IPS panels and blacks appeared more like dark grey. Lastly the TV is missing any kind of VRR technology in case this is important to you.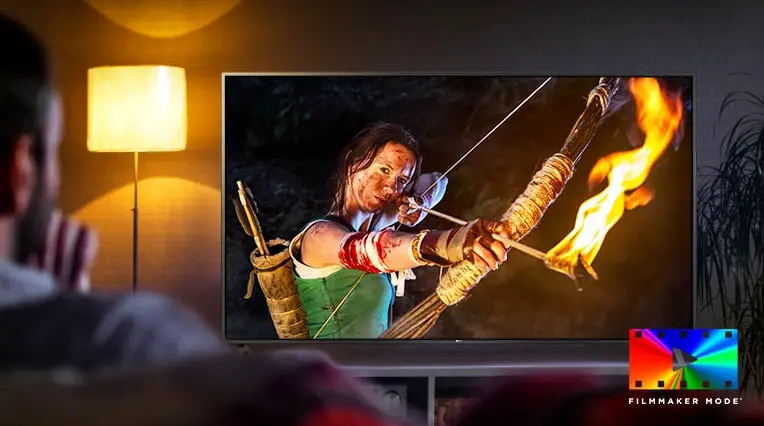 We were hoping the UN8500 would be a clear improvement over the UN7300 but this is not the case. It does better in some areas but worse in others and as such you have to choose what your priorities are when choosing the model you prefer.
Audio Quality
Next in line is sound performance and from what we see the UN8500 features a pretty standard 2.0 channels audio system with a total of 20 watts of power which is the normal for this category. The included system is adequate for casual viewing but in general it cannot offer anywhere near the kind of immersion of a surround system.
As usual LG seems to rely more on the included software in order to somewhat improve the overall sound performance of the UN8500 rather than use a better audio system that could up the price. For this reason the TV comes with a couple of audio features  with one being Ultra Surround which is a technology which seeks to eliminate the distorted sound, providing a greater range of audio with the use of algorithms that are responsible for sending the sound in different directions looking to create a similar sensation that can be found in a movie theater.
Another feature we find is called AI Sound and this is a simpler version of the AI Sound Pro technology that we saw in the LG CX and is responsible for up-mixing legacy audio into virtual 5.1 surround sound. Lastly we get the AI Acoustic Tuning system which the TV uses along with the help of the Magic Remote's microphone in order to adjust the audio settings accordingly and provide the best possible result. Think of this similar to the automatic calibration systems we find in almost all AV receivers but in a more simple form.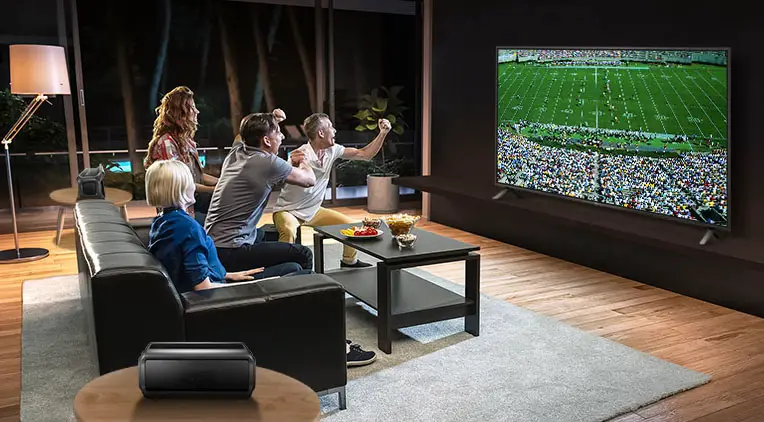 Lastly the TV is Bluetooth Surround Ready which is a new feature we see in 2020 LG TVs and with this you can use the built-in Bluetooth to connect rear speakers to the TV. But keep in mind that by adding a couple of rear speakers doesn't mean that you can have a true 5.1 channels audio system as the TV will use only a legacy stereo track and up-mix it to all the available speakers along with the rear Bluetooth ones. As a result the surround effect is not as good or precise as you would expect but certainly is slightly better than the simple two front channels.
Basically the UN8500 comes with similar features we saw in the UN7300. The hardware is basic and LG turned to software in order to improve things a little bit by adding some advanced AI functions that could potentially help the overall result. But no matter how much work you do there if there is no hardware to support it, it's difficult to get satisfactory results. There is Dolby Atmos support but what can you do with it with the TVs simple 2.0 channels system? And also keep in mind that as with all 2020 releases the UN8500 lacks support for DTS completely which is a big backstep.
For casual viewing the TV is just fine. But if you want something more than that then you have to turn to a soundbar or a full surround system for that matter.
Ports and Connectivity
Moving on to our next section let's see what kind of connectivity options we get here. The UN8500 follows the same layout we have seen in some of the other lower tier units and has two groups of ports on the right side of the back panel with one looking sideways and is easier to use when the TV is wall mounted while the second one look backwards and can be used mostly if you plan to place the TV on a furniture.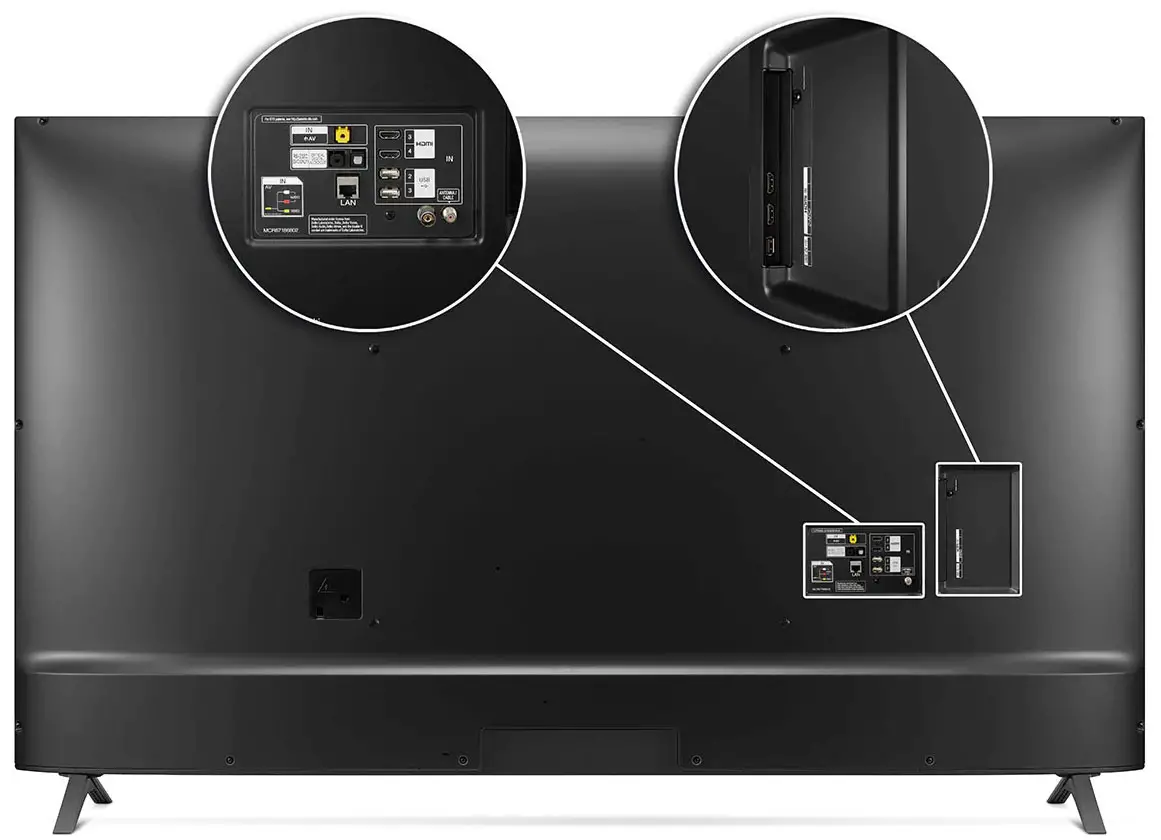 Starting from the side connectors first we find a couple of HDMI ports along with a single USB port for connecting external storage or other streaming devices. For the back-facing ports we get two more HDMI inputs, a couple more USB ports, a digital optical audio output, an Ethernet port, a component video input and an RS-232C port.
It seems that the UN8500 is the only unit in the 4K UHD LCD series that features HDMI 2.1 and it actually has two of them while the other two are the older HDMI 2.0. HDMI 3 except from supporting 4K@120Hz is also eARC enabled for those that are interested in that. Unfortunately there is no USB 3.0 and all available ports are the older USB 2.0 which is not much surprising really. The rest of the ports are the standard so nothing to report on these.
Lastly we should mention that the UN8500 comes with built-in WiFi (802.11ac) while we are pleased to see also support for the newer Bluetooth 5.0 which ensures better and more stable connections.
OS, Apps and Features
Next we will be looking at the webOS 5.0 which is powering the UN8500 and is responsible for all smart TV functionality of this unit. There is no difference here compared to other LG TVs as most of them come with almost all features included in 2020. So this part of our review will be similar to the other LG TVs and we will make changes only to certain parts that we may notice some differences.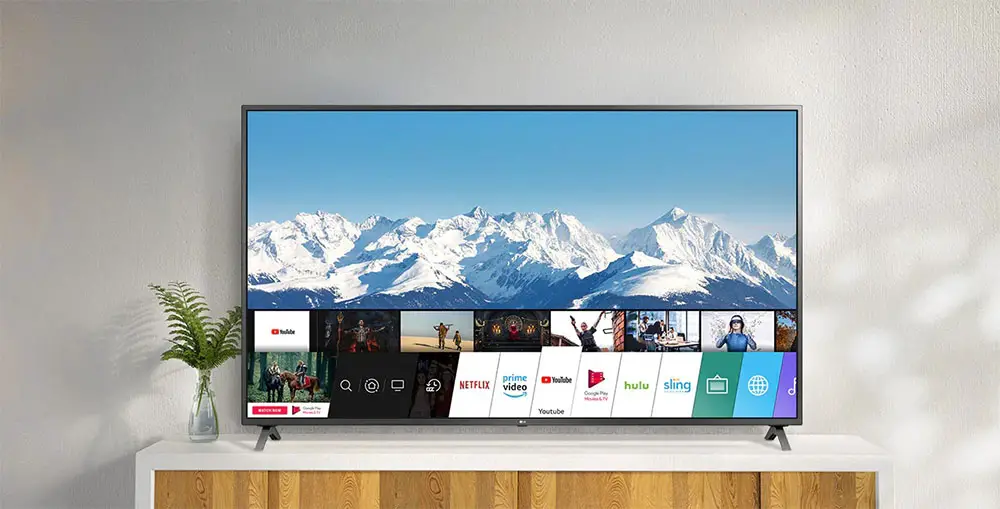 The AI Preview that LG had added in the webOS before is here once again and this is basically a second row above the Launcher Bar that gives you specific recommendations and content. There are many apps that seem to support this like Youtube or Netflix but there are many others that don't so it's usability is still a bit limited. Until more developers embrace this feature it is not going to reach critical mass but it's good to have it.
One of the main strengths of the webOS is that it always enjoyed huge support from developers. This means that you are not going to miss any of the big apps that most people are using and this means all the known names like Netflix, Youtube, Amazon Prime, Vudu, Hulu and Google Play Movies are present. And these are only the tip of the iceberg as the number of available streaming apps is staggering. And with so much support the newer Apple TV and Disney+ couldn't be missing either.
Unfortunately it seems that for its 2020 releases LG had to remove some catch-up applications that were previously available like BBC iPlayer, ITV Hub and 4 On Demand as they hadn't reached an agreement with them. But it seems that BBC iPlayer is finally supported but the rest are still up in the air so keep this in mind if you definitely want any of them.
When a platform like this has so much support and so many different available apps it is always good to provide the necessary customization tools in order to be able to re-arrange everything to your liking making navigation and control easier and faster. webOS always offered good customization tools so if you are using multiple apps you can place them in any particular order will please you the most.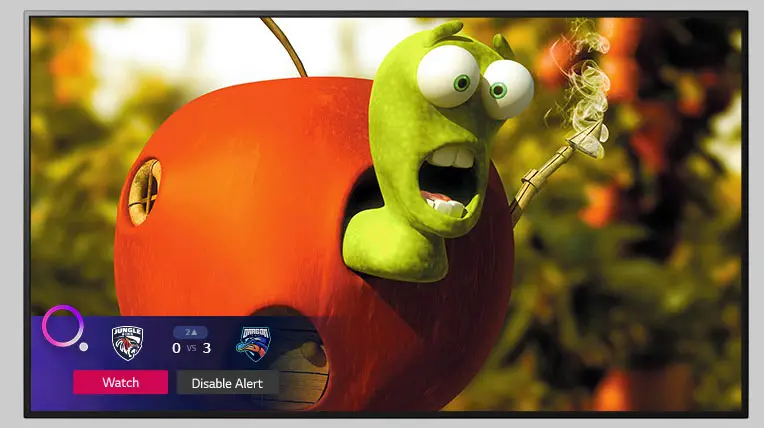 But it's not only streaming apps and services available as the TV also comes with Apple Airplay 2 and HomeKit. With Airplay 2 you can stream content from other Apple devices on your TV while HomeKit lets you control certain aspects of the TV through your mobile device.
A new feature that LG has added this year to most of their offerings is what is called 'Sports Alert'. With this you can be informed by the TV about the future upcoming matches of your favorite team or the live score as it happens. Sports Alert seems to be working with the internal tuner and is available for 14 sports (such as football, basketball, baseball and hockey) while you can select up to 20 teams. The number of available teams are satisfactory but we hope that LG will include more of them in the future.
Another function that comes with the standard feature set is the included support for LG ThinQ AI along with both voice assistants that most people use being Amazon Alexa and Google Assistant. With LGs  ThinQ AI you can search for various information while with the two voice assistants available you can extend your control over other smart home devices you may have other than your TV and thus turn it into your central smart home hub. All this is achieved with the included microphone on the Magic Remote from where you can issue all your commands.
But voice control is not the only way of handling the TV as LG made sure to include app support also. So the UN8500 can be controlled also via the ThinQ app that is available for both Android and iOS devices. Keep in mind that the LG TV Plus app that was until recently supported by LG TVs is not working here so you shouldn't try it.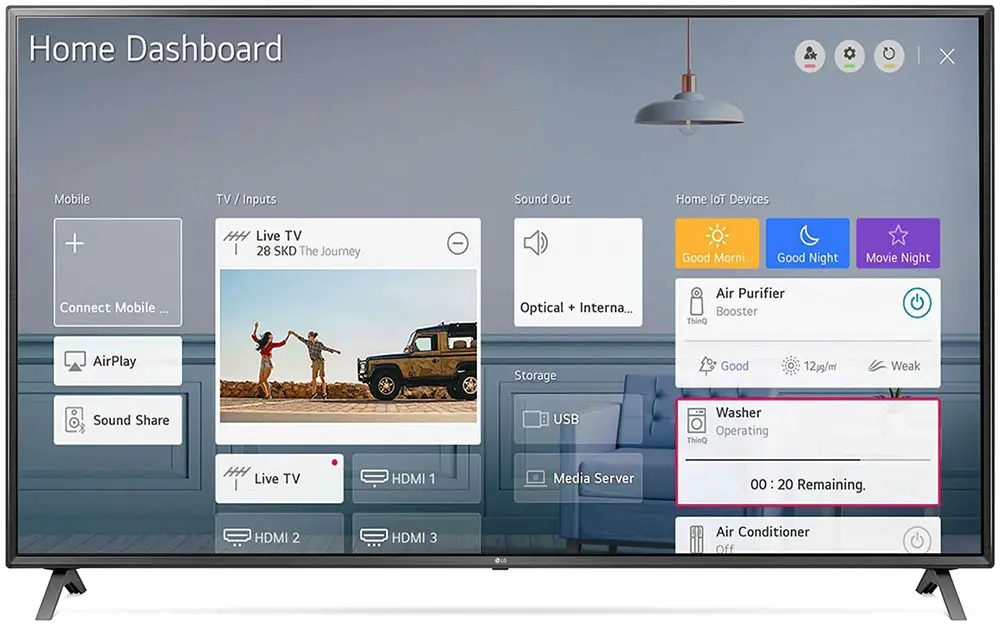 A feature that comes from last year is the Home Dashboard that lets you have an overall look of all connections of the TV at each moment. This can be very handy in case you want to see what is connected while it also lets you can access connected smart devices remotely from one big screen.
Also we shouldn't forget that the TV supports screen share that lets you mirror your mobile device screen on your big screen, a feature that is common the last few years among smart TVs.
Lastly we should mention that LG is not offering webOS updates to their current models meaning that if a new webOS version comes out with new features you are out of luck. LG has been heavily criticized for this in the past but they still seem reluctant to change their policy and therefore we cannot but consider this a disadvantage. webOS may be great as a whole but we believe that consumers need to be offered updates even if they are not the latest buyers.
No major change here as the UN8500 features all the basic functionality of the webOS system with all its streaming and smart services. We like that BBC iPlayer has finally been included but we would like to see the rest of the catch-up services that were left out in 2020 make their appearance also.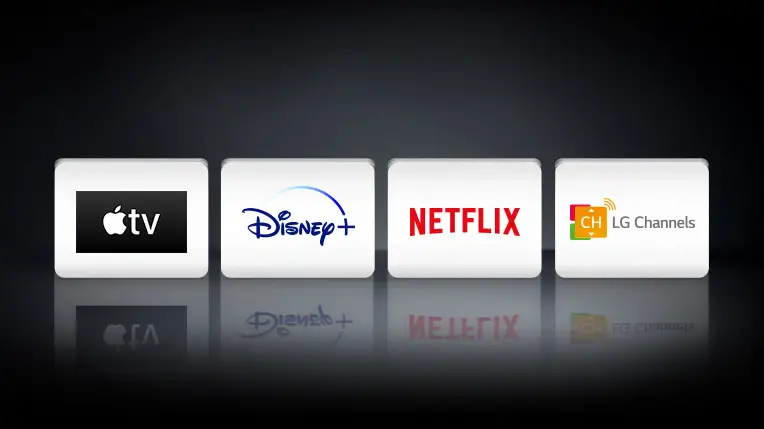 Final Thoughts
When we started our review we were expecting to find a TV that would offer a nice upgrade over what we had seen in our UN7300 review but unfortunately this is not the case. It's not that the TV is bad but it's not the clear upgrade over the UN7300 we were expecting it to be and this is a bit puzzling.
From one side the TV has very nice up-scaling capabilities and the a7 Gen 3 processor with its AI capabilities has a lot to offer. The TV is ideal for family use as its IPS panel offers good viewing angles while its low input lag, ALLM support and HGiG mode makes it ideal for all kinds of gamers. The TV supports both Dolby Vision and Dolby Atmos and is actually as low as you can go to have these while you also get the full webOS experience along with the Magic Remote and its advanced features. Oh and we shouldn't forget to mention that this is the lowest you can go in order to get HDMI 2.1 that supports 4K@120 Hz.
On the downsides brightness output and color coverage is slightly worse than the UN7300 and in general the TV is not bright enough to make HDR any justice. Also due to the IPS panel contrast is not so good with blacks look more like dark grey. If you will be using this TV in a dark room this will be more apparent while in a well lit area this will not be such a big problem. Audio is ok for casual use but it cannot offer any kind of immersion in movies while DTS support is completely absent this year.
As a final word we can say that while the LG UN8500 may not be the clear improvement we were waiting to see in this category it has it's merits and has all it takes to be a fine TV for the whole family or to be used as a gaming TV either you are a casual or hardcore gamer. It's not bad for movies either but don't expect to be wowed by it as much as we were hoping for.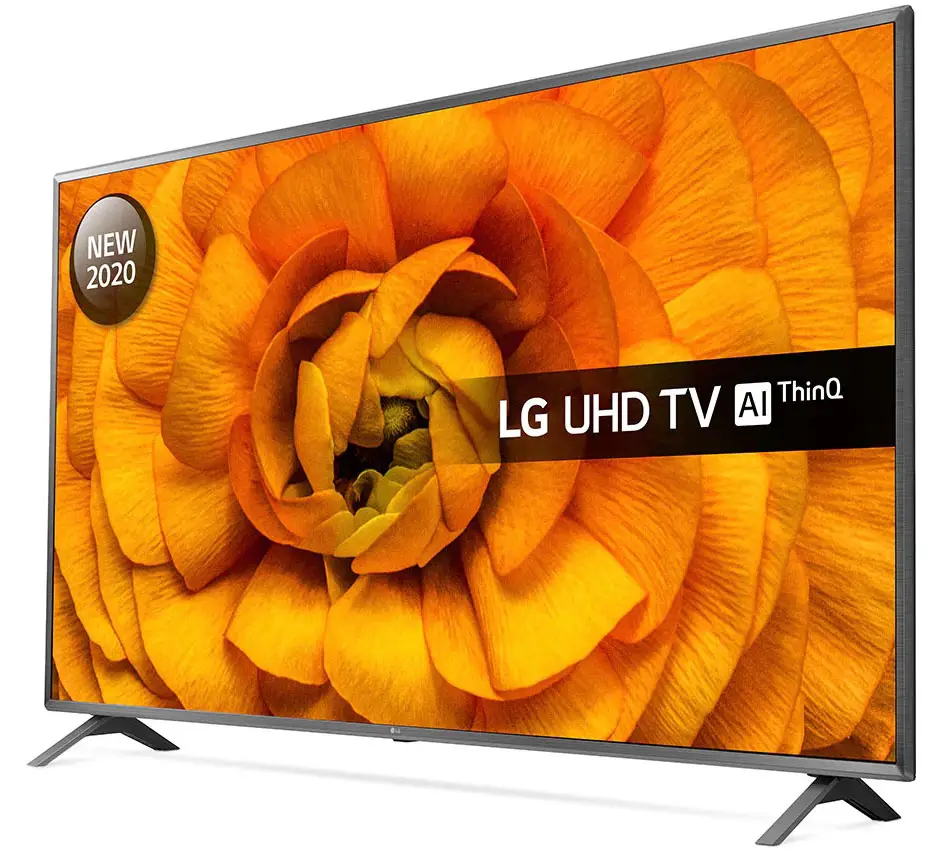 For more reviews you can check our dedicated 4K LED LCD TV reviews list or even look at our Product Reviews Table where you can find the brand and specific product you are looking for.
Also don't lose the chance to subscribe to our Newsletter and gain exclusive privileges.
---
---
Cheapest Places to Buy :
---