Onkyo TX-NR7100
Reviewed at $999.00
OS, Apps and Features
9.2/10
Pros
Excellent performance
Dirac Live
40Gbps HDMI 2.1 ports
Huge list of features
Cons
No Auro-3D or DTS Virtual:X
No multi-channel pre-outs
Remote could be better
Front HDMI has limited capabilities
---
Cheapest Places to Buy :
---
Towards the end of 2021 Onkyo decided to refresh their AV receivers lineup which so far includes a single model in the premium TX-RZ series, three models in the mainstream TX-NR series and two models in the budget friendly TX-SR series. Today in our Onkyo TX-NR7100 review we will test the best AV receiver they have on offer in the TX-NR series and determine how it stacks up against competition in the same category.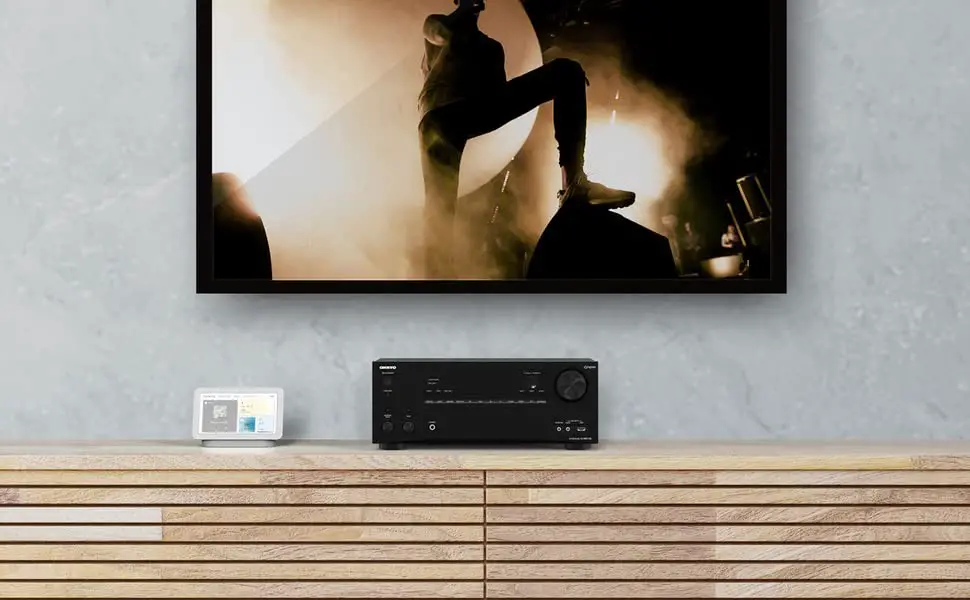 Onkyo may be in a slightly shaky position but this does not hold them back from releasing some amazing models with the TX-RZ50 being the first come to mind, which actually was one of the first AV receivers to offer 40Gbps capable, trouble-free HDMI 2.1 ports, much earlier than any of the other competing brands. The TX-NR7100 carries a lot of the same specs but obviously Onkyo had to cut a few corners to be able to offer this one at a better price.
So, let's go quickly over the specs. The Onkyo TX-NR7100 is a 9.2 channels, THX certified, AV receiver with 100 watts of power output and support for Dolby Atmos, DTS:X and IMAX Enhanced content. It features trouble free HDMI 2.1 ports and a myriad of extras including Dirac Live, virtual sound, High Resolution Audio, Bluetooth streaming, Airplay 2, Chromecast, DTS Play-Fi, works with Sonos, is Roon tested certified, supports many online streaming services, offers custom integration and many more.
The TX-NR7100 does indeed looks a lot like a lighter version of the TX-RZ50. If this receiver can keep all the core characteristics that made the RZ50 such a fan favorite and only cut on some less important features then surely this can be a winner from the start up. Can Onkyo replicate such a successful model once again? Let's find out.
Design
When it comes to design the TX-NR7100 borrows its looks from the previously released TX-NR686 and TX-NR696 both in terms of looks but also in dimensions. As such we measured the NR7100 at 17 1/8˝ x 6 13/16˝ x 14 15/16˝ (435 x 173.5 x 379.5 mm) with only the weight changing from the mentioned models as this one comes at 29.8 lbs. (13.5 kg) which is normal as this unit features more built-in amplifiers to begin with.
As for the TX-NR7100 specifically, it has this squarish black box look and features the same straight lines and sharp corners most of Onkyo's AV receivers come with. Again there is no knob for input selection that we see in so many other models and Onkyo instead uses dedicated buttons for each input. Now if this is more practical or not is certainly a personal matter as some surely will prefer it than the usual input knob.
On the front face a big turning knob is placed on the right for the volume, a big central display showing all functions sits at the upper center, a circular power button on the left with a pure audio button below that while at the lower left corner we find the listening modes and tone controls.
Under the central display we get a single thin line with three buttons on the left and three on the right for various functions while below these we get a thicker line with 12 buttons for the inputs. Below these we find the headphones jack while on the lower right corner, grouped in a small inset, we find the setup microphone port, a 3.5mm analog audio input and a HDMI port.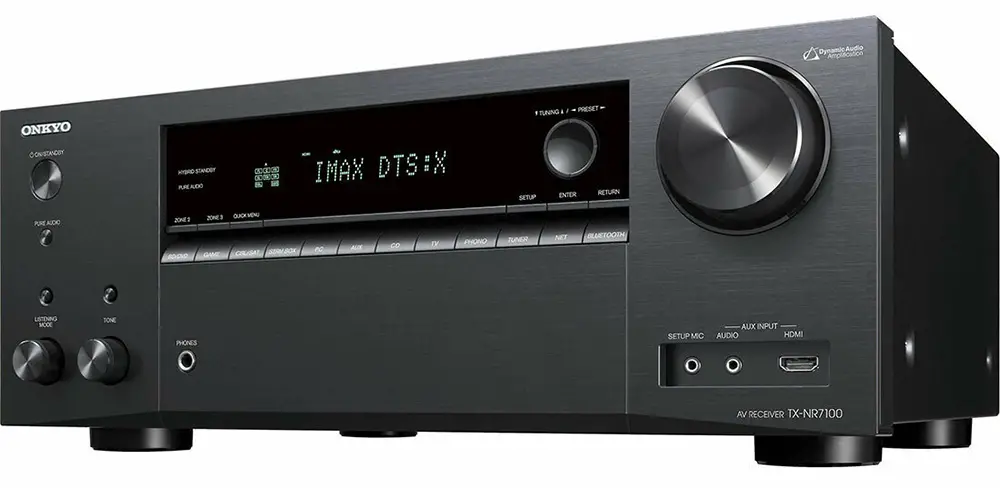 The TX-NR7100 may not be part of the premium TX-RZ series but Onkyo still managed to carefully design its internal hardware.
As such the unit comes with Onkyo's Dynamic Audio Amplification (DAA). A discrete 2-stage non-phase-shift amplifier circuitry drives high current capability 4-ohm loads through 9 channels. We also find a strengthened power-supply line that supports high-current dynamics and a custom high-current low-noise power transformer accompanied by large custom-made audio-grade power capacitors.
The NR7100 uses a refined chassis, HDMI board, DAC, Digital/Analog inputs, power-amp
grounds and power lines along with an isolated network module that reduces high-frequency signal interference on audio circuitry. The unit also comes with precision 192 kHz/24-bit D/A conversion for Hi-Res audio, VLSC (Vector Linear Shaping Circuitry) noise filtering for the front main channels and PLL (Phase Locked Loop) anti-jitter technology for SPDIF audio.
And while the chassis may be the same with the previous releases what has changed is the remote as the NR7100 comes with the same one we saw when we tested the TX-NR6100. The remote is code named RC972R and it's the typical, cheap looking plastic design that looks much lower quality than it really is.

The top includes all the input and playback buttons needed, in the middle we get the usual navigation buttons while at the bottom there are various audio functionality ones. The buttons are fairly large and have the familiar rubber feel to them. Unfortunately there is no backlight included which makes it harder to use it in the dark.
The Onkyo TX-NR7100 is surely a beefy AV receiver. There is a lot of hardware into it and surely has many of the same qualities we saw in the TX-RZ50 making it a really impressive design considering the fact that we are talking about an AV receiver that goes below the $1,000 price mark.
Audio Quality
The unit supports the usual Dolby Atmos and DTS:X formats along with their legacy channel based formats including Dolby Digital, Dolby TrueHD, DTS and DTS-HD Master Audio. There is also IMAX Enhanced, although we don't believe you are going to use this much, while the obvious omission is Auro-3D. The AV receiver is also missing some newer audio formats that we have seen in the latest Marantz and Denon units like 360 Reality Audio and MPEG-H. Hopefully Onkyo will include these in their next releases.
When it comes to up-mixing tech we find the usual Dolby Surround and DTS Neural:X. What these up-mixing tech are doing is to up-convert stereo and legacy mixes in order to make use of all the speakers you have in your setup.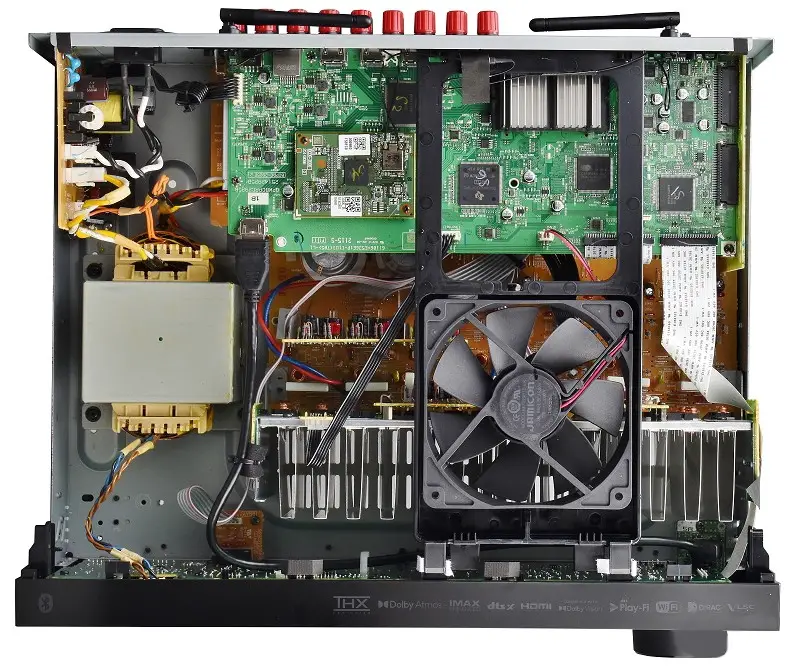 The receiver also supports Dolby Atmos Height Virtualizer, which is a standard by now, which can create a virtual setup and give you the illusion of audio from places where there are no real physical speakers.
The TX-NR7100 comes with 9 channels of built-in amplification rated at 100W per channel (8 ohms, 20 Hz–20 kHz, 0.08% THD, 2 channels driven, FTC). Obviously if you connect more than two speakers this number goes down considerably, but there are no actual measurements of this as all brands prefer to give ratings for only 2 channels connected.
With the available built-in amplifiers you can create a Dolby Atmos system up to 7.2.2 or 5.2.4 channels. If you don't care about Atmos then a 7.2 channels system can be created and you can even add a Zone 2 or bi-amp your front speakers. Our test system consists of 5.1.4 channels with four height speakers and a single SVS SB-1000 Pro that we have placed in the front left side of our viewing area.
For this review we chose a couple of movies in Dolby Atmos and two more in DTS:X format. For Dolby Atmos we went with Aquaman and Independence Day: Resurgence while for DTS:X we made the obvious choice of Jurassic World and Hellboy II: The Golden Army, all of them in 4K UHD.
The Onkyo was really good with all of them and knew how to handle each scene with care. The front stage was obviously the main attraction as it did all the heavy lifting but with such action oriented films it was not the only impressive aspect of the whole performance.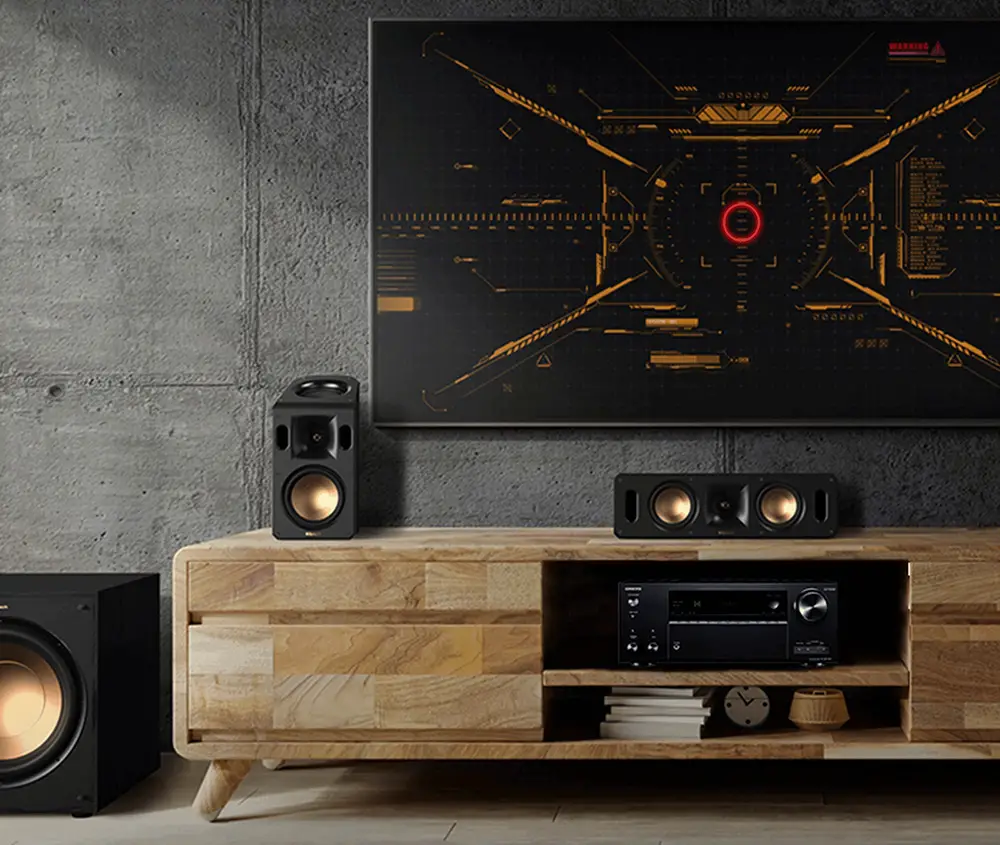 The three main channels at the front had good separation between them with panning effects showcasing good directionality and channels shifting. The center channel did an excellent job at keep all dialog front and center while it made sure to keep all voices isolated from the rest of the action. We never felt other effects overlapping with the dialog and everything was distinct and clear.
Obviously when we are talking about cinematic immersion the surround and Atmos performance are high on the list and the NR7100 did amazing here. First with the surrounds, the Onkyo managed to envelope us in its immersion bubble completely as it kept blasting effects from all around us.
The kind of precision and accuracy of the surround effects were noteworthy and panning sounds would travel all around us and surely made us turn our heads more than a few times. During testing we didn't sense any kind of delay during channel transitioning or anything out of place. The receiver was perfect really.
Equally impressive were the Atmos effects, although naturally these were more subtle and not so obvious as the surrounds. Overhead action had satisfying height with many effects being felt from above and surely filled the space above our heads in a realistic manner. With four height speakers we had very good directionality and better precision that what we usually get with only two front ones.
For last we left the bass and here the receiver cooperated harmoniously with our subwoofer to give us a really shaking experience. Obviously the kind of subwoofer you have is detrimental to the kind of low end action you will get but the NR7100 made sure to pass all the necessary low end information in order to get clear and distinct bass without it feeling muffled or boomy at any time.
We also did try to push the unit to higher than normal levels and we can admit that it surely has plenty of juice to go on and on without loosing its stability until the very high limits it can reach. Surely this makes it ideal for not only small and medium sized rooms but even bigger spaces in certain situations.
Closing our tests we can admit that we had such a blasting time with the Onkyo that we wanted to go on and on with it and do some more tests but alas our time with it had reached its end. This is a testament to its real worth and capabilities and we can definitely suggest this one to anyone that really wants a great cinematic experience no matter the source material. It is that good and considering the price you cannot get a better deal than this.
Last part of our testing was music so we switched to a 2 channels setup in order to try and be more faithful to music based systems. We used the USB port at the back to stream some FLAC music files that we keep handy for these tests.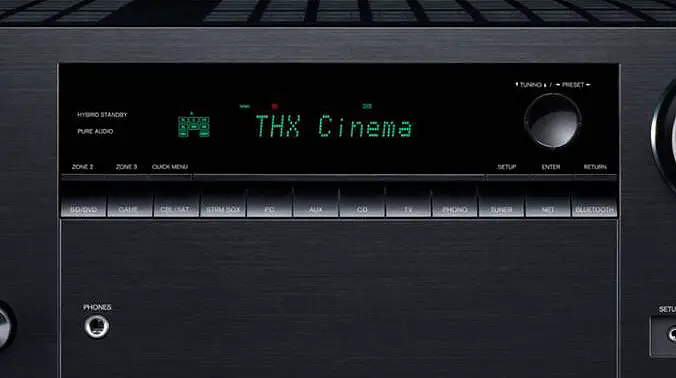 What we say all the time is that while AV receivers may not be the ideal choice for those looking for the best musical experience they do have their merits as they can be the perfect all-in-one solution for your home theater needs. And the TX-NR7100 is no different.
Onkyo may not be the first brand that comes into mind in terms of music excellence but surely with so minor differences between the different brands what the NR7100 can do is certainly far beyond what its price tag may show.
The Onkyo goes for a more neutral output and surely plays it safe when it comes to overall dynamics, tonality and balance. Mid-range was solid without any abnormal behavior, the highs were fierce and with good energy without becoming bothering while the bass was powerful and menacing with good punch and enough clarity.
Sound imaging was satisfying with the various music sources being distinct in the space in front of us. As always in such tests we tried various genres from classical music, Jazz, some pop, electronic and even some country and the unit didn't seem to favor any a bit more than the rest. Great handling of all material which is essential for a seamless performance.
Music may not be the forte of any Onkyo AV receiver but we never complained about their output. And the NR7100 showed us again that they can do great no matter their price tag which is the real value you get for going for a single box solution.
Closing this part of our review we cannot but feel extremely satisfying with how the TX-NR7100 performed across the board. It didn't matter what the source material was, the receiver was really capable at bringing forth all the qualities of each source in a pure and natural way. We had a great time with it either it be movies or music and in the end this is what matters the most.
Ports and Connectivity
Let's move on and analyze all the connectivity options available in this unit.
First of all we need to mention the front ports once again with the headphones jack, the setup microphone input, a 3.5mm analog port and a HDMI input the ones available. Here we need to make a special note about the front HDMI port.
This is a HDMI 2.0 one but unlike most HDMI 2.0 ports this one is only capable of 9 Gbps bandwidth. This means that while you still can pass 4K signals through this port it will not be able to sustain high bandwidth ones with HDR and high values of chroma sub-sampling. But even with these limitations this port is of huge practical value to have.
Turning the AV receiver around we find a relatively familiar layout. Basically it seems that the TX-NR7100 has exactly the same layout as the TX-RZ50, minus a few ports that we will talk about.
The unit comes with 9 speaker terminals with all of them featuring built-in amplifiers. There are also 6 HDMI inputs and 2 HDMI outputs, enough for most simple or complex setups. Here we need to mention that HDMI 1-3 are 40 Gbps capable HDMI 2.1 ports while HDMI 4-6 are only 24 Gbps capable HDMI 2.1 ones. This means that certain signals will not be able to pass through the last three ports. But the first three should be more than enough even for the most demanding of gamers.
As for all the rest of the ports available we find 6 analog ports with one more dedicated to phono, one optical and one coaxial digital audio input, 2 composite and 1 component video input, 2.0 channels Zone 2/Zone B line out, 2 subwoofer pre-outs, an Ethernet port, a USB port, a 12 volts trigger output, an IR input, an RS232C port and the usual FM/AM ports along with the dual WiFi/Bluetooth antennas at the top.
Probably one of the most interesting, and important at the same time, aspects of the TX-NR7100 is the included HDMI 2.1 ports that it uses. All the 2020 AV receivers that featured HDMI 2.1 came with a bugged Panasonic chip that wouldn't allow it to pass certain signals, like 4K/120Hz RGB signals from the Xbox series X for example as it would result in a black screen.
The TX-NR7100, along with all the latest releases from Onkyo, seems to be using an updated version of this Panasonic HDMI 2.1 chip which allows up to 40Gbps of bandwidth in three of its HDMI ports and this includes all the signals with a 4K@120Hz configuration including Xbox Series X.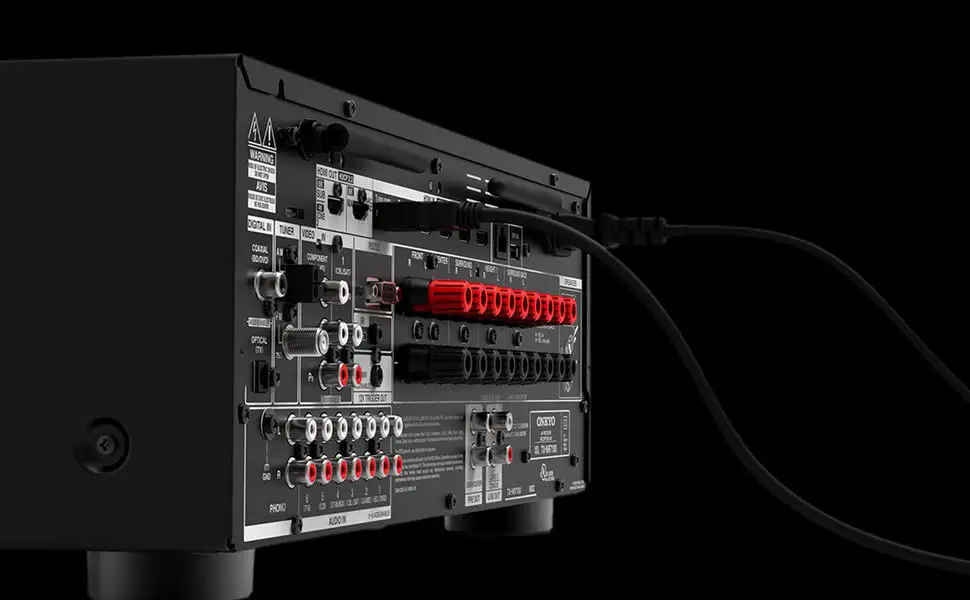 Here we need to mention that 40Gbps is not the full bandwidth the HDMI 2.1 protocol can support, with 48Gbps being the limit. 40Gbps is enough for 4K@120Hz signals with 10 bit color depth and 4:4:4 chroma sub-sample which includes the majority of the signals in today's applications. But there are some gaming GPUs that can do 4K at 144Hz or higher and with TVs slowly supporting frame rates higher than 120Hz the 48Gbps limit will become more and more relevant. But there is no AV receiver with 48Gbps capable HDMI ports yet.
We tried connecting both our PS5 and Xbox series X in the AV receiver, in two of its 40Gbps HDMI 2.1 inputs and we got completely solid signals in both cases. 4K@120Hz with VRR engaged was possible with both consoles while we didn't experience any signal lose or HDMI handshaking issues.
The HDMI 2.1 ports of the TX-NR7100 support 8K/60p (4:4:4/12-bit, 4:2:2/12-bit, 4:2:0/10-bit), 8K/30p (4:4:4/12-bit, 4:4:4/10-bit, 4:2:2/12-bit, 4:2:0/12-bit), 4K/120p (4:4:4/12-bit, 4:4:4/10-bit, 4:2:2/12-bit, 4:2:0/12-bit) video passthrough, VRR, ALLM, QFT (Quick Frame Transport), DSC (Display Stream Compression), QMS (Quick Media Switching), eARC (Main Out), HDR10+, Dolby Vision, HDR10, HLG, BT.2020 color, DeepColor, x.v.Color, LipSync, and HDCP 2.3.
As for its wireless capabilities there is built-in WiFi that supports the 802.11ac standard (2×2 MIMO) to connect to wireless and local networks while it also supports Bluetooth streaming. The TX-NR7100 comes with Bluetooth 4.2 but the most interesting aspect of its Bluetooth capabilities is that other than the usual SBC transmission the unit also includes AptX and AptX HD transmission. This is probably the only brand that includes AptX with its Bluetooth transmitter and we do wish others would follow Onkyo's example on this.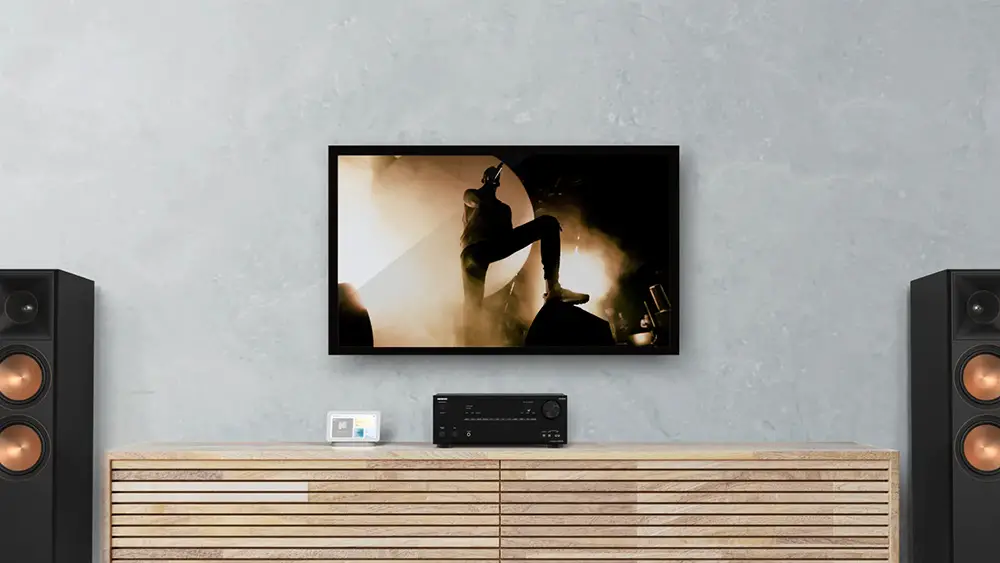 Overall the AV receiver retains most of what the RZ-50 has with only the Zone 2 terminals and the multi-channel pre-out ports missing which is not such a big deal to be honest. This shows how much value the NR7100 has concerning its connectivity flexibility.
OS, Apps and Features
When it comes to extra features the TX-NR7100 feels much more closer to the TX-RZ50 than any of the other NR models. In fact going over every single feature included we were unable to find any meaningful differences between the two. So let's see what we get in this one.
First of all we will talk about its calibration system and the NR7100 comes with two of them! You see, until recently all Onkyo AV receivers were coming with their proprietary AccuEQ auto calibration system. For the first time Onkyo still uses it but also brought Dirac Live built-in and this is something that many fans of the brand will warmly welcome. Onkyo was the first to do it as only recently Sound United added Dirac in their own Denon and Marantz brands.
The TX-NR7100 comes with Onkyo's proprietary audio calibration system and as with all receivers these come with different versions of it depending on the category they belong. As such the one we find here is the AccuEQ Advance 9-point calibration system. The receiver analyzes data from various microphone positions and calibrates audio response to optimize speaker performance while it fine-tunes every speaker in your home theater, even if they are not symmetrically placed in order to create a more seamless and immersive soundstage.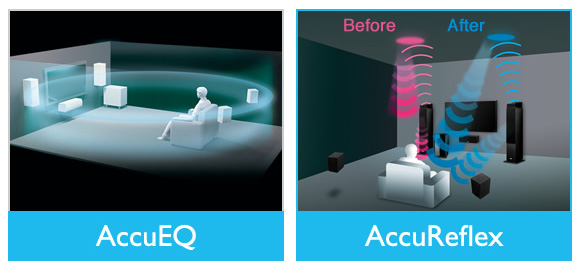 This advance version of AccuEQ expands the functionality of Onkyo's system and in addition to speaker presence, distance, SP levels, and crossover it supports multipoint microphone measurement to detect the presence of standing waves, and sophisticated equalization technology to remove them from your room.
In addition the AccuReflex technology optimizes the reproduction quality of object-based audio soundtracks played through Dolby Atmos-enabled front speakers, Dolby Atmos-enabled upward-firing modules, or in-ceiling speakers by calibrating the phase of sounds originating from Dolby Atmos-enabled speakers so they integrate with your floor speakers.
And then you have Dirac Live. When doing initial setup you can choose if you want to use Onkyo's AccuEQ or Dirac Live so there is no mix between the two. Dirac Live automatically calibrates the sound in your room using either your smartphone and the included wired mic, or you can go the wireless way with the Dirac Live PC or MacOS application, and a 3rd party USB mic if what you have may be better than the one provided in the box.
What Dirac Live does is to correct both the timing and amplitude aspects of sound coloration using a mixed-phase correction filter throughout the listening area, not just a particular zone. Correction is performed automatically using the proprietary app for smartphone or tablet and it can improve staging, localization, clarity, voice intelligibility, and bass response.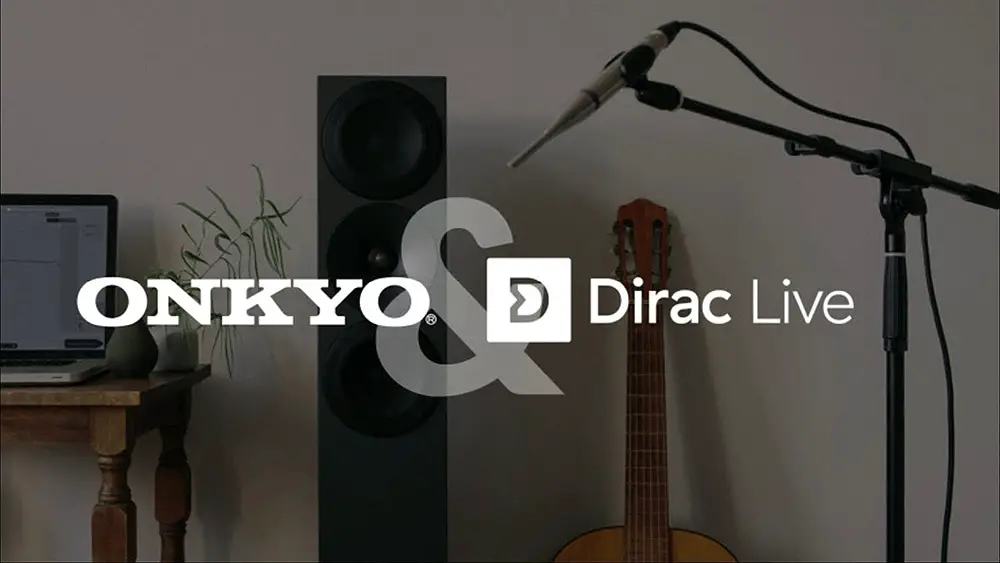 There is a lot to like in Dirac Live and we see why there was such a warm welcome when Onkyo announced that it would be included without any additional cost. The system is really powerful and you literally have everything you need in order to use it. The app has its fare share of bugs but thankfully we didn't fall into any nasty ones so our experience was fairly smooth. In our opinion, Dirac is far better than what the AccuEQ system can do and if you are serious about calibrating your system you should definitely consider going this route.
There are various presets where you can save your configuration and also after the initial measurements you can go to each channel separately and adjust the curve any way you like so this can be particularly handy for those that seek to do micro-adjustments to the system's own balancing.
In terms of controlling the receiver, Onkyo made sure to give you plenty of flexibility. The unit literally includes everything. So except from the remote you can also download the Onkyo Controller App that is free for both Android and iOS and provide all the options and menus you will ever need both for the basic functions but also if you want to stream music from the receiver. The app is pretty good, we had some experience with it from our previous Onkyo reviews, and since it's free we suggest you give it a go as you may find it practical to use.
But any new receiver couldn't be without some form of voice control support. As such the unit supports not only Google Assistant but also Amazon Alexa, which by the way was missing in some older Onkyo AV receivers, but you will need an external device for these to work obviously. If on the other hand you are mostly an Apple guy then fear not as Siri is also included in the mix and can be used through the Airplay 2 app.

But if all these are too high tech for you and you still prefer to have a remote in your hand Onkyo has provided the unit with HDMI-CEC so you can use your TV's remote in order to control the receiver and this way you can reduce the amount of remotes you have to use at once. This way does not provide full control of the AV receiver but for some basic commands it can be useful and very practical.
The user interface that the unit comes with is simple but effective. It is the same one we have seen in the other Onkyo models so nothing new to report here. Onkyo's UI feels slightly better than what Sound United was using in their Denon and Marantz AV receivers until recently. Not anything major but using slightly better resolution menus and photos makes this receiver feel better in comparison. At least Sound United finally decided to update their UI after all these years…
Streaming services could not be missing obviously and so we find the most usual names including Amazon Music HD, Pandora, Spotify, TIDAL, Deezer, and TuneIn. In addition you can also stream music locally if you have a network hard drive or NAS server connected to your local network.
As we mentioned above the NR7100 features an isolated 1.8 GHz quad-core SoC that is capable of performing multiple processing tasks at once. It evolves network functions and supports the 802.11ac (2×2 MIMO) standard for stable multi-room audio streaming either this is made through a wireless and wired connection.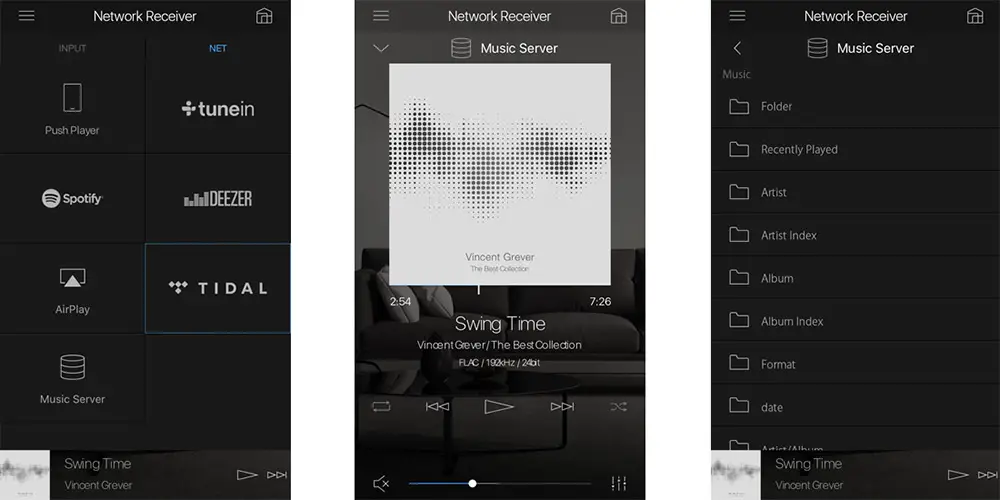 You can also stream music by connecting an external hard drive on the rear USB port although we would definitely prefer to have this at the front as it is extremely difficult to reach it where it is now and as a result most people have to rely on some kind of USB extender for easy access.
Additionally you can stream music through a Bluetooth connection from any kind of appropriate mobile device while if you are using Apple devices you can do the same by using the Airplay app and stream music from all kinds of Apple devices. But the NR7100 comes with more enhancements to its Bluetooth capabilities as you cannot only send audio to the receiver itself but it can also transmit to some Bluetooth device either to it alone or in a Main Speakers plus Bluetooth device configuration which seems to be the standard nowadays.
And although this is a feature some of the other brands also utilize what Onkyo has done to differentiate themselves from the competition is to add aptX and aptX HD codecs during Bluetooth transmission. No other brand includes anything else other than SBC and kudos to Onkyo for going this different route as aptX adds so much more value to your listening experience.
Another particular handy feature is the inclusion of a low latency mode. We had tried using the Bluetooth transmission feature with other brands but when watching a movie there is obvious lip sync issues due to the slow transmission of the SBC protocol. With the NR7100 including a low latency mode means that streaming to some Bluetooth headphones will sync the audio exactly to what is on screen.

Borrowing most of TX-RZ50 features means that the NR7100 also has excellent multi-room capabilities. There is support not only for Chromecast that allows you to connect other Chromecast enabled speakers in your house to the receiver but also DTS Play-Fi and Airplay 2 if you are mostly using Apple devices while it even has "Works with Sonos" integration. And adding to all this you will find support for 3 multi-zones (Zone 2/3, Zone B) making this unit an excellent choice if multi-room flexibility is high on your list.
The receiver is also "Roon Tested" certified but here we need to make clear that there are two types of certifications and many people don't know the difference between them. The two types of certification are Roon Ready and Roon Tested.
The TX-NR7100, as with most other AV receivers from competing brands, is Roon Tested which means that it doesn't have Roon built-in but has been tested to work but not without a small catch. And that is audio quality. As this works through some streaming system like USB, HDMI, AirPlay, Google Cast or other protocols, audio quality is limited to only 16 Bit/44.1kHz. Keep that in mind in case Roon is specifically important to you but also want your files to be streamed in their original high quality.
Lastly we shouldn't fail to mention that the TX-NR7100 is THX certified with Onkyo still being one of the few AV receiver brands that gets this kind of certification. Now some will argue if this means anything or not as the THX brand does not have the weight it had some years ago but nevertheless it still remains a recognizable brand in the field and having this in such a relatively low cost AV receiver certainly does not hurt at all.
Overall the TX-NR7100 seems to be like for like with the TX-RZ50 here. The list of extra features is huge which makes this AV receiver a very flexible machine that can handle almost all kinds of setups, no matter how demanding they are.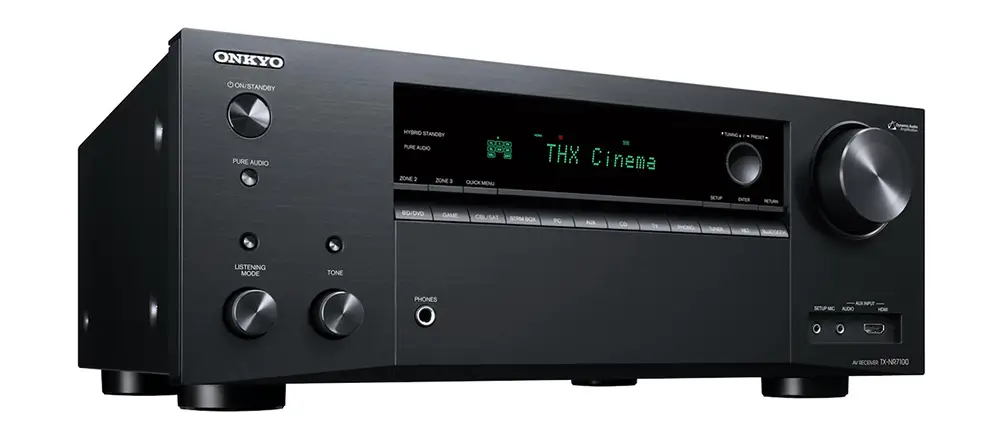 Final Thoughts
The Onkyo TX-NR7100 has a lot of the same DNA that we found in the TX-RZ50 with very few features being cut in order to sell this for about $400 less. Basically what you loose is about 20 watts of power, 11 channels processing and the 11.2 channel pre-outs. There are a few other minor omissions but these are basically the most important ones so if you don't care about these then definitely go for the NR7100 and save some buck.
The receiver was so good across the board that we find it difficult to name all of its strong points in a single paragraph. Great surround and Atmos performance, a lot of flexibility concerning its connectivity options and a huge list of extras will make happy a large portion of the consumer market. Adding Dirac Live and having three 40Gbps HDMI 2.1 ports just makes the deal even more sweet.
On the downsides there is not much to say and certainly there is no major problems to be found. Yes, the receiver may be missing Auro-3D, DTS: Virtual X and some newer audio formats but these are the minority right now and what is important is there. No multi-channel pre-outs may disappoint a few while the remote surely looks cheaper than it should. Lastly the front HDMI has rather low capabilities which surely limits its real value as a feature.
The TX-RZ50 was undeniably an excellent AV receiver. But the Onkyo TX-NR7100 has the better value here as it managed to retain much of what made the RZ50 such a fan favorite and only cut some less important features. And if you take into consideration the price you have to pay for a 9 channels AV receiver from competing brands nowadays, makes the TX-NR7100 feel like a no brainer when it comes to deciding the best value for money system. Highly recommended.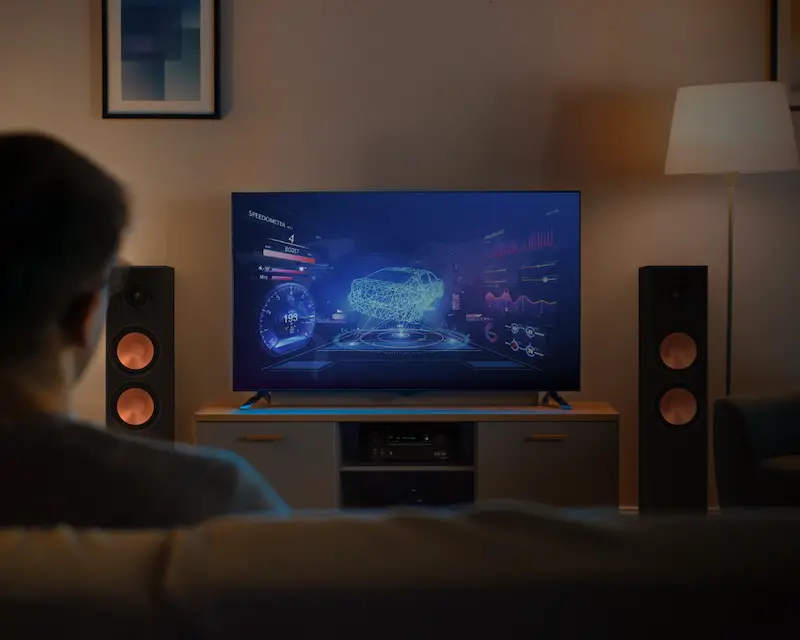 For more reviews you can check our dedicated 9 channels 8K AV Receiver reviews list or even look at our Product Reviews Table where you can find the brand and specific product you are looking for.
Also don't lose the chance to subscribe to our Newsletter and gain exclusive privileges.
---
Cheapest Places to Buy :
---
Onkyo TX-NR7100 Specifications