Optoma UHD52ALV
Ports & Connectivity
9.5/10
OS, Apps and Features
9.2/10
Pros
Great out-of-the-box performance
A lot of connections available
Many smart features
Affordable price
Cons
Black levels are average
High input lag
Lower brightness than advertised
Remote could be better
---
Cheapest Places to Buy :
---
There was a time when smart TVs was the brand new thing and everyone wanted to have one. But nowadays it's a completely different matter as even the cheapest and most lower end models come equipped with the latest in smart TV technology. And while TVs have come a long way in this it seems that projectors are left far behind with only a few models claiming to offer real smart functionality. So here comes Optoma as they have released a few similar projectors in their try to change that. In our Optoma UHD52ALV review we will be looking into such a 4K projector that claims to be a "smart" one and aims to take over the home entertainment category.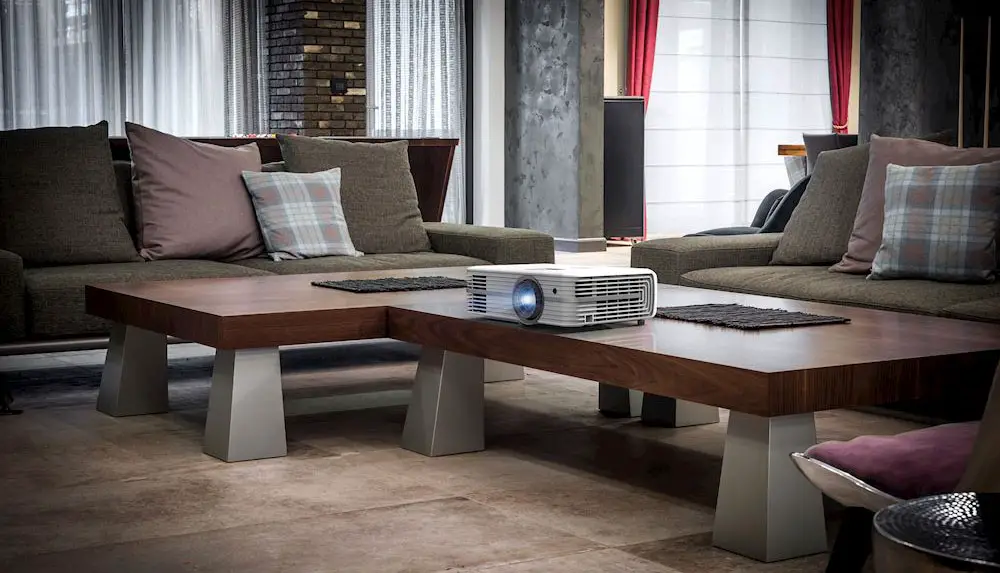 The UHD52ALV is the continuation of Optoma previous UHD51 and UHD51ALV as the two models were very close in specs to each other with the UHD51 offering better colors due to the RGBRGB color wheel while the UHD51ALV having more brightness as it used a RGBWRGBW color wheel. This is not the first time we see something like this as BenQ had done the same with their HT3550 and TK850 projectors and thus gave you the option to choose if you wanted better colors or more brightness on practically the same projector design.
For a projector that costs less than $2,000 the UHD52ALV has a lot to go for. What we have here is a really small design for a 4K projector that uses 1920 x 1080 x 4 pixel shifting to reach the necessary 4K resolution, claims to output 3500 lumens of brightness, offers high color coverage, supports HDR10 and HLG along with Frame Interpolation and 3D and comes with many extra smart features including support for both Amazon Alexa and Google Assistant, IFTTT integration, has a built-in media player and on-board speakers. Interesting on paper all these so let's look a bit deeper to determine if this sub $2,000 projector can do what it claims to.
Design
If there is one thing that is universally frustrating when it comes to projectors is the different naming they use across different regions for the same model. Thankfully Optoma made the obvious and used the same naming for all markets so you don't need to be worry about this at all here.
Now when it comes to its design the UHD52ALV hasn't changed at all compared to the previous UHD5x projectors meaning that the outer shell is completely the same while using the white variation that we had seen in the UHD50 projector. It seems that Optoma feels very comfortable with this design and to be honest it's not a bad one. Measuring just 15.4" x 5.1" x 11.1" (392 x 118 x 281 mm) and with a weight of only 11.75 lbs (5.22kg) the projector is one of the smaller ones we have seen in this category. And when you consider that we are talking about a 4K projector with a high 3,500 lumens brightness output its size becomes even more impressive.
The UHD52ALV is using the white color with the silver strip in the middle variation which is not anything to impress but feels very neutral and will fit nicely to any decoration you have at home. The cover is made out of plastic and uses a combination of glossy and textured surfaces in order to make the overall look a bit more interesting but you shouldn't expect anything fancy.
All the UHD5x series are using an asymmetrical design and this one follows exactly the same pattern with the lens positioned slightly to the right with a big frontal IR sensor sitting right next to it. A dark grey focus ring encompasses the lens breaking up all this white monotony.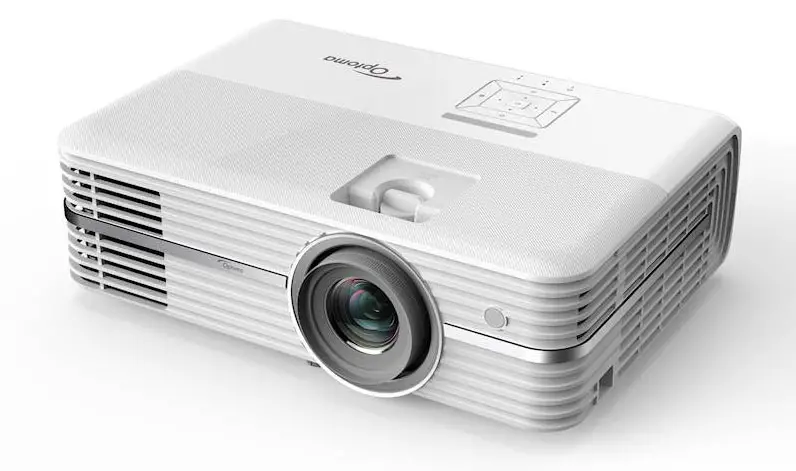 The projector has plenty of ventilation holes with cool air entering from the right side as we look at it from the front while hot air is blowing from the left front corner keeping the temperature at normal operating levels.
On the top face, exactly above the lens we find the controls for zoom and lens shift in a specially designed inset and it's exceptionally good to see lens shifting in such a low cost projector. On the lower part of the top side we find a second IR sensor that looks like a long black strip that is used in case you want to place the projector on the ceiling while below that we get the on-board controls in a rectangle shaped, 3 levels layout.
On the first outer level we get a top button for power, the bottom for Home, the right for Menu and the left for Return with four directional buttons being placed in the second inner level for navigation controls. The third level consists of a single, centered Enter button. Below the on-board controls there are three LED buttons for power indication, temperature control and lamp condition. The only other thing we get is a big Optoma logo that sits to the right of the controls.
The back is where all the connectors are placed in a deep inset in order to keep the wire plugs as hidden as possible and easier to manage if you plan to place the back of the projector close to a wall. One interesting thing is that while the UHD52ALV comes with dual internal speakers these don't seem to have any visible grilles unlike some other projectors that also feature on-board audio. Lastly the unit comes with three adjustable feet, one at the front and two at the back making placement far easier that you may think.
Let's talk a bit about the lens now. Nothing seems different here compared to its predecessors as the UHD52ALV comes with a 1.3 optical zoom along with a 15% vertical lens shifting. Obviously we have seen projectors being more generous in both zoom and lens shifting values but for such a low cost unit we would say that what we get is pretty good and gives you plenty of flexibility when calibrating it. Throw ration is at 1.21 – 1.59 with a possible image of 34.1" – 302.4″ from a 2.9' – 34.89' distance.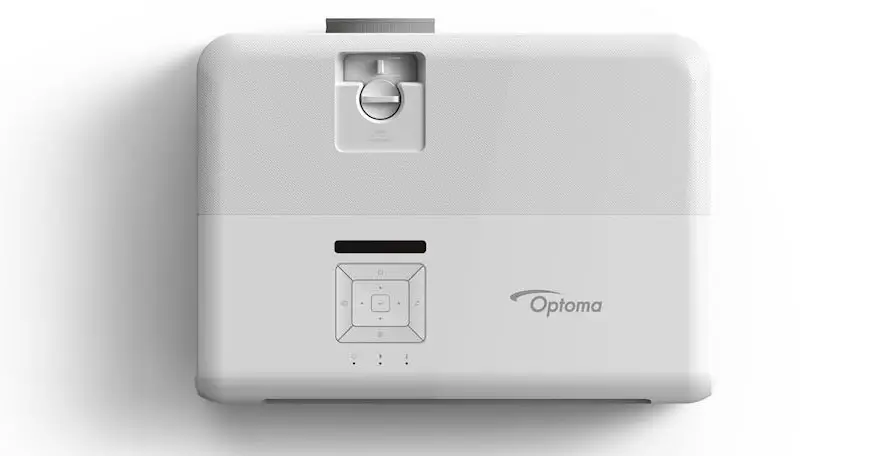 When it comes to noise levels Optoma has rated the projector at 25db but you should keep in mind that this value is referring to its Eco mode while in full power mode this rises to 27db. The most common problem among all these 4K pixel shifting projectors in the slight bothering noise that originates from the extremely fast shifting technology when used. Now how distracting this can be depends on how sensitive you are to low sounds.
When in full power the UHD52ALV makes a low pitched sound that you can hear when the room is almost completely quiet. Some may find this bothering while other not pay attention to it at all so you better try it out in a show room before deciding. During our testing we did hear this low pitched sound but it didn't bother us to the point of frustration and to be honest during viewing it was almost completely inaudible.
The lamp life of the projector is rated by Optoma at 4,000 hours for full power mode which can extend to 10,000 hours using ECO mode. Lastly there is the Dynamic mode, which is supposed to act like an auto-iris and can further extend lamp life to 15,000 hours. The projector is using 240 watts lamps and their replacement cost around $250 depending on where you can get them.
If there is one visible difference between the UHD5x projectors this is the remote design. For example the UHD50 came with a fully featured remote while the UHD51A came with a simpler remote design that reminded us of an Apple TV remote. The UHD52ALV is using the latter with the remote featuring a black plastic shell with rounded buttons that only have symbols on them making it slightly difficult to memorize them all at the beginning.
The minimalistic layout may look slightly better but from a practical side of view we would definitely take the fully featured one. The top buttons include the power and input selection while below them we get the Home, Menu and Return controls. In the middle the usual navigation buttons are placed in a circle layout and under that there is a Mute button, another for display mode and one more for options while at the bottom we get the volume controls.

We cannot say we are thrilled with the remote provided and certainly we have seen better remotes even in this low price range. Some may like the minimalism of the remote but the few buttons that use only symbols and no names along with no backlight function will certainly make its use far more difficult in the dark than it should be.
Overall the UHD52ALV keeps the same characteristics and quality we had seen in the other projectors of the same series. It's a low cost 4K projector and it should be treated as one but Optoma made sure to keep quality at very respectable levels.
Video Quality
Technology used
The projector is a true 4K pixel shifting model and uses a single 0.47" 4K UHD DMD DLP chip by Texas Instruments. Basically the projector is displacing a full HD 1080p image in four different positions at very fast speed in order to produce an image that is close to clarity and sharpness to a full 4K image. There are two types of this pixel shifting technology with the other following the same principle but only shifts two different positions and usually is used in more expensive models. But even with the 1920 x 1080 x 4 technology the resulting image is amazingly sharp and clear and makes it really hard to find any real differences between this and a native 4K one.
The combination of this 1920 x 1080 x 4 pixel shifting along with Optoma UltraDetail Technology that enhances image quality by improving
image depth and clarity ensures that the projector can produce images that can compete in sharpness and details to a true 4K projector. And with the cheapest native 4K models still close to the $5,000 mark many will find the sub-$2,000 UHD52ALV a very tempting offering.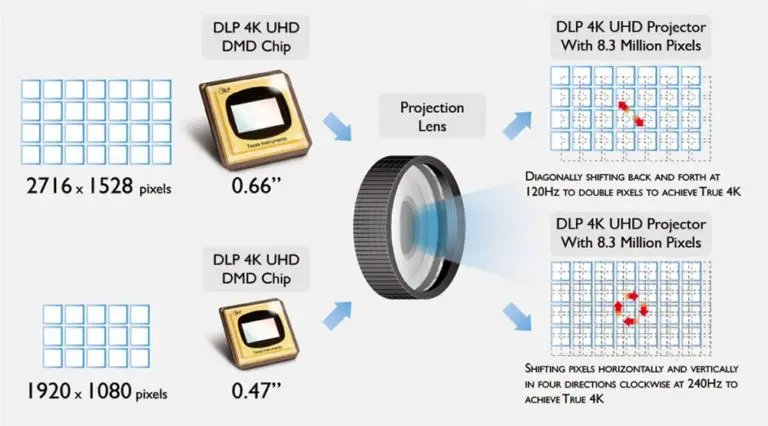 Pixel shifting has many advantages with good performance at low cost being its main strength. But as we mentioned above this technology has one major weakness and this is no other than the production of audible noise due to the extremely fast shifting of the pixels. So for this reason when it comes to pixel shifting projectors we always recommend to test one out if possible in a quiet environment in order to be sure if it's bothering you or not.
4K UHD / HDR Content
Now when it comes to our 4K with HDR testing there is one film we like to try lately and this is no other than the 4K UHD version of Aquaman as it is a film that features an incredibly detailed image with vibrant colors and plenty of bright scenes making it excellent test material for any kind of projector test.
With the UHD52ALV there are two things you will immediately notice upon watching. First of all is the sharpness and high detail of the image. The underwater scenes are a marvel to watch and there are so many details from the plant life, the armors, the fish and sharks in the water along with all the structures that your eyes will have a hard time trying to catch every little detail there is in each frame. The projector did an amazing job in this regard and with so high clarity you will definitely forget that this is not a real 4K model.
The second thing that is equally impressive is brightness output as the UHD52ALV is one of the brightest projectors we have seen in this specific category. Usually in this price point most projectors are good only when viewed in a low lit or completely dark environment. While this also applies for the UHD52ALV things are a bit better here as the threshold is further extended making this model have more flexibility when it comes to the environmental lighting conditions in your room.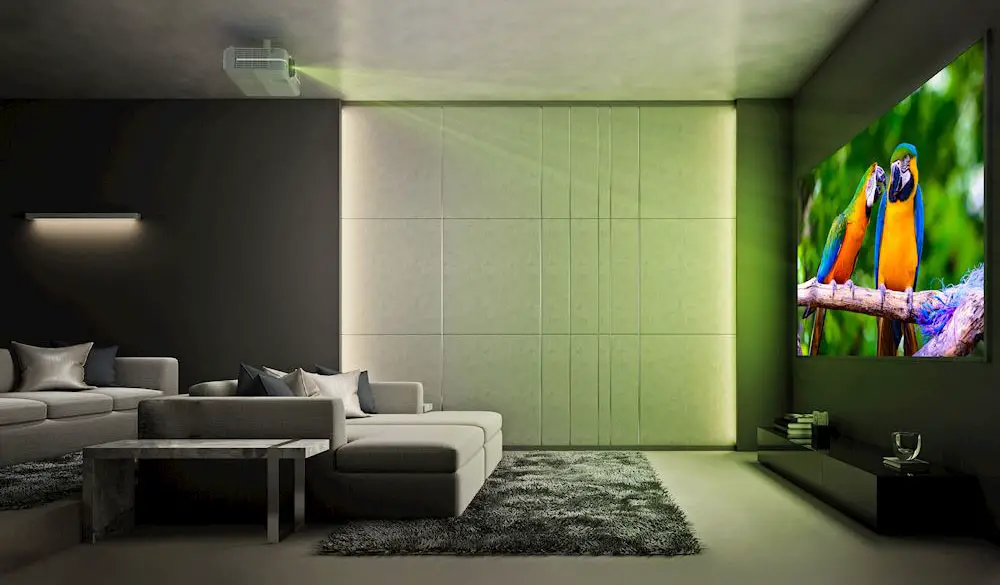 As for its contrast ratio Optoma claims to have up to 500,000:1 with Dynamic Black mode which is a mode that works very similarly to an auto iris but has the disadvantage that it cannot change the light output as fast as a dynamic iris making the difference to be too small in the end. But without a doubt the projector managed to display average shadow details while black levels where more or less as you would expect in this price. Good but not great. Black levels seems to be the Achilles heel for all this low cost 4K pixel shifters and the UHD52ALV cannot escape from that reality.
When watching HDR content you have the ability to choose between four different HDR settings with them being Detail, Film, Standard and Bright. Now there isn't one that you can use universally in all situations as it heavily depends on the content and the environmental conditions in your room but as a general thumb we liked more to use the Standard setting for low lit or completely dark rooms while if there is excessive light the Bright setting is the most ideal.
Finally when it comes to HDR support the projector comes with the usual HDR10 protocol that is the basis for UHD playback along with HLG that is mostly used for broadcasting material. It seems that HLG slowly becomes the standard and this is good as many streaming services are starting to support HDR in their broadcasting. Dolby Vision is absent but there is really no projector at the moment that comes with Dolby's advanced HDR protocol yet.
Full HD / SDR / 3D Content
Next in line is our Full HD SDR material testing and for this one we used the Blu-ray version of Oblivion. Now here things are a bit more interesting as on the one hand the projector managed to give us great image resolution and very good color reproduction but there is a catch. SDR material is not so much brightness dependent so the major strength of the projector is not so obvious here. On the other hand its weaknesses become more pronounced as the average black levels and contrast show more obvious especially in very dark scenes.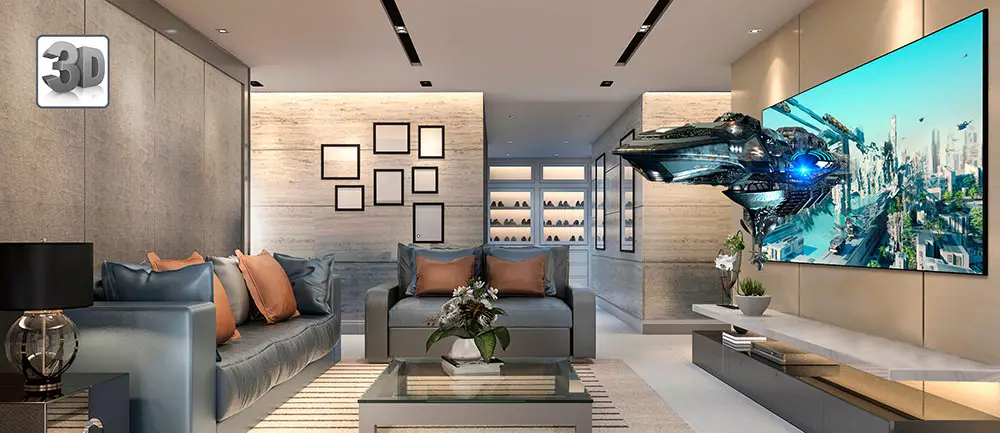 It's not that the projector can't handle 1080p material equally good, it's just that the most characteristic feature of the UHD52ALV, being it's high brightness output, is not being used as it could here. As a result blacks will appear as dark greys and while for most people the resulting image is more than acceptable the fact remains that its blacks remain the single biggest weakness of this model. But as this projector is meant to be used in more bright environments as we let more light in our room this had a positive effect as the average blacks were not so obvious which was to be expected.
On the 3D side of things the projector fully supports it by using DLP-Link glasses. 3D may be long dead in TVs but with projectors it remains a strong feature so if you are keen on keeping your 3D library then this model will cover you to the full. We tried a couple of 3D movies and as always with 3D content the image was more dim than watching in 2D. At least the high brightness output of the projector did help a bit on this as we had seen some other lower brightness projectors failing to display 3D in a convincing manner.
Unfortunately when watching 3D, Frame Interpolation cannot be used while during our viewing we didn't notice any crosstalk. There were a few 3D artifacts visible but nothing major to become distracting. In general if you are looking for a projector that will keep your 3D library alive then this one will do just fine.
Color Coverage
The UHD52ALV is using a 8-segment color wheel that includes two sets of red, green, blue, and white segments. And while the projector does not include a wide color filter like we have seen in some other more expensive projectors it's RGBWRGBW color wheel give it a coverage of 100% of the BT.709 and more than 80% in the wider DCI-P3 color space according to Optoma.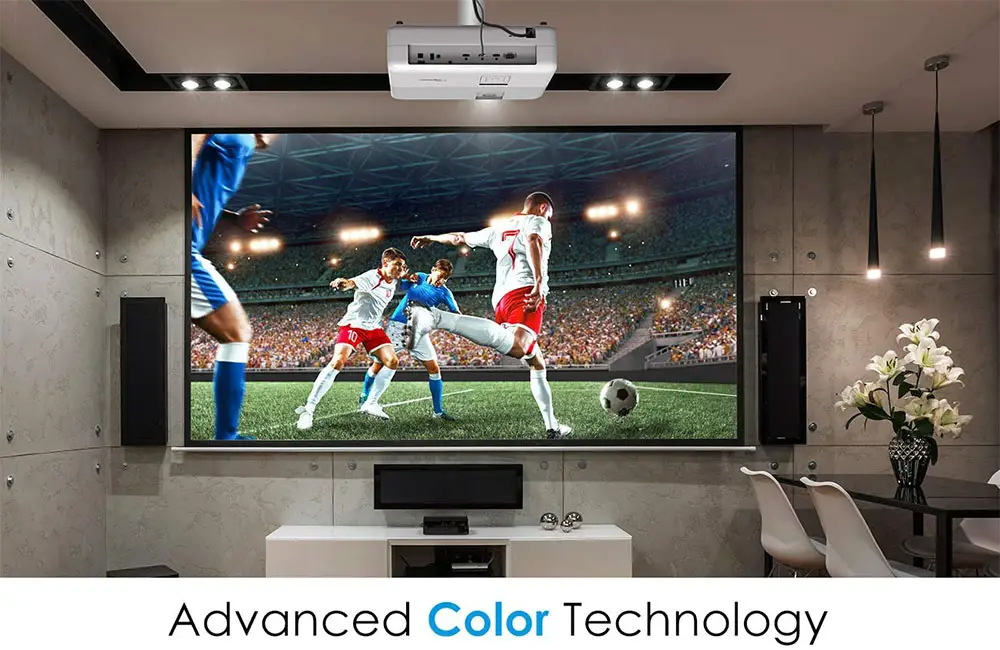 We will talk about the available color modes in the next section but as far color reproduction for SDR we would suggest the Cinema mode which was the one that was the most accurate of all and the one that displayed the best out-of-the-box contrast, color gradients and realistic color volume.
Getting a projector that can display pretty accurate out-of-the-box colors is a major advantage and one that many casual or novice users will be seeking as getting into more detailed calibrations is not for everyone. And with Cinema mode out-of-the-box color accuracy we believe that the UHD52ALV will find many fans that will appreciate this.
Now one last thing to mention here. Having a color wheel means that if you are prone to see the infamous rainbow effect then you should better test the projector beforehand as most single chip DLP projectors with color wheels suffer from this. On the bright side, the UHD52ALV seemed to have very little problems with this as the amount of rainbow effects visible was minimal and in no way distracted from the viewing experience. Whatever Optoma did they have surely succeeded in minimizing this effect.
Brightness / Picture Settings
Onto our brightness tests now. The UHD52ALV is rated as a 3,500 lumens projector which is an impressive number by itself and way above many other low cost 4K DLP projectors. When it comes to HDR in projectors it has always been a subject of high debate but the fact remains that not even the best projectors can display HDR the same way as TVs do nowadays. Now what remains to be seen is how much of this 3,500 lumens number the UHD52ALV can really output.
There are plenty of picture modes available for when watching SDR content with the ones available being Bright, Cinema, HDR SIM, Game, Reference a user defined one. There are three additional modes that automatically switch when the appropriate signal is detected and these are for HDR10, HLG and 3D.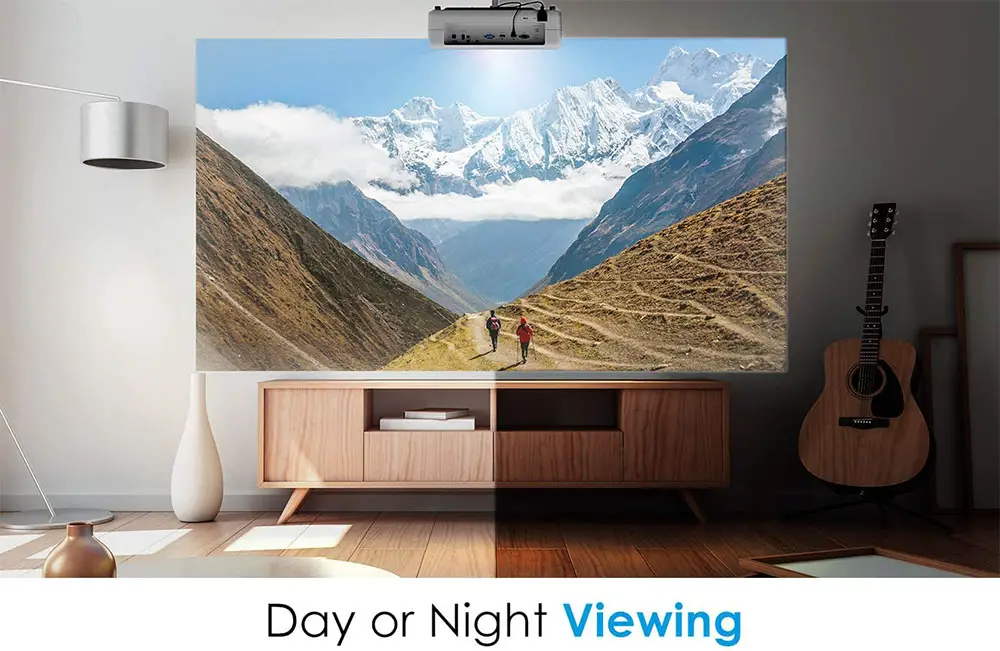 For all our measurements we used the widest angle and used the projectors Bright mode for the most brightness output possible. The Bright mode gave us the highest output with 2,855 lumens but it should be avoided as it displayed a slight green bias. Cinema mode came second with 1723 lumens and while it also had a far less green bias we consider this to be the most accurate mode for out-of-the-box color accuracy.
Game mode came third with a measurement of 1493 lumens while the HDR SIM was forth with 1203 lumens of brightness. Both Game and HDR SIM modes displayed a slight blue bias but it was not so much to be distracting or bothering and certainly many will not even notice it. Last came the Reference mode with 670 lumens and had also very accurate colors with only a very subtle red bias but its brightness output was rather disappointing so when it comes to SDR content our recommendation is for you to stick with the Cinema mode.
Black Levels / Contrast
With a sub-$2,000 price tag you can't expect the projector to excel at everything. And as we have already mentioned the UHD52ALV shows the same weaknesses as most low cost 4K pixel shifters and this is no other than the average black levels. But the UHD52ALV has an advantage compared to the competition. The projector is heavily advertised as a model to be used in bright rooms with a lot of ambient light. This can have a positive effect as the greyish blacks do not show so much compared to a completely dark room where the less than stellar blacks are very obvious. So while blacks are still a problem with the UHD52ALV its usage helps a little bit to minify the problem.
If you need better black levels you have no other option than to go to a higher and more expensive category with the UB Epson series being the first that comes in mind. They are far more expensive that the UHD52ALV but they are the cheapest you can go before going for a native $5,000 4K projector.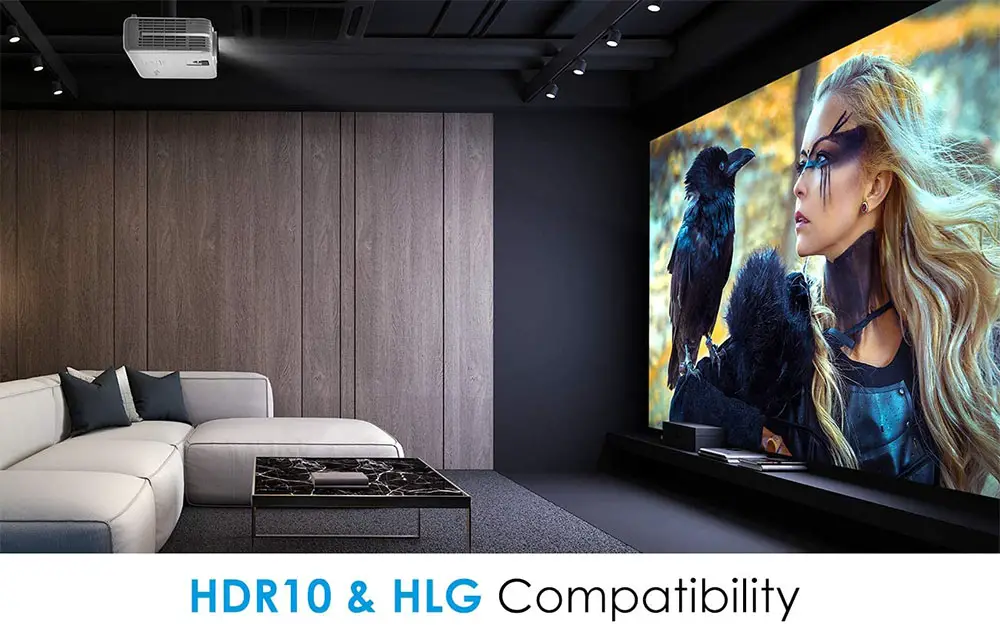 Also keep in mind that the projector does not have a Dynamic Iris and instead has a Dynamic mode that acts like an auto-iris but with not so stellar results and as such the projector is not benefiting from it much. With the Dynamic mode Optoma claims a 500,000:1 contrast ratio as we mentioned above but these numbers can be highly debatable and you should take them with a grain of salt.
In general in this price category you have to live with black level performance that can be described as average at best.
Input Lag
Next is our input lag test and we have always said that projectors are playing catch-up compared to TVs in this regard. With TVs having less than 10ms input lag which we find even to lower tier models puts a lot of pressure to projector manufacturers to improve their numbers also. And while for TV we consider anything less than 30ms very good, for projectors we put this limit a bit higher to about 50ms in order to be considered acceptable.
The UHD52ALV was able to give us an average of 73ms for both 1080p and 4K resolutions which is not very good and above the limit that we have set ourselves where it can be considered acceptable. And this measurement came with frame interpolation turned off as using FI would skyrocket input lag to above the 100ms mark which starts to make the experience unplayable. And if you add to the fact that there is no Game mode available it is obvious that Optoma was not planning to make this a gaming projector.
In order to get a real feeling how this 73ms translates on screen we did make a test run with our PS4 and the F1 2019 game. F1 games need in general very fast and accurate responses so it's the perfect game for testing how input lag can affect the overall experience. In the case of the UHD52ALV we did feel this higher lag as some times our actions didn't register fast enough.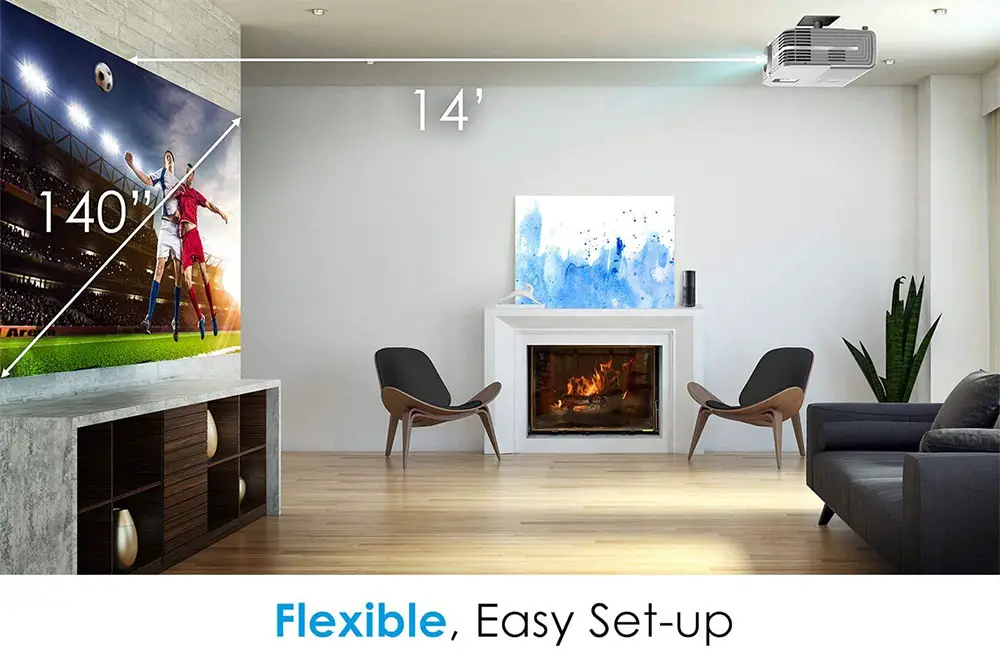 Although at first glance this is not quite obvious in certain moments you could feel the prolonged lag. To be honest after a while we did found ourselves adjusting to this so it is not a complete disaster and certainly in games that don't require so razor fast reactions you will not even notice it but the fact remains that the projector is not meant to be a gaming one.
If you want a projector for your gaming sessions and you are dead serious about it then there are other options to consider but if you are a casual gamer and don't care so much about crazy fast gameplay or you play games that don't require extreme responses then the projector can be considered adequate.
Motion Performance
Now as for its motion performance we were surprised by how good the projector did in our tests. While the projector comes with Frame Interpolation technology when not in use the UHD52ALV did fare much better than other projectors in this category. Optoma did a really good job with motion in this projector.
But if you find the need to use the projectors frame interpolation you can do so by enabling the PureMotion technology as Optoma calls it. The PureMotion processor can do a very good job at smoothing motion and removing judder and there are totally four different settings for it. Off, Low, Middle and High Setting are the ones you can use with the Low setting feeling the best as it was able to remove motion blur and judder with minimal frame interpolation artifacts. The Medium and High settings are more aggressive but also result in the appearance of what is called "Soap opera Effect" that makes movies feel like they were shot on video.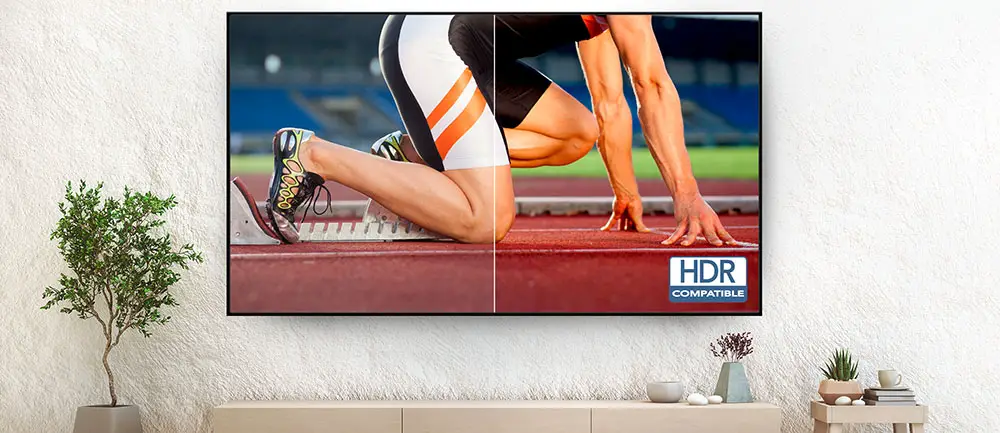 In our opinion either turning PureMotion completely off or using its lowest setting is your best bet at getting great motion without adding any unwanted processing that distorts the final outcome far too much.
Ports & Connectivity
If there is one thing that Optoma always makes sure in these UHD5x models is to add plenty of connectivity options and this seems to be true here also. Turning the projector around we find all ports grouped together on a special inset and starting from the left side we find the following ports.
An Ethernet port for wired connection to your network, an RS-232C port for control, a USB port for connecting the optional Alexa Wi-Fi adapter, 2 HDMI inputs, a VGA port for connecting a monitor or component cables, a 12 volt trigger for using with motorized screens, a 3.5mm analogue audio input jack and another below for output, another USB port that can be used either to power a component or connect an external storage device or flash drive that can be used with the internal media player, a third USB port for connecting a WiFi adapter for computers and mobile devices, a S/PDIF digital optical audio output and lastly a fourth USB port that is used only for firmware updates.

Only a couple of notes to make here as the HDMI ports are both HDMI 2.0, support HDCP 2.2 and are full 18 Gbps capable. All USB ports are Type-A while we are delighted to see the one used for connecting external storage being 3.0 which means faster transfer rates.
It's amazing how many options the UHD52ALV gives you and considering it's price it makes it all the more impressive. We have seen projectors that are far more expensive offering much less in terms of connectivity options but Optoma made sure not to miss anything here.
OS, Apps and Features
When it comes to its menu and user interface we got used to see the simple tabs structure with each one holding a vast array of setting and options. So when we powered the UHD52ALV and we entered its Home menu it felt like we were greeted from the future as a nice graphic design appeared in front of us. The Home menu consists of three main categories that are displayed on top including Projector, Application and Settings. Below each category we get tiles with the options you can choose in each one.
In the Projector category we get three tiles for input selection, Projector settings and volume control. In the Application category we find the built-in media player, Alexa controls and WiFi Display which is basically screen sharing through the EZCast application in order to mirror your mobile phone screen onto the projector. Lastly in the Settings category you will find two tiles for changing language and connecting to the network.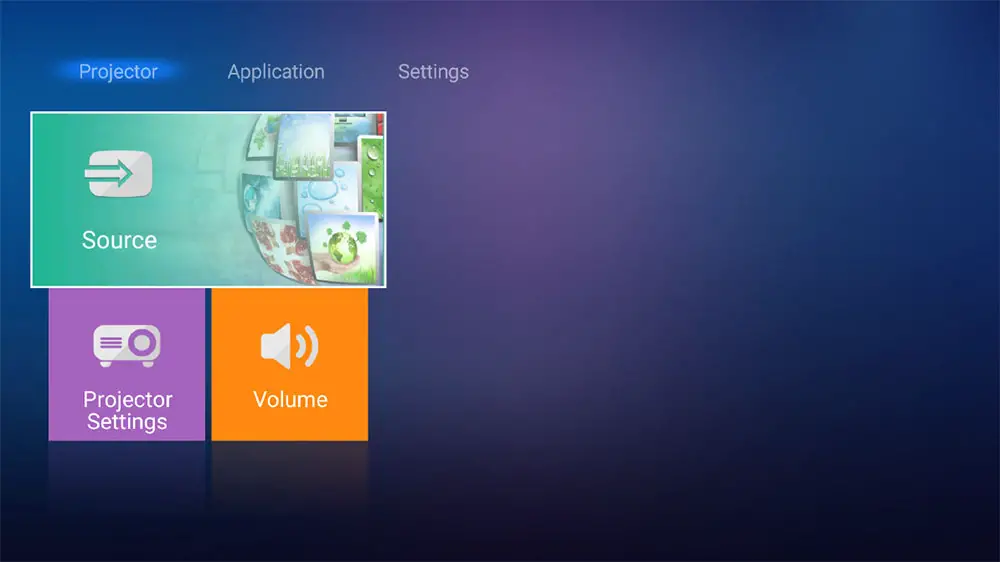 We could not be more happy to see a projector embracing a more modern UI environment. Obviously TVs are light years ahead in this regard and it would be a good time for projector manufacturers to start improving a little bit the navigation experience projectors can offer. We live in an era where modern design is crucial and its a pity to see projectors still live in the past.
The unit features many options and menus where you can set various aspects of the image to your liking and all these are part of Optomas UltraDetail and PureColor suites along with PureMotion that we analyzed above. UltraDetail ensures that the image is as clear and sharp by retaining all the original information while with PureColor the projector can display better color shades and smoother gradients.
Next we should talk about the built-in media player that Optoma seems to advertise heavily. Now we have seen many projectors having a built-in media player but unfortunately many of them feel like half baked solutions as the type of files they support are extremely limited. Optoma went the extra mile here and included a fully functional media player that can play not only video files but also photos (jpeg, png and bmp), audio (mp3, wma, wav and aac) and can even display PDF, Word, Excel and PowerPoint files.
As for its video capabilities it can playback a wide range of files and containers including 1080p and 4K MKVs with H264, H265 and VP9 formats along with many other types like MPEG4, AVI, MP4, 3GP, WMV, ASF and MOV. We did try a few samples and the projector seemed to playback them just fine. We wouldn't recommend you to throw your dedicated media player as no matter how good Optomas solution is there will certainly be some rather odd files that the player will not be able to playback but in general the one in UHD52ALV is a cut above almost all other built-in media players we had seen recently.
The projector also comes with TapCast support which is an app that can mirror your android, iOS, Windows, MacOS and Chrome device on a big screen at the touch of a button. Or wirelessly cast documents, images or videos stored on your mobile device or laptop. The app also acts as a wireless mouse and keyboard allowing you to you to control your projector.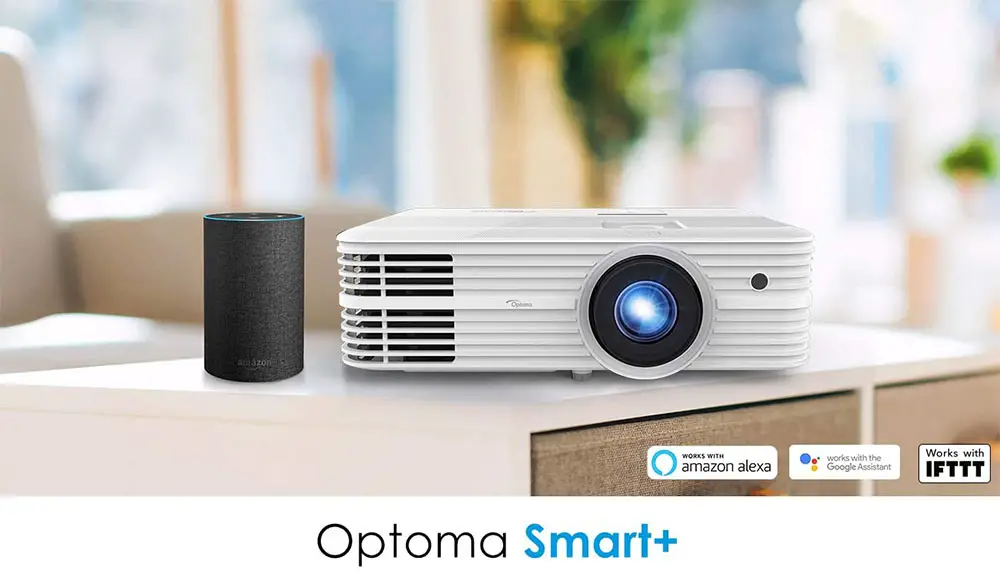 Optoma is heavily advertising the UHD52ALV as a smart projector by using its Smart+ technology that includes Amazon Alexa and Google Assistant integration for controlling it only with voice commands. Commands include the most basic functions like volume and source input selection, picture modes and playback controls. But for some of the more advanced settings you will still have to use the remote to access the menu. Also keep in mind that you will need an external voice control device to use any of the two services as the projector lacks any kind of microphone array for that purpose.
But voice control is not the only functions in the Smart+ suite as the projector also supports IFTTT (If This Then That) which is a free web-based service that allows you to create chains of simple conditional statements, called applets. Applets are used to trigger events such as getting your projector to turn off when you leave the house. InfoWall on the other hand can display tiles with various information including weather forecasts, news and calendar events.
But Optoma is not only claiming to have created a smart projector but a very portable one also. And while its size is one element that really shows then the built-in speakers is the other. Featuring a dual 5 watts speaker system you can really take the projector anywhere with you. Obviously the on-board audio cannot offer anything more than the basic experience but this is what its all about. If you want audio immersion you will certainly go for a dedicated audio system.
The Optoma UHD52ALV is a projector that really has a very impressive feature set for its price. With a new user interface, a great media player, strong smart functionality and great portability there is hardly anything missing here.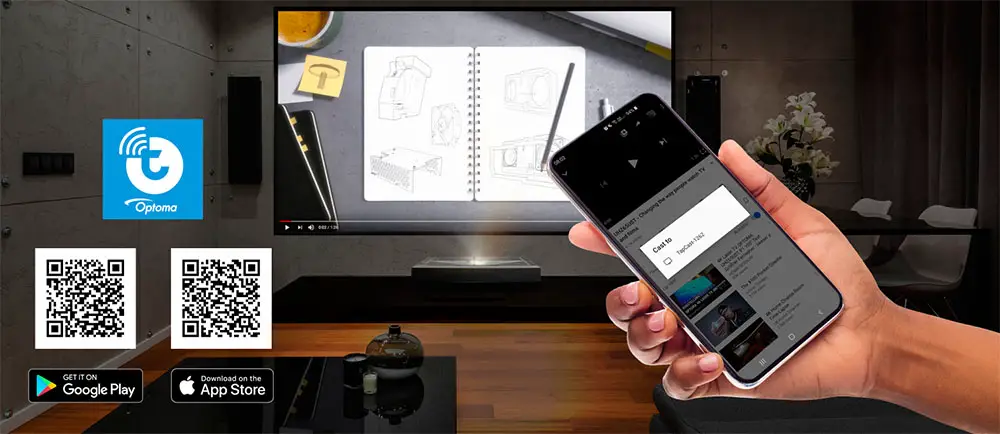 Final Thoughts
All these sub-$2,000 projectors have a lot going for them but with certain price limitations it means that it's a fight between specs. And while all of these 4K pixel shifting projectors manage to offer high clarity and extremely sharp images they fall short in other aspects either it be color reproduction, brightness output or black levels and shadow details. Budget constraints also mean that they bear the absolute minimum when it comes to extra features and especially smart functionality that has become somewhat a standard even in low tier TVs nowadays.
The UHD52ALV managed to rise above the competition as it was able to check many more boxes than what we usually see in this price. First of all using the Texas Instruments DLP XPR chip ensures the projector can display amazingly sharp images that are very close to native 4K resolution. Out-of-the-box color reproduction was exceptionally good which will please many casual users while it's brightness output was very good and way above the average which really helps with both HDR and 3D content. Motion performance was also very satisfactory either you use frame interpolation or not.
But it's not only the picture quality where the UHD52ALV gets good points. Optoma has equipped the projector with all the connection ports you will ever need, its small size, vertical shifting and on-board audio ensures easy calibration and good portability while there is ample of extra features available like the built-in media player, Tapcast and strong smart functionality with the Smart+ technology that includes Amazon Alexa, Google Assistant and IFTTT integration along with InfoWall.
But with such a low cost projector there was bound to be some downsides and the most glaring ones is the mediocre black levels and shadow details as most sub-$2,000 single chip DLP projectors suffer from this. It also has average contrast which is more obvious in dark or very low lit environments and the disappointingly high input lag that can be OK for casual gamers but is definitely high if you play fast action games or you are a hardcore gamer. Lastly the remote leaves a lot to be desired as the buttons use only symbols and with no backlight using it in the dark can be a very frustrating experience.
Looking at the specs overall it is obvious that Optoma didn't make this projector for the dark home theater but rather for a brightly lit family living room. Its image quality was very good overall considering its price and the added smart functions definitely make it an excellent all around offering. The Optoma UHD52ALV isn't perfect but has enough to be considered a very good projector for either movies, sports or casual broadcasting viewing.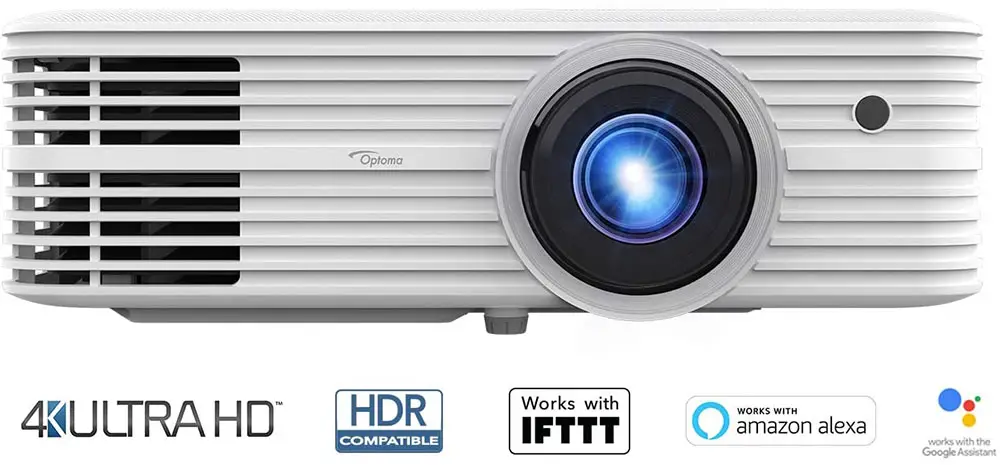 For more reviews you can check our dedicated 4K Projector reviews list or even look at our Product Reviews Table where you can find the brand and specific product you are looking for.
Also don't lose the chance to subscribe to our Newsletter and gain exclusive privileges.
---
Cheapest Places to Buy :
---
Optoma UHD52ALV Specifications