Sony HT-A3000
Reviewed at $498.00
Movies Performance
8.6/10
Inputs and Features
8.7/10
Pros
Punchy front performance
Simple menus
Plenty of online and offline features
Modular design
Cons
Virtual Dolby Atmos not so good
No surround action
No HDMI input
Optional kits can up the price considerably
---
Cheapest Places to Buy :
---
Sony is known for not releasing new soundbars every single year. But in 2021 they finally released three new units towards the end of the year. Sony's flagship, the HT-A7000 and their mid-range HT-A5000 along with their hybrid surround system the HT-A9. You can read our reviews on all of them in the links. But towards the end of 2022 they decided to expand that lineup. And so in our Sony HT-A3000 review today we will be looking at their most recently released offering in the A-series.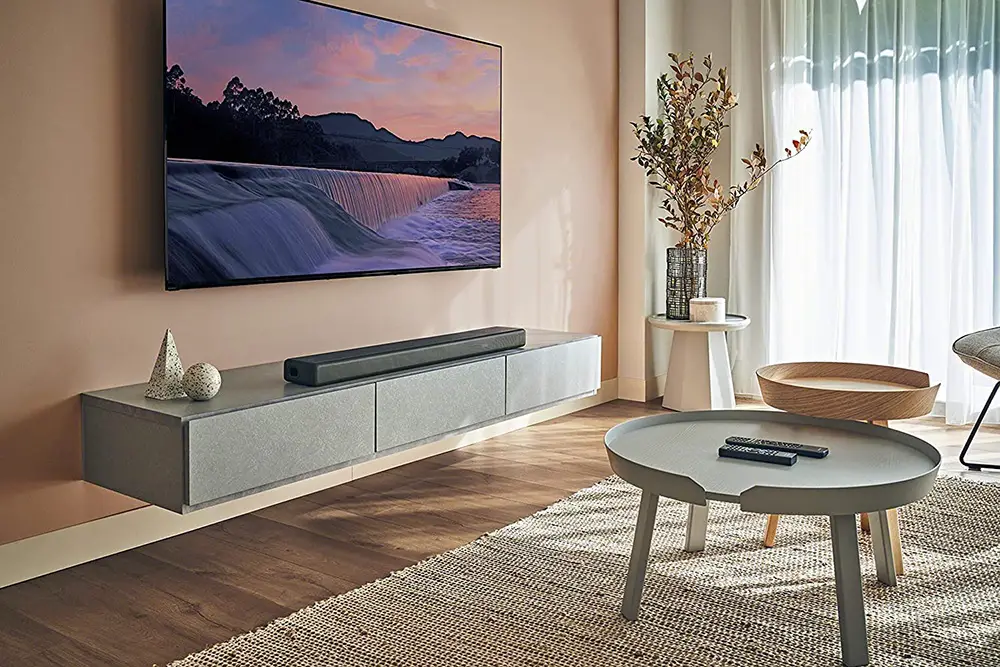 The HT-A3000 may be the least expensive A-series unit Sony is offering. But as with everything Sony, this was still an expensive soundbar as it came out with a $700 price tag. And if you consider the fact that this is a single soundbar unit to begin with, the odds were against Sony on this. Thankfully the price has gone down considerably and now sits at a much more reasonable $499 price.
But what does the HT-A3000 offer? This is basically a 3.1 channels single soundbar with 250 watts of power output. It supports Dolby Atmos and DTS:X and comes with plenty of extras. Chromecast, Airplay 2, USB and Bluetooth playback, WiFi functionality and voice control support are some of them. Lastly it can be expanded with the optional subwoofers and surround speakers kits for creating a more complete surround system.
We consider the $499 price tag of the HT-A3000 a borderline expensive limit when it comes to single soundbar designs. So with this in mind can this low-tier Sony system make a difference? Let's find out.
Design, Inputs and Features
Main Bar
While both the A5000 and the A7000 were considered bigger than the average soundbars, the HT-A3000 is far more constrainted.
The unit measures 37 1/2 in × 2 5/8 in × 5 1/8 in (950 X 64 X 128 mm) and weights 10 lb 3 oz (4.6 kg). These dimensions surely allow it to fit in smaller furniture than its bigger brothers. But at the same time you should take extra care to leave some space on both of its sides. You see, the soundbar uses side air ports and obstructing them surely will impact its overall output.
One thing we definitely need to mention is that the HT-A3000 comes with two IR repeaters at the back, so in case it obstructs your TV's IR sensor fear not, as the unit can pass the remote's signals to your TV even if there is no direct line of sight.
This is exactly the same as we saw in both the HT-A7000 and HT-A5000 and it seems that Sony is one of the few manufacturers that still include IR repeaters in their units. To be honest we think this to be an extremely useful feature as many TVs do not have any clearance under the panel, like the Sony A95K, and you would have to rely on other means for keeping your TV above the soundbar.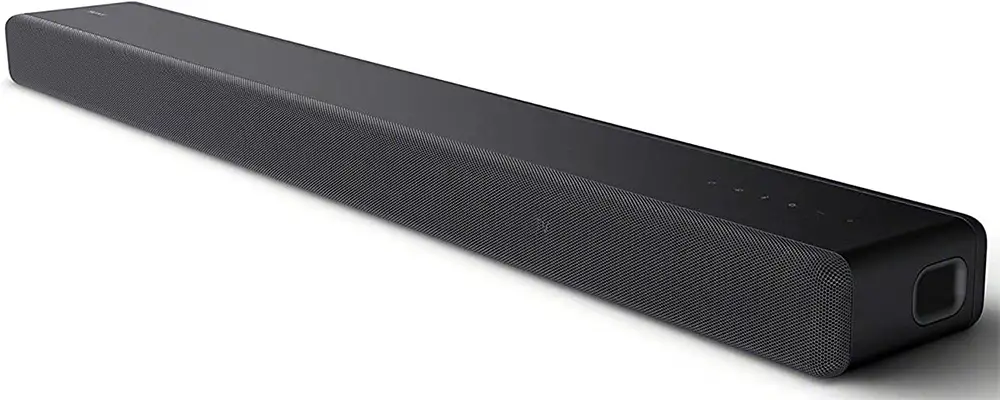 Colors & Quality of Materials
The soundbar has exactly the same modular design as the rest of the series. This means you get the basic unit and you can later decide if you want to add any of the two available subwoofers or two different sets of surround speakers. This way you can tailor the system to fit your space and your needs exactly. Which surely is a major advantage of these Sony units.
Design wise the HT-A3000 looks similar to the other units but is not entirely the same. It uses the same block design with simple looks, straight lines and round corners but this one doesn't have this luxury look we have seen in some other premium releases.
The entire front side is covered by a metal grille that cannot be taken off while most of the top side is covered by what seems to be black matte plastic, just like the A5000 had. And to be honest we like it better this way as the A7000's top glass plate was a major fingerprint magnet. Yes, it looked more premium but there is no point if you are afraid to touch it.
The back of the soundbar houses all the connections in two special insets with the power connector being isolated in the left inset while everything else is grouped in the right one. Exactly like the HT-A5000 was. What is different is the special brackets for wall mounting. In the HT-A3000 we get holes at the back of the unit as it is not as heavy to need special bottom holding brackets.

Display Type
One thing we pay a lot of attention with soundbar designs is the display. And the HT-A3000 uses a full functions display, just how we love it.
But with its racetrack drivers taking most of the space at the front center, designers moved it more to the right side. Between the right subwoofer driver and the right channel, to be more precise. Not a big problem but surely this will bother anyone that like things to look more symmetrical.
The display may not be as big as the one we saw in our Klipsch Cinema 1200 review but it's far better than those LED light indicator displays that some brands are using. With a full functions display it's much easier to read what the soundbar is doing and gives you visual clues of various settings and inputs.
Internal Hardware
Let's take a look on the insides of the HT-3000 and what Sony used for this middle/low-tier offering.
Configuration & Power Distribution
The HT-A3000 is a 3.1 channels rated soundbar at 250 watts of power output. Power distribution is 50 watts for each driver available.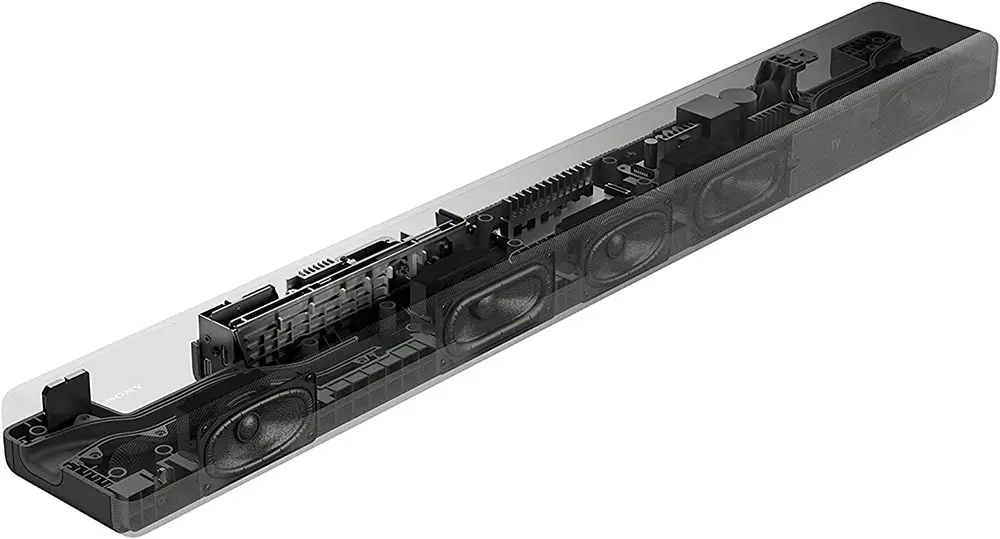 Channels Analysis
The soundbar is using three 46 mm × 93 mm (1 13/16 in × 3 3/4 in) X-Balanced Speakers for its three front main channels. And then there are another two 45 mm × 108 mm (1 13/16 in × 4 3/8 in) X-Balanced Speakers for its dual subwoofers.
These X-Balanced Speakers are basically racetrack drivers with a fancy name. And it's what Sony is using in many of their soundbars and TVs the last few years. The unique rectangular shape of these speakers maximizes the diaphragm area for more punchy bass. It also reduces driver excursion while maintaining sound pressure, resulting in less distortion and greater vocal clarity.
This is a Dolby Atmos soundbar so you may wonder where the up-firing drivers are. Well, there are none. The HT-A3000 is using virtual tech to simulate the Atmos effects through Sony's Vertical Surround Engine. And this is similar to all other releases that claim to be Dolby Atmos capable but without the necessary hardware.
The HT-A3000 does not use either a dedicated subwoofer or surround speakers. And these omissions surely have a great impact on the unit's overall immersion. You can add optional speakers but we will talk more about these a bit further down our article.
General Remarks
The soundbar features a pretty standard audio setup, one that we usually see in low-tier, Dolby Atmos capable soundbars. So nothing out of the ordinary here.
All the above give the HT-A3000 a theoretical frequency range of 20Hz – 20kHz.
Connectivity
In terms of connections the soundbar is very similar to the HT-A5000 but with one major difference. The HT-A3000 does not have an HDMI input so in essence it cannot be used in pass-through mode. Everything else is exactly the same.
The unit, except from the single HDMI output, comes with one digital optical input, an S-Center output and a USB Type-A for connecting external storage for media playback.
HDMI Notes
As you understand from the above, without an HDMI input the soundbar does not support HDMI pass-through. So this port can be used only for its ARC/eARC functionality. This means it can accept Dolby Atmos not only from Dolby Digital Plus but also Dolby TrueHD.
What is interesting here is that Sony is one of the few brands that utilize the eARC in its full capacity. And by that we mean that the soundbar uses the connection to send back to the TV a full-screen menu. Through this you can connect the soundbar to your network and make various changes to your settings.
A Few More Points of Interest
If you own older equipment there is an optical port while we should note that the USB port has MP3 playback functionality. The list of audio formats supported is really good with the most known ones available in the list. These include MP3, AAC and WMA along with FLAC, ALAC and WAV for higher quality.
And since you will be wondering, the S-Center output can be used only with selected Sony Bravia TVs that have the BRAVIA Acoustic Center Sync mode and allows for the TV to be used as the center channel of your setup. This way you can have the HT-A3000 work along with your Bravia TV in order to get a more fulfilling experience.
Wireless capabilities
As for its wireless capabilities there is WiFi 802.11 a/b/g/n/ac (2.4GHz/5GHz) as well as Bluetooth v5.0. The higher-tier models added WiFi6 but unfortunately the HT-A3000 did not.

Control Options
Next we will be looking at the ways you can control the soundbar. And to be honest there is no difference here compared to what we saw in both the HT-A5000 and HT-A7000.
Remote
So we will start with the included remote which is very similar to the ones used in the rest of the series. The only differences is that a couple of its buttons have different functionality. And also it's missing one or two buttons on the left of the power control. Everything else is exactly the same.
The remote is a rather simple one and a bit on the cheap side. Buttons wise it has plenty to go around but everything feels nicely spaced and grouped. Unfortunately there is no backlight available and this will certainly add some frustration when trying to press the correct button in the dark.
Built-in Controls
Sony has placed the built-in buttons at the top right side of the unit. There are six touch sensitive buttons and from left to right we find a power button, input selection, Bluetooth, Music Service and volume controls.
Using touch sensitive buttons surely give the unit a more premium feel but trying to find them in a dark environment can be a frustrating procedure. Also touch sensitive buttons can become less responsive over time so it has its pros and cons going for such a design decision.
HDMI-CEC
The soundbar supports HDMI-CEC which means that if you connect the unit to the TV with a HDMI cable you can use the TV's remote to handle some basic controls like volume. This may not give you the complete range of supported functions but it may help in certain situations.
Sony is calling this the Bravia Sync functionality. If you have a Bravia TV that supports this then you can interlock the TV and soundbar together which allows for even further integration between the two.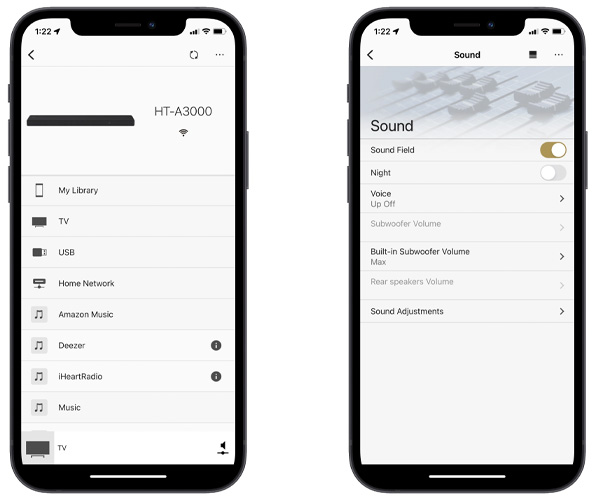 Mobile App
The HT-A3000 also comes with app support and the one that you can use is called Sony Music Center app. The app can act as a remote and grands you the ability to control many of the system's settings and functions. It's a nice app that we had tried before with both the A5000 and A7000. And since it is free to download we definitely recommend you give it a try.
Voice Control
Sony includes voice control support in all of their soundbars so the HT-A3000 could not be any different.
Unfortunately this is not built-in and you will need an external voice control device for it to work. At least Sony included both Google Assistant and Amazon Alexa to choose from.
Closing Remarks
Nothing special to note here. The soundbar comes with all the control options a 2023 soundbar should have.
Extra Features and Services
Now let's talk about all the extra features that are included and we will start with the audio formats supported.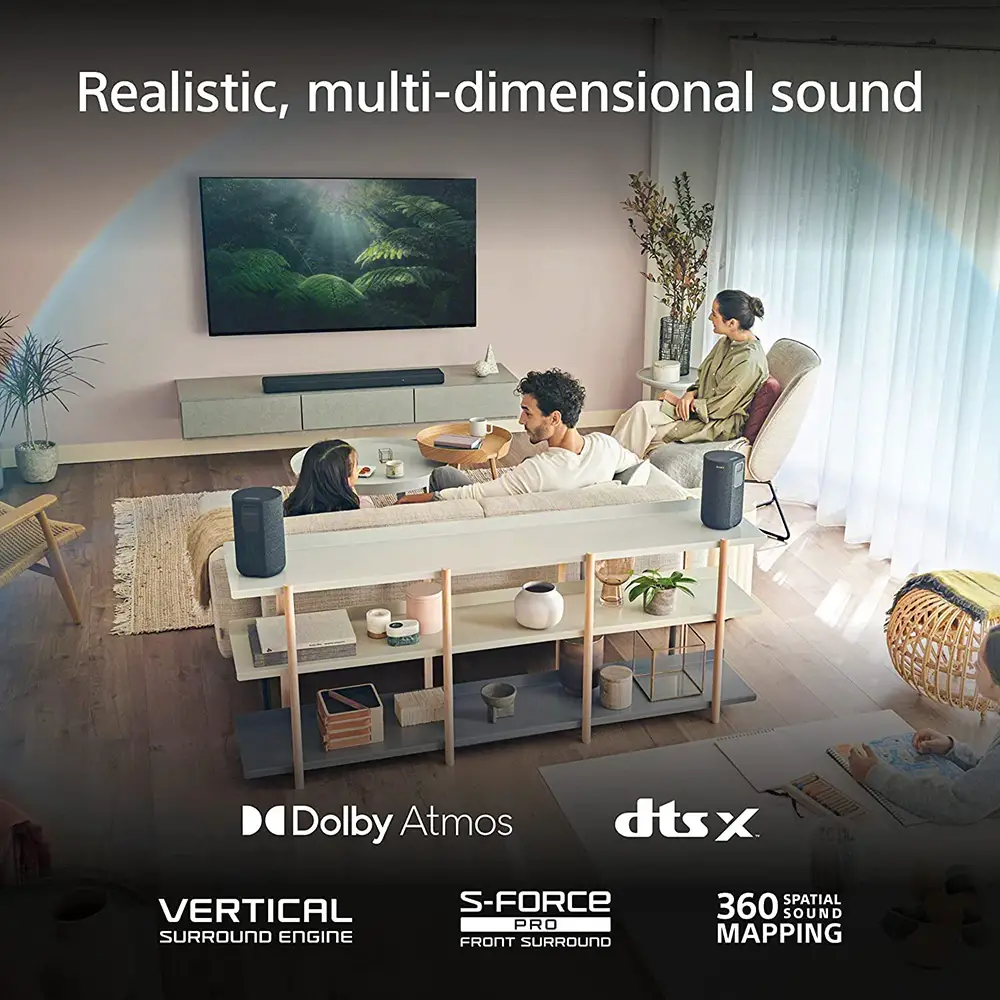 Audio Formats & technologies
The soundbar supports Dolby Digital, Dolby Digital plus, Dolby TrueHD, Dolby Atmos, DTS, DTS:X and LPCM, up to 7.1 channels. These are pretty much everything you should expect and basically the same with the rest of Sony's soundbars.
But that is not all as the HT-A3000 comes also with 360 Reality Audio support which is available through some online music streaming services. The quality of 360 Reality Audio is really impressive and is worth a try if you can. It really puts music in a completely new level of quality.
For music you also get High Resolution Audio support so except from the usual, low quality formats like MP3, AAC and WMA you can playback files like FLAC, ALAC and WAV for higher quality.
The technologies that are built-into the unit are more or less the same ones Sony includes in all the soundbars. So we get S-Force PRO, Vertical Surround Engine, Dolby Speaker Virtual and DTS Virtual: X.
Let's start with S-Force PRO. The soundbar does not feature any rear speakers by default. So Sony's unique digital sound field processing technology virtually reproduces the surround sound field. This way audio comes at you from both sides.
Now, S-Force PRO takes care of the ear level reproduction of sound. The Vertical Surround Engine on the other hand can position sound in vertical space. This way you can experience 3D audio without the need for in-ceiling or height speakers. Vertical Surround Engine lends a more realistic, multi-dimensional sound to all kinds of audio content you feed it.
But you do not only get Sony's virtual processing as the soundbar can work with Dolby Speaker Virtual and DTS Virtual: X if you choose them instead.

Sound Management
The HT-A5000 does not offer very complex sound management. To be honest we can even say that there are far less features than what we would like.
There is no individual adjustment for bass or treble and you do not have a graphic EQ to work with, if you need to. There is only manual channels adjustment and that's it. If you have some rear speakers connected then you get some extra settings unlocked. But these mostly have to do with auto calibrating the audio and not giving you more settings to fiddle with.
Sound Modes
In true Sony fashion the HT-A3000 follows its bigger brothers in being as simple as it gets here. There is no list of sound modes to choose from like most other brands tend to include. The Sony comes with a default one and you only have the option to change to one of the special Voice or Night modes.
When watching movies the only option you get is to turn on the Sound Field feature which is basically Sony's virtual technology in order to create a more immersive performance.
From the menu you can change the Sound Field setting from the ones available which gives you slight flexibility. As each technology processes sound differently you may get different results. So better try them all to find out the one you like the most.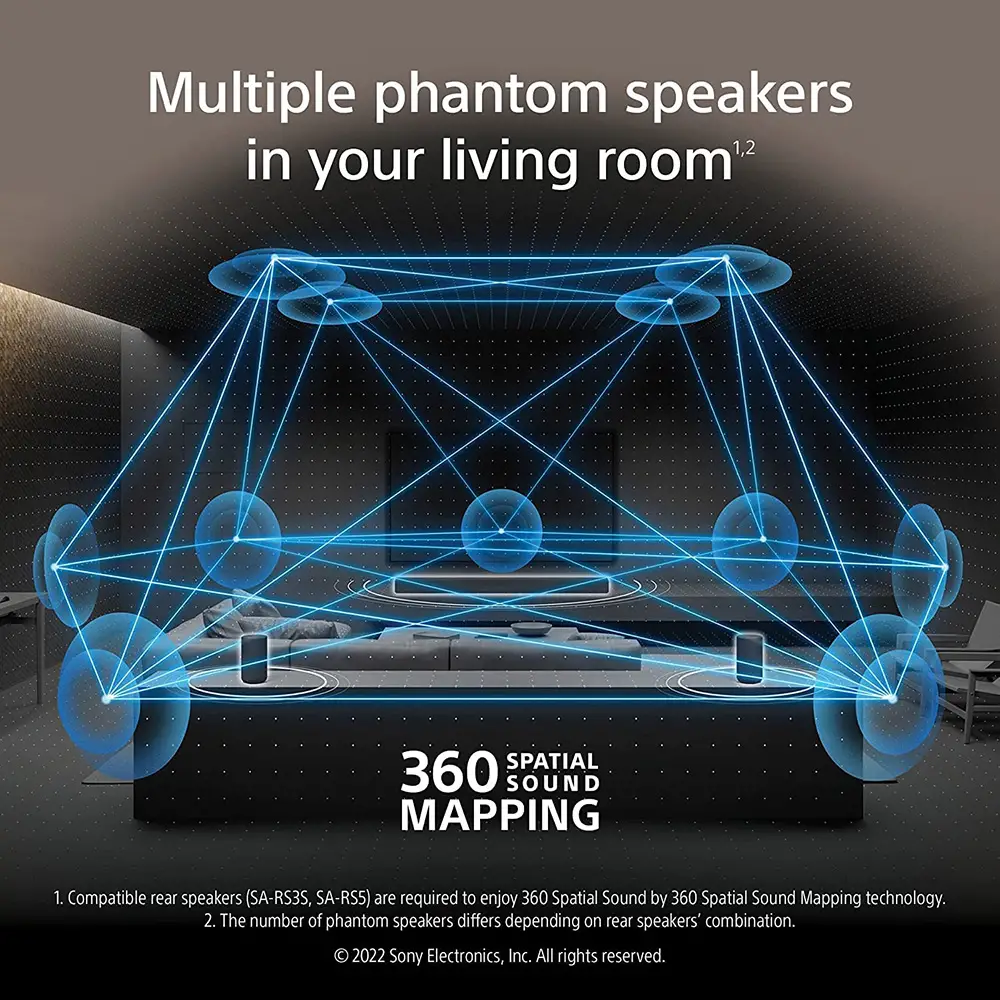 Auto Calibration System
The soundbar comes with Sony's 360 Spatial Sound Mapping technology. This auto calibration system creates a sound field optimized for your unique space. As a result sound feels more enveloping as it comes from multiple phantom speakers.
The only downside here is that if you don't have one of the optional surround speakers kit, this option is locked. And this happens because the soundbar is using these speakers to better map the room your system is in. If you don't have any rear speakers the auto calibration system is locked in the menu.
Streaming
Such a system could not be without some short of streaming capabilities and the HT-A3000 really have a lot going for it. First of all let's talk about its Bluetooth capabilities.
With it you can stream any kind of audio from your mobile device to the unit itself. You can also transmit audio from the unit to a compatible Bluetooth speaker or headphones. Bluetooth supports not only the standard SBC codec but also AAC and Sony's higher quality LDAC.
But you are not only limited to local streaming as there is Chromecast, Airplay 2 and Spotify Connect support giving you immense capabilities with online music. With Airplay 2 you can stream music from any Apple device with the use of third party streaming services. If you are an Apple guy then you will surely find this one handy.

DSEE Extreme
The HT-A3000 also comes with DSEE Extreme technology. Using Edge-AI (Artificial Intelligence), DSEE Extreme upscales compressed digital music files in real time. Dynamically recognizing instrumentation, musical genres, and individual elements of each song, such as vocals or interludes, it restores the high-range sound lost in compression for a richer, more complete listening experience.
Modular Design
It seems that for the 2021 models Sony decided to go for a single unit design for all their models. And make them modular in order to add by yourself whatever you deem necessary.
As such with the HT-A3000 you have the option to choose between two subwoofers, with the Sony SA-SW3 or Sony SA-SW5 being the two available. From the two we certainly suggest the SW5. But even the SW3 will add some necessary punch to the basic model.
Except from the sub you can also opt for either the SA-RS3S or the SA-RS5 rear speakers kits. As any of these can improve the unit's surround performance. Here we would strongly suggest you to go for the RS5, if your budget allows for it of course. As it is so much better than the RS3S.
The RS5 are omnidirectional rear speakers and include two rear channels along with an up-firing Atmos channel each. On the other hand the RS3S comes with a single channel and no Atmos one.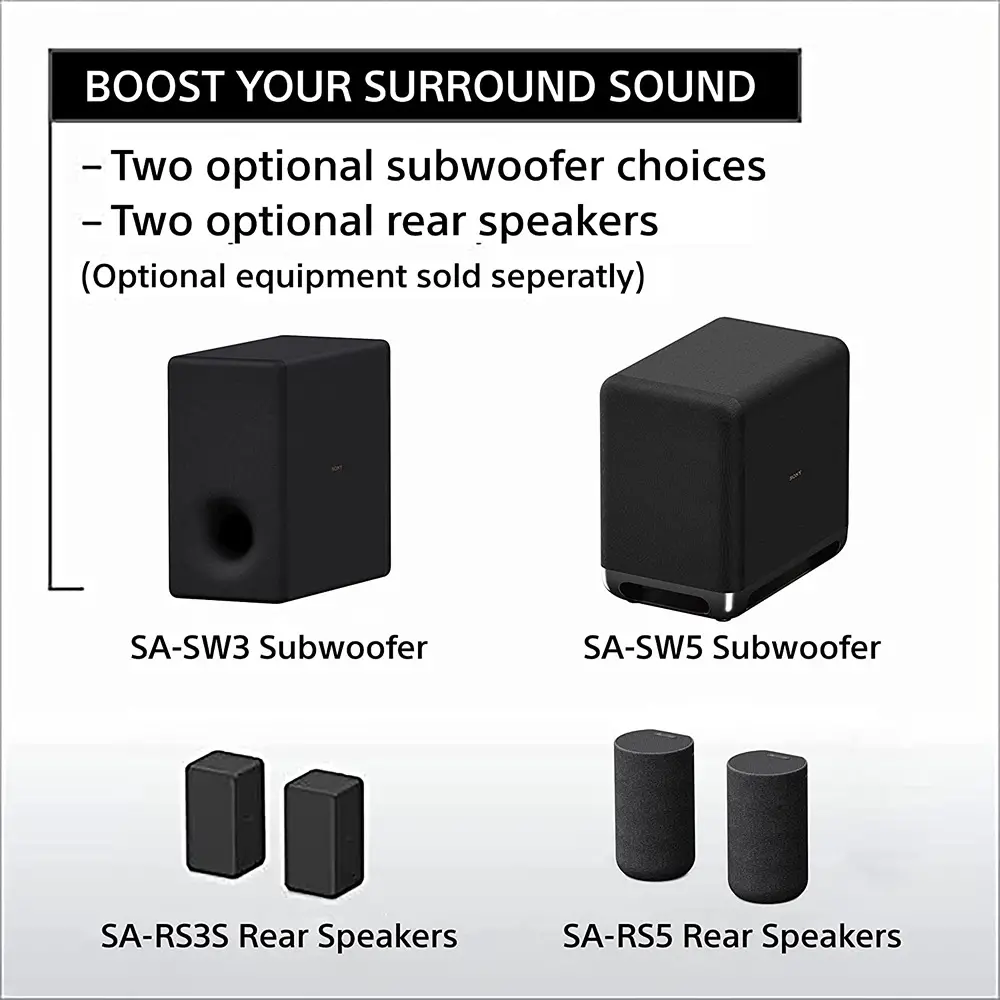 Just to keep everything into perspective, if you decide to add both a subwoofer and a rear speakers kit, with the RS3S you are going to have a 5.2 channels system while with the RS5 kit you will have a 7.2.2 setup that will definitely show in terms of immersion and 3D sound reproduction.
Closing Remarks
Sony doesn't like to include a huge amount of sound features and settings. Although we have seen soundbars being even more simple than the HT-A3000 is seems that with this one Sony tried to find a nice balance between simplicity and complexity. Not too much but also not to little. And this way it can attract both casual and more hardcore users.
To be honest we are not very fond of this approach. Either go one way or the other. Because trying to go for both you certainly loose people from both sides and in the end no one is completely satisfied.
If this will work for Sony or against them will only show with time. But if you are the kind of user that like to get very much into calibrating your audio the HT-A3000 will surely disappoint you.
Initial Setup
Since the soundbar does not have any HDMI inputs the best option here is to use the eARC functionality of the HDMI output. Because this is the only way we can get Dolby Atmos out of Dolby TrueHD. This way also allows for the soundbar to give us an on-screen display which makes things so much easier.
After going through all the connections and turning on the unit it will prompt you for a few extra steps. These include connecting the soundbar to a network and setting up various functions available.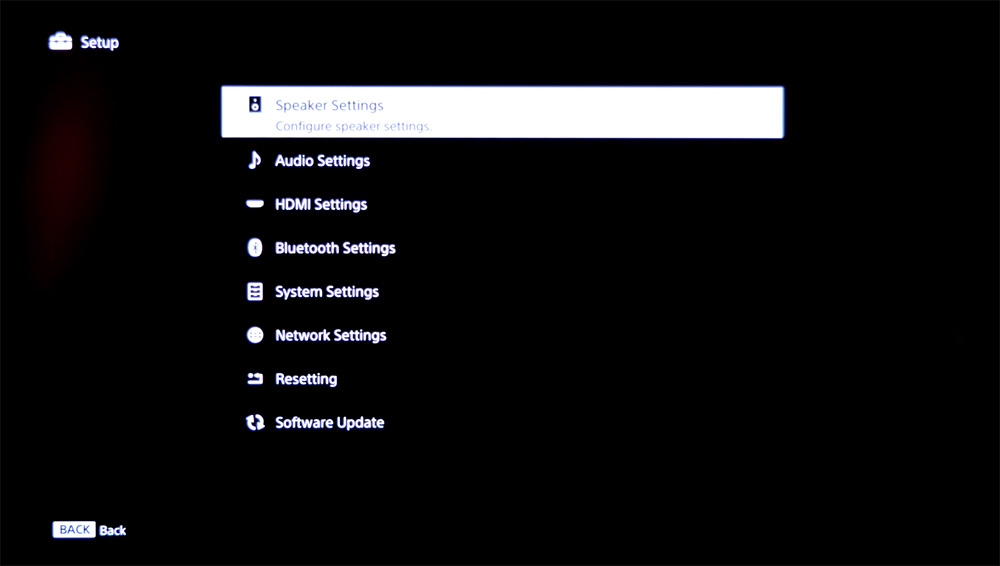 Now remember that if you don't have any of the optional surround speakers then you don't have the ability to use the Sound Field Optimization feature, or 360 Spatial Sound Mapping as Sony calls it in the menu. The HT-A3000 allows for certain degree of calibration but you will have to make everything manually.
After that you are greeted with the Home menu. From it you have the option to select a specific input, listen to music from one of the available options or enter the settings menu. Obviously the next step includes adjusting the different channels if the predefined ones are not to your satisfaction and also choose the appropriate virtual tech that will be used when the Sound Field Effect is turned on.
The HT-A3000 is definitely not the simplest soundbar we have used. But being a Sony one this was to be expected. On the other hand you cannot call it complex either. Sony surely tried to find a nice balance between simplicity, plethora of features and customization. This way they tried to keep everyone happy. Casual and hardcore users alike.
Movies and TV
For this review we decided to try a couple of different genres. So we went with Godzilla (2014) and Jumanji: The Next Level, both in 4k UHD. The first one uses a very atmospheric Dolby Atmos mix while the second uses a playful DTS:X mix.
As for TV viewing we sampled various news broadcasting channels, some TV series and a couple of sports channels.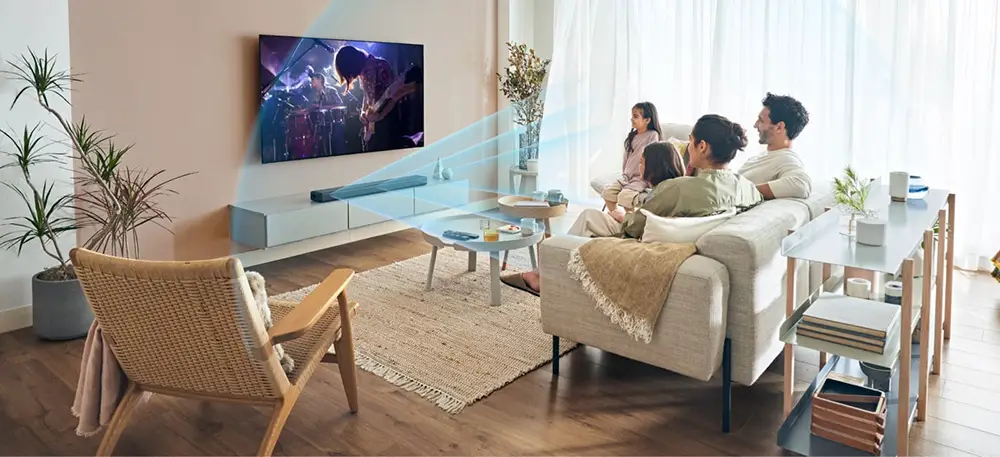 Front Soundstage
Going through all the content we had at hand it became very obvious where the HT-A3000 was good at and where not. And the front soundstage was one area where the soundbar did really good.
Now, we have to be clear here. The A3000 could not reach the extension or depth either the A5000 or the A7000 had. And to a certain degree this was to be expected. The HT-A3000 put to good use the hardware it had to work with delivering good separation between its three main channels. Panning effects had good traveling distance and good accuracy. We didn't sense any delays or out of focus sounds.
Sound sources would not extend far beyond the physical limits of the unit itself, although we did sense a couple of them stretching further away. Depth of sound was again good but not great. You could sense some different layers of sound but it was not as distinct or clear as other soundbars.
Dialog
The soundbar does feature a dedicated center speaker, although it's not using a tweeter. Instead a racetrack driver (called X-balanced speaker by Sony) has to do all the high frequency lifting.
Even so the soundbar did really good with dialog. Especially with TV shows and sports broadcasting we had an amazing time as everything was very clear and punchy.
With movies dialog performance was almost as good but with more environmental effects at play, definition took a slight hit. But not by much and certainly not to the extent that you will need to use the dedicated voice mode for that reason.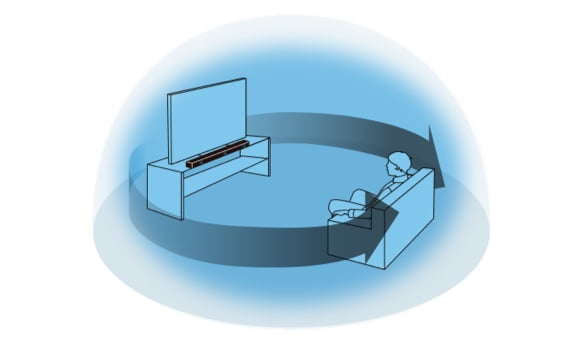 Surround Sound
Unfortunately the Achilles' heel of all single soundbars is their complete lack of surround action. And the HT-A3000 is no different.
All action was heavily front sided and even the Sound Field feature of the soundbar could not make things much better. If you really want to have a surround system then getting one of the surround speaker kits is essential.
Dolby Atmos
We can justify a single soundbar not performing well with surround audio. But when a company promotes a soundbar as Dolby Atmos capable then you have certain expectations. Unfortunately the HT-A3000 falls right into the same category as with all soundbars that claim to be Dolby Atmos capable but without dedicated up-firing drivers.
This means that the Sony one has to use virtual technology to simulate these elevated effects. The results? Not so good to be honest. Yes you will get some sense of elevation. Some effects here and there will come slightly above the TV but that's it. Clarity, definition and pinpoint accuracy are extremely low.
Is it better than a non Dolby Atmos soundbar? Maybe, in some cases. But it really depends on the content. So while it some cases you will get a small taste of what Dolby Atmos is, don't expect to be on the same level as soundbars that have real up-firing Atmos channels.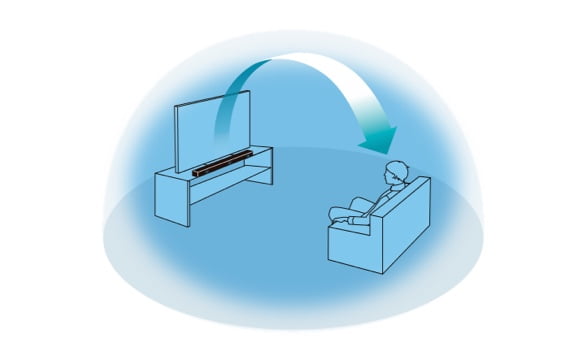 Bass
When it comes to its low end performance the soundbar did really good for a single unit design. The included dual subwoofers do help the A3000 have more punchy bass that surely is needed with action films.
Don't expect to get a heart pounding experience or make your sofa shake as for that you will need to invest to a dedicated subwoofer. But for what it has to work with the soundbar can deliver a satisfying low end that is a definite step above the flat performance of any TV so far.
Maximum Volume
The HT-A3000 is a loud soundbar and you will not have any problem if you like to push the volume to higher than pleasant levels.
And to be honest if you want to get any meaningful definition on the A3000's virtual sound then you will have to crank up the sound considerably. In low volume the unit's virtual output felt really weak but pushing it above the 50% level we were able to get some better results.
Music
We move on to music and for this we used the USB port of the soundbar to playback some FLAC files we keep handy for these tests. The soundbar also supports 360 Reality Audio but unfortunately we didn't have the ability to try this out for this review.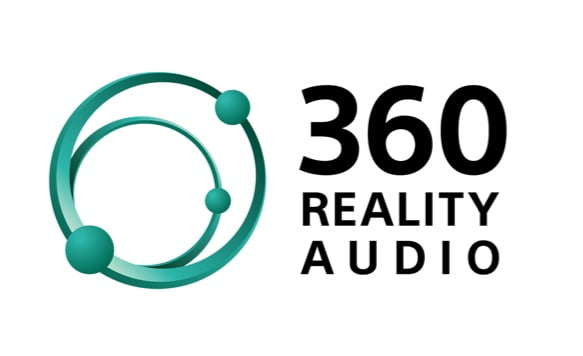 Fidelity & Overall Quality
Something that we always repeat in our soundbar reviews is that you should never expect such a system to perform equally good to a dedicated HiFi system. Even top tier flagships cannot get close to that, so don't think otherwise. And with the HT-A3000 you shouldn't expect anything different.
The soundbar performed similar to other brands in the same price range. Music had enough clarity to it but surely some minor details were getting lost in the final output. The A3000 had good linearity but not without some bumps across its entire frequency range.
Especially the mid-range didn't feel as balanced as we were expecting. And although this didn't affect much its overall performance it did change its audio signature a little. Now if you will like how it sounds or not is a personal matter. But in our case we got used to it pretty fast.
The sound field felt more narrow than we expected although with a stereo performance that was not such an irritating problem. Sound imaging was good enough but we have heard better. Panning stereo sounds were obvious but with the soundbar lacking in extension these were not as impressive as we would like.
Vocals had enough definition, although the lack of a tweeter was slightly obvious as some high pitched energy was getting lost when reaching our listening position.
The bass was strong for such a system and never missed a bit even with bass intensive performances. Again don't expect any deep bass here but at least it was not the hollow experience a simple 2.0 channels system will give you.
Different Content
We went through various content and we didn't notice much variation in its performance output. The HT-A3000 did good enough no matter what we threw at it. Surely it will not wow with its output but these single soundbar systems has some pretty distinct limits you have to accept.
Some more delicate performances surely lacked the extreme high fidelity a HiFi music system can produce. Also, sound imaging was just above average. With more bass intense performances the unit managed to do better as the dual built-in subwoofers made the low end feel more bearable.
Overall not bad for a low/mid-tier offering. If you can live with its weaknesses then surely you are going to enjoy this one very much.
Compared to other Soundbars
We recently wrote a guide with our best suggestions for soundbars under $500. And that list gives you a pretty good idea what kind of competition the HT-A3000 has.
For the same price you can go for the Denon DHT-S517 which is $50 cheaper. For $449 you get dedicated up-firing Atmos drivers and also comes with a subwoofer but lacks DTS support.
Another option is Bose Smart Soundbar 600 which is a single soundbar design. But again comes with dedicated up-firing Atmos speakers and, as the A3000, is a modular system. This means that you can also add a subwoofer and rear speakers to it and create a full surround system. Unfortunately this also lacks DTS support.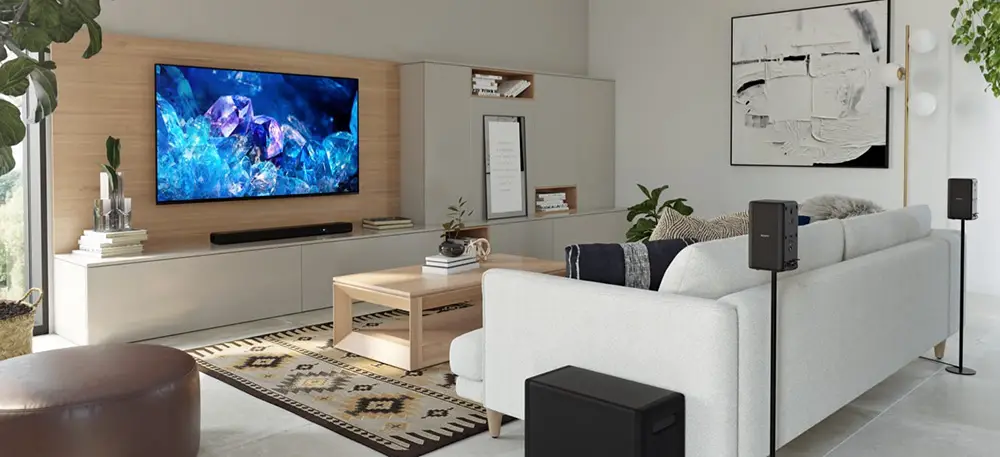 Final Thoughts
When the HT-A3000 was initially released it came with a price tag of $700. Which, to be honest, was way above what we would pay for it. Thankfully Sony slashed its price and now it stands at the more reasonable $499 price limit.
The HT-A3000 comes with the usual Sony treatment in terms of design and quality of materials. Its setup is very straightforward. And its menus are simple enough not to overwhelm you. Its sound quality is good enough with enough options when it comes to its virtual audio output. You also get a lot of online and offline features, if you like these. And lastly its modular design gives you the ability to shape your system any way you like.
On the other hand the basic unit fails in many areas. Virtual Dolby Atmos lacks definition, clarity and precision. No matter what these brands do virtual sound will never be as good as having dedicated Atmos speakers. Surround performance was almost none existent and you will need rear speakers for that. The soundbar lacks a thorough sound management system and lastly there are no pass-through capabilities.
Overall the Sony HT-A3000 is not a bad soundbar at all. It surely has its merits with a strong front performance and easy to use design. But for this system to really shine, it needs some of the optional speaker kits. And this surely ups the price considerably. But you can start with the basic model and go from there as you see fit.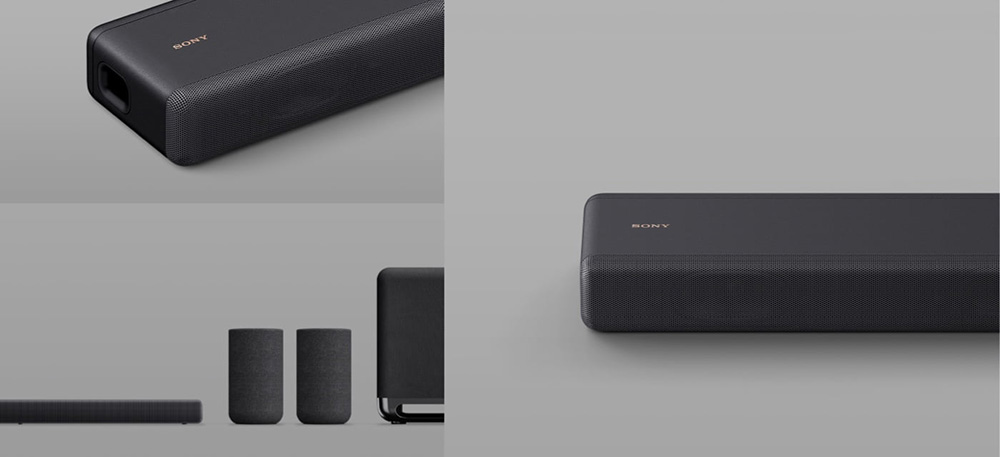 For more reviews you can check our dedicated Single Soundbar reviews list or even look at our Product Reviews Table where you can find the brand and specific product you are looking for.
Also don't lose the chance to subscribe to our Newsletter and gain exclusive privileges.
---
Cheapest Places to Buy :
---
Sony HT-A3000 Specifications