Smart Soundbar 600
Reviewed at $499.00
Movies Performance
8.6/10
Inputs and Features
8.9/10
Pros
Compact design
Very easy to setup and to use
Good Atmos in a small size
WiFi and Bluetooth functionality
Cons
No DTS support
Display not practical at all
No HDMI inputs
High price for such a small unit
---
Cheapest Places to Buy :
---
It's been a while since we last checked on any of Bose's new products but the time has finally come. Although they have been in the soundbar market for a few good years now their lineup is much smaller than the likes of Samsung or LG. But this doesn't mean that they lack in performance or features. So today in our Bose Smart Soundbar 600 review we will be testing their latest release that came towards the end of 2022.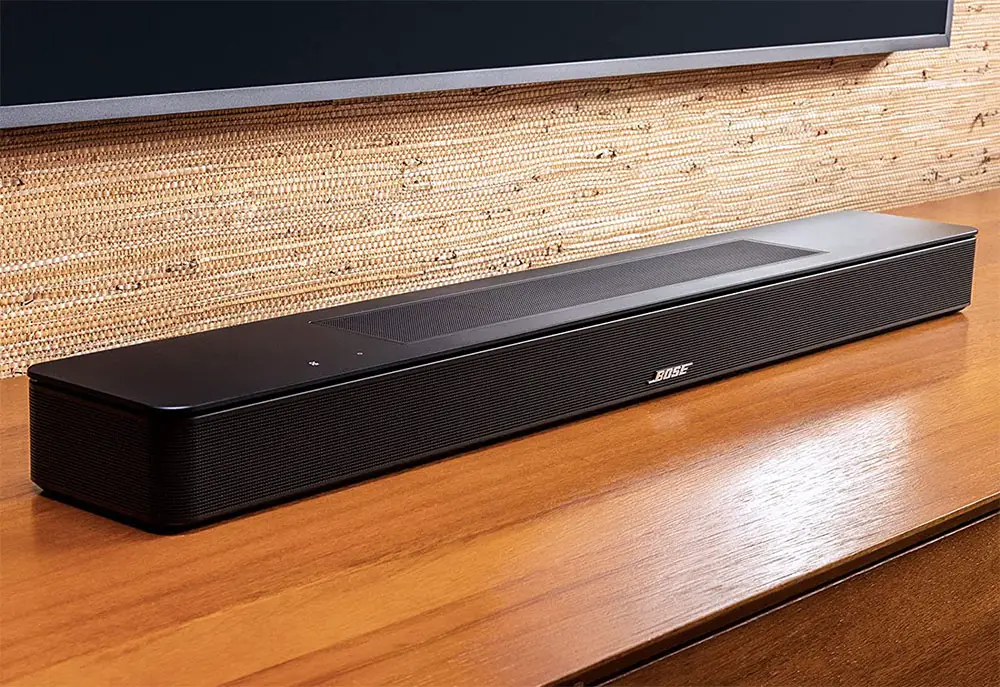 Bose has been shy of releasing a huge number of soundbars and up till recently their lineup consisted of three models. The compact Smart Soundbar 300, the Soundbar 700 which will slowly be phased out and its replacement, the Smart Soundbar 900. And as you can see there was a big gap between the 300 and the 900 and this is where the Smart Soundbar 600 comes in.
The new unit is basically a 3.0.2 channels soundbar that support Dolby Atmos and uses Bose's TrueSpace virtual technology in order to create a more immersive performance. It comes with WiFi and Bluetooth capabilities, voice control, has Chromecast, Airplay and Spotify built-in and can expand with the addition of various subwoofers and surround speakers.
With the new Smart Soundbar 600 Bose is trying to bring as many of the characteristics of the 900 flagship and the entry level Smart Soundbar 300 to the mid-tier category. With competition being brutal in this price range does the Smart Soundbar 600 manages to distinguish itself from the rest of the crowd or it is too little too late for the American manufacturer? Let's put it to the test to find out.
Design, Inputs and Features
Exterior
The new Smart Soundbar 600 borrows a lot of elements from the smaller 300 model both in terms of size and overall design. And this is evident by the extremely similar dimensions as the 600 model measures 2.2″ x 27.3″ x 4.1″ and has a weight of 6.9 lbs making this one a really compact unit that is ideal for small rooms, bedrooms or media centers.
In terms of looks we also find a lot of similarities. It's as if Bose took the 300 model made some changes here and there and voila, the new Smart Soundbar 600. All Bose soundbars follow specific design lines and the 600 model is no different at all.
The main material being used is plastic but whatever Bose has done they made it feel more premium and more sturdy than some other manufacturers have offered us. The front and sides are covered by a single perforated aluminum grill similar to their other releases while on the back we get all the connection ports grouped together at the center.
A matte finish texture is used for the whole top side that looks nice without being anything fancy. The difference here compared to the 300 model is that due to the inclusion of up-firing transducers the 600 comes with a metal grille that covers a large area of the top side.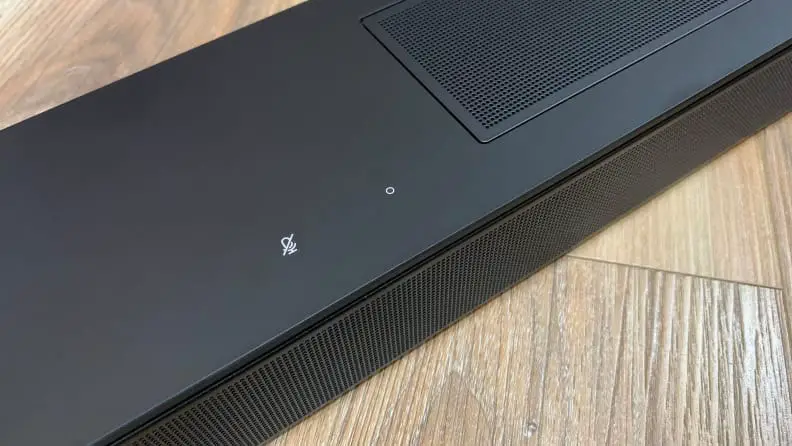 As for its built-in buttons, Bose likes to keep these at a minimum as the soundbar uses the same ones we had seen in the 300 model. This means there are only two touch sensitive ones on the left side just above the front display. One is used to mute the microphone while the other is an action button that is used to activate voice control or stop timers or alarms. The remote or the Bose mobile app are your main means of controlling this unit so don't expect anything more from these built-in ones.
Let's talk now about the front display. We always say that a display is crucial for a soundbar as many, usually the more cheap models, fail to come with one. The Bose Smart Soundbar 600 comes with one but unfortunately it's the same frustrating design Bose has been using in all their previous releases like the Smart Soundbar 300 and Smart Soundbar 900. Instead of using a full display Bose has opted for a dual light display system.
This consists of a small LED light under the mute microphone button indicating if the microphone and voice control are turned on or off and a thin LED light bar that changes colors and style in order to indicate the various functions of the soundbar. Now this kind of display may look cool and more futuristic but remembering all the light bar states is a pain and we certainly had to look on the manual again and again in order to understand what the soundbar was doing.
Cool looking yes, practical not by a long shot. And we cannot understand why Bose insists on using this design as it adds more frustration with everyday use than anything else. Someone must notify their design department that practicality in soundbars is more important than just a cool looking design.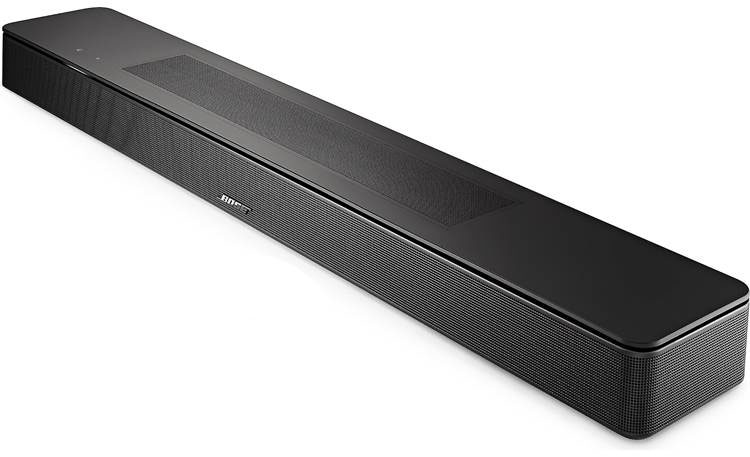 The back of the unit is pretty straightforward with a big inset in the middle hiding all the connection ports while there seems to be two air ports in each side that help with moving air and enhance the low end as much as possible. Special mounting brackets can be purchased separately in case you want to place it on a wall and these hold the unit from underneath.
Lastly we should mention that while the unit is relatively low profile there is an option to connect a separate IR repeater which is the next best thing when there is not one built-in. Very few soundbars include this option and even some premium top tier units don't have either a built-in IR repeater or at least give you the option to connect an external one so kudos to Bose for giving us at least the option here.
The Smart Soundbar 600 has a lot of the same DNA as the 300 model. They share the same dimensions, same looks and design elements, the same materials and the only thing that has changed is the top metal grille due to the inclusion of the up-firing channels. Overall built quality is very good and up to the usual Bose standards.
Internal Hardware
In terms of internal hardware Bose was always very secretive of what makes their soundbars tick and the Smart Soundbar 600 is no different. Bose never liked to rate their soundbars but looking at its internals we see that this is basically a 3.0.2 channels single unit design.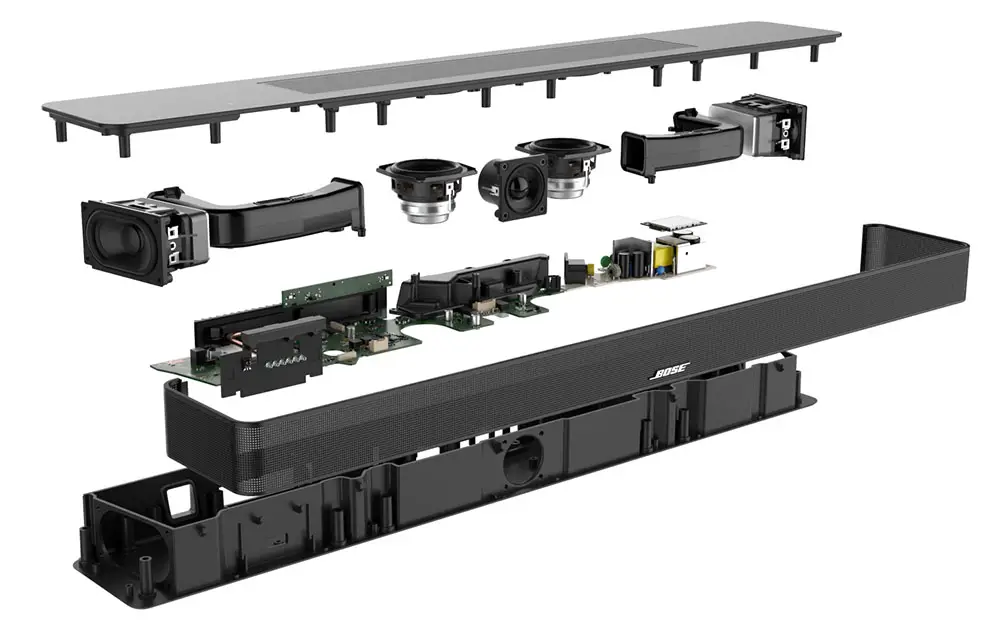 The soundbar comes with a single center tweeter dedicated for dialogue, two racetrack transducers that are placed at an angle in order to provide the soundbar with some sideways extension and two up-firing transducers dedicated to Dolby Atmos effects.
From this layout, it seems like Bose took the Smart Soundbar 300 and switched the forward looking racetrack drivers to up-firing Atmos transducers in order to enable this unit to have Atmos capabilities.
Along with these drivers the unit is using Bose's TrueSpace technology but we will talk in more detail about this in the appropriate section with the rest of the audio formats that are supported.
As with all other Bose soundbars we have no idea of the power rating of the Smart Soundbar 600 or what kind of frequency response it has. Bose gives very little information regarding these details and this one is no different so we have no real way of comparing it to the competition.
Connectivity
All ports of the Soundbar 600 are placed on a special inset at the back of the unit. Looking at the layout it seems that Bose decided to use the exact same one we had seen in the Smart Soundbar 300 as all ports and connections are exactly the same.
Looking from left to right we find the power connector, an IR port for connecting an external IR repeater, a bass port for connecting a subwoofer, a digital audio optical input, a micro-USB that is only used for service and a HDMI port with eARC functionality.
This last one seems to be the only real difference as the 300 only had ARC support. With eARC the Smart Soundbar 600 can accept not only Dolby Digital and Dolby Digital Plus but also Dolby TrueHD and Dolby Atmos from an external source.
Also Bose's soundbars are some of the few that include an IR port in order to add an external repeater if needed which is a great idea and surely helps in case you have problems with the soundbar obstructing the TV's sensor. There is also a bass port but this can be used only with Bose subwoofers so don't expect to use it with a third party model.
When it comes to the soundbar's wireless capabilities it features built-in WiFi that was missing from the smaller Bose TV Speaker along with Bluetooth v4.2 in order to use it for streaming music from Bluetooth enabled mobile devices.
The Smart Soundbar 600 comes with the usual layout, by Bose's standards, and except from the eARC update everything else is entirely the same as the 300 model. Since there are no HDMI inputs your connectivity options are rather limited but this is something we see on a lot of soundbars, so it is not something new.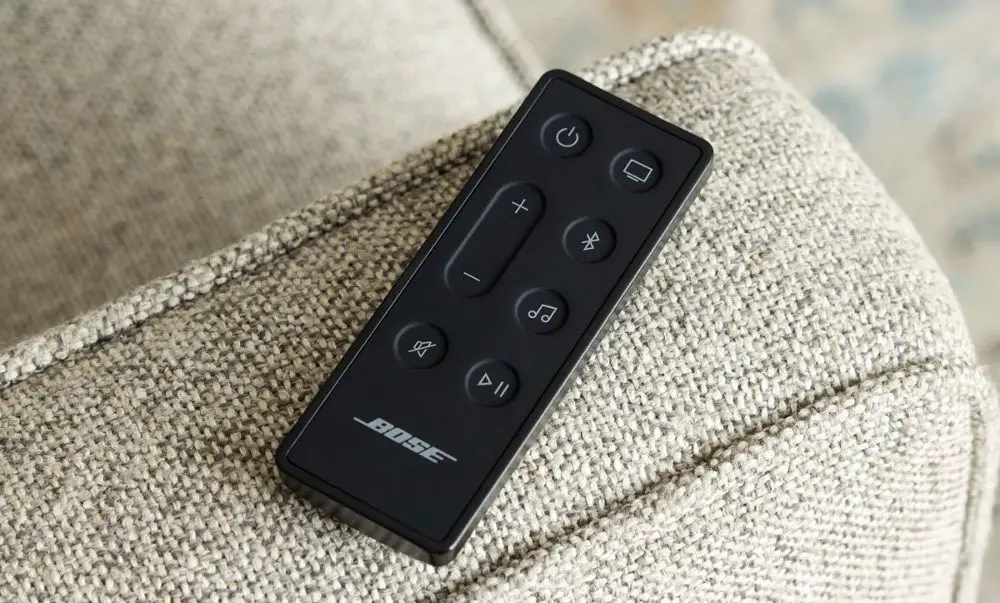 Control Options
Continuing with the similarities compared to both the 300 and 900 soundbars we are going to talk about how you can control the unit and we will start with the remote which in this case is the same as the one we used in the Soundbar 300.
The remote is a tiny one as the soundbar lacks a wide variety of features that would require a bigger remote with more buttons. It's made out of plastic and its design is the usual rectangle shaped with slightly rounded corners. The back has a slight curve for better handling but Bose has added on the top of it a straight stand so it will not wobble in a straight surface.
What is unique is the kind of batteries this thing takes as it goes for a thin CR2032 battery type instead of the usual AA or AAA batteries most remotes use. Keep this in mind in order to have one spare in case of need.
As for its buttons instead of using the usual rubber ones that protrude from the remote these actually are placed on insets that may not add anything when it comes to practicality but certainly looks different from most remotes we have used before.
The available buttons include the power on the top left corner with TV and Bluetooth selection on the right while volume controls are placed just under the power button and mute sound under the volume controls. The difference here is on the last two buttons as now we get a Bose Music App button with a play/pause control underneath that.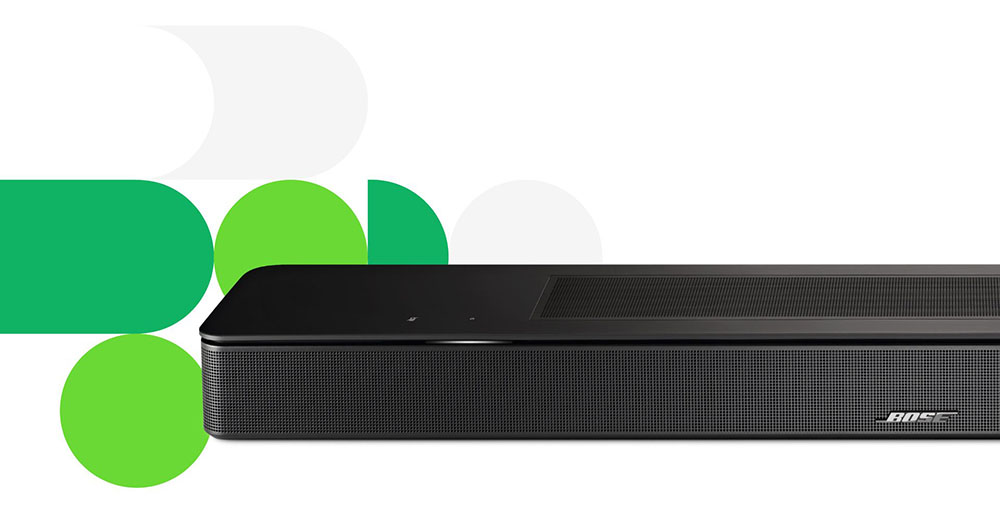 We already mentioned above about the two built-in buttons that are placed above the front LED lights but these offer very limited functionality and cannot be used for controlling the soundbar entirely.
The soundbar also supports voice control with both Amazon Alexa and Google Assistant available but here you have to keep in mind that while Amazon Alexa is built-in and you can use it out of the box for Google Assistant you will need an external device to issue your commands.
When talking to Alexa or Google Assistant the LED light bar indicates it's status like listening, thinking or speaking giving you some visual information of the soundbar functionality at that given moment. Also you can use voice control not only to control the unit but also choose streaming services, hear news and weather forecasts among others.
But Bose has not only included both voice control platforms but also used their Voice4Video technology in order to expand Amazon Alexa's voice capabilities so you can control your TV and cable or satellite box even if these don't support Alexa directly.
There is also the Bose Music App which lets you control the unit through your mobile device along with enabling various other functions like making sound adjustments, setup the unit, connecting to the local network and stream music.
We strongly recommend you download this app as it has a very nice UI and through it you can handle all functions of the soundbar, something we cannot say for the remote. So in a way this app is essential for the right functionality of the unit.
Overall the Smart Soundbar 600 comes with everything we saw in all other Bose soundbars before. There is nothing missing really although not having Google Assistant built-in leaves a bit of a sour taste.
Extra Features and Services
Next we will look at all the features that are included. Bose mentions that the new Smart Soundbar 600 can playback all Dolby formats including Dolby Atmos, Dolby Digital, Dolby TrueHD and Dolby Digital Plus. To our great disappointment there is no DTS support which is a big omission in our books even for a mid-tier soundbar.
To be honest we cannot comprehend why Bose refuses to include DTS in any of their soundbars. Competition is fierce and when most other brands and even dirty cheap models offer both Dolby and DTS audio, it feels like Bose is stuck in the past. One thing is for sure, this will greatly hurt them no matter how you see it.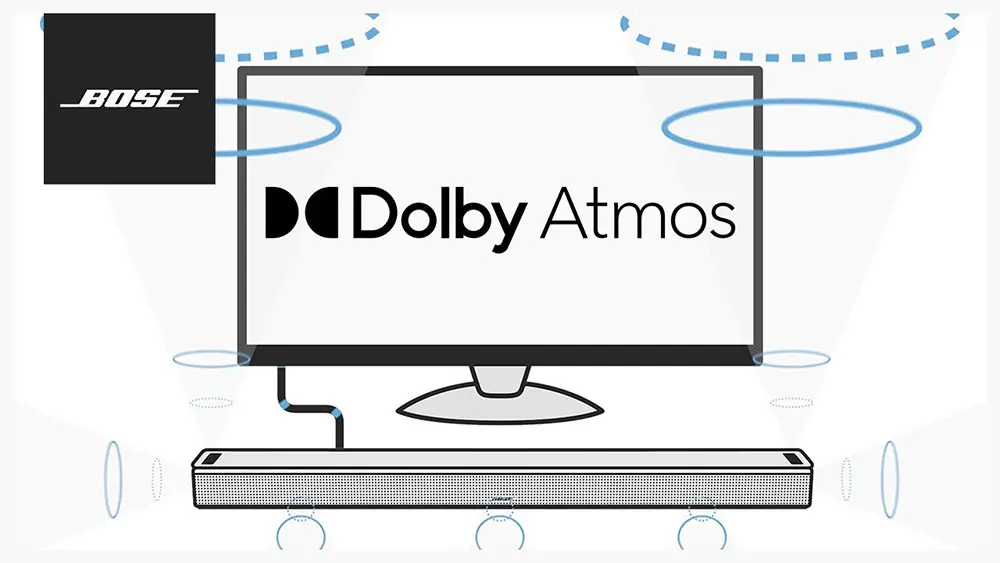 When there's no Dolby Atmos content, like stereo or 5.1, Bose TrueSpace technology takes over for the vertical experience, remixing signals to add "height" without adding a ceiling speaker, creating in theory the same immersive sound experience.
Now when it comes to sound modes Bose is not including any in the same way we have seen other manufacturers do. Instead they use this real time audio tuning system which basically is a custom made software that is analyzing what is being played either it be movies, music, games or shows and fine-tunes the sound to optimize your listening experience. This is the same as with all Bose soundbars so no real surprises here.
The only real sound modes that are included is a Dialogue mode that enhances the high frequencies and can be very handy for talk shows and news broadcasts as it tends to lower all other sounds instead. The second mode is called Wall EQ and this basically re-adjusts the sound depending on whether you have wall mounted the unit or not which is not a mode we see very often but one that some manufacturers do include in their offerings.
The unit lacks any kind of EQ settings for frequency balance adjustments and only has bass, treble, height and center channels level adjustments that can be set through the Bose Music App. There is also no auto sound calibration system like the ADAPTiQ system that is used in some more expensive units like the 500, 700 and 900 models.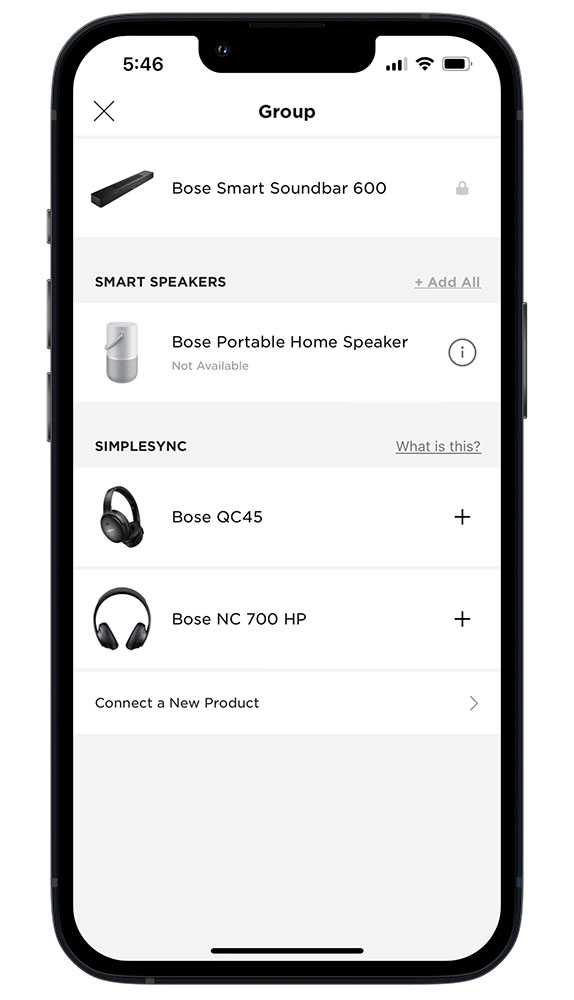 In terms of streaming audio you have the ability to listen to music either from WiFi or Bluetooth with the use of the Bose Music App. The App includes online streaming platforms like Spotify Connect among others while Airplay and Chromecast support are both built-in which is actually an improvement compared to the 300 model which had Airplay but not Chromecast.
The unit also features expanded Bluetooth capabilities. You cannot only pair any mobile device and stream music to the soundbar itself but you also have the option to stream audio to other Bluetooth enabled speakers through the included SimpleSync technology.
This is done through Bose SoundLink Bluetooth speakers or Bose headphones and it can be practical for two reasons. First this way you can stream audio to other speakers in other rooms or you can stream music to some Bose headphones from the soundbar that support this technology making it an excellent feature for silent viewing at night.
The Smart Soundbar 600 comes with pretty much the same expansion and multi-room capabilities we had seen in some other Bose soundbars. As such you can expand on the soundbar system itself as you have the option to add either a subwoofer or surround speakers and create a full 5.1.2 channels surround system.
The available subwoofers you can connect are the Bose Bass Module 500 or Bass Module 700. As for the surround speakers the ones supported by this soundbar are the Bose Surround Speakers 700. We definitely like the expandability of the unit and surely you can start with the main unit only and add more as you go. This way you can keep the initial cost down and expand on your system depending on how you see its performance by yourself.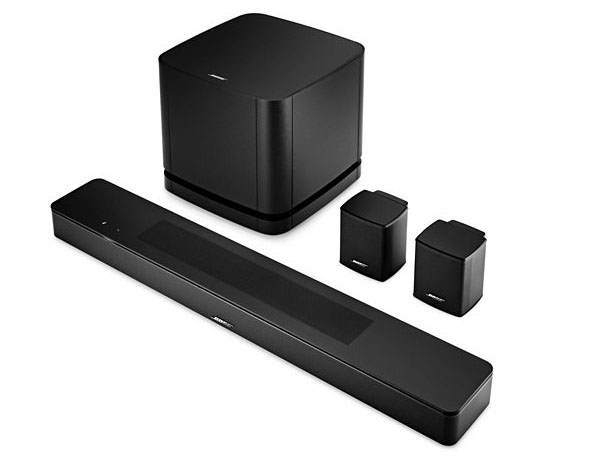 Initial Setup
Setting up the soundbar was exactly the same as with all the previous Bose units we reviewed before. Keep in mind that our testing was done using only the main unit without the Bass Module or the Surround Speakers because we wanted to determine the kind of quality we would get without the need of additional speakers that many people may not be able to afford. It's a given that adding a subwoofer or surround speakers would improve the end result and if you can pay the premium price for them we definitely recommend to get them.
After initial unpacking and placement of the unit in front of the TV we plugged it to a power outlet and downloaded the Bose Music App in order to connect the soundbar to the network. Keep in mind that you will have to create an account but it's free and shouldn't take you long to finish that step.
As for connecting the soundbar we opted to go with the HDMI port. This way we could connect our UHD player to the TV and from there connect to the HDMI port of the Soundbar 600 by using the eARC function. Usually we try to avoid ARC or eARC as we have encountered many problems over the years but in this specific case it was the only option we had in order to get Dolby Atmos from Dolby TrueHD that most 4K UHD discs come with.
The soundbar does not have an auto sound calibration system so you are left with very few options in terms of audio adjustments. First you need to tell the soundbar if it is either on a furniture or on the wall by enabling the appropriate sound mode and then the only real adjustments you can make is for treble, bass, center and height channels.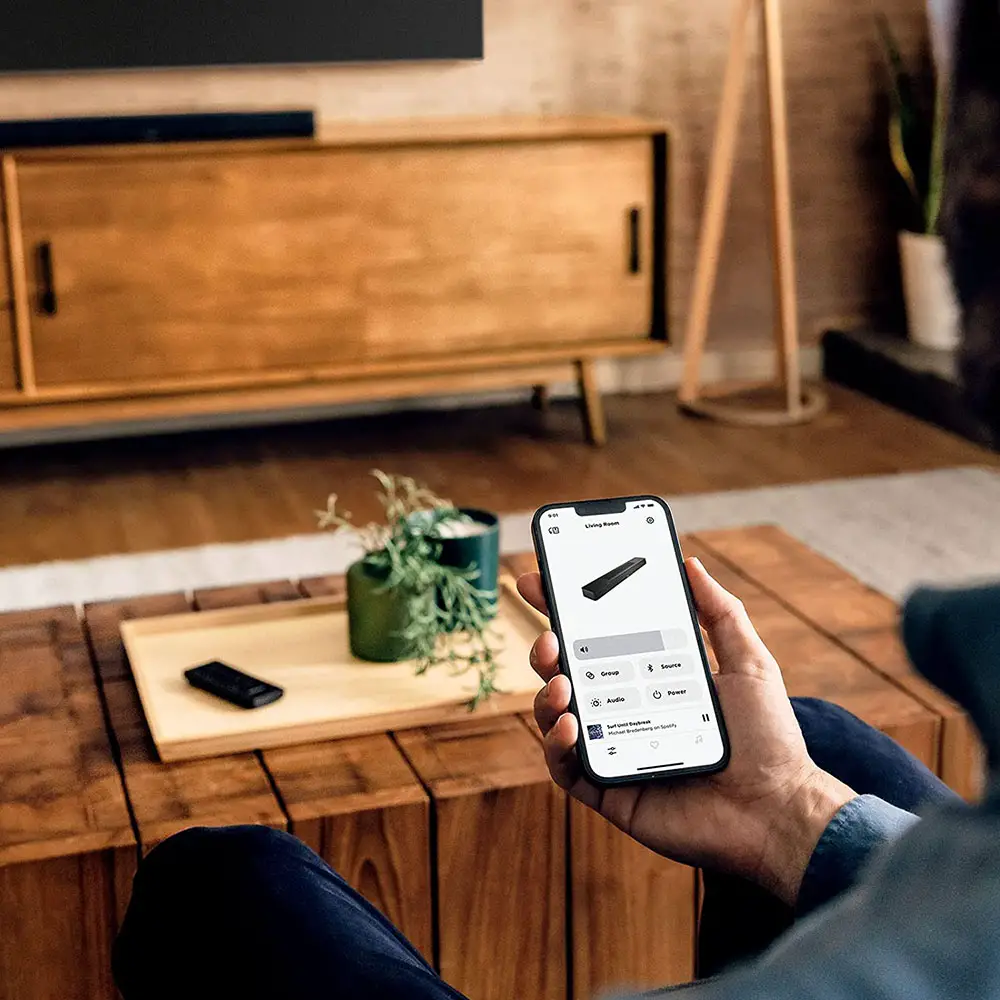 There is nothing else you can fiddle with and while many would prefer to be able to select a specific sound mode this is just perfect for those that seek an experience that is as simple as it gets.
Movies
We started our testing with something more atmospheric so we went with Alien Covenant in 4K UHD and its mesmerizing Dolby Atmos track. The movie has some noteworthy effects placement with surround and overhead activity giving you a very realistic sense of the world it takes place at.
Obviously with such a compact design the front sound stage felt somewhat more constraint compared to bigger units but even so the twin transducers that fire at an angle made sure to stretch the sound slightly towards the sides and outside the confines of the physical space of the soundbar itself.
The dialogue was clear and distinct at all times and we never felt the need to activate the available Dialog mode at all. As for the Atmos effects, having heard this film in a capable Dolby Atmos system, the soundbar surely cannot output the same level of fidelity, clarity or pinpoint precision. Also the elevation of the effects were not the same as having ceiling or height speakers but this should be expected with such a unit.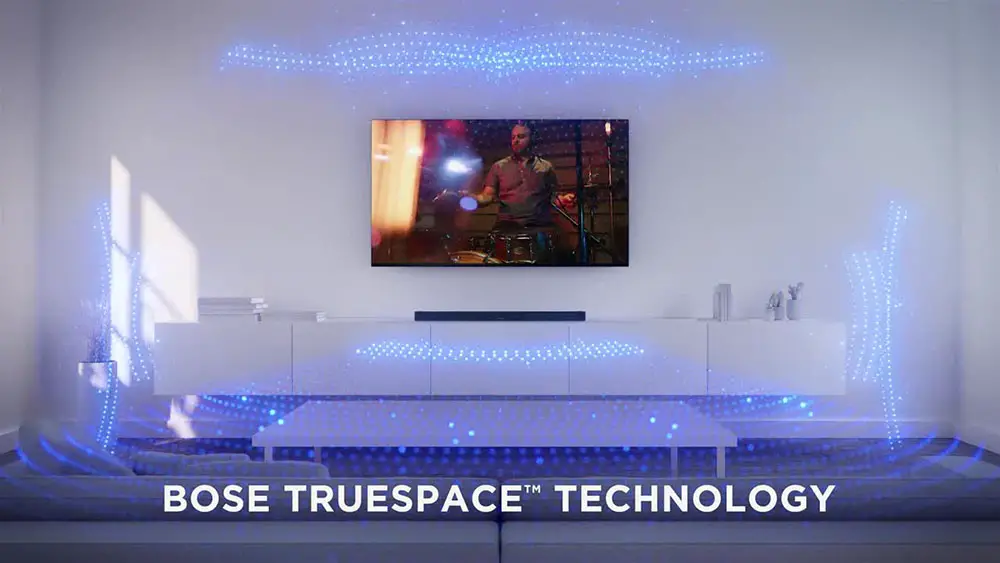 The area where the Atmos effects were the most distinct is a bit narrow so if you don't find the sweet spot then surely you are not going to have the same results. This is more or less the same with many up-firing Atmos designs but with the Smart Soundbar 600's compact footprint this became even bigger a problem.
As for the low end the Bose was pretty impressive for such a small unit. Obviously don't expect to be shaken or feel this low end prowess a dedicated subwoofer is capable of but all things considered you are not going to be disappointed.
Obviously since the unit lacks rear speakers you shouldn't expect to get any kind of surround activity. Although the soundbar does try to offer more depth and extension on all axis there is not much it can do when it comes to over the shoulder action. As a result all activity was front oriented at all times.
Next we opted to try Terminator: Dark Fate in 4K UHD which again comes with a nicely engineered Dolby Atmos mix. Plenty of action scenes to choose from but overall we got a pretty balanced output which is very characteristic of this mix too.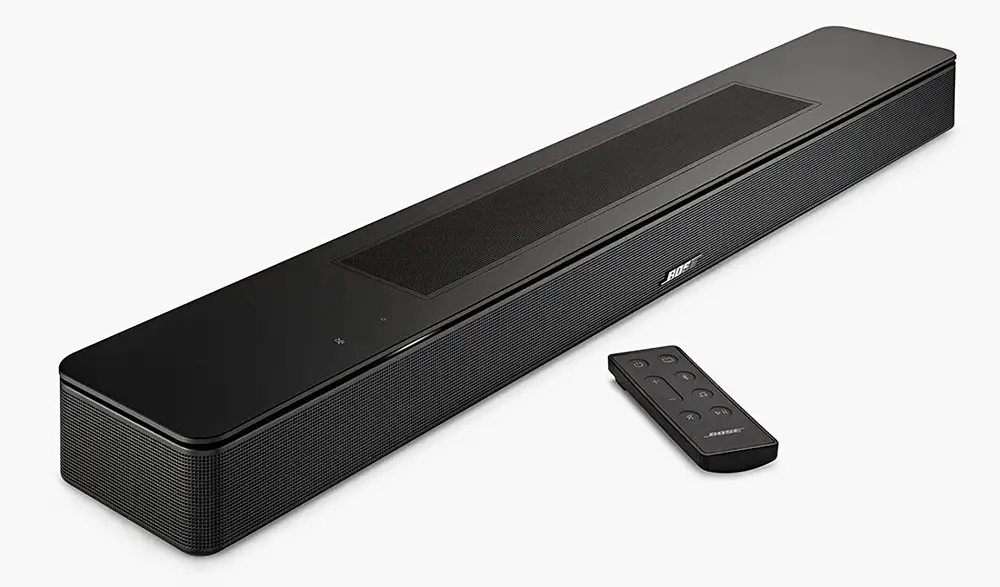 Dialog obviously takes center stage and the Bose soundbar had no problem rendering all voices with good resolution. We had placed the soundbar below our TV but in many cases it felt like the actor's voice came from the TV itself meaning that the soundbar would slightly elevate the center channel which was probably happening due to the inclusion of the Atmos channels.
Again all action was fixed at the front with satisfying separation between the two main channels and while panning effects were audible they didn't have the extension of other bigger units. It is evident that this soundbar is not meant for big spaces and the closer you will sit to it the more prominent these effects will be.
Bass was pleasant but nothing that will drop your jaw on the floor. The film has plenty of destruction all around with explosions and constant low end action and the soundbar made a valiant effort to dig deep and low as much as it could. The unit did have problems with some very deep bass and the final outcome felt a bit flat and uninspiring but in all honesty what we heard was good enough for such a compact system.
Closing this part of our review we can say that the Bose Smart Soundbar 600 will offer you great cinematic immersion, just keep in mind that this is the kind of a system that relies a lot on your space and is really meant only for small living rooms, bedrooms or gaming setups as its real strengths will diminish in a wide open space.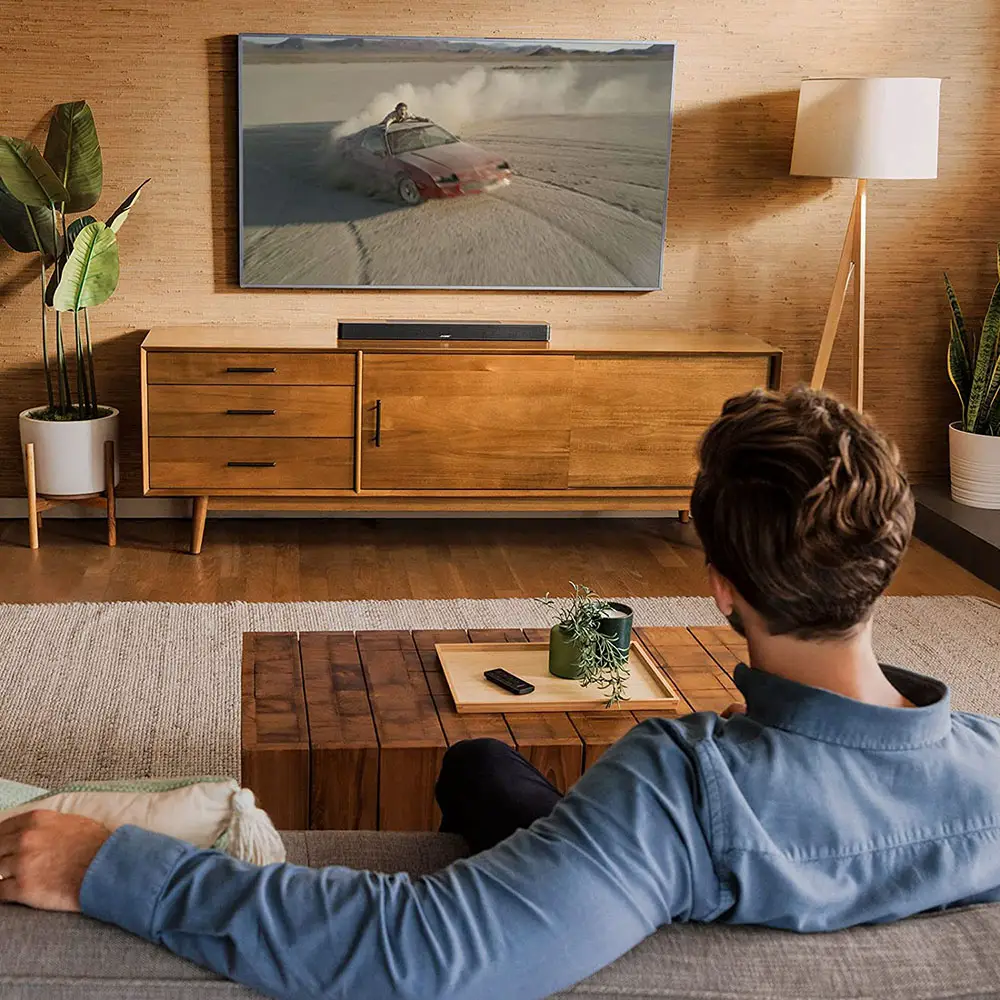 And the option to upgrade it with the addition of a subwoofer or surround speakers add much more value to it as you can improve it only in the areas you feel the need.
Music
For our music testing, since there is no USB playback support, we decided to use a wireless connection for streaming.
While the soundbar can impress with its performance in movies when it comes to music things were not so clear cut. And we say this because on the one hand, due to the lower requirements of music in terms of surround immersion, the soundbar felt like dealing with music better due to its front oriented system on the other hand the TrueSpace virtual technology that the soundbar uses made the output feel over-processed and a bit artificial.
And this is something you cannot do anything about as TrueSpace is integrated into the soundbar and works by itself so you have no real control over it. If it detects a stereo track, or any other legacy mix for that matter, then this tech will try to create virtual sounds in order to make you feel its output more immersive. Something that you may like with movies but not so much with music where you want the output to be as pure as possible.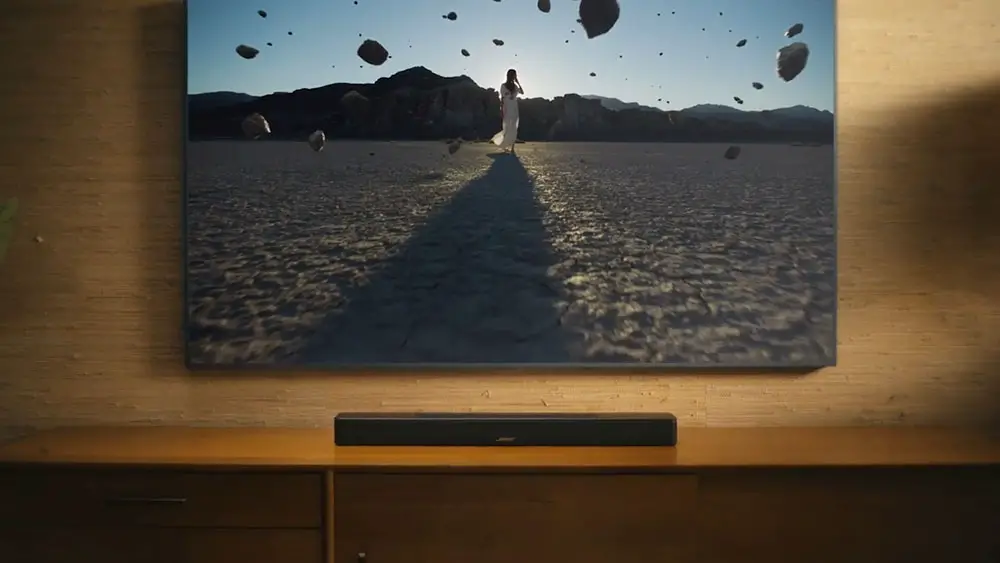 The bass on the other hand was satisfying enough, but again don't expect anything impressive, it just gets the job done. And this actually is a good thing, the point here is its low end output not to detract from the whole experience and the Bose manages to comes out with more pluses than minuses.
As we always do in our review we tested various genres to see how the system behaves in different situations and to be honest the Smart Soundbar 600 had a very Bose tonality that was characteristic in the previous soundbars we tested from this brand. You either like it or you don't and we see why they have become a fan favorite over so many years.
Closing here we can admit that judging the soundbar's musical qualities was harder than we initially thought. On the one hand it's obvious what Bose tried to do with their TrueSpace technology but on the other hand, when it comes to music, this may not have been the best course of action. But surely there are many that will like this kind of tonal output so it really depends on personal taste.
But looking at the big picture we cannot say that we were disappointed by what we heard, it was just not what we would like to hear.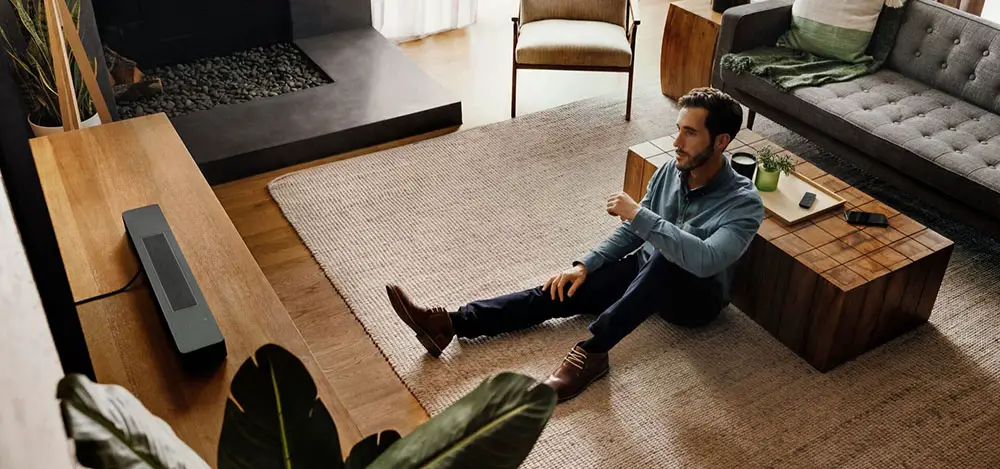 Final Thoughts
Bose needed a new mid-tier soundbar but they couldn't do without Dolby Atmos. So what they thought was to take their compact Smart Soundbar 300, make the necessary changes and additions and create a unit that tries to close the gap between the 300 and 900 models. Where they successful in their effort? Well, yes to a certain degree, but not without a few flaws.
On the bright side the Smart Soundbar 600 is a very compact system that can be used in just about any small setup and media room. It is extremely easy to setup, even easier to handle with its simple app and overall limited settings, it has good output for such a small unit and comes with a modular design giving you the freedom to shape it any way you want if you find it lacking in certain areas.
On the other hand for such a small, single unit design the soundbar is very expensive compared to the competition as in this price range many soundbars come with at least a subwoofer, if not with surround speakers also. Its connectivity options are rather limited with no HDMI inputs meaning that eARC is a necessity for Dolby Atmos and to be honest we are not very fond of eARC at all. The display design, although cool looking is very frustrating and not practical at all while having no DTS support is inexcusable for such a price.
The new Bose Smart Soundbar 600 finds itself in the midst of an extremely competitive market. And having this price tag and the Dolby Atmos sticker on it doesn't help with expectations. If you need a compact soundbar for your gaming setup or small media room and you want to get some Atmos magic then the Bose Smart Soundbar 600 can be a great choice and will surely surprise you with its performance.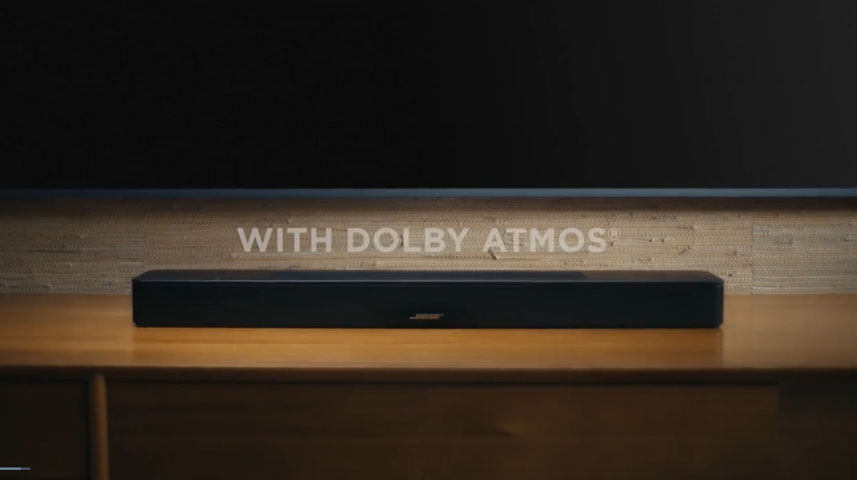 For more reviews you can check our dedicated Single Soundbar reviews list or even look at our Product Reviews Table where you can find the brand and specific product you are looking for.
Also don't lose the chance to subscribe to our Newsletter and gain exclusive privileges.
---
Cheapest Places to Buy :
---
Bose Smart Soundbar 600 Specifications