Sony STR-AN1000
Reviewed at $798.00
Product Name: Sony STR-AN1000
Product Description: 7.2 CH 8K AV Receiver
Design -

9/10

Audio Quality -

9.1/10

Inputs / Ports -

9.1/10

OS, Apps and Features -

9.3/10

Price / Quality -

9.4/10
Summary
Reviewed at $798.00
Pros
360 Spatial Sound Mapping technology
Plenty of online and offline features
HDMI 2.1 with all gaming features
Excellent price
Cons
No PHONO input
No front HDMI port
The remote has no backlight
Same old design
---
Cheapest Places to Buy :
*We are a reader-supported website. When you buy through links on our site, we may earn a small affiliate commission at no extra cost to you. Home Media Entertainment does not accept money for reviews.*
---
Sony made some waves earlier this year by announcing their new lineup of AV receivers. The Japanese manufacturer is not so keen on releasing yearly models like some other brands do, so this announcement came as a pleasant surprise. And today we will start from the bottom as in our Sony STR-AN1000 review we will be testing their least expensive new release for this year.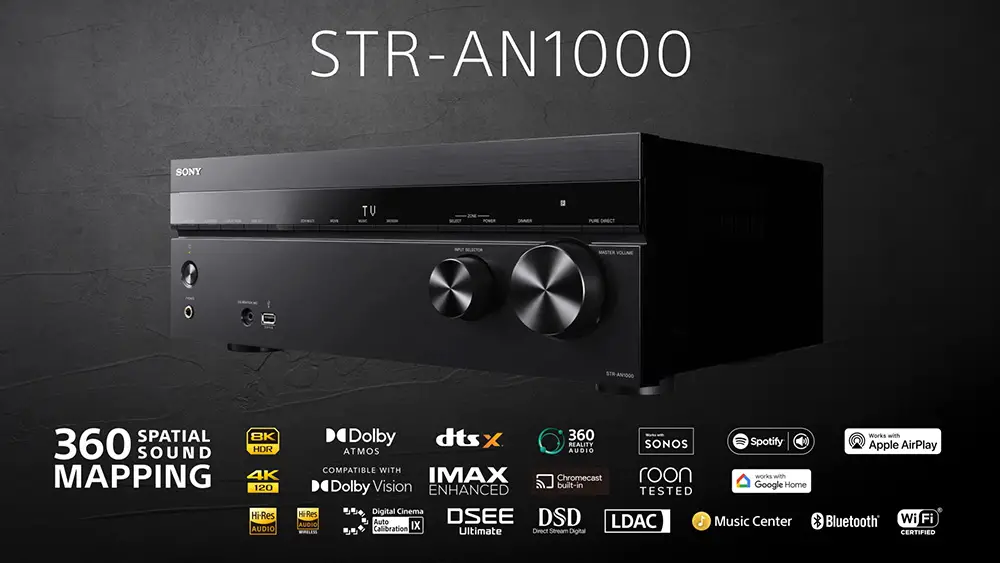 Obviously most of the attention is towards their ES series as this got most of the promotion time. But they also released the AN1000 which has many common features with the more advanced ES series, like the 360 Spatial Sound Mapping technology, but is offered at a much lower and consumer friendly price.
Going over the specs real quick the STR-AN1000 is a 7.2 channels AV receiver with 100 watts per channel. It supports the usual Dolby Atmos and DTS:X but also, for the first time, Sony's 360 Spatial Sound Mapping technology. It also gets Sony's latest Digital Cinema Auto Calibration IX while it has plenty of extras features. WiFi, Bluetooth, Chromecast, Airplay, voice control, High Resolution audio, multi-zones, DSEE, Sonos and Roon are some of those available.
With AV receiver prices gone sky high lately the $798 STR-AN1000 is looking extremely lucrative, especially if you consider all the features it comes with. Sony may not be the first brand that comes to mind in the AV Receivers market but surely they know their art. Some of their previous models proved to be very capable performers so we are about to see if the new AN1000 can do equally good.
Design
Keeping with tradition, Sony has been recycling their design for many years now and the AN1000 has not changed a bit. In fact comparing the new release with the STR-DN1080 makes the two units completely indistinguishable.
In terms of dimensions the STR-AN1000 measured 17 in × 6 1/4 in × 13 1/8 in (430 mm × 156 mm × 331 mm) and with a weight of 20 lb 12 oz (9.4 kg) making it slightly bigger and heavier than the STR-DH790 we reviewed recently.
Its layout, as we mentioned above, is the usual one with two round knobs on the right side, with the volume one being slightly bigger than the input selector. On the left side a round power button is accompanied by the headphones jack and the calibration microphone port. To the right of that is a single USB port for connecting external storage.
Right in the middle we get the usual functions display with a thin line under it including some built-in controls. These include various functions like multi-zone control and sound modes among others.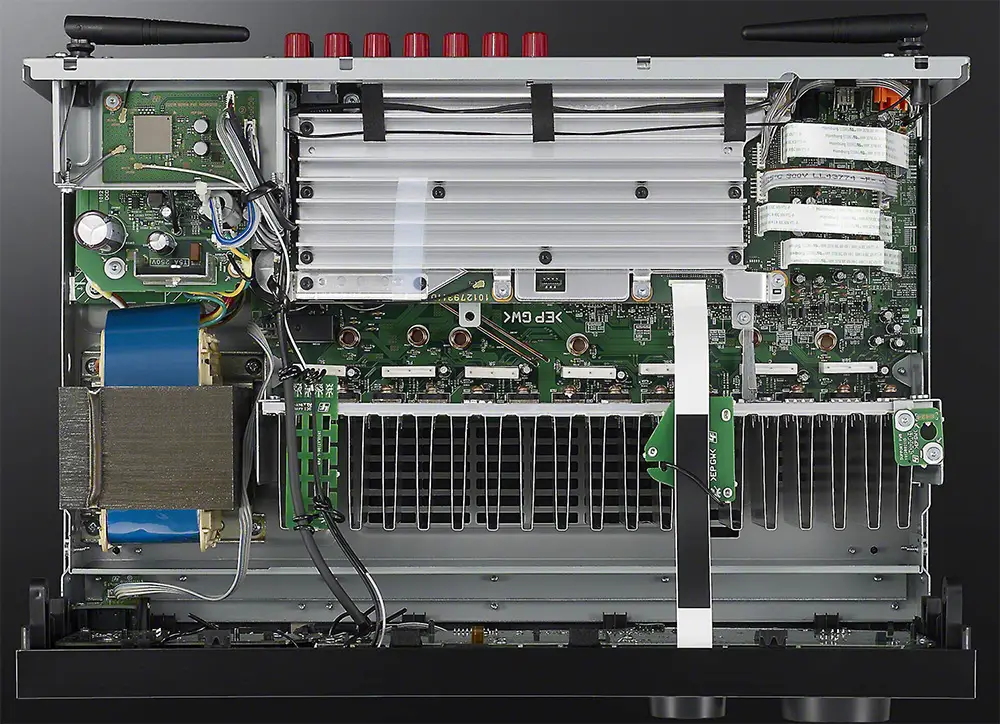 Internal Hardware
As always, it is the hardware that matters the most and not its looks. And Sony knows how to make good quality units. The AN1000 uses an additional sub-chassis structure on the rear of the front panel, which results in increased rigidity. This further reduces vibration and improves sound quality overall.
The redesigned power transformer also features a new core material and bobbin to lower distortion. While newly designed power supply capacitors, developed by Sony, improve stability.
The new digital section enables all signal processing to be performed on a single chip while also providing lower impedance, increased capacitance, and better stability. Digital PCM signal input is processed at 32-bit and converted to analog by the DAC, while DSD signal input during direct mode is natively input to the DAC and converted to an analog signal.
The DAC analog power supply uses a low-noise power supply IC to ensure that hi-fidelity performance is achieved. A new DAC analog output filter circuit was designed utilizing a JFET and op-amp improvement in noise floor. The phase rotation was shifted to a higher frequency, expanding the bandwidth and improving sound clarity for wide-bandwidth sources like high-resolution audio.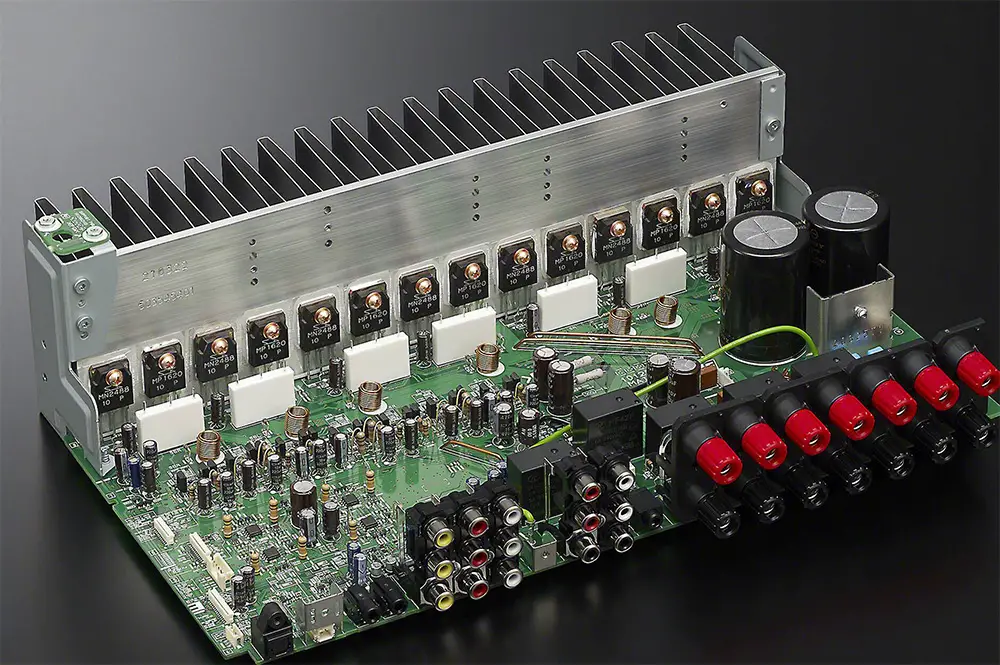 Other improvements include a Sony-exclusive integrated circuit developed to improve all amplification functions of the STR-AN1000 while pure copper has been used in the electrodes to achieve high volumes of data with no audio quality loss.
Remote
As for the remote being supplied with the AN1000, this is different from all other Sony remotes we saw before. Code-named RMT-AA511U, this is a rather simple remote with a plastic body and enough rubber buttons for all of the receiver's functions.
As per usual all inputs are placed at the top, with the navigation controls placed in the middle and some playback controls being at the lower bottom. Functionally this is similar to other Sony remotes but its layout is different to accommodate some extra functions. The only real gripe we have is the absence of a backlight function.
Overall the AN1000 got the usual Sony treatment. Design is the same but internals have been redesigned to newer standards. But for the price tag it comes with you cannot ask for anything more.

Audio Specifications
We will start this section by mentioning everything the AN1000 supports in terms of audio formats. Obviously Dolby Atmos and DTS:X are the standard these days but Sony made sure to add some newer technologies to this low budget unit.
As such we also find Sony's proprietary 360 Spatial Sound Mapping along with 360 Reality audio and MPEG-H support. Lastly the unit comes with IMAX Enhanced support, even if content for that is still hard to find.
Virtual Sound & Up-mixers
But except from the above Sony added all the usual virtual and up-mixing tech that you should expect a new AV receiver to have. As such we find Dolby Surround and DTS Neural:X that up-convert stereo and legacy mixes in order to make use of all the speakers you have in your setup.
As for virtual tech the AV receiver comes with Dolby Speaker Virtualization and DTS Virtual: X. These are capable of creating sounds that originate from virtual created speakers around your room where there are no physical speakers present.
Keep in mind that this virtual tech obviously is not as good and accurate as having real physical speakers and is very much room dependent. Also processing alters the original source in a way that you may or may not like. But it is always good to have this as an alternative.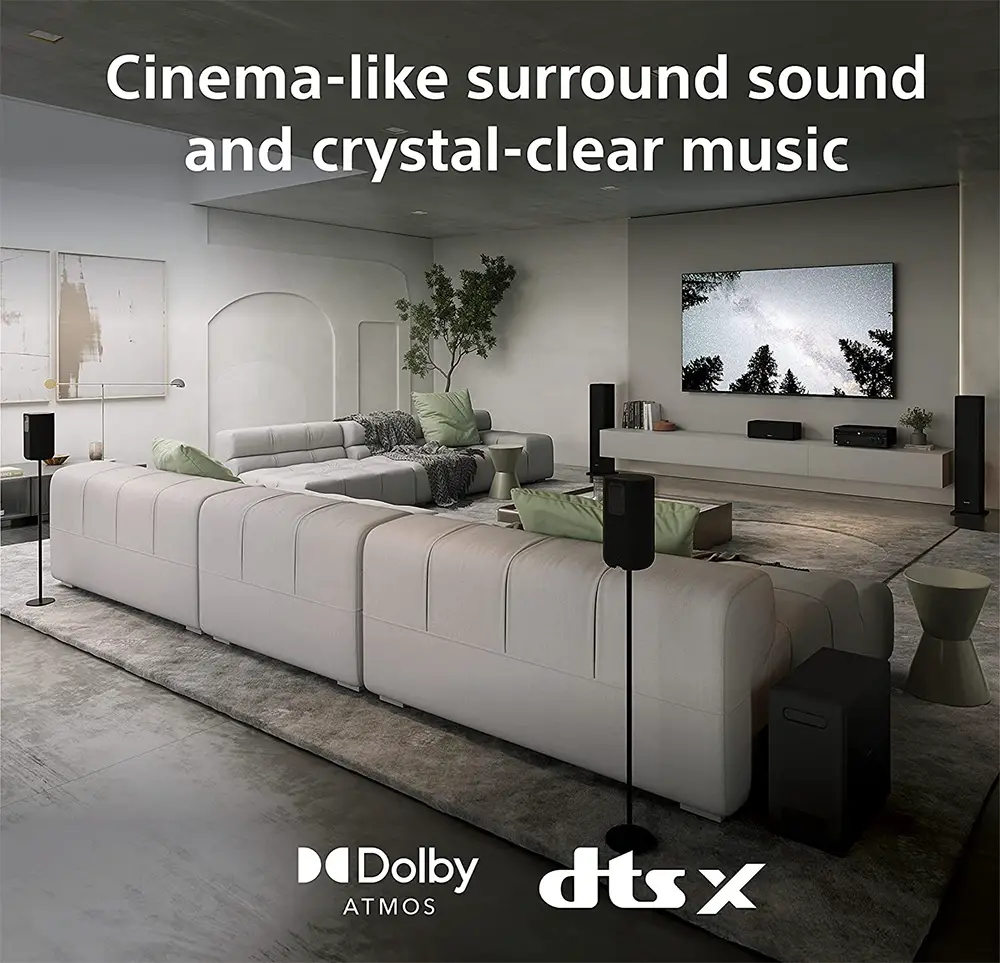 Amplification
The STR-AN1000 comes with 7 channels of built-in amplification. Each channel is capable of outputting 100 watts of power (6 ohms, 20 Hz – 20 kHz, THD 0.09%, 2ch drive) which can suffice for small and medium sized rooms. Keep in mind that this is only for 2 channels driven meaning that when all 7 channels are active this number goes down considerably. The receiver cannot process more channels so seven is the maximum it can do.
It can also support up to two subwoofers which is the standard nowadays. But surely not the best as many new units can even support up to 4 subwoofers. But two is more than enough for most casual users so you should be fine in that respect.
With the built-in amplifiers you can go all the way for a 5.1.2 channels audio setup with two dedicated overhead speakers. And this is exactly what we went with. With two front height speakers for Atmos and a single subwoofer placed at the front left corner of our room.
Movies Testing
The film we chose for this test is Star Trek: Into Darkness in 4K UHD which comes with a very pleasing Dolby Atmos mix.
And the AN1000 really proved its worth. Our test room filled with sounds emitting from all directions. We loved how nicely the unit mapped the soundstage creating a seamless experience no matter the content on screen.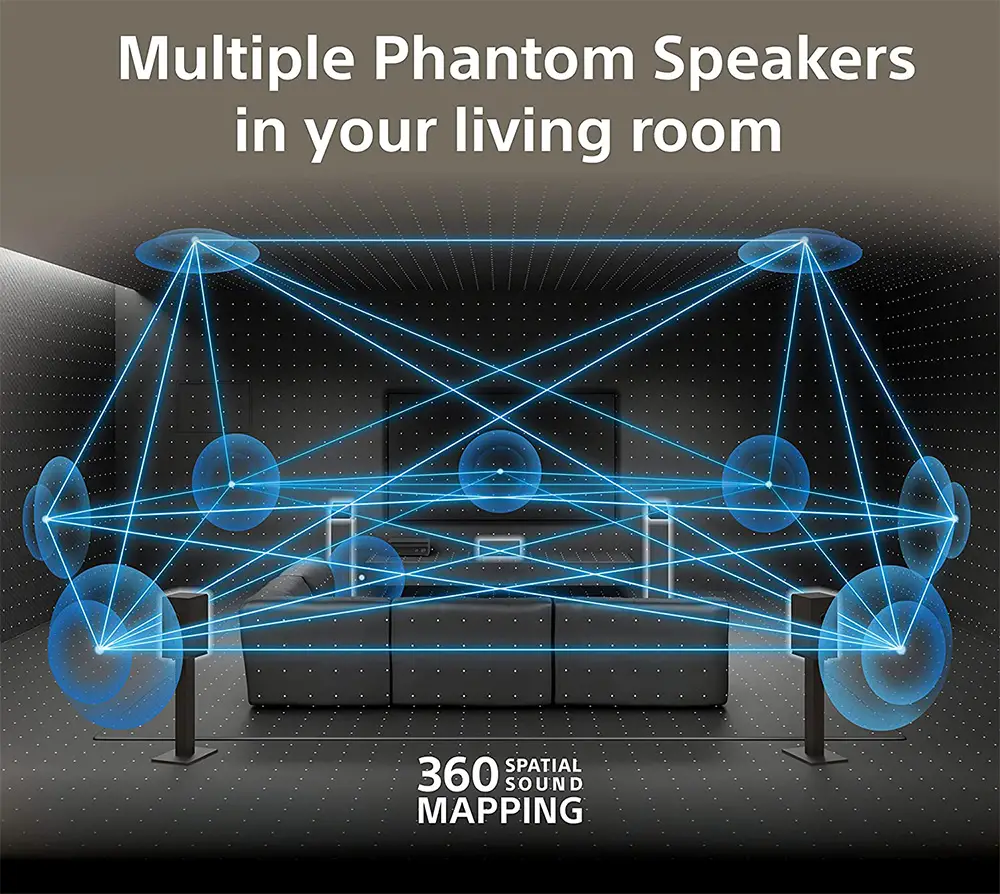 Front Soundstage
The front stage was powerful and with good separation of the three front channels. Panning effects had nice extension pushing the boundaries of our system beyond its physical limits. Dialog was very distinct no matter what was happening on screen while the center channel kept it isolated from the rest of the action.
Surround Performance
During the spaceship battles the AV receiver had the opportunity to showcase its surround capabilities and they were truly remarkable. We do not know what kind of magic is Sony using under their 360 Spatial Sound Mapping technology but what we heard was amazing for this category of AV receivers.
Directionality and precision of sound were excellent as laser fire and photon torpedoes traveled across our viewing area. Atmospherics and ambient sounds were distinct and easy to understand their origins.
Atmos Effects
We can admit that on the same level of excellence were the Atmos effects. Obviously with only two channels available we lost a bit in space coverage as the back side felt a bit empty. But more than a few times we turned our heads up in excitement. Especially when the Enterprise rises from the ocean, you could hear the water falling from above as this gargantuan metal construction was trying to lift higher.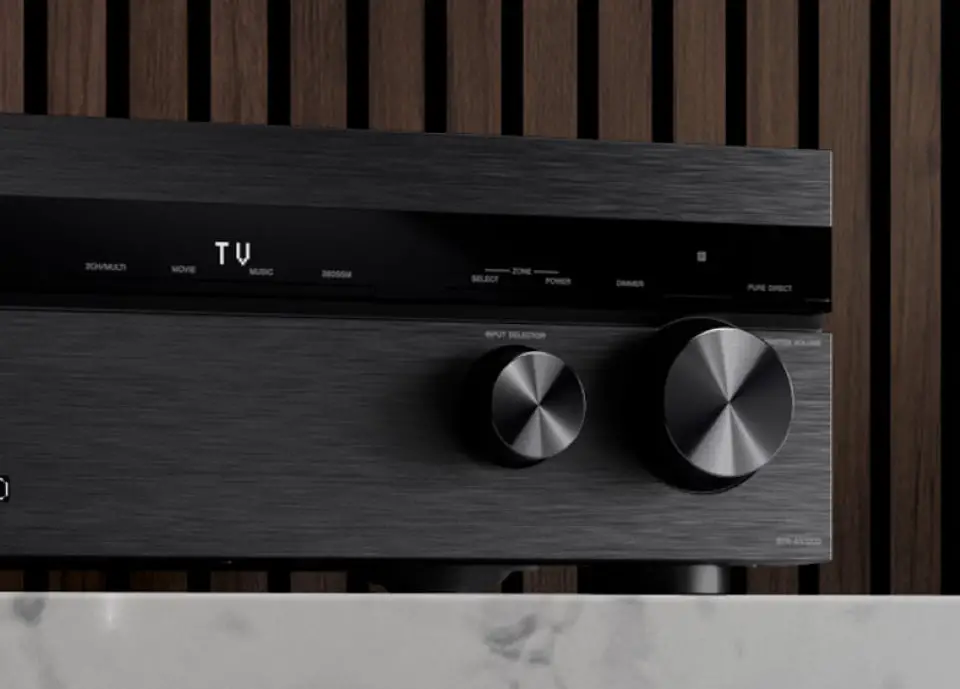 Bass
Again we used an SVS SB-1000 Pro subwoofer for the purpose of this review and the bass was clear, precise and totally menacing. Blasts would hit us in the face, spaceships hitting warp speeds made us hold onto our chairs and in general low end activity sounded clear and without any boominess.
To be honest, if you don't know which AV receiver is this or how much it costs you will certainly believe that it is a much more expensive performer. The AN1000 was that good and this by itself was a huge achievement.
Music Testing
In terms of music the AN1000 comes with an extensive list of supported files and codecs. The usual low quality ones are there like MP3, WMA and AAC. But we also get High Resolution Audio support in the likes of ALAC, FLAC, MPEG-H, AIFF and DSD.
For this test we used our Zidoo Z9X media player in order to stream some music files to the receiver.
We were so amazed by how the unit did with movies that we were not sure if we would be equally surprised with music. But after trying various material for a while we can say that the AN1000 proved once again an excellent performer. Can it challenge dedicated music setups? Obviously no. But AV receivers were not designed to do so. Their aim is to offer everything in a single box with the best quality output possible. And Sony achieved that and much more.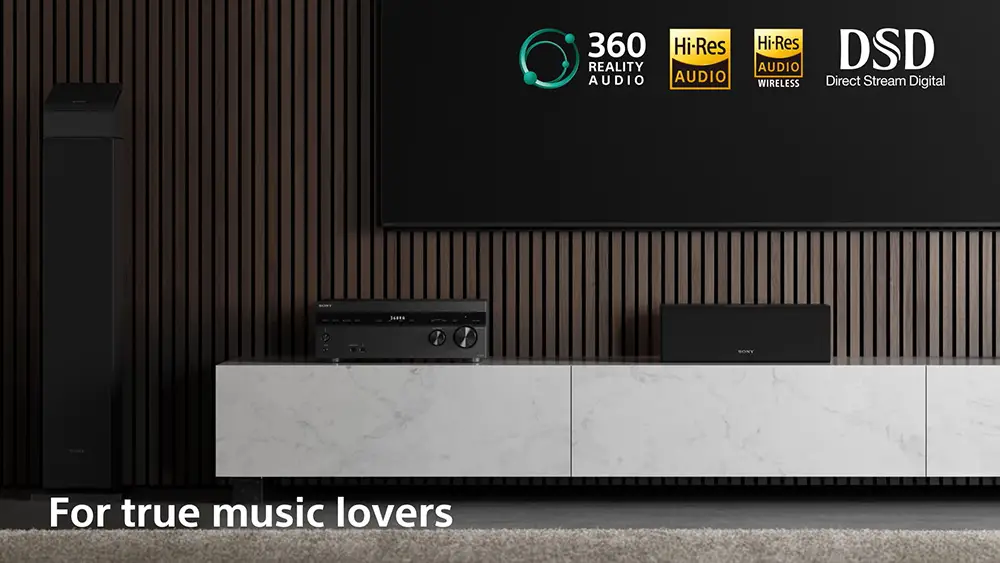 Music had a nice neutral output without giving particular priority to any edge of the frequency range. This balance made music very easy to the ears and we could keep listening for hours.
The front soundstage had a lot of energy and good extension without losing focus. Sound imaging and transparency were very good and various sources were easily distinguishable in space.
The high frequencies filled our room with energy and emotions, the bass kept the tempo going and everything was held together by a very balanced mid-range. There was nothing particular out of place that we could hear and the unit kept this stability even when pushed to higher volume levels.
As usual we tried a few different genres and we found nothing we didn't like. The Sony kept its stature through the whole session and made us really happy users of such a great system.
Performance Conclusion
Closing this section of our review what we can say, and you can be certain about, is that this AV receiver will not disappoint you. Surely it is not the most extraordinary thing you have ever heard but its core cinematic and music qualities bring it ahead of many competitors. And at a fraction of the cost these have.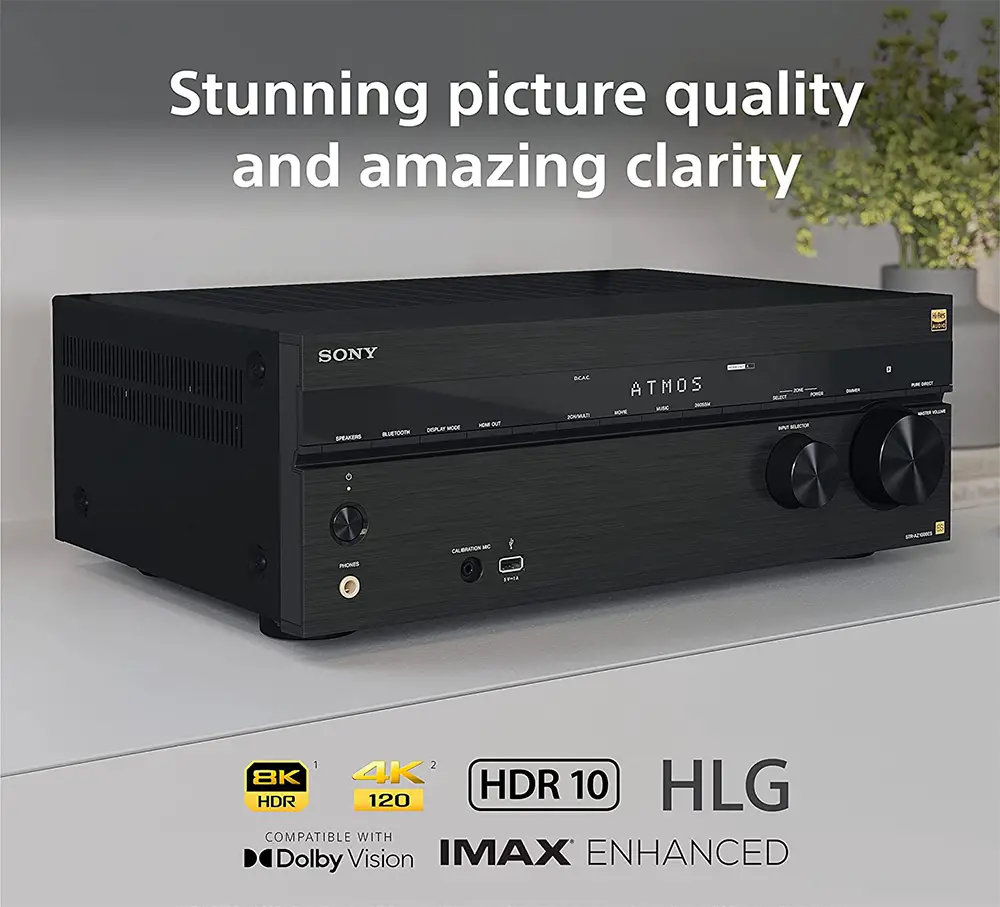 Ports and Connectivity
Let's take a look at all the connections available in the unit.
At the front, we already mentioned that the receiver only comes with a headphones port, the calibration microphone input and a single USB Type-A. Everything else is on the back.
Here we find the 7 speakers terminals which are used by the built-in amplifiers. At the top there are six HDMI inputs and two outputs.
As for its analog connections the unit comes with four analog stereo inputs, 2 composite video inputs and one output, 2 subwoofer outputs and a Zone 3 analog stereo output.
We also find an Ethernet port, one optical and one coaxial digital audio input, an IR remote input and one output, an S-Center output and the antenna port.
And if you are wondering about the HDMI ports there are four HDMI 2.0 inputs that allow up to 18Gbps of bandwidth and are perfectly fine for anything except from high frame rate gaming.
For the other two inputs and two outputs, these are HDMI 2.1 that support all the old and new exciting technologies including 8K/60Hz and 4K/120Hz video passthrough with 40Gbps bandwidth, Deep Color, HDR10, Dolby Vision, Hybrid Log-Gamma (HLG), 3D, Variable Refresh Rate (VRR), Auto Low Latency Mode (ALLM), ARC, eARC and HDMI-CEC.
As always, we connected both our PS5 and Xbox series X and tried a couple of games that support 4K@120Hz with VRR. In every test we run the signal was stable without any black screens or HDMI handshaking problems. So in case you want an AV receiver for hardcore gaming the AN1000 is an excellent choice.
Wireless Capabilities
As for the unit's wireless capabilities we get built-in WiFi that supports IEEE 802.11 a/b/g/n/ac and Bluetooth v5.0. With Bluetooth we find the usual SBC and AAC codecs but also Sony's superior LDAC. LDAC allows three times the transmission volume of SBC making it ideal for High Resolution audio playback. Only keep in mind that any headphones you use must also support LDAC for this to work.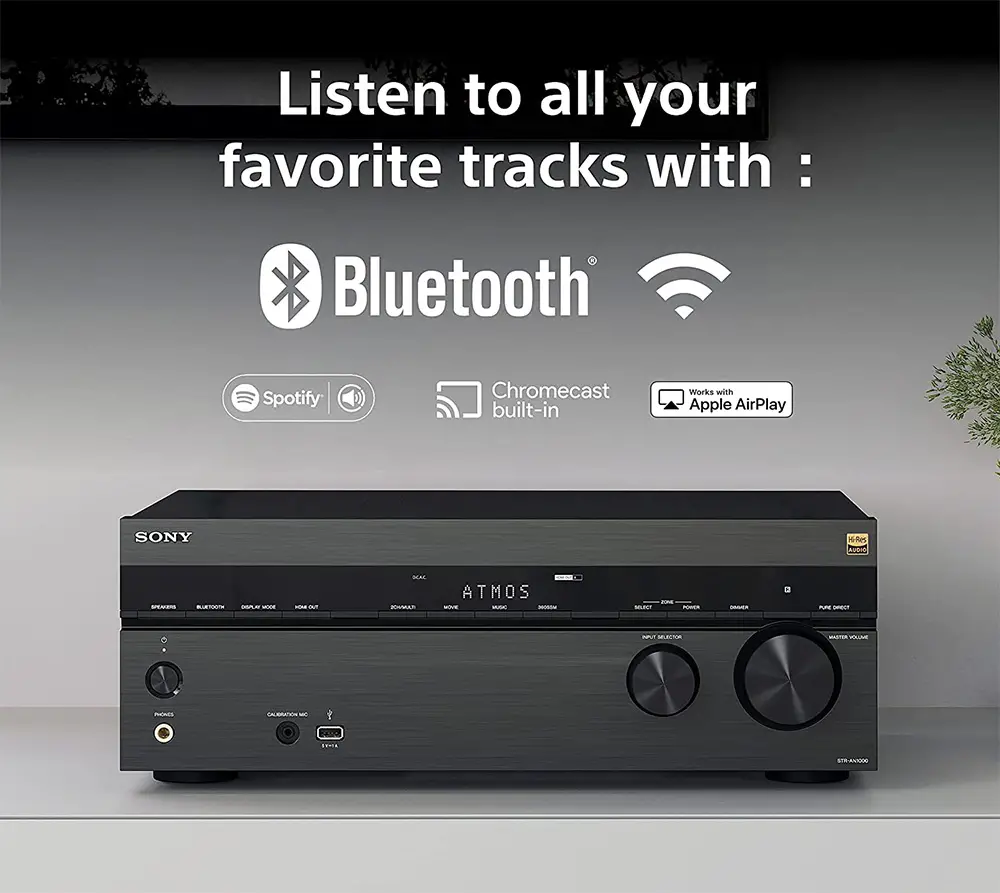 Overall the AN1000 offers almost everything you need. If there is one big omission that certainly is the missing dedicated PHONO input. Which is a bit strange considering even the most cheap AV receivers come with one. But other than that we could not ask for much more at this price.
OS, Apps and Features
As any good new AV receiver the AN1000 comes with plenty of features and extras to satisfy the needs of any modern surround setup. This unit may be on low end of the price range but surely is not shy of all these bells and whistles that today's models are used to come with.
Audio Calibration System
And we will start with the auto calibration system. Each brand has developed their own system to use in their AV receivers and so did Sony. In the new AN1000 we find Sony's latest D.C.A.C. IX (Digital Cinema Auto Calibration). This precisely corrects the distance, angle, sound pressure, and frequency response of each speaker that's connected to the STR-AN1000 to create the ideal sound field for any home theater setup.
The system works the usual way. Α microphone that comes with the AV receiver takes certain measurements from a fixed position. The steps are very similar to all brands so if you did this before with any other AV receiver then you more or less know how it's done. But even if this is your first time the on-screen wizard will guide you through the whole process.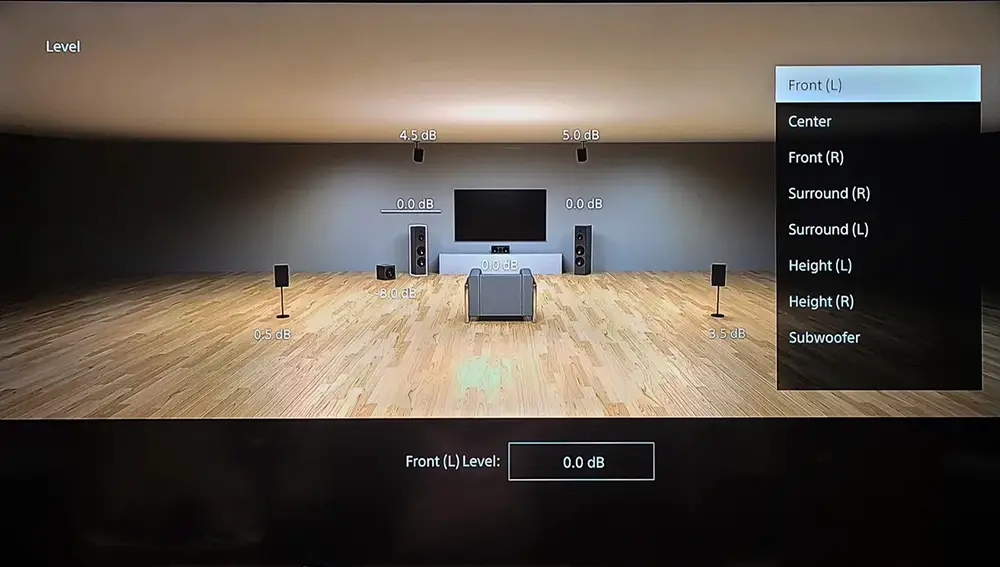 D.C.A.C has come a long way since its early days and surely is a really capable system that can adjust your setup to your room's acoustics with high precision. We can even say that we like it a bit better than some other brand's offerings in terms of how our system behaved after all calibration was finished.
User Experience
Controlling the AN1000 with the remote is the obvious way but Sony included a mobile app in case you like to use your smartphone or tablet. The Sony Music app is available for download and its UI is very friendly and up to today's standards. With it you can control multi-zone settings, volume control, media playback, source selection and much more.
The built-in user interface of the STR-AN1000 is simple and easygoing. You can find everything you need will relative ease and although the menus are very simple Sony included various colored photos in order to give you a visual reference of what you need to do. Overall nothing fancy but gets the job done.
Streaming & Multi-Zones
Moving on to its streaming capabilities the STR-AN1000 comes fully packed. There is Chromecast and Airplay in order to stream music online from one of the available online streaming services.
But if you prefer a wired connection the unit also supports Zone 2 and Zone 3 through its dedicated pre-outs or one of the HDMI outputs available at the back of the unit.

Now as far as streaming, online is not the only option you have as you can stream audio from a network drive or NAS server if it happens you to have one connected to your local network. Also with the included USB port you can stream music through some connected external storage or flash drive.
Lastly with Bluetooth you can stream music from a mobile device to the AV receiver or you can use Bluetooth enabled headphones to receive audio from the AV receiver itself. And here Sony is a step ahead of many other brands. As we mentioned above the AN1000 supports not only the usual codecs but also LDAC. And with its superior bandwidth and sound quality it can make a real difference.
No new AV receiver should be without voice control and the AN1000 comes with Google Voice Assistant. Obviously you need an external device for this to work but it's better than nothing.
Various Other Features
Another handy feature that we do find is HDMI-CEC and this one lets you use the TV remote to control the AV receiver if the TV also supports this. You can understand the practicality of this as this way you can reduce the amount of remotes you will need to have in your home theater. Obviously this feature lets you use only the most basic functions of the receiver but for everyday use it can be a very time saving one.
For low quality, compressed sound sources the unit comes with Sony's DSEE technology. Using AI-based technology, DSEE Ultimate accurately upscales audio to near-high-resolution sound quality, simulating a recording studio or concert environment. We had tried DSEE in the past and it surely can help in certain situations. It really depends on the source material but you can try it and see if you like it or not.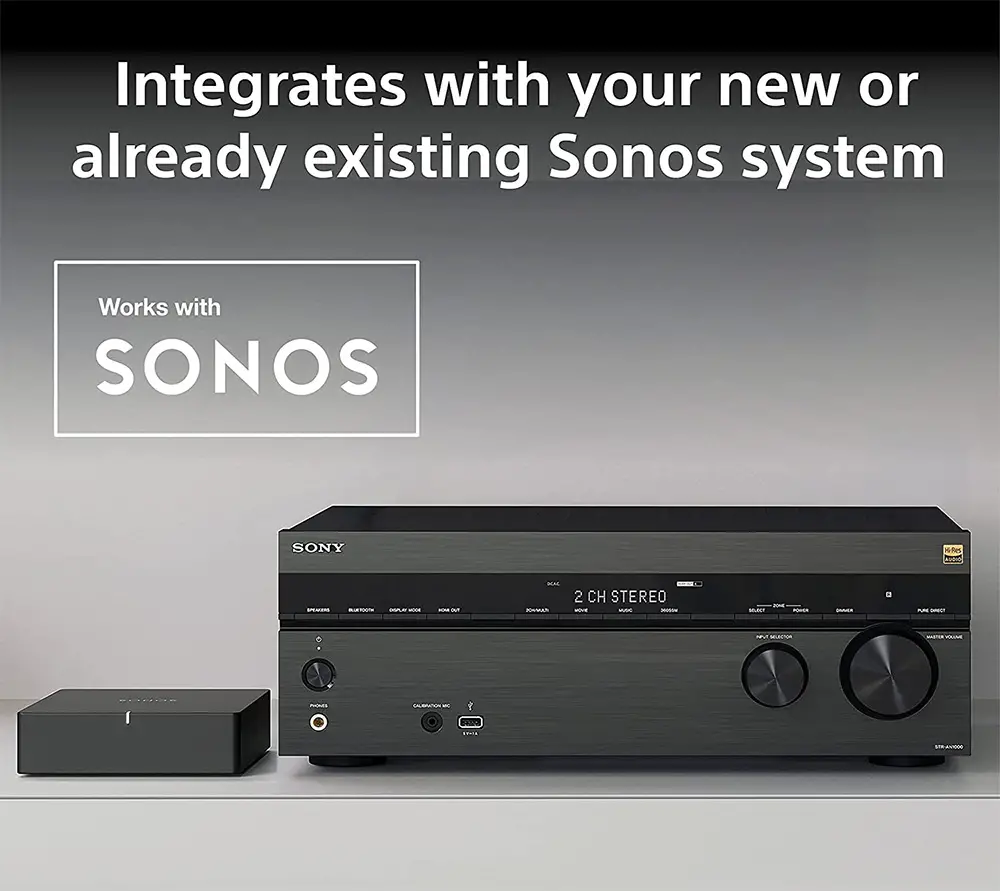 The unit also comes with 'Works with Sonos' certification which seams to be very popular nowadays. Bi-amp capability is also available while the system is 'Roon Tested' certified.
For this last one there seems to be a bit of confusion as there are two types of certifications. Roon Ready and Roon Tested. The AN1000, as with all modern AV receivers, is Roon Tested which means while Roon will work on this unit you will not get the highest quality possible. So for example if you use Airplay, audio quality is limited to 16 Bit/44.1kHz. Keep that in mind in case Roon is specifically important to you but you also want your files to be streamed in their original quality.
Sony Exclusive Features
Lastly there are a few Sony exclusive features that include 'Acoustic Center Sync' which uses the audio system of your BRAVIA TV and syncs it with the rest of the audio. The 'Center Speaker Lift' feature on the other hand raises the center channel in order to make it sound like it comes from within the TV rather than from above or below it.
Last, but not least, is the ability of the AN1000 to connect to Sony exclusive wireless speakers. Sony's SA-RS3S & SA-RS5 wireless rear speakers and SA-SW3 & SA-SW5 wireless subwoofers are compatible with the STR-AN1000. Keep in mind that only two subwoofers of the same model may be connected simultaneously to the receiver.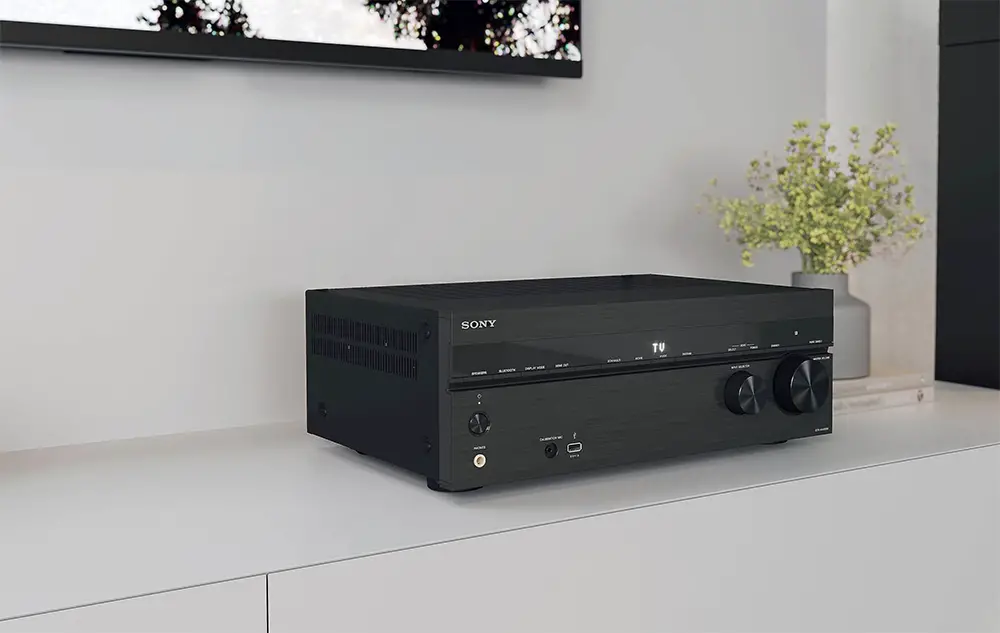 Final Thoughts
Sony many not be as popular in the AV receivers market but surely has the expertise to create top performing systems. They proved this in the past and their new lineup seems to follow on the same footsteps. The STR-AN1000 is an amazing AV receiver no matter what you think about the brand.
Its build quality is top notch and up to the usual Sony standards. Its performance was really amazing for a 7 channels AV receiver and its proprietary 360 Spatial Sound Mapping technology makes its output on par with many much more expensive units out there. The kind of scale and sound directionality was unbelievable for a sub-$1,000 system. But Sony did not stop there. The extensive list of online and offline features and the inclusion of trouble-free HDMI 2.1 ports make this release one for the books.
As for its downsides there is no dedicated phono input and no front HDMI port which can be very practical. The remote certainly looks cheap and without backlight functionality while the design hasn't changed for far too long. Sony should take notes from Marantz and Yamaha and follow suit.
As we mentioned in the beginning of our review, everything depends on the cost, especially now that everything became far more expensive than before. And the Sony STR-AN1000 managed to combine great sound, amazing cinematic performance, plenty of features and flexibility that is a hard combination to find at this price. And for this we highly recommend it.

For more reviews you can check our dedicated 7 channels 8K AV Receiver reviews list or even look at our Product Reviews Table where you can find the brand and specific product you are looking for.
---
Cheapest Places to Buy :
*We are a reader-supported website. When you buy through links on our site, we may earn a small affiliate commission at no extra cost to you. Home Media Entertainment does not accept money for reviews.*
---
Sony STR-AN1000 Specifications