---
Cheapest Places to Buy :
---
Today we will continue our venture in the new 2023 JBL soundbars. But after testing a couple of their top flagships, it is now time to check their lower performing offerings. And so in our JBL Bar 500 review we will test this low/middle-tier unit and how it compares to the competition.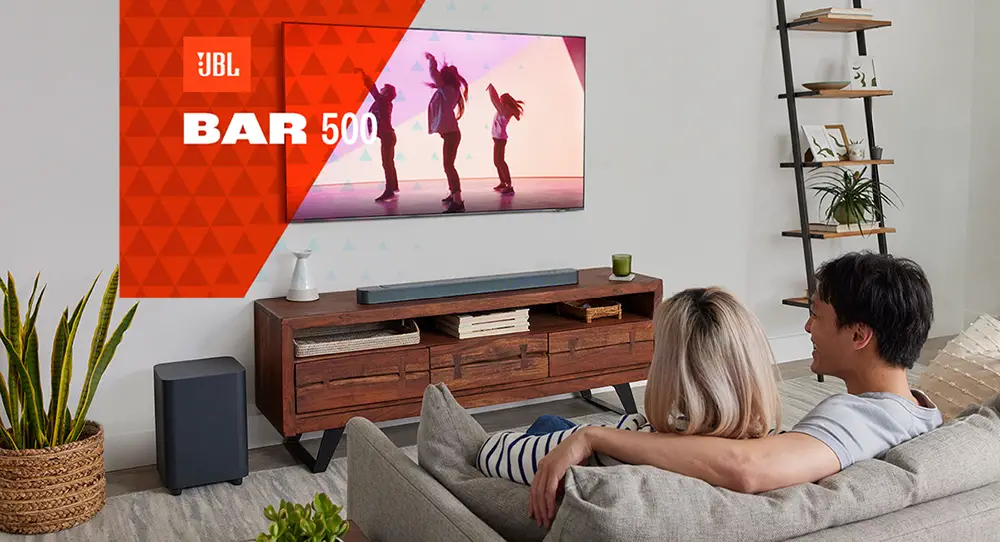 This year JBL decided to use an almost completely similar feature set among most of their units. Even their top offerings like the JBL Bar 1300X and JBL Bar 1000 come with similar extras. And the same applies to the JBL Bar 500 which is no different than the rest of the series. What actually changes is obviously the channels and drivers configuration.
The Bar 500 looks like a beefed up Bar 300 and to be honest we were expecting as such. What we have here is a 5.1 channels, soundbar-subwoofer combo with 590 watts of power output. It supports Dolby Atmos and MultiBeam surround sound and comes with certain extras including WiFi and Bluetooth functionality. In terms of features we get an audio calibration system, Chromecast, Airplay, voice control capabilities and support for the JBL One app.
The Bar 500 seems like an interesting unit. It certainly feels like a soundbar that tries to cover all bases such as performance, ease of use, features but also price. And this last one is very important in order to reach a greater market share. Can this one stand ahead of the competition, or it gets lost in such a highly competing arena? Keep reading as we are about to find out.
Design, Inputs and Features
Main Bar
For the 2023 series JBL created a new design that was scalable enough to be used across the entire series. So this is basically the same one with all the other soundbars we tested recently, like the Bar 300, Bar 1000 and Bar 1300X. There are some small changes that were necessary due to the different size and drivers configurations. But overall JBL did a pretty good job at retaining parity across the series.
Size wise the Bar 500 measures 40'' x 2.2'' x 4'' (1017 x 56 x 103.5 mm) and has a weight of 6.2 lbs (2.8 Kg). With such a size the Bar 500 will look great under a 55″ TV or bigger.
Because the unit utilizes side firing channels you should take extra care to place it somewhere, where its drivers will not be obstructed. Otherwise you are not going to get the full effect of its MultiBeam technology capabilities.
Also keep in mind that if you plan on placing it in front of your TV the soundbar does not come with any IR repeaters. So if your TV's IR sensor is extremely low then it may obstruct the signal, so you better measure first just to be on the safe side.

Most TVs do have a gap of around 2.5″ below the panel, but some sit much lower. So while the soundbar's 2.2″ height may allow it to fit under most of them, there are some, like the Sony A95K for example, that don't leave any space for a soundbar and a different solution is needed.
Colors & Quality of Materials
The soundbar is using the same dark grey plastic material for most of its chassis which is the same in the entire series. The soundbar has a neutral look and its quality of materials is the typical JBL one. JBL soundbars never had this premium look, like some other brands, so don't expect this to be different here.
The perforated grille covers the entire front face, hiding the drivers and front display. This grille extends to the sides in order to provide protection for the side channels also.
At the top we find the built-in buttons that are placed towards the right side. To the left of them there is a single LED that works as a status indicator and more towards the center there is a tiny hole used by the built-in microphone.

Display Type
One thing we pay a lot of attention with soundbar designs is the display. And the Bar 500 uses the same dual display scheme that JBL created for their entire new series. One is the single LED status indicator next to the built-in buttons and the second is a full functions display at the front.
But with its racetrack drivers taking most of the space at the front center, designers moved it more to the right side. Not a big problem but surely this will bother anyone that like things to look more symmetrical.
The display can show you various functions like volume control, input selection and sound adjustments among others. We definitely like that JBL used a full functions display instead of LED lights. As it is much easier this way to know what the soundbar is doing. The display can show up to 4-5 characters and uses a scrolling motion for showing longer words.
As for the single LED status indicator, this also shows various functions of the soundbar like network and system status. But its placement is not very practical and not of much use anyway.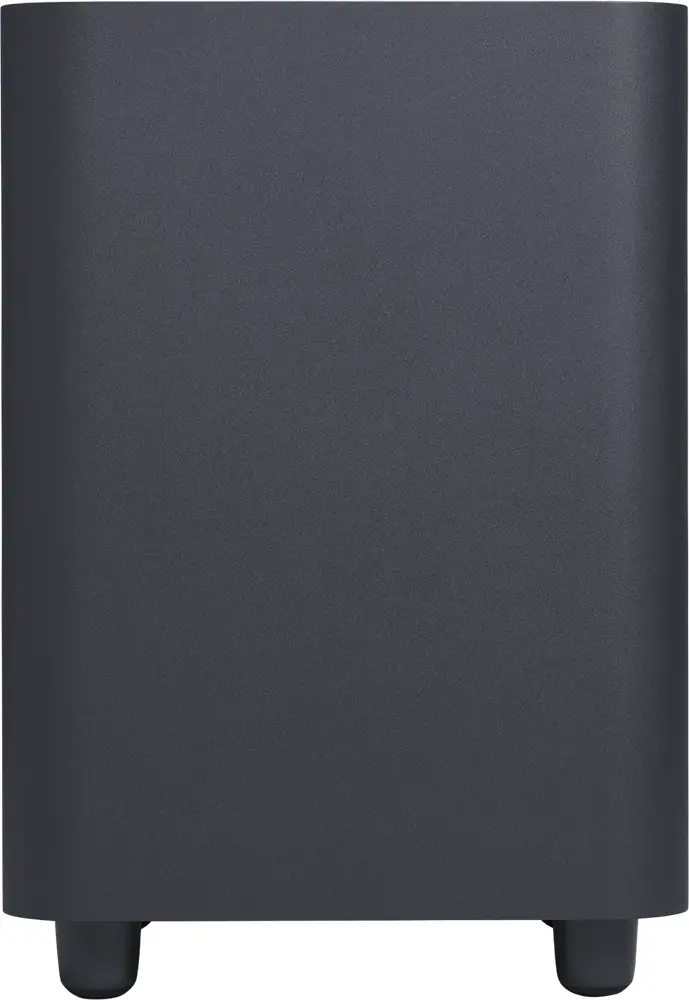 At the back there is a central inset with all the connection ports exactly at the center. There is nothing else visible as the wall mounts keep the unit from underneath.
Subwoofer
And there is also the subwoofer, which by the way is the same 10″ variant that many of the new 2023 models use. Design wise, it uses a standard cubic design with a single air port at the back. The down-firing design of the subwoofer surely helps with placement as it will not be affected by tight spaces. Its rounded edges give it a more modern look, which is typical of JBL soundbars. And its four long legs make sure to keep it high enough for the transducer to do its work.
We measured the subwoofer 12" x 17.3" x 12" (305 x 440.4 x 305 mm) and with a weight of 22 lbs (10 Kg). For its category, we can say that the one JBL chose is surely an impressive one.
Internal Hardware
Let's take a look on the insides and what JBL used for this middle-tier release. Upon first look the Bar 500 looks a lot like the Bar 300 in terms of drivers configuration. But there are a few glaring differences which we will talk about.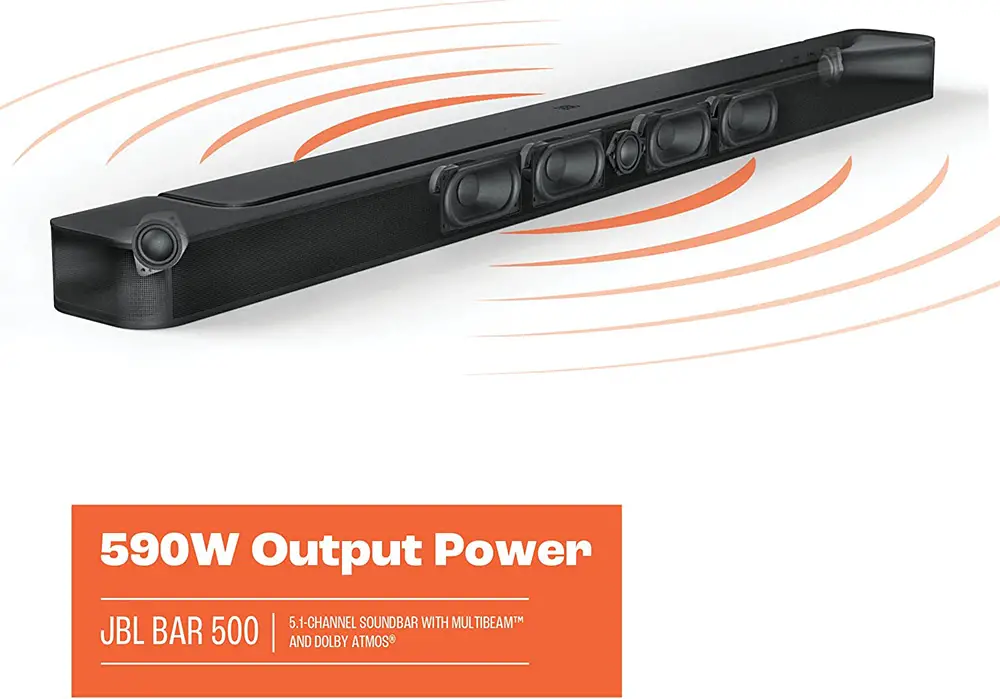 Configuration & Power Distribution
The Bar 500 is a 5.1 channels rated soundbar with 590 watts of power output. Power distribution is 290 watts for the main bar and 300 watts for the subwoofer.
JBL does not provide individual channels rating so we will just leave it at that.
Channels Analysis
One thing that is not certain is how its three front channels are using the available drivers. The unit has four 46 x 90 mm racetrack drivers along with a single 0.75" (20mm) tweeter right in the middle.
Now, there are two possibilities. The right and left channels use one racetrack driver each with the center utilizing two of them along with the tweeter. Or the second possibility is that each channel uses two racetrack drivers with the center using the tweeter alone.
JBL does not go into specifics so we cannot be sure which of the two applies here.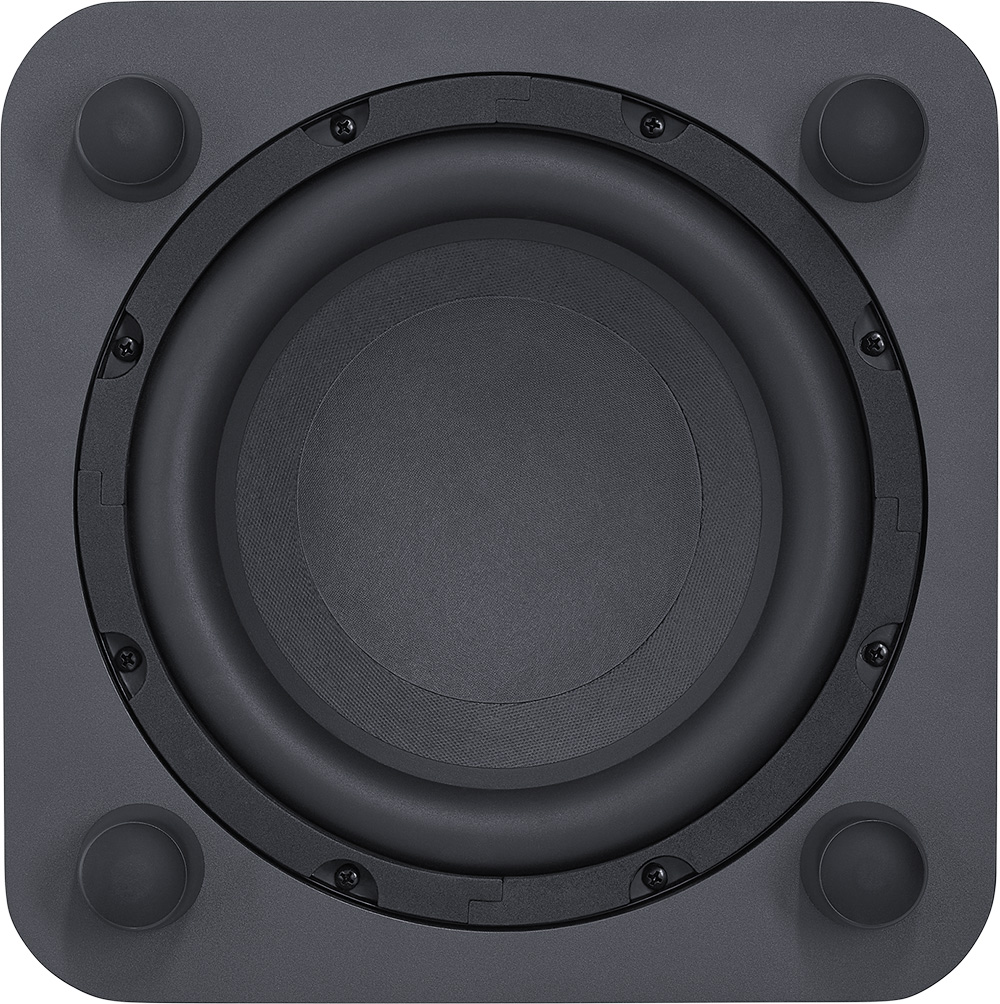 But that's not all as the unit comes with side firing channels also. Each of them uses a single 0.75" (20mm) tweeter placed at an angle to give more sideways extension.
This is a Dolby Atmos soundbar so you may wonder where the up-firing drivers are. Well, there are none. The Bar 500 is using virtual tech to simulate the Atmos effects. And this is similar to all other releases that claim to be Dolby Atmos capable but without the necessary hardware.
The Bar 300 does not use a dedicated subwoofer and its bass performance was surely one of its weak aspects. The Bar 500 on the other hand uses the same 10″ subwoofer some of its bigger brothers have. And so its low end performance takes a major boost which you will surely find pleasing.
General Remarks
Not much to add here. The Bar 500 comes with a configuration that we have seen many times in other soundbars of the same category. But being similar does not mean it will perform the same. And we are going to test this shortly.
All the above give the Bar 500 a frequency response of 35Hz – 20kHz (-6dB).

Connectivity
In terms of connections the JBL Bar 500 uses exactly the same layout we saw in the Bar 300.
From left to right there is a power connector, a USB Type-A, an Ethernet port for wired connection to your local network, two HDMI ports, one input and one output, and a digital optical audio input.
HDMI Notes
The HDMI ports support HDCP 2.3 with the soundbar being able to pass-through 4K, HDR10 and Dolby Vision signals. Its output supports eARC which means it can accept Dolby Atmos not only from Dolby Digital Plus but also Dolby TrueHD.
Unfortunately if you are a hardcore gamer and you expect it to do 4K@120Hz you are out of luck. Similar to all other new JBL soundbars, the ports of the Bar 500 do not support such high bandwidth. These are not HDMI 2.1 ones so you are missing all gaming features like VRR and ALLM also.
We did try a short gaming session with our PS5 and we did get very smooth 4K@60Hz signals so this is not a complete disappointment. In fact, only if you are very much into high frame rate gaming you will be disappointed. If you like to play offline games then there is nothing to worry about.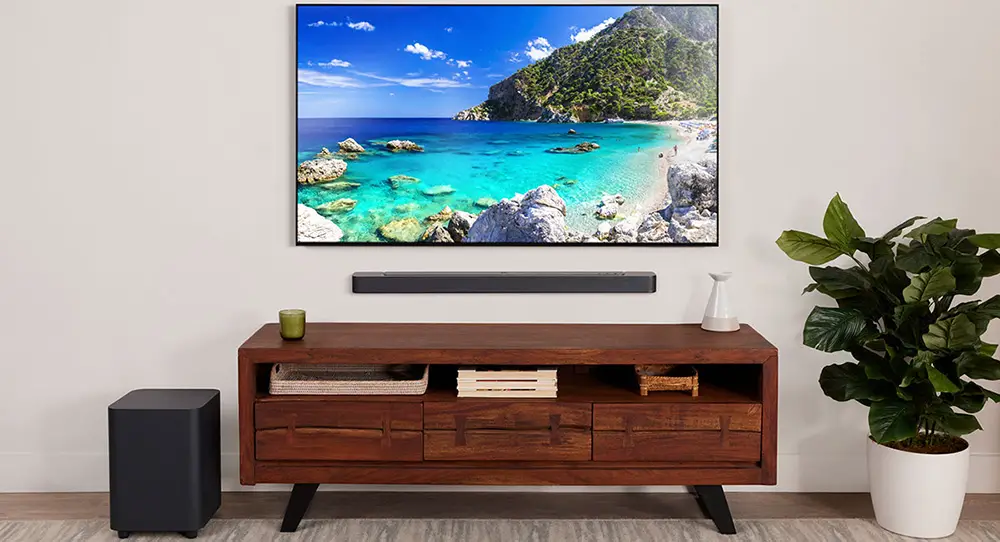 A Few More Points of Interest
If you own older equipment there is an optical port while we should note that the USB port has MP3 playback functionality only for the US models. All other regions are using this for service only. A strange decision to be honest. But one that JBL made some time ago.
The unit may support pass-through but with a single input you are not going to use this soundbar like a hub. So your only option, in case you have multiple sources, is to use your TV for that. You can also use an HDMI switch but these are not so convenient, especially if you need to switch inputs all the time.
But the ARC/eARC port is one that we honestly avoid as much as possible. As convenient eARC may be, it is not very reliable and can create more problems than it should.
Wireless capabilities
As for its wireless capabilities there is WiFi 802.11 a/b/g/n/ac/ax (2.4GHz/5GHz) as well as Bluetooth v5.0. The new models added WiFi6 which surely is an improvement over their predecessors.

Control Options
Now let's take a look at all the ways you can control the soundbar. All JBL soundbars that have built-in WiFi and Bluetooth are the same here. So the Bar 500 has exactly the same capabilities as JBL's flagship, the Bar 1300X.
Remote
First comes the included remote and from the looks of it JBL decided to update its design also along with the bars themselves. The remote is very simple and low cost looking but is slightly better than what previous JBL units came with. The new one still has big round buttons with enough space between them but the layout is completely different.
At the top we find the power and mute buttons while the rest of the body is divided into two sections. On the left one we have the source selectors, with three buttons in total, and two sound effect buttons. On the right side we find the volume controls at the top with a playback button just below that. A moment button, to access your music playlist and speaker settings, and a calibration button is everything you get.
The remote is adequate but we really do miss a backlight feature. But since this is a mid tier release we cannot expect much more when even the Bar 1300X does not feature one. But we do hope we will start seeing backlight remotes in soundbars also. This is a much desired, and honestly very practical, feature to have.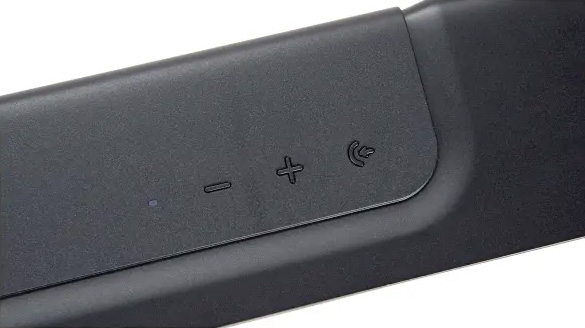 Built-in Controls
As for the built-in buttons, their layout is once again as simple as it gets. There are three buttons in total so not much to say here. A simple source selection button and volume controls is all there is. So you have only very basic functionality control with these.
Further to the left of the control buttons we find a small hole that hides the built-in microphone. That, as we mentioned above, is used only for the audio calibration system. But more about this in a bit.
HDMI-CEC
The soundbar also supports HDMI-CEC. So in case your TV also supports this feature you can use that remote in order to control both devices. This way you can use less remotes in your viewing area.
The soundbar also has the ability to be controlled by another remote even if HDMI-CEC is not supported. This is done by the TV remote control IR learning functionality. With it you can program any remote from any device and make the soundbar learn specific signals. These signals will respond to specific actions for the soundbar itself.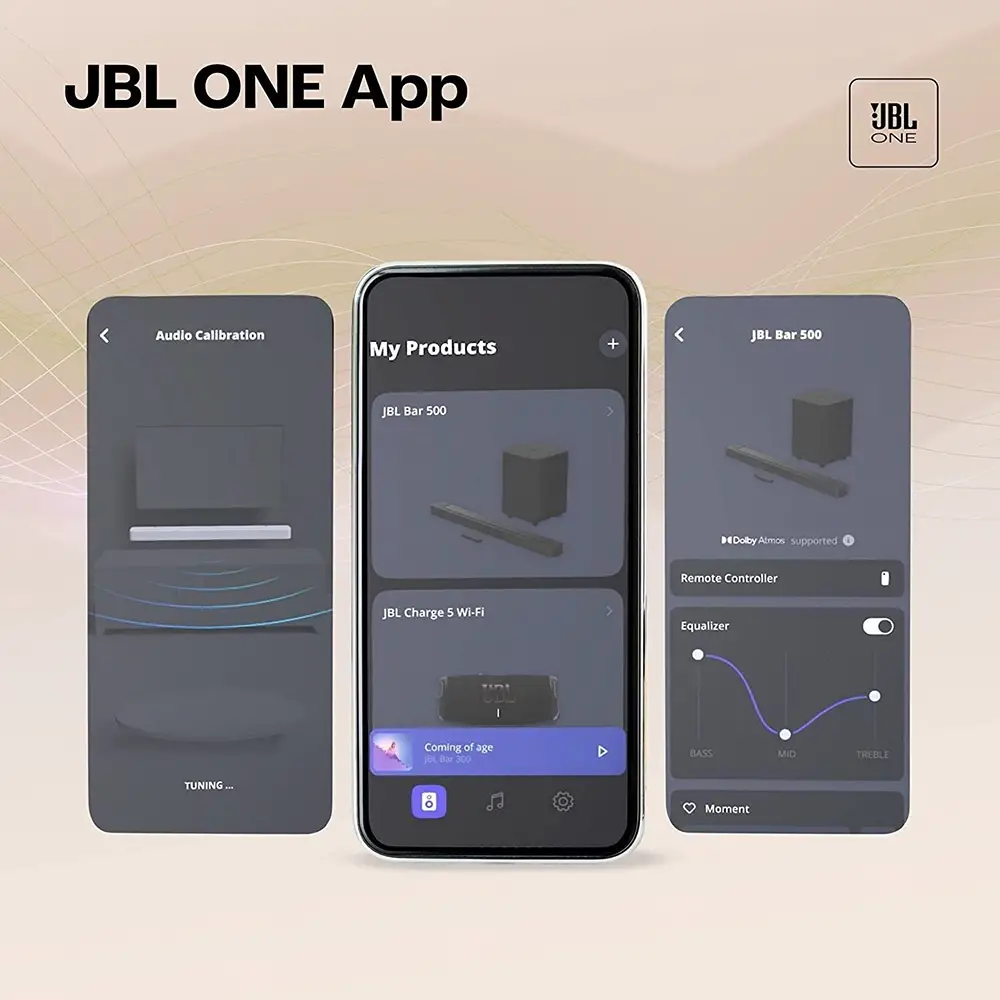 Mobile App
JBL was one of the last few brands that did not provide a dedicated app with their soundbars. But finally after so much time the new 2023 series brought a much desired change to this. They finally offer the JBL One App which is a lovely little app that gives you total control over your soundbar. Keep in mind that this app only works with the latest 2023 Bar series, at least for now.
With the JBL One App you can setup Wi-Fi, customize EQ and control your device through a very nice and easy to understand UI. You can also set up your soundbar, personalize settings, and use the integrated music services to enjoy your favorite songs.
One minor problem we encountered was that when we turned the Equalizer off, it didn't save our settings. This means that when you turn it on again you have to manually setup it up again. Also it would be nice to give you the ability to save different presets for different content. But there is no such option either.
Small problems but we have faith that JBL will fix them with future updates. The JBL One app is relatively new so it surely needs some time to mature.
Voice Control
With the inclusion of online functionality we also get voice control. The Bar 500 is compatible with Amazon Alexa, Google Assistant and Siri but unfortunately these are not built-in. The unit may have a built-in microphone but this is only used for the audio calibration. In order to use any of the above you need to use an external voice control device.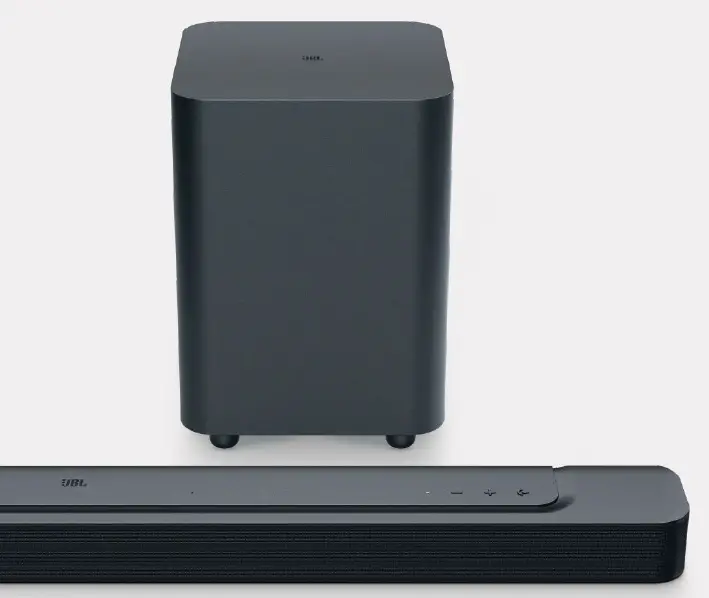 Closing Remarks
The big change this year, for all JBL soundbars that support it, is the arrival of the JBL One App. It needs some time for the bugs to be ironed out and more features to be added but overall it is a great first try. Especially if you consider that JBL was one of the few brands without one until last year.
Extra Features and Services
Now let's talk about all the extra features that are included and we will start with the audio formats supported.
Audio Formats & technologies
Basically the Bar 500 is exactly the same as the Bar 300, as it supports Dolby Atmos along with MultiBeam surround technology. The catch here is that since the unit does not feature up-firing Atmos drivers it has to rely on virtual sound in order to create the illusion of overhead action.
Surely this will affect the precision of sound coming from above. In general soundbars that rely on 3D virtual sound technologies are far less capable than those that utilize up-firing channels.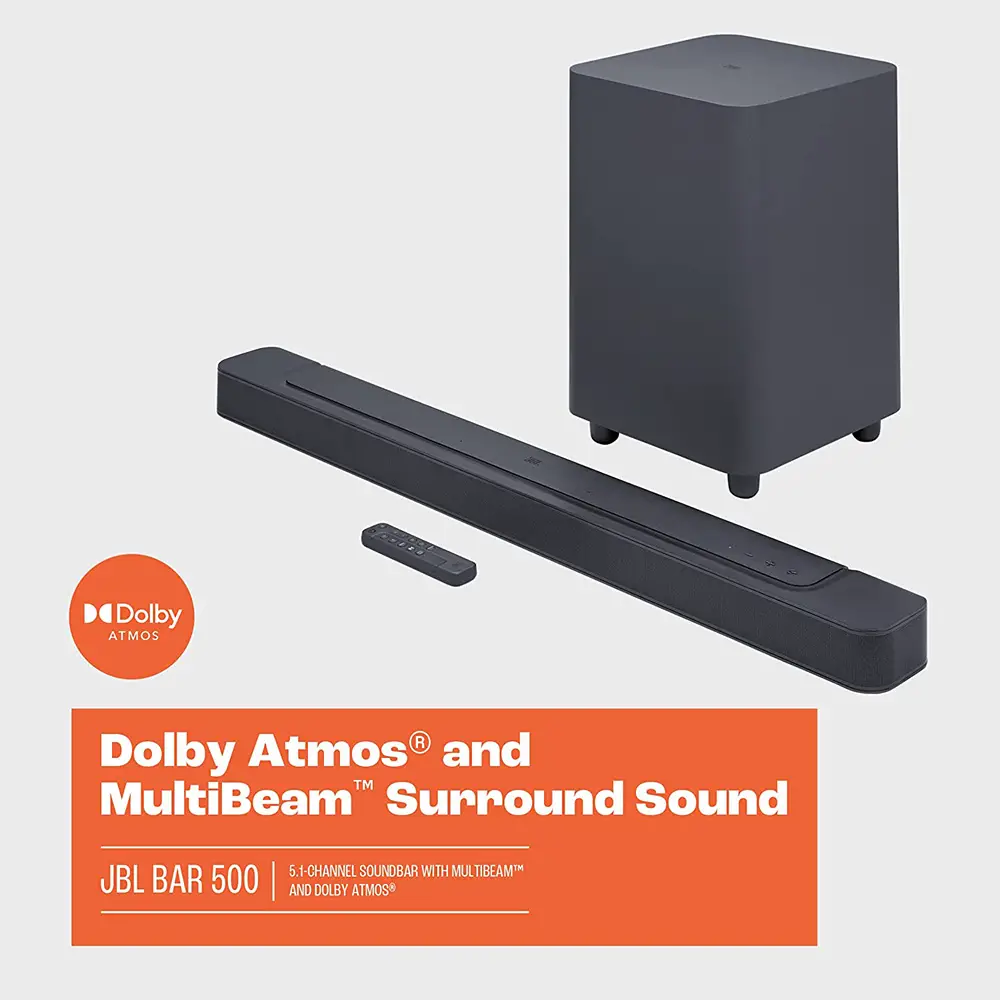 Also there is no DTS support, but we are not so much surprised by this as JBL was always a bit unfriendly to this format. We have seen dirty cheap soundbars come with DTS so this is inexcusable from such a high profile brand. In the new series the only way to get DTS:X support is to go for the Bar 1000. But obviously the price increase compared to the Bar 500 is too big just for that.
As for JBL's MultiBeam tech, there is one problem that all soundbars have to overcome. Since they don't have any dedicated rear speakers it is hard for them to create a convincing surround experience. We have seen manufacturers trying different techniques and technologies and this is where MultiBeam technology comes into play.
This technology, with the help of side-firing tweeters, is promising to offer a more extensive and enveloping soundstage without the need of extra speakers. This is not the first time JBL is using this technology. Some of its previous generation soundbars also had it. But in 2023 it seems that they used it in some of their lower tier offerings also.
Sound Management
As for sound management features, the Bar 500 is more or less the same with all the new JBL soundbars. It seems that JBL decided to create a user experience profile that will be the same across the entire series. That's why from the lowest Bar 300 to the top Bar 1300X the sound features have extremely similar characteristics. Once again simplicity is chosen over complexity. And for a JBL product, this is no surprise.
Firstly there is a bass adjustment control. This comes with five different levels to choose from depending on how punchy the low end you want it to be. You can also enable or disable the Dolby Atmos effect, depending the content you watch.
Sound Modes
There is also a smart mode. With the smart mode, which is on by default, you can enjoy TV programs with rich sound effects. For TV programs such as news and weather forecasts, you can reduce sound effects by disabling the smart mode and switch to the standard mode. With the Smart mode the EQ settings and JBL Surround Sound are applied for rich sound effects while with Standard mode the preset EQ settings are applied for standard sound effects.
Another standard JBL feature is PureVoice which is their proprietary dialog enhancement tech. By taking advantage of PureVoice, the soundbar allows you to enhance vocal clarity and easily hear and understand speech.
This tech uses digital signal processing (DSP) to detect human speech from within a TV or movie program and extracts the voice content for analysis and improvement. It dynamically enhances the dialogue loudness for crystal-clear intelligibility without affecting other sounds. This enhancement happens automatically, so you never have to reach for the remote control to hear dialogue. PureVoice can be turned on and off depending your preferences.

All JBL soundbar comes with these standard sound features. The only thing we don't like is that you have to press a combination of keys to enable/disable them. And doing this on a regular basis can be a bit frustrating. Dedicated buttons would be much preferable and in tune with JBL's philosophy of keeping everything simple.
Let's hope next time they will add dedicated buttons for these functions.
Auto Calibration System
The unit comes with an audio calibration system in order to adjust sound to your specific environment. And in typical JBL fashion the system works in the easiest way possible.
Basically after the initial connections all you have to do is press the CALIBR button until the calibration signal appears on the display. The unit will play a few tones and will give you a DONE signal when it finishes. That's it and you don't have to do any further adjustments or worry about it ever again.
Streaming
The soundbar also offers plenty of streaming capabilities as with the included Bluetooth function you can stream audio from any mobile device. There is also USB streaming capabilities but playback is again limited to just MP3 files. And to make matters worse this applies only for the US market. All other regions have the USB port only for service.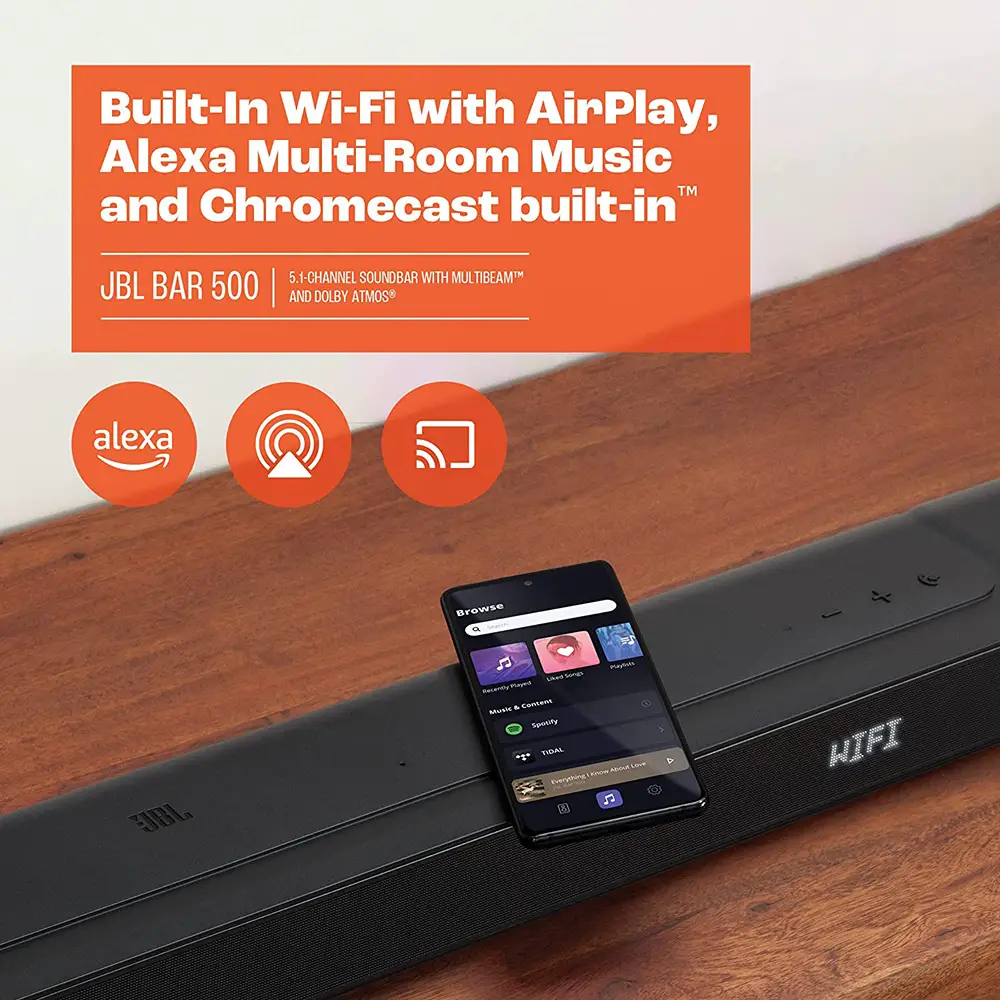 No surprise here as JBL is doing this for some time now. We do not know the reasoning for this but it makes all other regions feel neglected in comparison. Even if USB capabilities are limited why not offer the same across all markets? It makes no real sense, if you ask us.
But streaming is not limited only to Bluetooth as JBL has included support for Chromecast, Airplay 2 and Alexa Multi-Room-Music. With these you can stream music from an online service from those available either you are an Android or iOS fan. These apps can do more than just stream online music. With them you can also connect various speakers and create your own multi-room environment.
Closing Remarks
Being the fourth new JBL soundbar we test it is easy to see the similarities between these new models. Basically all of them come with exactly the same feature set. This may not be the most extensive one but JBL seems to have made their homework regarding what was worth to include.
If there is one thing that we would definitely improve is USB capabilities. JBL must extend the list of files it can support and also bring this to other markets and not use it exclusively for the US one.

Initial Setup
Initial setup is very straightforward, as all JBL units are. Once more we opted to use the pass-through capabilities of the unit. So we connected our Panasonic UHD player to the soundbar itself and used the HDMI output to connect it to our test TV.
Next you need to connect the unit to your local network and here you can use the JBL One app to do so. The whole process is very easy and very fast so you should finish in just a few minutes.
We strongly suggest you to run the automatic calibration system before anything else. It may not have a huge impact but every bit of improvement can certainly help. Lastly all you need to do is adjust the bass and the Dolby Atmos effect depending your preferences.
As for Smart Mode and PureVoice, these two are enabled by default each time you turn on the soundbar. So you will have to switch them off manually if you don't want to use them. This probably is the only frustrating thing you have to do with this unit.
Movies
All the above may sound nice and interesting but our tests will really show how this unit can do. And for our movies testing we decided to try Valerian and the City of a Thousand Planets in 4K UHD format which uses an impressive Dolby Atmos mix.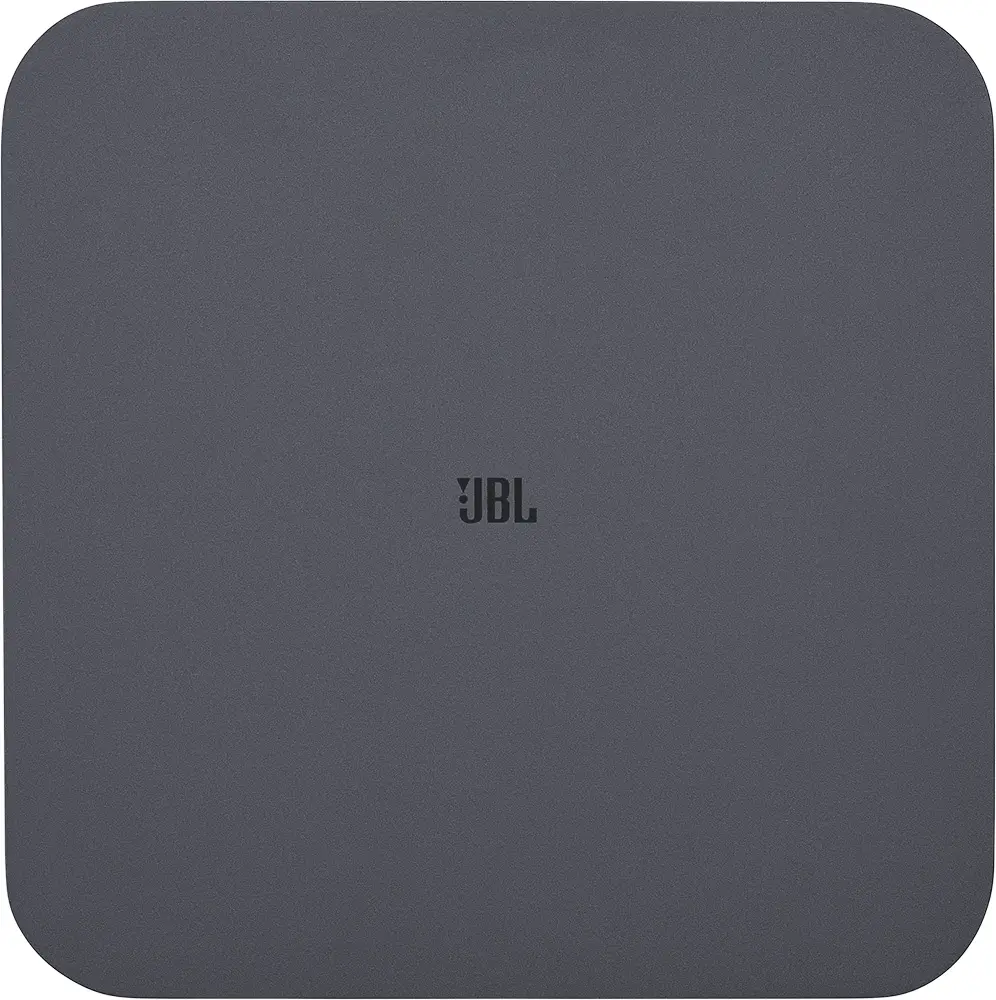 Front Soundstage
This mix offers a lot of variety in terms of environments and setups making it excellent content for testing this soundbar in different situations.
The first thing we noticed when we started using it was the more fulfilling output we got compared to our TV. The sound had more weight, obviously due to the presence of the subwoofer, but also felt like it had more extension.
The front soundstage got a really noticeable upgrade and this is what this soundbar is all about. We got some nice sideways action, even if it was not as extensive as it was with Bar 1000 or the Bar 1300X.
This also affected the quality of the panning effects at the front. You could still sense them traveling across the room, no doubt about it. It was just that their traveling distance was narrower and with slightly less focus. You could still get this sense of directionality but was lacking the definition we remember JBL's flagships had.
Overall what we did hear at the front was really above average. Some welcome extension on the sides, some much needed depth and audible channels shifting created a very nice and enjoyable performance.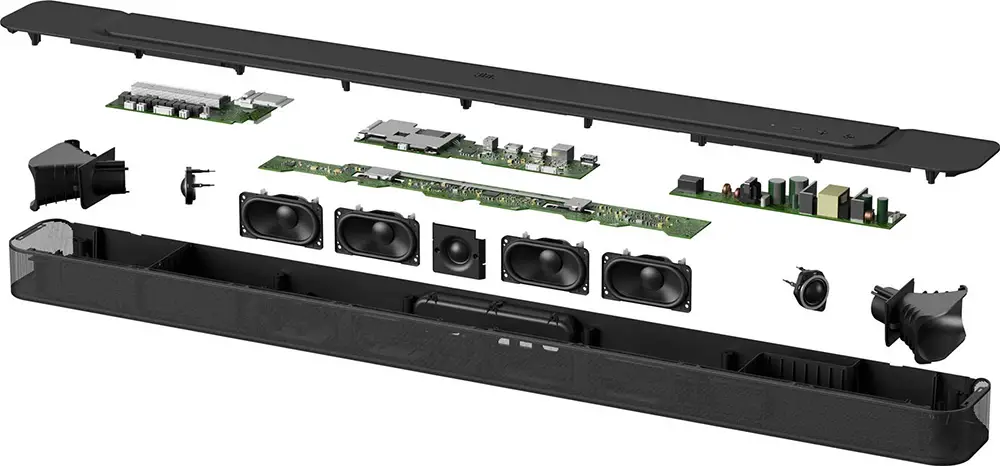 Dialog
And this pleasing front performance could not be without equally good dialog output. The Bar 500 used its center channel to great effect and kept dialogue nicely isolated from the rest of the audio. All the actors voices were firmly fixed at the center and we didn't sense any overlapping with the other channels.
And with the Bar 500 including a dedicated tweeter really helped to render these higher frequencies with higher energy and better clarity. And this was obvious compared to the Bar 300 that had to rely on its racetrack drivers to render the dialog.
Surround Sound
You cannot really get a full cinematic experience if you do not have equally good surround performance. And unfortunately this is one area where the Bar 500 doesn't do very well.
Yes, the MultiBeam technology does try to bring audio closer to you and give you an enveloping sense but there is so much this can do. Without real surround speakers no virtual technology can create a similarly convincing experience.
As a result the audio was more front oriented which surely detracts from the overall immersion. But this is a fact that applies to all soundbars without rear speakers and is not the fault of the Bar 500 specifically.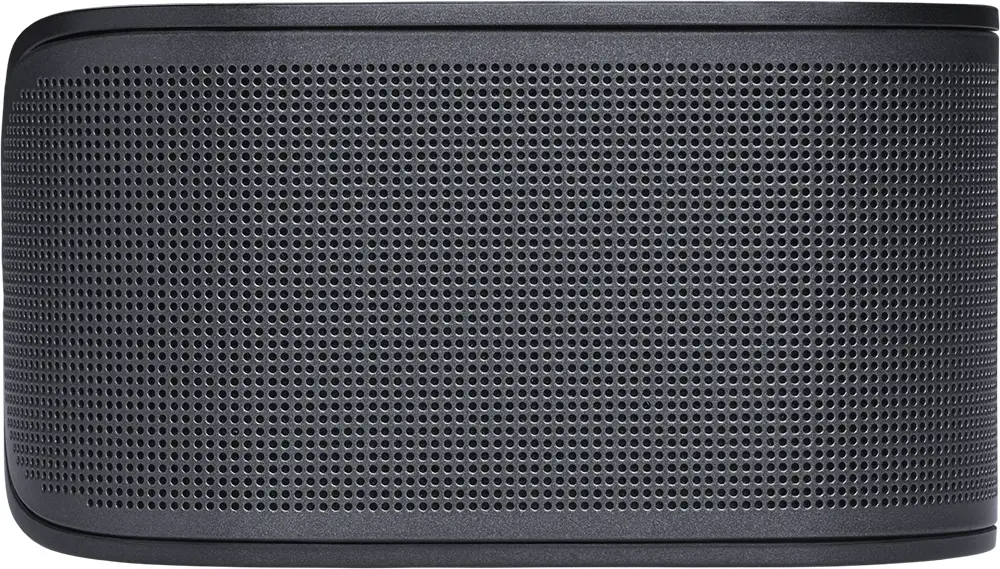 Dolby Atmos
As for Dolby Atmos, we have to clarify a few things here. There are two types of Dolby Atmos soundbars. Those that use up-firing drivers and use the bouncing effect to bring the illusion of sound from above. And then there are Dolby Atmos soundbars that use virtual technology to simulate a similar outcome.
The Bar 500 unfortunately falls into the second category. The end result can be described as a mixed bag. Compared to a non Atmos system you may hear some slightly elevated effects but these are few and far between. There is no clear definition of these effects and you cannot feel the same kind of overhead activity.
If you really want a capable Atmos soundbar then you will have to look for one with dedicated up-firing drivers. The Bar 500 cannot really compete in this field. And while it does make a valiant effort to offer some Atmos magic, the result is less than pleasing or exciting. It's good to have this feature but don't expect to get much out of it anyway.
Bass
The soundbar may disappoint a bit with its surround and Atmos performance but when it comes to bass, it surely impresses. We should note that the unit uses exactly the same subwoofer the Bar 1000 uses which is the 10″ variant.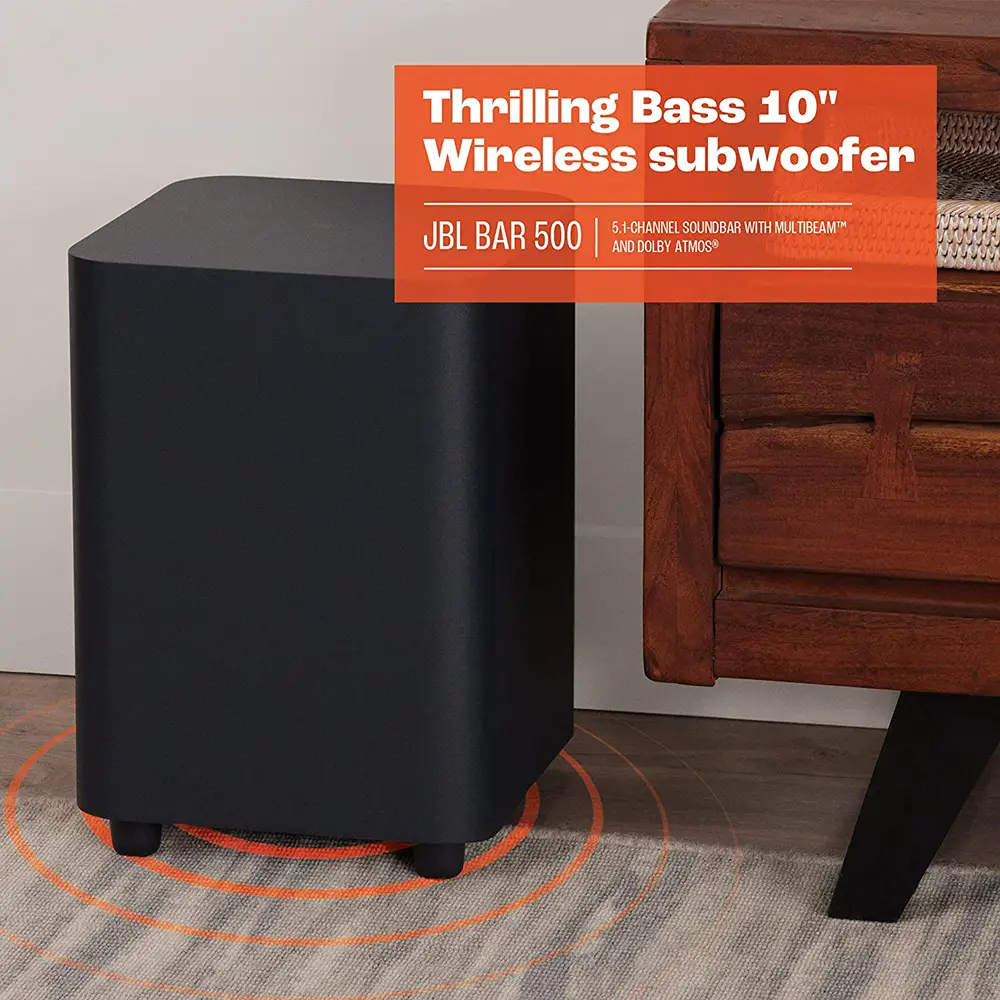 This subwoofer left us with good impressions in the Bar 1000 review we did, so coming with an even smaller unit like the Bar 500 surely makes things even more interesting.
During our tests the subwoofer was capable of hitting the lower registers with ease and gave us some really enjoyable shaking. The bass had good resolution and never felt boomy, even during heavy action scenes.
Everything from explosions, enemy fire, spaceships and everything in between had nice weight with a powerful lower end. The subwoofer had very tight control and never felt like it would lose its cohesion.
Bass is an area where the Bar 500 really exceled. If you like heavy action films then the bass will satisfy you completely.
Maximum Volume
In terms of maximum volume we cannot say that the Bar 500 is the most loud soundbar we have tested in this category. The unit can get loud, really loud, but we could reach its maximum volume without much effort.
Obviously we never left it at max during testing, as it was simply too much to have it there all the time. But compared to some other brands, its max volume was slightly lower.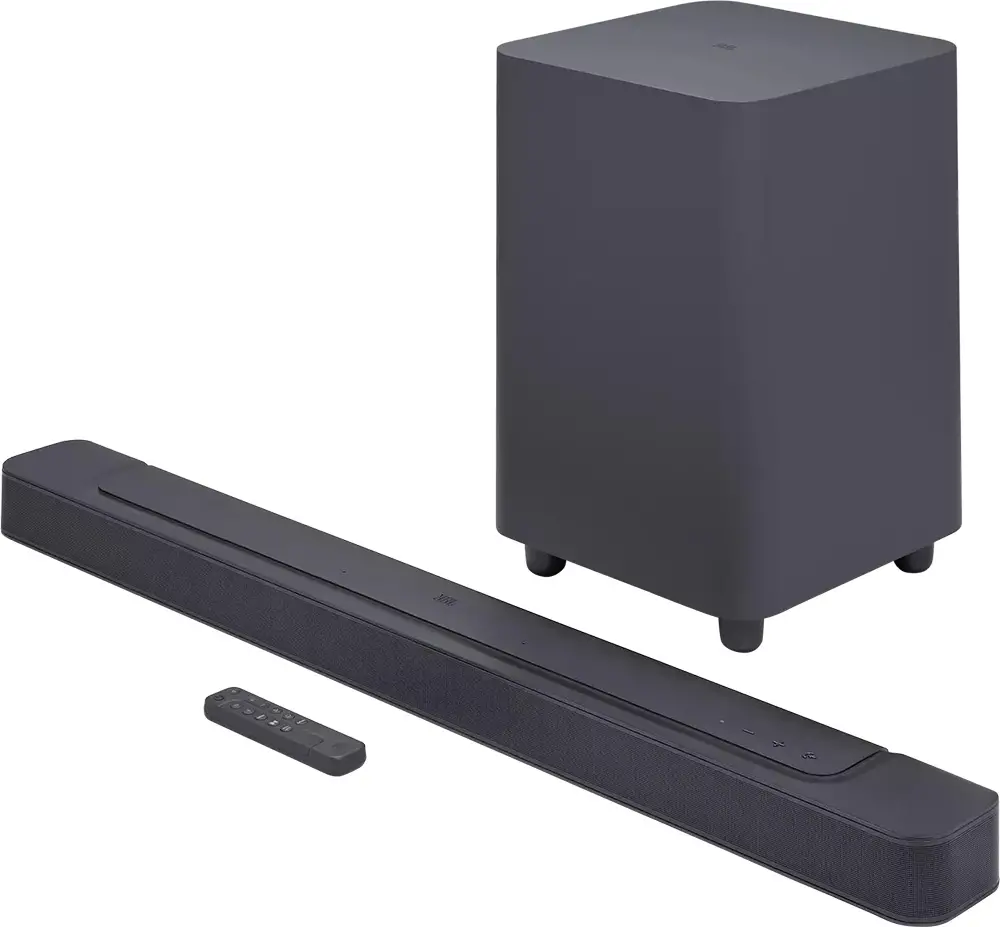 Music
As far as music is concerned we didn't use the soundbar's USB as this is only available in the US market. So instead we used our media player which we connected to one of the HDMI inputs to stream music to the soundbar.
Fidelity & Overall Quality
Something that we always repeat in our soundbar reviews is that you should never expect such a system to perform equally good to a dedicated HiFi system. Even top tier flagships cannot get close to that, so don't think otherwise. And with music you can really sense where the limitations of a system like the Bar 500 really are.
Not that the unit performed bad, not by a long shot. But to be honest this is not the kind of performance that will leave you in awe. The front sound wall was pretty satisfying, although clarity and resolution were a notch lower compared to what a flagship soundbar can do.
The sound field felt more narrow than we expected although with a stereo performance that was not such an irritating problem. Sound imaging was slightly above average but we can say that it was on par with the competition in this category. Panning stereo sounds were obvious but with the soundbar lacking in extension these were not as impressive as we would like.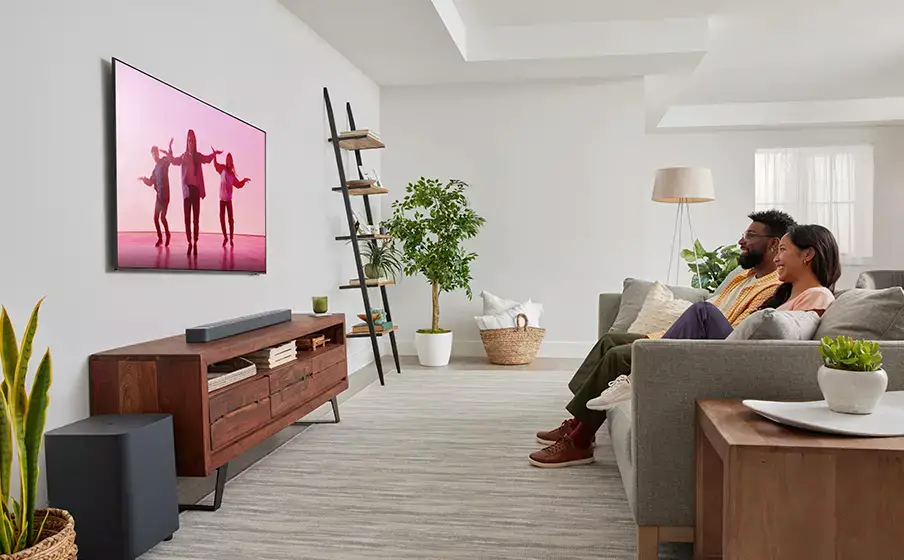 Vocals were really good, with nice vibrancy and enough energy most probably due to the inclusion of the centered tweeter. The bass was again one of the highlights of the system hitting the lows with authority and keeping the tempo with ease.
The Bar 500's output felt nicely balanced with a slight uptick in the upper bass section. The rest of the frequency range had enough linearity and made its output neutral and easy going.
Different Content
We went through various content and we didn't notice much variation in its performance output. The Bar 500 is a very stable system whatever you throw at it. Surely it has its weaknesses but also it has its merits and it never failed to showcase them in every chance it got.
Some more delicate performances surely lacked the extreme high fidelity a HiFi music system can produce. Also, sound imaging didn't have the definition we would fall in love with. With more bass intense performances the unit managed to do better as the subwoofer was there to save the day.
Overall not bad for a low/mid-tier offering. Music is not a strong point in all these systems and the Bar 500 falls right into this category. keep your expectations in check and you will surely enjoy it much more than you expect.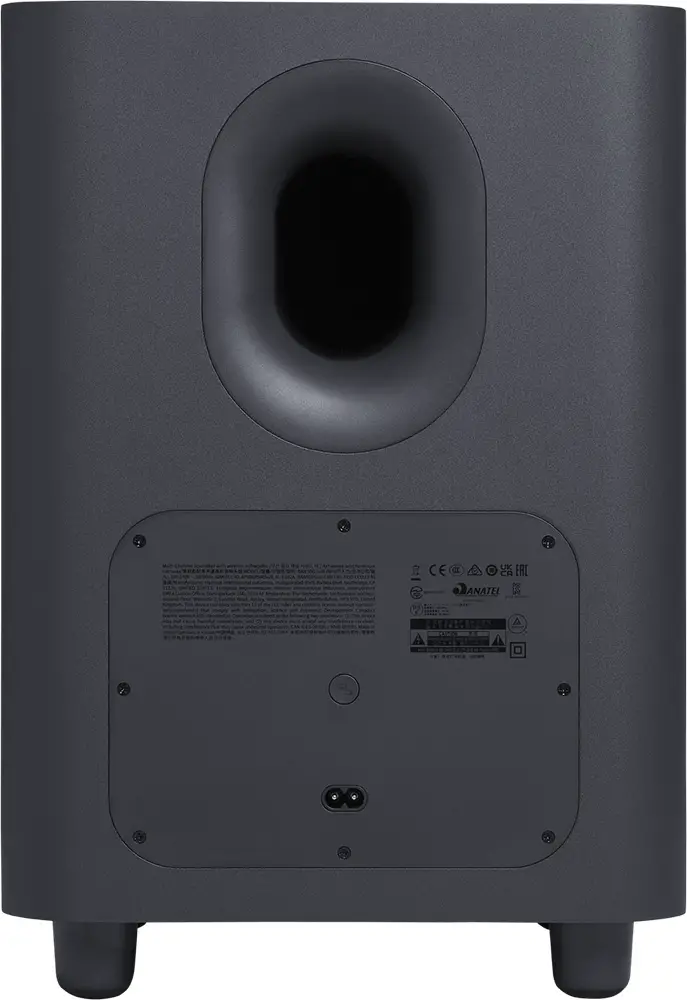 Final Thoughts
The JBL Bar 500 is your typical low/mid-tier soundbar that offers plenty of value but not without a few very notable weaknesses. Having a very recent experience with the Bar 300 we can say that the Bar 500 felt similar. But this one managed to improve in some areas where the Bar 300 left us a bit disappointed.
On the bright side the unit's build quality is up to JBL standards. Its performance was pleasing with punchy bass and a good front soundstage. Quality of sound was above average and offers a really pleasing output. As for its list of extras, this can be described as good but not great. Its ease of use is obviously in JBL's design mentality while the addition of the JBL One app surely adds even more value.
On the other hand the unit failed to create a convincing surround experience. Also Dolby Atmos was really weak with the upper layer lacking in clarity and definition. The soundbar does not support DTS, which is inexcusable for a new release in 2023. And lastly with only one HDMI input, which by the way is not HDMI 2.1, you cannot use this soundbar as a hub or for high frame rate gaming.
Closing, the JBL Bar 500 may not be a real breakthrough in soundbar technology but it's a lovely low/mid-lever release. If you are aware of its weaknesses and you can live by them, then surely this one can offer you a great boost in sound quality.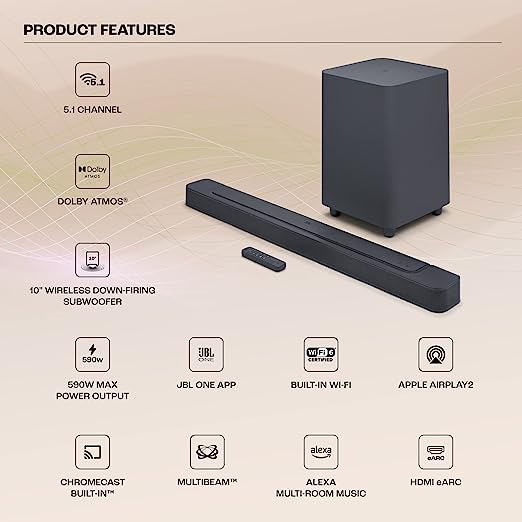 For more reviews you can check our dedicated Soundbar-subwoofer combo reviews list or even look at our Product Reviews Table where you can find the brand and specific product you are looking for.
Also don't lose the chance to subscribe to our Newsletter and gain exclusive privileges.
---
Cheapest Places to Buy :
---
JBL Bar 500 Specifications