Marantz NR1510
Design -

94%

Audio Quality -

86%

Inputs / Ports -

80%

OS, Apps and Features -

83%

Price / Quality -

78%
---
Cheapest Places to Buy :
---
If there is one thing we love about Marantz's lineup or AV receivers is their NR slimline series that is destined for those that have extremely limited space but would still love to create a full blown surround system instead of going for a soundbar or other less than satisfying solutions. As such Marantz have been very stellar with their yearly released models that have included 2 models every year. In our Marantz NR1510 review today we will be looking at the smaller of the two which also happens to be the only AV receiver in Marantz's arsenal that doesn't support any of the object-oriented audio tracks.
The NR1510 is the absolute lowest you can go with 5.2 channels at 50 watts power, supports Dolby TrueHD and DTS HD Master Audio, comes with the Audyssey MultEQ calibration system and packs plenty of features like High Resolution Audio, HEOS and Airplay 2, support for all voice control platforms as well as custom integration while it has both WiFi and Bluetooth built-in.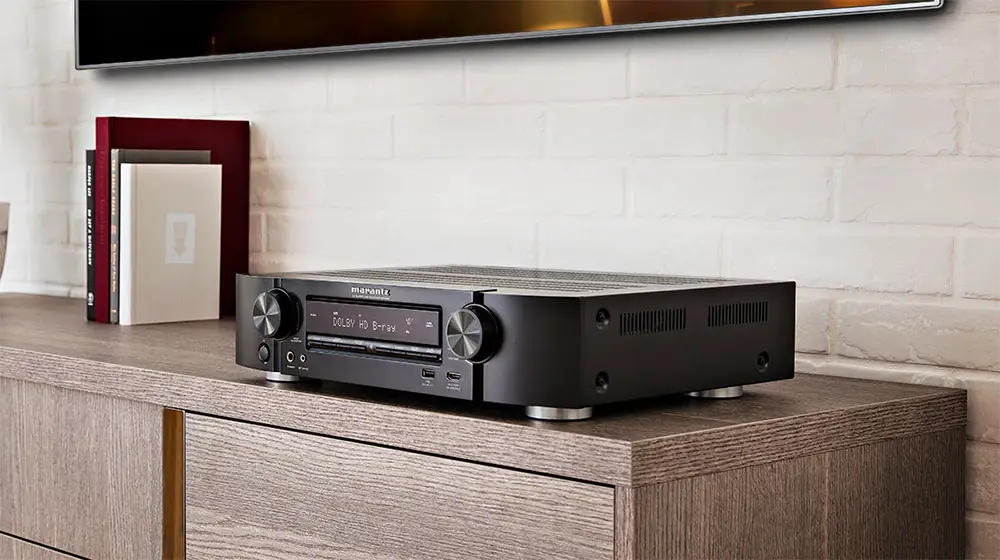 A while ago we had the pleasure of reviewing the higher end model in the series for 2019, the Marantz NR1710, and frankly for such a small unit it left us really amazed by its capabilities and feature complete list so we were curious to see how much we would be loosing in our transition to this lower cost unit. At $150 less than it's bigger brother does the price different is worth it or competition between these two units is more fierce than it looks? Keep reading to find out.
Design
If there is one characteristic that comes front and center on the NR series this would definitely be their ultra-slim designs making them easier to fit in all sorts of tight places that a normal sized receiver wouldn't fit. AV receivers usually are not the most pleasant looking audio equipment. With most of them sporting a rather uninteresting and ugly black squarish box design, the NR1510 is somewhat a more pleasant sight. Obviously the unit doesn't have anything else to make it more good looking but even such a drastic reduction in each size can make it look better. The smaller size is a major selling point of all the NR models and one of the reasons why many people are interested in them.

For 2019 the NR1510 looks exactly the same as it's bigger brother, the NR1710 as well as last year's NR models. There is no difference whatsoever so except from the naming in the front and back you will be hard to understand which unit is which just by looking at the outer shell. The unit comes with a size of 17.3″ x 14.9″ x 4.1″ (440 mm x 378 mm x 105 mm) if you place the antennas in a horizontal position as this way you gain some height and keep a good signal at the same time. The receiver weights just 18.1 lbs (8.2 kg) making it one, if not the most compact and lightweight surround receiver we have tested so far.
Let's see now what the NR1510 has at it's front face. The NR series may be smaller in size but when it comes to their front face controls and connections they come fully featured and don't miss anything any of the bigger and higher end models offer. The NR1510 follow exactly the same design principles with two big turning knobs at each side for volume and input selection with the central display showing all the important information you will need.

Under the input selection knob there is only the power button while below the central display we get a single row of thin buttons separated into two groups. The one on the left has buttons for M-DAX, tuner and internet radio while the one on the right has buttons for dimmer, status, sound mode and pure direct. Last but not least under these buttons we get a few front connections with a headphones jack and the Audyssey calibration microphone port on the left and a USB port (5V, 1A) for connecting external storage and a HDMI input on the right side. Everything else is located at the back and we will talk about them a bit further down.
Even as we are talking about the smaller and most weak of all the models, being a Marantz certainly comes with a certain degree of quality that the company is so famous for. Of course it doesn't come with all the exotic audio parts that Marantz is advertising in their higher end models but even as such the NR1510 has a high-current discrete power amplifier section and features identical power on all five channels with low-impedance drive capability for superior speaker control showing that Marantz is paying attention even on it's most weak units.

The unit may be sporting exactly the same design as the NR1509 so since not much have changed as far as it's features and functionality the same applies for the remote that comes with it which is exactly the same one we saw last year (RC040SR). With a relatively big size there is ample of space for the included buttons to have enough distance between them to avoid any accidental inputs. We would like to have slightly bigger buttons as it would make things a bit easier while the lack of a backlight function make things harder. Most of the buttons have a fluorescent look so they will slightly glow in the dark making things a bit easier to distinguish.
At the top of the remote we get all the input buttons grouped together including Bluetooth and HEOS functions while exactly below we get channels, volume and navigation control buttons. Below them there is a trio of playback buttons and four smart select buttons where you can save your custom setups that include input, volume and Audyssey configuration. At the bottom we find four buttons that control the various sound modes of the receiver. With exactly the same design and functionality our opinion remains the same as before. A good and functional remote without offering anything fancy. With so much space Marantz could definitely create a more compact design than this.
When we reviewed the NR1710 we were very pleased that Marantz was able to offer such a quality product in such a small form and this seems to continue on their smaller model also. The NR1510 may be the weakest of them all but quality and design wise is on par with the company's standards.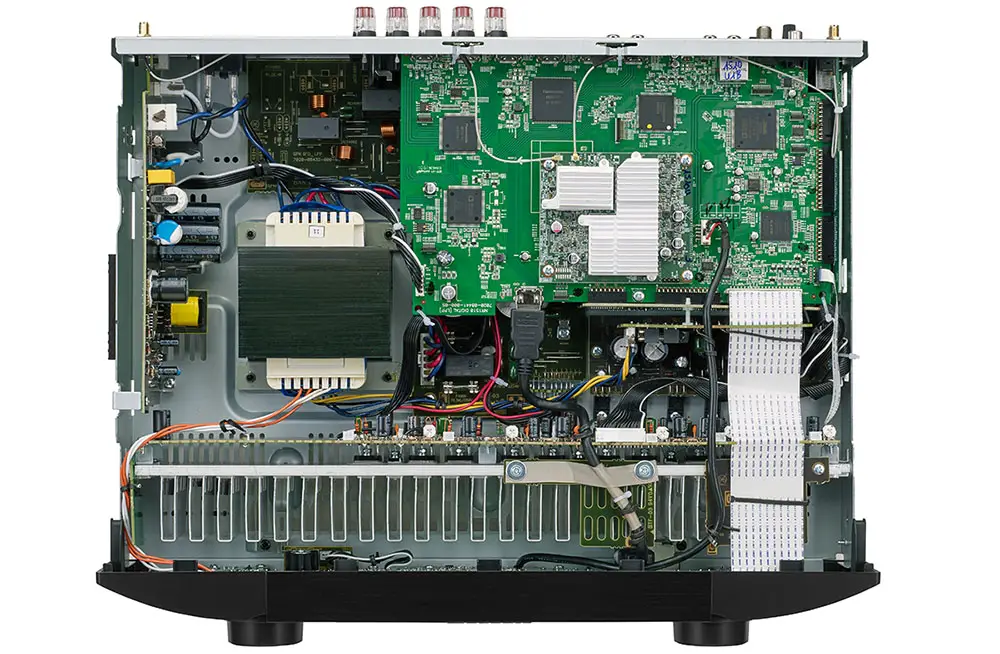 Audio Quality
The NR series seems to share a few common characteristics and this trend continues with the NR1510. The unit comes with 5.2 channels of built-in amplification which is the absolute minimum in order to create a basic surround audio setup. With 50 watts of power (8 ohm, 20 Hz – 20 kHz, 0.08% THD) the receiver is mostly suited for small living rooms and media rooms where not a lot of power is needed.
The receiver supports Dolby TrueHD and DTS HD Master Audio only as there is no Dolby Atmos or DTS:X here while also absent is any kind of up-mixing or virtual technologies with the end product offering a very basic package that is more than perfect for newcomers and casual users. Since the receiver cannot support more than 5 channels some of these virtual technologies could potential benefit the system but most probably they had to cut these in order to keep the cost as low as possible.
As such for our testing we went for a 5.1 channels setup which is as basic as it can get. For our first movie test we selected the 4K UHD version of Battleship that comes with an amazing DTS:X mix even if the actual film quality is not as good as it's effects. With the receiver not supporting any kind of object-oriented tracks the mix is scaled back to the more basic DTS HD Master Audio that is not too shabby either.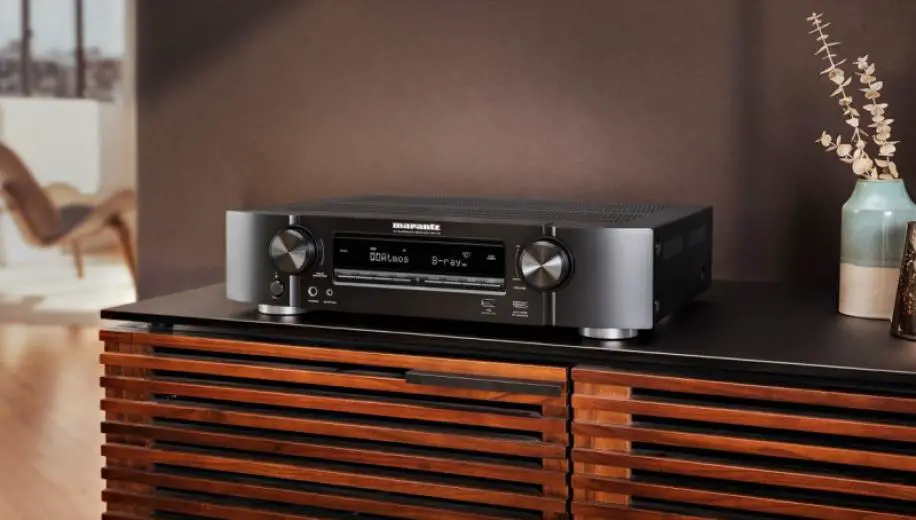 With no overhead speakers whatsoever the first thing that becomes very obvious is that the overhead layer is completely missing making the soundstage feel a bit less dimensional. Obviously having got used to hear Dolby Atmos tracks all the time this was to be expected to a certain degree but we are here to give you an idea of what this receiver offers and not what it doesn't. So with this in mind let's talk about the front first.
Both main channels had very good clarity and resolution while the center channel provided the dialogue that was very distinct even during heavy action scenes. The three front channels created very good and wide frontal dispersion and good separation between them. The surround speakers added the necessary depth behind us and the film provided plenty of opportunities for them to flex their muscles with projectiles flying all over the place. Channel shifting between the surrounds and the front was very good without giving us a sense of the receiver lagging at any point.
Plenty of explosions here so our subwoofer was busy most of the time with the NR1510 providing all the necessary info to it in order to shake our room. For such a busy film the unit behaved very well all things considered. The front soundstage felt satisfying and full with the surround providing the necessary extension behind us and the subwoofer taking care of the low frequencies what we got here is a lovely little home cinema system. The lack of any action above our heads is one thing missing but when you go for such a unit this is to be expected.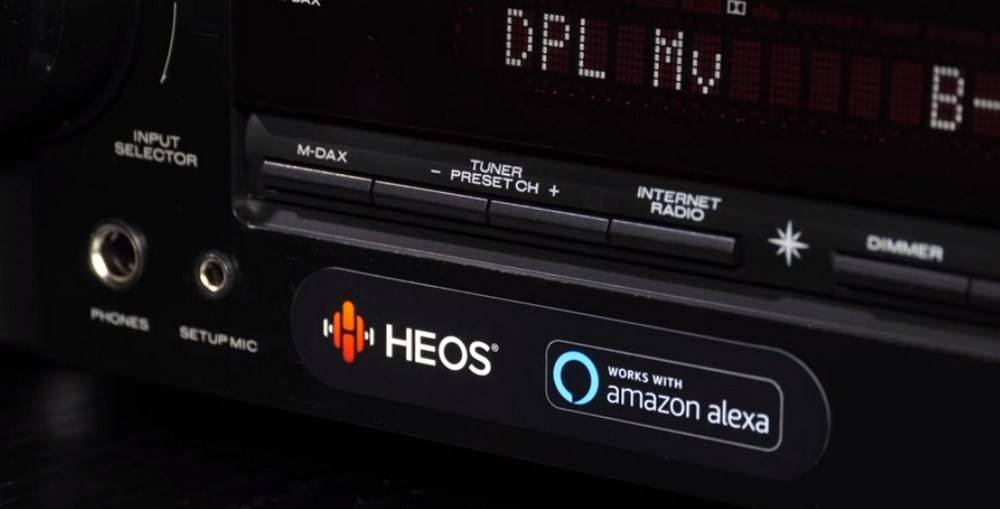 Next in line is our all times favorite Lord of the Rings: Return of the King with it's DTS Master Audio track. Watching the siege of Minas Tirith is always a pleasure and the NR1510 made sure to provide all the small details such an amazing mix has. From the trolls growling, the shaking of the ground from the Mumakils or the screaming of the Fellbeast the receiver kept a very stable and balance performance throughout all the frequencies and across all channels.
The front took the lead with the three channels providing good extension to the sides of the TV while surround activity pushed the immersion bubble well behind us in order to envelop us in the action. Dialogue was clear and never felt overshadowed by the rest of the action, mid-range felt tight and highs felt exciting. The low end was also rather good and solid.
Having tested a few of the NR models so far one thing that we should mention is how loud the unit can go. All the NR series have a limit of 50 watts per channel, which obviously is lower when it comes to all channels at once, but in our opinion since this receiver will mostly be used is small areas and living rooms and with the distance being relatively short you shouldn't have any problem enjoying a loud soundstage. Obviously it cannot compare to the power that full-sized units can offer but it can get surprisingly high for what it is so you shouldn't really worry very much about this.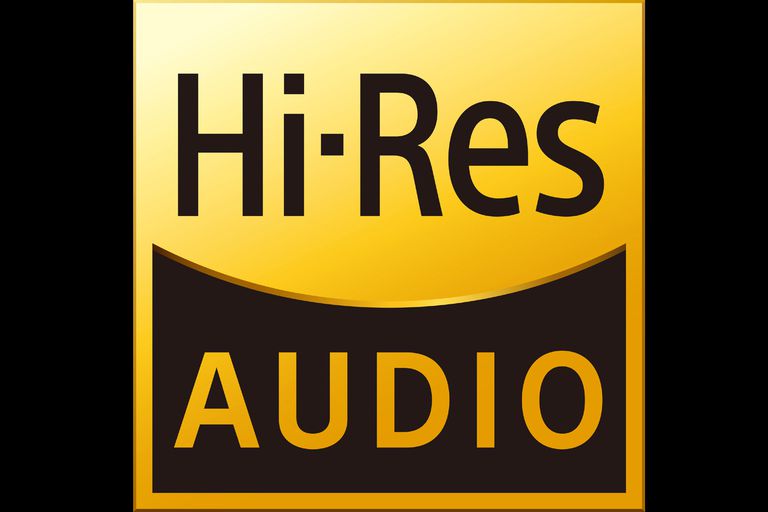 Another feature that seams to becoming standard across the board, at least for all Marantz AV receivers, is support for High Resolution Audio with the NR1510 featuring the exact same support as the rest of the models. This means that not only the unit supports the usual low quality MP3, WMA and AAC formats but also high quality FLAC, ALAC and WAV files up to 192 kHz/24-bit of quality. There is also DSD streaming support for both 2.8 and 5.6MHz.
As usual with these tests we selected a few favorite FLAC music tracks that we streamed through the USB port of the receiver. Performance wise the NR1510 behaved similar to the other NR models we experienced previously. Obviously having the same features and hardware meant that there wouldn't be any change in quality but in fact this is a good thing as we have only good words to say.
One thing we keep repeating is that what the receiver lacks in power gains in quality. During our session we felt that there was good balance across the whole frequency range but obviously when the unit was pushed to higher volumes this balance gets lost to a certain degree. There was great definition on the high-end while the lows felt strong but without prioritizing them in expense of the rest of the sounds.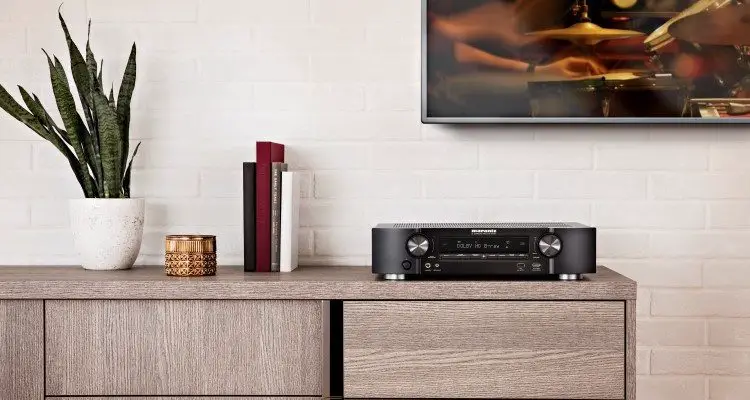 As with all the NR models there is a certain criteria that needs to be met in order for this units to really be able to offer what they are meant to. Reasonable power needs. If you are not looking for a particularly powerful receiver, as your home cinema will probably be set is a very limited space, then the NR1510 can really shine and offer you some of the best surround audio a receiver can. Stick to that and the NR1510 will certainly reward you with its abilities.
Ports and Connectivity
If there is one thing that we learned reviewing some of the models in the NR series is that size is not a factor when it comes to the number of connections a receiver can offer as the higher end NR1710 that we had reviewed recently came fully packed with ports that even some fully sized models would be jealous of. The NR1510 on the other hand will naturally have to make cuts on this regard but the most important thing is how much it too much? Let's find out.
With the receiver being a 5.2 channels one we only get the five usual speaker terminals for the front, center and surround channels and nothing else. The terminals are made with good quality plastic for such a low end product, even if it is not so low end looking at its price. Above them we get the usual HDMI inputs with 5 of them being available at the rear for a total of six if you include the front one. There is only one HDMI output that has also ARC/eARC functionality. eARC is the new thing we get this year and it's a feature that will stay exclusive to the 2019 model so if you absolutely need eARC then this year's models is the way to go.

All HDMI ports support the newer HDCP 2.3 meaning they support 4K/60 Hz full-rate pass-through, 4:4:4 color resolution, HDR10, BT.2020, Dolby Vision, Hybrid Log-Gamma (HLG), 3D Signal Pass-Through, eARC and ALLM. Auto Low Latency Mode (ALLM) is also a new feature that ensures Xbox One users will have a more responsive and immersive gaming experience when connected with select TV models that also support ALLM.
So with these out of the way let's see what else is on offer with all other connections being like for like with last year's unit. There hasn't been a single change on the number or type of ports so the NR1510 also has 3 composite video inputs and one output, three analogue stereo inputs and another one that is dedicated for phono, one digital coaxial and one optical input, 2.2 pre-out channels, 2 subwoofer ports, a remote control input and one output, an IR flasher input, an Ethernet port for wired connection to the internet and the usual FM/AM as well as WiFi/Bluetooth antenna connectors.
As for it's wireless capabilities the NR1510 has been updated the same way we saw the NR1710 was. As such it also supports dual band WiFi (IEEE 802.11a/b/g/n) but this time it uses the updated Bluetooth 4.1 instead of the Bluetooth 3.0 + EDR (Enhanced Data Rate) that the NR1509 was using meaning that we get better and more stable Bluetooth connections when streaming.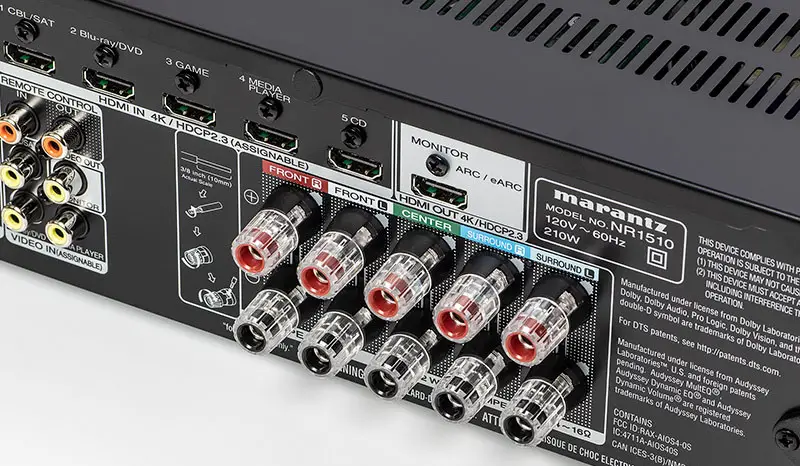 So in essence the only differences we find this year are the updated HDCP 2.3 HDMI ports with eARC and ALLM functionality as well as the updated Bluetooth version. Everything else is the same and to be honest for such a low end model you probably get all that you need. Expectations shouldn't be too high and the NR1510 has enough in order to create a basic home cinema system.
OS, Apps and Features
Let's see now what is being offered in terms of extra features. The NR1510 comes with the Audyssey MultEQ sound calibration feature that will help you adjust your specific system in order to get the best possible acoustic outcome. People going for this receiver most probably are inexperienced users so having such a system can greatly help you with all the necessary settings which means that you will not have to loose your time wondering what you have to do. A manual calibration is always the best but for newcomers or those that just want to simply enjoy some surround sound these automatic systems can really help.

Along with the main Audyssey system there are a couple of extra features that come with it with one being the Dynamic EQ that keeps the dynamic levels as well as clarity even at low volume while the second is Dynamic Volume that balances sudden volume spikes when there are shifts between TV programs and commercials. This trio of systems is the most basic version you will find in any Marantz AV receiver but it is enough for some basic calibration. Unfortunately one thing we are missing here is the Audyssey MultEQ Editor App that can be used with higher end models for more thorough calibrations as it is not supported in the NR1510.
But one app that you can use is the Marantz AVR Remote app that is available for both iOS and Android devices and you can control the receiver through your mobile device. The app is free on both stores so you can download it and give it a go to see if you like it.
As for the built-in user interface we get exactly the same menu and visuals that we had seen many times before meaning that all settings and options are separated into different categories depending their function even if they look visually dated and certainly could use a fresh look. But their simplicity means that you can easily find anything you want even if it's your first time tackling with a Marantz AV receiver and have no previous experience of their menu structure.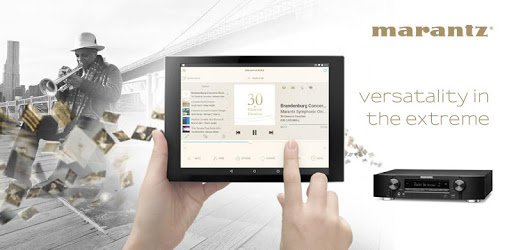 Another area where not much have changed is in its streaming capabilities. As such the NR1510 is capable of streaming audio from a network drive or NAS server that you may have connected in your local network or from the internet from one of the available streaming services that include Internet Radio, Spotify, Napster, Pandora, SiriusXM, Tidal and Deezer meaning there is something for almost everybody. And with the unit's wired and wireless capabilities you can choose the best way that suits your needs. Lastly you can stream audio also through the Airplay app from Apple devices with the use of Bluetooth.
Next in line are the multi-room capabilities of the unit. In true Marantz fashion the NR1510 supports the HEOS multi-room technology that lets you connect various HEOS enabled speakers wirelessly to the receiver. If you use multiple speakers around your house you can create your very own custom multi-room environment. One new feature we found in the NR1510 when it was first released was that it came with Airplay 2 support which is Apple's solution to a multi-room environment that is capable at connecting Airplay 2 enabled speakers which means mainly Apple speakers. But since then Marantz also updated the NR1509 with an Airplay 2 firmware update so this feature is common among all their models.
Another feature that was originally updated in the NR1510 was in its voice control supporting functions. The new 2019 model supports all 4 voice control platforms with Amazon Alexa, Google Assistant, Siri and Josh.ai all present. Originally the NR1509 only supported Amazon Alexa but since then it has also been updated to support all four of them bringing it in line with the rest of the units. For Alexa and Google Assistant obviously you will need an external speaker while for Siri you can use the Airplay app to issue your commands.
Another standard feature we get in all Marantz AV receivers is the ECO mode that you can enable and let the receiver regulate it's power output depending on the needs. This way you can achieve better power economy but obviously this may have a negative effect on the receiver's performance and as such we prefer to leave this turned off.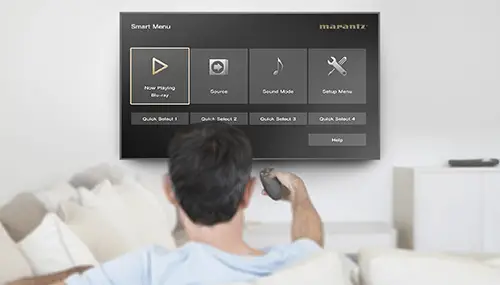 There are a couple more extra features that are worth mentioning with one of them being custom integration support for both Ihiji Invision and Domotz Pro, a feature that we were seeing mostly on higher ends models and now seems to be supported in all units in their lineup. Lastly there is HDMI-CEC which allows you control the receiver through the TV remote and thus lower the number of remotes needed to use in your home cinema. By turning the Smart Menu on, on the receiver you can use the TV remote to navigate through a set of menus especially created for this reason and allow you to change many of the unit's functions.
The NR1510 comes with the most basic set of extra features from all the Marantz receivers we have tested so far. Obviously this was to be expected as the unit sits at the bottom of Marantz's lineup so a few more advanced features are missing but without their absence affecting the overall performance of the unit when it comes to its online and streaming capabilities. As such there are features like Bi-amp, HDMI upscaling and IMAX Enhanced that are mostly kept for the big boys without these being the kind of features that you would be missing if you are thinking of getting the NR1510.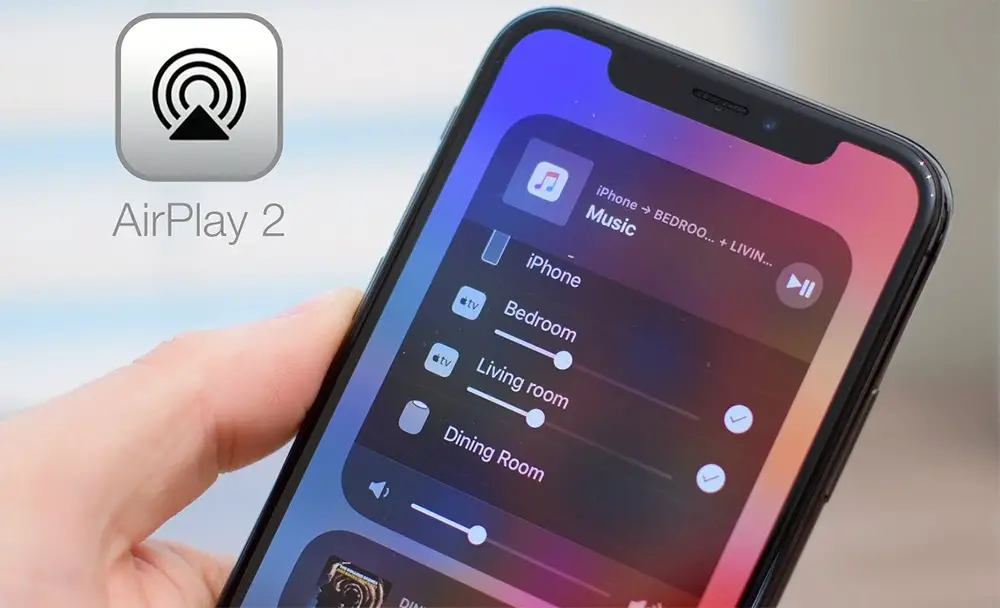 Final Thoughts
Before we finish our review we need to clarify one thing that many readers may be looking for. With the NR1510 being so similar to last year's NR1509 are there any actual differences between the two to warrant an update? Marantz seems to offer the NR1509 around $50 cheaper so differences should be minimal in theory and this actually seems to hold true. The NR1510 actually has 2 differences with one being the updated HDCP 2.3 HDMI ports with added eARC and ALLM that the older NR1509 doesn't have and a newer Bluetooth version with v4.1 instead of the older v3.0 + EDR that was used in the NR1509. All other updates including Airplay 2 as well as Google Assistant, Siri and Josh.ai support that we found in NR1510 has also been included in the NR1509 through updates.
Obviously the Marantz NR1510 is destined for a very specific market. With 5.2 channels, 50 watts of power, Dolby TrueHD, DTS HD Master Audio and High Resolution Audio support along with having HEOS, Airplay 2 and all voice control platforms to play with it's most definite highlight is it's slim size. If you want to create a simple 5.2 channels surround setup due to extreme limitations in space then obviously Dolby Atmos and DTS:X are not necessary and the NR1510 will fit you just perfectly and with it's slim factor it's a receiver that will most probably fit anywhere.
As for it's downsides if you read our review then they are pretty obvious. 50 watts of power may be enough for small rooms only and certainly wouldn't be able to stand in a middle sized or large home theater. Also there is no Dolby Atmos or DTS:X support but we are also missing all up-mixing and virtual technologies that we see in even low budget full-sized receivers nowadays. Lastly for the specs that we do find the Marantz is certainly a pricey offer. At $600 at the moment of writing this unit is certainly not cheap and this will for sure have a negative impact on consumer's decision.
In the end the NR1510 is destined for those that definitely want a Marantz AV receiver but are extremely tight on room space meaning that they have no requirements for a Dolby Atmos setup or a full-sized unit which in return means saving up as much as possible. If you identify yourself in this group then the Marantz NR1510 is a receiver that comes with the proven quality of Marantz but scaled down to the absolute minimum that your area and needs will allow.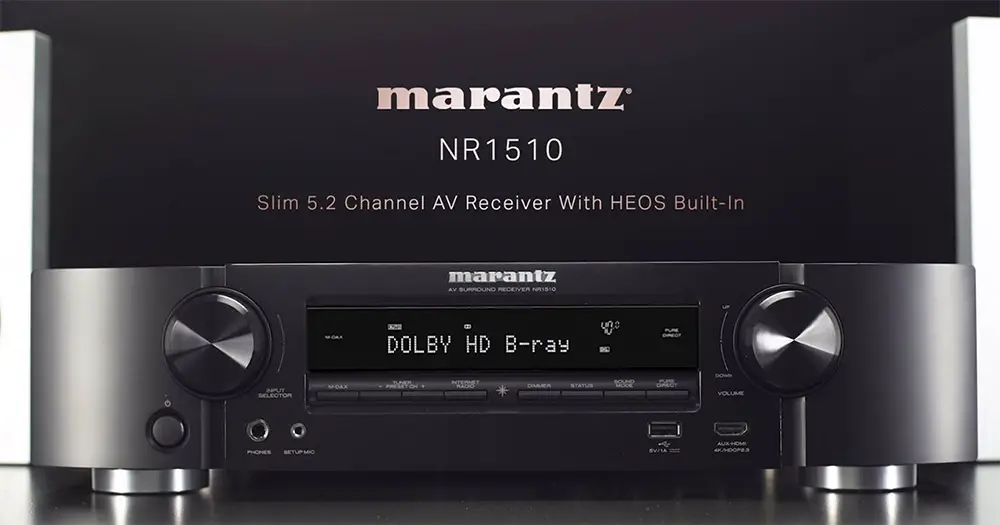 For more reviews you can check our dedicated Slim Line 4K AV Receiver reviews list or even look at our Product Reviews Table where you can find the brand and specific product you are looking for.
Also don't lose the chance to subscribe to our Newsletter and gain exclusive privileges.
---
Cheapest Places to Buy :
---
Marantz NR1510 Specifications