Onkyo TX-RZ70
Reviewed at $2,799.00
Product Name: Onkyo TX-RZ70
Product Description: 11.2 CH 8K AV Receiver
Design -

9.2/10

Audio Quality -

9.5/10

Inputs / Ports -

9.7/10

OS, Apps and Features -

9.4/10

Price / Quality -

9.2/10
Summary
Reviewed at $2,799.00
Pros
Amazing cinematic output
Dirac Live with Bass Control
Full HDMI 2.1 support
Great price compared to competition
Cons
No 13 channels processing
No motion sensing backlit remote
Need really good ventilation
Not so wide availability
---
Cheapest Places to Buy :
*We are a reader-supported website. When you buy through links on our site, we may earn a small affiliate commission at no extra cost to you. Home Media Entertainment does not accept money for reviews.*
---
Onkyo may not be the power brand it was some years ago. But even so it remains a recognizable and very respectable name in the home theater market. So in our Onkyo TX-RZ70 review today we will be looking at their latest flagship. And determine if Onkyo still has what it takes to make a good AV receiver.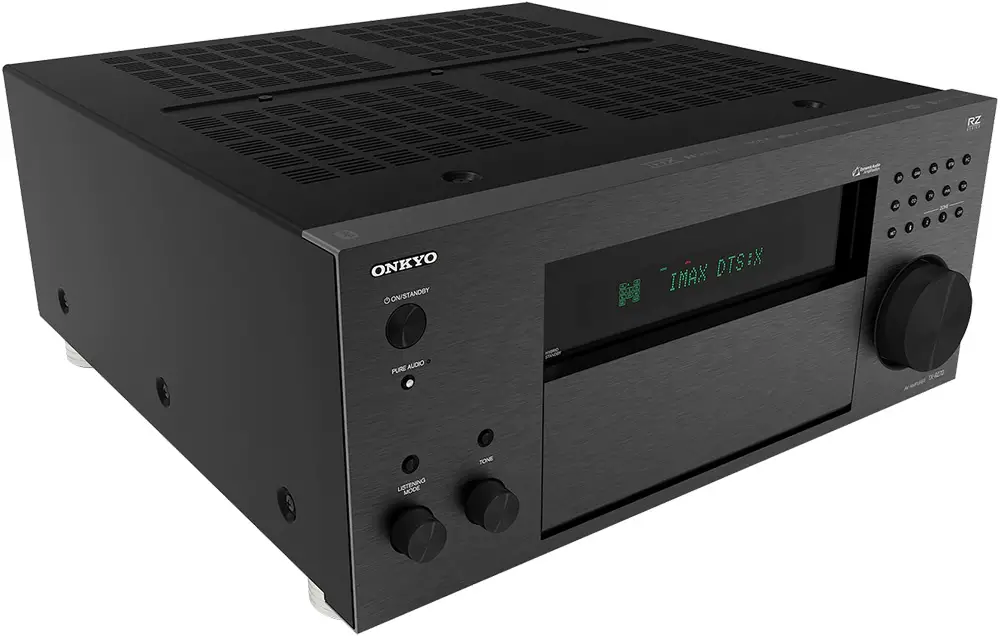 The TX-RZ70 belongs in their premium RZ series which until recently consisted only of the 9.2 channels TX-RZ50. But Onkyo was really missing a 11 channels AV receiver and this is what the RZ70 brings with it. Looking at the specs the RZ70 looks like an RZ50 on steroids. It ups the power output, the channels support and adds a few extra features for good measure.
But let's see real quick what we get with this one. What we have here is an 11.2 channels, THX certified, AV receiver with 140 watts of power output and support for Dolby Atmos, DTS:X, IMAX Enhanced and Auro-3D. It features trouble free HDMI 2.1 ports and a myriad of extras including Dirac Live with Bass Control, High Resolution Audio, Bluetooth streaming, Airplay 2, Chromecast, DTS Play-Fi, works with Sonos, is Roon Ready certified, supports many online streaming services, offers custom integration and many more.
Onkyo was in need of a 11 channels AV receiver that was on par with the current competition. And it seems that the TX-RZ70 is that AV receiver. But with a price north of $2,500 does it stand a chance to be the new king of the hill? That is what we are going to find out.
Design
Looks and Dimensions
Onkyo decided to keep the same design for the TX-RZ70 as with many other RZ AV receivers before it. So basically the RZ70 is no different from the RZ50 we reviewed a couple of years ago. The only real difference between the two is its depth and higher weight.
The general look of the receiver is simple, as with most AV receivers, a black box with a big display screen at the front and small buttons all over the place that will not win any awards. But no one buys these for their looks.
After we got the AV receiver out of the box the first thing we did was to measure it. Its dimensions are 17-1/8″ × 7-15/16″ × 18-7/8″ (435 mm × 201.5 mm × 480 mm) making it a pretty big box to be honest. Its weight we measured at 48.5 lbs (22 kg) which means it needs extra care when moving around.
Front Layout
The front face is completely similar to the TX-RZ50 and keeps certain design aspects that are very characteristic with most Onkyo AV receivers. As such there is no knob for input selection as Onkyo instead uses dedicated buttons for each input.
Under the central display we once again find a flip door, typical to the RZ series. This keeps most buttons and ports out of sight, something we like very much. A clean look is ideal for less dust gathering.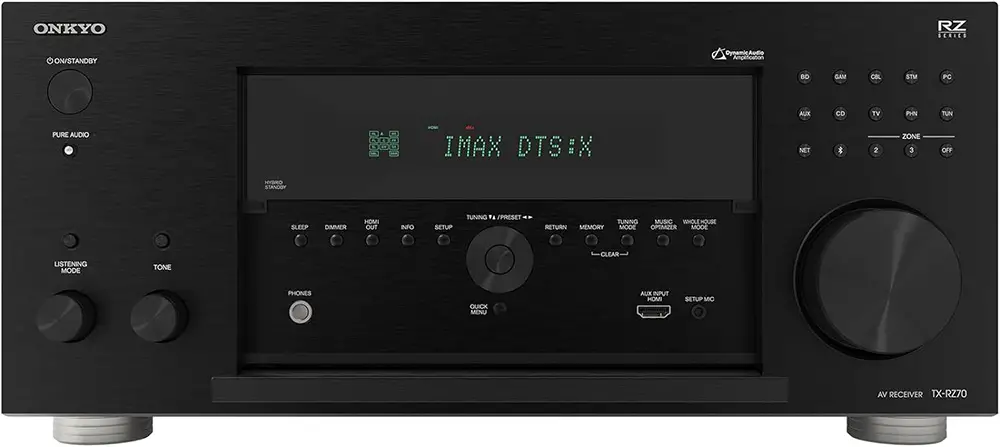 Opening the flip door at the center we find the usual navigation controls with a set of 5 buttons on each side that control various functions of the receiver while below we also get a headphones jack, an HDMI input as well as the calibration microphone port. Everything else is located at the back and we will talk about them in the appropriate section.
Many AV receivers are missing a front HDMI port. So seeing one here is definitely a big plus in our books.
Internal Hardware
Being part of the RZ series means that the TX-RZ70 packs some serious hardware.
As usual we find Onkyo's Dynamic Audio Amplification (DAA). They seem to have used a Class AB dynamic audio amplifier along with a custom high-current low-noise power transformer for this one. Processing duties, on the other hand, are handled by two 32-bit ESS Sabre ES9206 DACs.
As for its electronics we get the usual which means we once again find the PLL (Phase Locked Loop) anti-jitter technology for SPDIF audio and VLSC (Vector Linear Shaping Circuitry) noise filtering for the front left and right channels.

Remote
Surprisingly the remote is completely different from the one you will find in the TX-RZ50 or even the newer TX-NR7100.
The one that comes with the TX-RZ70 is certainly a big one with all the buttons you will ever want. Layout of the remote is good and Onkyo has grouped the buttons according to their functionality. All buttons are big enough and have good spacing between them.
We also like the fact that the remote has a backlight functionality. The bad thing is that this is not motion sensing backlight but manual. At least the button to light the remote is isolated at the bottom so it is relatively easy to find in a completely dark environment.
Audio Specifications
Let's move now to some of the more juicy and interesting sections of our review. Being a top of the line model, the TX-RZ70 supports almost all known audio formats. This includes both object-oriented ones like Dolby Atmos and DTS:X. There is also IMAX Enhanced support while a firmware update added Auro-3D also.
We should also not forget that Onkyo is one of the few brand that have their AV receivers THX certified. Although the THX stamp is not so relevant in 2023 they still have a huge recognition in this field. And having Onkyo getting their approval should mean at least something.
Virtual Sound & Up-mixers
Along with these we get support for up-mixing and virtual technology features in order to cover all needs and specific room configurations.
When it comes to up-mixing tech we find the usual Dolby Surround and DTS Neural:X. What these up-mixing tech are doing is to up-convert stereo and legacy mixes in order to make use of all the speakers you have in your setup. The receiver also supports the Dolby Atmos Height Virtualizer, which starts to become a standard lately, which can create a virtual setup and give you the illusion of audio from places where there are no real physical speakers.
Unfortunately, once again there is no DTS Virtual:X which is a similar technology for DTS tracks specifically. But the good thing about the new Dolby Atmos Height Virtualizer is that, unlike DTS Virtual: X that works exclusively with DTS tracks, can work for both Dolby Digital and DTS mixes making the omission of DTS Virtual: X not such a big deal.
Internal Amplification
The TX-RZ70 comes with 11 channels of built-in amplification. Each channel is capable of outputting 140 watts of power (8 ohms, 20 Hz – 20 kHz, THD 0.08%, 2ch drive) which is enough for most room designs and sizes. Keep in mind that this is only for 2 channels driven meaning that when all 11 channels are active this number goes down considerably. The receiver cannot process more channels so eleven is the maximum it can do.
It can also support up to two subwoofers which is the standard nowadays. But surely not the best as many new units can even support up to 4 subwoofers. But two is more than enough for most casual users so you should be fine in that respect.
With the built-in amplifiers you can go all the way for a 7.2.4 channels audio setup with four dedicated Atmos speakers. As for our testing we used a more modest 5.1.4 channels setup.
Movies Testing
For testing out the RZ70 we decided to try out a couple of 4K UHD discs. The first one was Avatar: The Way of Water that uses an extraordinary Dolby Atmos track. And the second was the new Transformers: Rise of the Beasts which also comes with a very engaging Dolby Atmos track.
Front Soundstage
Let's start from the front and the TX-RZ70 was every bit as good as you should expect from a flagship unit of this category.
The front stage felt dominant but without sacrificing directionality. There was impressive expansion and depth which created a huge sound wall in front of us. You really don't have to worry about the physical limits of your system as the Onkyo surely has a way of pushing its boundaries to new levels.
Dialog felt equally pleasing and distinct. Even through all the mayhem when Transformers destroy each other we never felt that dialog had less clarity or composition. Nor we felt the need to boost the center channel at all. Everything was crystal clear, even in the heat of battle.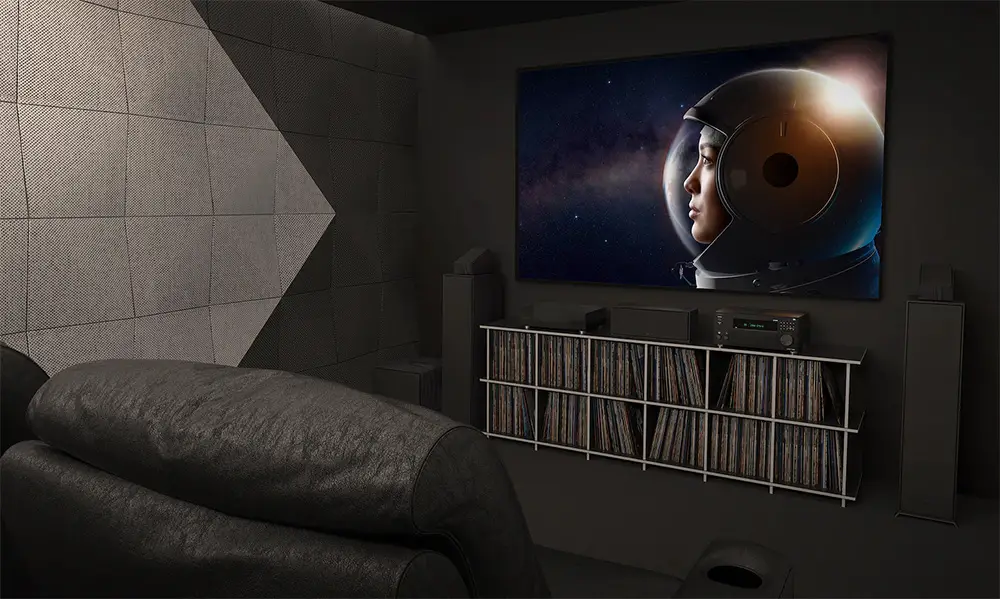 Surround Performance
Transformers and Avatar are two entirely different beasts. But the TX-RZ70 proved that can do equally good with two completely different settings. Avatar was the perfect example and the receiver did an excellent job at throwing us right into the world of Pandora.
During the underwater scenes you could feel like you were really there. You could sense the volume of water all around you. And it could give you a very natural sense of all the animal life engulfing the camera at each and every moment.
Transformers on the other hand does not care about subtleties. It is a movie where metal is clashing and burning and you only need to know where on the scene this is happening. And the Onkyo did a perfect job at this. This visual extravaganza of a film can make any Dolby Atmos fanatic very happy. Gunshots, explosions, projectiles flying in all directions and an AV receiver that was like a true gamer navigating his avatar in a video game, with precision and pinpoint accuracy.
Atmos Effects
A really good Dolby Atmos track never have Atmos effects overshadowing the rest of the performance. And this holds true for both films we tried. The overhead layer was active enough, more in some scenes than others. But it was there to complement the main action and never to take center stage.
The Onkyo did give our height layer the right amount of prioritization and thus we got a nice overhead expansion. Both Avatar and Rise of the Beasts had more than a few good scenes that showcased their Atmos qualities and we made sure to try almost all of them. The RZ70 did almost perfect here. No more to say.
Bass
But such a cinematic presentation would be for nothing if you don't have the necessary low end prowess to make it worthwhile. Again the kind of subwoofer you will use is very critical here. But the TX-RZ70 fed our sub with everything it needed to push the low end to new levels.
Explosions and gun fire felt like they were happening in our room. And will send low end sonic waves punching you in the face. Metal clashing felt like it would melt our TV and knock down our walls. While being underwater in Pandora, made us almost hold our breath for far too long.
Music Testing
In terms of music the TX-RZ70 naturally comes with an extensive list of supported files and codecs. The usual low quality ones are there like MP3, WMA and AAC. But we also get High Resolution Audio support in the likes of FLAC, WAV, AIFF, Apple Lossless and DSD.
For this test we used our trusted Zidoo Z9X media player in order to stream some music files to the receiver.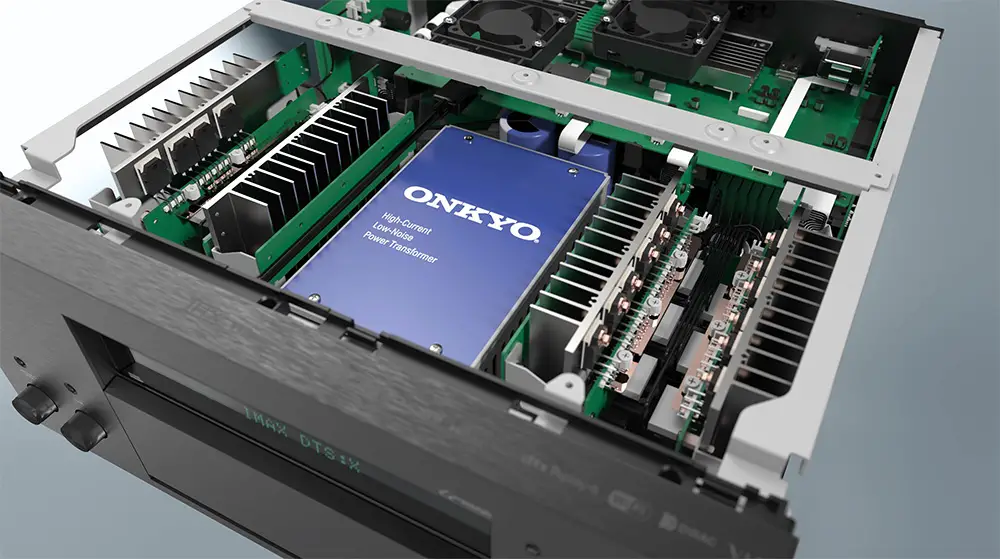 The Onkyo TX-RZ70 has a very easy going output that surely is characteristic of the brand. It will not balance on the edges and it will not try to impress. It will keep well within its capabilities and continue pushing the tunes to keep you entertained.
The AV receiver steered clear of any audible distortion and the level of detail and clarity it produced was unquestionable. There is plenty of juice in this black box and can well pound your wall with rock bottom bits.
Sound imaging was amazing as the Onkyo had pinpoint accuracy concerning where to place the original sound sources. Nothing was left unattended and it felt like we were hearing a live recording and not a digital version of the performance at hand.
The mid-range was colorful and balanced while the high frequencies had the right amount of energy and emotion. The lower end on the other hand never let us take a breath with ease. It was powerful and heart pounding with each drums bit.
We tried a few different genres and we cannot say that the Onkyo favored any of them in particular. You could hear in every performance all the same characteristics of this brand and the RZ70 never strayed away from this path.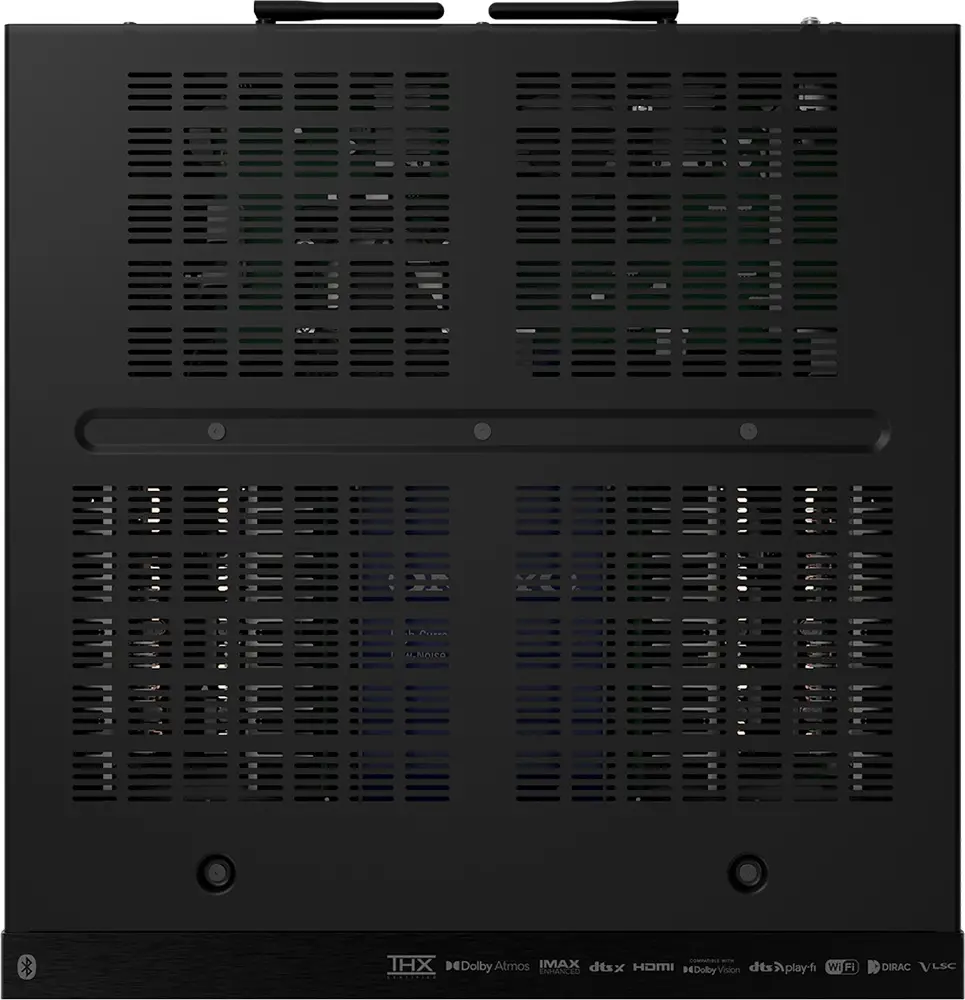 Performance Conclusion
One thing that was really apparent through the whole testing was the clarity and precision the receiver pushed out through our speakers. Obviously a receiver by itself cannot do miracles, you really need to have good speakers to help it. But if you pair it with a set of speakers worthy of its quality it will reward you more than you may expect.
Its cinematic and musical qualities are unquestionable and the TX-RZ70 showed us how a true flagship should perform no matter the content material.
Connectivity
Ports Analysis and Layout
Let's take a look at all the connections available in the unit.
First there are a few ports at the front, under the flip door. These are a headphones jack, a HDMI port and the setup microphone port. Everything else is located at the rear.
And here we find 13 speaker terminals, 6 HDMI inputs and 3 HDMI outputs. There are also 2 optical and 2 coaxial digital audio inputs, 4 analog stereo ports and another dedicated to phono. We also get 2 composite and 1 component video inputs and 11.2 channel pre-outs. As for the rest we get 2 subwoofer ports, an Ethernet port, a USB, a 12V trigger, an RS-232C and an IR input.
HDMI Specifications
Having gone past the 2020 HDMI 2.1 debacle the TX-RZ70 obviously feature the same bug-free HDMI ports as the other recent Onkyo releases.
The six HDMI ports at the rear are all HDMI 2.1 with 40Gbps capabilities. Also the two main HDMI outputs are also the same. All these ports support 8K/60p (up to 4:4:4/12-bit), 4K/120p (up to 4:4:4/12-bit) video passthrough, VRR, ALLM, QFT, DSC (Display Stream Compression), eARC (Main Out), HDR10+, Dolby Vision, HDR10, HLG, BT.2020, DeepColor, x.v.Color, LipSync, and HDCP 2.3.
The front HDMI port is a rather limited one and actually is an HDMI 1.4 as Onkyo gives it a 9Gbps rating only. It can still support 4K resolution but we would use this only for specific situations. Lastly the third HDMI output at the rear (Zone 2) is a 18Gbps capable HDMI 2.0 port.
Wireless Capabilities
As for its wireless capabilities there is built-in WiFi (802.11ac) to connect to wireless and local networks while it also supports Bluetooth streaming. The TX-RZ50 comes with Bluetooth 4.2 but the most interesting aspect of its Bluetooth capabilities is that other than the usual SBC transmission the Onkyo has also included AptX along with AptX HD. Which is not something we see often in most other commercial AV receivers.

OS, Apps and Features
All RZ AV receivers are full with features and the TX-RZ70 continues this trend. So let's see what Onkyo included in this one.
Audio Calibration System
Until recently all Onkyo AV receivers were coming with their proprietary AccuEQ auto calibration system. But with the arrival of the TX-RZ50 Onkyo included both their proprietary calibration system and Dirac Live.
AccuEQ
First is the AccuEQ Advance 9-point calibration system. This advance version of AccuEQ expands the functionality of Onkyo's system and in addition to speaker presence, distance, SP levels, and crossover it supports multipoint microphone measurement to detect the presence of standing waves, and sophisticated equalization technology to remove them from your room.
In addition the AccuReflex technology optimizes the reproduction quality of object-based audio soundtracks played through Dolby Atmos-enabled front speakers, Dolby Atmos-enabled upward-firing modules, or in-ceiling speakers by calibrating the phase of sounds originating from Dolby Atmos-enabled speakers so they integrate with your floor speakers.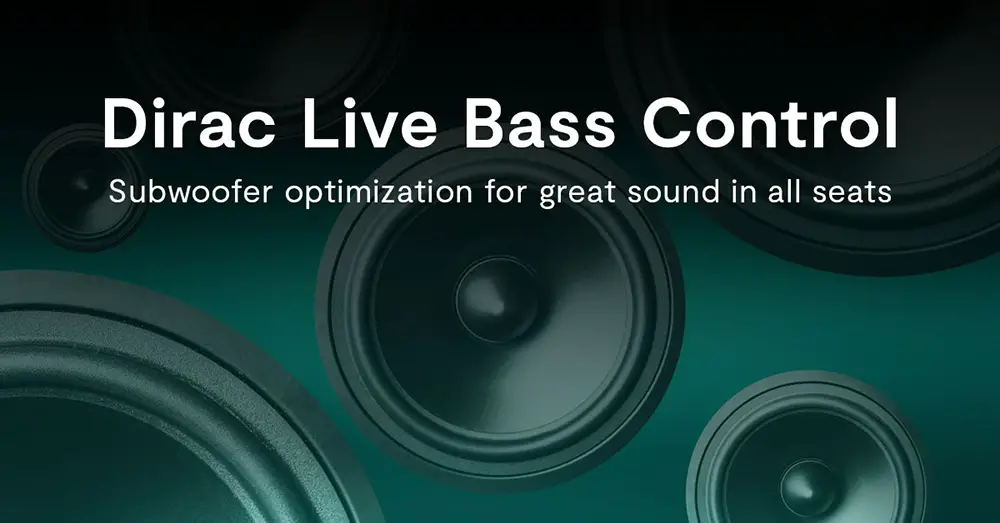 Dirac Live with Bass Control
And then you have Dirac Live. When doing initial setup you can choose if you want to use Onkyo's AccuEQ or Dirac Live. Dirac Live automatically calibrates the sound in your room using your smartphone and the included wired mic. Or you can go the wireless way with the Dirac Live PC or MacOS application, and a 3rd party USB mic if what you have may be better than the one provided in the box.
What Dirac Live does is to correct both the timing and amplitude aspects of sound coloration using a mixed-phase correction filter throughout the listening area, not just a particular zone. Correction is performed automatically using the proprietary app for smartphone or tablet. And it can improve staging, localization, clarity, voice intelligibility, and bass response.
There is a lot to like in Dirac Live and we see why there was such a warm welcome when Onkyo first announced it with the TX-RZ50. The system is really powerful and you literally have everything you need in order to use it. The app can be wonky from time to time but in general we found it very stable and the results you get, in our opinion, are far better than what the AccuEQ system can do.
There are various presets where you can save your configuration and also after the initial measurements you can go to each channel separately and adjust the curve any way you like so this can be particularly handy for those that seek to do micro-adjustments to the system's own balancing.
Keep in mind that Dirac Live is further enhanced here compared to the TX-RZ50, as in the RZ70 it includes the additional Bass Control option. This allows for more thorough calibration of your subwoofer/subwoofers and Dirac offers a single or multiple subwoofer licenses.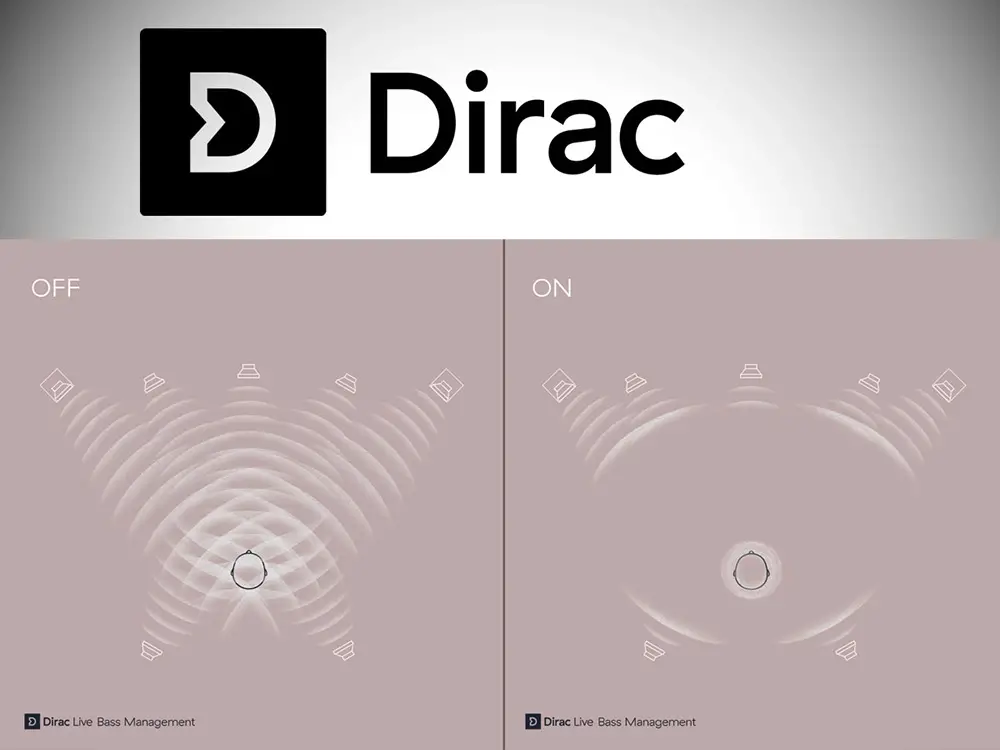 User Experience
Controlling the TX-RZ70 with the remote is the obvious way but Onkyo included a mobile app in case you like to use your smartphone or tablet. The Onkyo Controller is available for download and its UI is very friendly and up to today's standards. With it you can control multi-zone settings, volume control, media playback, source selection and much more.
The built-in user interface of the TX-RZ70 is simple and easygoing. You can find everything you need will relative ease as all menus are nicely categorized. Overall the built-in settings menu is nothing fancy. But gets the job done nicely.
You can also use voice control if that is your thing. Obviously the amount of settings you can change with this is rather limited. But for basic commands the AV receiver can work with both Google Home and Amazon Alexa. For both platforms you obviously need an external device for them to work.
Online and Offline Streaming
The AV receiver includes a wealth of online and streaming services including Spotify, Amazon Music HD, Pandora, TIDAL, Deezer and TuneIn. In addition you can also stream music locally if you have a network hard drive or NAS server connected to your local network.

You can also stream music by connecting an external hard drive on the rear USB port. Although we would definitely prefer to have this at the front. Because it is extremely difficult to reach it where it is located. And as a result you will have to rely on some kind of USB extender for easy access.
Additionally you can stream music through a Bluetooth connection from any kind of appropriate mobile device while if you are using Apple devices you can do the same by using the Airplay app and stream music from all kinds of Apple devices.
But the RZ70 come with more enhancements to its Bluetooth capabilities. You cannot only send audio to the receiver itself but it can also transmit to some Bluetooth device either to it alone or in a Main Speakers plus Bluetooth device configuration.
And although this is a feature some of the other brands also utilize what seems an Onkyo exclusive is the addition of aptX and aptX HD codecs for far better streaming quality than the usual SBC we have seen being used.
One last thing about Bluetooth is the low latency mode. If you ever tried to use Bluetooth with an AV receiver you will have noticed some obvious lip sync issues due to the slow transmission of the SBC protocol. With the RZ70 including a low latency mode means that streaming to some Bluetooth headphones will sync the audio exactly to what is on screen.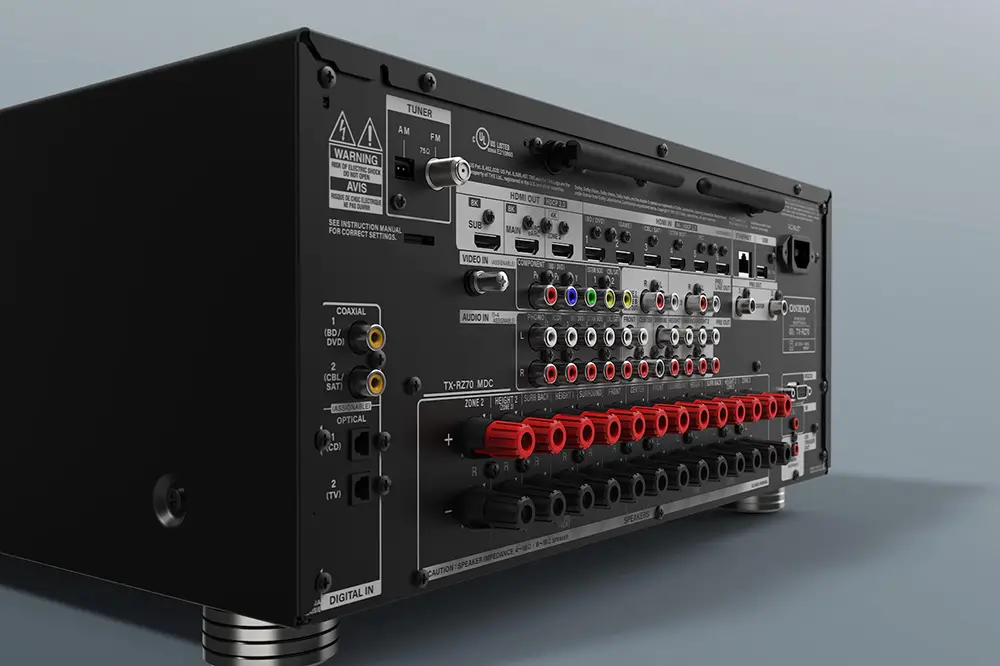 Multi-Zones Capabilities
All of Onkyo's previous releases, at least the RZ ones, had strong multi-room capabilities and the RZ70 is no different.
There is support for Chromecast that allows you to connect other Chromecast enabled speakers in your house to the receiver. You also get DTS Play-Fi and Airplay 2 if you are mostly using Apple devices while it even has "Works with Sonos" integration.
And adding to all this you will find support for 3 multi-zones (Zone 2/3, Zone B). With all the above this unit one of the most fully featured multi-room receivers to this day.
Various Other Features
Here we will mention all other features you can use with this AV receiver.
First of all the TX-RZ70 is "Roon Tested" certified. But here we need to make clear that there are two types of certifications and many people don't know the difference between them. The two types of certification are Roon Ready and Roon Tested.
The TX-RZ70, is Roon Tested out of the box. This means that when used through some streaming system like USB, HDMI, AirPlay, Google Cast or other protocols, audio quality is limited to their maximum resolutions.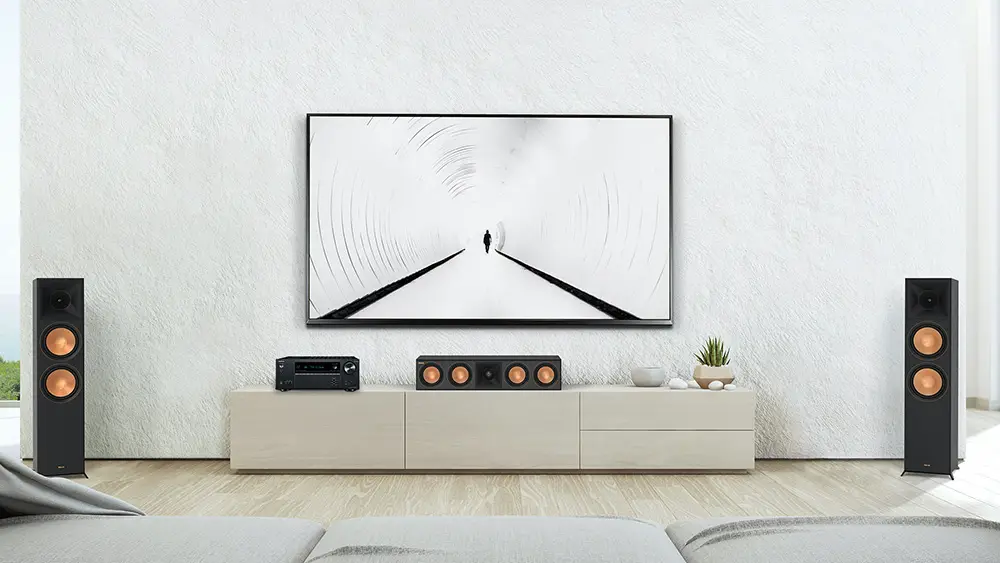 But the TX-RZ70 can gain "Roon Ready" certification through a firmware update. As a result you will be able to enjoy the highest resolution music possible through this platform.
And lastly the AV receiver comes with the new Klipsch Optimize Mode. Klipsch and Onkyo teamed up to implement the precise crossover values for specific new speakers, so you can easily and seamlessly integrate your Klipsch Reference and Reference Premiere speakers with your new RZ70. This can be done by selecting the model of speaker for each channel, and the optimized crossover setting will be automatically applied.
Compared to Other AV Receivers
The competition is pretty much known in the 11 channels category. We have the Denon AVR-X6700H, the Yamaha RX-A8A and the Marantz SR8015. But right from the start the Onkyo TX-RZ70 seems to have a slight advantage on the price. As all three of its competitors come with a $2,999 price tag at the moment of writing this review, the Onkyo's $200 lower cost seems like a good deal. But do they offer the same features?
More or less they all come with similar audio formats support. The Yamaha is missing the IMAX Enhanced certification but this is not a big deal. On the other hand the Yamaha seems to have the highest power rating of them all at 150 watts.
The Denon and Marantz come only with one HDMI 2.1. On the other hand the Yamaha and Onkyo feature 7 and 6 HDMI 2.1 inputs respectively.
But where the Onkyo seems to go above an beyond the others is with the inclusion of Dirac Live with Bass Control. This surely places the RZ70 above the rest as far as customization and calibration is concerned. Denon and Marantz did add Dirac Live in their newer models but the X6700H and SR8015, being older releases, will not get this.
And one more thing is that the Onkyo is the only commercial AV receiver we have tested so far to come with the "Roon Ready" certification.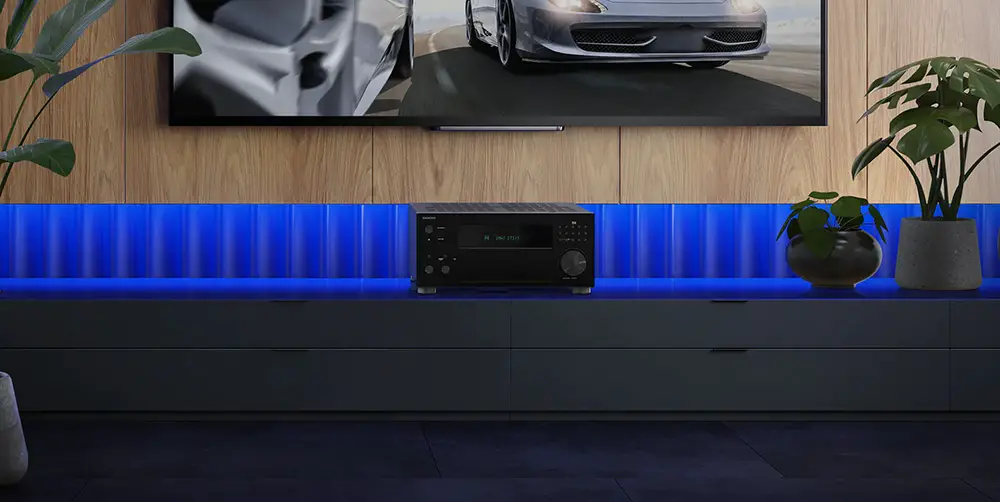 Final Thoughts
Onkyo has surely seen better days. But their latest releases show that they still got the expertise to create amazing AV receivers. The TX-RZ50 was one of the best when it was released. And the subsequent TX-NR7100, TX-NR6100 and TX-NR5100 confirmed to us that they are still alive and kicking.
And so now with their latest flagship they made sure that they are here to offer us the best in the 11 channels category. The receiver has literally everything you need to create a spectacular system. It gives you plenty of options and flexibility to shape the system of your dreams. Dirac Live with Bass Control remains one of the highlights of the system. And if you add all the other bells and whistles then you have a definite winner.
Reaching the end of our Onkyo TX-RZ70 review what we can say is that Onkyo may be lacking in the promotion arena at the moment. But if they can improve that along with their distribution and support they can definitely be a serious challenger for the other three competing brands. But even as it is, we will make sure to enjoy the RZ70 as much as possible. Because it really deserves it.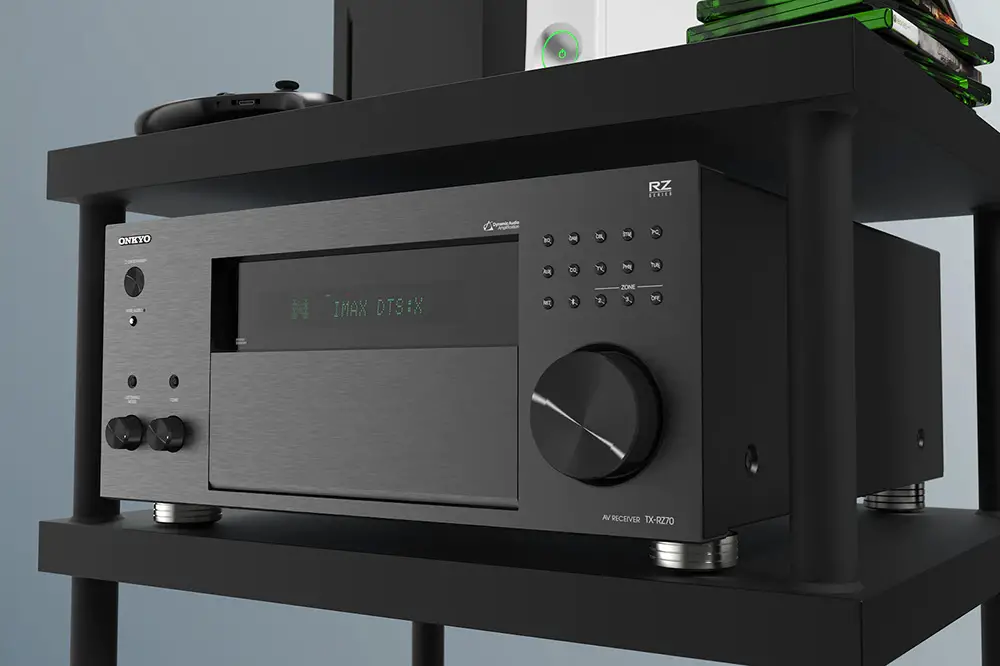 For more reviews you can check our dedicated 11 channels 8K AV Receiver reviews list or even look at our Product Reviews Table where you can find the brand and specific product you are looking for.
---
Cheapest Places to Buy :
*We are a reader-supported website. When you buy through links on our site, we may earn a small affiliate commission at no extra cost to you. Home Media Entertainment does not accept money for reviews.*
---
Onkyo TX-RZ70 Specifications