Sony HT-X9000F (US) / HT-XF9000 (UK-Europe)
Movies Performance
8.5/10
Inputs and Features
8.5/10
Pros
Good front soundstage
Solid bass performance
Supports Dolby Atmos and DTS:X
Easy to setup
Cons
Surround activity was missing
Atmos effects lack precision
Music performance is average
No WiFi
---
Cheapest Places to Buy :
---
In 2018 Sony had released a couple of soundbars that were targeting different audiences relative to their prices. The one was the high-end Sony HT-Z9F which we had reviewed and you can read our detailed article HERE while the other was the more affordable Sony HT-X9000F. If there is one thing that we consistently see is that soundbar manufacturers are advertising many of their models being capable of true surround sound which could not be more far from the truth.
With the arrival of Dolby Atmos and DTS:X it was a matter of time before the marketing machine would begin rolling once again as now we have Atmos capable soundbars to talk about. One such soundbar we will be looking in our Sony HT-X9000F review today. There are two types of Atmos enabled soundbars at the moment. Those that come with up-firing Atmos drivers and those that rely on virtual technologies to create the illusion of overhead and surround activity.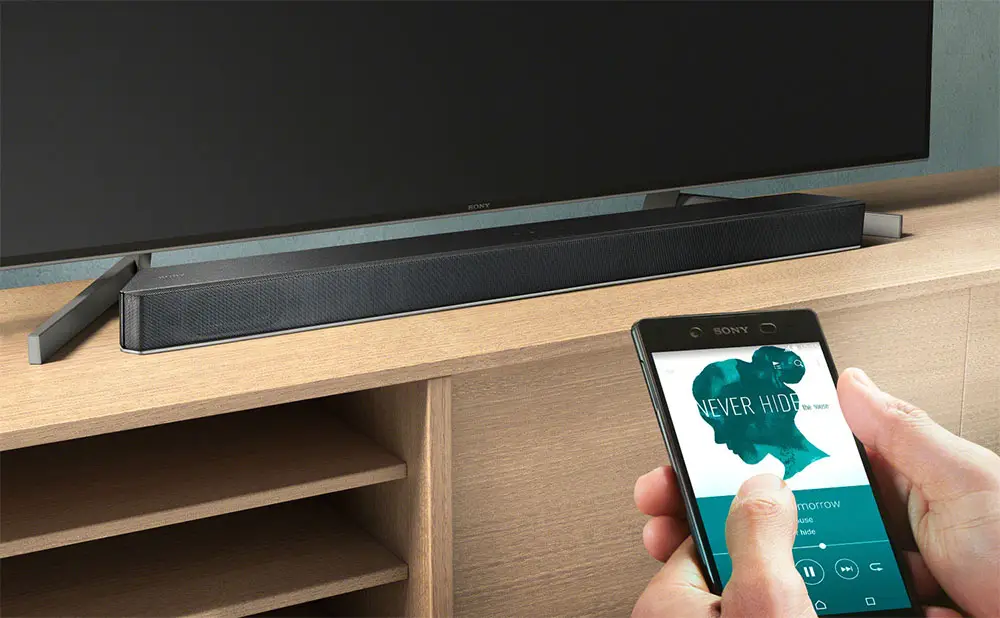 The HT-X9000F falls into this second category as the soundbar is rated as a simple 2.1 channels system. How much of an effect can a 2.1 channels unit can do and how much all this virtual tech can expand the immersion of the HT-X9000F we are bound to find out. Does this unit manages to live up to the hype or it's performance once again falls short of it's manufacturer's claims? Keep reading to find out.
Design, Inputs and Features
Exterior
The soundbar is rated as a 2.1 channels soundbar meaning that we get the main unit with the two front channels in addition to the subwoofer that connects to the main unit wirelessly. The soundbar comes with a size of 36 5/8 in × 2 3/8 in × 3 3/8 in (930 mm × 58 mm × 85 mm) and weights 5 33/64 lb (2.5 kg) making it a relatively small and lightweight unit. The HT-X9000F was specifically designed with these dimensions so it can perfectly fit under the Sony X900F TV without this meaning you cannot use it for any other model or brand. On a similar note the subwoofer that comes with a size of 7 1/2 in × 15 1/8 in × 15 1/4 in (190 mm × 382 mm × 387 mm) and weight of 17 13/64 lb (7.8 kg) is compact enough and you shouldn't have a problem to find somewhere to place it.
The HT-X9000F may be the cheaper soundbar of the two that Sony released but it certainly comes with a unique design. With the Sony X900F angular legs the soundbar follow the same lines by having angular sides in order to perfectly fit under it. The nice thing is that while this was done in purpose in order to fit the Sony TV, it looks cool in general and is a nice touch no matter the TV brand you are using.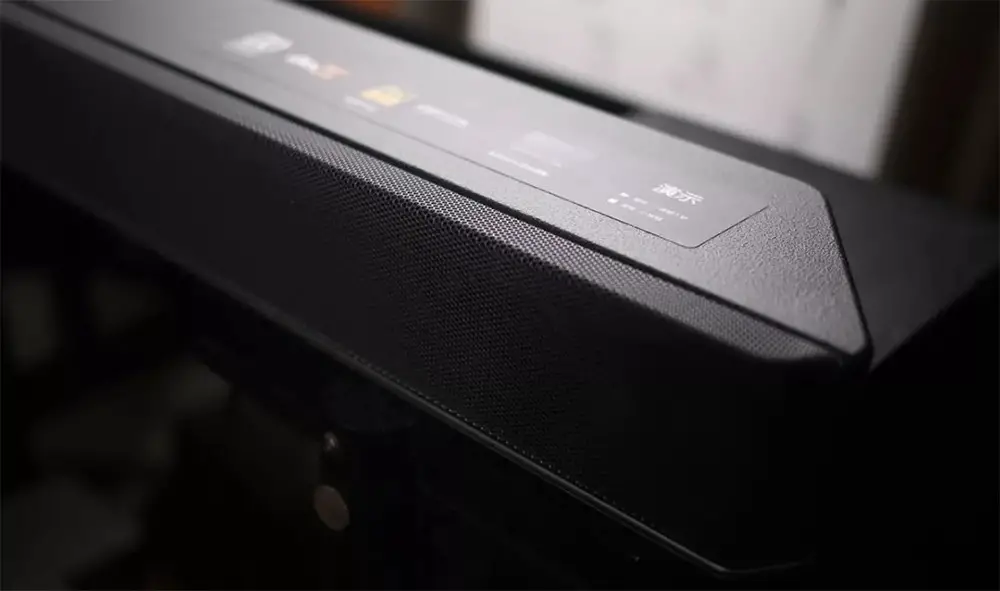 As for build quality plastic is obviously the main material used but feels well designed and constructed. The subwoofer on the other hand makes little effort to follow the same design principle of the main unit with it's boxy design, front-firing driver behind a perforated grill and the front port under it giving it a rather uninspiring overall look.
The front of the soundbar is completely covered by a metal perforated grill that cannot be removed hiding the front left and front right drivers. There is no center of up-firing drivers here so we are talking about a rather simple 2 channels setup without much more to talk about. At the top center we get a few control buttons with them being touch sensitive which helps with the overall design but as with all touch sensitive controls they can get a bit hard to use in the dark. The buttons available are for power on/off, input selection, Bluetooth as well as volume controls.
One thing we didn't like was the omission of a front display. We have seen soundbars that cost much less that come with a full frontal display so in this regard the HT-X9000F is falling behind the competition. But not all is doom and gloom as Sony used a few led indicators instead in order to help you identify the functions of the unit.

Sitting exactly at the front of the control buttons at the edge of the top face there are five led indicators for TV, HDMI, Bluetooth, Analogue and USB and depending how these light up you can understand what the unit is doing. The only bad thing is that you will have to check the manual for all combinations as it is very hard to remember them all. Sitting at the center front side we get the IR sensor that sits behind the perforated grill and is not visible with naked eye.
At the back we find the connections, all grouped together in a special inset while there are also a couple of IR repeaters that you can enable in case the soundbar is blocking the IR sensor of your TV. Lastly there are a couple of simple holes that are used to wall mount the unit with simple screws.
The HT-X9000F is one of the better looking soundbars we have seen. It's size, design and quality are above average showing that Sony really put a lot of thought in this one even if it's not supposed to be a top of the line soundbar.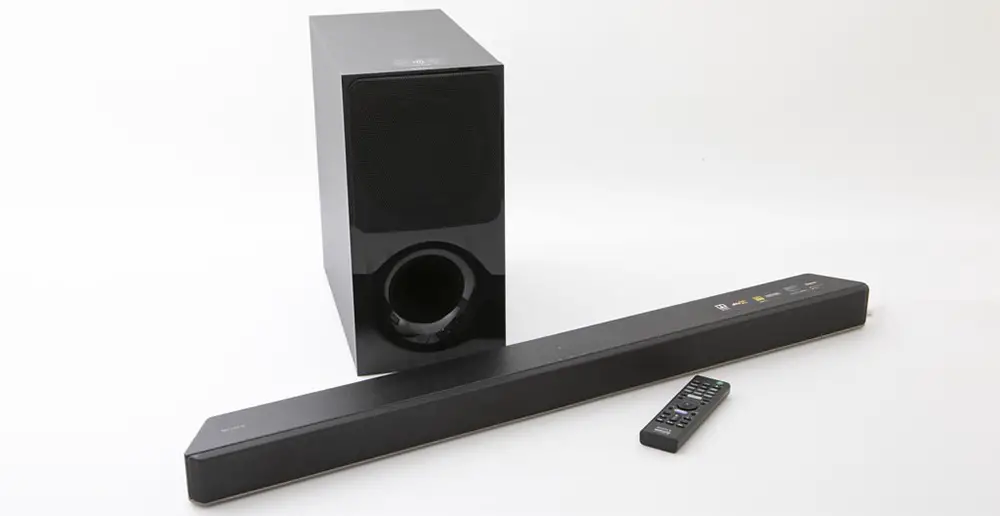 Internal Hardware
Identifying what is under the hood is not easy as Sony doesn't provide very clear information about the drivers and their specifications. With a bit of digging around we were able to find a few information and seems that the soundbar is using two 40 x 100 mm (1 5/8 in. × 4 in) oval cones for the two channels being placed in an acoustic suspension enclosure. Each driver is rated at 100 watts (reference at 4 ohms, 1 kHz) and that's how the 200 watts total came from which is not a very good rating as you cannot truly understand it's true performance with such a theoretical number.
Being a low profile soundbar it was almost a given that we would get oval woofers and we have seen the same being used in a lot of low profile models in order to minimize the size without sacrificing performance by much. The main unit comes equipped with Sony's S-master Digital Amplifier and this is a simpler version compared to the Sony's S-Master HX Digital amplifier we had seen being featured in the HT-ST5000 soundbar. What this does is to  allow for big, dynamic sound to be delivered in a smaller package meaning smaller dimensions for the soundbar.
As for the subwoofer, this is equipped with a front-firing 160 mm (6 3/8 in.) cone, using a bass reflex design with the bass port being placed exactly under the driver looking forward. The subwoofer is rated at 100 watts (reference, at 4 ohms, 100 Hz) and is responsible for helping the main unit with the low end. We would like to have a bigger driver than the 160mm being provided but we do get that this is meant to be a small overall unit so we just have to take it as it is.
Now this may sound strange for a simple 2.1 channels soundbar but the HT-X9000F does come with Dolby Atmos and DTS:X support and Sony claims that it can create a fully immersive 7.1.2 channels environment. Rather bold claims that we will put to the test shortly but as for internal hardware we are pretty satisfied with what we saw and in general is in line with what we expected in this price range.
Connectivity
When it comes to cable management placing the power connector on the opposite side of the rest of the ports doesn't make things easy when it comes to grouping all cables together and keeping them out of sight. At least the rest of the ports are all together on the right side, right next to one of the IR repeaters and what we get is a HDMI input, an HDMI output with eARC functionality, a USB port for connecting external storage, an analogue input and an optical digital input.
Both HDMI ports are HDCP 2.2 which means they support 4K/60p, HDR10, HLG, Dolby Vision and wide color gamut but with only one input it can be hard if you have multiple devices you want to connect. In this case you will have to rely on your TV to connect all your HDMI enabled devices and pass the audio to the soundbar instead.

When it comes to it's wireless capabilities the HT-X9000F doesn't have any WiFi built-in and the only means of wireless connection is done through it's Bluetooth 4.2 (SBC, AAC).
Control Options
With it's controls things are pretty simple and straightforward. The soundbar lacks any WiFi capabilities meaning that certain options were out of the question as they need an internet connection for them to work. As such the HT-X9000F lacks the ability to be controlled by a mobile app and also there is no voice control capabilities. This leaves us with the old traditional way of using the included remote which is similar to the one we saw being supplied with the HT-Z9F.
Overall looks and design is nothing special to talk about. Sony always had something with their remote designs and they were always lagging behind competition. The one we get with the HT-X9000F is made out of plastic and comes with all the control buttons you will ever need for all the soundbar functions. At the top there are the input buttons with the sound modes under them in different color to differentiate them a little bit. In the middle we find the navigation controls as well as a few other functions like the Vertical S. mode while at the bottom we find the usual volume and playback controls.

Although we cannot say we are thrilled with the specific remote it gets the job done and we didn't had any problems with us issuing commands to the soundbar. A very solid but basic offering here.
Extra Features and Services
Obviously the most highlighted feature of the HT-X9000F is the Vertical Surround Engine which enables the soundbar to supposedly create a realistic surround environment around the viewer and thus offer a simulated 7.1.2 channels soundstage just from a slim soundbar like this. This way you can enjoy Dolby Atmos and DTS:X mixes from just the two front speakers the unit has. Keep in mind that according to Sony this technology doesn't use the walls of your room to bounce the sound and create the illusion of directional sounds so your room configuration is not important.
With the HT-X9000F we get a plethora of sound modes so you can choose the most appropriate one according to the content you are listening. As such we get Auto, Cinema, Music, Game Studio, News, Sports and Standard. The Standard mode is self explanatory as the soundbar reproduces the sound as it is. The Auto mode automatically selects the appropriate sound setting with the use of Clear Audio+ according to the content. The rest of the modes are tailored for different situations like the Cinema mode that boosts surround effects, Music mode that has a more detailed expressed glossiness while News mode boosts the dialogue.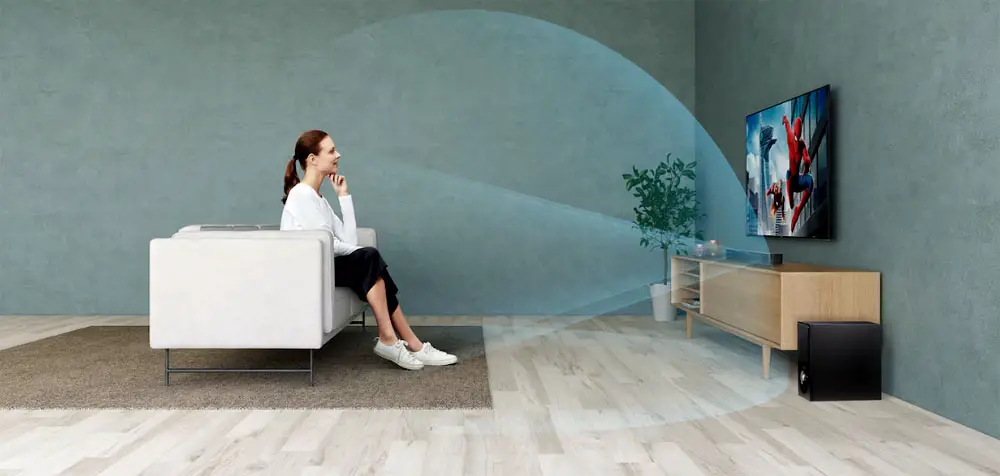 There are a couple of extra sound features with one being an extra Voice mode that you can use to adjust the dialogue up a notch or two if you feel that it needs to while there is also a Night mode that keeps the fidelity and clarity of dialogue even at low volume levels.
When it comes to the soundbar's streaming capabilities there are actually two options for you. The one being with the use of Bluetooth as this way you can stream any kind of audio to the soundbar from any Bluetooth enabled mobile device. The process is as simple as pairing two Bluetooth devices together. Your other option is to use the USB port and connect some external storage to listen your favorite files. You should only keep in mind that the built-in media player is rather limited and there are certain restrictions to what files are supported. You can check the manual for a detailed list of all files that it can be playback.
The HT-X9000F also comes with DSEE. What this does is to enhance the sound quality of compressed audio files or CDs by restoring high-range sounds removed in the compression process bringing the overall quality as close to High Resolution Audio as possible. The HT-X9000F is a bit of an odd one. On one side it can support playback of lossless files like FLAC and ALAC but on the other hand it doesn't have the hardware to output the high quality these files can provide. So while the files are supported the end result is not as good as it could be. We don't remember, to tell you the truth, having seen another soundbar that supports High Resolution Audio files without being able to officially support them.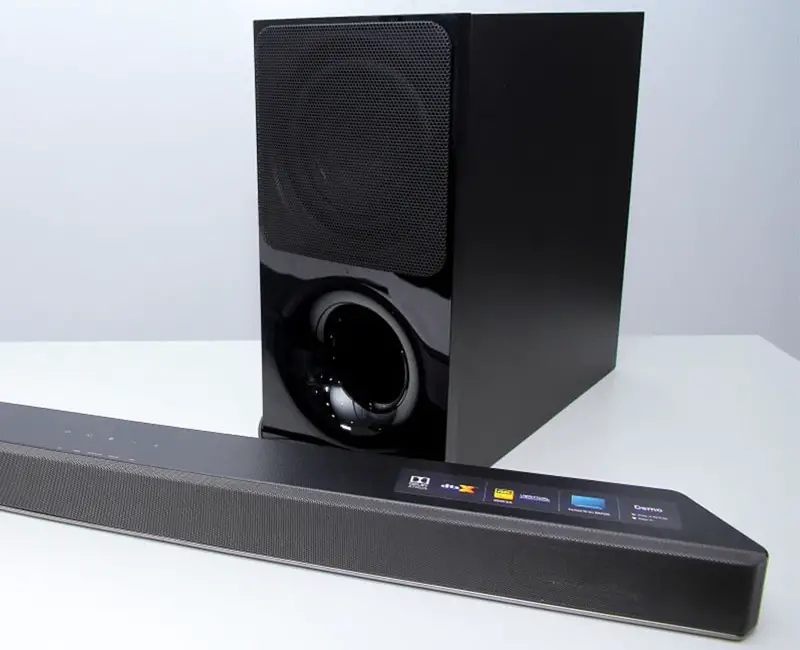 One last feature that is worth mentioning is the included HDMI-CEC support. With this you can use the TV remote to control some basic functions of the soundbar like volume. This can be somewhat useful although for detailed control you will need the soundbar's remote. One thing that we found useful was that when the soundbar and TV are connected through HDMI the soundbar is displaying a Home Menu on the TV that can be very practical as you can select various options and see some provided information.
Overall we would say that the HT-X9000F provides a very basic sum of features. Compared to the higher end HT-Z9F a lot of features are stripped that mostly have to do with the online capabilities of the unit as here we get almost none. Also a few sound features has been downgraded but looking at the general picture we believe that it provides enough for the price category it is intended.
Initial Setup
The Ht-X9000F follows the same principle that we find in almost all lower tier soundbars which is to offer an easy and straightforward setup as most of these soundbars are plug-an-play ready with minimal settings to deal with. This is an obvious move from the manufacturers as their thinking is that most people that would buy such a soundbar wouldn't want to deal with complex setups and this seems to hold true to a large extent.
So the process from unboxing the HT-X9000F all the way until the point we start watching our first content couldn't be more easy and trouble free. As we do with most our soundbars testings we connected our UHD player to the HDMI input and used the HDMI output to connect the unit to our test TV. After turning both the soundbar and subwoofer on the two connected almost immediately as they are paired from the factory. But even if they cannot connect it's easy to pair them following the manual instructions.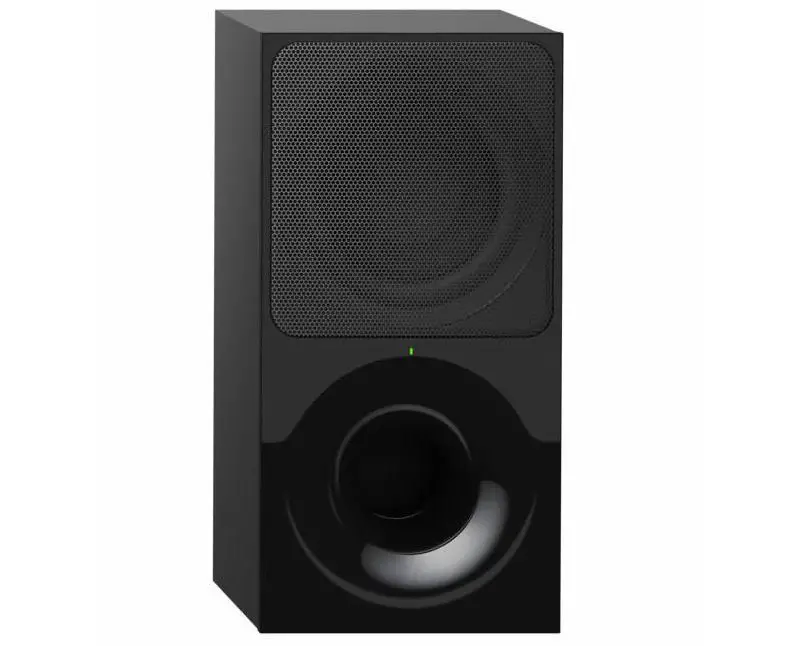 When everything is said and done there are actually a couple of calibration settings but are very basic and easy to handle. The first one sets the distance from the listening position to the soundbar while the second adjust the sound level of the soundbar and subwoofer. The calibration can be done with a test tone that the soundbar emits. And that's all, very simple we might say and it should't take you more than a few minutes to complete.
Now with the calibration done you basically have two settings to select during use of the soundbar. The one is the sound mode you want to use and the other is if you want to enable or not the Vertical Surround Engine by pressing the Vertical S. button on the remote. In our opinion you will be using a combination of the two depending the content you are watching and in all honesty you will need to make a bit of testing yourself in order to determine which combinations sound the best to you. As for us we will talk about our preferences momentarily.
Movies
Moving on to our movie testing we decided to go for a film that has a very active Dolby Atmos mix and what better choice than the 4K UHD version of Transformers: The Last Knight. You may say whatever you want about Michael Bay's last effort with this beloved franchise but when it comes to it's technical prowess the movie is a visual and audio spectacle and provides exactly the kind of source material we need in order to test how good the HT-X9000F can reproduce all the surround and overhead action.
Now let's not forget that we are talking about a basic 2.1 channels unit so expectation even from the start should be kept at check. Manufacturers always like to claim big and deliver small and especially when you know the hardware limitations from the get go you shouldn't wait for miracles. So as we begin we first try the soundbar in Standard mode with the Vertical S. up-mixer turned off in order to see how the soundbar fares without all this virtual tech.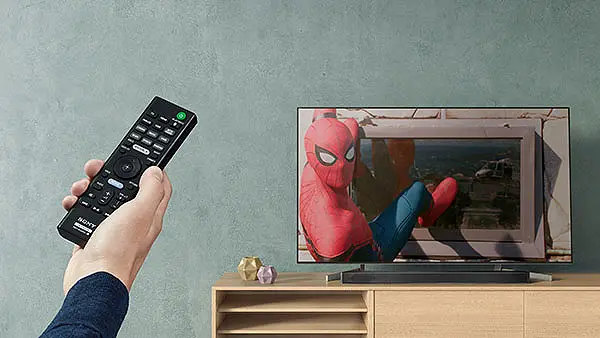 We chose a few selected scenes that are pretty busy with surround and overhead activity and the HT-X9000F managed to provide a very solid front soundstage. Although the action was entirely at the front what we got was pretty satisfying considering all this was coming from just two small drivers. The soundbar was able to keep it's composure even with all this cacophony while the two front channels had great clarity and good separation between them.
There were even moments that we felt that the audio extended much more than the physical sides of the soundbar but this was not obvious all the time. The subwoofer on the other hand was able to provide enough punch when needed although don't expect to shake the whole house as it's size doesn't allow for such extremes.
In general we would say that the soundbar behaved as expected. A very solid and satisfying front stage with good clarity and precise separation of the front channels while the surround and overhead activity was missing in action which was not surprising at all.
Now the next step was to change the settings a little bit to see if this would make the experience any different. This time we chose the Cinema mode that is supposed to enhance the surround effects as well as enabling the Vertical S. up-mixer through the remote. This time the Atmos mix felt more satisfying and with more volume. The Cinema mode did enhance the surround effects a bit but still we didn't sence any of them coming from the back. It gave you a feeling that the action came a bit closer to you compared to the Standard more as it tries to create a more enveloping bubble but by a small margin and in no way we felt inside the immersion area.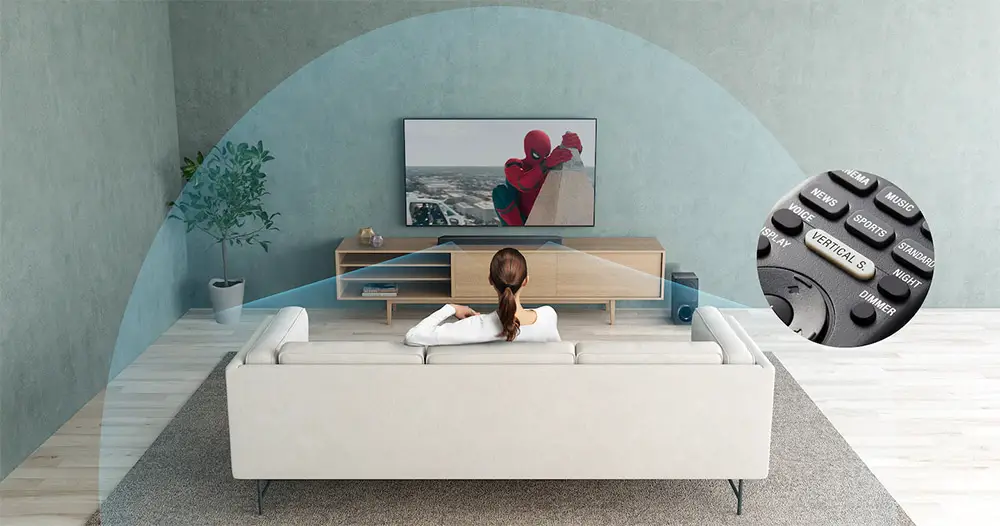 Additionally the Vertical Surround Engine did try to give a sense of more elevated effects. Indeed there were moments that sound was coming higher than before and thus offering a slightly better Atmos experience but again don't expect to turn your head looking up in search of where the sound comes from. Also it felt like the bass had a slight boost which is normal in modes that favor action films.
If we would be talking about the general Dolby Atmos performance we got, things were pretty mediocre. But when you take into consideration that we are talking about such a simple setup things become more interesting. Sony's claims that the HT-Z9000F can simulate full 7.1.2 channels surround audio is stretching it too much and for sure sets the bar too high for what it's hardware can accomplish which in all honesty is not fare for the HT-X9000F but it does make a valiant effort to give you a sense of what Dolby Atmos is all about. Using the Cinema mode in combination with the Vertical S. up-mixer is your best bet for a more immersive experience.
In the end the HT-X9000F is doing a good job in offering a very satisfying performance at the front while it will certainly give you a small taste of sound elevation. Surround activity may not feel so distinct but again the soundbar did try to push the action closer to us even if we didn't feel it coming from behind.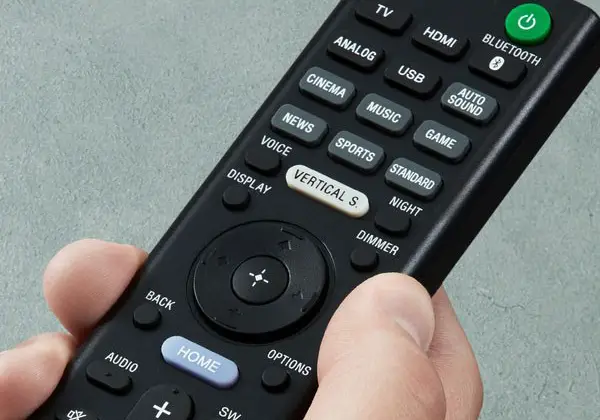 Music
Moving on to our music testing we decided to go with a few FLAC files that we streamed through the USB port. As we mentioned above the soundbar may not support High Resolution Audio but it can playback lossless files so we said, why not. For this test we chose the music mode to see if the results would be any better.
The soundbar was able to deliver a solid mid-range and good clarity in the vocals but when it came to the lows it felt like it was missing some punch. Even with the bass boosted a little the mid-range stole all the thunder. Surround performance is not so important here so the bar could better hide it's inability to create a more immersive experience but this didn't stop us from being able to clearly locate the musical instruments and their positions in front of us.
Dynamic drums, smooth guitar riffs and sharp vocals were all been reproduced with very good clarity considering the class of the HT-X9000F. This soundbar may not amaze you by it's musical capabilities but will for sure offer you many pleasant moments of acoustic entertainment.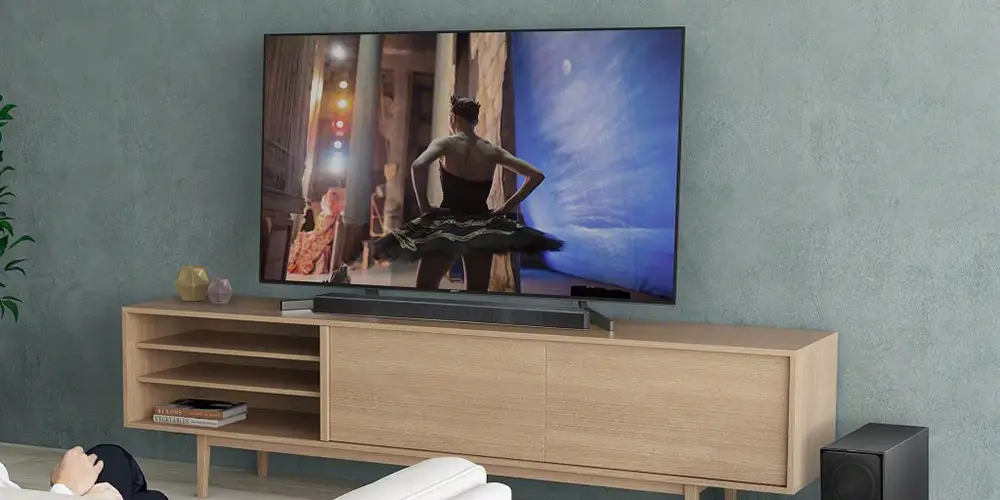 Final Thoughts
The HT-X9000F finds itself somewhat in the same situation as the HT-Z9F is. Sony made big claims for both of them without giving them the necessary hardware to support these claims. There is so much you can do with virtual technology and although it seems that manufacturers are pushing hard on this front we are far from saying that these can become a worthy replacement to actual dedicated speakers.
The soundbar we tested here today was able to provide a very good and satisfying front stage that could extend beyond the physical boundaries of the unit and with the help of it's Vertical Surround Engine to provide even more depth and height to it's performance. Coming with Dolby Atmos and DTS:X support is all the more impressive while it should be commended for it's simplicity to setup as well as to handle. It also comes with Bluetooth and USB streaming while it's build quality is characteristic of Sony standards.
On the downsides obviously the number one would be it's inability to create a full surround and overhead immersive performance. If it was not for Sony's claims this would not stick out so bad but when you advertise the unit as such the end result leaves a lot to be desired. Also this soundbar may be the most cost friendly unit Sony made in 2018 but there are other brands that offer similar specs and features for even less of a price which puts more pressure on the HT-X9000F.
In the end of the day the Sony HT-X9000F is a soundbar that will satisfy you if you are looking to improve your TV's audio and you are a bit limited in space. It's performance is good, build quality is great and the additional virtual tech may provide you the kind of immersion you may be looking for in a small 2.1 channels system.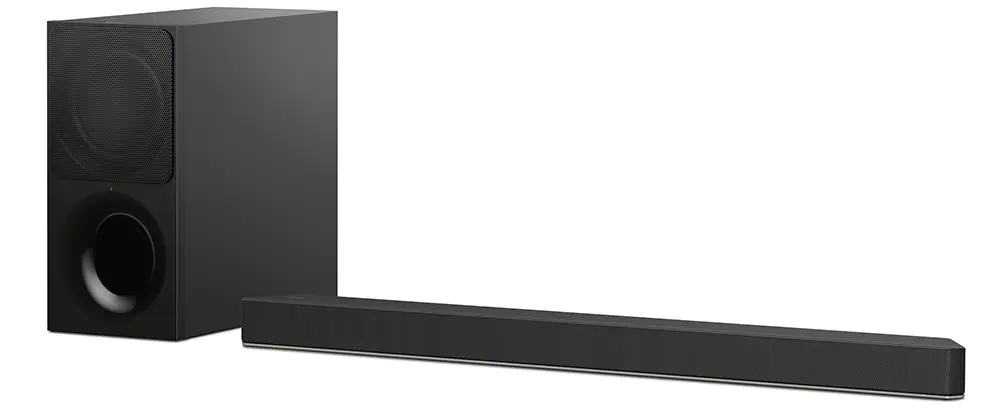 For more reviews you can check our dedicated Soundbar-subwoofer combo reviews list or even look at our Product Reviews Table where you can find the brand and specific product you are looking for.
Also don't lose the chance to subscribe to our Newsletter and gain exclusive privileges.
---
Cheapest Places to Buy :
---
Sony HT-X9000F Specifications