Yamaha RX-V4A
Reviewed at $439.99
Design -

95%

Audio Quality -

90%

Inputs / Ports -

90%

OS, Apps and Features -

94%

Price / Quality -

90%
---
Cheapest Places to Buy :
---
2020 marked the year that we saw a somewhat bigger leap in terms of actual features as the arrival of HDMI 2.1 brought with it some major new technologies in the new AV receiver models. But other than that and a few other smaller additions we basically were getting the same old models we saw in 2019. Yamaha seems to be the only company that turned a few heads as they announced some of their HDMI 2.1 equipped units that also brought a complete redesign which is certainly a breath of fresh air. And today in our Yamaha RX-V4A review we will be looking at their most budget friendly unit and what it brings to the table.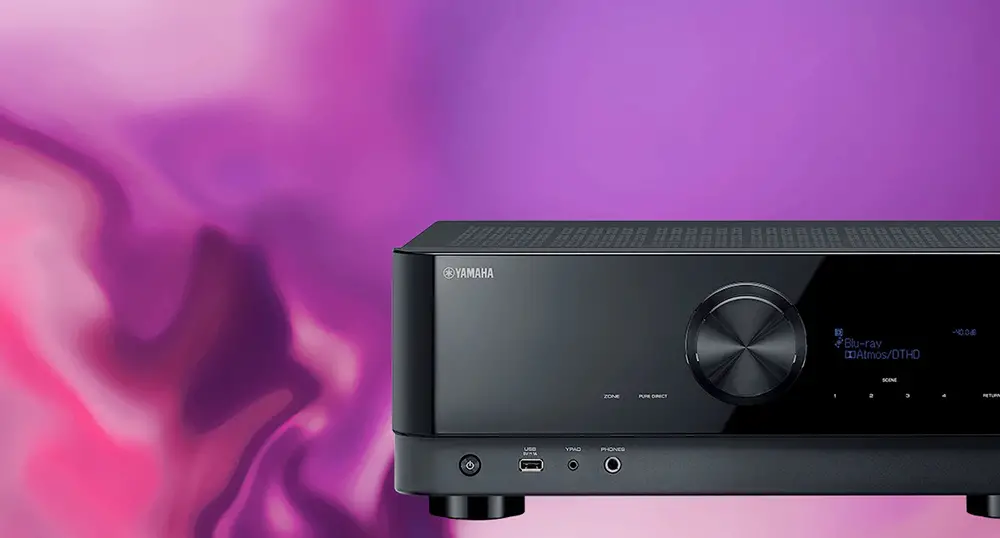 Until now just by following the naming it was easy to distinguish which model replaced which but Yamaha decided to change the name codes for 2020 so it is more difficult to understand where the RX-V4A really fits in. By looking at the specs the unit seems to be replacing the RX-V485 and while many of the specs are similar there are a few very notable differences that we will discuss shortly. So basically there is no model the RX-V4A really replaces and as it is, it sets its own set of specs and features it goes with.
The Yamaha RX-V4A is a basic 5.2 channels AV receiver with 80 watts of power per channel, it supports the lossless Dolby True-HD and DTS-HD Master Audio formats, comes with Yamaha's Cinema DSP 3D, packs various virtual technologies, uses the YPAO auto calibration system while it comes with plenty of extra features to up its value like High Resolution support, USB and Bluetooth streaming, MusicCast and Airplay 2 for online and multi-room audio, wireless rear speakers support, Music Enhancer, voice control and obviously includes the new HDMI 2.1 port with all its game eccentric features like ALLM, VRR, QMS and QFT.
Obviously the unit is a low cost model that is mostly aimed for those not interested in the latest object-oriented formats like Dolby Atmos and DTS:X. But competition is fierce even in this market so does the Yamaha RX-V4A manages to offer a unique experience even in this budget friendly market? Keep reading as we put it to the test to find out…
Design
The last few years we got used to see the same designs and obviously the same dimensions. With the arrival of the new units and their new designs we see that their dimensions have changed slightly with the new unit measuring 17-1/8" x 14-7/8" x 9-5/8" (435 x 377 x 245 mm) and weighting 19.4 lbs (8.8 kg) which actually makes it slightly bigger than the RX-V485 that is supposed to replace. Height can obviously be lowered to just 6-3/4" (171 mm) by placing the antennas in a horizontal position and will gain you some extra breathing space.
Now as for its design we definitely like what Yamaha came up with for their new releases. Its look is certainly more modern and goes away from the old style that looked outdated in 2021. Featuring an almost entirely front gloss side with rounded corners the volume knob has been repositioned in the middle and the display screen got updated as we get an LCD variant that is placed on the right side of the volume knob. On the far right a second smaller knob is used for navigating the display screen and selecting input sources.
On the left of the central knob we find two small indicators for Zone and Pure Direct while on its right side, under the LCD display, there are some touch controls with four SCENE buttons, Return and Menu.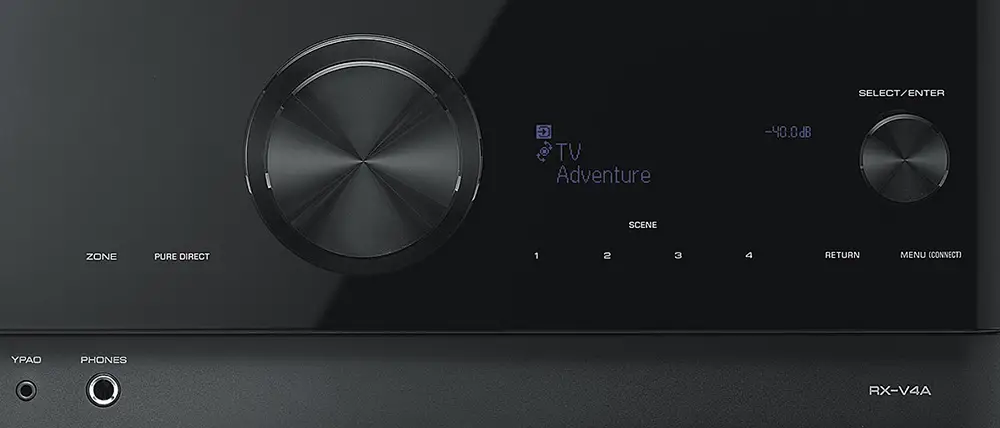 On the lower part of the front face there is a small part that features a matte surface and this is where we find a circular button on the far left for power along with a single USB port for connecting external storage, the YPAO microphone input port and the usual Headphones jack. Although what we get seems to be a pretty basic design layout we actually are missing an analogue stereo input that the RX-V485 had. This may not be a big deal but it should be noted.
These low cost units are not usually advertised for their high quality audio components as manufacturers usually tend to reserve that for their top tier offerings but from what we see the RX-V4A comes with a high slew rate amplifier which contributes a precise signal transmission, especially suitable for high resolution audio signal. Generally high slew rate amplifiers causes unstable signal transmission but Yamaha's newly design circuit achieves high slew rate with stable signal transmission.
Let's take a look at the supplied remote now. At first glance the remote seems identical to the one we had used during our RX-V485 testing but upon further examination we noticed some slight changes that mostly have to do with the buttons naming. The remote is the usual plastic with rubber buttons remote which is by large uninspiring but obviously we shouldn't complain for this in this price range.
The button placement is exactly the same with the additional Zone A/Zone B switch at the top while the changes in naming come in the SCENE buttons that use numbers now, the FM/AM button has been renamed to Tuner, Direct has become Pure Direct while Bass is the only complete change as now it handles the Surround Decode. Everything else is exactly the same which also means no backlight function which is not so surprising.

The new design is catchy and modern and we like that Yamaha went the extra mile to refresh their aging designs. The remote unfortunately has remained the same and we cannot say we are very thrilled with it. Let's hope that Yamaha can bring it up to par with the rest of the looks in the future.
Audio Quality
The receiver is the last unit in Yamaha's lineup and only supports 5.2 channels so obviously the kind of setups you can go for are rather limited. Buying such a receiver means that you also going to use it's surround capabilities so while you can create a 2.0, 2.1 or even a 3.1 channels audio setup you are most probably aiming for a surround system with 2 surround speakers which is the best you can go for.
With just 5.2 channels it's natural not to get any kind of Dolby Atmos or DTS:X support, although we have seen a couple of receivers that do get support for these, and instead you have to settle for Dolby TrueHD and DTS-HD Master Audio which in all honesty are just fine for those that seek some surround immersion without the need to go overboard with ceiling speakers and the likes.
Up-mixing technologies couldn't be missing from this one so we do get the usual Dolby Pro Logic II along with DTS Neo:6 that are the standards for those receivers that support the older formats and can up-convert legacy tracks like stereo mixes into full surround audio.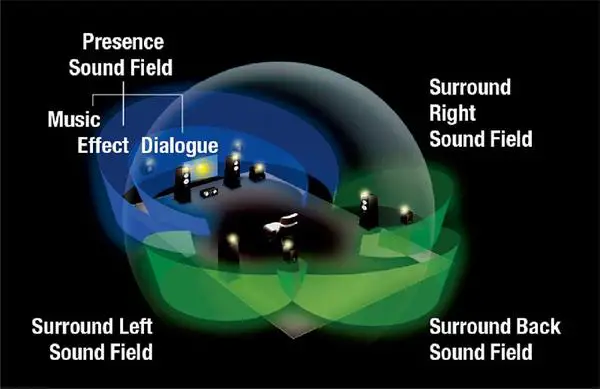 In this unit we get Yamaha's Cinema DSP 3D which is exactly the same version we also found in the RX-A780 and RX-A880 as well as many of Yamaha's lower tier offerings and is a step down from the HD3 version we get in RX-A1080 and above. Cinema DSP 3D is the technology responsible for creating natural stereoscopic sound fields like movie theaters or concert halls and there is a total of 17 different DSP programs you can choose from for the RX-V4A. In simple terms this tech will process whatever audio signal it receives and in a way enhance it depending on your selection.
This kind of tech can create some cool effects but as we always like to say the result really depends on the source material and most of the time the end result is very different from the creator's intentions while the sound comes out very artificial and over-processed. As audio purists we prefer to avoid as much processing as possible but you may find it to your liking so it's always good to try it out first.
But Cinema DSP 3D is not only capable of simulating various audio environments but is also responsible for the unit's virtual features. First of all with Virtual Cinema DSP the unit can reproduce surround sound with only the front speakers connected. We also find Virtual Cinema Front and this is a smart feature that lets you place the surround speakers at the front and still get surround activity behind your listening position which can be very handy if you cannot place your surround speakers at the back.
Lastly in the RX-V4A we also find Silent Cinema and with it you can enjoy surround and sound field effects by using only your headphones.
When it comes to its internal amplifiers the unit can output 80 watts per channel (8 ohm, 20 Hz – 20 kHz, 0.06% 2ch drive) which obviously goes much lower when used in a full 5.1 channels system and thus is ideal for only small to medium sized rooms and media areas.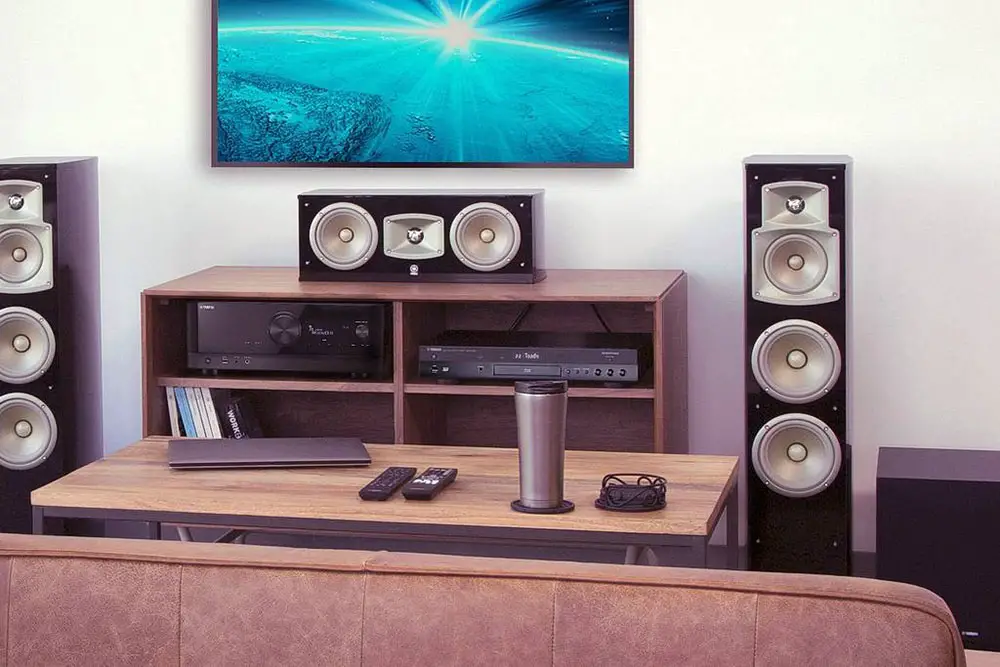 For our test we went for a simple 5.1 channels system with a single subwoofer placed at the front left corner, two surrounds and the center channel complementing the mains. As for the film we chose that was the 4K UHD version of Lord of the Rings: The Fellowship of the Ring which features an amazing Dolby Atmos track. But in our case since we don't have Atmos support the receiver unfolded the lossless Dolby TrueHD track instead.
The film features so many different scenes that rely on different acoustic elements making the whole running time a test on its own. But it seemed the receiver never bothered in bringing all elements of each scene forward with good clarity and precise separation between the channels. One highlight scene is no other than the Mines of Moria. The RX-V4A was capable of rendering the huge structures by giving the necessary extension in all sides. Dialogue bounced nicely across our room as our heroes were whispering trying to avoid getting attention.
But in such grand scenes the surrounds play a very important role by providing the necessary atmospherics and spatial activity in order to make the viewer feel like he is truly there. The surrounds cooperated nicely with the main channels giving us good channel shifting with very precise panning effects traveling to all sides.
But it's when the action starts and the goblins along with the cave troll enter the battle that the unit show what it can really do. All sound elements were rendered with such a realism and raw texture. Metal felt like metal, wood, rocks, fabrics everything. The unit knew exactly how each material should sound adding so much in terms of realism.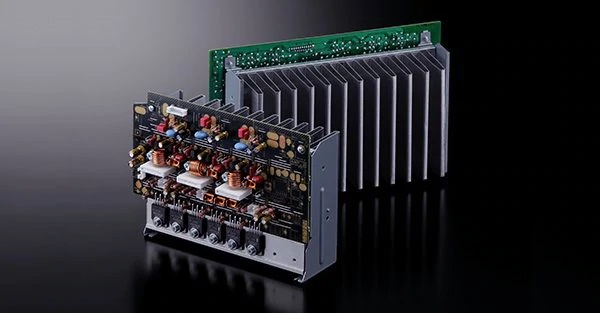 But it's when Balrog enters the scene that the RX-V4A really shows that it knows how to handle even demanding scenes. The roar of the Balrog felt menacing and with nice weight to it. The fire blistering from its body had so much clarity and pure tone while every step it took you could feel the weight and size of this ancient demon.
And since we talk about size we should also make some special mention to the bass as the unit had no problem pushing our subwoofer to its limits as we were shaking in our seats during that scene. Great bass and if you combine it with all the rest of sound elements along with the epic music score the RX-V4A offered us the best it could with what it had.
And while the unit can go pretty loud it's not the kind of wall shattering performance you will get as reaching its limits can show some obvious unbalance. Obviously with 80 watts of power this is one of the weakest of Yamaha receivers and it should be treated as such. For small to medium sized rooms it will do just fine in even higher volume levels but for big rooms it will run out of juice pretty fast.
As for music the receiver supports not only the usual lower quality audio formats like MP3, WMA and AAC which by the way all of them can go up to 320 kbps but can also playback High Resolution Audio in the likes of FLAC (192/24 bit), ALAC (96/24 bit) and WAV/AIFF (192/32 bit) files. DSD streaming is also available for up to 11.2 MHz.
The receiver also features Yamaha's Compressed Music Enhancer that is capable of enhancing lower quality audio like MP3 files to near High Resolution Audio quality levels. Compressed Music Enhancer can also work through Bluetooth which usually lowers the audio quality to meet the necessary transmission requirements.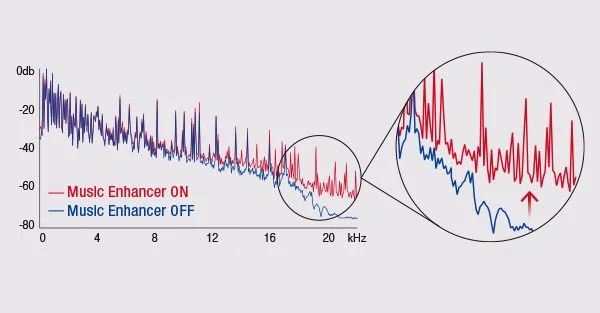 For this testing, as we usually do, we selected a few favorite tracks in FLAC format that we streamed through the front USB port for the best quality possible. All Yamaha receivers are top performers when it comes to music and the RX-V4A, even though a low budget offering, still managed to show its qualities.
The front soundstage had nice extension and depth making the scene feel alive and full of energy. Sound imaging was pretty good with sound sources easily distinguishable in space. Stereo panning effects had good precision and felt to the point.
Although we cannot say that the unit tried to impress us with its musicality it certainly did bring a mid-range with good tonality and texture, the high end was playful but not extremely exciting with the vocals flooding our room with emotions and feelings. On the low end the receiver kept the tempo very good by feeding our subwoofer with the necessary information and keeping a nice pace even with more demanding sessions.
It seems that there is no particular genre where the RX-V4A really excels or fails. It managed to play all music we threw at it with good tempo, nice dynamics, vibrant tones and precise rhythm making it an excellent all-around audio device. Either it be rock, pop, jazz, heavy metal or classical music you will be really pleased with what you will hear.
The RX-V4A may be a low budget offering but it still remains a capable Yamaha receiver and either you want it for movies or music it will serve you just fine.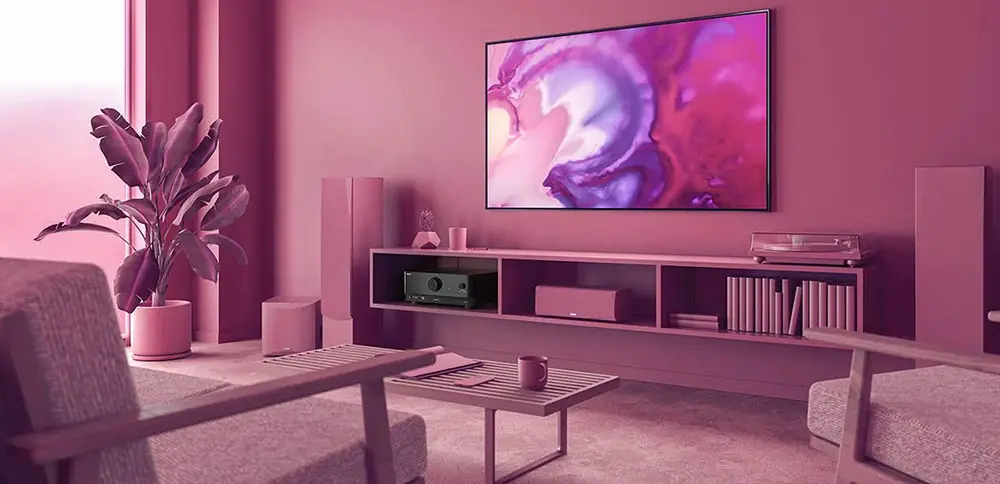 Ports and Connectivity
The RX-V4A is the most budget friendly unit Yamaha currently offers so when it comes to connectivity options these receivers usual come with the bear minimum. And while with yearly releases we don't see many changes the RX-V4A seems to offer a very different layout than what we got in the RX-V485 previously.
At the front we already mentioned that we get a headphones jack, the YPAO microphone port and a single USB for connecting external storage. What is missing here is the analogue stereo input that the RX-V485 had and although this is a small omission we are already one port minus.
As we turn the unit around we find the usual speaker terminals, five available here, along with four HDMI inputs at the top. The impressive thing with these new Yamaha receivers is that they offer more HDMI 2.1 inputs than all competing brands in 2020. While Denon and Marantz only have one HDMI 2.1 the Yamaha RX-V4A has all four of them which is shocking to say the least for such a low cost unit! There is also a single HDMI output but all these budget friendly releases come with a single output so no surprise here.
The HDMI 2.1 ports in the Yamaha unit bring a huge list of features with them including 4K UltraHD Video (include 4K/60, 50Hz 10/12bit), 3D Video, ARC (Audio Return Channel), eARC (enhanced Audio Return Channel), HDMI Control (CEC), Auto Lip Sync, Deep Color, "x.v.Color", HD audio playback, 21:9 Aspect Ratio, BT.2020 Colorimetry, HDR, Dolby Vision, Hybrid Log-Gamma, HDR10+, ALLM, VRR, QMS and QFT.

Now there is another thing we need to mention here about the HDMI 2.1 ports being used in all AV receivers this year including the RX-V4A. We have already mentioned this in our previous reviews so we will just repeat what we wrote before. It seems that the Panasonic chip that handles the HDMI 2.1 connection cannot process the signal of specific sources that output at 4K/120Hz RGB signal (8-bit, 10-bit, 12-bit) like the Xbox Series X and this results in a black screen. Now there are not many sources that currently support 4K@120Hz with this exact configuration but this is a hardware issue and cannot be solved by a simple firmware update.
Now if you are wondering, the RX-V4A has no problem whatsoever if you are watching movies or playing games at 4K/60Hz and 4K/120Hz YCbCr 4:2:2 signals (32Gbps) or anything below that so in most cases you are going to be absolutely fine. This means that the PS5 will work without any problems. In the rare case where the receiver accepts a 4K/120Hz RGB signal (8-bit, 10-bit, 12-bit), like from the Xbox Series X for example, this is when this problem will appear and the only current workaround is to connect your source device directly to your TV and from the eARC connection to the receiver.
To be honest this is a problem that should not happen in the first place and shows that somewhere there has been a major miscommunication between manufacturers but you should keep in mind that this will probably not affect you as much as you may think of.
Right now this problem seems to affect all new AV receivers in 2020 including Denon, Marantz and Yamaha. All manufacturers have acknowledged the problem but as far as a solution it seems that it's a problem that can only be solved with updated hardware and to see full HDMI 2.1 support without any problems we will have to wait for their 2021 releases. If they had the time to update the necessary hardware of course which remains to be seen.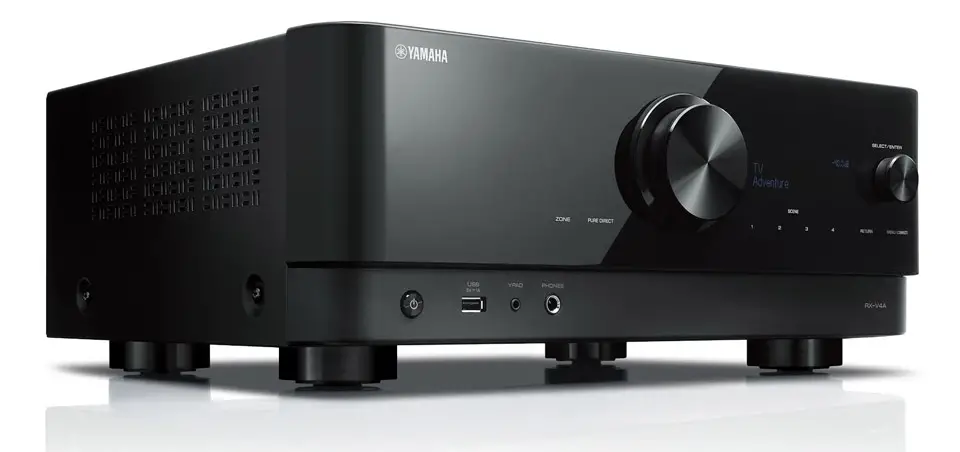 As for the rest of the ports we get, there are 3 analogue stereo inputs, 1 coaxial and 1 optical digital inputs, 2 subwoofer pre-outs, an Ethernet port for wired connection to a local network and the usual DAB/FM and WiFi/Bluetooth antenna connectors. Now a few things that are worthy of noting are that we actually get a reduction in the available ports compared to the RX-V485 as that one had two coaxial digital audio inputs and also 3 composite inputs and 1 output that are completely missing here.
The receiver comes with built-in WiFi that supports both 2.4 and 5 GHz networks while it also comes with Bluetooth v4.2. This is the same as previously so no changes here.
Overall the RX-V4A comes with less options available. We don't know if with the arrival of HDMI 2.1 Yamaha wanted to keep the cost as low as possible but we lost 1 analogue front port along with one digital coaxial input and all composite ports this year. Obviously things are not so bad as HDMI ports are the most important ones anyway and we get HDMI 2.1 in all four of them which no other brand has so we could call this a huge plus.
OS, Apps and Features
When it comes to extra features the RX-V4A seems very close to specs with the RX-V485 so we don't see many changes in this regard. And as always the first thing we look into is the audio calibration system. Yamaha is using the YPAO (Yamaha Parametric room Acoustic Optimizer) system and as with all these systems it can be scaled according to the model. In the RX-V4A we get the absolute basic version and what this does is to detect the speaker connections, measure the distances from them to your listening position, and then automatically optimize the speaker settings, such as volume balance and acoustic parameters, to suit your room.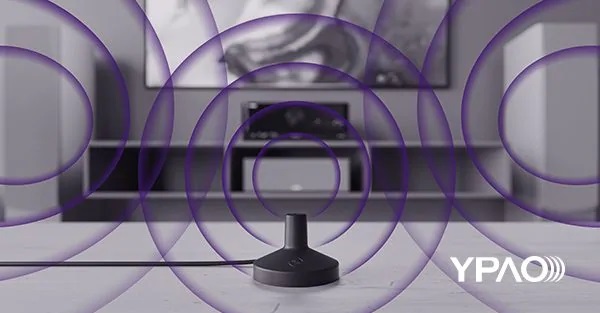 The whole process is relatively easy to finish and by following the on screen directions you can finish it without any trouble even if you don't have much experience with similar calibrations before. Even if there is some problem to your setup the YPAO system will make sure to warn you with some message. In general these calibration systems offer pretty good settings and especially for those that are not used to make manual tuning it can be an excellent helper.
But before you even make this sound calibration you need to follow the initial setup in order to connect everything to the receiver. Things are pretty simple here if you have done some basic connections before and you shouldn't have any trouble finishing this part very fast. But even if you have any troubles Yamaha has created the Yamaha AV Receiver Setup Guide App which is a dedicated setup app that you can install to your mobile device, choose the appropriate AV receiver and follow the instructions to make the necessary wire connections.
This app if free to download and is available for both iOS and Android devices and provide you with very simple visual information on how to connect everything for your specific system. A nice small app and although not many are going to use it, if you are are totally new to all this then you will certainly find this one very handy.
The built-in menus and user interface is nothing spectacular to talk about. They are simple, nicely organized and with simple graphics overlaying over the image input.  We would expect at some point to get an updated visual interface with nice graphics as we see in smart TVs nowadays but it seems that manufacturers are reluctant to go that route yet.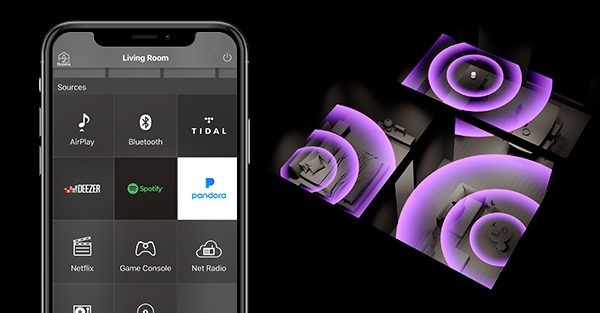 Most receivers nowadays, including the RX-V4A comes with an ECO mode that you can enable and let the receiver manage its power output in order to achieve power economy. But if you want the unit to perform at its peak power at all times then we suggest you to better leave this setting turned off. We would only recommend this if your unit becomes really hot due to being in a closed environment and you have no other way of cooling it down, then this could potentially help a little.
Another feature we get is voice control. Yamaha made sure to add support for both Amazon Alexa and Google Assistant but obviously if you want to use these you will need to have an external device like an Echo Dot or Google Home device. You also have the ability to use Apple's Siri voice control through the Airplay 2 app in your mobile device.
And since we mentioned Airplay 2 we should talk about the streaming and multi-room capabilities of this unit. MusicCast is supported and with it you can connect various MusicCast enabled devices to the receiver. This can be done through the MusicCast mobile app that is available for both Android and iOS devices. If on the other hand you are more of an Apple guy, Yamaha also included Airplay 2 which is a similar app that works only with Apple devices and let you connect various Airplay 2 devices to the unit. The Airplay 2 app is available in the Apple store for you to download.
The receiver also comes with limited wired multi-room capabilities. The surround back terminals can be wired with speakers on another room in order to create a Zone B. Doing so obviously will limit the channels you can use in your main area to just 3.1 channels but at least the receiver grands you this option.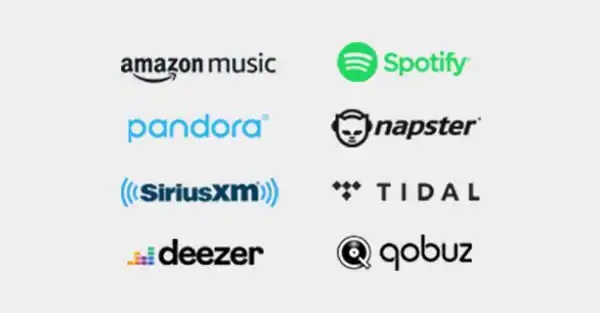 But MusicCast and Airplay 2 are not only capable at creating a multi-room environment but can be used to stream music online through various streaming services. Many of the most known names are available like Amazon Music, Spotify, Pandora, Napster, SiriusXM, Tidal, Deezer and Qobuz to name a few.
But streaming is not restricted only to it's online services as you can also use the receiver to stream audio from a NAS server or network drive you have connected to your local network. We already mentioned above about it's USB streaming capabilities so the last thing we need to mention is its Bluetooth support. The unit comes with Bluetooth v4.2, as we mentioned above, and it can be used to stream music to a Bluetooth enabled speaker or headphones.
There are a few more features that we should not forget to mention. One is HDMI to HDMI up-scaling to 4K resolution if you prefer this to be done by the receiver instead of your TV. Now if you should use this or not depends on how capable your TV is, so it is our suggestion you try both ways in order to determine which one is better. There is also HDMI-CEC with which you can use the TV's remote to control the receiver and thus lower the number of remotes you have to use in your home theater.
Bi-amp capability is also supported if you want to drive the high and low ranges of the front channels by using independent amplifiers which can improve the acoustic result and performance of the front soundstage. And while this is a more advanced feature that doesn't have much value in such a low end AV receiver it's always good to have it as an extra feature and one that many home cinema fans do appreciate.
Lastly there is support for wireless speakers including the MusicCast 20 and MusicCast 50 surround speakers. Also there is the MusicCast SUB 100 subwoofer that you can connect to the unit. This way you are not bound by wires and you can place the speakers whenever you want in your area.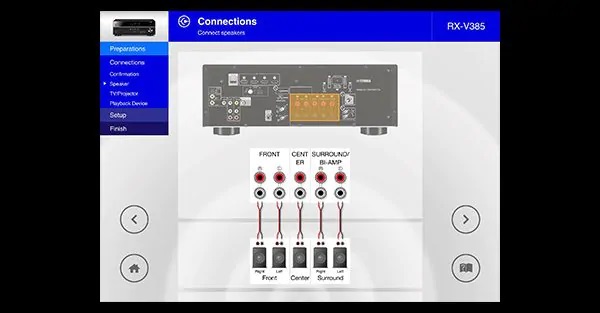 Obviously the RX-V4A is not the most feature complete AV receiver you can find but considering its price and class it comes with all the basics and more making it an excellent low cost choice for any situation.
Final Thoughts
Yamaha seems to be the only manufacturer that really tried to make their latest series feel like its something new. Although in terms of general specs the RX-V4A is not deviating much from what we saw in the RX-V485, the arrival of the new HDMI 2.1 seems to have made them think it was time for a fresh look.
So what is new in this 2020 release? Obviously the HDMI 2.1 is the main attraction but what makes the RX-V4A even more impressive is the fact that it comes with four HDMI 2.1 inputs making this low cost unit surpassing even the most expensive offerings from Denon and Marantz that come with only one! As for the new look we really like what Yamaha came up with as it looks more stylish and more modern than their old layout that had been used for so long.
But the RX-V4A is not only looks. It may be a low cost unit but its performance was really what you would expect from a Yamaha receiver. Excellent dynamics, great output across all channels and a surround immersion that will make you more than happy for the price asked. Either you want it for movies or music, or both the RX-V4A is a receiver that can handle everything with ease. And if you add all the extra features included like good streaming capabilities both online and locally along with many others that we analyzed above then you get a lot of value for the price asked.
As for its downsides…well the most obvious is the HDMI 2.1 limitations that all 2020 AV receivers have. And while this problem seems to focus mostly on the Xbox Series X at the moment the more common the new port will become and more 4K@120Hz signals will become available this problem may show its nasty teeth more often. Also the unit has no Dolby Atmos or DTS:X support, we found less legacy ports this year compared to the RX-V485 and lastly the remote feels cheap and certainly not on par with the new modern design that is wonderful.
Closing this review what we can tell you is this. If you don't care about Dolby Atmos or DTS:X and you are looking for a low cost AV receiver to create a small home theater in your living room or media room the Yamaha RX-V4A is an excellent choice as it will bring you the quality that Yamaha is so famous of and all this on a budget. What more can you ask?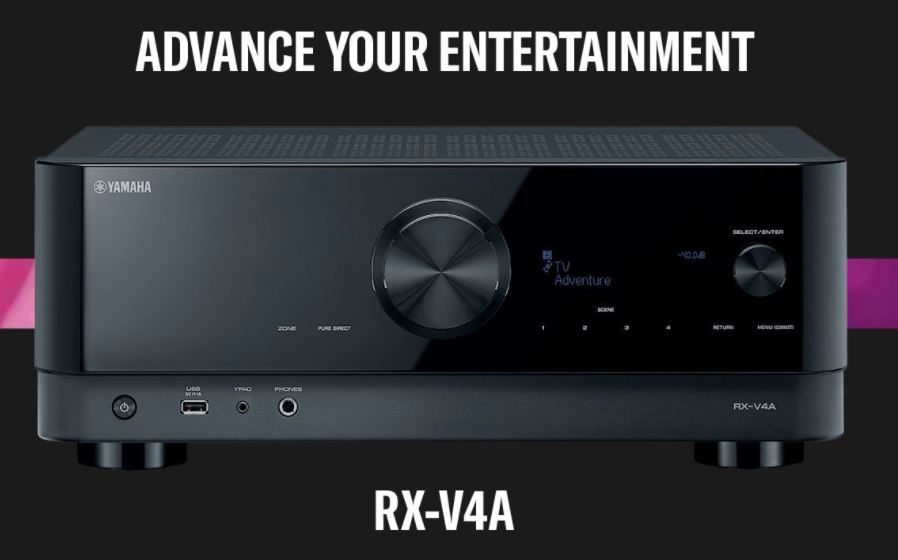 For more reviews you can check our dedicated 5 channels 8K AV Receiver reviews list or even look at our Product Reviews Table where you can find the brand and specific product you are looking for.
Also don't lose the chance to subscribe to our Newsletter and gain exclusive privileges.
---
Cheapest Places to Buy :
---
Yamaha RX-V4A Specifications