Samsung Q60R
OS, Apps and Features
9.5/10
Pros
Very accurate colors
Extremely low input lag
Excellent smart TV functionality
Very affordable for a QLED
Cons
Edge LED panel with no local dimming
Average HDR performance
No One Connect Box
Dolby Vision is not supported
---
Cheapest Places to Buy :
---
Samsung continues to heavily invest on their Quantum Dot displays in their try to offer image quality that can at least compare to LG's OLED offerings. In 2019 we got four models in their premium, QLED as they have branded it, lineup with their flagship the Q90R being able to perform admirably and very close to the performance we have seen in some recent OLED TVs pushing the capabilities of LED LCD technology even further. But such quality comes also with a hefty price and not many can afford such a cost but fear not as in today's Samsung Q60R review we will be looking at the most budget friendly model of the QLED family.
The Q60R is the lowest model in Samsung's premium lineup and in order to keep the cost as low as possible certain cuts had to be made with some of them more significant than what we would like. The Q60R retains the Quantum Dot film that helps the TV to display a wider range of colors and thus still classify as a QLED model. But the biggest difference compared to the other QLED models is that here we get an Edge-LED panel while there is no local dimming which means that light control is vastly inferior and less accurate.
With no FALD system, less brightness and no Ultra Viewing Angle filter can the Q60R still remain competitive and be considered a worthy member of the QLED lineup or the corners that had to be cut affects the overall performance a bit too much? Let's find out.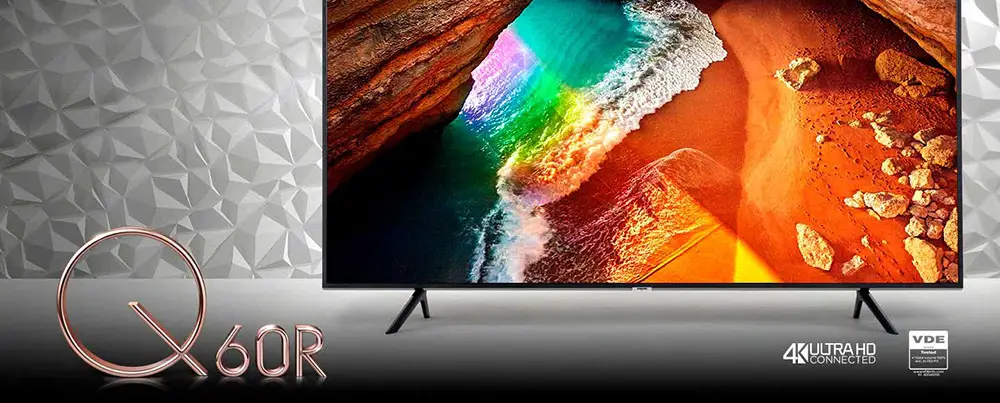 Design
It has become pretty clear when it comes to Samsung's One Connect Box that only the top of the line Q90R would have it (as well as Q85R in Europe) as it was missing in both our Q80R and Q70R tests so we were not expecting to find it here either something that turned out to be true. All connections are positioned in the back of the TV as we usually find them in most TVs.
Our advice to Samsung would be to use the One Connect Box to all the QLEDs as it's a feature that really sets it apart from the competition and if they want the QLED series to stay competitive this is one feature that they can take advantage of. Yes the price may need to go up a little but it adds so much more value to a TV.
In general the Q60R keeps a very similar design to last year's Q6FN. The main body is almost entirely made out of plastic while it's overall thickness is kept at similar levels to last year with the Q60R measuring 2.52″ (6.4 cm) with the bottom of the TV being slightly more thick than the top which features a subtle curve. Wall mounting it is easy with the appropriate VESA wall mount although it doesn't support the no-gap mount that we found in the Q90R.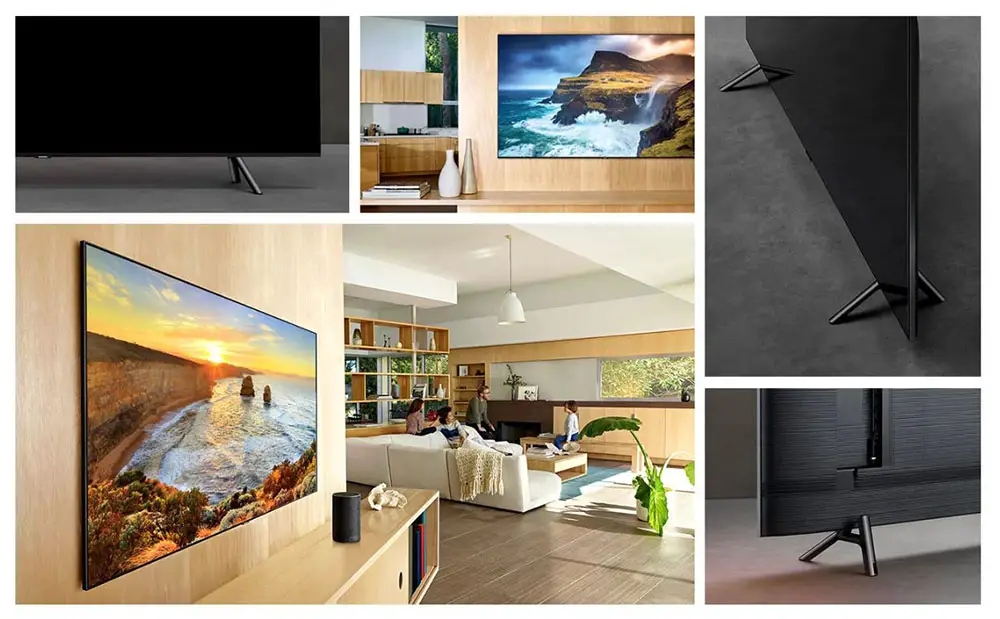 Borders are thin enough and almost similar to the Q6FN while it uses a bench-like stand with the legs keeping the panel stable and help with cable management. At the back side of each leg there is a special clip that you can use to group cables together and keep them out of sight as much as possible. Not the same system as the groove typed legs we have seen in some other models that use similar stands as here the cables will be more visible and certainly makes the TV look more cheap.
With the legs extending almost to the entire length of the TV you need to make sure that your furniture is big enough because the large footprint of such a design can be a problem in small surfaces. But at least this type of stand keeps the panel much more stable than the centered Y-shaped stands we see so often.

As for the remote we get with the Q60R it is exactly the same as we had seen in some of the other QLED models this year. It's the gun-metal black arch variant that is so similar to previous One Remotes we had tested in the past but the difference we find for this year compared to previous ones is that this one has a trio of dedicated buttons under the volume and channel controls for Netflix, Prime Video and Hulu streaming services. A bit of unnecessary if you ask us since it's like forcing you to have them in front of your face while the UI provides a very easy way to find these apps very fast.
The remote is Bluetooth enabled so direct line of sight is not necessary while it can also act as a universal remote as it also comes with IR capabilities in order to be used with other equipment that are only IR capable. There is also a built-in microphone that you can use to issue voice commands to Bixby which is pretty standard nowadays.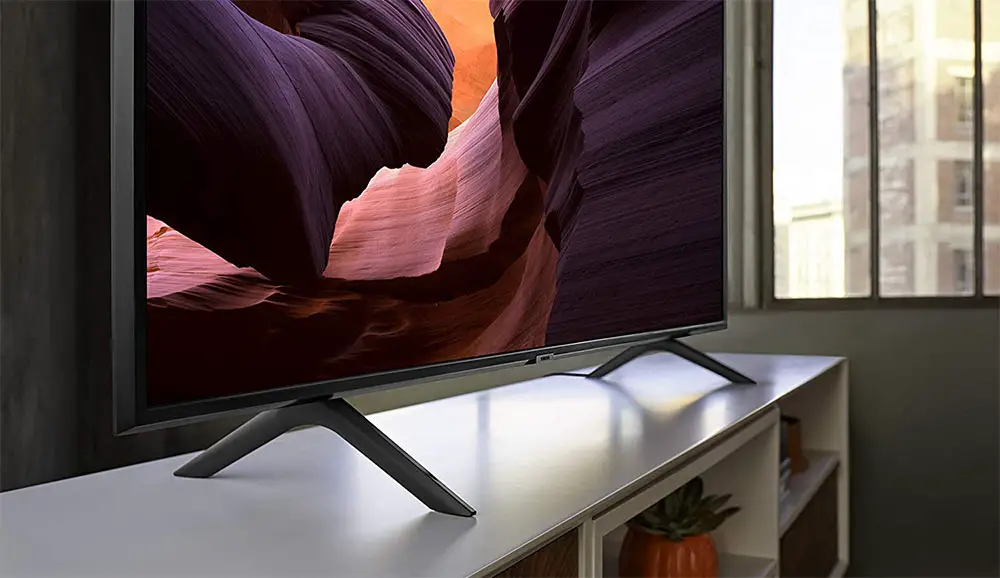 In total the Q60R manages to offer decent quality even though the amount of plastic used makes it look a bit cheaper than it should for a QLED model. The remote is definitely one of it's strong points as Samsung has really nailed it's design and functionality although we feel that the three new dedicated buttons were completely unnecessary.
Video Quality
Processor technology used
One thing that is common in the QLED models in 2019 is that Samsung used the same processor in all of them with Quantum Processor 4K taking processing duties in the Q60R also. This new processor ensures the upscaling of lower quality content to 4K resolution with exceptional results as it uses an AI upscaling engine that combines complex algorithms in addition to an image database that has access to. This results in sharper details and better colors without any additional artifacts that are common during the upscaling process.
We are glad that Samsung retained the same silicone in the Q60R as the top dogs. This means that as far as upscaling quality is concerned the results are as good as the rest which can be of great value in the long run. We tried a few DVDs as well as 1080p Blu-rays and the Q60R performed just as good as it's bigger brothers. We need to stress out that the end result very much depends on the original content so while the upscaling that the Quantum Processor 4K does is actually very good you shouldn't expect any miracles. SD content will certainly look as good as it can get with 1080p content faring much better and in some cases the result was amazing indeed.
Lighting technology used
While all the other QLEDs are using some form of FALD system the Q60R is the only one in the series this year that switches to an Edge LED lighting system with no local dimming ability. This has a detrimental effect on the ability of the Q60R to have good and accurate light control while it's brightness capabilities fall short as we will analyze a bit further down our article.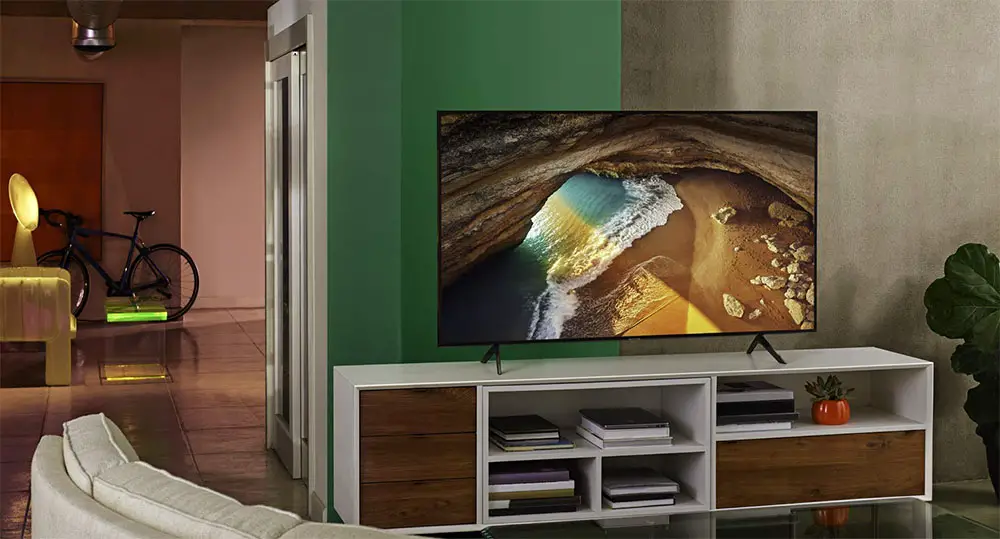 One characteristic of having an Edge LED panel is that when bright objects appear against a dark background vertical stripes of light make an appearance from top to bottom of the screen. This is due to the LEDs being placed usually at the bottom of the panel firing upwards instead of how a FALD system works that has the LEDs firing from behind. The comparison between an Edge LED and a FALD system is night and day and this we consider to be the most important difference between the Q60R and the rest of the QLED family.
Brightness / Contrast
With the Q60R being the smaller model in the series we get further reductions in both our brightness and contrast measurements. The TV was set in Movie mode with Warm 2 color tone as these two provide an image that is more accurate than the rest. First our HDR brightness testing gave us a measurement of 420 nits over a 10% window which is average at best as highlights cannot be displayed as bright as they should. In our SDR brightness testing we measured 402 nits in a 10% window which is very good and more than adequate for any kind of SDR content that doesn't need excessive amounts of brightness to show good.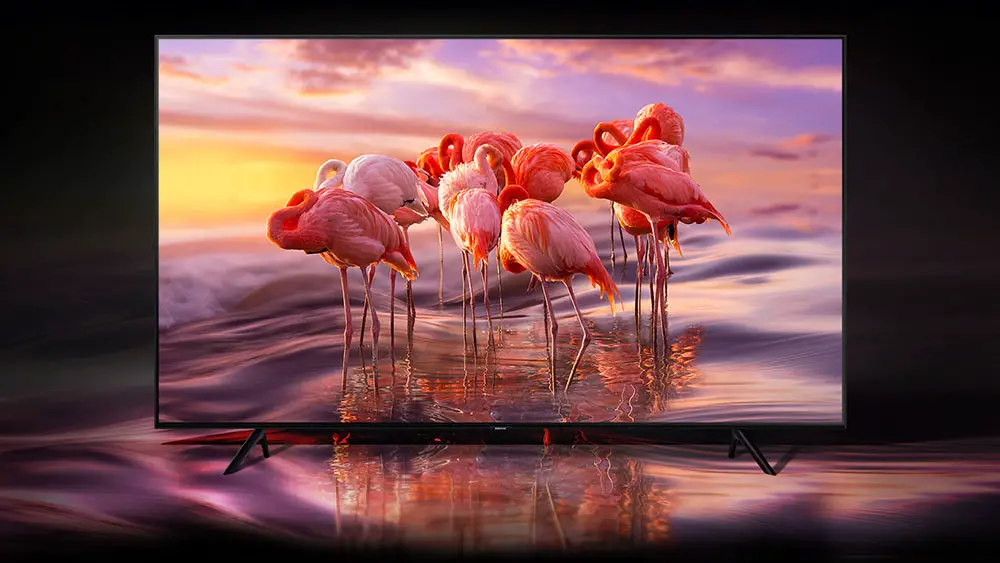 As for the contrast ratio the Q60R performed very good with the panel being able to display very good black levels although this could be even better if there was a local dimming function which there is not. Last year's Q6FN had local dimming so we consider this back step for this model.
In general it's a bit disappointing to see a QLED model perform like this and we would expect at least similar performance like last year's Q6FN but it seems that this is not the case. Brightness is definitely one of the Q60R's weak points this year.
Viewing angles
The Q60R comes with a VA panel and this usually doesn't mean good things when it comes to viewing angles. Samsung managed to partially correct this with the top Q90R and Q80R models by using Ultra Viewing Angle technology but as with the Q70R the Q60R also misses this film that could improve things a little.
We tried different angles with this one and we can say that 20 degrees of angle is the maximum we recommend in order to retain image quality. Anything more and there is very obvious degradation in brightness, black levels and color integrity. If you want greater viewing angles then you will have to look for a TV that comes with an IPS panel as VA panels have in general very poor performance in this regard.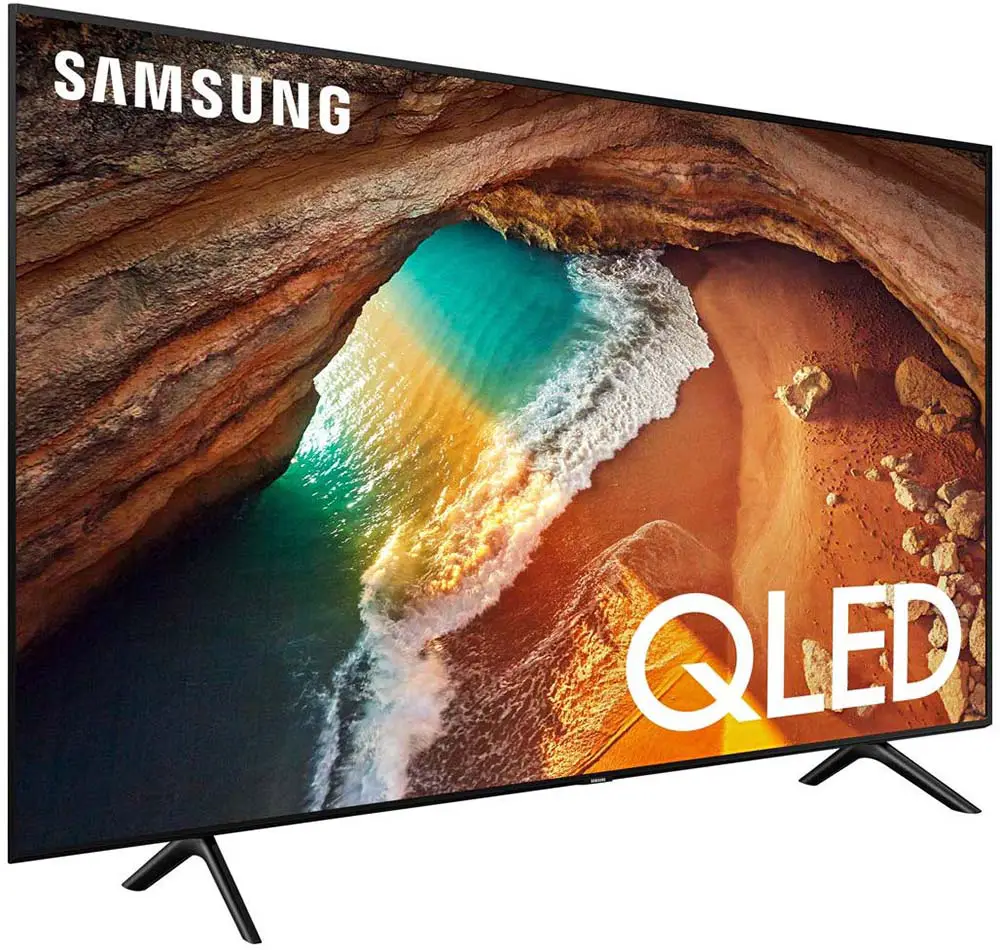 HDR support
The Q60R keeps the same kind of support when it comes to HDR as the rest of the QLEDs in 2019 as it is pretty clear the policy Samsung has when it comes to this. The obvious omission here is Dolby Vision and as things are there is not going to be any support for this protocol from Samsung anytime soon.
So all Samsung TVs has to settle with all the rest which means the basic HDR10 that is used for UHD playback, HLG that is mostly used in broadcasting as well as the new HDR10+ which is supposed to rival Dolby Vision and can also support dynamic metadata. Samsung seems to have invested a lot in supporting HDR10+ instead of Dolby Vision so it only remains to be seen how this decision of theirs will play out.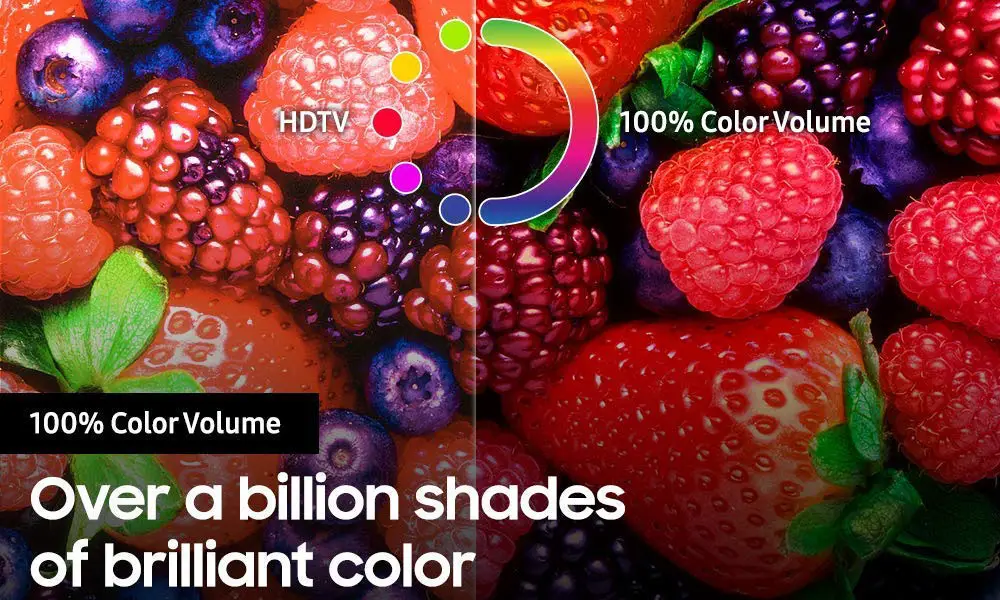 Color coverage
The Q60R is able to support wide color gamut which is very important when viewing HDR content as colors will appear more lifelike and vivid. According to our numbers the TV can cover around 89% of the DCI-P3 color space while on the wider REC.2020 coverage reaches 68%. These numbers are very good although slightly lower than what we had measured in our Q70R testing. The difference is very small to be noticed with bare eyes but the numbers show that the Q60R performs slightly lower than the other models this year.
Motion performance
When it comes to motion performance the Q60R managed to deliver very solid results compared to the other top tier QLEDs. This one comes with a similar 120Hz panel but it's backlight dimming frequency flickers at a much lower rate at 240Hz compared to the Q70R had had a 960Hz dimming frequency. Flickering frequency can get even lower than that depending on the picture mode and settings you are using. Keep in mind that the 43″ and 49″ models use a 60Hz panel compared to the rest of the sizes.
Additional motion features include the standard motion interpolation that can be used to smooth images by enabling the Auto Motion Plus setting in the menu. By adjusting the blur and judder reduction sliders you can find the sweet spot for you but keep in mind not use very high settings in these two as this will result in the "Soap Opera Effect" which we want to avoid.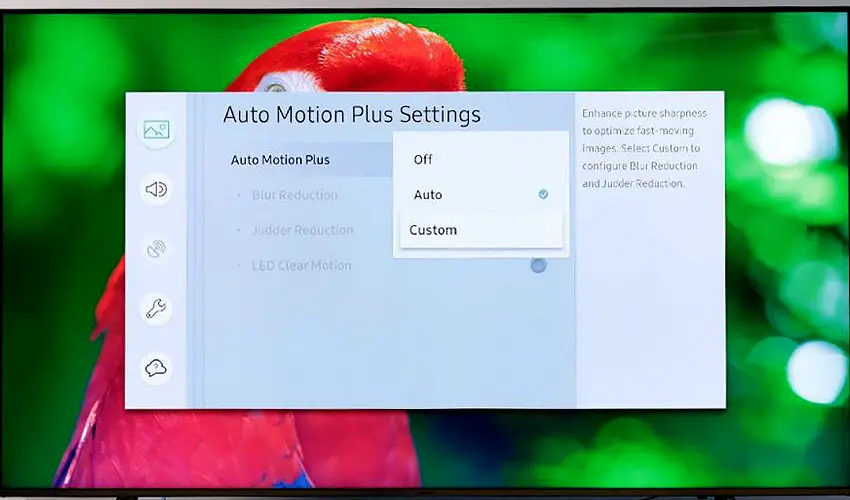 Also the Black Frame Insertion (BFI) feature is present by enabling the LED Clear Motion setting. What this does is to insert a black frame between two individual frames resulting in more smooth and blur free motion at the expense of some brightness and the appearance of some slight flickering.
There is also support for the FreeSync variable refresh rate technology that can be used in conjunction with other equipment that also support it.
Input lag
One aspect that we expected the Q60R to shine was in the input lag as we saw that all 2019's QLEDs were able to perform admirably in this. Indeed we were not disappointed. Obviously you need to have Game mode enabled but doing so we were able to get an amazing 15.5ms which is in line with our measurements from the other models in the series. This measurement was pretty much stable for both 1080p and 4K resolutions which really impressed us and show how much Samsung has improved things in this department.
As always during out input lag testing we connected our PS4 and tried a bit of Call of Duty WW2 to get a feel of how our commands register and what kind of response the game would have. During our session the Q60R really shined with very accurate and blazing fast reaction to our inputs. If you are a gamer and you are on the lookout for a TV for your gaming needs then this one will definitely cover you completely.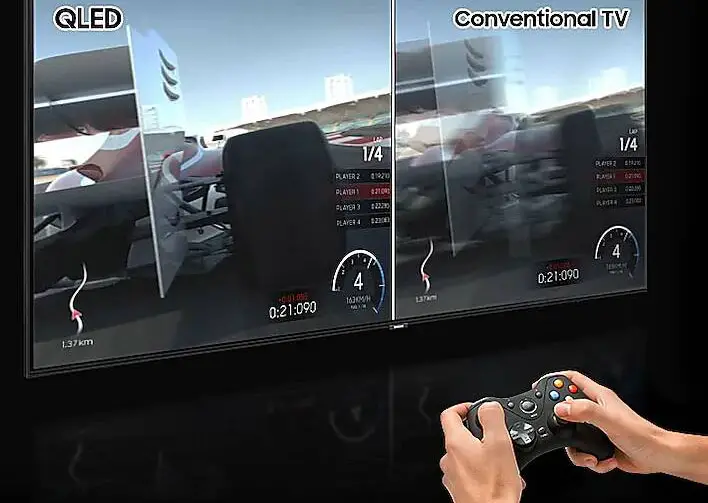 Image quality impressions
Closing this section we feel that the Q60R is a bit of a mixed bag. What is hurting mostly this model is the use of an Edge LED panel instead of a FALD one that all the QLEDs above this use. Light control and precision take a serious hit this way while the omission of a Local Dimming feature is making things worse. Brightness also falls short making HDR performance average at best. Lastly viewing angles are disappointing allowing very small deviations from the center sweet spot.
But not all is doom and gloom. The Q60R performed amazingly in our HD/SDR tests while it can produce very accurate colors with color coverage being extremely good in both the DCI-P3 and REC.2020 color spaces. Also if you are a gamer then you will be extremely happy by how low input lag this one has making this as good as it can get. Lastly by having the latest Quantum Processor 4K means that the Q60R is a very capable at upscaling by incorporating AI into the mix making resulting images truly stunning.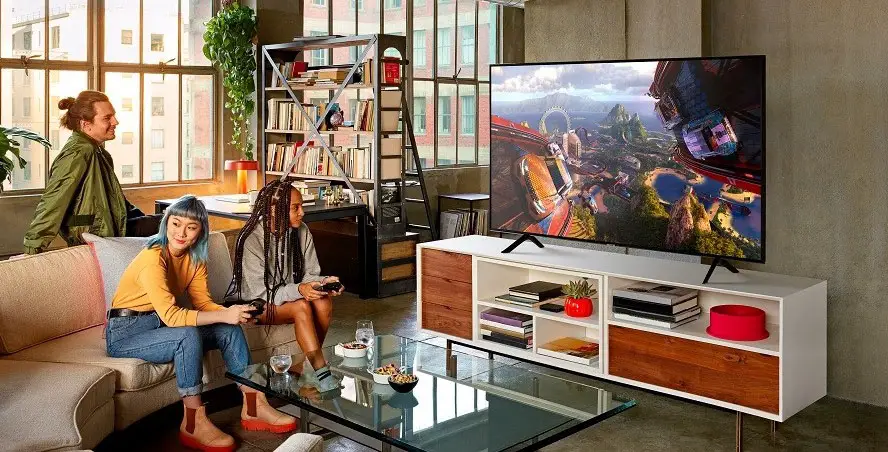 Audio Quality
When it comes to sound performance things are not as good as we would like but this comes as no surprise since there is no built-in audio system in any of these flat TVs that can leave us satisfied. The Q60R may be part of the premium QLED series but when it comes to audio things haven't progressed much. It seems that manufacturers, being limited by what they can actually do with the hardware, have shifted their attention to AI processing to improve things a bit. We saw this with LG and it seems Samsung follows the same route.
With the new Quantum Processor 4K the Q60R has a new AI-controlled Intelligent Audio feature that tries to improve audio performance depending on the content but don't expect to hear any noteworthy difference compared to previous years. The sound may be good for casual viewing like news broadcasting or sports but lacks any kind of oomph that would create an immersive cinematic experience.
What this "Intelligent Sound" does it to analyze the environment of the TV and the type of content being played and optimizes the sound accordingly in order to offer the best possible audio result. As such surround effects are being boosted in action films while in talk shows dialogue feels more pronounced. On the other hand during sports the crowd is being boosted in order to give a more immersive feeling.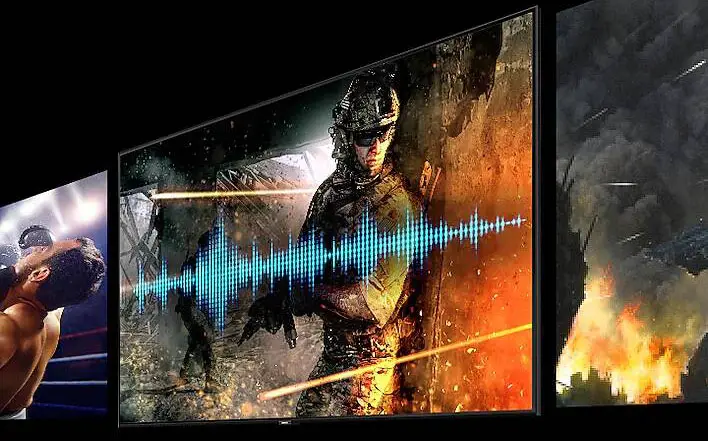 In the end the sound is limited more by it's hardware rather than it's software. No matter how many tricks manufacturers add in digital processing the result will have limited impact. So if you plan to use this TV for movies then make yourself a favor and buy a dedicated audio system or at least a soundbar that will improve audio much more than what the Q60R can do. You can check our soundbars section for some of our reviews.
Inputs
As we mentioned above the Q60R has all the connections on the back of the main body instead of the One Connect Box that we find in the top Q90R as well as the European Q85R. All connections are grouped together in an inset on the left side as we look the TV from the back with all of them looking sideways for better handling. We think it's time for Samsung to consider using the One Connect Box to all their QLED models as this little thing can add so much more value.
Anyway let's see what we get in this one. From top to bottom we get a couple of USB ports with both of them being 2.0 instead of the newer 3.0 which is really unfortunate. Next there is an Optical Digital Audio output for connecting to a soundbar or other audio equipment, four HDMI ports with one of them having additional ARC functionality but no eARC here, an Ethernet port for wired connection to the internet and local networks, an Ex-Link mini jack for control and lastly the standard antenna/cable tuner connector.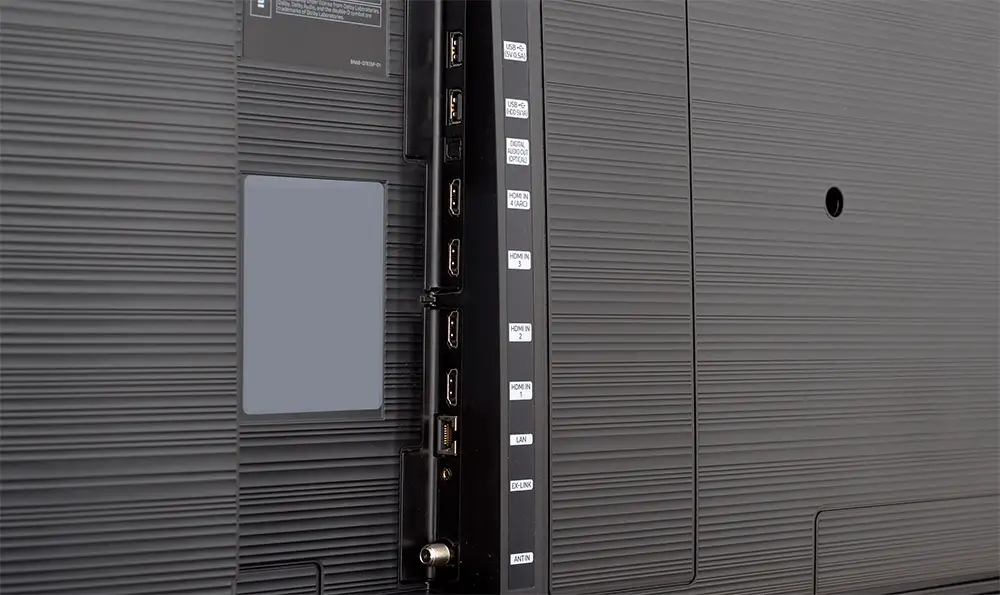 Only a couple of things that need mentioning here. For one more year USB 2.0 seems to be the standard instead of USB 3.0 and that there is no eARC support in the Q60R as in general Samsung is not fully supporting HDMI 2.1 yet.
OS, Apps and Features
One area that the Q60R is not lacking a bit compared to the other QLED models is in it's smart TV functionality as the TV we are testing today has exactly the same features and capabilities as the other 2019 models we had reviewed recently. As such our views here are very similar to our previous articles.
This means that once again we find the latest edition of Samsung's Tizen smart TV platform which has become along with LG's webOS the best smart platform to this day. Every year Samsung adds bits and pieces in order to refine the system even more by adding new features and functions and make the UI feel updated and more practical than ever.
The initial setup was very simple and easy to follow. As you power up the TV for the first time you will be asked to connect to the internet and after doing so you have to calibrate the broadcasting channels by following the on-screen instructions. Finishing with that you are ready to go, it's that easy and it shouldn't take you more than a few minute to do so. If you have used another Samsung the last few years then you will find yourself in a known environment as Tizen may have got a new fresh of paint but on the core it's still the same basic system.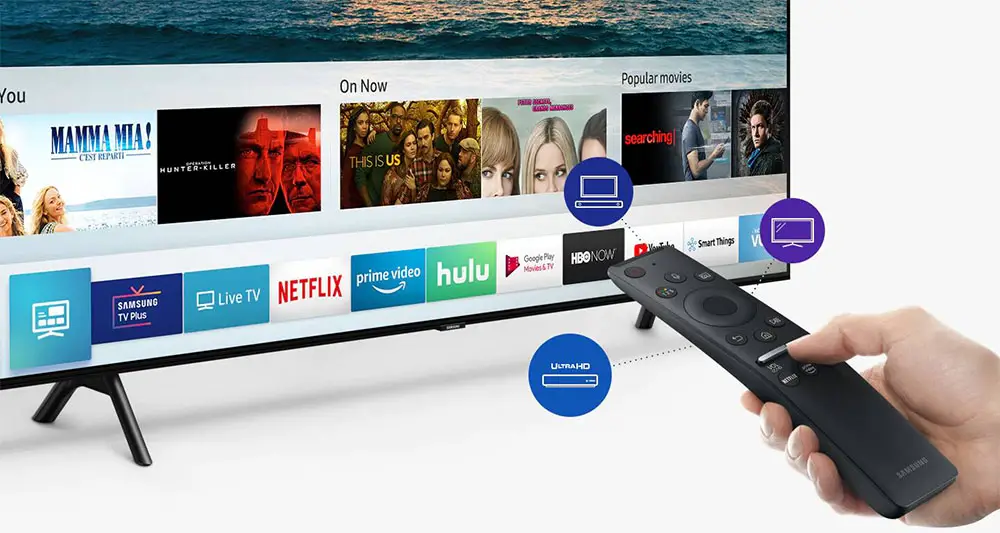 All app and streaming services are positioned in the bottom of the screen running along the familiar launcher bar that forms a single line while we also get a second layer that appears when an app is selected that provide easy and fast access to various content. A certain degree of customization is allowed in order to reposition everything to your liking as thinks can get a bit confusing with so many apps and content available.
Amazon, Youtube, Netflix, Demand 5, Rakuten, Now TV, Hulu and BBC iPlayer are just a few apps provided with many more that you can find. The amount of support from developers is staggering and shows why Tizen is at the top of it's game. 4K content with HDR is supported in all three major streaming services that include Youtube, Amazon Prime and Netflix if you have an internet connection that supports the kind of bandwidth required. Lastly navigation was very fast and smooth and only in a few occasions we noticed a bit of lag when we tried to open various applications in fast sequence. But during normal use we didn't have any problem something that was very characteristic in all our QLED testings.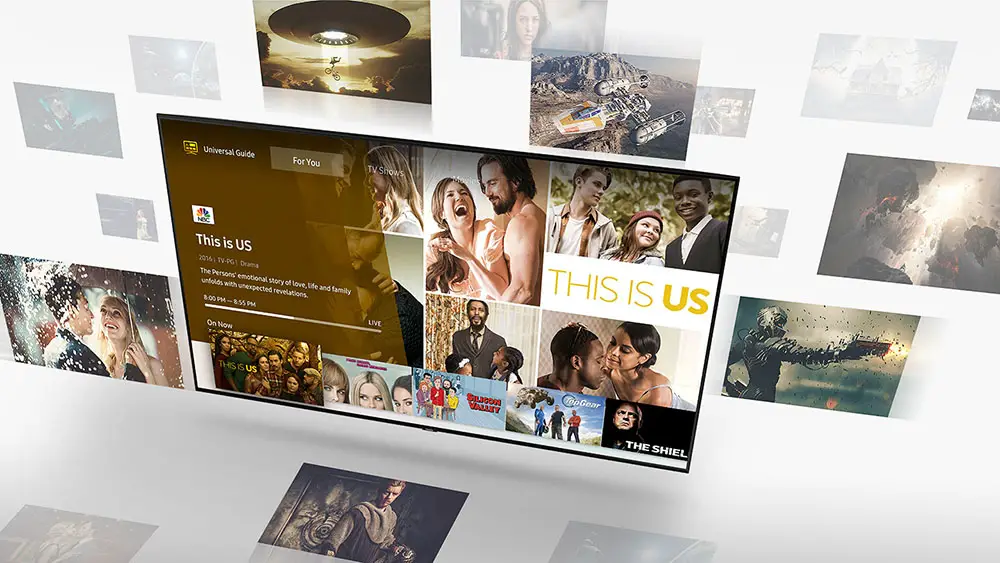 A new and very practical feature that we find in 2019's Tizen is Samsung's "Universal Guide". What this does is that it analyses your viewing habits and creates a 'For You' page that includes content that you will be most probably interested in watching. If you have certain viewing habits then this system may be really good as it can save you from the trouble of finding your favorite show all the time.
The Q60R even comes with the familiar by now Ambient mode which we prefer to think about it more as a gimmick rather than a practical feature. What this does is to display specific images in order to blend the TV with it's environment instead of looking at a black frame. Ambient mode includes display of images, information like day and time or various artwork. Obviously Ambient mode draws certain power so you are not saving much this way while the TV panel remains turned on all the time which is not a good thing. For certain occasions it can be a nice feature to have but in our humble opinion it's not a system that should be used all the time.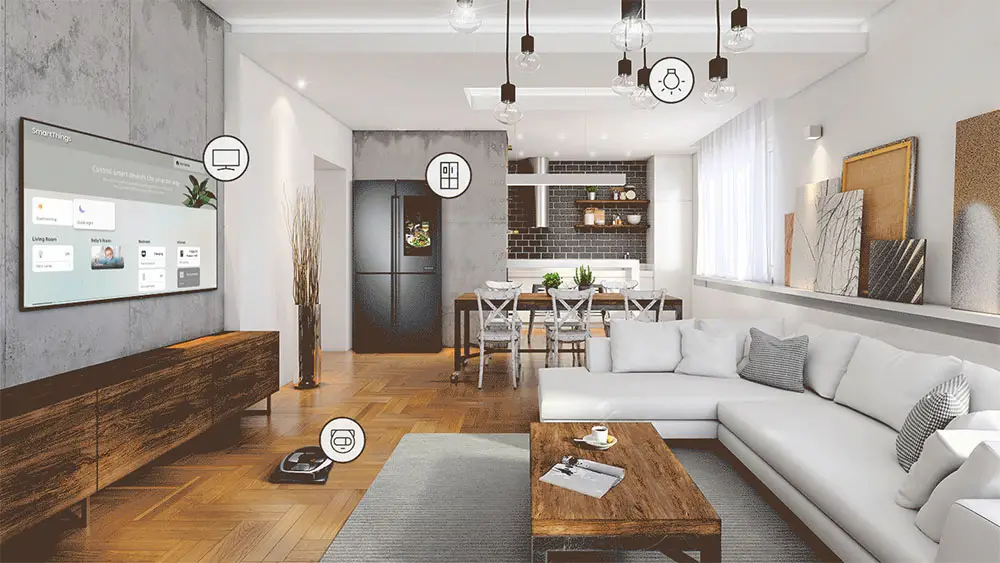 Various ways of control is pretty much standard in this day and age and as such the Q60R supports not only the traditional One Remote but also control from Samsung's SmartThings app that you can install in your mobile device. Of course the SmartThings app is not only used for your TV as with it you can control any smart device you have in your house making it a center control point for your entire smart house.
Additionally with the One Remote's microphone you can issue commands to Bixby but if you prefer another voice control service like Amazon Alexa or Google Assistant fear not as both of them are being supported. You will only need to have a dedicated device like an Echo Dot or Google Home to make them work.
Lastly we should not forget to mention that the Q60R also supports Apple TV that you can use to stream content from the Apple store while the Airplay 2 feature let you stream video and audio from any Apple device directly to your screen. And all this can be done with traditional controls or by voice with the help of Apple's Siri.

Final Thoughts
At first reading it feels a bit difficult to categorize the Q60R accurately. It feels like a QLED model but at the same time it misses many of the features that would make it a true QLED. But if you look more carefully in the specs the Q60R sits comfortably between the better Q70R and the lower RU8000 filling a gap between the two. At the end of the day this TV seems to be destined to act more like a model that needs to cover a specific price range than a model that was created to be a true QLED TV.
Obviously the one feature that is being retained and thus makes it part of the QLED series is the inclusion of the Quantum Dot film that gives the Q60R very good color reproduction. If you add to these the Quantum Processor 4K with it's excellent upscaling and AI abilities, the great HD/SDR performance, the very solid motion performance, crazy low input lag and excellent Tizen platform there are many things this TV does right.
On the downsides the inclusion of an Edge LED light system instead of a FALD really hurts it's brightness and HDR abilities. And while the Q60R remains better in this regard compared to the RU8000 it doesn't come even close to the Q70R. Also viewing angles are not very good, something typical of all VA panels and even small deviations from the center can result in image degradation. No One Connect Box means that cable management is not as good as what we would like and as with all Samsung models Dolby Vision is nowhere to be found.
Closing we will say this. If your budget can support it then go for the Q70R as the FALD system it has makes it so much better. If you don't have the budget for it then the Samsung Q60R is a good alternative as it is obviously much better than the RU8000 by having better colors, more brightness and better processor making it a great choice for anyone that is looking for a new TV in this price range.
For more reviews you can check our dedicated 4K LED LCD TV reviews list or even look at our Product Reviews Table where you can find the brand and specific product you are looking for.
Also don't lose the chance to subscribe to our Newsletter and gain exclusive privileges.
---
---
Cheapest Places to Buy :
---
Samsung Q60R Specifications