Yamaha RX-A680
Design -

92%

Audio Quality -

90%

Ports & Connectivity -

86%

OS, Apps and Features -

91%

Price / Quality -

90%
---
Cheapest Places to Buy :
---
There are a handful of manufacturers in the AV receivers segment and one that has a lot of fans worldwide is no other than Yamaha. With their latest releases in 2018 Yamaha's Aventage series is the top premium lineup they have created that consists of 6 models in order to satisfy all needs and budgets. Having tested almost all of their Aventage units there was only one remaining and this is what we are going to do here today. In our Yamaha RX-A680 review we will be looking at the most affordable Aventage unit they have on offer to this day.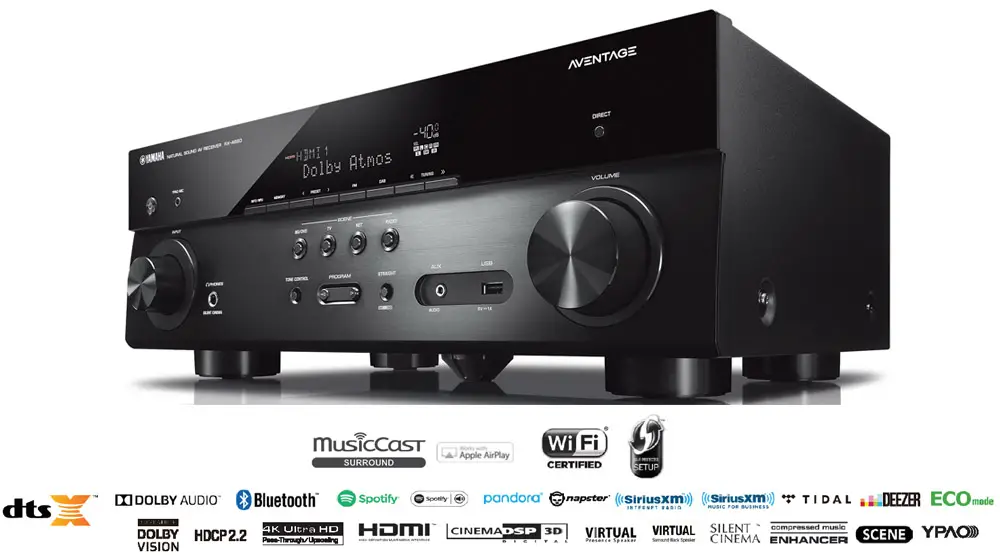 The RX-A680 may be the most basic Aventage you can get but it still has some characteristics that would allow it to be classified as a premium receiver and this has mostly to do with certain elements in it's construction that are shared among all Aventage units along with certain specifications that we find only in this premium category. With 7.2 channels of built-in amplification and 80 watts of power this receiver comes with support for both Dolby Atmos and DTS:X, has plenty of up-mixing and virtual technologies, includes High Resolution Audio playback along with a wealth of extra features like MusicCast, AirPlay 2, voice control, Bluetooth and USB streaming, wireless speakers support, e-ARC and Bi-Amp among others.
As we have seen with all the other units in our previous testings, from the directly next in line RX-A780 all the way to their top flagship RX-A3080, Yamaha has paid a lot of attention to their premium lineup of AV receivers. So does the most affordable Aventage unit manages to offer the same once again or being at the bottom end of the performance ladder undermines it's performance? Let's put it to the test to find out.
Design
When it comes to general design and looks Yamaha kept exactly the same chassis for the RX-A680 from the previous RX-A670 so you will be hard to find any differences between them. In fact except from the naming on the top left side we managed to spot just a small difference in the 680 that we will mention shortly.
Yamaha is using the same characteristic design in most of their units and this one could be no different. This means that the front side is basically split into two parts. The upper part houses the function display in the middle and has a glossy finish. On the left side there is the power button along with the YPAO microphone port while on the right we get a small button for Direct sound.
Exactly below the display we get a single line of buttons and this includes Info, Memory, Presets selection, FM, DAB and tuning controls. It seems that the 680 changed the AM button for a DAB one and this is actually the only change the two models have in their design. Now the bottom half comes with an aluminum finish and has a slight angle to it. Here we find two big turning knobs at each side for volume on the right and input selection on the left. In the middle we get the usual four Scene buttons while exactly below them there are a few more buttons for tone control, program selection and straight.

Lastly there are a few front ports available and these include a headphones jack and exactly at the left of the volume knob an analogue audio input along with a single USB port (5V/1A) for connecting external storage. If there is one thing we do miss that would be a front HDMI port which we have find to be extremely practical and should be a standard for all AV receivers.
All the Aventage AV receivers share a few construction characteristics that would give them this extra something in order to produce the absolute best in their class. The RX-A680 being obviously the most cost friendly unit looses some of these high quality additions but it still manages to keep some of them.
First of all when it comes to the internal hardware Yamaha has once again followed their "Total Purity Concept" that is part of what makes the Aventage series unique. This includes high drive amp technology, high purity pre-amplification, anti-vibration technology and independent pure power supplies.

The receiver incorporates a high quality volume IC and independent pure power supply along with low jitter PLL circuitry that helps optimize sound imaging. Audio conversion duties are handled by four Burr-Brown 384 kHz / 32-bit DACs while the unit also uses what is very characteristic in the Aventage series and is called Anti-Resonance Technology (A.R.T. Wedge). What this is, is basically a fifth foot that is placed exactly in the middle of the receiver and is responsible for further lowering vibrations and maximize stability.
But the rest of the feet are also specially designed using a high-density structure which utilizes two different kinds of interior ribs — straight and curved — to enhance strength and damping performance showing how much attention to details Yamaha is putting even for the feet of these units.
Obviously with such lower specs compared to the other units the size of the RX-A680 was bound to me smaller with this one measured at 17-1/8" x 6-3/8" x 13" (435 x 161 x 330 mm) without the antennas and with it's weight being 18.3 lbs (8.3 kg) we would say this one has an average size for it's class.

The included remote left us with slightly mixed feelings as it's not the same as the one we saw in the RX-A780 and follows an older design layout. Coming with a silver/black combination, buttons are relatively small and we would like them slightly bigger. The buttons layout is rather good as everything is grouped in a logical and easy to find way. At the top we get all the input buttons with scene selection underneath. Program and volume controls come next with the usual navigation buttons sitting in the middle.
At the lower part we get playback buttons with a few sound mode keys sitting at the very bottom of the remote. The design definitely feels like it belongs in the previous generation of receivers and we hope that in the next refresh Yamaha will decide to change the remote even in this model. Another thing that should be noted is that this remote has no backlight function so using it in the dark can be tricky at times.
Closing this section what we can say is that the RX-A680 has certain things missing that we saw in the other Aventage units but this was bound to happen with this one being lower priced. But even as such the RX-A680 does offer enough in terms of design and quality audio parts that Yamaha is famous of offering in their Aventage series.
Audio Quality
The Yamaha RX-A680 is a 7.2 channels receiver which is the lowest you can go if you want to make a Dolby Atmos audio setup. Yamaha is in general a bit behind competition in this regard as in order to go for a 9.2 channels setup you will have to go much higher in the performance ladder all the way to the the second in line RX-A2080. With this in mind with the RX-A680 you can go for either the basic 5.2 or 7.2 channels configurations or the more advanced 5.2.2 channels with two overhead channels and dual subwoofers for a Dolby Atmos or DTS:X reproduction.

When it comes to it's amplifiers the unit can output 80 watts per channel (8 ohm, 20 Hz – 20 kHz, 0.06% 2ch drive) which is slightly less than what we would like for this money and thus is ideal for only small to medium sized rooms and media areas. We shouldn't forget to mention that the unit supports bi-amp connectivity in case you are planning to use that feature.
In this unit we get Yamaha's Cinema DSP 3D which is exactly the same version we also found in the RX-A780 and RX-A880 and is a step down from the HD3 version we get in RX-A1080 and above. Cinema DSP 3D is the technology responsible for creating natural stereoscopic sound fields like movie theaters or concert halls and there is a total of 17 different DSP programs you can choose from for the RX-A680. In simple terms this tech will process whatever audio signal it receives and in a way enhance it depending on your selection.
This kind of tech can create some cool effects but as we always like to say the result really depends on the source material and most of the time the end result is very different from the creator's intentions while the sound comes out very artificial and over-processed. As audio purists we prefer to avoid as much processing as possible but you may find it to your liking so it's always good to try it out first.
But Cinema DSP 3D is not only capable of simulating various audio environments but is also responsible for the unit's virtual features. First of all with Virtual Cinema DSP the unit can reproduce surround sound with only the front speakers connected. We also find Virtual Cinema Front and this is a smart feature that lets you place the surround speakers at the front and still get surround activity on the back of the listening position which can be very handy if you cannot place your surround speakers at the back.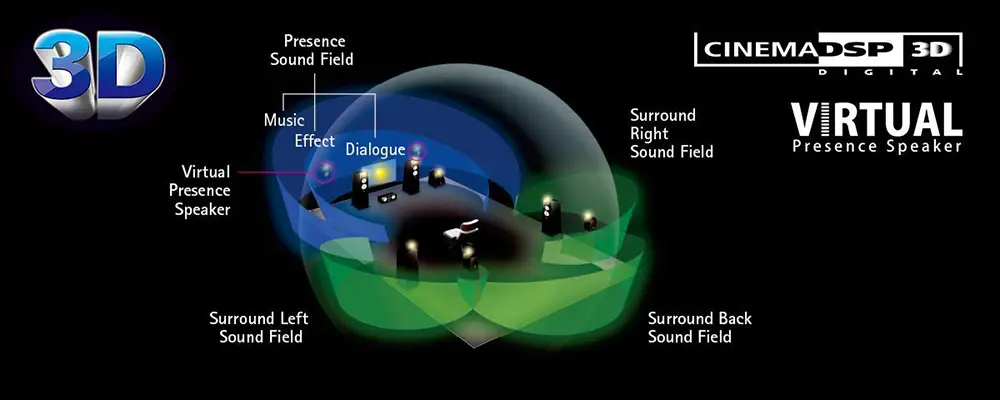 We also find Silent Cinema and with it you can enjoy surround and sound field effects by using only your headphones. Another feature is Virtual Presence Speaker and with it the system will virtually reproduce the height of the 3D sound field without any presence speakers connected. And lastly there is Virtual Surround Back Speaker and with it the system can virtually reproduce the sound field of the surround back speakers either they are available or not. When it comes these virtual technologies the receiver really comes fully equipped.
One feature missing here as well as in the more lower tier Aventage AV receivers is Surround:AI which is kept only for the RX-A1080 and above.
Moving on to our movie testing we decided to try out one of the films that guarantee to give us a memorable experience and is what we needed to test out this Yamaha. As such we took out our 4K UHD disc of Kong: Skull Island and popped it in our Panasonic UHD player for the testing to roll.
The film comes with an explosive Dolby Atmos mix and in our case we opted for a 5.1.2 channels Dolby Atmos system with two overhead channels that were placed in the middle of our viewing area along with a single subwoofer that was positioned in the front left corner of our setup.
Now Kong: Skull Island is the kind of movie that grabs you from the first moment and we are greeted with a World War 2 dogfight with the Yamaha making good work on those panning effects. Sound came out very natural and realistic while the front soundstage felt really alive with the fighter plane's engines roaring as they struggled to keep the metal bodies of the planes at good speed. Machine gun fire provided some nice and precise channel shifting across the whole sound field while the subwoofer dived low and gave us the necessary shaking these engines can produce.

There are plenty of similar scenes in the film and the Yamaha seemed to excel in providing crystal clear sound with very good detail and natural tone. When the helicopters armada is trying to push through the island storm is an excellent scene where panning effects take a big step forward and the RX-A680 seemed to translate everything with great precision. There was no lagging or struggling from the receiver to reproduce the necessary effects according to what we saw on screen. Surround activity was alive and kicking, the from stage was very authoritative and immersive while the overhead layer provided the necessary extra immersion.
Similar behavior we also observed when we were on the island and obviously when Kong was on screen the Yamaha managed to provide the necessary scale in order to make his size believable and realistic. With each of his steps our room shook while his roaring came out very harsh and natural.
And while the unit can go pretty loud and still keep it's control and balance it's when pushed to very high levels that we felt like it was loosing some of the qualities we previously heard. Obviously with 80 watts of power this is the weakest of the Aventage receivers and should be treated as such. For small to medium sized rooms it will do just fine in even higher volume levels but for big rooms it will run out of juice pretty fast.
Overall the receiver can and will offer you amazing movie experiences. It's not the kind of receiver that will floor you with it's performance but this is not it's intention. It will certainly draw you in with it's quality, detailed and highly precise sound while the surround and overhead channels will make sure immersion is as good as it gets. In the end isn't this what we are all seeking to get from a system like this?
Next in line as always is our music testing and Yamaha has always pleased us with the performance of their receivers in this regard. For this reason we selected a few favorite FLAC files that we streamed through the front USB port in order to get the best quality possible. Yamaha receivers always had a very characteristic music performance and the RX-A680 was no different. The Aventage receivers were always capable at offering us with unique music fidelity and the RX-A680 followed on the same path.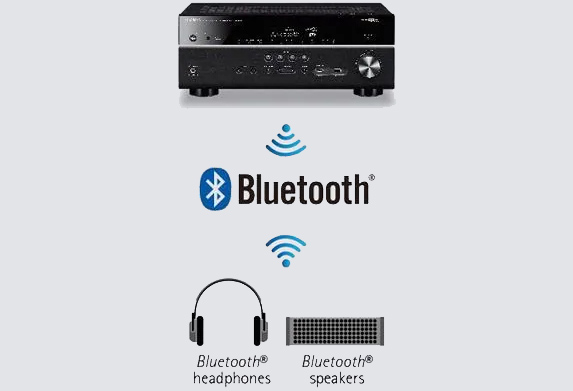 Obviously with music we look mostly at the front sound stage as this is the most active here and the Yamaha provided great sound imaging as well as impressive dispersion at the front. Audio precision and fidelity was really high as every sound was easy to identify it's origin. Mid-range felt tight and controlled, highs were pretty good while the low end provided the necessary weight to each performing track. The RX-A680 had a very natural audio reproduction and no matter what kind of music we threw at it, either it be rock, jazz, electronic music or classical music, everything translated as it should and with a very natural texture to the sound.
As with all Aventage models, streaming with the RX-A680 is not only limited to online or from a local network storage or NAS server but can also be done through the included frontal USB port as well as Bluetooth so plenty of options when it comes to how you want to stream your music. The unit supports the usual MP3, WMA and AAC files along with the High Resolution Audio formats including ALAC up to 96 kHz / 24-bit, FLAC up to 192 kHz / 24-bit, WAV / AIFF up to 192 kHz / 32-bit and DSD up to 11.2 MHz.
The receiver also features Yamaha's Compressed Music Enhancer that is capable of enhancing lower quality audio like MP3 files to near High Relotuion Audio quality levels. Compressed Music Enhancer can also work through Bluetooth which usually lowers the audio quality to meet the necessary transmission requirements.
Ports and Connectivity
The RX-A680 may be in the Aventage lineup but when it comes to it's connectivity you shouldn't have high expectations. With the lower price the first thing that is cut is the number of available ports so the RX-A680 is only bound to offer a very basic experience in this regard. But before we talk about the ports that are located at the back we should briefly mention the frontal ports that include the YPAO microphone input, a headphones jack, an 3.5mm analogue stereo audio input and a USB port for connecting external storage.

At the back the first thing we see is the 7 speaker terminals enough for a Dolby Atmos 5.2.2 audio setup. Obviously if you don't care about Dolby Atmos or DTS:X you can use the available terminals for a 7.2 channels setup also. The second most important ports are the HDMI ones and the RX-A680 comes with four inputs and one output. And while we are not extremely troubled by the single output, to have only 4 HDMI inputs this may not suffice in many home theater systems today. Yamaha should have added at least one more to be competitive in this regard.
All HDMI ports support 4K UltraHD Video (include 4K/60, 50Hz 10/12bit), 3D Video, ARC (Audio Return Channel), HDMI Control (CEC), Auto Lip Sync, Deep Color, "x.v.Color", HD audio playback, Selectable HDMI input in HDMI standby mode, 21:9 Aspect Ratio, BT.2020 Colorimetry and are HDR Compatible (HDR10, Dolby Vision, HLG). Lastly we should mention that we a firmware update there is also eARC support for those interested in it.
As for the rest of the available ports although they are few and far between we actually get three composite video inputs and one output, three analogue stereo audio inputs along with one more dedicated to phono, two coaxial digital audio inputs and one more optical, an Ethernet port for wired connection to the internet, two subwoofer pre-outs and the usual FM and AM ports. And that's it.
The RX-A680 comes with wireless capabilities and as such it has built-in WiFi (2.4GHz/5GHz) and Bluetooth v4.2 (SBC / AAC) for handling wireless streaming.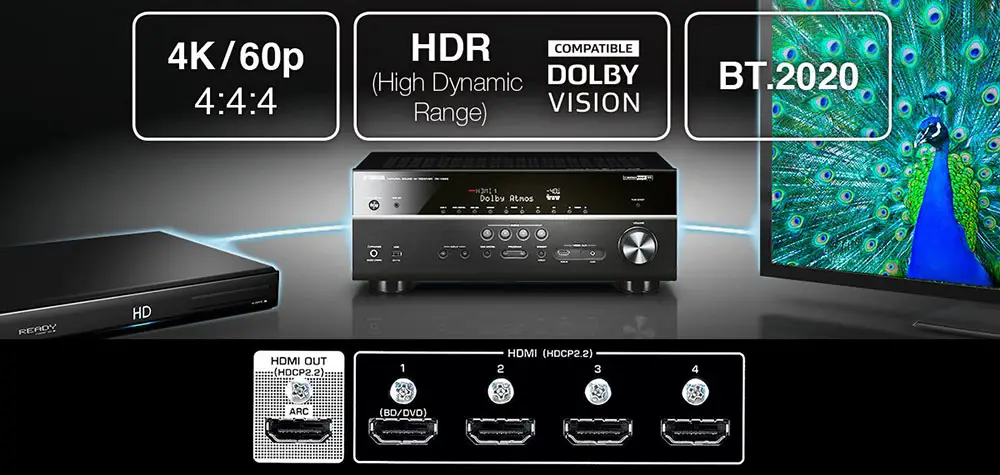 Not much to say here. The RX-A680 is a basic model and the number of ports provided reflect that. We do actually get a dedicated phono port that was not available in the RX-A670 but having only four HDMI inputs and no front one is a minus in our books. At least we do get eARC which has become widely available nowadays.
OS, Apps and Features
When it comes to extra features as always the first thing we look into is the audio calibration system. Yamaha is using the YPAO (Yamaha Parametric room Acoustic Optimizer) system and as with all these systems it can be scaled according to the model. In the RX-A680 we get the absolute basic version and what this does is to detect the speaker connections, measure the distances from them to your listening position, and then automatically optimize the speaker settings, such as volume balance and acoustic parameters, to suit your room.
The whole process is relatively easy to finish and by following the on screen directions you can finish it without any trouble even if you don't have much experience with similar calibrations before. Even if there is some problem to your setup the YPAO system will make sure to warn you with some message. In general these calibration systems offer pretty good settings and especially for those that are not used to make manual tuning it can be an excellent helper.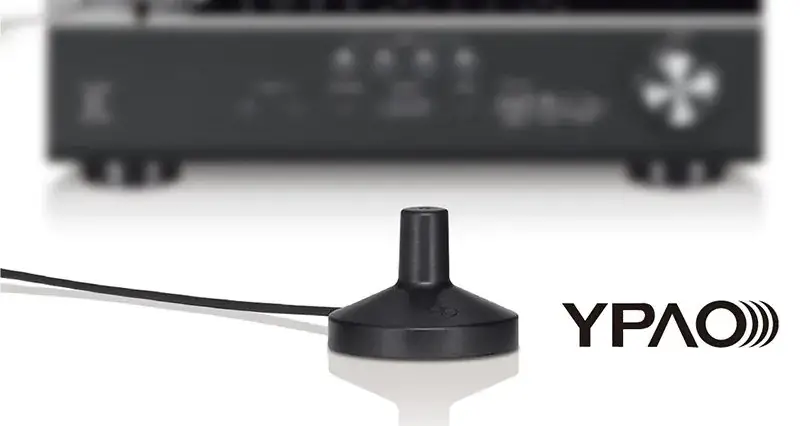 The built-in menu is the same one we saw in some of the other Aventage units also so no surprises here. It's simple although visually a bit archaic and hopefully we will get some visual update in the future as many other audio electronics already have done. The menu as usual comprises of 8 different categories appearing on the left side of the screen with their sub-menus and sub-categories showing on the right. Navigation with the included remote was fast and smooth and we didn't have trouble accessing any desired setting.
If there is one thing where the RX-A680 seems to be equal to the other more expensive units that would be in the supported apps it can handle. As such the receiver comes with MusicCast support that enables the unit to connect with other wireless speakers and create your own multi-room environment in your house. The MusicCast app is free for downloading for your mobile device and gives you plenty of functions and flexibility in controlling all available features.
But the unit is not limited to MusicCast as we also get Airplay 2 that is aimed for Apple devices. Airplay 2 is basically similar to MusicCast as you can connect wireless speakers that support Airplay and in general stream from Apple devices and speakers.

Lastly the receiver also offers limited wired multi-room capabilities as it comes with Zone B support. But this can only be used in the case that you are not going to use the surround back/presence speaker terminals as these are needed for the required connections. Nevertheless the functionality is available for those interested even if extremely limited.
The receiver is not only limited at streaming through local devices as it supports a wide range of online streaming services that include Internet radio, Amazon Music, Spotify, Napster, Pandora, SiriusXM, TIDAL, Deezer and Qobuz among others. These services are obviously regionally available so make sure the one you want is available in your area. Most big names are accounted for so you are bound to find the one you are mostly interested in.
Voice control functionality could not be missing as it is a standard feature even among the most low cost units nowadays. The receiver supports both Amazon Alexa and Google Assistant but obviously an external device like an Echo Dot or Google Home is needed for these to work so if you don't have one already in your home prepare to pay extra for it. Lastly Yamaha hasn't forgot those Apple lovers so in case you are using Airplay you can use Siri through the app to control the unit.

And since we are talking about apps we should mention a couple more that are supported by this unit. First is the Yamaha AV Controller which basically replaces the included remote and you can use your mobile device for certain functions of the unit. And the second is called Yamaha AV Setup Guide which basically assists you with cable connections between the AV Receiver and playback devices as well as general AV Receiver setup. If you are new to such kind of setups this can be a very handy little app to use.
Before we close this part of our review there are a few more extra features that are worthy of mentioning. First of all there is support for wireless speakers including the MusicCast 20 and MusicCast 50 surround speakers. Also there is the MusicCast SUB 100 subwoofer that you can connect to the unit. The receiver also offers HDMI to HDMI upscaling to 4K resolution, you can stream music to Bluetooth enabled headphones while it also features an Echo mode in order to control it's power output and save on energy.
When it comes to extra features we cannot say that the RX-A680 is missing much. The most obvious ones are the most basic YPAO system and the extremely limited wired multi-room capabilities it has. Everything else is more or less available here so unless there is something specific that is missing and you need the RX-A680 comes with a very satisfactory feature set.

Final Thoughts
Yamaha offered us another good quality AV receiver with the RX-A680. Obviously with it's reduced price compared to the higher tier models this one was bound to offer less across the board, in some areas more than others.
On the plus side the receiver has the quality stamp of Yamaha all over it even if it doesn't include the whole set of Aventage specific hardware that we had seen in some more expensive units. It supports not only Dolby Atmos and DTS:X but also  all the up-mixing and virtual technologies that you will ever need. If you add to these support for High Resolution Audio, USB and Bluetooth streaming, MusicCast and Airplay 2, the most known voice control platforms and a wealth of other features including HDMI upscaling, bi-amp capabilities and eARC support, it's a pretty extensive list of features to keep you pleased.
On the downsides obviously with 80 watts of power this is not meant for big rooms while only four HDMI inputs and no frontal one does not cut it for today's needs. But in general connectivity wise the receiver offers the absolute basics so if you ask for something more you will find this one lacking. The remote felt a bit old style and with no backlight it certainly looses on the practical side of things. Lastly price is a bit on the high side but this is in general a Yamaha problem and is not related to this model only. Competition is fierce and Yamaha has to think a bit more about their price strategy.
Closing what we can say is that the Yamaha RX-A680 is an excellent performer for small to medium sized rooms and if you want it for a basic Dolby Atmos setup but also for some audio streaming it will serve you just fine. It has the quality that we are used to get from Yamaha over the last few years and it has the performance that you would expect from a lower tier, premium model.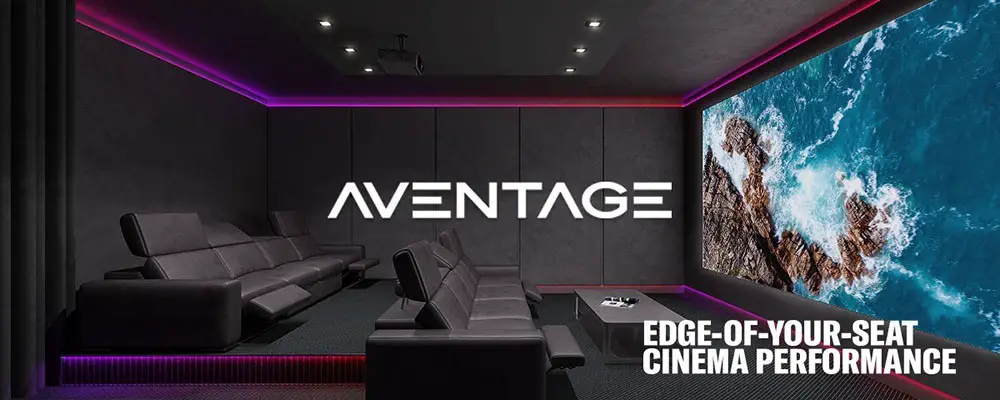 For more reviews you can check our dedicated 7 channels 4K AV Receiver reviews list or even look at our Product Reviews Table where you can find the brand and specific product you are looking for.
Also don't lose the chance to subscribe to our Newsletter and gain exclusive privileges.
---
Cheapest Places to Buy :
---
Yamaha RX-A680 Specifications