Bose Smart Ultra Soundbar
Product Name: Bose Smart Ultra Soundbar
Product Description: 5.0.2 CH Dolby Atmos Soundbar
Design -

9.2/10

Movies Performance -

9/10

Music Performance -

9/10

Inputs and Features -

8.8/10

Price / Quality -

8.8/10
Summary
Reviewed at $899.00
Pros
Good front soundstage
Satisfying Atmos performance
Plenty of features
Modular design
Cons
No DTS:X
No pass-through capabilities or HDMI 2.1
Adding the optional speakers can be pricey
Remote got much cheaper
---
Cheapest Places to Buy :
*We are a reader-supported website. When you buy through links on our site, we may earn a small affiliate commission at no extra cost to you. Home Media Entertainment does not accept money for reviews.*
---
It's been a while since we last checked on a Bose product. So when they announced their new 2023 flagship that got released in September of this year we had to check it out. And so in our Bose Smart Ultra Soundbar review we will be testing this new single soundbar in order to determine if it a worthy flagship for your consideration.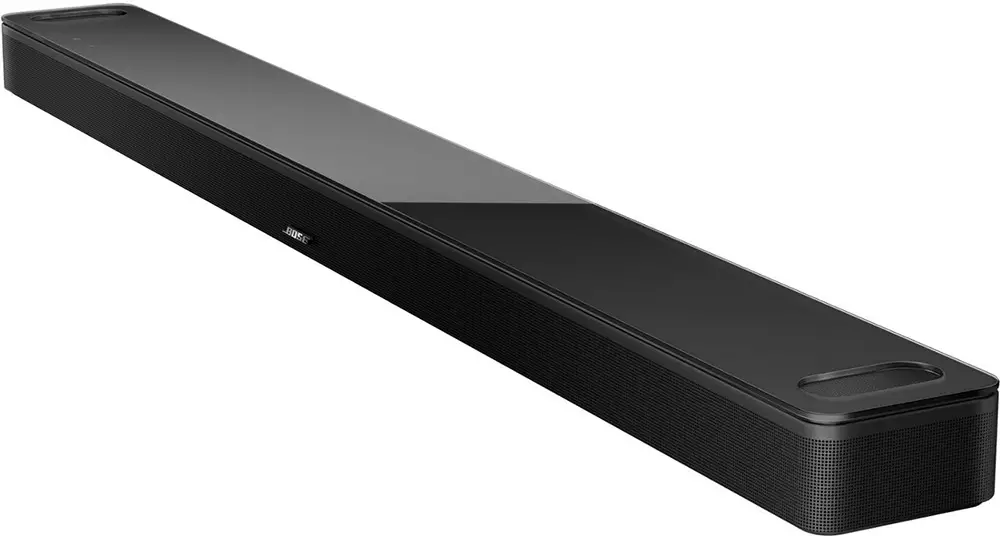 The Bose Smart Ultra Soundbar is basically replacing the Bose Smart Soundbar 900 which we reviewed some time ago. When Bose announced the new unit, it looked awfully similar to the 900, so everyone is wondering if this just a re-release of the Smart Soundbar 900 or if Bose just used the same shell one more time.
But before we answer the above let's go over the specs real quick. The Bose Smart Ultra Soundbar is a single soundbar system that supports all Dolby formats up to Dolby Atmos. It supports a lot of extra features like Chromecast, Airplay2, WiFi and Bluetooth streaming, voice control and a mobile app. Lastly it comes with Bose's ADAPTiQ calibration system while you can also add a subwoofer or rear speakers for enhanced performance.
Truly, by looking at the above specs the new model looks to be exactly the same as Bose's previous flagship. Did they just re-released the same model with a different name or there is more to it than that? Let's delve deeper to find out.
Specifications and Features
Design
Dimensions
As always we start our analysis with the design. And here the Smart Ultra Soundbar is like for like to its predecessor. It has the same design lines, similar materials and even the same top glass surface giving it a bit of extra premium flavor.
In terms of size the unit measures 41.14 x 2.29″ x 4.21″ (104.5 cm x 5.81 cm x 10.7 cm) and weights 12.68 lb (5.75 kg). So the soundbar is indeed the same, at least in terms of how it looks. This size suits any TV of 55″ and above. But obviously you can use this in a smaller sized TV also.
Just keep in mind that if you plan on placing it in front of your TV the soundbar doesn't have any IR repeaters. This means that it may obstruct the TV's IR sensor, if the panel is low enough.
Most TVs do have a gap of around 2.5″ but we have encountered some models that are lower than that. So always measure to be on the safe side.
Layout
The whole front and both sides are covered by a metallic perforated grille. This covers the plastic chassis along with all the included woofers. The metal grille looks nice and fits the rest of the design.
As usual at the top side we find some built-in buttons placed on the left side. But in true Bose fashion these are almost useless, as there are only two of them and these are for very specific functions.
At the back we find a couple insets that house all the available connection ports. Bose likes to include many ports that we don't usually see in other soundbars, but we will talk in more detail about them in our dedicated section.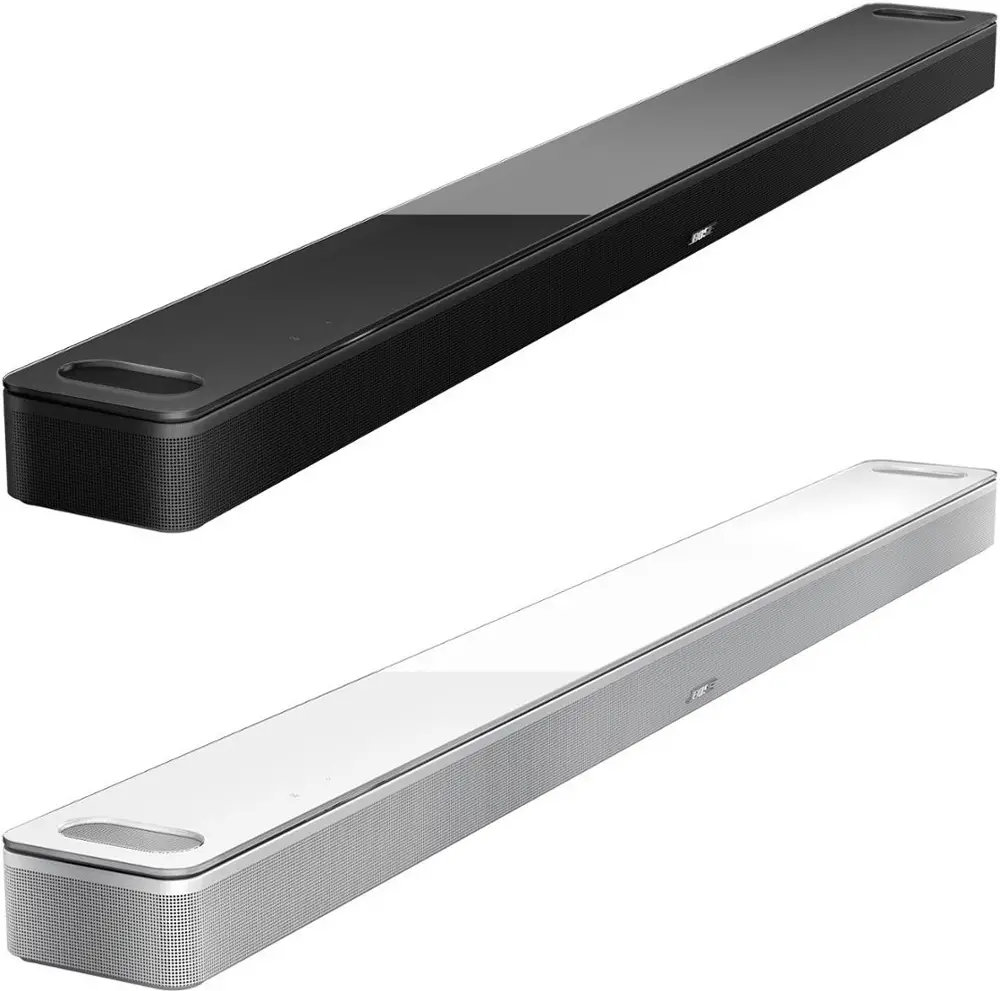 Colors & Quality of Materials
As usual, the soundbar comes in two colors. Black and Artic White. Both look great but the white one definitely has more style.
As for its quality we have to admit that Bose does pay a lot of attention to details. Their flagship is definitely one of the most premium looking soundbars in the market at this price.
The top is once again covered in tempered glass which looks very premium but on the other hand can be a huge fingerprint magnet and also it has the tendency to reflect much of the TV light, which can be slightly bothering.
The plastic used felt of good quality and very sturdy and in general we didn't notice any defects visible.
Display Type
Bose surely wanted the Smart Ultra Soundbar to look as premium as possible. But in doing so they created a display that may look futuristic but is completely impractical.
The LED bar is placed right below the built-in buttons. Depending on what the soundbar does this LED bar will change colors and forms in order to give you an indication of its status. That includes WiFi and Bluetooth connections, voice control functions as well as updating and error procedures.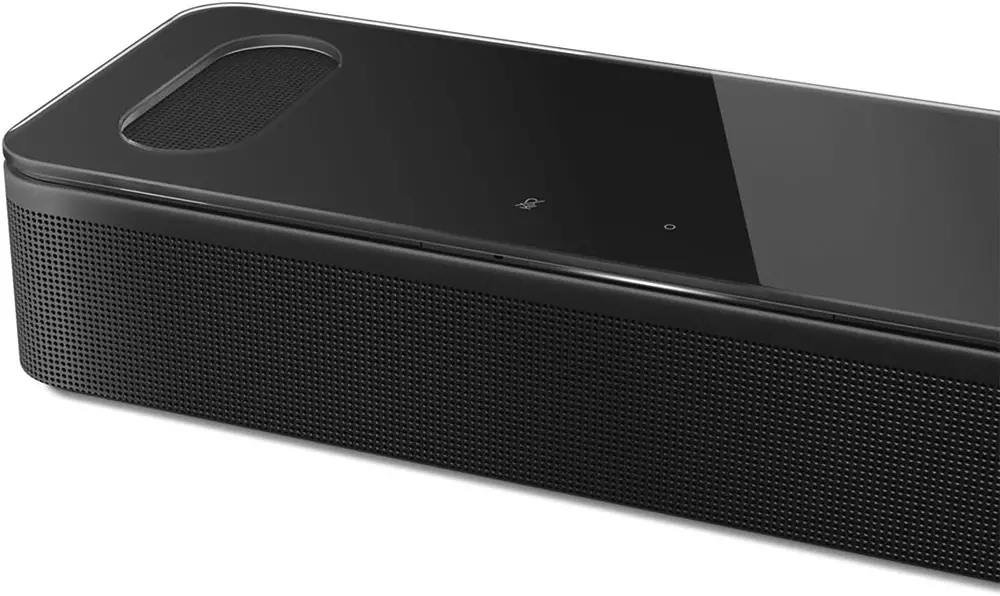 This is a very Bose design as it is the same one used in the Soundbar 900 and Soundbar 700. It surely looks cool and definitely fits the premium design of the unit but in terms of practicality we wouldn't say it is the best. There are so many color combinations and animations that you will have to open the manual every single time in order to know what the unit is doing.
We were very critical of this kind of display that Bose decided to use for one more time. But it seems that they care more for looks and not practicality. Too bad for them.
Internal Hardware
Let' see next what makes this soundbar tick. Although Bose is not very extrovert when it comes to revealing what kind of hardware they use, a bit of digging made everything pretty obvious.
Configuration & Power Distribution
Bose does not mention how many channels their soundbars have but with the Smart Ultra Soundbar retaining its predecessor's configuration we assume it kept the same 5.0.2 channels configuration of the Smart Soundbar 900.
Unfortunately Bose does not mention power rating for any of their soundbars either and this applies to the Smart Ultra Soundbar also. As such there is no way for us to know power distribution.
Channels Analysis
The unit seems to be using the exact same channels design of its predecessor. As such we get a single center tweeter dedicated for dialogue, four racetrack transducers plus two PhaseGuide-enabled tweeters. All of these are placed in the front face with the unit missing any side-firing channels that many flagships use nowadays. We also find two up-firing speakers that have been added for Dolby Atmos effects.
As for the above mentioned PhaseGuide technology, this is using small transducers to direct beams of multi-directional sound in order to create a more expansive soundstage.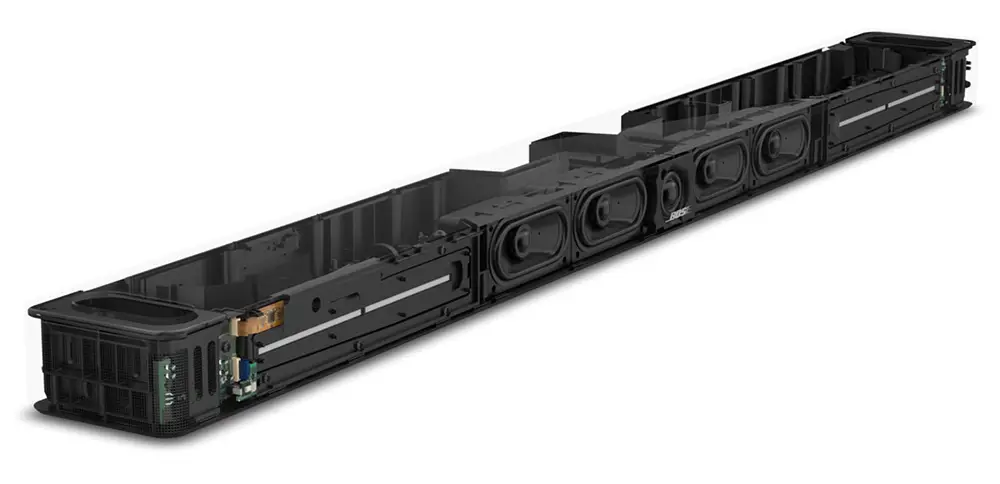 Connectivity
Another area where Bose kept everything the same is the connections layout. As we said above all inputs are placed on two insets at the back of the unit making it a bit hard to reach them all the time.
At the left inset we find the power connector on the one side and four 3.5mm jacks on the other for Data, Bass, IR and ADAPTiQ. On the other inset there is a single Digital Optical input along with an Ethernet port on the one side, a USB-C port used only for service and a HDMI port on the other side.
HDMI Notes
Since there is only one HDMI port there is not much we can say about the HDMI capabilities provided. It comes with eARC support, which means you can pass Dolby Atmos to the soundbar from a TV that supports that.
Because of the single port available there are no pass-through capabilities. This means you will have to use your TV as a hub and pass audio to the soundbar itself. A solution that we are not very fond to be honest as ARC and eARC have proven many times to us to be unreliable.
Seeing a single HDMI port to a flagship unit as this, is really disappointing. In this day and age any flagship soundbar should aim for pass-through capabilities with at least two or three HDMI inputs. And seeing Bose still using a connectivity scheme that many low budget units offer is heart breaking.
A Few More Points of Interest
Firstly the available USB port is for service use only. There is no USB playback available.
Bose is one of the few brands that include a physical port for connecting a subwoofer. Although this is basically for connecting one of Bose's own subwoofers, either the Bass Module 500 or Bass Module 700, the interesting fact here is that you can use any 3rd party subwoofer you want.
But a word of caution. Since this is not an official feature of the unit itself some subwoofers may not work. We did try an SVS SB-1000 Pro and it actually worked. But we cannot speak for all models and all brands available. So keep this in mind if you really want to add one.
Wireless capabilities
Also we shouldn't forget to mention the unit's wireless capabilities as it features built-in WiFi along with Bluetooth 5.0. And this is probably the first essential upgrade we find in this unit compared to the Smart Soundbar 900. It seems that Bose decide to upgrade the Bluetooth of the soundbar to a newer version.
Control Options
Next we will be looking at the ways you can control the soundbar.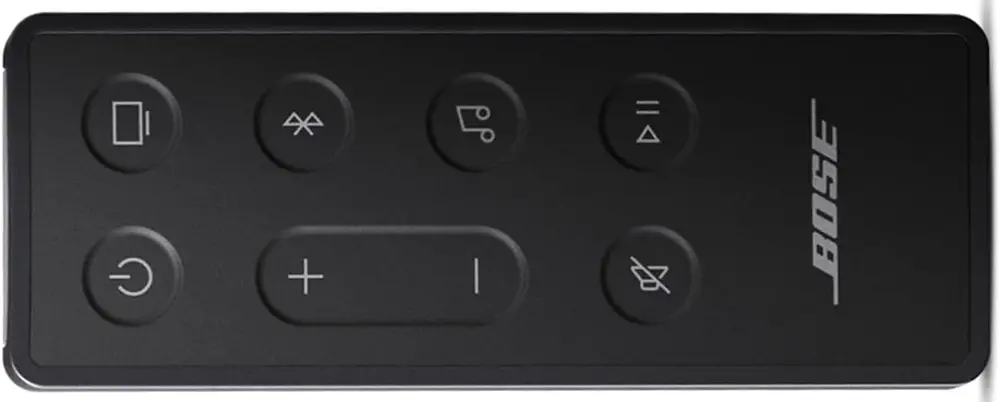 Remote
The second obvious change we find in their new flagship is the remote. Oh boy, did Bose dropped the ball with this one. They went from a firmly complex and premium looking remote in the Bose Soundbar 700, to the simpler and smaller one found in the Bose Smart Soundbar 900, to the one we get here which is essentially the same one we used with the Smart Soundbar 600.
The remote is a tiny one. It's made out of plastic and its design makes it look like a small chocolate rather than a remote. The back has a slight curve for better handling but Bose has added on the top of it a straight stand so it will not wobble in a straight surface.
What is unique is the kind of batteries this thing takes as it goes for a thin CR2032 battery type instead of the usual AA or AAA batteries most remotes use. Keep this in mind in order to have one spare in case of need.
As for its buttons instead of using the usual rubber ones that protrude from the remote these actually are placed on insets that may not add anything when it comes to practicality but certainly looks different from most remotes we have used before.
The remote is a clear indication on the changes Bose did to this unit. They went from a premium looking remote with backlit functionality to a dirty cheap one that you expect to find in a sub-$300 unit. We cannot say that we miss the original premium one. As that one was far too complex for our tastes also. But the one you will get with the Smart Ultra Soundbar does not feel premium or flagship at all.
Built-in Controls
We already mentioned the couple of built-in buttons available, with a single microphone mute button and another action button next to it. But these provide some very specific functions and in no way they can be used for the main soundbar's functions.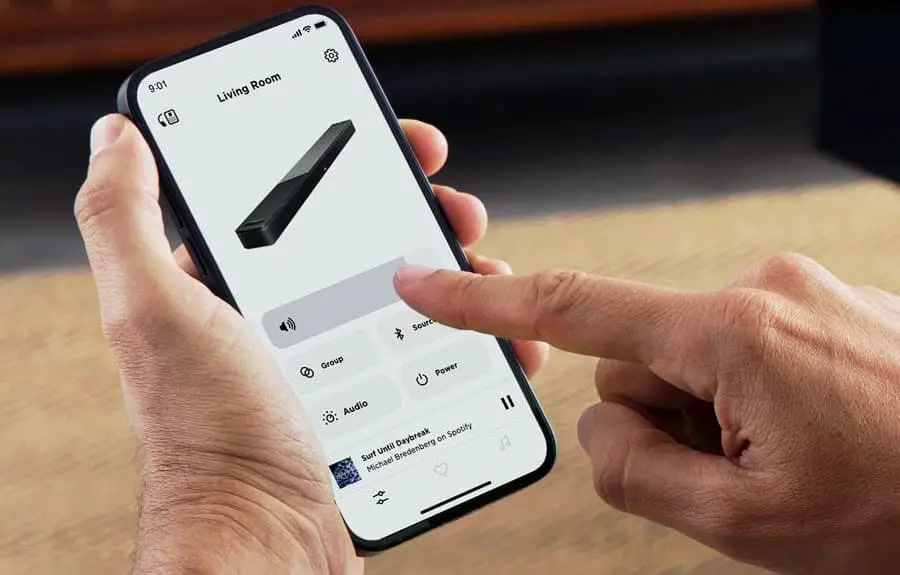 Mobile App
If you want to have complete control over your Smart Ultra Soundbar then you will definitely want to download the Bose Music App. This is available for both Android and iOS devices so you are good either way.
This app is a must, because only with this you can setup the soundbar, connect it online and use its various features like the ADAPTiQ calibration system and online streaming services. Also you have some basic sound settings like speakers volume control, bass and treble.
Essentially it is the best way to control the unit as not only provides you with the entire set of features available but Bose made sure to create a nice and easy going UI. Overall the app is a very pleasant experience and you should really try it out if you want to get the best out of your purchase.
Voice Control
For those interested in a more hands free experience there is support for both Amazon Alexa and Google Assistant. Amazon Alexa is built-in but for Google Assistant you will need to have an external device to work.
But if you are an Alexa user then the unit comes with expanded capabilities. With the included Voice4video technology once the soundbar identifies your TV, your cable box, and your local cable provider you can use your voice to control these also through the soundbar itself without any additional work. All this can be setup through the Bose Music app.
When talking to Alexa the LED light bar indicates it's status like listening, thinking or speaking giving you some visual information of the soundbar functionality at that given moment. Also you can use voice control not only to control the unit but also choose streaming services, hear news and weather forecasts among others.

Extra Features and Services
Now let's talk about all the extra features you get and we will start with the audio formats supported.
Audio Formats & technologies
If you were hoping that Bose will actually change their stance with DTS you will be greatly disappointed. The Smart Ultra Soundbar follows on its predecessor's footsteps and stays firmly behind the Dolby bandwagon.
As such, the soundbar supports all Dolby's audio formats up to Dolby Atmos, including both Dolby TrueHD and Dolby Digital+. It also supports PCM up to 7.1 channels as usual.
When there's no Dolby Atmos content, like stereo or 5.1, Bose TrueSpace technology takes over for the vertical experience, remixing signals to add "height" without adding a ceiling speaker, creating in theory the same immersive sound experience. In essence, this is Bose's virtual technology.
It's inexcusable for a flagship soundbar in 2023 to leave DTS out. Yes, Dolby's audio mixes have the lion's share both with streaming services and physical media. But there are a handful of high profile blockbusters like Jurassic World that come with DTS:X. So it's not like that DTS is a niche format. This is a big letdown and surely will hurt Bose in the long run.
Sound Management
In terms of sound management you get the usual. You can adjust the bass and treble individually. And you can also adjust the center and height channels.
If you have the rear and subwoofer modules installed there are separate options for this two for adjusting and even enabling/disabling them with a single command.
Keep in mind that you can adjust all the above through the Bose Music App. The remote does not give you this ability since Bose decided to include its most basic one. So using your smartphone or mobile device is a must.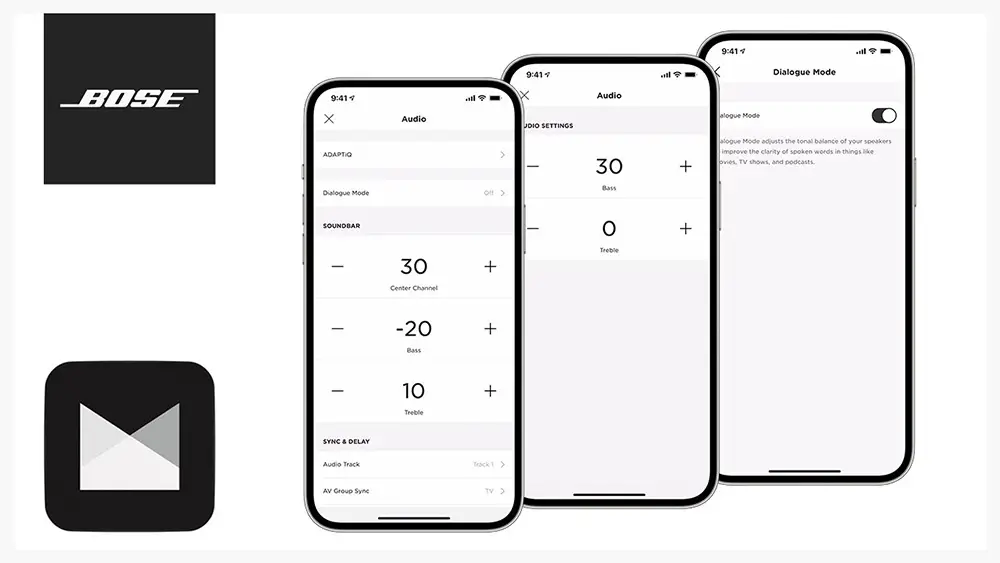 Sound Modes
In terms of sound modes Bose is not including any in the same way we have seen other manufacturers do. Instead they use this real time audio tuning system. This basically is a custom made software that is analyzing what is being played, either it be movies, music, games or shows, and fine-tunes the sound to optimize your listening experience. This is the same as with all Bose soundbars so no real surprises here.
We also get the new AI Dialogue mode. And this is probably the most noteworthy change or upgrade you are going to get compared to the Smart Soundbar 900. The 900 did feature a dialogue mode. But the new unit changes that with an AI powered feature for its dialogue enhancement.
Obviously whenever AI takes control of the sound output the results can be a bit of a mixed bag. And whether this feature is actually better than the previous Dialogue enhancement feature is not entirely clear. But if you ask us we prefer to keep it turned off and use it only if we absolutely had to.
Auto Calibration System
Many flagship soundbars include an audio calibration system nowadays. But while most of them go for the usual "play a few test tones and adjust accordingly" Bose took it a step further.
Their proprietary ADAPTiQ calibration system includes a special headset that you have to wear. This wired set includes the microphones that will catch the sounds exactly at your sitting position and at your ear's level. This way the soundbar can adjust the sound for the best output where you sit.
You will have to stay still and be quiet in order for the system to get as accurate measurements as possible but the results are very good in our opinion. Also it may feel weird to wear it but its only for one time so we think you can make an exception in order to get the best possible results.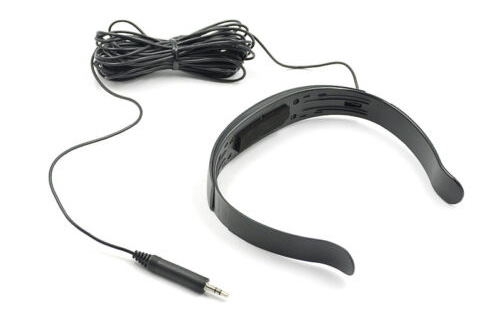 Streaming
As for streaming the soundbar comes with plenty of options.
You have the ability to use both Chromecast and Airplay 2, depending if you are leaning towards Android or iOS. If you have both options then Chromecast is definitely the way to go as it has higher quality streaming at 24-bit/96kHz. On the other hand with Airplay 2 you are limited to only 16-bit/44.1kHz lossless.
Through the Bose Music App you also have the ability to use Spotify Connect, Amazon Music and TuneIn.
Except from the above you can also use Bluetooth to stream audio from any Bluetooth enabled device to the soundbar itself.
SimpleSync
But the Smart Ultra Soundbar is not limited to simple Bluetooth streaming. As you also have the option to stream audio to other Bluetooth enabled speakers through the included SimpleSync technology.
This is done through Bose SoundLink Bluetooth speakers or Bose headphones and it can be practical for two reason. First this way you can stream audio to other speakers in other rooms or you can stream music to some Bose headphones from the soundbar that support this technology making it an excellent feature for silent viewing at night.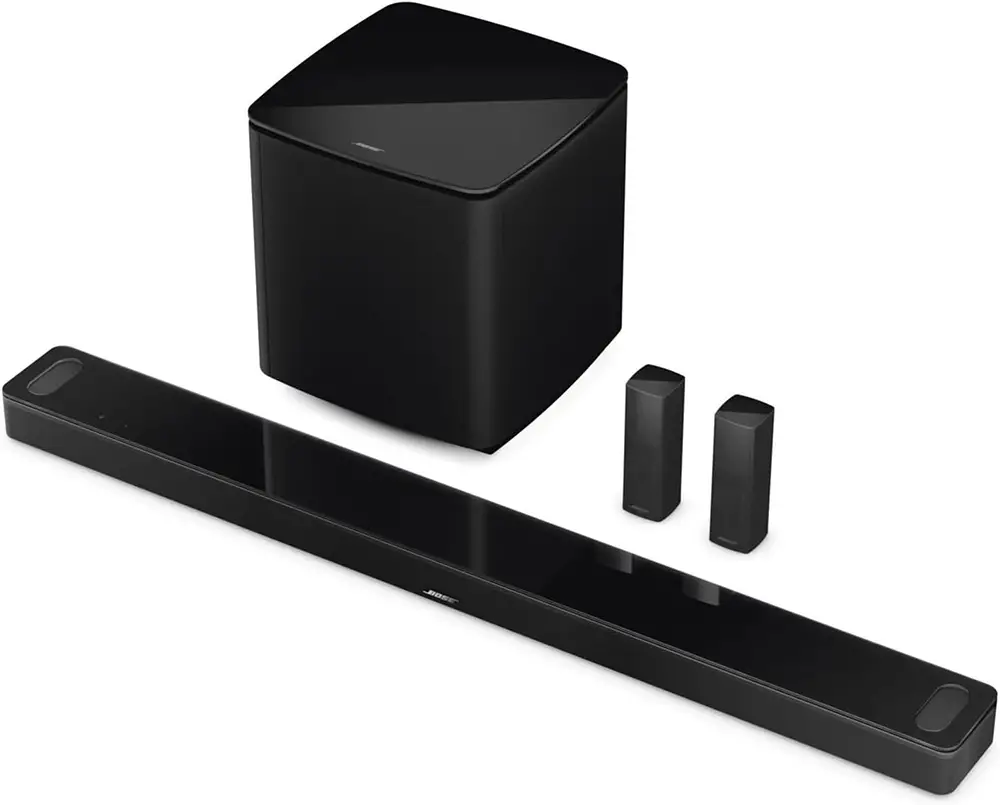 Modular Design
Lastly the Smart Ultra Soundbar retains the modular design of its predecessor. This means you can add either the rear speakers module or a subwoofer to the main unit and greatly expand its capabilities.
Although we didn't have the rear speakers for testing in this review we had tried them in the past. The Bose Surround Speakers 700 will give you the necessary surround extension that the main bar is missing.
These are 1.0 channels speakers each but their drivers design is definitely peculiar. Inside each speaker Bose placed two drivers, one facing downwards and one facing upwards. Between these two you can see the grille with audio emitting in a 360 degrees manner. These speakers are unfortunately missing Atmos drivers that many flagships use nowadays for their rear speakers.
As for the subwoofer, here you have much more options. First of all you can choose one of the two Bose subwoofers available. These are the Bose Bass Module 500 or Bass Module 700. But unofficially the soundbar can work with many 3rd party subwoofers like SVS or Klipsch. But we cannot guarantee how these will behave. You can try it if you have one spare but otherwise going for one that Bose offers is what we suggest.
Initial Setup
Chose How to Connect
When you unpack the unit you are basically presented with two ways you can connect it to your TV. Either through HDMI, using ARC/eARC, or with an optical cable.
Keep in mind that if you want Dolby Atmos through Dolby TrueHD you will have to use the HDMI option. Optical can still support Dolby Atmos but only through Dolby Digital+ which is mainly used by all streaming services. An optical connection simply lacks the necessary bandwidth for anything better.
If you have bought any of the optional speakers you have to connect them also before moving on to the next steps.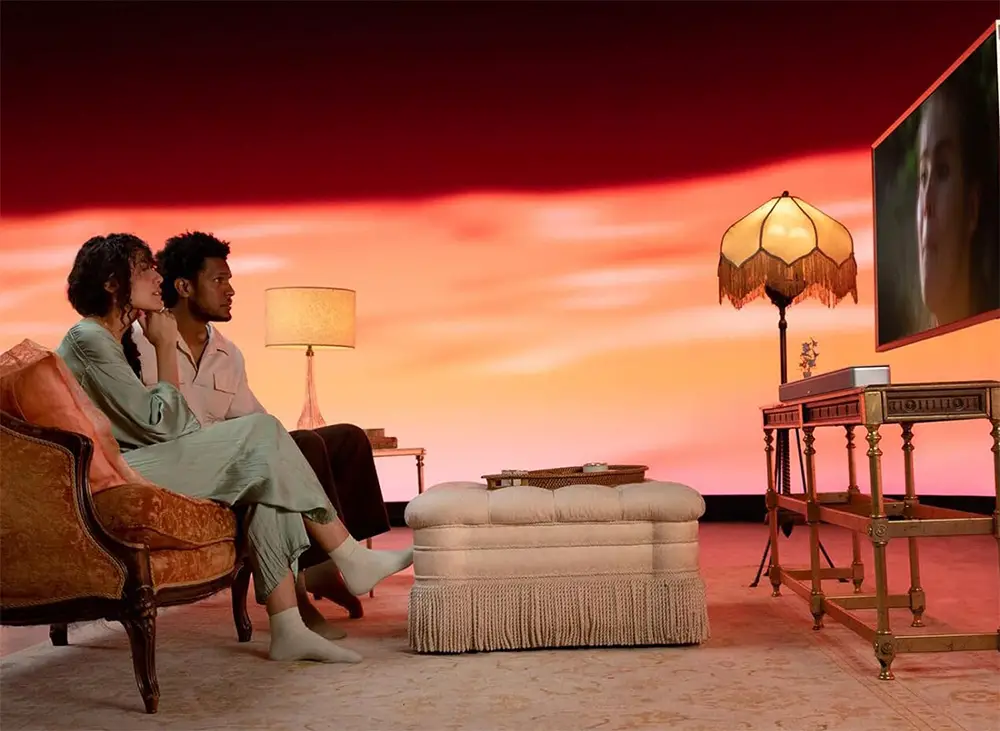 Further Steps & Calibration
After everything is connected you have to download the Bose Music App to a mobile device in order to proceed with the installation. The app will help you connect the soundbar to your network and obviously provide you with all the settings for manual calibration.
It is without saying that before using the unit we strongly suggest you to go through the audio calibration process. This is relatively fast and you will finish in no time.
That's all there is to it and honestly it shouldn't take you more than a few minutes to go through everything.
Movies and TV
We move on to our real content testing now. And for this review we opted to try two Dolby Atmos mixes, since DTS:X is not supported here. So for this reason we chose Transformers: Rise of the Beasts and Terminator: Dark Fate.
As for TV viewing we sampled various news broadcasting channels, some TV series and a couple of sports channels.
Front Soundstage
For a soundbar that is basically a re-release of a 2 years old model the Smart Ultra Soundbar sounded exceptionally good. Even though the unit lacks any kind of side-firing channels Bose did a good job at producing a very impressive front stage.
But the difference compared to the likes of the Samsung HW-Q990C, is that the further away sound moved from the main unit the less accurate and precise it felt. Its effects would diminish a lot faster but even so to get the kind of expansion and depth we were presented here was indeed more than what we could ask for.
In terms of tonality the soundbar was pretty nice with a lot of details being clearly audible while the soundbar did great separating the sound sources in space in front of us.
Overall the Smart Ultra Soundbar didn't change much in comparison to its predecessor. But since that one already had a pretty stellar output the new unit will surely not disappoint.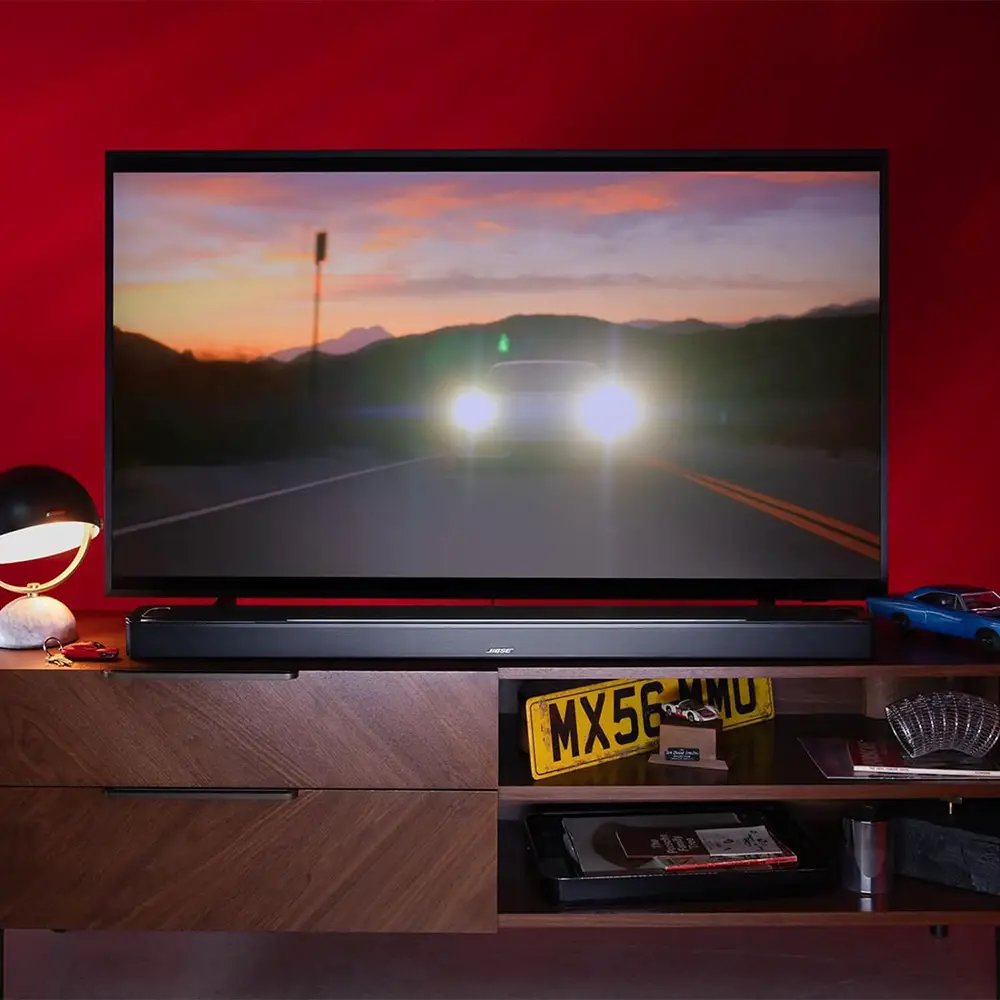 Dialogue
Having a dedicated center channel plays a huge role in delivering crisp and distinct dialogue. And Bose didn't have to do much here as the unit did great at this front also.
TV shows and sports broadcasting were distinct and very clear. Sounds from the center channel had such clarity that we never felt the need to use the AI Enhanced Dialogue mode. And in most situations you will never need to.
Now, for the sake of this review we did try this feature. It did certainly change the output of the center channel but the kind of boost you are getting felt like it was on the expense of the rest of the audio. And since we want to get the most in terms of environmental audio and surround immersion we opted to keep that off most of the time.
With both films we tried dialog performance was so good that we never even paid attention to it. And this is how it should always be with dialog. If you never think about it, it means that all is good and no adjustments are needed.
Surround Sound
If you want true immersion you need rear speakers to produce surround sound. There is no other way around it. Yes, many soundbars including this one, try to push audio closer to the viewer and to the sides. But there is so much you can do with virtual audio. And the Smart Ultra Soundbar is no different.
All action was front oriented with the occasional exception where a sound would sound closer or even towards the sides. But you will not feel completely engulfed by audio, for sure. If you absolutely want surround audio get ready to buy the optional Bose Surround Speakers 700.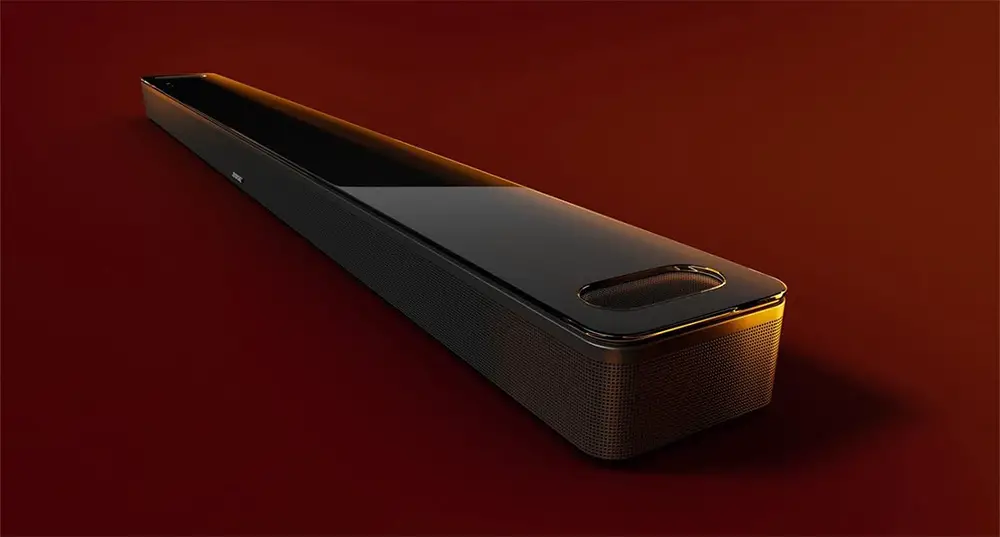 Dolby Atmos
This unit features dedicated up-firing Dolby Atmos channels which is as good as it gets with soundbars.
We did hear some elevated effects that originated right above our TV most of the time. Separation between the left and the right channels was distinct but obviously not as clear or precise as we would like. Also, although Atmos effects are mostly complementary, we would like them to have just a bit more oomph.
Usually with up-firing speakers sounds feel a little lower and a bit less precise and this is the case here also. So don't expect the Smart Ultra Soundbar to directly compete with a true Atmos system, but is the next best thing if having speakers on the walls or the ceiling is not an option.
But there are certain limitations to such an implementation. Since all these Atmos soundbars bounce audio on the ceiling and down to you, your room will define the unit's performance. A high ceiling that is not horizontally straight will diminish the Atmos effect to a great extent. A small room with low straight ceiling on the other hand will make Atmos effects more pronounced.
So always keep in mind of the area where you are going to place the soundbar. Because it can make a huge difference.
Bass
The main unit's bass performance was rather good but without impressing us. With action heavy films, like the ones we tried, the bass did feel a bit flat and uninspiring. We wished we could connect a subwoofer in order to add a little punch to the performance.
In the end it really depends on the kind of content you are going to watch. If action heavy blockbusters is your thing then be ready to make your wallet bleed a bit more in order to buy one of the two subs that Bose offers.
If TV series, broadcasting channels and sports are more in the menu then the main unit's bass performance may be enough. In the end we suggest you do go for the main unit only and take it from there. Because the Bose subwoofers are not cheap and better be sure before you pull the trigger.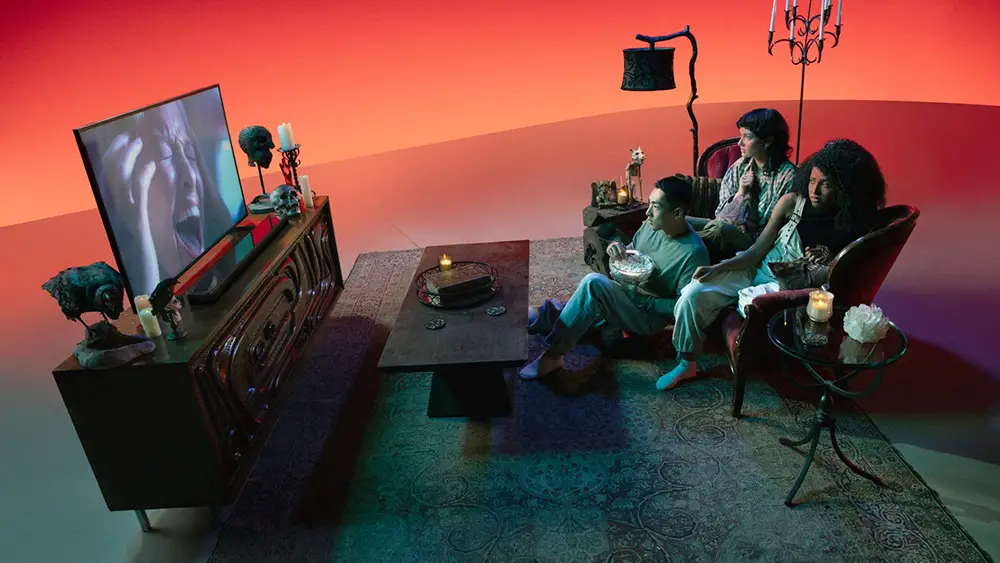 Maximum Volume
The soundbar can get pretty loud. We didn't push it to the absolute max but Bose did create a loud soundbar for sure. The obvious question here is if there is any audible distortion. Of course there was, but it was much less than some other soundbars we heard before.
Never forget that this is not a dedicated HiFi system. And all soundbars, some more than others, cannot avoid a certain level of distortion in the upper volume levels. But in general the Smart Ultra Soundbar behaved like a true flagship here.
Music
There are many ways to stream music to this soundbar. But for this review we opted to use our Zidoo media player in order to playback some FLAC music files we have at hand.
Fidelity & Overall Quality
The unit performed really close to its predecessor here. With similar hardware this couldn't be otherwise. Small differences are normal to exist but in general we heard all the same characteristics the Smart Soundbar 900 had.
A flagship soundbar should be capable of showcasing good clarity and enough attention to detail. And both of them were present with this one. Although this was not the most linear of soundbars it didn't lean to either edge either.
The mid range and lower mids were solid while the lower and high ends did sounded good most of the time.
As with many soundbars this unit had satisfactory sound imaging without managing to go beyond what the average high profile soundbar can do. Panning sounds had nice traveling distance and the switch between the channels was very precise and accurate.
Obviously if there is one area where we felt the soundbar did fail a bit was with bass intensive performances. The main unit simply could not cope in these moments. The end result was a flat output that made us cringe more than a few times.
A subwoofer would surely elevate the whole experience here and if you want your music experience to go above and beyond what the main unit can offer, then make yourself a favor and get a sub.

Different Content
We went through various content and we didn't notice much variation in its performance output. The unit was more or less good across all genres we tried. Obviously bass intensive performances suffered the most. But a sub here will correct that.
Some more delicate performances surely lacked the finesse you hear with dedicated HiFi music equipment but you cannot expect to get anything close to that.
The Smart Ultra Soundbar cannot do much more than what most soundbars offer in terms of music fidelity. You will not find much wrong here. But you are not going to be overly impressed either. You will enjoy what you year, but it will not drop your jaw on the floor. Never expect that with any soundbar, period.
Compared to other Soundbars
Most of you will want to learn if the new Smart Ultra Soundbar is any better than the Smart Soundbar 900. Well, it is not. The only differences they have is that the new model gets an updated Bluetooth 5.0 module, a much cheaper looking remote and the addition of the AI Dialog mode. Everything else is the same.
Next we have the Klispch Cinema 800. The Cinema 800 is slightly more expensive but you get a subwoofer in the package also. In terms of audio quality the Klipsch wins with its punchy bass while the Bose had more attention to detail. If you add a subwoofer in the Bose it may be much more expensive, but in our eyes it is the better system overall.
Next we have the LG S90QY. This soundbar comes at the same price as the Bose but has the subwoofer included. Comparing the basic packages the LG wins mostly due to the inclusion of the subwoofer. If you add a sub in the Bose then we would call it almost even. But obviously the price of the Bose goes far above that of the LG.
There is also the Polk Audio MagniFi MAX AX that is slightly cheaper, supports DTS:X and also includes a subwoofer. Again our opinion is the same. The sub makes a difference here. But we liked the Bose output just a bit better.
As for other single unit comparisons we have the Sonos Arc and the Sony HT-A5000. Both of them come at a slightly lower price than the Bose. Their audio output is slightly different so it really depends on what you like the most. The Sonos has better Atmos output while the Sony is the only one that supports DTS:X and HDMI 2.1.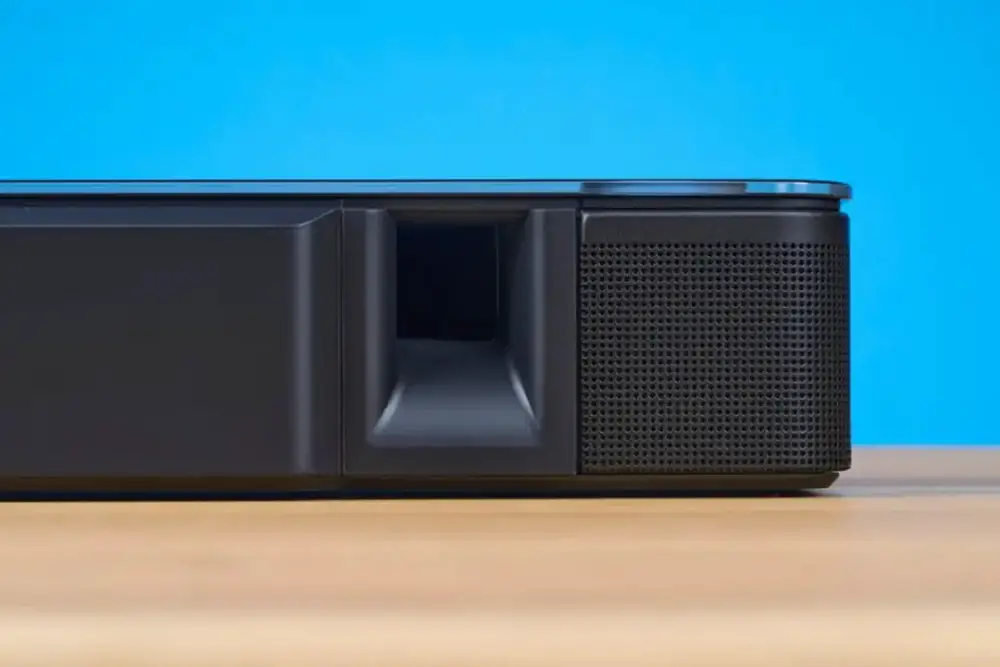 Final Thoughts
Although two years passed since Bose released their previous flagship, it seems that they didn't do much to push the envelope this time. The new Smart Ultra Soundbar is every bit the same soundbar we tested some time ago and it feels that Bose got more lazy than what we would like.
On the one hand the Smart Ultra Soundbar is as good as its predecessor. Good front soundstage with enough attention to details and good extension and depth around the TV. The unit includes many extras while its modular design gives you the freedom to shape and improve the basic experience as you may see fit.
On the other hand the soundbar is missing a few key elements. First of all there is no DTS:X which is inexcusable for a 2023 flagship unit. For a single soundbar system $899 may be a bit too much while the unit is also missing pass-through capabilities and HDMI 2.1. Lastly the remote got cheaper one more time and feels like Bose looked for ways to cut the costs even further.
Closing our Bose Smart Ultra Soundbar review we can say that this is a unit that will neither wow nor disappoint you. It manages to keep a very delicate balance between these two emotions and in the end this is what defies it. Bose could do so much more with two years at their hands but in the end they decided to just re-release a good product of that time. And from Bose we expect much more.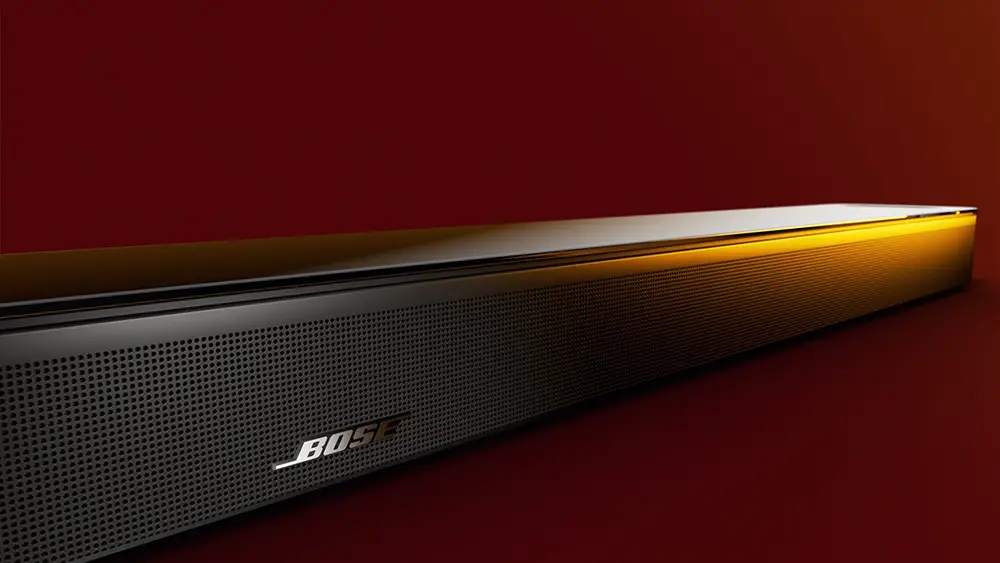 For more reviews you can check our dedicated Single Soundbar reviews list or even look at our Product Reviews Table where you can find the brand and specific product you are looking for.
---
Cheapest Places to Buy :
*We are a reader-supported website. When you buy through links on our site, we may earn a small affiliate commission at no extra cost to you. Home Media Entertainment does not accept money for reviews.*
---
Bose Smart Ultra Soundbar Specifications